I'm hoping this will be the last conversation room "update" before finally sharing the end result of this near-year-long makeover project! But, because I haven't posted anything since November and I'm still waiting on a few final touches, I thought I'd go ahead and share progress we've made since last time. Because we're also focusing on finally having lighting in here, I've also included 20 wall sconces under $150 in the post!
*Posts on KelleyNan.com may contain affiliate links. Click HERE for full disclosure.
When I started this effort last summer, I intentionally wanted to take my time. I planned to go slow, piecing things together little by little, instead of all at once. I wanted it to be simple if I made a mis-step to veer into another direction without throwing a bunch of stuff in the room and deciding I hated it. But, of course shipping and production has been a bit more delayed this past year than anticipated 😉 so we've moved even a little slower than I thought we would. But, it's coming together and the former "formal" living room is feeling so much better!
Here is a link to the final reveal of the completed Conversation Room.
Wall Sconces & Room Lighting
One of the biggest functional improvements to the room was lighting. I don't just mean, subbing in some attractive lighting, either. Aside from a lamp, we had no lighting. Not only did we have electricity run to do an overhead light, but I also had electricity run to the walls to install wall sconces.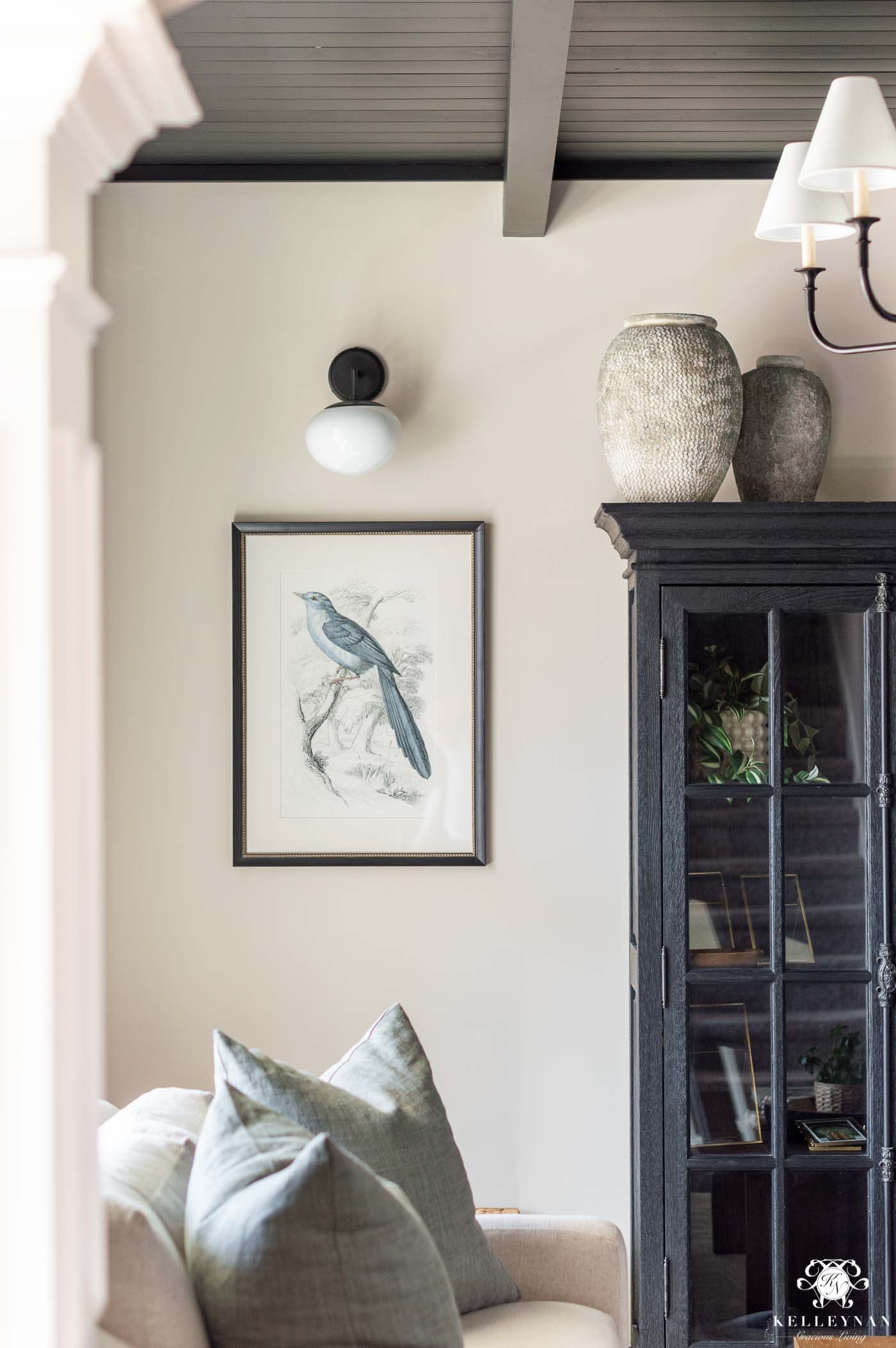 Bird Art (set) | Sconces | Belgian Flax Linen Pillow Covers (Sage Grass; 24″) | Large Cement Vase | Smaller Stone-like Vase
This is also a detail that kind of required the "plan" and furniture layout to actually come together. The black cabinet anchoring the room is a piece I've had since we moved in and I didn't want it to go anywhere. But, I also wasn't totally convinced it would work on the back wall without some additional details to balance it out. I decided that maybe this was my chance to finally grab THIS set of bird prints I've looked at for years — maybe this was finally the place for them. Here are a few pretty, similar traditional art print sets…
Scroll & Tap to Shop or Get the Details

And while they aren't "fine" art and I didn't necessarily want to place picture lights above them, I did decide to install sconces that would more or less create mood lighting and ambiance for the whole room. All the lighting is set to dimmer switches and I love how the sconces work both independently from the chandelier, but also together when the overhead is on.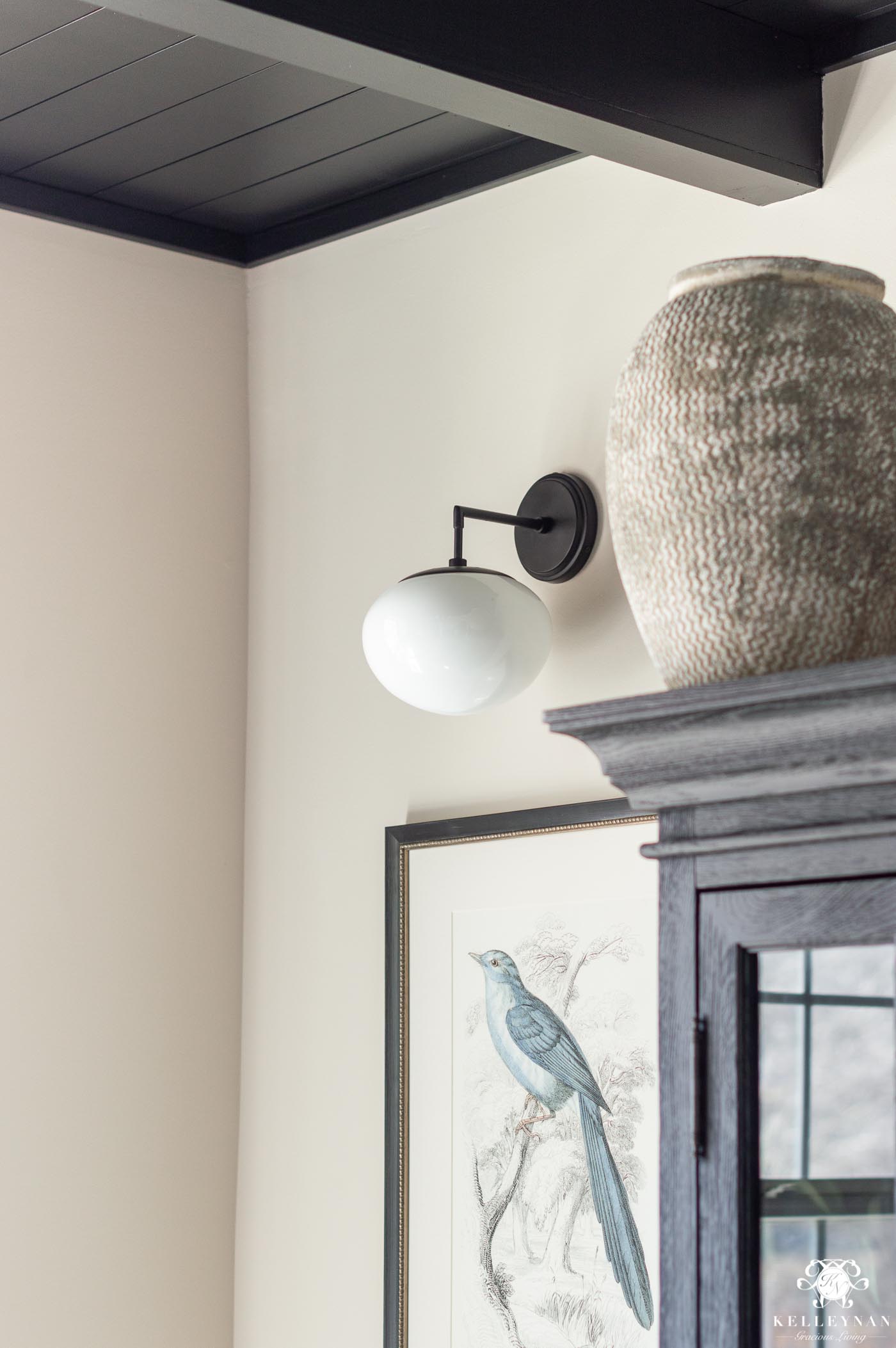 Bird Art (set) | Sconces | Large Cement Vase 
I'll wait for the reveal to share how the entire wall plays together 😉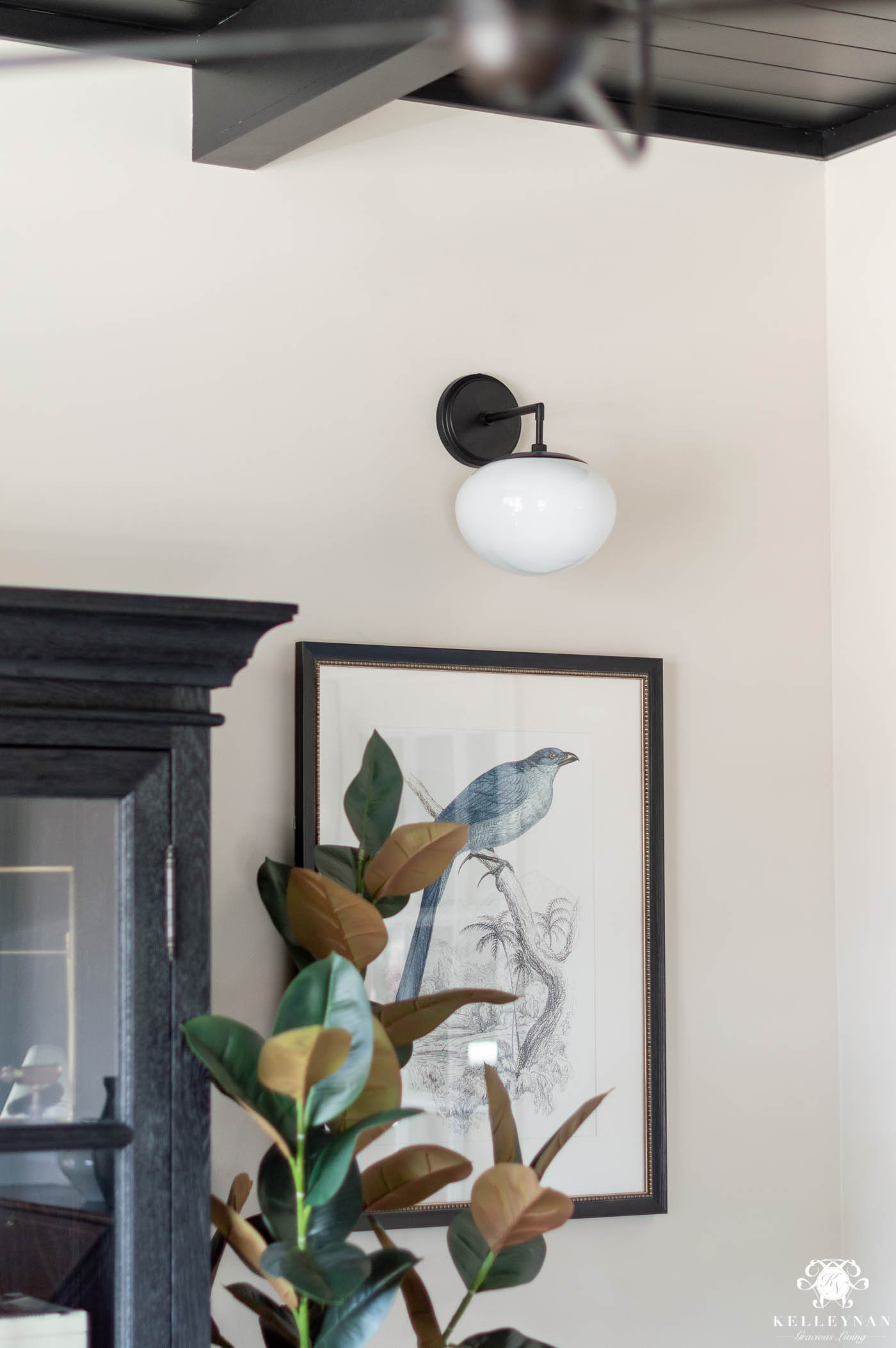 Faux Rubber Tree | Bird Art (set) | Sconces |
There were a few splurges I made in the room but the set of sconces wasn't one of them. While there are a lot of pretty, high dollar wall sconce options out there, there's also a lot of beautiful budget-friendly options! Below, I've gathered 20 single-light wall sconces under $150, that would all work well in the way I've used the pair of wall sconces in our conversation room. Also to note — most of these wall sconces come in multiple finishes, and some even already come as a set of two! You can find the links to each source at the bottom of the graphic.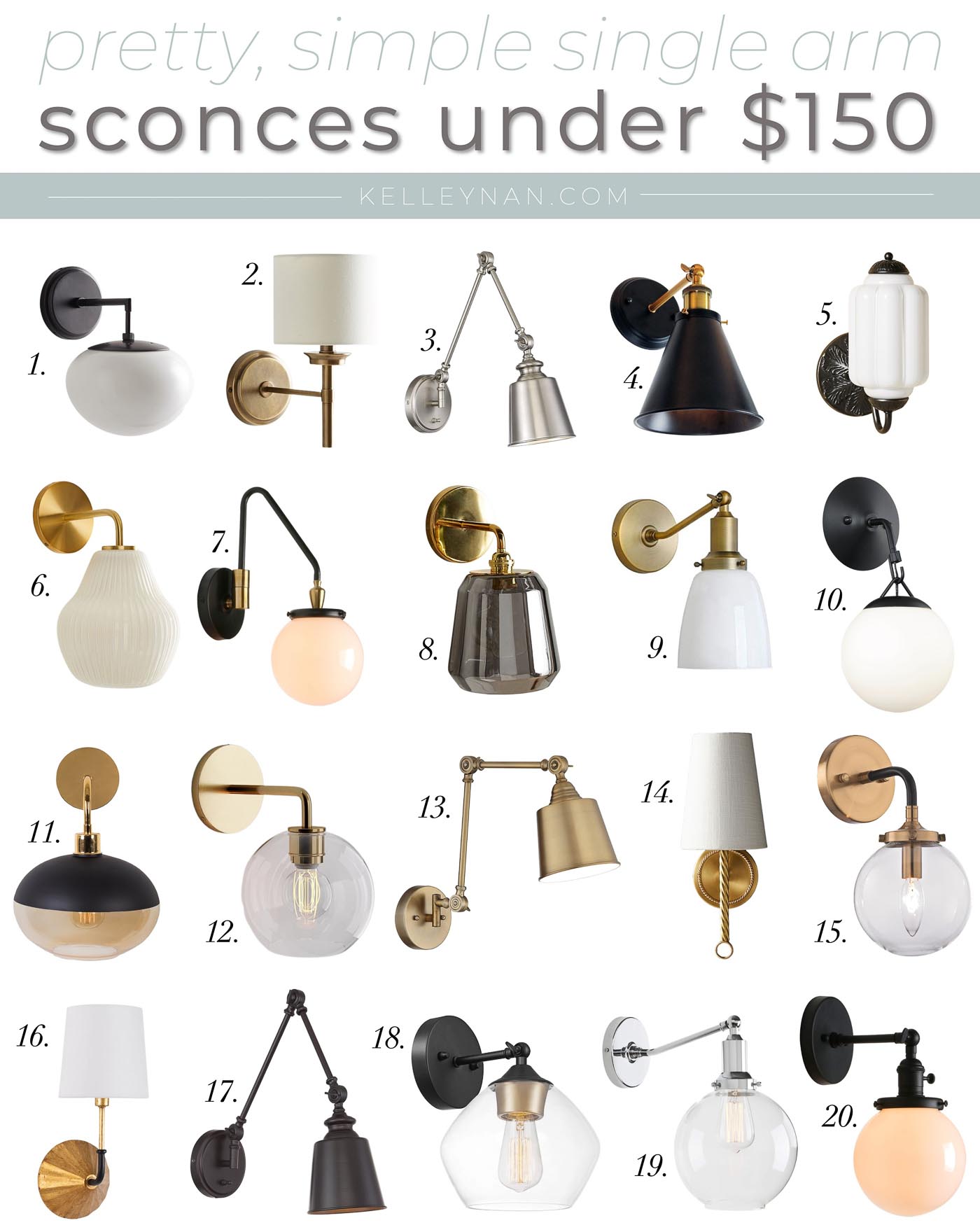 1 | 2 | 3 | 4 | 5 | 6 | 7 | 8 | 9 | 10 | 11 | 12 | 13 | 14 | 15 | 16 | 17 | 18 | 19 | 20
Number 1 is the sconce I opted for, with an irregular milk glass dome; I love how clean it is! You can get a pair of Number 17 for $88 today, and a pair of Number 3 for $94 when you apply the extra discount coupon on the product listing. I am so in love with how unique Number 5 is and the ribbed shade on Number 6. Number 6 actually comes in 4 different finishes! Number 7 actually has a cool swing arm, is currently listed at $84.99, and ships free via PRIME. Number 8 comes with four different shade color options. Number 9 comes in two finish options (both antique brass and black) and is listed at only $69.99 — it also ships free via PRIME. Number 10 is incredibly unique and comes in both the picture black, as well as warm brass — it's a crazy good deal at $55.99 and also ships free! Number 12 is available in both a 6″ shade ($79) or an 8″ shade ($99) and comes in four finish options. Number 13 is a versatile classic, is under $75, and ships free. Number 15 is on sale today for under $100 and Number 16 is on sale for just under $150 today — for both, if you spend over $600, take another 10% off with code OKLTAKE10. Probably the best deal in the affordable wall sconce roundup is Number 18 — currently $33.71 and ships free! The two-toned metals on this one make it so easy to mix and match finishes throughout your space! Number 19 comes in FIVE finishes, is only $79.99 and ships free via PRIME. And last, but not least, Number 20 comes in four finishes, is currently $69.99, and ships free.
And while I've already shared my chandelier, I love how the crisp white shades coordinate with the white milk glass on the wall sconces, while the more creamy candlestick covers tone it down and warm it up a bit.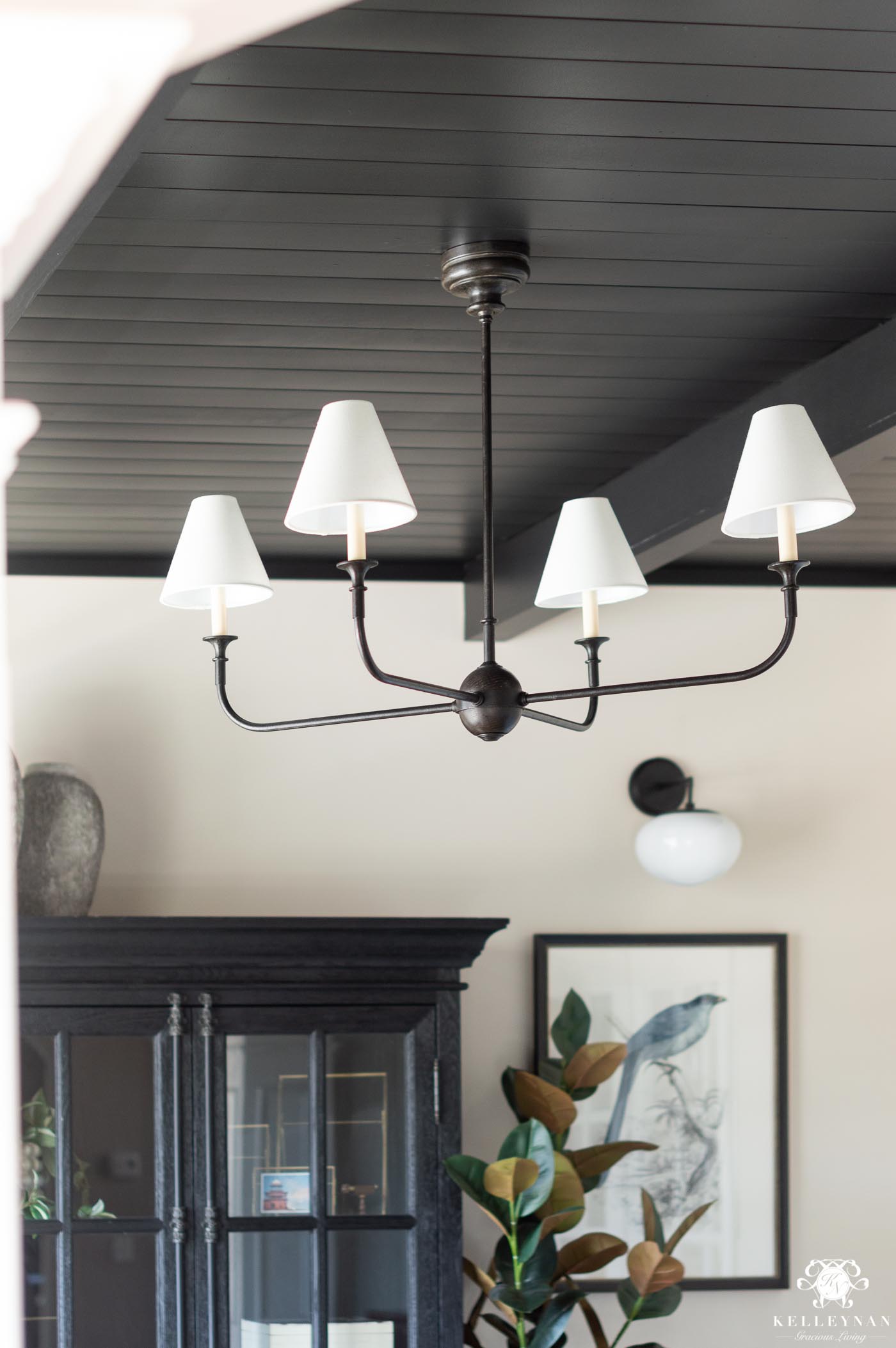 Chandelier – aged iron; large
Furnishings & Accessories Update
Styling the inside of the black cabinet is one of the projects I haven't tackled just yet but between sentimental pieces and family photos, I want this shelf unit to be one of the most special spots in the house — totally filled with memories and family mementos. Because a lot of that is old, I'm added a few new pieces to balance it out. I stocked up on these thin gold photo frames (LARGE HERE) (SMALL HERE) because while I'll be using these on the cabinet shelves, whichever frames aren't used can go in another room (I'm totally overdue in ordering photos, anyway). They can accomodate photos all the way to the frame edges but I love the floating look.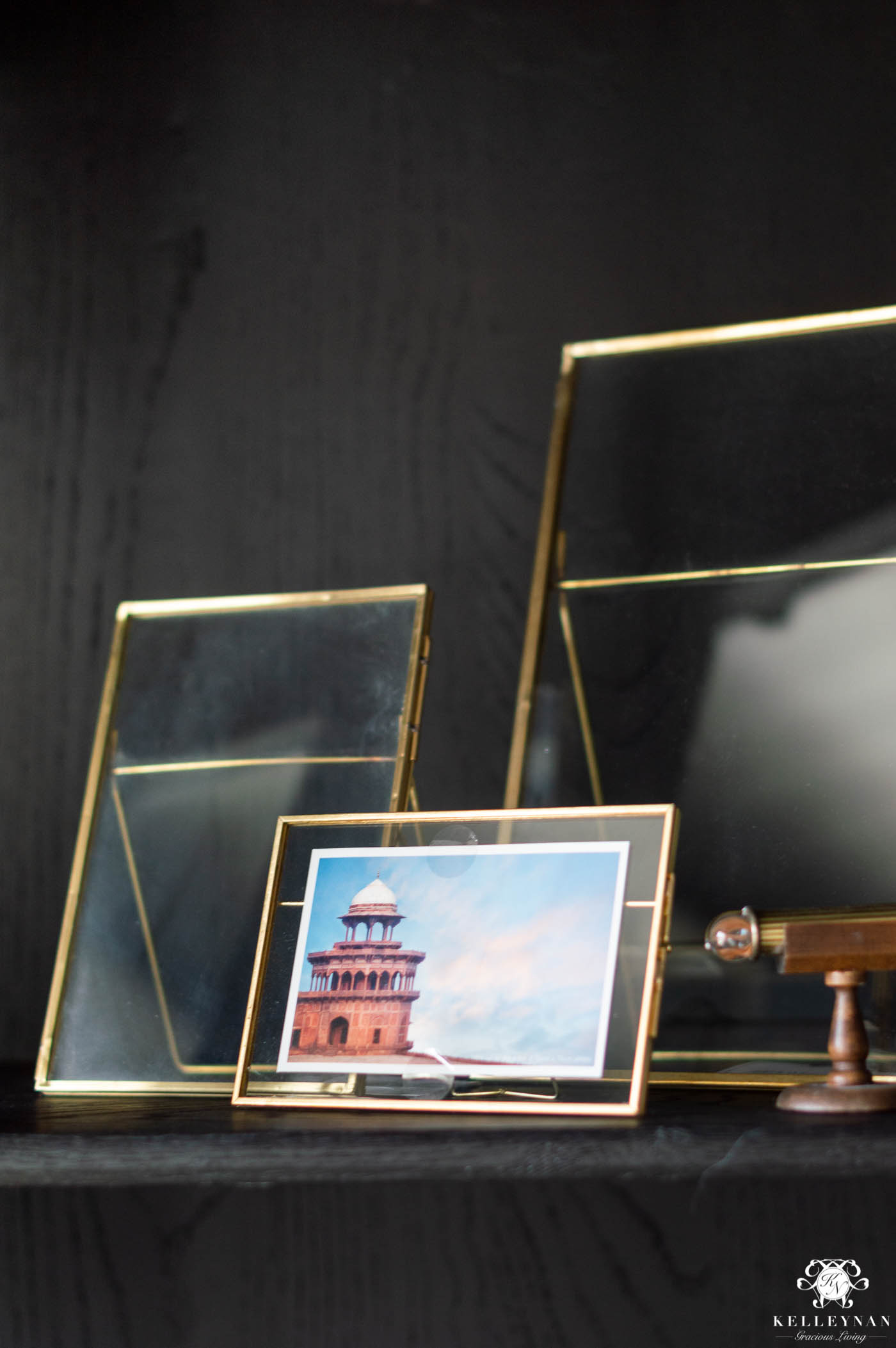 Gold Frames (small) | Gold Frames (large)
Another new addition was THIS black side table. I wanted something small but hefty and waited until the loveseat arrived before determining the size I wanted. I wasn't confident that a typical drum table would support a lamp (I ultimately went with THIS one! on sale today for 20% off and ships free HERE), so I opted for something with a little bit of a wider surface but a stumpy base. This piece is solid acacia wood and heavy!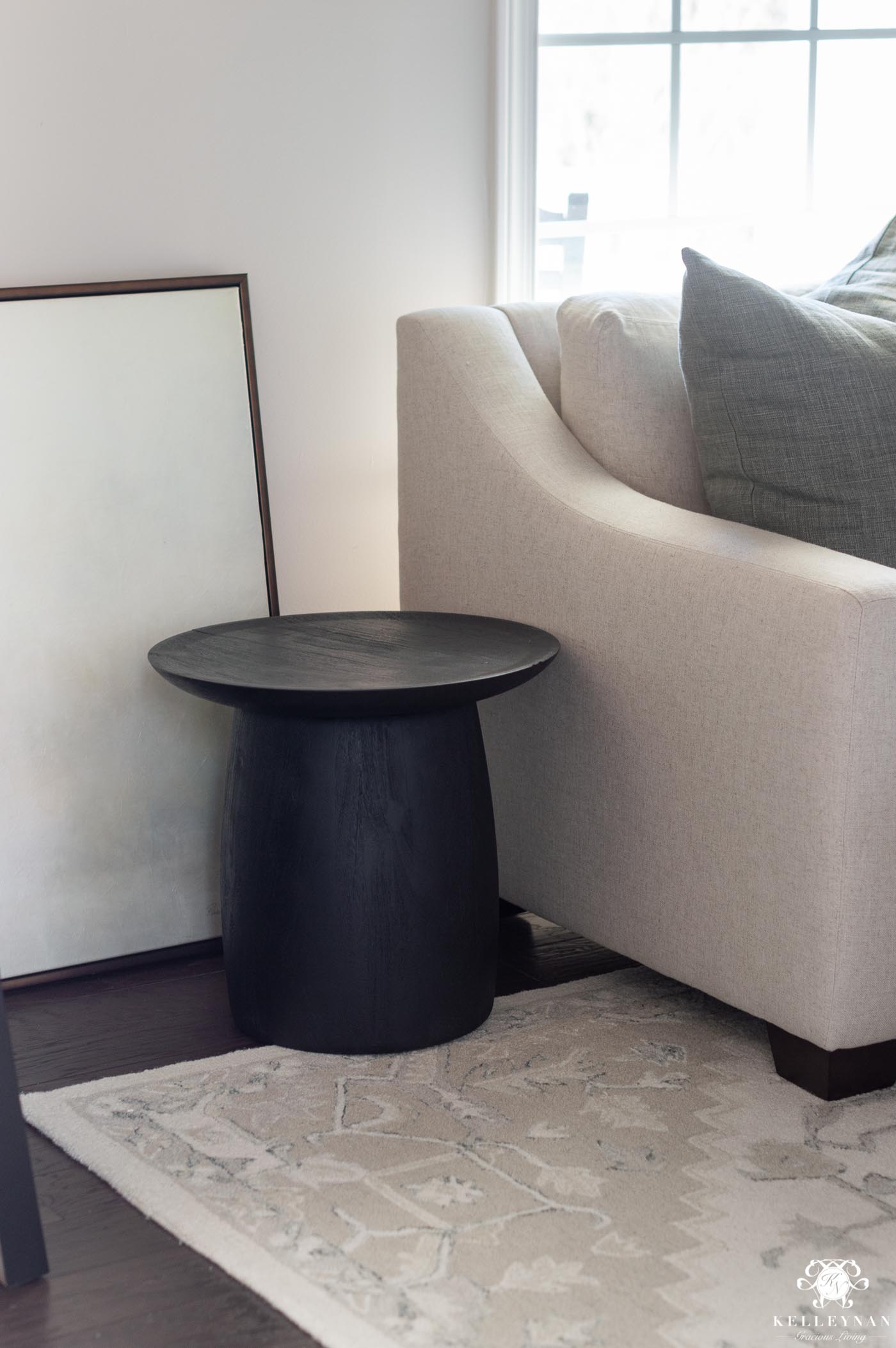 And the loveseat… wow. I love it. Unlike our living room sofas — which have been excellent — the York sloped arm loveseat came with down blend wrapped cushions and it is so incredibly comfortable. Per the usual, I did go with a performance fabric — Performance Everydaylinen Crypton Oatmeal — which is also the same fabric my mom just used on her new sofa. It's light but also seems like it will hide things pretty well. Since we've been able to keep our Ivory sofas in great shape, I have no doubt these will be even easier.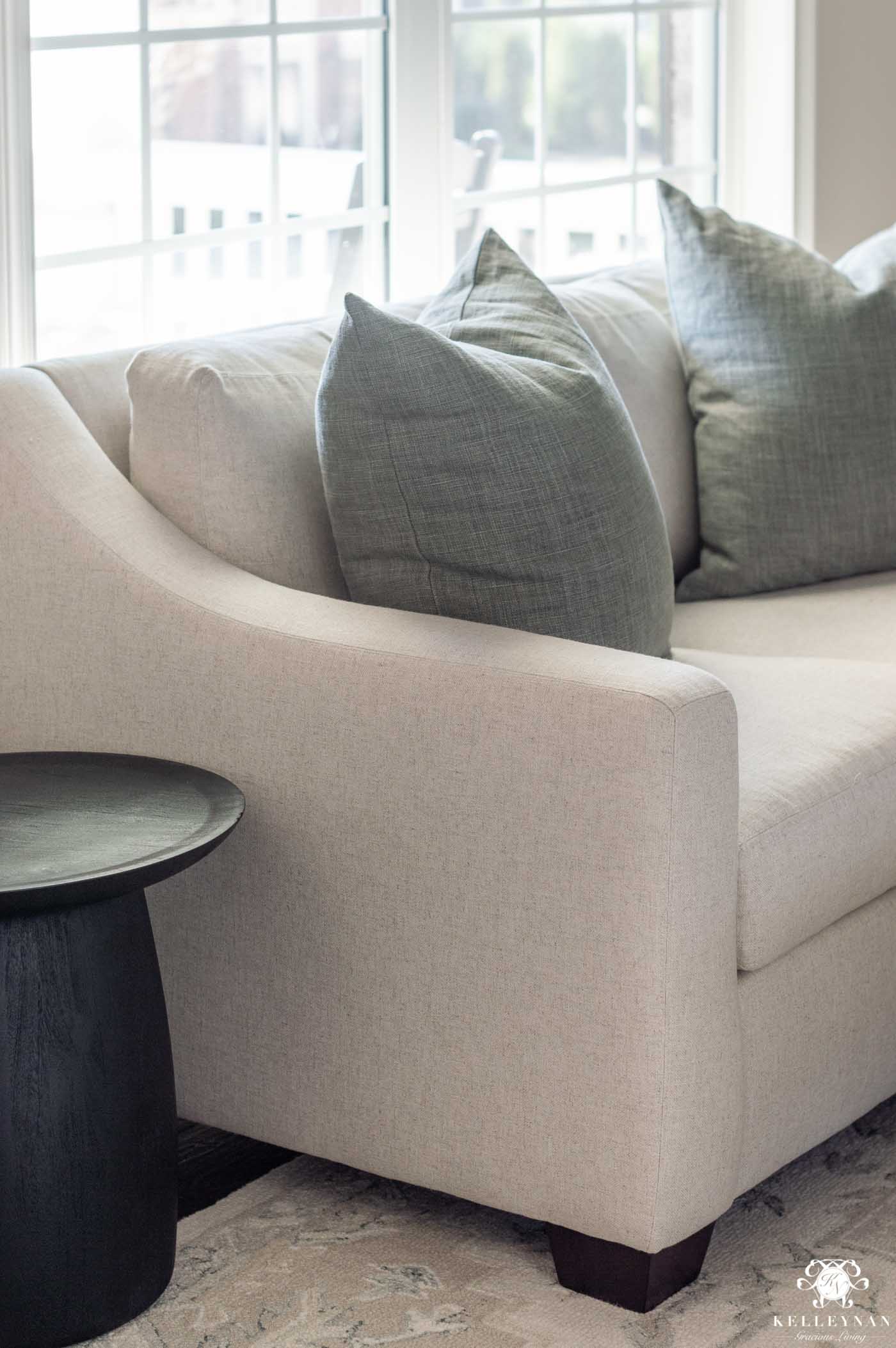 York Slope Arm Loveseat (Performance Everydaylinen Crypton Oatmeal) | Belgian Flax Linen Pillow Covers (Sage Grass; 24″) | Black Side Table
My coffee table also arrived recently and at 27.5″ x 51″, it's the perfect size for this room. I think I'm going to have to do a follow-up post after the room reveal because while I mix finishes and woods, I've never done it quite as much as I have in this room. And, I am loving the collected look.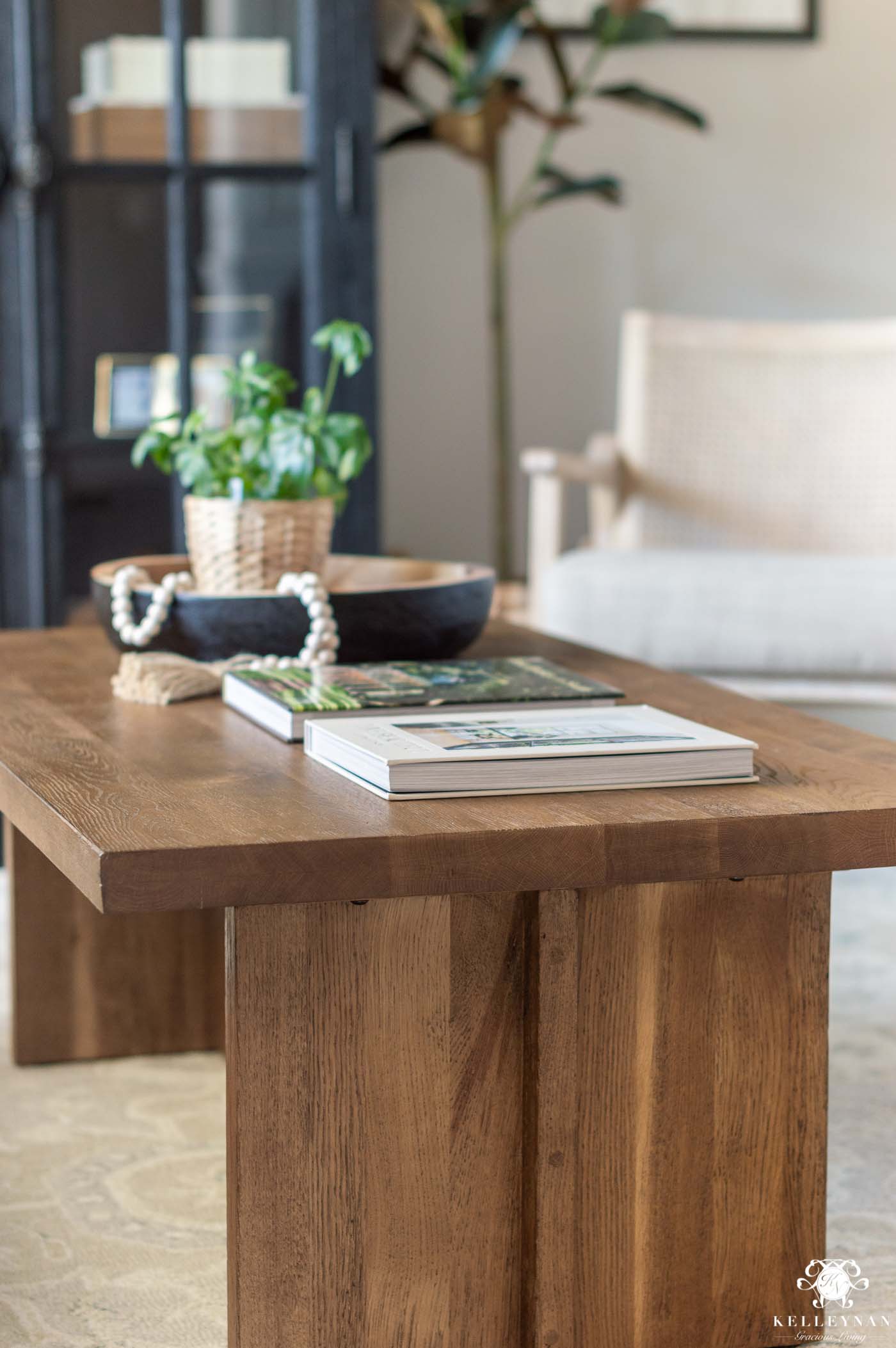 Coffee Table | Round Wooden Black Tray (medium)| Tassel Beads | Coasters | Seagrass Planter (SIMILAR) | Coffee Table Book: Live Beautiful | Coffee Table Book: Made for Living | Coffee Table Book: Great Houses of the South
I purchased THIS hand-carved wooden tray last year, specifically for this room, but it's already been used in the living room and breakfast nook, too. It's so versatile and I love the black contrast, coupled with the warm wood! It's beautiful in person and comes in medium (which is the size I have), and also a larger size.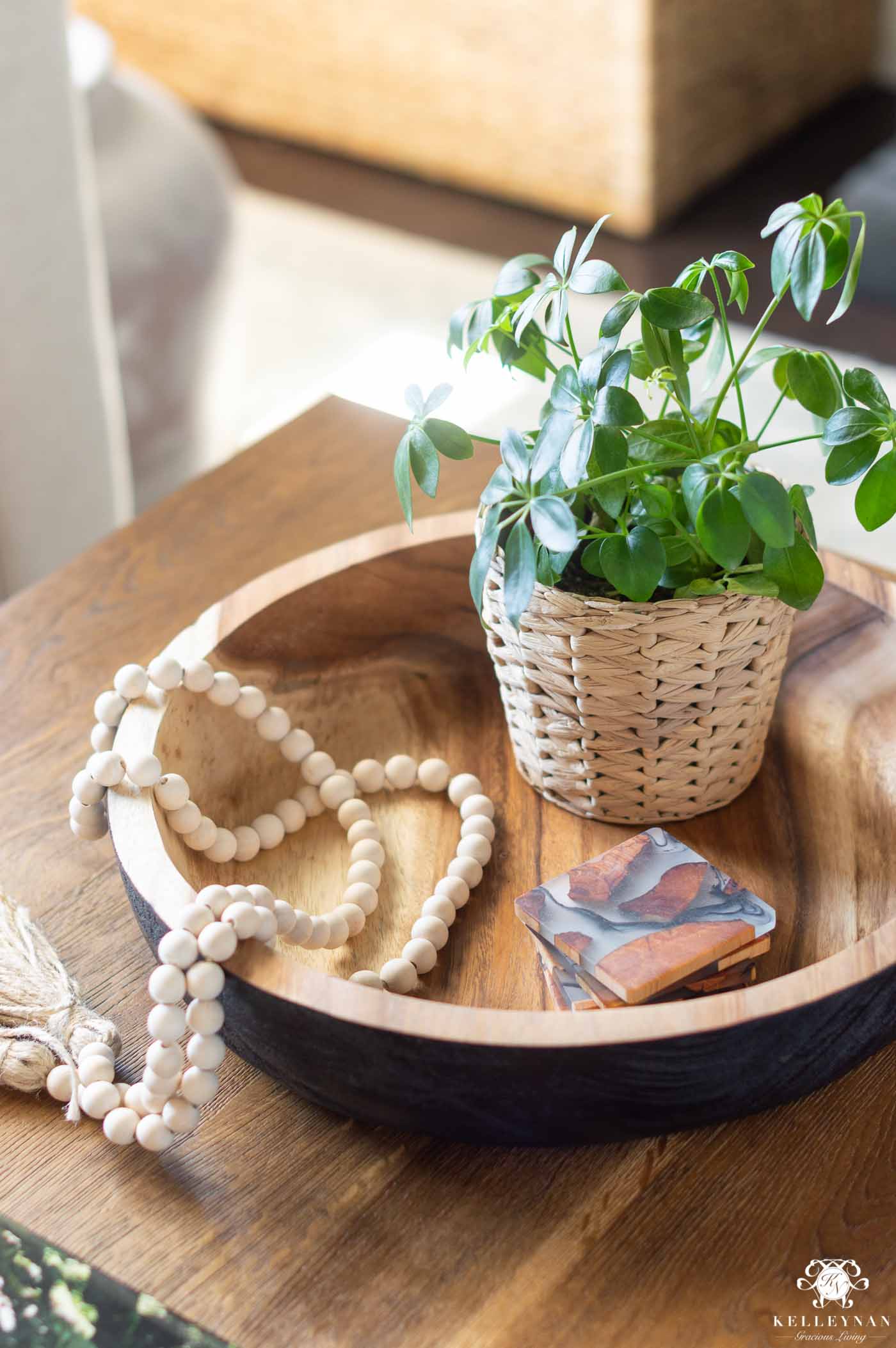 Coffee Table | Round Wooden Black Tray (medium)| Tassel Beads | Coasters | Seagrass Planter (SIMILAR) 
A functional piece I added to the mix in this small space is THIS inexpensive, woven trunk — it's comes with a hinged top but is even collapsible. I plan to use it for pillow/blanket storage, and it may even serve as overflow space for some of Eliza's downstairs *things*.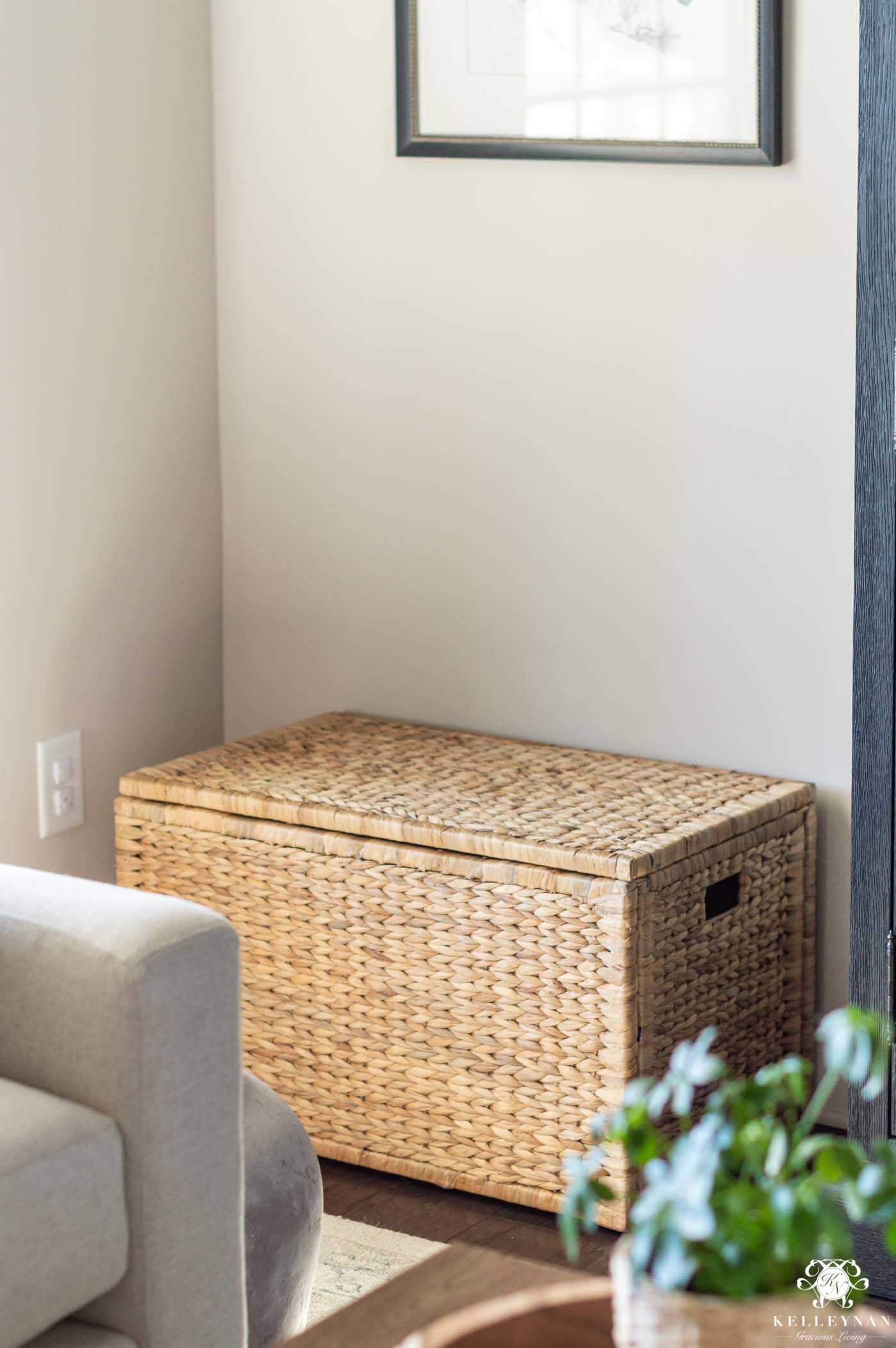 And remember this secretary desk that I found on Facebook Marketplace? I was so proud of this score — $100 for a piece from the 1800s — and while I had every intention of refinishing it (even before I purchased it), now that I've lived with it and have added to the room, I am actually loving how it looks. When I decided to leave the wood tone as-is, I was at minimum going to switch the hardware; now, I've decided even that is staying as-is. I ordered THIS Tibet Almond Stick to clean up the scratches a bit — I'm hoping it turns out well! My mom's movers used this wax on some of her scratched furniture and it was truly like magic! They just rubbed it on, rubbed it off, and while the indent was still there, you couldn't actually see the scratches anymore. I'll have to post a before and after when I get this part done!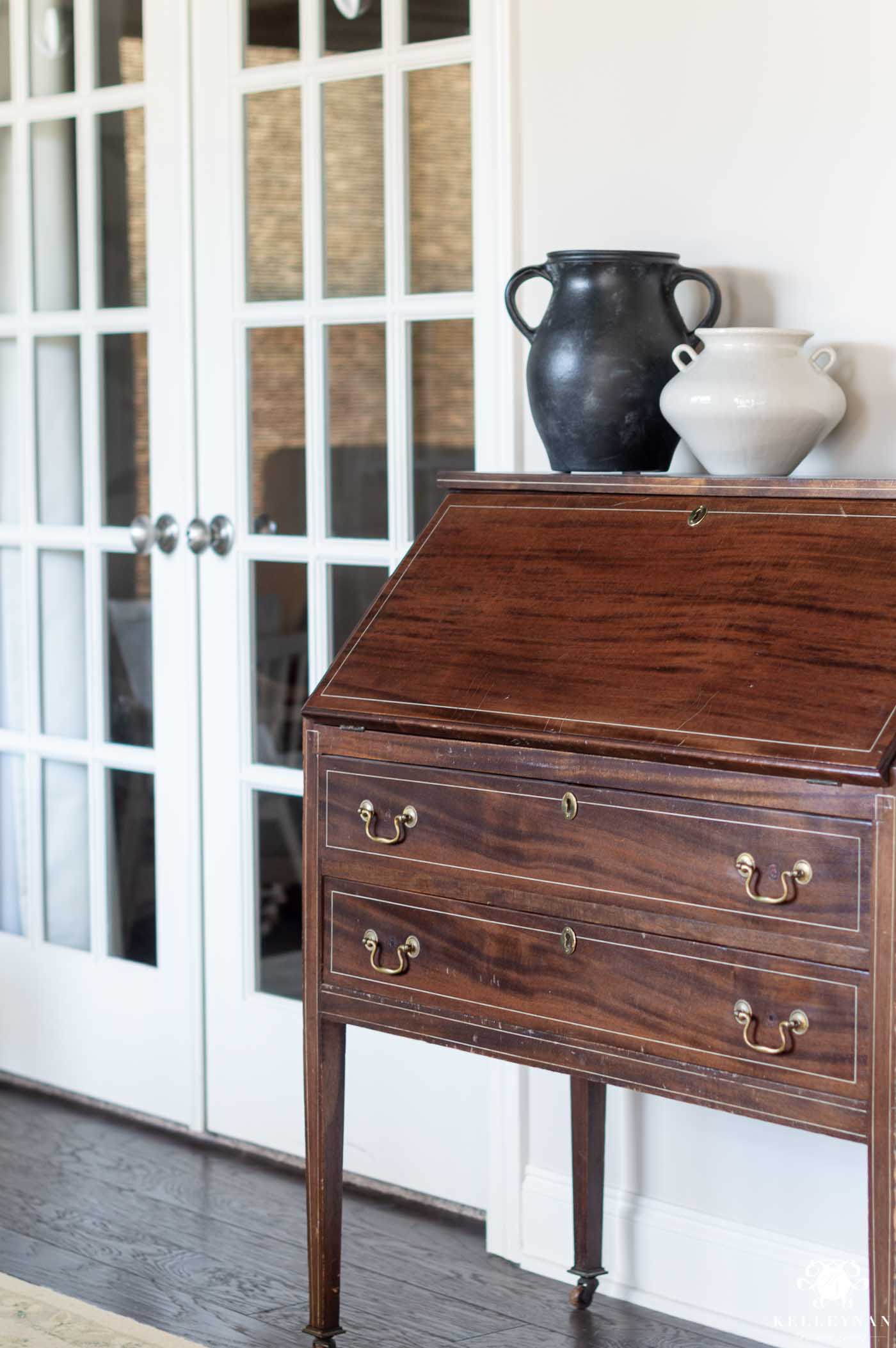 Black Urn (small) | Stoneware Vase
What's Left?
Ok, so we've taken a quick run-through of new additions and peeks here and there… so what's left?
Waiting on drapes to arrive — will have to order rod, rings, and get everything hung.
Repair scratches on desk
Order photos and style the inside of the cabinet
Waiting on throw pillows
Hang mirror above desk
Hang art on side wall
That's it! It almost seems silly that for a room that had to have electrical work, paint, and a full planked ceiling that the details are down to pillows, but, I'm also relieved and excited to finalize this space. I recently shared a dining room update (HERE) and the rug I ordered comes this week! Because this room and the dining room are positioned on either side of the entry, I really think the flow and cohesion is going to be so much better. You can find the original design plan and the "before" of the space HERE.
You can make sure you catch the reveal of the conversation room, see what's next, and follow along with other room projects to come this year by subscribing to emails in the bottom of the post!
Here is a link to the final reveal of the completed Conversation Room.