It's Amazon Prime Day — well, actually days — from now through tomorrow (6/22), and instead of sharing all the things, I thought I'd exclusively share the things I have and love that are on special. You can definitely get sucked into a black hole sorting through the tens of thousands of specials over the next couple days (and I'll definitely set aside some time to do my own scouring), but I was stoked to see some of my favorites are part of the annual sale this year. Many I'm including I've shared here on KN before and many are some of your favorites from the past. Below, you'll find general deals for home and life, and then later in the post, I'm sharing tried and true favorites for young kids. Some deals are exclusively offered to Prime members, others are for everyone. Most deals are just for Prime-Day, and a couple have big coupons on their listings today. They're all random and they're all awesome!
*Posts on KelleyNan.com may contain affiliate links. Click HERE for full disclosure.
*NOTE: All prices are current as of the time of publishing but can change at any time.
Follow Lightening Deals and start times HERE.
Amazon Prime Day Home & Life Random Favorites
Three things to keep in mind for Prime Day…
Are there any Christmas (or birthday/shower) gifts you can go ahead and knock out?
Are there any regularly used household items/toiletries you need to stock up on?
In addition to the great deals, most everything ships free!
Some of my favorite Prime day scores from years past aren't even the single large products, but the deals on inexpensive everyday items. I'll be showcasing some of the items in today's post over on Instagram stories so if you aren't already, you can follow me HERE and tune in 😉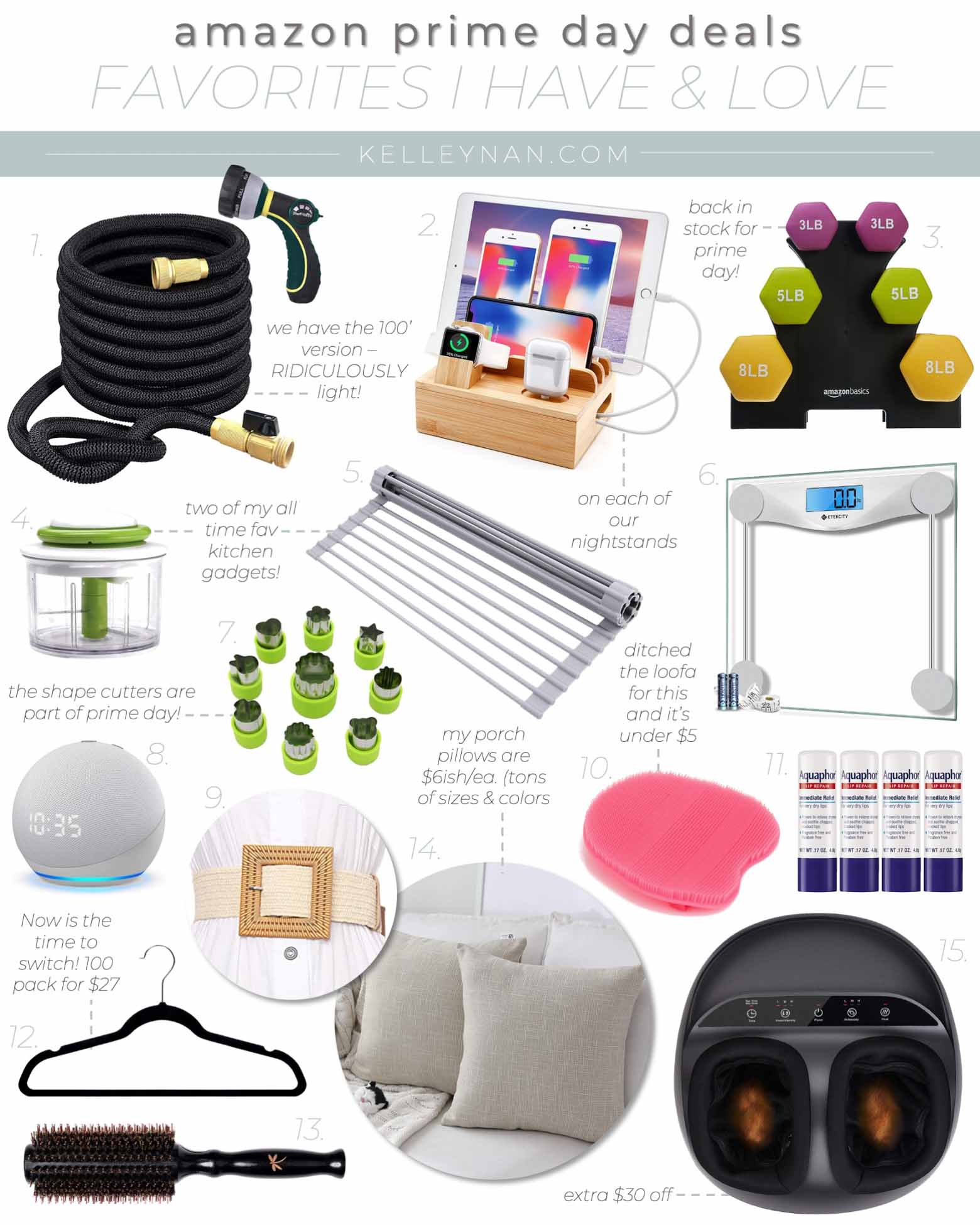 1. Lightweight, Flexible Expandable 100′ Garden Hose | 2. Bamboo Charging Dock | 3. Dumbbell Weight Set | 4. Veggie Pull String Chopper | 5. Rolling Drying Rack | 6. Scale | 7. Snack Shape Cutters | 8. Echo Dot | 9. Stretchy Belt | 10. Silicone Body Scrubber | 11. Aquaphor Chapstick | 12. Thin Black Felt Hangers (100) | 13. Round Brush | 14. Set of Pillow Covers | 15. Foot Massager
1. Lightweight, Flexible Expandable 100′ Garden Hose | When my mom moved in her house, we were totally intrigued by the idea of this hose. She was in the market for a few to outfit her outdoors and we ordered up in a couple different sizes. When the boxes arrived, we were shocked because they were so light weight, we thought there was no way there were actual hoses inside. Flash forward to this past weekend — my mom is such a fan of her lightweight expandable hoses, I got one for Dave for Father's Day. Keeping it coiled up in an pretty planter is an attractive way to keep it handy and out of sight. It comes in a 25′, 50′, 75′, and 100′ option!
2. Bamboo Charging Dock | On sale for 20% off, I shared these this past year. When I got one for my nightstand, it wasn't long before Dave followed suit. You can keep all your products (I keep my iPad, phone, Apple Watch, and AirPods on the dock each night. It comes with a built in power supply and all the charging cables inside except the one for the watch and it has tons of usb ports to add extras!
3. Dumbbell Weight Set | I shared this in a SAP this past year but it's been out of stock FOREVER. I don't know if they were waiting for Prime Day to make it available again but it's back and on sale! I use these and mix them in while I'm on the treadmill but they're the perfect lightweight set for tons of workouts.
4. Veggie Pull String Chopper | If you've seen my Instagram stories with this chopper in action, you know how passionate about it I am. It is SO easy to maneuver and can dice anything from onions and veggies to nuts and apples to a fine, fine dice. You can even toss several ingredients in and quickly whip up salsa, guacamole, etc. and use its storage lid to keep in the fridge. This is one of our most used kitchen gadgets! It isn't a Prime Day exclusive deal but does have a 20% off coupon on the listing today. Here's a video from when we first got it…
5. Rolling Drying Rack | This is another fave I've raved about many times before and the 3K+ 5-star reviews can back me up. This rolling drying rack comes in two sizes and fits right over your sink. Use it for dishes or even washing veggies, this was one of our smartest kitchen additions.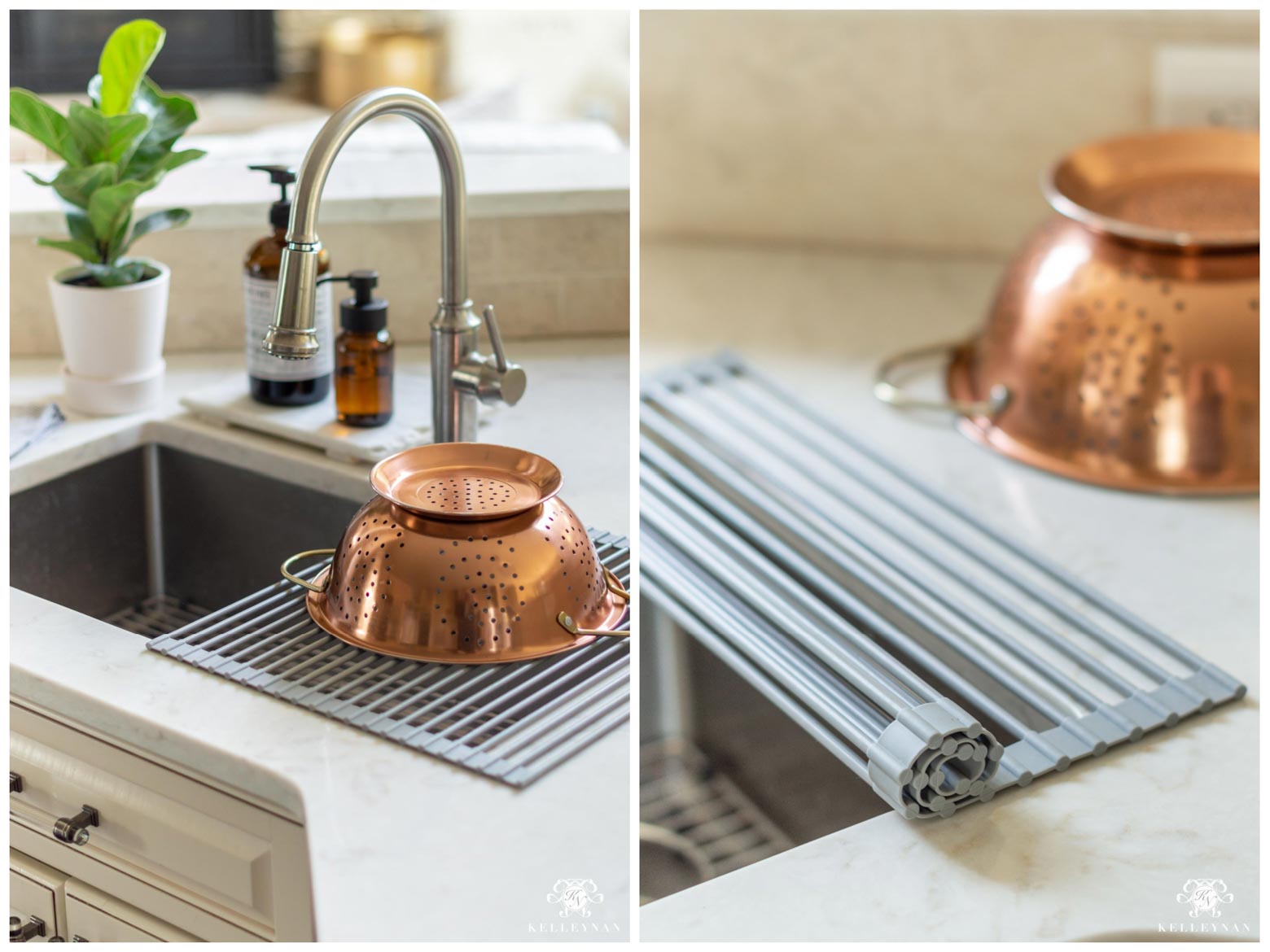 6. Scale | This scale is simple, easy to read, accurate and totally sleek. I don't want all the extras — I just want something reliable (and bonus that it's attractive). It was one of the most important and inexpensive purchases I made last year when I started a bit of a health journey. It has a coupon today on the listing, making it only $16.88!
7. Snack Shape Cutters | This is my more "adventurous" contribution to cute snacks — I've also shared the result of these on Instagram stories! It comes with several shapes that I've used on everything from cheese and pancakes to cucumbers and melon. Plus, it has a little tool that makes it simple to push the shapes out. Today for Prime Day, they're currently on sale for $8.79! Like most everything, they come with free shipping 😉
8. Echo Dot | There are tons of Echo Dot versions on special today but this one is my fav — the silver with clock display. Regularly $60, it's on sale for $34.99 today!
9. Stretchy Belt | Not only is this stretchy belt on sale for Prime Day (I have two colors!), but there's also a coupon on the listing that will bring it down an extra 10% off to $7.26! Such a crazy deal. I like to belt some of my more flowy dresses to give them a bit of a waist — with the stretch, they're incredibly forgiving, too.
10. Silicone Body Scrubber | When I made the switch from a loofa to this silicone body scrubber, I felt like I found some hidden secret. They've said for a long time that loofas are nasty with all the bacteria they hold and I know I didn't switch mine nearly often enough. This little silicone body scrubber has loops on the back to slide your fingers through and has totally changed how I apply my body soap in the shower — it's 35x more hygienic than other brushes. Yes, it still foams and is so incredibly easy to rinse and clean. It comes in several colors and is on special for Prime Day for only $4.73! You can see me talk about it here…
(The Foreo Luna face brush in the video isn't on sale but it can be found on Amazon HERE. The silicone body scrubber that is on sale can be found HERE.)
11. Aquaphor Chapstick | Random, yes, but I order my Aquaphor chapstick off Amazon regularly and today, not only is the four-pack a part of Prime Day, but it takes an additional 30% off at checkout, bringing the total to $9.59!
12. Thin Black Felt Hangers (100) | A Prime member exclusive, a pack of 100 black thin velvet hangers is only $27.19 today (normally $39.99). I have preached about these so many times and even gave away sets as a giveaway last year because I'm such a fan. They save so much space, your clothes actually stay put, and bringing all items to one level height makes it so much easier to see what you have. If you've been waiting for the right time to make the switch in your closets, this may be it.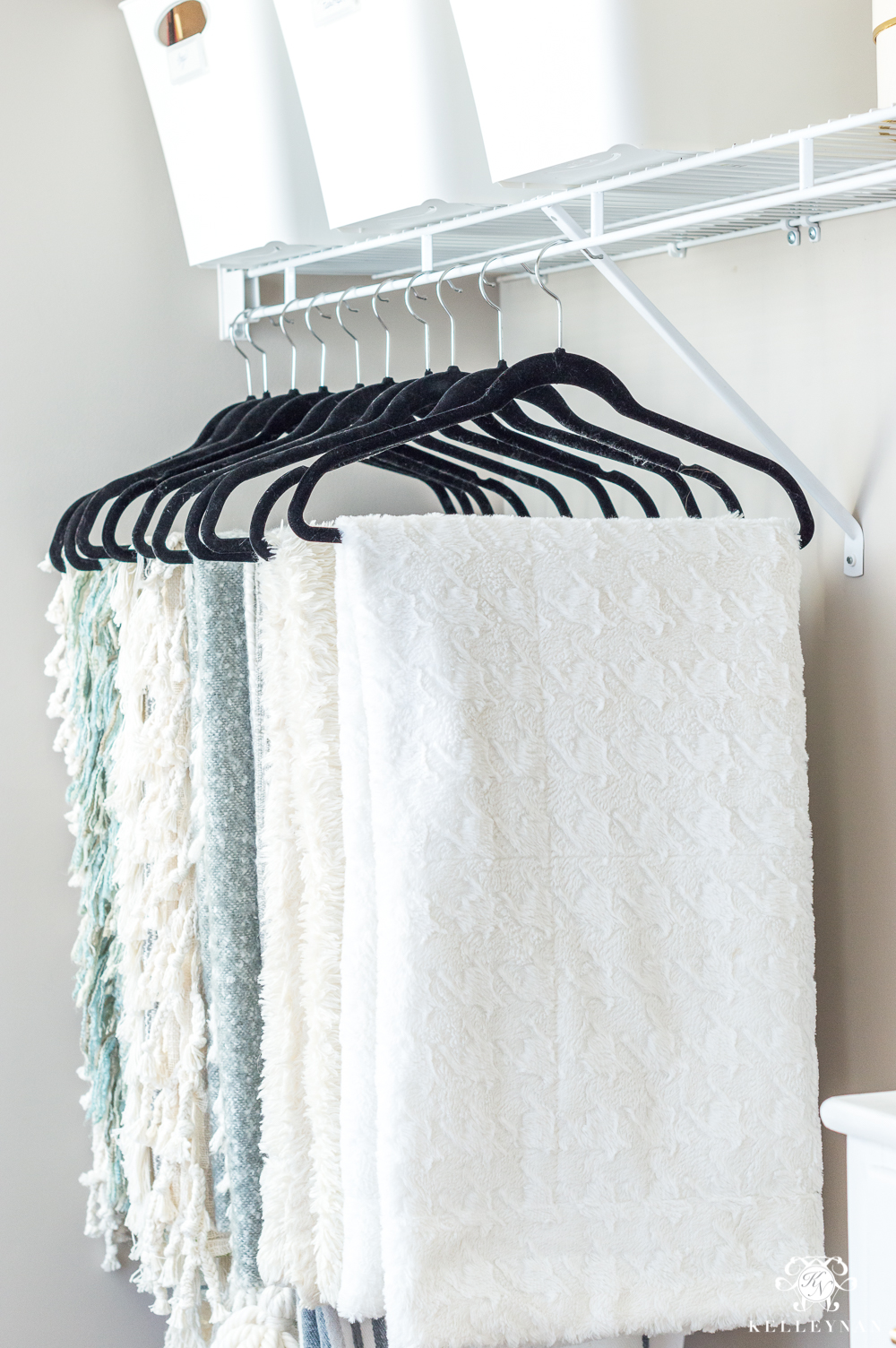 Thin Black Felt Hangers (100)
13. Round Brush | I got this round boar bristle brush (in the large barrel option) this past year and it's what I use when I'm blow drying my hair — it's on sale for 25% off today, bringing it under $20!
14. Set of Pillow Covers | Another one of my fav Prime Day deals, I took a chance on this set of inexpensive pillow covers a few months ago for the porch and was so surprised by the quality and durability! While they aren't intended for outdoors necessarily, they work perfectly on our porch. They come in a ton of colors and sizes (mine are the 20″ version in light beige) and get this — today, they're just over $12 for my size for the SET!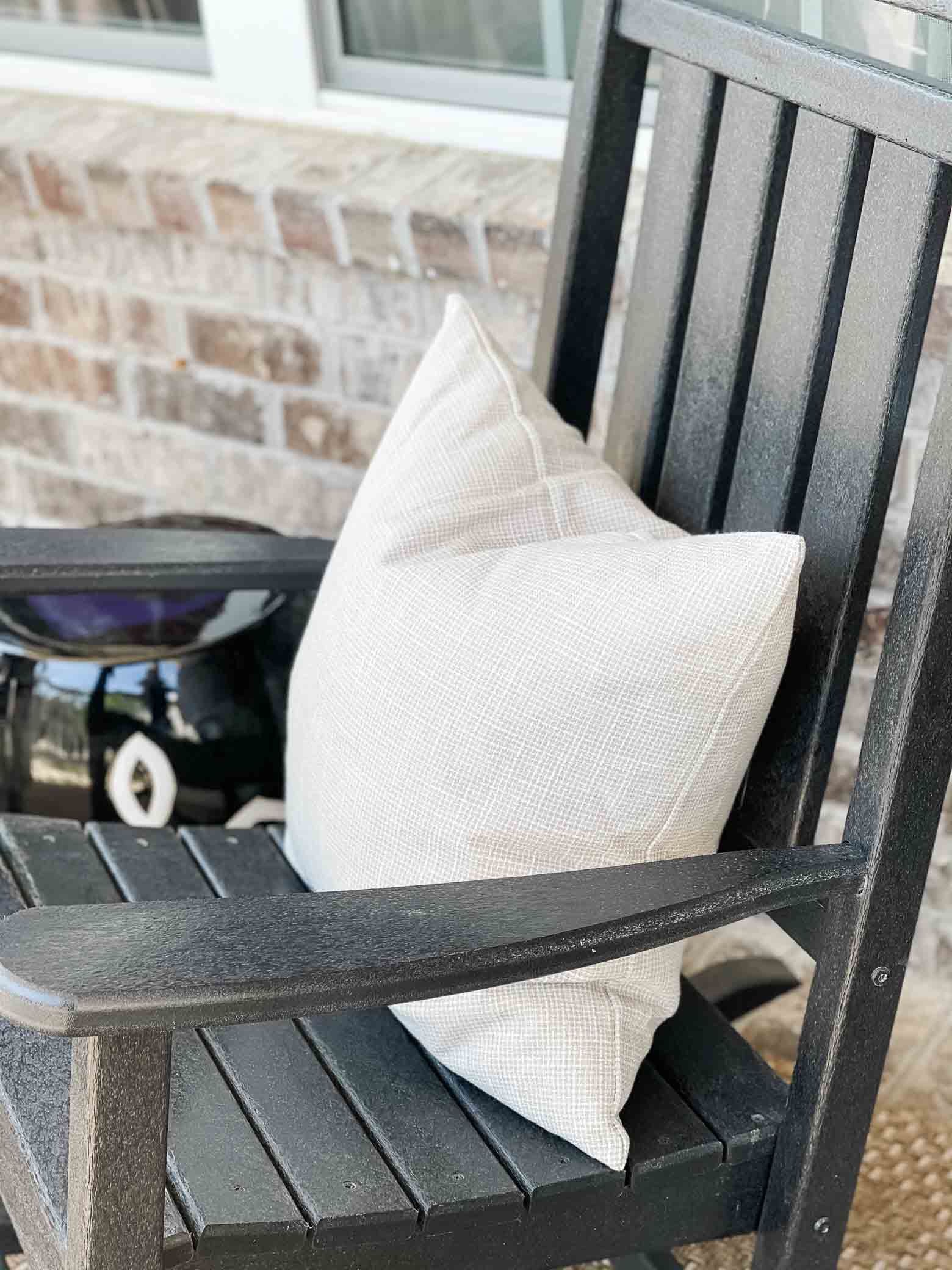 Pillow Set | Polywood Rocking Chair
15. Foot Massager | This was a gift to myself last year and today, this foot massager has a coupon on the listing for $30 off! I bought mine when it wasn't on sale and spent a bit more. My favorite feature is the air compression — you can adjust the rollers and air feature from 3 intensities, manipulate the heat control, and opt for a 15 or 30 minute session. I keep mine under my desk for while I'm working 😉
Amazon Prime Day Young Kids Random Favorites
Some of my favorite deals today for Prime Day are things I've scored for Eliza. It always seems like things for kids are more urgent and if I wasn't already a Prime member, after having a kid, I definitely would become one. From ointments and toys to gadgets and accessories, here are some of my favorites that we have that are part of Prime Day.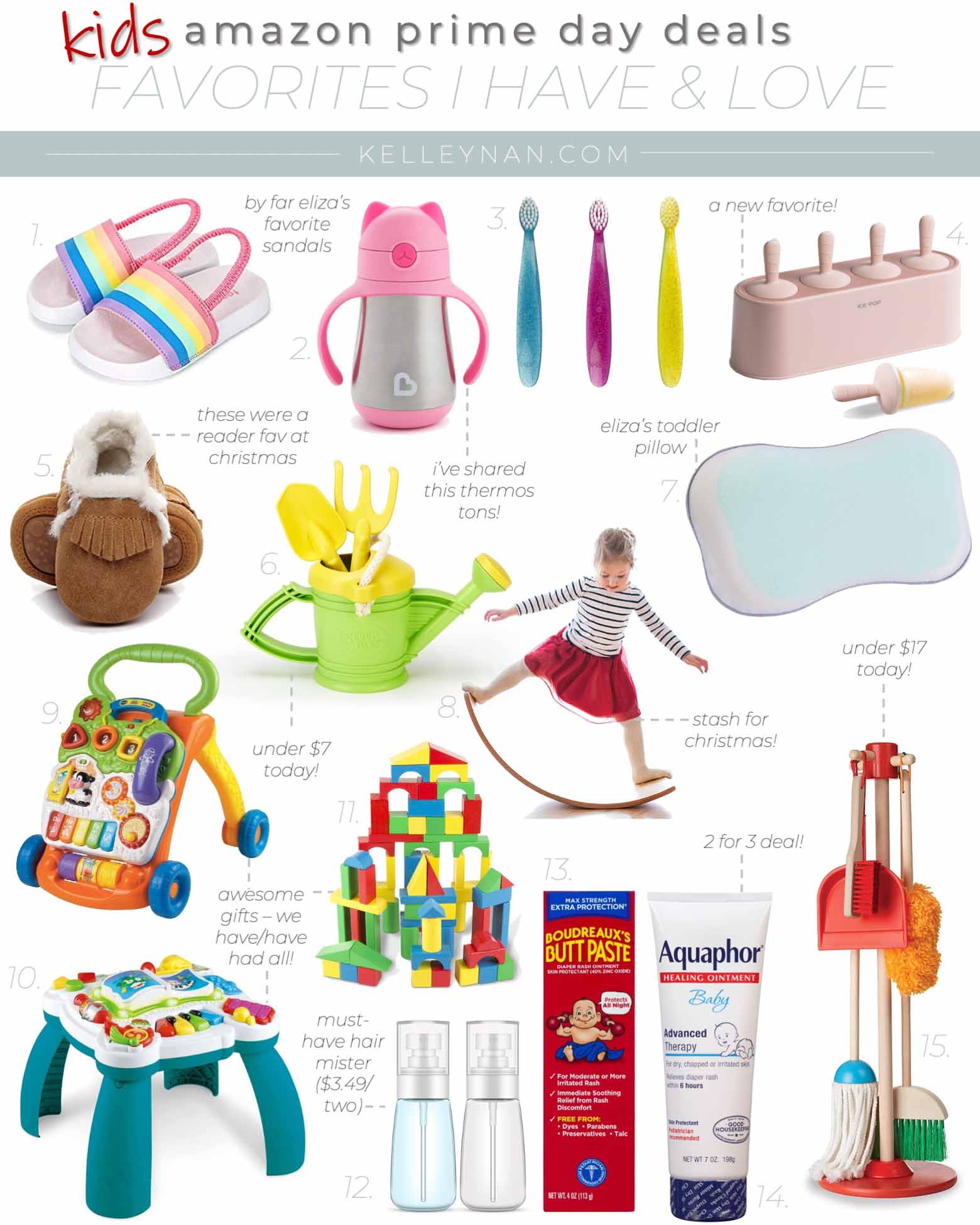 1. Water Sandals | 2. Snap Thermos | 3. Toothbrush Trio | 4. Popsicle Mold | 5. Moccasins | 6. Watering Can Garden Set | 7. Cooling Memory Foam Toddler Pillow | 8. Balance Board | 9. Push/Pull Sit to Stand Walker Toy | 10. Activity Table | 11. Wooden Block Set | 12. Set of Misters | 13. Boudreaux's Butt Paste | 14. Aquaphor | 15. Cleaning Set
1. Water Sandals | I set out in search of comfortable, foamy sling back sandals for Eliza that she could wear casually during the summer, around the pool, to play outside, etc. and because she has a small foot (not quite toddler sized just yet), I had a hard time finding what I was looking for in expanded sizing. These go down to a 3-4 (infant) and up to a toddler 9-10. They are on sale today, plus, there's an extra 20% off coupon you can apply on the listing! I'll be snagging another pair of these today!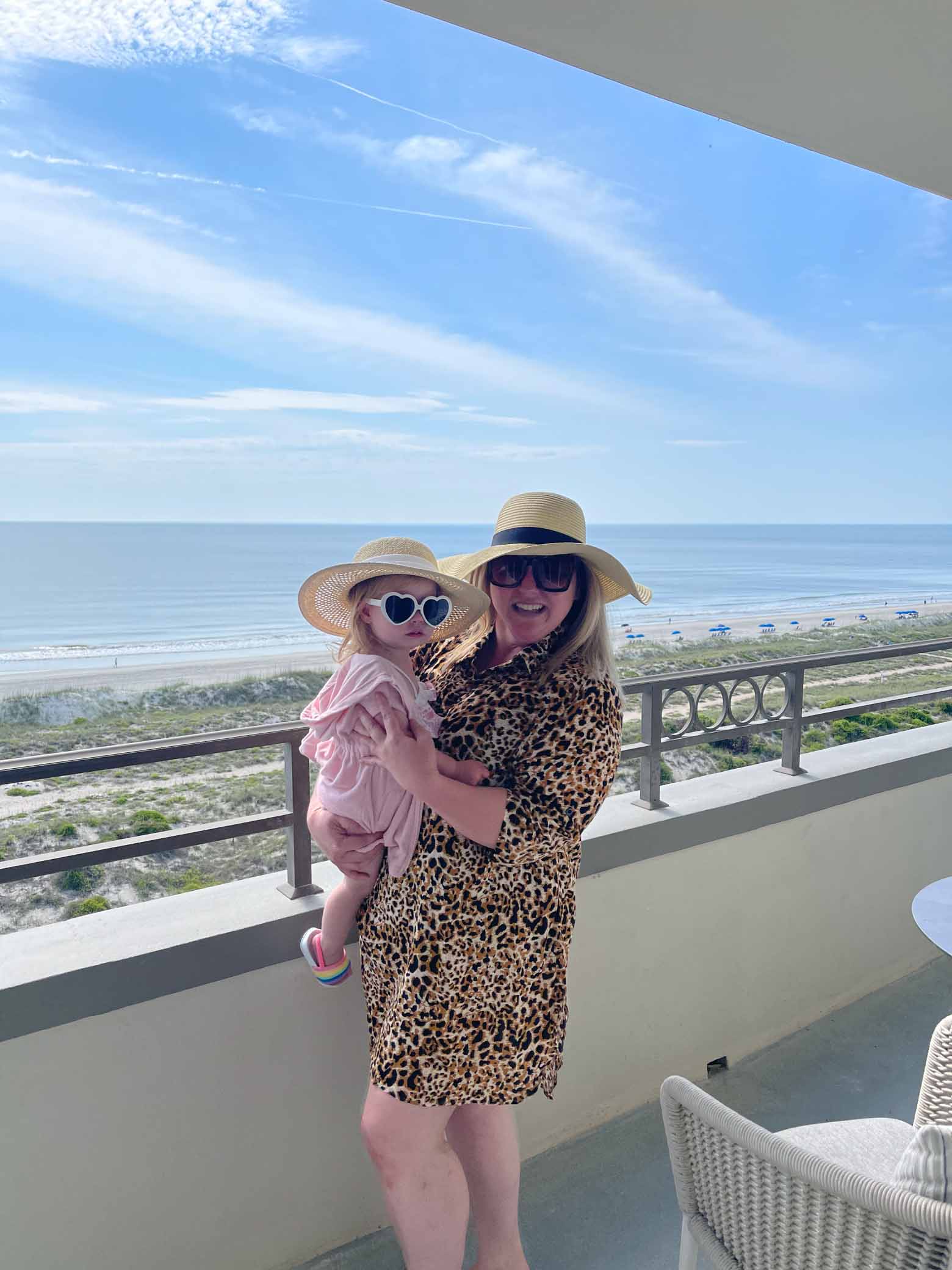 Eliza's Sandals (Amazon) | My Leopard Cover-up (Amazon) | My Oversized Sunglasses (Amazon) | My Hat | Eliza's Sunglasses (Amazon) | Eliza's Cover-up
2. Snap Thermos | I've shared this kitty insulated thermos a few times and highlighted it in my toddler travel post (HERE). It's no-spill and while it's normally $16,99, it's only $11.96 at checkout!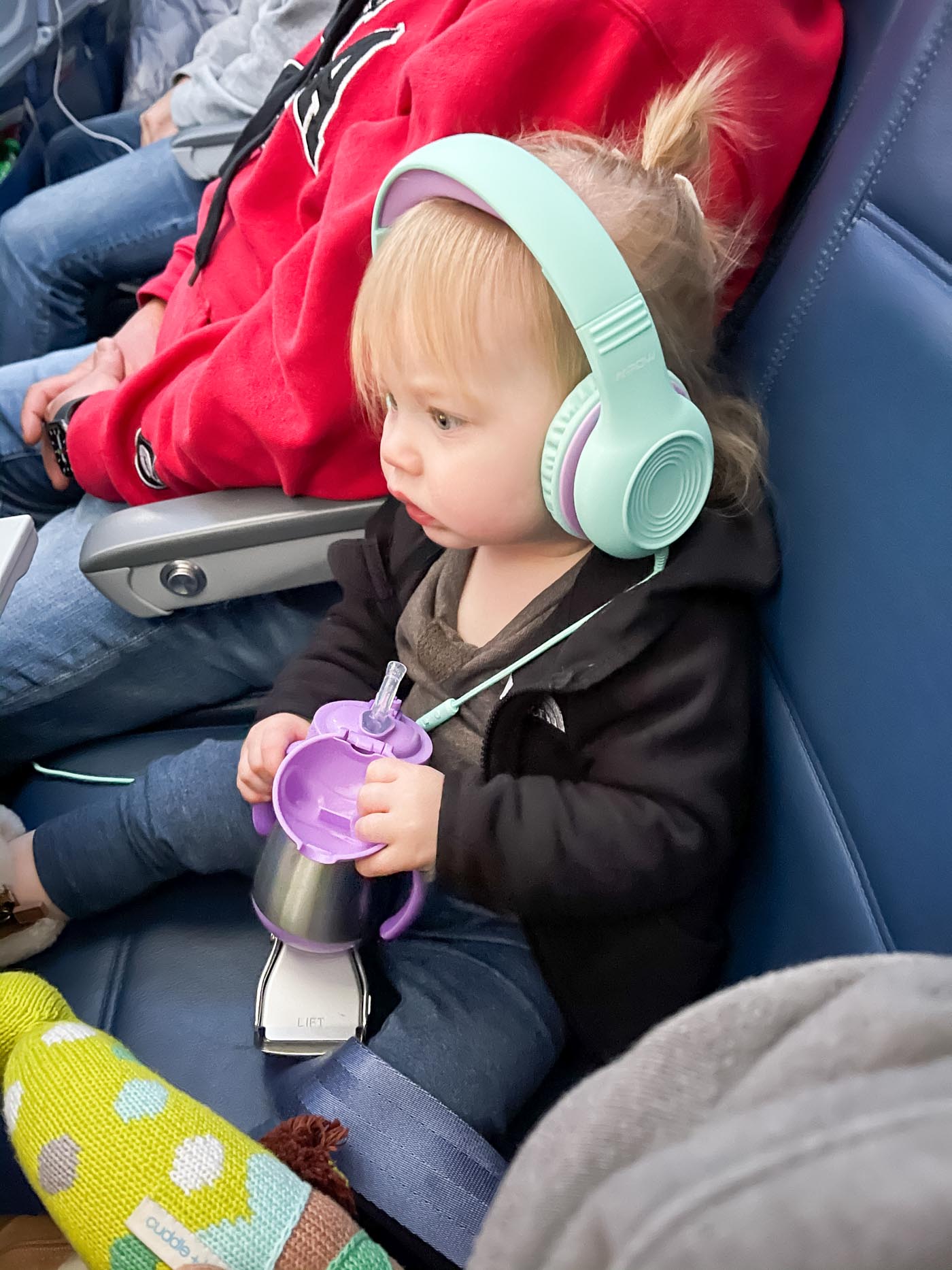 3. Toothbrush Trio | The toothbrushes Eliza uses are 20% off today as a part of Prime Day! Love having extras on hand, too. I'll be grabbing another pack of three today.
4. Popsicle Mold | This is a new favorite and I just shared it this weekend. Eliza is big into popsicles now that it's summer and she's *TWO* (how?!) After scouring for just the "right" DIY popsicle molds, I landed on this one for its size, assembly, silicone compartments for easy removal and cleaning, and the drip tray built on each stick. It's 27% off today and you can actually see it in action here…
5. Moccasins | Same as her above tiny foot struggle, I was so happy to find these little hard bottom moccasins for Eliza this past winter. They stretch over the foot and are adorable on! They come in a ton of colors and we'll be grabbing some more today since they're a Prime Day special right now!
6. Watering Can Garden Set | A Prime member exclusive, this recycled plastic Green toys garden set is on sale for $6.79, regularly almost $17! It's an awesome size for little kids and has over 2k 5-star reviews! If you don't have a use for it at this point in the season, grab it and hold onto it for next spring/Easter!
7. Cooling Memory Foam Toddler Pillow | Eliza's toddler pillow is made of a memory gel foam, is cooling, and has a washable cover. She loves it (and so do we ;)). It's a part of Prime Day for 20% off!
8. Balance Board | A Christmas gift from Gran Nan, Eliza's balance board was originally $99.99 — today, it's on sale for $43.39! It holds 480 lbs, and is multi-use. From balancing and rocking to bridge play, a ramp for toys with wheels, a slide, and more. This is an AWESOME gift to stash away for Christmas!
9. Push/Pull Sit to Stand Walker Toy | This was our champion when Eliza was first learning to walk. And even before that, when she was learning to pull up and stand, the activities kept her reaching and interested. This was one of our must-haves in the pre-toddler days! Today, it's on sale for under $25.
10. Activity Table | Another interactive toy that was awesome in the days of learning to pull up and balance, this Leap Frog activity table is loaded with all the things. It's normally $44.99 but is on sale today for $27.99.
11. Wooden Block Set | It's a classic Melissa & Doug 100-piece set and is on sale today for $13.49!
12. Set of Misters | When I first started doing Eliza's hair, it became clear quickly that her morning bed head was going to need some help and taming. These miniature spray bottles comes as a set and produce the most perfect bursts of fine mist that won't soak the hair but are super effective. Plus, they're so small, they're easy to stash in the dresser drawer and you can even carry one in your bag. They're on sale for 50% off today and you can grab them for $3.49 for the set!
13. Boudreaux's Butt Paste | The diaper cream we swear by and stocked up on last Prime Day, if you're a fan, it's worth noting that today, Boudreaux's is an extra 20% off its Prime Day sale price! And if you're a new mom/expecting, just know — this stuff is IT for us!
14. Aquaphor | We keep Aquaphor stashed everywhere for everything from red spots to chapped areas to little places that need a little extra love. Today, there's a special on TONS of toiletries, beauty items, personal items, etc. where you can mix and match and grab three for the price of two! You can see all the included items that are eligible HERE. It's a great time to stock up on lotions, wipes, Cetaphil, Burts, CeraVe, Palmer's, Olay, Aveeno, etc.
15. Cleaning Set | One of Eliza's favorite toys, this Melissa & Doug wooden cleaning set is marked down to $16.79 today! Another great gift to stash for the holidays, this price can't be beat. She reaches for this time and again, especially when I'm doing chores, to mimic and follow along.
A Few Favorite Amazon Home Decor Moments
For good measure, and in celebration of Prime Day, I thought I'd share a few favorite Amazon Home decor finds throughout our house. While we have a TON, I'm sharing just a small sampling today 😉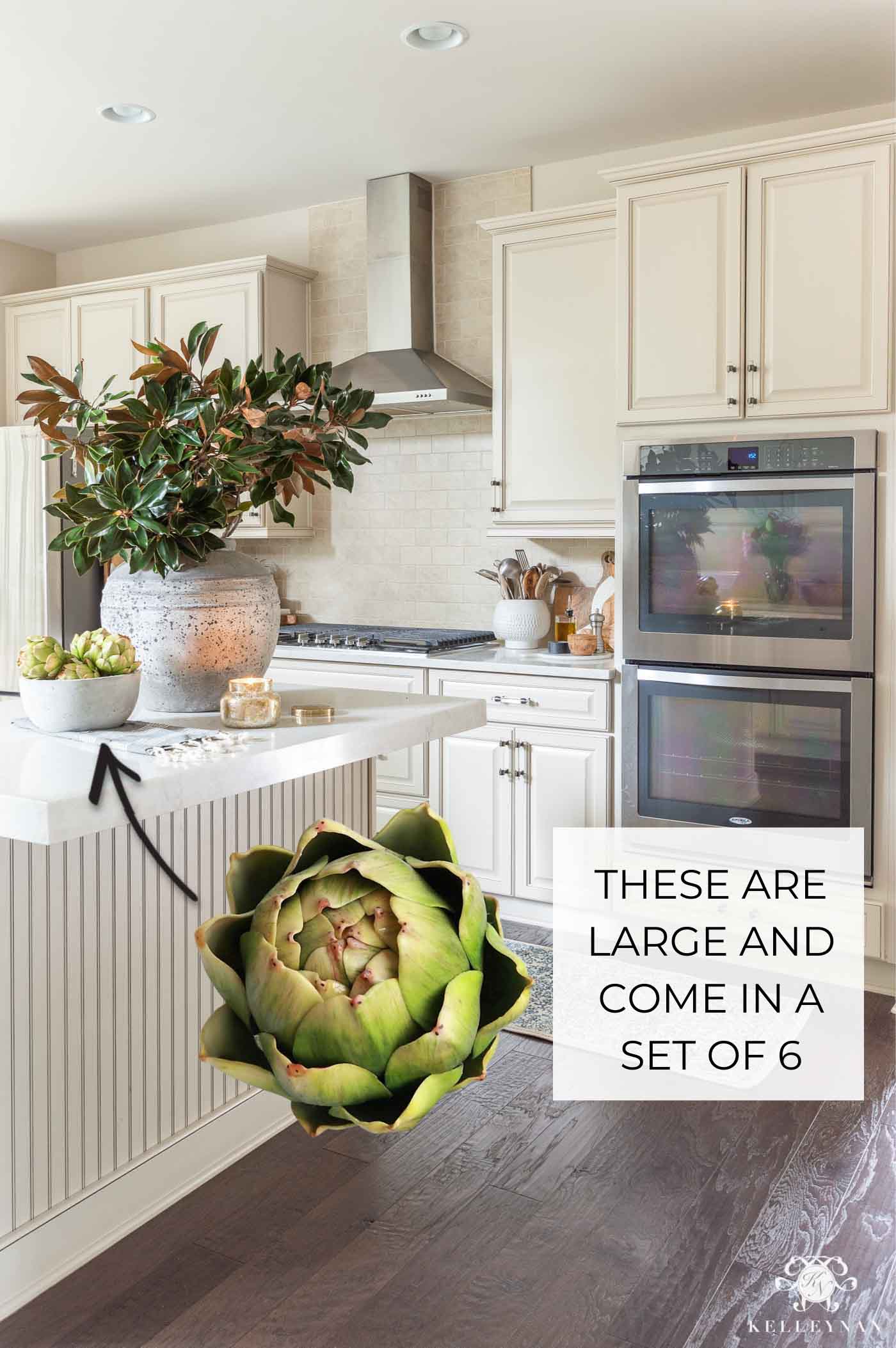 Sources: Faux Artichokes | Oversized Cement Vase | Cabinet Pulls (gunmetal; 3 3/4″)
This Coffee Table Moment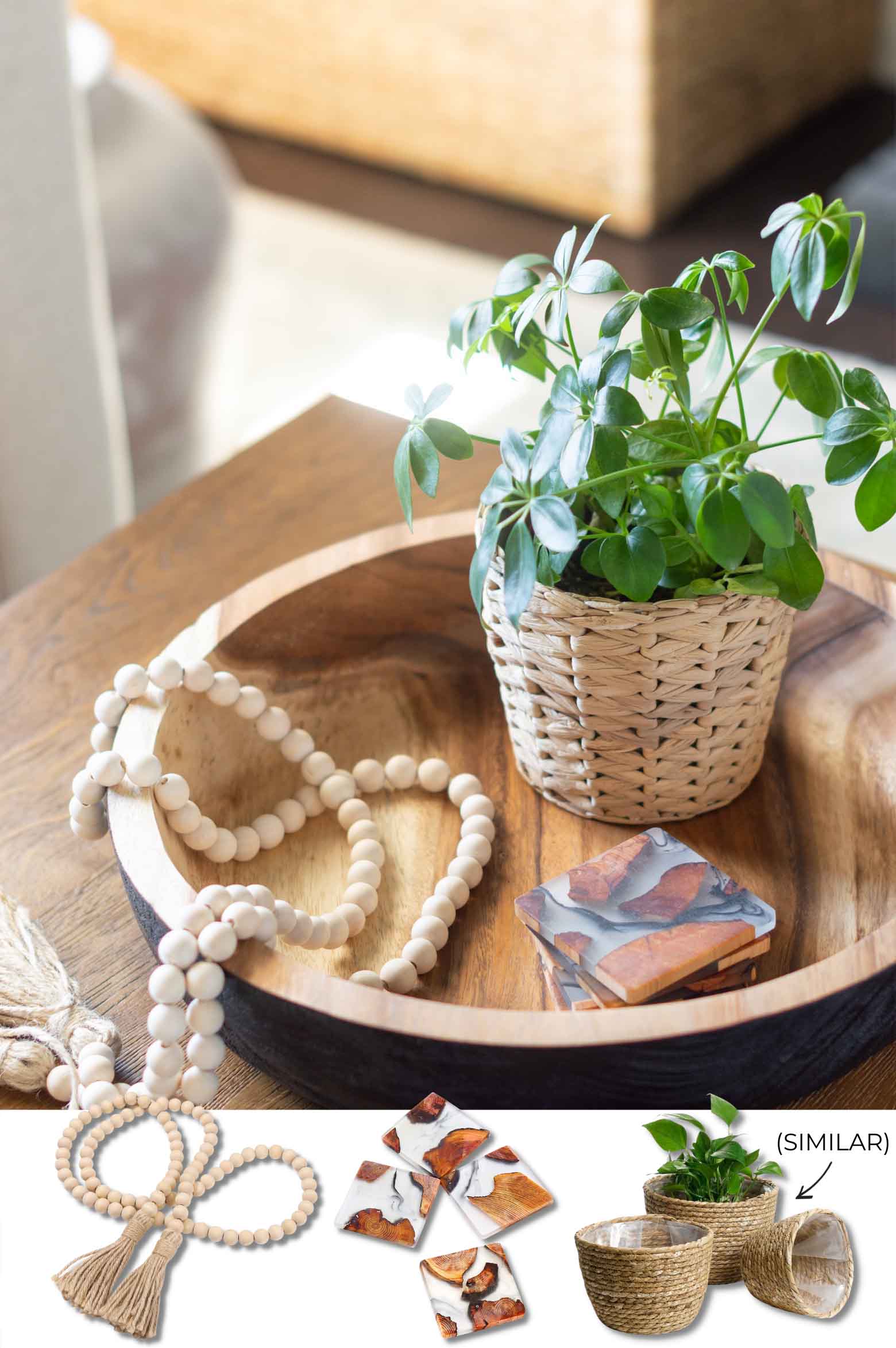 Sources: Wood Bead Garland | Wood & Resin Coasters | Set of 3 Seagrass Baskets (similar) | Black Round Wooden Tray
This Front Porch Setup
Note: These pillows are part of Prime Day and on sale for just over $12 for a set of two HERE!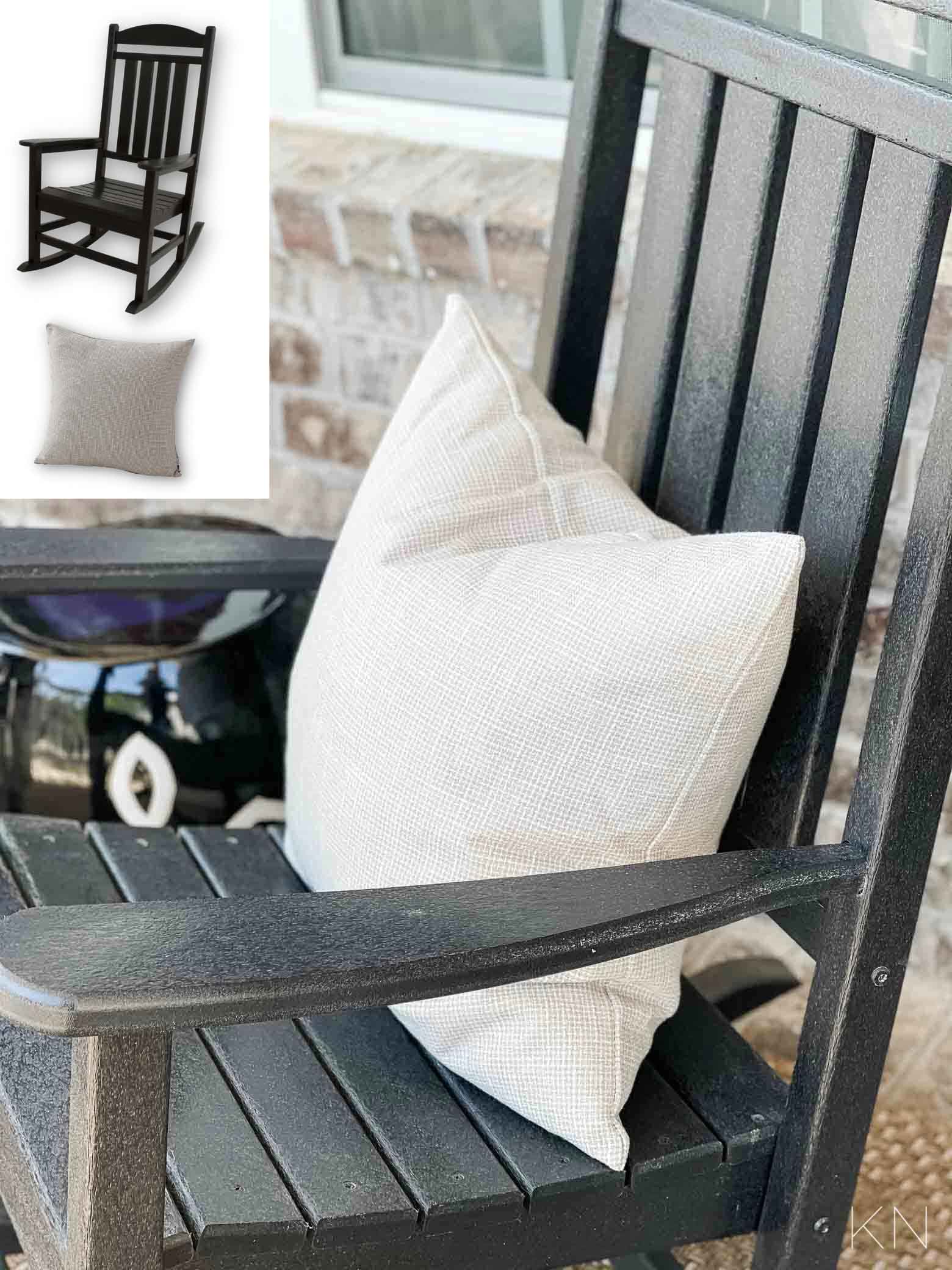 Sources: Pair of Pillows (20″; Light Beige) | Polywood Rocking Chairs
The Organized Laundry Room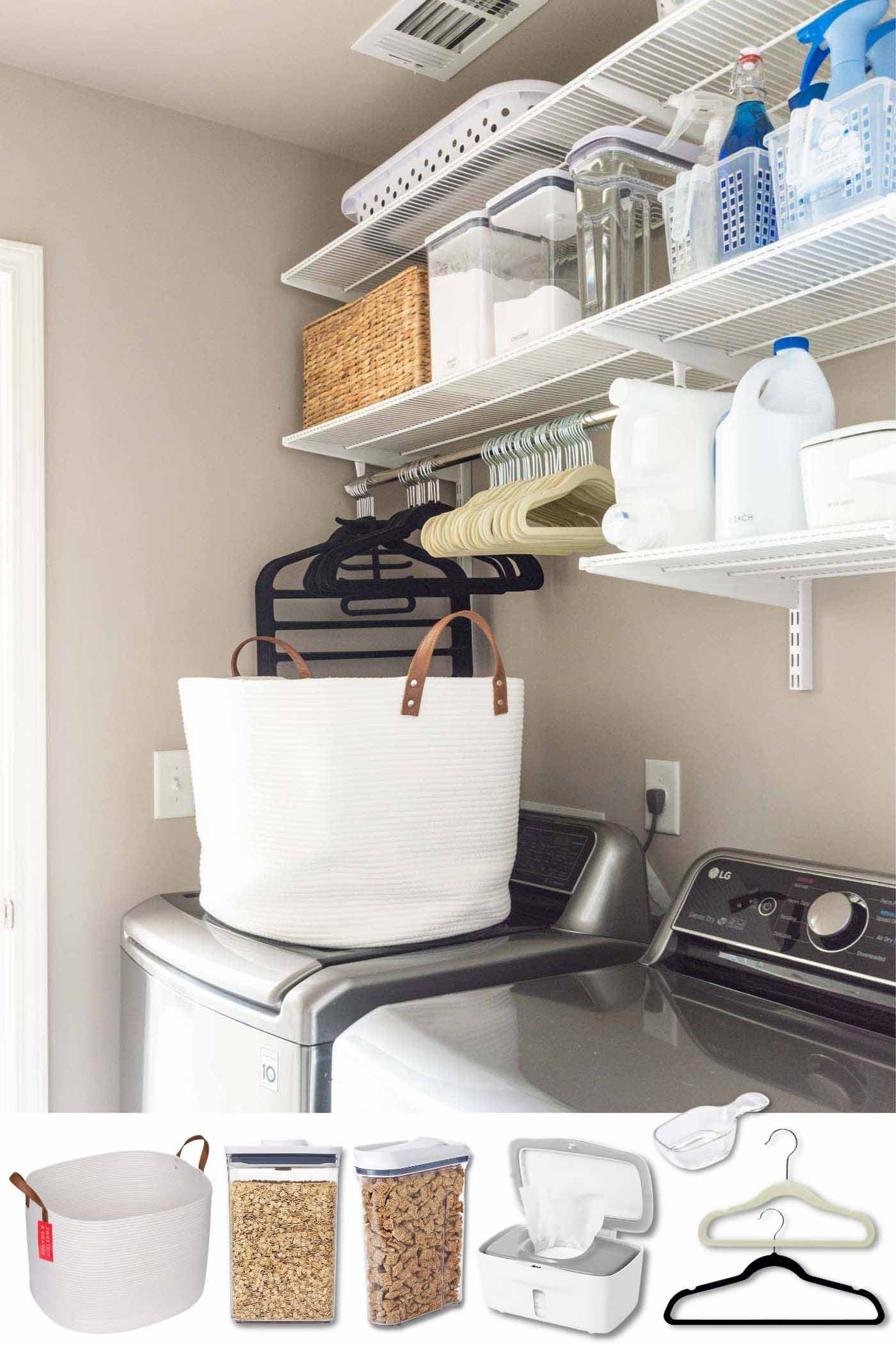 Sources: XXL Laundry Tote | 4.4 Qt. Large POP Canister | POP 4.5 Qt. Pour Canister | Wipe Dispenser | OXO Scoop | Slim Black Felt Hangers | Slim Child Felt Hangers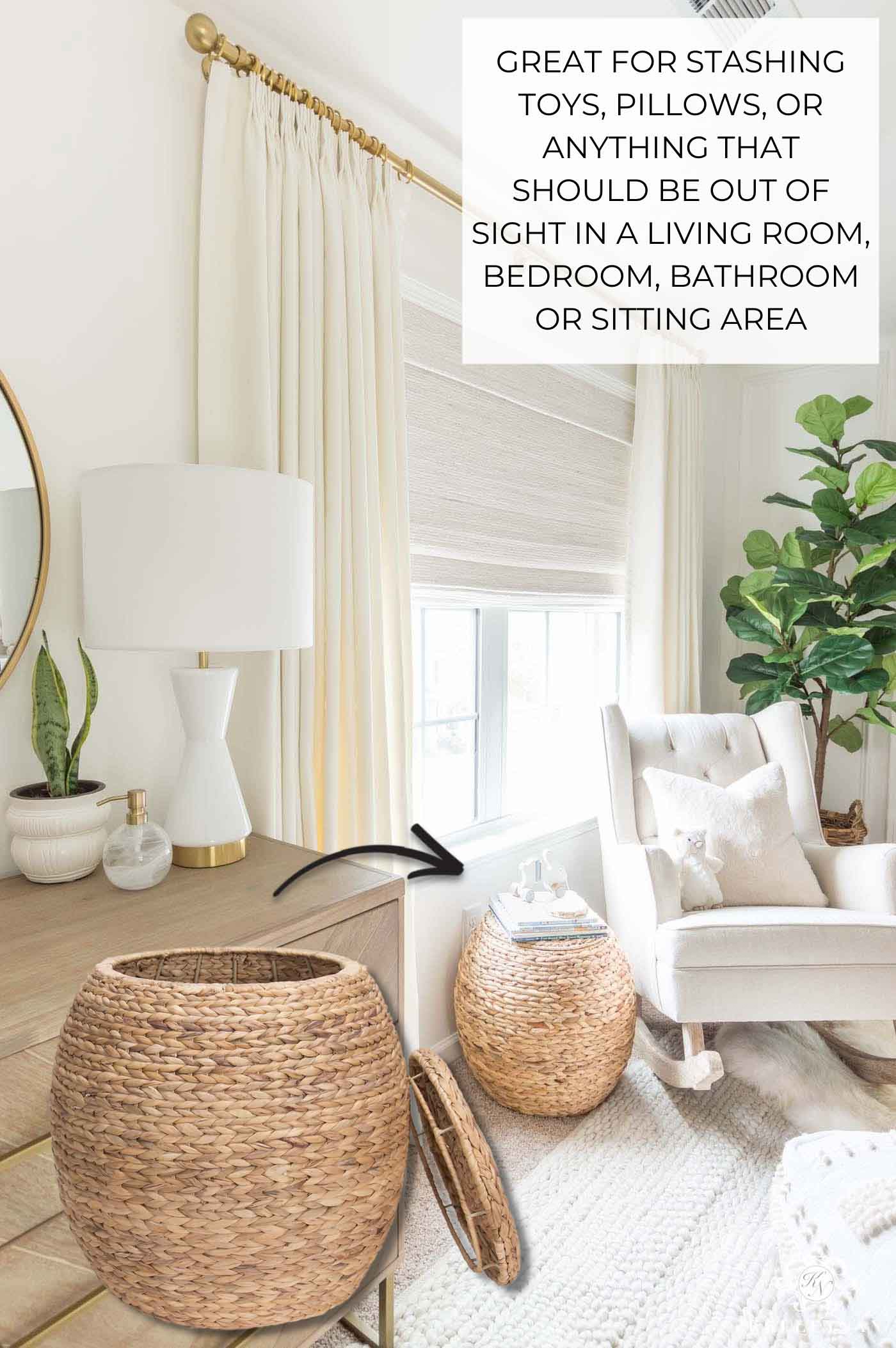 Sources: Woven Storage Ottoman | Rocker | Pouf | Fiddle Leaf Fig | Dresser | Table Lamp | Curtain Rod | Curtain Rings | Woven Rug | Curtains (Linen Weave Vanilla Bean – Privacy Lining) | Shades (Bali White, Cordless, Blackout Liner)
If there's something specific on your Amazon Prime Day wish list over the next two days, you can keep track of Lightening Deals HERE. I already missed out on one early this morning that reached 100% fulfilled with several hours to go, so I'll be investigating these further! Best of luck and I hope there's something out there that gets you excited today!