Lighting isn't cheap — but, it's super important both in terms of function and aesthetic. It can make or break a room and when you think about how many fixtures you have throughout your entire house, it really adds up. I've spent the past few years working to upgrade ours and make changes throughout our home. It takes time — the monetary investment and making a decision — but in each space we've upgraded, the difference has been so worth it. I have lights of varying price points throughout the house but have definitely made a few splurges along the way. Designer lighting can run into the several thousands for a single fixture and while we don't have anything like that in our home, our version of "splurges" add up. Are they worth it? Yes, I think so. But with more of you asking for alternatives for more affordable options — not just on lighting but on home decor and furnishings, in general — I've been on a mission to seek out similar lighting for less. And, I've found some really good ones. Today, I'm sharing eight of them — from chandeliers and pendants to table and floor lamps.
*Posts on KelleyNan.com may contain affiliate links. Click HERE for full disclosure.*
Building our home was a big learning experience for me; if I could go back now and do it differently, I totally would. How our neighborhood and home works is this — there is one builder for the neighborhood. You pick the lot, house plan (from the builder) and then one of the elevation possibilities (exterior configurations and materials). You can make some modifications within the house plan but can't deviate that much. You pick all finishes, fixtures, and even outlet placement/additions, but they have to be within the builder's network of providers. Here's the craziest part. Aside from lighting, you have four hours — 4 HOURS! — for an appointment at the builder's "design center" to go through the entire house plan and select everything from flooring (even what kind of carpet padding) to bathroom faucets, cabinet hardware, kitchen features, cabinet heights, tile, showers, etc. etc. etc. Even the paint colors, outside brick and stone… ALL OF IT. We even came up with and customized our kitchen layout during this time, had the layout request sent off and renderings emailed back in that timeframe. There is a "standard" level of what is included and then subsequent levels, each at different price points. We tried to balance priorities and go basic on some while going a little more elaborate on others. We had to be mindful of our own budget while also being mindful that we weren't out-building our home. And in this process, the upgrades aren't just a slight difference. Through the builder, it's a lot more than you would pay out of pocket. For a base home price of $XXX,XXX, you could easily spend an additional $100K, just on interior finish upgrades. It's crazy.
For lighting, you have another appointment at a local lighting retailer that the builder contracts with, exclusively. You go through all the lights in your home and can choose the "basic" (no additional cost), or choose something else (at zero discount). The only fixture I chose at this stage that I was excited about was our dining room chandelier. And, we paid full retail price, out of pocket. It's still the most expensive light in our home haha. I went with what was included in some lights but others, I chose something that was only a little bit better, with the intent of switching them one day, and still paid a premium. If I could do it over — and if you are going through this process, this is my advice to you — I would have gone standard on everything. I would have wasted no money on upgrading lighting at a premium, non-discounted rate, especially for the fixtures that still weren't what I actually wanted. I love our dining room chandelier but could have easily found something comparable for a fraction of the price, or, likely scored the same one on sale through my own efforts. You don't have to do everything at once. Even if you do choose all your lighting at once, those are a lot of decisions to make. Since we've lived in our house, I've changed my mind no less than 10 times in each room about what I think that room needs. I appreciate the result so much more, working my way through, fixture by fixture. This post isn't about how to pick lighting and I didn't know I was going to get so long-winded about the process but clearly I had some pent up feelings about the whole thing haha. Let's go ahead and get to the dupes and alternatives I've found for some of my favorite lights in my house 😉
Breakfast Nook / Eating Area
As the number one reader favorite in terms of my home lighting, I love my whitewashed, wooden bead chandelier. It has helped marry so many of the different design styles and vibes throughout our main level, it does go on sale from time to time and isn't terribly priced for such a prominent fixture, but I also wouldn't say it's "inexpensive".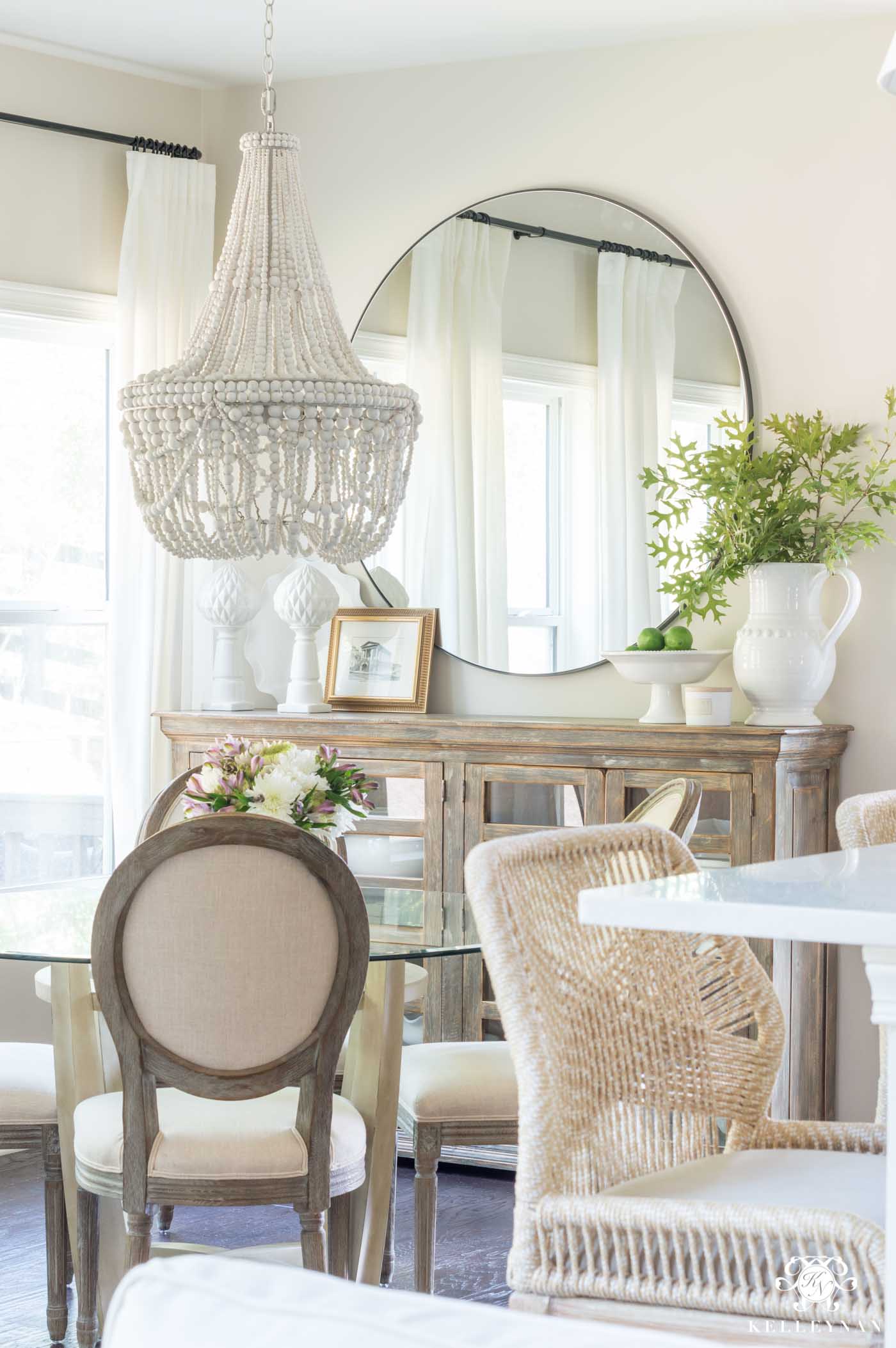 The alternative I found (HERE) has the exact look I love about the one I have and is half the price of mine. It actually also appears on Restoration Hardware Baby & Kids for over $1,000; the source I found has it listed at just under $350.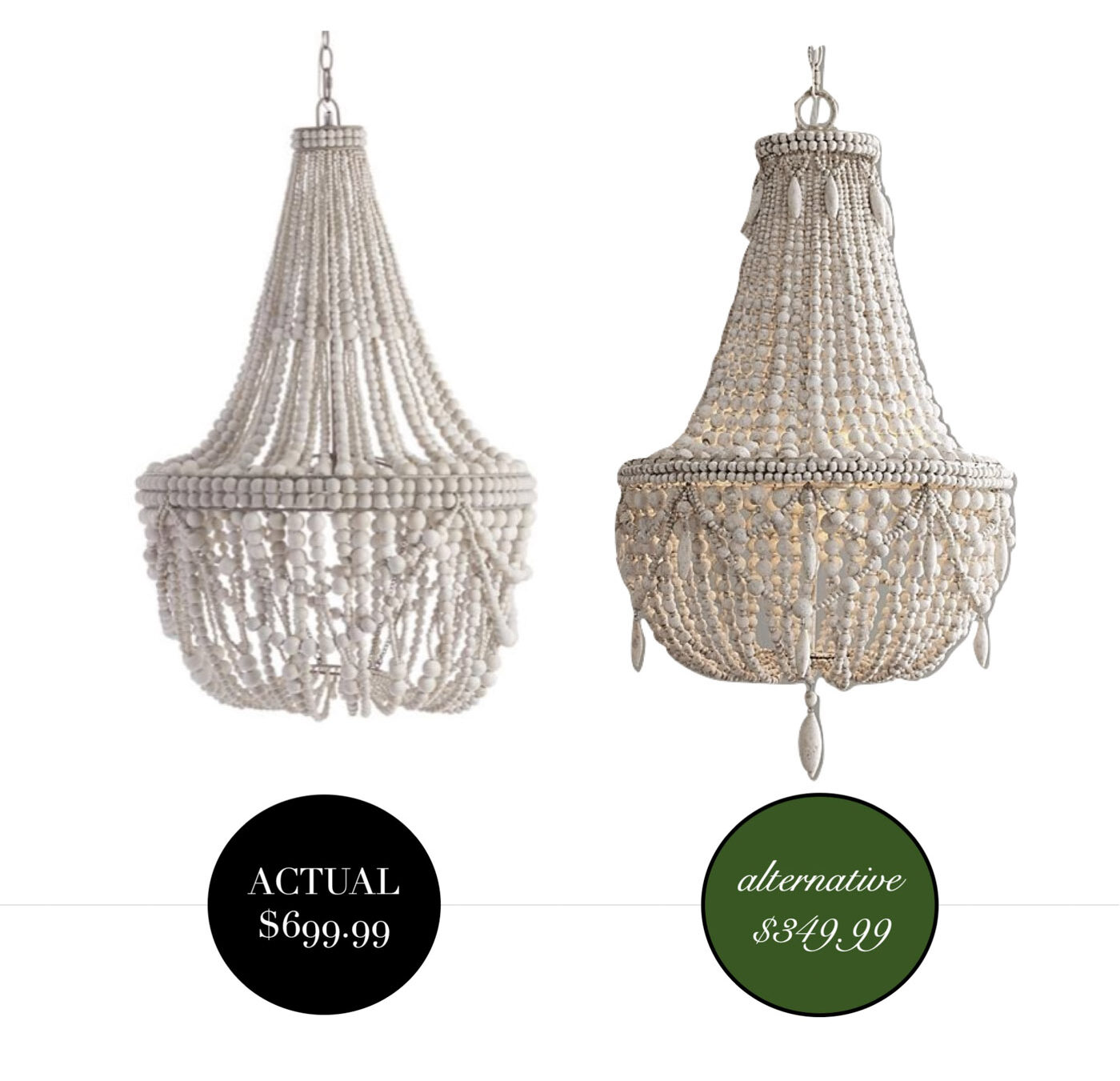 ---

Beaded Chandelier: Actual // Alternative
---
Hall Lighting
This was a splurge that stung a little bit; I wouldn't be able to buy multiples of these semi-flush mount fixtures and put them everywhere but after hours of searching, I finally pulled the trigger on this one late last year. It's positioned next to the kitchen, in front of the powder room, and where you enter from the garage. It's gorgeous and timeless and I have no regrets — it's currently on sale for almost $100 off but is considered custom and non-returnable. It's available in all kinds of metal and shade finishes and shapes; mine is the antique copper with opal acorn shade.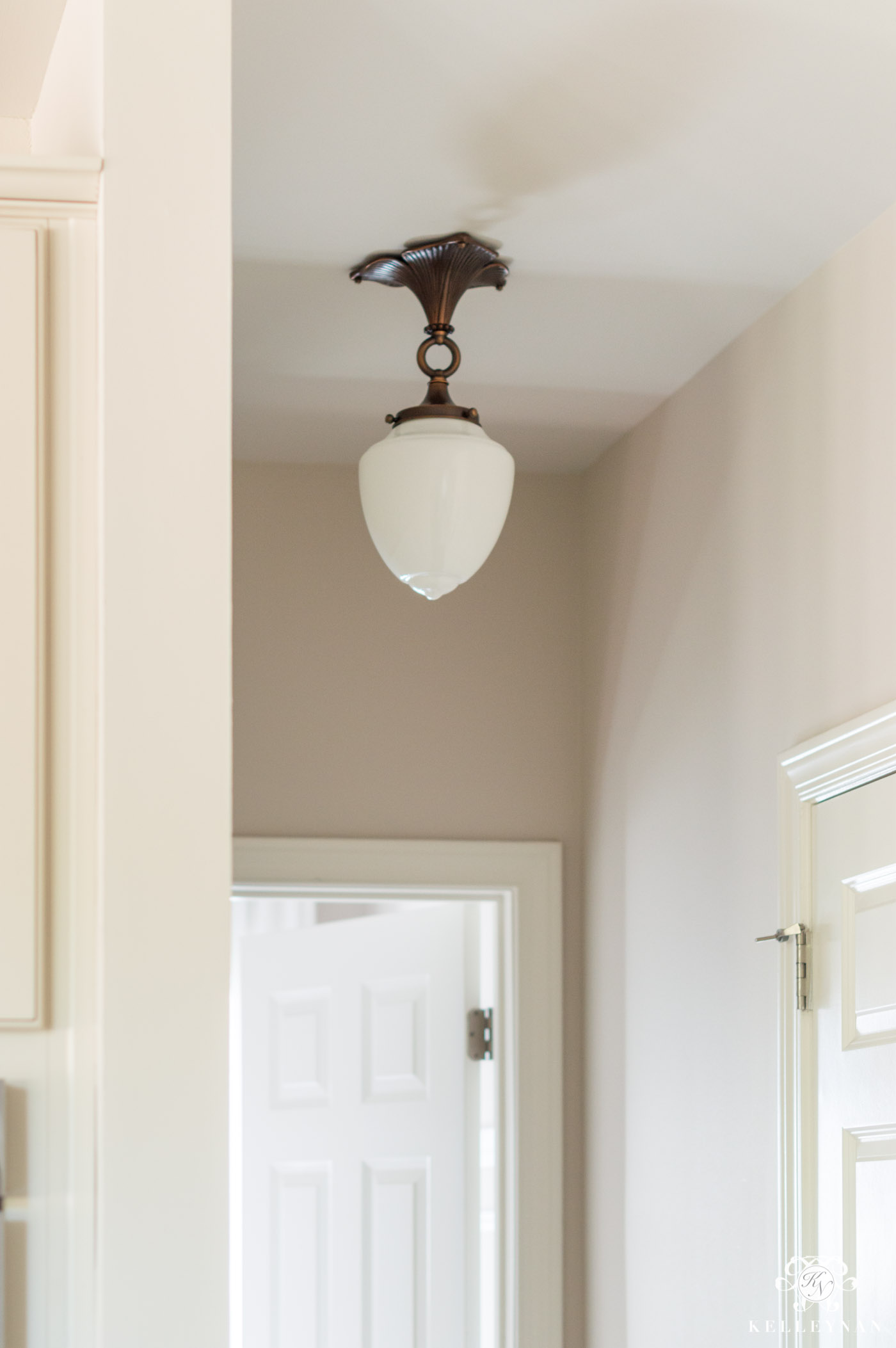 At just over $100 (and more than 75% less than the price of my fixture), this pretty antique bronze light with milk glass shade is perfect for so many spaces — from hallways to small rooms.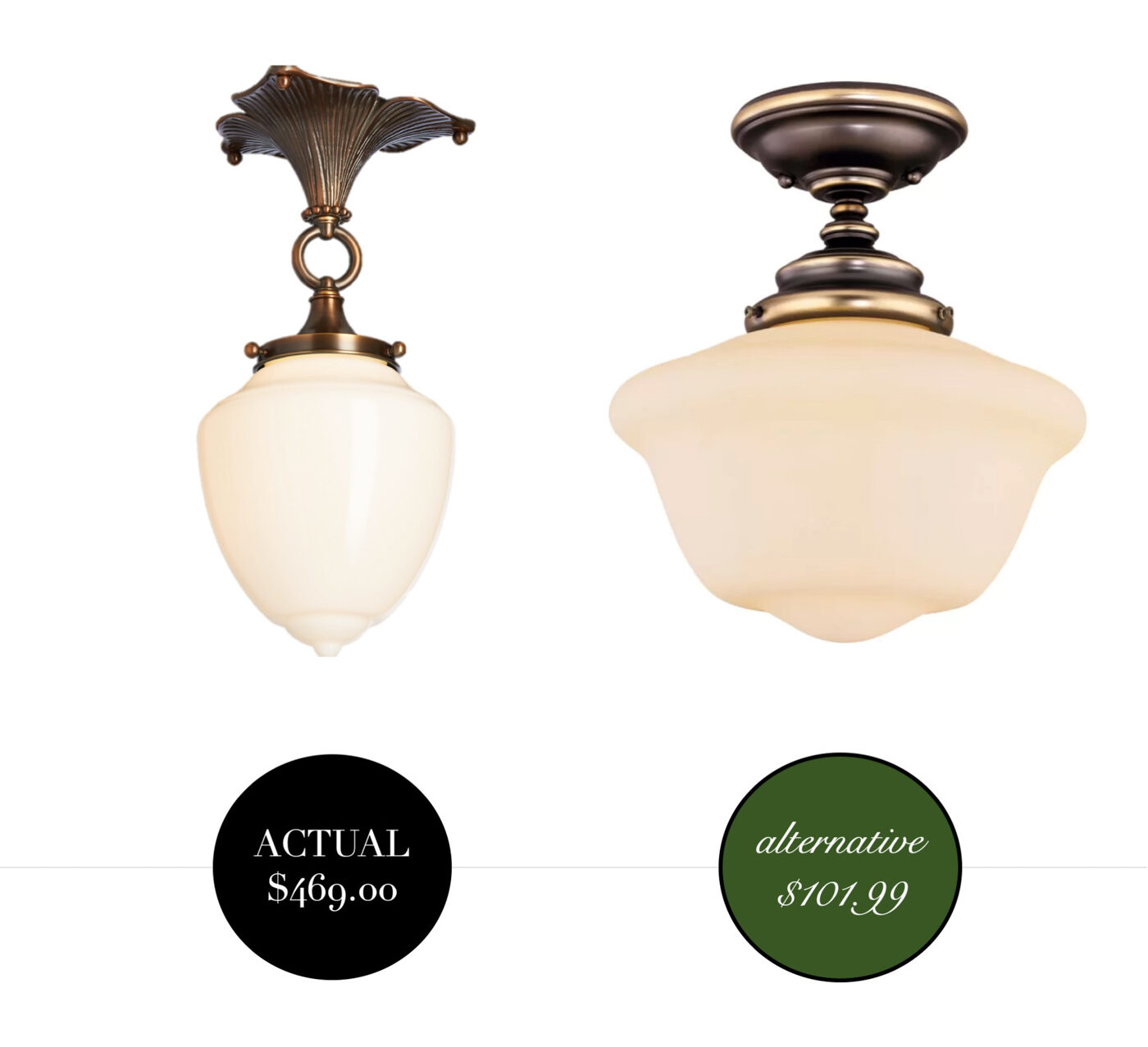 ---

Milk Glass Semi Flush Mount: Actual // Alternative
---
The lights on our catwalk haunted me for years. Literally. I even finally ordered three fixtures as replacements late last year, just to return them. I finally sprang for these traditional flush mounts for our 8′ second story ceilings. They are available in brass also and are actually, currently on sale.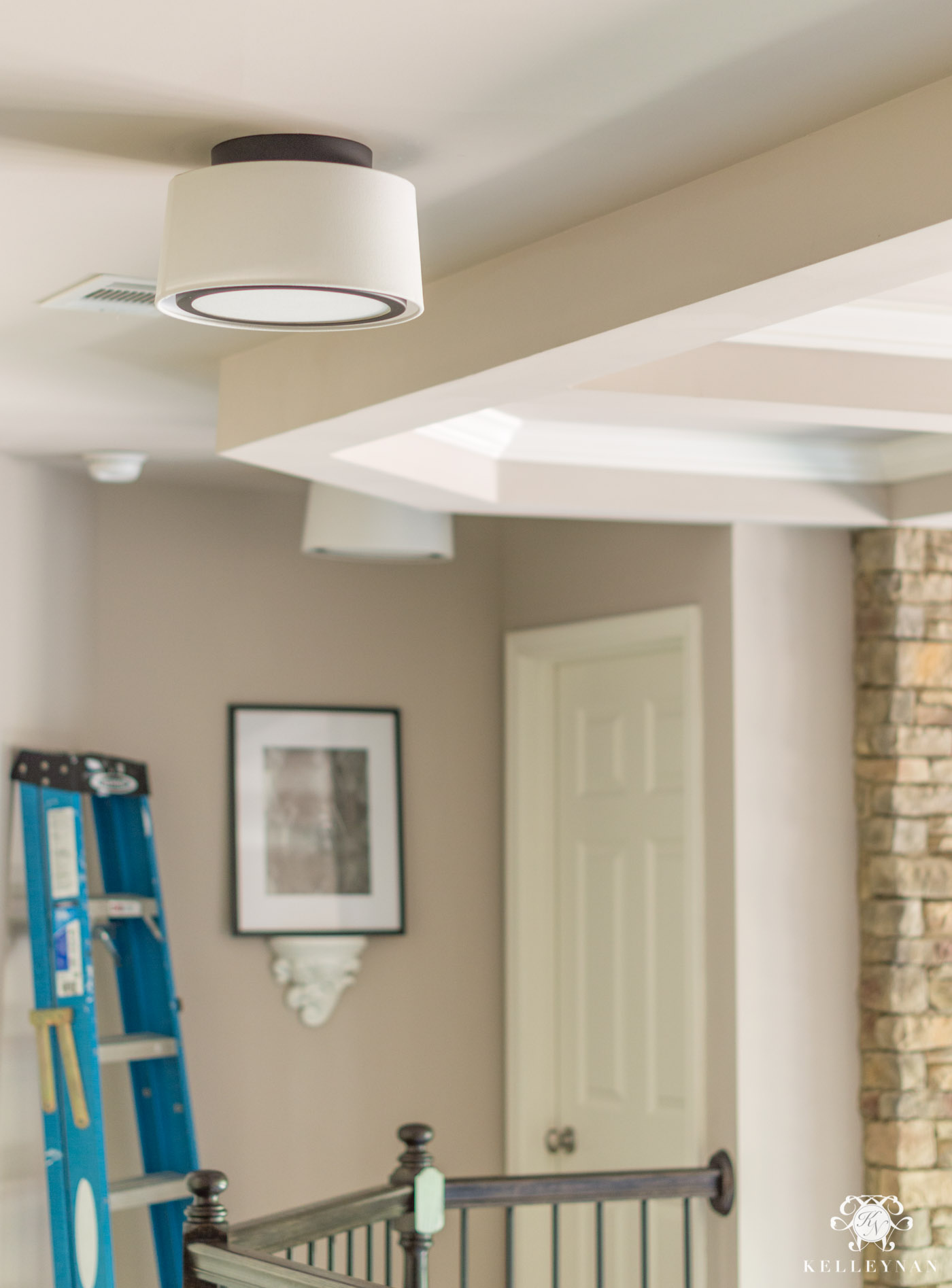 The similar flushmount I found though is about half the price of the actual lights I went with. It has the light diffuser, clean lines, and is a great alternative, especially if you are looking to get multiples!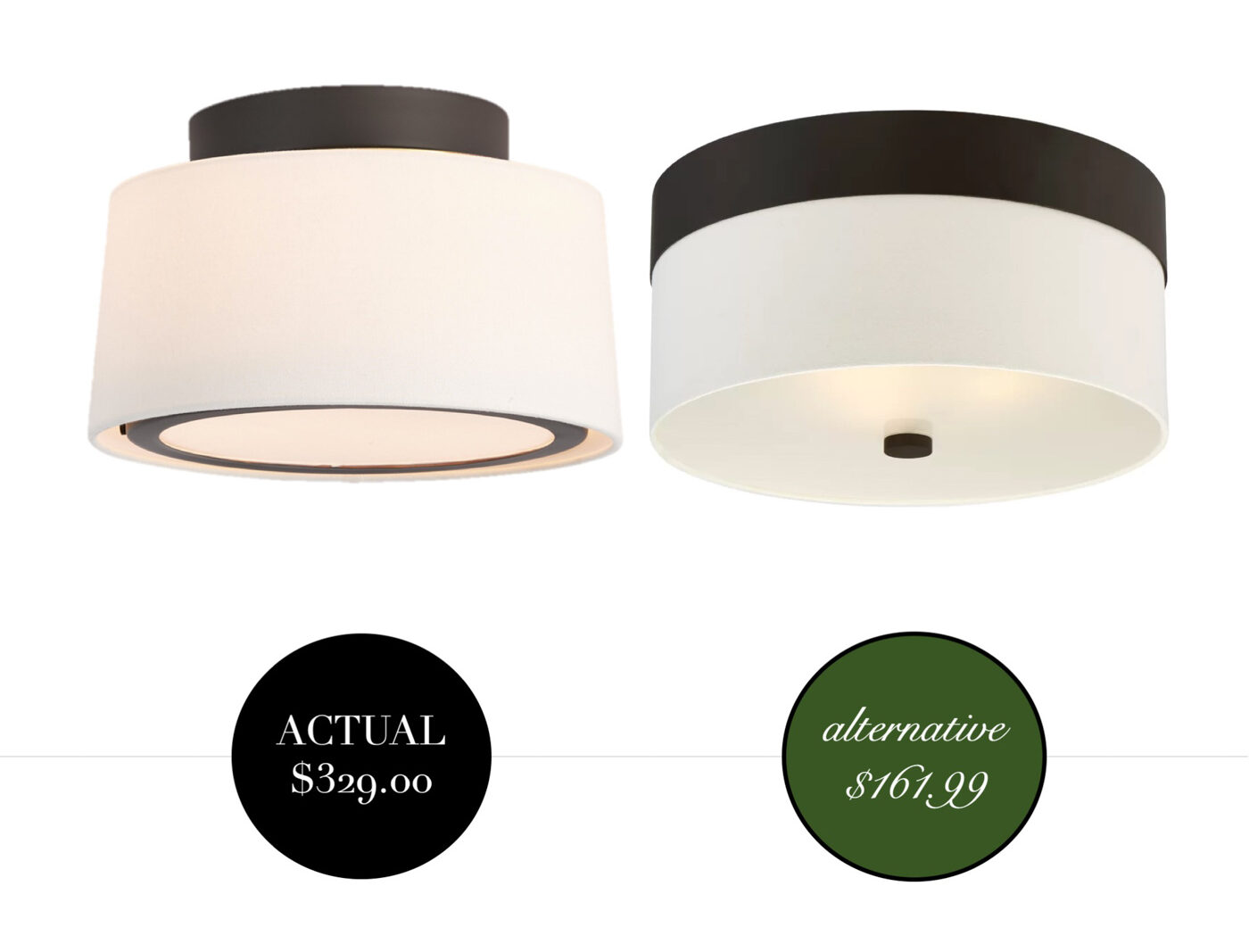 ---

Bronze & Shade Flush Mount: Actual // Alternative
---
ENTRY
I love our entry pendant (the Darlana lantern in size small) but oh my goodness — there are so many similar lights that can help you achieve the same look — especially in the dark finish.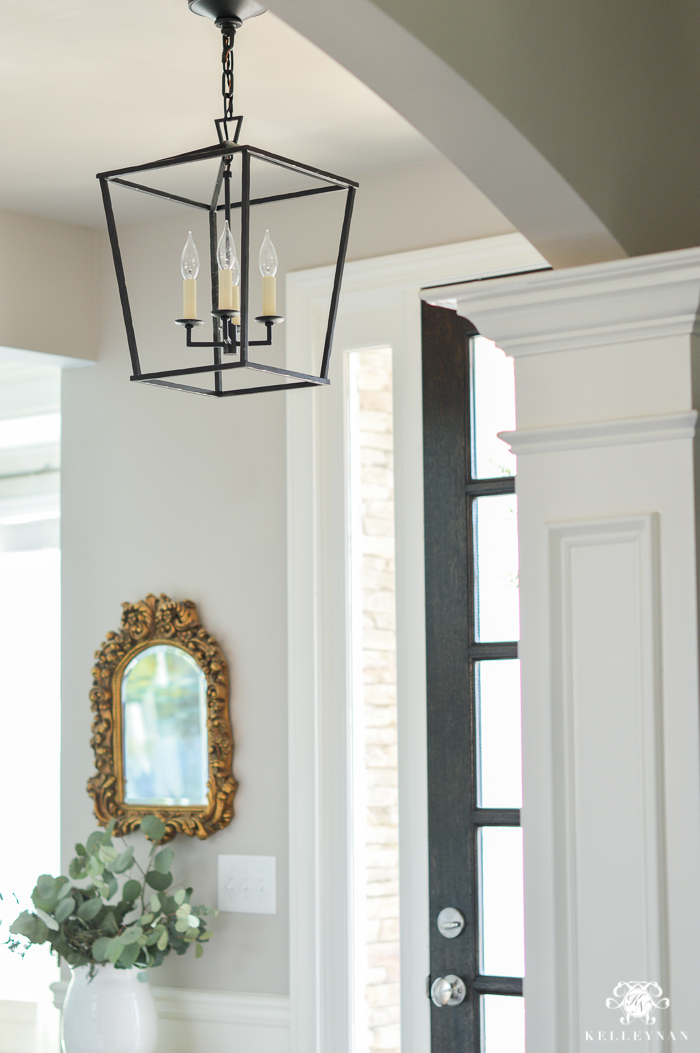 I even had the alternative (larger than the small and about 25% of the price of the small in the white guest bedroom — remember this?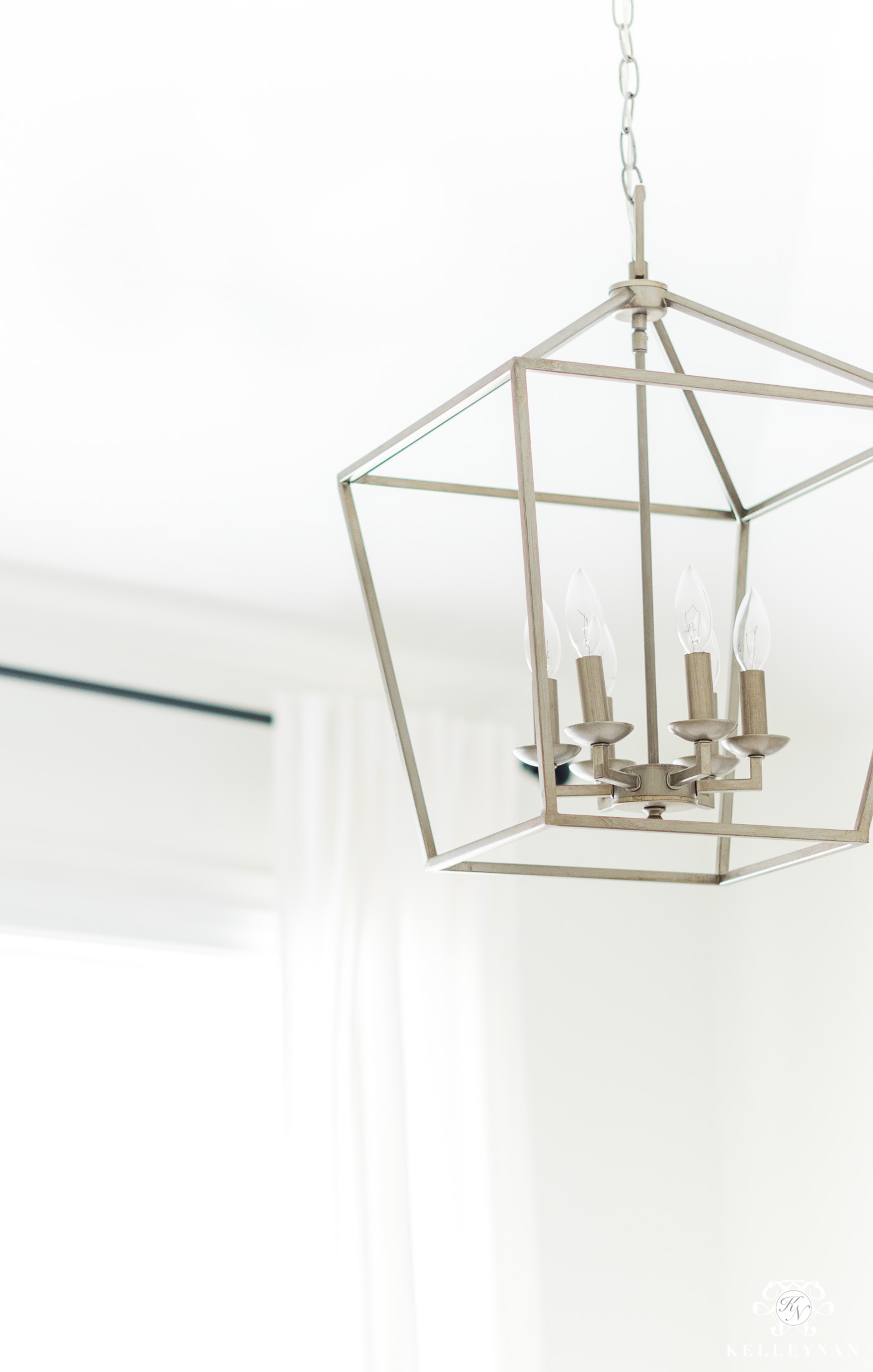 It isn't quite as heavy but right now, it's on sale for $139.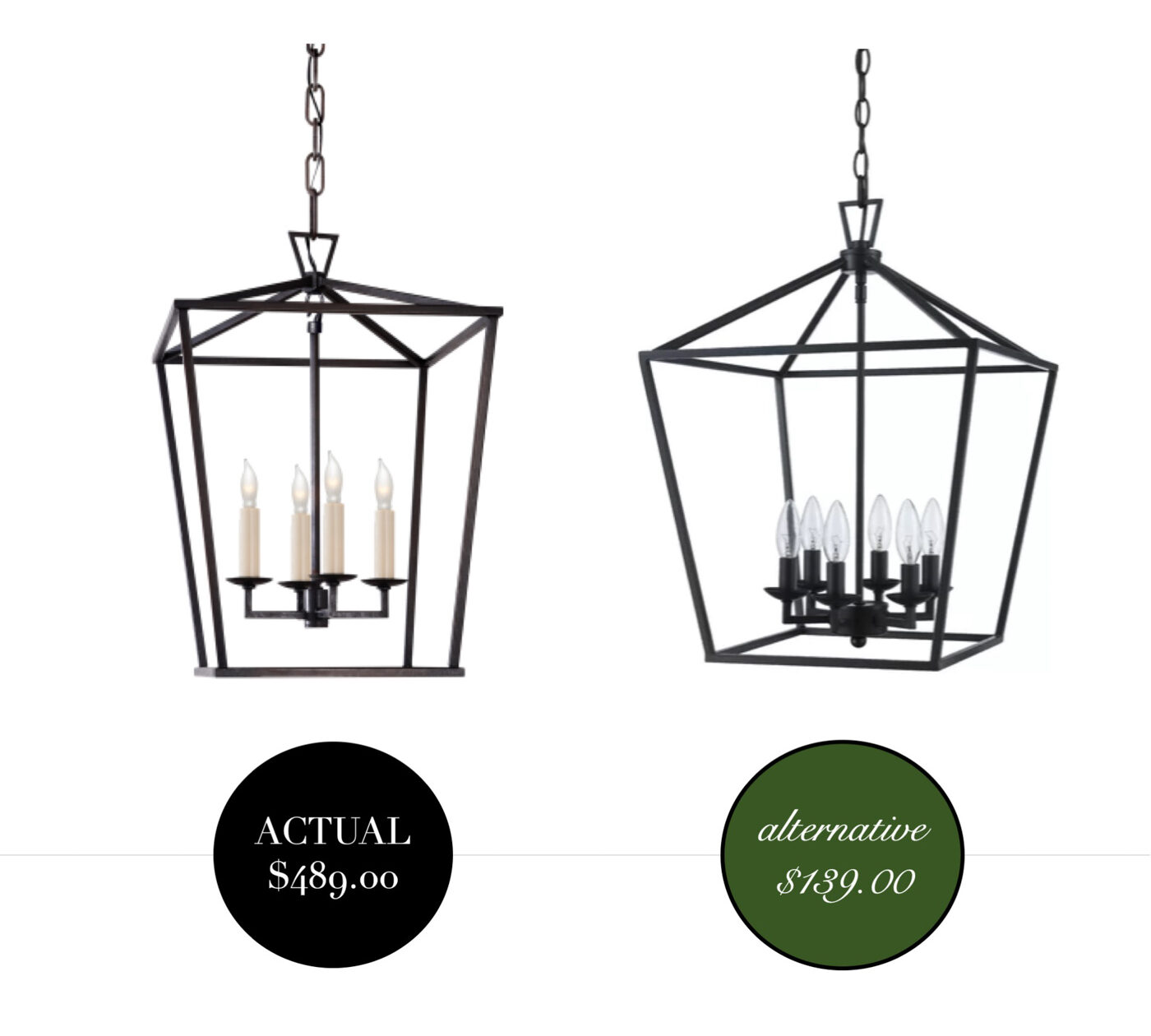 ---

Lantern Pendant: Actual // Alternative
---
Kitchen Pendants
This was another decision I stewed over for a long time. Honestly, this is one where I've loved the style a long time, in all finishes, but had I been able to find some of the similar cone pendants that are more available now, I would have gone with an alternative. The Goodman pendants that I have actually have rods that are a fixed length (no chain). So, you can remove a rod but you can't really adjust the height beyond a huge incremental amount.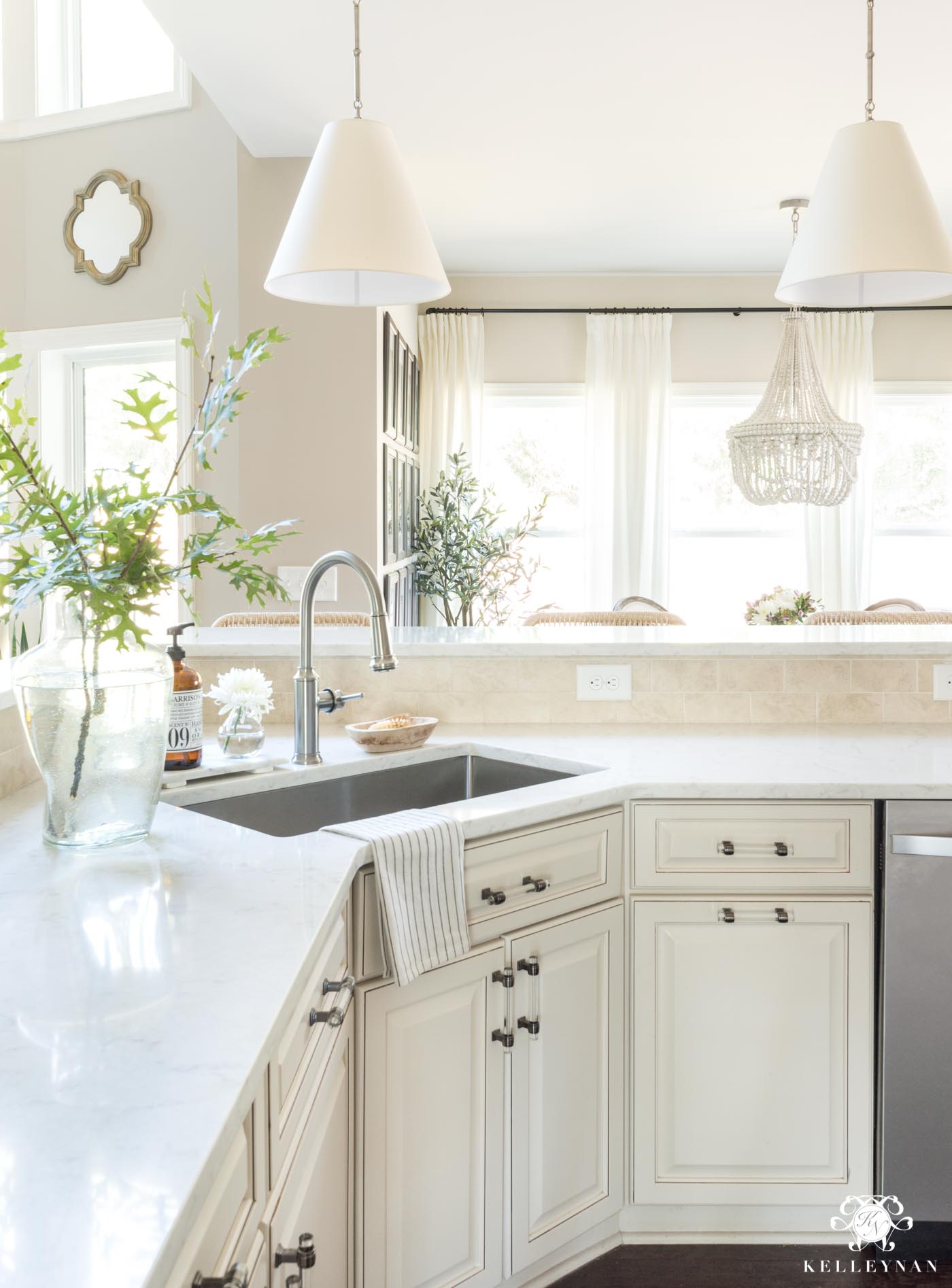 The alternative does have an adjustable chain and you can get both for less than the cost of a single Goodman pendant.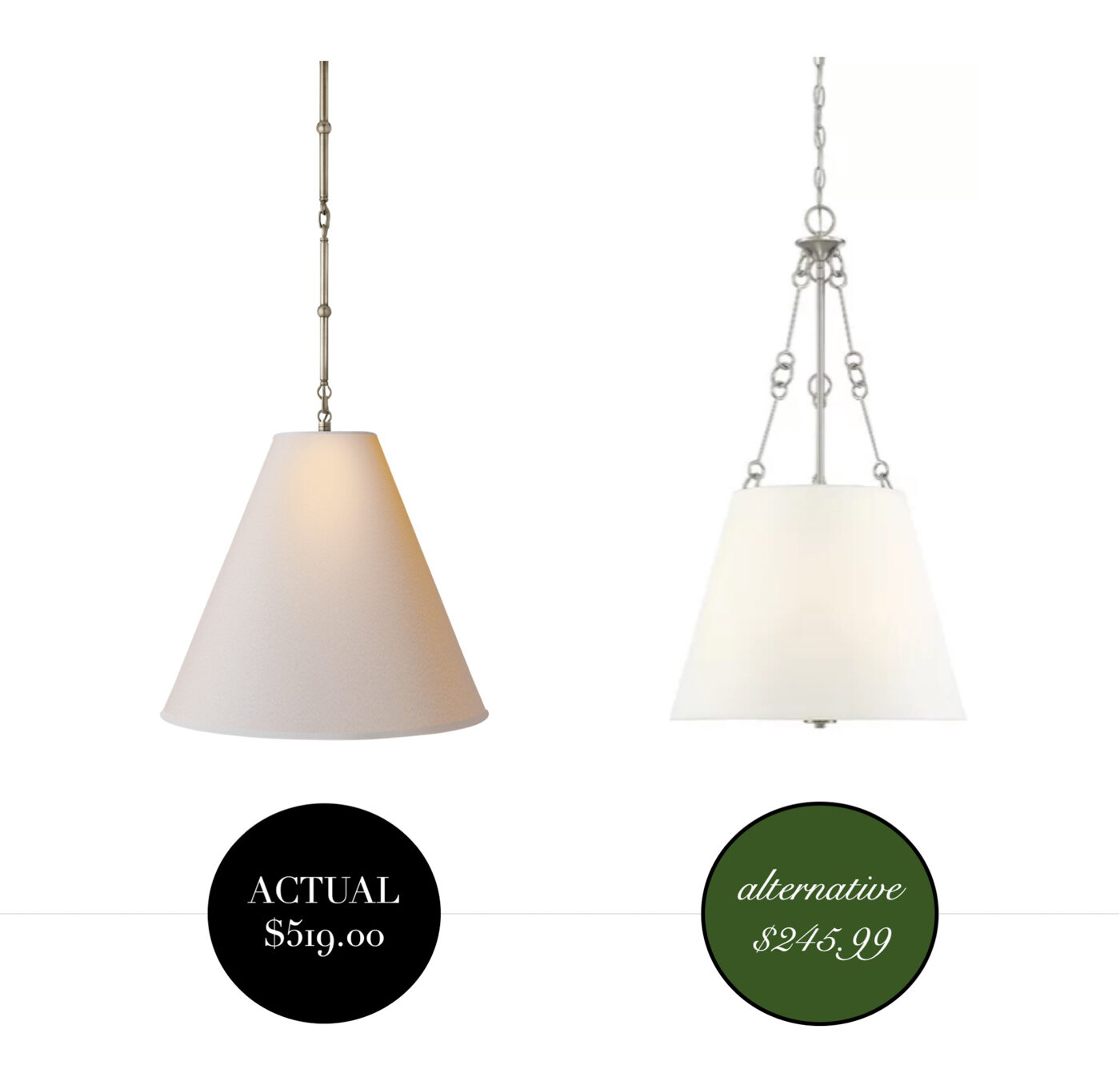 ---

Paper Shade Cone Pendant: Actual // Alternative
---
Bedroom Table Lamps
These are lifetime quality lamps — heavy and substantial — but, a hefty price tag that goes along with them.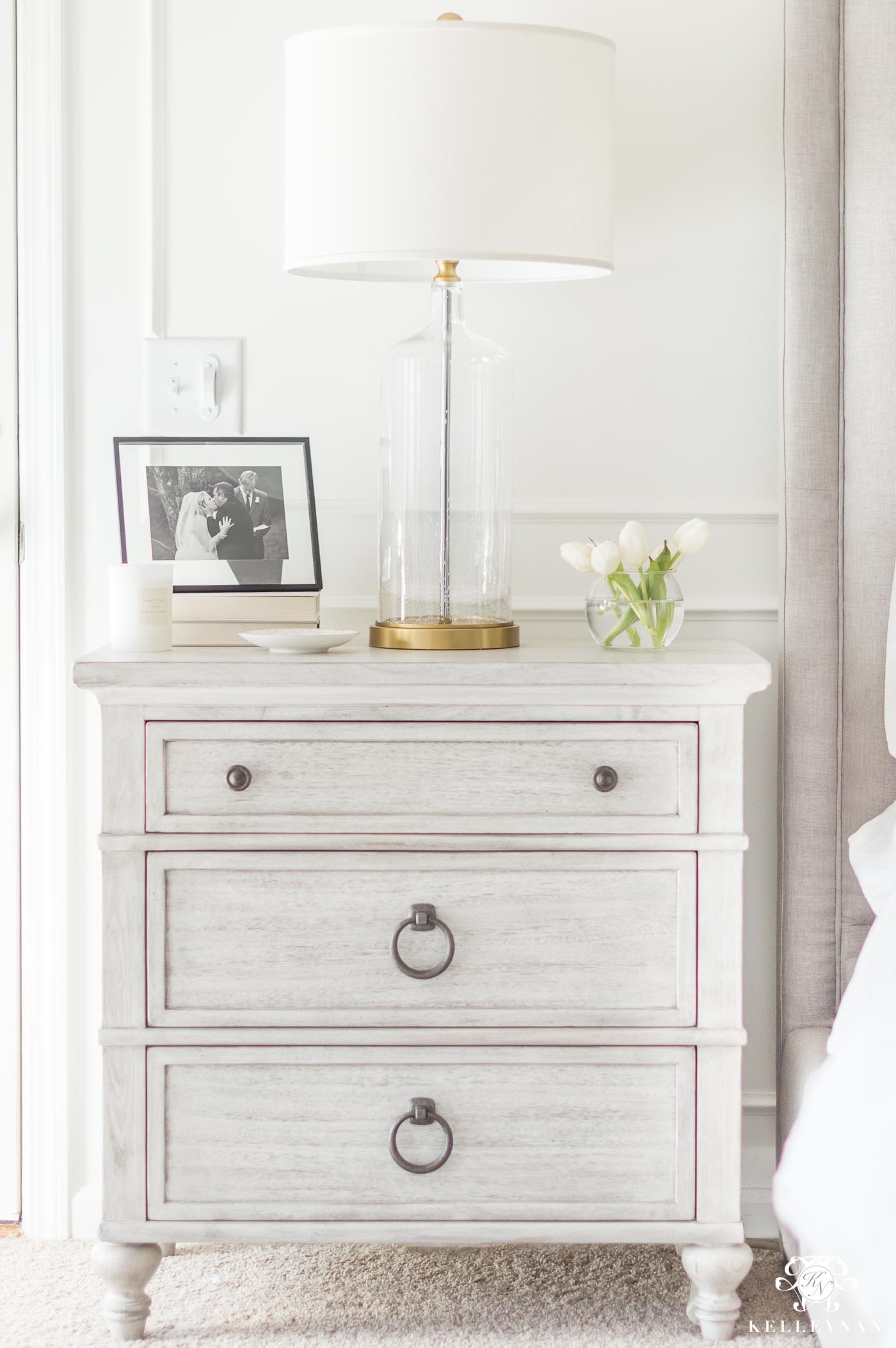 I found a really close dupe — a base sold on its own for $36 — that you can add your own lampshade to for a fraction of the price of the designer version.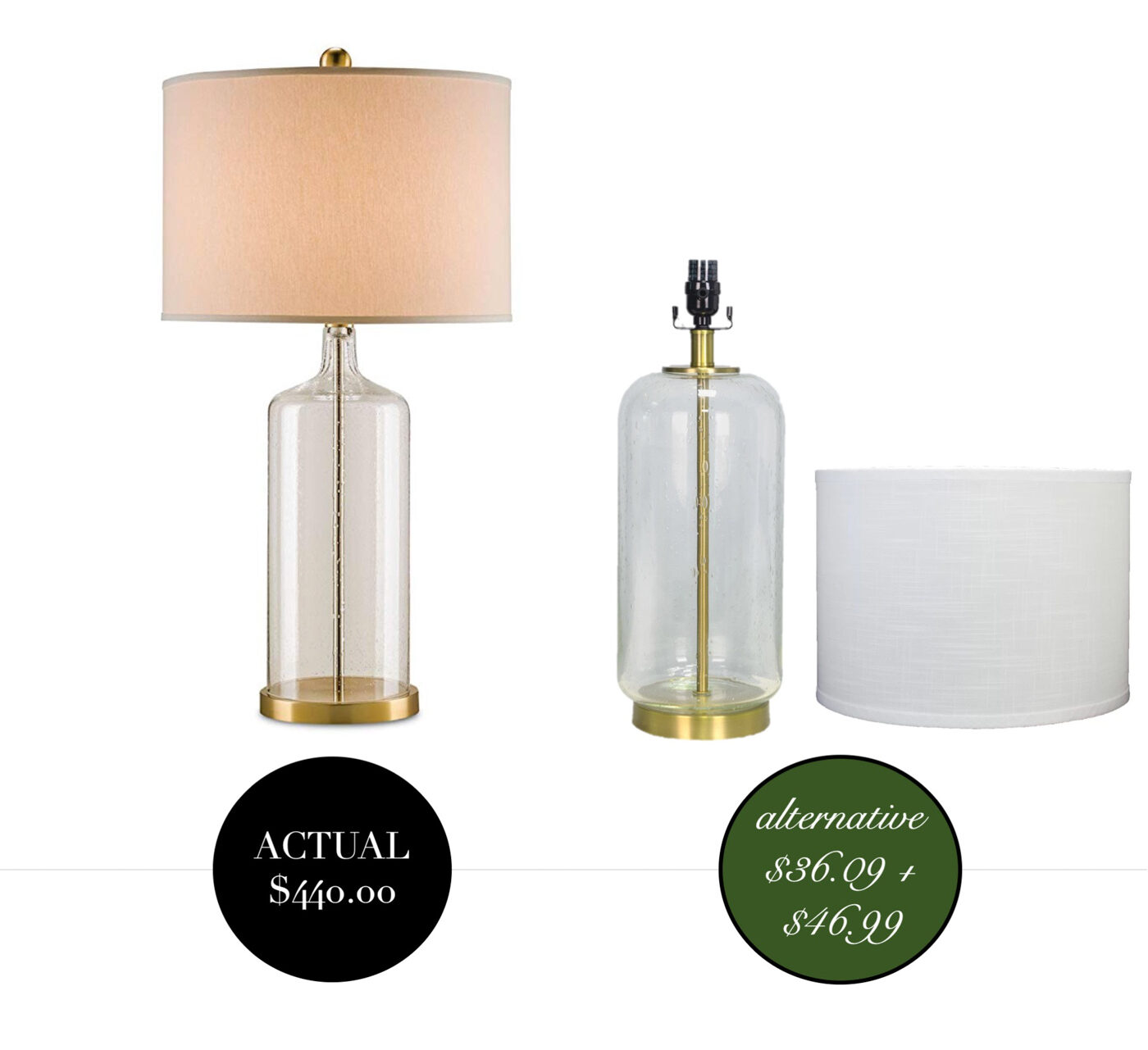 ---

Bubble Glass Table Lamp: Actual // Alternative Base // Alternative Shade
---
Nursery Floor Lamp
I actually saw the alternative of this floor lamp before I found the PB Kids version I ordered for myself. The two deciding factors for me were 1- the alternative version has an embossed print on the shade and 2- the PB Kids one was on crazy sale for the day. It was final sale but a great deal; so, I went for it. If you like the look and even if you don't care for the embossed drum shade on the alternative, you could always switch the shade 😉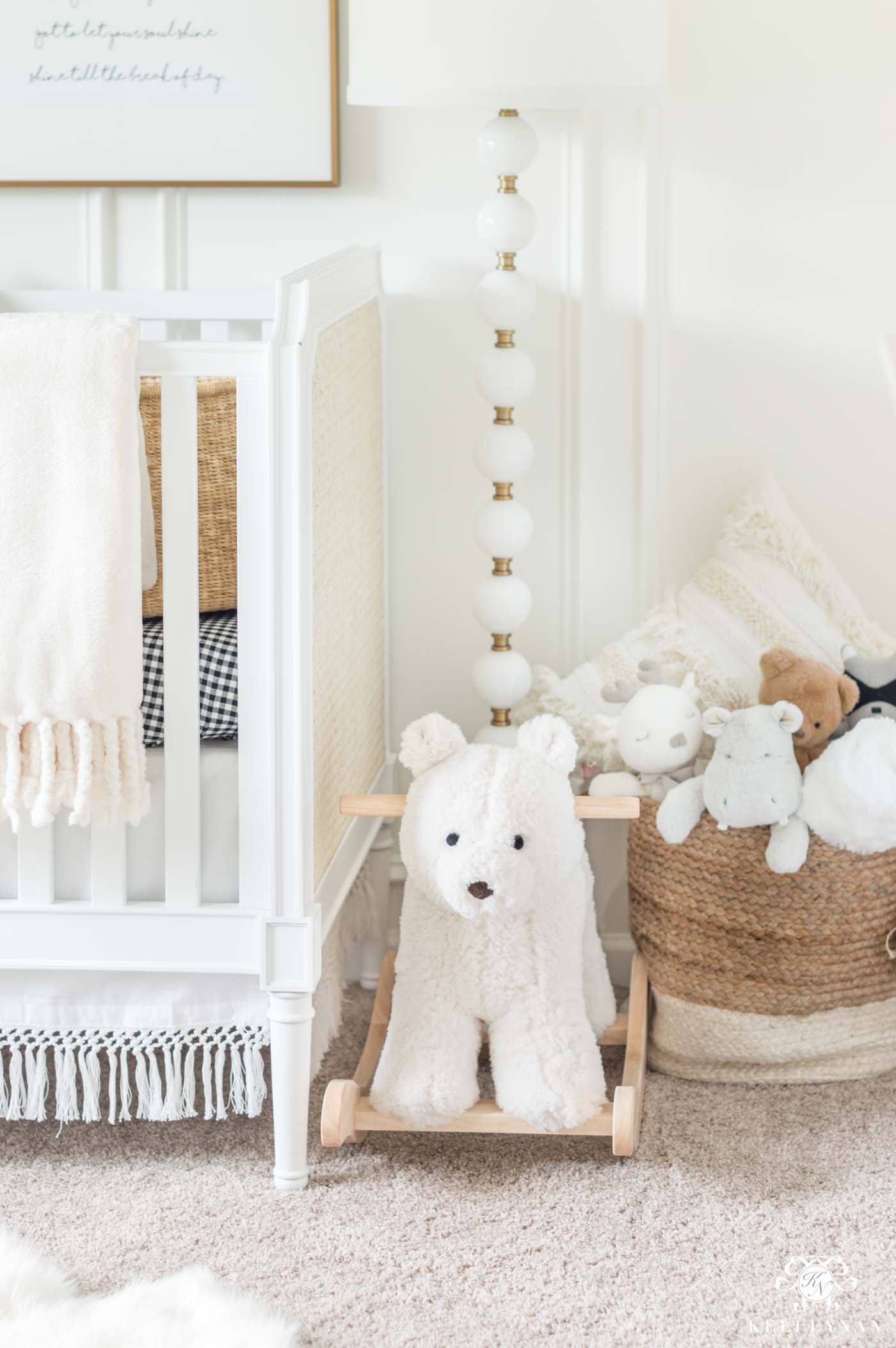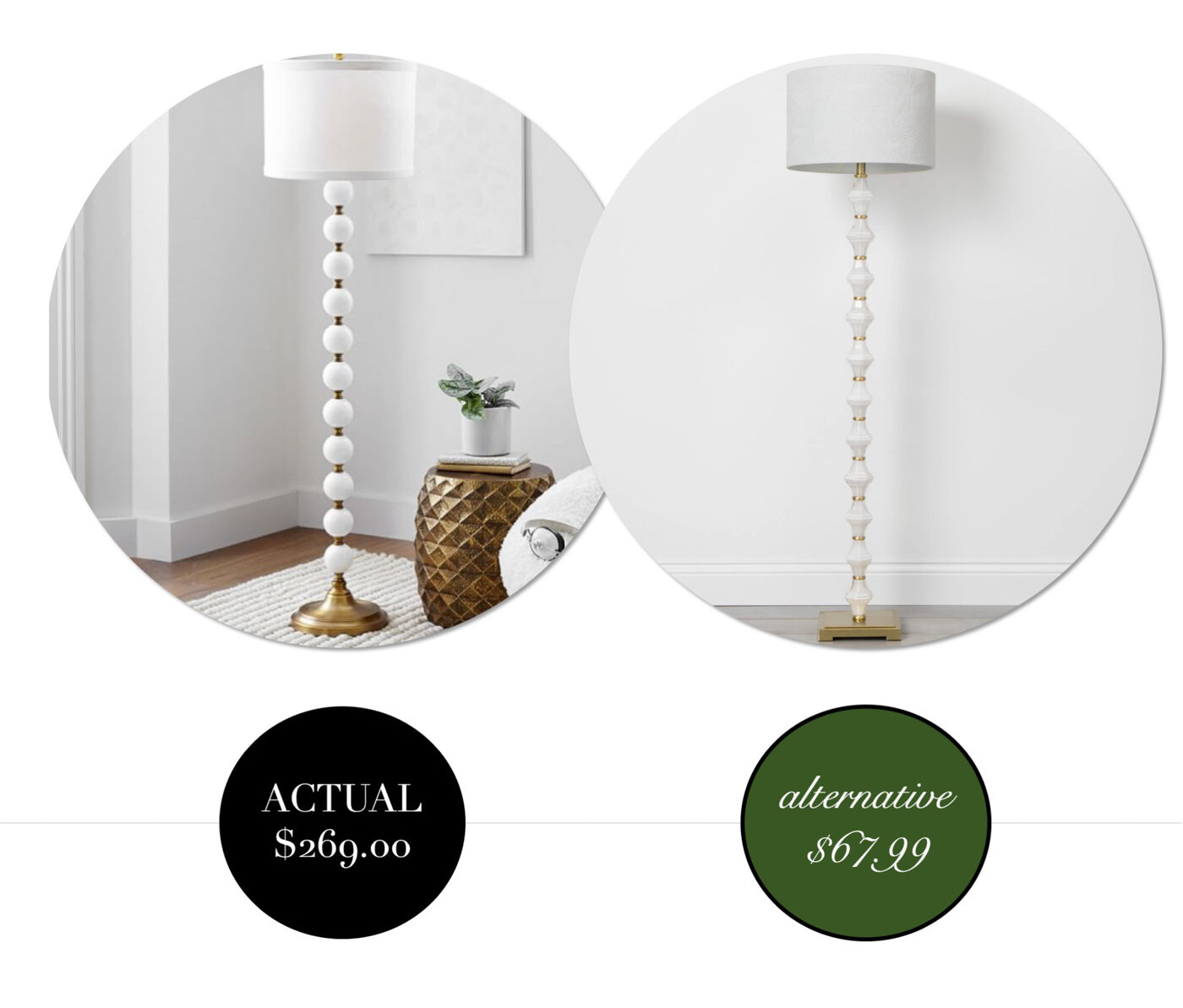 ---

Brass & White Stacked Floor Lamp: Actual // Alternative
---
Living Room Table Lamp
I actually scored my Crate and Barrel table lamp during a store closing sale, but I think the alternative I found could be it's fraternal twin…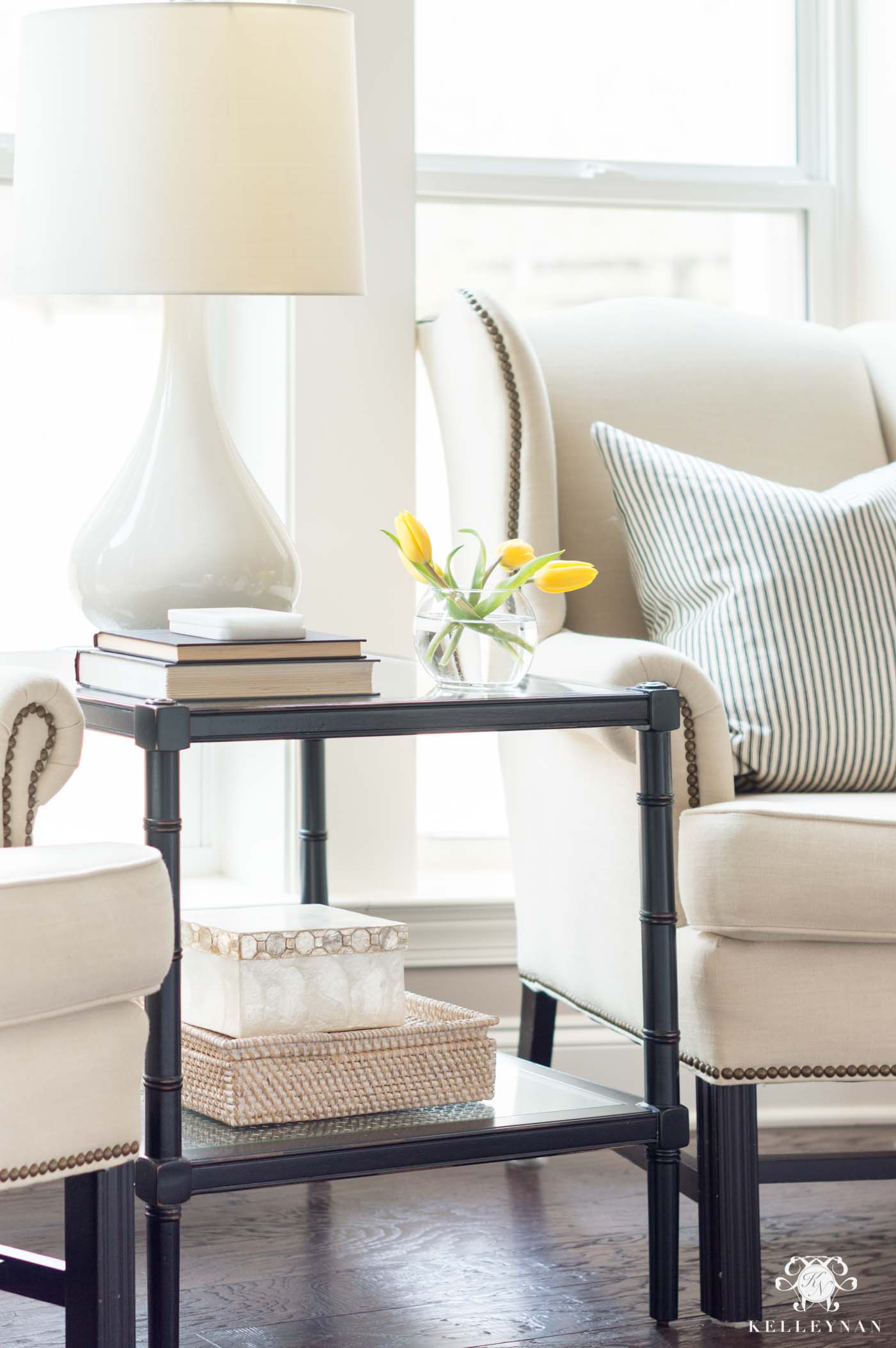 You could get two for the price of one C&B lamp…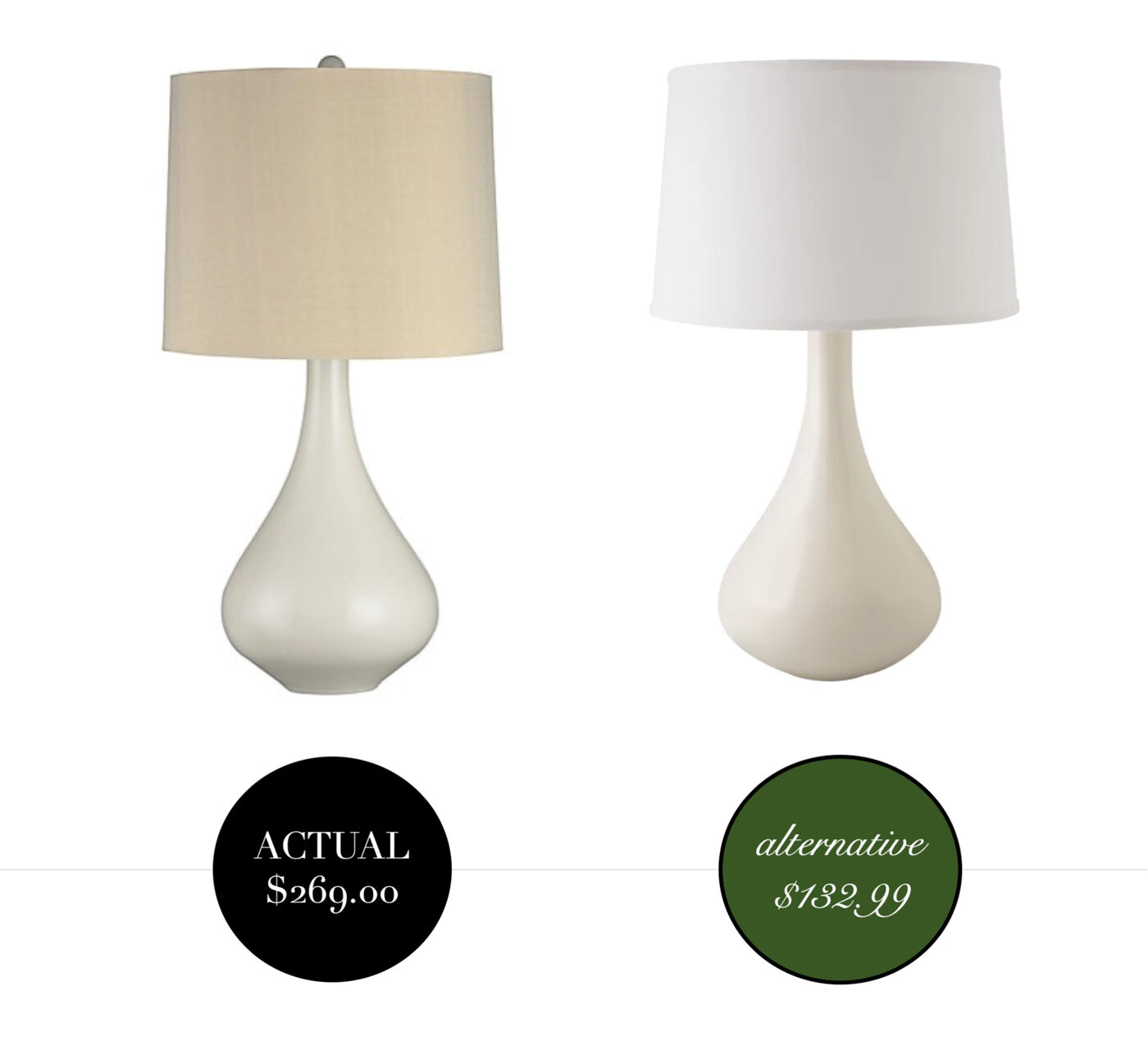 ---

Ceramic Gourd Table Lamp: Actual // Alternative
---
Sometimes, you get your heart set on one fixture and only that one fixture will do. I get it! But sometimes, with some serious searching, you can find some great alternatives for a fraction of the price 😉 The main light I'm still wrestling with is that big, Tuscan-looking fan in the great room. As I've mentioned before, I just know it's going to be a bit of a process, finding the right fixture and then finding someone to bring in a scaffold to make the switch. Don't mark my words just yet but we just don't tend to use the fan function in that room so I doubt we'll keep to a fan style. Another light I'll be looking to replace is in Mama Nan's room. It's officially painted (woo!) and I had picked out a lantern-style light that I shared in my plan post HERE. Depending on how the rest of the room comes together (slowly friends, slowly 😉 ) will determine whether I stick to the fixture in the plan 😉 Also, as always, I will continue to share from time to time as I see my actual lighting go on sale 😉 To see more posts like this and to catch all my upcoming projects, be sure to subscribe to my emails at the bottom of this post!
OTHER POSTS YOU MAY BE INTERESTED IN