How many times has this happened to you? You have an idea of the furnishings you envision for a space but maybe the size of the space is a little tricky. Or you can't find just the right thing in your budget. Or you decide the furnishings around that area aren't quite right so you need to hold off, anyway. You put something you had on hand as an in-the-meantime placeholder and the next thing you know, four years have gone by and it's still sitting there. Well, welcome to my entry. Over the past few years, I have browsed, on and off, no less than 50 hours for a couple of pieces to make up a little "foyer moment" and until a couple weeks ago, had struck out with every attempt. We are on our fifth spring/summer in this house (what?!), I've officially pulled the trigger, and today, I finally have a little entry makeover update to share!
*This post is published in partnership with Wayfair, one of my favorite home retailers. As always, all opinions, concept, and creation are my own. Posts on KelleyNan.com may contain affiliate links. Click HERE for full disclosure.*
Mini Entry Makeover
Before I made the switch, I did grab a quick iPhone photo — don't laugh, I don't think it was as bad in person haha. Here are some of the struggles I wrestled with and why I kept putting this little area on the backburner.
It's a narrow wall and I had less than 29″ across to work with. There are so many pretty console tables and chests but none that I could find that were narrow enough.
I needed something fairly shallow in depth (I can't be closing off the dining room!). Once I started looking into end tables and nightstands, it was a challenge finding pieces that weren't too broad depth-wise.
I wanted something "leggy"
This area in the front of my house and in my dining room is the most traditional area of my home. I wanted something that would blend nicely between the dining room, but also flow with the more transitional spaces like the living room.
The paint colors are tough. Eventually, I want to paint my dining room to tone it down a little and I am wanting to paint the entry. The entry will actually only be painted when I'm ready to paint the bulk of the main part of the house because it is all connected. This is overwhelming just to think about haha. Anyway, the current colors and the way they connect are a little tricky as to what finish I wanted to go with.
The light switch planted on this narrow wall is a serious aggravation which made for a more difficult time in choosing art/mirror shape, placement, and size.
This is what it looked like before…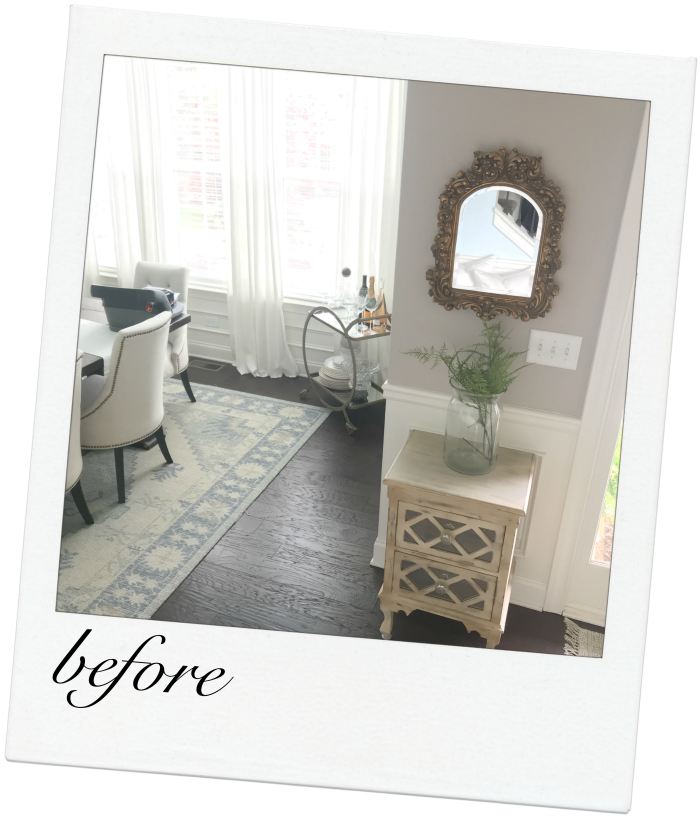 And here's the
after
!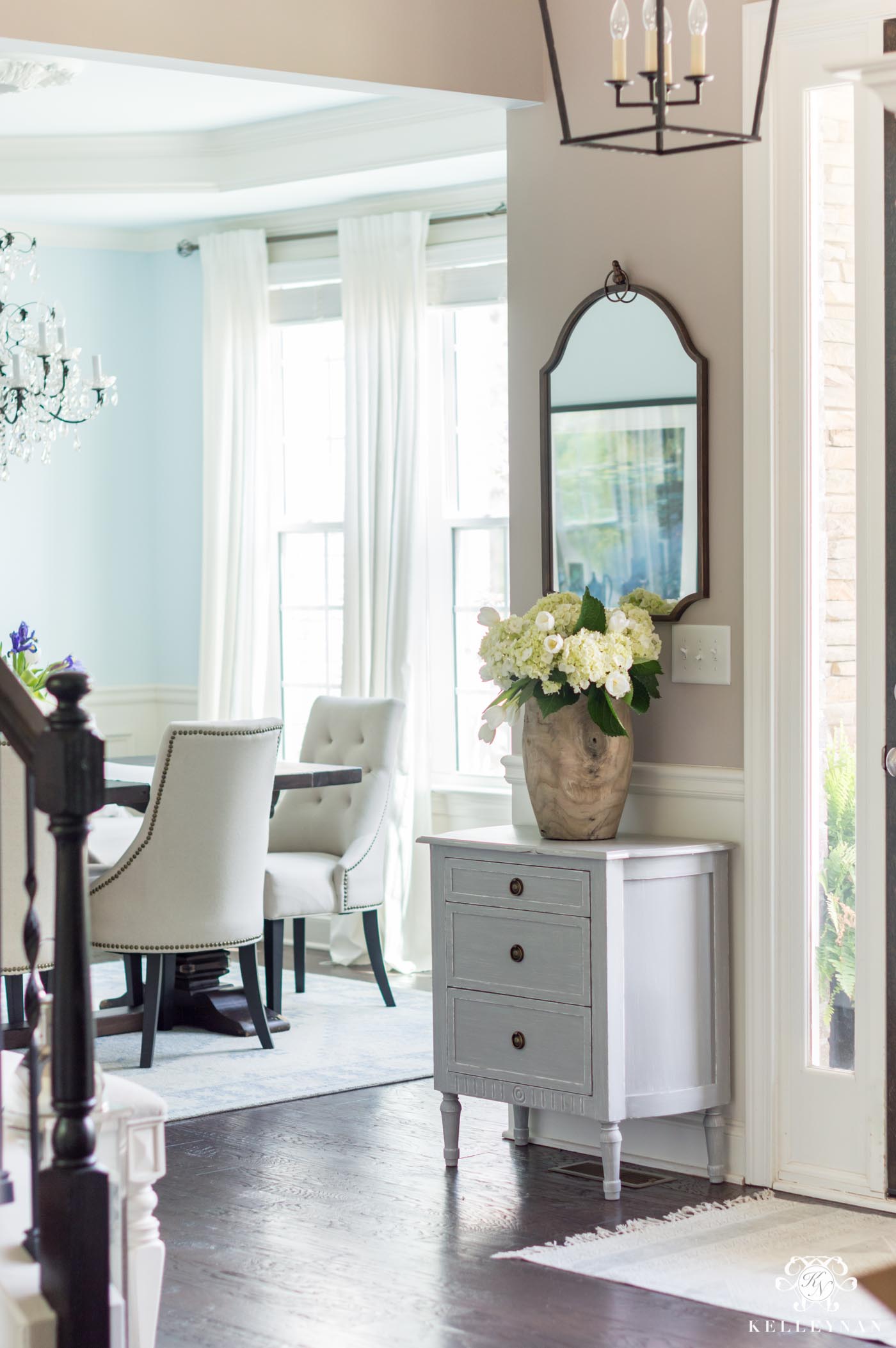 ---
Scroll & Tap to Shop

---
It just looks more well thought out, intentional, and goes with its surroundings so much better — a definite perk of waiting to furnish your house over time, as you live in it.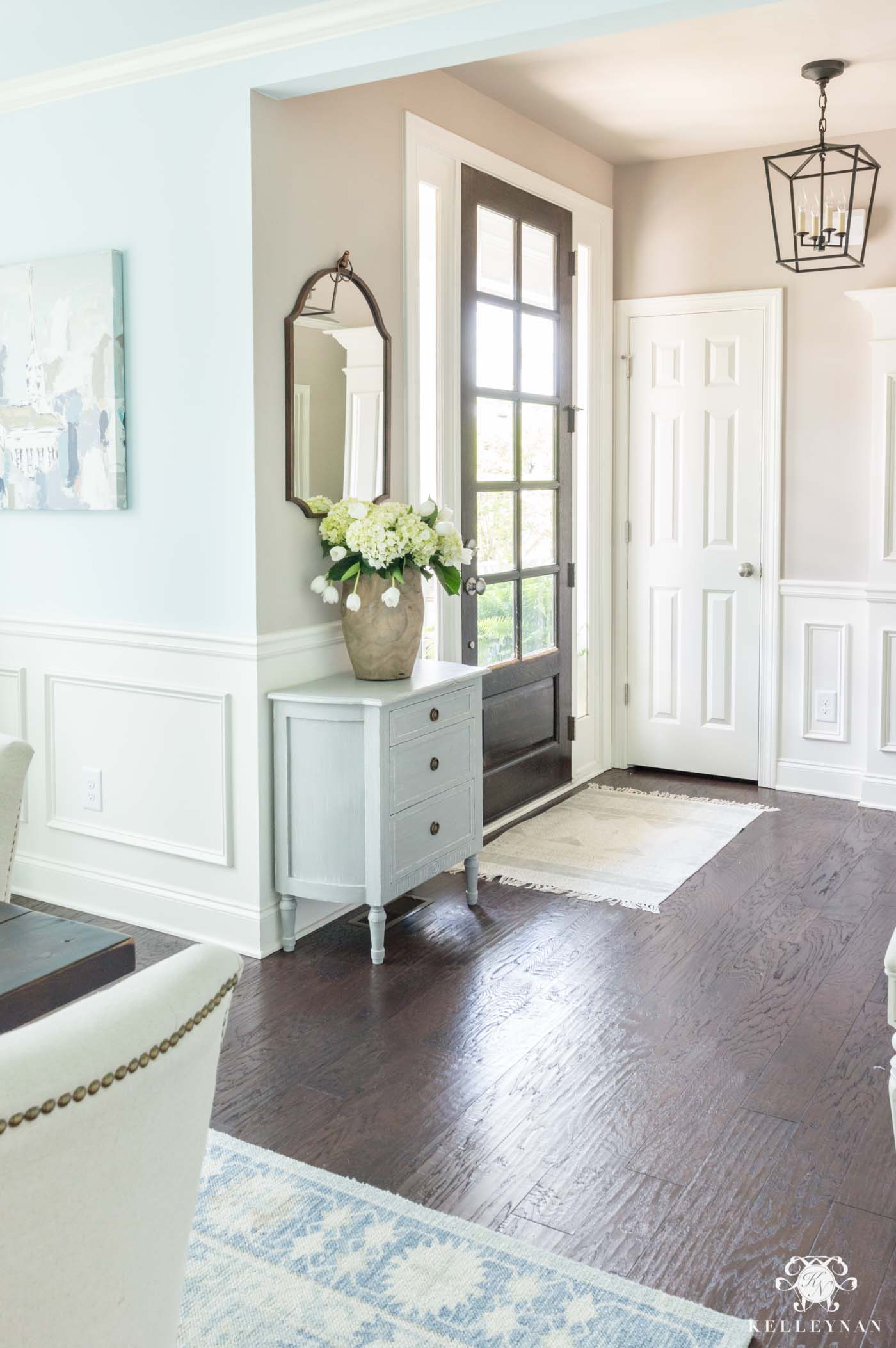 This little chest is the perfect width (27.5″), height, and depth (only 13.7″), but unfortunately, it temporarily sold out shortly after I ordered mine. Here's the good news- it looks like it's set to come back in stock soon! It comes in this gray color, along with blue, and you can request an email notification on the product page HERE.
Like I said, I struggled, browsed, and searched for a piece for a long time before finding this one. I saw a lot of cute chests along the way but just couldn't find any to solve every single one of my challenges (an inch or two too wide, too basic, too modern, etc.) Scroll and tap some of the options I found along the way — most are really affordable, especially this weekend. They also all ship for free (everything on Wayfair ships for free at $49+ — even furniture pieces).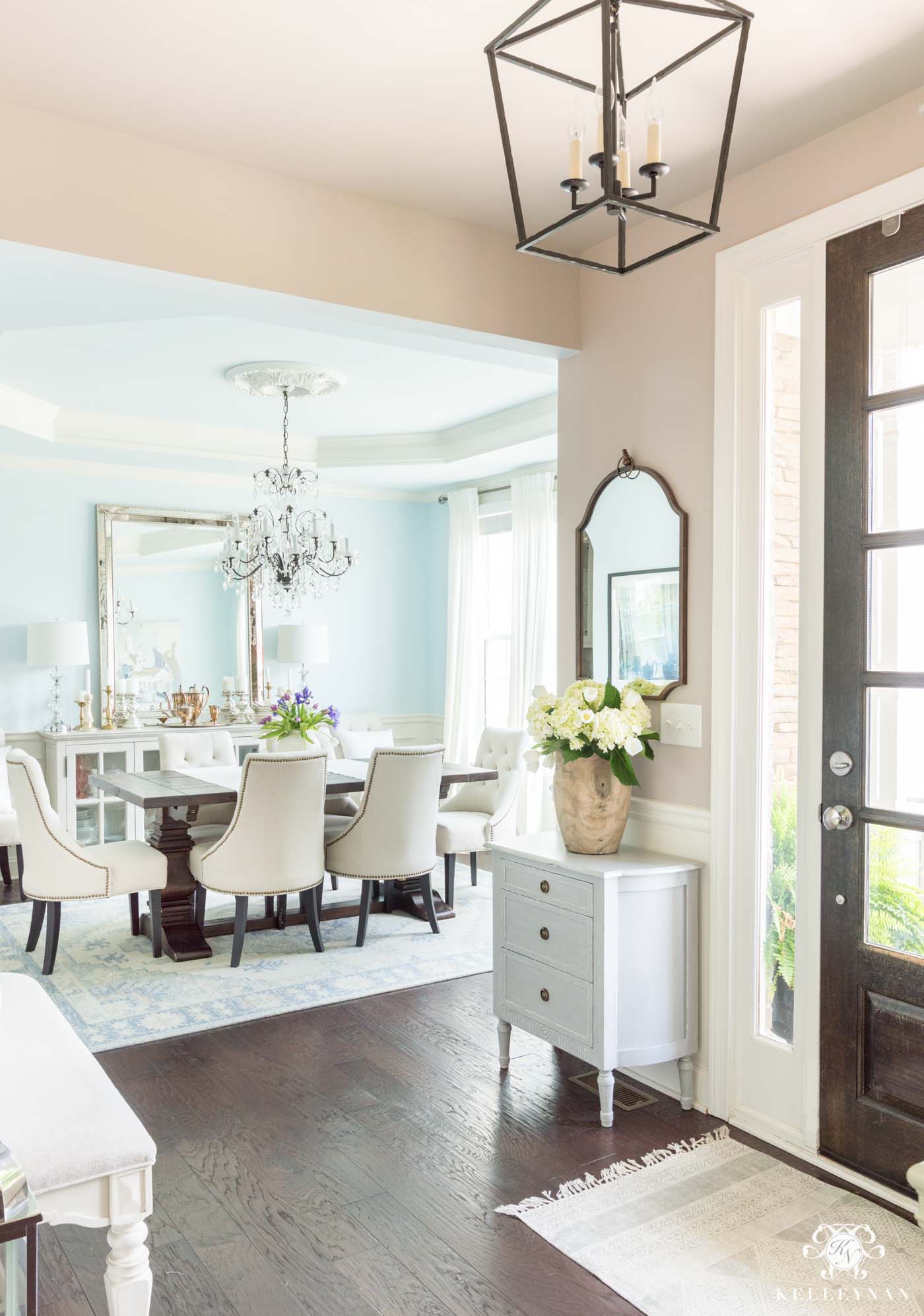 Can you spy my favorite purchase I made during the Way Day sale? THIS rug is a rockstar deal and comes in several sizes (mine is the 7'9″x9'10"); it looks a little more blue in my dining room because of my blue walls. I mean, it is blue but in a room with more neutral walls, it would look more neutral, also 😉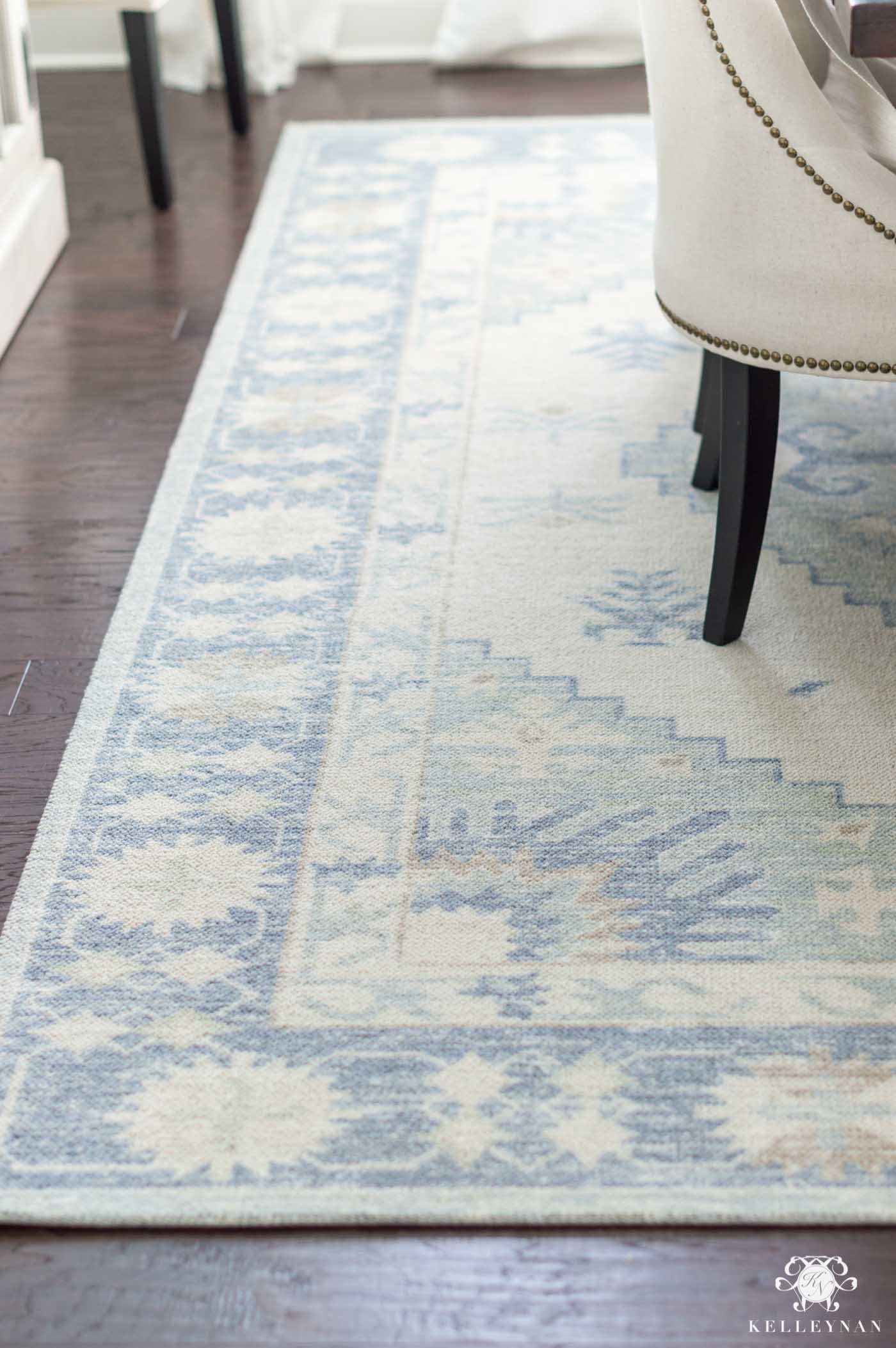 Speaking of deals, remember the alternative lighting post I just shared this past week (
HERE
) where I rounded up some of my lighting and shared less expensive options? I included a near twin of my entry lantern and today, it's on sale for $89! You can see it in all the available finishes
HERE
.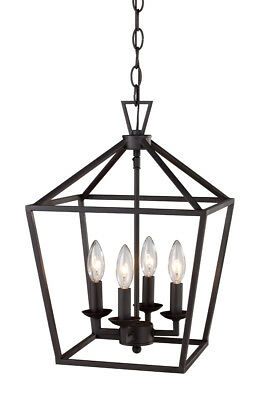 I actually had the larger, six-light version (HERE) in the antique silver leaf color in our previous guest bedroom.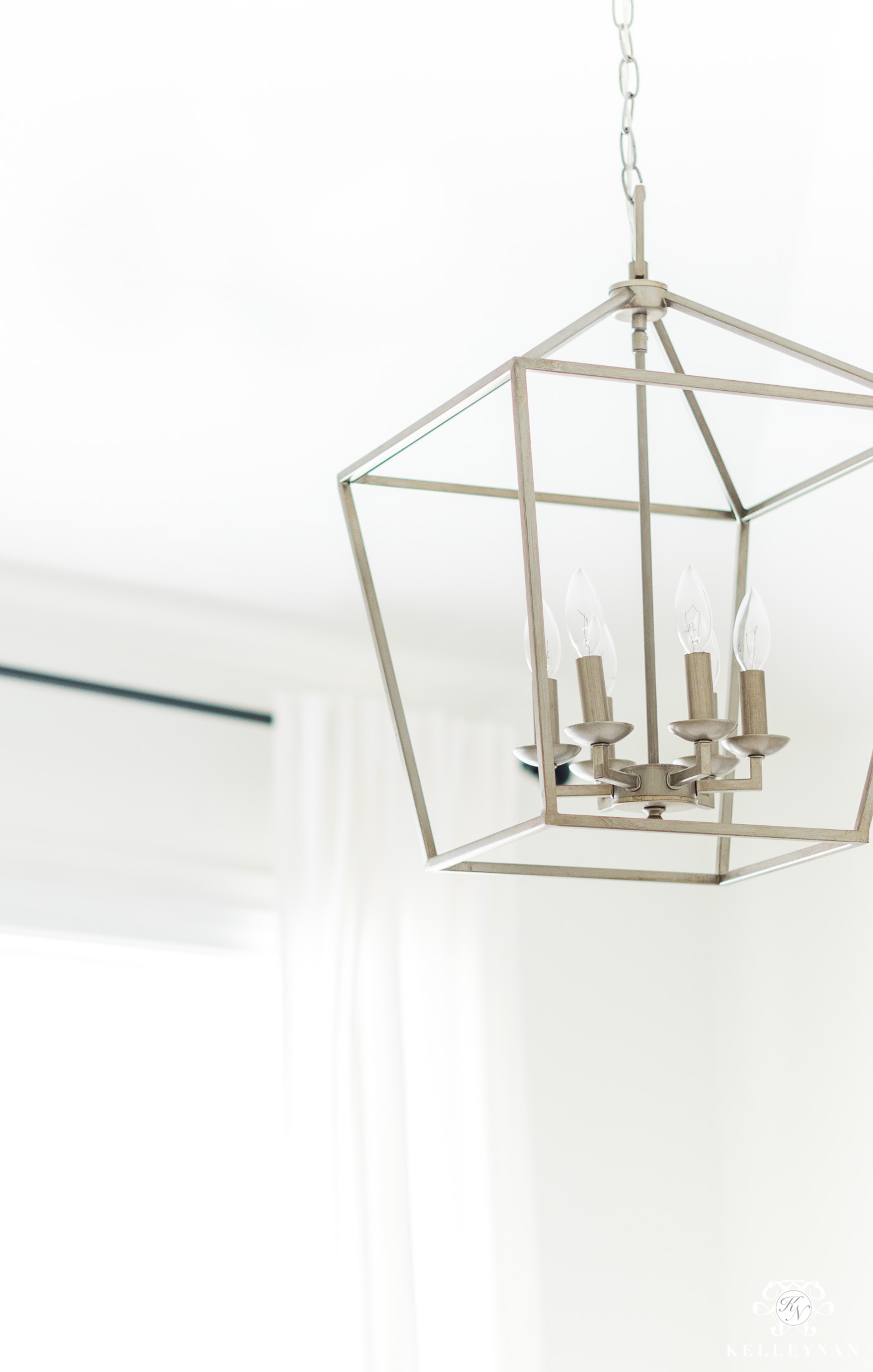 This mirror (HERE) was just over $100; it was the perfect height, not too narrow, and the finish had just the right tones to go well with the hardware on the chest but also the light fixtures in both the entry and dining room. I love pieces like this where it has some variance and it's like "is this copper? or maybe tarnished brass? or rubbed bronze?…" I was also able to hang it, on my own, in less than four minutes. It only has a center anchor on the back for a screw so it's no difficult to "get it right" the first time.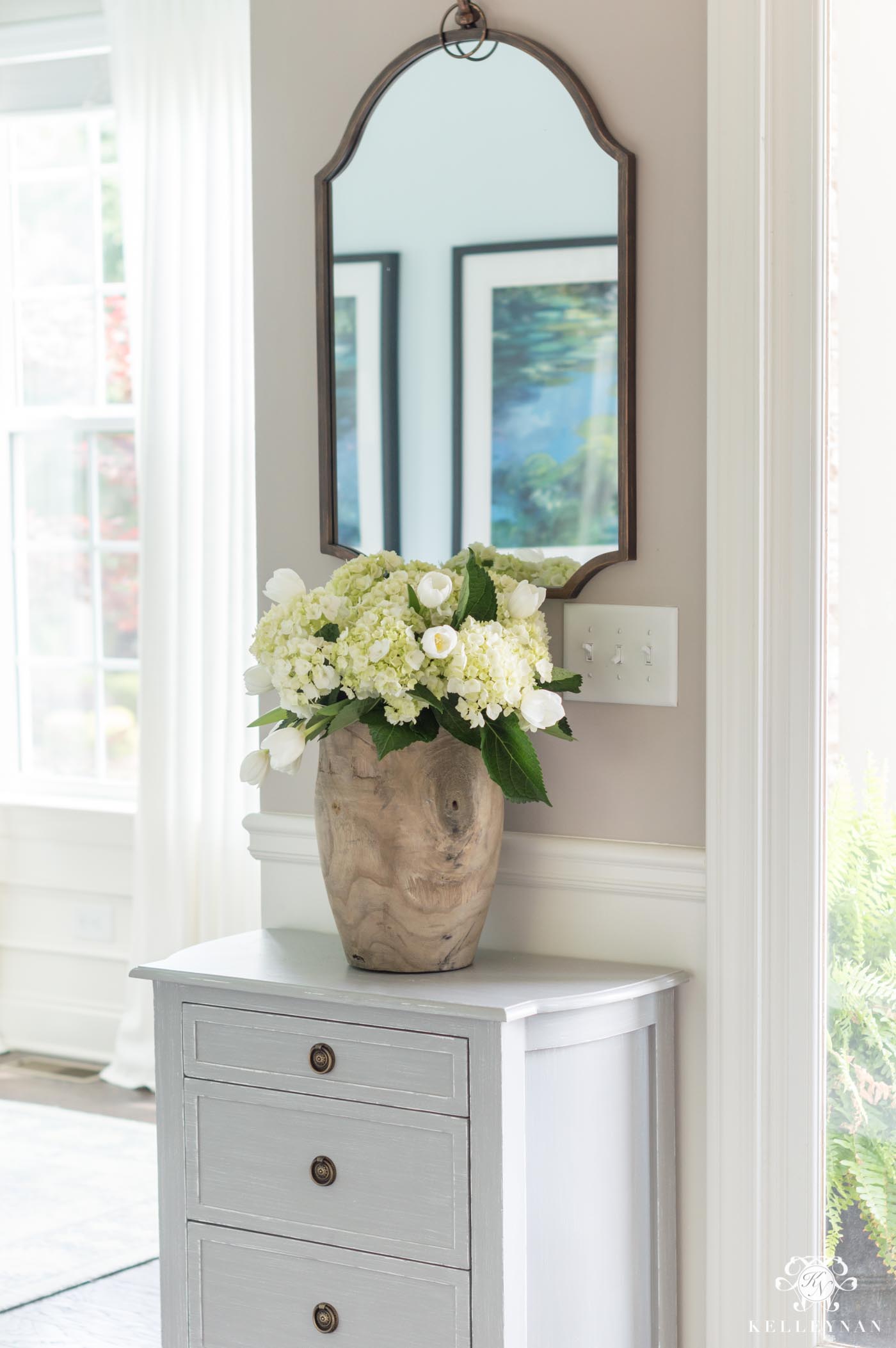 With the light switch plate in the position it's in and the mirror having to be just a little higher than I'd prefer, I wanted to find a big statement piece to fill the gap nicely. This wooden planter (HERE) is everything. It has a ton of unique characteristics, dimpled all over. If you're looking for an island centerpiece or dining table centerpiece, this would be gorgeous, too.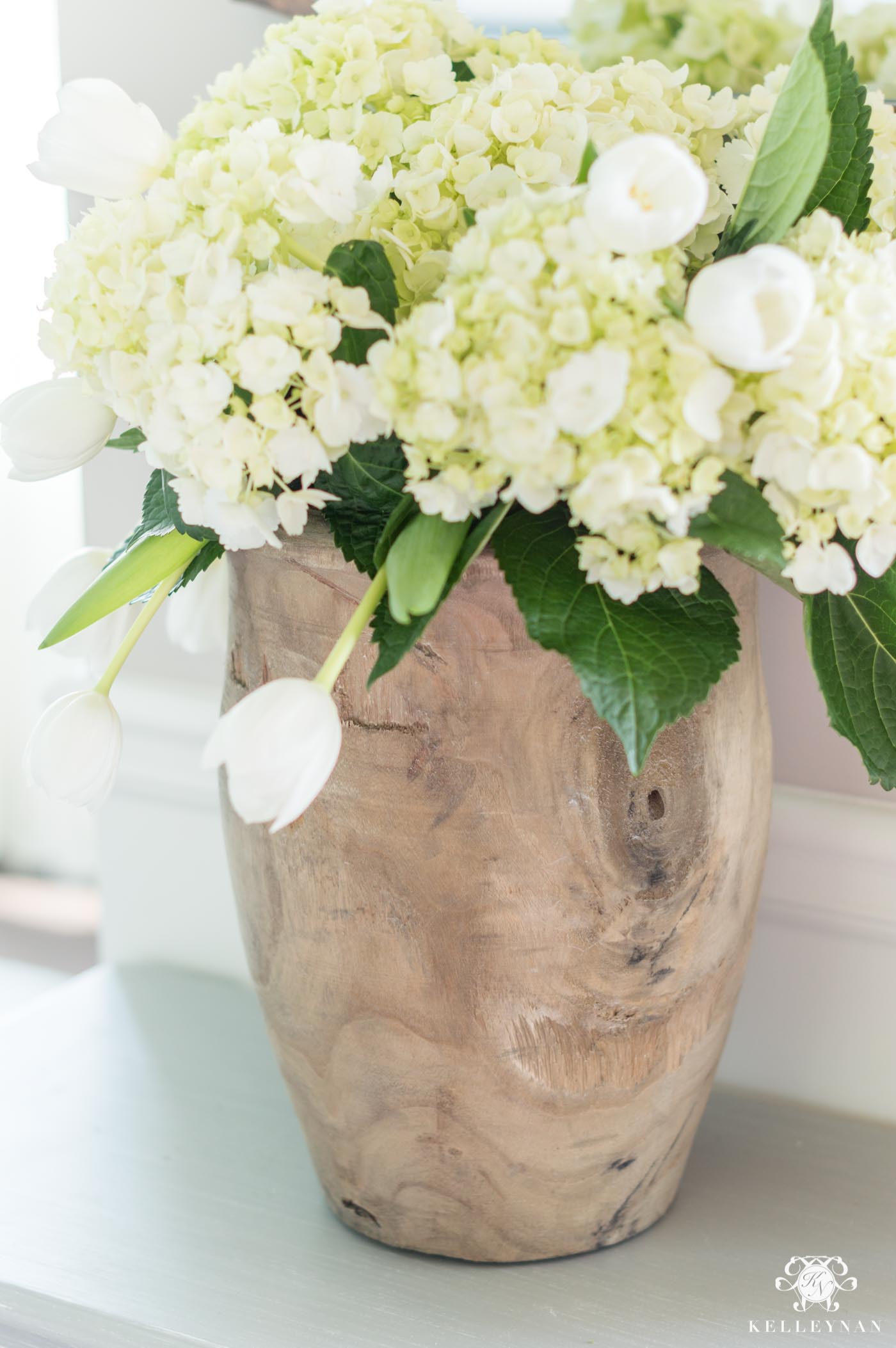 The opening is large so I just set a standard clear vase (like one you would see from flowers pre-arranged in the grocery store) filled with water inside.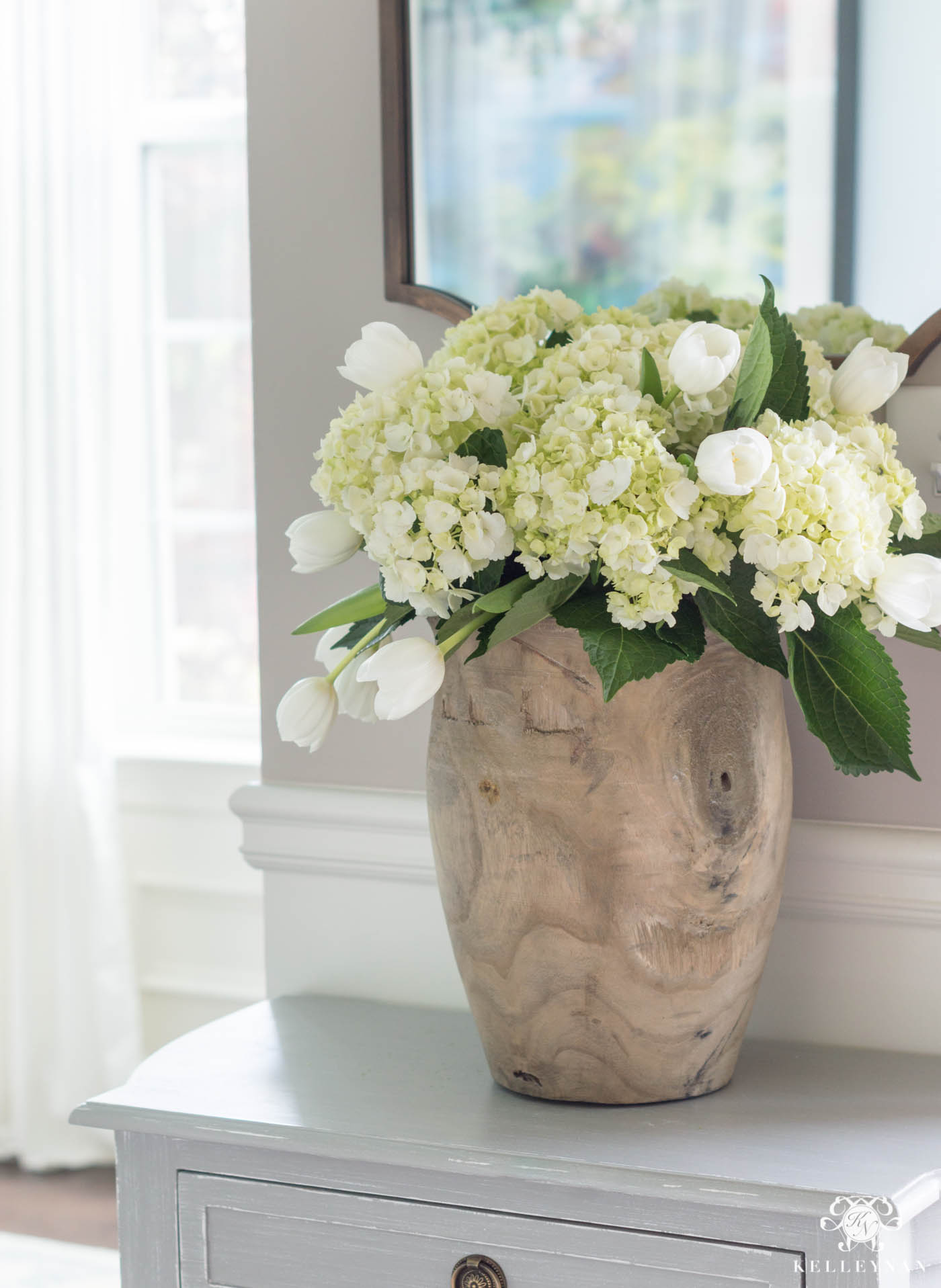 I've had requests in the past for my best tips of how to shop certain websites — Wayfair is a great place to start because it's huge and has literally, over 10 million pieces (both awesome but could be overwhelming if you're just casually browsing.) My favorite way to shop after narrowing my category down by the main header menu is to click on an item I like, scroll to the bottom of the product page, and then look in the "Shop This Collection", "Compare Similar Items", and "Customers Also Viewed" sections — I find a ton of similar items to consider this way I may have never come across, just by browsing. Here's what it looks like below each item when you scroll down far enough-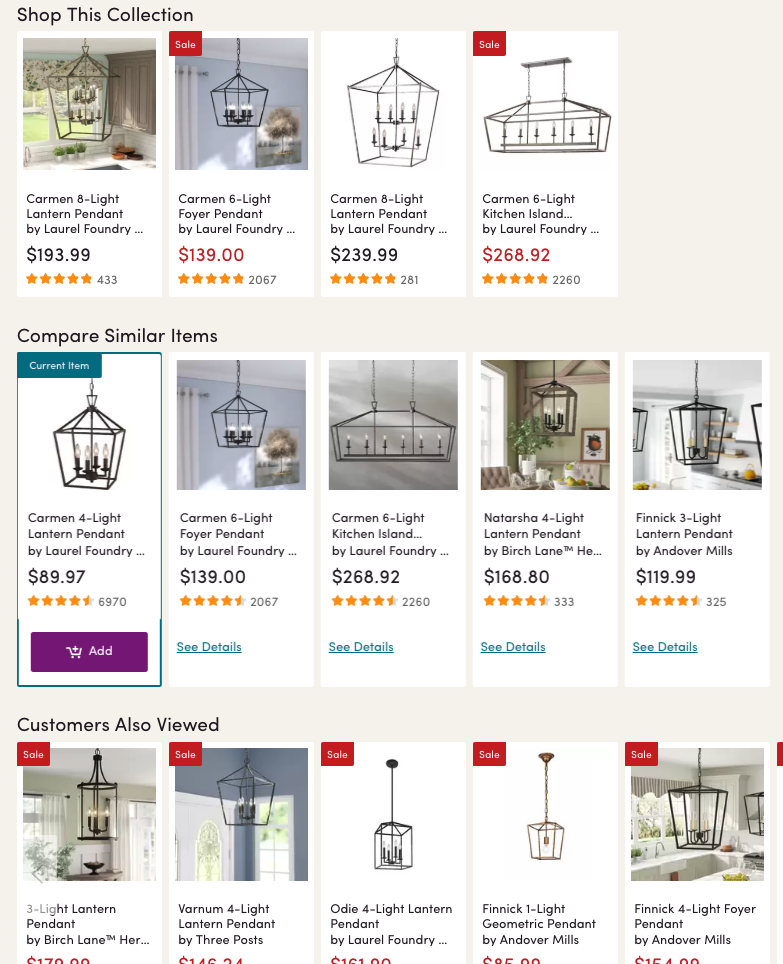 This is from the product page of the lantern I shared earlier in the post HERE, which is a part of the Wayfair Memorial Day Clearance Sale. In addition to lighting deals, there are tons of home deals — from outdoor decor to bedroom and dining room to appliances — that are up to 70% off. You can shop the sale HERE and see some of my favorites below! Be sure to subscribe to my emails at the bottom of the post for more space revamps and makeovers and sale alerts.
Wayfair Memorial Day Sale: Clearance Deal Spotlight