We've been doing all the things to enjoy our season — from outings and day dates to quiet, in-home movie cuddle sessions — and as much as I planned ahead and tackled as much as I could before December, the list seems to keep growing. It's all fun (well, for the most part 😉 ), but inevitably, time seems to be stretched extra thin as we wrap up the year and Christmas approaches.
We've visited with Santa, sent out Christmas cards the day after Thanksgiving, our advent calendars are well underway, we've shopped for a community toy drive, we've wrapped *almost* all the gifts, and we've picked up seasonal favorite beverages — Eliza loves a vanilla steamed milk! We've taken a carriage ride in the little mountain town of Dahlonega, just north of us, and we've exchanged annual ornaments. We're stocked with our favorite holiday candle scents and have yet to build our first weekend fire, but along with some of our favorite traditions, there's other random happenings and activities that have been popping up… Today, I'm sharing five random December things — actually, all from the past week — and how I most efficiently conquered them.
*Posts on KelleyNan.com may contain affiliate links. While this post is created in partnership Walmart+, all opinions, concept, and creative are my own. Click HERE for full disclosure.*
1. Elf on the Shelf Activity & Accessory Planning
This is the first year an elf came down from the North Pole to spend the season with Eliza. I don't have a clue where she got this from, but she named him "Chucky". Yes, really. So, "Chucky" it is now and I suppose will always be, haha. I don't want this to become a tradition that adds stress or feel pressure to create the most elaborate set-ups or set an unrealistic precedent for future years. He has plenty of nights where he just moves to another spot but he does bring treats and will get into just a little bit of mischief from time to time 😉 I'm typically inspired by my own daily activities to determine what he's going to do next; here are two of my favorites thus far.
Eliza dressed as a ballerina for Halloween this year — it was probably in her top three favorite things
eve
r. I ordered a quick, 1-hour (.09 cent photo lab print-out from
Walmart
) of her dressed in her costume from October, and ordered
THIS little ballerina costume
for Chucky, with him holding a photo of twinning outfits — it arrived free of shipping charges,
quickly,
with my
Walmart+ membership
, and I love how this little duo turned out!
(price of the outfit varies depending on availability)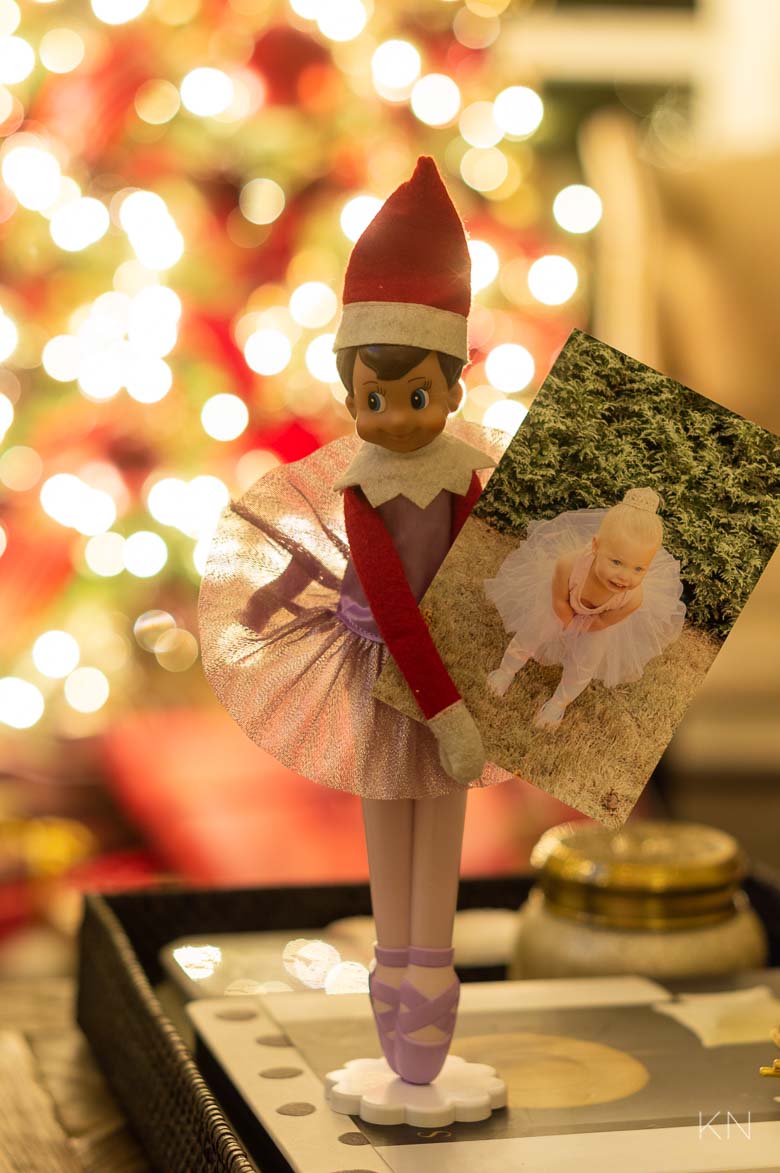 It was such a spur of the moment, random idea, I'm glad I was able to jump online to secure my outfit and photo or it wouldn't have happened. Here are some other elf outfits available. With a Walmart+ membership, if in stock, they will be available for free delivery from your local store (with a $35 minimum order — restrictions apply); if they aren't, you can also have it shipped quickly and with no shipping charges (no order minimum required, excludes most Marketplace items, location & freight surcharges)…

I had also ordered some jute twine and ribbon candy earlier in the month, and after fashioning a phone camera set-up from our living room chandelier to film a project, I had an idea. When Eliza came downstairs last week, she found Chucky suspended from a swing, fashioned from twine and treats.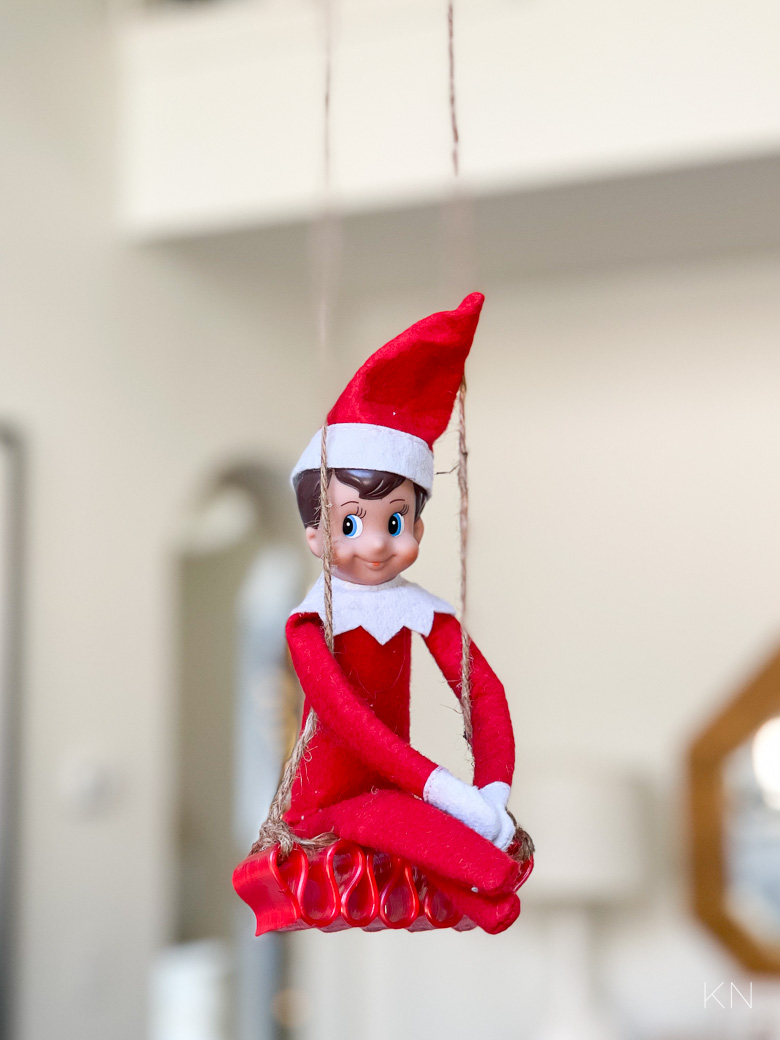 Scroll & Tap to Shop Elf on the Shelf

2. Holiday Pot Boil Ingredients
Growing up, my mom made fragrant "pot boils" every holiday season. This is something I have continued, requires minimal ingredients, and while we typically prepare it for a long day at home, it's extra festive if you're planning to host friends/family. The "throw" it creates can be smelled throughout the house and when I create if for the first time during the holidays, I definitely feel like Christmas has arrived.
While a lot of
Walmart+ members
can enjoy
free delivery from your local store with purchases of $35+
(restrictions apply)
, I ordered my ingredients and swung by curbside pick-up after dropping Eliza at school — this saves so much time, not having to run between produce, spices, etc. — and is so easy. And, I am
really
pumped now because since our last pick-up, Walmart expanded it's
local service delivery
for Walmart+ members — with the same low prices you'll find in-store — and our home address is now included!! You can check your own address
HERE
to see if this is a membership benefit that's currently available to you. If you've checked before and were out of range, check again because it appears they are actively expanding their store delivery service.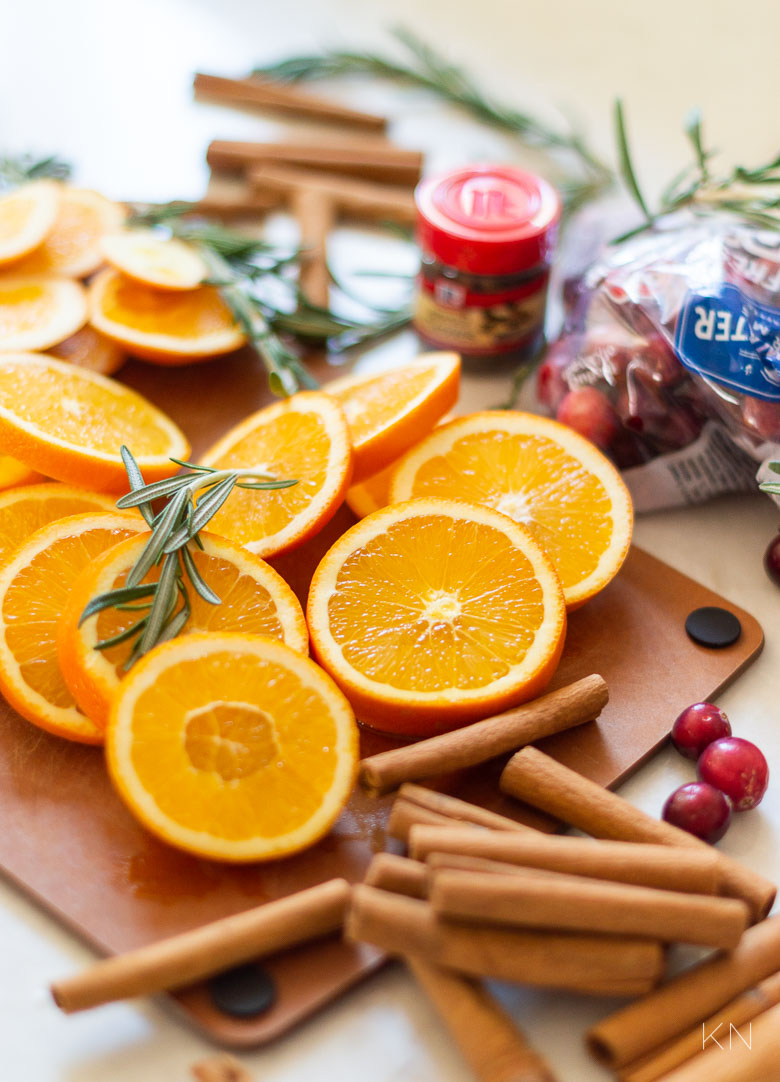 My recipe only requires five ingredients, but you can always "spice it up" 😉 with additional citrus and spices.
Fill your stove top vessel of choice halfway with water. (I used my 7.25 quart Dutch oven for a large boil.)
Slice enough oranges to fill the perimeter of your pot. (I used three!) As a note, I discard the ends of the oranges and grind them in the garbage disposal to freshen it up; the smell is glorious!
Liberally add whole cinnamon sticks.
Sprinkle in whole cloves.
Add several whole branches of rosemary.
Throw in a few handfuls of whole fresh cranberries.
Cover the pot and bring it to a boil on medium heat. Once the pot comes to a boil, turn the temp to simmer and remove the lid. Keep an eye out to ensure the pot does not boil dry and add additional water, as needed.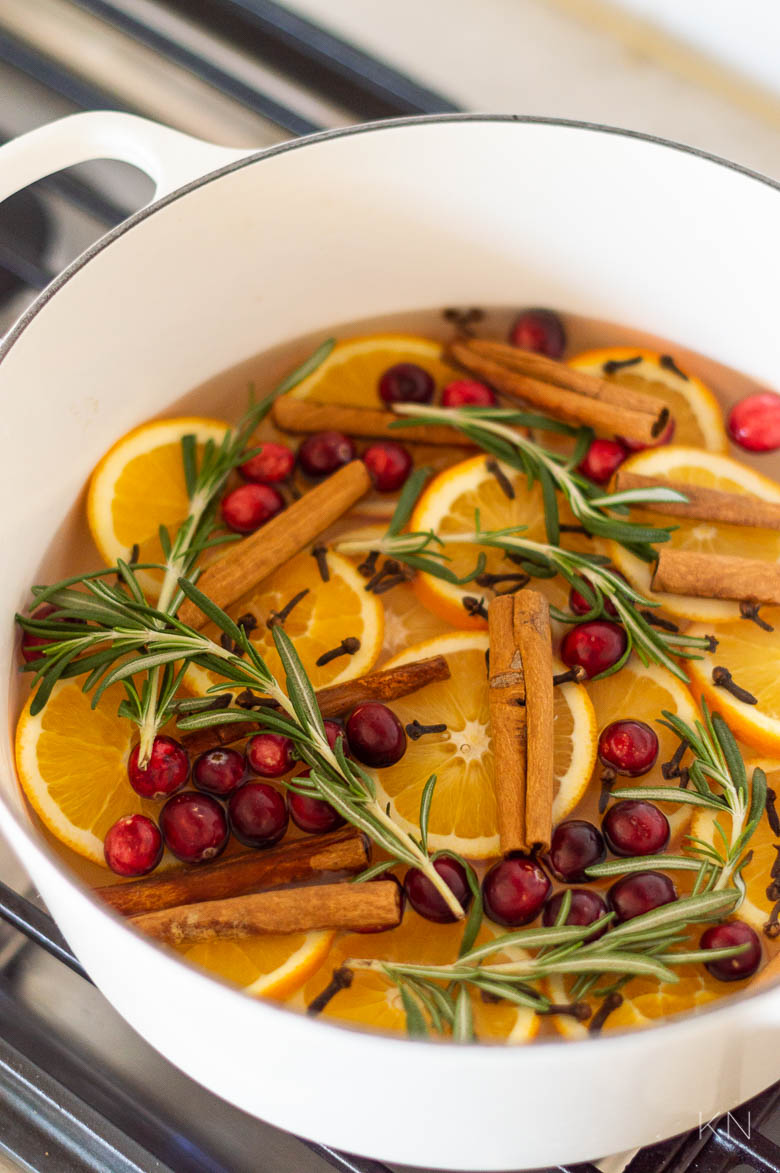 You may substitute the water for apple cider, if you want to have a warm Christmas beverage to serve. Lime, lemon and/or grapefruit slices are all good additions. Additional spices, such as star anise and nutmeg may also be added.
3. Delivery Driver Snack Basket Restock
We've been filling and leaving stocked snack baskets for delivery drivers for a few years now, and I love that this is a tradition that has caught on so rampantly! It's also a treat when package delivery people gesture or share gratitude to the video doorbell. It's actually kind of eye opening to see how many remark that they haven't eaten that day and/or are "starving". It's something small we can do, and I'm all about gestures that don't necessarily require a lot from us, but make an impact.
Well, after a few seasons, I finally honed in on what the favorites/hottest snack items are. For us at least, the delivery drivers weren't big on granola bars or crackers, but love chips and cookies. While my offering contains less variety now, it also gets snatched up way more quickly, so, those are the tried and true goods. But, like I said, they go
quickly
— probably indicative of how many packages we've been getting, but also, this is such a tough, long-houred season for the logistics profession. We ran out of our initial snack supply
early
, and I jumped online to order a full replenishment with our
Walmart+ membership
. While this was before my local store was delivering to my address, as I have with lots of other store orders, I swung into the parking lot on the way from dropping Eliza for a quick pick-up (no hauling big boxes and cases of water through the store and into the car). But, I can't wait for our next need to re-stock when I can have it delivered to my front porch from the store. Is that some sort of irony? A delivery person delivering an order for delivery people?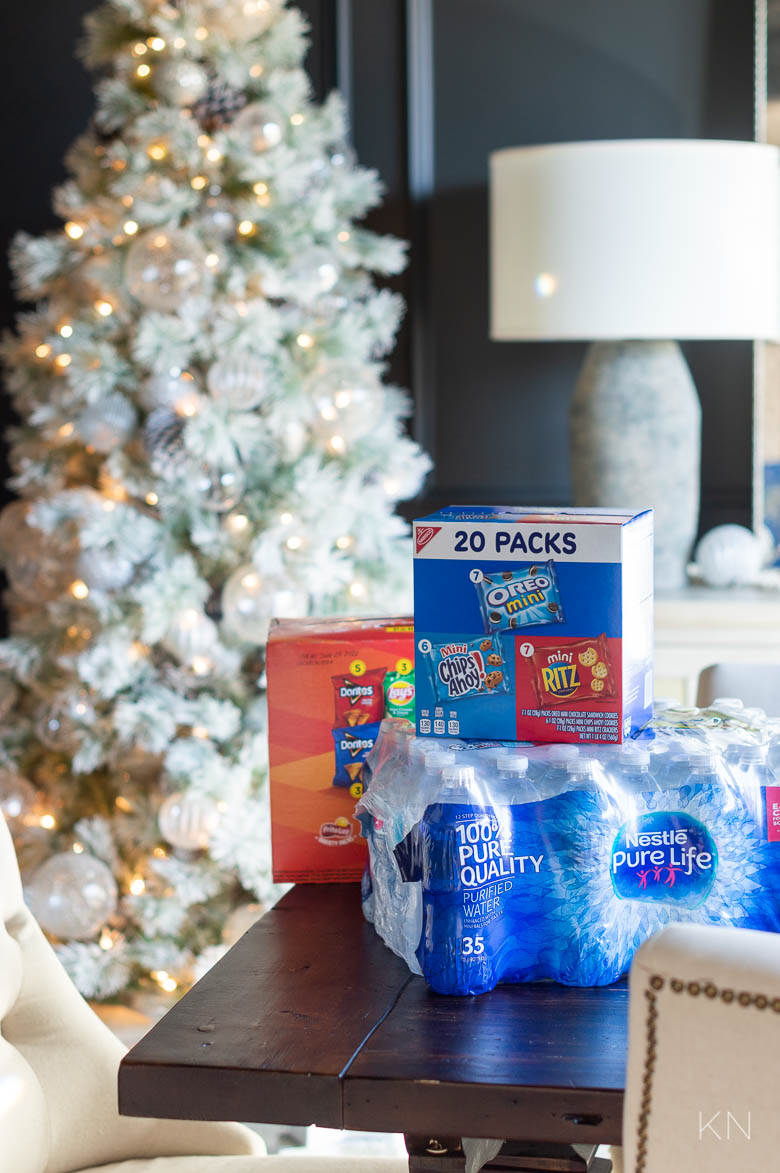 I started with a piece of printed card-stock but that bent and fell victim to wind and the elements pretty quickly, so I replaced my paper sign with a simple-worded letter board from Walmart that I purchased earlier in the year. While mine (HERE) is currently out of stock, there are a lot of affordable letter boards available that ship free and quickly via Walmart+ — THIS ONE is on sale for just $4.20!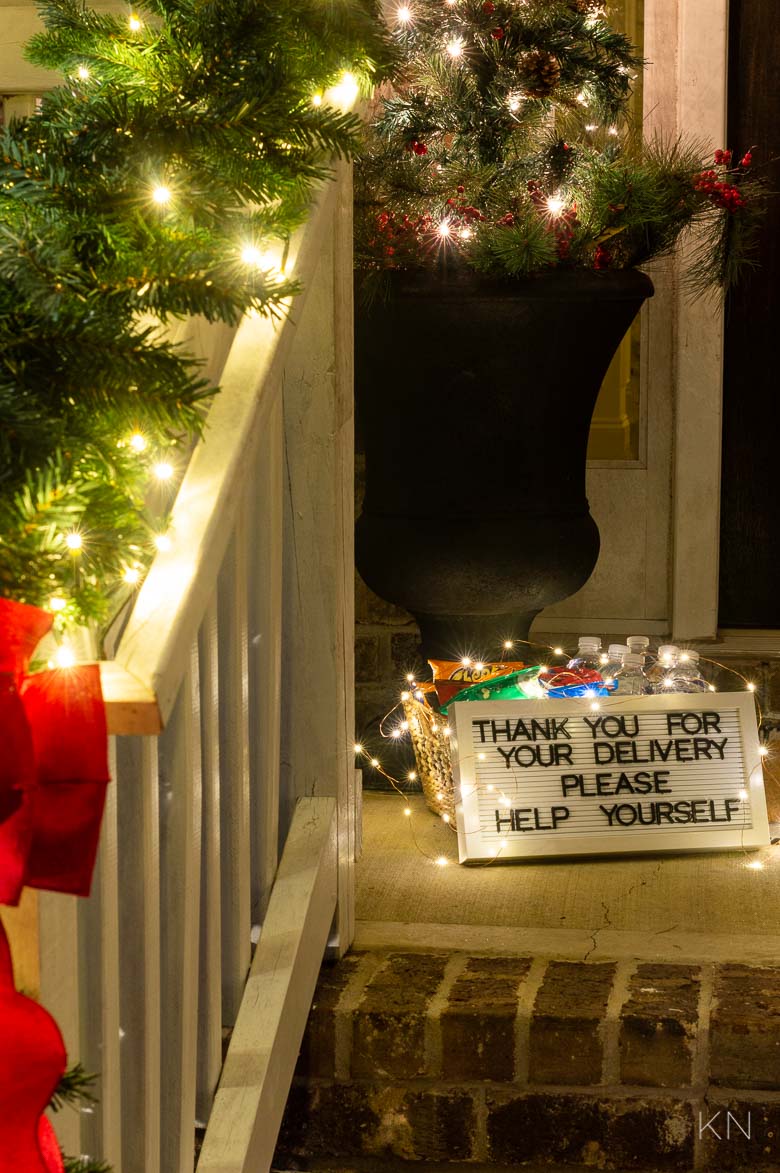 Scroll & Tap to Shop Letter Boards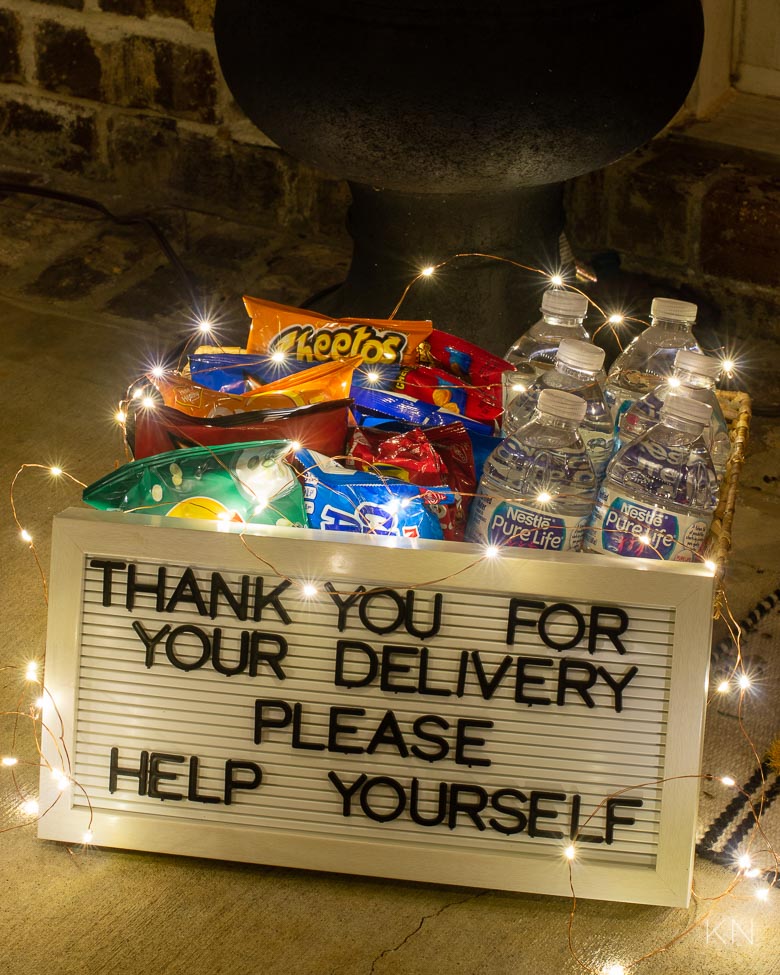 And, because it's been a while since I've shared my porch during Christmas, here's a peek of what the outside of our house looks like for the season…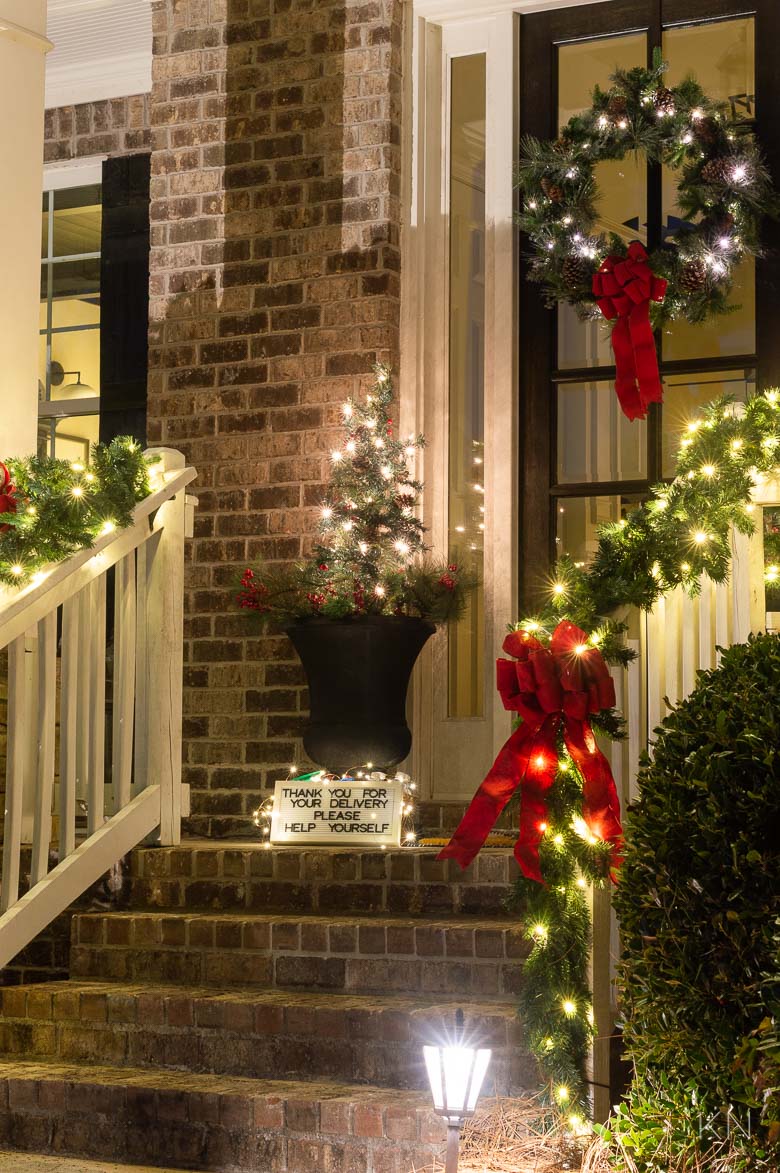 We've gradually added a few elements and started outlining our roof line three to four years ago — Dave said that next year, he's ready to switch things up (I think he's dying to get some lighting for trees and bushes 😉 ). I'm dying to get classic wreaths with red bows on our windows!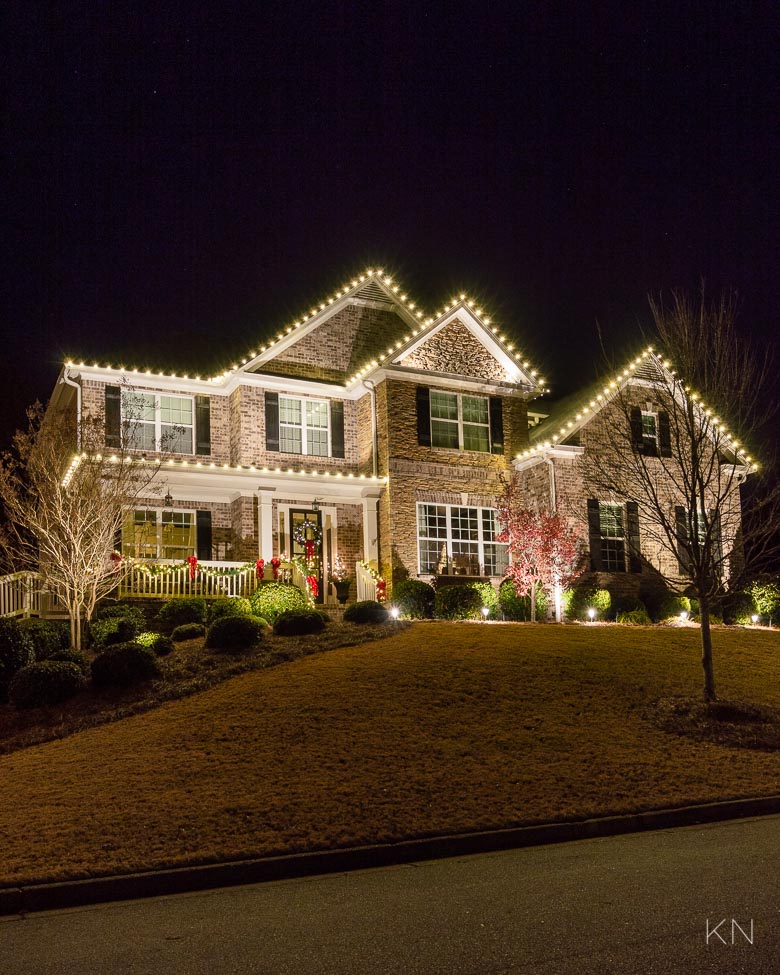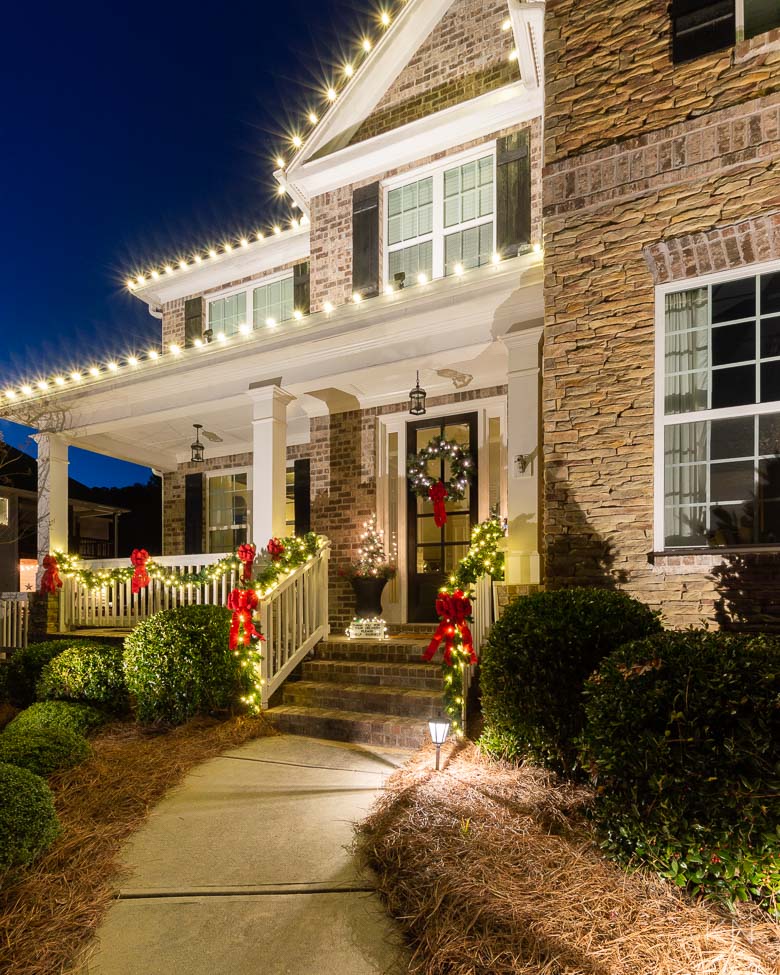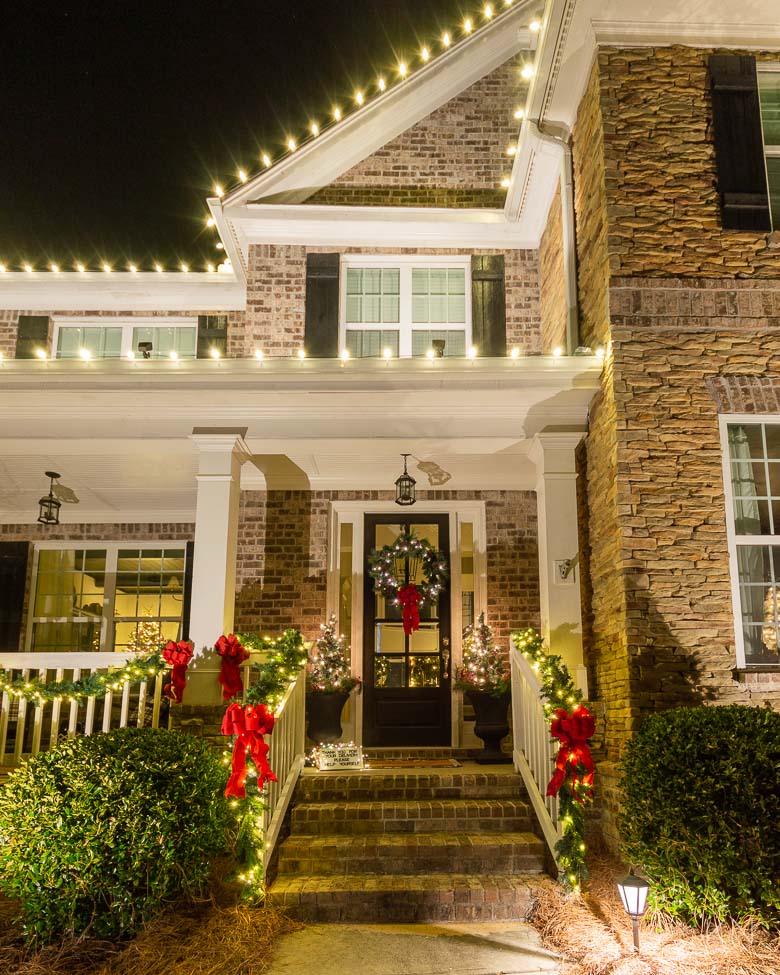 4. Christmas Grazing Board Essentials
Earlier this month, I assembled a holiday grazing board, composed exclusively of ingredients and supplies from Walmart. You can see that full post with recipes and all the details HERE. I used my Walmart+ membership which saved me a lot of time from hunting for ingredients in store. Most of the supplies are available for free delivery from your local store (with purchases $35+; restrictions apply) — from all the fresh ingredients to even the tray (currently $19.98) and mini 2qt. crock pot, perfect for dips (currently $11.96). And, if they're currently out of stock at your local store, they're available for quick, free shipping online for Walmart+ members.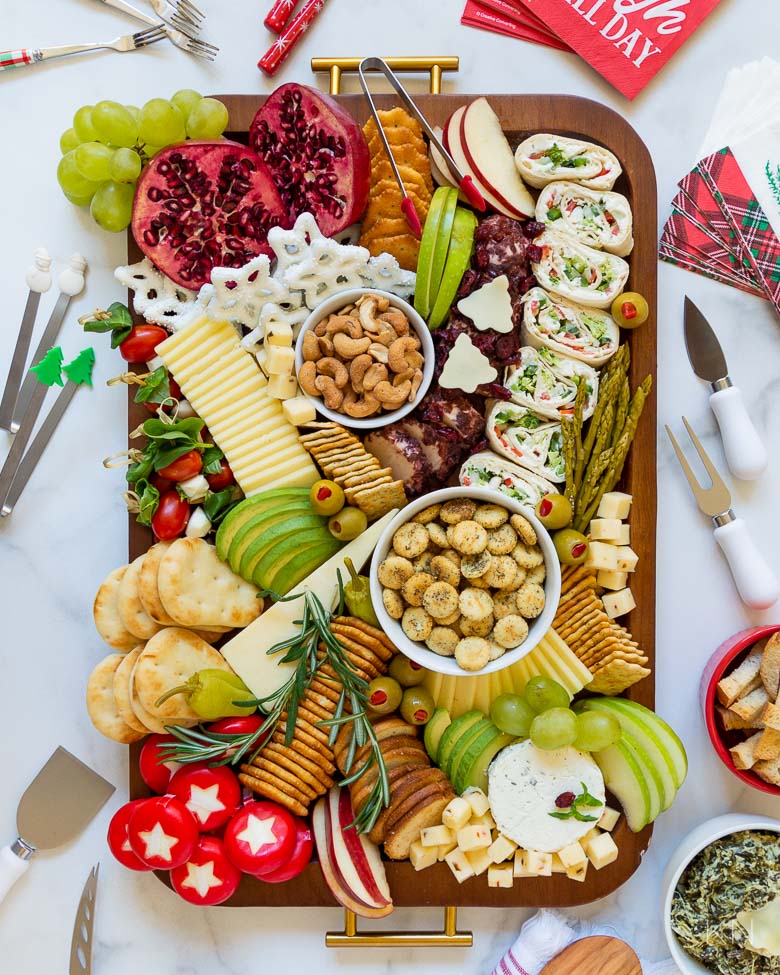 Scroll & Tap to Shop Board

5. Girls Trip Road & House Snacks
I'm heading south to Florida for a girl's trip this week, celebrating one of my dearest friend's milestone birthday. As the only driver (the rest of our crew is coming from NC, NE, OH, and CT), I'm bringing along a few house snacks. I'm also having Dave make a couple batches of his famous chocolate chip cookies for the girls (unfortunately, it's a recipe from a friend that I don't have permission to share :/). I ordered all the ingredients and sustenance for the road, house, and baking, without having to set foot inside a store.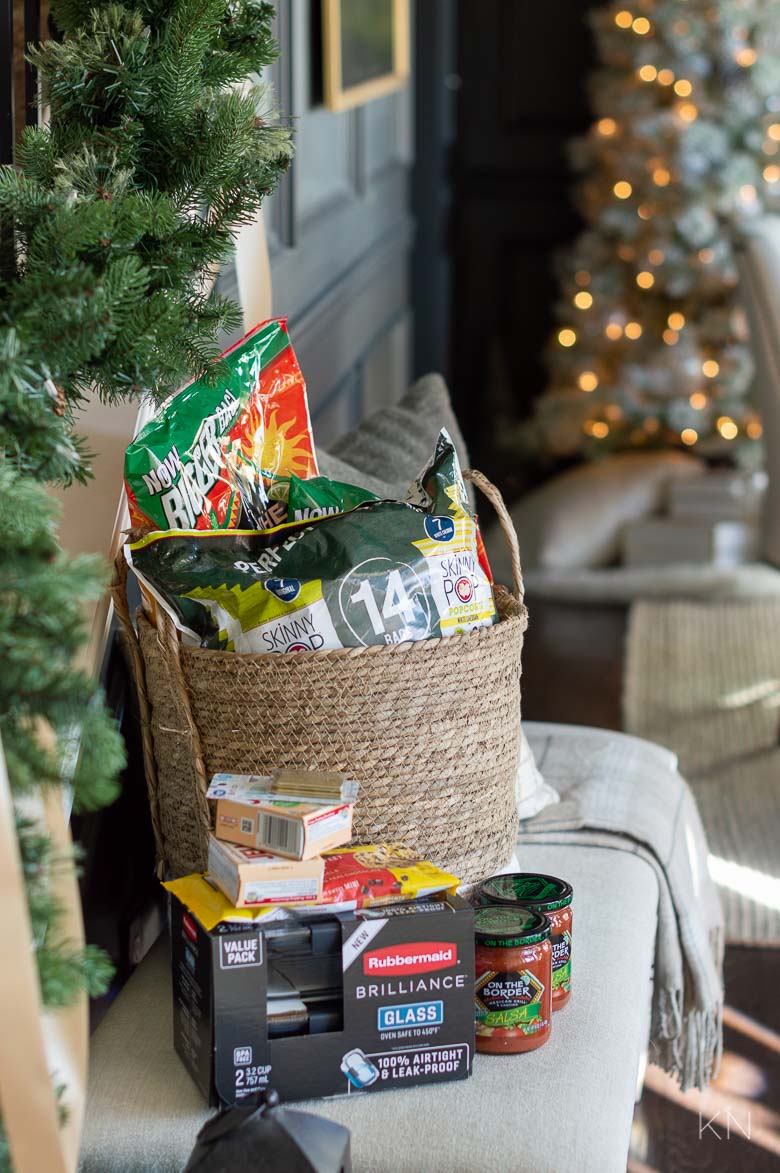 Scroll & Tap to Shop

By the way, along with home decor and storage, THESE basket sets are perfect for hauling. They're lightweight, affordable, and flexible enough to provide a little "give". They come in two size options, and the black-bottomed set, which I also have, is even more affordable HERE. All ship free and quickly with a Walmart+ membership.
From hosting to gifts to activities to planning to trips and more, the value of the
Walmart+ membership
convenience has been incredible throughout the year, but especially during this most busy season. You can visit the membership page
HERE
for the full benefit details and the benefits available, based on your location. Along with
free delivery from your local store
(dependent upon your service area & $35 minimum; restrictions apply)
, unlimited
free shipping from Walmart.com
(with no order minimum;
excludes most Marketplace items, location & freight surcharges
), this season, Walmart+ also added exclusive
early access to members for seasonal deals and sales
(not available to trial members; while supplies last)
.
Walmart+ membership offers a 15-day free trial period
, and then it's $12.95/month or $98/year after that.
So, we're getting it done, we're doing the things, we're having fun, we're making memories, and I'm trying to be as efficient as possible with it all. A few random items on our list we have yet to do this season…
drive around to look at lights
(another) trip to Florida to visit family
watch as many movies as possible
finish out the book advent (see that full post HERE)
hosting Christmas on the 23rd
festive "eaties" (meal of apps) for Christmas Eve
hosting Christmas Day
seasonal toast of gratitude
pajama night
hang Christmas cards we receive in the mail
bake cookies
whip up a batch of reindeer food
deliver an appreciation breakfast to the staff at Eliza's school
dress the pups in their holiday sweaters
build a gingerbread house
and as much more as we can fit in, as things come up 😉
What has been your favorite thing this season so far? What are you most looking forward to? Sending you all the holiday cheer this week — xo