If you're here, you probably already know how much I look forward to scheming and theming new Christmas trees each year. But, as much as I thrive off the opportunity to get creative with fresh colors, combos, and carefully curated Christmas trees, the most special tree in our home each year is our eclectic, nostalgic family Christmas tree. That's the tree that holds all the memories, annual tokens of the season, and years of collection. That's the tree that we go back to daily, just to look and point out our favorite special ornaments. Each year, our collection grows — what started as a small tabletop tree graduated to a slender floor tree, and this year, we finally upgraded to a full-sized Christmas tree. Whether you have multiple trees like we do, with one tree serving as home base for all your special ornaments, or, you use a single Christmas tree to hold your entire collection of ornaments, today, I'm sharing a few tips that can make your special family Christmas tree just a little more jazzed up, uniform, or "extra," while looking simpler.
*Posts on KelleyNan.com may contain affiliate links. Click HERE for full disclosure.
Family Christmas Tree Tips & Ideas
There's no right or wrong — your family Christmas tree is probably the most personal collection of Christmas decor you own and above all else, it should be something that you love. Something that feels special. Something that is for your family. Something that is a reflection of you. We grew up with a single Christmas tree and it was fully decked each year in years and years of memories, annual ornaments, and heirloom baubles. My mom still decorates her Christmas tree with all the special pieces and those alone are what her entire Christmas tree moment consists of.
A few weeks ago, I went to her house and we decorated her tree together. I shared a few glimpses and pans of the tree on Instagram stories and the overwhelming sentiment shared through message responses was that it was their favorite tree/kind of tree. I adore her tree and how special it all is and while I decorate my family Christmas tree just a little differently, the idea is the same. There's not much strategy involved in using straight ornaments on your family tree, aside from nestling and staggering the ornaments and choosing the best branches to support each individual ornament, but if you're looking to add just a little more intention/pizzazz to your family tree — while still keeping it totally you and unedited — well, I've got some tips today.
I hope, too, that this post conveys that you can still work in some "department-store-style" elements, if that's what you're hoping to achieve. A simple tree is a beautiful tree, but if you want to use your collection of special, nostalgic ornaments and still want some cool "extra" elements you see on trees that have been crafted for decor-purposes only, it can be done! I use just a few techniques and embellishments, in addition to my arsenal of family ornaments, and it still feels totally personal — just a little more intentional.
Here's a look at our family Christmas tree during the day…

Sources: Chandelier | Sconces (similar) | Rug (8 x 10)| Bird Art Print Pair | Coffee Table | Black Carved Tray | Wooden Beads | Coffee Table Seagrass Planter (similar)| Matte Black Capri Blue Candle | Large Cement Vase | Smaller Cement Vase | Black Cabinet (similar) | Woven Storage Trunk | Black Seagrass Basket | Christmas Tree Topper | Green Pillow Cover | Twinkle Lights
and here she is at night 😉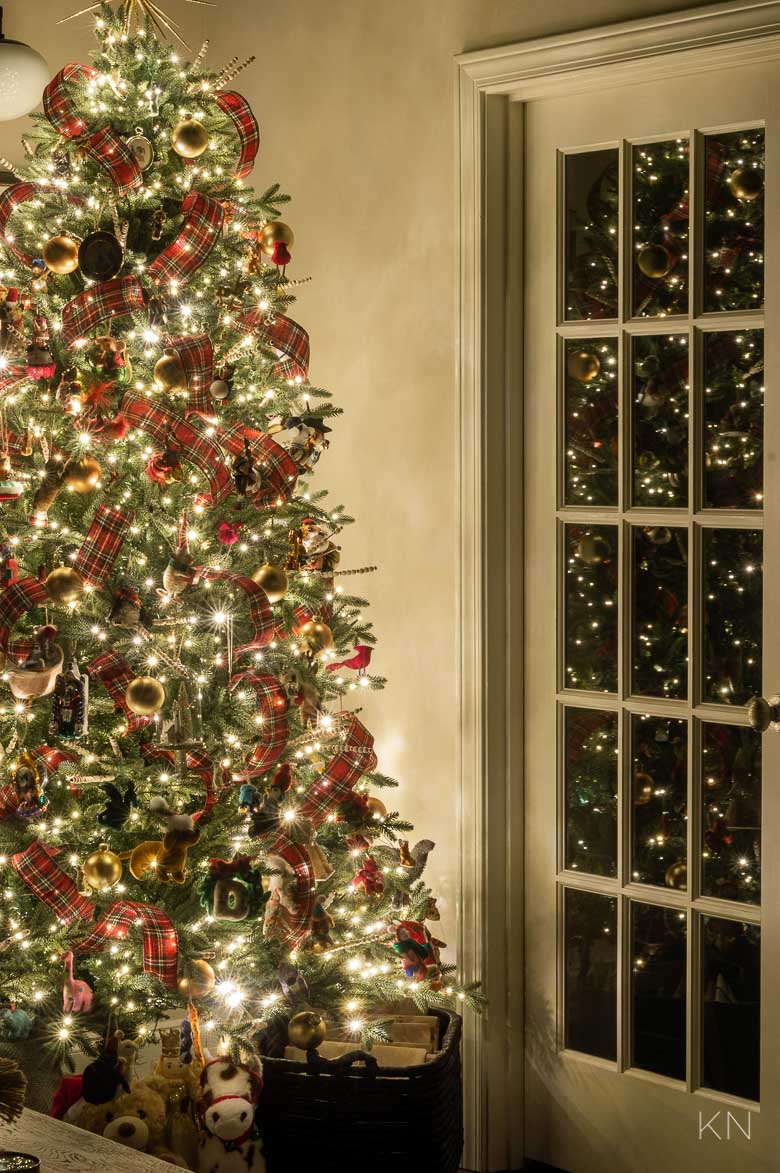 1. Don't Edit Your Ornaments
The entire purpose and beauty of a family Christmas tree is the journey, collection and memories. It's probably eclectic and chances are, all the ornaments likely don't fall in the same color scheme. That's great. That's beautiful. A colorful range of classic mixed with neon hues reminds me of Santa's workshop. Whatever your collection looks like, don't hesitate to display it. I'm a sucker for woodland animals, bottlebrush figures, and felt everything. Growing up, receiving a mouse ornament as my annual addition was my favorite.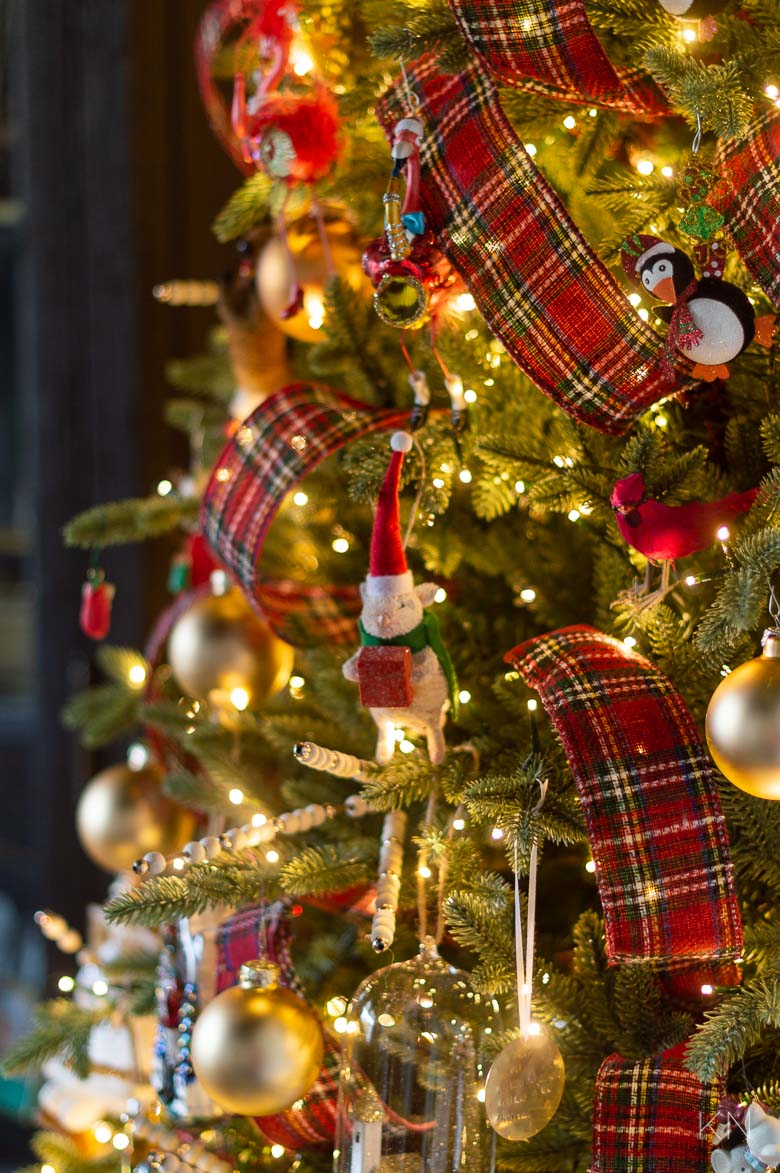 I love the spot for our nostalgia family Christmas tree this year — set right beside my black glass front cabinet of family memories. If you missed that post, this post reminds me a lot of it — how to cohesively display eclectic family mementos. You can check that post out HERE.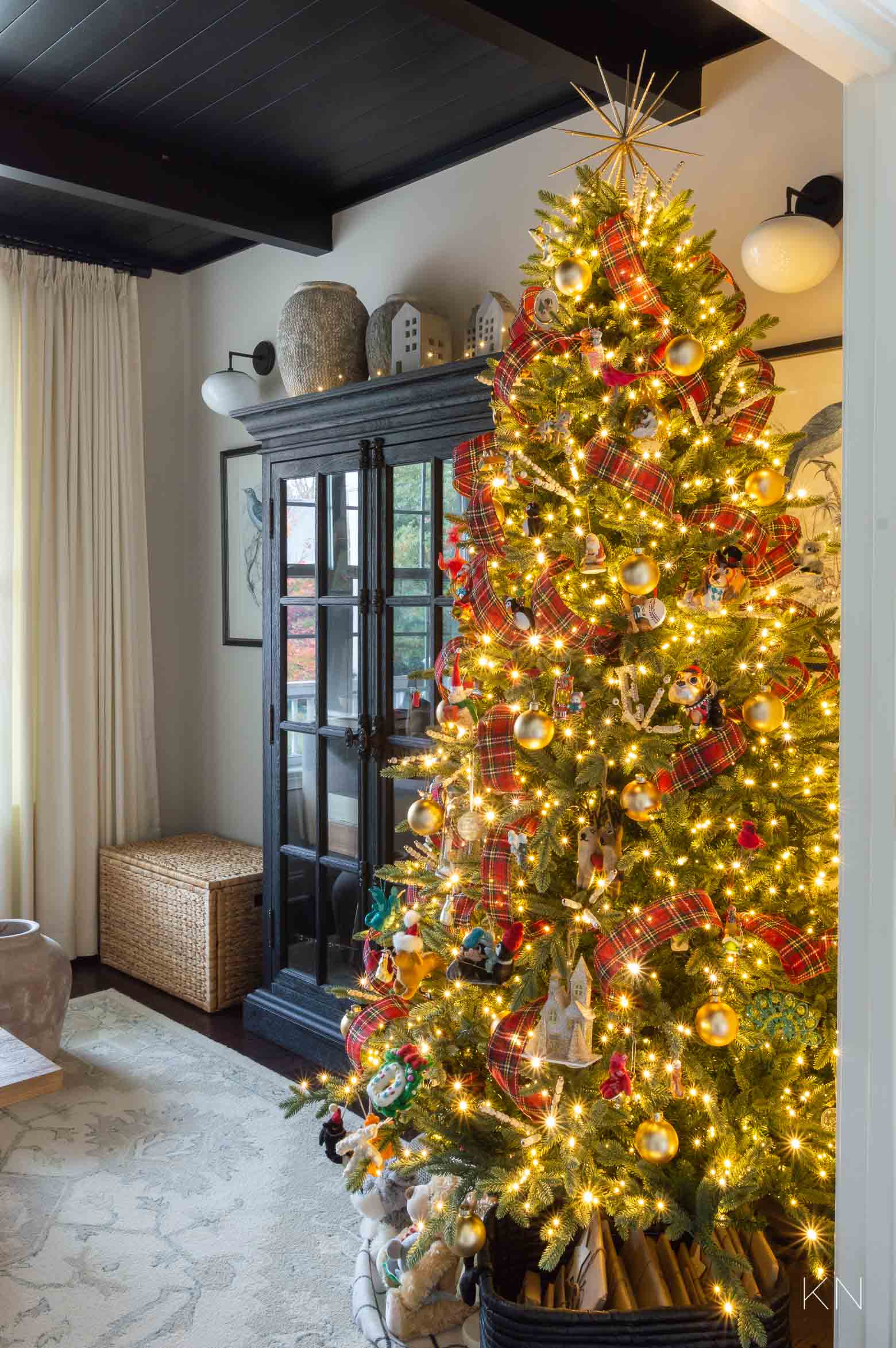 When Dave and I got married, my mom would gift us each an ornament and they would typically be themed together. I try to keep the "his" and "hers" close to each other when I'm adding the ornaments to the tree 😉 I've carried on the tradition and gift an ornament to Dave, Eliza, and my mom now and it's one of my favorite moments of the holiday.
The cute little felt poodle was my mom's ornament for Eliza this year — Eliza loves to mimic me getting ready and the brush, lipstick, and red stained mouth is perfect. I also love when I come across ornaments representative of our family — like this little trio of sledding penguins I purchased last year.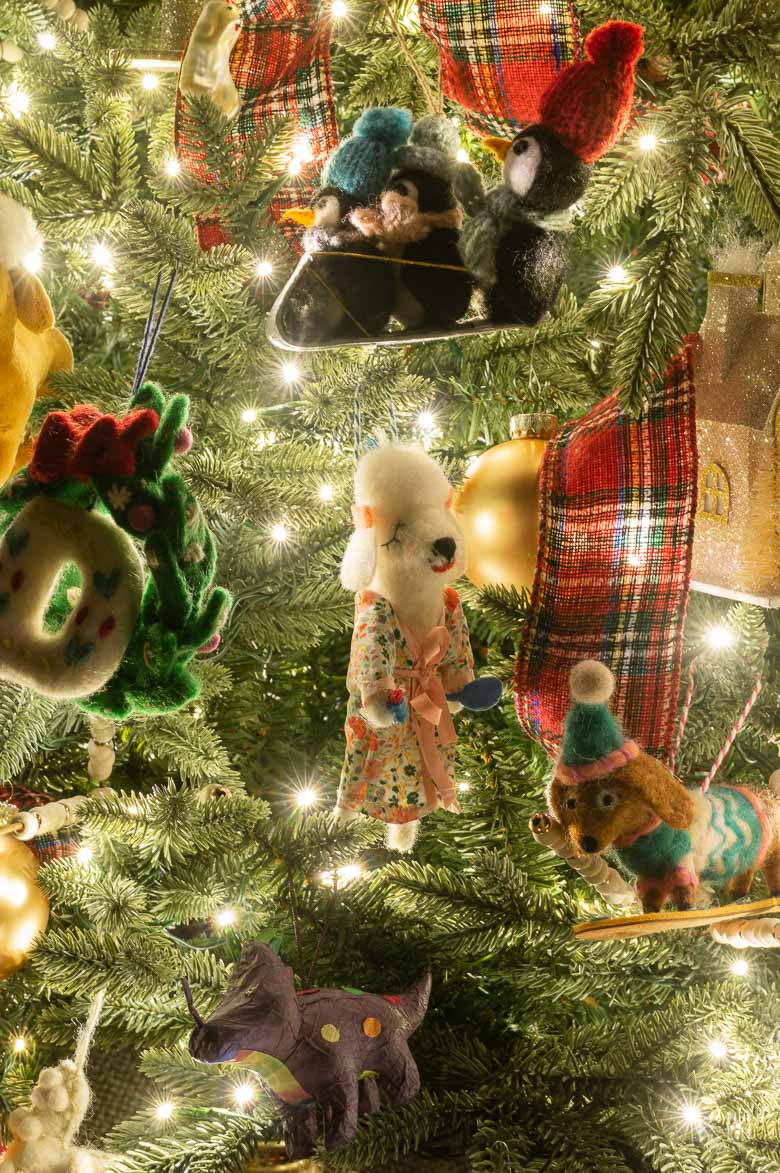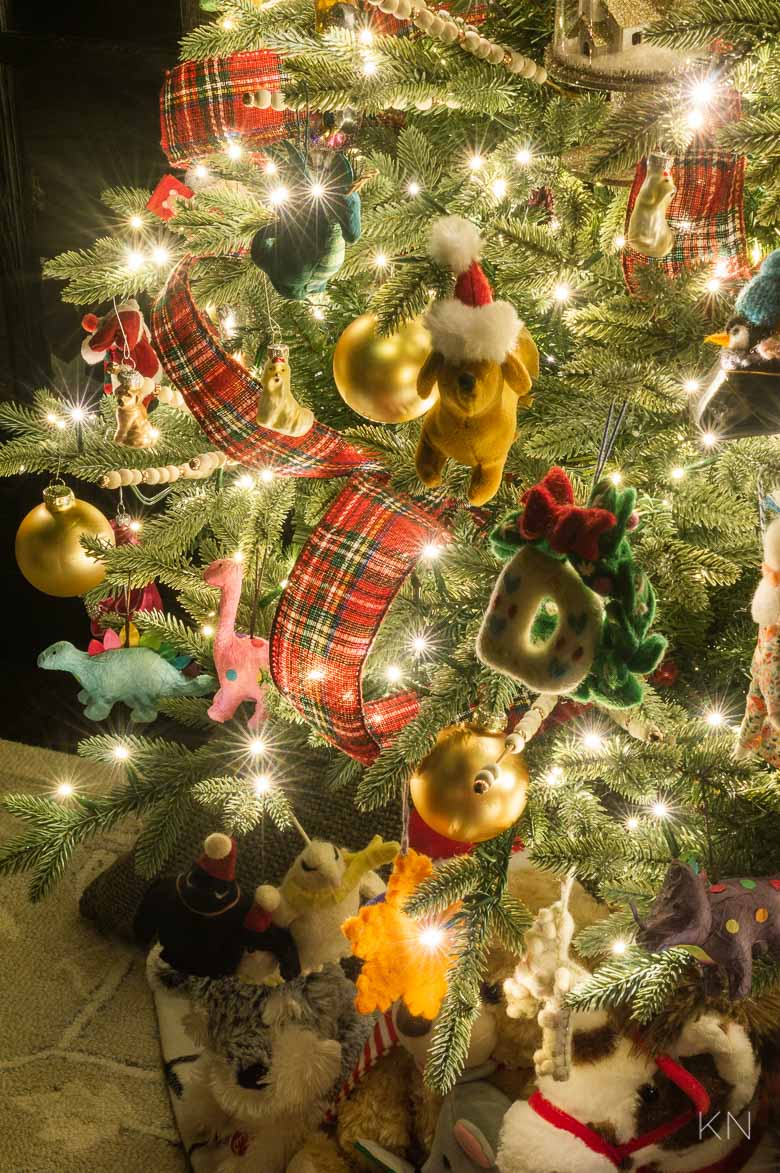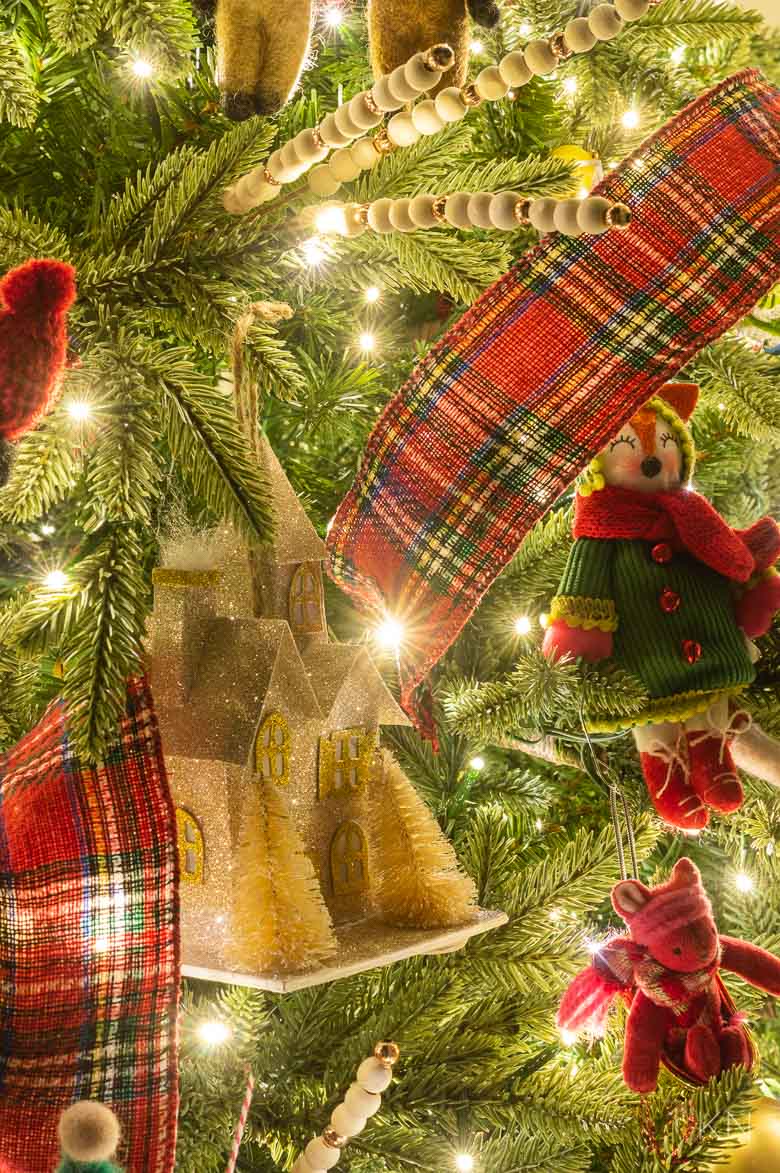 2. Use a Uniform Element
Because there are so many colors, shapes, textures and sizes of the special family ornaments we've collected, I've added just a few extra embellishments for a hint of uniformity to bring the entire tree together. Even though eclectic and "un-themed" is what I'm going for, keeping something consistent throughout the tree makes it look intentional.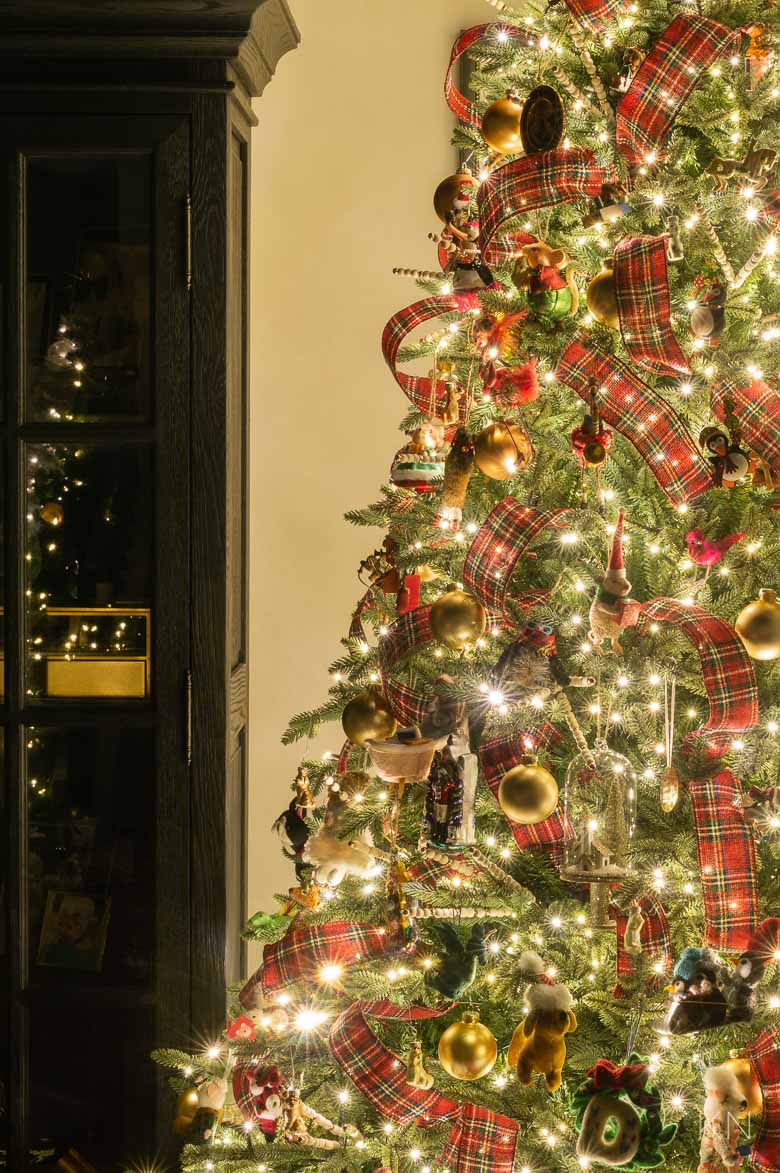 For this tree, I added round, pearlescent, warm gold balls…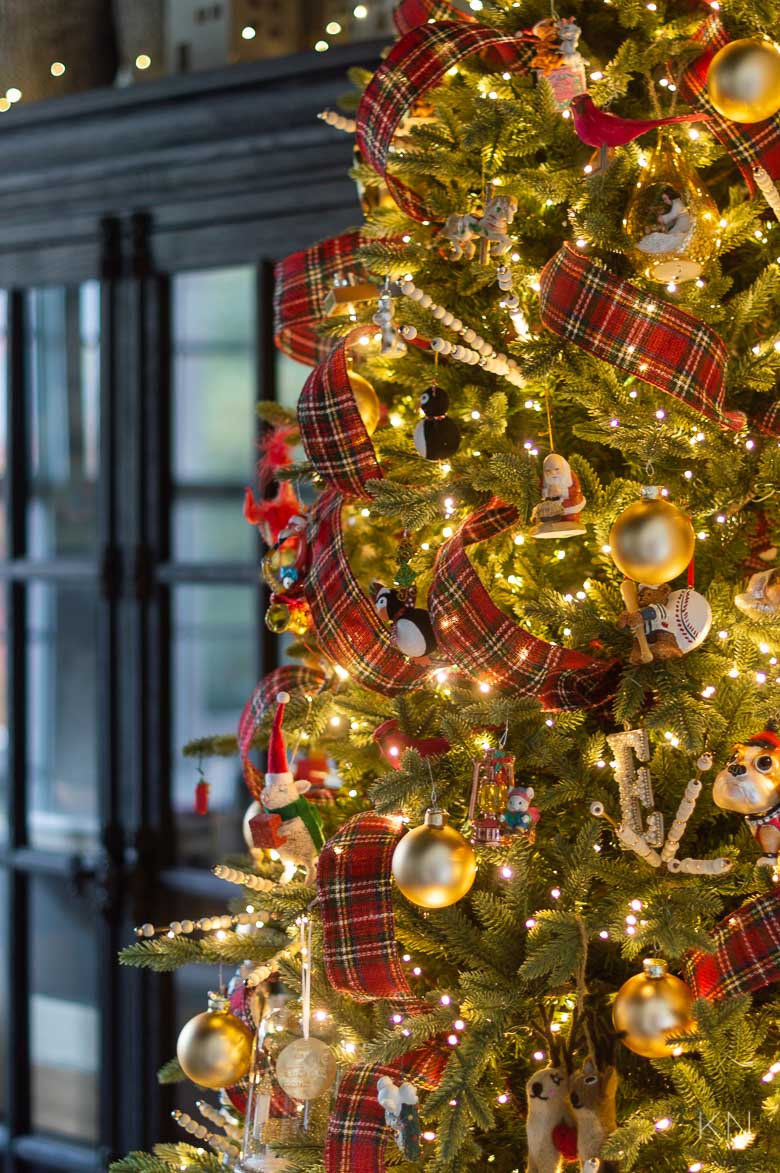 along with a few discreet wooden ball picks that I found at Hobby Lobby.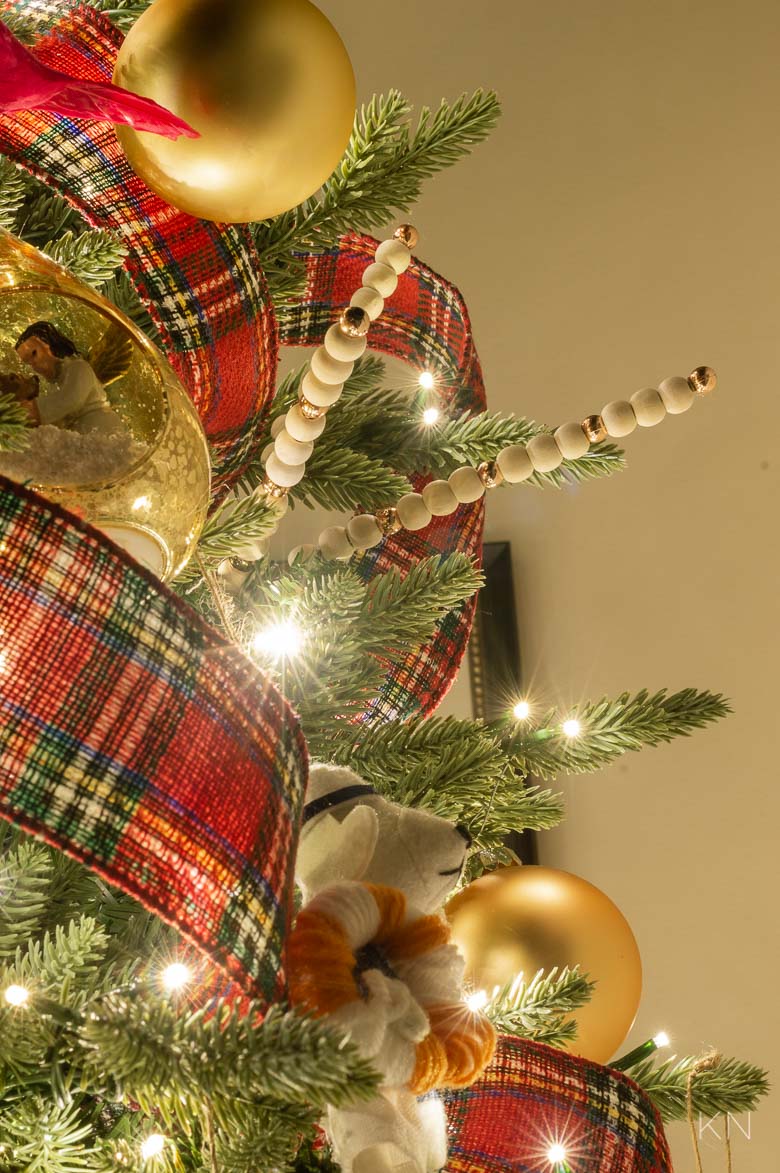 3. Ribbon Adds a Dressier, Intentional Accessory
Along the same lines, ribbon adds an element of uniformity and carries your eyes all around the tree, makes the eclectic tree look planned, and also dresses the family Christmas tree up just a little. I think there's a preconceived notion that ribbon/extras are only meant for "show" trees, and that's not true. Ribbon can absolutely be used in family trees and for anyone who uses a single tree each Christmas — which I imagine is the majority — that wants to marry the two approaches between "special ornaments" and "show elements", it's totally possible!
I love a plaid ribbon on the family Christmas tree because it feels classic, traditional, and nostalgic — everything our family Christmas tree represents. You can use more than one ribbon but I wouldn't go with too many. While I think one ribbon adds an element of cohesiveness while still letting the special ornaments be the stars of the show, too many ribbon colors and patterns can start to detract from the ornaments.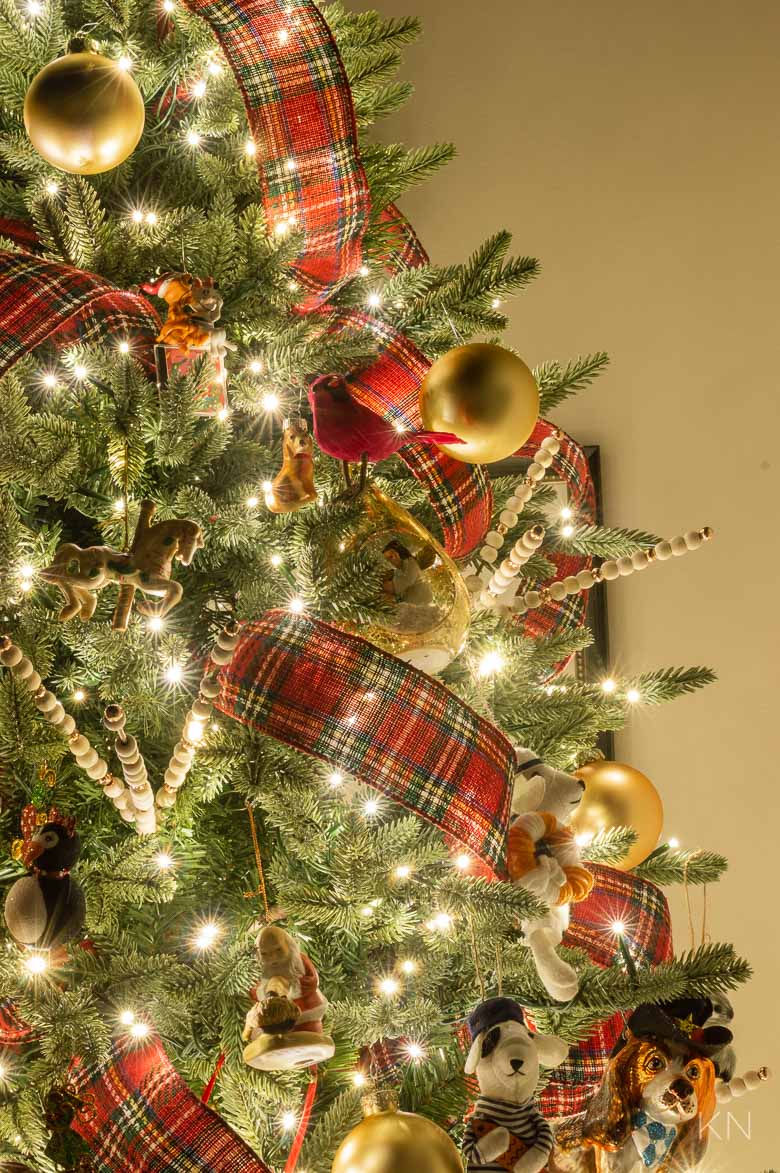 4. A More Modern Topper Makes a Pretty Juxtaposition
Christmas is made for warm feelings, memories, nostalgia, tradition… all of it. And I think that's why I'm drawn to a lot of elements that evoke those feelings within me. But, a fresh update you can make is adding a more modern topper to the tree. I went a little nuts this year and ordered a few 4-d style starburst for multiple trees and I love how THIS glittery gold one looks against the classic ornaments and plaid. The entire conversation room (see the makeover reveal HERE) is a mix of new and old and I love that our family Christmas tree shares that juxtaposition.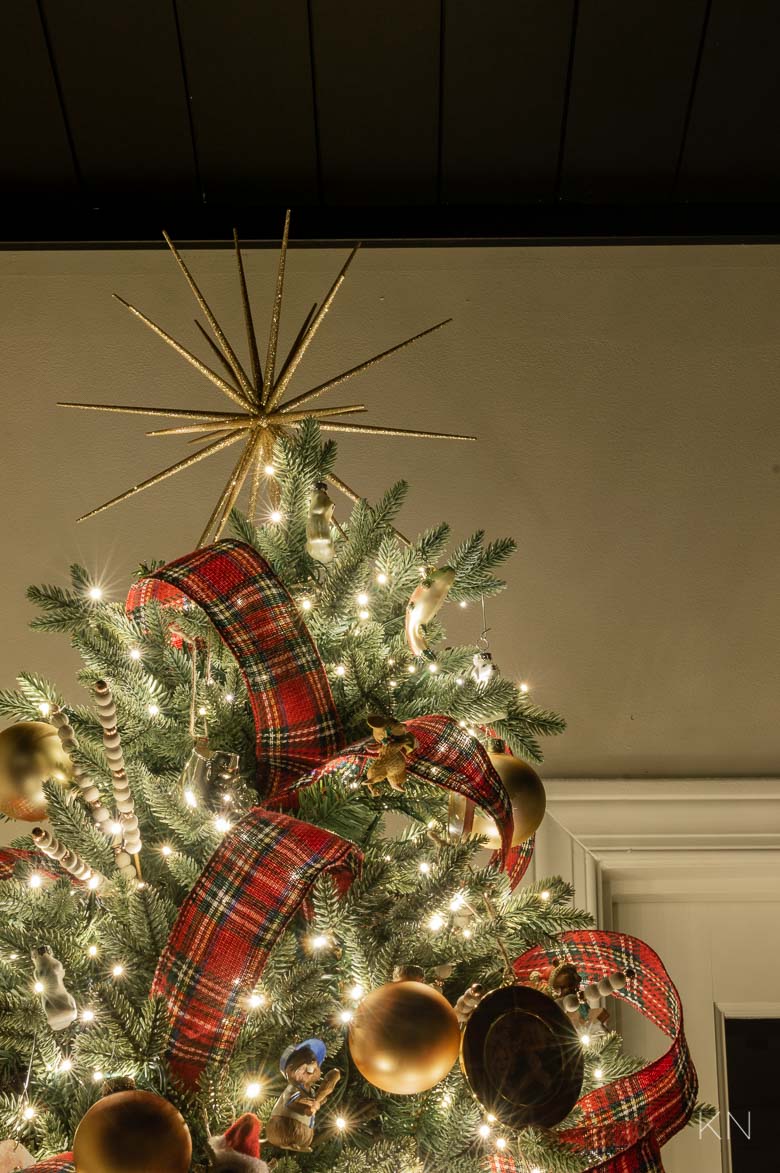 While I have the gold version of the star on the family Christmas tree, I have the silver version (HERE) on the tree in our dining room.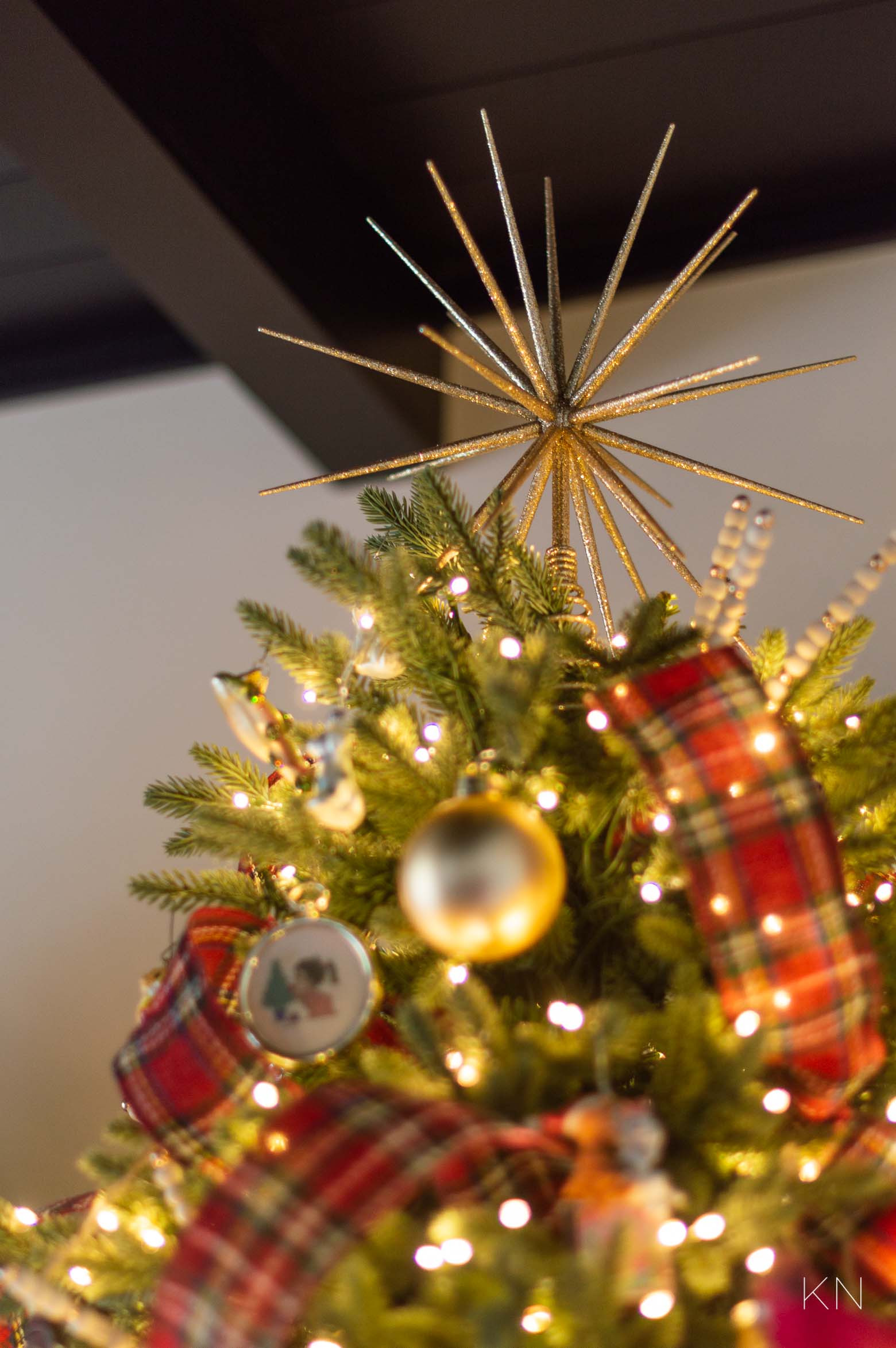 If you missed it in the Christmas Home Tour (see the full tour HERE), here's a look at what the starburst topper looks like in silver.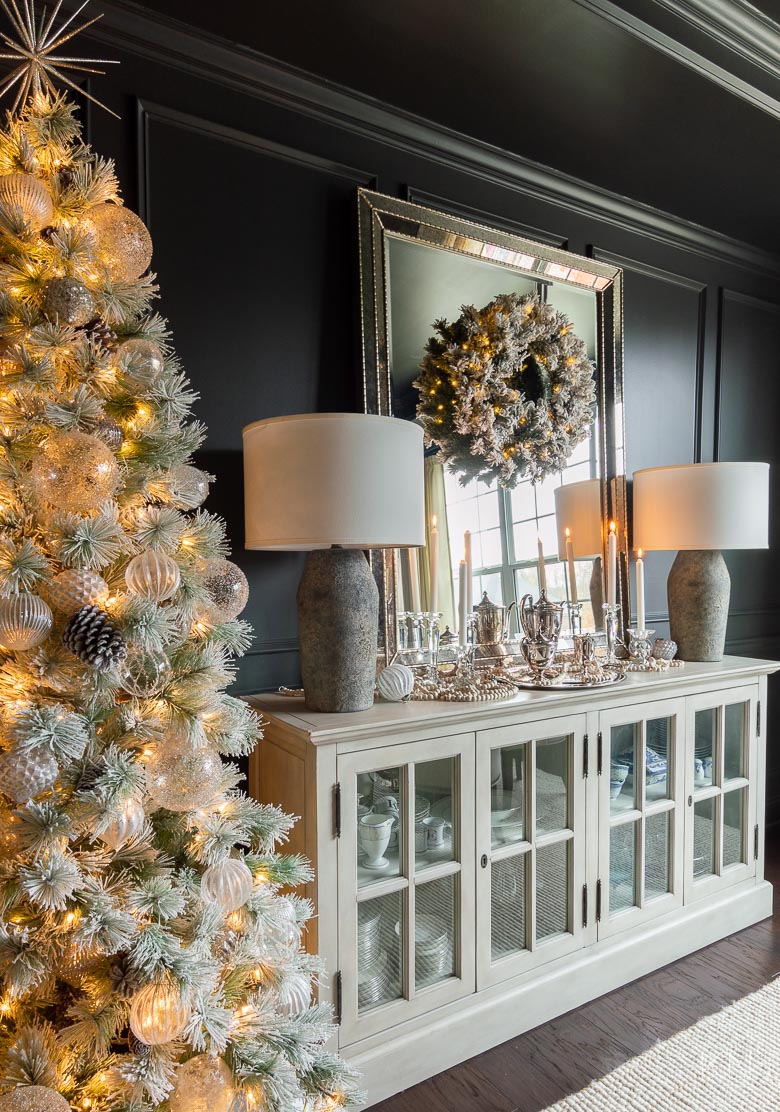 Sources: Rug (natural; 8'x10′) | Lamps |  Sideboard — RH (similar) | Christmas Tree Topper 
And while a little different, THIS is the star I used to top Eliza's pencil tree…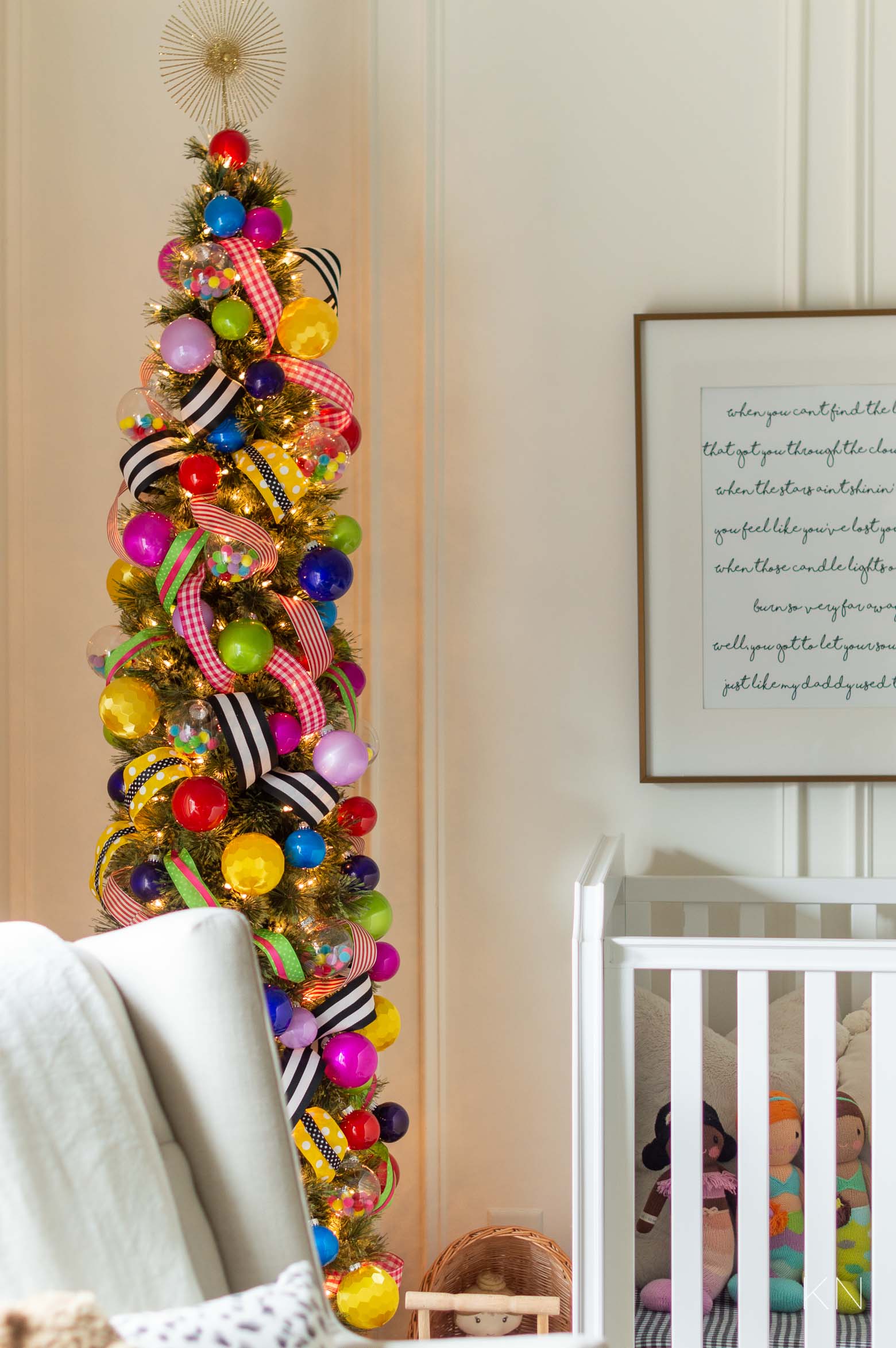 Sources: White Cane Crib | Gingham Crib Sheet | Doll Carriage | Gold Frames | Christmas Tree Topper
5. Have Fun with Your Base
I have multiple trees and in only placing gifts under our primary tree in the great room, I get a little creative with the bases of my other trees. From pillows and throw blankets to baskets and boxes, most of my tree bases are different. If your family Christmas tree is your sole tree or is the tree you place your gifts under, you may not need other ideas. But, I will say, that like the ribbon, it can be nice to have a more monotone/simple packaging scheme. You could use brown craft paper (I use THIS huge roll) with pretty ribbons, or stick to a paper that has one-two colors and is lighter on patterns. This is how a more simple scheme looks under our main Christmas tree — I used brown craft paper with just a few packages in two red accent papers.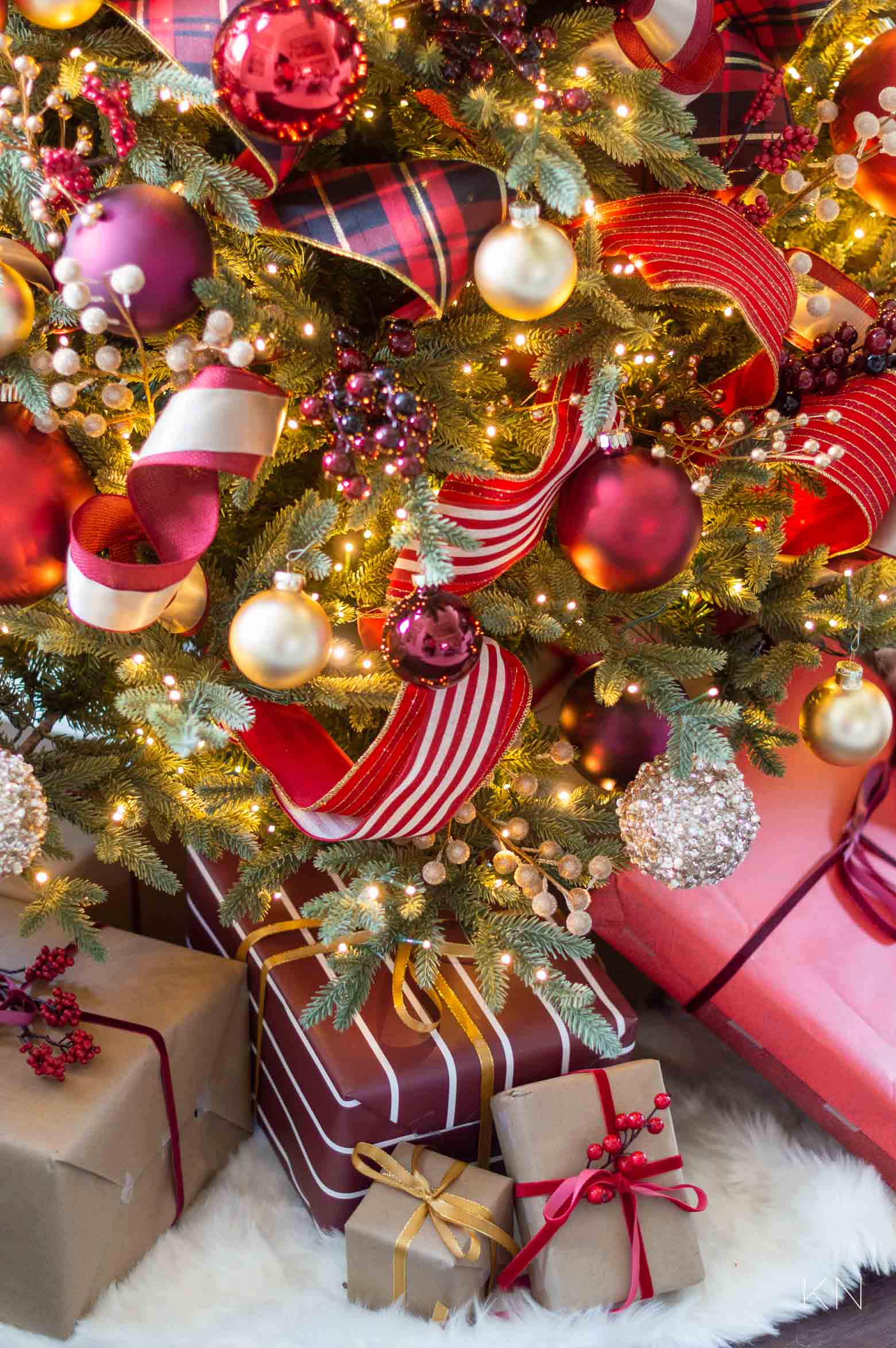 Sources: Brown Kraft Paper | Red and White Striped Paper | Smudge Red Wrapping Paper |  Velvet Burgundy Ribbon | Red Velvet Ribbon | Gold Satin Ribbon
But, if you don't place packages under your family Christmas tree — or even if you do — I love adding our fun Christmas-specific toys. Eliza loves the animated animals and our basket of daily advent books (see that post HERE), are also nestled below. Nutcrackers are also fun. And, other larger decor previously deemed as not "fitting in" in other primary spots or on shelves can nestle in perfectly — kind of like the "island of misfit toys". 😉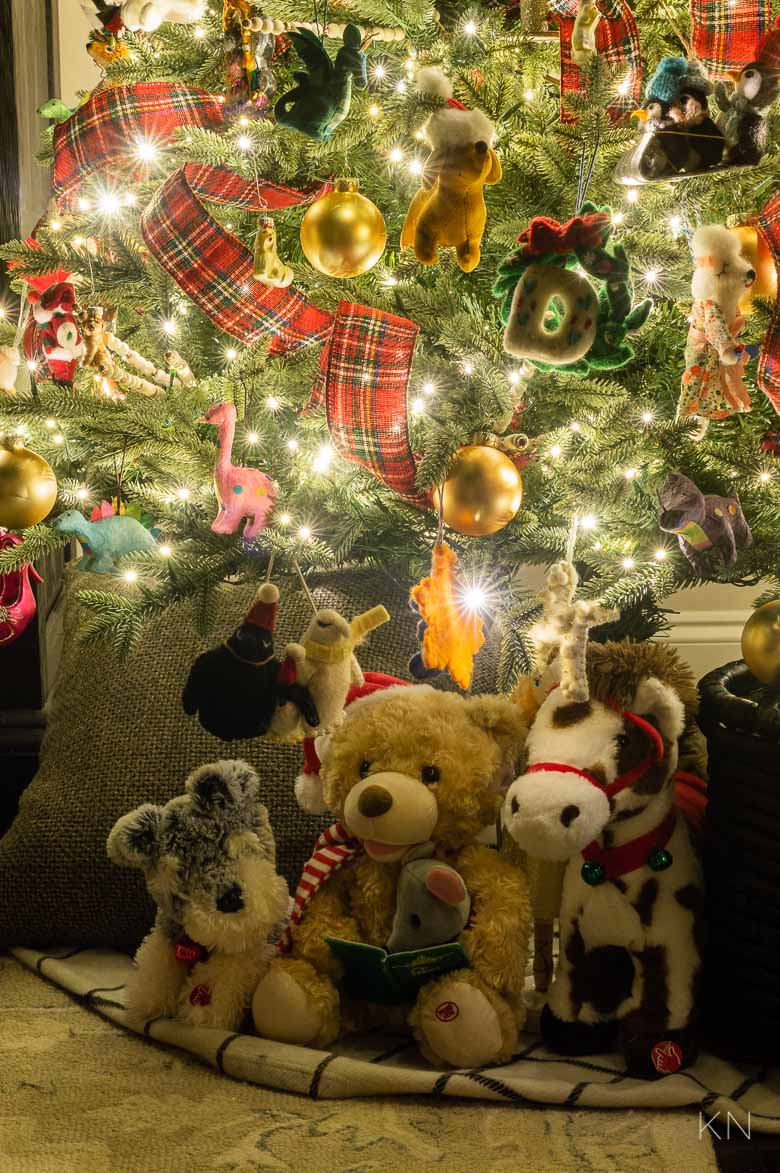 This is the room we gather in to read at night throughout the Christmas season and our family Christmas tree is the source of so many of the memories and years we reflect on throughout the weeks leading up to Christmas.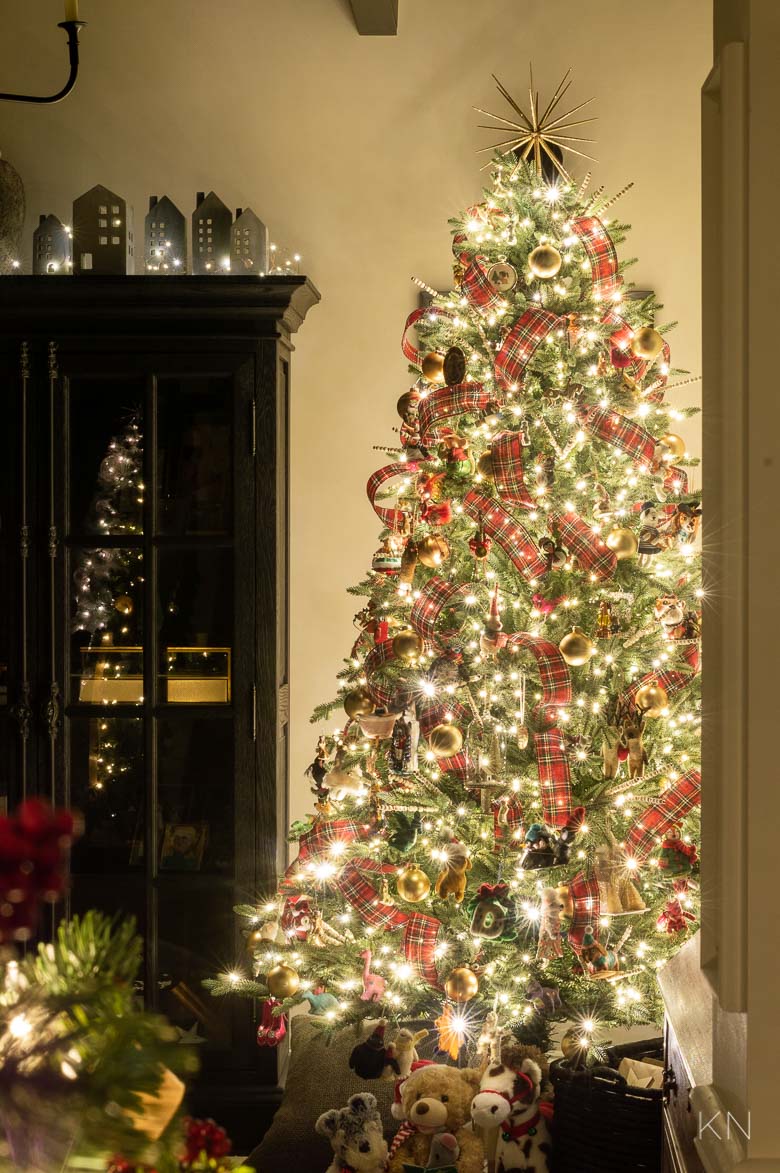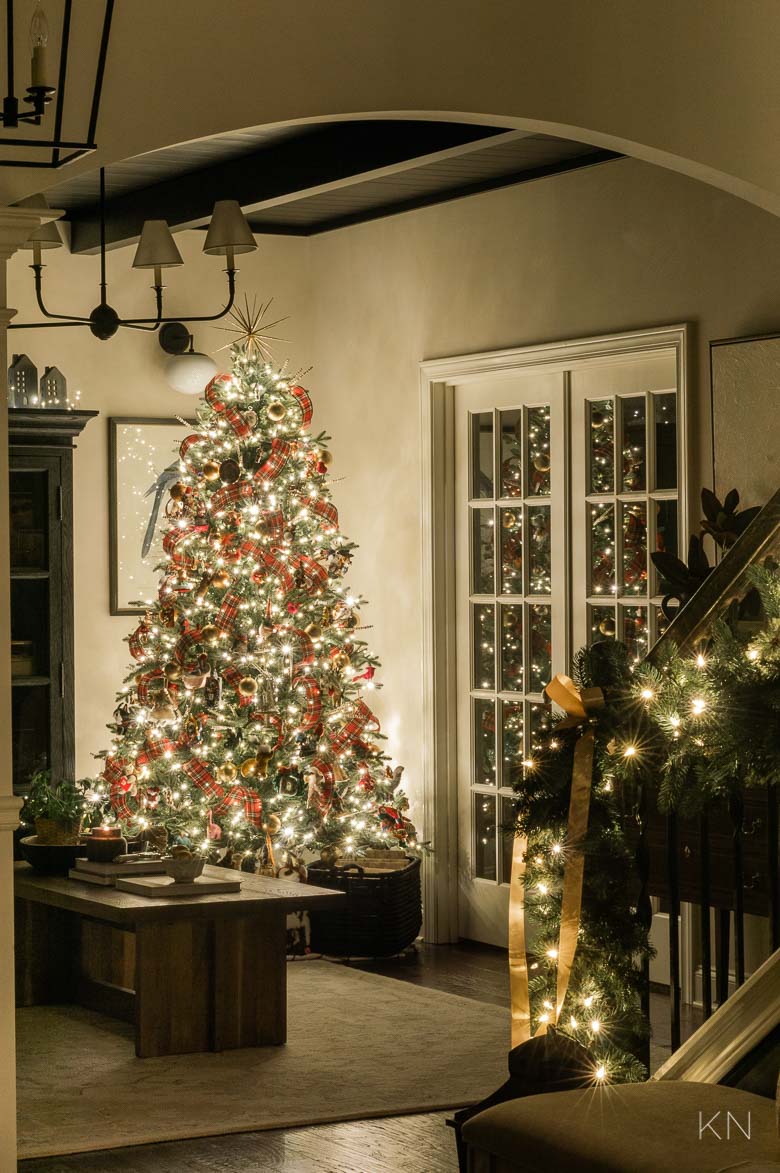 While I hope these tips/guidelines are helpful in providing some ideas on how to mix things up a little bit or try something new, the family Christmas tree holds a sacred place in so many of our hearts and is always worth showcasing.
Scroll & Tap to Check Out a Few Family Christmas Tree Ornament Faves Still Available