While we went with a Santa and reindeer board duo for the holidays last year — see those boards HERE — this year, I wanted to step back into tradition a bit, transition into holiday hosting and entertaining, and pull together a classic grazing board, dressed in green and red! As cheese and charcuterie boards continue to amp up in popularity, so have the creative approaches. And, more and more people have discovered how easy they can be to pull together. An (almost) effortless creation can be a truly stunning statement. So today, I'm sharing a classic take on a traditional grazing board, but I've incorporated a few new ideas (and some simple recipes/how-tos!) to personalize and elevate the display just a little bit. With all my essentials and ingredients from Walmart, you can find all the details on my red and green Christmas charcuterie board below.
*Posts on KelleyNan.com may contain affiliate links. While this post is created in partnership Walmart, all opinions, concept, and creative are my own. Click HERE for full disclosure.*
Red and Green Christmas Charcuterie Board
I've addressed this many times but just in case you've never visited one of my board creation posts (you can see the full board gallery HERE), my grazing boards are typically never true charcuterie boards since "charcuterie" implies meat. They're traditionally various ideas for appetizer, grazing, cheese, and build-your-own-meal-style boards, but "charcuterie boards" is the term most people use these days, regardless of the items that are nestled on top.
For my latest creation, I assembled a red and green Christmas charcuterie board — totally festive, totally easy, and no prior experience necessary! Here she is…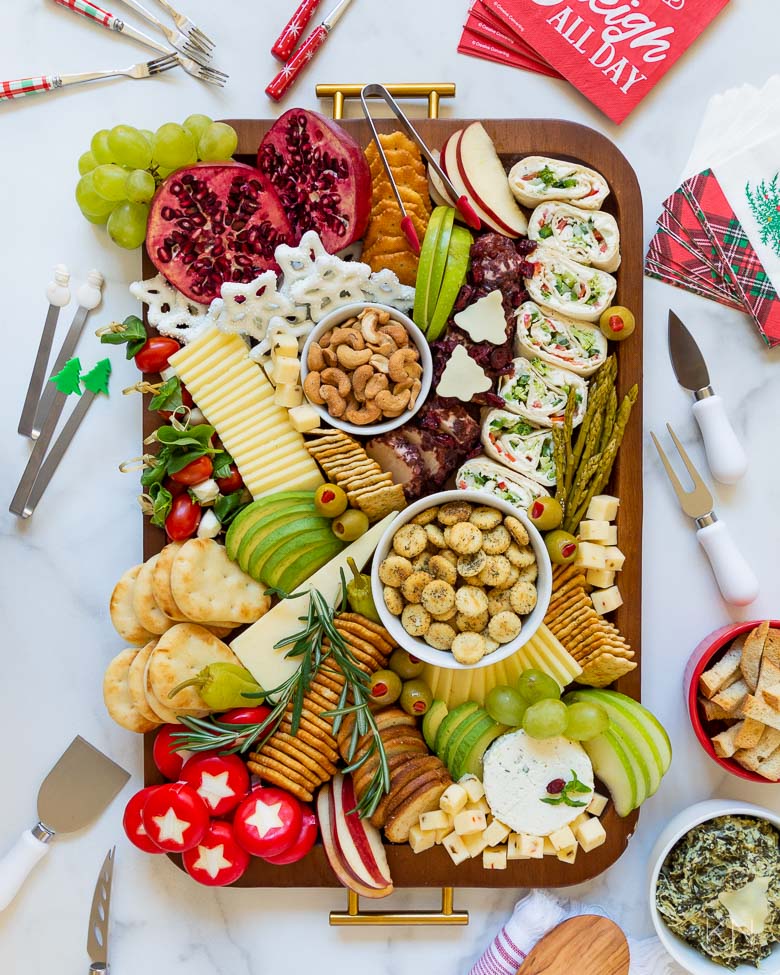 The board itself — a gold handled serving tray — comes in at just $24 HERE. If it's not available, this is a similar one. You can find some of the cute holiday-centric cocktail spoons, forks, and pack of mini-app-tongs in store at Walmart right now 😉 I'll share everything I included on this board with a few recipes/sets of assembly instructions further down in the post. And if I'm feeling a little more spirited, here she is in plaid 😉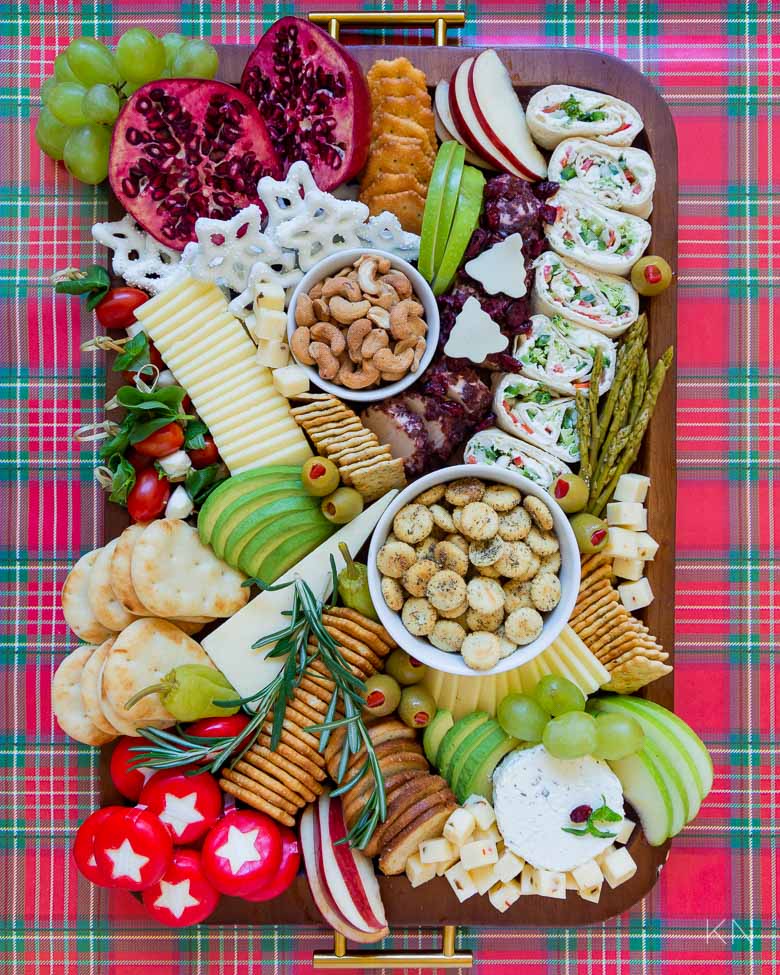 Serving Tray Board (if not available, this one is similar) | White Bowls
If you're planning on hosting for the holidays, an easy way to jazz up the dining table — or your food table — is to use an inexpensive roll of wrapping paper as a table cover or runner. I grabbed my roll at Walmart in-store, but here are some more pretty plaids available for both pick-up and shipping:

While some of the items I made for this board are not original recipes, I have added a few twists of my own. They are long time family favorites and are made even more special since we typically only create them during the holiday season.
Crock Pot Spinach & Artichoke Dip
Just because we built a board doesn't mean we can't have the crock pot going too, right? 😉 I think it's a prerequisite of holiday hosting to serve at least something warm out of a slow cooker. With all the chilled snacks on the main grazing board, it feels good to bring a little bit of comfort and warmth back in — balance… I love a good cheese dip as much as anyone, but my favorite concoction to serve is spinach artichoke dip. THIS 2-quart mini crock pot is perfect for dips and smaller sides, is incredibly lightweight, and is under $12 right now HERE. It heats evenly and has three simple but effective settings. If you want something even smaller, THIS 1.5-quart slow cooker is also affordable with stellar reviews.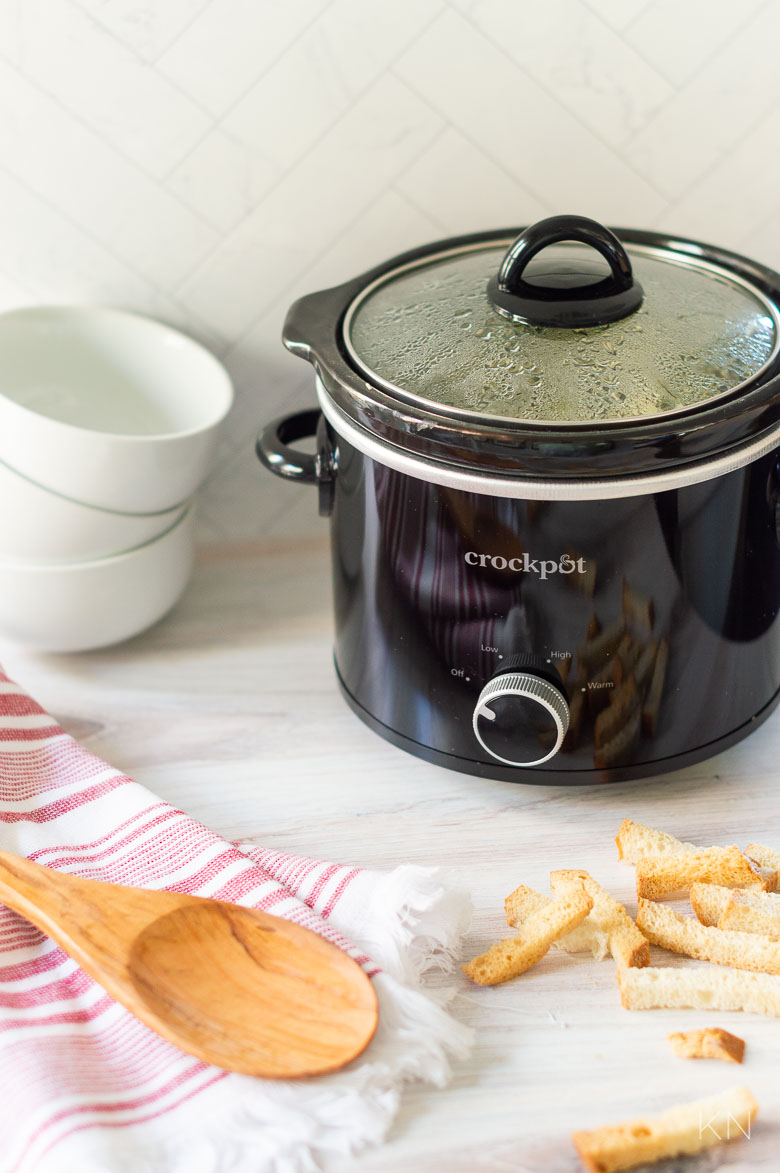 How to Make Crock Pot Spinach and Artichoke Dip
Hard to mess up, this is more about tossing everything in, letting it melt together, and stirring it up well. While a lot of people like sour cream in their recipe, I think the artichoke and parmesan gives the dip enough tang on their own. Here's what I use —
1 can quartered artichoke hearts
1-2 boxes of frozen spinach
1 block cream cheese
2 (or more 😉 ) cups of mozzarella cheese (a regular size bag of shredded cheese)
1 cup parmesan cheese
milk — 1/2 to 1 cup, depending on your preference
garlic — I use the frozen cubes but you can use fresh cloves or even garlic powder
dash of salt and pepper
I put my garlic cubes in the crock pot first, followed by the cream cheese, then the mozzarella and parmesan and let it start melting a little. Make sure to thaw the spinach and squeeze out as much water as you can with a paper towel and drain the artichokes well. Add the spinach and artichokes to the cheese mixture, followed by milk, salt and pepper. Stir well and revisit to stir often while it's all cooking together. Yum.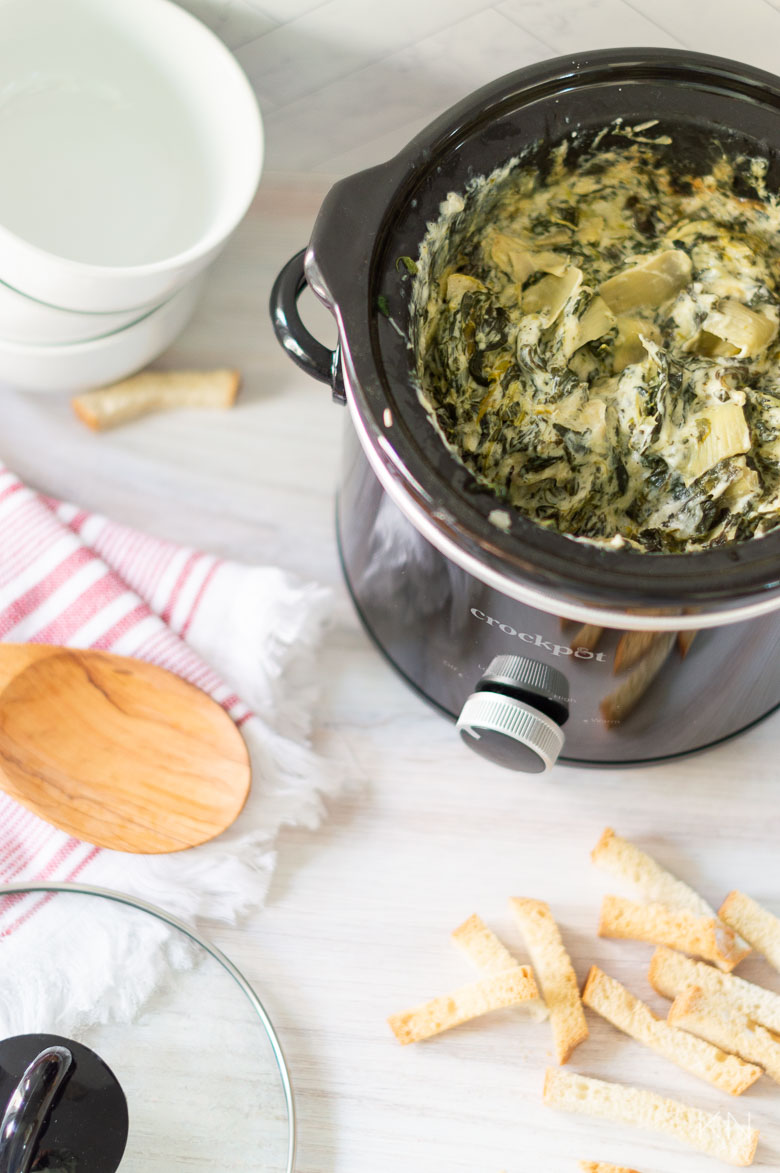 If you don't like artichokes, just omit those and use the spinach 😉 I love spinach and artichokes so I go heavy on both, but you could totally omit the artichokes and cut the spinach down to one box portion instead of two (and keep the rest of the portions the same). It's fantastic for dipping everything — like fondue — from bread chunks and naan to crackers, chips, veggies… everything. THIS small crock pot is the perfect size and won't overwhelm the rest of the area. We make apps for our Christmas Eve "dinner" and the spinach artichoke dip is a staple!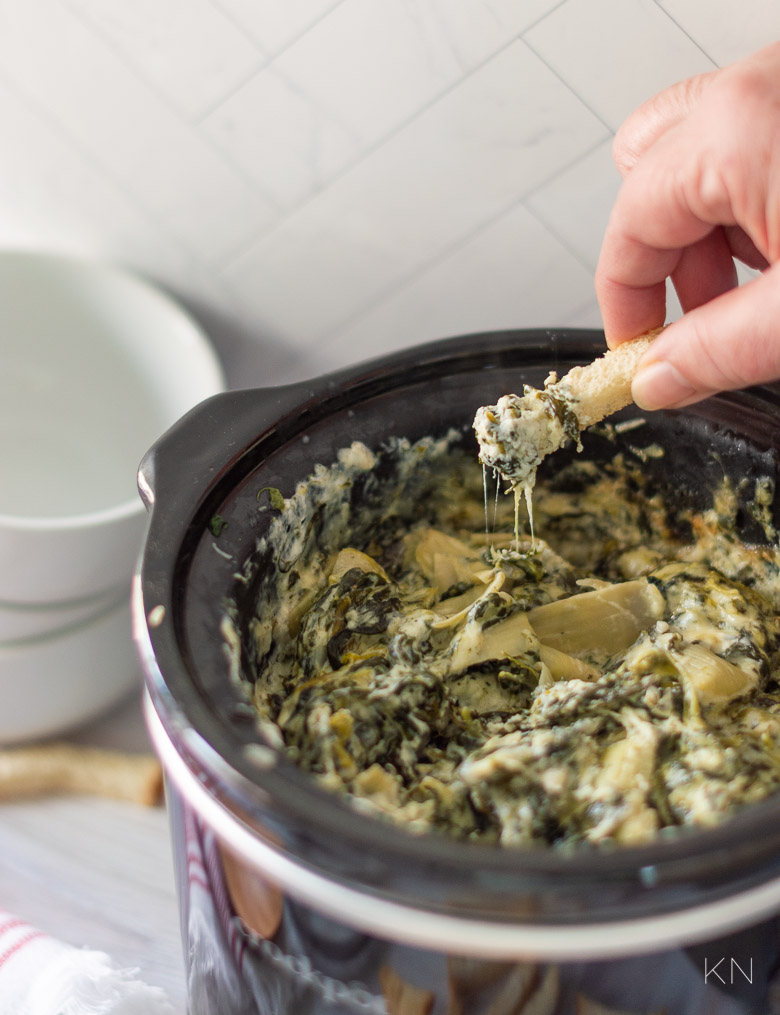 PS: THESE striped, fringed kitchen towels are awesome — they're so soft, plush, thick and absorbent with a five-star review. The best part — they come as a set of two for under $5 right now. You can find the red set HERE, a gray set HERE, and a variety pack of four (red, blue and gray) for (currently) only $7.60 HERE.
Oyster Cracker Snack Mix
I grew up on this snack mix during the holidays and let me tell you — if you've never had it, do it. This weekend, just make it. We also make it with goldfish crackers but the ranch and dill are so prominent, you can't really distinguish the difference between using two types of crackers vs. one. When my mom shows up with a tin of this stuff, that's when the holiday season has begun 😉 If you aren't big on sweets, this is an alternative savory goody to gift. Remember THESE black chalkboard tins I shared recently? These would be such cute gifting (and storage) vessels.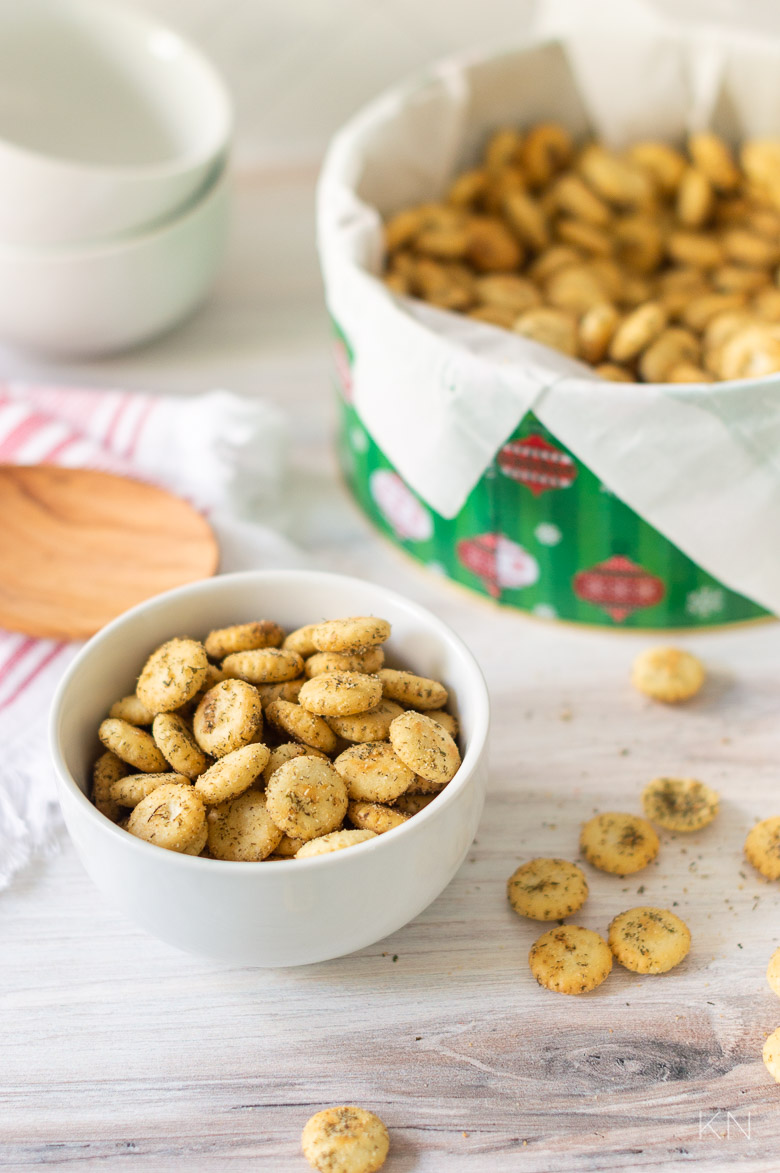 As an FYI, I've had THESE white bowls — a Walmart exclusive — for years and we use them daily for snacks and meals. They just came back in stock TODAY as both a set and single bowls and are incredibly affordable. These are a kitchen staple and you can find them HERE.
How to Make Oyster Cracker Snack Mix
While I am 100% on board with pre-packaged snack mixes, or even dressing some up to give it a little more of a unique profile, the detail of this homemade cracker mix will totally elevate your Christmas charcuterie board or any appetizer spread. Even if you aren't going big on apps, you can put a few bowls of nuts and cracker mix around the mingling areas and it just feels special. Here's how to make it…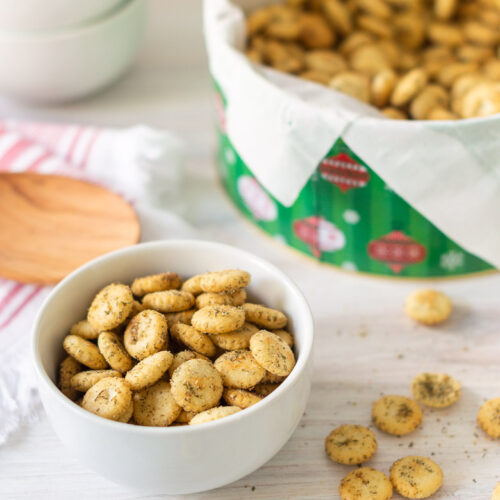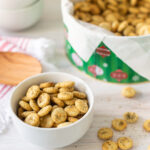 Oyster Cracker Snack Mix
While many create the traditional Chex Snack Mix during the holidays, this Oyster Cracker Snack Mix has been our favored baked mix. It's easy to make, only requires several ingredients and makes a bunch! This is also a great home made gift for friends and neighbors!
Ingredients
1

package

Oyster Crackers

1/3

cup

Vegetable Oil

1

package

Hidden Valley Ranch Dry Mix

1 1/2

Tbsp

Dry Dill

1/2

tsp

Onion Salt

1/2

tsp

Garlic Salt
Instructions
Preheat oven to 250 degrees.

Pour oyster crackers in baking pan.

Pour oil in measuring cup. Add ranch mix, dill, onion salt and garlic salt. Stir well to incorporate.

Pour oil mixture over oyster crackers. Gently stir until all of the crackers are coated.

Bake for approximately 20 minutes or until the oyster crackers are lightly browned. Gently stir intermittently in ten minute intervals while the crackers are baking.

When the crackers have cooled, store in a parchment paper lined tin.
Recipe Notes
Other cracker additions may also be used -- we love to add goldfish crackers!
You may also substitute other seasonings, such as lemon pepper.
The more dill you use, the better the crackers are!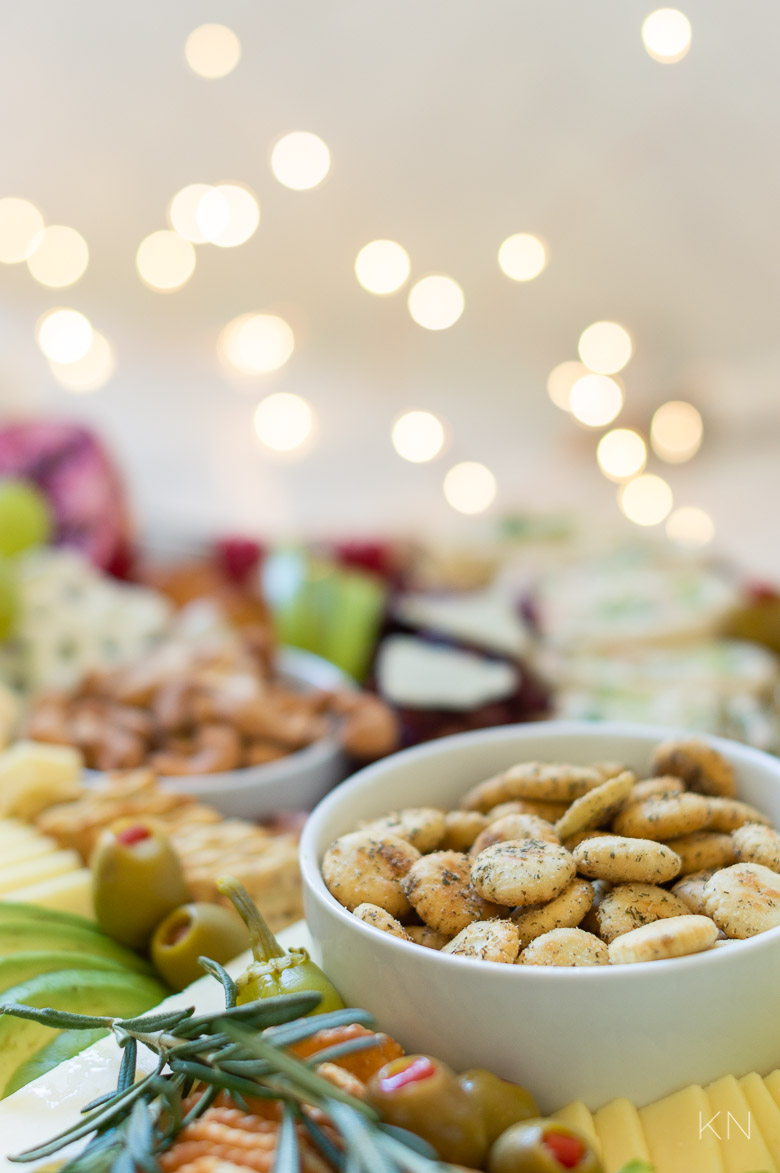 Dressing Up the Store Bought Christmas Charcuterie Board Ingredients
I've had THESE little veggie cutters for a while now and have so much fun using them on some of Eliza's meals and snacks for a special touch. They're much smaller than a traditional cookie cutter and I had the idea to use the star shape to cut out wax on the Baby Bels to have mozzarella peeking through… it worked perfectly!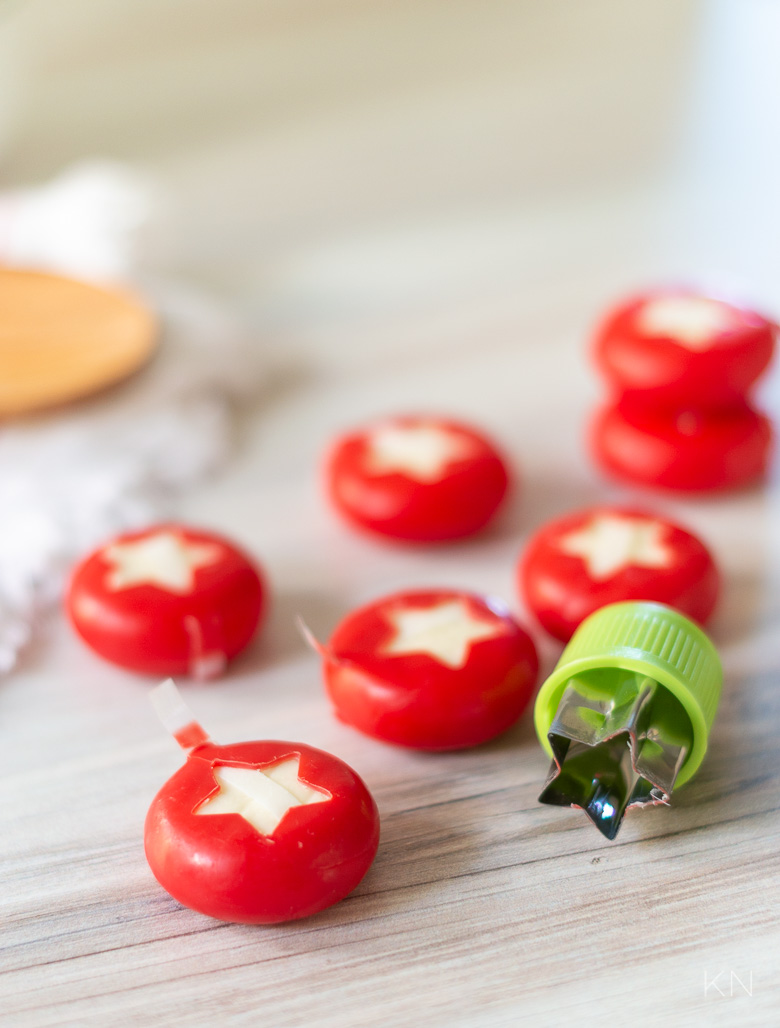 Small Shape Cutters (set of 9)
How adorable are these? The wax is malleable enough so it doesn't crack — I pressed the cutter onto the center of the wax until I felt the star give way; when you pull the cutter off the cheese, the wax shape should come out along with it. Easy peasy.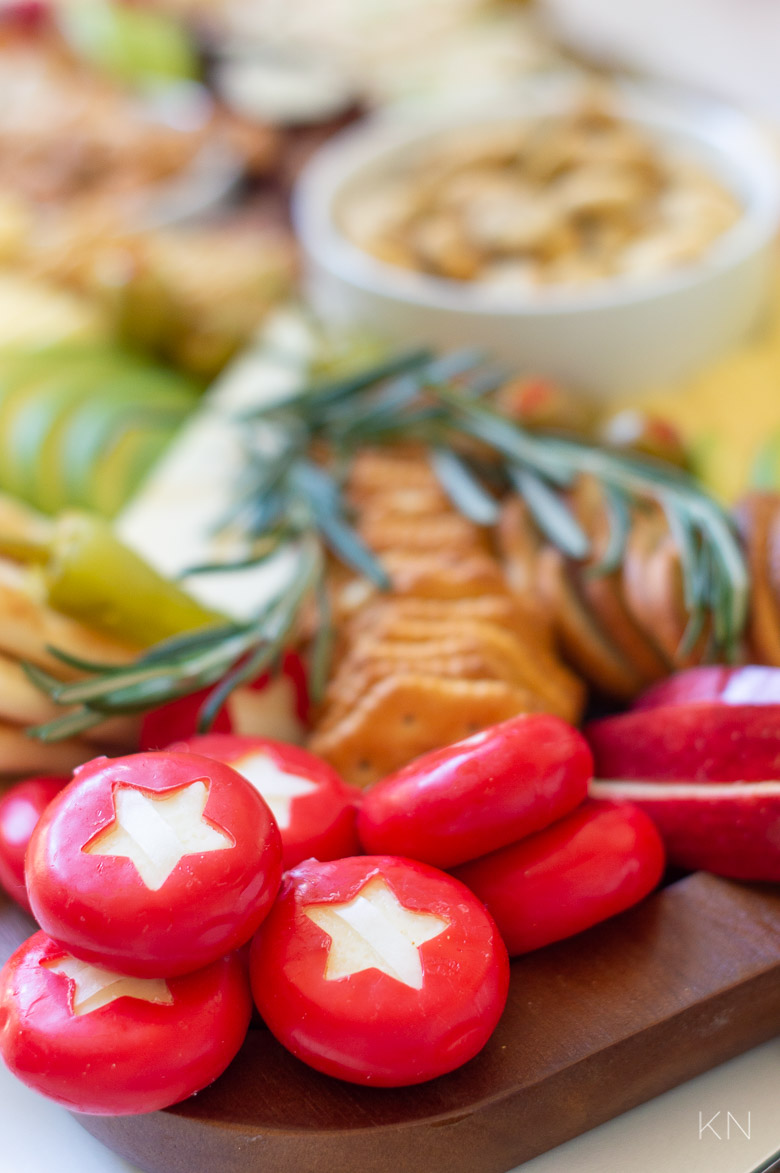 I also used THIS Christmas shape cutter set to form the mini provolone Christmas trees to dress up the cranberry cheese log. To freshen up the store-bought log, I also added some of my own dried cranberries on top to make it look like it didn't just come out of the package 😉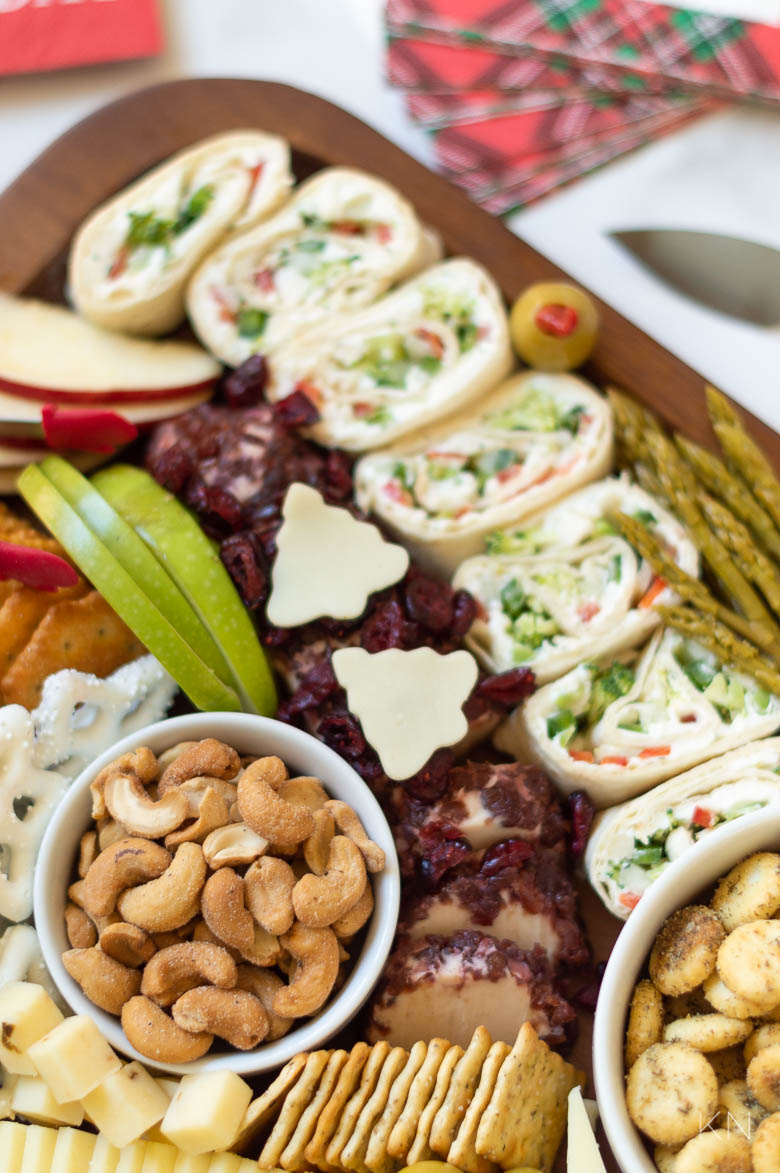 Scroll & Tap for Festive Napkins

How to Make Veggie Pinwheels
The appetizer on the board that took some of the most prep were the veggie pinwheels. But, it's so worth it! It's incredibly easy to make but I think any time a lot of veggie chopping is involved, that constitutes as "effort" 😉 Similar to a veggie pizza (but much easier and using store-bought tortillas), you can add other veggies as you like, but the colors and flavor profile of this specific combo are awesome.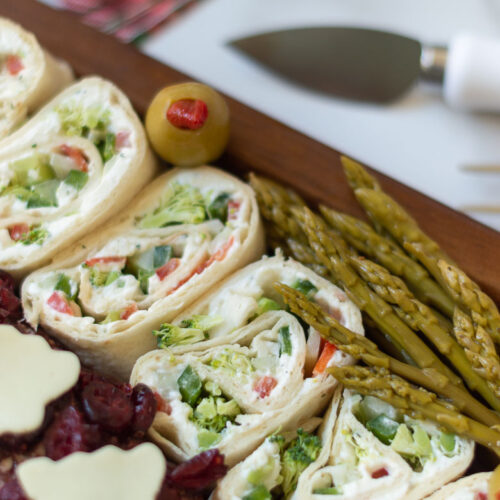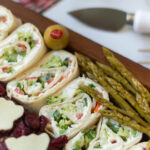 Veggie Pinwheels
These easy to make, Veggie Pinwheels, are a great alternative to the more traditional Veggie Pizza that so many love. They are a great appetizer, snack or light lunch.
Refrigeration Time
2
hours
Ingredients
2

XL

Flour Tortillas

8

oz

Cream Cheese Spread

4

oz

Greek Yogurt (or sour cream)

1/2

pkg

Hidden Valley Ranch dip mix

1/2

Red Bell Pepper

1/2

Green Bell Pepper

1/2

Cucumber, peeled

3-4

Broccoli Florets

3-4

Cauliflower Florets
Instructions
Slice bell peppers and cucumber in very thin julienned strips.

Finely chop broccoli and cauliflower florets.

Mix cream cheese, yogurt and ranch mix. (Add more ranch mix, if you'd like.)

Divide cream cheese mixture on the two tortillas and spread to their edges.

Starting at the top of each tortillas, lay the pepper and cucumber strips in a line from edge to edge (approximately three of each.) Sprinkle these with the finely chopped broccoli and cauliflower.

Take the top of the tortilla and roll down over the veggies.

Add the veggies a second time and roll the tortilla over the veggies.

Add the veggies a third time and roll the tortilla over the veggies.

Individually wrap the finished rolls in cellophane wrap and refrigerate for at least two hours.

When ready to serve, remove the rolls from the wrap. Using a sharp knife, cut off each end and discard. The cut the rolls in approximately 1 1/2" slices.
Recipe Notes
This recipe yielded approximately 18 rolls. You can easily adjust the recipe if you need to feed a crowd.
You can add additional veggies or shredded cheese.
If you are making these a day ahead, refrigerate the rolls whole and cut the pinwheels prior to serving.
This is what it looks like when you start the wrap. The broccoli and cauliflower are almost minced, but the strip veggies are long and thin. Cutting these into strips instead of dicing will help to keep everything from falling out once you cut your roll.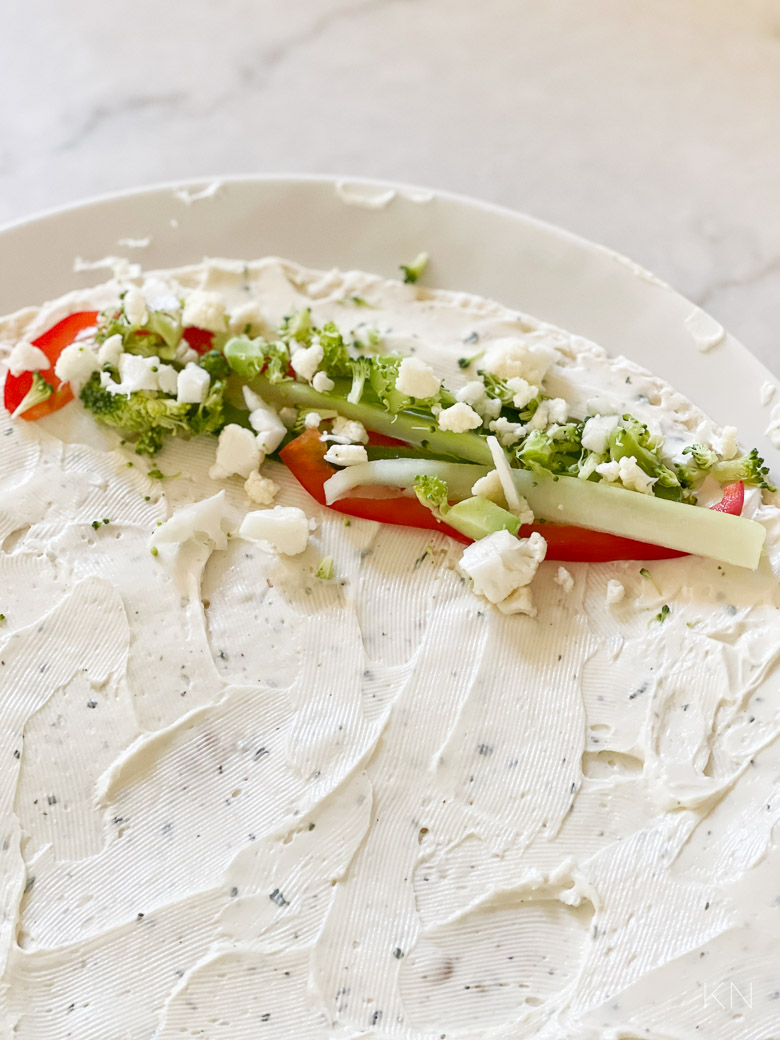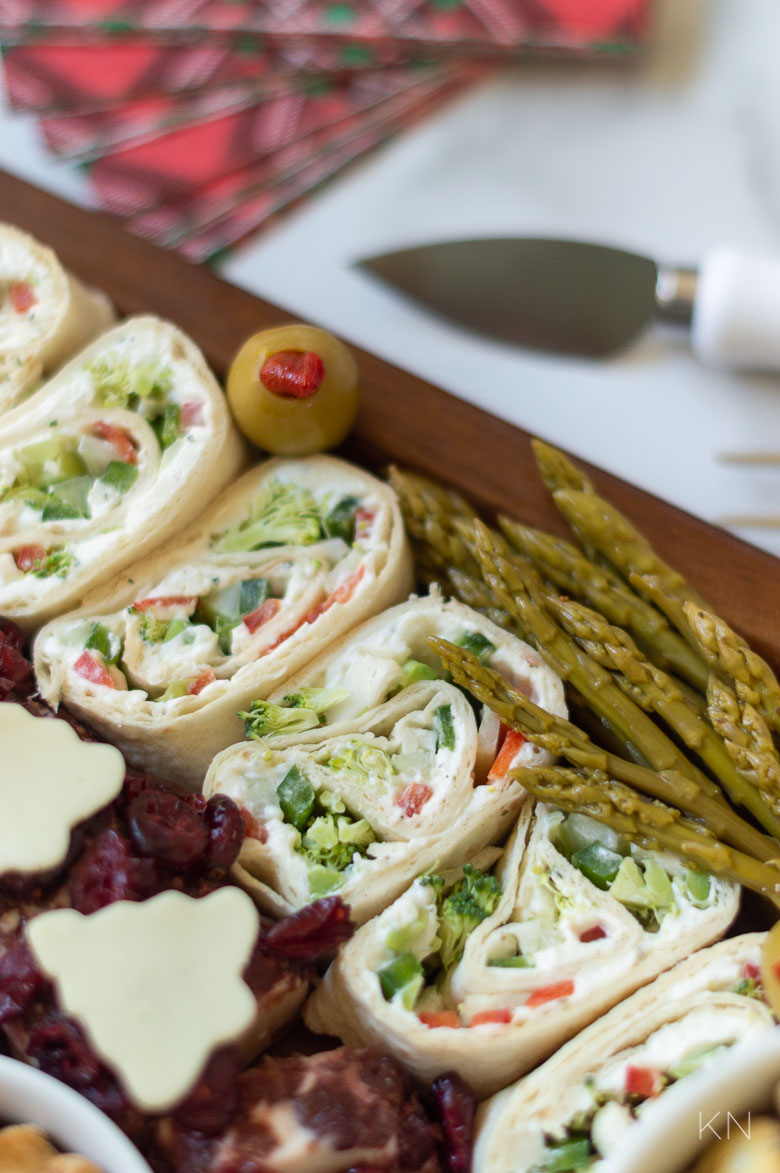 I made my own pepper-jack cheese cubes by purchasing the full, individually wrapped cheese sticks and dicing them up. And, as always, if you're using apples on your board, after you cut them, you can soak them in a 1Tbsp. lemon juice to 1 C. water mixture to keep them from browning. In general, the Red Delicious are the most fragile.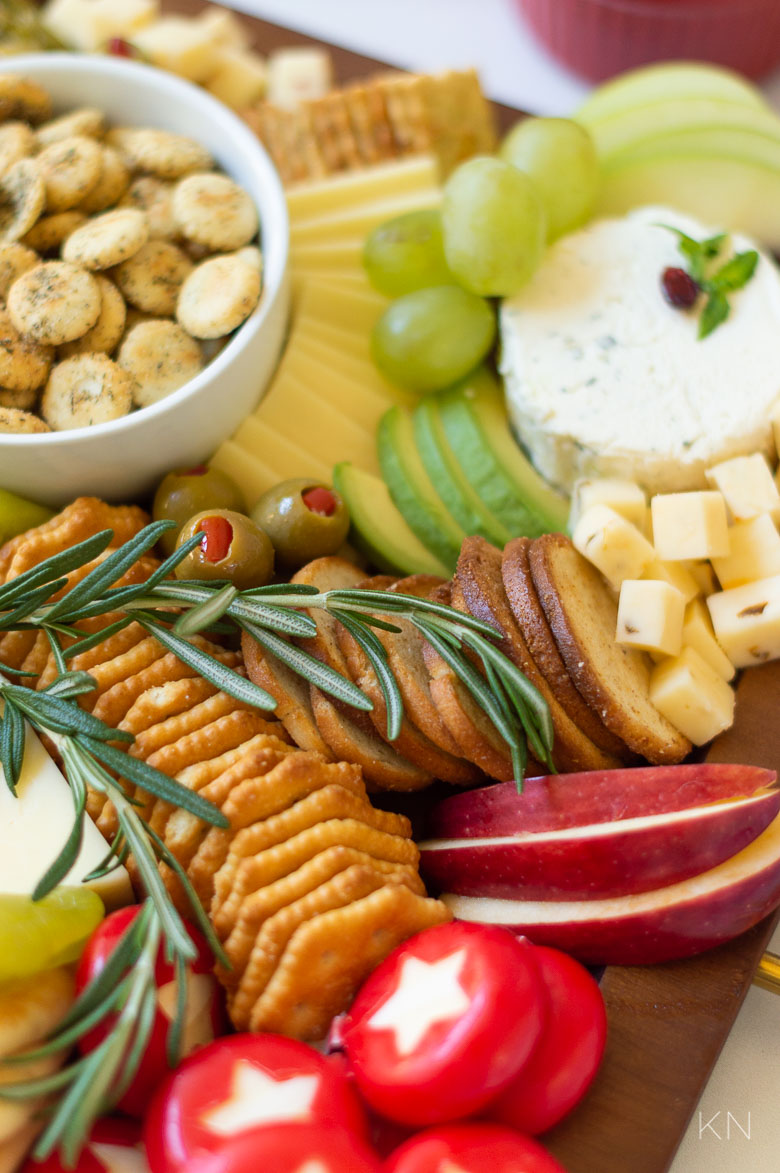 Caprese Skewers
An easy hit that can be prepped in advance, Walmart had a great looking, inexpensive basil plant in the produce section that I picked up instead of a package of basil. I love having fresh basil plants in my kitchen to pull from! Wash and quarter-fold basil leaves on the bottom of the skewer (if on top, they may unfold and pop off), and follow that with grape/cherry tomatoes and a small mozzarella ball. You can also do a quick drizzle of balsamic glaze on top. They make a beautiful display, even on a tray, all on their own, and totally scream "Christmas!"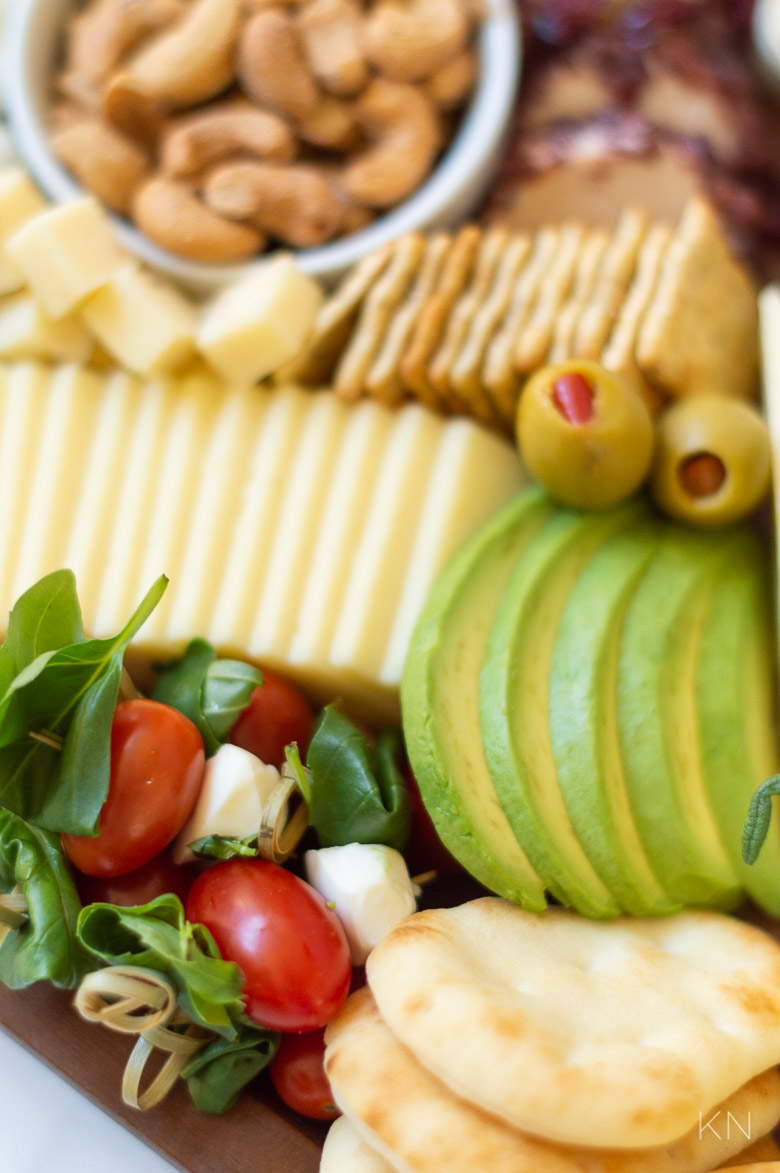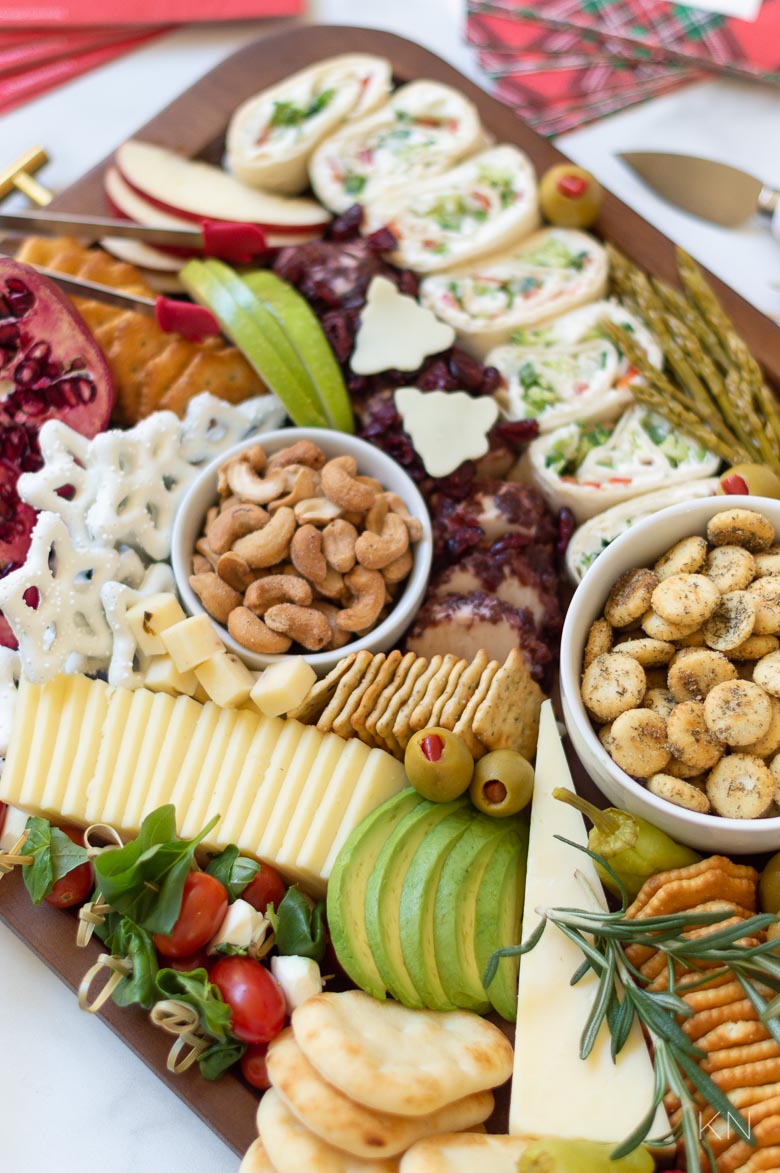 More Christmas Charcuterie Board Details
Between the cheeses and dips, a lot of crackers/cracker-type-vehicles are needed. If you don't have room on your board,  you can put together a separate basket/board or sprinkle other bowls around the periphery.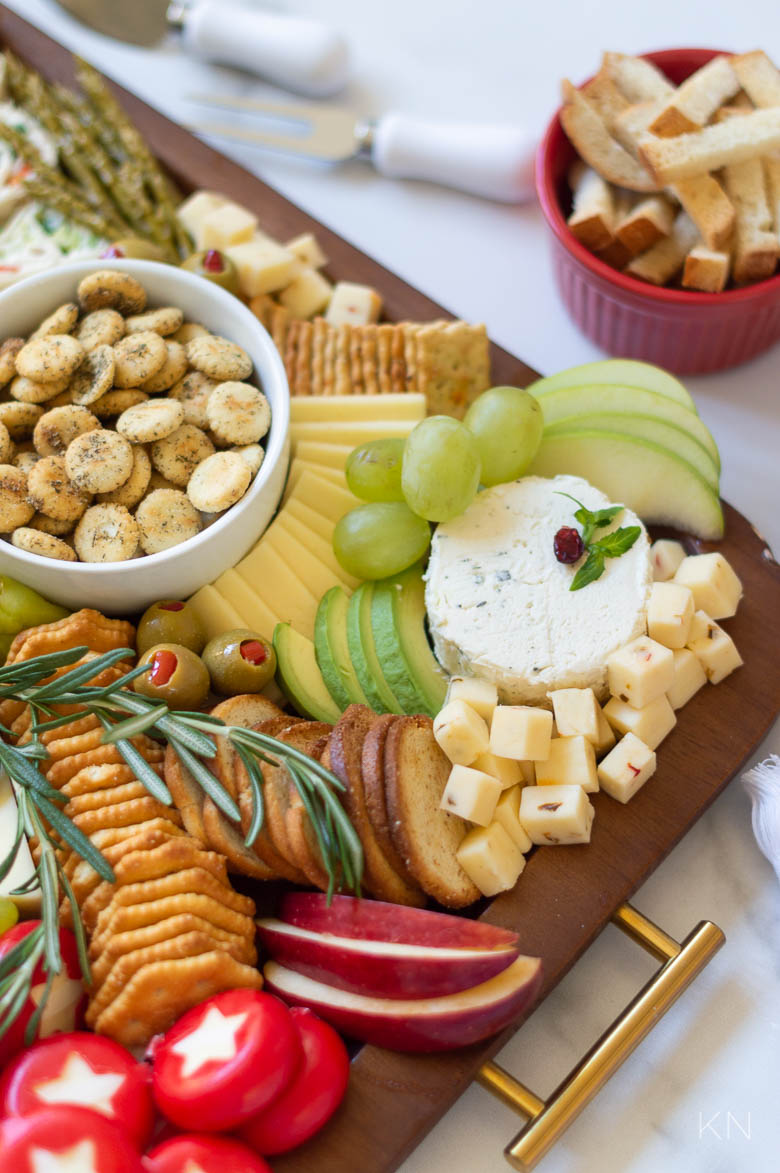 I love a good rosemary garnish during the holidays…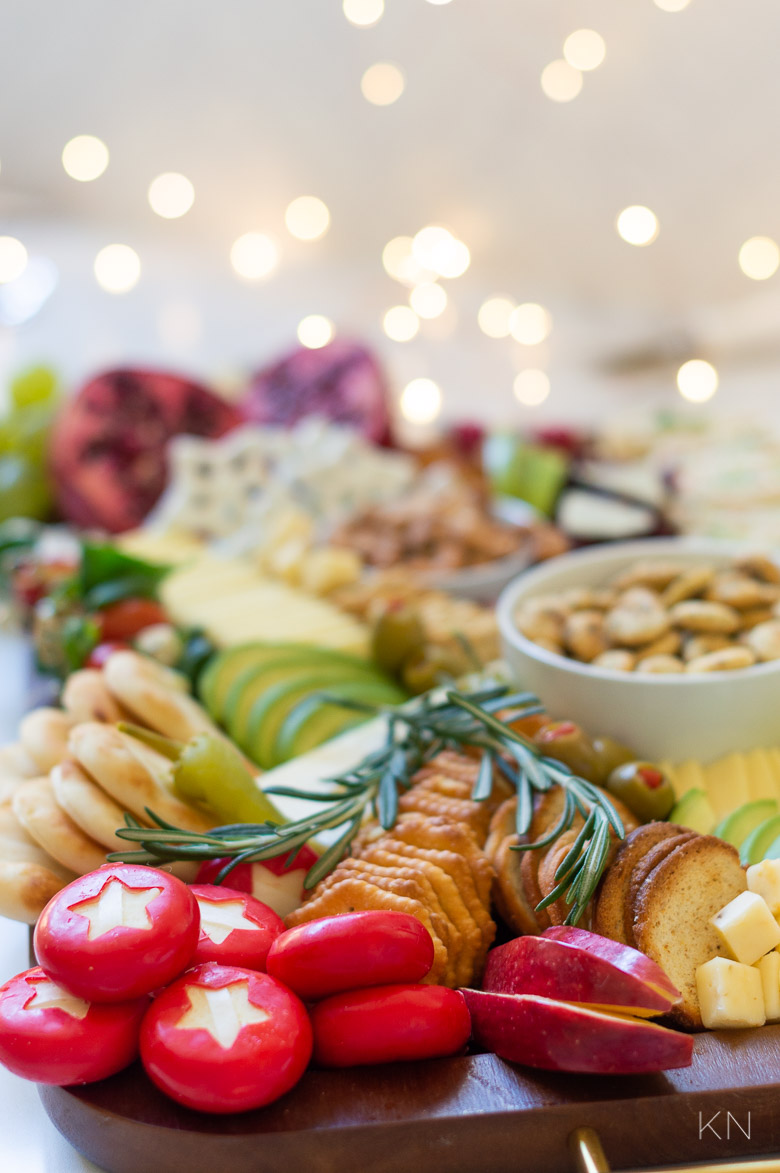 but I also love a little garnish/accent on anything that's a large block of color. With some of my cutting board scraps, I used some small basil leaves and dried cranberry to fashion a (somewhat, haha) holly on the Boursin cheese.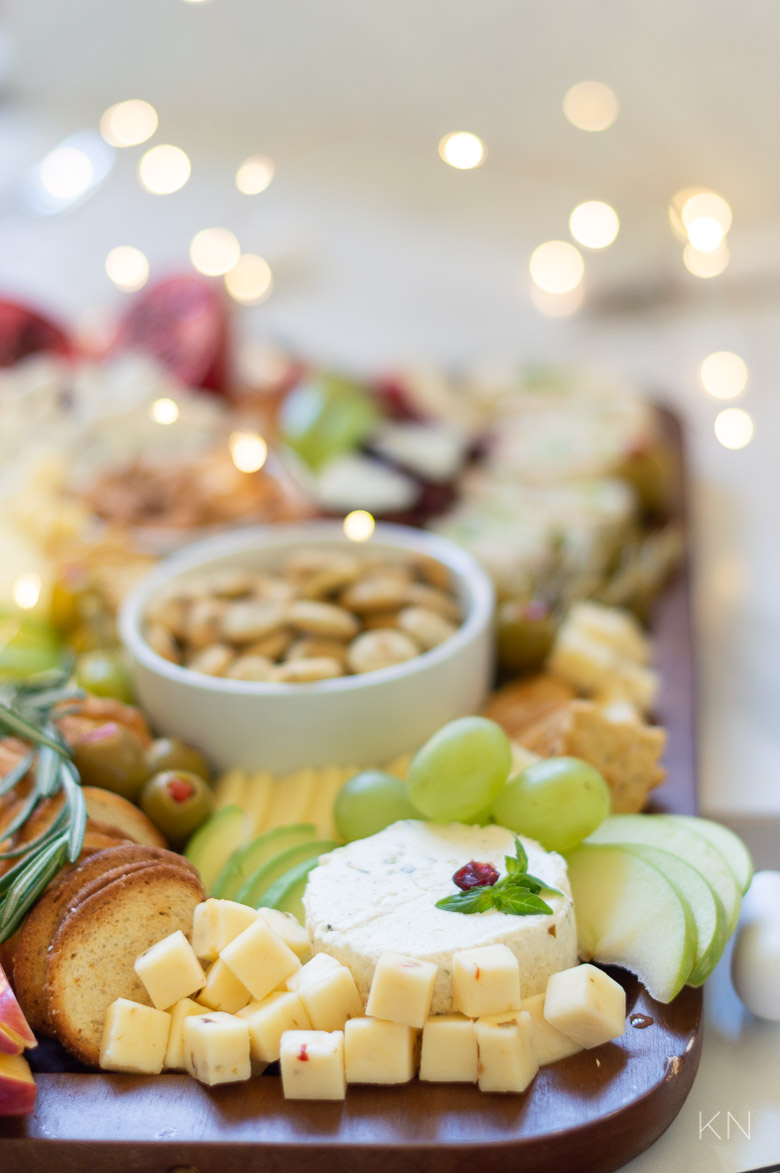 What to Put On a Christmas Charcuterie Board
No rules, right? That said, I try to stick within a "wheelhouse" of flavors when I'm planning a board. For this one, I wanted a traditional cheese board so I went with mainly salty and savory accompaniments, with just a little sweetness brought in by some fruit. In other words, the board may have been a little more confused had I incorporated something like powdered donuts or sugared fruity candies. But, I think you can always incorporate something unexpected if it isn't overdone… like… chocolate covered almonds. Or, mini pecan tarts. Anything in the nut family or something that has both sweet with salty is usually safe 😉
Here are the ingredients I came up with for this board — all themed around red, green and white for the holidays.
grapes
pomegranate
red apple
green apple
yogurt covered pretzels
veggie pinwheels
cranberry cheese log
caprese skewers
gouda
provolone
green pimento stuffed olives
pickled asparagus
dried cranberries
sharp cheddar
avocado
naan bread dippers
spinach artichoke dip (served to the side)
oyster cracker mix
herb crackers
snowflake crackers
bagel crisps
pepperocini
pepper-jack
Boursin
Baby Bels
rosemary garnish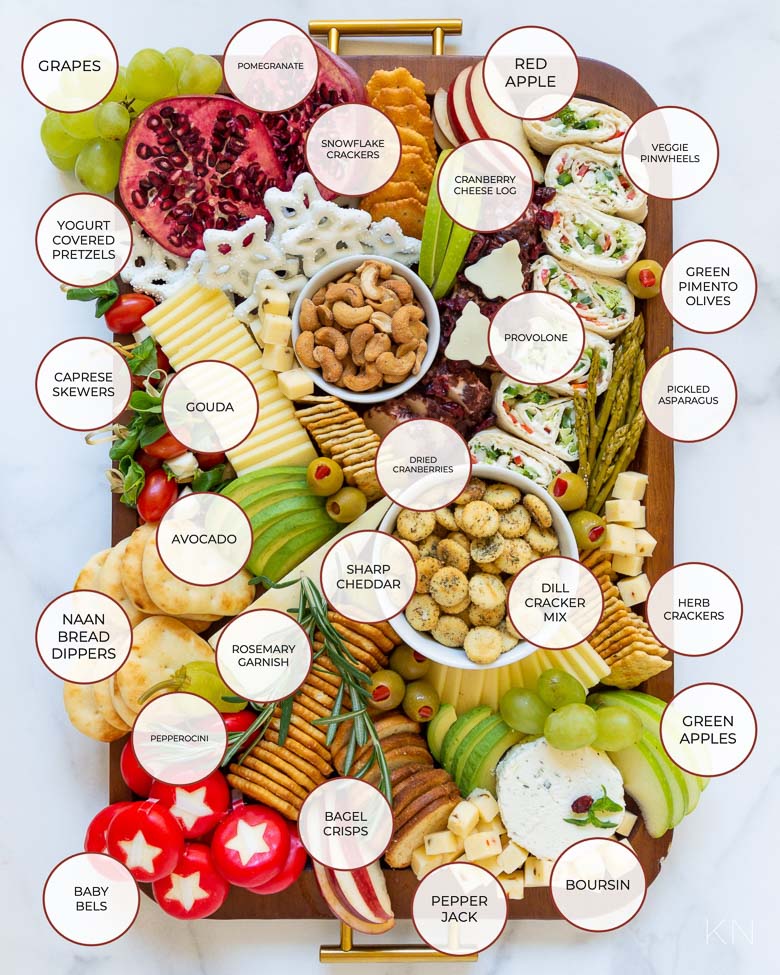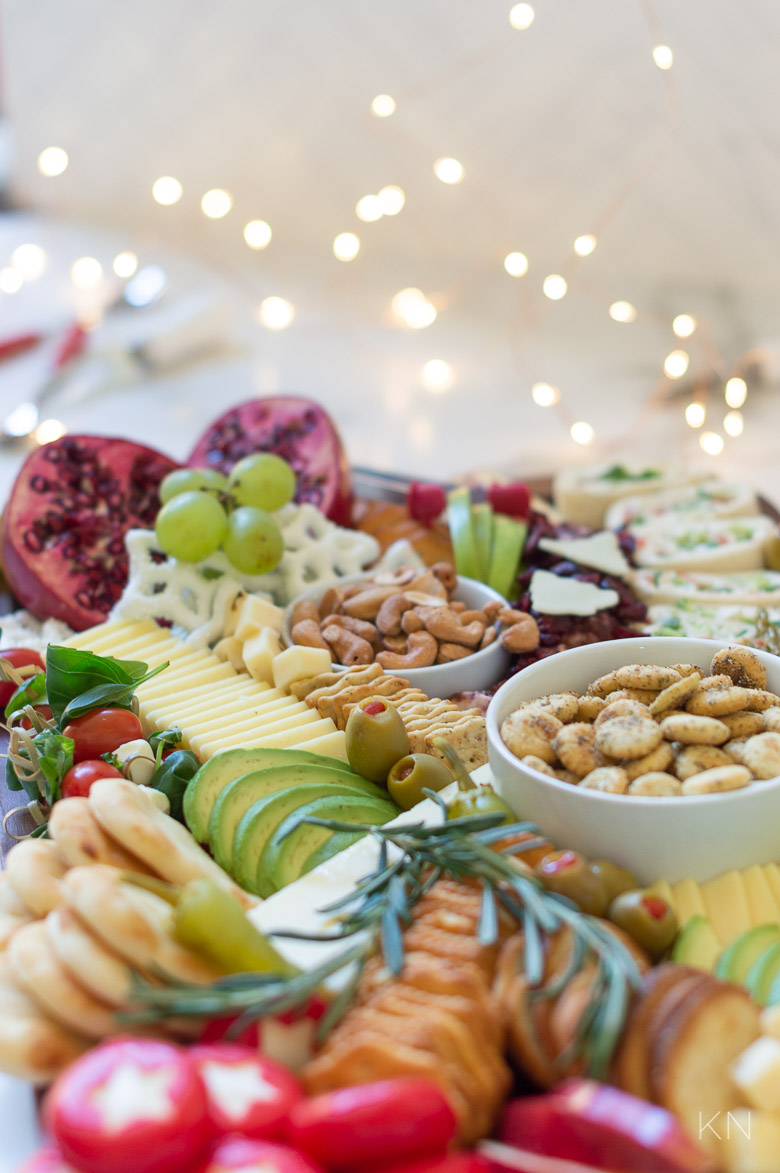 As a side note, I couldn't resist some of this classic ribbon candy — I'll share what other use I found for it next week 😉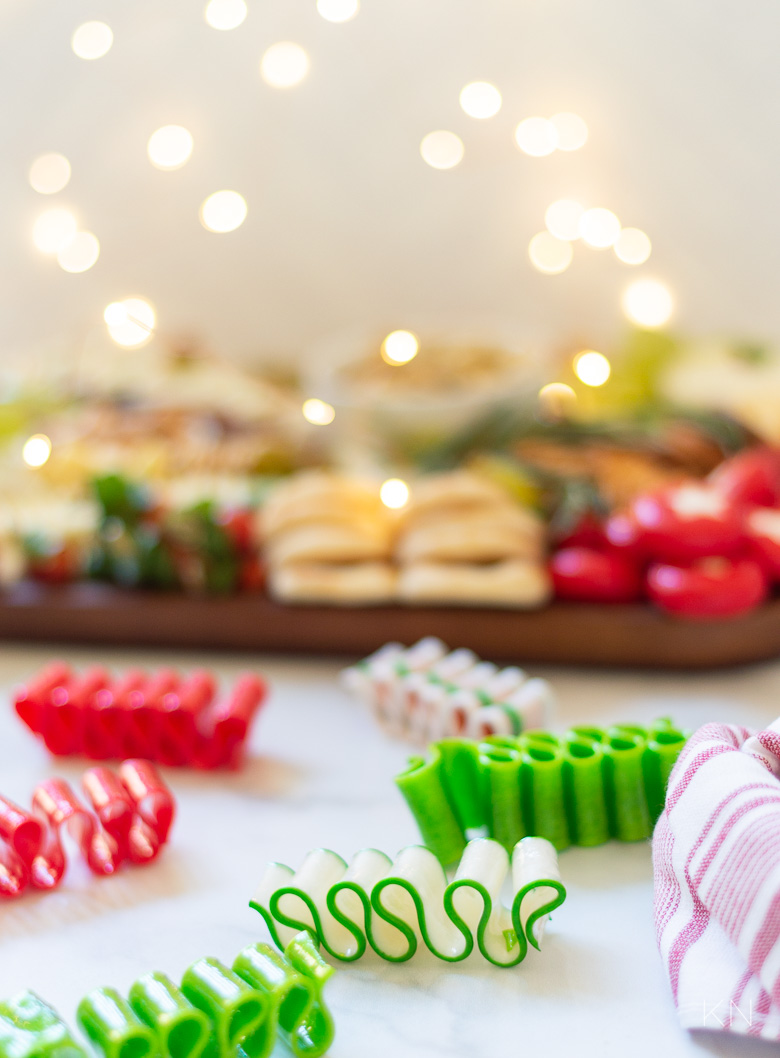 Are you entertaining for the holidays? Planning to put together a grazing board for your family at home? Want to make an entire evening of easy apps? What are some of your favorite Christmas apps/something you have to have every year? We'll be having a family board for just us this coming weekend while we watch UGA face off against Alabama in the SEC championship game 😉 That's a holiday treat!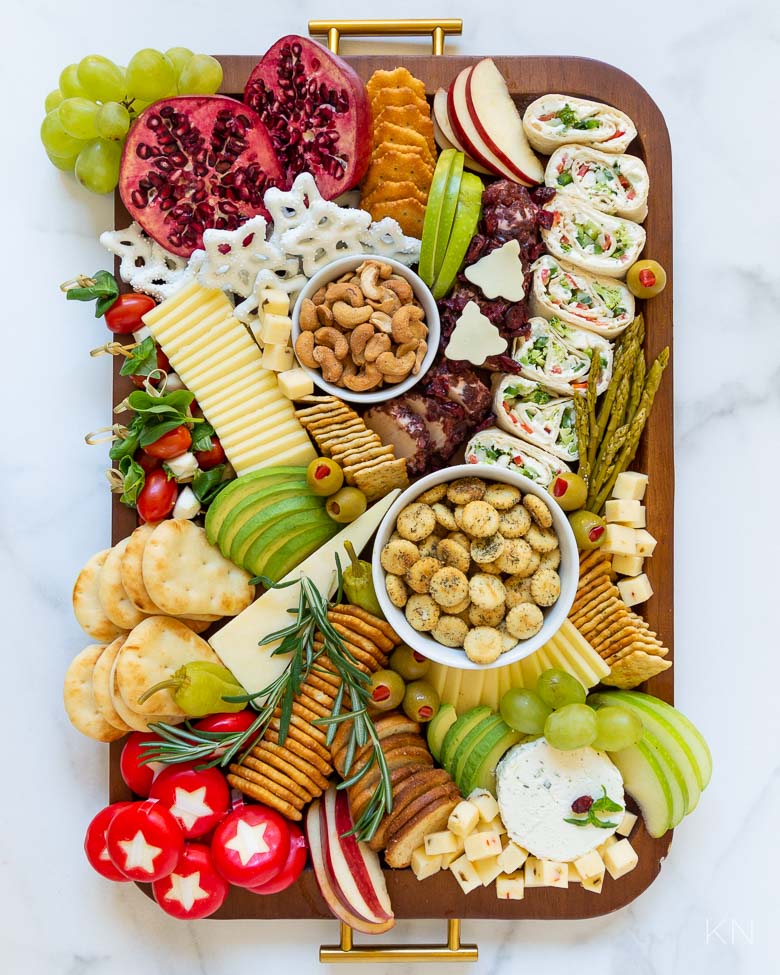 Serving Tray Board (if not available, this one is similar) | White Bowls
Scroll & Tap to Shop the Post, Sources, & Holiday Entertaining


Tap HERE to browse more kitchen, dining, entertaining, and serveware from Walmart.