A question — or some variation of it — I've heard more than a few times over the years is "what other colors should I use if I don't feel comfortable having an all-white bed?" I think white is so popular because it evokes a feeling of peacefulness; and, isn't that what we all want in our bedrooms and beds? But you know what other color feels peaceful? Blue. More specifically, white with blue. And the "dive right in" feeling has less to do with committing to all white and more to do with how the bed is layered and pulled together. Today, I'm using pieces from the Gap Home collection — a line created with and available exclusively at Walmart — to assemble an affordable blue and white bed. I'm mixing patterns and textures, bringing all the individual pieces together, and am sharing exactly what my thought process is about which pieces should go where — and why. Blue and white is a timeless and classic duo but it doesn't have to feel overly traditional. With longtime favorite patterns — mixed with a few more on-trend textures — there's a nice in-the-middle, fresh blue and white bedding look, just waiting to happen.
*Posts on KelleyNan.com may contain affiliate links. While this post is created in partnership Walmart, all opinions, concept, and creative are my own. Click HERE for full disclosure.*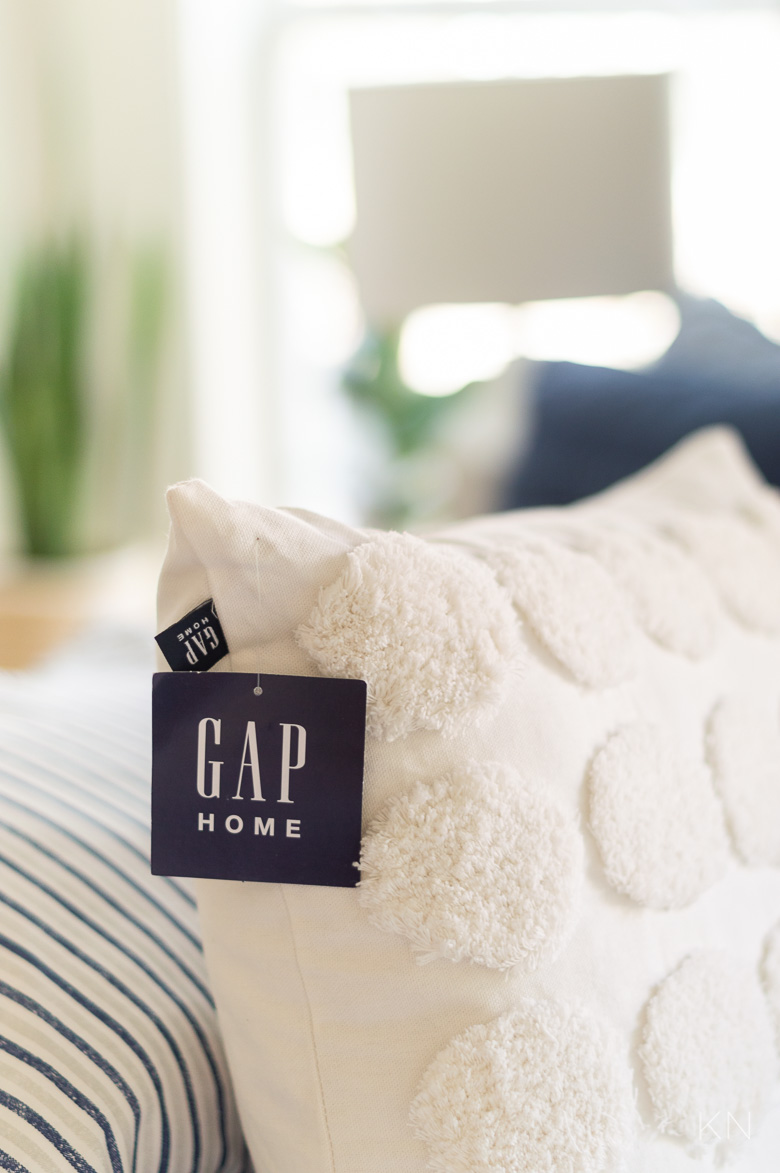 Source: Tufted Dot Pillow
How to Mix and Match Blue & White Bedding
Before we dive in (no pun intended), here's a look at the finished bed. There's solids, stripes, dots, quilting… a little bit of a lot of things going on, right? But, it doesn't feel too busy, and while it works together, it doesn't feel like a bed-in-a-bag either.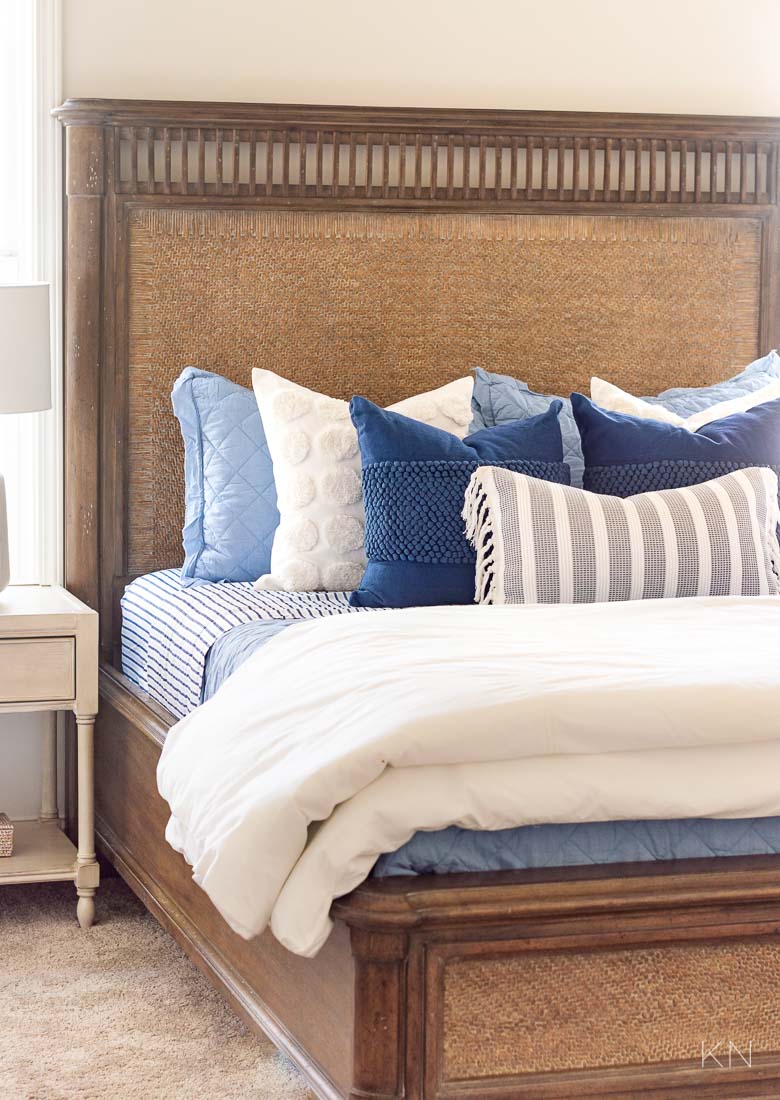 Sources: Blue Cotton Frayed Edge Quilt | Blue Cotton Frayed Edge Shams (set of 2) | White Tufted Dot Pillow | Blue Knot Pillow | Fringed Striped Oblong Pillow | Blue and Grey Striped Sheet Set
And something to note — while we're talking specifically about blue and white beds (it's my favorite color combo and Walmart's Gap Home line has a ton of pieces in that color scheme) — there are a lot of other colors available, too. I've been asked for years about more affordable alternatives to the quilt we've always had on our bed — while ours is linen, THIS QUILT is organic cotton and is more than 80% less than ours! It looks almost identical and is visually the closest I've found. You can scroll and tap below to see some of the quilt options in the collection.

Another note about this quilt — while a lot of bedding layers seem to skimp on size, this one doesn't! There's plenty of quilt to cover all sides of the bed, and then some!
Tip 1: Multiple Patterns Are Good, But Diversify the Type of Pattern
Patterns don't make something look busy but too much of the same type of pattern will! When I'm layering bedding or pillows or any type of textile moment, I choose large prints to mix with smaller prints and solids. For example — if you're using a thin stripe, you don't want to add another thin stripe with it. But, you could add a thick stripe and it's suddenly easier on your eyes. Same goes for florals… or dots. And when you're mixing, you can use the same guideline — small florals with wide stripes and vice versa. In this case, I used: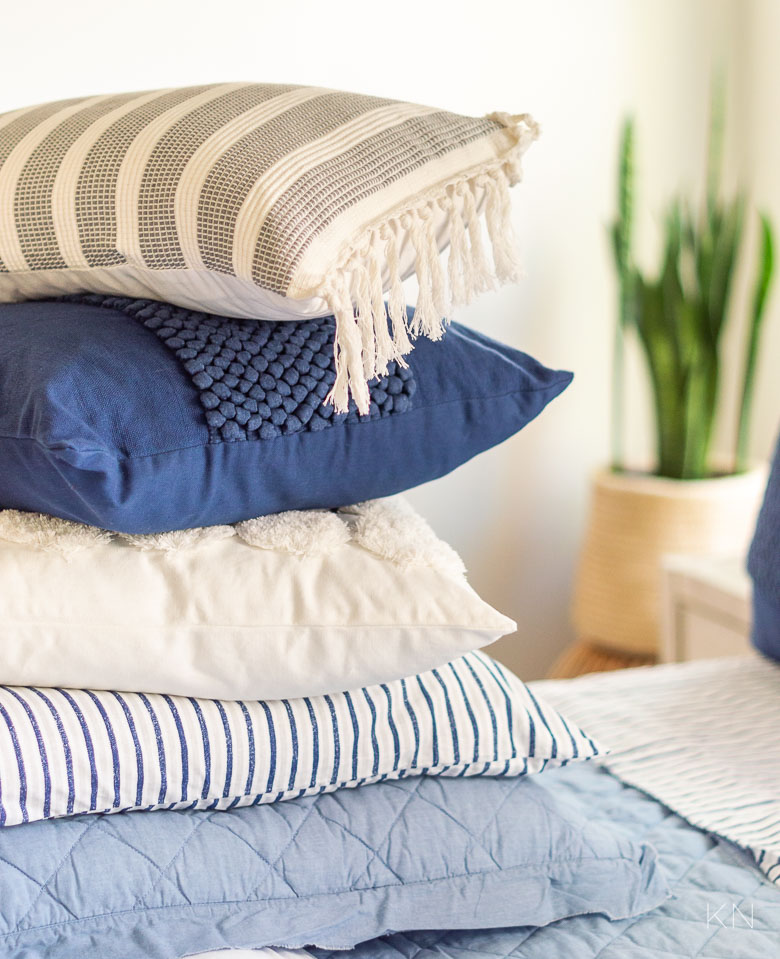 Sources: (top to bottom) Fringed Striped Oblong Pillow | Blue Knot Pillow | White Tufted Dot Pillow | Blue and Grey Striped Pillowcase (sheet set comes w/two pillow cases, top sheet, fitted bottom sheet) | Blue Cotton Frayed Edge Pillow Sham (comes in a set of 2)
Scroll & tap the pillows below that collectively make up this pillow configuration…

And here are other pretty and affordable pillows in Walmart's Gap Home collection you can consider subbing in…

And in mixing patterns, that leads me to my next tip…
Tip 2: Mix Bedding & Pillow Textures
Mixing textures is definitely more important when you're going for more of a single-color, monochromatic look, but mixing textures is what makes your bed feel more collected and curated. Washed cotton, quilted, linen, velvet, fur, woven, nubs… it keeps your bed from looking one-dimensional. Different textures and materials "lay" differently and don't crease the same so it this in itself can make it more interesting. Different textures can also help your bedding define the season, regardless of the color scheme. Heavier yarns, cable knits, and fur for winter and lighter, more breathable materials for the warmer months. Heavier canvas-type materials are good year round!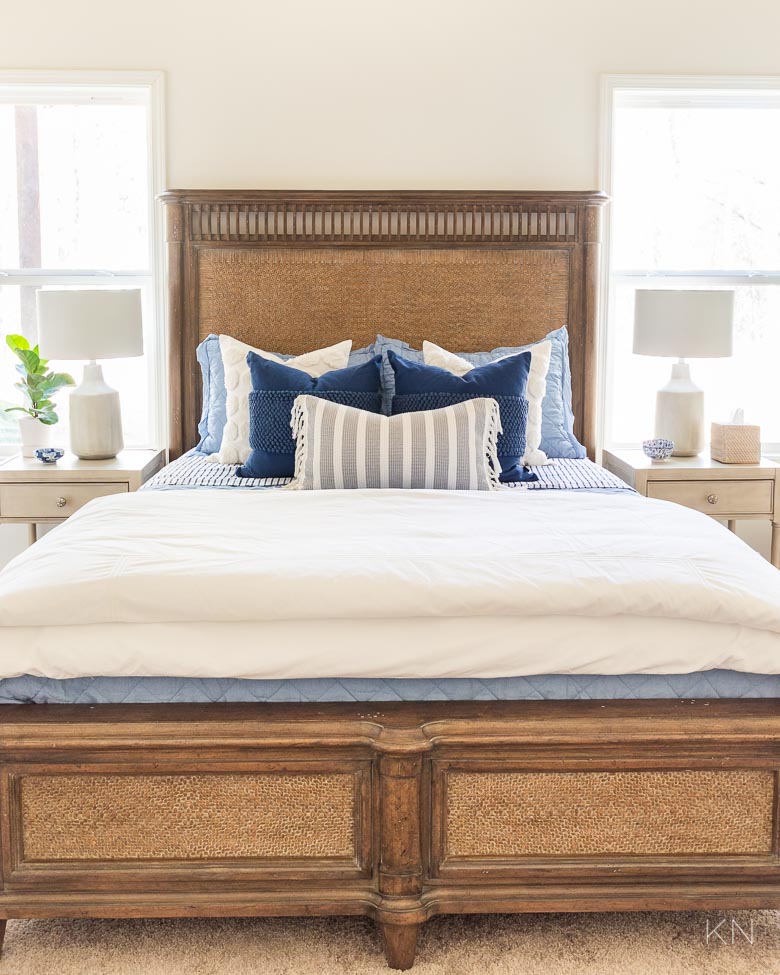 Tip 3: Purchase Pillows in Pairs
I can use my computer to layer pieces of bedding in a virtual mock-up to get a good idea of how I plan to layer them in real life, but I never truly know the ultimate order of the pillows until they show up on my doorstep and I can test them out in person. So, I will usually order two of each pillow, just to be on the safe side. I've ended up using what I thought would be the single front pillow as a duo and further back in my pillow schematic more times than I can count! And, if I have one left over, I can return it, save it for a different pillow look down the road, put it in a side chair to tie it in with the bedding, or place it in a different room all together. If I have second thoughts or truly don't need it after I've assembled the bed and considered other options, I will return the unused pillow. Walmart returns are incredibly simple and there's no risk with their generous return window.
For this bed, I actually also purchased THIS pretty knotted neutral pillow (HERE) — but ultimately went with the navy color-way (HERE), after seeing the bed come together.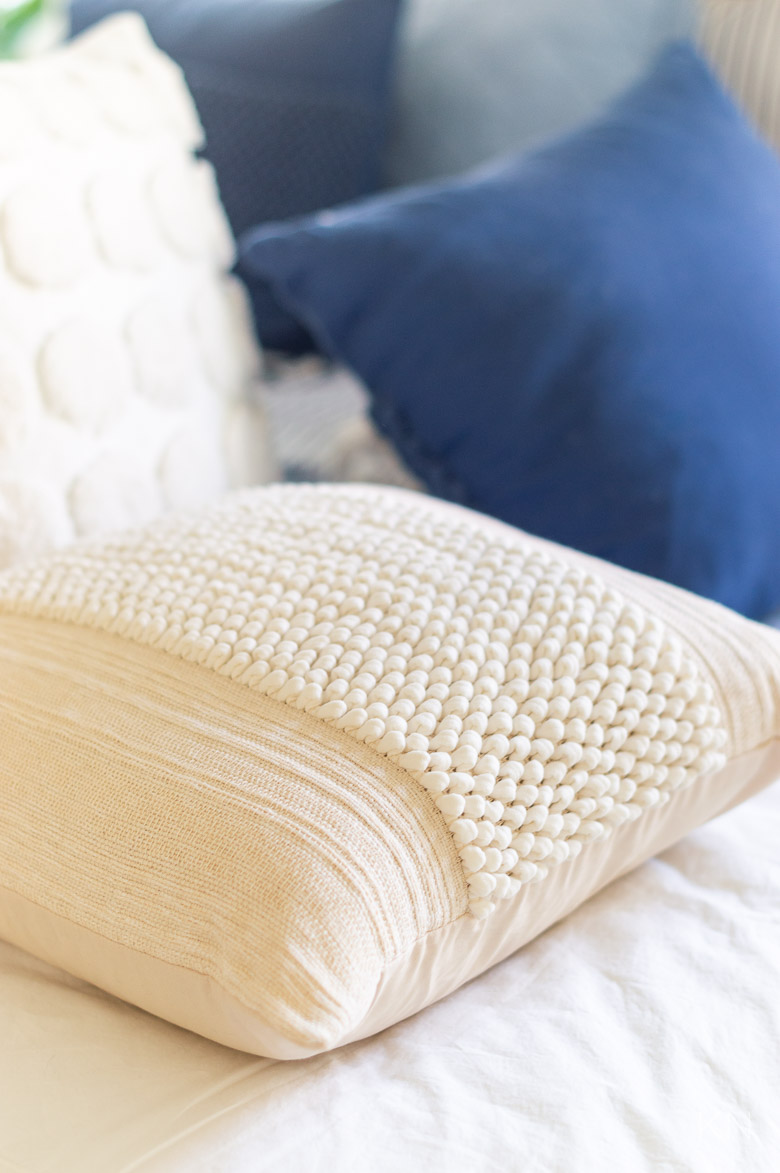 Source: Natural Knot Pillow
I also stick with ordering throw pillows that have zippers so I can stuff them with my favorite inserts I have in my stash. Each product description will likely detail if a pillow comes with a zip closure. When you switch out your throw pillows, you can fold the covers and use the same inserts for the next set of covers (this also saves on space!) I also typically size up 2″ on the insert compared to the size of the pillow cover so there's no leftover fabric in the cover and they're nice and plump.
Tip 4: Repeat Individual Colors in Multi-Color Patterns in Larger Color-block Moments
When you think of blue and white, do you think of a single blue hue with white? Or, do you think of varying shades of blue with white?
For each piece to "speak to each other", if I'm using a piece of bedding with a small but bold contrast, I like to find a way to take that color to a larger moment in a different piece. For example — I used THESE thin striped sheets with a white, pale gray, and navy. In comparison to the other muted colors, the navy almost looks like a pinstripe. This was the determining factor in using the deep blue knotted pillows in lieu of the more pale, natural tone version. I don't think you have to make sure every color in your bedding is present at least twice, but if you have a singular dark contrast — like in this instance — I think it helps bring your eyes to the bedding collective instead of your eyes going straight to the sheets.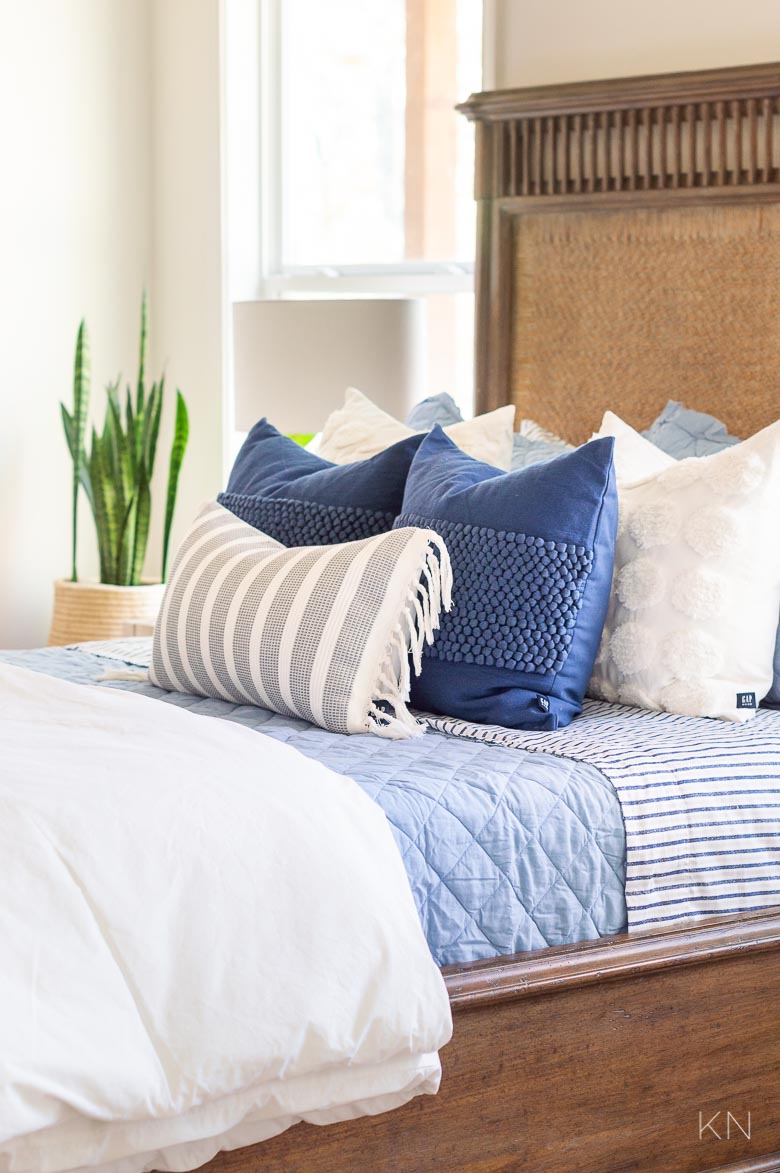 Sources: Blue Cotton Frayed Edge Quilt | Blue Cotton Frayed Edge Shams (set of 2) | White Tufted Dot Pillow | Blue Knot Pillow | Fringed Striped Oblong Pillow | Blue and Grey Striped Sheet Set
Tip 5: Break Up the Pieces
To keep your bed looking layered and multi-dimensional, it helps to create some distance between the same pieces of bedding. That means — splitting up the quilt/comforter/duvet with coordinating shams, sheet set, etc. It also means splitting up any single large area of bedding — even where there aren't folds and pillows aren't present. Giving your bedding more definitive "breaks" makes it look more complex, and as a result, just a little more luxurious. Can you envision a quilt pulled all the way up to the headboard with the same quilted shams placed directly on top? To me, it feels just a little too "one note" and it can totally take away from that curated bed look you may be looking to achieve.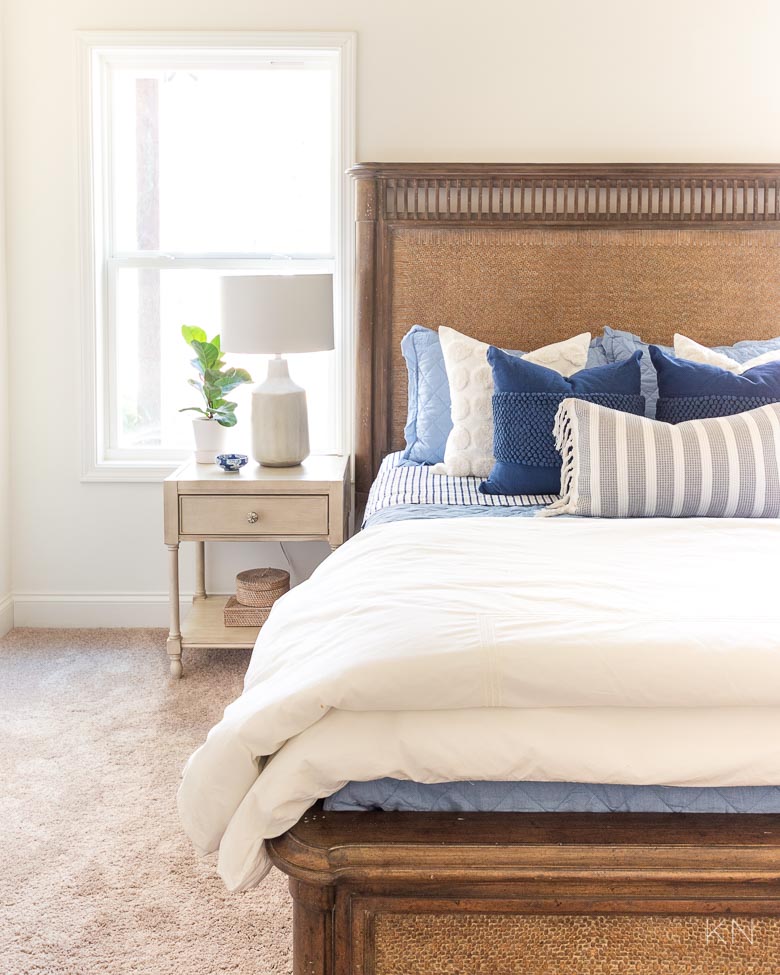 So… how do you break up the pieces?
Tip 6: Create Layers
Fold down, layer on top, and then layer some more 😉 Layering in general makes your bed jump-in-and-snuggle-ready but it's also the way to break up colors. AND, it's also a way to add in additional pieces to represent colors twice that may not be able to be repeated otherwise. Folding your top sheet down with your quilt gives instant separation between your top bedding layer and your furthest back shams.
In addition to the plush factor, folding a duvet… or quilt… or blanket at the foot of the bed helps repeat a color — in this case, white — that may be needed to make everything mesh just a little better. It also helps break up a sea of blue on the second half of the bed where I don't have pillows. You could easily layer an additional throw on top of the basic folded duvet for even more complexity.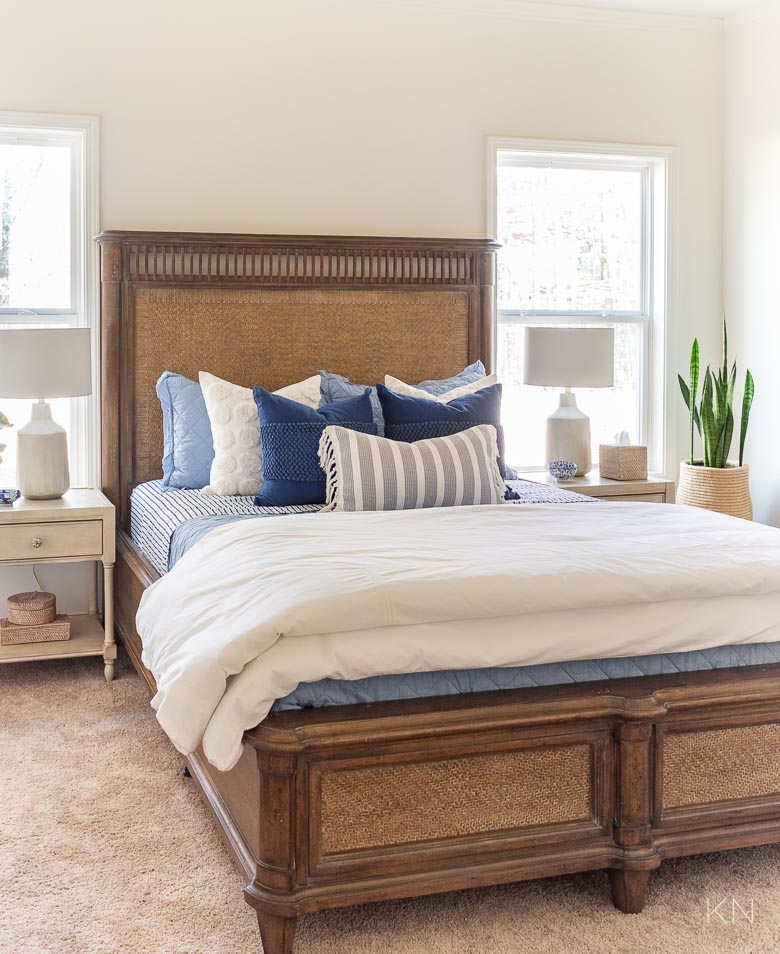 Sources: Blue Cotton Frayed Edge Quilt | Blue Cotton Frayed Edge Shams (set of 2) | White Tufted Dot Pillow | Blue Knot Pillow | Fringed Striped Oblong Pillow | Blue and Grey Striped Sheet Set 
Tip 7: Stagger Your Lights & Darks
The actual pieces that make up your bedding ensemble matter, but so do the order in which they're placed. Going along with previous tips, you want separation of colors, balance, and ways to tie together all the patterns and colors you're working with. If the white pillows would have been in the front of the pillow assembly, the bed would have looked to white and block-y. The dark pillows also benefit from being framed by the white pillows in the background. Here's the full pillow layering and breakdown.
In the very back are the striped sheets with multiple colors present, followed by a solid but quilted medium blue — the coordinating quilt pillow shams.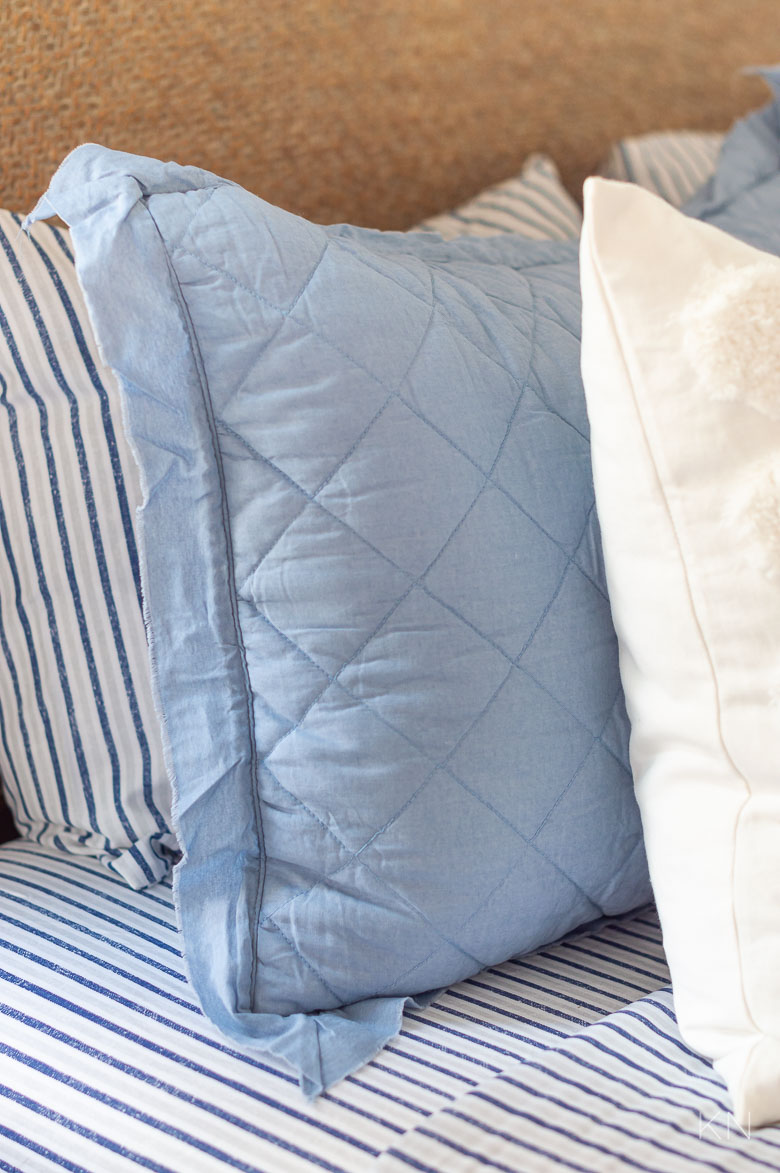 Source: Frayed Edge Cotton Pillow Sham (set of 2)
In front of the small scale pattern, followed by a sold with somewhat of a patterns (because of the diamond stitching), are the white pillows. They are textured and tone on tone so it doesn't just look like solids, next to solids, next to solids.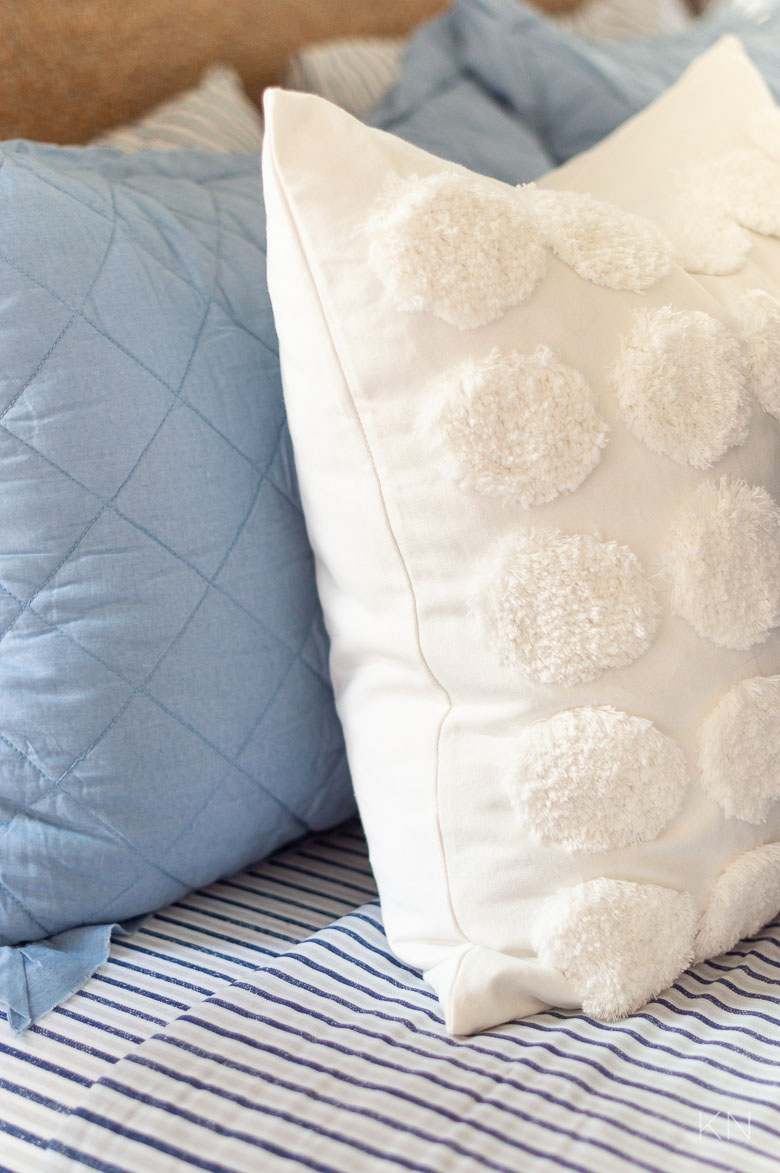 Sources: Grey and White Striped Sheet Set | Tufted Dot Pillow
In front of those are the single tone, knotted dark blue pillows. Full of texture. So to this point, we have multi-color/tonal, medium shade, light shade, dark shade.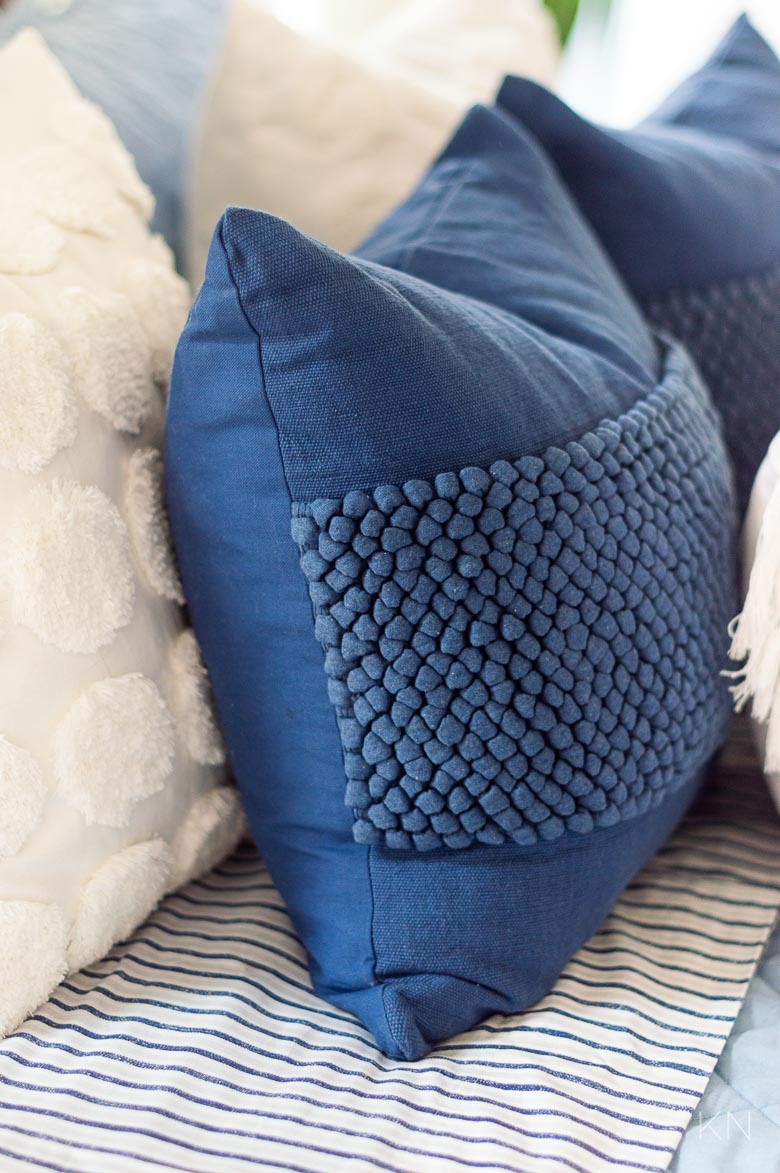 Source: Blue Knot Pillow
And then, in the very front, we have a gray and white, textured, wide striped pillow with side fringe. Which also, just happens to be a combination of a light and medium tone, tying the back two pillows further back to the pillow in front.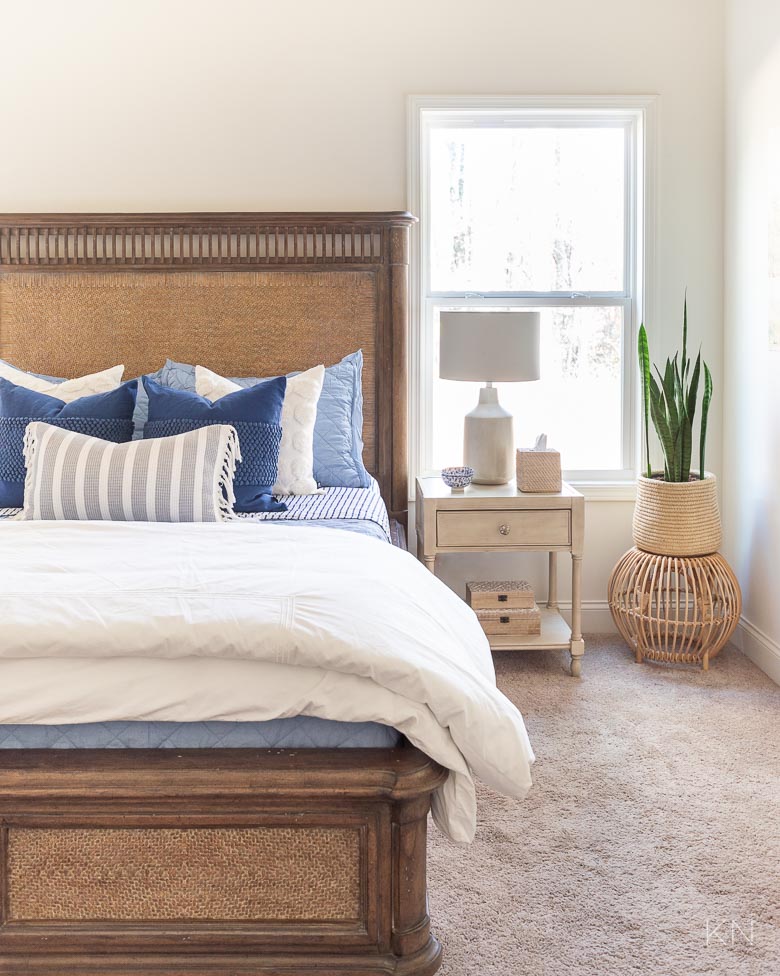 There are so many approaches to making a bed and making it look well thought out and "put together". This is just my own thought process, as documented after lots of trial and error over the years and observing the ensembles I prefer and the characteristics I like in each look. As I always say — there's no right and no wrong, but for those who are looking to find out those specific techniques and qualities of a layered bed, I hope breaking down this blue and white bed and all the pieces is helpful!
While this bed is eclectic in terms of assembled pieces, it's also incredibly affordable — both individually and as a collective. For a queen sized bed — which this one is, here's the current price breakdown.
Add any other favorites you have from throws to duvets and continue to layer for an even more eclectic bedding look! Do you have a go-to color scheme? Any methods you swear by? Be sure to share in the comment section at the bottom of the post!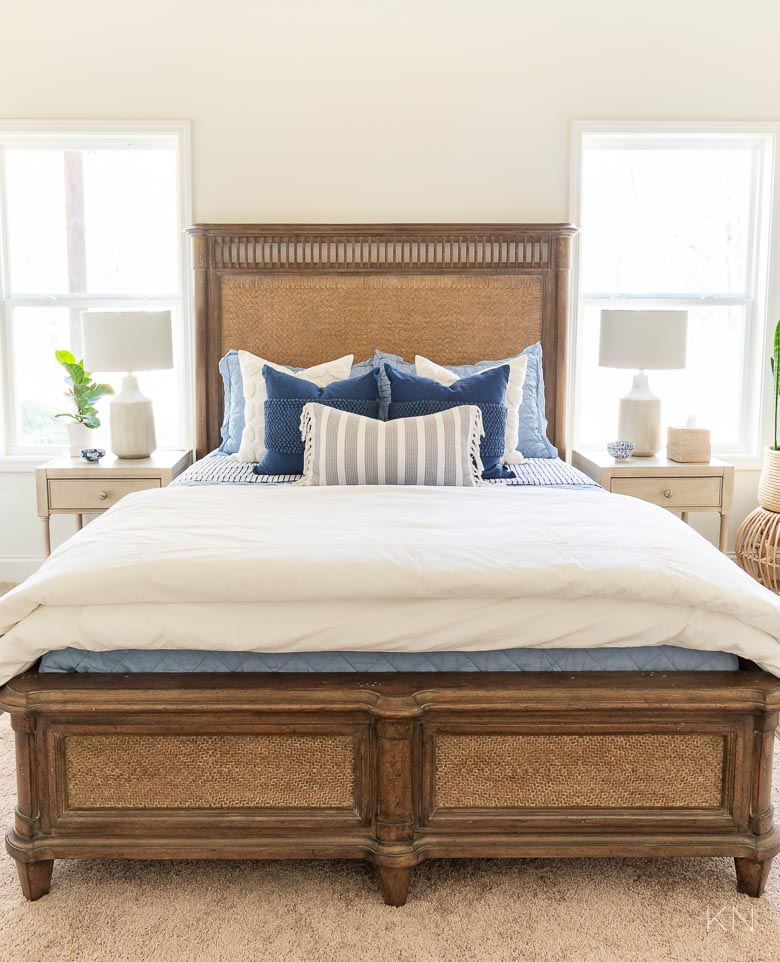 Scroll & Tap to Check Out All the Gap Home Bedding Pieces

Check out the full Gap Home collection — exclusively at Walmart — HERE.