Have you started your holiday decorating? Finished? Started listening to Christmas music? Or, what about lighting your favorite scents for the season? I've done all the above, and feeling like I'm living in the midst of the most magical time of year has done a world of good to lighten my spirit. When you can smell Christmas and can spot a little twinkle in every line of eyesight in your home, everything feels a little more peaceful and just… happier! If you're needing a little something to get your Christmas creativity flowing a bit, today's post is for you. Today, I'm sharing four centerpiece ideas — specifically kitchen island centerpieces — inspired by four favorite fragrances and Christmas candles for the season. Whether you are starting with a totally blank slate, are looking to mix and match and work with what you have on hand, or you're just looking for a little color inspiration, these sights and smells go together like peas and carrots (or, in this case, peppermint and cinnamon 😉 ).
*Posts on KelleyNan.com may contain affiliate links. While this post is created in partnership Yankee Candle, all opinions, concept, and creative are my own. Click HERE for full disclosure.*
Four Favorite Holiday Fragrances & Christmas Candles
Burning those candles early is the easiest thing you can do to start getting your heart and home in the Christmas spirit. While decorating, shopping, wrapping and all those other things mounting on your inevitable to-do list take more time and effort, grabbing a favorite seasonal candle is instant gratification. It's a necessity, really… because if I can't decorate the tree and hang garland without the smell of Christmas, I don't want to do it, haha. Maybe these are some of your favorites too, or maybe you're looking to branch out, but the Yankee Candle smells currently filling my home are:
And, if you're getting ready to stock up on some scent staples for the season, this post is coming at just the right time. Now through 11/21, Yankee Candle is having their Friends & Family Sale, offering 50% off candles, and 40% off everything else with code FFWOWN21! You can browse all the fragrances HERE. This is a great time to stock up on gifts too; they're especially easy to keep on hand for impromptu hostess gifts.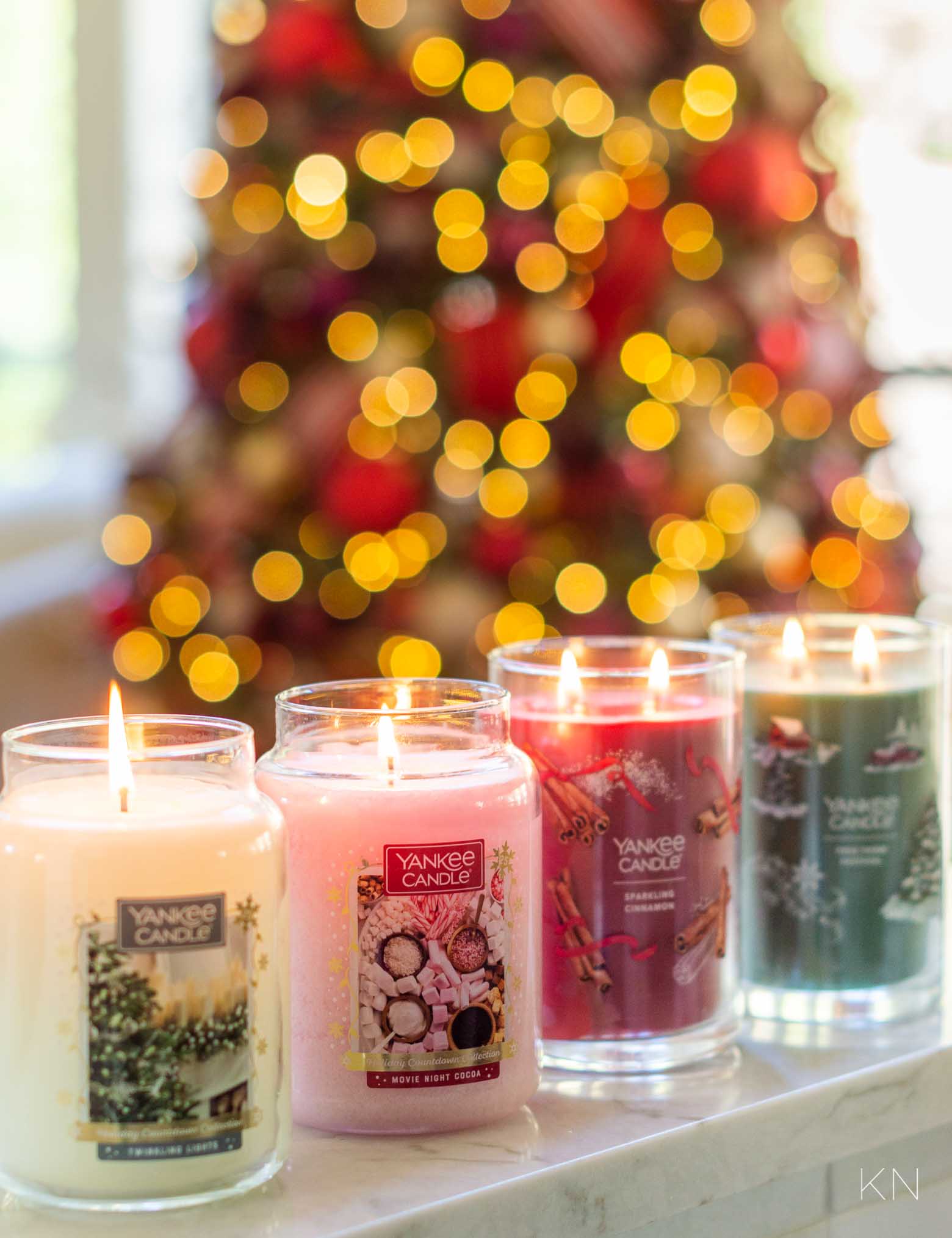 Yankee Candle Line-Up: Twinkling Lights |  Movie Night Cocoa | Sparkling Cinnamon | Tree Farm Festival
When you're rummaging through your arsenal of holiday decor and you're trying to determine how to repurpose or make a new moment out of pieces you've used year after year, and aren't feeling inspired, sometimes, you just need a little something to draw a little inspiration from. Or, maybe you don't prefer literal decor in your kitchen at all but could use some ideas on how to make the kitchen still feel like Christmas. Since I always have a fave scent burning on my kitchen island, I created coordinated moments as centerpieces, inspired by the look, feel, and smell of this season's Christmas frargrance line-up. From simple and organic to a little more glittery, these are the four Christmas island decor moments, created in a coordinated effort with a few fave holiday fragrances. I'll be breaking down on how I arrived at each vignette by "what it smells like" and "what it feels like" — or, in my mind, what the fragrance/aesthetic makes me think of.
1. Tree Farm Festival
I'm a huge fan of evergreen, Christmas tree, and forest fragrances during the holidays. Yankee Candle's "Tree Farm Festival" is likely what you would expect!
What it smells like… Christmas trees with a hint of masculinity
What it feels like… Evergreen branches without discrimination… cedar, pine… all of it! An organic moment with wood, elements… And after really considering what the frargrance and message made me think of, this is the simple kitchen island centerpiece I came up with.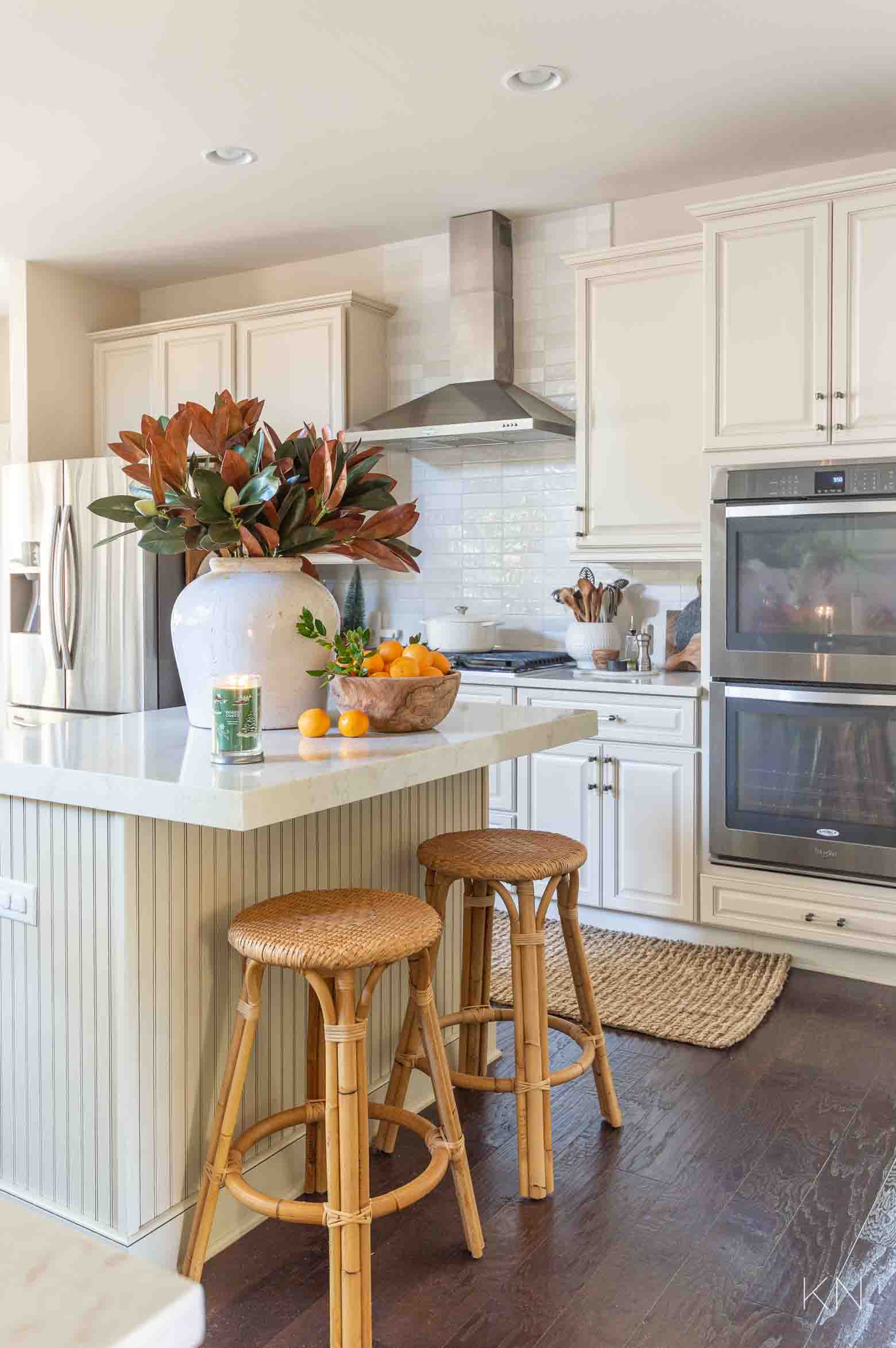 Sources: Tree Farm Festival Yankee Candle | Counter Stools | Vase | Faux Magnolia Stems | Olivewood Bowl (SIMILAR) | Jute Runner | Dutch Oven
Olivewood to keep it a little rustic and cabin-like; magnolia stems because of their rich green hue, hearty composition, and ability to make a powerful statement, and oranges because they're reminiscent of the holidays, but also nature. Plus, I love citrus paired with evergreen 😉 Speaking of "citrus", THIS Yankee Candle fragrance — Honey Clementine — is one of my most favorite scents ever (also eligible for the 50% off sale this weekend, as part of the promotion. 😉 )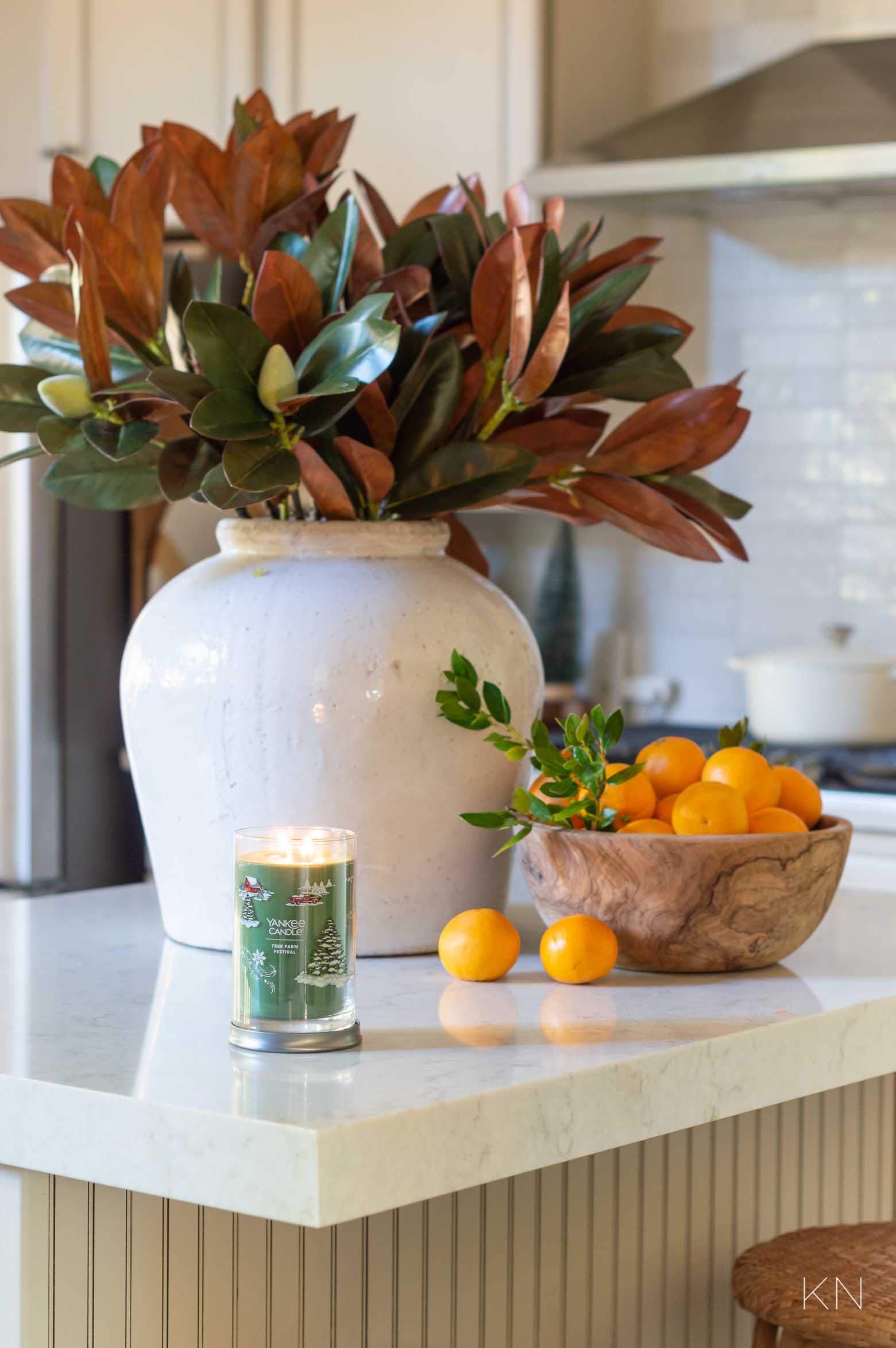 I love this fragrance because it can't be confused with any other season. This is straight up CHRISTMAS and you can find it HERE. While burn times for the Yankee Candle large signature tumblers — with two wicks — are estimated for 60-100 hours, the large original jars — with single wicks — are estimated to burn 110-150 hours.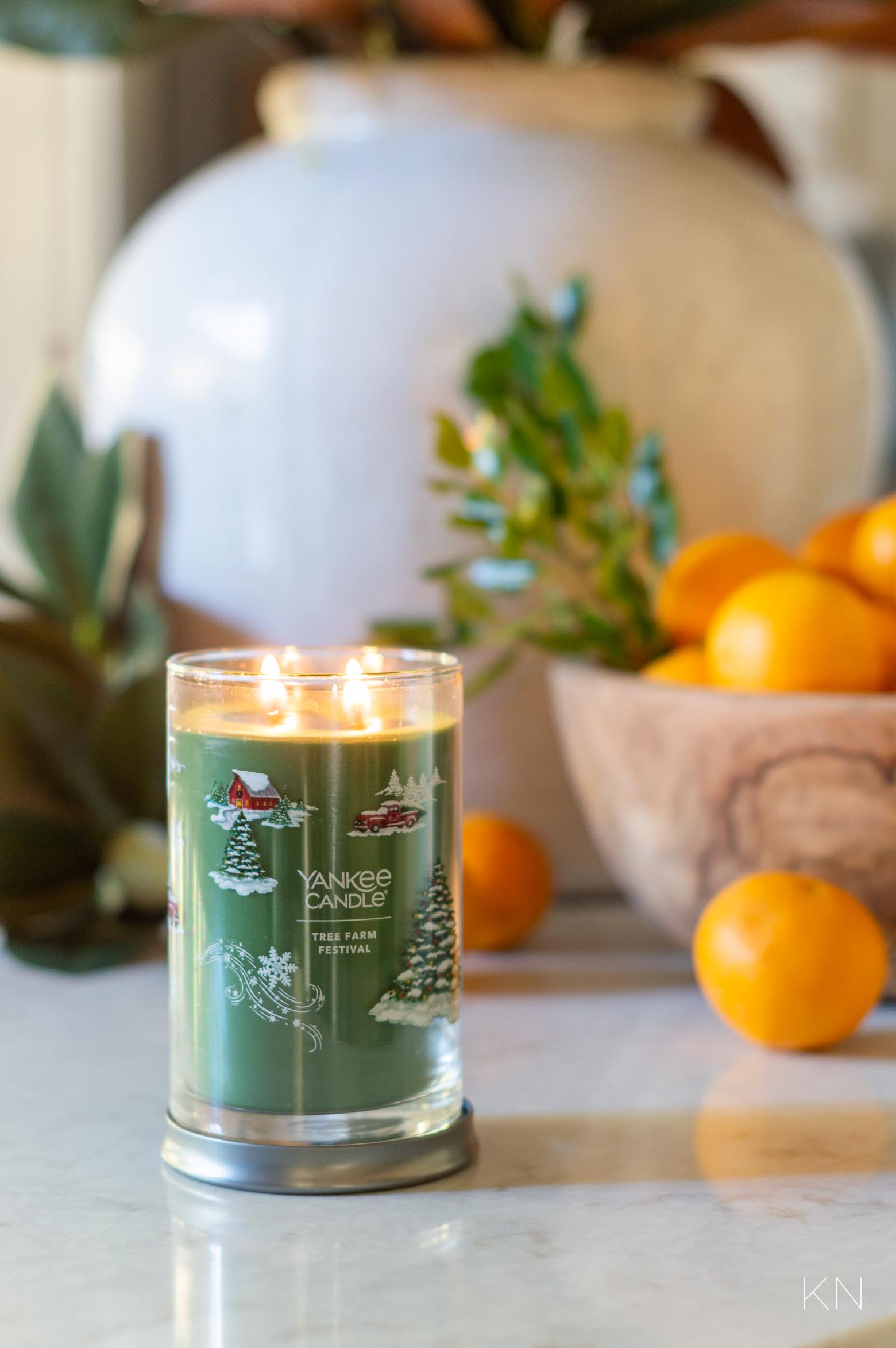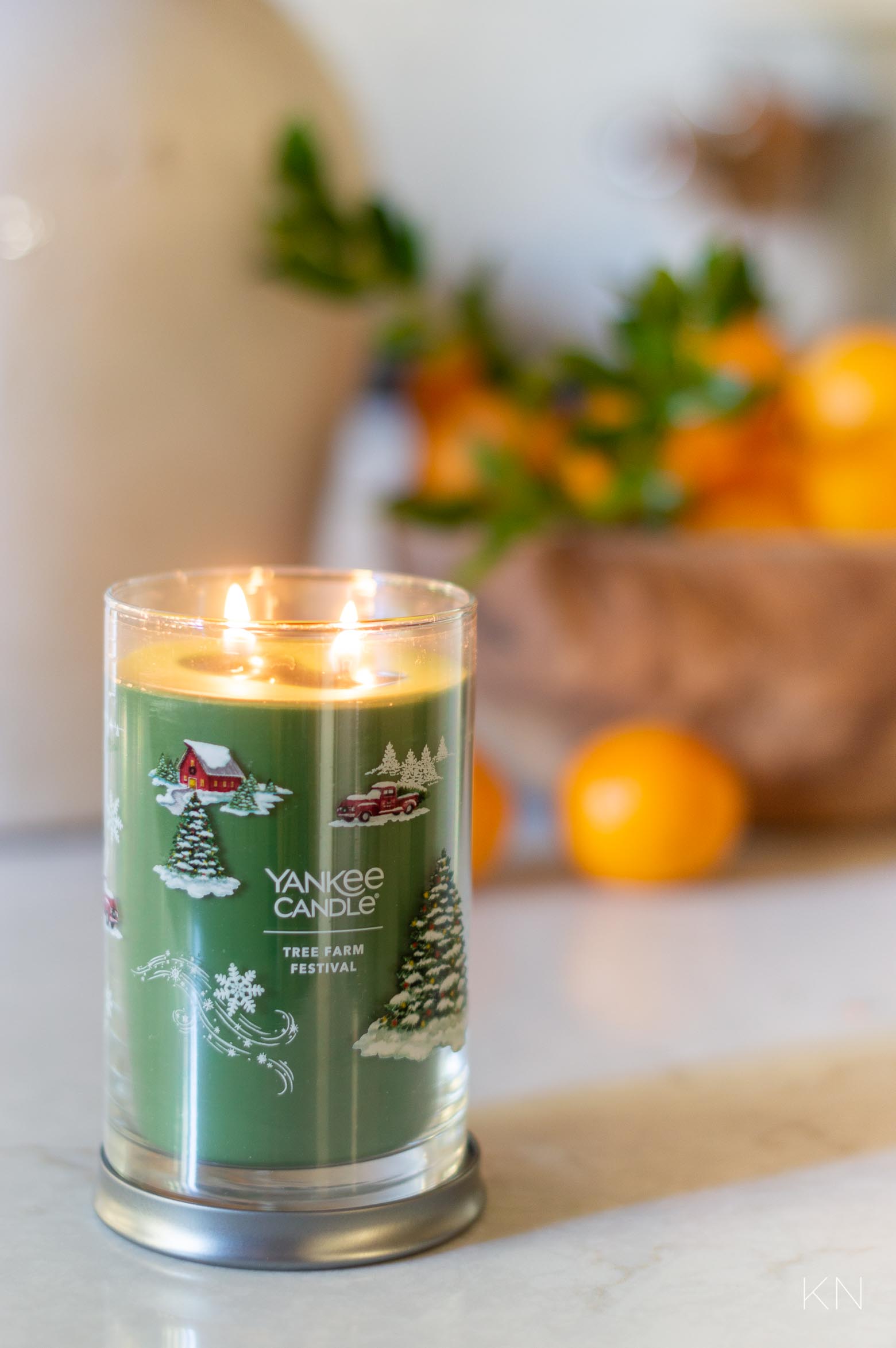 One of their most popular and longest loved holiday frargrances is "Balsam & Cedar" — you can find the jar version which is currently in stock HERE.
2. Movie Night Cocoa
I'll be honest — I was initially drawn to this candle because of the pretty jar, haha. But, between first seeing it and then smelling it, I crafted my idea quickly and it's perfect for all the holiday goodies!
What it smells like… Marshmallows or sugar — but subtle, not overpowering.
What it feels like… Candies or sweets but something lighter than a heavy gingerbread. Treats in cloches, a beverage station, or classic Christmas goodies — the kind you'd see at an old candy store!
And with the fragrance combined with what the fragrance made me visualize, I created a small apothecary jar filled candy bar!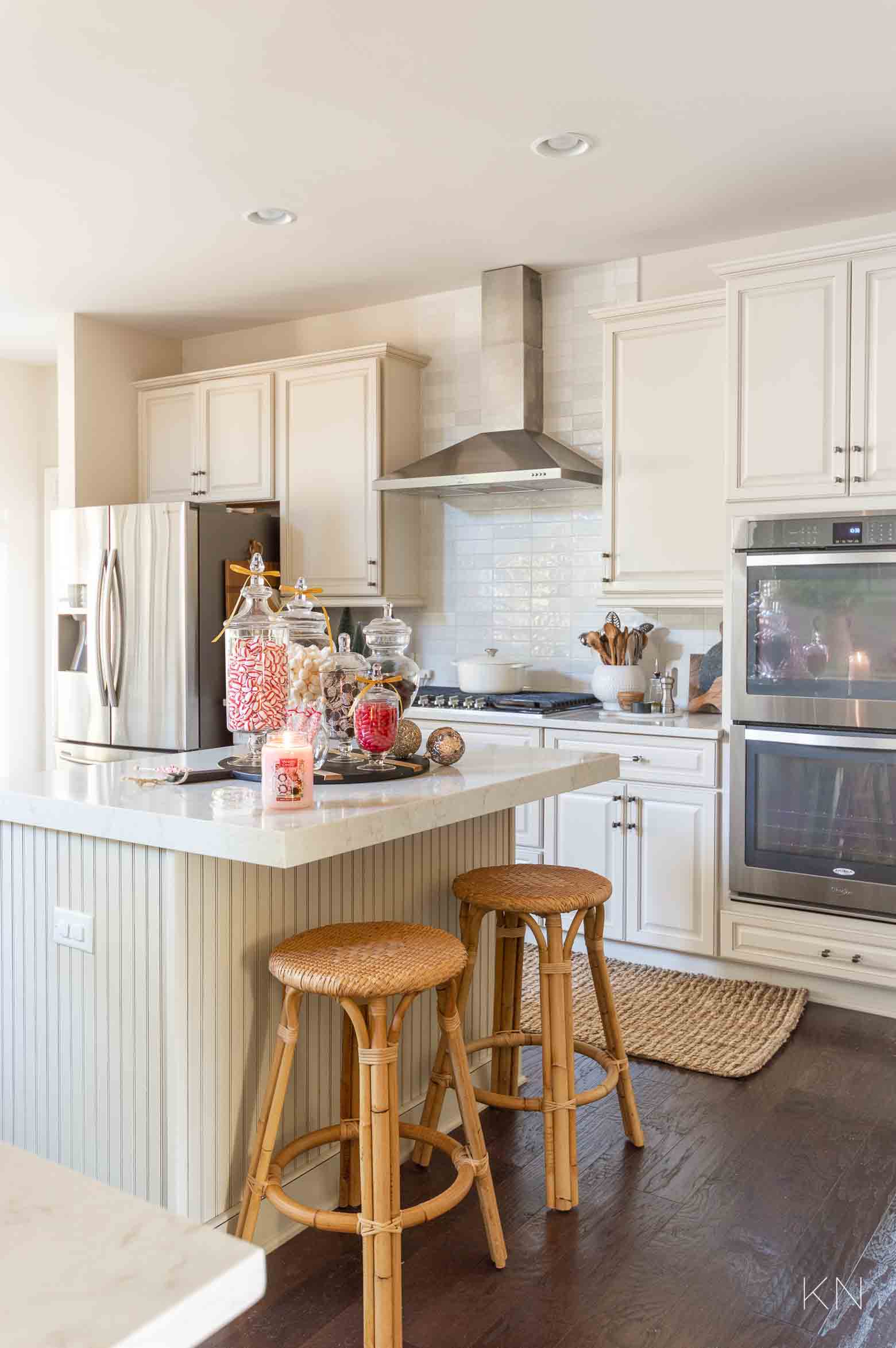 Sources: Movie Night Cocoa Yankee Candle | Counter Stools | Round Black & Wood Board | Apothecary Jars (SIMILAR) | Jute Runner | Dutch Oven
I think corralling the glass jars onto a tray or board helps to anchor them and makes them look like a more intentional grouping, and if there were ever a time to display treats and use them as decor, this is the time of year to do it!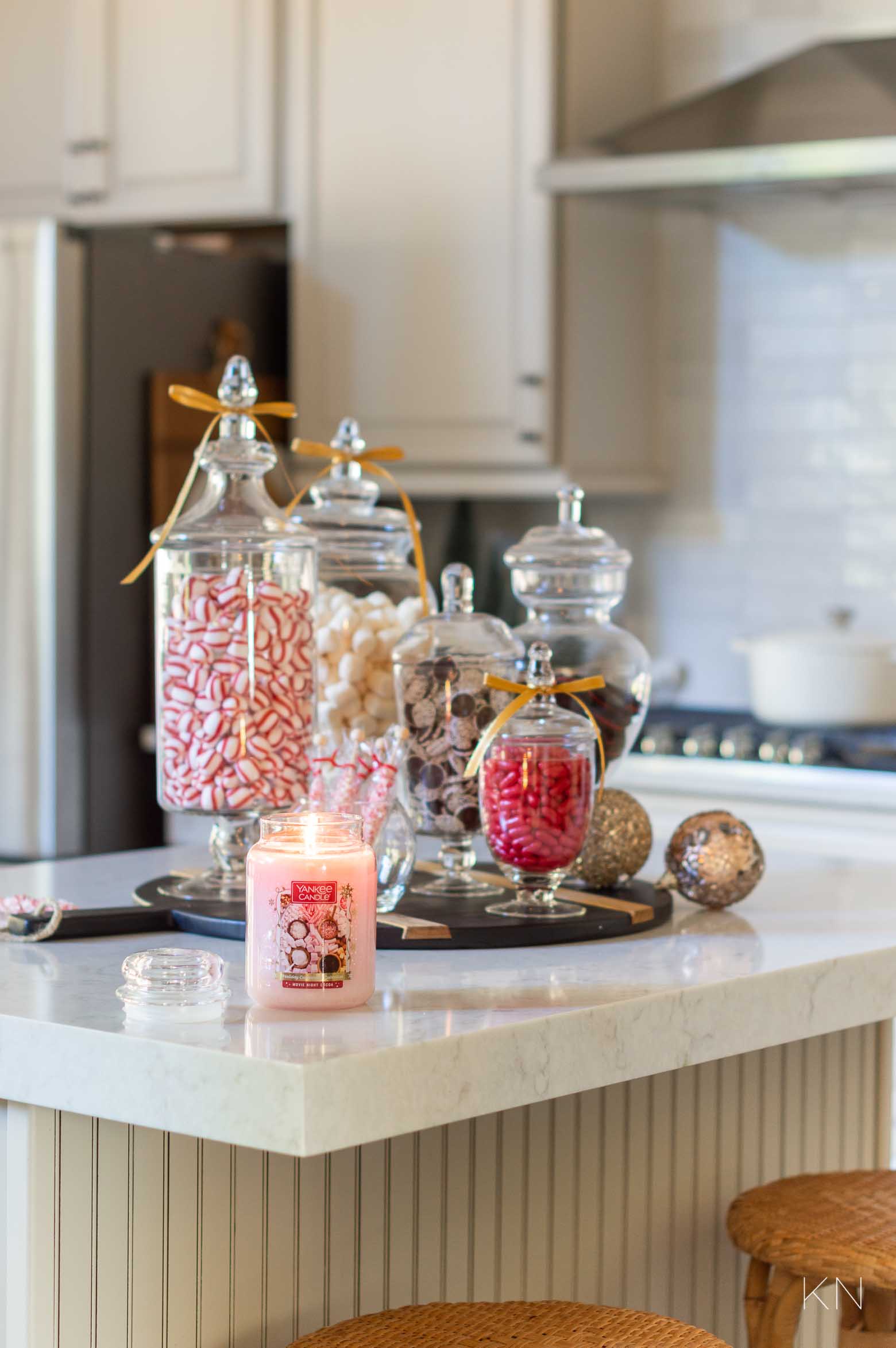 Like the first centerpiece, no "actual" Christmas decor is needed. The visual, frargrance and nostalgia lets you know exactly what season it is. You can find this candle in the large original jar (as shown in my photos) HERE. Again, this qualifies for 50% off Friends and Family sale (for candles; 40% off everything else) and they offer free shipping on orders of $50+.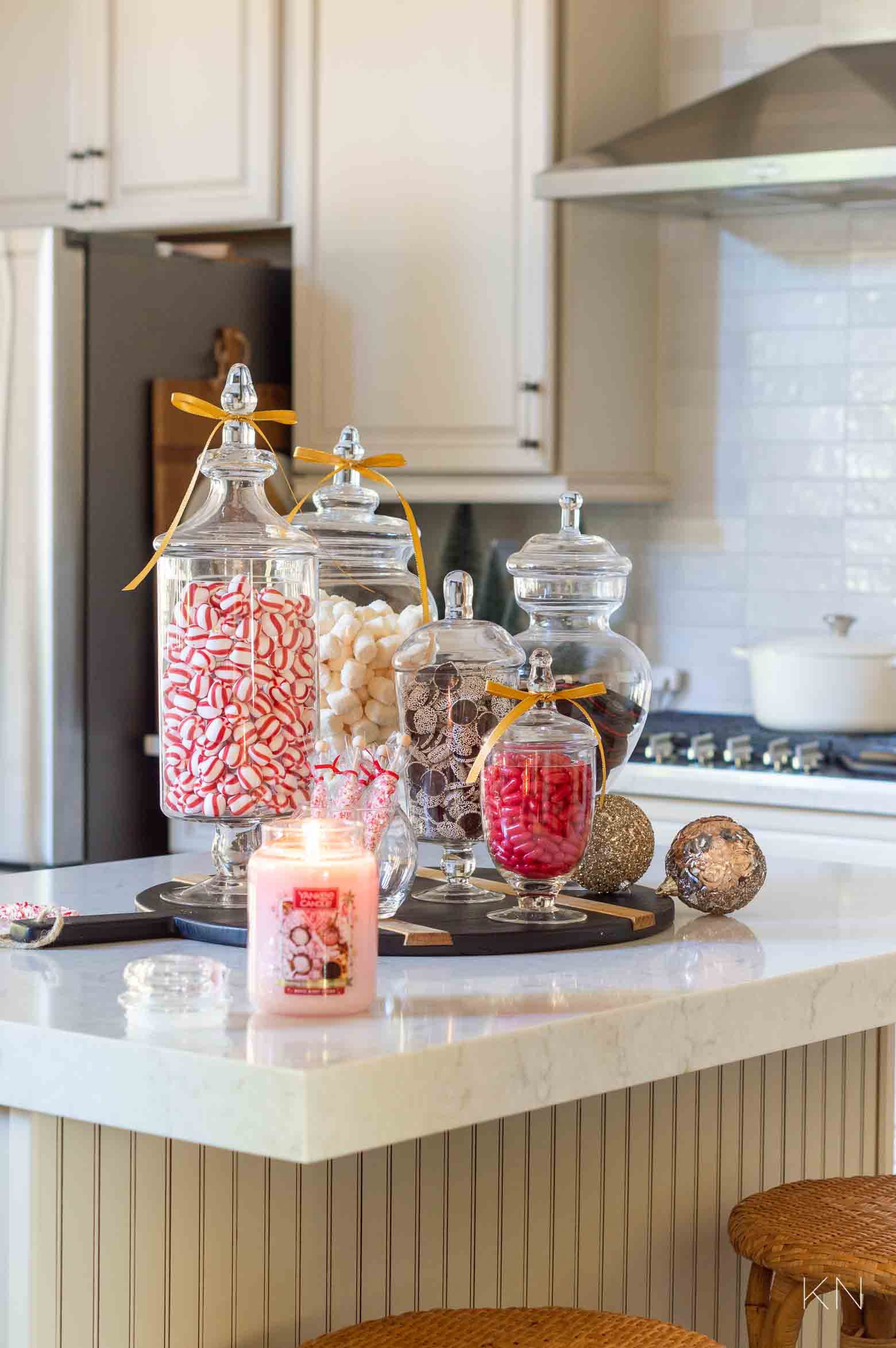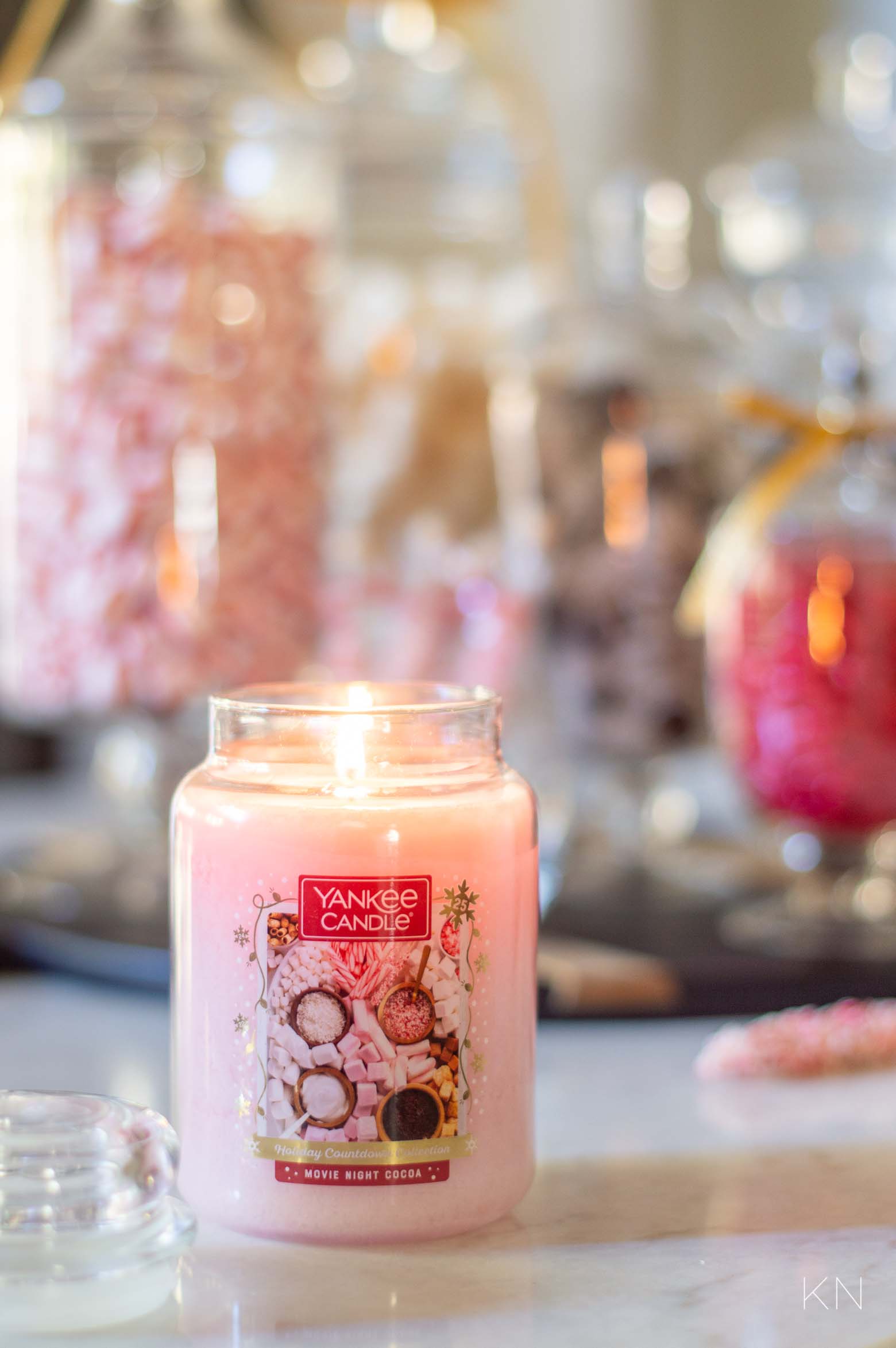 And if you don't want to leave a candy bar out for constant grabbing throughout the season, coupling a Christmas candy bar centerpiece with Yankee Candle's Movie Night Cocoa makes a great centerpiece — or side moment — when you're hosting!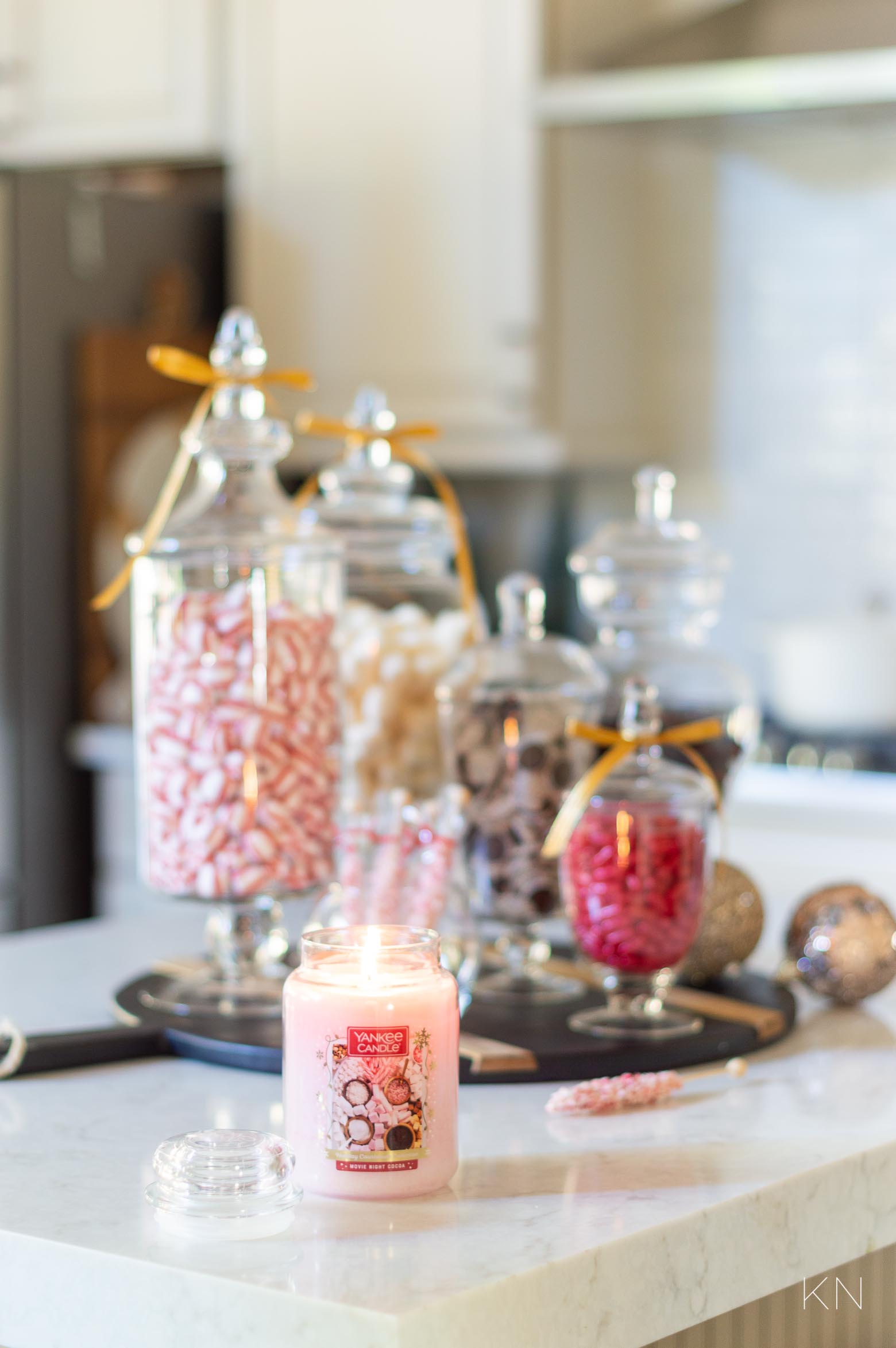 Use your favorites in a candy bar and make it even simpler or more elaborate — I used the following for each of my glass jars:
coconut covered marshmallows
soft peppermint candies
chewy cinnamon candies
chocolate nonpareils
Christmas Oreos
peppermint rock candy/stir sticks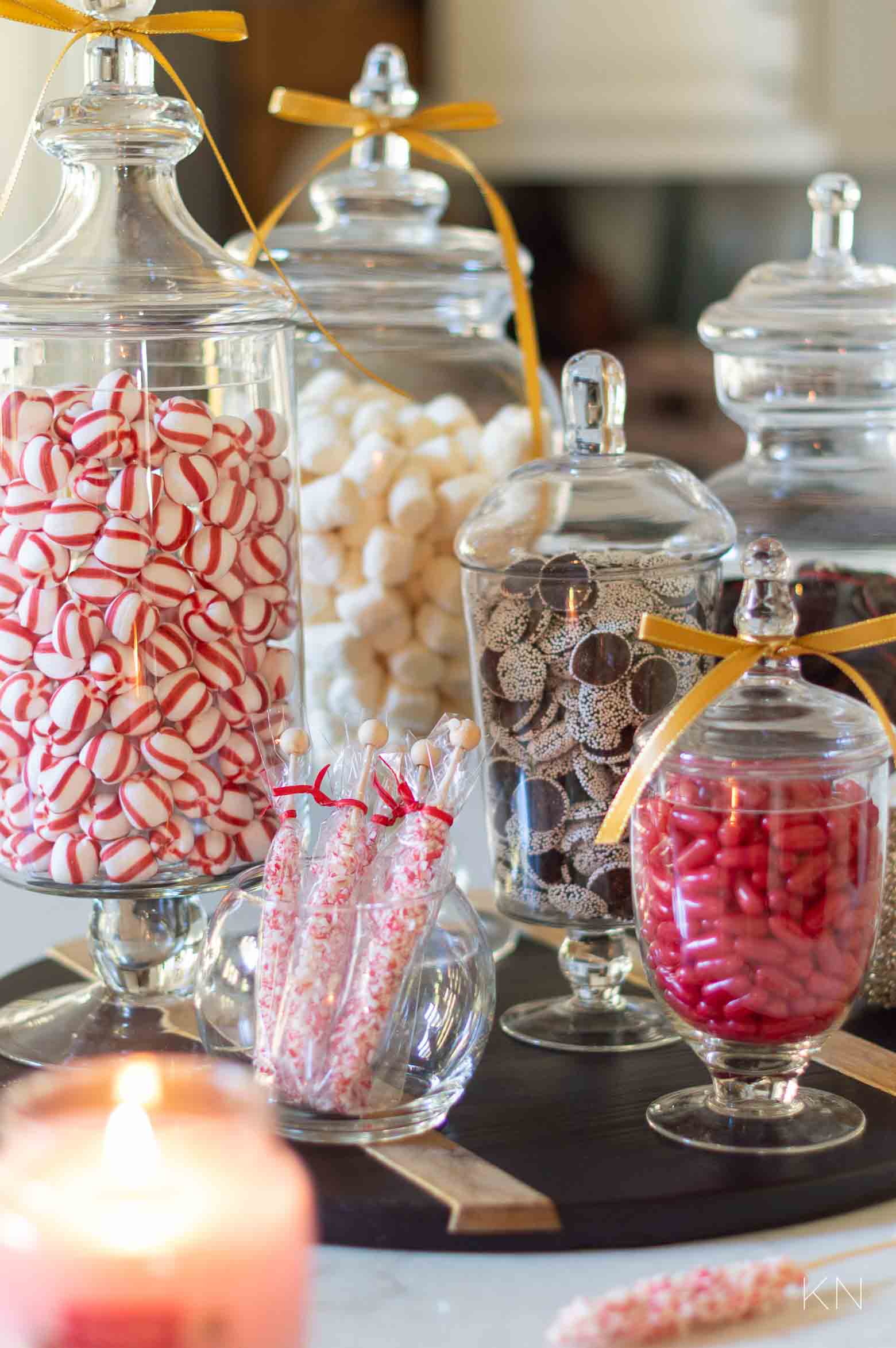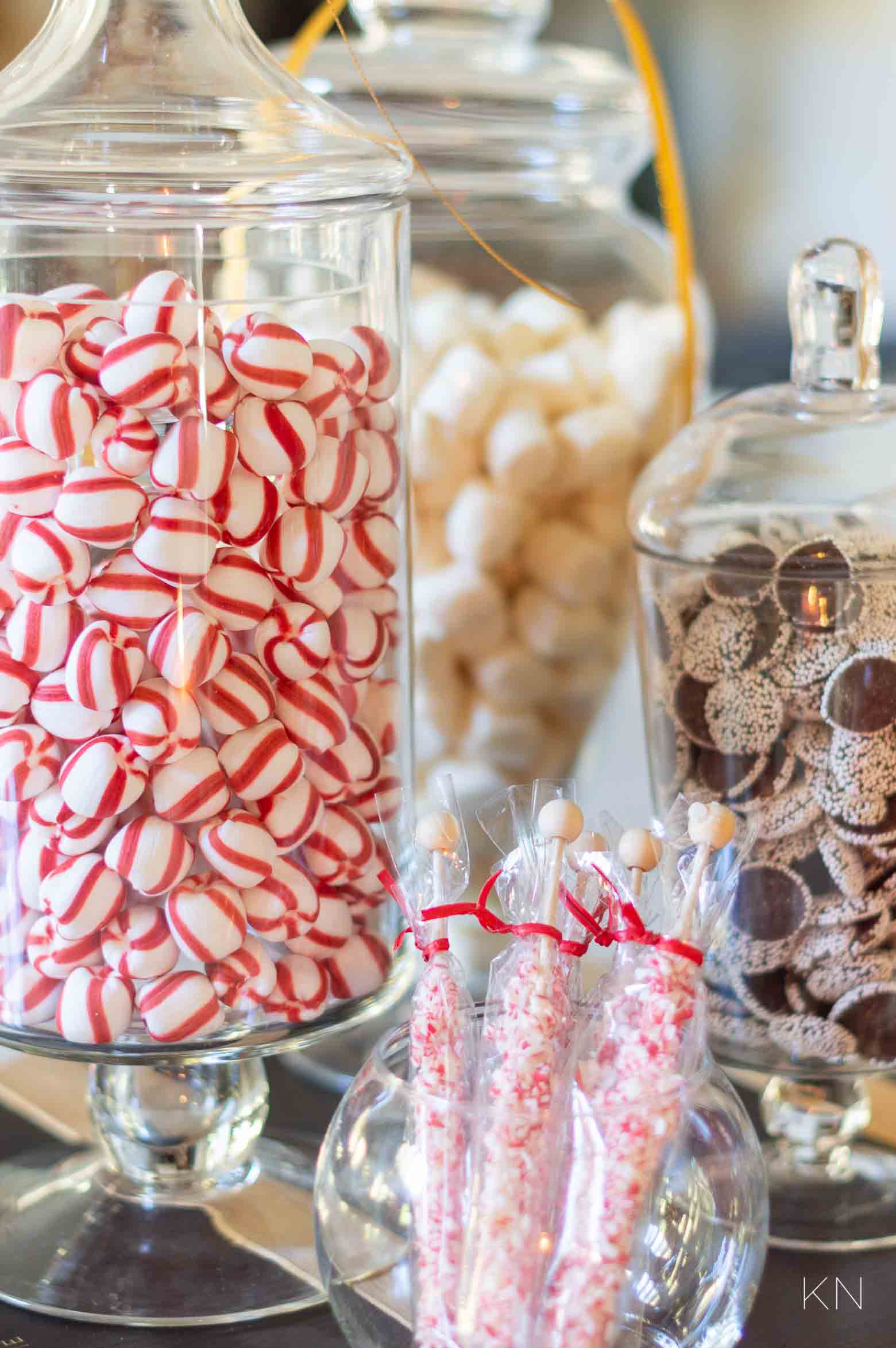 3. Twinkling Lights
What it smells like… Vanilla cotton/linen. Clean, but with a touch of sweet.
What it feels like… Reflective, snowy, glittery. Even though the name is "twinkling lights", my mind immediately went to a frosty place.
And based on the Twinkling Lights Yankee Candle, here's the centerpiece it inspired!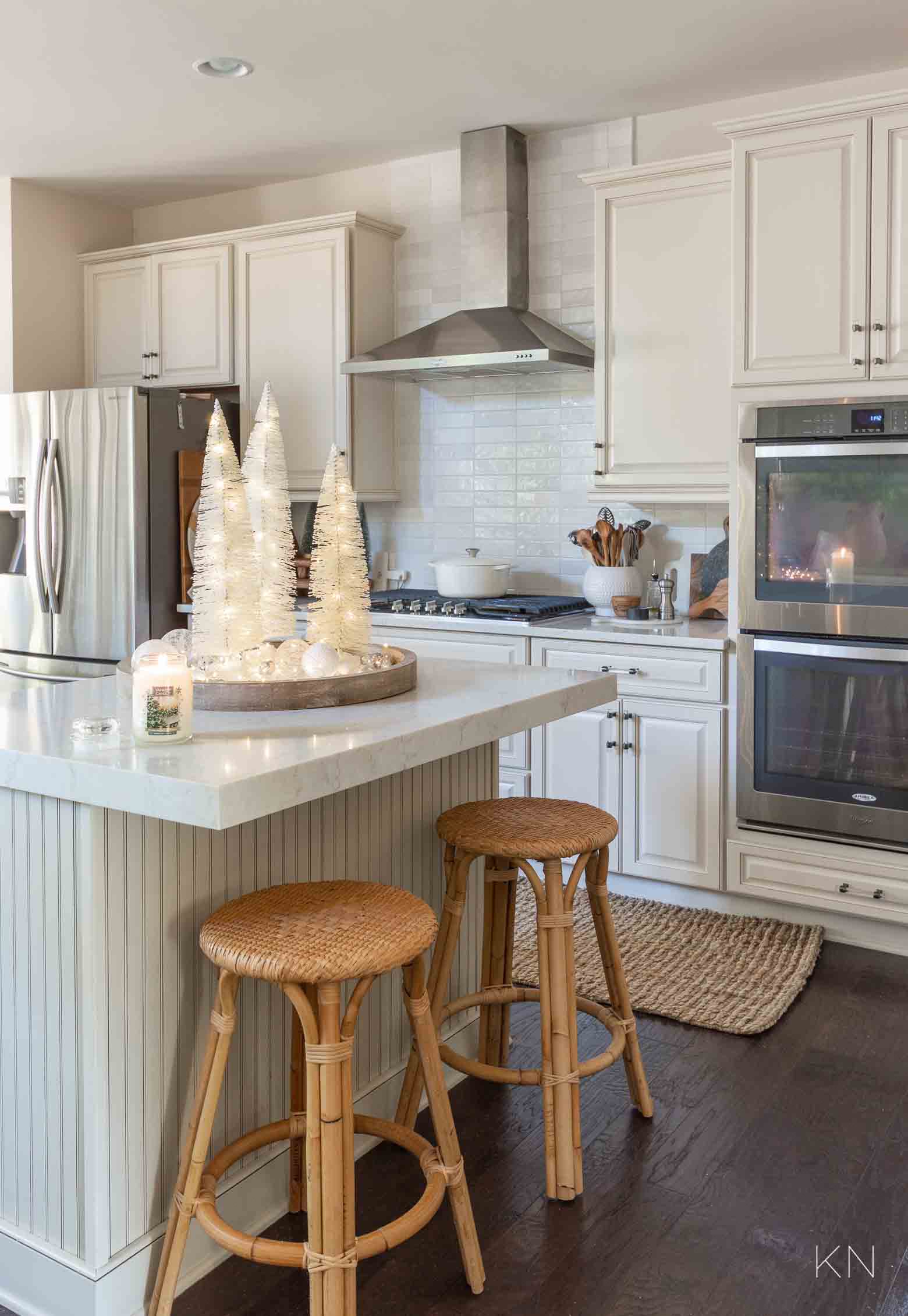 Sources: Twinkling Lights Yankee Candle | Counter Stools | Oversized White Lit Bottlebrush Tree Trio Set | Wire Twinkle Lights (warm) |  Jute Runner | Dutch Oven
I used a round mirror as a tray; sprinkled rock salt on top for "snow"; added three oversized, lit, frosty bottlebrush trees; and embellished it a bit more with snowball-like ball ornaments and more twinkle lights.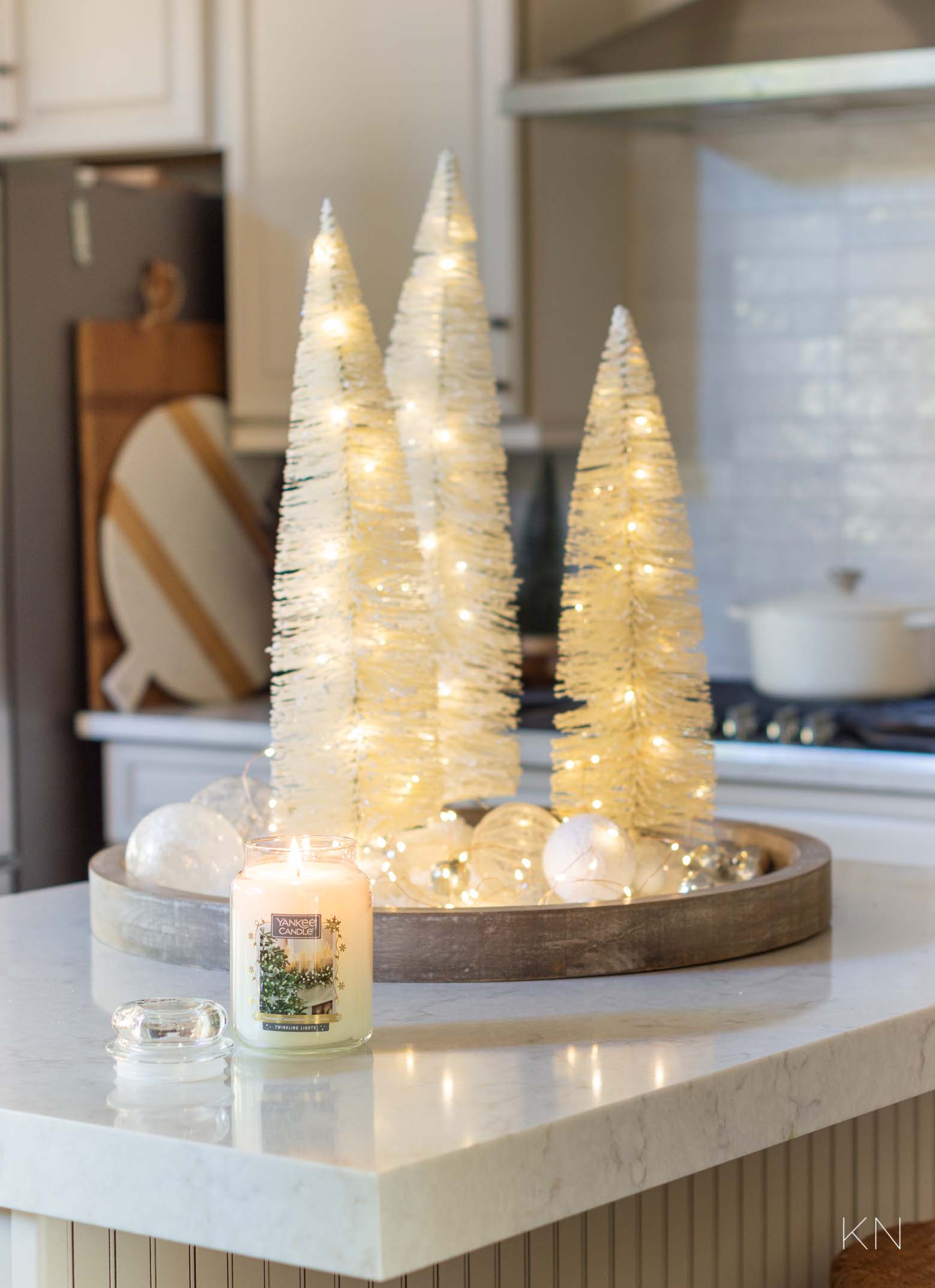 Between the warm sparkles and the clean fragrance, the ambiance this centerpiece gives at night is so special.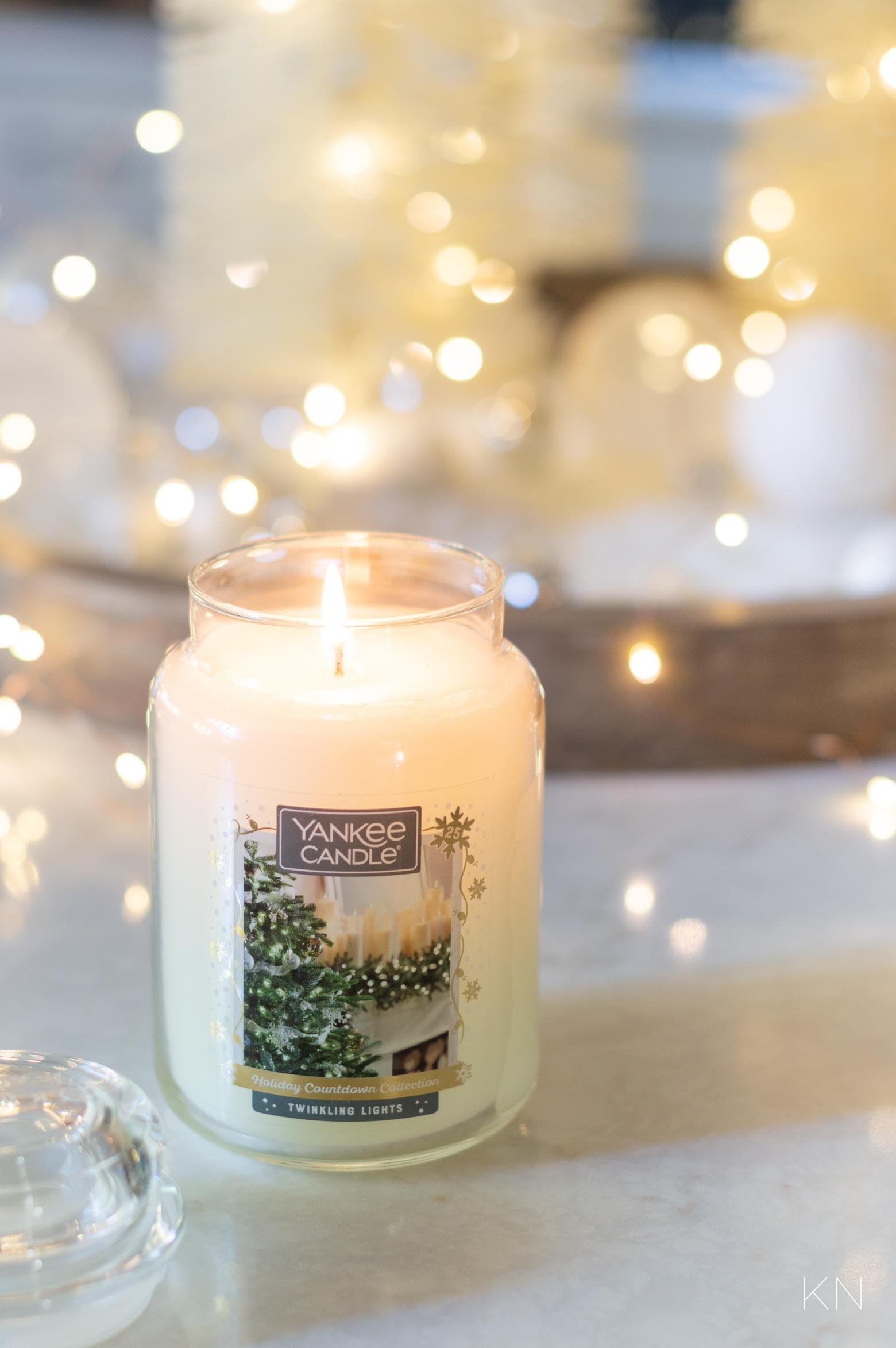 And maybe it's because I don't typically opt for "cleaner" scents during the holiday, but this candle is one of my current, unexpected favorites. You can find it in jar and tumbler form for 50% off during the Yankee Candle promo HERE.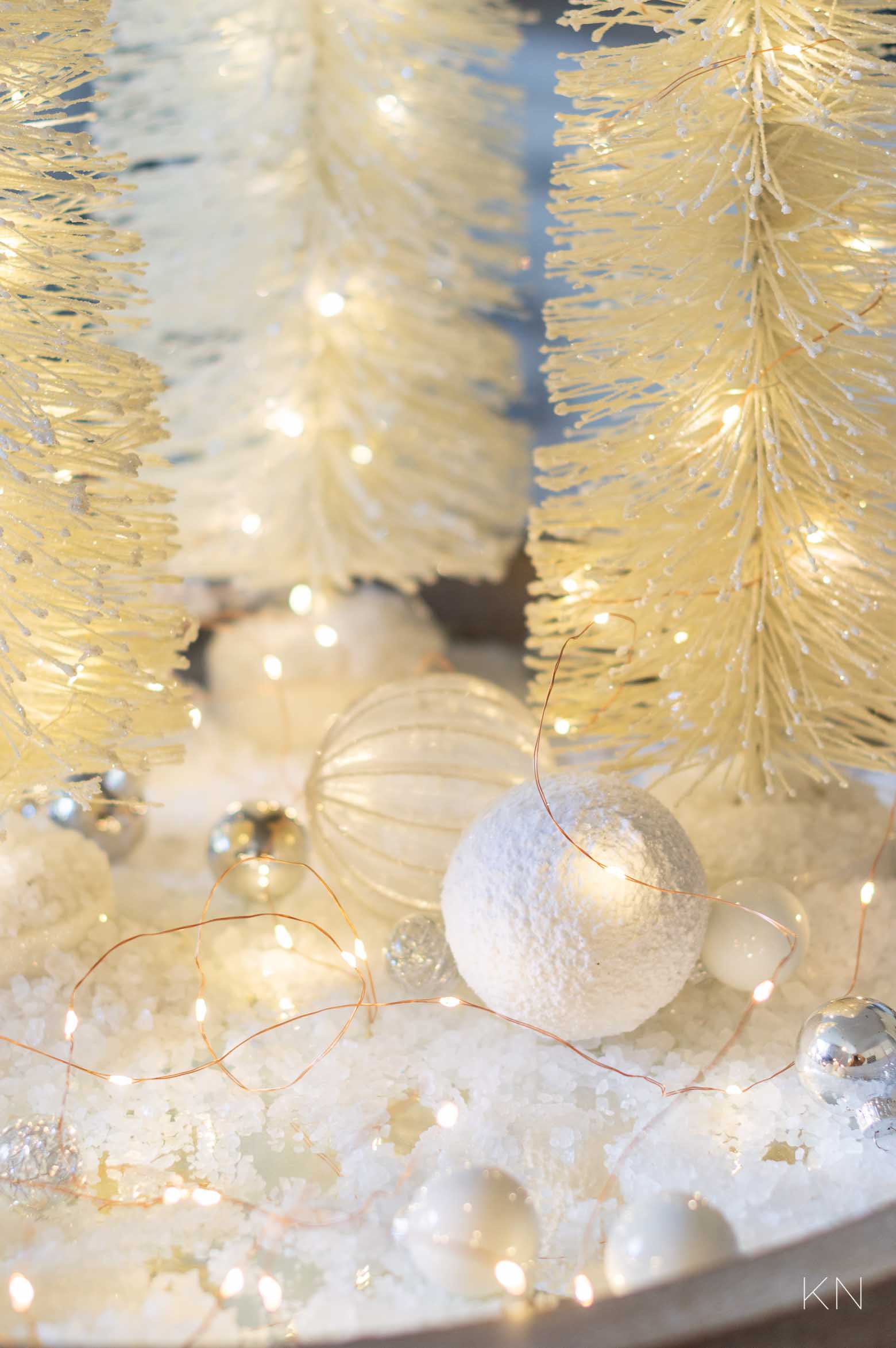 4. Sparkling Cinnamon
What it smells like… Spicy CINNAMON!
What it feels like… The color red, rustic/organic materials (like a warm wood), components of a simmering pot boil
Cinnamon can pass for fall and winter/Christmas but I wanted to make a clear distinction between the two and create a centerpiece that felt like red Christmas cinnamon. While pretty with evergreen stems, I felt like an arrangement of straight red just felt like a more spicy statement. Paired with a few go-to components to simmer on the stove, here's how this simple, cinnamon inspired kitchen centerpiece turned out…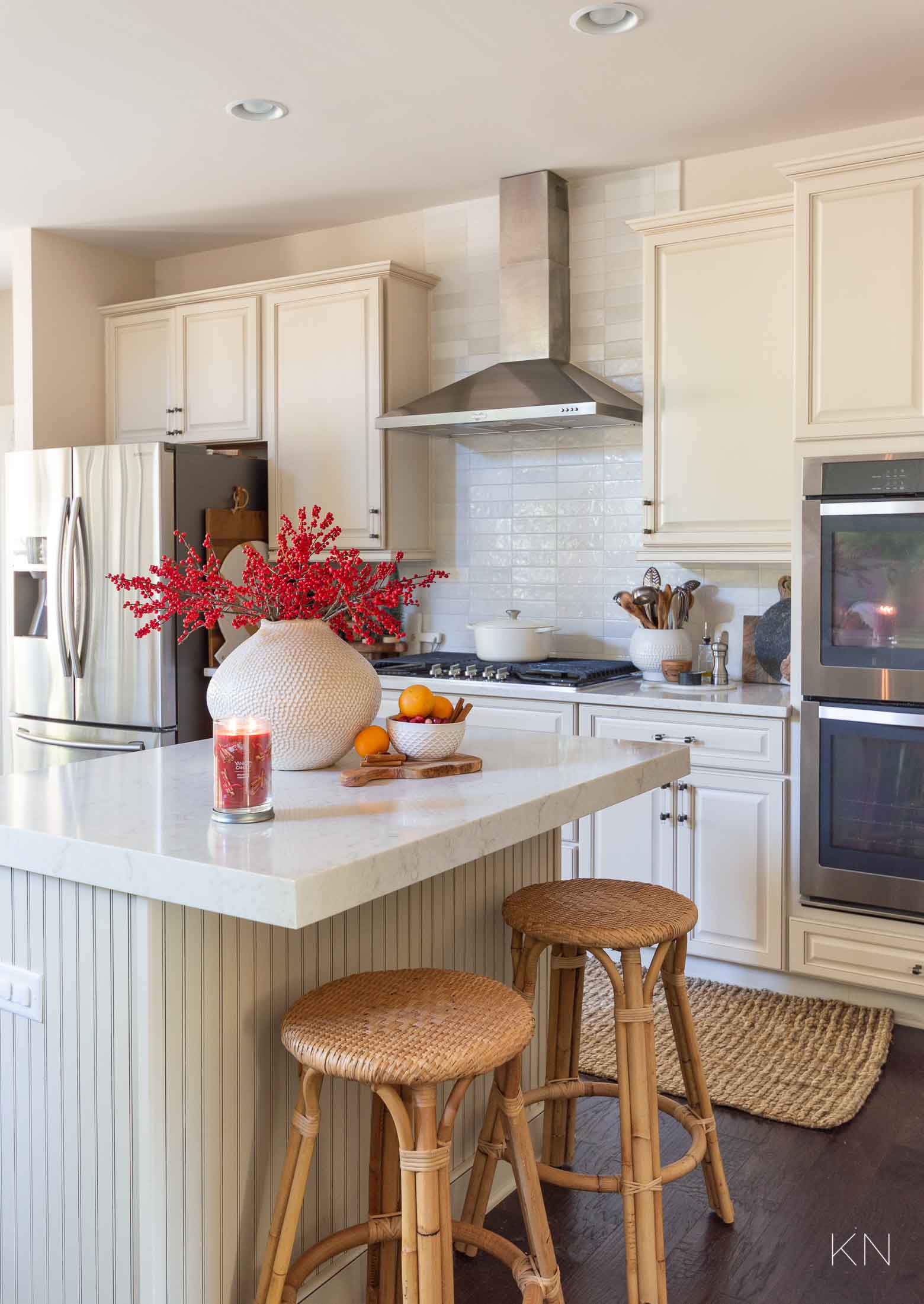 Sources: Sparkling Cinnamon Yankee Candle | Counter Stools | Vase | Small Olivewood Board (SIMILAR) | Jute Runner | Dutch Oven
As a side note, I always find it easier to arrange more "leggy" stems in bulbous vases that angle it with a smaller mouth opening. And for the third time, without any literal Christmas "decor", a few grocery items rounded out the entire kitchen island vignette.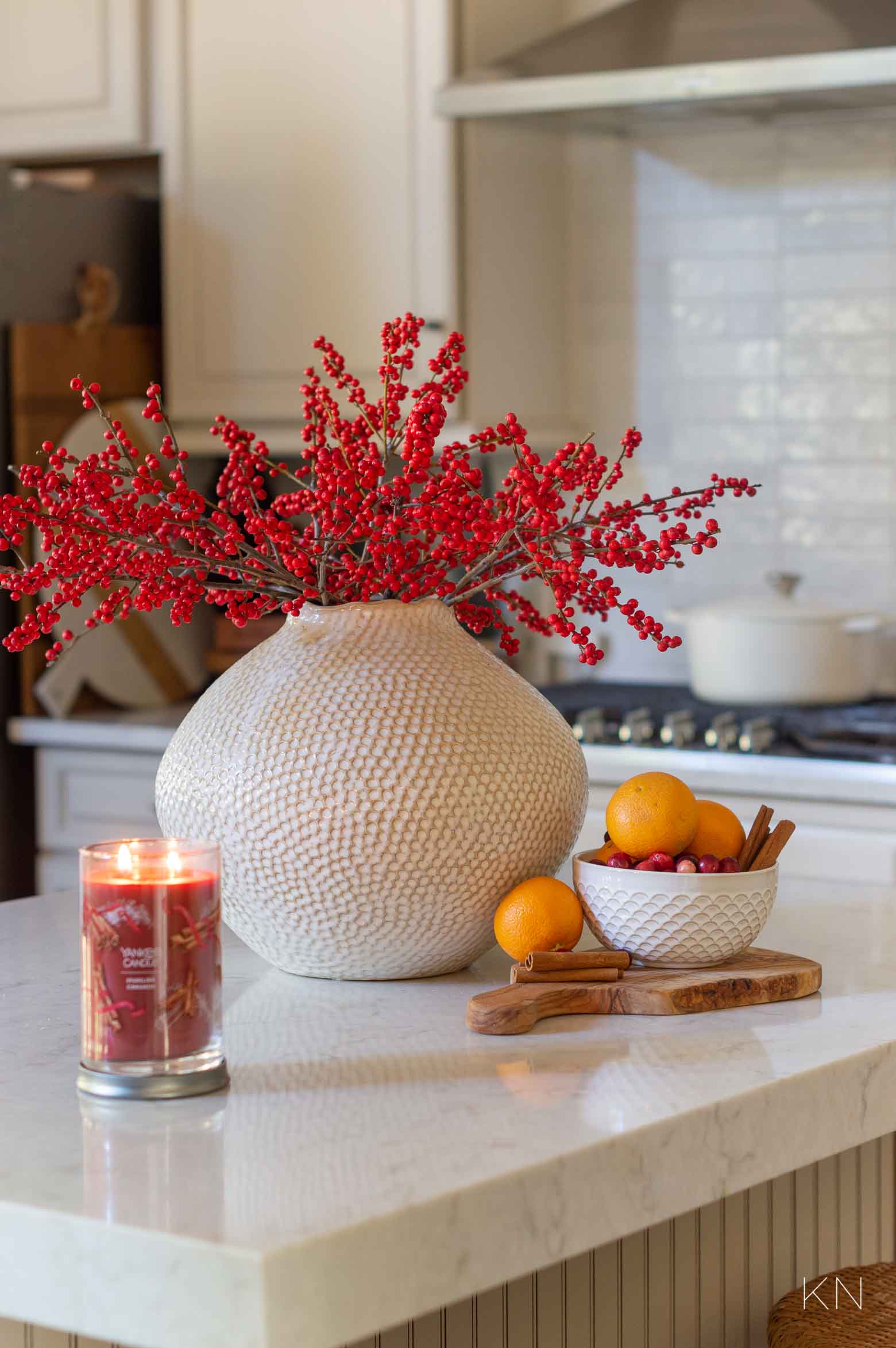 Cinnamon, to me, is the epitome of home at Christmas. I have the large tumbler candle, but you can find several jar/tumbler options and sizes — all part of the 50% off promotion — on the right side of the product listing when you click HERE.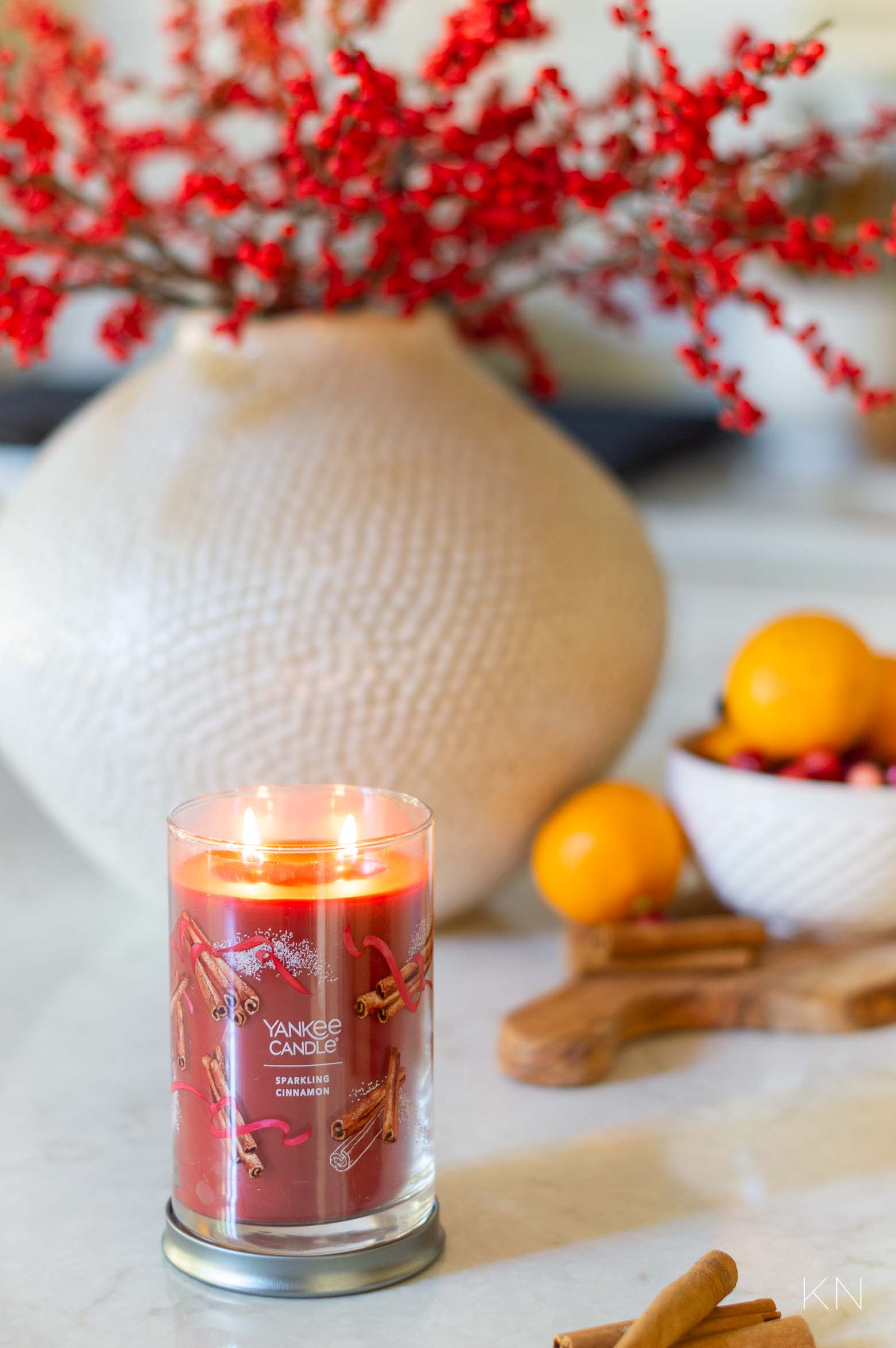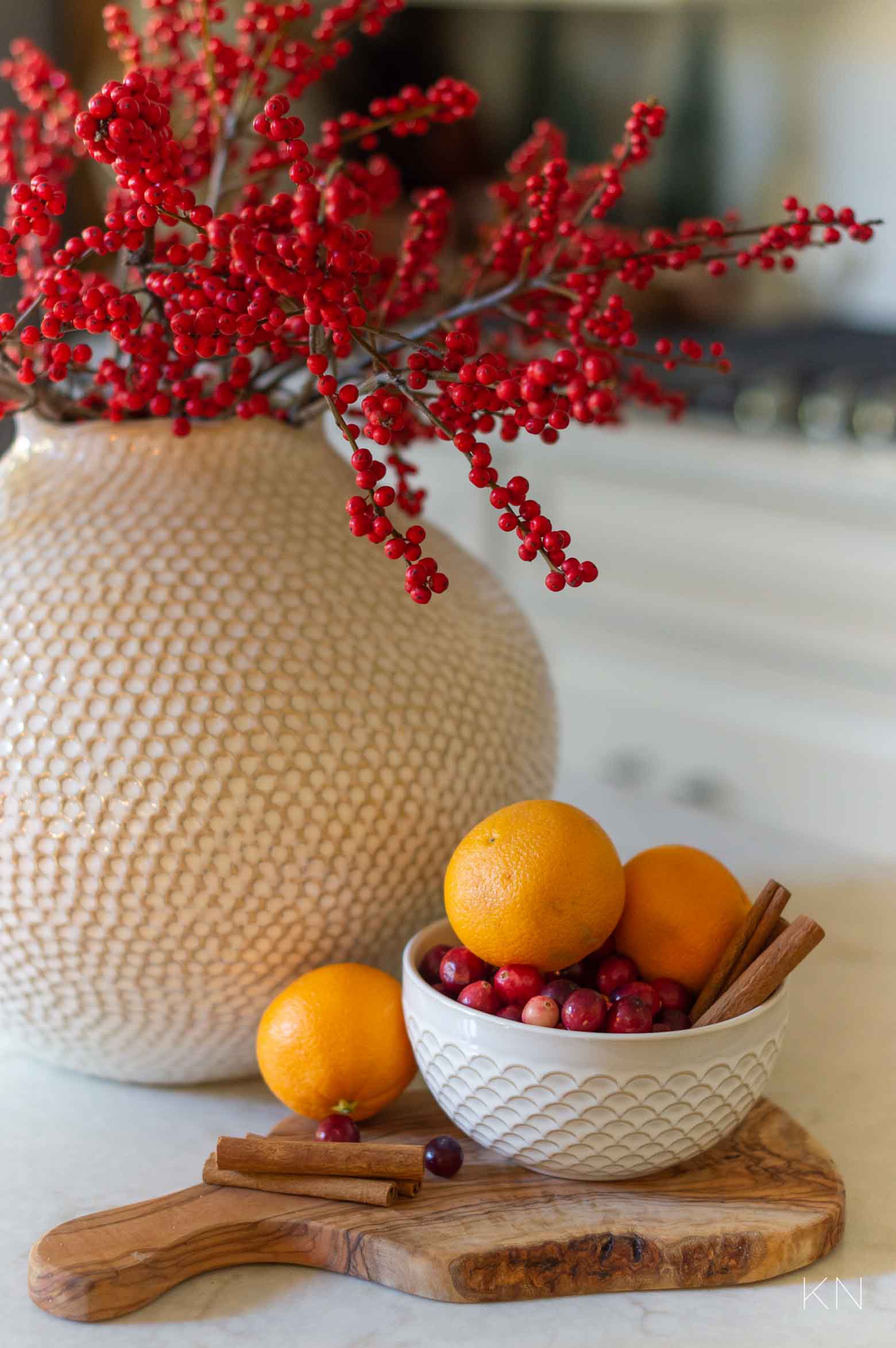 Are the scents of the season inspiring you yet? Getting you in the spirit? Have you been lighting those candles and setting out the pretties while watching all those returning Christmas movies?
You can check out the current Yankee Candle Friends and Family sale HERE — 50% off candles, 40% off everything else, and free shipping on $50+ (use code FFWOWN21). Here are some holiday fragrances to check out, eligible for the 50% off promotion!
Scroll & Tap to Check Out/Shop the Seasonal Fragrances





If you missed it earlier this week, my Christmas home tour went live! You can check our annual walk-around HERE to see how we've been spending the season thus far.