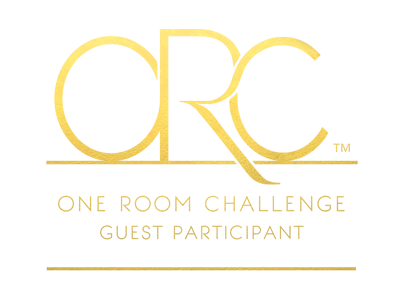 It's week four of my home office transformation for the One Room Challenge. I was planning to share some DIY projects; how I have organized my drawers and cabinets; my cleaned, stain-free desk chair; and the details of my styled shelves. But, I haven't conquered my DIY projects, my drawers and cabinets are empty and my closet is still overflowing, I haven't attempted to tackle the stains on my chair, and I haven't purchased the first item for my shelves. Woops. I'll recap at the bottom of the post what I still have left to do, but instead of focusing on what I didn't do this week, I'll focus on what I did do. Ok, so maybe I'm still giving myself too much credit haha. I didn't do much, but the UPS man has been busy so I'll focus on what he did 😉 I won't be showing any full room shots until the end of the six weeks, but I will be sharing peeks of the art, rug, and other office details.
My front porch was covered with boxes for most of the week; I hope next week is the same because I am still waiting on several items to arrive.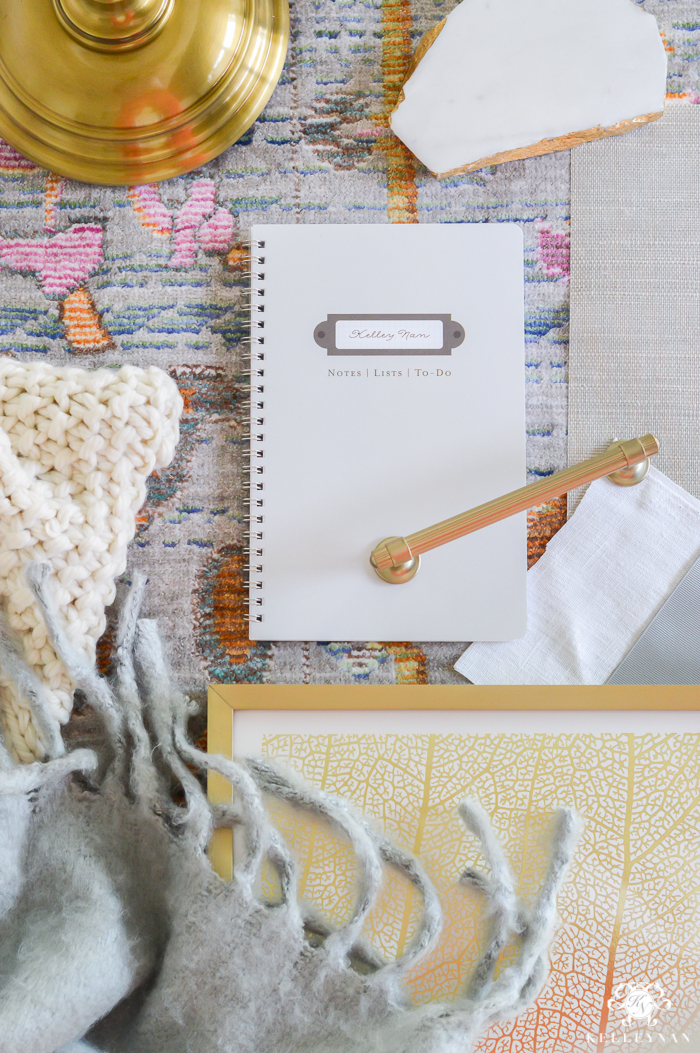 This was the first week I was able to start bringing things into the room instead of hauling them out. (I still have plenty of that to do 😉 I laid my rug and brought in the dining table (my desk) that I scored for a killer deal at the RH Outlet. For the rug, I wanted something on the larger side to cover the majority of the carpet – this one is 7'10" x 10'10". It wasn't until I decided on this rug that the tone for the office was set.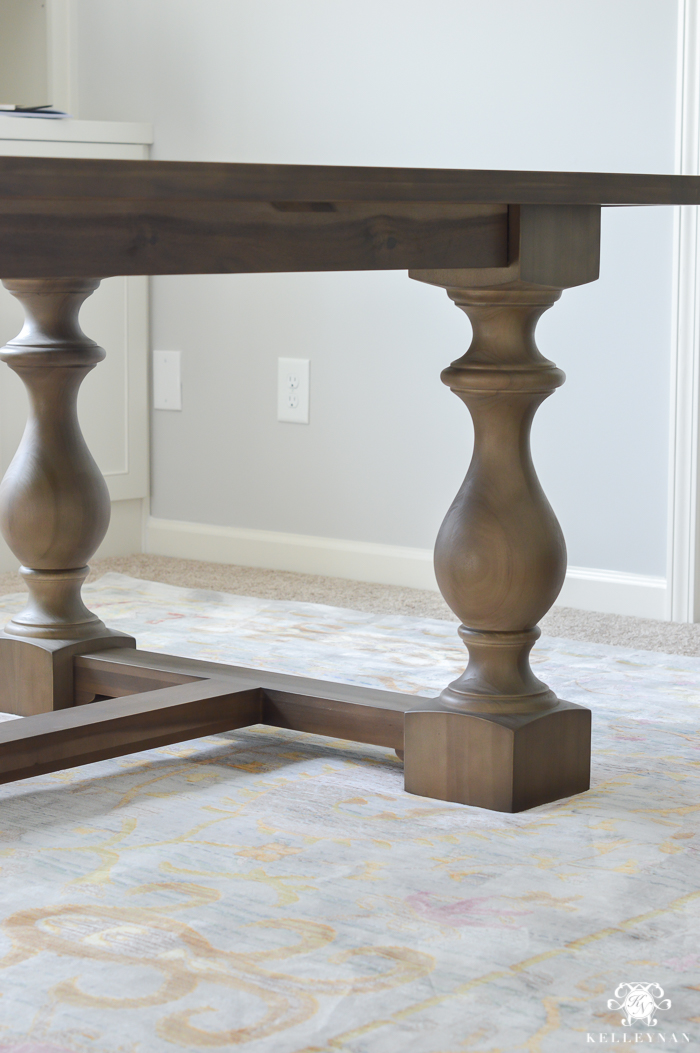 I did find the perfect piece for the corner of my room at HomeGoods- this gray, velvet, tufted slipper chair. I also had a "Eureka!" moment last night when I remembered my former dining room mirror (remember when I switched up my console HERE?). I think it's a little too short to serve as a leaning mirror so I will be hanging it this coming week. It has an antiqued frame which I love to help balance out some of my more modern room choices.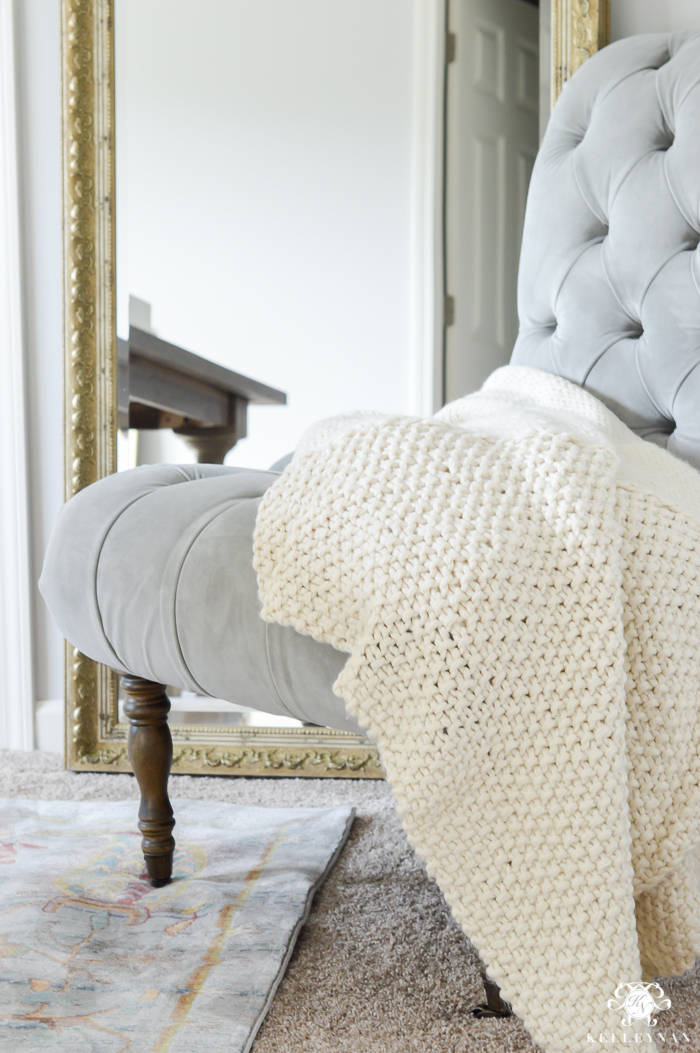 I am on the hunt for a small side table to position next to the slipper chair; that is where my new brass lamp will sit. Last week, I had zero idea with what I was going to do in this corner of the room. When I brought the table in and saw how much space I actually had, I knew my "little" corner moment would have to be a bit more involved than I had thought. Thank goodness it has come together pretty painlessly.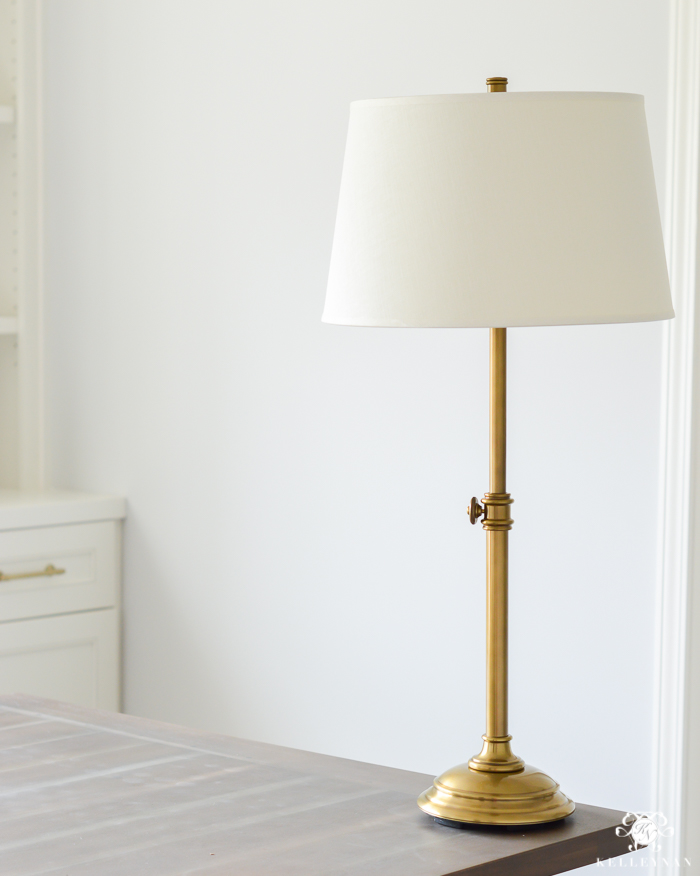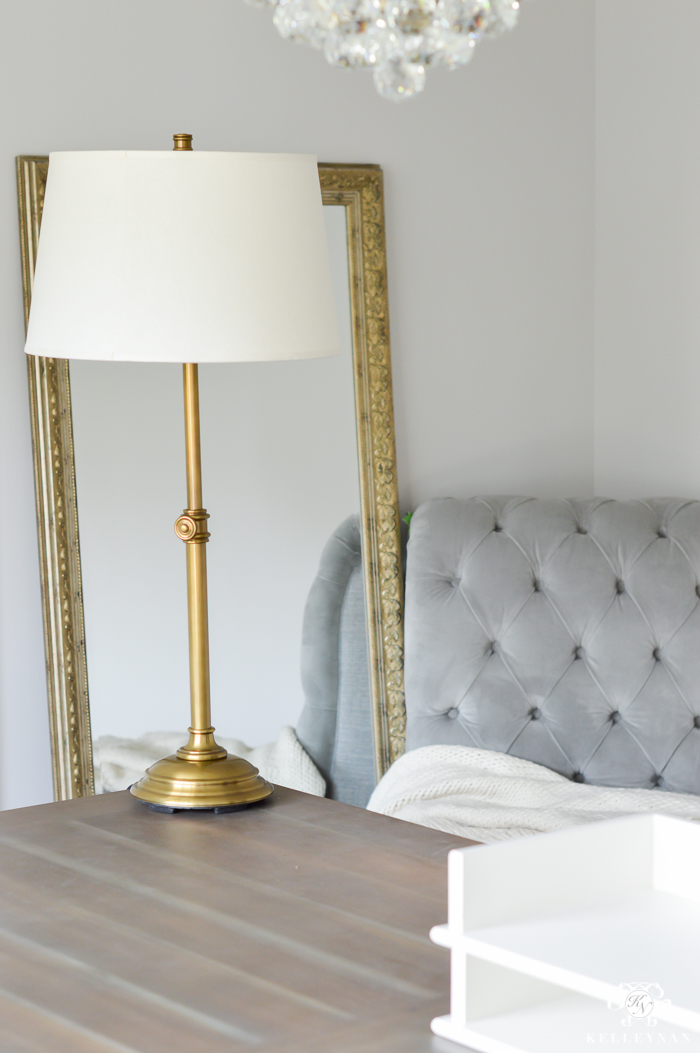 Because I am bringing in more color than I had initially thought with a lot of metals, I wanted to add in a few plush, textured, cozy throws. They just arrived today and I can't tell you how huge and soft they each are. It's day one and my husband has already tried to haul them downstairs… we are going to have a hard time keeping them in the office.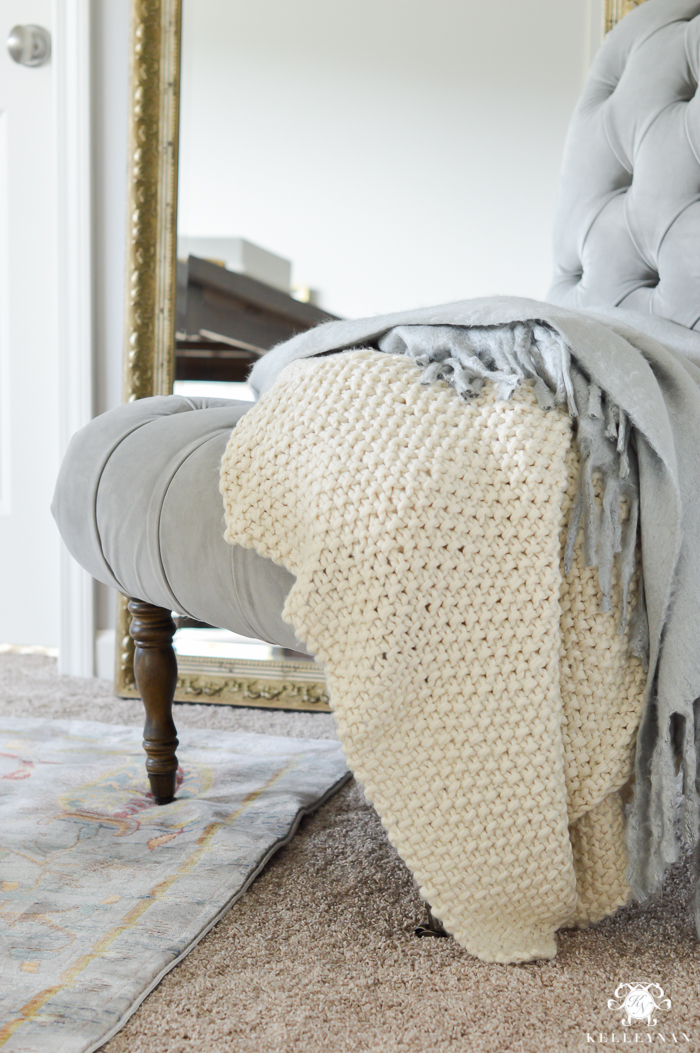 Ivory Chunky Throw | Gray Faux Mohair Throw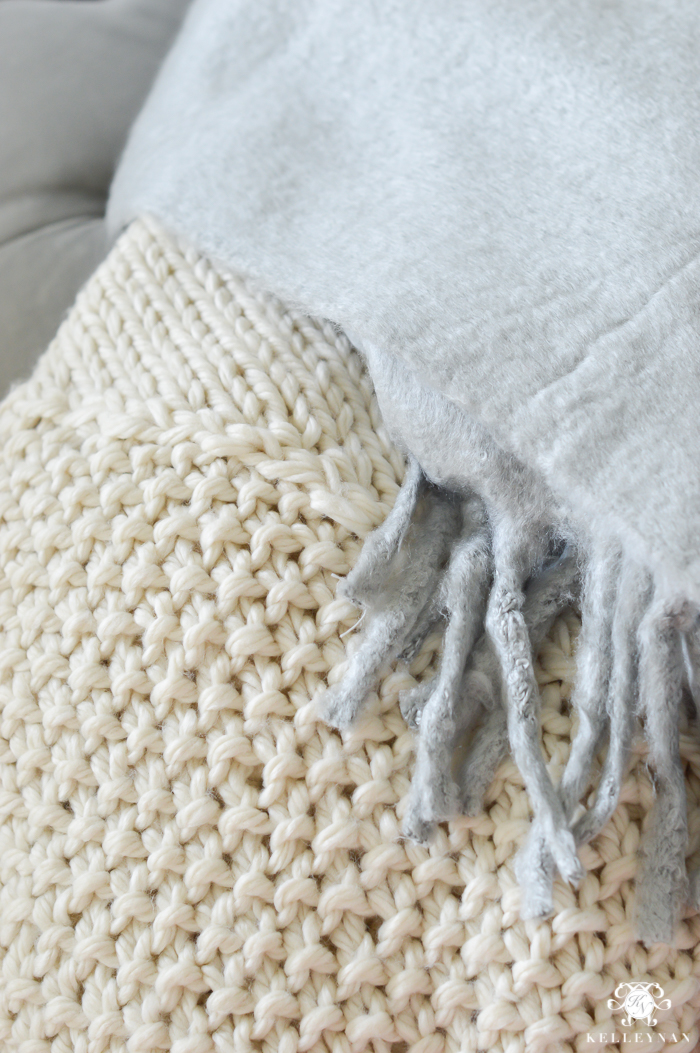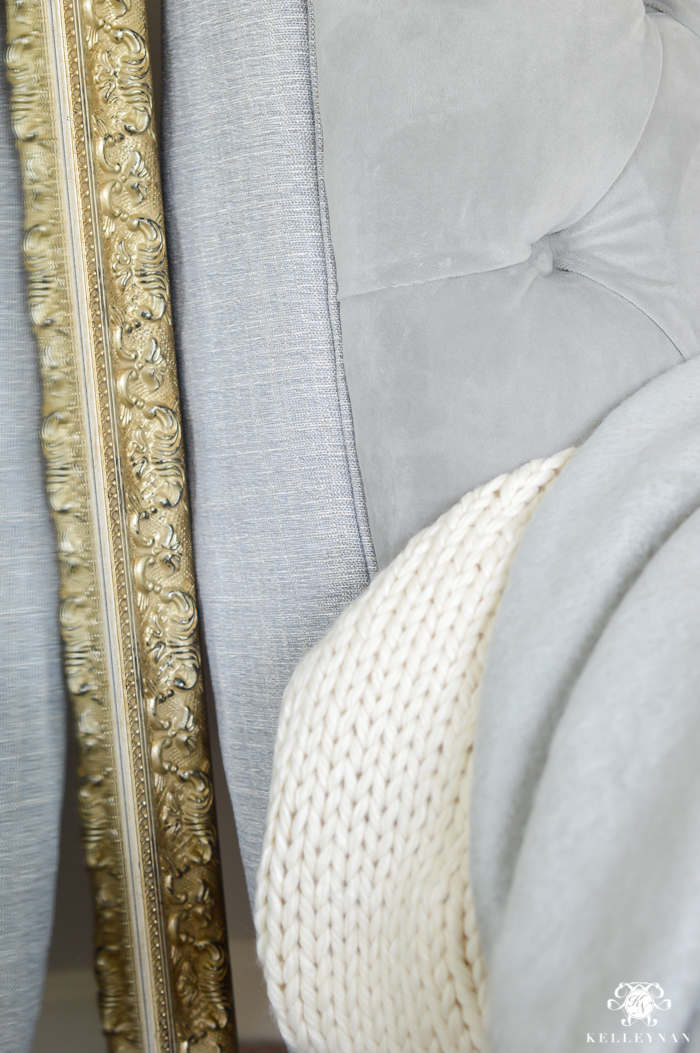 For now, I'm only giving a sneak peek of the art. I am planning to hang it this week and am still waiting on one more piece. I could not be more thrilled with how they coordinate with the rug. Making selections online can be tough so luckily, crossing my fingers on these must have worked!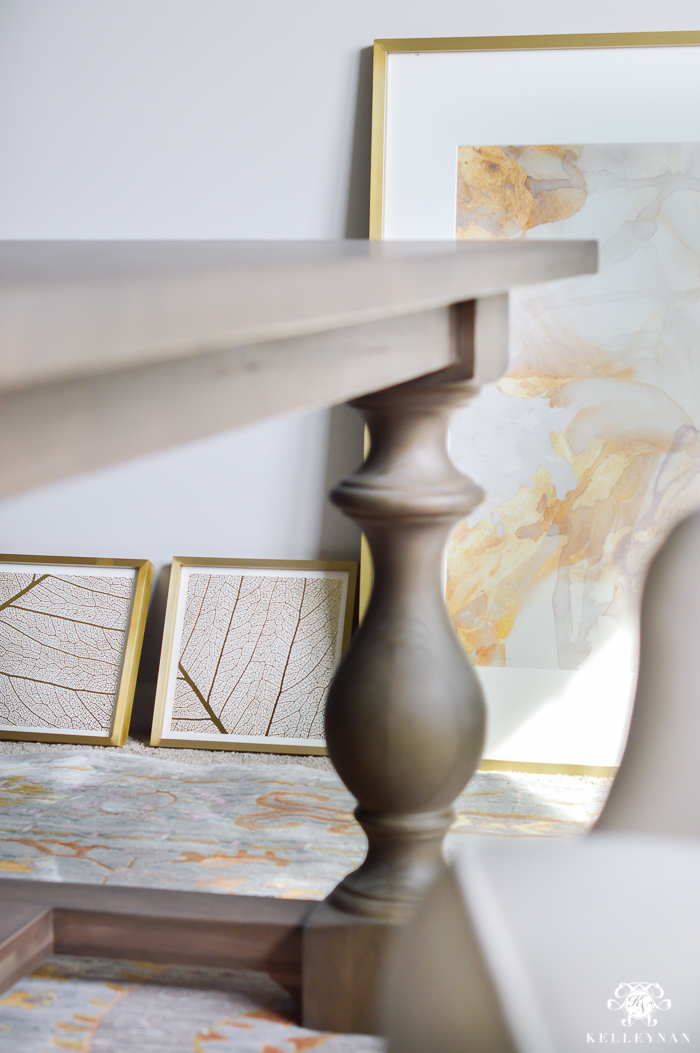 Gold Foil Leaf Art | Soft Shimmer No. 2 Large Art Print
Someone else has been enjoying the new rug; our newest family member, Magnolia. Dave and I celebrated our fourth anniversary two weeks ago. Because the traditional fourth anniversary gift is fruit/flowers, we picked out our own little flower to bring home.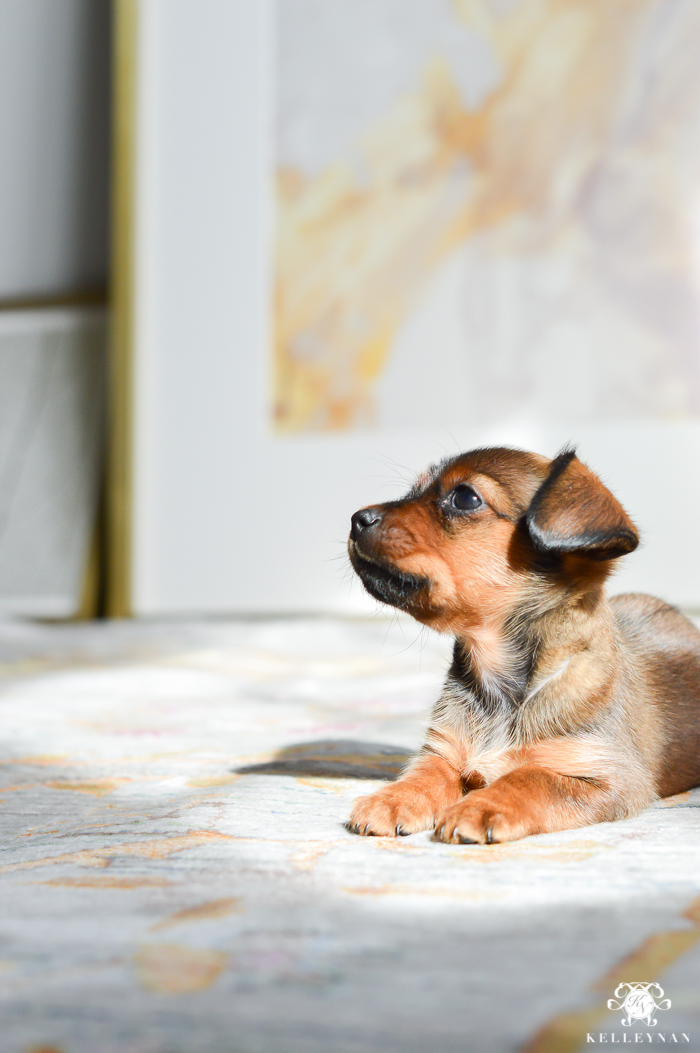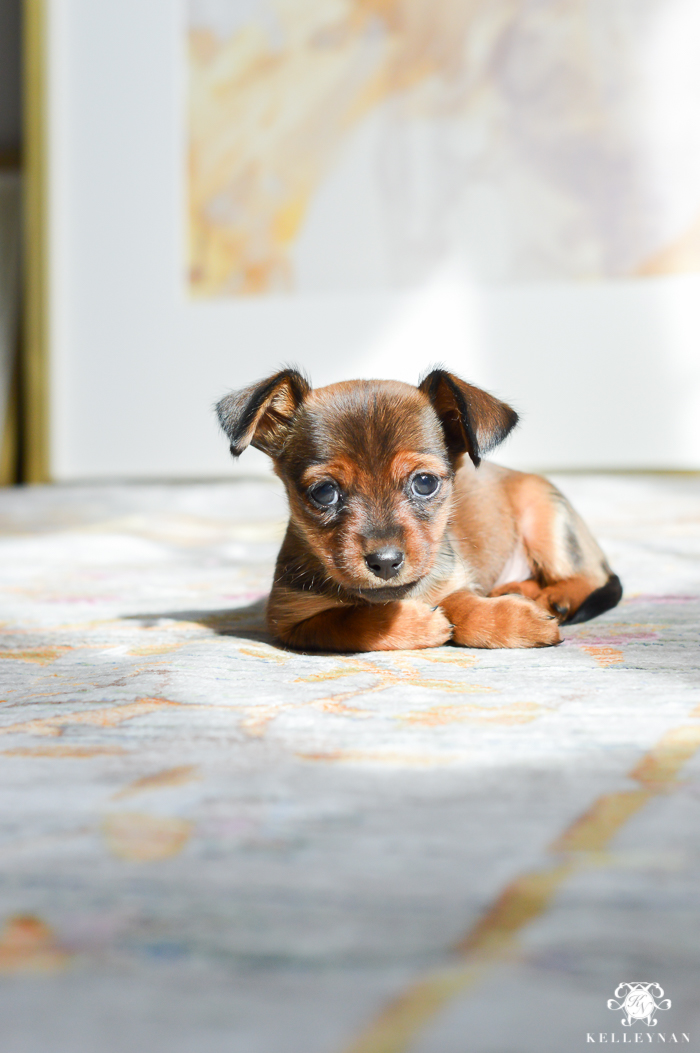 Maggie has kept us on our toes the past two weeks and I couldn't resist sharing these; such a natural born poser. Even with the addition of Maggie, family being in town, us having a trip planned next week, and life happening, I still have a lot to do to meet the six week makeover deadline. Because of our upcoming trip, I actually have to have the room completed and photographed by next weekend. Holy. Cow.
HERE'S WHAT'S NEXT
Clean/scrub/pray over desk chair
Change chandelier light switch to dimmer
Relocate cable and wall outlet and hang television
Hang art and mirrors
Wait for grass cloth to arrive and have professional install
Find side table
Find and secure accessories
Paint storage boxes
Paint diploma frame
Wait for pillows to come in
Wait for Roman shades to come in and install upon arrival
Clean out office closet and move boxes to basement
Purge office supplies and organize drawers and cabinets
Recover window seat
Style bookshelves
Bring computer and office essentials back into the office
Finalize and style desk accessories
Will all of these items get crossed off the list? I honestly have no idea haha. Stay tuned and check back in with me next week for the final progress before the big reveal on November 10!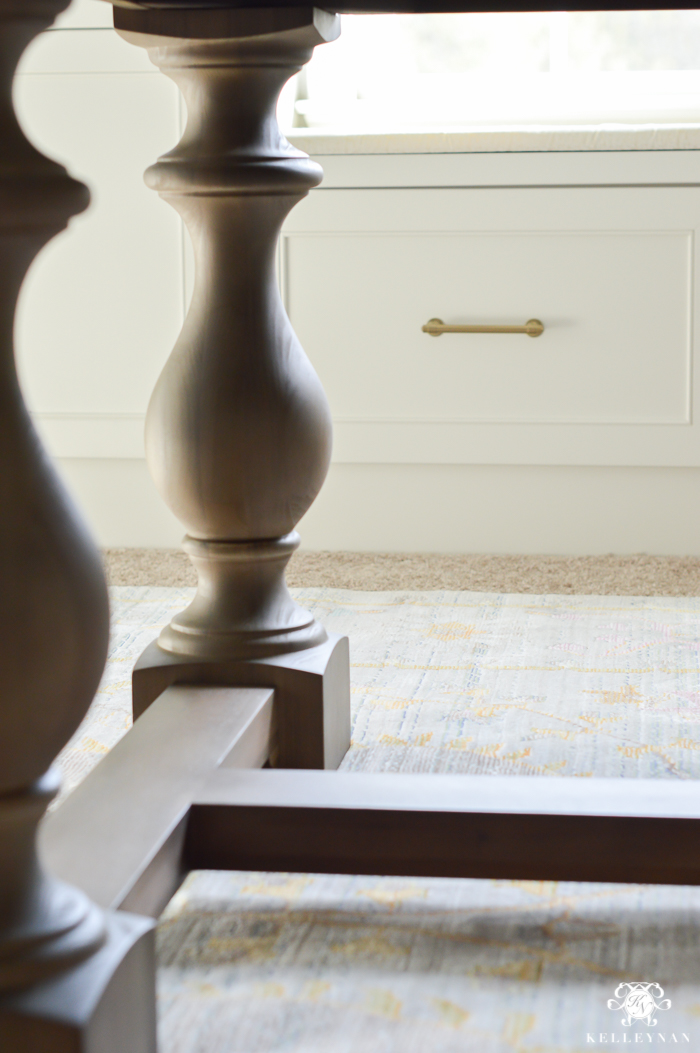 SHOP THE POST

SOURCES
Rug (7'10" x 10'10") | Lamp (Table- Brass)  | Linen Tapered Drum Lamp Shade (Medium-White) | Oversized Chunky Throw (Ivory) | Faux Mohair Oversized Throw (Gray) | Soft Shimmer Large Art Print (30×40, white mat, matte brass frame) | Gold Foil Leaf Art (11×11, matte brass frame) | Custom Notepad | Marble Coaster – HomeGoods (SIMILAR) | Amerock Cabinet Pulls (Golden Champagne) 6 5/16" and 5 1/16" | Gray Velvet Slipper Chair- HomeGoods (SIMILAR)| Gold Mirror- HomeGoods (SIMILAR) | Trestle Table (Gray Acacia- 76″ x 43″) | Paint: Sherwin Williams On the Rocks
If you missed any progress, get caught up here:
WEEK ONE | WEEK TWO | WEEK THREE
Be sure to check out the Week 4 progress of all the other ORC participants HERE.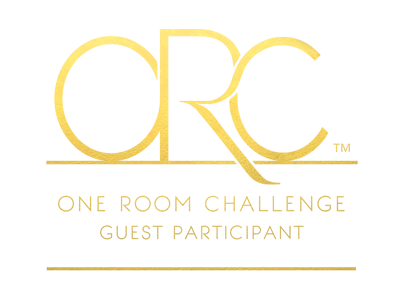 A special "thank you" to my sponsors this week for making this project possible.
Pottery Barn | Minted | Rugs USA | Amerock | Sherwin Williams 
A big thank you also to Bobby Barton of Heartwood Renovations, and Darryl Ponquinette of Ponquinette Fine Woodworks for making my built-in dreams come true.
*post contains affiliate links*