Week 3 of the One Room Challenge was filled with lots of list crossing. I finalized my window treatments, my rug arrived, and I ordered my art. I even made a window seat cushion which I will probably re-cover right before the Week 6 reveal. (If you missed it, you can catch the easy DIY HERE.) PS: I know I showed a sneak peek of my rug but after rolling it back up, I decided to wait until next week to show the full view 😉
*You can find the end result and the full office makeover reveal HERE.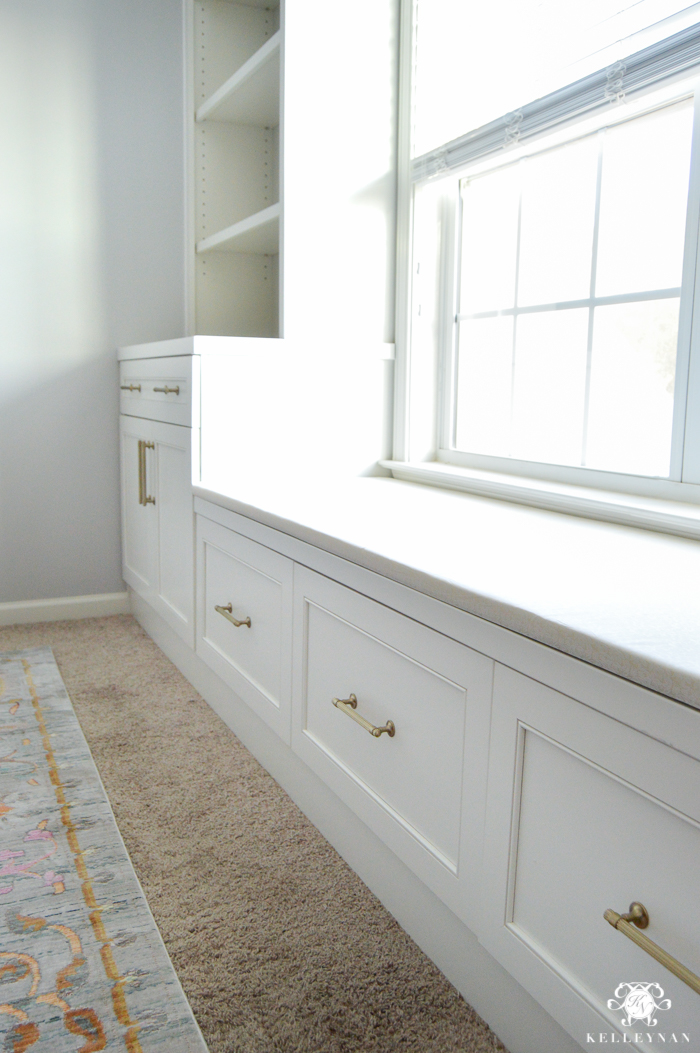 But, the two biggest accomplishments of the week was 1. the room was painted in a color I am now obsessed with, and 2. my chandelier is officially hung!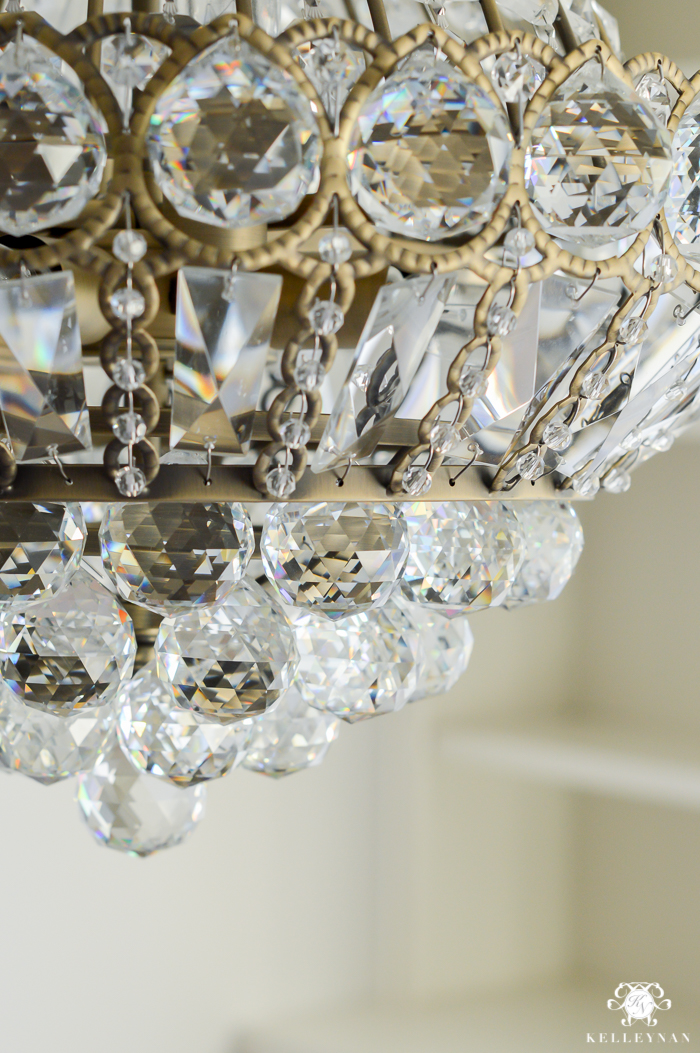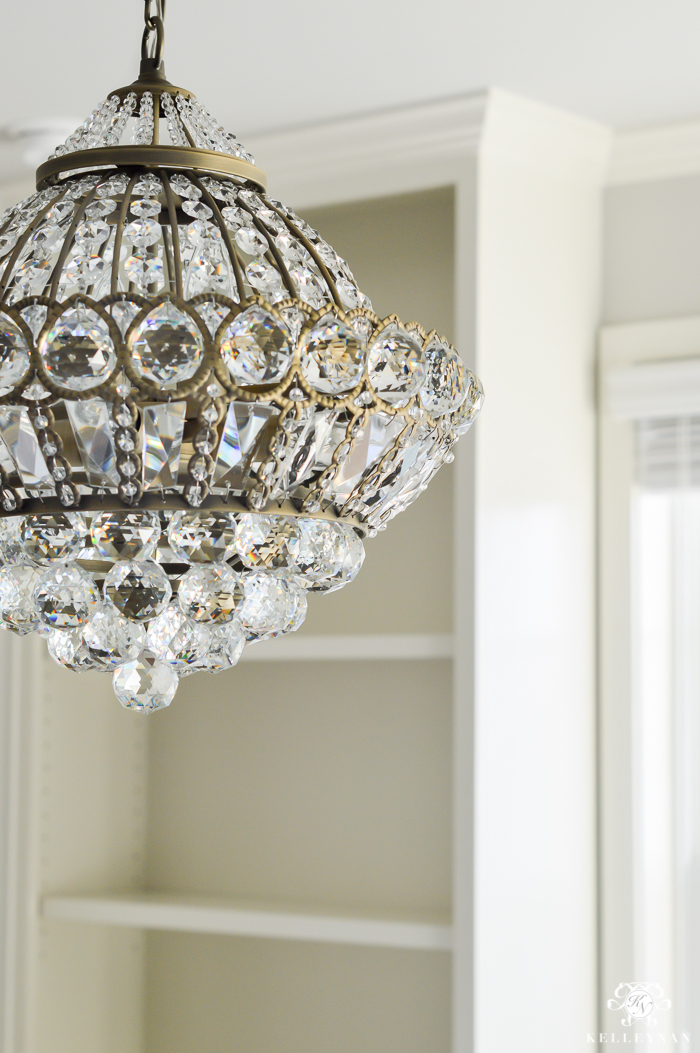 After debating over paint color samples last week, I decided to go with "On the Rocks" by Sherwin Williams. I was so excited with the result after my painter finished, I have been putting serious thought into other rooms I can use it in. Thanks to my local Sherwin Williams, I still have a few extra gallons which I am determined to not let go to waste. And an extra special "thanks" to my painter who completed this room, top to bottom, in a period of three hours. For reference, it took Dave and I a full weekend to paint this similar sized room. And, three times the paint. Never again.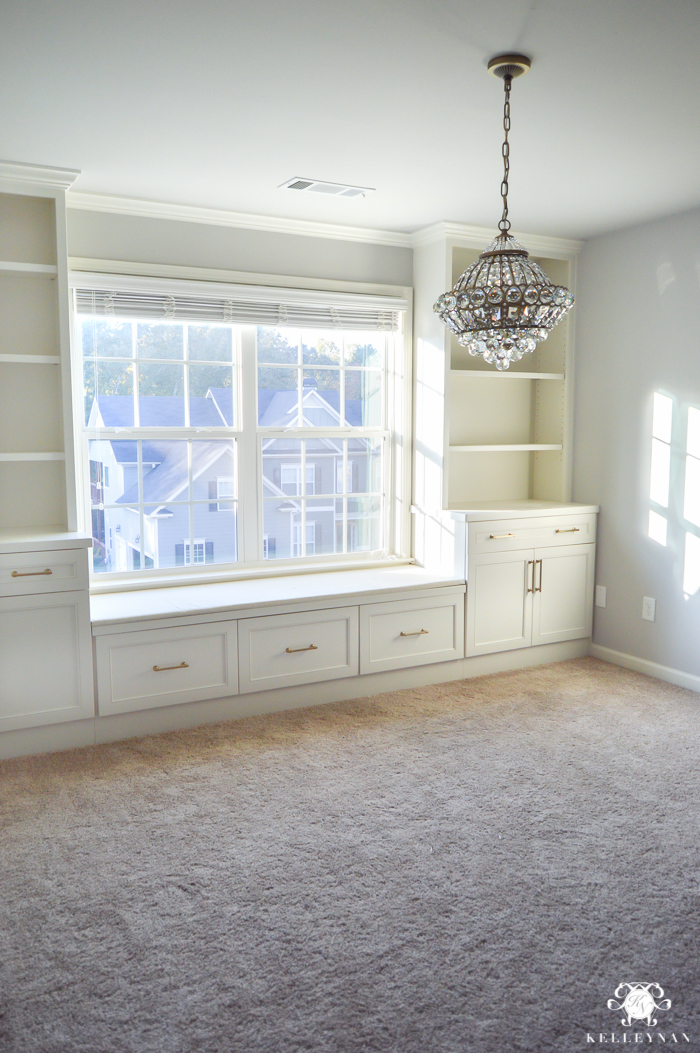 I knew I wanted a statement chandelier in my office long before I ever even considered making over my office for the One Room Challenge. But, because of my 8′ ceilings upstairs, I was nervous to commit to anything. Everything I found either seemed too large or too wimpy for what I had in mind. I saved several photos on my phone and would pull them up and debate among my selections every night. But then, I found this beauty from Lamps Plus. I never went back to review all those photos I had saved on my phone again. I stopped obsessively filtering through the expansive collection of chandeliers online. I knew this chandelier was the one. I knew I wanted something different but until I spotted this one, I didn't know what that meant. I still kept gravitating toward something more "arm-y". I'm so glad I resisted and held out.
Dave still has to add a dimmer but because it will be positioned directly above my desk, I was able to hang it lower, and, I won't have a need for a desk lamp.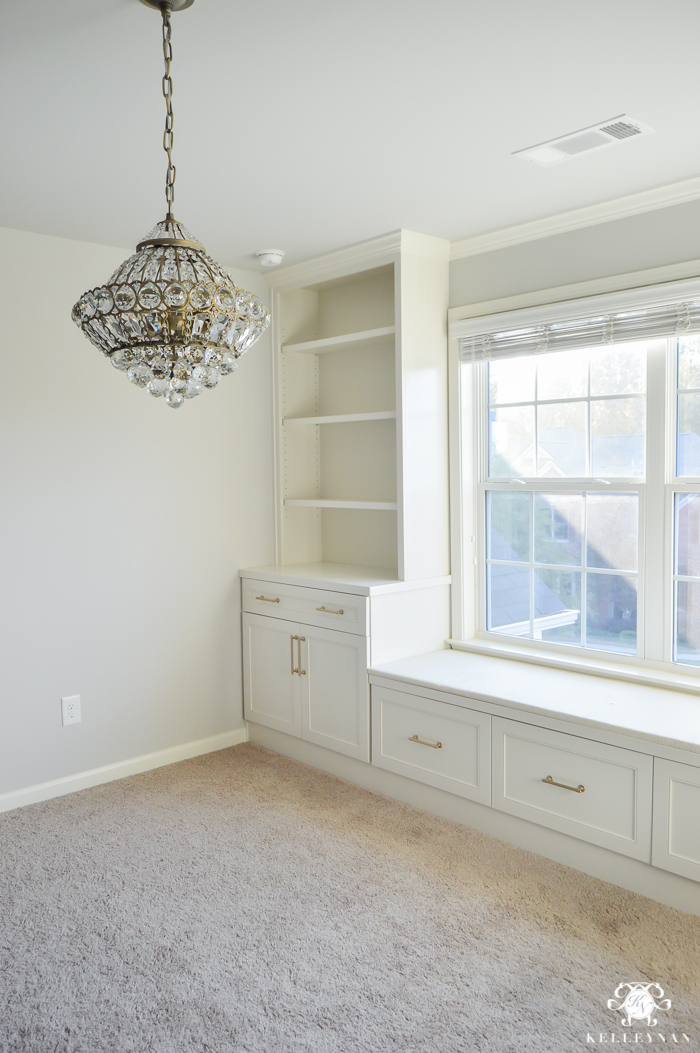 I spent most of last night hanging crystals after my husband successfully installed "her" in the dark.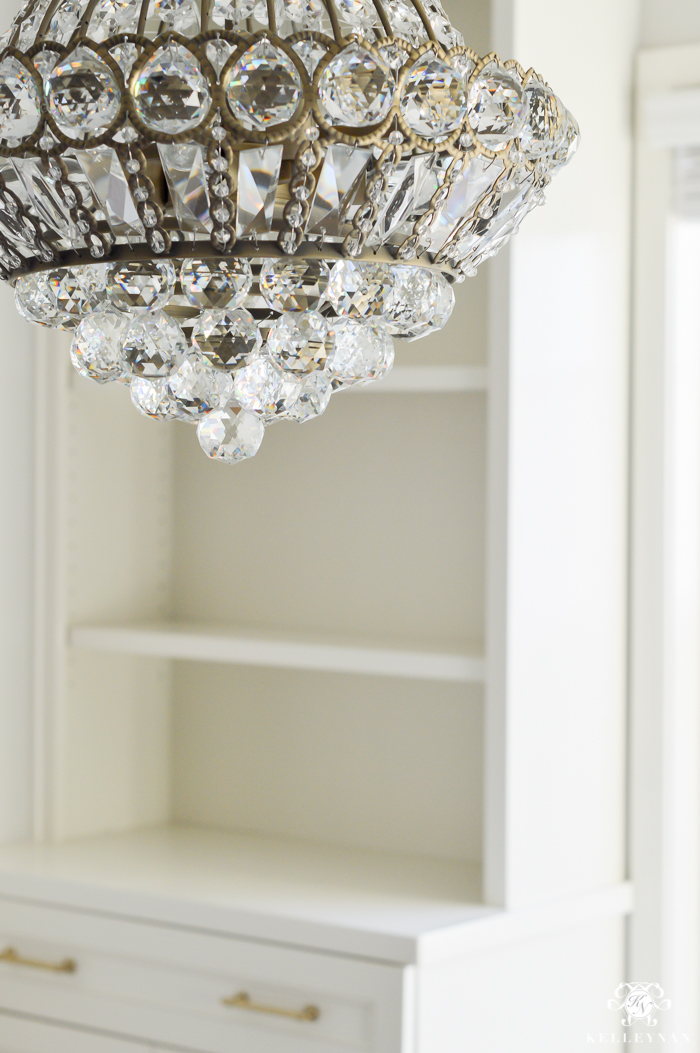 Because my chandelier is on the more feminine side, I went with a few more streamlined, handsome choices elsewhere. The shape and details of the light fixture made me gravitate toward a more sleek pull and the antique brass finish was actually the ultimate deciding factor on the finish I went with on my built-in cabinets. If you didn't catch my last post, my pulls are the Sea Grass in Golden Champagne by Amerock.
*tap the photo to shop*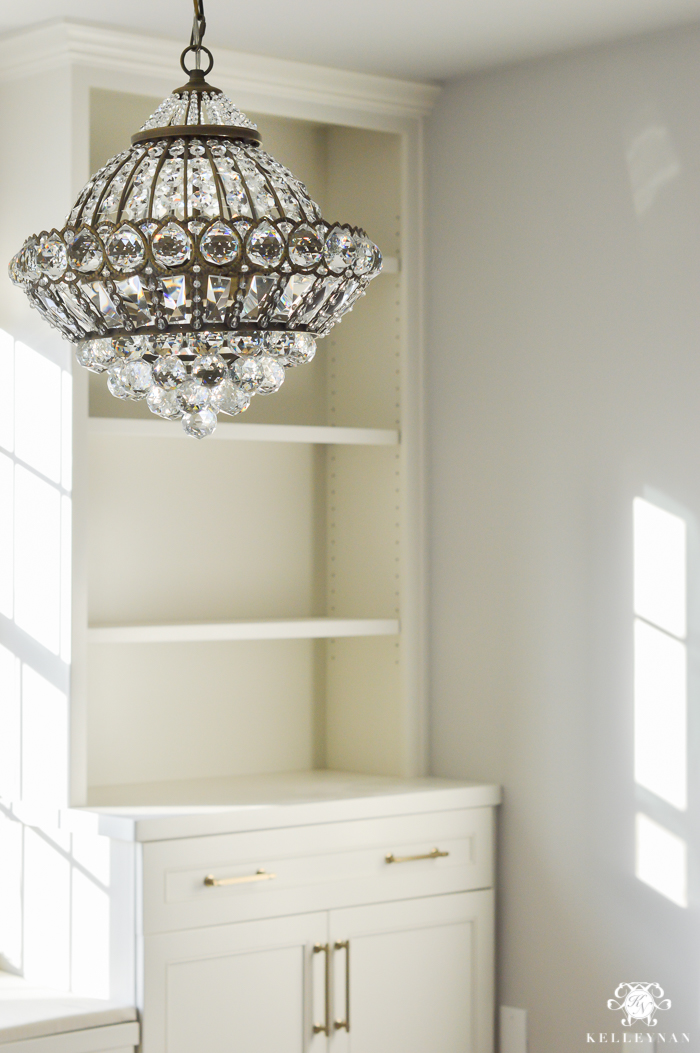 Even though I checked off two major components this week, I still have tasks I haven't touched. Like… picking out accessories and decor. I am determine to keep my more functional, less pretty essentials tucked away in my drawers and cabinets but picking out new supplies is something I'm most looking forward to. If shopping for back to school supplies and labeling tabs for your notebooks was one of your favorite past times, you are so my person!
I don't want to go overboard on the brass and gold because I love the statement of the pulls and chandelier, but, I finally have a place that makes sense to have some of the gold desktop accessories and I'm going to take advantage of it! Here are some of my favorites I've come across while browsing.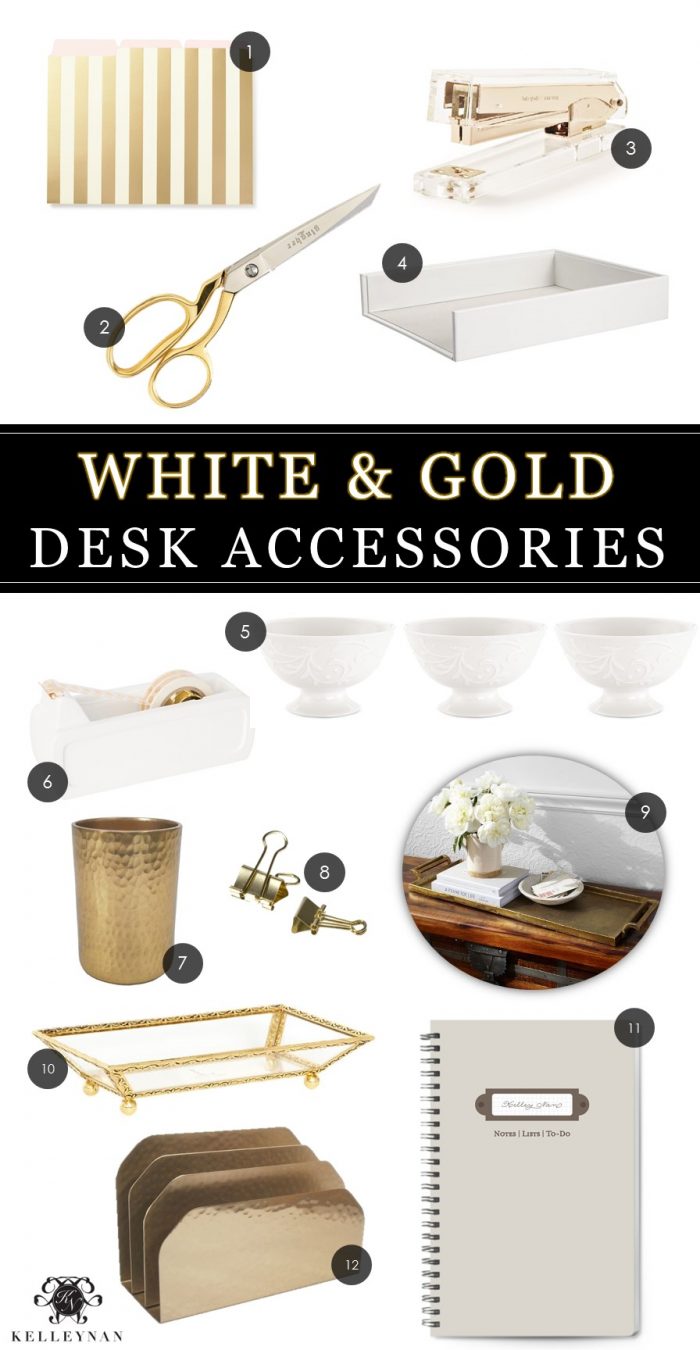 1 | 2 | 3 | 4 | 5 | 6 | 7 | 8 | 9 | 10 | 11 | 12
I have actually already ordered #11 – totally customizable not only with your name but also the title label. Several more of these will be filling up my cart very soon! (Well, at least they better or else I will miss the six-week deadline haha)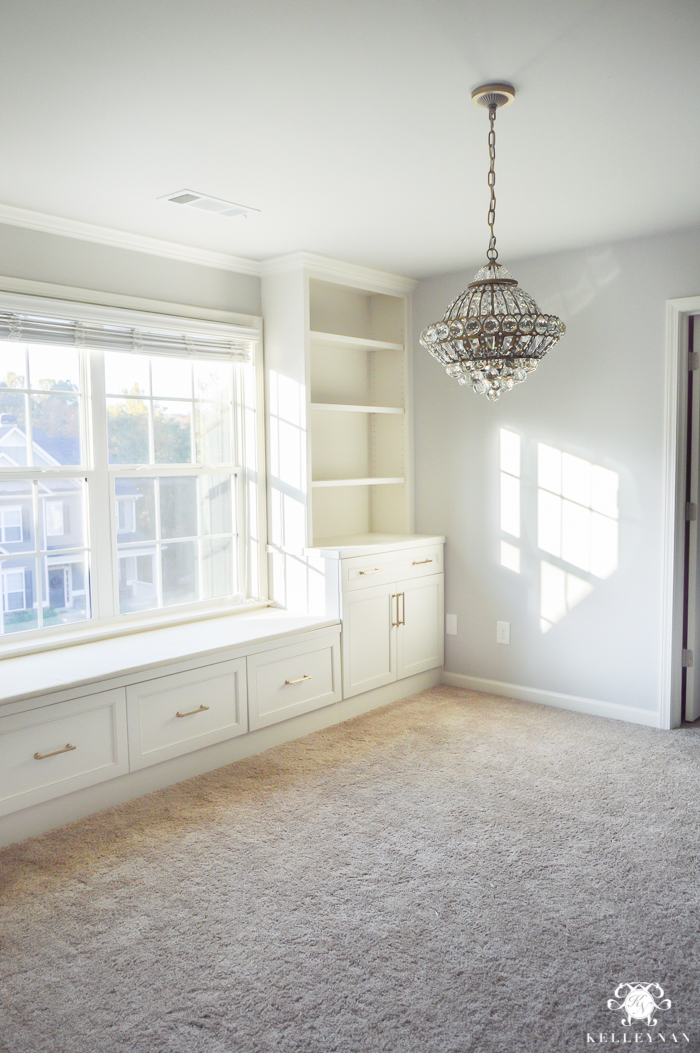 As of this evening, I already have a few more updates, but, I will wait until next Thursday to share those.
If you missed any progress, get caught up here:
WEEK ONE
Be sure to check out the Week 3 progress of all the other ORC participants HERE.
A special "thank you" to my sponsors this week for making this project possible.
Lamps Plus | Amerock | Sherwin Williams 
A big thank you also to Bobby Barton of Heartwood Renovations, and Darryl Ponquinette of Ponquinette Fine Woodworks for making my built-in dreams come true.
*You can find the end result and the full office makeover reveal HERE.
*post contains affiliate links*