Last week, I had a laundry list of things to accomplish before leaving for my trip. Here it is, Wednesday night, and I think I have done just everything I set out to tackle prior to take off.. except actually get ready for my trip. I have an alarm set to wake me up in five hours and I haven't even started packing just yet. Oh Lord… I better get the coffee brewing! The real challenge this week has nothing to do with one room – it's more like the "One Suitcase Challenge" – fitting 20 outfits into one bag in one hour. I'm glad I don't have a "reveal" scheduled for that as I'm sure it is not going to be cute. Ok, so back to the fun challenge. This week, you can really see the direction this room is taking! Blue, white, and wood everywhere. If this is your first time checking in with me on my guest bedroom makeover or aren't quite sure what the One Room Challenge is, catch up with my two previous posts for Week One and Week Two below.
| WEEK ONE |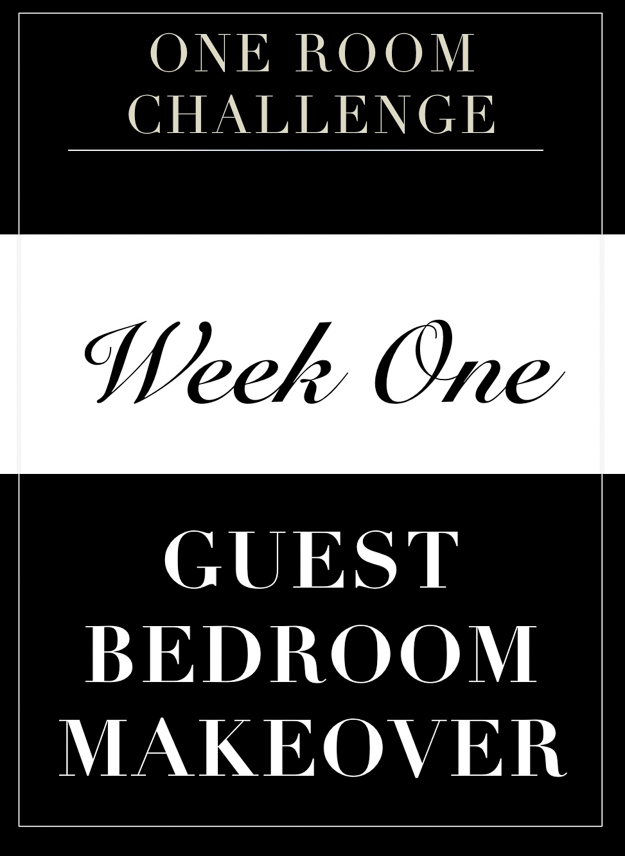 | WEEK TWO |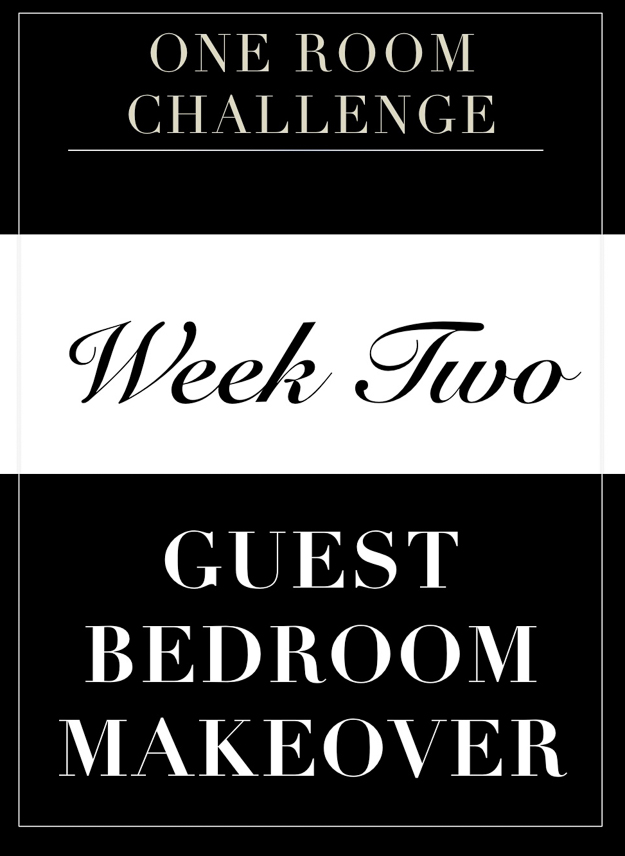 To make sure you catch all the updates (and maybe even get a little inside info 😉 ), you can sign up to receive my email updates HERE.
*post contains affiliate links | click here for full disclosure*
It's Week Three and the space is officially a bedroom. I still have a ways to go, making calls, stalking orders, exchanging emails, drawing plans, making design decisions and changing my mind… but, some important things happened this week.
My pair of garden stools arrived and I am so totally in love. They are the perfect soft blue with hints of indigo- not navy, not royal blue… perfect.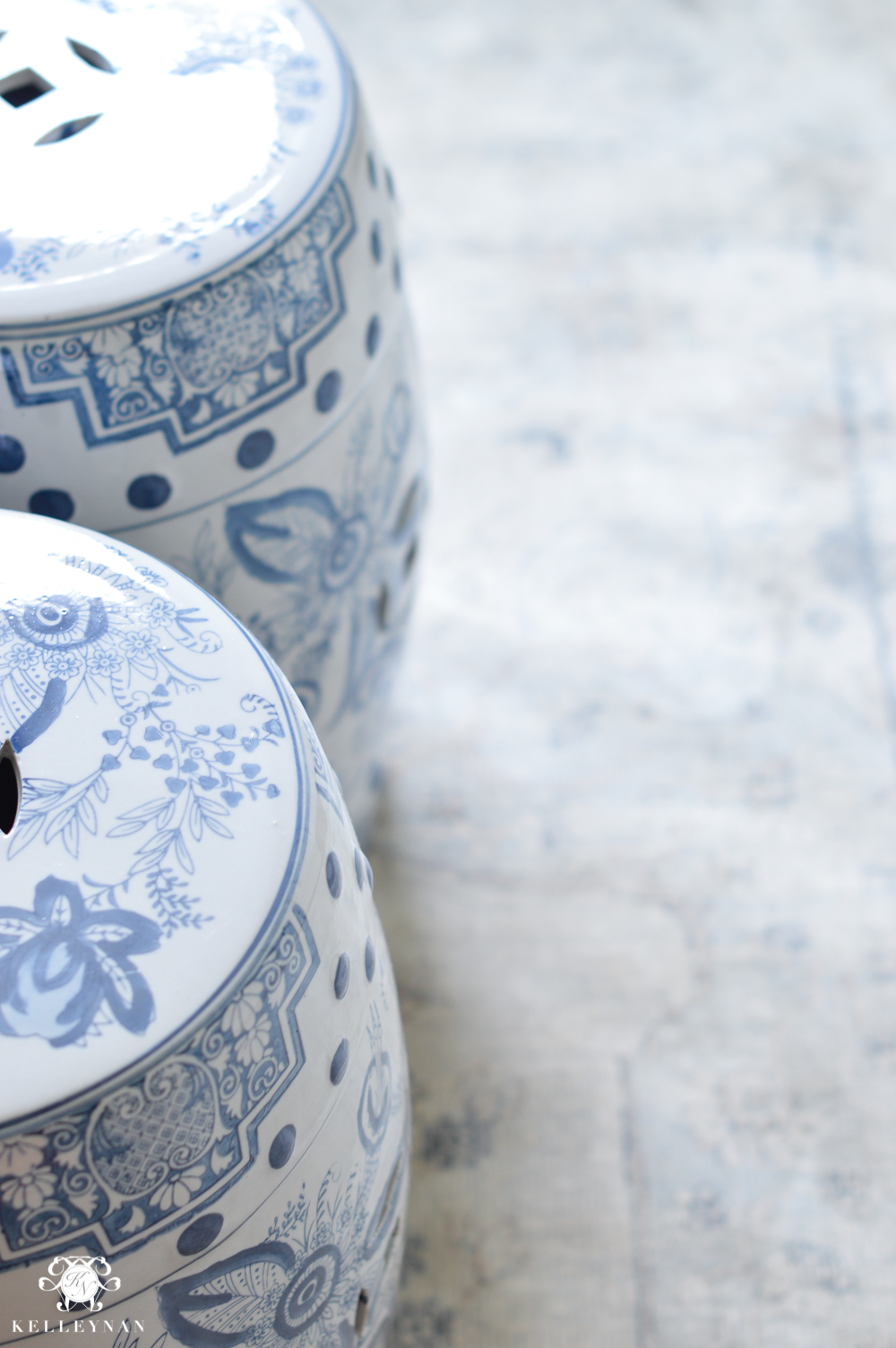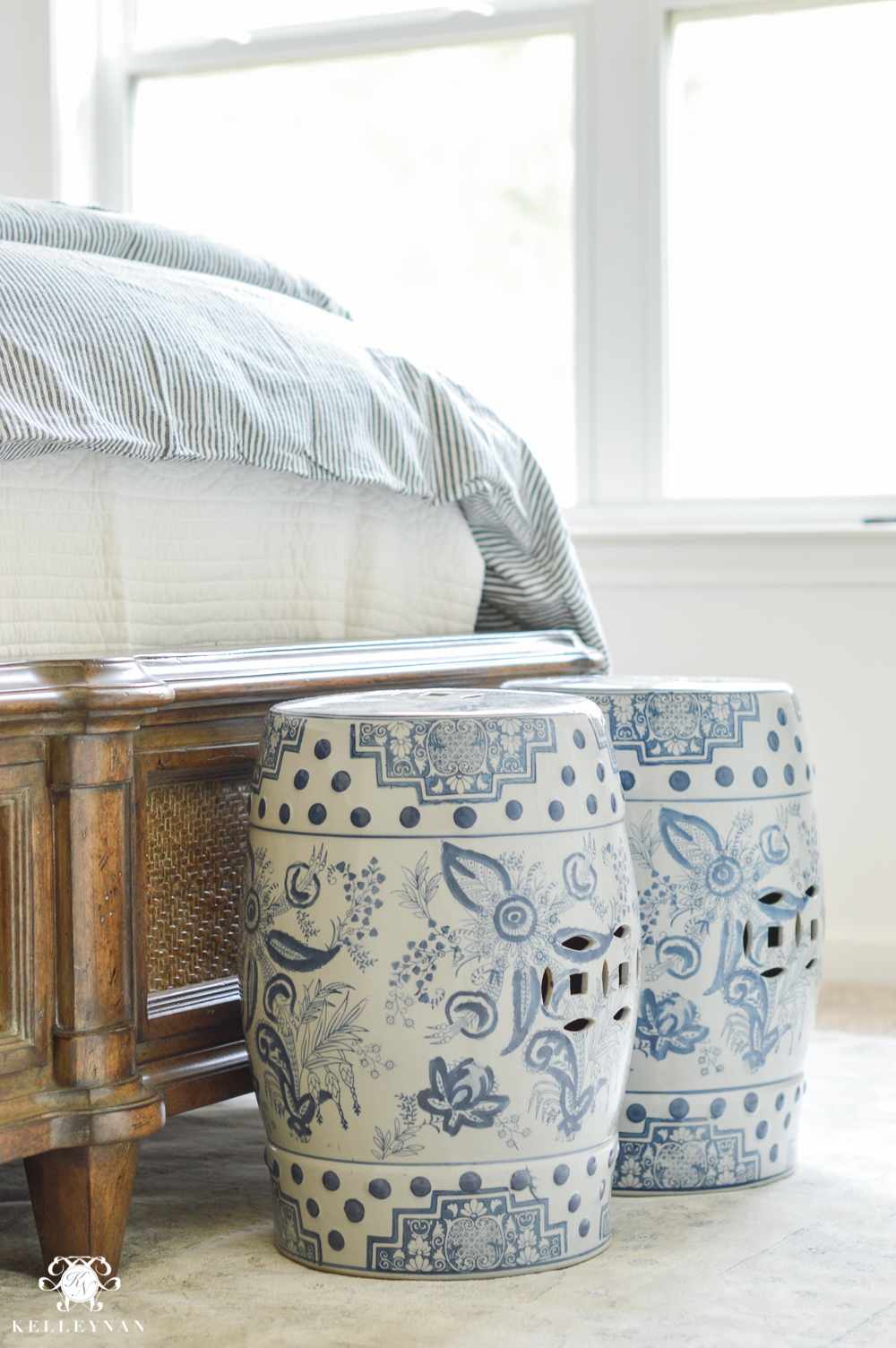 Also, I officially have my rug (also totally in love) and made my window treatment selections from Select Blinds. The stools and rug were two non-negotiables so I am thrilled they arrived. The stools are out of stock on most sites (you can still find them HERE) and the rug is low on stock (HERE).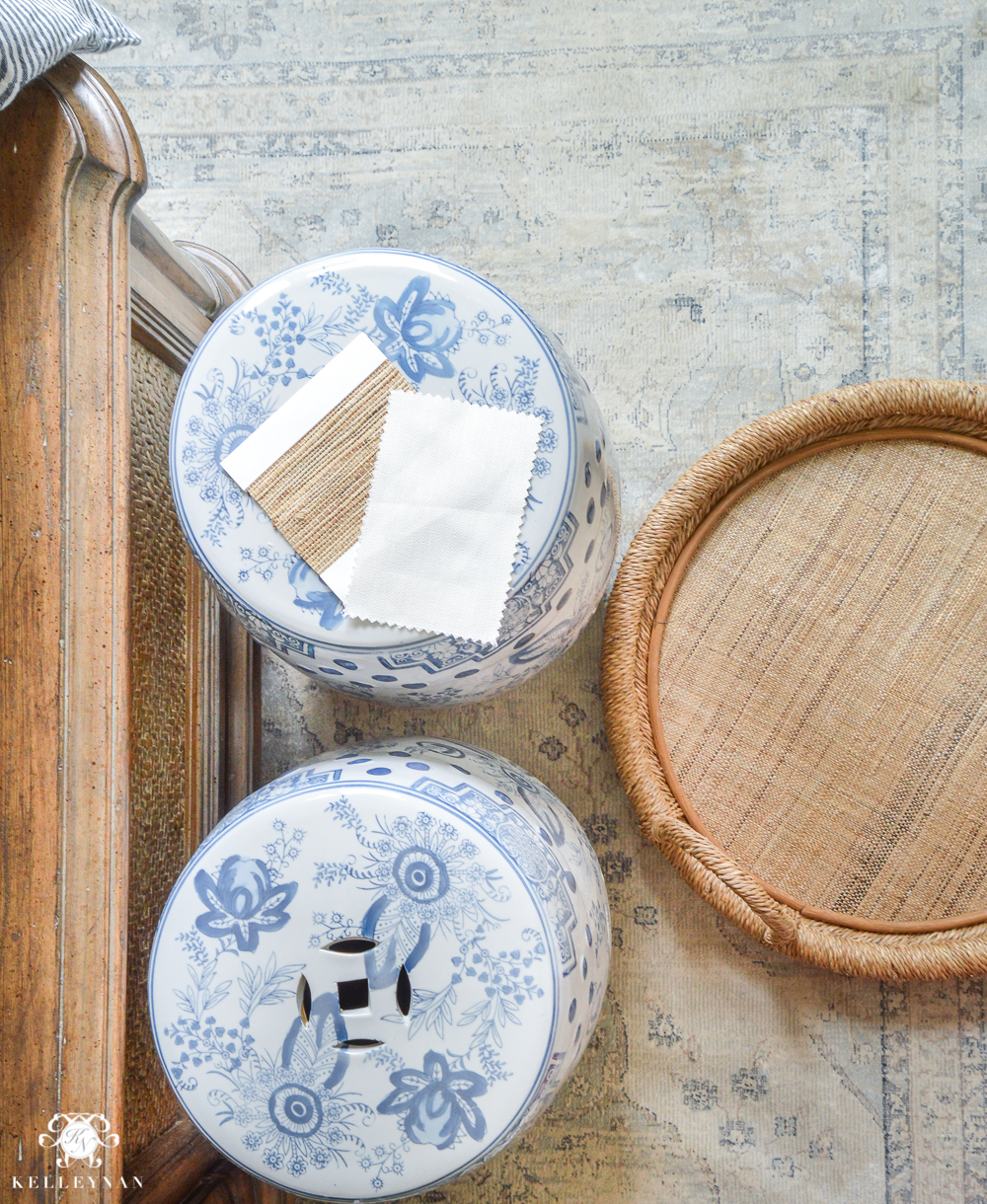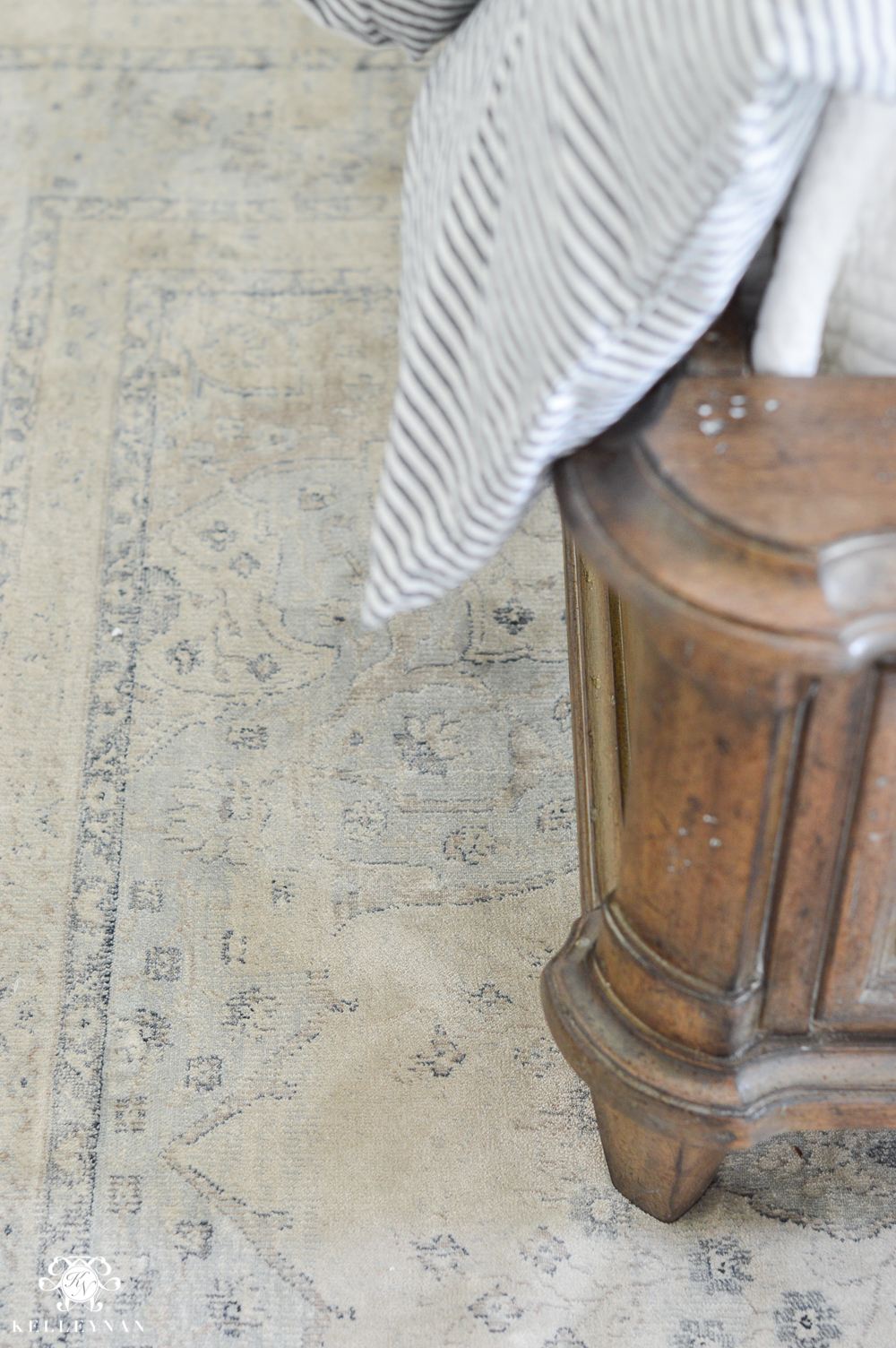 My husband assembled the bed which after my tray, was the first piece I chose for the room to use as the inspiration for all the other pieces. Funny story- when the bed arrived (in three ginormous, heavy boxes), I was out of town. As the lone soldier, Dave had to build a makeshift "ramp" to get it over the front door ledge and into the house. It was not an easy task getting this baby upstairs either- it is solid wood, substantial, and heavy. And, it's even more beautiful in person *all the heart eyes*! Best news, I just checked and it's now on closeout price (HERE). It's also available in an antique white 😉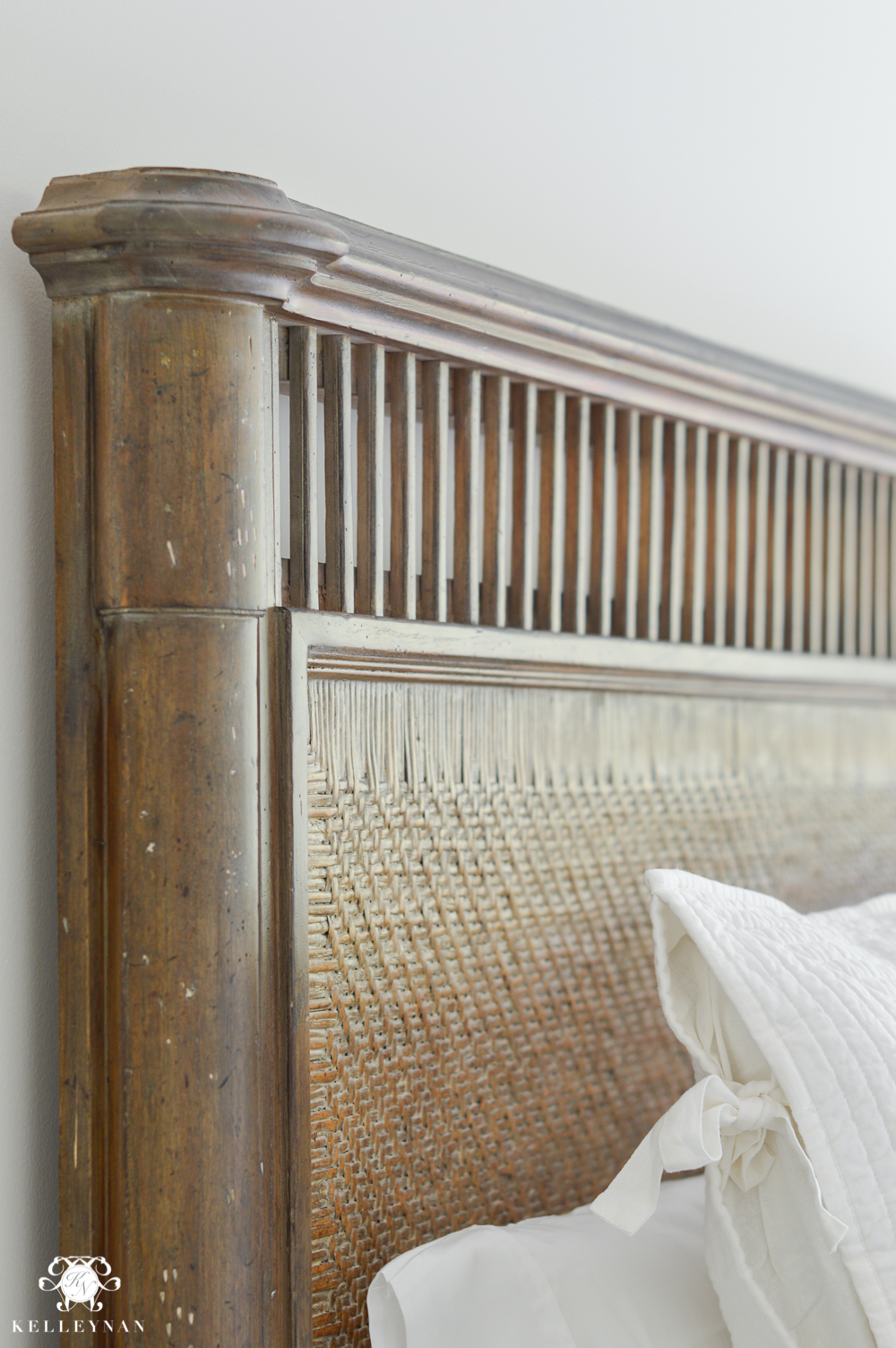 What else came? The bedding! I'm going to have to disassemble the bed to do the initial ironing but I was anxious to get it all made up to get an idea of how it would come together. I went with the white Hanna quilt and Euro shams, the navy Wheaton Striped duvet cover, and the PB essential sheets, all from Pottery Barn. I have been a long time fan of THIS Belgian Flax Linen Pottery Barn quilt (and own several) so I was ready to switch things up. The Hanna is traditional but totally versatile. I also had my fingers crossed that the duvet cover wouldn't be too dark or too bright. It was perfect- a slight casual fade to coordinate perfectly with the garden stools.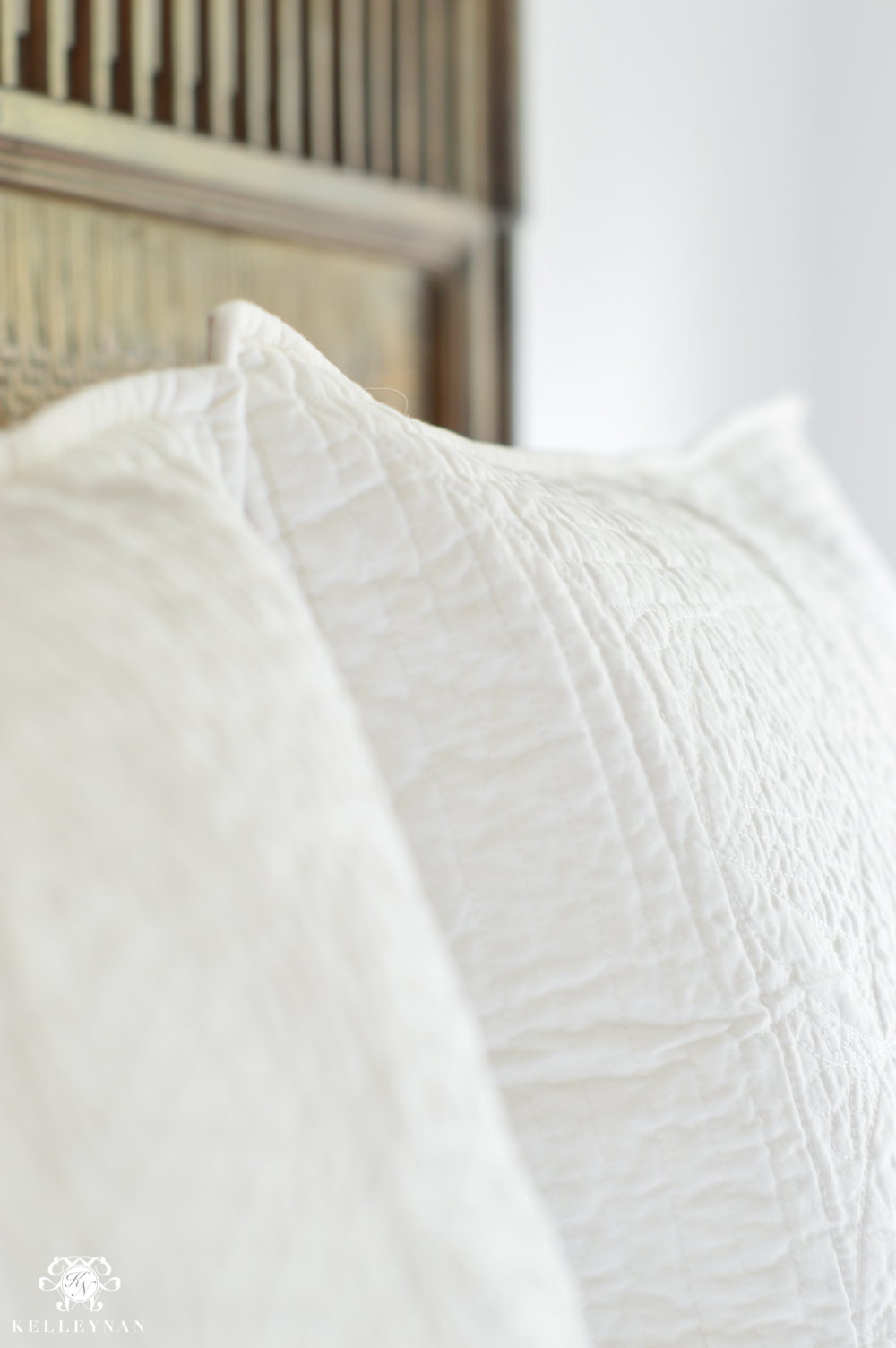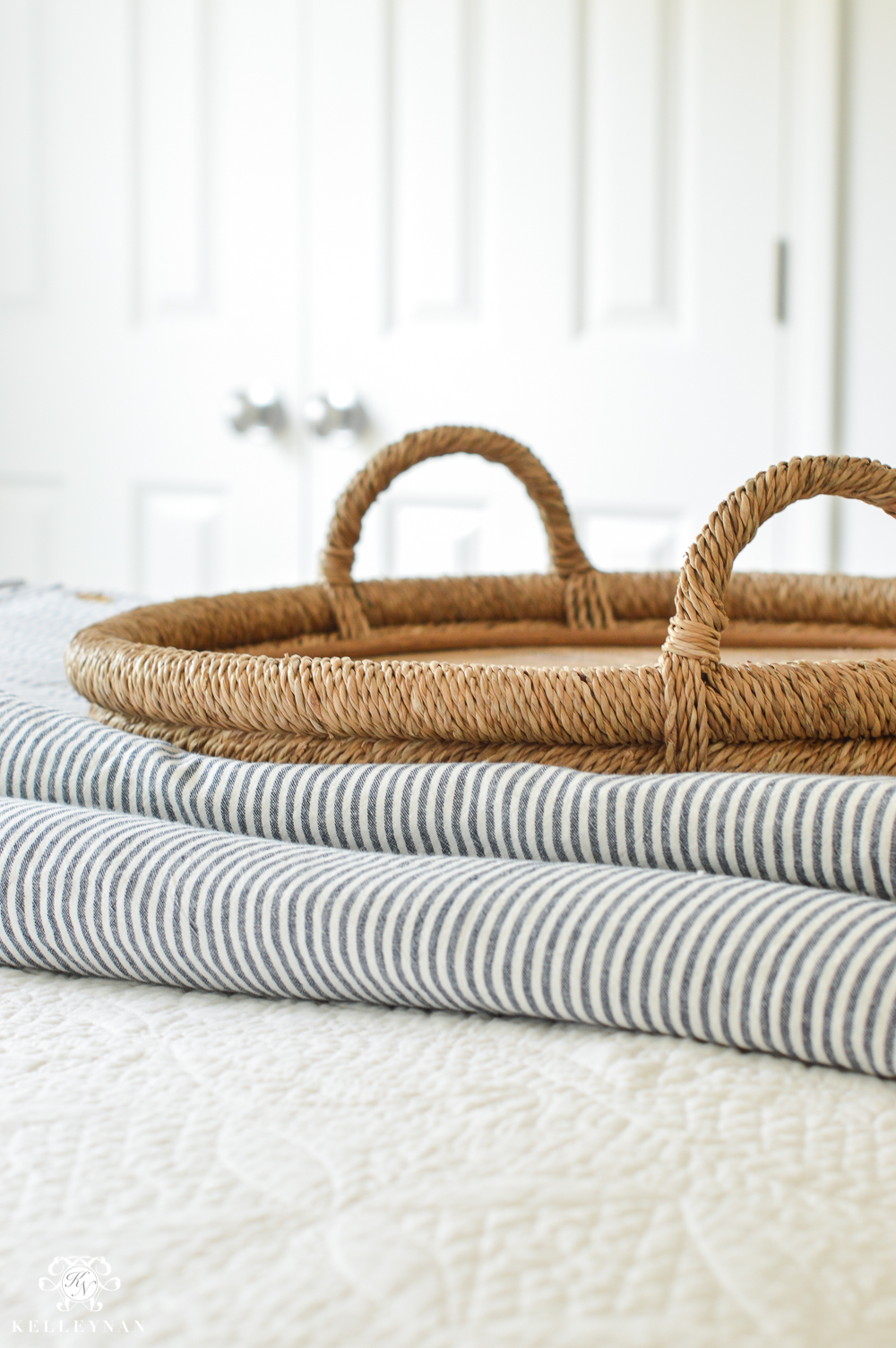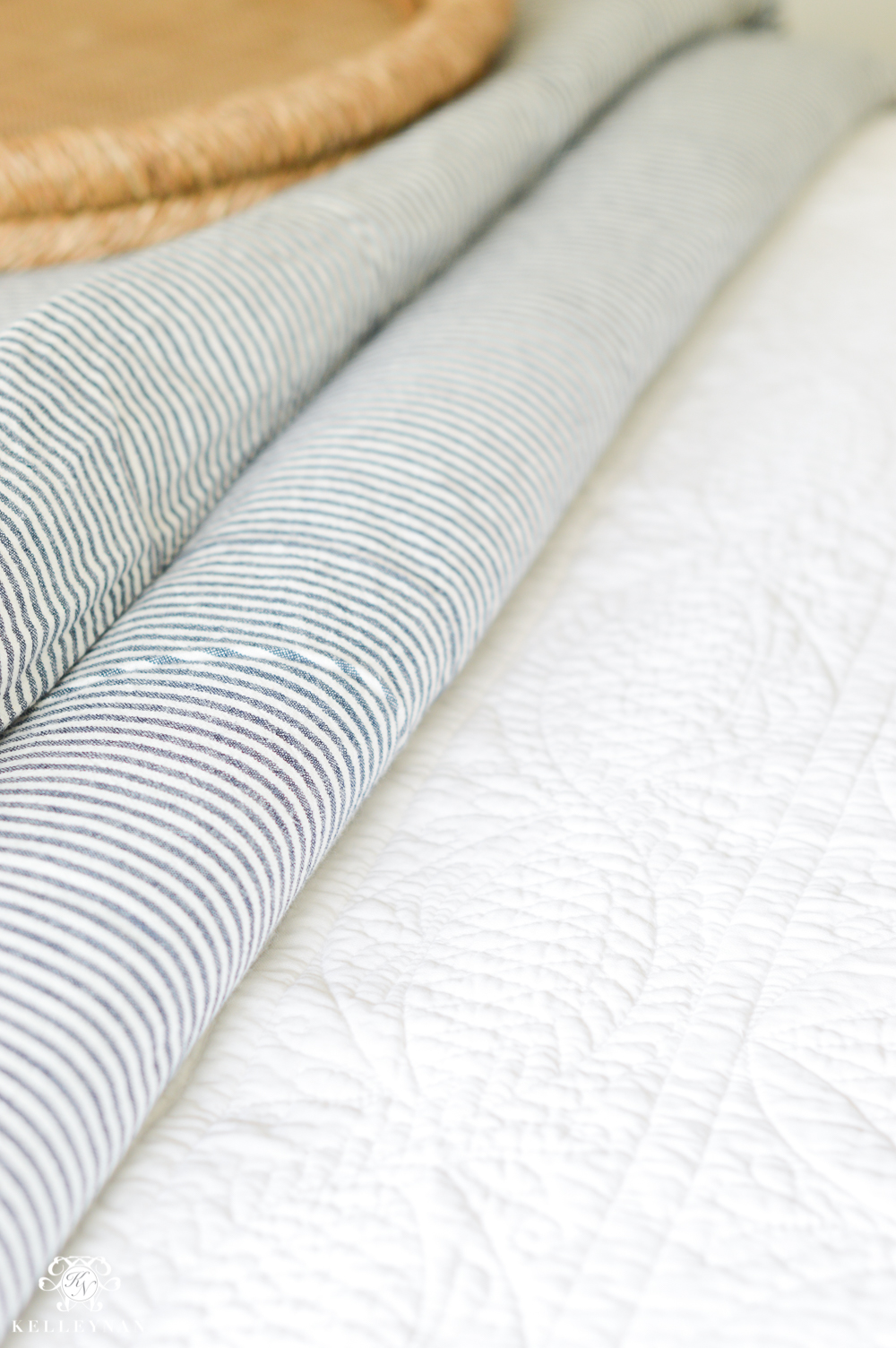 And lastly, that sweet guy of mine hung the chandelier! Even though I had read the dimensions and Lighting Design Company had asked about ceiling height, I didn't realize until I opened the box just how big this thing was. I have some flexibility since the ceiling in this room is vaulted (to 10′) and it is hanging over the bed so it can hang a little lower. If you are in the market for a large, statement fixture that's affordable and coordinates with most anything, she is perfect. Just take measurements first. I needed something big but didn't want to go too feminine; I couldn't have drawn a more perfect fixture for this space if I tried. In a few weeks, you'll see how large scale it is during the full reveal.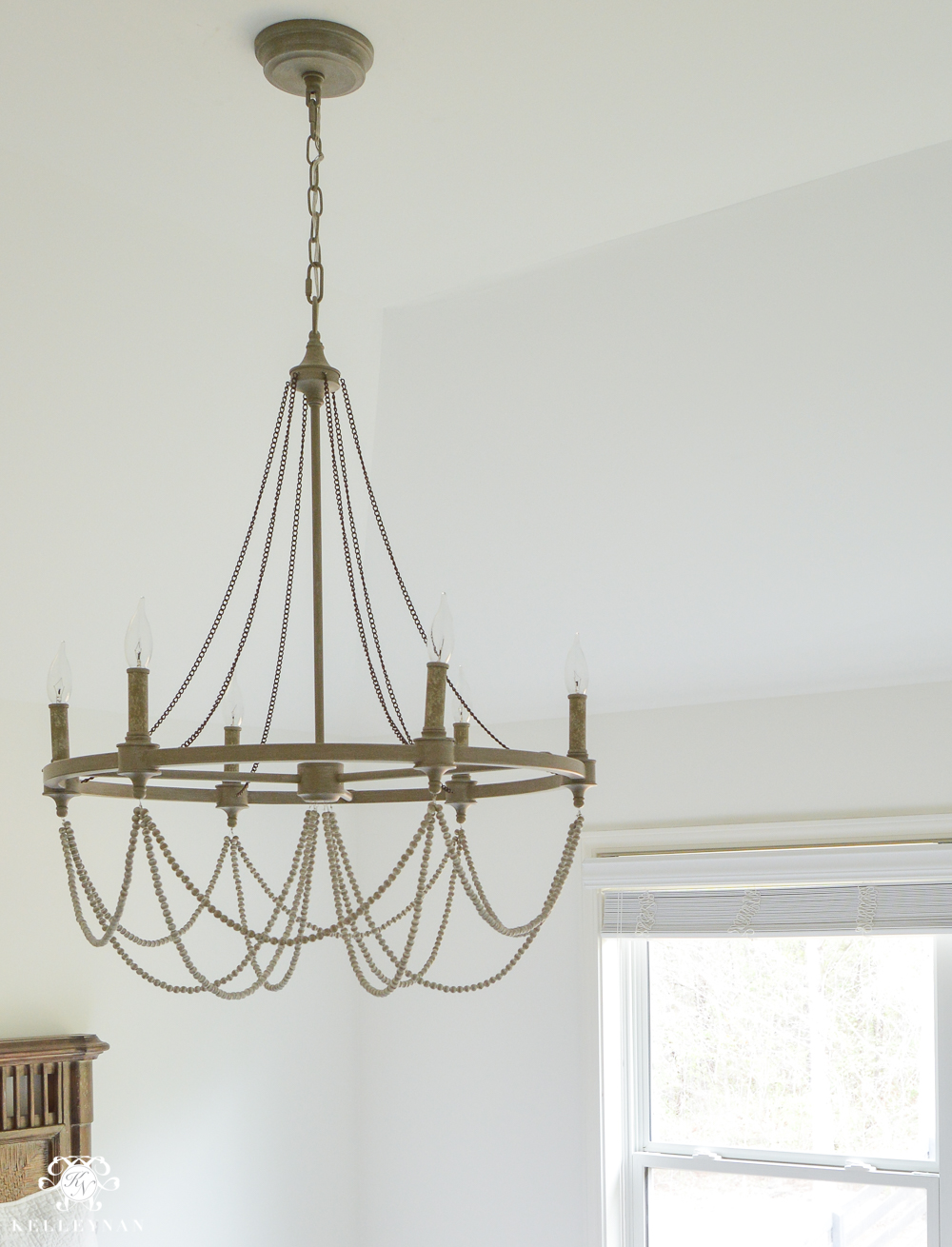 I still need to rotate some of the twists in the chains 😉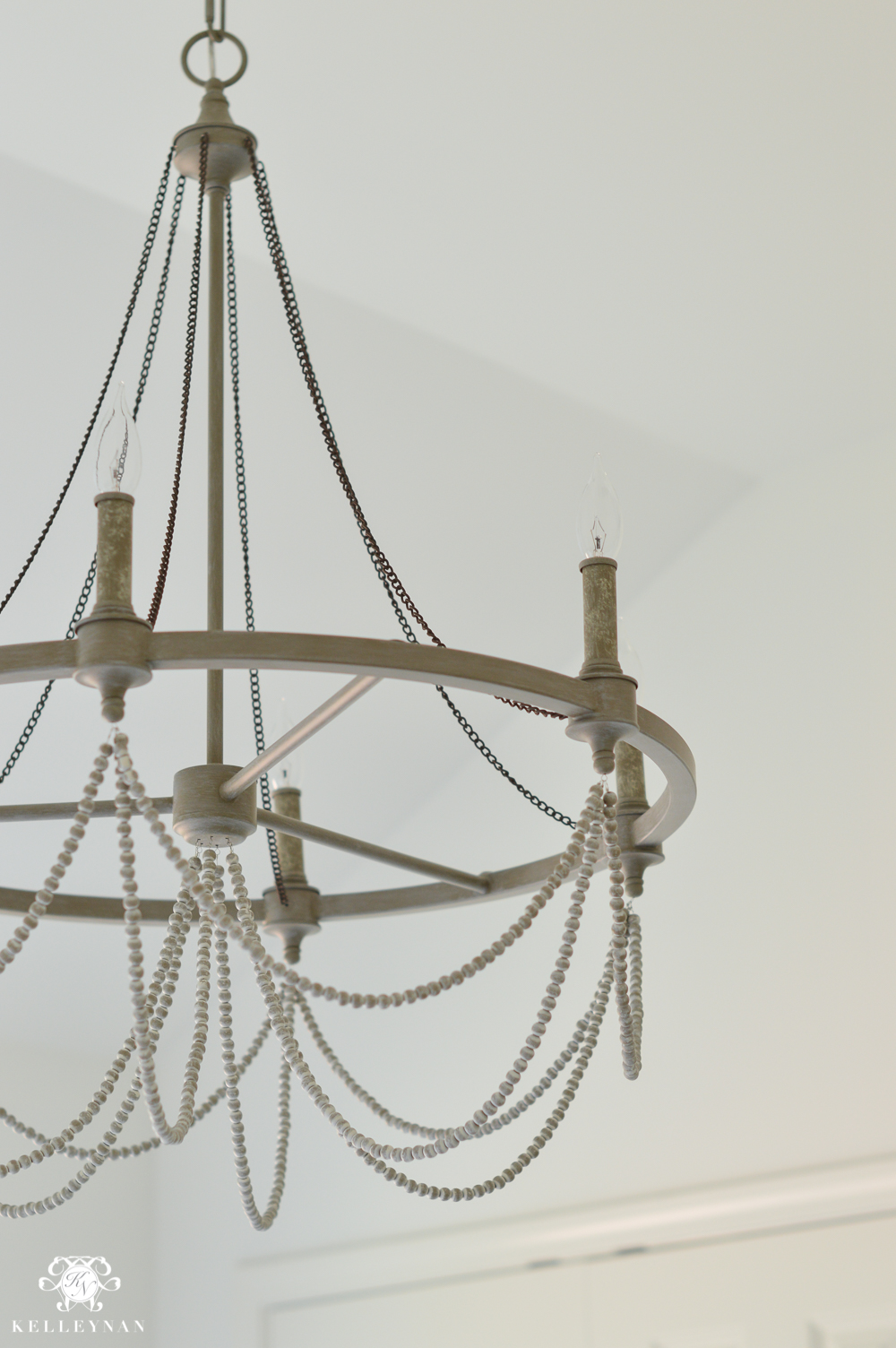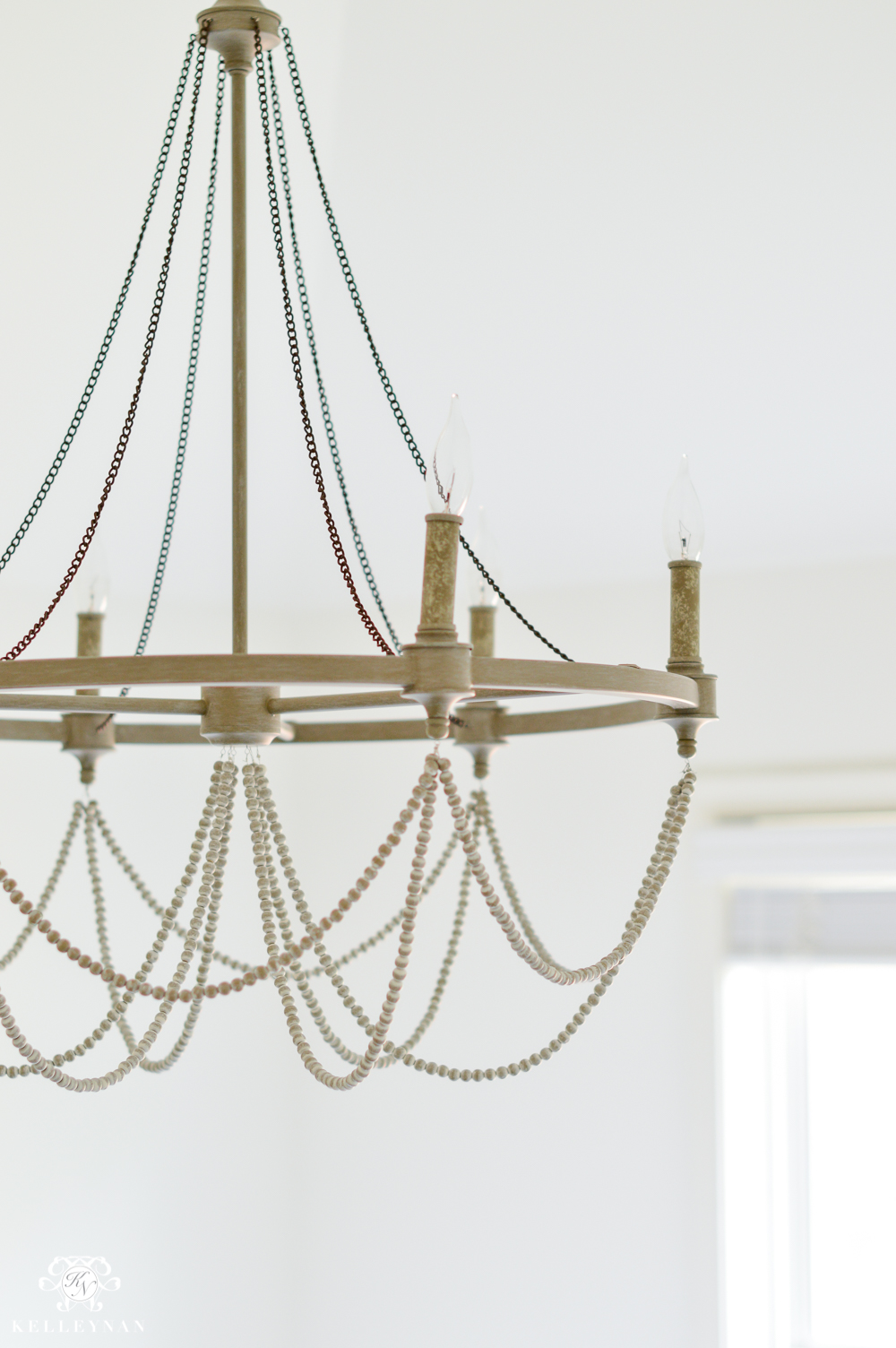 Here's where we are with the major items. (You can click in the images below to be taken directly to the source.)

So, I am not sure what next Thursday's update will bring since I will literally be gone the entire week. We'll see if I develop a super power between now and then 😉 While I'm gone, I'm still going to try to cross some things off the list.
Decide on art and order (this week)
Source throw pillows and order (this week)
Assemble room as products are purchased and arrive
Install window treatments
Shop for accessories and guest essentials
Find full length mirror
Organize guest bedroom closet
Check back in with me next week – I may very well have zero progress made since this week but I promise, if I don't, I will share a really fun story to make up for it haha.
A big, HUGE thank you to featured sponsors this week for contributing to this project.
Wayfair | Pottery Barn | Lighting Design Company | Select Blinds
I would love for you to let me know your thoughts in the comment section below as we go through progress updates. And, if you want to make sure you are getting the latest updates each week, straight to your inbox without missing a single detail, you can sign up for my emails at the bottom of this post.
---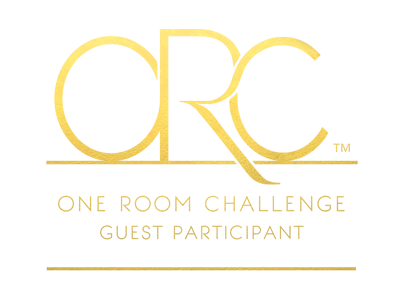 Thank you to Linda of Calling it Home for hosting this highly anticipated bi-annual event! To check out the other bloggers and their projects, be sure to visit the link-up page HERE. And, you you can check in on the 20 featured bloggers for Week 3 (HERE).