With Mother's Day this coming this weekend, Dave suggested I start this jewel toned table and easy quadruple strawberry cake recipe post with the lyrics of "Mother" by Pink Floyd. I don't even know that song but appreciate his efforts haha. Instead, I thought I would tell you a little about my own mother. If you are a regular here, you know that she is basically the common thread to most all my posts. I reference her throughout my blog which is pretty indicative of how special she is to me. We share the middle name "Nan"; to my friends, she is "Mama Nan"; to me, just "Nan". Over the years, more than just our names intertwined. Those who know us swear we are twins – from our personalities to our mannerisms and expressions. I appreciate any comparisons as a compliment – I remember growing up and thinking no one was smarter, prettier, or better at doing life than she was. She was and is the perfect balance of responsible and fun. She taught me about fancy purses but also, bargain shopping. She showed me how to be self reliant but that it's also ok to uphold traditional values. She always knew how to make me feel special, but not entitled. She never cast her troubles on me and always just took care of everything. I think of all she had to and manage to create this life for me, and just want to say "thank you, Nan".
To this day, my mom will be the last to line up in a buffet line – making sure others are served first. Similarly, when I was little, I accepted birthday cake after my friends because while it was my birthday, they were my guests. I've never seen her open a gift where her reaction didn't indicate she just received a new car. She taught me and helped shape me through subtleties and I am forever grateful. She passed on not just rules to live life well but also graciousness – in  hosting, in interacting with others, and in living. She taught me lessons that can't be taught – only observed over a lifetime. Here we are- just two Type A nuts Nans 😉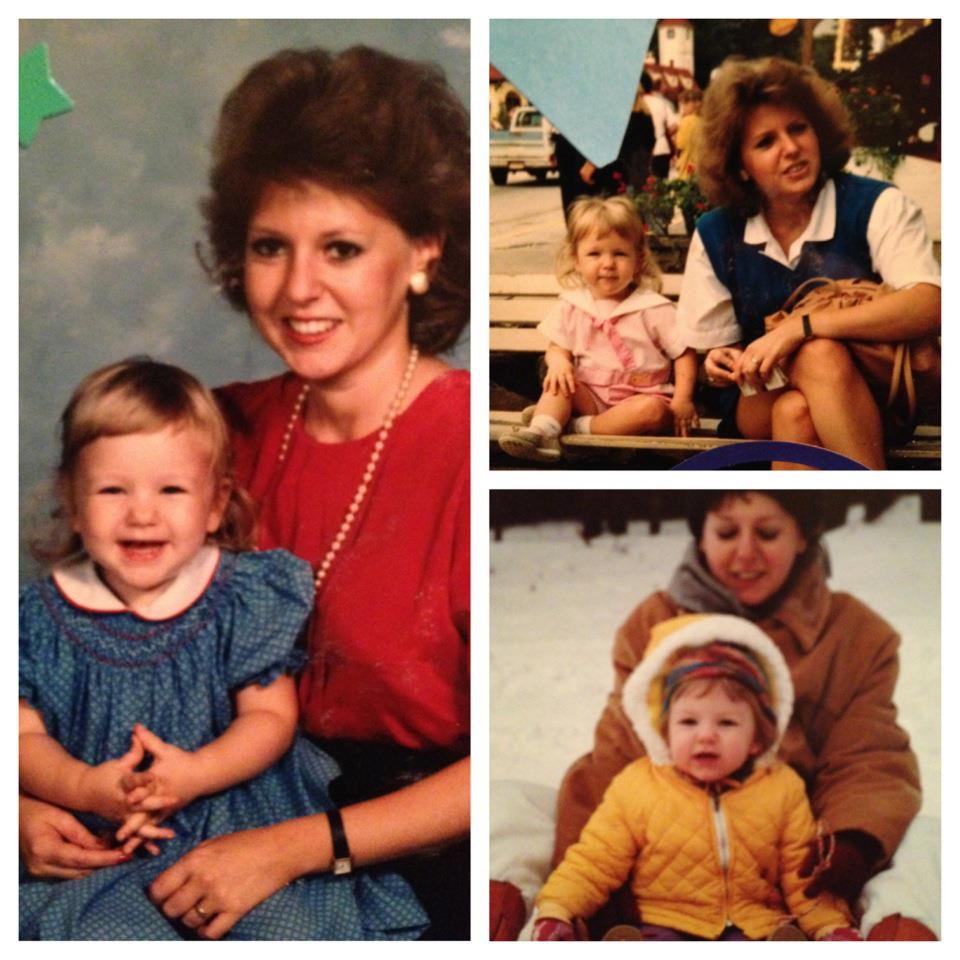 We discuss the blog, ideas, and posts regularly and fittingly, this year's Mother's Day table is inspired by her vision. She mentioned blue and white with a pop of color, and strawberries. Done – and, only appropriate to share her strawberry cake recipe while I'm at it 😉
*All sources included at the bottom of the post | Some affiliate links included*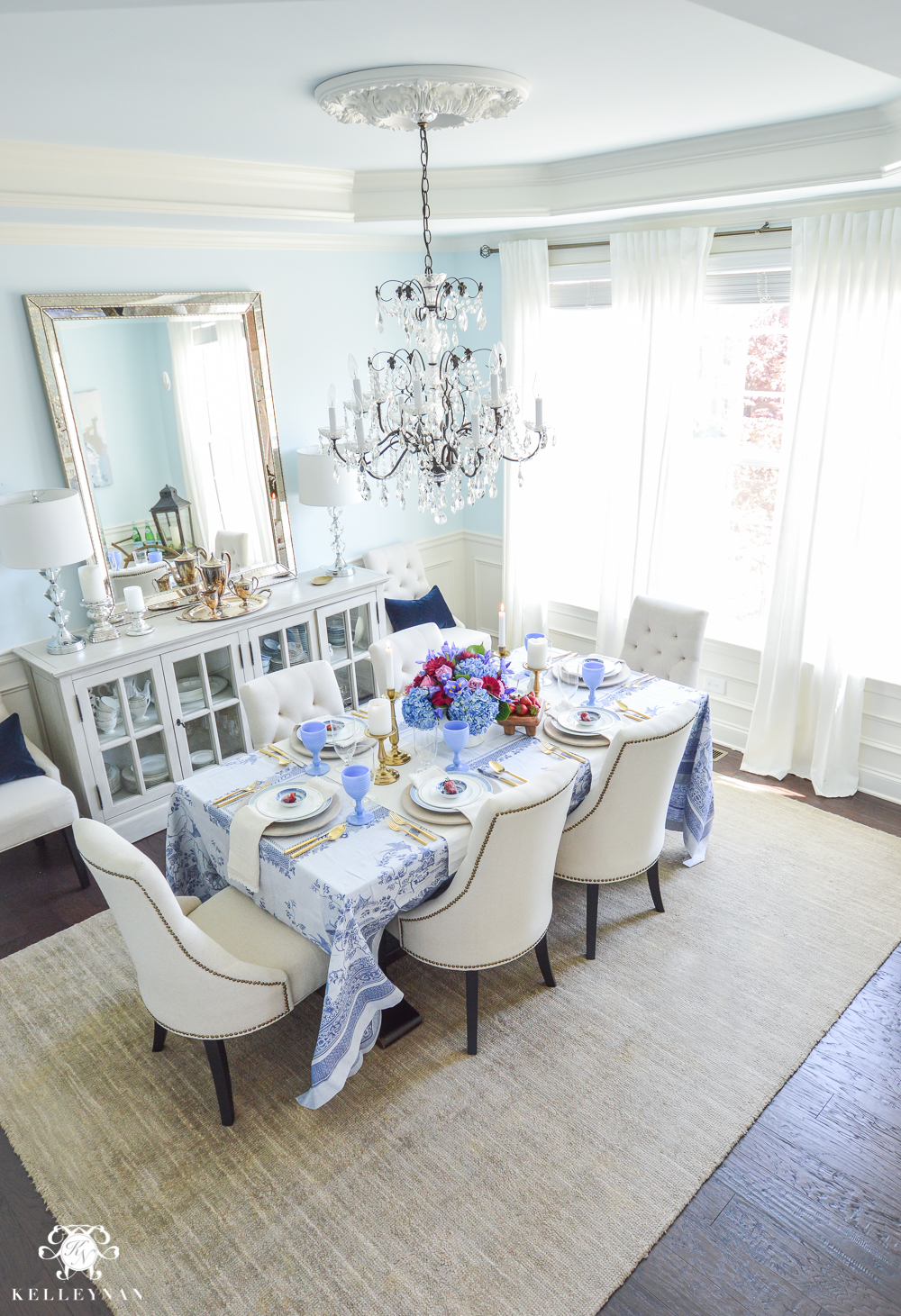 Because of the detail of the tablecloth, this table looks way more complicated than it was. A gift from my mom, she found this reversible tablecloth at Williams Sonoma; it is no longer available but they have a similar one HERE. Every time she comes to visit, it's like Santa and his sleigh arriving. She always has a bag full of "toys".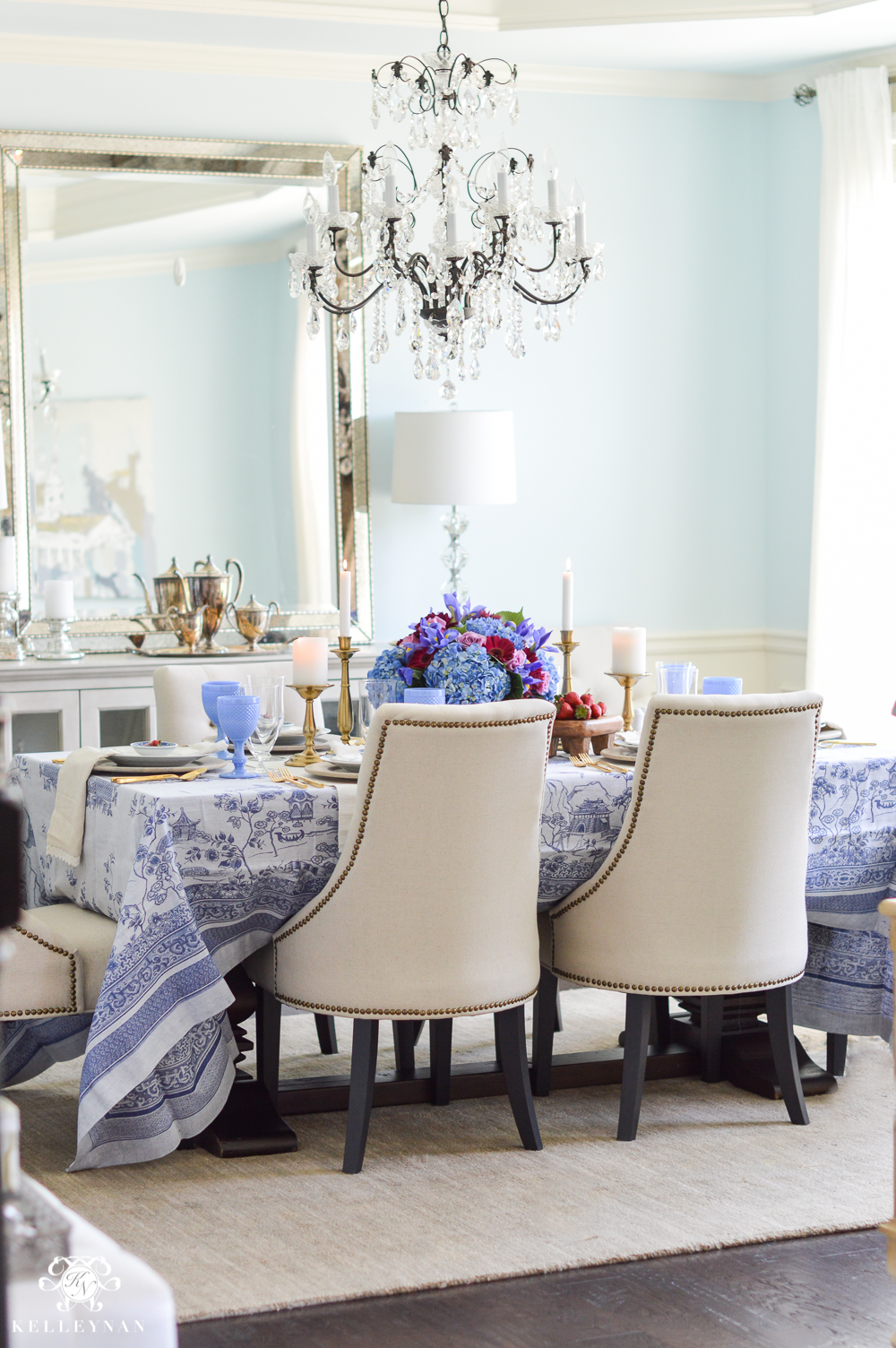 Reliant on the offerings of Trader Joe's on a Sunday morning, I set out to create a centerpiece with jewel tones and am really digging the unexpected color combination. One of my favorite vessels for floral arranging is my white soup tureen. I've used floral foam in it before but opted for a simple tape grid for this arrangement.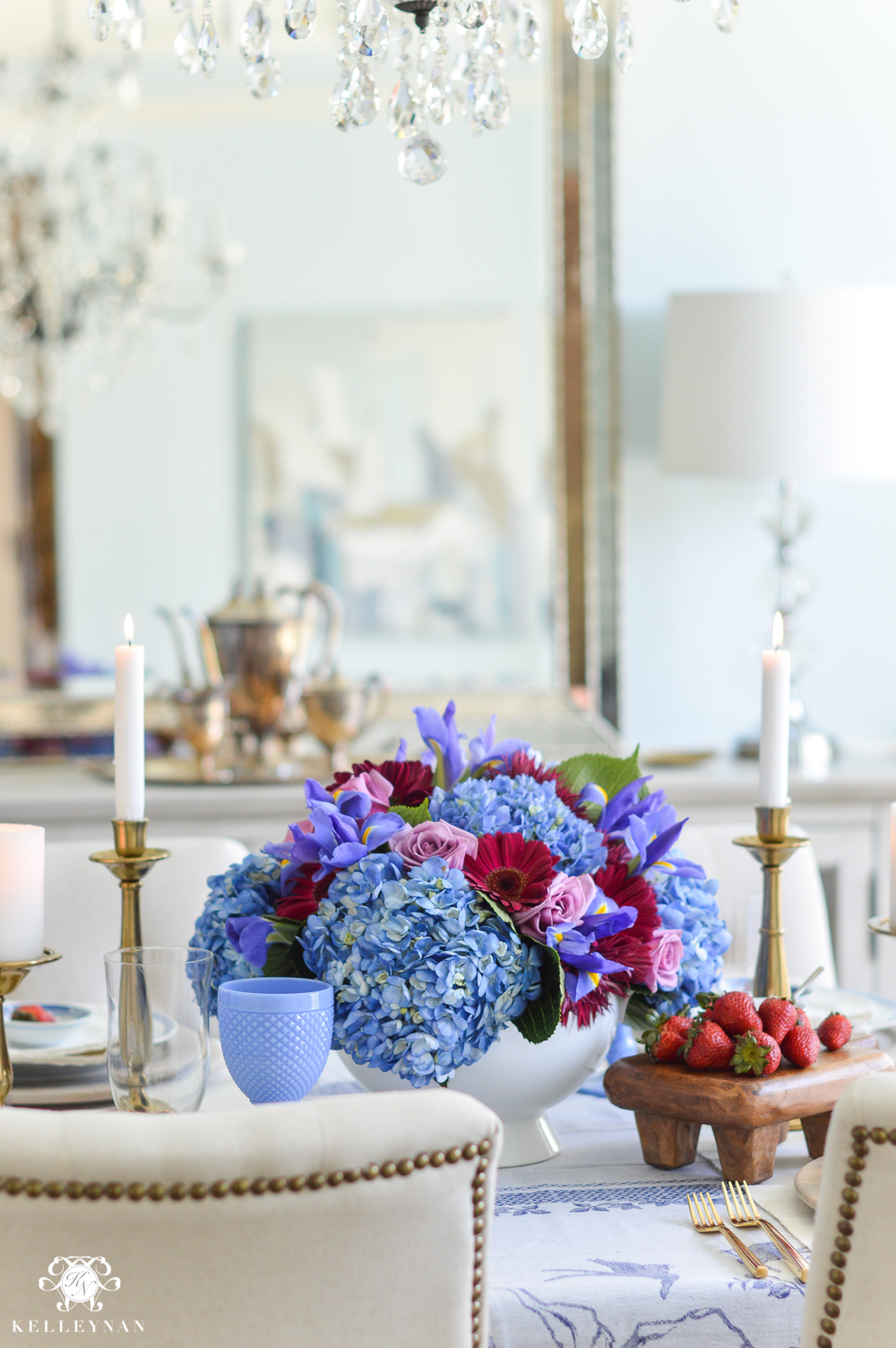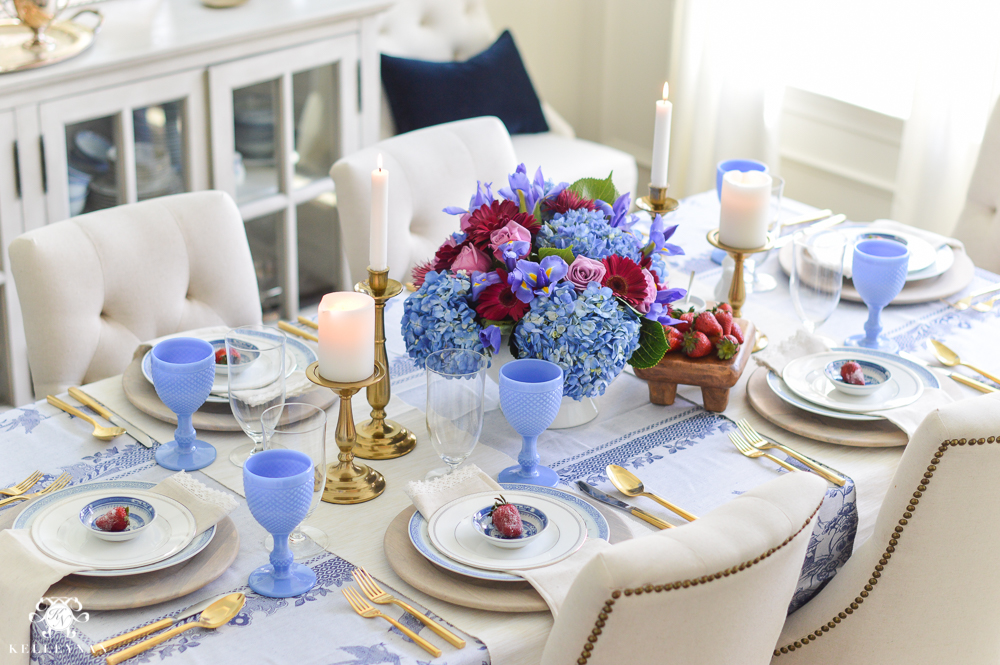 My mini wooden paddle board continues to prove it's the best table addition ever, and these whitewashed driftwood chargers show they can hold up on a casual or even more formal table.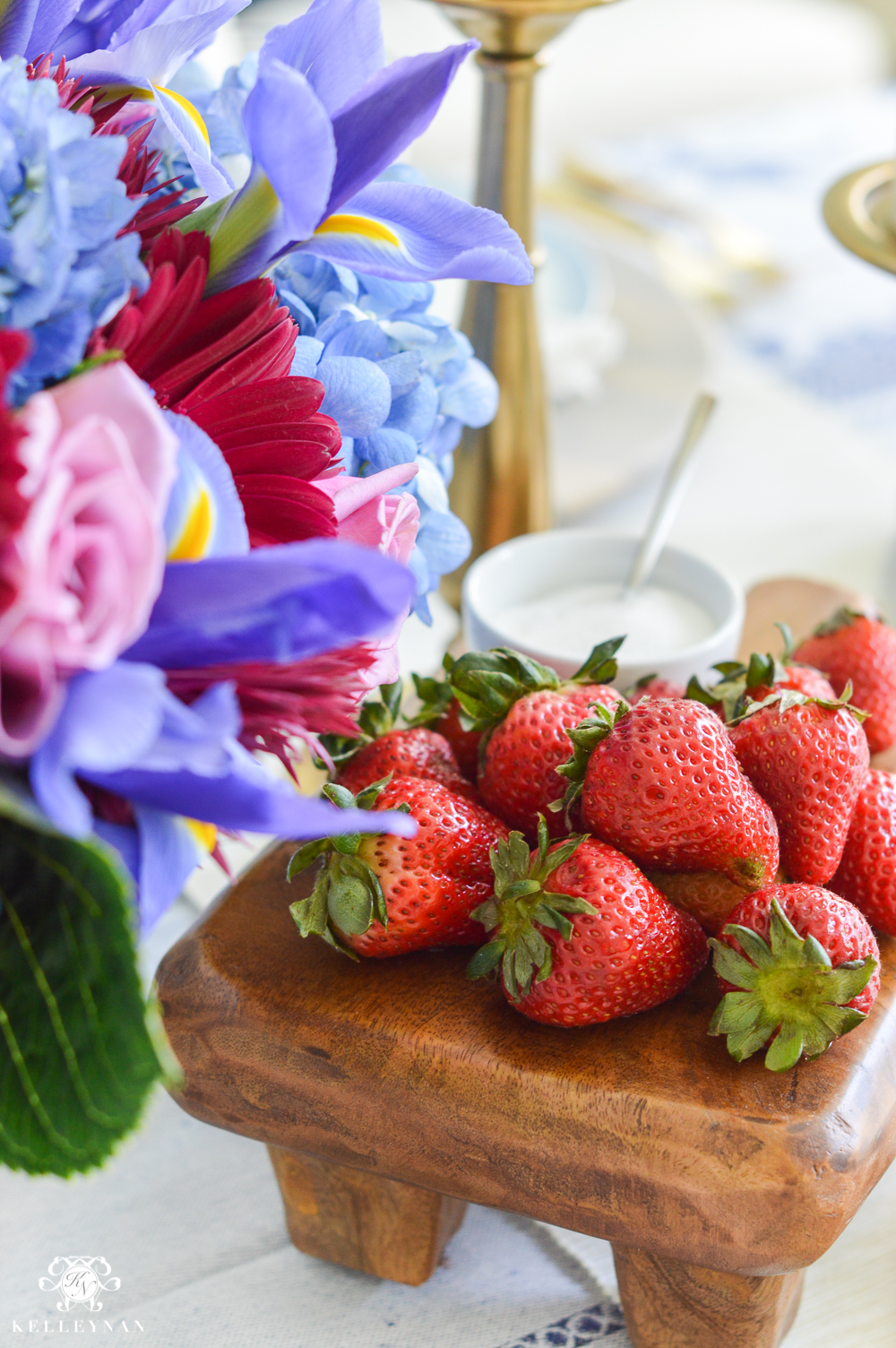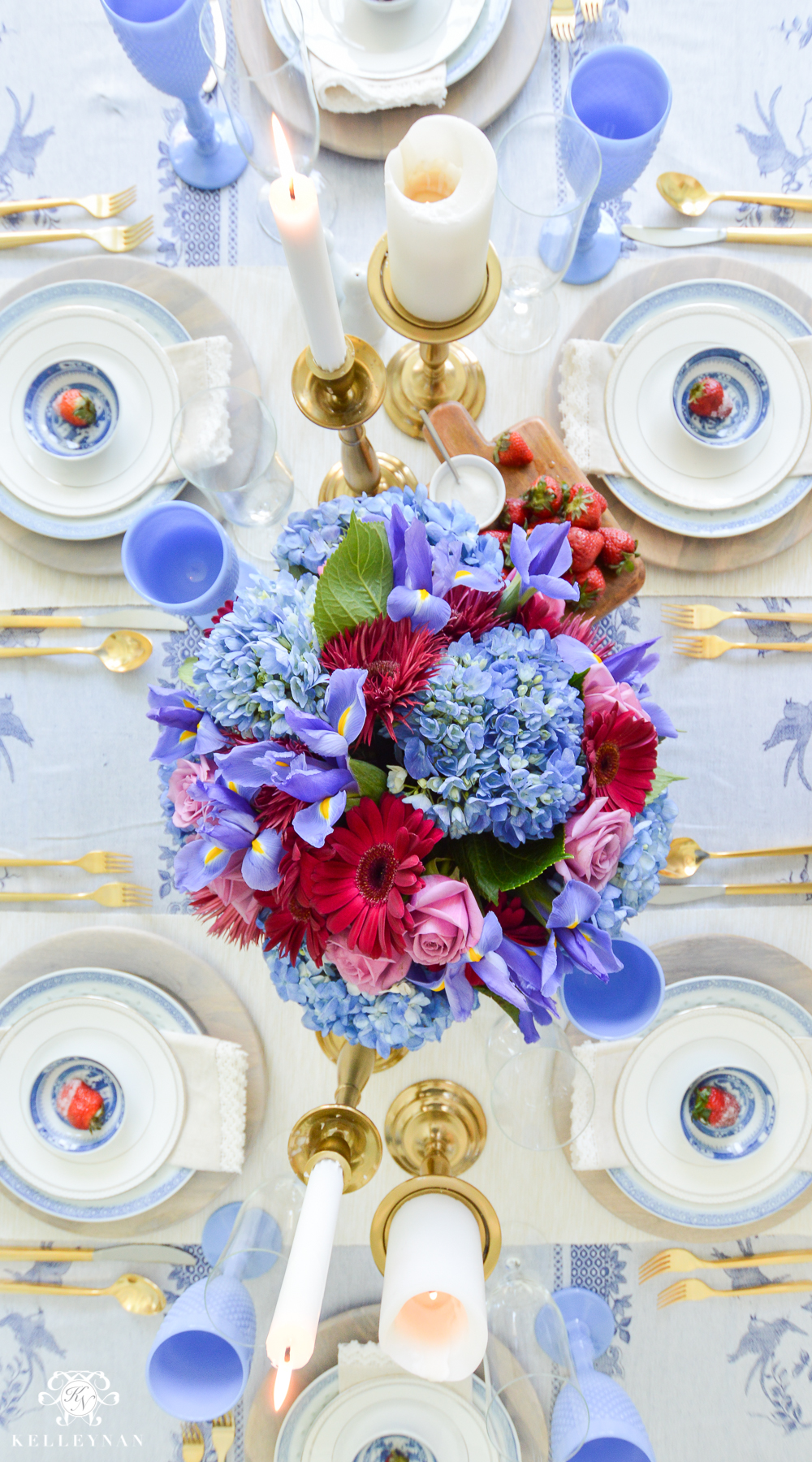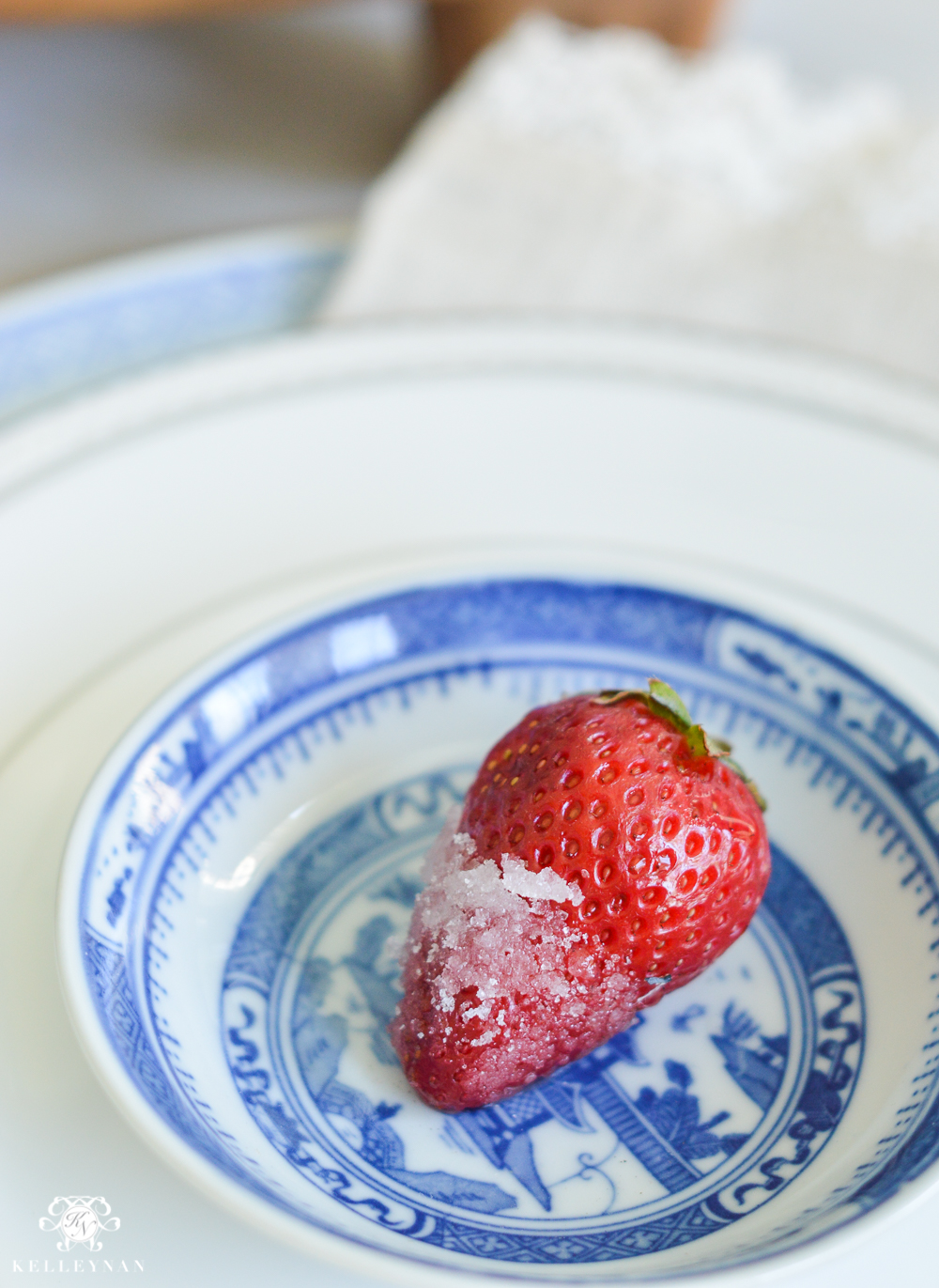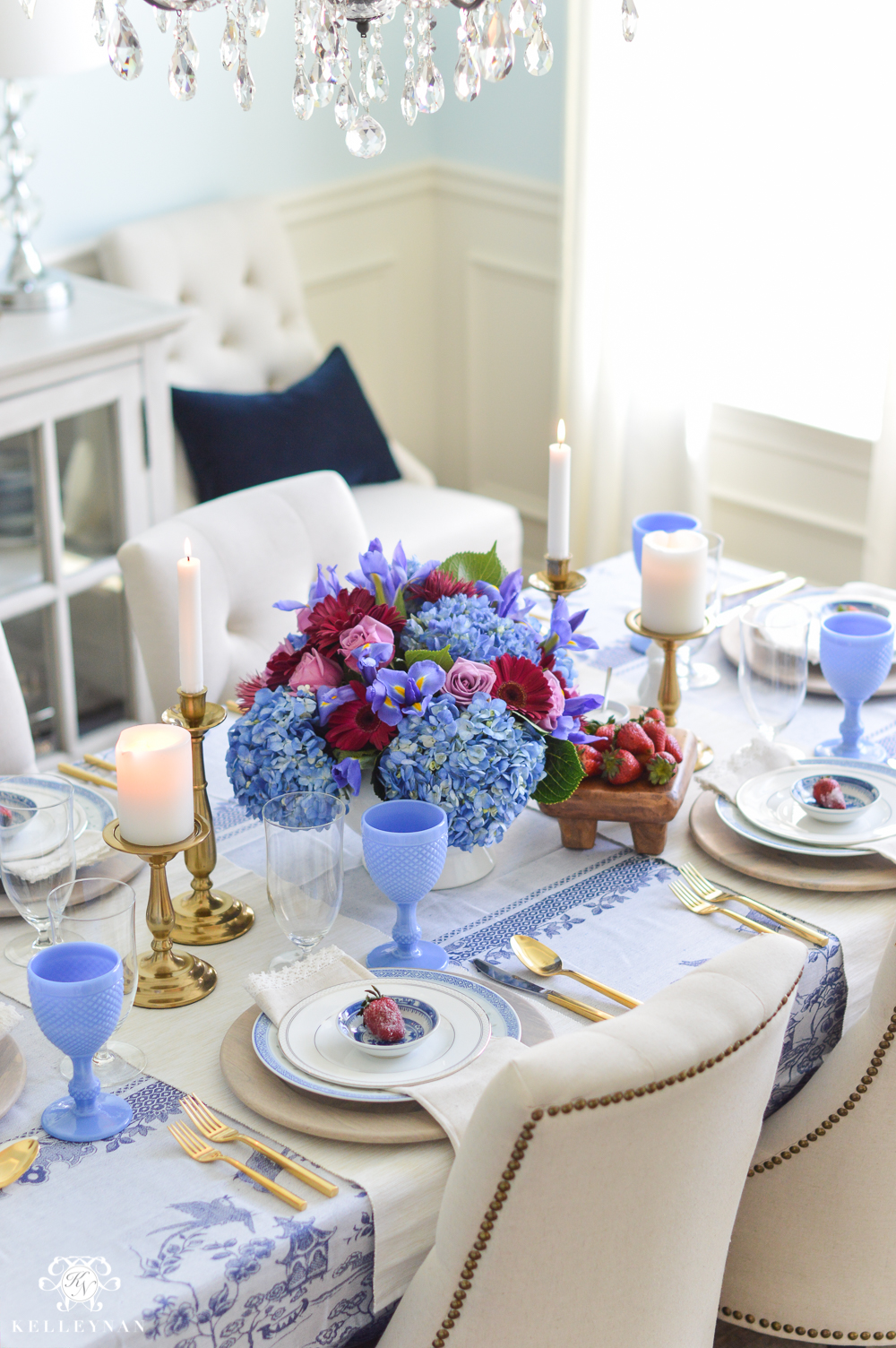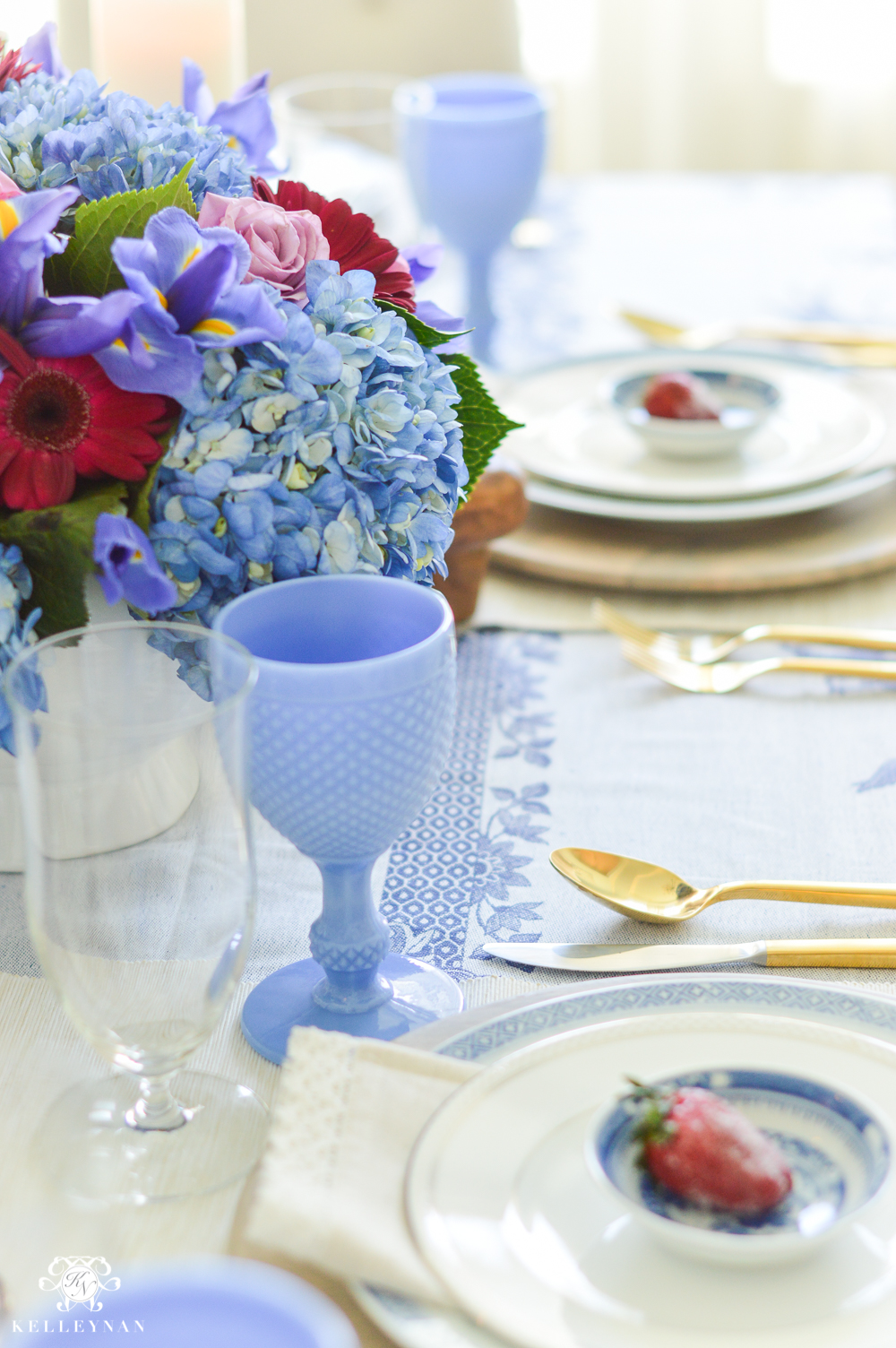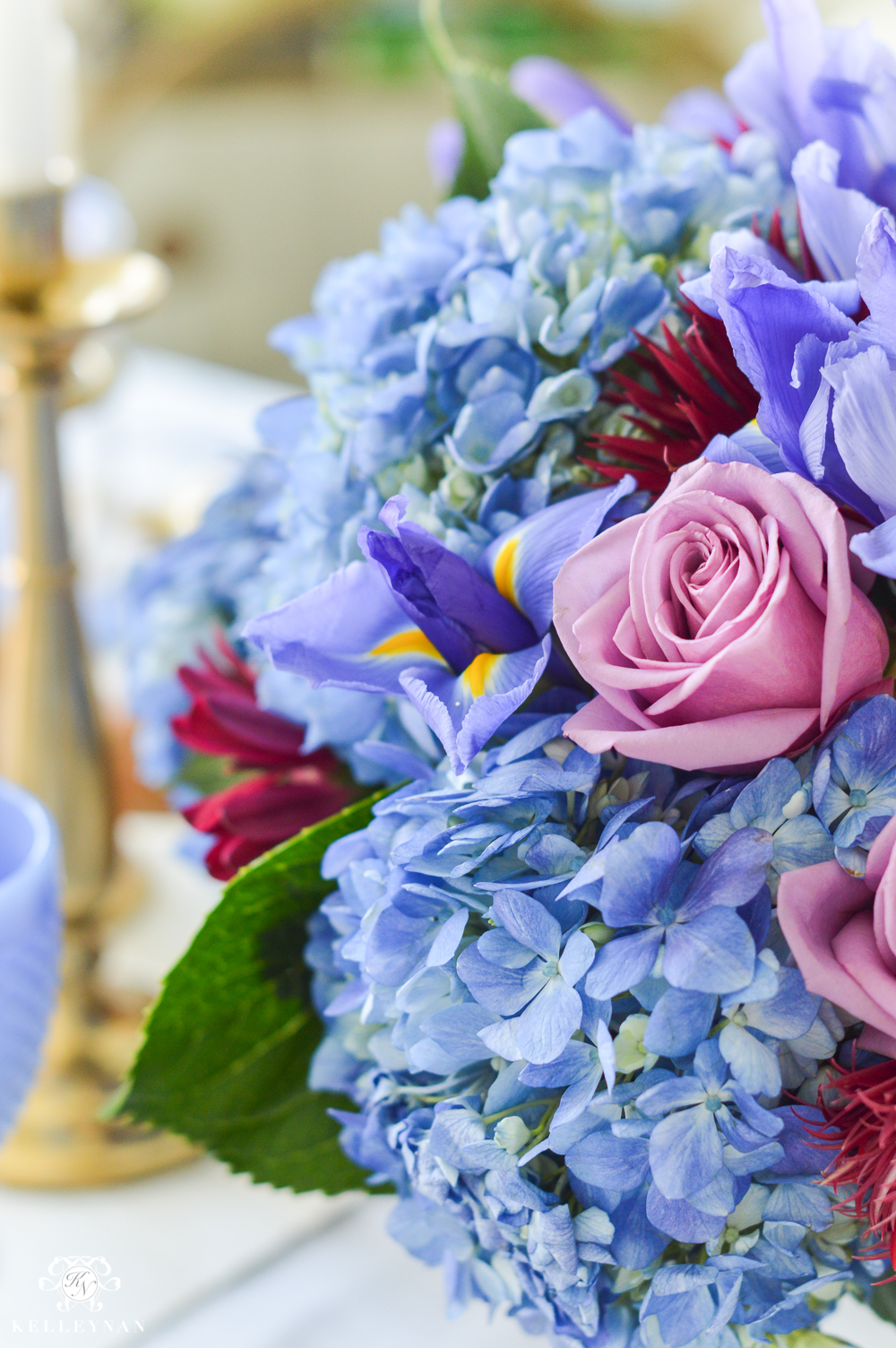 Remember the bedroom porch makeover I recently took on with Tuesday Morning? Even among the larger pieces, the periwinkle milk glass goblets were a favorite find. They have them often so if you haven't had luck, keep checking back 😉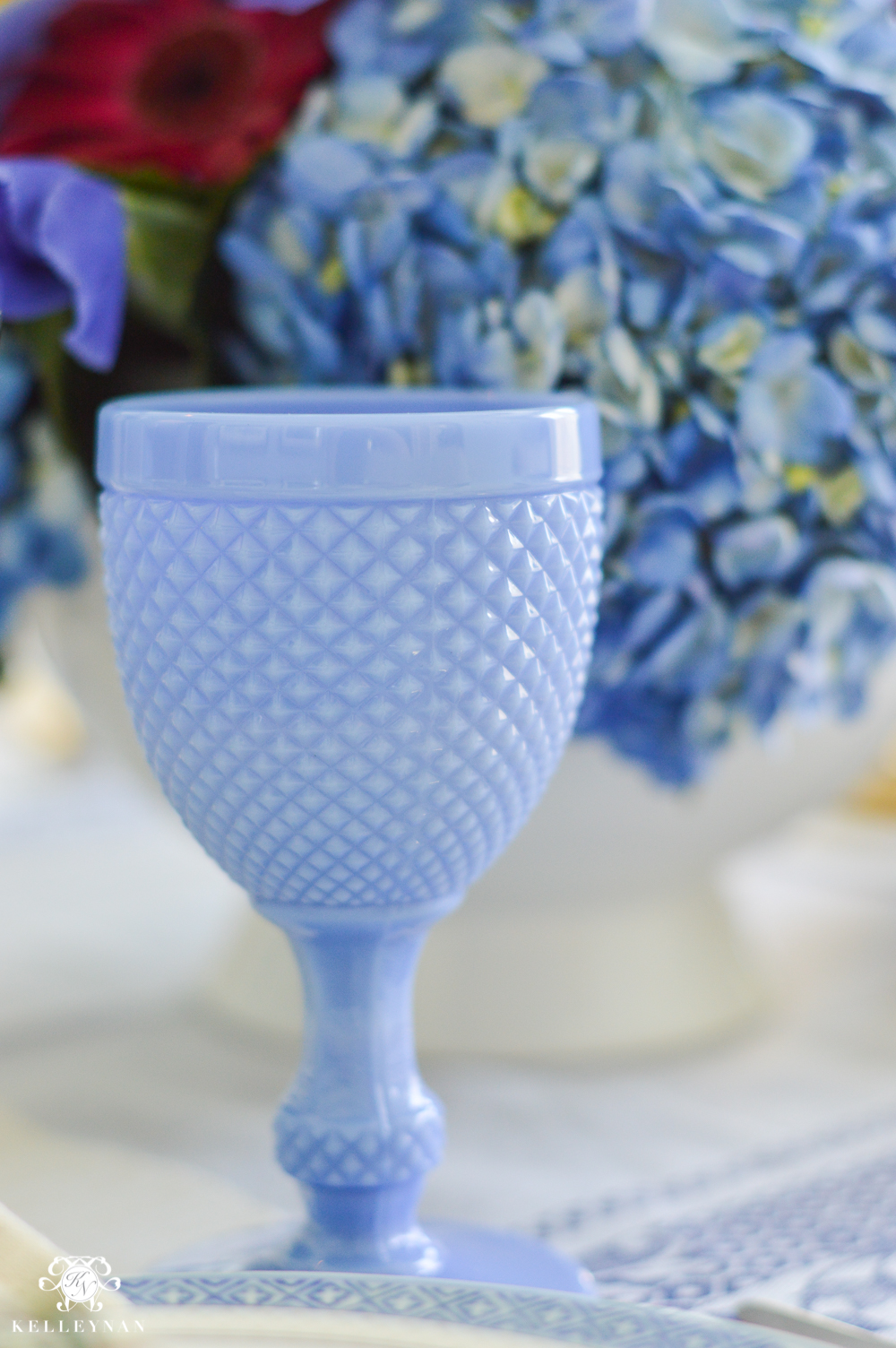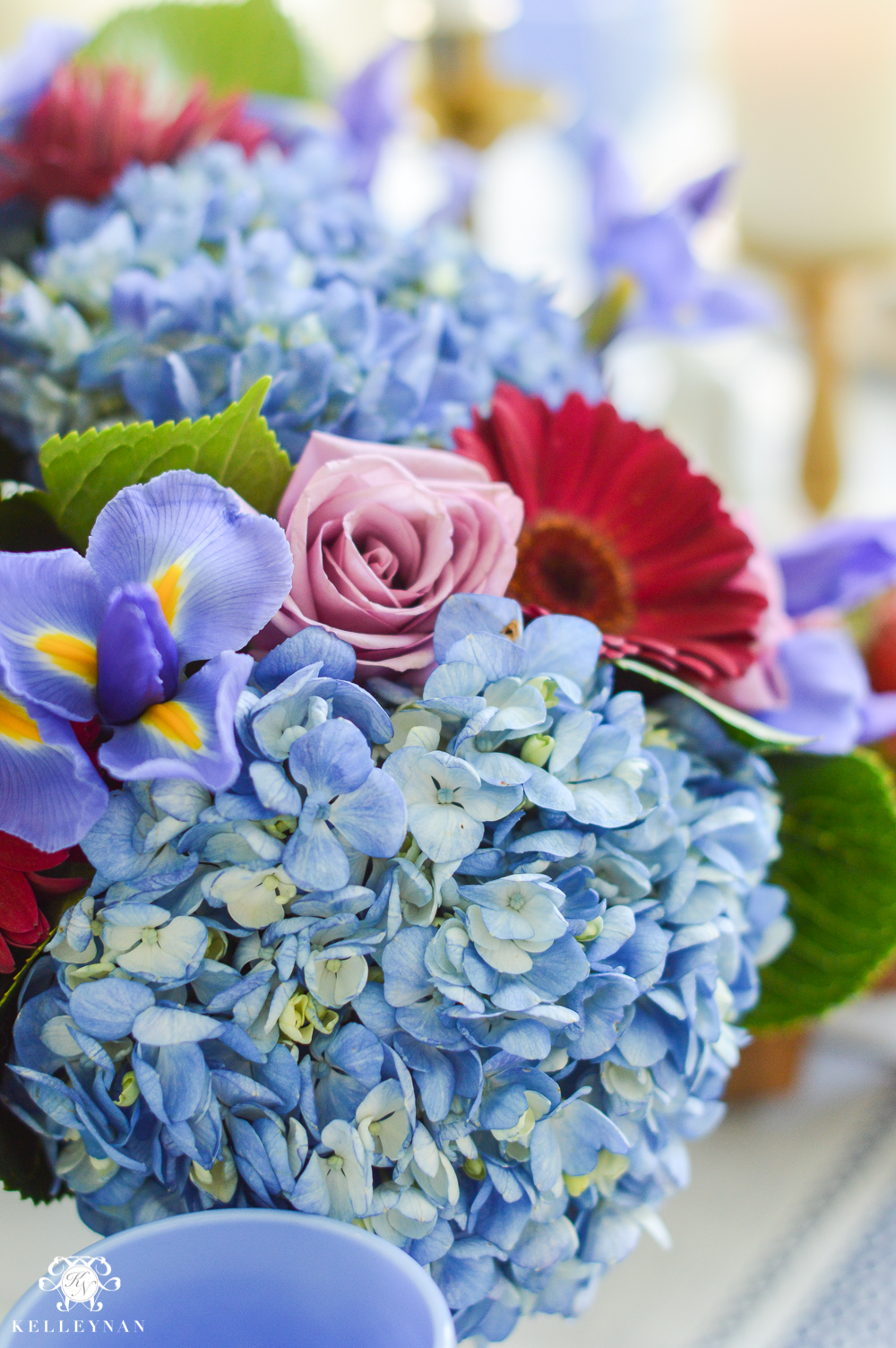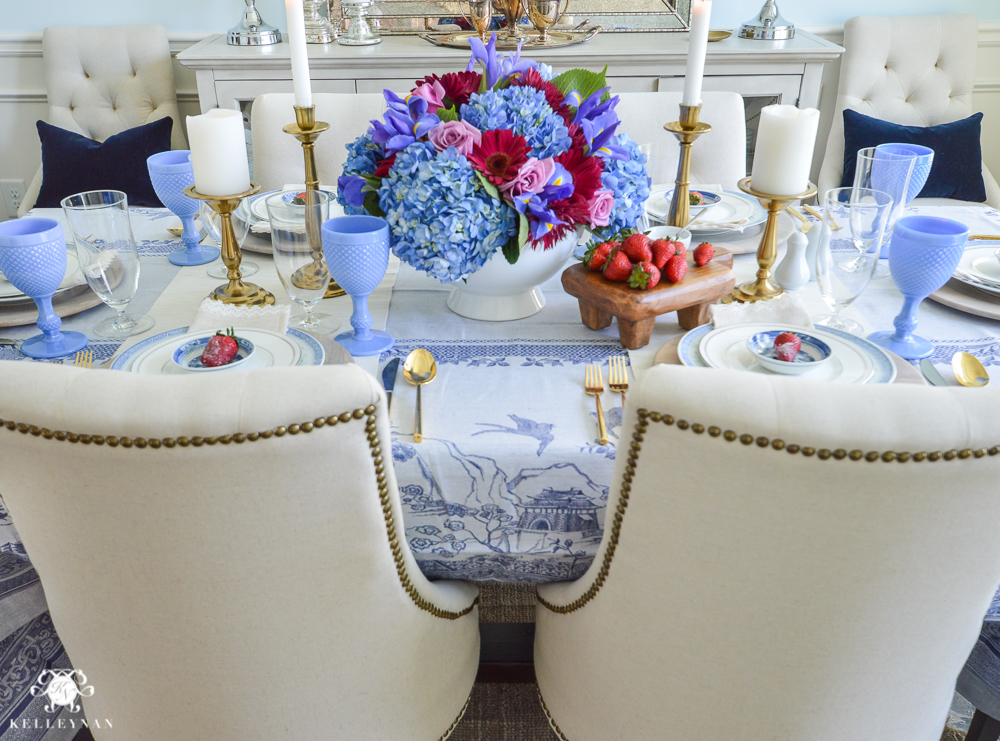 Another thing I've always appreciated about my mom- while some things are totally homemade from scratch, she has no problem taking something in a box and making it her own. It's a practice I've adopted, also. If she has a packet of flavored rice, you better believe she's going to "stretch it" with plain, white rice. Some of my favorite treats she made when growing up had a boxed cake mix base, but she would add to it and then make homemade frosting. One of my favorites – her easy quadruple strawberry cake.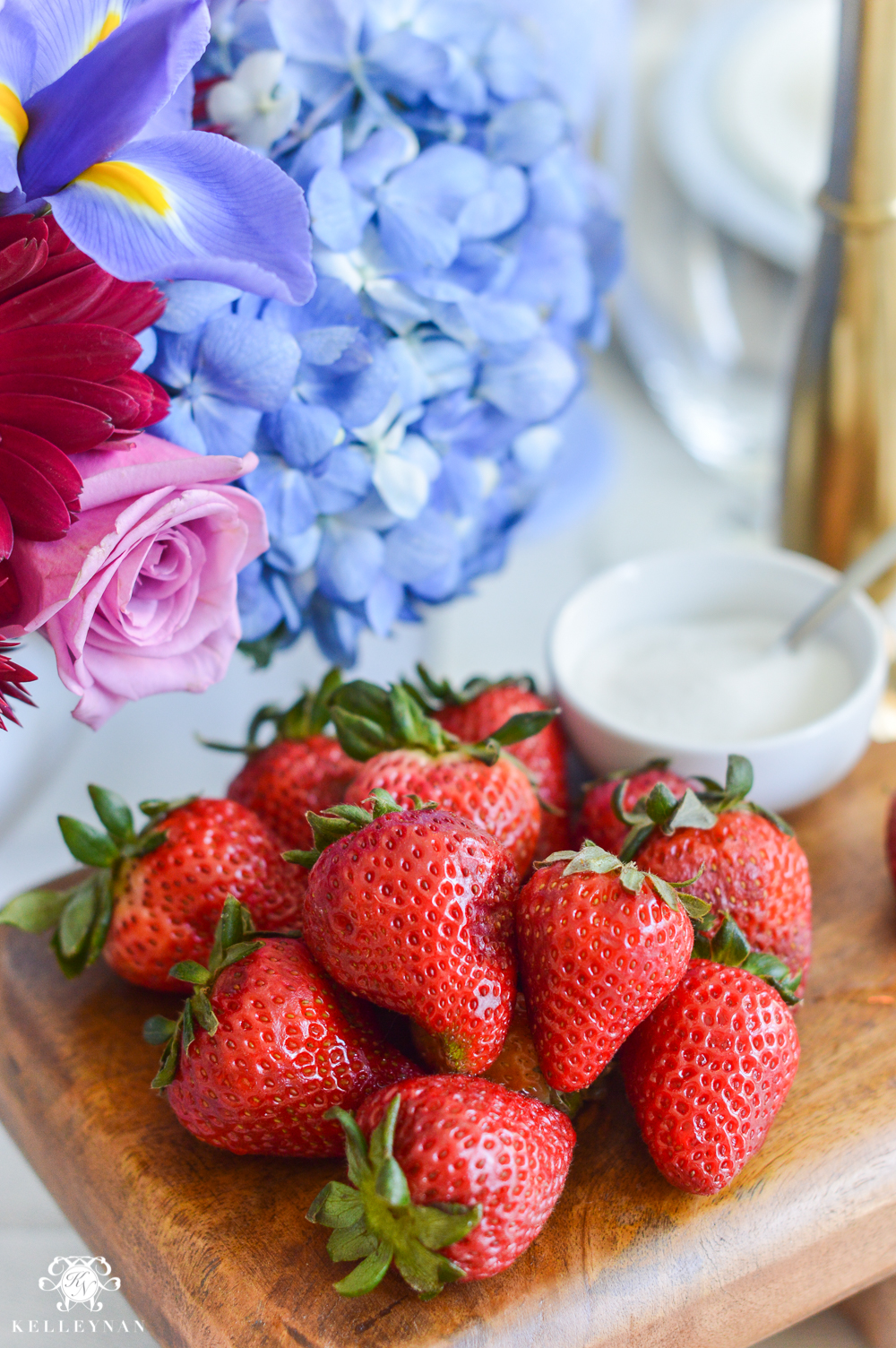 As promised, here is the perfect summertime dessert recipe.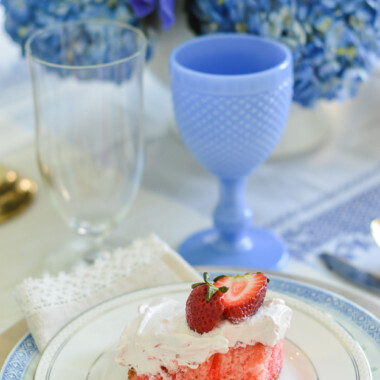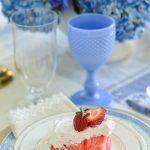 Easy Quadruple Strawberry Cake
Ingredients
1

box

strawberry cake mix

(ingredients included on back of cake box)

4

eggs (instead of three listed on cake box)

1

box

strawberry jello

1

container

diced/sliced frozen sugared strawberries

1

container

cool whip
Instructions
Bake strawberry cake according to directions on box

Mix small box of strawberry jello with 1 cup boiling water (do not add the cup of cold water), and mix well until dissolved

Poke cake all over with fork and pour jello mixture on top, evenly

Let cool in refrigerator for at least 1 hour

Spread half of container of frozen strawberries on top of the cake

Mix the other half with the tub of cool whip and spread on top as frosting
Does your family have a variation of this recipe? If you test this out, let me know! It is the perfect easy treat to make on the weekend in the midst of chores.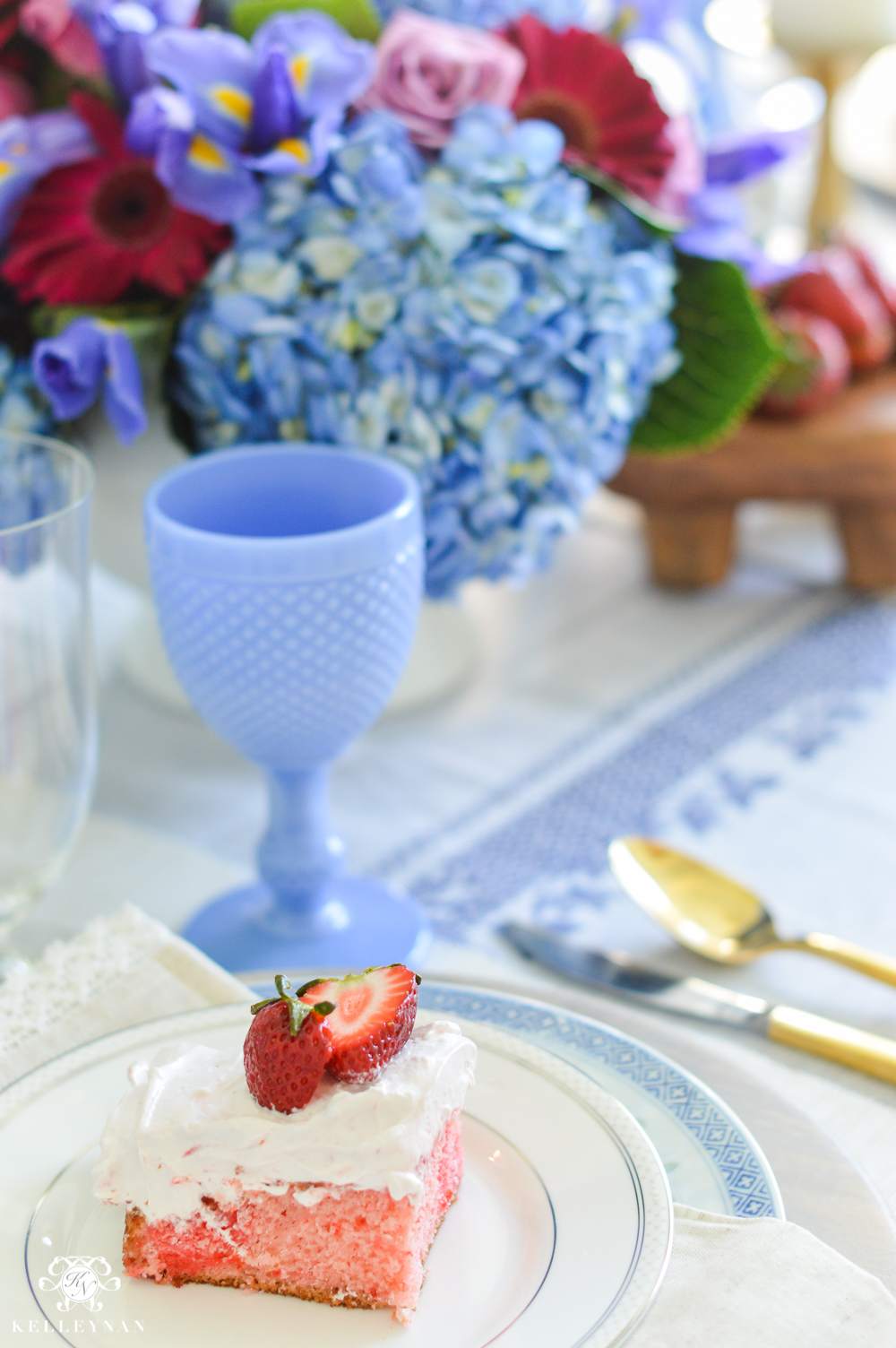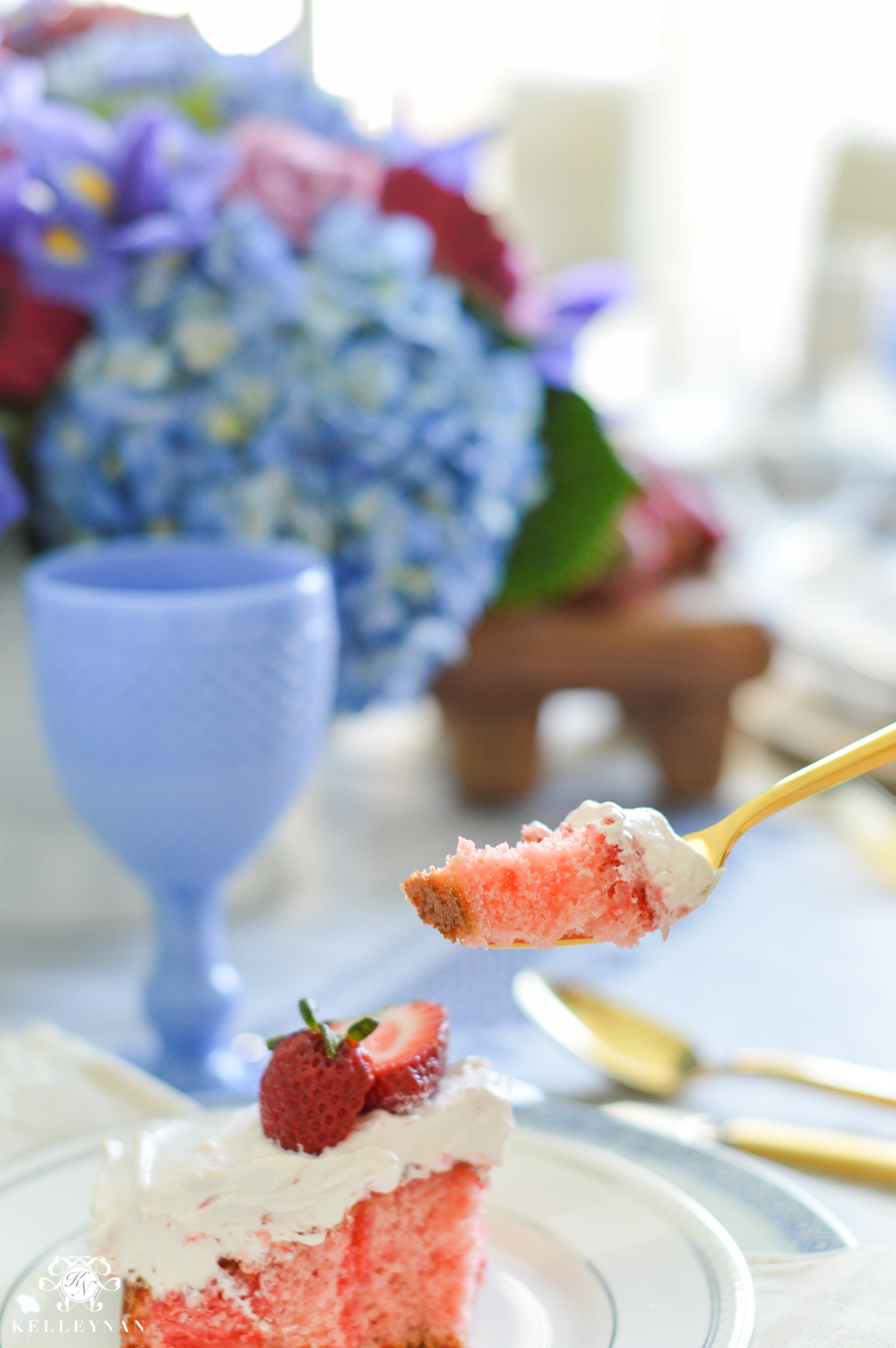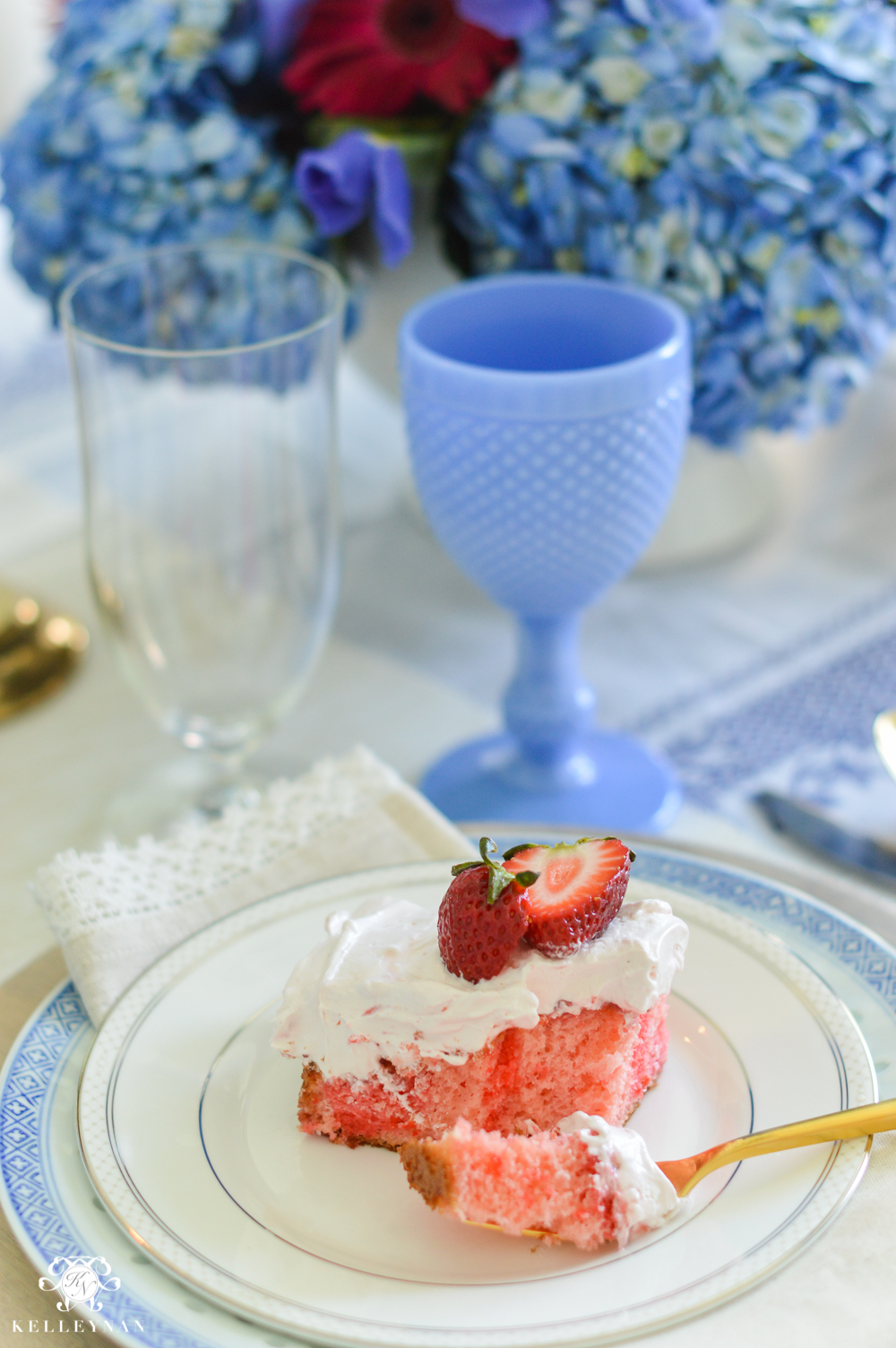 And, don't forget to thank/hug/love on a mother this week – either your own or one you love. Stay tuned and check back in with me on Thursday for the guest bedroom makeover reveal! You can get caught up on the project over the past few weeks HERE.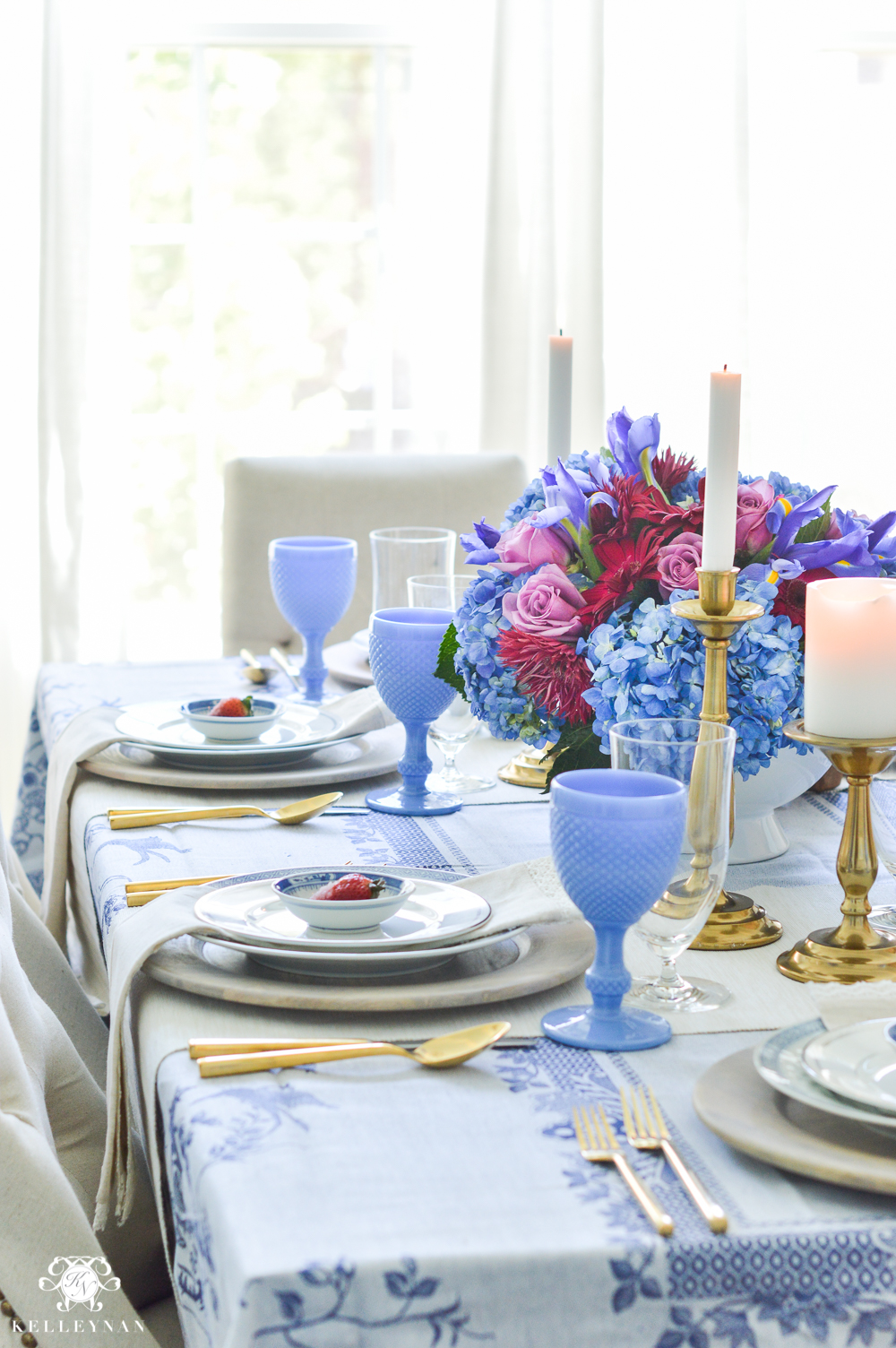 Gold Flatware | Candle Holders | Napkins | Chargers | Chairs – Linen | Bar Cart | 12-Light Chandelier
 | Mini Wooden Paddle Board | Floral Centerpiece Holder – White Soup Tureen | Navy Velvet Pillows | Blue Goblets: Tuesday Morning | Blue & White Plates: Family Heirloom | Waterford Padova Salad Plates | Table Cloth: Williams Sonoma (no longer available)- (SIMILAR) | Mirror: Homegoods – (SIMILAR) | Dining Table:  (84″ in Salvaged Brown) | Buffet: (72″ in Distressed White) | Curtain Panels
: (98″ in White) | Rug: HomeGoods- Calvin Klein wool (SIMILAR) | Silver Tea Service: Family Heirloom | Lamps: HomeGoods – (SIMILAR) | Cream Table Runners |  Church Painting | Water Lillies Art | Gold Rimmed Glasses on Bar Cart | Decanter | Lantern (SIMILAR) | Paint: Lauren's Surprise by Sherwin Williams | Trim Paint: Creamy by Sherwin Williams | Flooring: Nottaway Hickory in Weathered Saddle