Friends, did you think I had disappeared? After sharing the guest room reveal last week (HERE), I've been a little M.I.A. – I've been focusing on work, life, getting the house ready for summer, and among a a lot of little things, helping to plan my future sister-in-law's bridal shower. My mom is technically hosting in her home next month- I've just kind of inserted myself and named myself "co-host" because I love being able to use a little creativity to help make this a (hopefully) special day for the bride. The setting will be in south Alabama at the end of June – I'm planning on "sweltering" to be an understatement – with a simple garden party theme. After talking general details and a few specifics, the invitations were first on the list to tackle. We also considered the invitations as an opportunity to arm Madeline, the bride, with a special shower take-home. What would be a keepsake that would be meaningful? More than a simple notebook of well wishes that would end up in a drawer? The bridal shower invitation idea with recipe cards was born.
*contains some affiliate links
One of my favorite gifts ever was when my mom gave me a recipe book she had hand written, just for me, with my favorite family recipes growing up. (If you need a special gift idea, this one is a winner!) The bridal shower invitation idea with recipe cards is similar to that special gift, but with 35 or so of Madeline's nearest and dearest having a hand in it. The goal: to have the box filled with special recipes by the end of the shower. Because I was incorporating an add-on in the invitation (the recipe cards) and I wanted to make them extra special, I made them just a tad more formal. Here's how I pulled them together. (addresses blocked for privacy)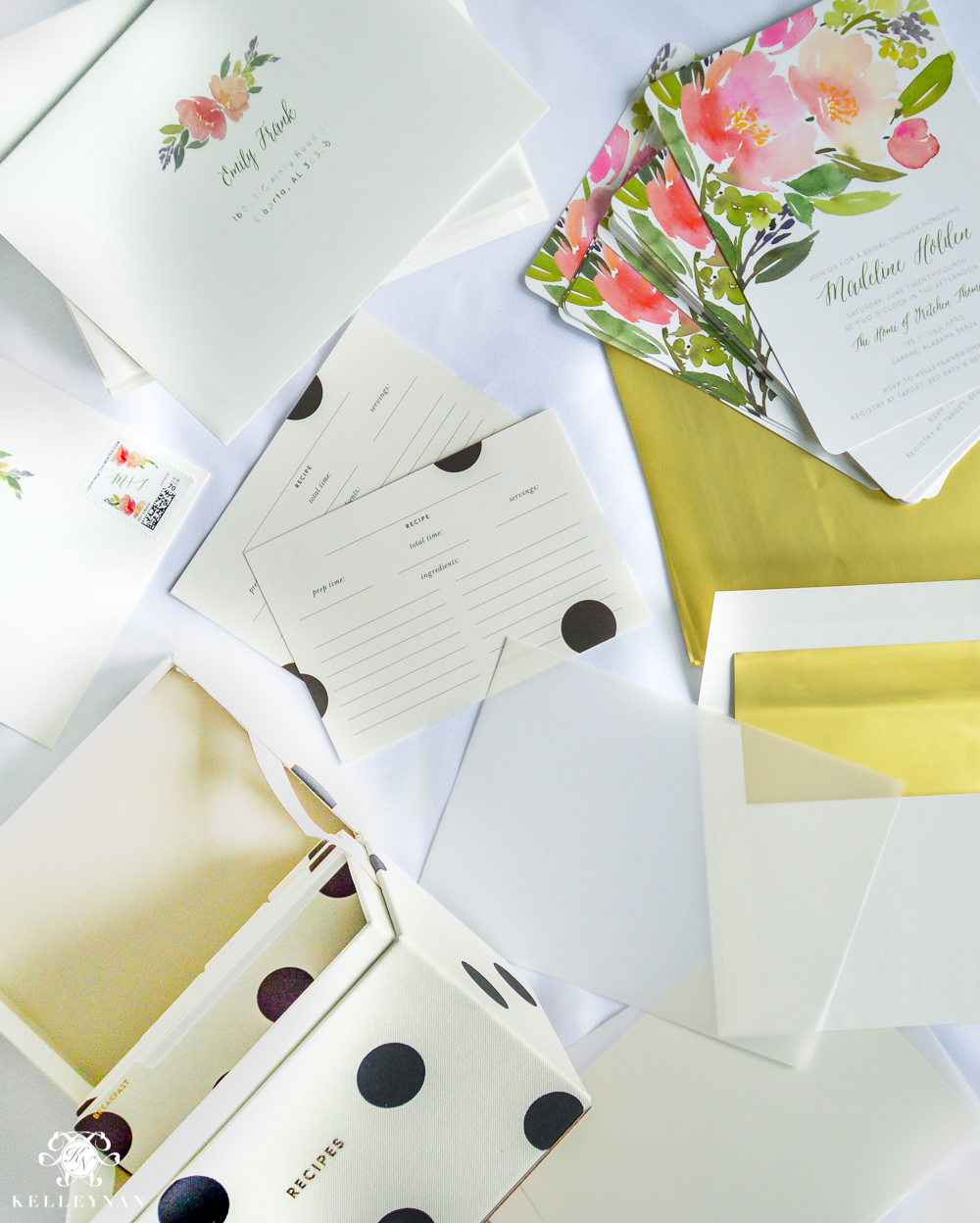 The Kate Spade recipe box comes with 40 cards inside (HERE), but I ordered an extra pack (HERE) to make sure Madeline has room to grow.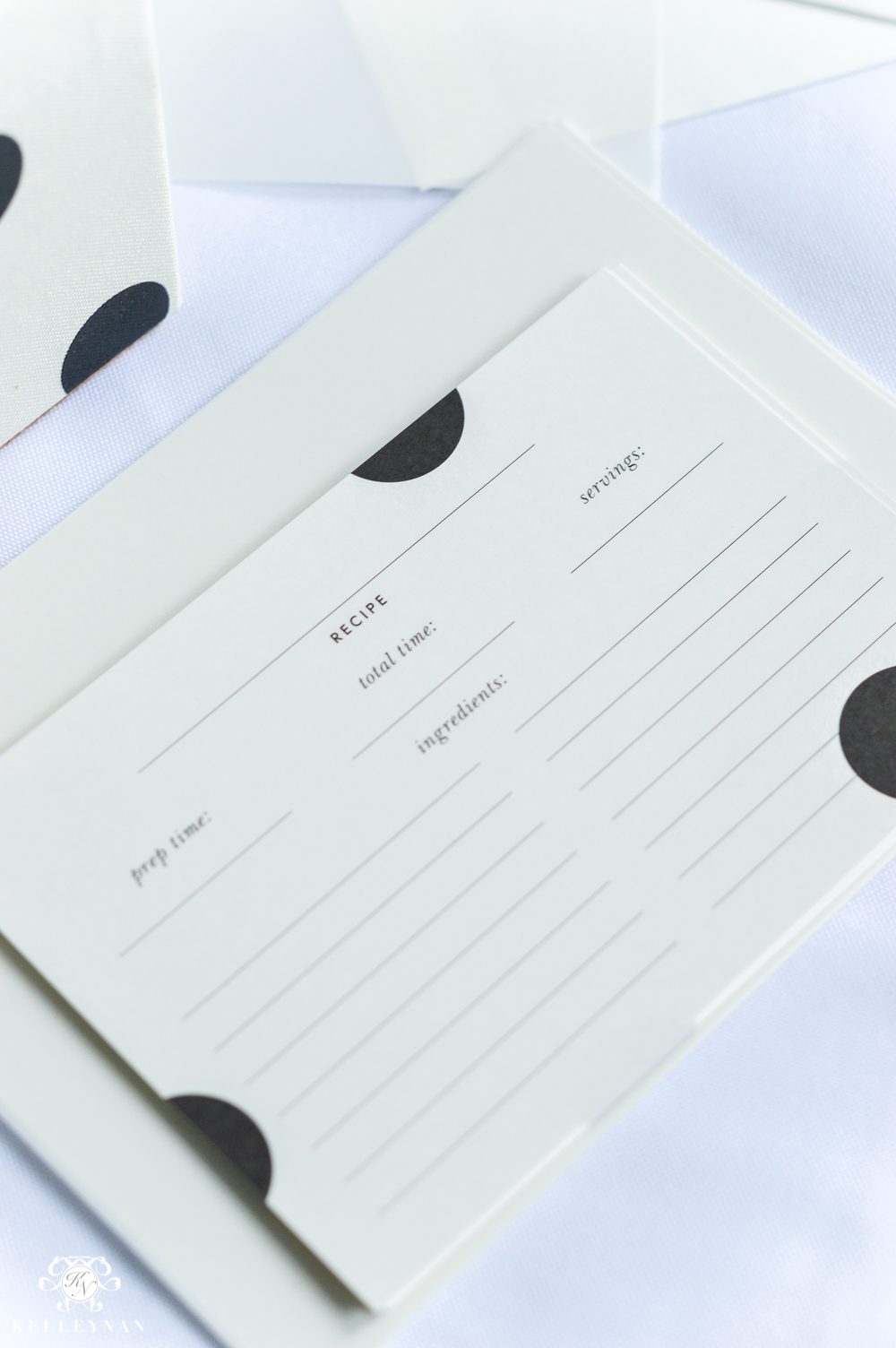 We have always used Minted for our Christmas cards; previously, I had used a few other online companies and they couldn't compare. The print quality and card thickness are far superior to other retailers. With several edge and corner options, I went with a rounded edge on recycled, heavy stock. I also LOVE that they will print your addresses for no charge; I uploaded an Excel spreadsheet into my Minted address book and was good to go. Custom stamps (HERE) are a splurge but if you have a special event coming up, they have a ton to choose from. I ordered a pack of tissue paper squares (HERE) to separate the invitations from the recipe cards. While the original purpose was to prevent fresh ink from smearing, I think the simple addition is an adorable touch.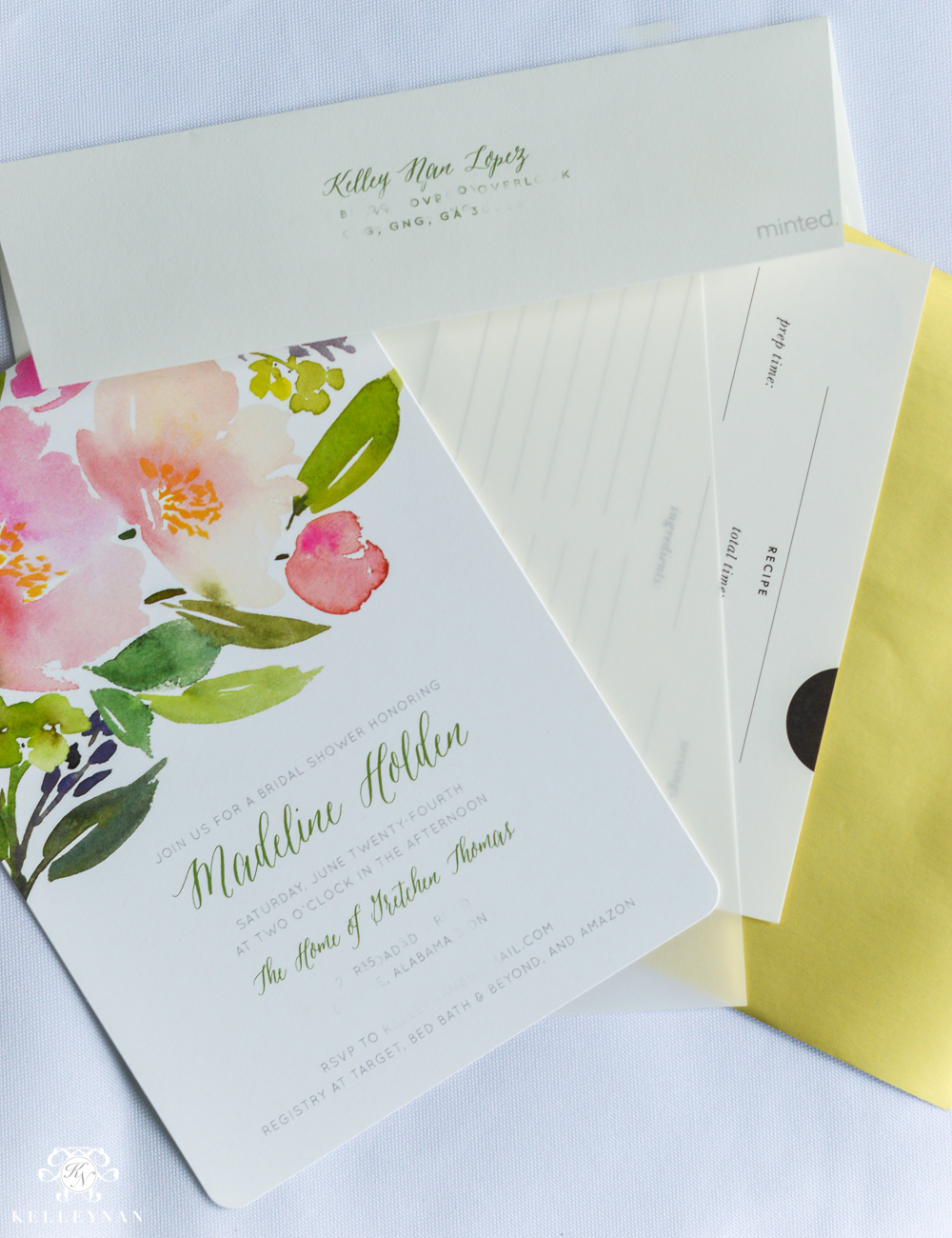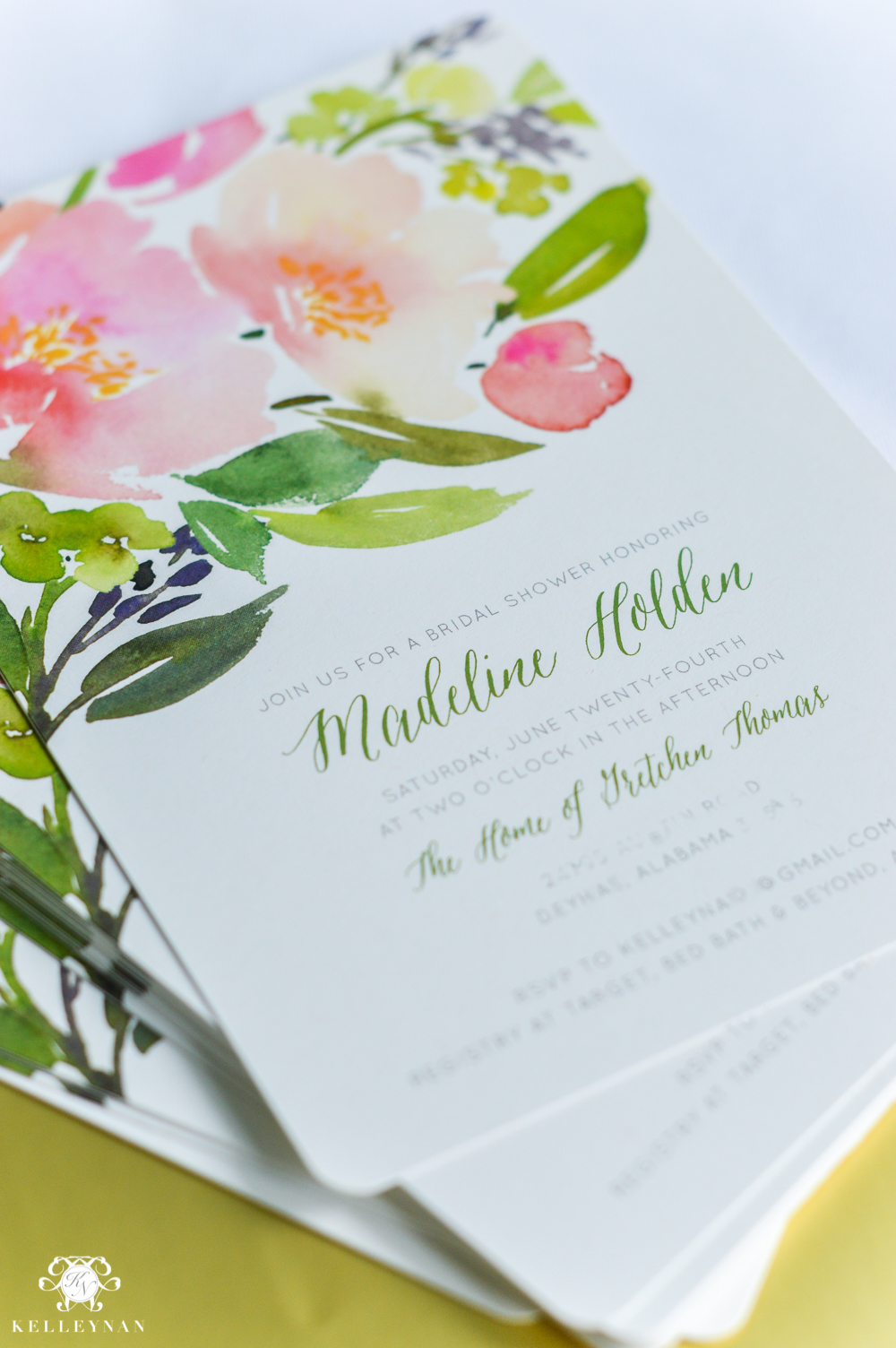 I came up with the little poem-esque rhyme below. Fact- I can't ever resist the opportunity to use a pun, rhyme, or alliteration (#basic) haha. I'm always looking for simple ways to personalize where I can.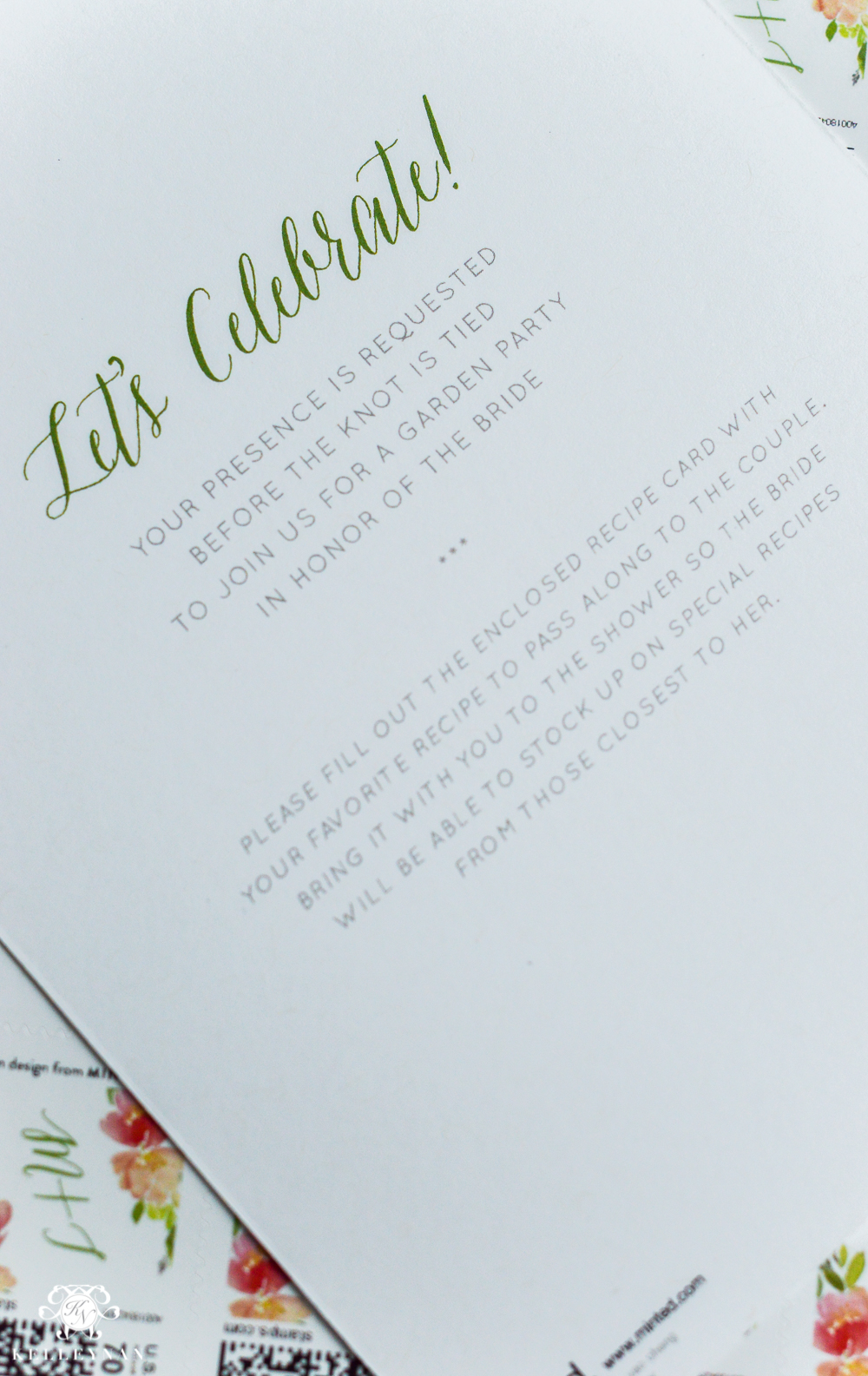 My friend Kris at Driven by Decor is so smart, she even suggested that this concept could work for a baby shower. Ask all the guests to bring along their favorite, easy family dinner since their time will be more limited with a new baby. Love that idea!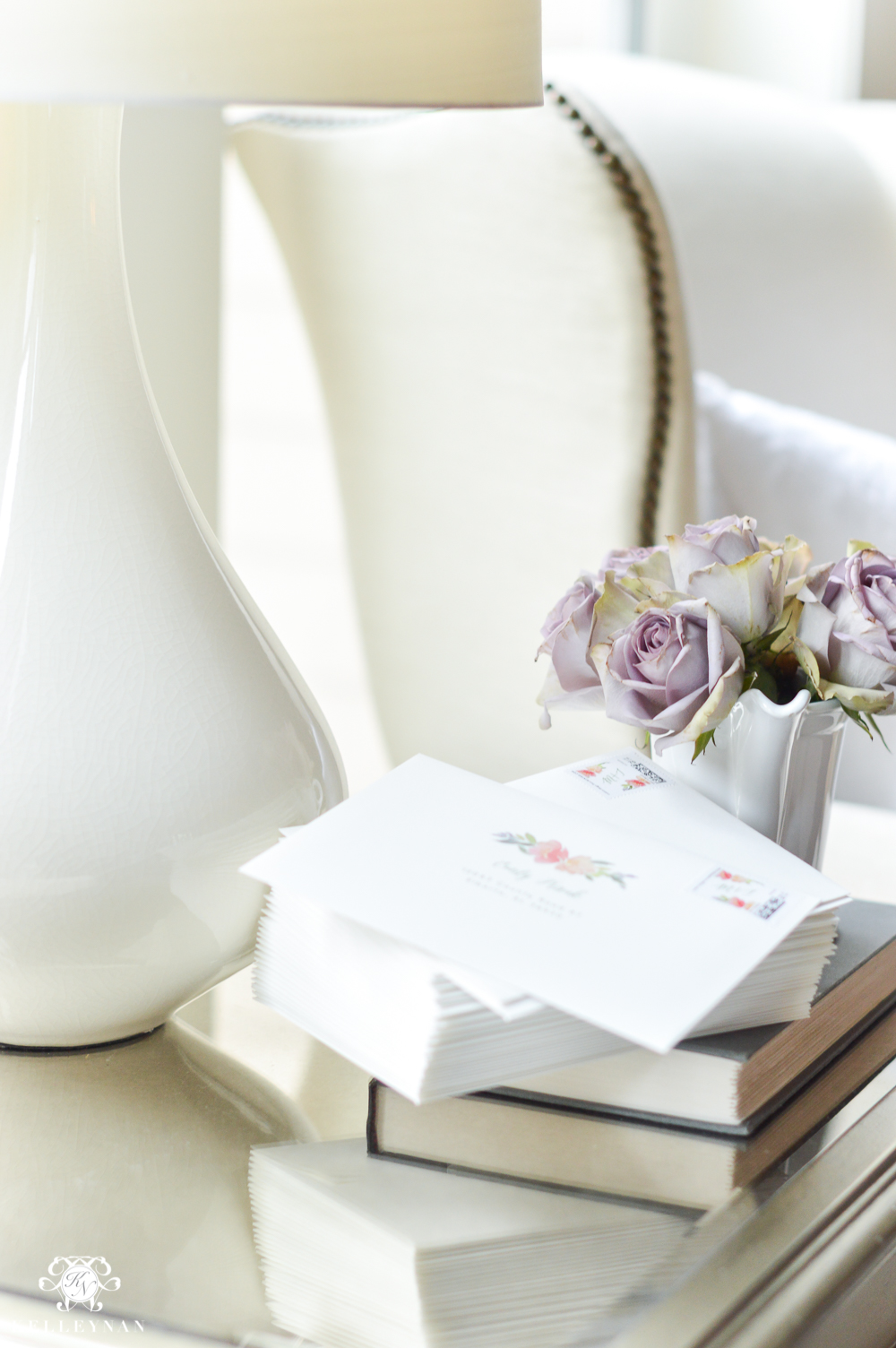 Have you sent out creative invitations or received one that you absolutely loved? I would love to hear about it in the comment section below! Stay tuned for more shower details, coming late next month.
STATIONERY SOURCES
Invitations | Stamps | Recipe Card Box | Extra Recipe Cards | Tissue Paper Inserts 
*Thank you to Minted for being a shower sponsor*