Let me take you back to a time before unexpected kitchen updates – it's been several months but before the kitchen makeover consumed most of my energy (you can see the reveal HERE), we had started to make some updates in the living room. When we busted the large, mirror-top coffee table New Year's Eve (dang that rowdy game of jumbo Jenga), we decided not to go through the effort of getting the glass replaced. It was beveled and had an antique finish which would have made it a pricier repair, but Maggie, in her youngest days, had also made fast work of chewing each leg. I had already started having serious thoughts about changing our huge sectional to something that would provide more space; time proved that the two of us just didn't need something so oversized and more space (and streamlined aesthetic) was more important. We didn't do anything right away and lived with a broken table for half a year (it wouldn't have made sense to bring something else in in the interim, just to possibly want to change it again when we made the sofa switch). Then, during a sale in July, we pulled the trigger on new sofas (see what we went with, and what we compared HERE). And I believe that's where we left off!
*Posts on KelleyNan.com may contain affiliate links. Click HERE for full disclosure.
One of the mistakes I made before we moved in was trying to outfit our unoccupied space before LIVING in it a little first. This time, I wanted to go a little slower, and make selections gradually. I've taken advantage of sales and still made a choice or two that ended up not working out. The great thing about doing a little at a time – of course, along with being able to save as you go – is that it's a lot easier to return one item after deciding it doesn't work with your progress, than just not liking how everything looks together and not being able to identify why after it's finished. And to be honest, it actually ended up being a blessing that we unexpectedly went into a kitchen update before continuing the living room. Some of the decisions made for each room would not have been possible (or at least, wouldn't have flowed well with our open floor plan) had we only worked on one room and not the other.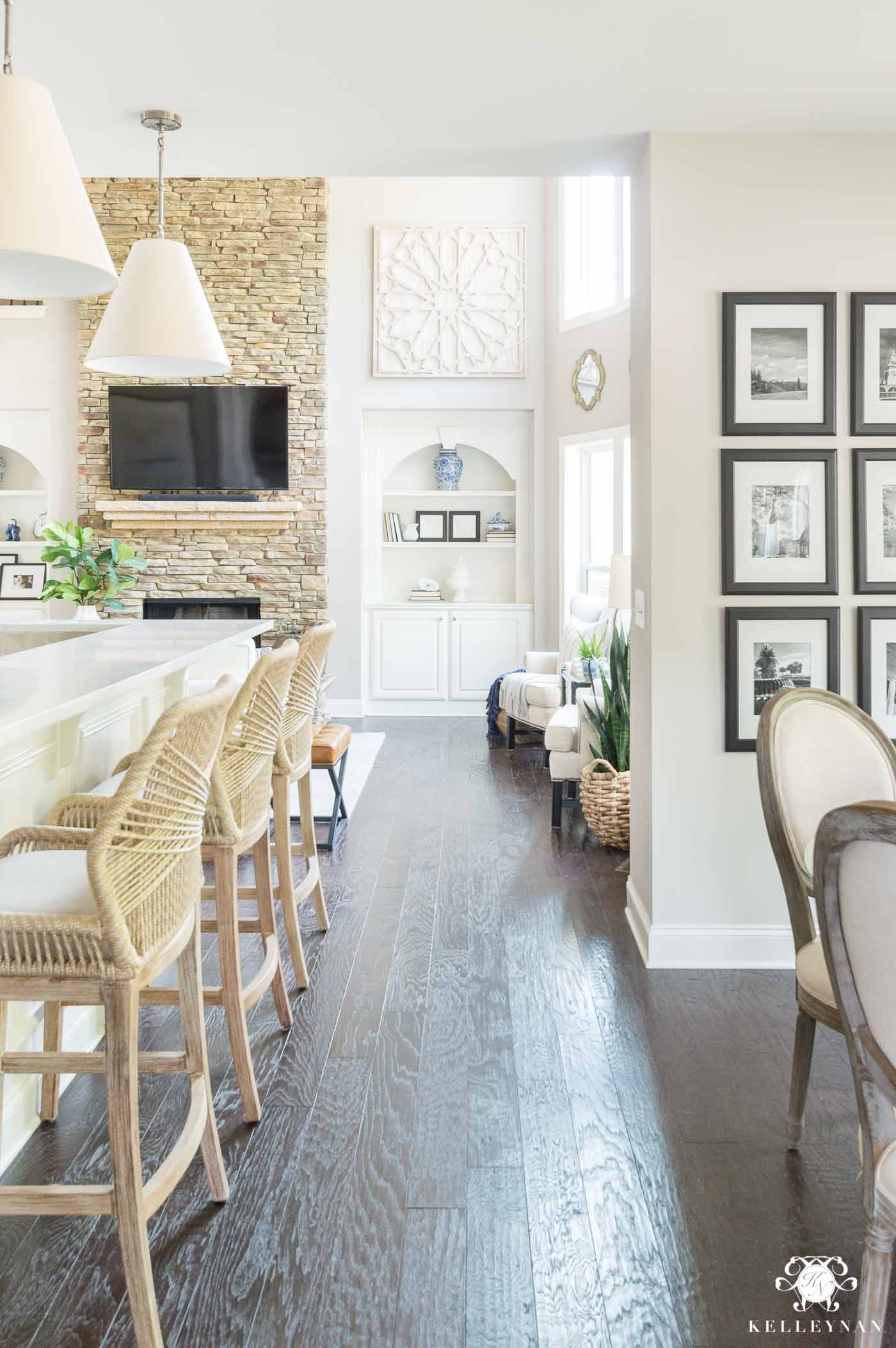 When everything is wrapped up, we'll take a walk down memory lane and take a look at some "befores", but for now, I'll show you what we're looking like today.
This area is a narrow walkway, my previous table was far too short and was slightly too wide. I replaced what we had with this console table, (on sale this weekend with code FALL) which is substantially longer, but still more narrow than the previous. Instead of double mirrors, I opted for this single, large rattan mirror (also on sale, set to arrive in December); I love the way it's going to tie in with the barstools. (Disregard current mirror placement- they will stay like this, off-centered, until our new mirror arrives.)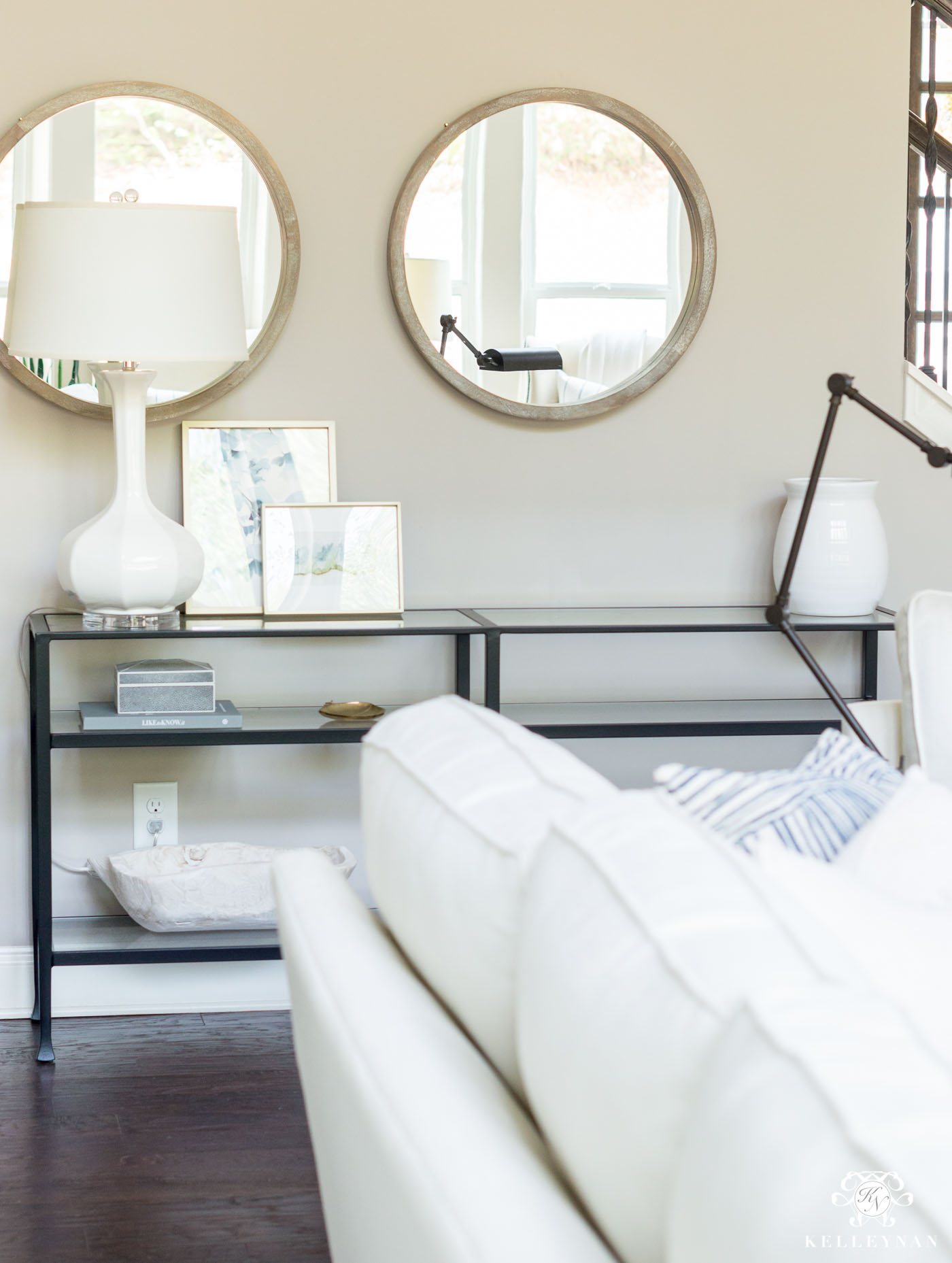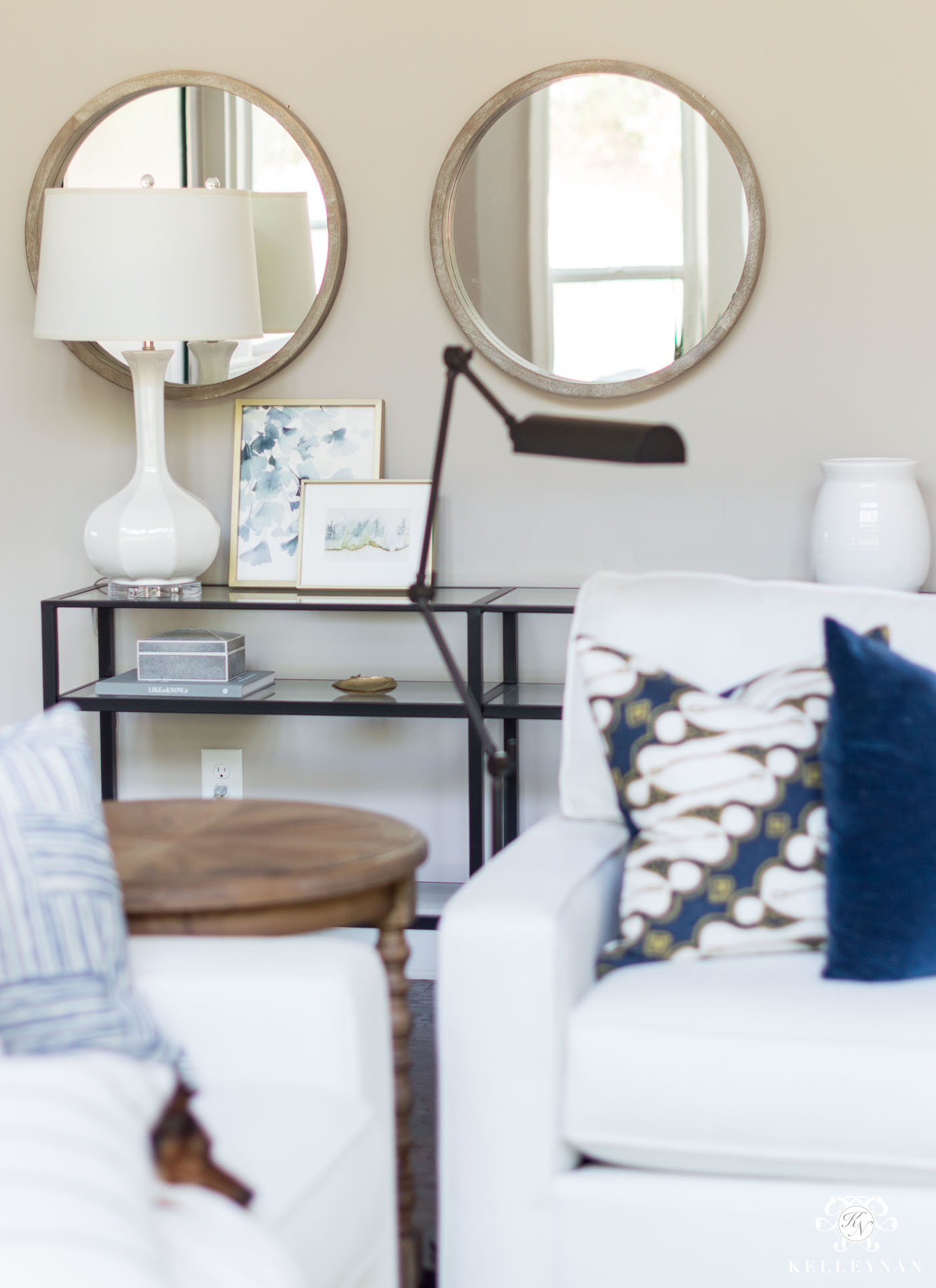 I'm already having fun, having a new place to style. This will take some time too, as things come together, both my shopping my own home and as I find pieces as I go. You can find my new blue floral print (mine is 11″x14″) HERE and the landscape scene (mine is 8″x10″) HERE.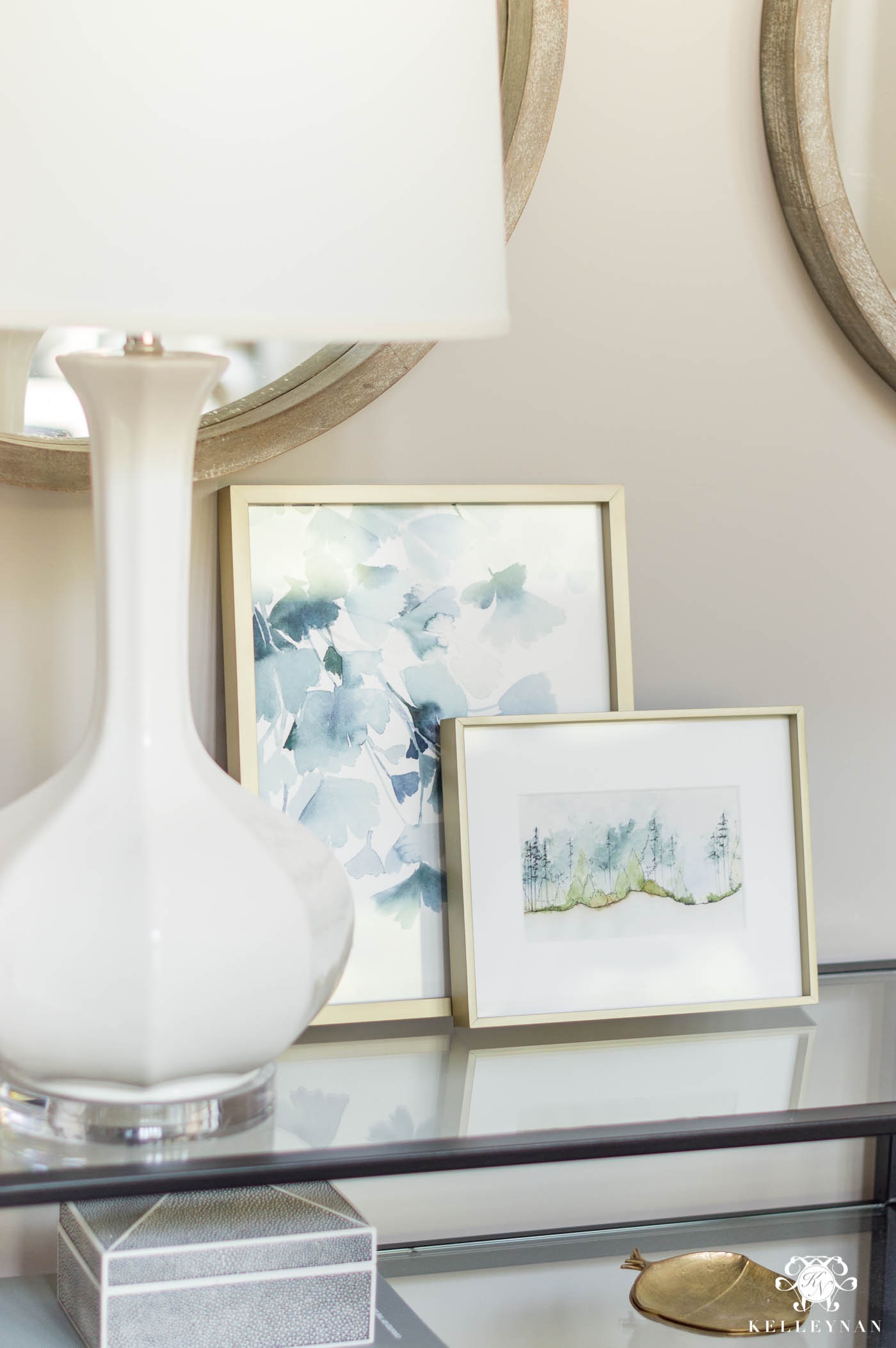 Finding a lamp that was tall but didn't have too wide of a shade (and that wasn't out of my price range) took an embarrassingly long time; I found THIS ONE and it gives just the heft I need without overlapping and extending into the walking space.
Not that there was any doubt, but the "kids" are really enjoying the update 😉 We all fight over this incredibly soft (and inexpensive) blanket; we now have two for the living room alone haha. And see that art back there? It's huge (I went with 40″x54″) and I absolutely love it. Along with the trim, molding, and column we added to zhush up the area between the kitchen, this wall was desperate for a statement.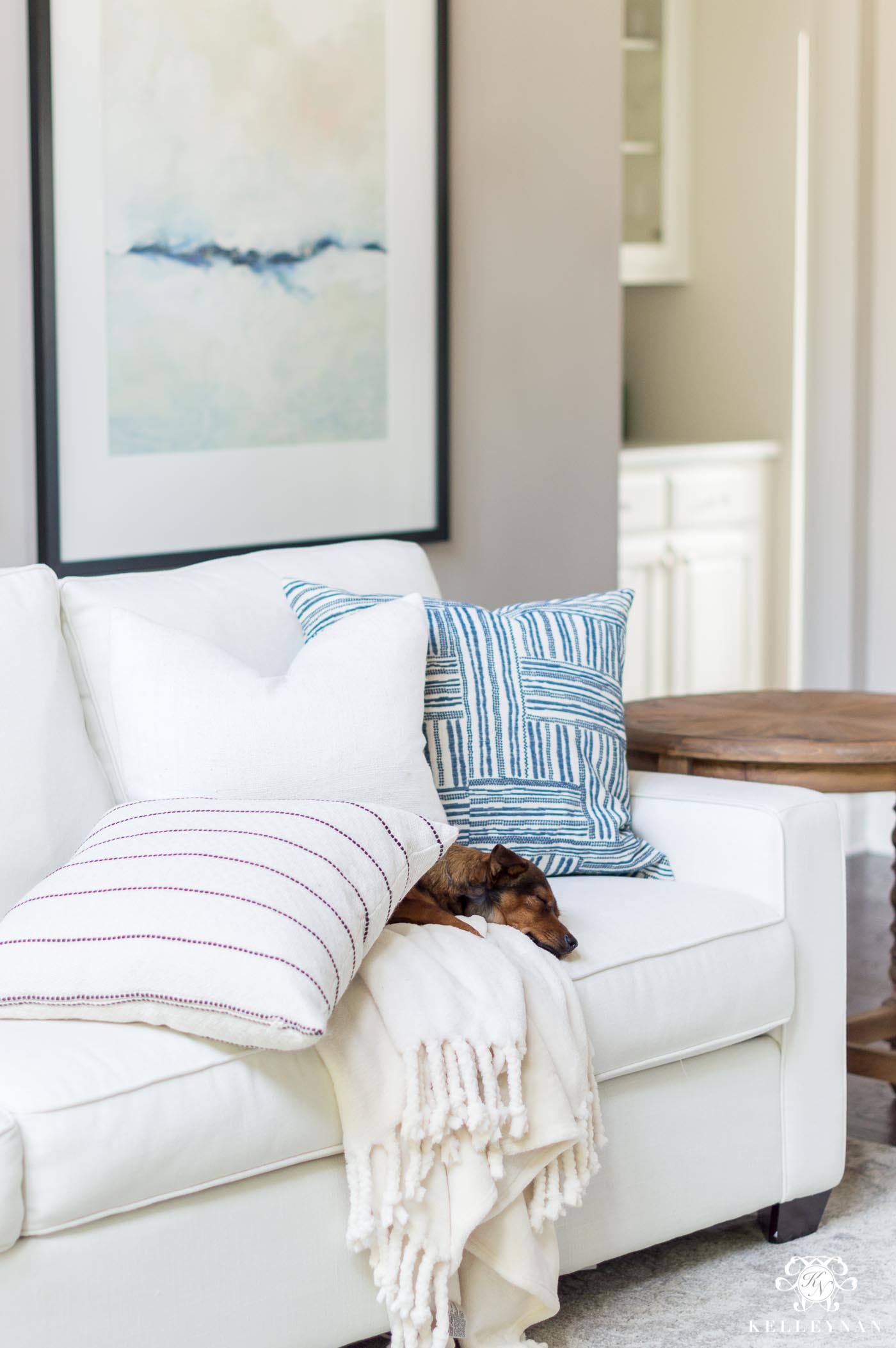 I originally ordered THIS coffee table (the longer size I ordered is now discontinued, I believe); I loved the price and the surface character. Unfortunately, when it arrived in person, it had too many orange tones for my space, and seemed more laminate-like in person. It went back and I've since ordered THIS table (set to arrive Tuesday and also on sale this weekend 😉 ).
Can you envision that large rattan mirror on the wall above the console? I would love to lighten the walls – even to the Edgecomb Gray I used in the kitchen – but unfortunately, this spans the majority of the house and isn't in the budget right now.
The rug I fell in love with last summer (HERE) wasn't in budget. I'm not saying "never" but I am so incredibly happy with the rug we did order. This weekend, it is literally 17% of the price of the original one I wanted (I had to do math because the price difference is shocking). The gray and khaki are back in stock in all sizes 😉 And, if you are contemplating it for on top of carpet, it's thick enough to work well!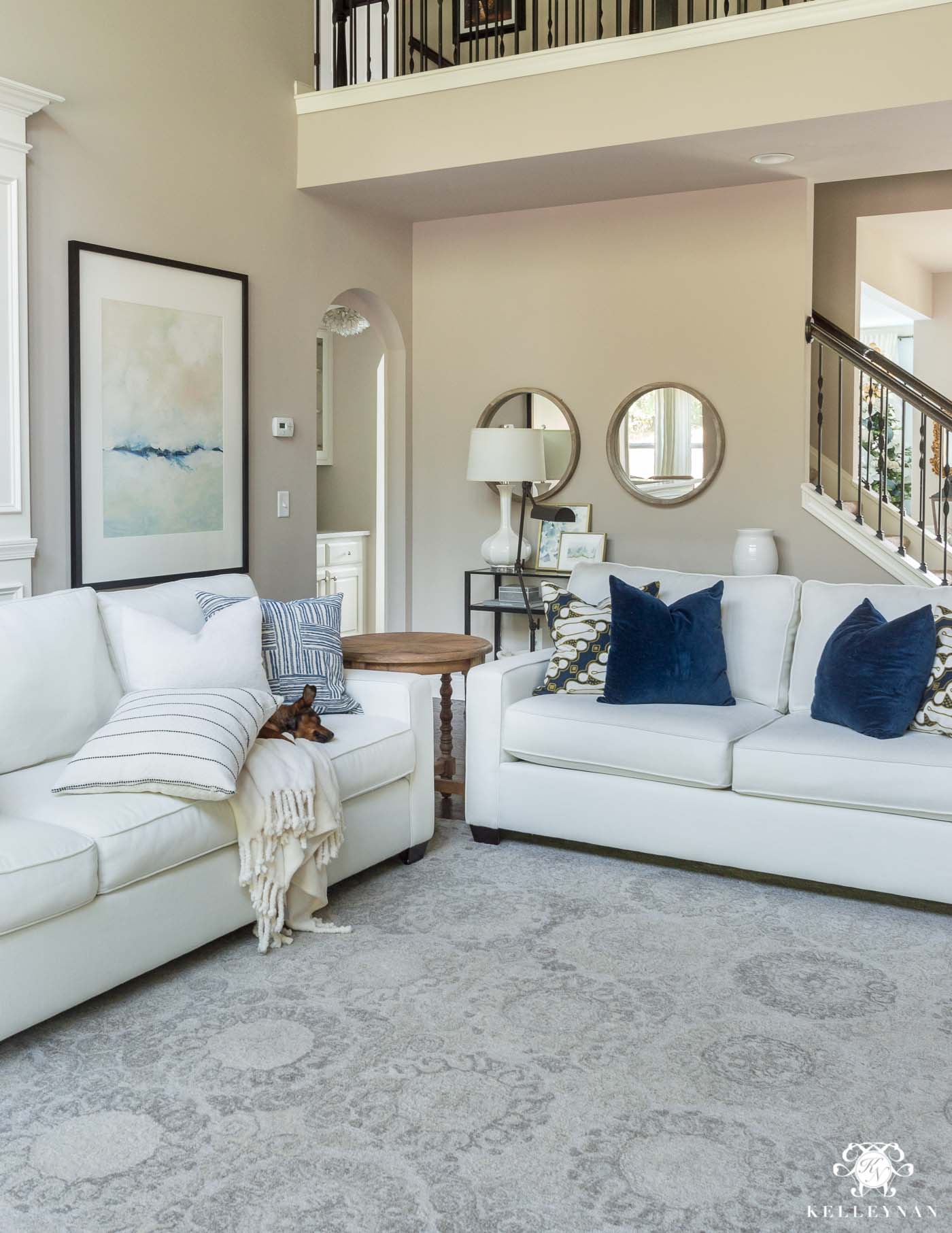 I finally ordered some lights to replace the flush mounts on the catwalk (woo!) which just arrived (but have yet to be hung), but replacing this fan will also be on the "eventually" list. I switched the shiny-toned blue tree for THIS wooden piece; it comes as a single option (it's huge at 47″ sq.) or at a discount for four to use as one large piece; it's on sale for 25% off this weekend with code AUTUMN.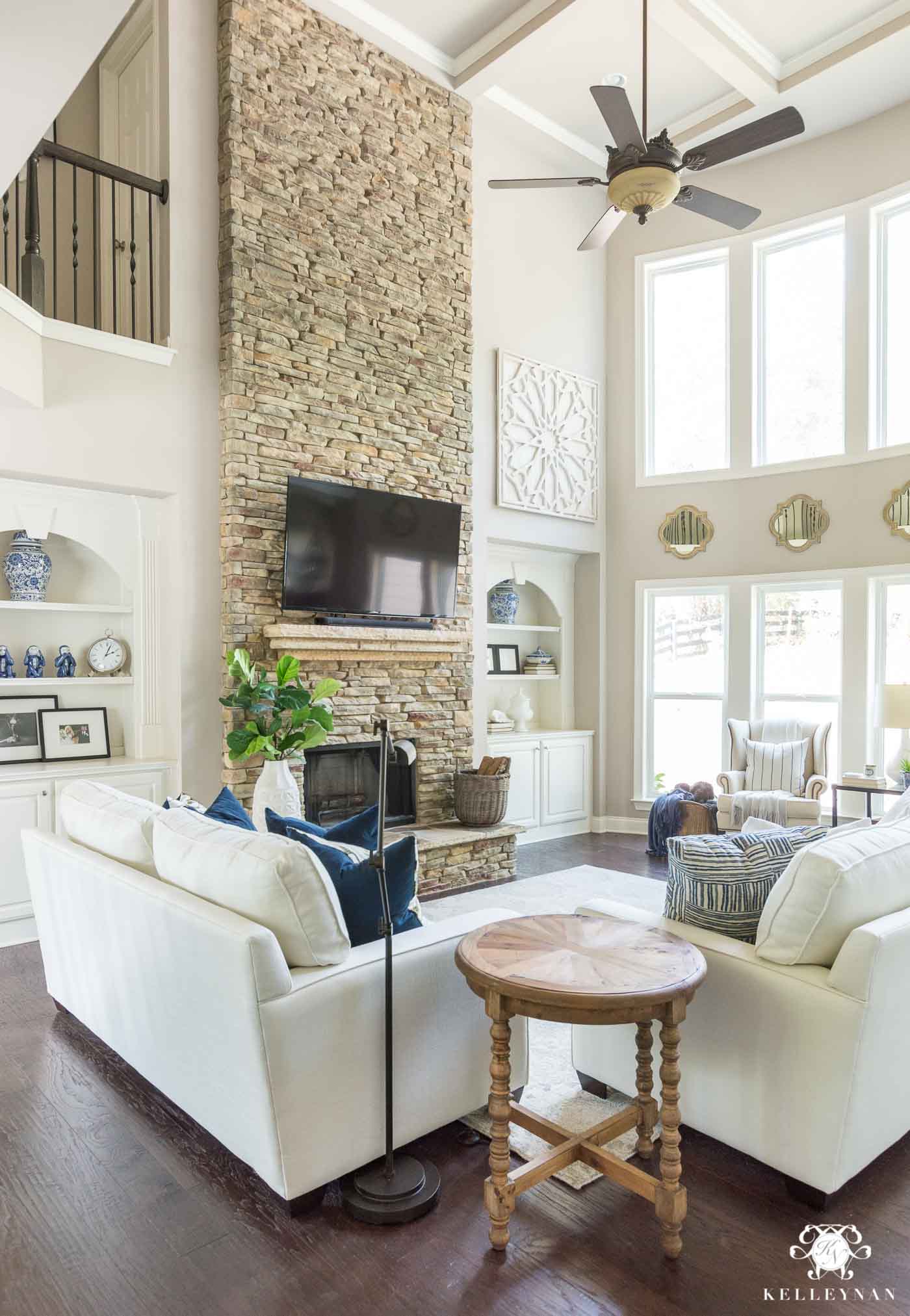 This reclaimed side table was one of my first selections; between my washed, reclaimed pieces and metal accents, I'm hoping the coffee table will marry everything together.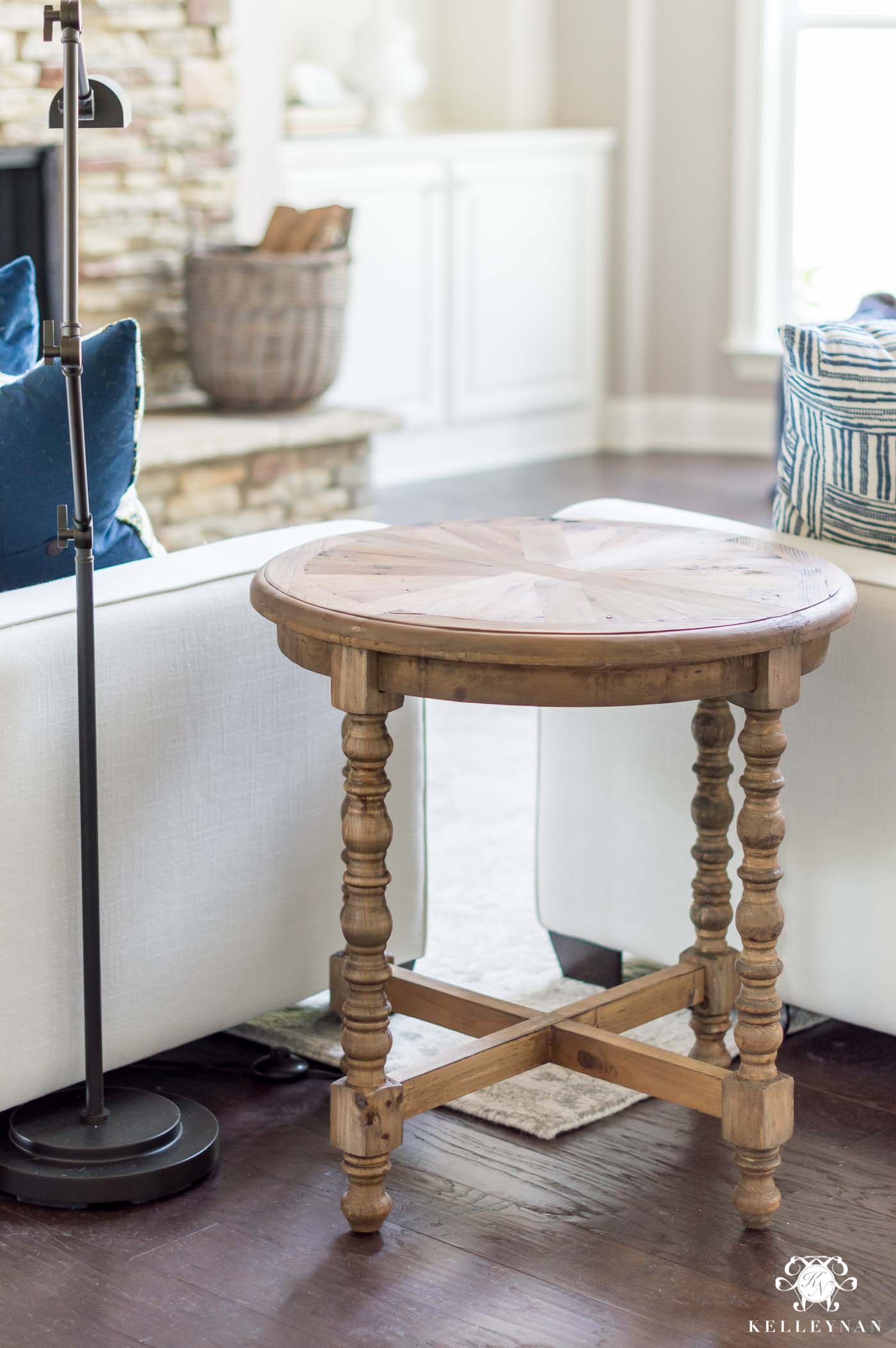 This black cane side table was a steal from Frontgate; I scooped it up on final clearance but unfortunately, it has been discontinued :/ I still love my wing backs and they won't be going anywhere 😉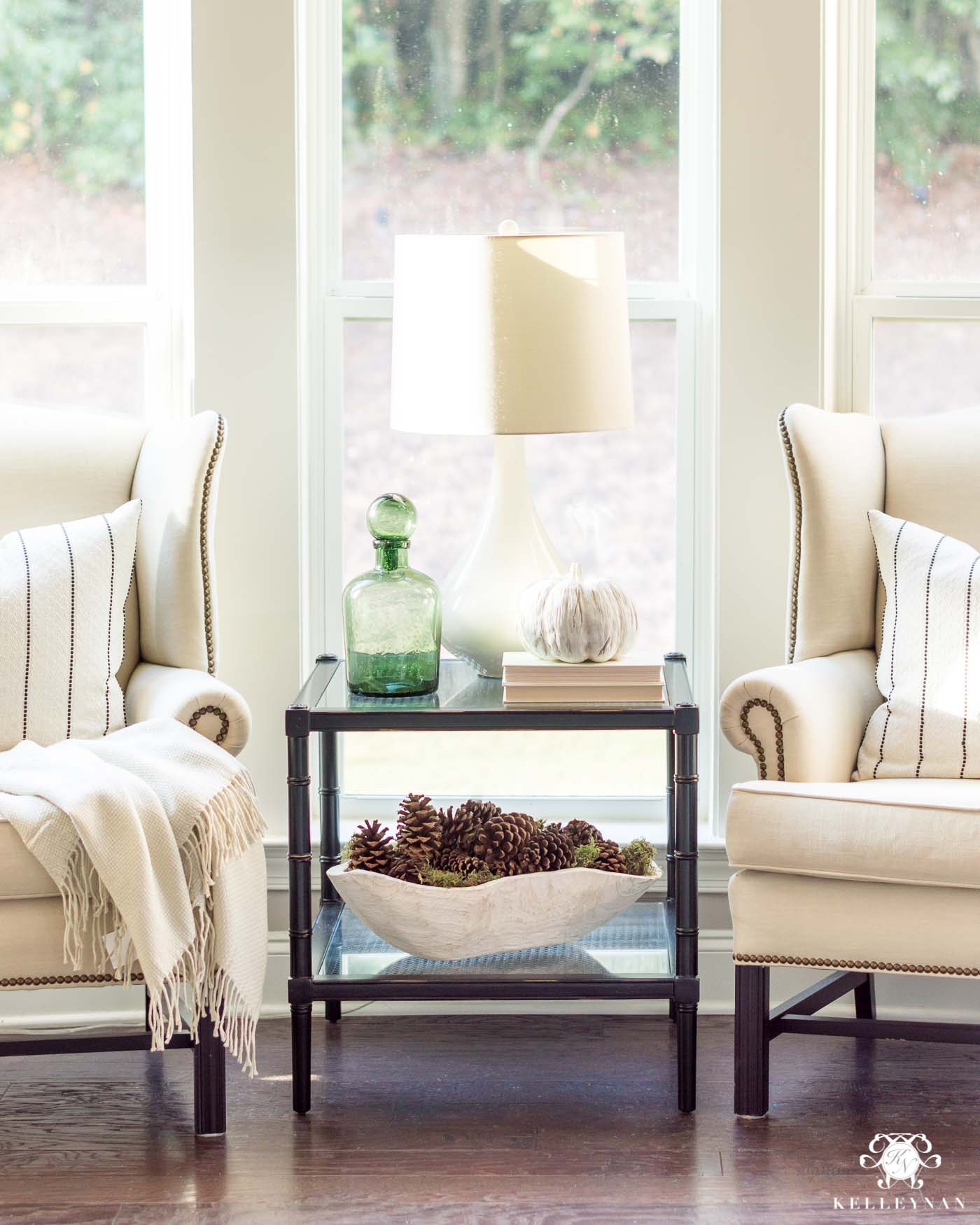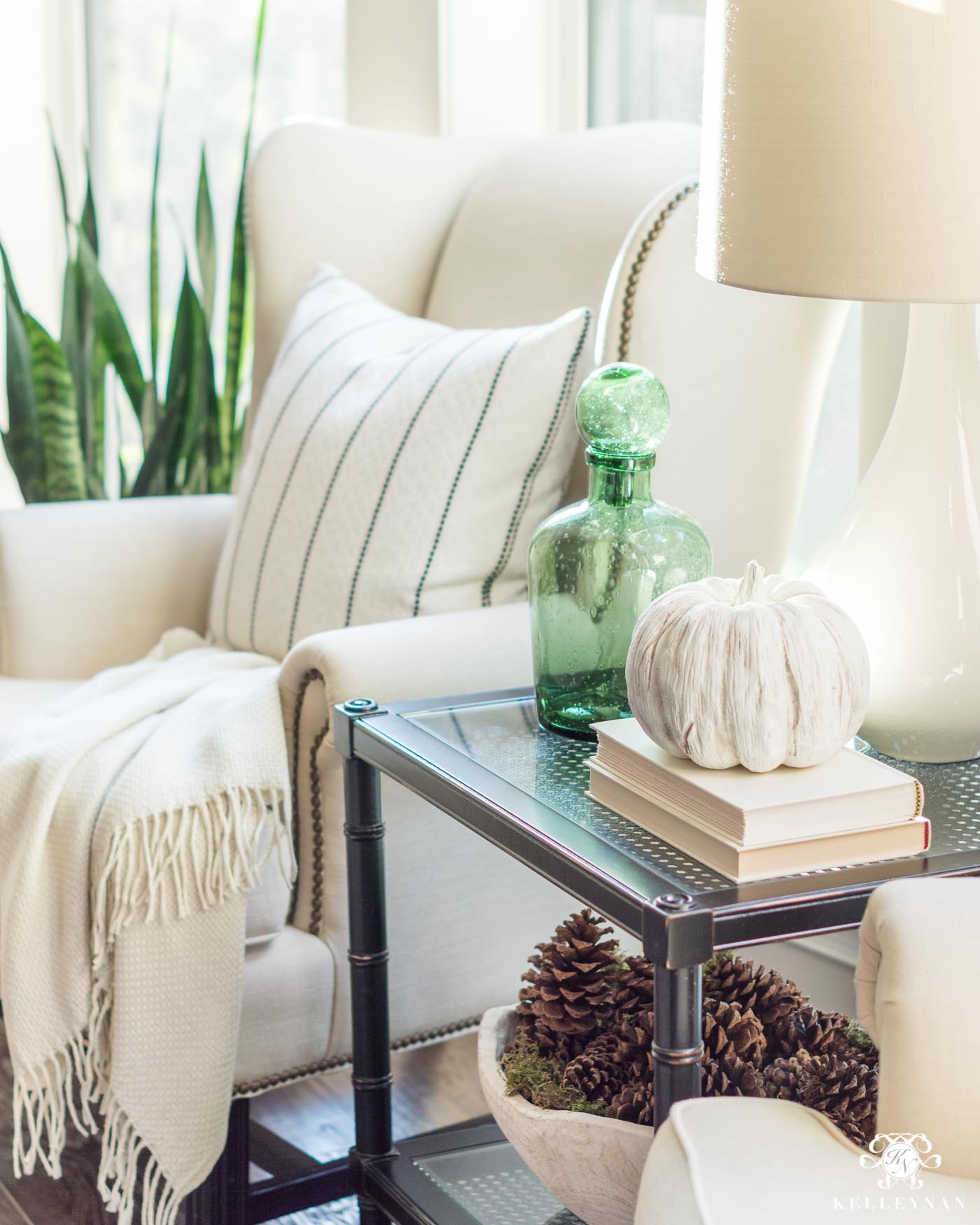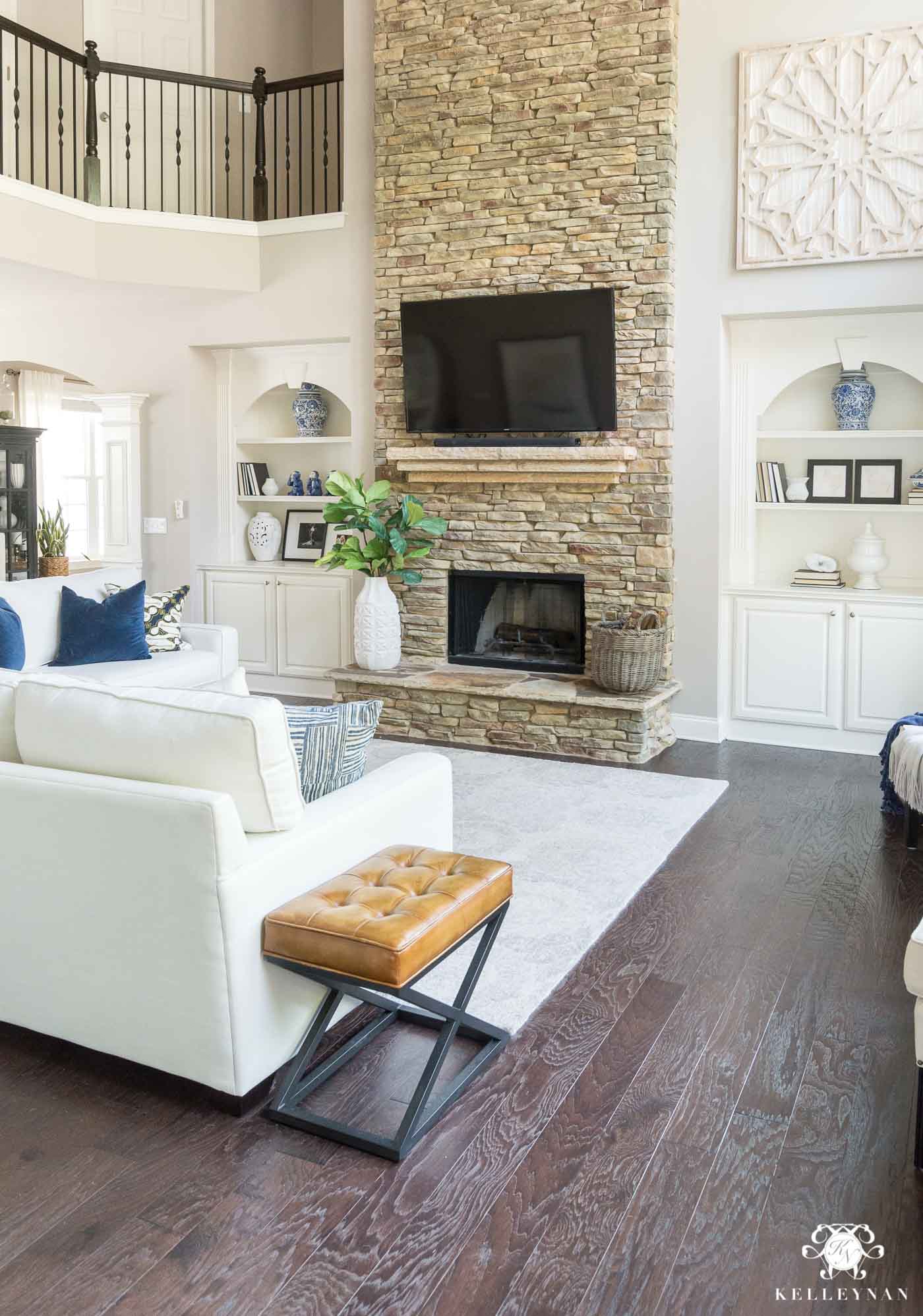 I think I've pretty well covered my bases on updated furnishings; even though we are down table space and are waiting on some items, this configuration is already working so much better for us. Stay tuned as I work to wrap this sucker up 😉 See something you're curious about? A lot of my new furnishings are on sale this weekend and can be found below!





1. Striped Pillows | 2. Indigo Print Pillow | 3. Indigo Velvet Pillow