Friends, are you all in the midst of fireworks, parades, and baseball games? We headed into our four-day weekend with zero plans. I am not one for spontaneity, especially on a holiday weekend, but with the rainy days ahead, it has been hard to get stoked about all the outdoor activities.  We I decided to invite one of our favorite neighbor couples over for an impromptu barbeque. With only hours to prepare (and zero patriotic decor in our house), I quickly established 1. the menu; 2. the drinks; 3. the "hang out zone(s)"; and 4. the activity.
*post contains affiliate links*
Burgers with accompaniments, oven roasted potatoes with onions and bell pepper, fresh-cut watermelon, corn on the cob, and an appetizer of loaded jalapenos.
Strawberry Lemon-Limeade Rum Slush (the most delicious frozen drink recipe I created on the fly- recipe to follow at the bottom of the post)
Kitchen, breakfast nook, lower porch
Aside from the obvious, Balderdash! My absolute FAVORITE game
Dave headed to the store while I worked on whipping this place into shape – you can find my quick-clean-for-company process HERE. I decided to keep my moments of America flair dedicated to the "hang out zones". With an arsenal of American flags and red bandanas I keep tucked away for most of the year, I look to my blue and white to round out the look. AND, because everything is neutral for the most part, nothing needs to be put away. This is how I discovered American flags and palm fronds were basically made to go together.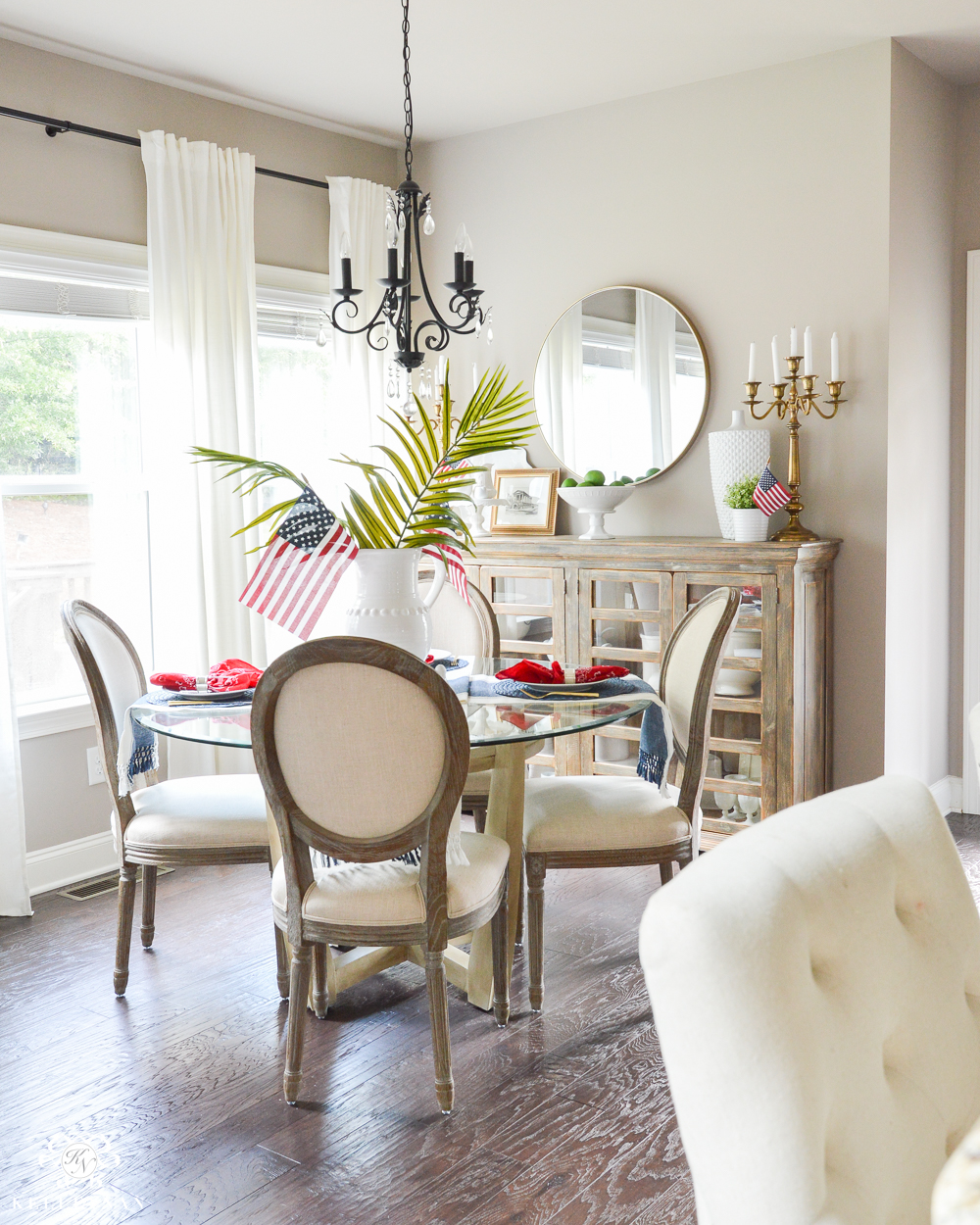 For the easy table decor, used these blue and white fringed runners (currently HALF OFF, plus an additional 10% off with code SUMMER); these casual, braided place mats; our casual, everyday white beaded plates; and red bandanas as napkins.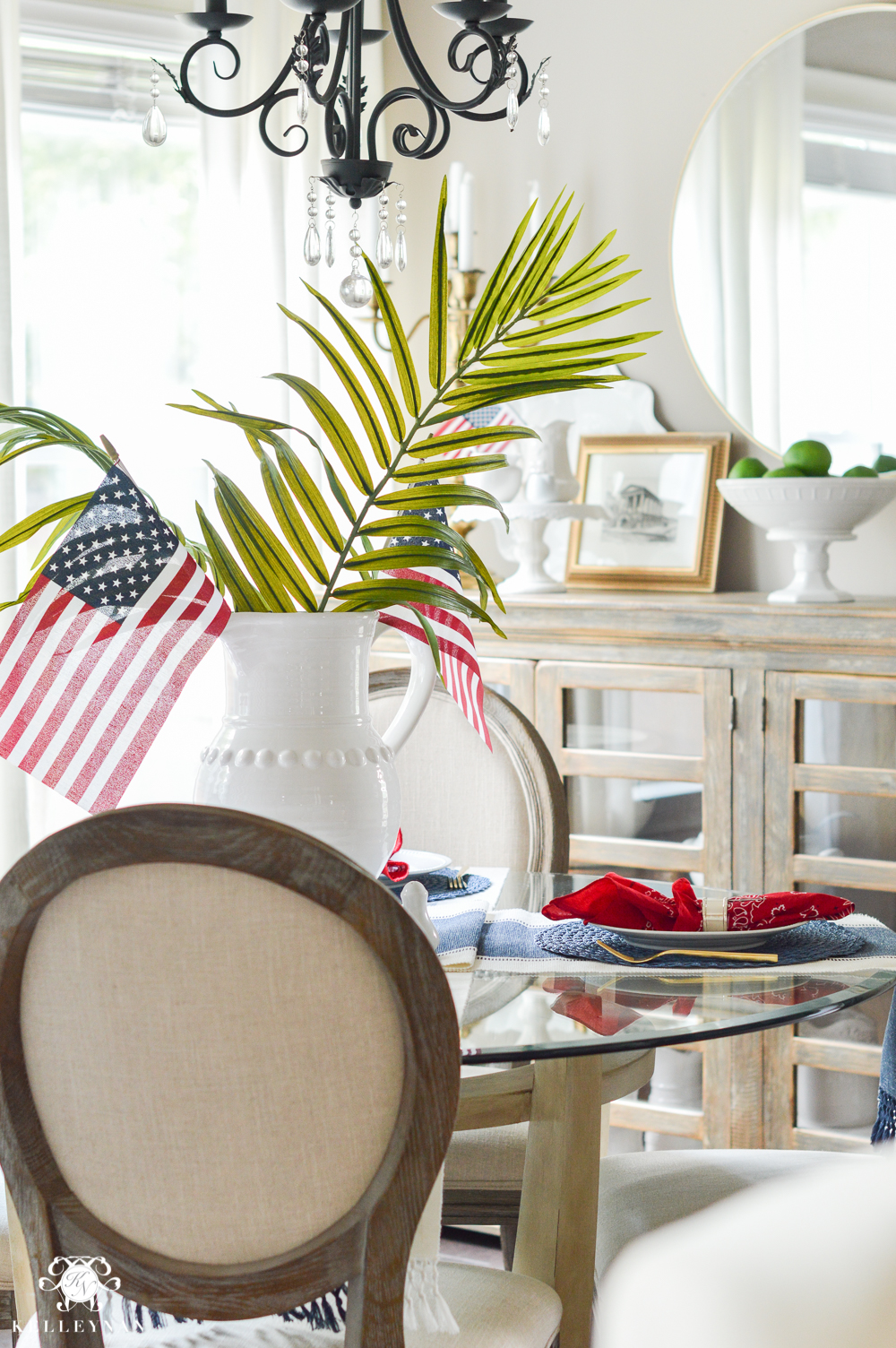 Since the table runners are far too long for this table, I folded them in at the center which gives a sweet little layered look to the linens. (This is something you can always do if you have fabric/runners that are seemingly too long). I also tucked two sparklers in at each place setting. Simple, no fuss, and the entire table took less than 10 minutes to pull together.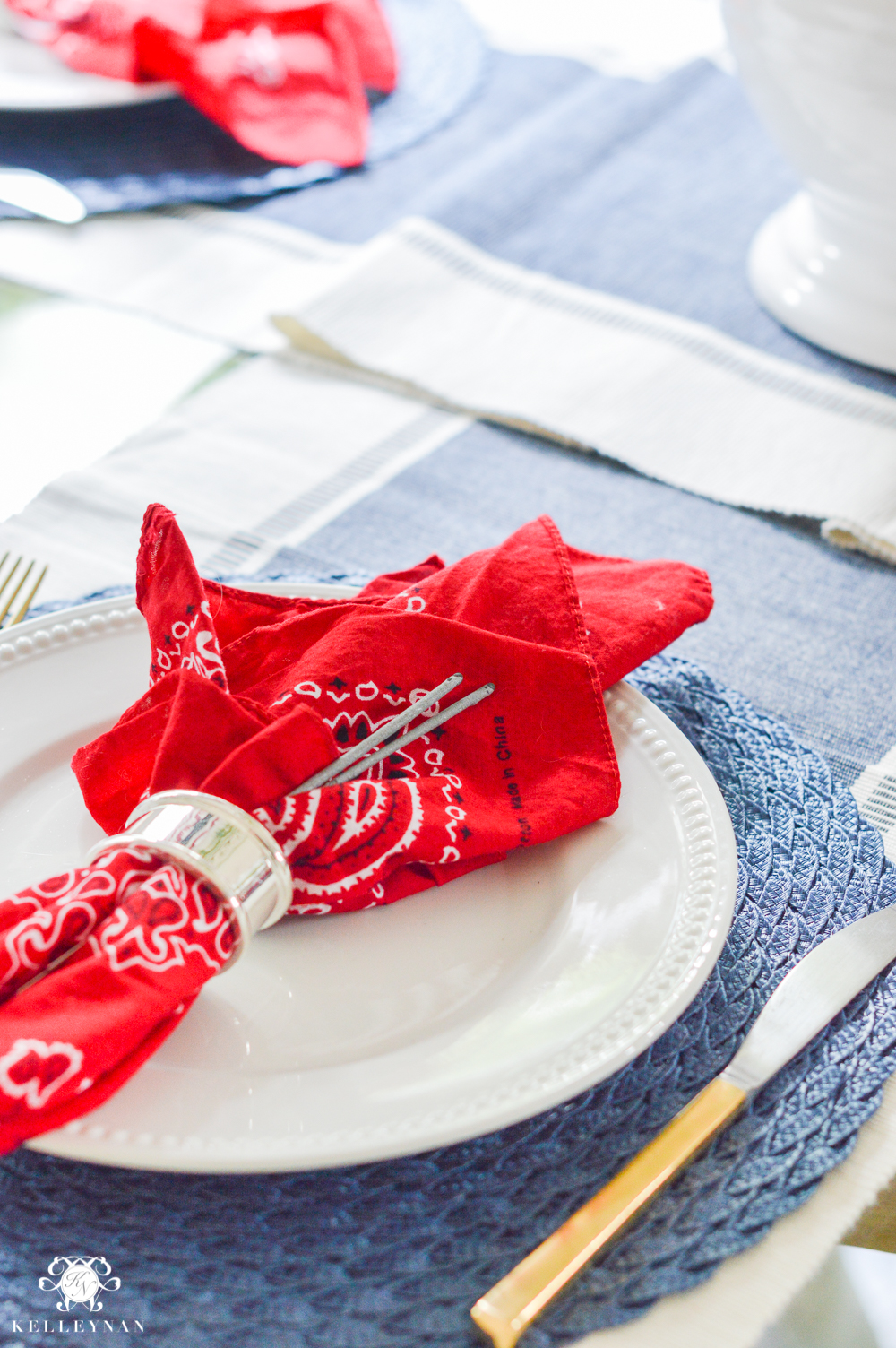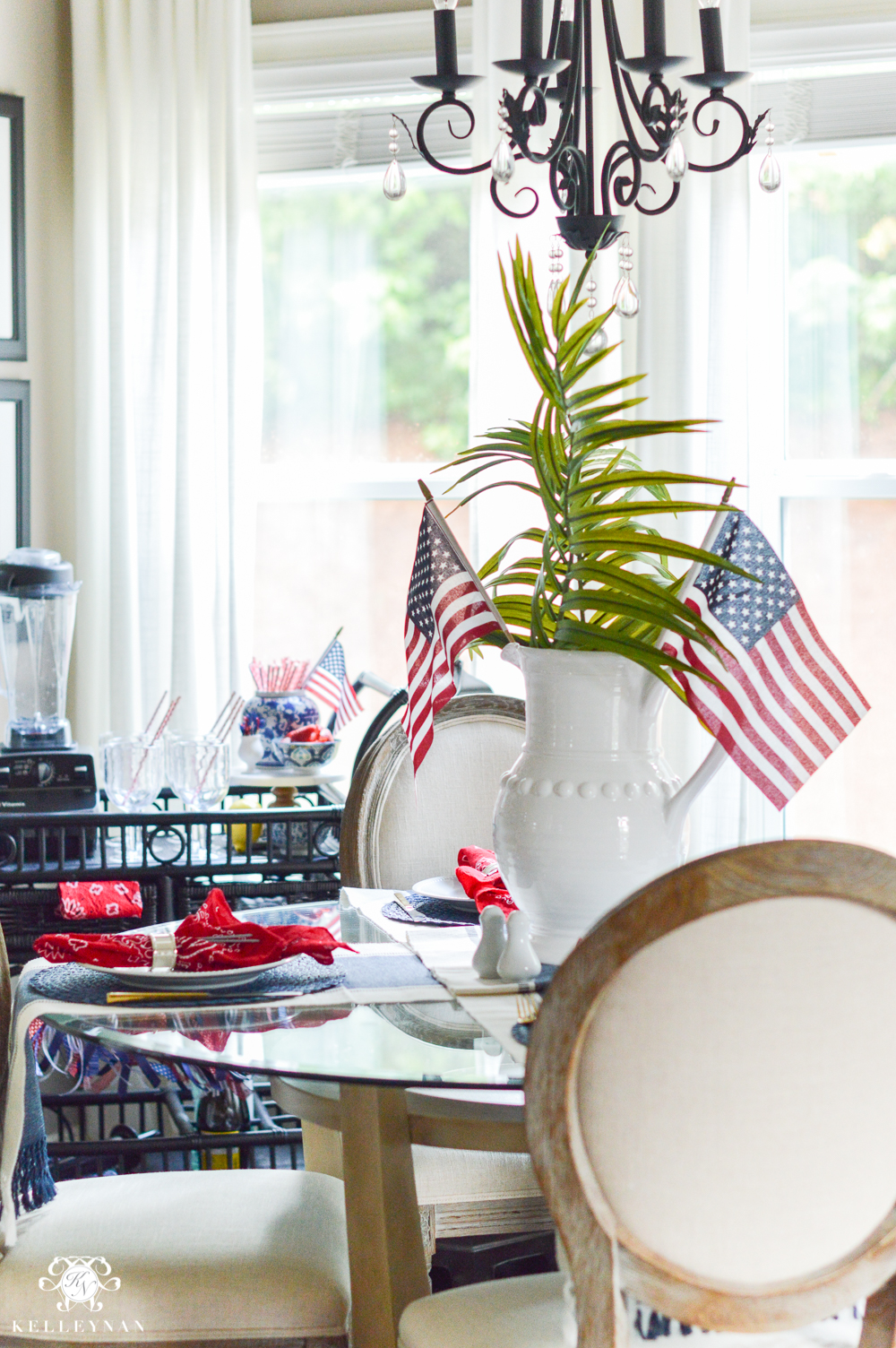 In the corner, I set up a functional bar cart (currently on MAJOR sale) for the evening's signature cocktail- Strawberry Lemon-Limeade Rum Slush.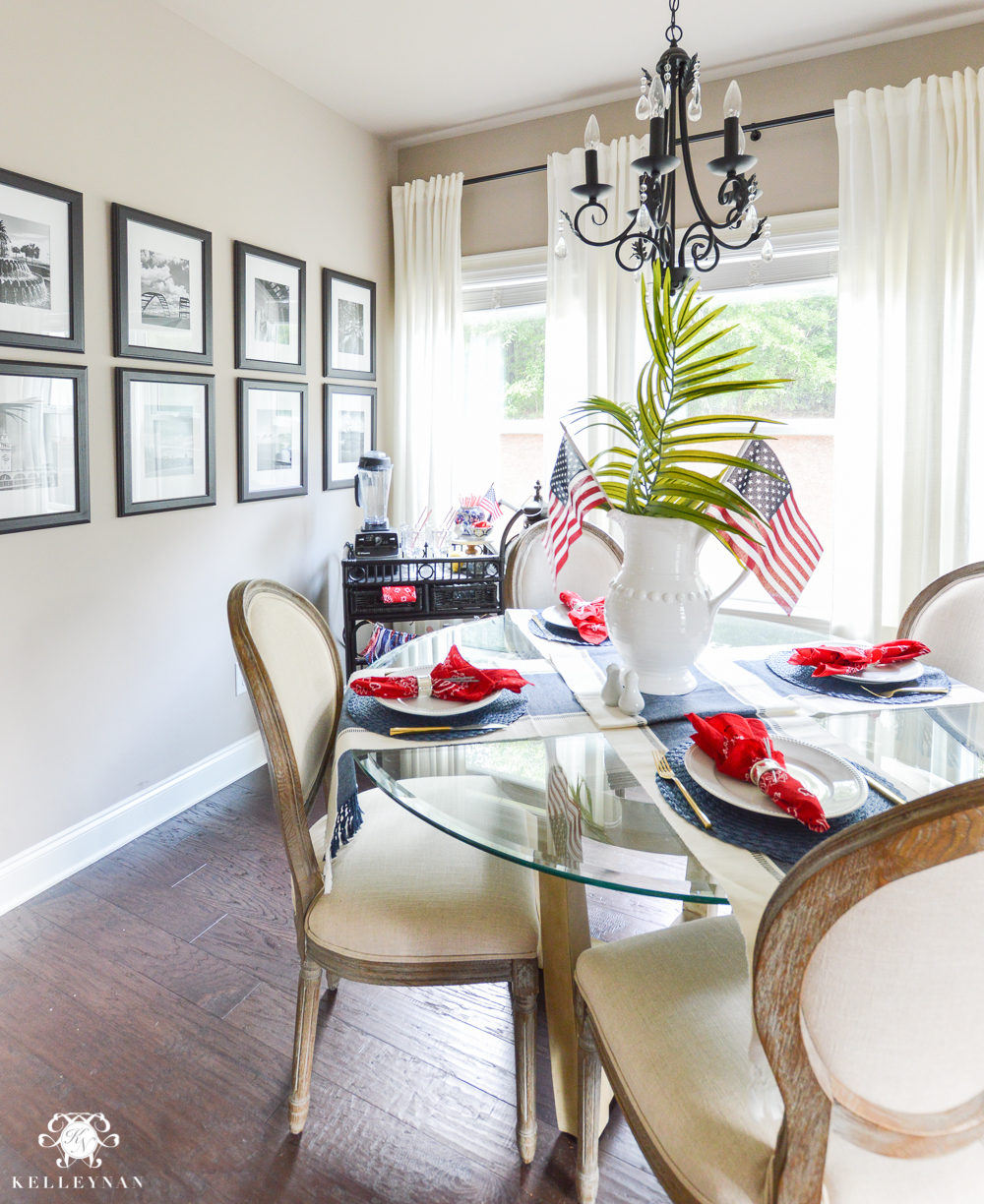 I devised a plan for strawberry lemonade but when I ended up with frozen limeade on accident, I proceeded with the original plan. The result was even better than I anticipated.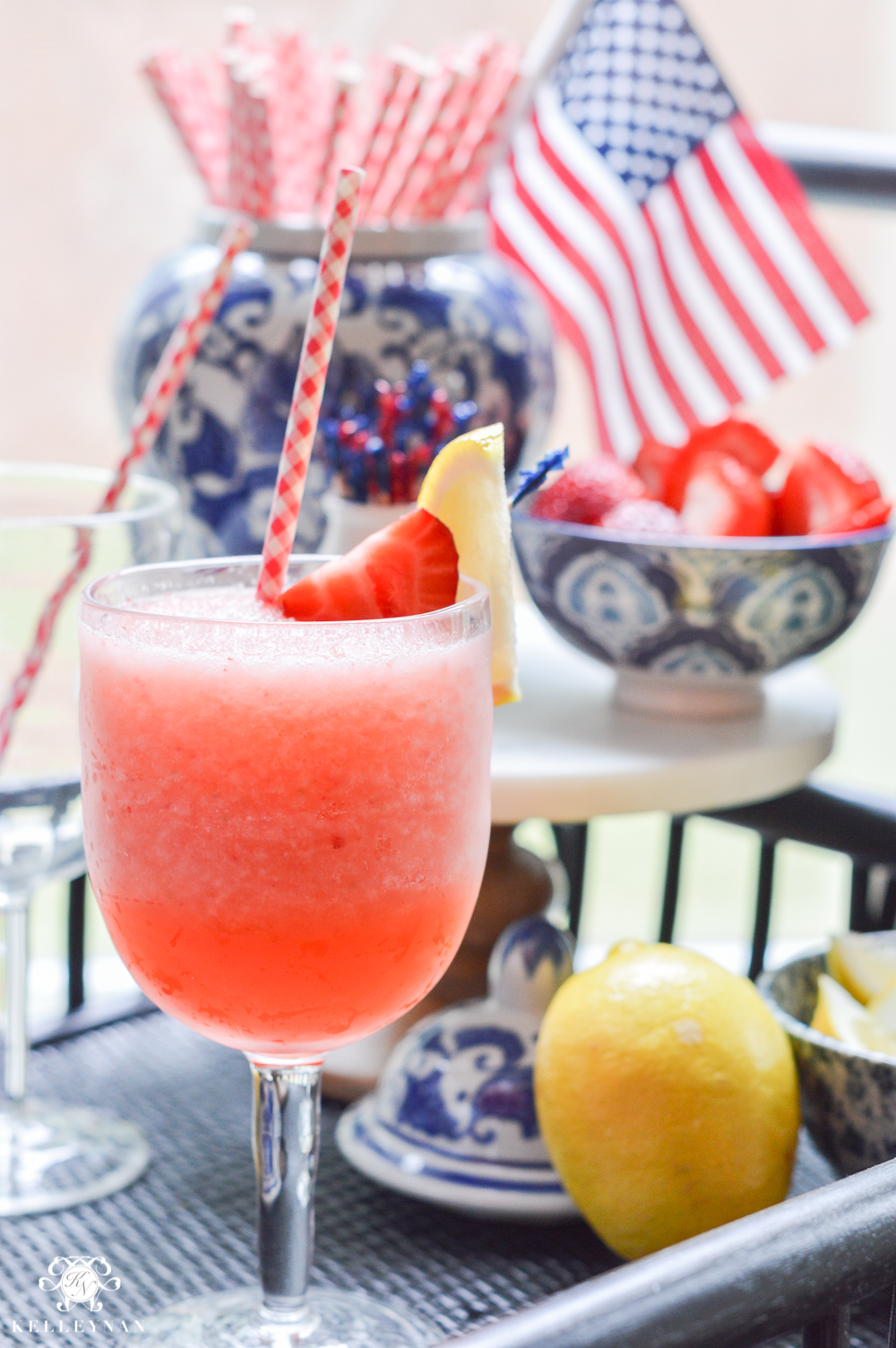 Note that I use a Vitamix which blends quickly. (THIS is our model which we have had a few years. It is now priced much less than when we originally purchased.) We got sucked in at the Costco demonstration and while we haven't made hot soups (which you can totally do), it blends amazingly and is so easy to maintain/clean. If you are big on smoothies, she will be your best friend ;). Also, I just eyeballed the ingredients so the recipe below is a guesstimate. I made several batches throughout the night and even without specific measurements, the flavors were consistent and DELICIOUS.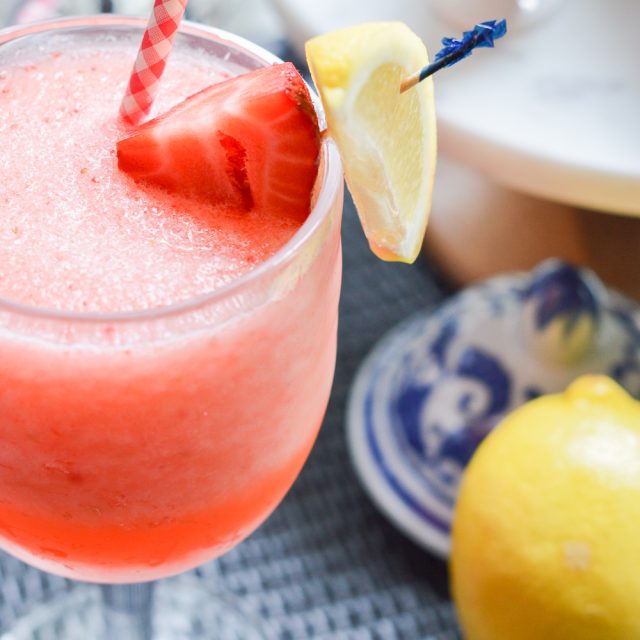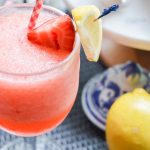 Strawberry Lemon-Limeade Rum Slush
Ingredients
2/3

blender

ice

2

cups

Bacardi rum

1

cup

Prosecco

1/2

container

frozen MinuteMaid Limeade

can opt for lemonade

1

cup

Strawberry Lemonade V8 Splash

1/2

cup

7UP

1

handful

fresh strawberries
Instructions
Fill 2/3 blender with ice

Add ingredients and blend well (don't over-blend but make sure all ice is fine. The consistency should be slush-like)

Pour into glass and serve with garnish of your choice
Recipe Notes
Amounts can be adjusted as you prefer. This recipe is based off a Vitamix blender capacity.
Even my husband who isn't one for fruity drinks loved this. The tart helps balance the sweet so it doesn't taste like an over-sugared daiquiri.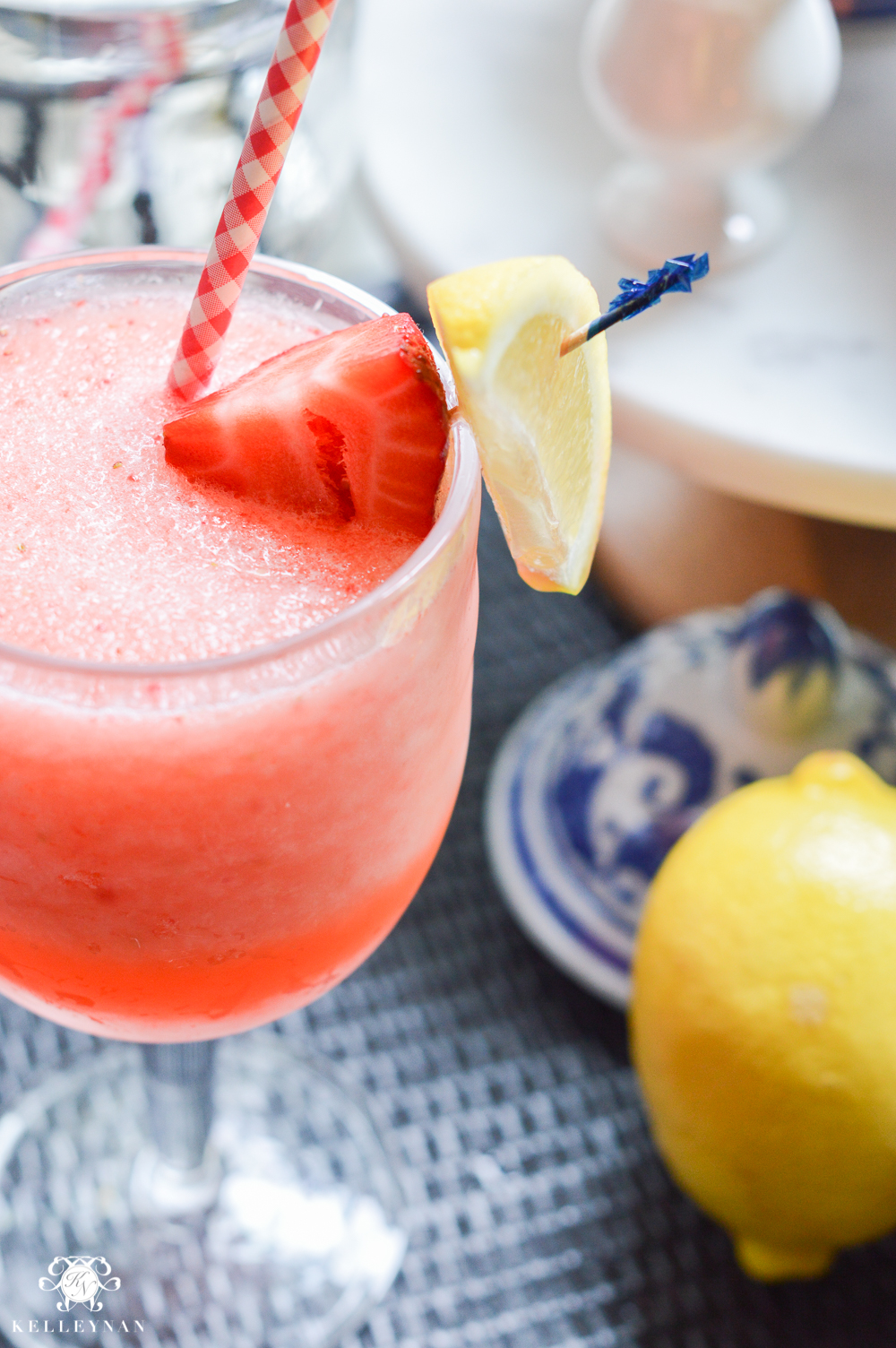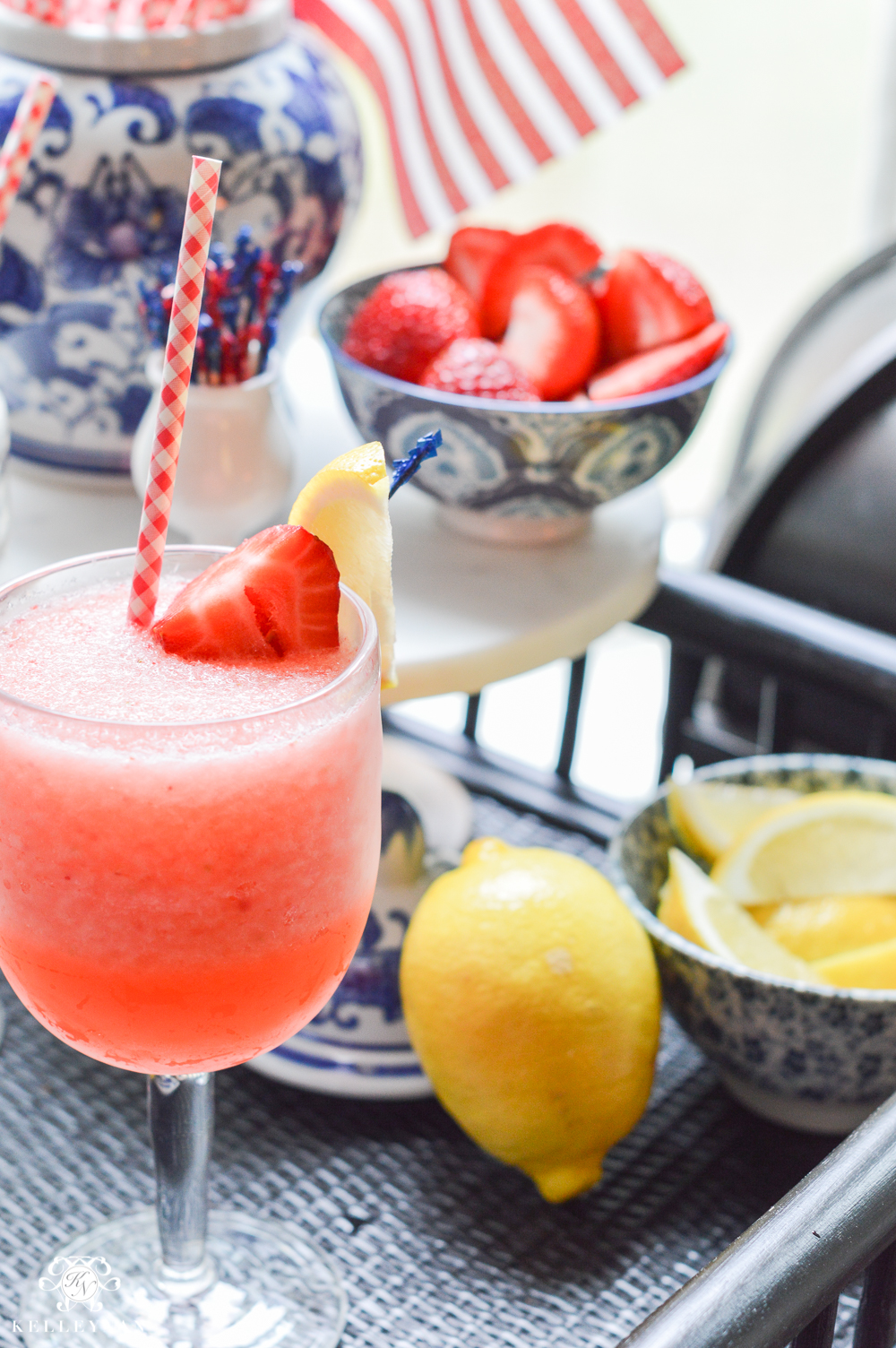 As of now, it looks like we are "on" for fireworks tonight, in town (in which case, I will be bringing a modified batch of these for a little tailgate. (Did you catch my recent tailgate HERE?) I'll also be dedicating time to see if there are any must-have sales that I "just hafta be a part of" haha. You can check my Favorites Page where I've updated several of my most asked about items and their weekend promo codes. Here are a few sales to take a peek at:
Share your favorite moment/plan from this Fourth of July weekend below! And, let me know if you try out that killer cocktail this weekend 😉

Palm Fronds | Chairs | Table: Refinished (PROJECT HERE) | Rattan Bar Cart | Gold Flatware | Vitamix | Chandelier | Round Mirror (SIMILAR) | Blue and White Fringed Runners | Place Mats; White Beaded Plates | Napkin Rings | Red Bandanas | Curtain Panels
: (98″ in White) | Curtain Rod | Black and White Bud Vase: West Elm (no longer available) White Soup Tureen | Platter | Sideboard: HomeGoods (SIMILAR) | Candelabras (SIMILAR) | Ice Bucket | Wine Cooler | Wine Trough | Cake Stands: HERE, HERE, HERE| Espresso Cups & Saucers | Ceramic Vase (SIMILAR) | Paint: Perfect Greige by Sherwin Williams | Flooring: Nottaway Hickory in Weathered Saddle