I go too long in between mani/pedis, we rarely go out to dinner, and I last washed my hair with store-brand shampoo (don't tell my hairdresser haha). BUT, one splurge for which I would rather sacrifice and eat Ramen every night before giving up, is our cleaning lady. With our hectic schedules, knowing that at least our home is reasonably maintained gives me peace of mind that I wouldn't trade. However, even though (who I will refer to as) "Paula" spoils us every couple of weeks and we never have to do "the big stuff" ourselves, our house would be disgusting if we didn't make time for a little maintenance (seriously- check out some of the before photos below before I brought out the Hope's). And, said "maintenance" is usually scheduled the same day that company is coming. Have you seen that YouTube video? (If not, I shared a little clip last night in my Instagram stories 😉 ) Unfortunately, screaming to  your family (my husband) to not sit on the couch because "no one can know we actually live here!" is a little too familiar in our home. If you can relate, read on; you won't want to miss an incredible giveaway at the bottom of this post!
Over the years, I've gotten smarter about our "company is coming" routine. Did I used to stress over the details in our bedroom, waaaaay upstairs, even if I was running behind and it was likely no one would see it? Yes… but not anymore. I have since developed a series of what I call "hot zones" – common areas of the house that guests will occupy which should be the focus of my efforts. Remember that ladies night (HERE) I hosted a couple of weeks ago? Well, get ready for some real-life progress photos because I documented the entire day leading up to the point of my guests arriving. I have almost perfected my "company is coming" routine so not only was I able to slay those "hot zones", but I also laundered bedding for three guest rooms and photographed my Fall Home Tour.
I started the morning by stripping all the guest beds, loading the laundry, and then headed downstairs to "ground zero". Before I ever start the actual cleaning, I crank up the music. Or, on this day – I'll be honest – put on a marathon of The O.C.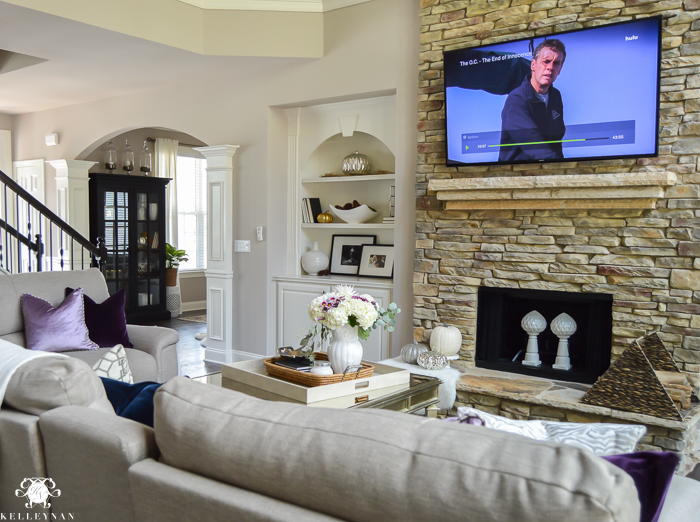 Next, I always light a candle- it immediately makes things smell cleaner… like I've already made an effort haha. And then, I whip out my tools. My weapons. My heavy artillery.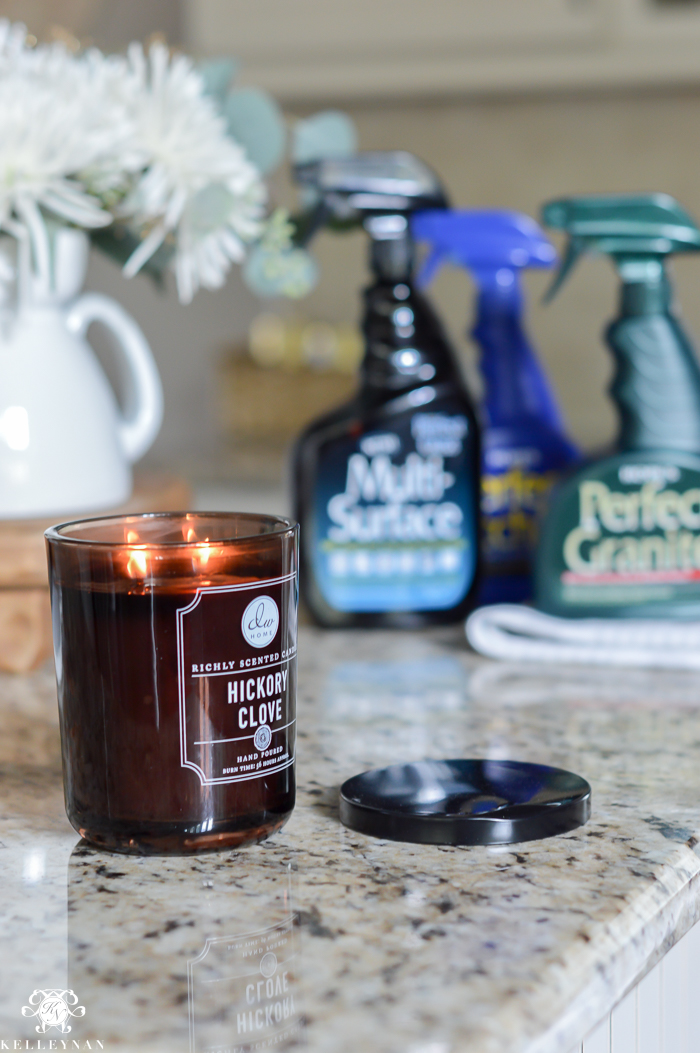 When my mom was visiting several years ago, she got me hooked on Hope's. At the time, the only product in the line in which she was familiar was Perfect Glass. So, that's what I came to know and love. Since then, neither of us have used any other glass cleaner. It was only more recently, in the last two years, that my mom called me excitedly as though she had THE best news. She found Perfect Stainless and Perfect Granite in the same line, by Hope's. And honestly, my tone probably matched her excitement right back. My mom and I like to think of ourselves as in-the-know trendsetters. (Kidding! Ok, I'm totally not haha) We take pride in finding things before they are huge and mainstream. Kind of like when your favorite underground artist hits the radio and you want to tell everyone "yea, but I knew him first – before he was cool". While I don't want to say we are "snobbish" around other cleaning products, well, we kind of are.
So now that I've given the back story of how I was introduced to Hope's, I'll continue on with my staples and routine. If I get flowers in the evening, I am often too lazy to cut and arrange them that night. I'll fill the sink and let them bathe overnight, and take the opportunity to grab an Instagram shot (who doesn't love a good flowers-in-the-sink photo opp?). This is typically what you see…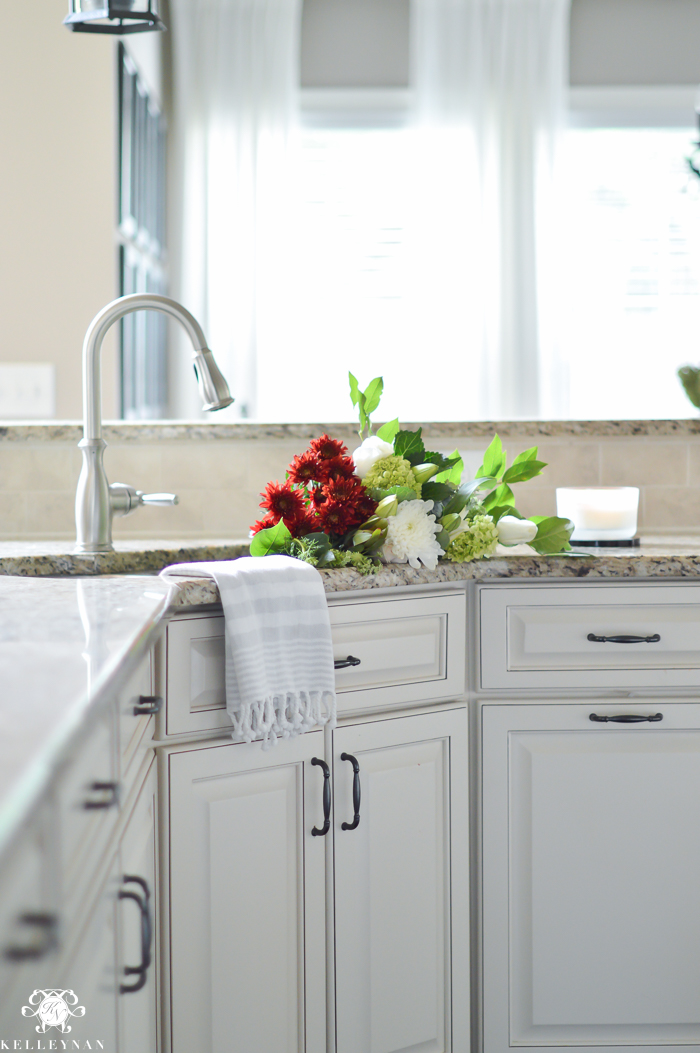 … but this is usually the reality. Water, leaves, and petals everywhere. Trust me, it gets worse.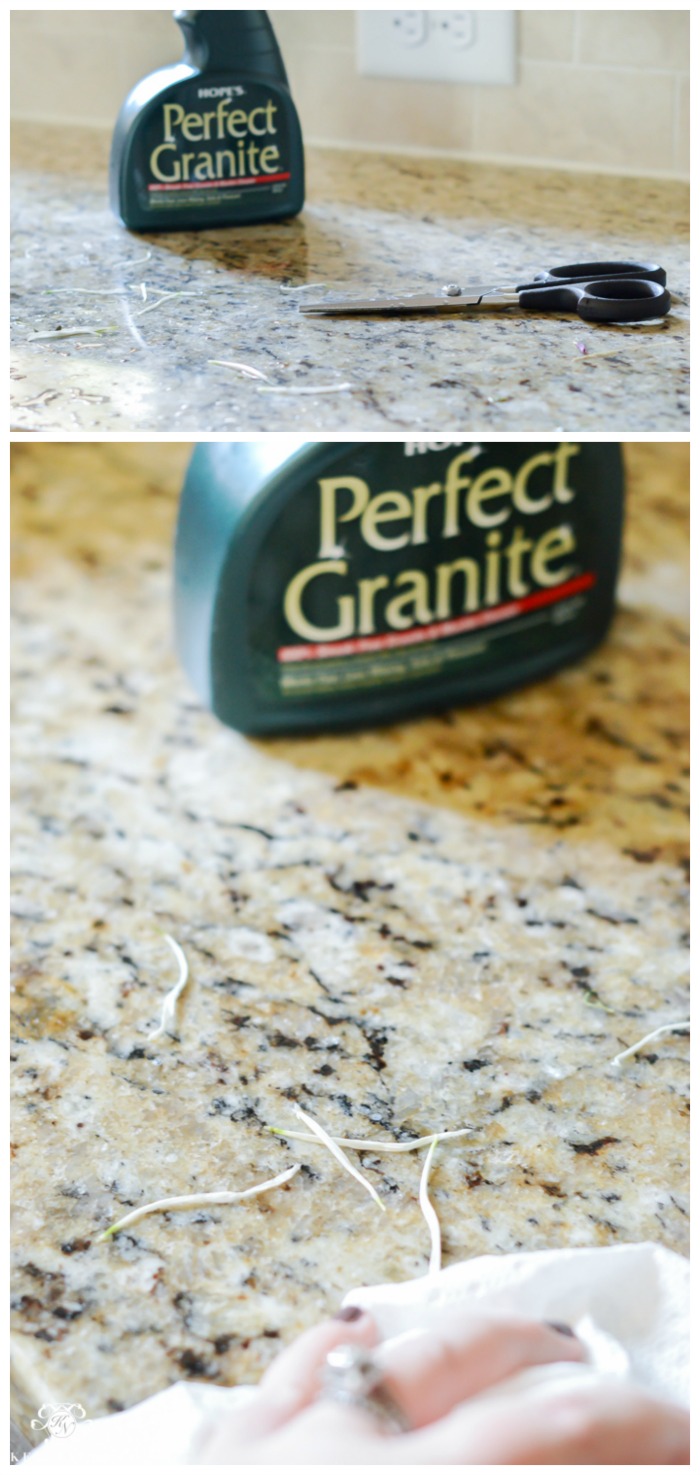 I get a lot of questions about how I keep my house so clean. The truth is, it is easy to hide things in photos. When you have guests coming though, there is no screen to hide behind. They see it all. Or, at least everything in the "hot zones".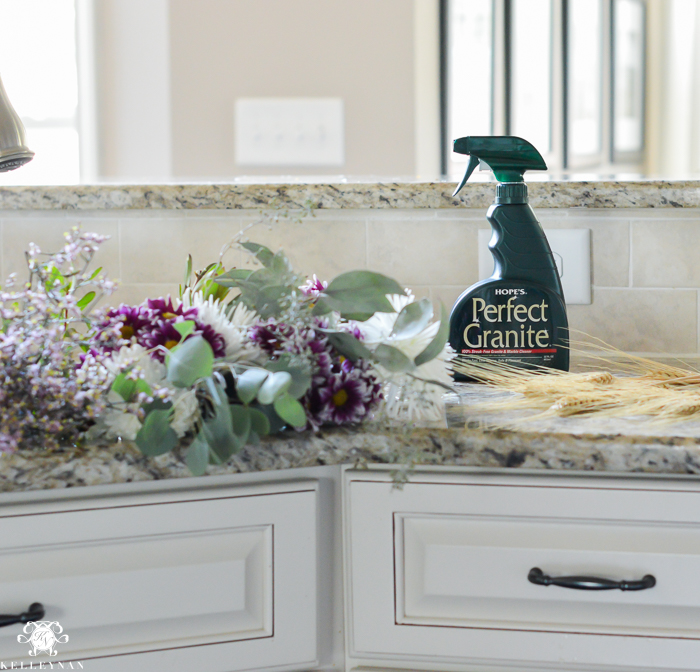 Next, I went ahead and got the food prep out of the way and set my big pot chili to simmer.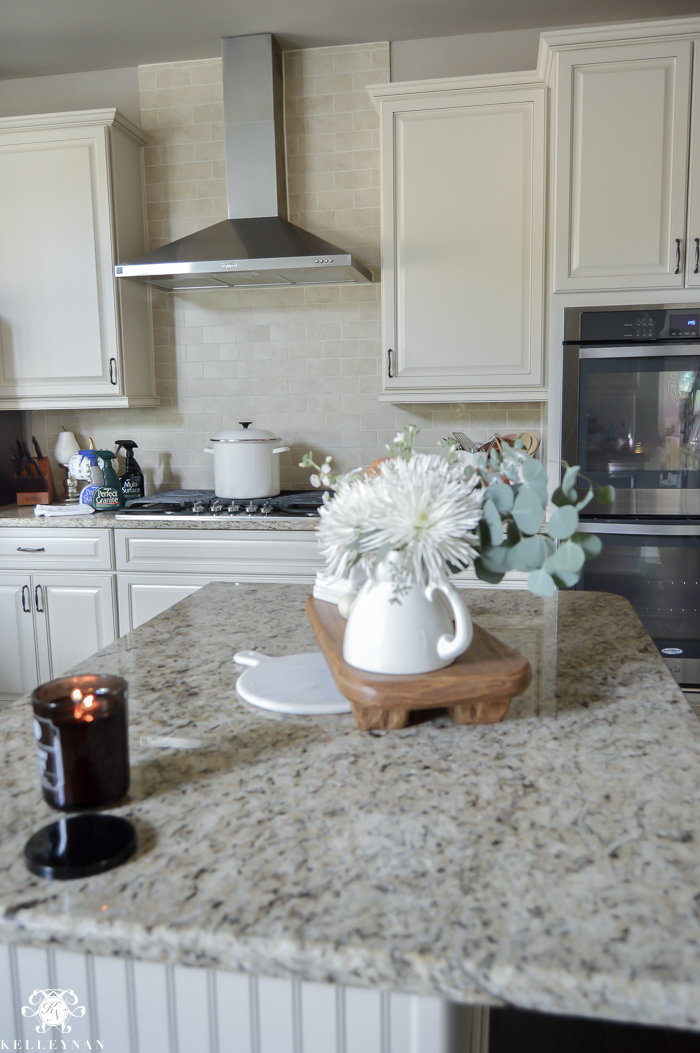 The last thing I want to do is duplicate efforts so I like to make everything messier before I make it cleaner. Yes, I even get food splatters on the decor. I start from top to bottom, so first, I tackle the countertops by dousing them in Perfect Granite; it's quick and easy to use and doesn't leave that foggy "haze". It also doesn't have that harsh smell so no interrupting the chili/candle scents 😉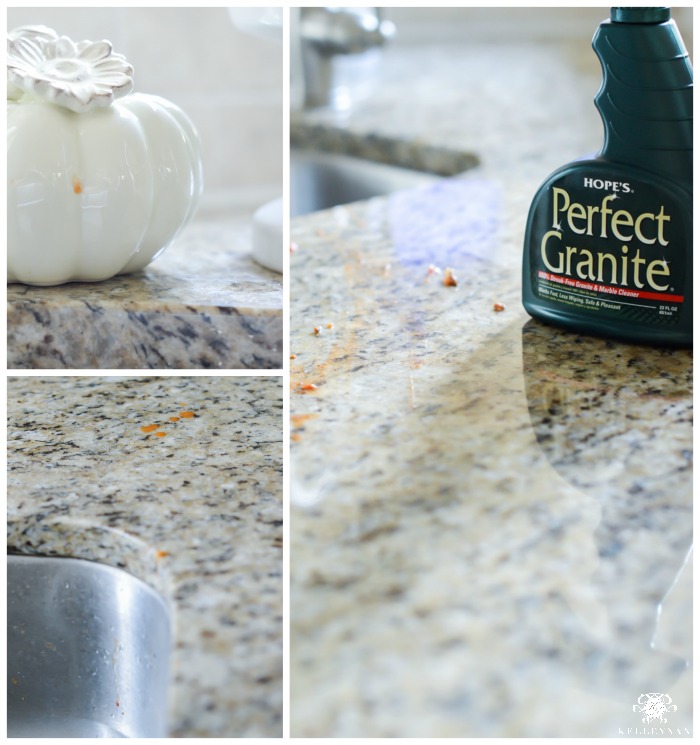 I wipe everything into the trash and disposal so next, I move on to the sink. A lot of the Hope's products I use are multi-use but with Perfect Sink, you rub it on and it actually makes your sink surface like a freshly waxed car. Water beads up, it scrubs out the grime without leaving scratches, and like the Perfect Granite, it doesn't have that harsh chemical smell like liquid/powdered cleansers. Here's a peek after it's applied but before the rinse. The result makes it look all shiny and new.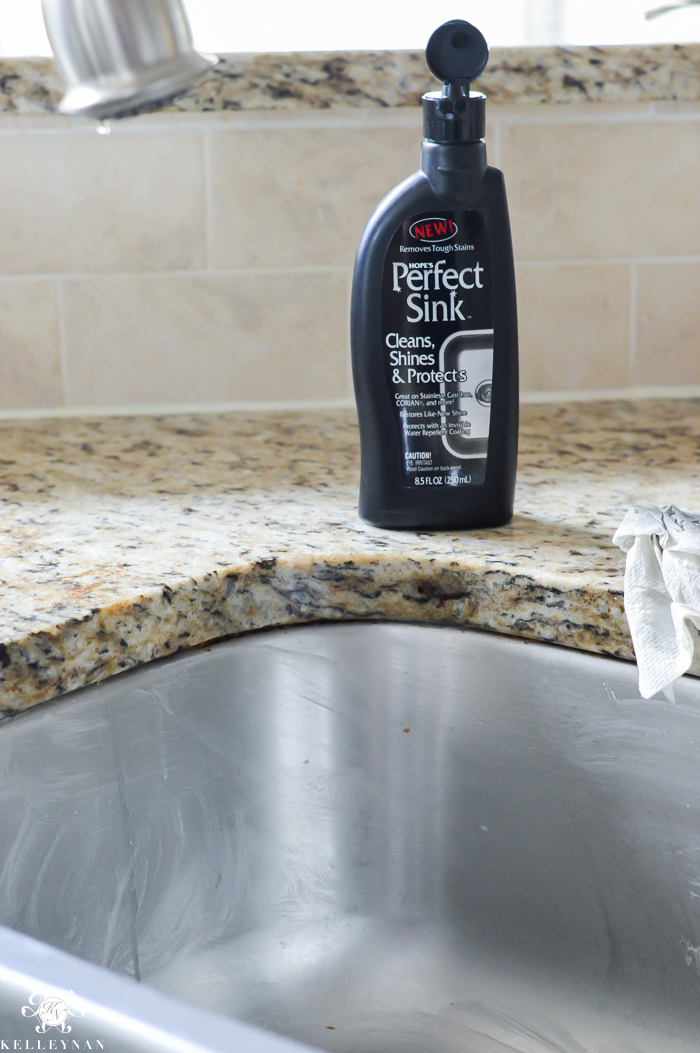 Next, I head to the glass-top table in the breakfast nook. I love that table but THIS is where I first saw the biggest difference several years ago when I switched to Perfect Glass. On this table, if there are greasy fingerprints, they will show. If you are using something that streaks, it will show A LOT. Perfect Glass is totally streak-free and doesn't leave any cloudy spots. Because it doesn't streak, I can knock this thing out perfectly in about 15 seconds. Literally. Before I started using Hope's, this table looked like one big hand print, 99% of the time. Because it doesn't leave detergent residue like most, it stays cleaner longer. Basically, unless we have a messy meal or company is coming, I don't touch this table.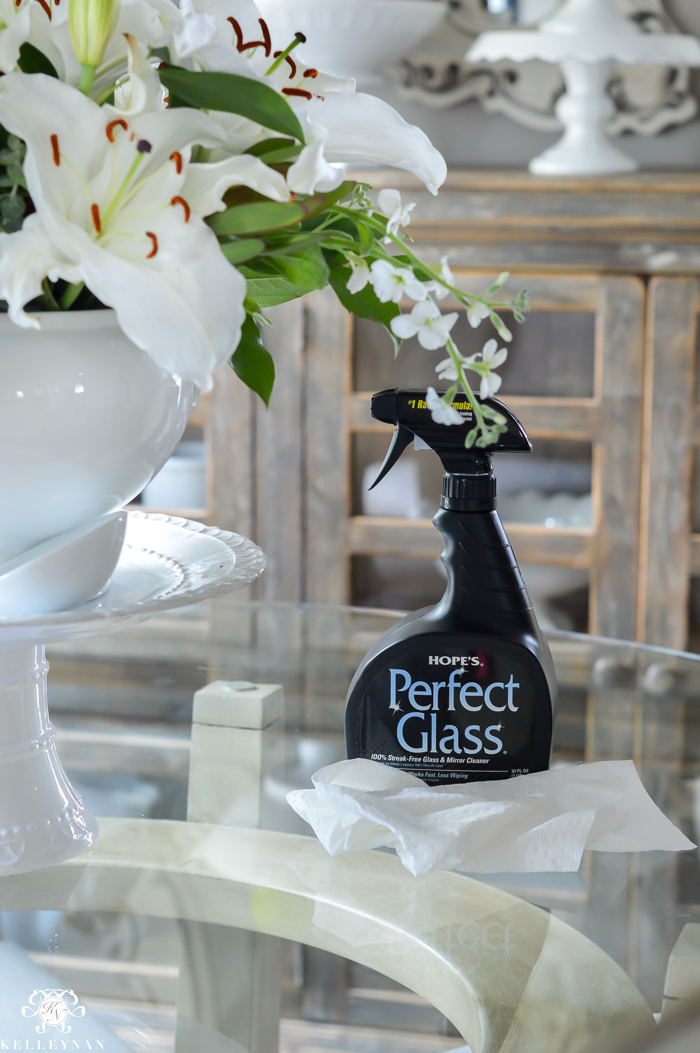 I go ahead and knock out the surfaces in the living room while I'm at it. I don't worry about dusting but do check our table surfaces. We have a lot of mirrored furniture. Below, you can see our coffee table doesn't typically even get smudge-y, just a bit dusty. I short-cut this chore, only lifting up the edges of the large tray and going around the outside 😉 Remember, this is "company-is-coming" cleaning!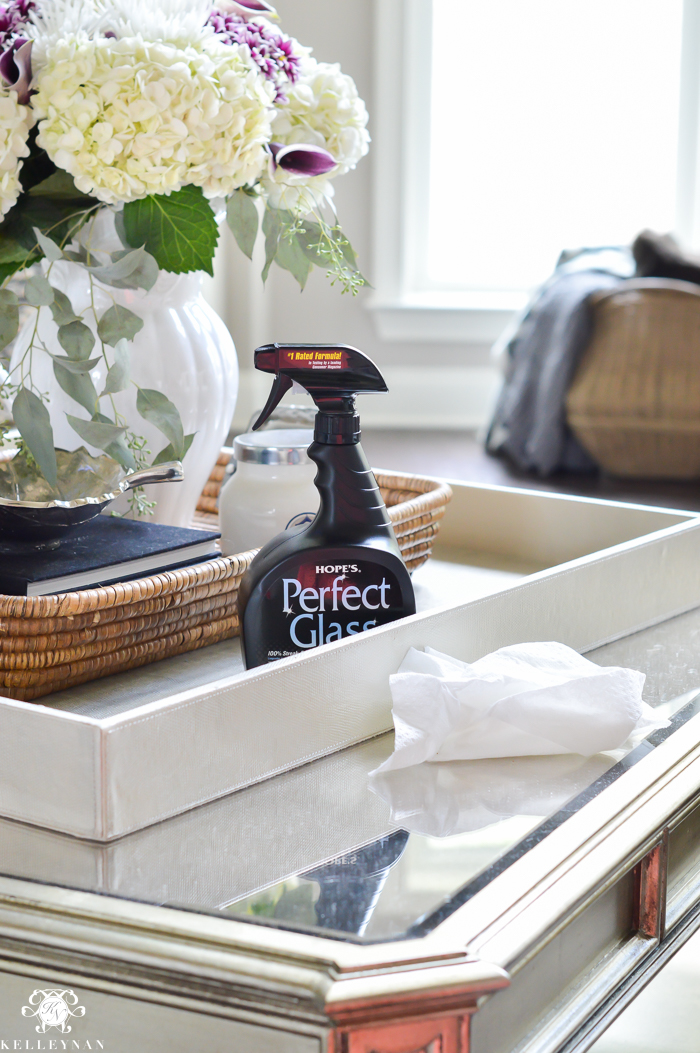 While I'm in the living room, I will straighten throw blankets and pillows, and usually stuff a chewed up dog toy or two in my pocket.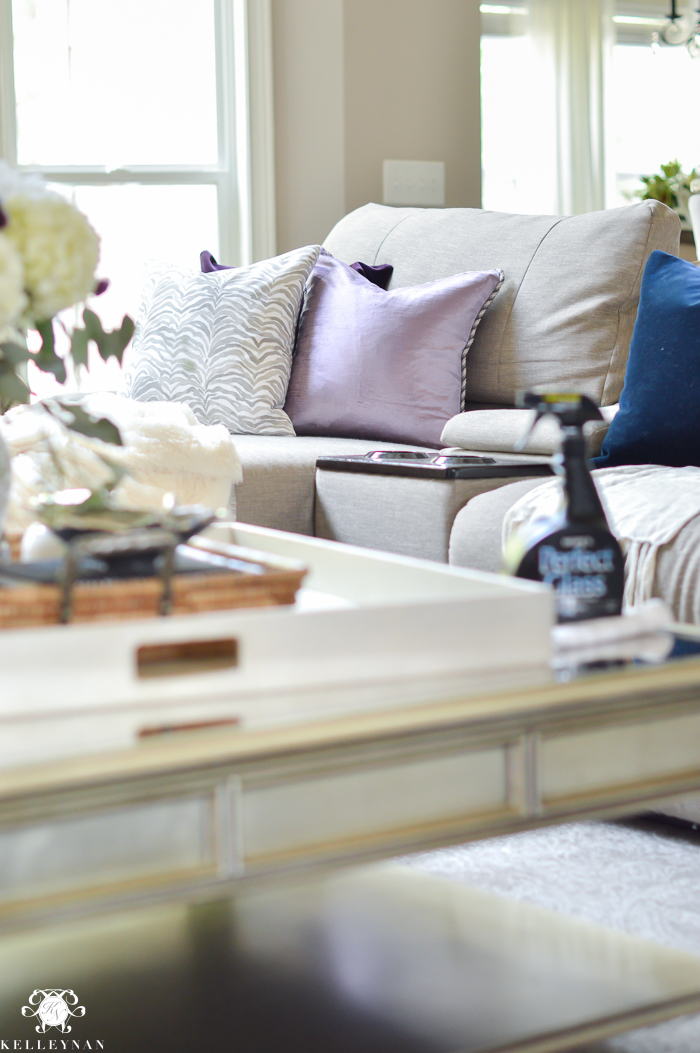 I think the nose tracks on the front door/windows are to dog parents what cheerios in the sofa are to toddler parents. They're inevitable and you know they're going to keep doing it, but, you gotta take care of it. I don't do a full window cleaning – just the bottom portion of the door and side lights. As I mentioned, because it doesn't leave a haze, it quickly blends in with the untouched upper portion.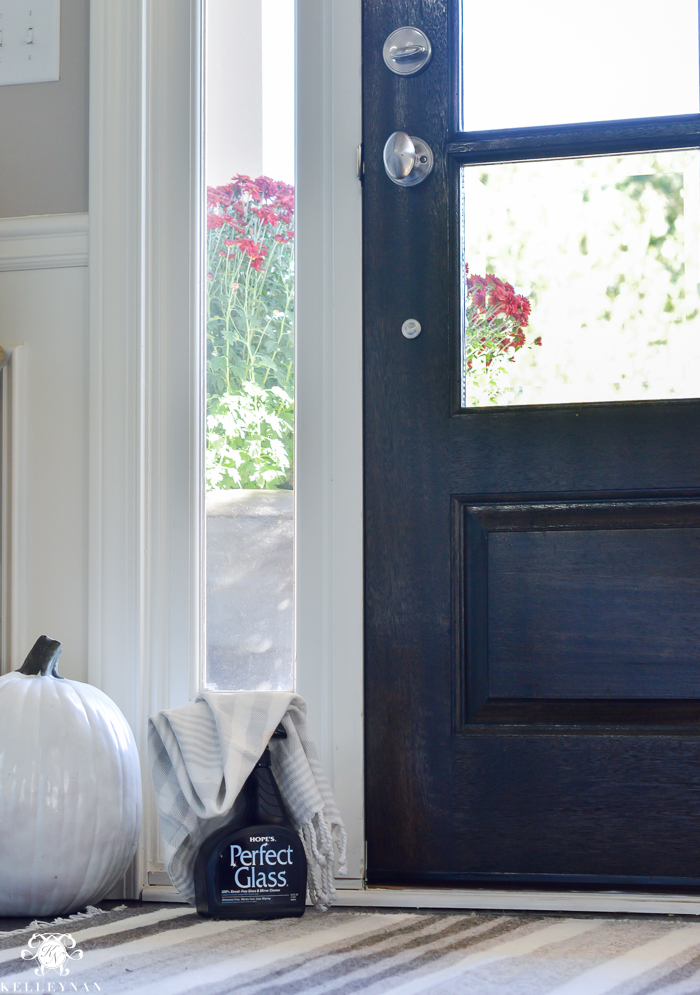 At this point, I will evaluate the state of the floors on the main level in the "hot zones". I quickly ran a vacuum cleaner over the high traffic areas.
Then, I head back into the kitchen to determine if my appliances need some work. Well, this is what our dishwasher (and the rest of the stainless steel) looked like. What if I told you I left it that way? haha!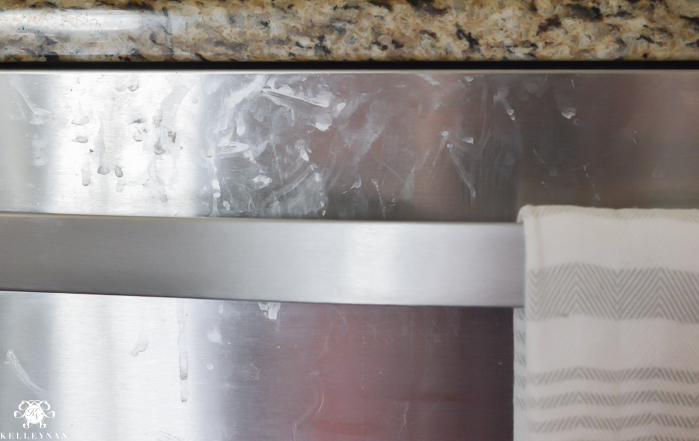 So NO, I did not. Stainless steel appliances in the kitchen will make or break your guests impression of your house's clean factor. You could do a full, hardcore spring cleaning but if your appliances look like that, it will look like you haven't cleaned since last spring.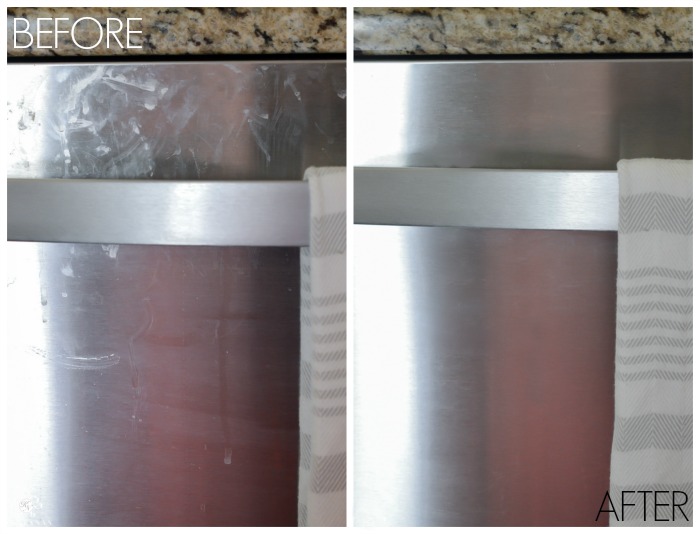 Stainless can be difficult to clean, having to wipe in the direction of the grain, but I never have any "blotches" after I finish with Perfect Stainless. I actually used a stainless cleaner before that smelled like an oil change place… and the film it left on the appliances felt like an oil change place. Hope's doesn't leave that oily residue that attracts all the dust and dog hair in the house; it's way easier to wipe because it doesn't feel like you are trying to even out grease marks. They actually have  new formula launching soon for stainless that is more difficult to polish; the original formula works fantastic for my kitchen.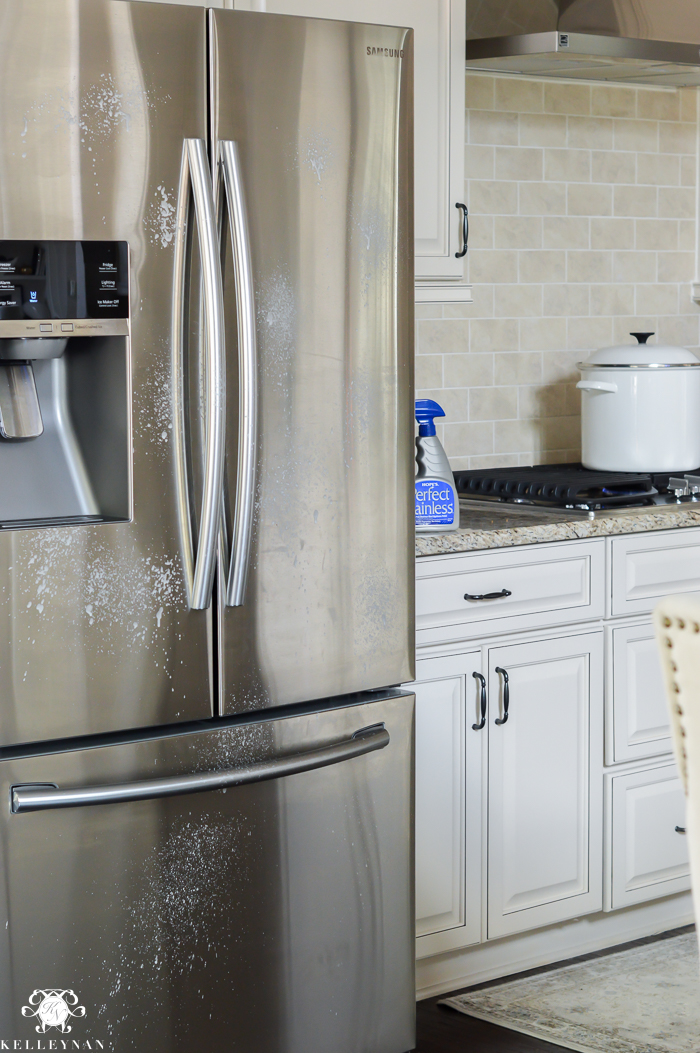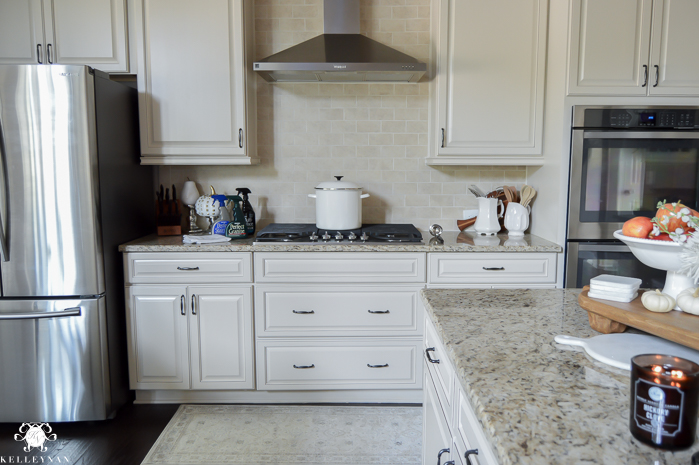 When the kitchen is finished and the guest beds are made, I bring the guest trays into the kitchen to quickly wipe and load them up with goodies. You can see the trays I created for my Fourth of July guests HERE. These are quick to prepare but the small gesture will rank high with your overnight visitors.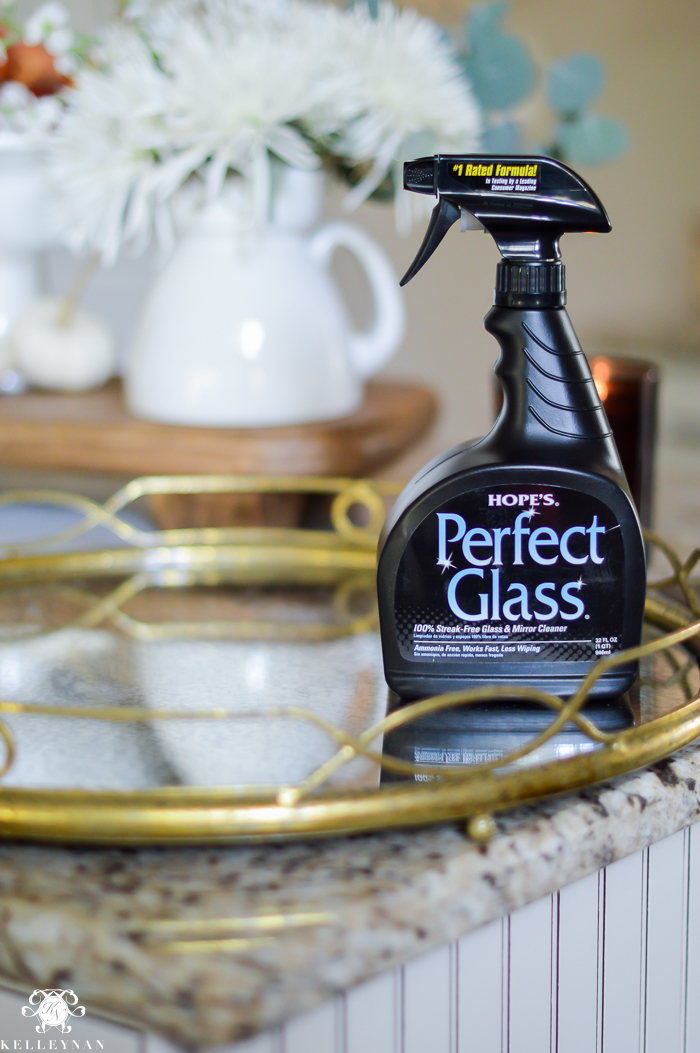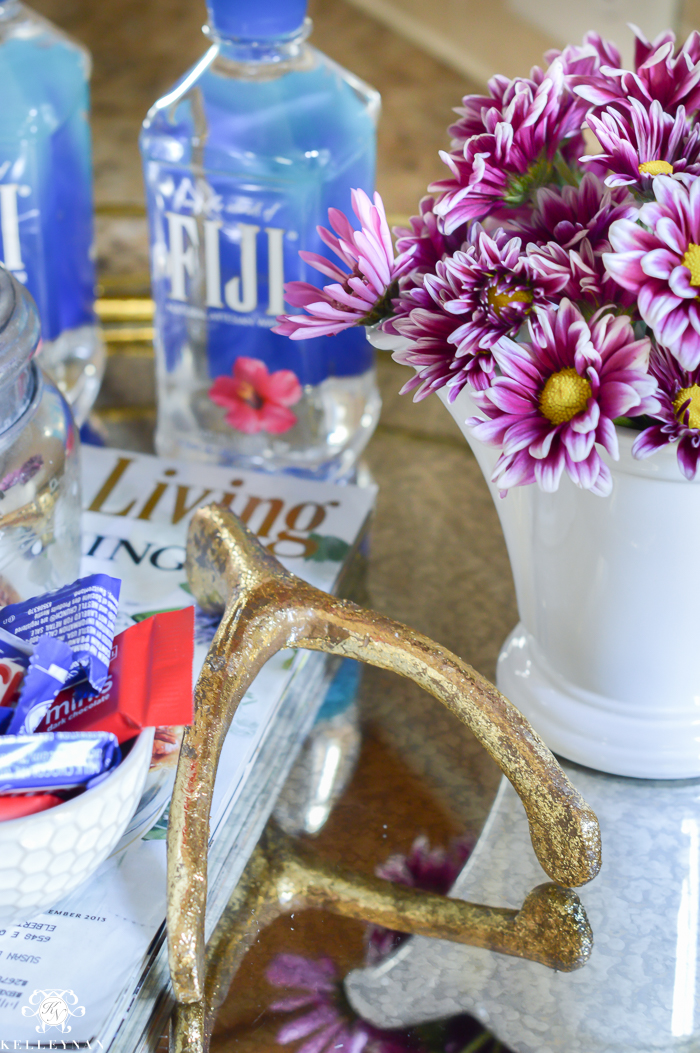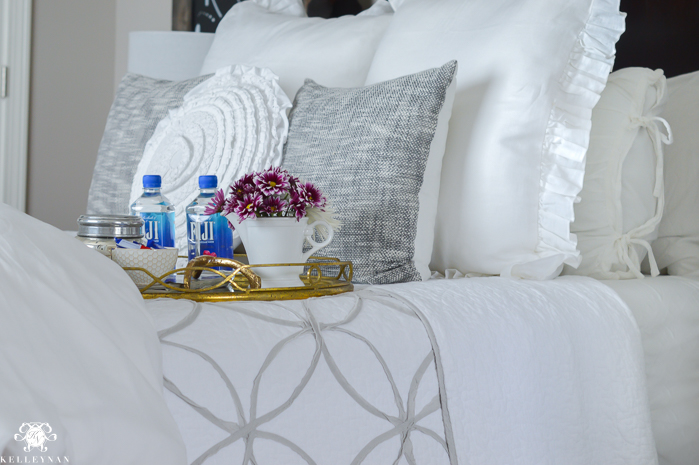 For someone who is not a professional cleaner (me), Hope's speeds up the process with awesome results. For someone who is a professional cleaner ("Paula"), she LOVES being able to use the Perfect line in our home, and I appreciate the results. At this point, I do one last walk through, put away my supplies and start to get ready. For a recap and an easy, quick checklist for your guest prep routine, you can pin this cheat sheet for later 😉 .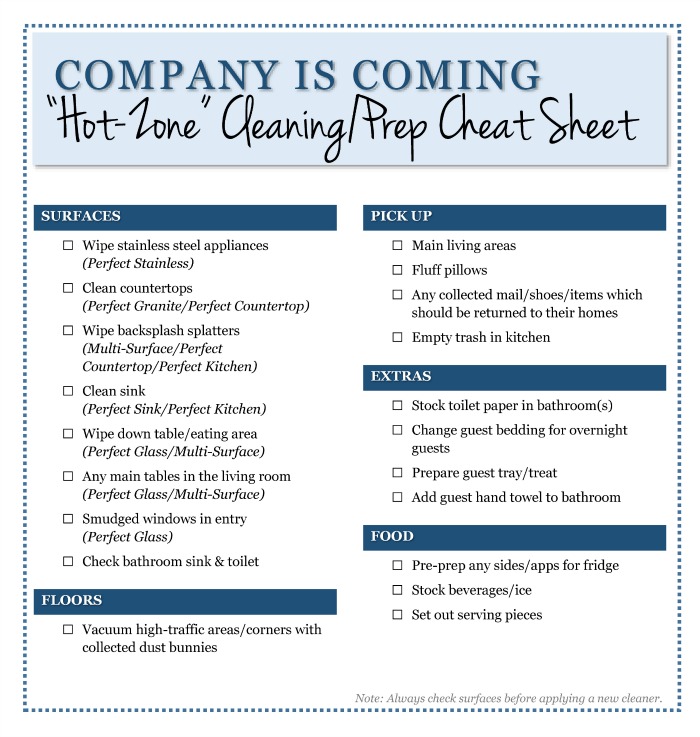 GIVEAWAY!
*UPDATE: GIVEAWAY CLOSED.*

Congratulations, Emalee! I have sent an email to your provided address for next steps.
Now for the exciting news. While I have included affiliate links below so you can shop any of the Hope's products, for one reader, Hope's is giving away their full product line, PLUS a $100 gift card to Hope's retailer, Bed Bath & Beyond (to be used on anything in store)! Entering to win is simple and you can qualify for up to six entries. Here's how:
Follow Hope's on Pinterest HERE (3 entries); AND/OR
Share this post on Facebook (3 entries); AND/OR
Sign up for my email updates at the bottom of the post (2 entries)
NOTE: You must comment with the fulfilled corresponding entry numbers "1, 2, and/or 3" in the comment section below once you have completed your entries.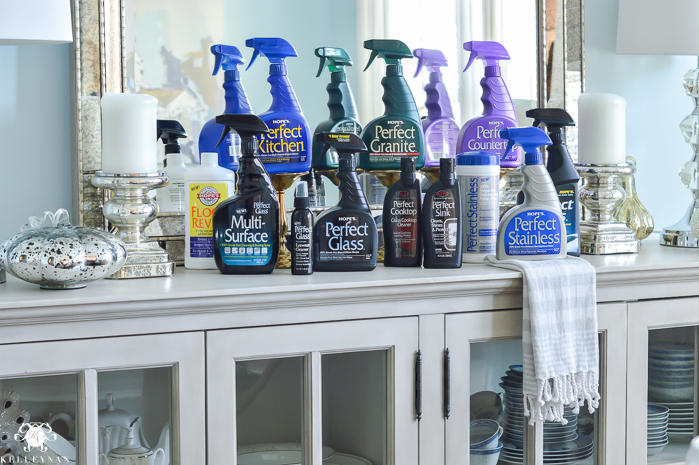 The giveaway will end on Tuesday, October 4 and I will notify the winner via email. Good luck!
SHOP THE HOPE'S LINE

Perfect Glass | Perfect Stainless | Perfect Granite | Perfect Sink | Perfect Kitchen | Perfect Countertop | Multi-Surface | Perfect Cooktop | Perfect Stainless Wipes | Perfect Glass (auto) | Floor Revive | Perfect Glass Eyewear Cleaner
*Post contains affiliate links*