My mind is a little blown. We are coming up on our fourth spring on KN (also mind-blowing) and when I started searching for St. Patrick's Day party ideas from the archives, I realized there weren't any. *Insert wide-eyed, surprise emoji* I think it is literally the only holiday we have shown zero love. Well, this year we're making up for it. I've already scheduled the Irish celebrations and ideas to continue next week and today, we're kicking things off with layered, easy St. Patrick's table decorations and place settings.
*This post is written in partnership with At Home Stores; as always, all opinions, concept, and creative are my own. Click HERE for full disclosure.*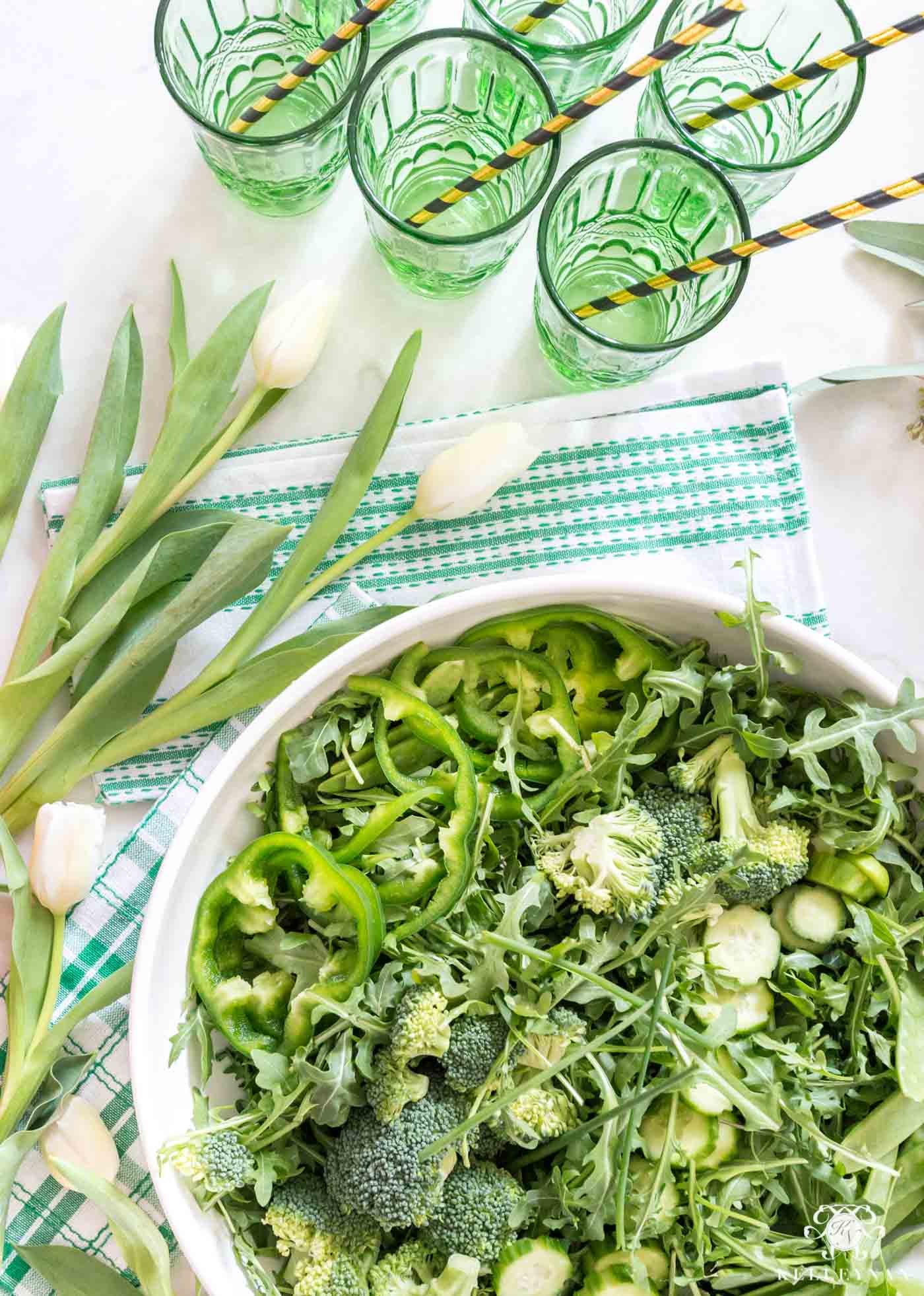 From the place settings to the centerpiece, everything I pulled together for the St. Patrick's Day party is from At Home. While they don't have an e-commerce site, you are able to browse a bit online HERE and can use a store locator HERE.
St. Patrick's Day Party Ideas
Like most of my tables and parties, when I hit the aisles in At Home, I wasn't looking for literal leprechauns and St. Patty's decor. I take a mental inventory of some of the words/feels that go along with my own ideas of the holiday like…
Green
Gold
Fun
Fresh
Spring
Irish
Rainbows 
If you stay open minded before putting the aesthetics of your party together, there's more opportunity to get creative as you go along. Look for one to two statement pieces and build on that. Or, maybe you have an inspiration focal point at home that you want to build around — a favorite vase or strand of garland or a new set of patterned salad plates. Some of my favorite tables and party setups have come as the result of total accidents.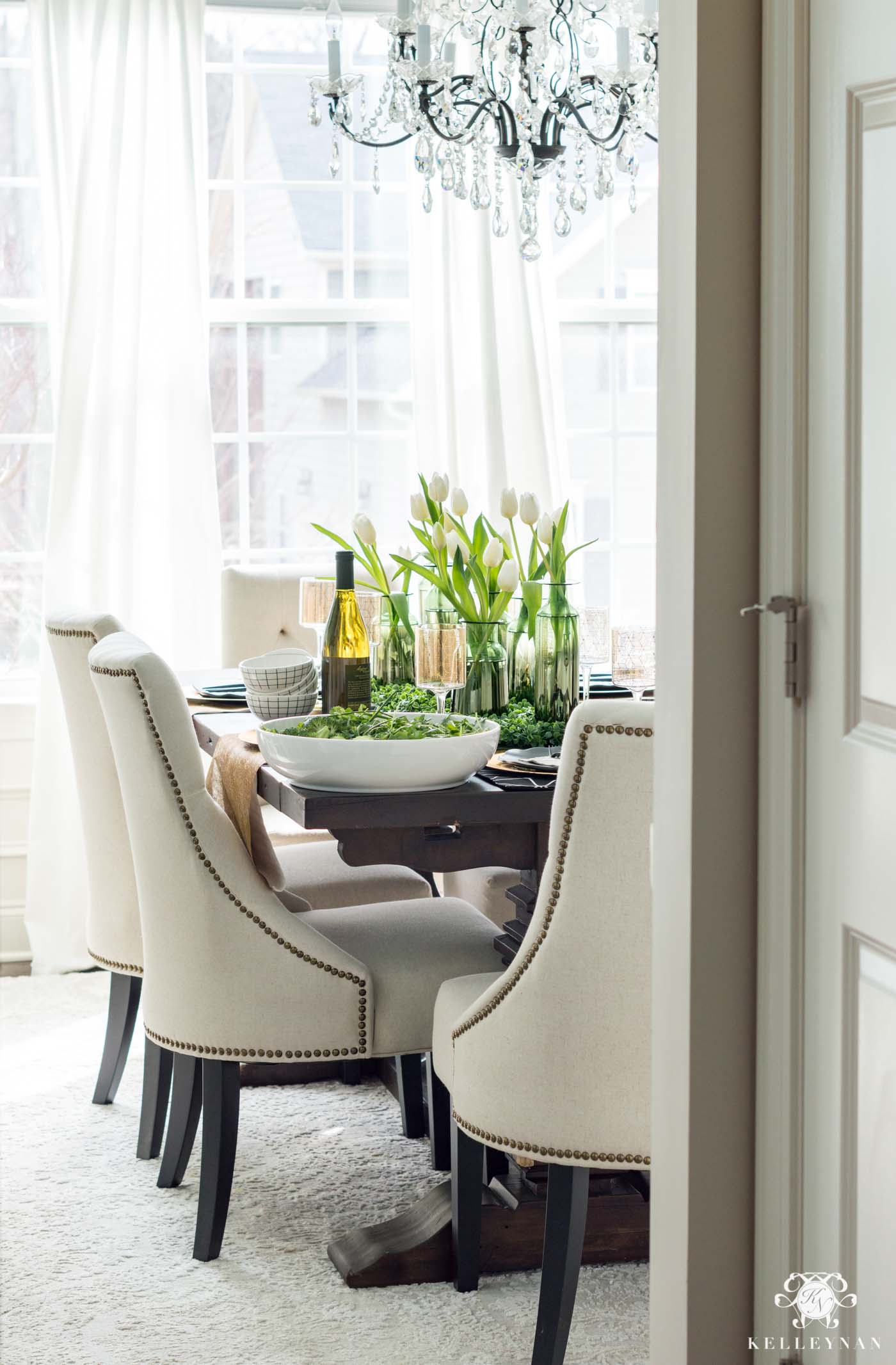 How to Plan the St. Patrick's Day Table Decorations – My Process & What Goes On in My Head
In store, the first thing that caught my eye were these green tumblers; they also had matching goblets but I ultimately decided on the shorter glasses and in my cart they went.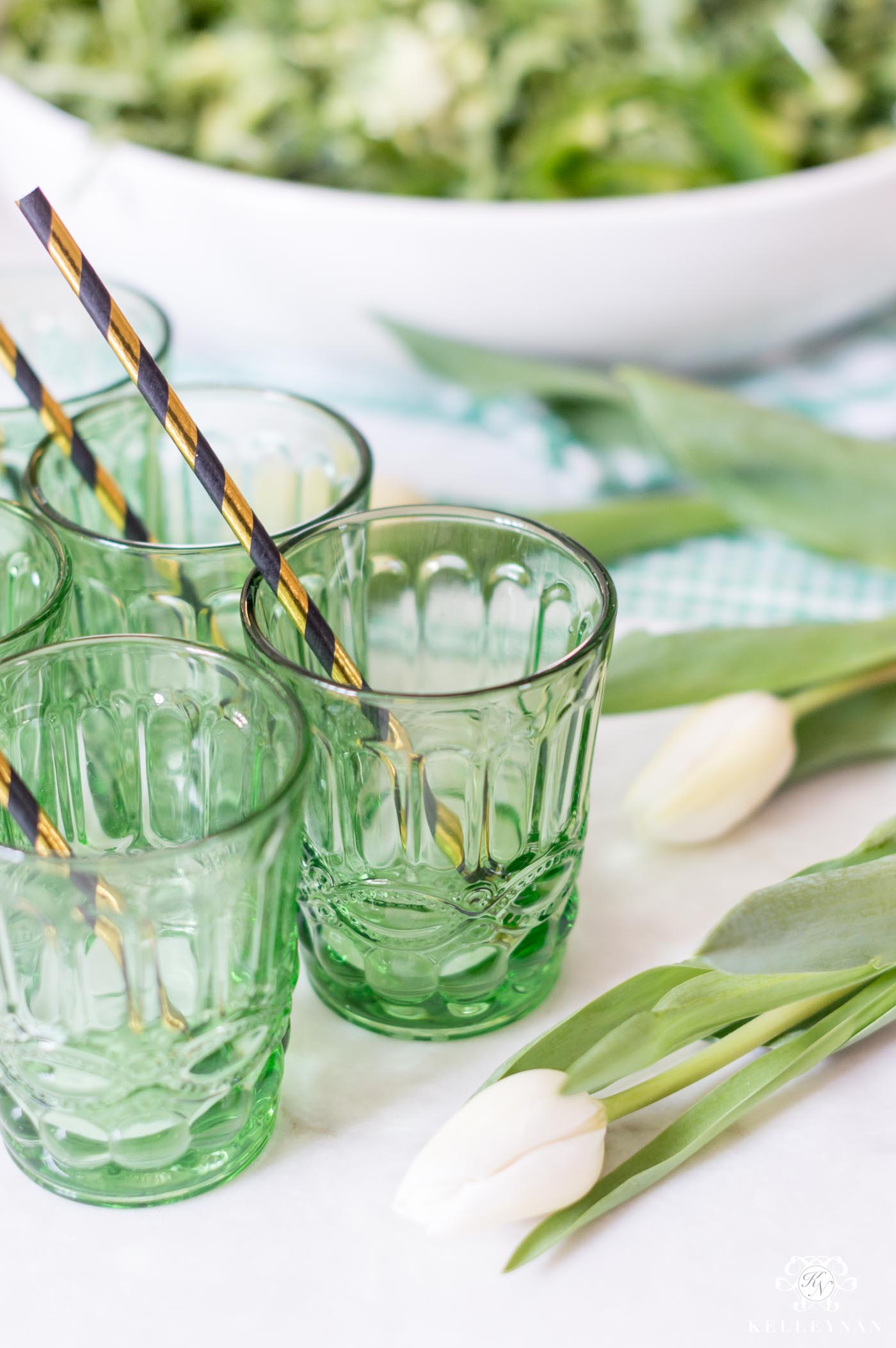 And while they normally wouldn't make much sense being paired together, the next thing that I picked up and didn't want to put down were these gold geometric print stemmed glasses. So, once I had my direction, my job was to make them make sense together and create a concept around them. Classic green tumblers and modern gold goblets. Until I saw the black and white geometric print table runner, I had no idea I would end up going in a funky-ish direction. But, I loved how it looked with the gold geometric glasses and considered it just another integral piece I would need to bring into the fold and make sense of it somehow.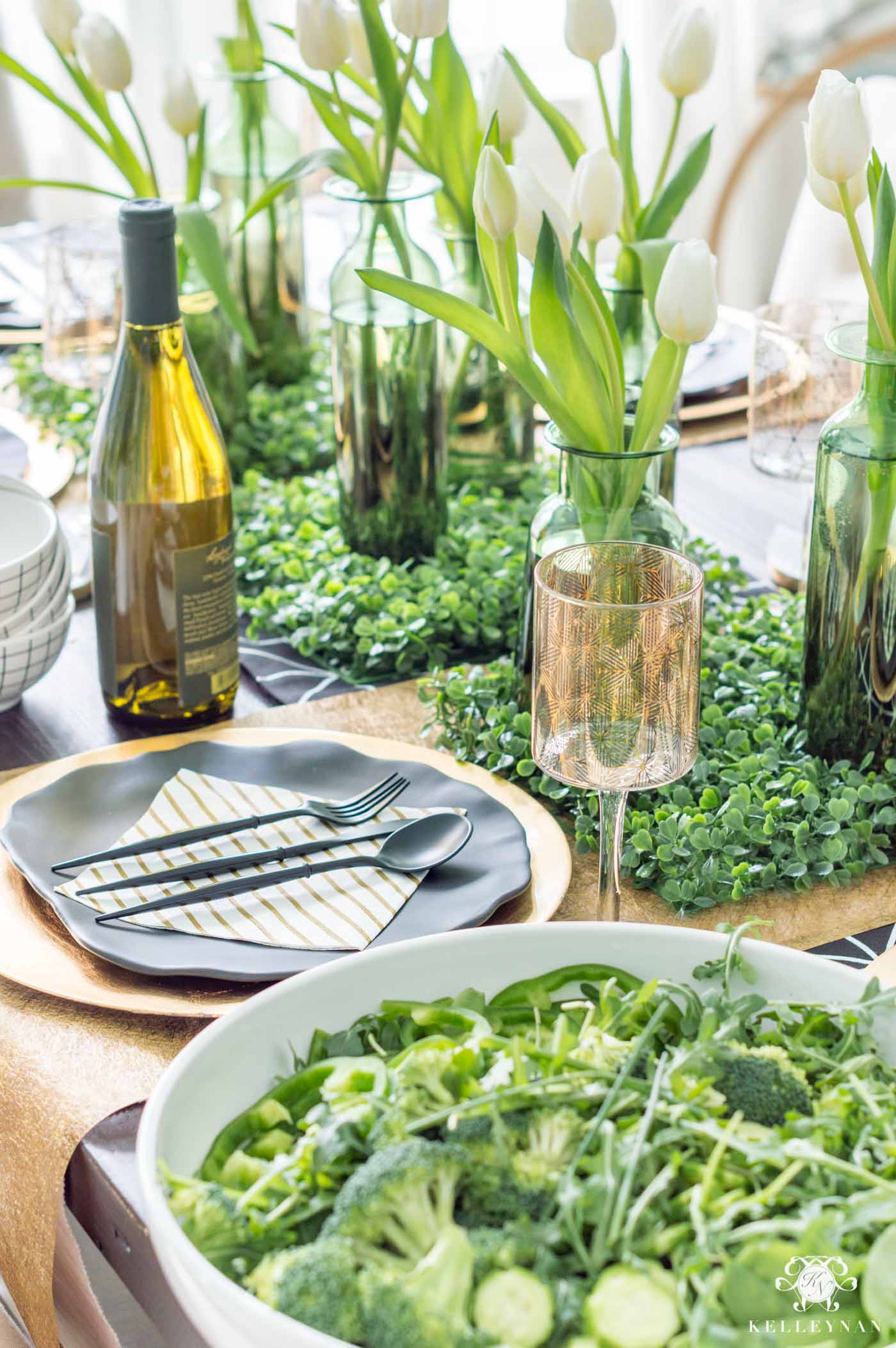 I came across these unique, black matte organic shaped plates, separated them with simple gold chargers and felt like my vision was starting to come together. Admittedly, I didn't start my trip planning to use paper party supplies but when I turned the corner and saw full aisle with specialty tableware in selection quantities I'd only see in online boutiques, I ended up having a field day and determined I would do a combination. The gold and white striped napkins worked perfectly with the other geometric business happening on the table and as much as I've wanted black matte flatware, I have yet to make the commitment. I think the inexpensive modern shaped plasticware in all the colors was one of my favorite parts of the entire trip. (Expect to see a lot more of it in future posts 😉 ).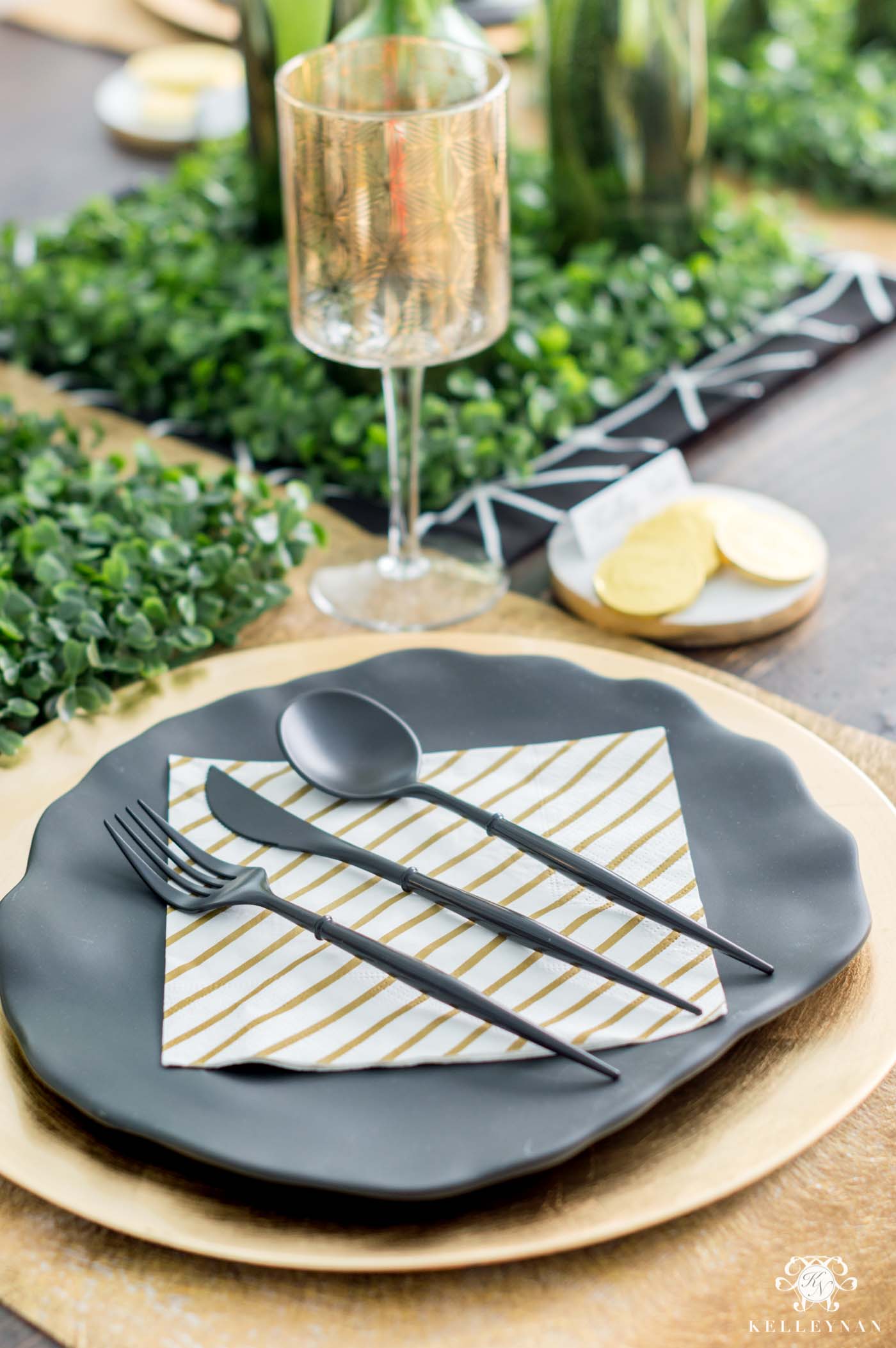 They also had gold spun runners that could be cut that I decided had to be a part of my layering, too. One package was the perfect amount to be cut in half for this table.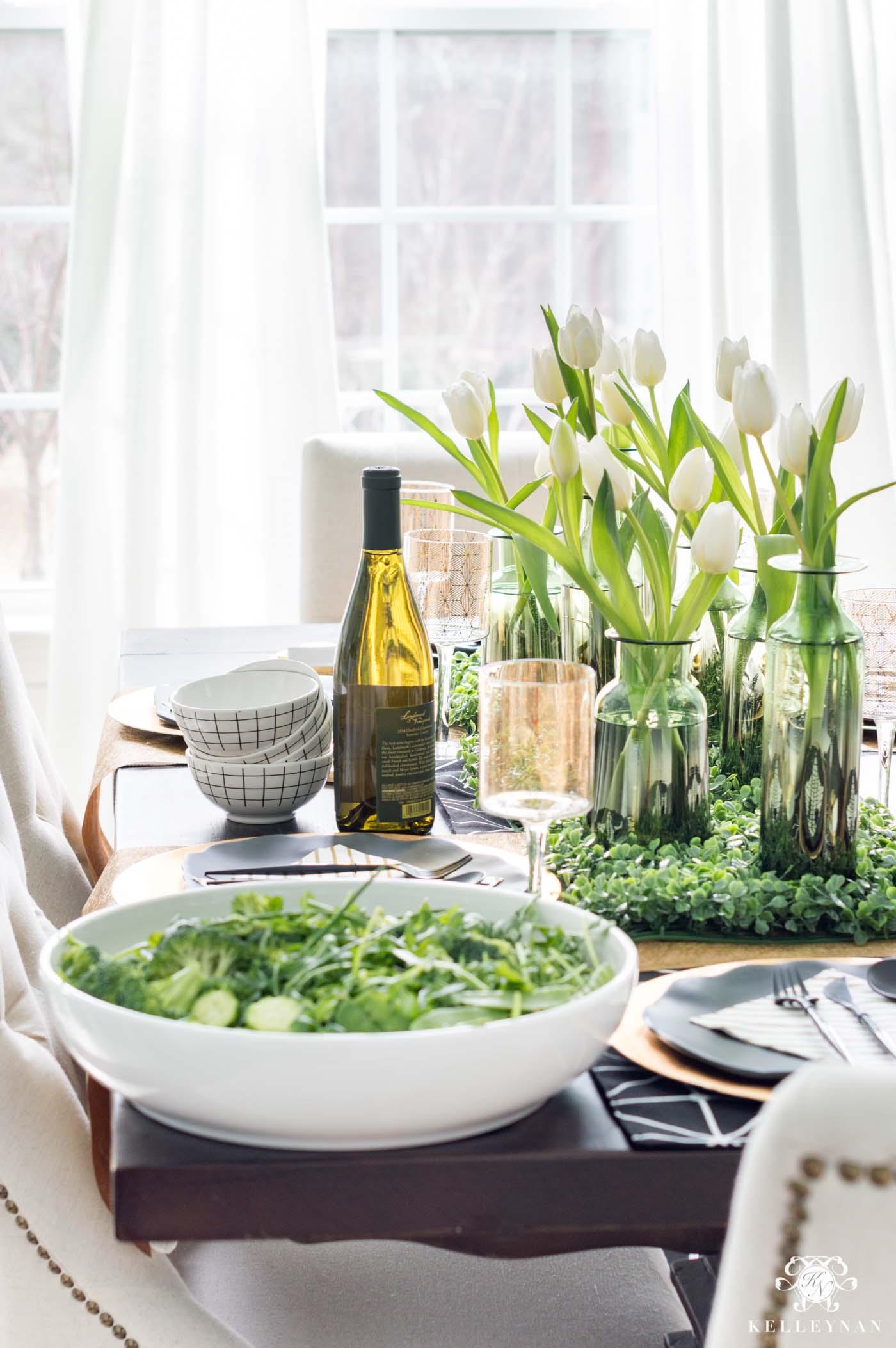 For the centerpiece, I had envisioned something green and leafy with spring tulips. I found these green bottles in multiple sizes and varying heights and knew I wanted to scatter simple stems down the table. I went to the greenery section to find a garland (they have a ton to choose from) and as soon as I'd put a few fern strands in my cart, I found these little clover patches. I think they're actually faux boxwood but to me, they couldn't look more like little yards of shamrocks.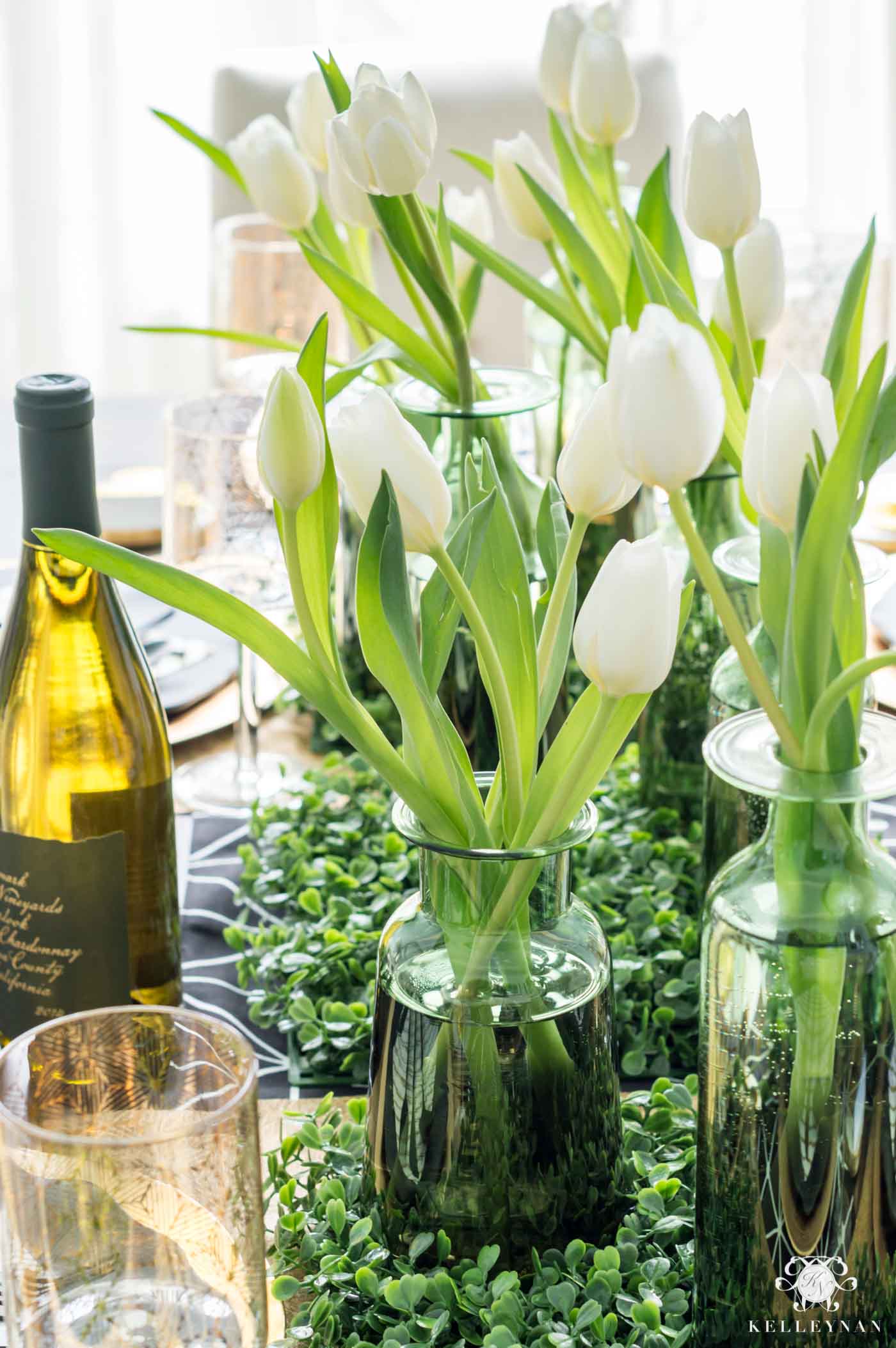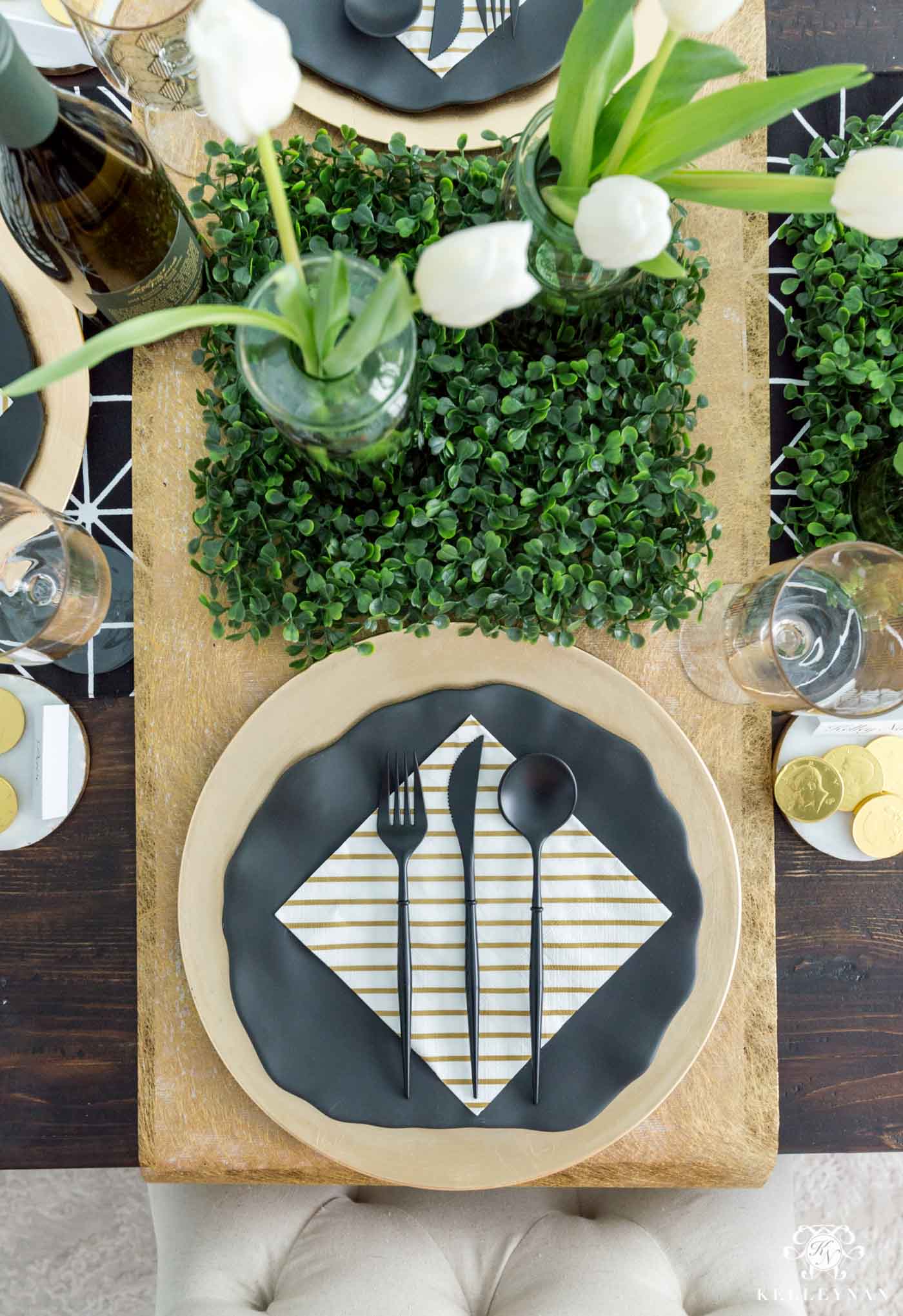 My original plan was to do little pots of gold, using the chocolate gold coins, at each place setting in the black and white geometric bowls I found but standing in line, I saw white marble coasters with gold edges.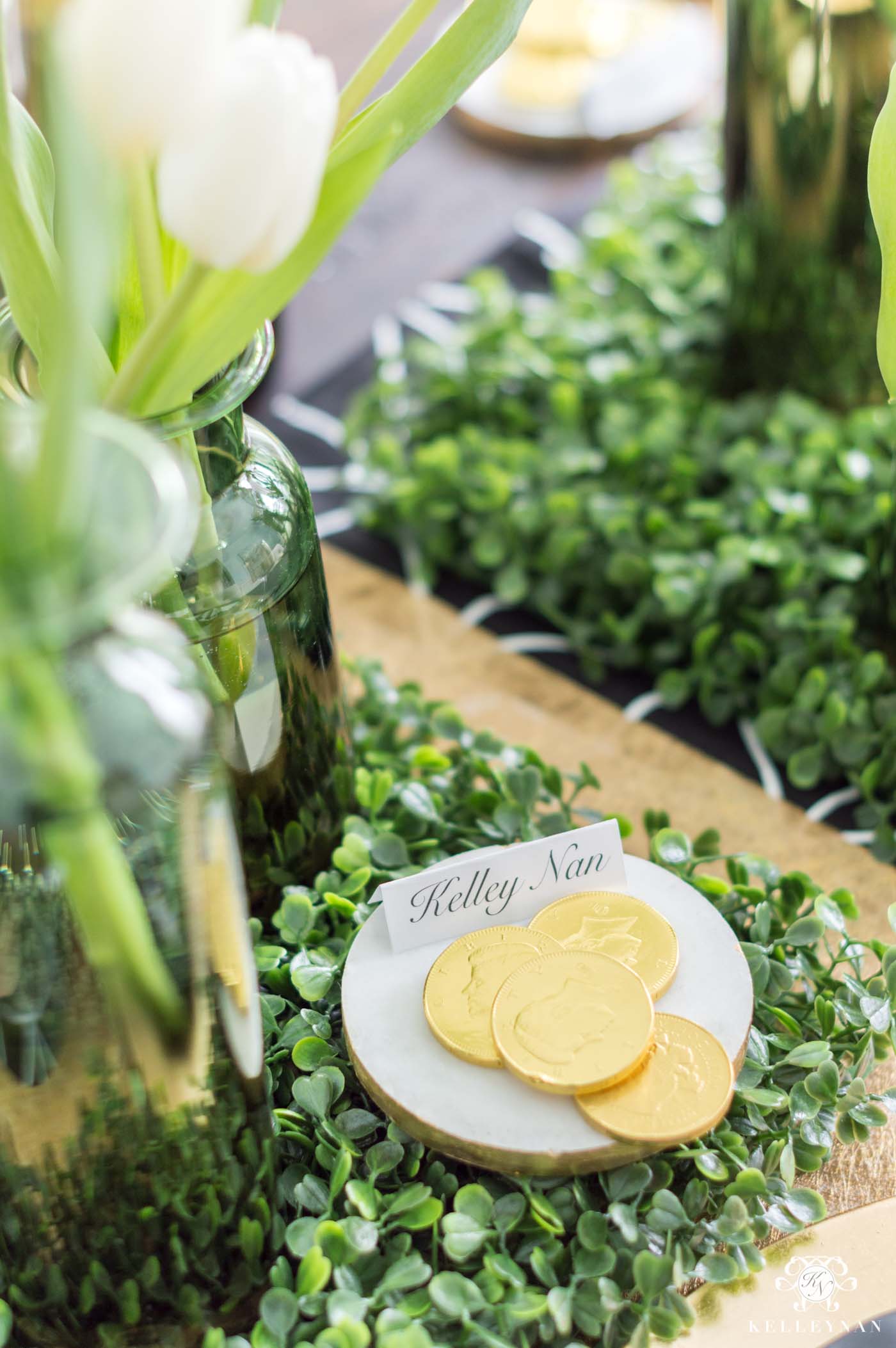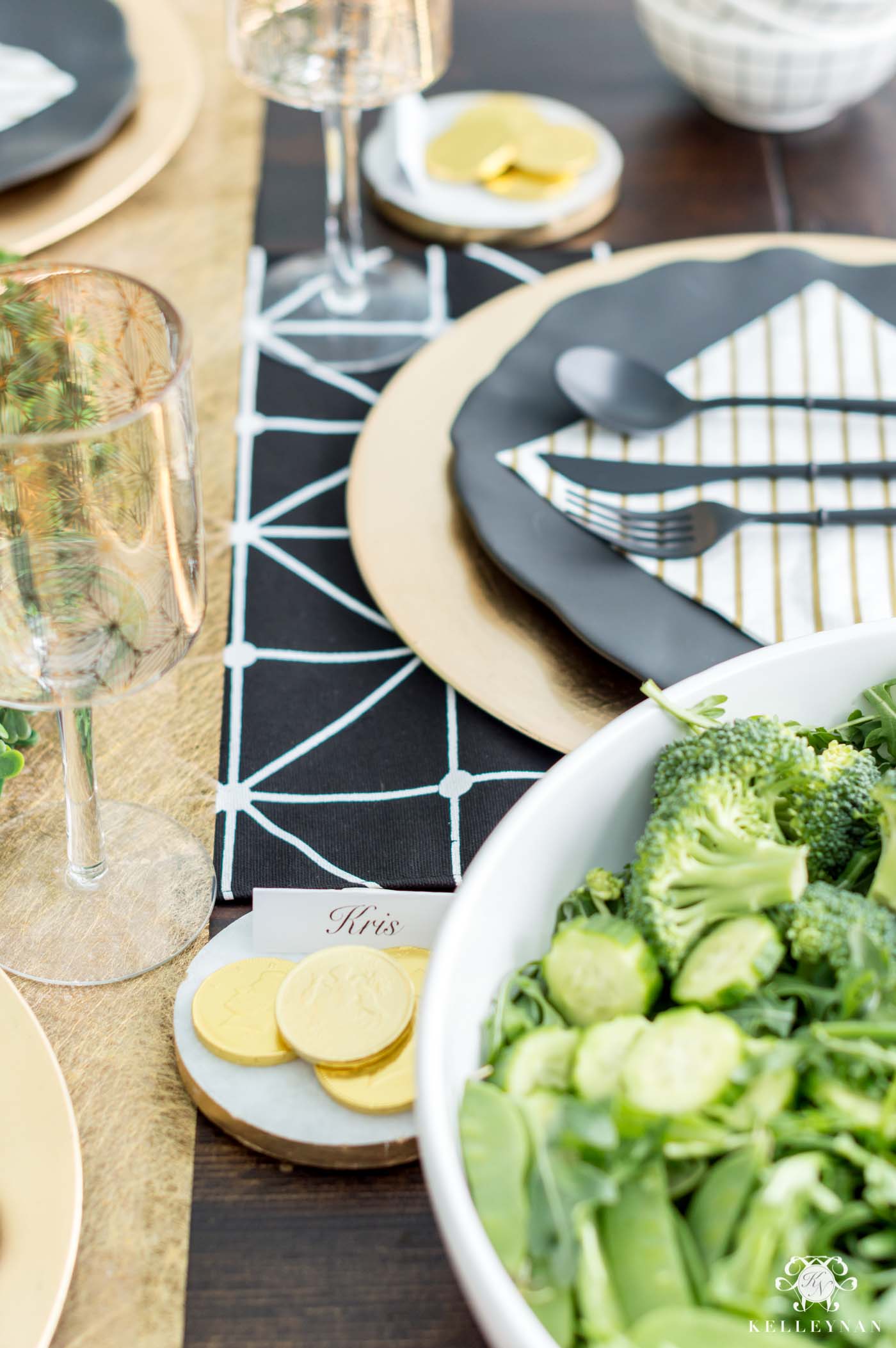 Starting with a totally blank slate, I built from the runners up. When you look at each component, they don't necessarily make sense on their own but layered together and with each table piece playing off of another, the table decorations came together for  a totally intentional-looking shamrock/green clover/gold St. Patrick's day party setup.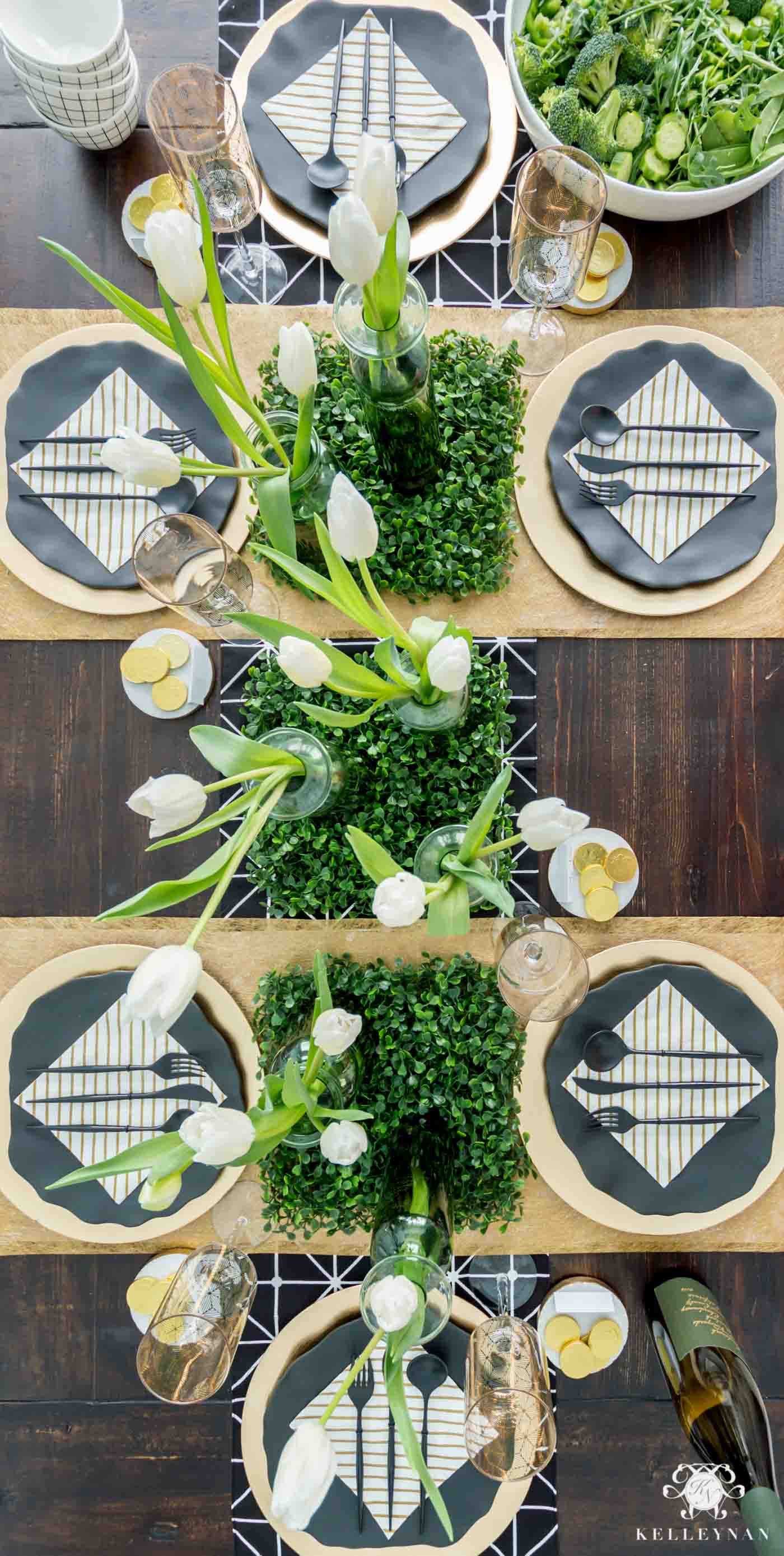 Simple St. Patrick's Day Food Tip
If you're planning a St. Patrick's day lunch, you can let salad greens be the hero (make sure you have some protein like chicken and apps on hand) and even if you're planning a dinner, you can make the salad green-exclusive to add to a more traditional Irish dinner of corned beef/cabbage/stew/potatoes. This is probably the only time I've worked for a monochromatic salad, usually trying to bring out as many colors as possible ;). I used baby arugula, cucumber, bell pepper, broccoli, sugar snap peas, and chives. As a bonus green component, you can serve green goddess as the dressing. If you aren't a fan of green goddess, pour some ranch dressing into a bowl/gravy boat. Use a toothpick to stick inside a bottle of green food coloring (to help control the amount) and stir into the ranch dish. You can put a droplet in a small bowl to transfer a portion over too, if that's easier. Be careful- similar to tinting cake frosting, a little goes a long way and if you aren't careful, it  may end up far darker than you intended 😉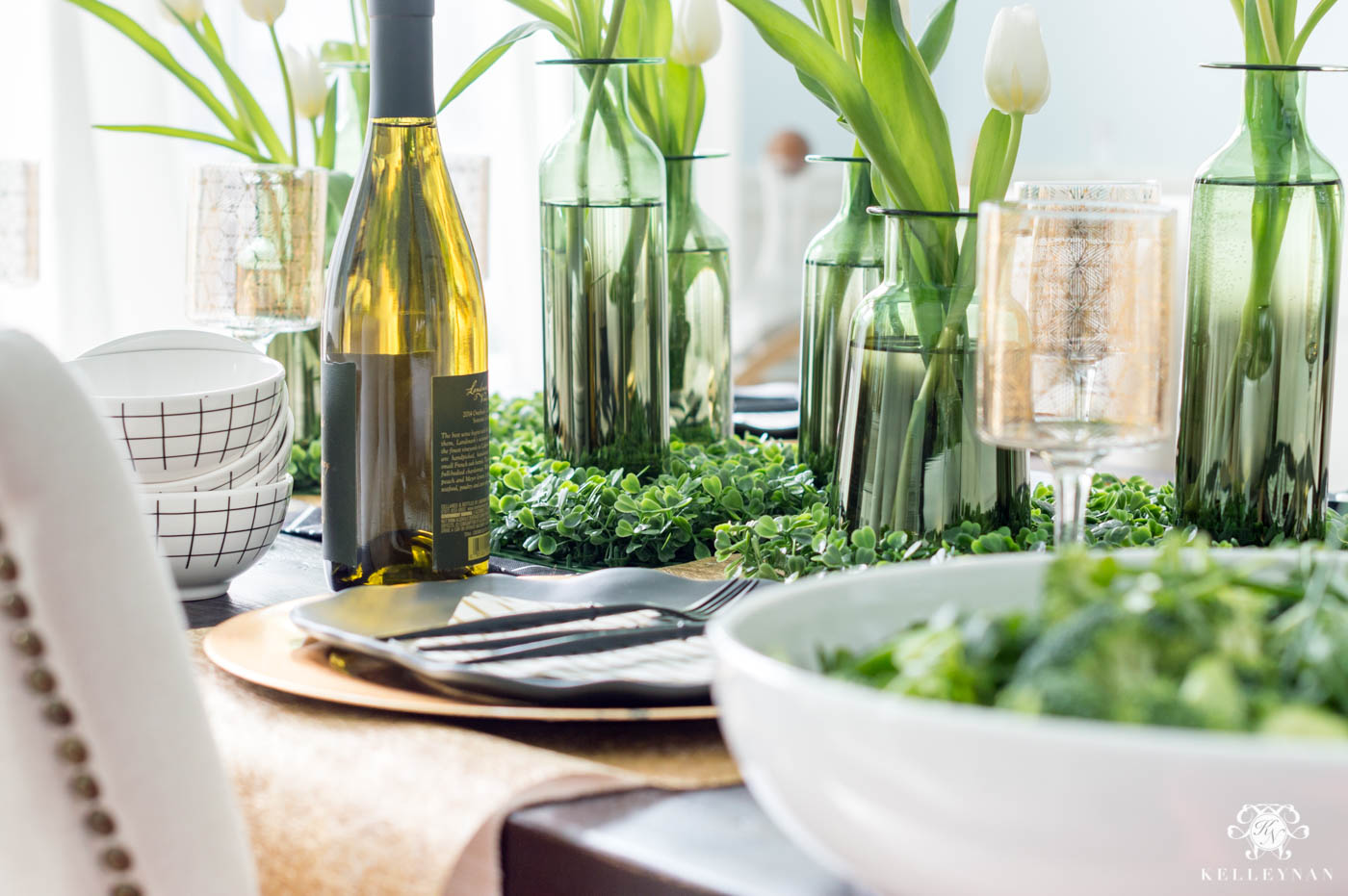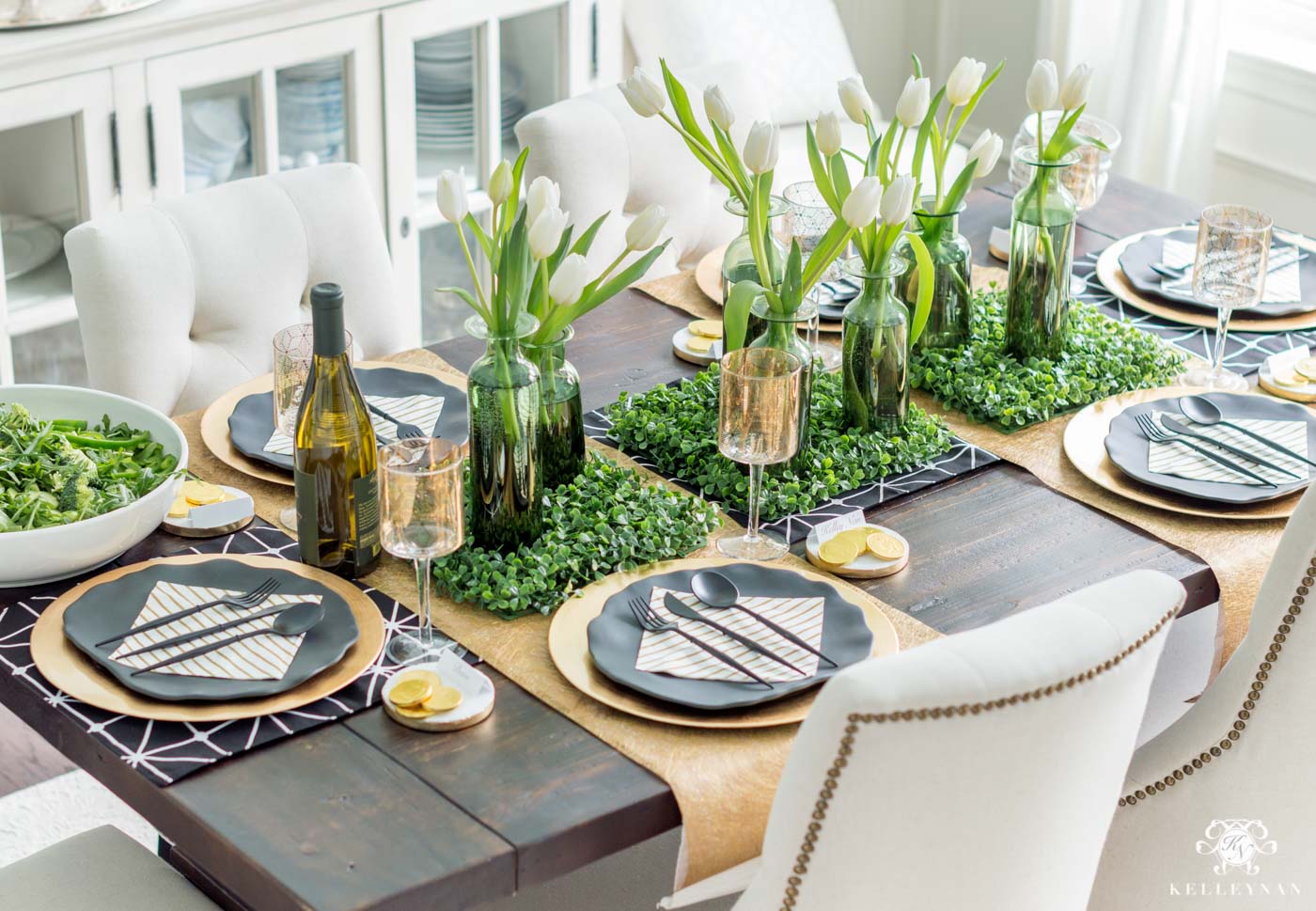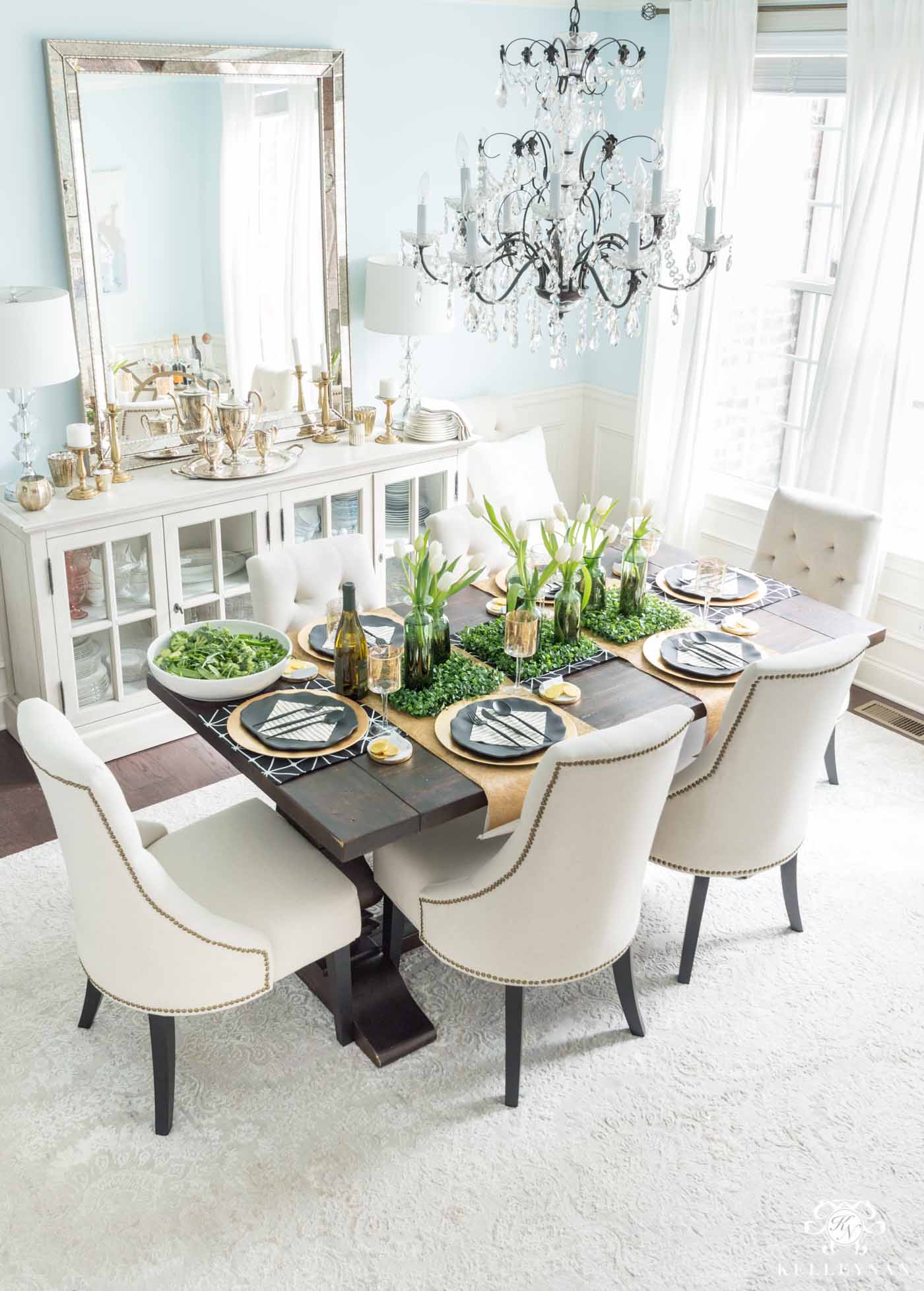 Next week, I'm sharing some food display ideas that I'm totally stoked to share; be sure to subscribe to my emails at the bottom of this post to be the first to see!
For More Party Ideas, Check Out These Posts