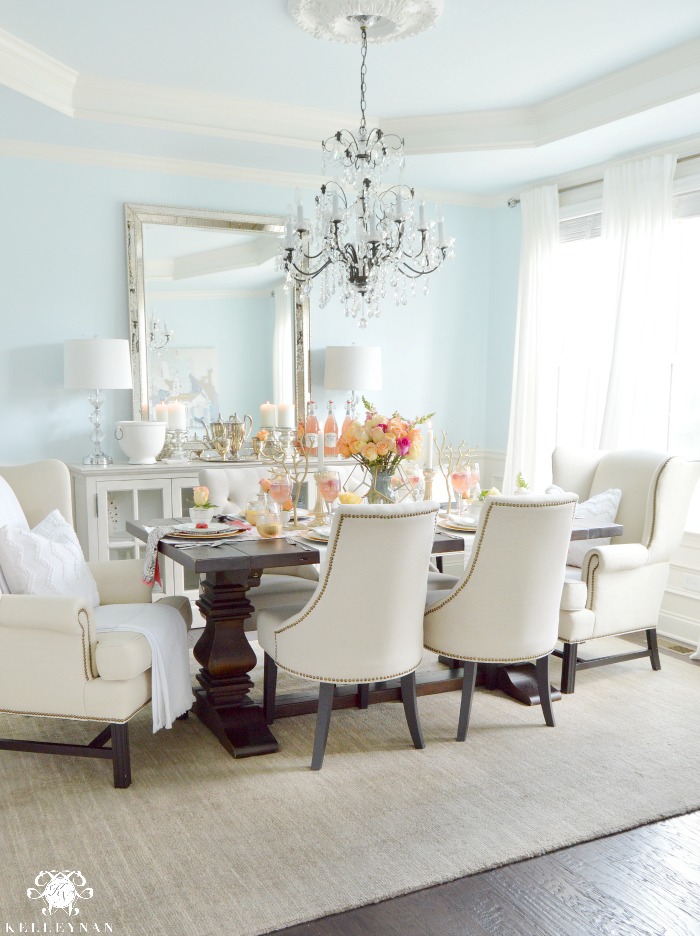 With fall just around the corner (although you would never know it with the Georgia blazing-hot temps), this weekend, I finally set my dining room for a flamingo inspired ladies luncheon. Ladies luncheons have a special place in my heart – not because I host or attend a lot of them, but because when I was a little girl, my grandmother had me invite some friends over to her house where she hosted a luncheon for us. I vividly remember her table set to perfection with cloth napkins, beyond what you would imagine a 10-year old deserving. She prepared chicken salad on a bed of lettuce, and frozen fruit salad with cranberries and walnuts. It was a special day and I loved feeling "fancy" with my friends for the afternoon.
Remember, you don't have to serve extravagant food to make your guests feel special. One of the most important hosting tips I learned from my mother and her mother is that if you want to serve chips, serve chips! Just don't serve them out of a bag. Presentation is everything. Absolutely serve burgers on fine china; just don't display the pickles in the jar. (Hence my obsession with small bowls 😉 )
A few months ago, I found the most adorable Kate Spade pink flamingo table runner at HomeGoods; as soon as I saw it, I envisioned pretty pink blooms, pink lemonade, pink… well, you get the idea. It wasn't until this past week when I pulled out my sweet little runner that I started planning for how it would be used.
Last year, my mom and I hit the jackpot when we showed up at a Crate and Barrel that coincidentally was moving store locations the following day. For that day only, everything left in stock was 50% off – down to their racks, shelving, and shopping baskets (which I got plenty of 😉 ). But, one of my favorite scores was a pair of salmon, black and white napkins. Typically, I would have passed since they didn't have six for a full table set-up, but I thought at a minimum, I would be able to use them in bread baskets. Then, this weekend, I was at World Market when I saw these inexpensive napkins; there were only four but I quickly decided that they could complete my flamingo table with the Crate and Barrel pair at the heads of the table. These are the fabrics I rounded up to serve as the base for my table.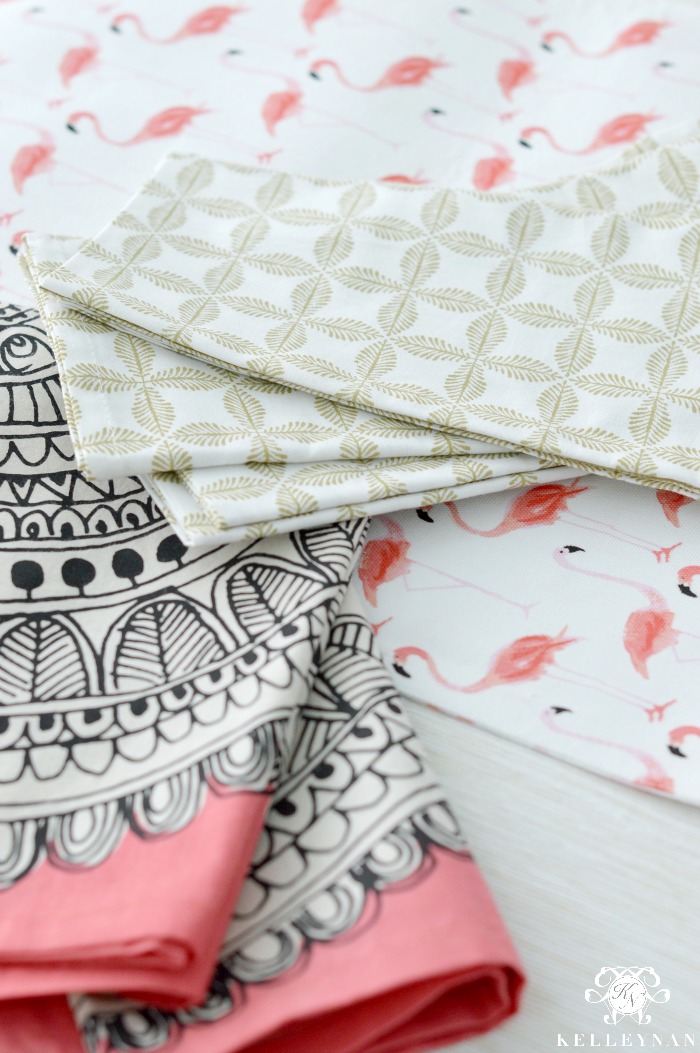 I wanted to bring in a lot of gold with varying shades of blush and pink. I also picked up this large geometric terrarium I talked about in The Short List a few weeks back. The best part? It's currently on sale! I set a regular glass vase inside and filled the bottom with small white rocks. Stay tuned for another fun arrangement with this terrarium 😉
These gold-bottomed stemless wine glasses also made their way into my cart. I don't usually buy a lot of new glassware, but these are so pretty and unique, I justified my purchase by telling myself that I would keep them out on display.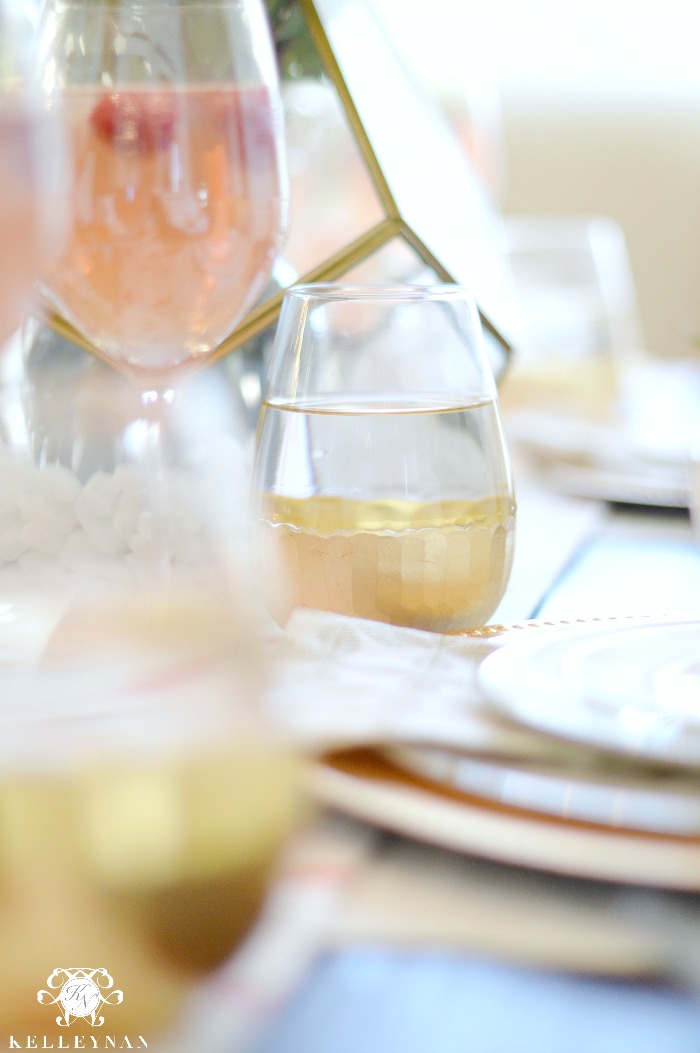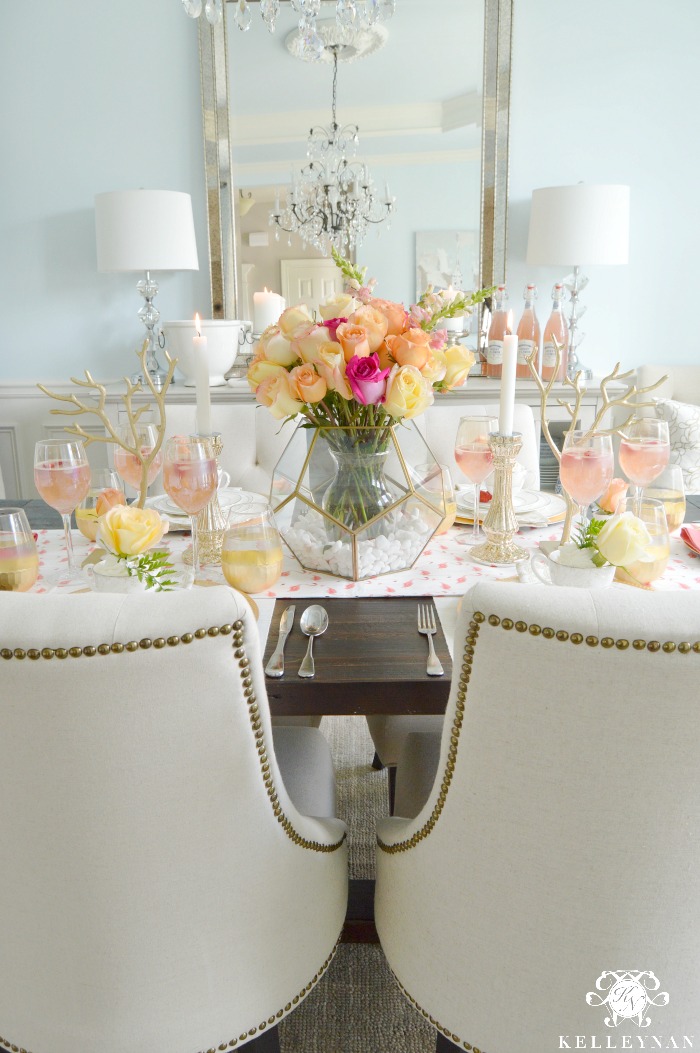 Here's a glimpse at the two different place settings; the first is at the head of the table; the second is along the side of the table.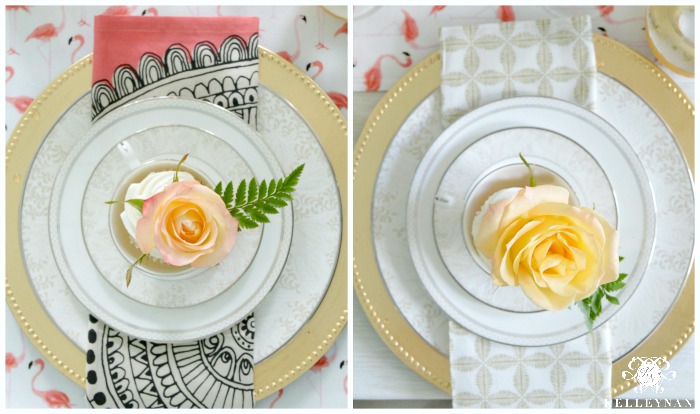 Also new to the table are these gold branch jewelry holders. I think the branches reminded me of flamingo legs and I had to have them.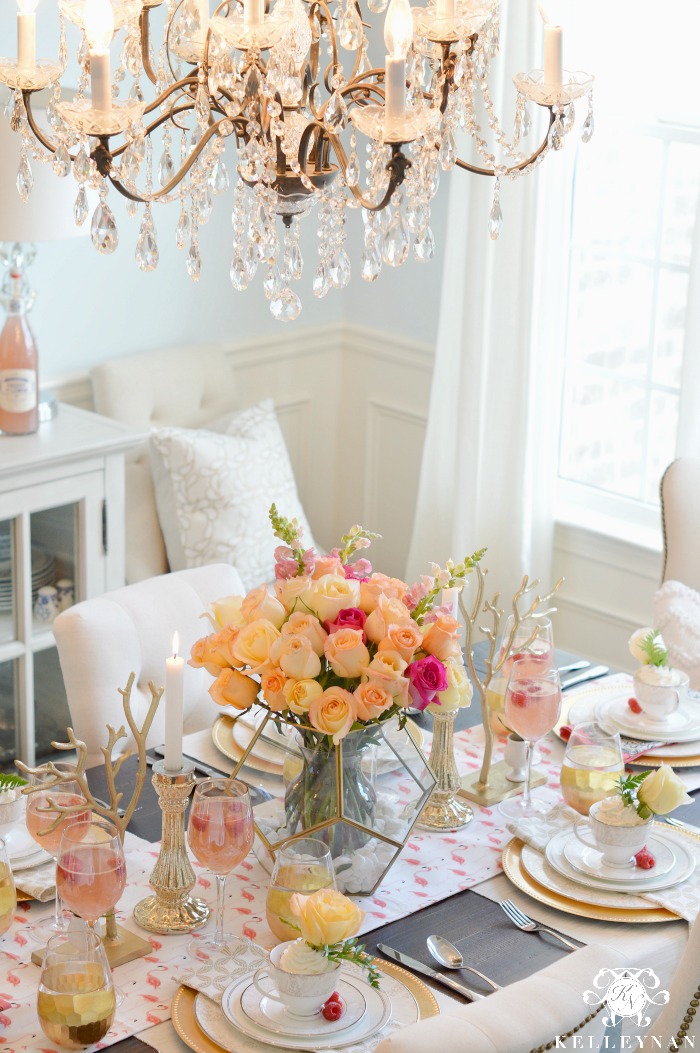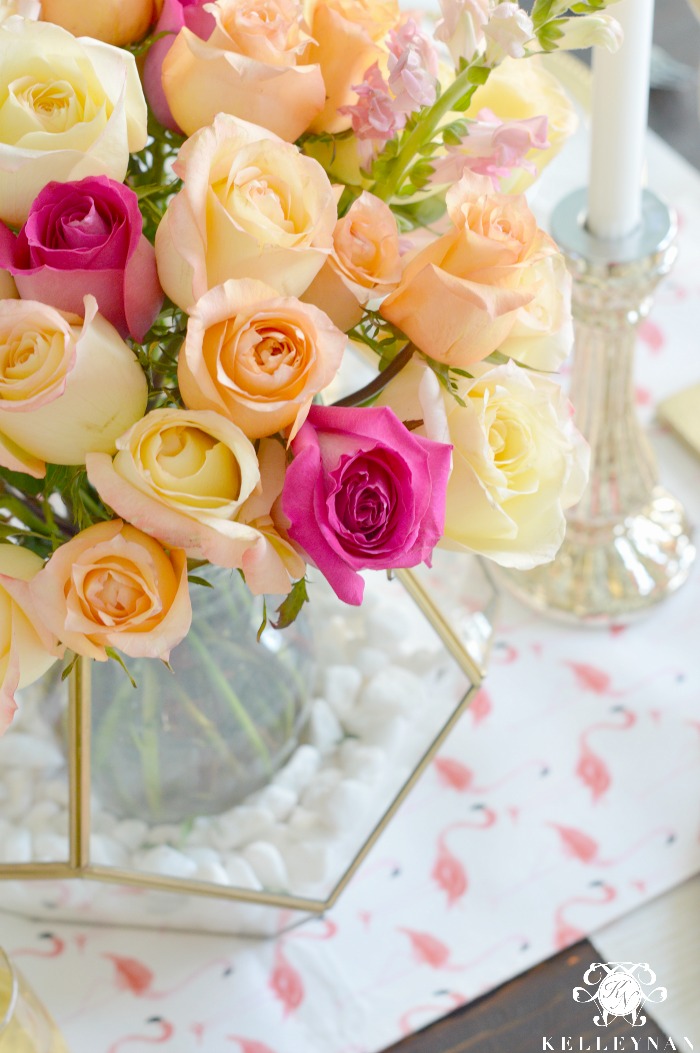 I used a few bottles of cherry and lemon French soda with raspberries in these gold crackle glasses which I incorporate into my tables often. Not only do I love keeping these beverages on hand because they are yummy, but they are an inexpensive way to style up your kitchen, dining room, or breakfast area before they are opened.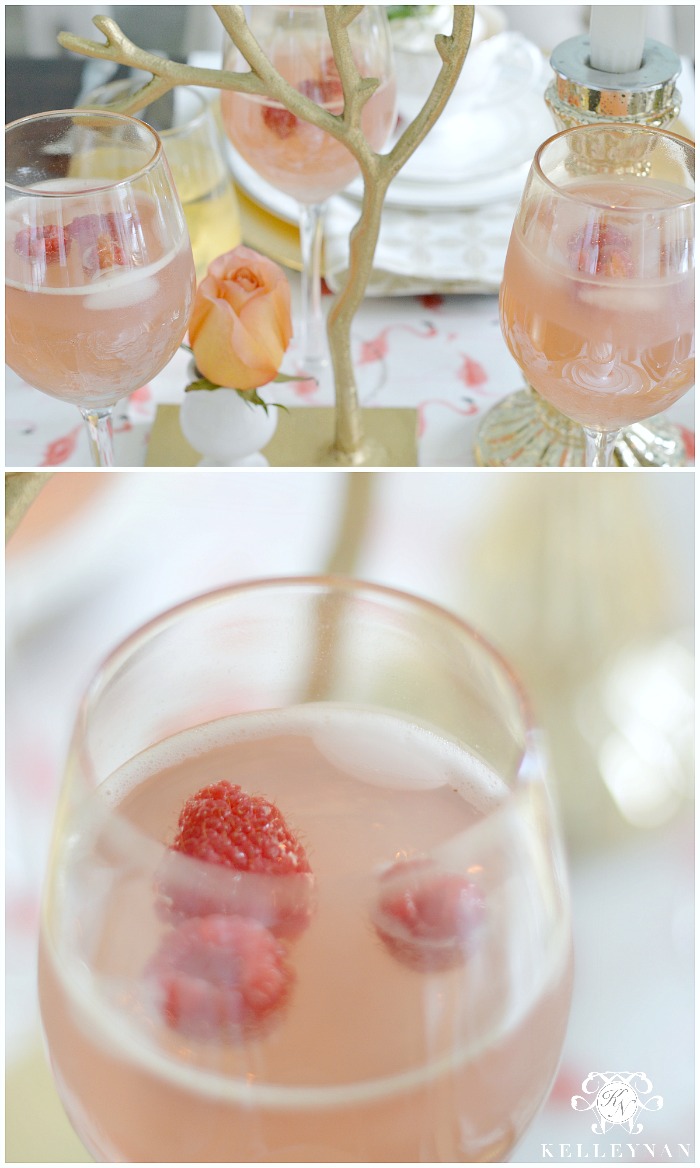 Before our house was even finished, my mom tried to convince me to consider different chairs for the heads of the table. I took this opportunity to test out our living room wing back chairs; I have to say, I love this look. The fabric, legs, and even the nailhead trim match… Unfortunately, they aren't staying but it is something I will probably work towards ;).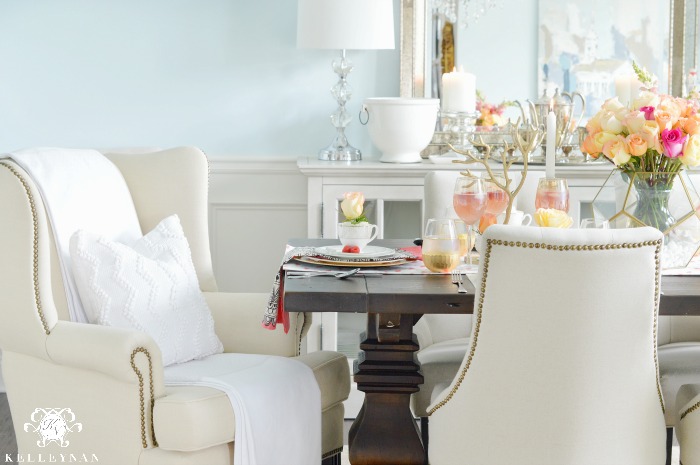 I set a teacup holding a cupcake at each place setting and topped each with a rose bud and piece of greenery. My first thought was to use a hydrangea bloom for the cupcake top, but mine were looking a little sad so I stuck with what I had. Shauna at The House of Silver Lining and Randi of Randi Garrett Design recently shared how they incorporated flowers into their store bought cakes HERE and HERE. And, they are GORGEOUS!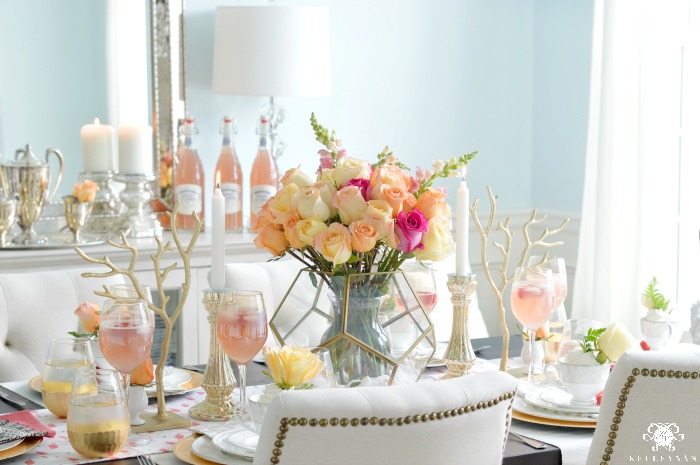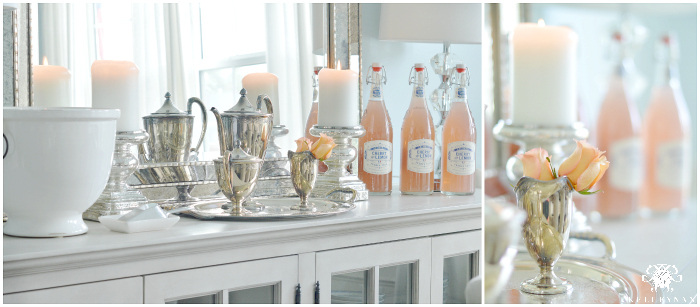 I love having dim-able lights in most of our rooms but if I could only choose one place to add a dimming switch, I would have put it in the dining room. You can get one for a few bucks HERE.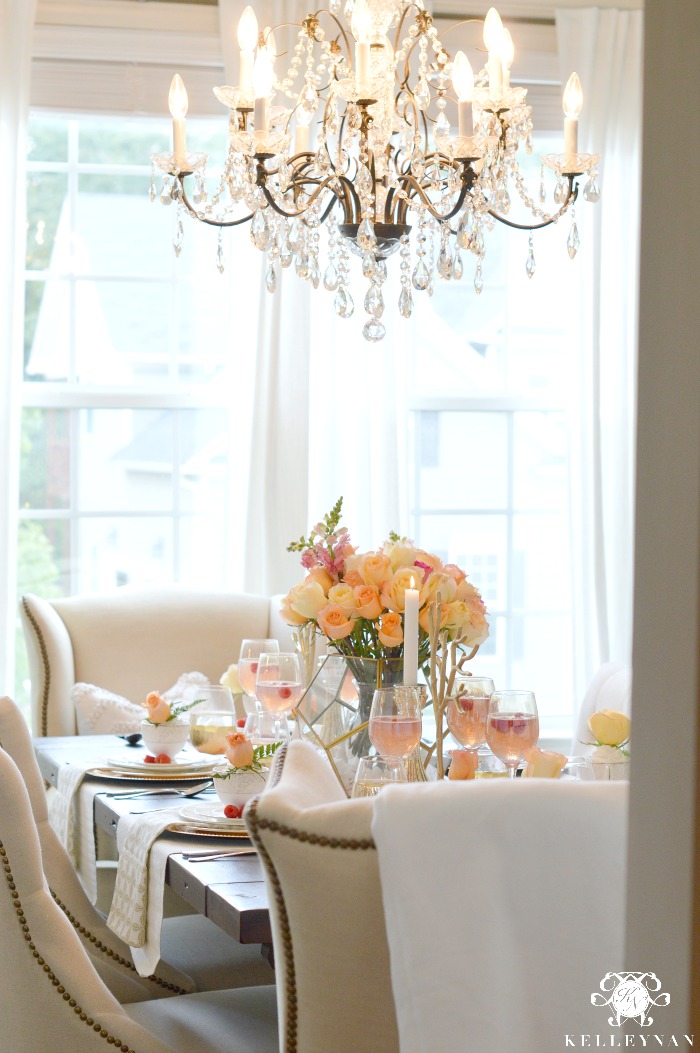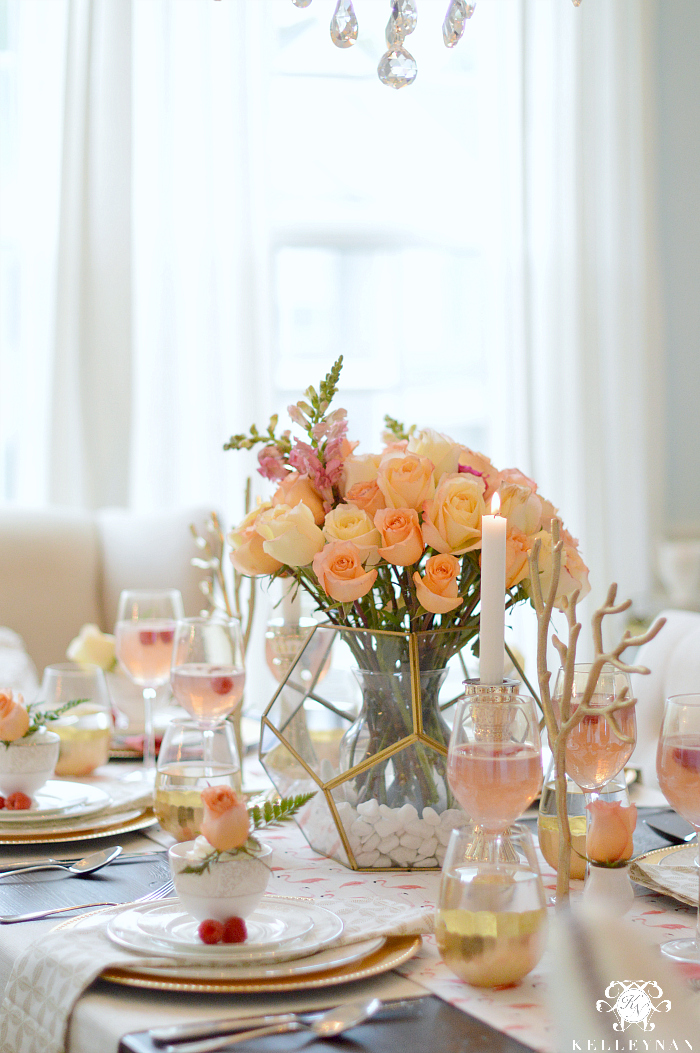 Later this week, I will be sharing another idea you can use to incorporate into your girl's luncheon, brunch, or bridal shower. If you want to make sure you never miss a post, you can subscribe to receive newsletters and announcements at the bottom of the post.
GET THE TABLE LOOK

*click the arrows and scroll to shop*
GET THE DINING ROOM LOOK

ADDITIONAL SOURCES
12-Light Chandelier
 | Dining Table:  (84″ in Salvaged Brown) | Buffet: (72″ in Distressed White) | Curtain Panels
: (98″ in White) | Rug: HomeGoods- Calvin Klein wool | Mirror: HomeGoods | Lamps: HomeGoods | Silver Tea Service: Family Heirloom | White Oversized Pitcher: HomeGoods | Pillows: Pier 1 & Pottery Barn (no longer available) | Paint: Sherwin Williams- "Lauren's Surprise" | Floors: Nottaway Hickory Weathered Saddle
*post contains affiliate links | where original product is not available online, an alternative option has been sourced*
Joining this fun link party!