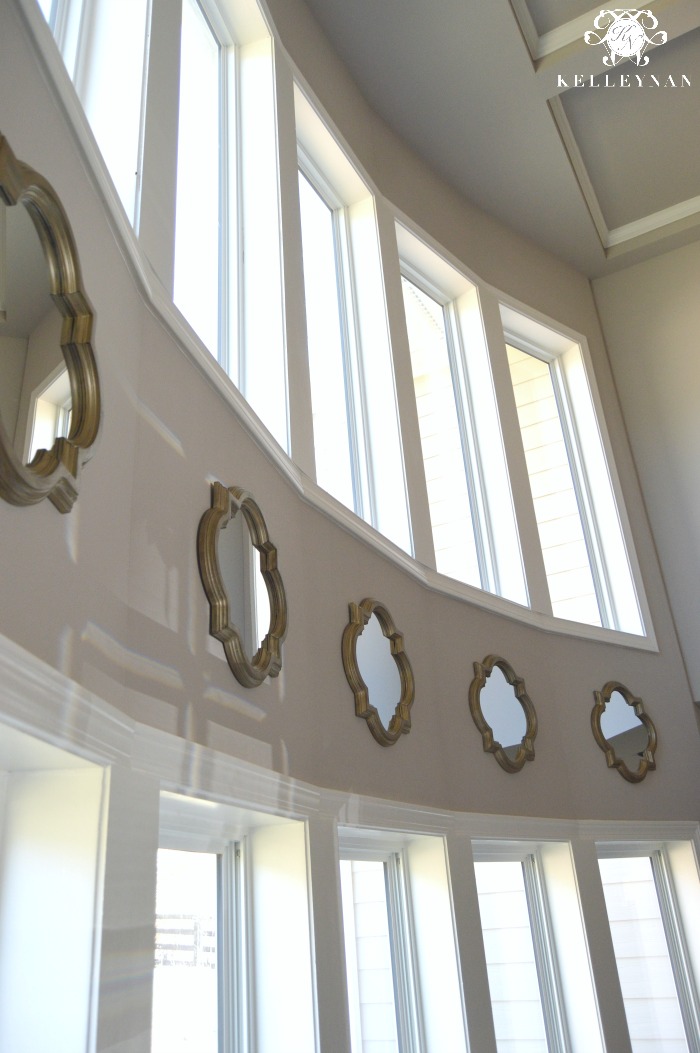 One of my favorite features in our home is the bow of stacked windows in our two story great room. While the room isn't that big, the wall of windows makes our otherwise cozy space feel a little more dressy and a lot more open.
On my (far too long) wish list are two-story drapes – nothing too heavy as I don't want to impede the very qualities I love about my wall of windows, but something to add a little interest and polish. Since it will be an investment, my plan is to go with white, but I love the look in this living room here: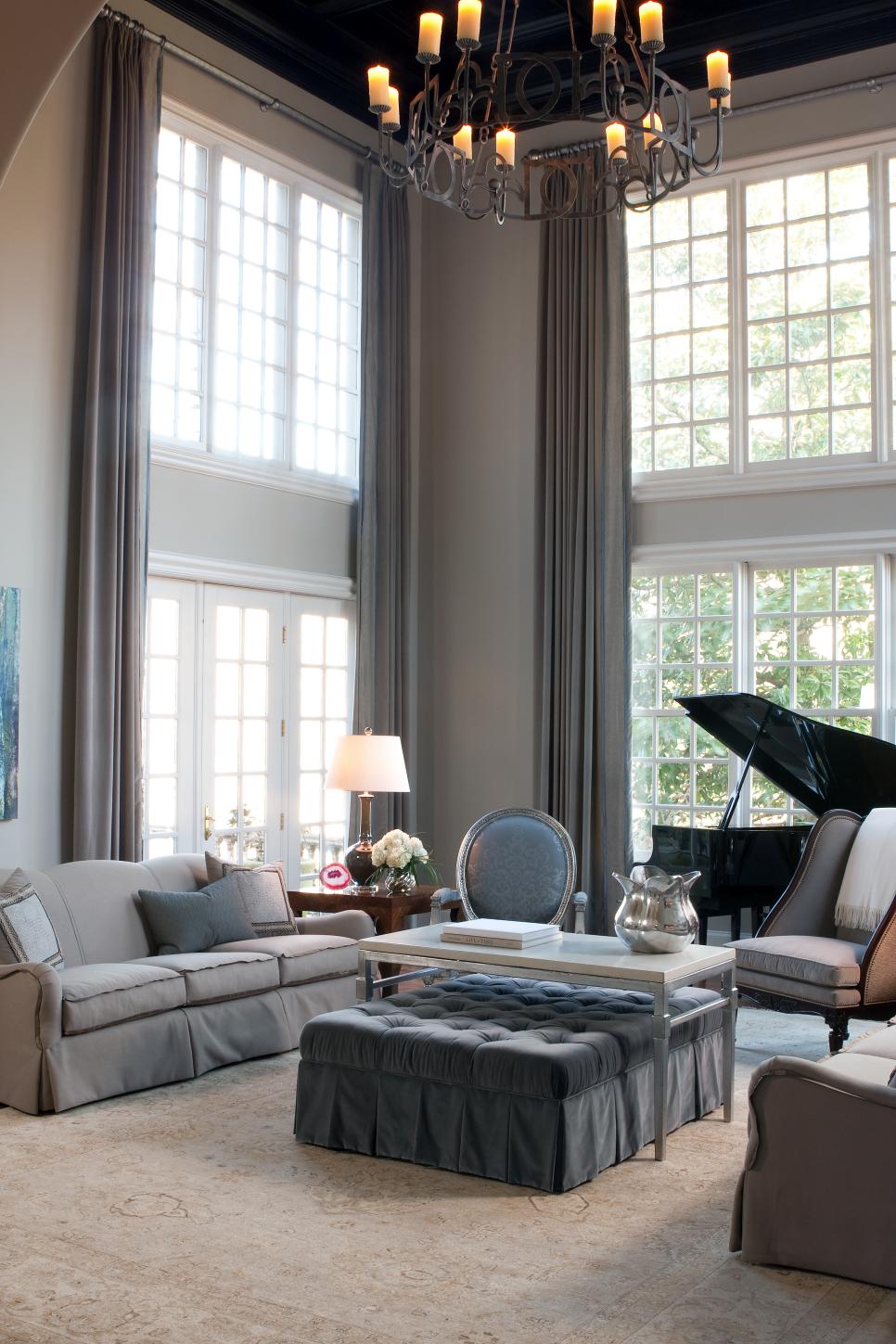 Source: Pineapple House Interior Design | Photo by Keith Taylor 
Desperately wanting to add a "little something" and infuse some pizazz in the interim, I put on my thinking cap and decided to create my own "windows" between the two rows. I created a vision… a very specific vision and can't believe that I was able to achieve exactly what I imagined. I thought square mirrors would be too "mirror-y", round mirrors would look like portholes in a ship, but a combination of the two – a quatrefoil mirror – may be just the ticket. They would have to be just the right size in proportion to the windows and I wanted a champagne finish to match my mirrored coffee and side table. Oh, and since this was going to be a budget-friendly addition, they had to be cheap. I hate that word but that is the best way to describe it. So, I needed five cheap mirrors in a specific shape, size, finish… The good Lord must have really liked my idea because I found exactly what I was looking for immediately. After tracking down the number I needed from a couple different Target stores, I was able to jazz up my windows for under $150. (Those faithful mirrors are now even less! You can find them HERE.)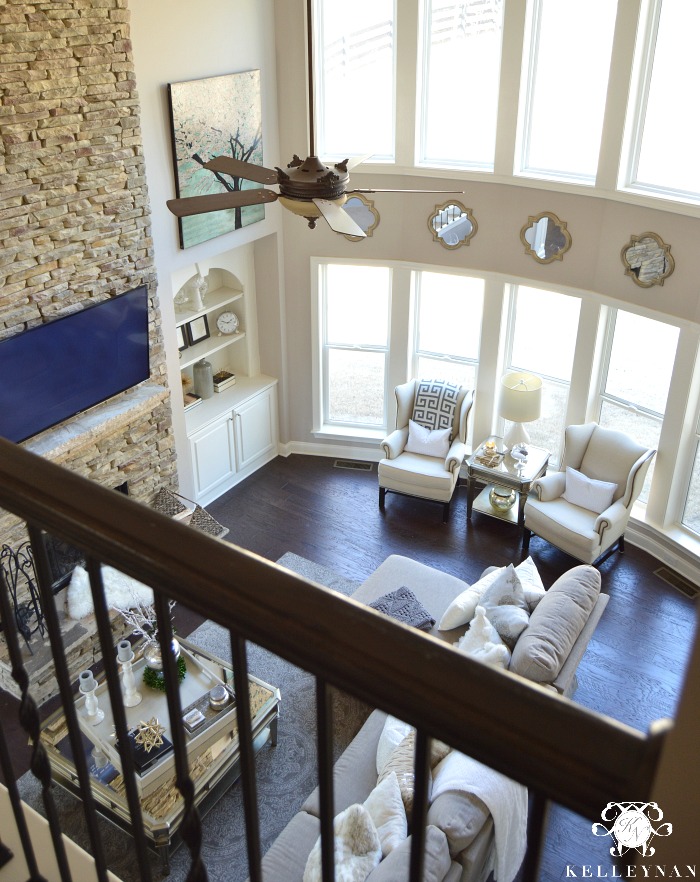 Because our floor plan is open, you can see the mirrors from most anywhere in our home and the reflections now contribute to the spacious effect.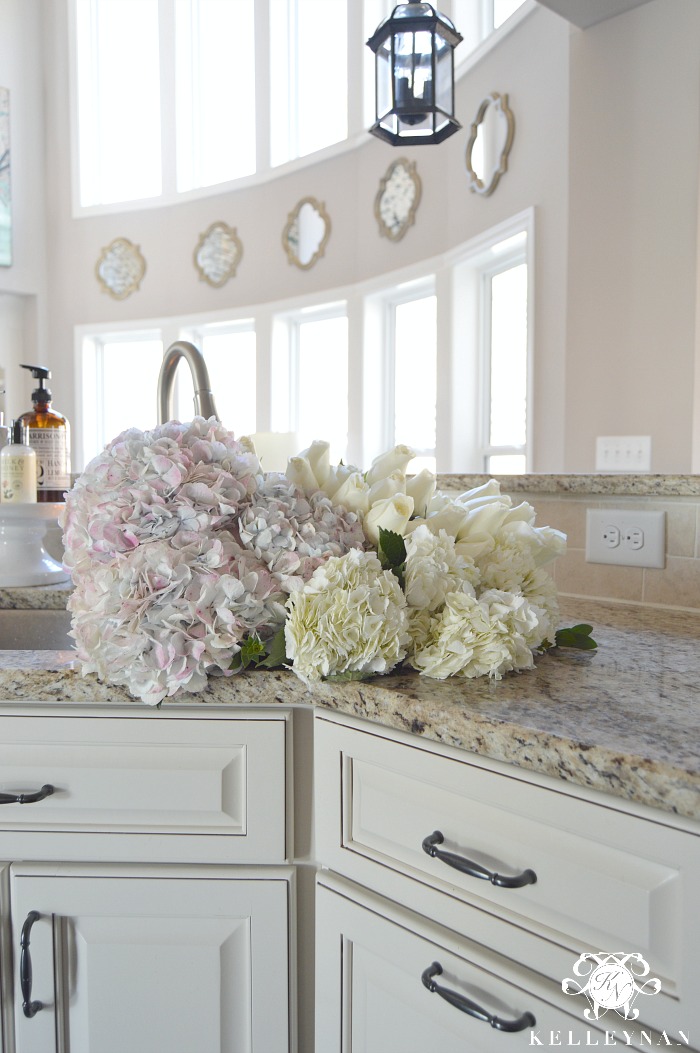 Since adding these quatrefoils to my mirror collection, I have gone on to purchase a quatrefoil for my sunburst mirror gallery wall in the sitting room and am working on picking a wall to bring in one of the larger mirrors.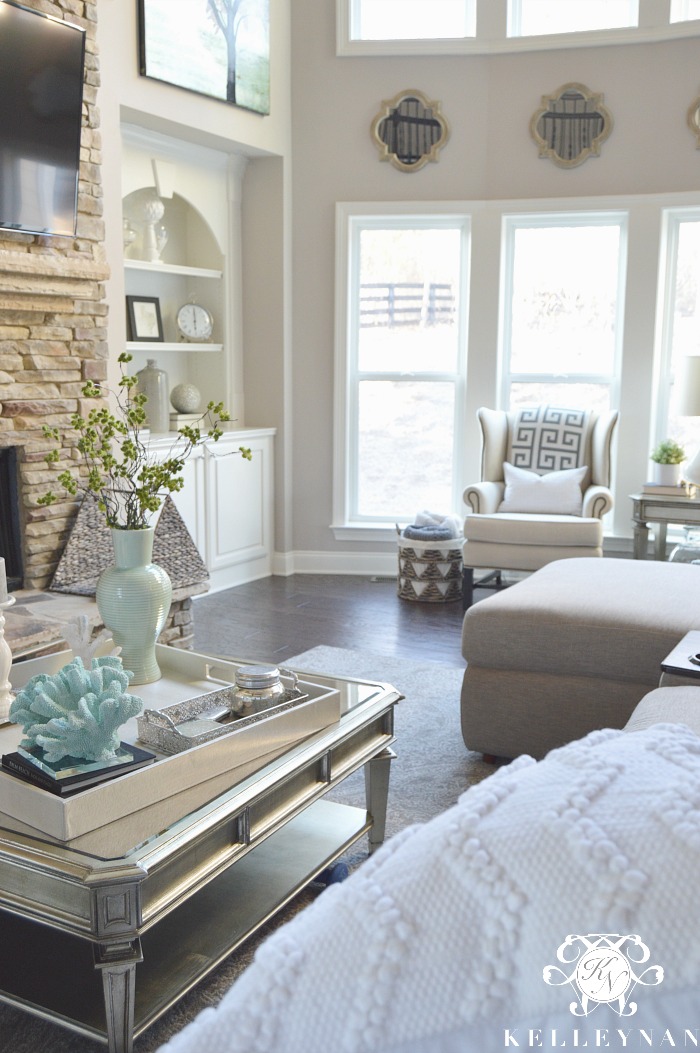 GET THIS LOOK 

Whether you are looking to create a row of "windows", incorporate it into a gallery wall, hang a pair or position one on a wall by itself, I have rounded up some of my favorite quatrefoil mirrors in all different sizes and price points. You can click directly on the image to be taken directly to the site.
1 | 2 | 3 | 4 | 5 | 6 | 7 | 8 | 9 | 10 | 11

*Note: sources are linked and used throughout the post. Where product is no longer available, a similar substitute has been listed.
Oversized Tray | Mirrored End Table in Living Room – Palais collection discontinued from ZGallerie | Rug: HomeGoods | Sofa: La-Z-Boy Aspen Collection | Paint: Versatile Gray by Sherwin Williams | Flooring: Nottaway Hickory in Weathered Saddle
*Post contains affiliate links*