Now that Halloween is in our rear view mirror — honestly, I was over it by the time the storms ripped through the other night — I can officially share my first Christmas creation of 2020! Each year, part of the fun in Christmas decorating, for me, is inventing new color schemes and tree concepts. I like taking on new holiday themes and testing fresh color combos and looks throughout the house — and by the way, my full Christmas Home Tour will be launching on November 17 and you can be alerted when it's live by signing up for emails HERE. After taking a break from having a large Christmas tree in the dining room this past year, I'm back this year, in a big way (times two!) This year, my dining room is decked in snowy whites and frosty blues and it may just be my favorite look this room has seen, yet!
*This post is written in partnership with At Home Stores; as always, all opinions, concept, and creative are my own. Posts on KelleyNan.com may contain affiliate links. Click HERE for full disclosure.*
All featured Christmas decor is from At Home; permanent room sources, wall colors, etc. can be found HERE.
Snow & Ice Christmas Dining Room
When we started our Conversation Room makeover — set to be finished and revealed in early 2021 — I quickly decided that the room across the entry, our dining room, would be transitioning a little too. I'll be adding some wall detail and the pale blue that has covered this space since 2015 will be disappearing. But, I decided to hold off on any big moves until the holiday season is over, specifically to give a cool background to my dining room Christmas color scheme. While I've done snowy scapes and glittery trees before, I've never decorated in this year's theme — snowy whites and icy blues. The result? Well, check it out…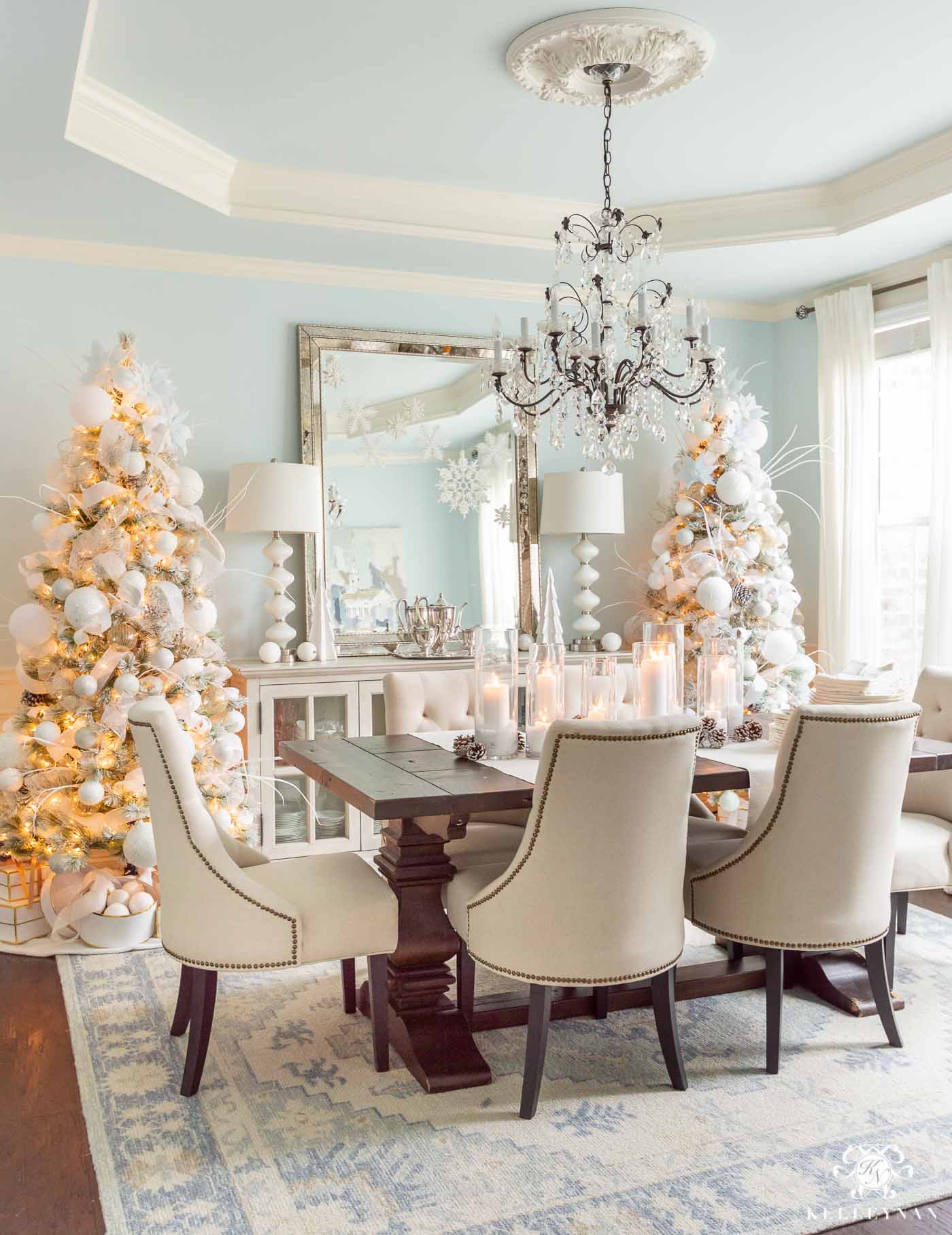 I first set up twin trees in Eliza's Christmas nursery this past year (HERE), and loved the result — yes, a little over the top but so fun. In the past, the dining room has seen elaborate holiday tablescapes, the tradition of a wreath hanging from the mirror, and a tree in the far corner, opposite the sideboard. This year, I flipped my typical and took a totally different approach. Matching trees, flanking the buffet? Yes, please!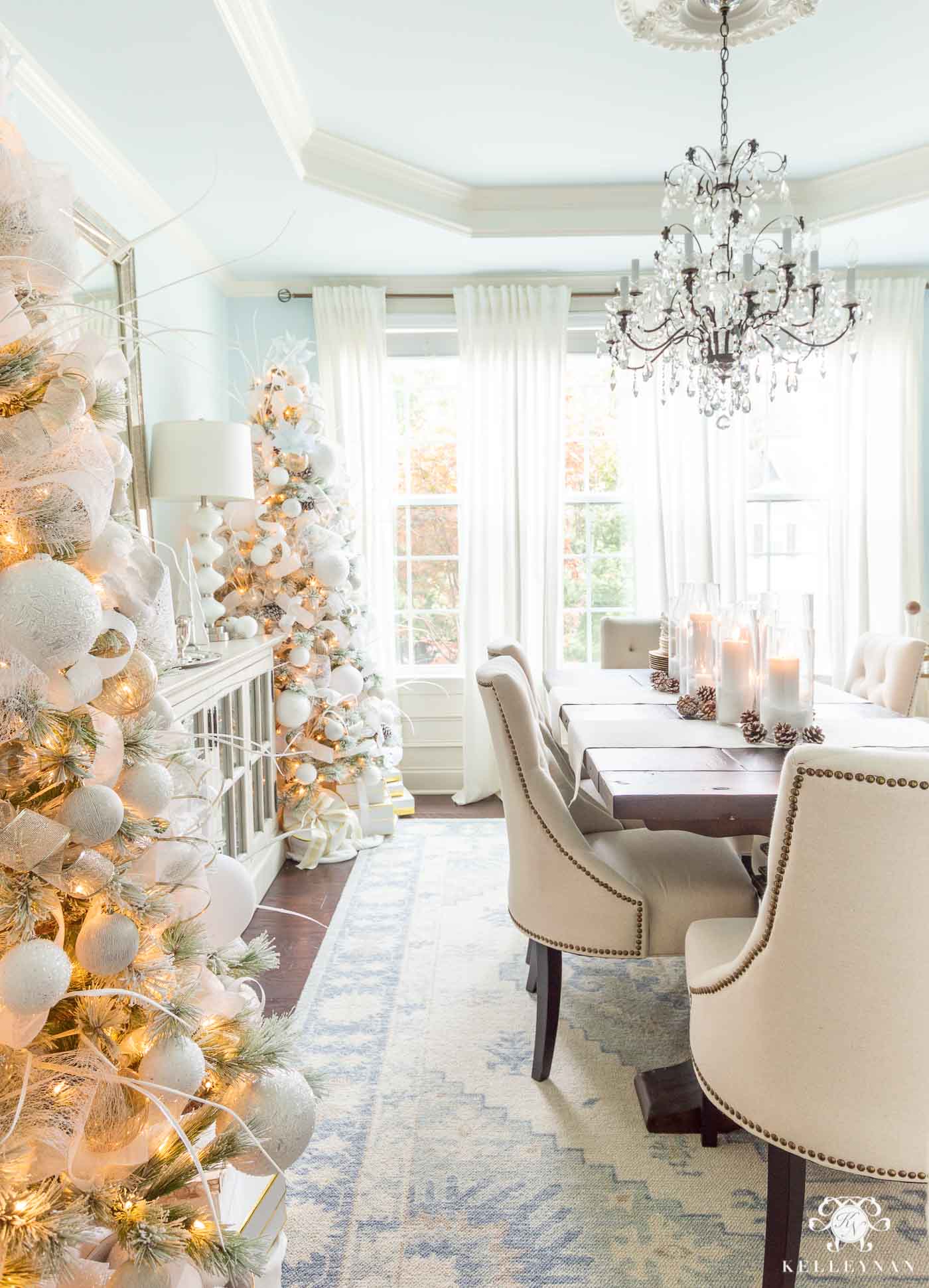 Each year, I make the trek to At Home to get inspired, check out potential color schemes, and choose new pieces to add to my collection of Christmas decor. While they have color schemes and themes split by sections and aisles to make it easy, I love mixing pieces from all the collections together to come up with something totally unique. You also get a lot of bang for your buck, especially when it comes to holiday 😉
Before deciding on and committing to my dining room theme this year, all I knew before setting foot in-store was that I wanted flocked trees. Two of them. It's been a couple years since I set up a flocked tree and with green as the primary color and vibe in the rest of my house, I wanted something snowy — with pronounced needles — to set a winter scene. You can check out their collection of flocked trees HERE; THIS is the one I ultimately decided on. It has long needles and is more lightly flocked than others available and I love the look!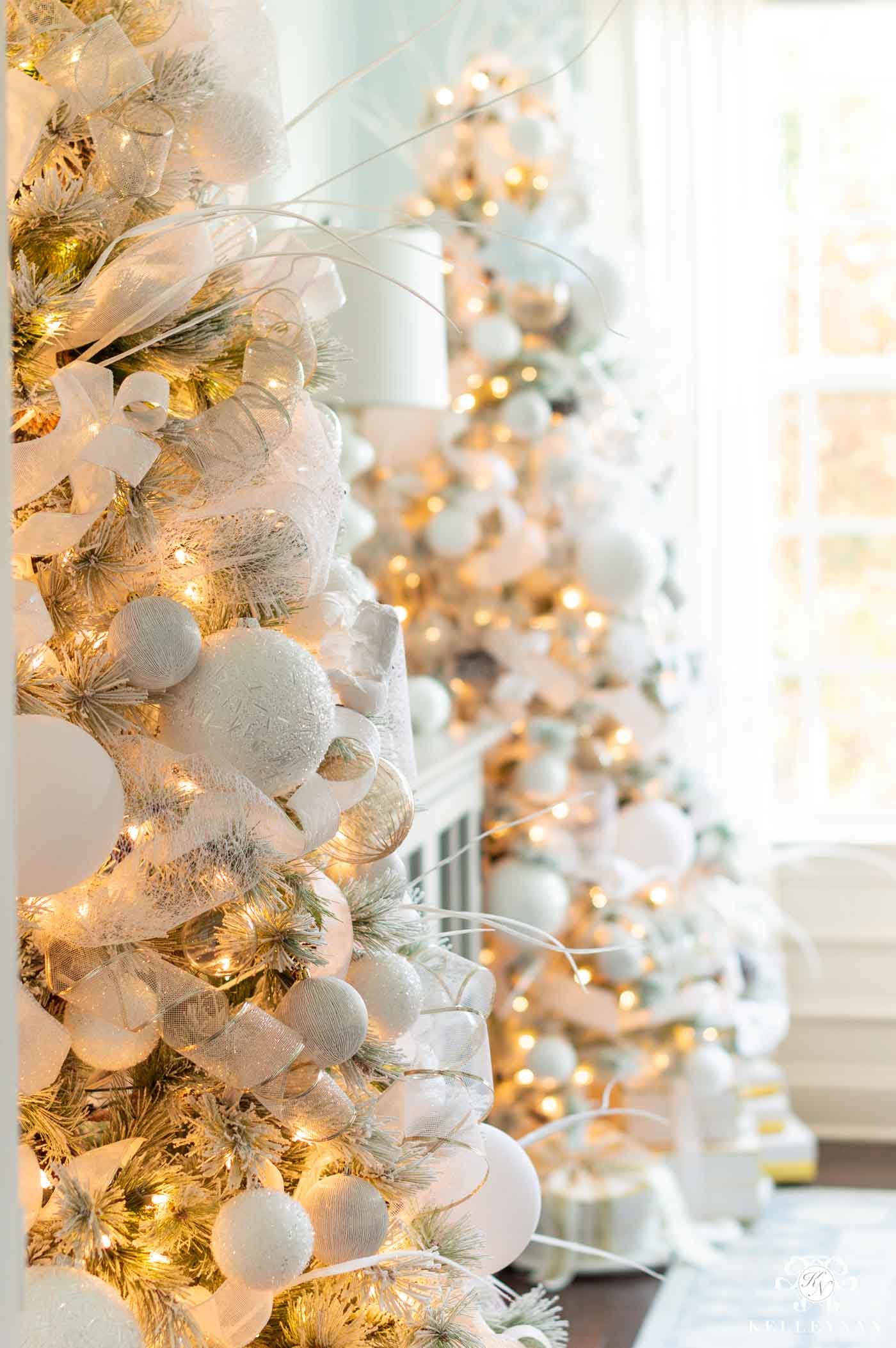 You can check out how I add ribbon to my Christmas tree in my ribbon tutorial HERE.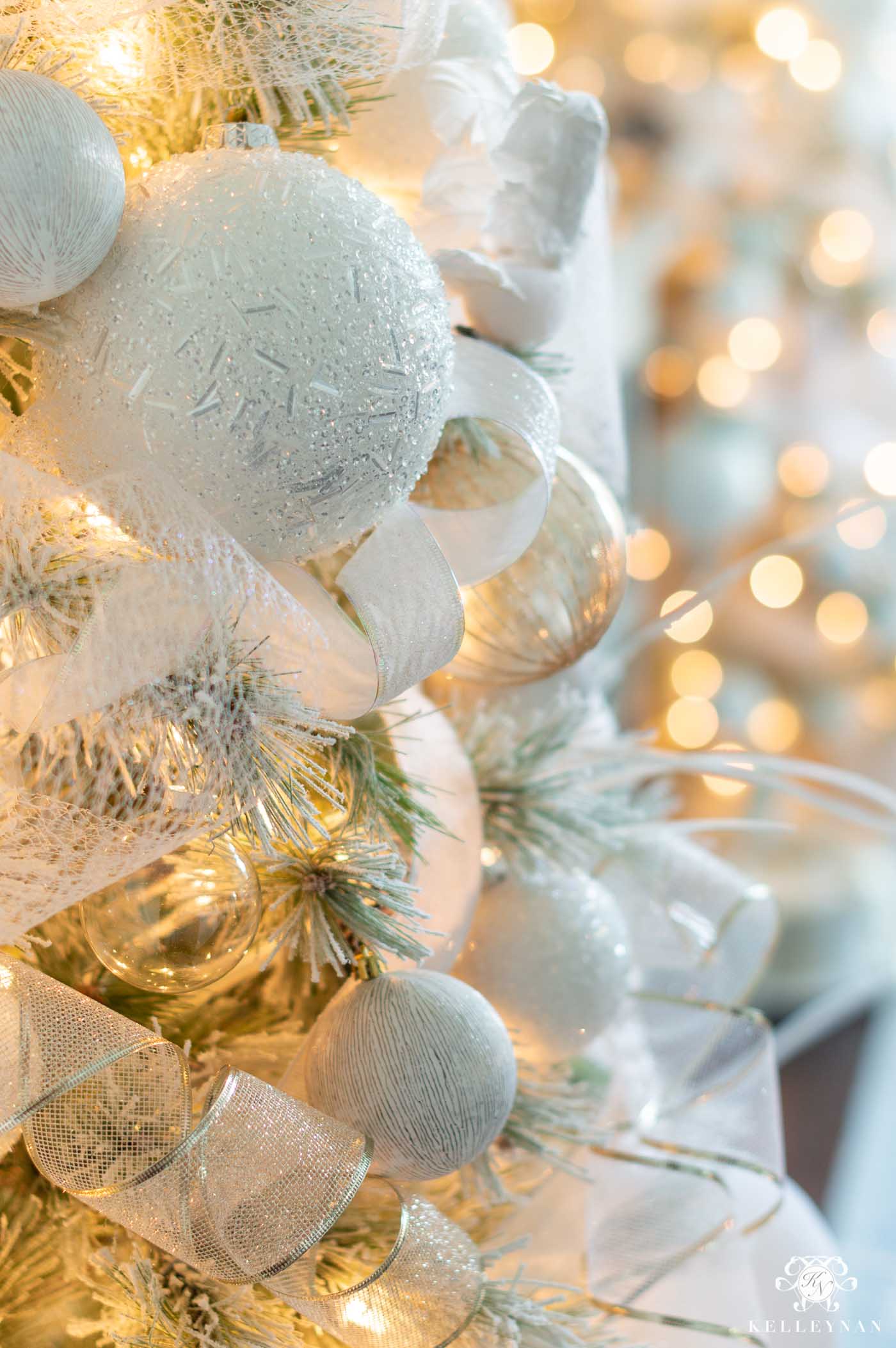 When I saw the barely-there, pale blue, frosted poinsettia picks, my wheels started spinning. I landed on solid white, with a few icy blue accents, and just a few incorporations of gold. With my light blue walls as the background, I think my dining room was destined to wear these Christmas colors at least once before being painted.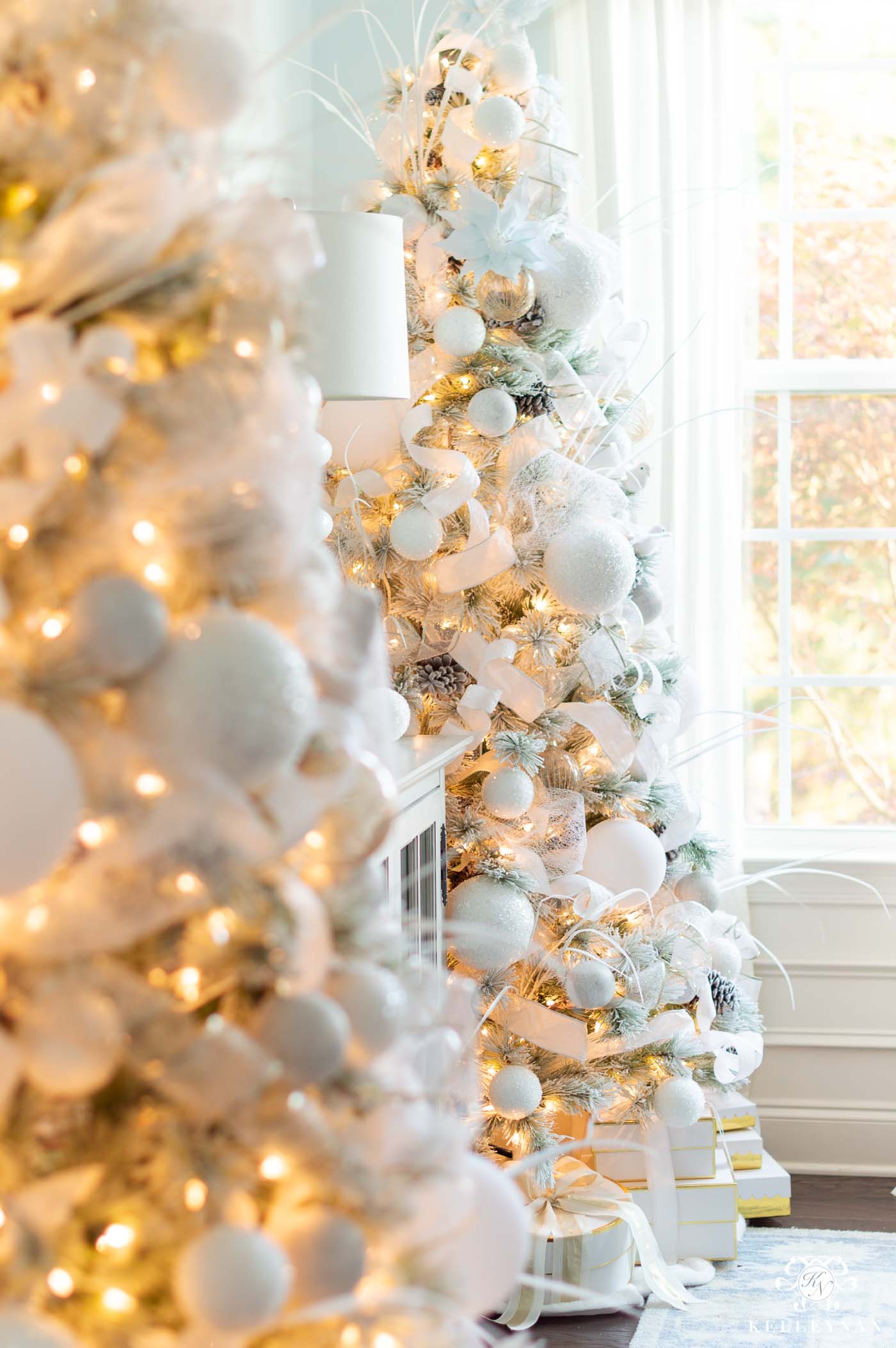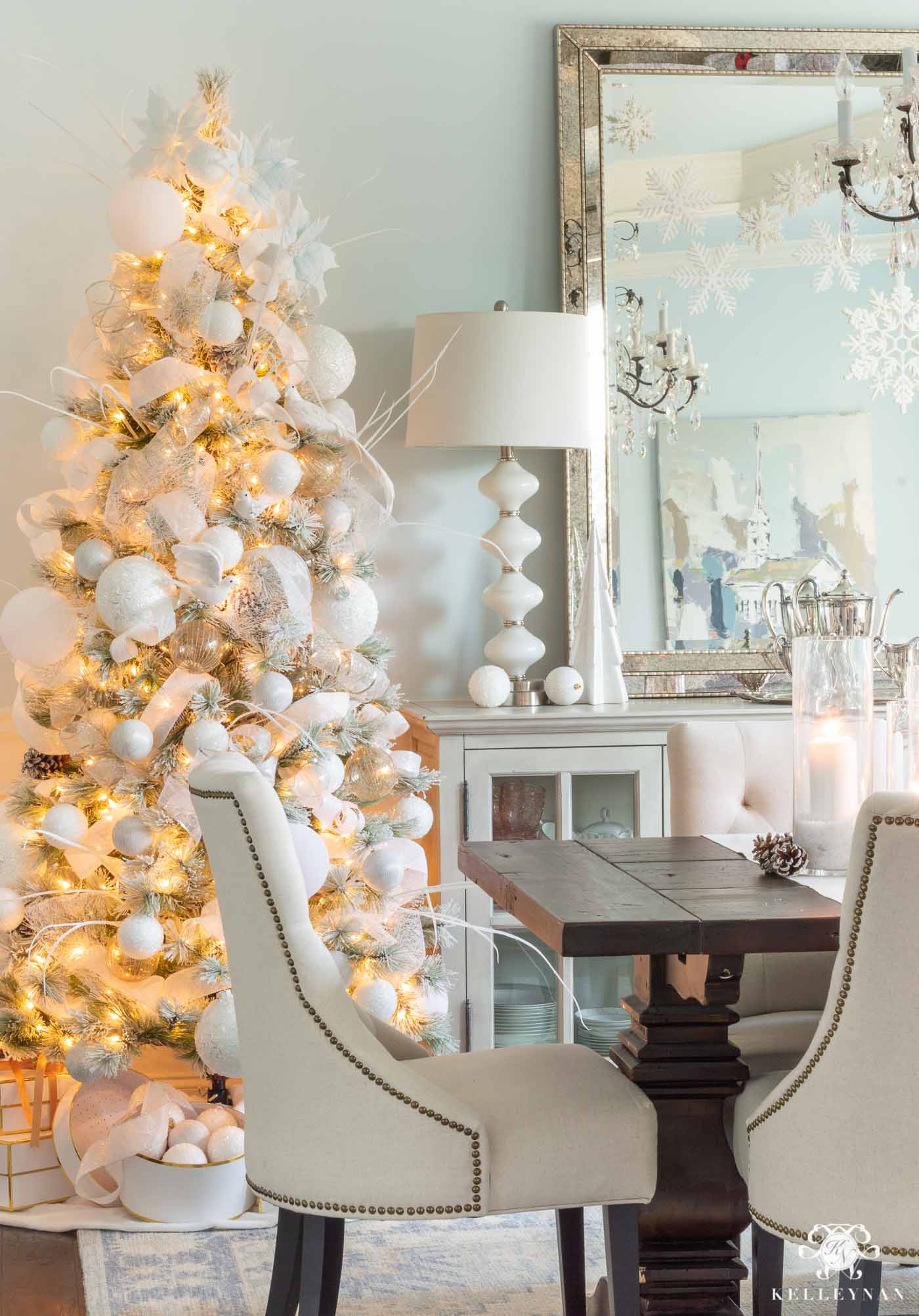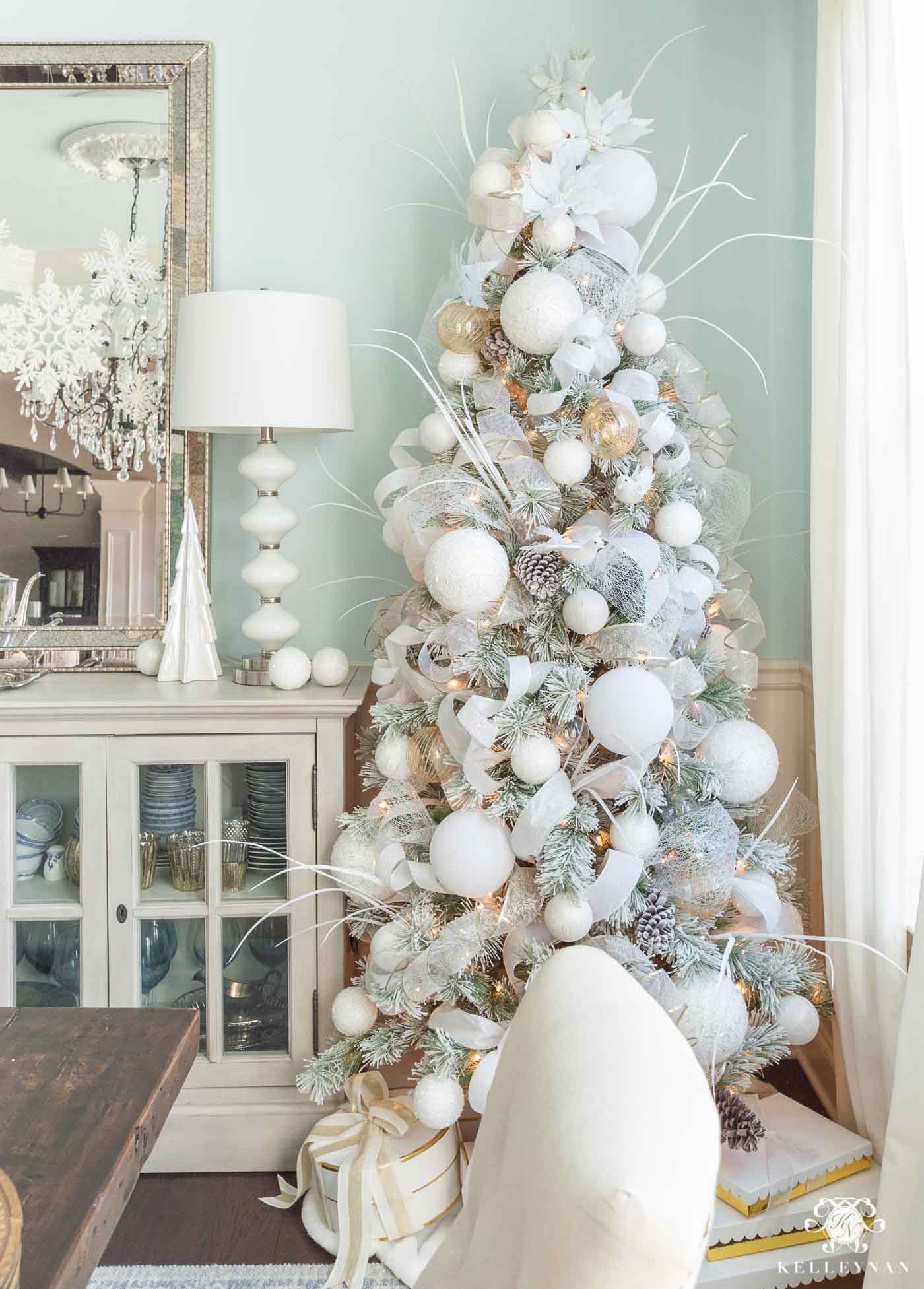 Because there is so much going on with the trees, I kept both the sideboard in the background and table in the foreground simple so as not too clutter the visuals and let the trees be the stars of the show. On the table, I opted for clear hurricanes in varying sizes with white pillar candles and rock salt sprinkled in the bottoms, to serve as snow. A few frost-tipped pinecones sprinkled in, and that's it.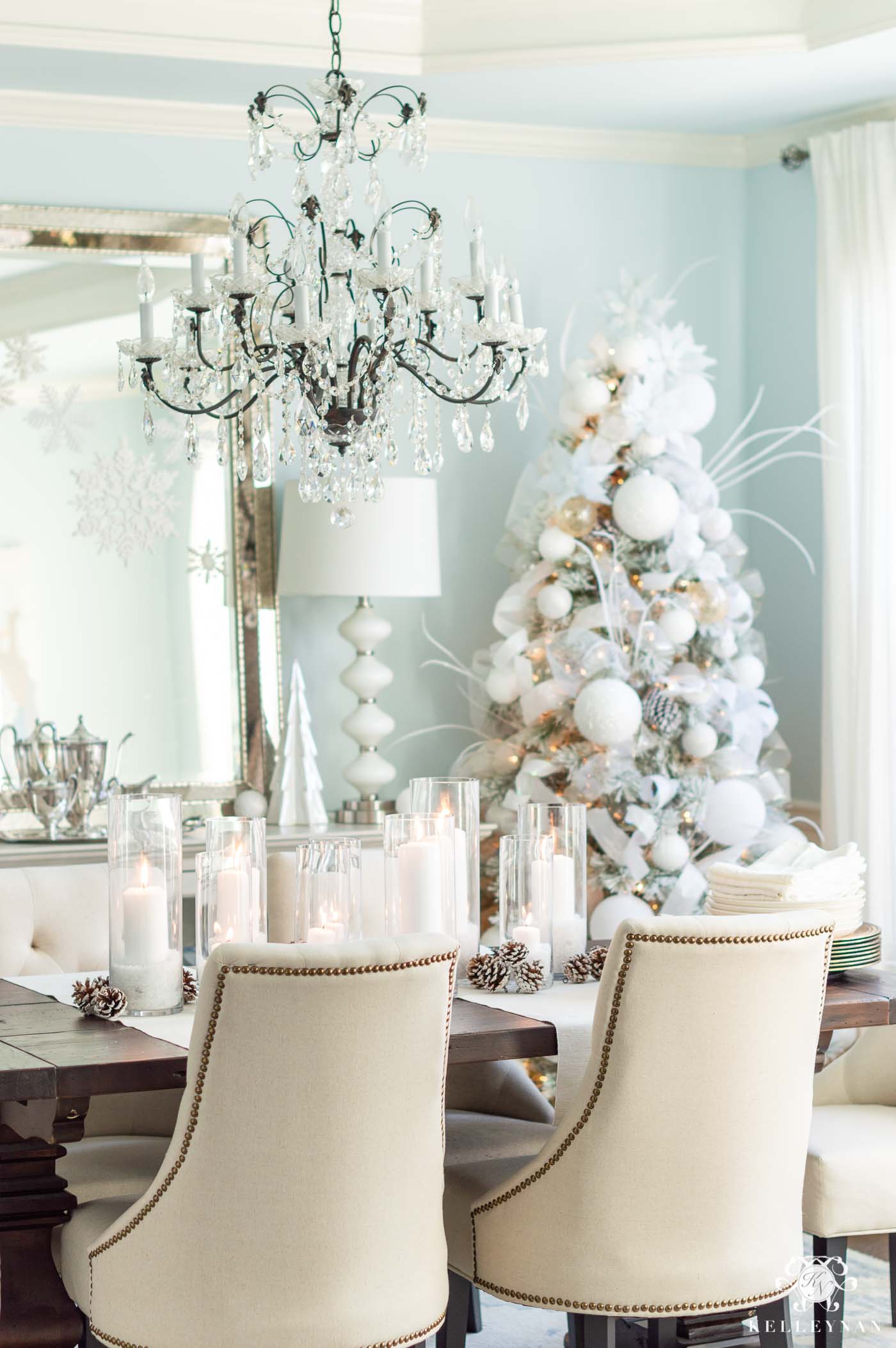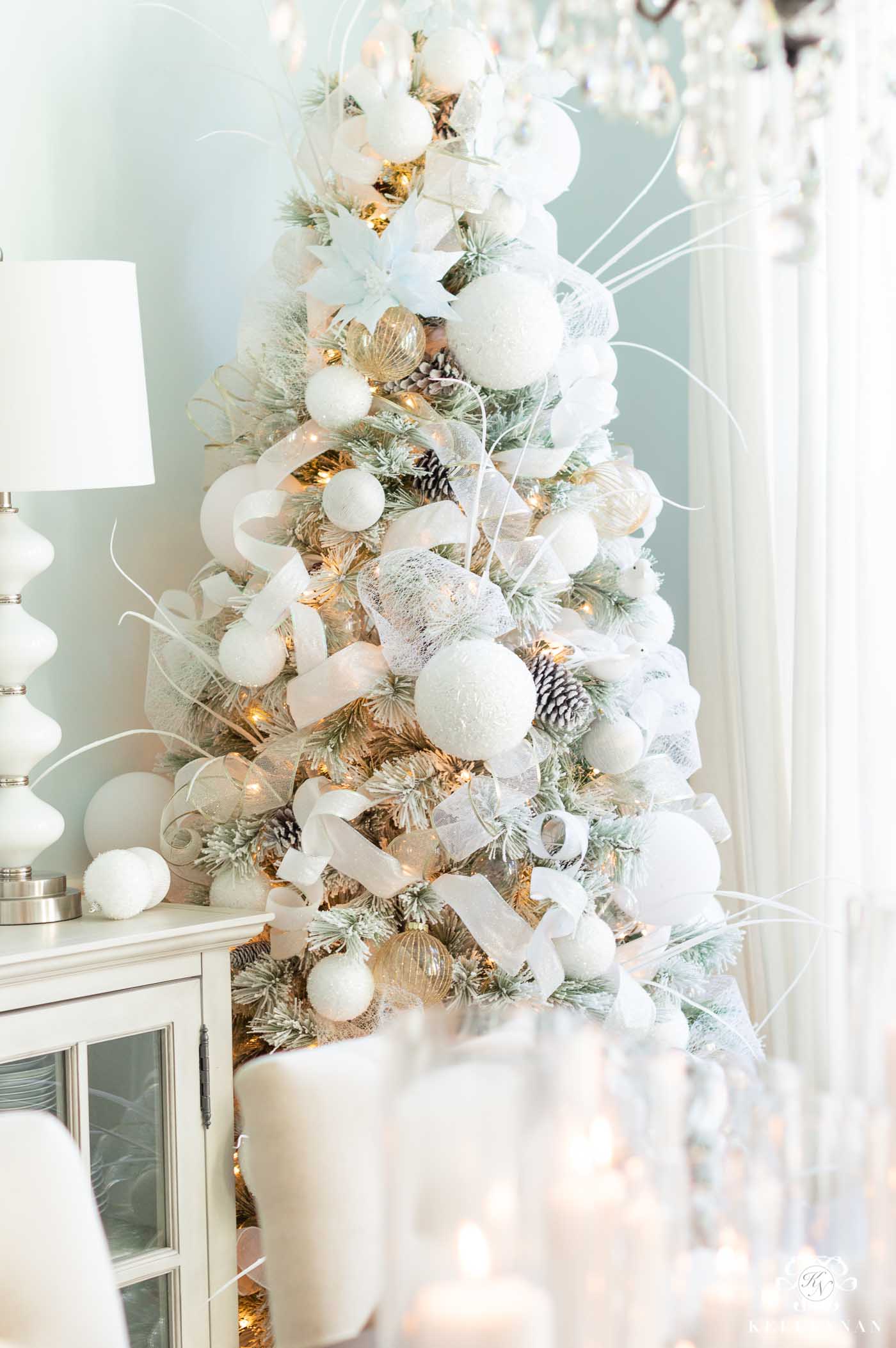 I do use two neutral runners on my table, running laterally, almost year-round, to help break up some of that brown in the wood; if you're having trouble with a centerpiece or think your tabletop looks too spansive, try breaking it up with runners/fabric, like this.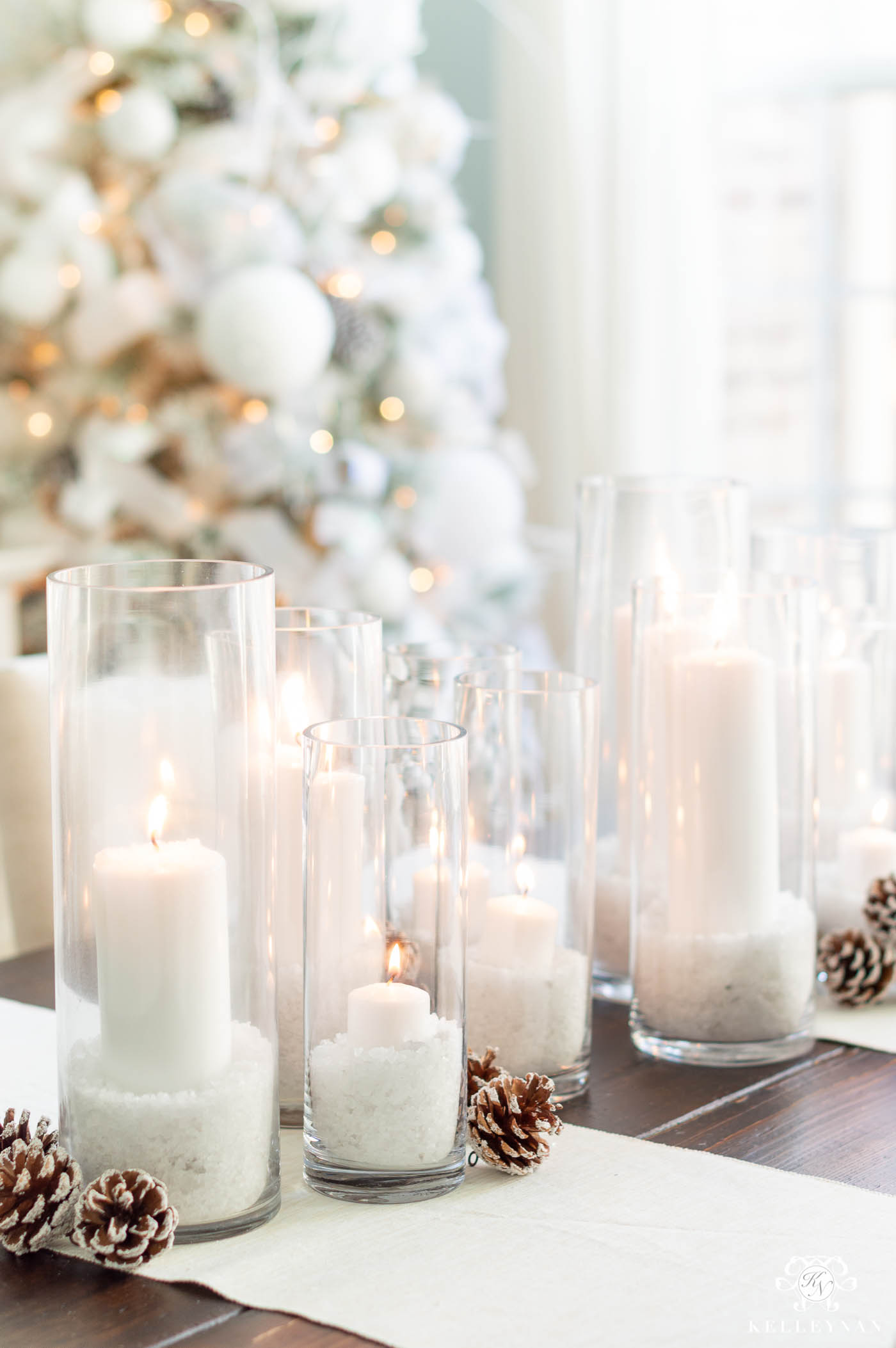 Instead of setting each place, I kept the plates and dinnerware stacked on the corner of the table. Still complete but again — less visual clutter than setting each seat.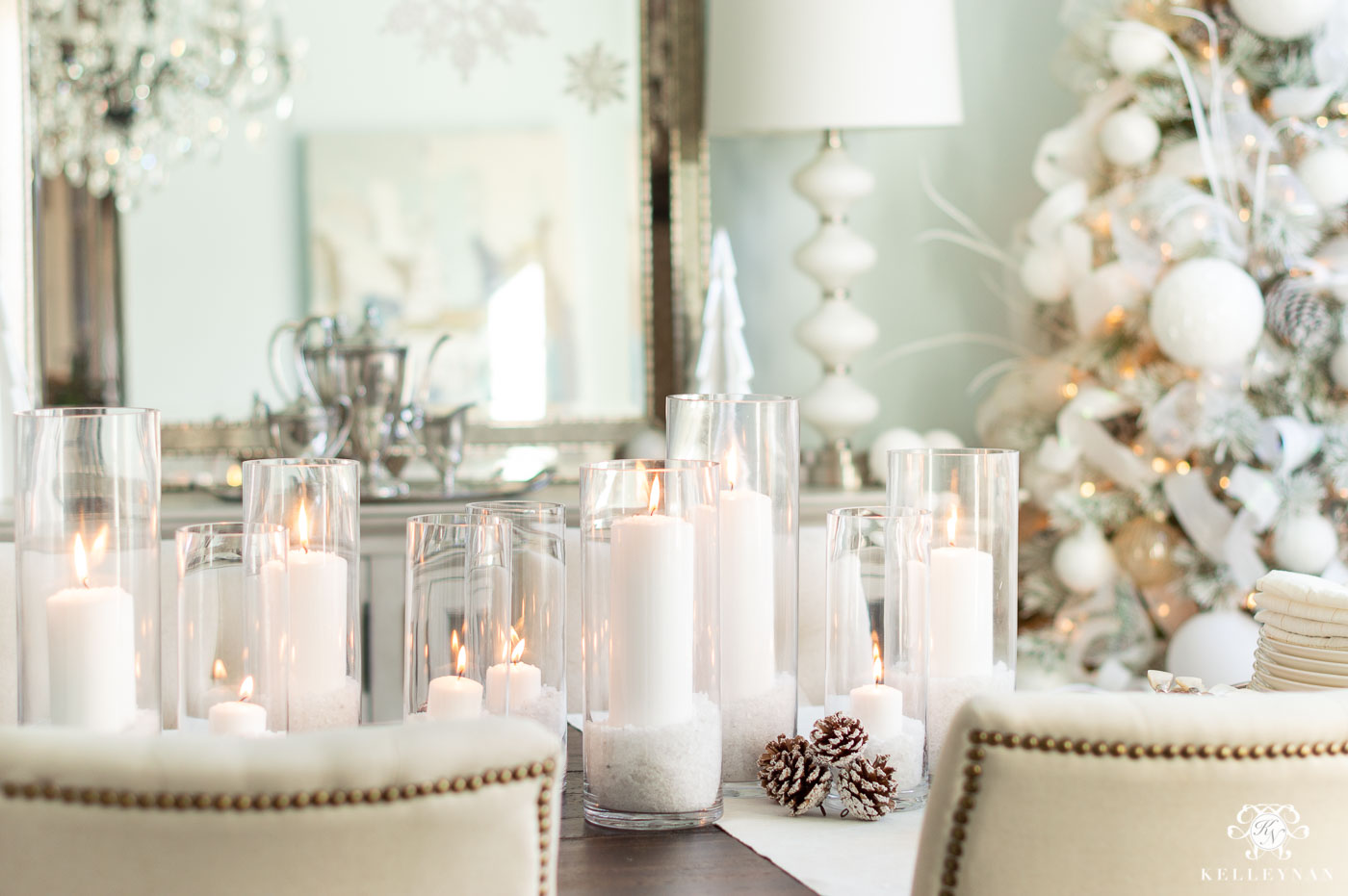 Even though I wanted the sideboard to be simple so the trees would stand out, I wanted to do something on the mirror that wouldn't distract too much. Instead of my usual — a big wreath — I strung snowflakes at varying heights with fishing line for an on-theme detail that doesn't take away from their surroundings. I used packing tape to secure on the top back of the mirror 😉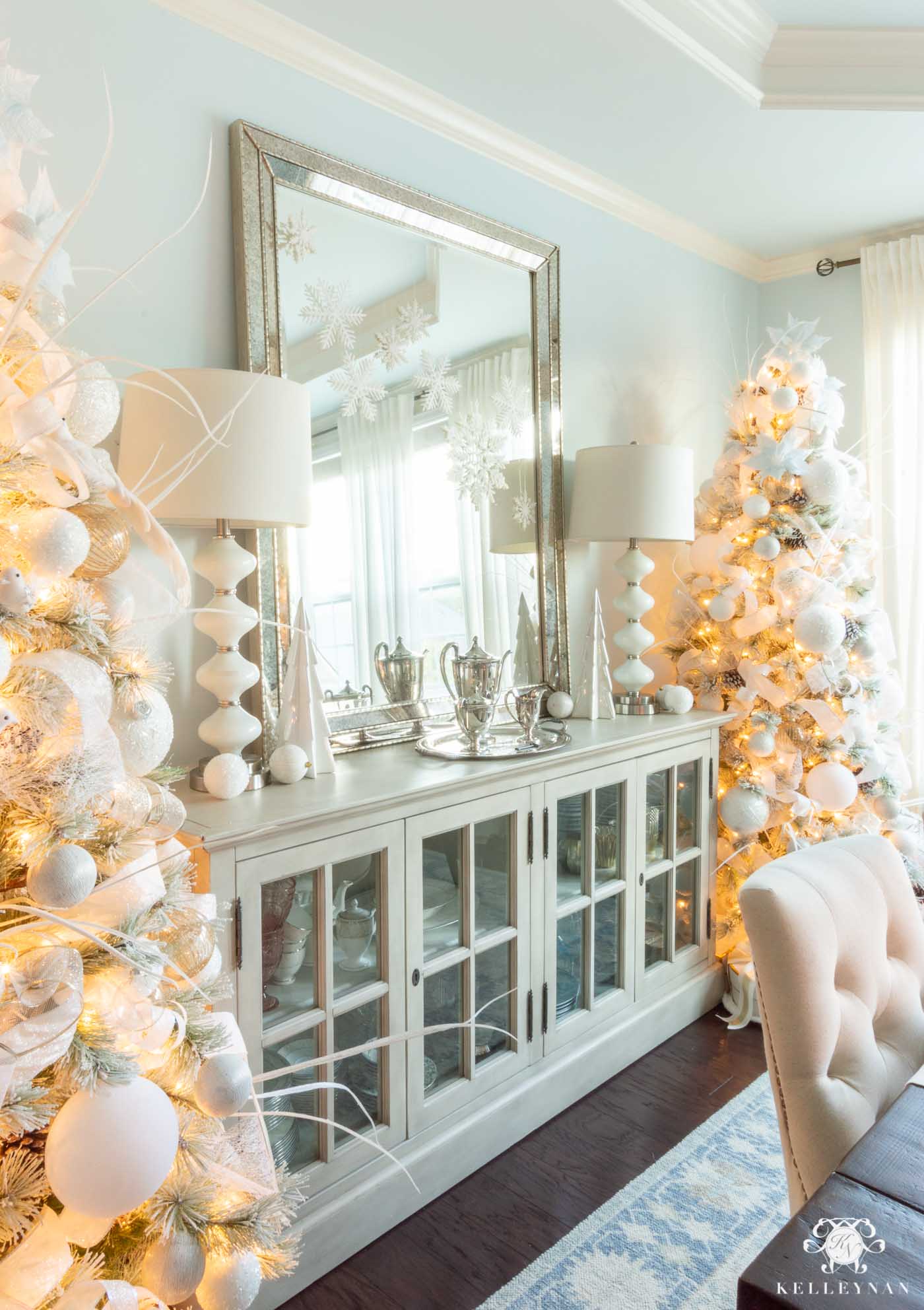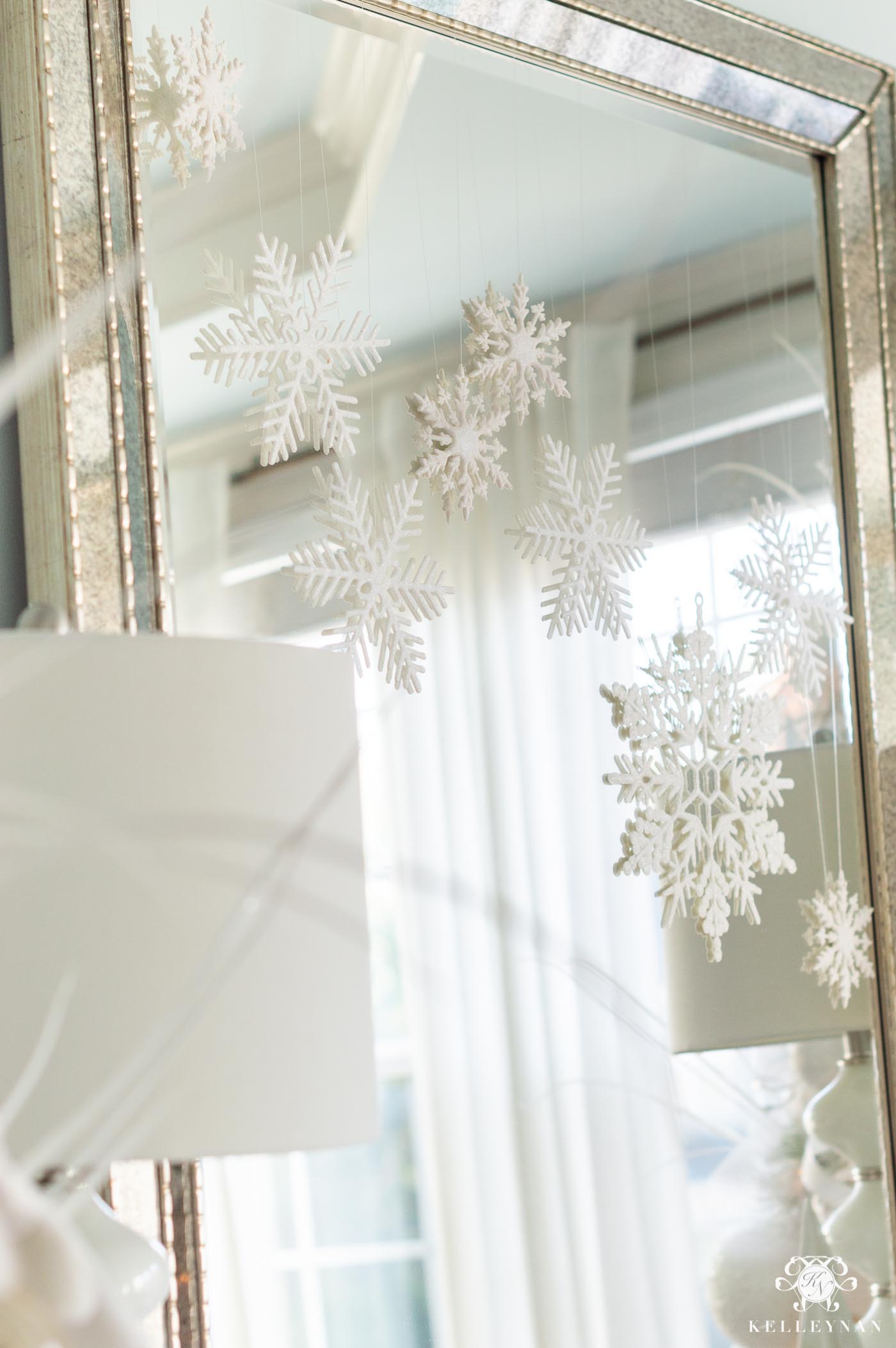 A few ornaments and a couple ceramic trees were all I used on the top of the sideboard.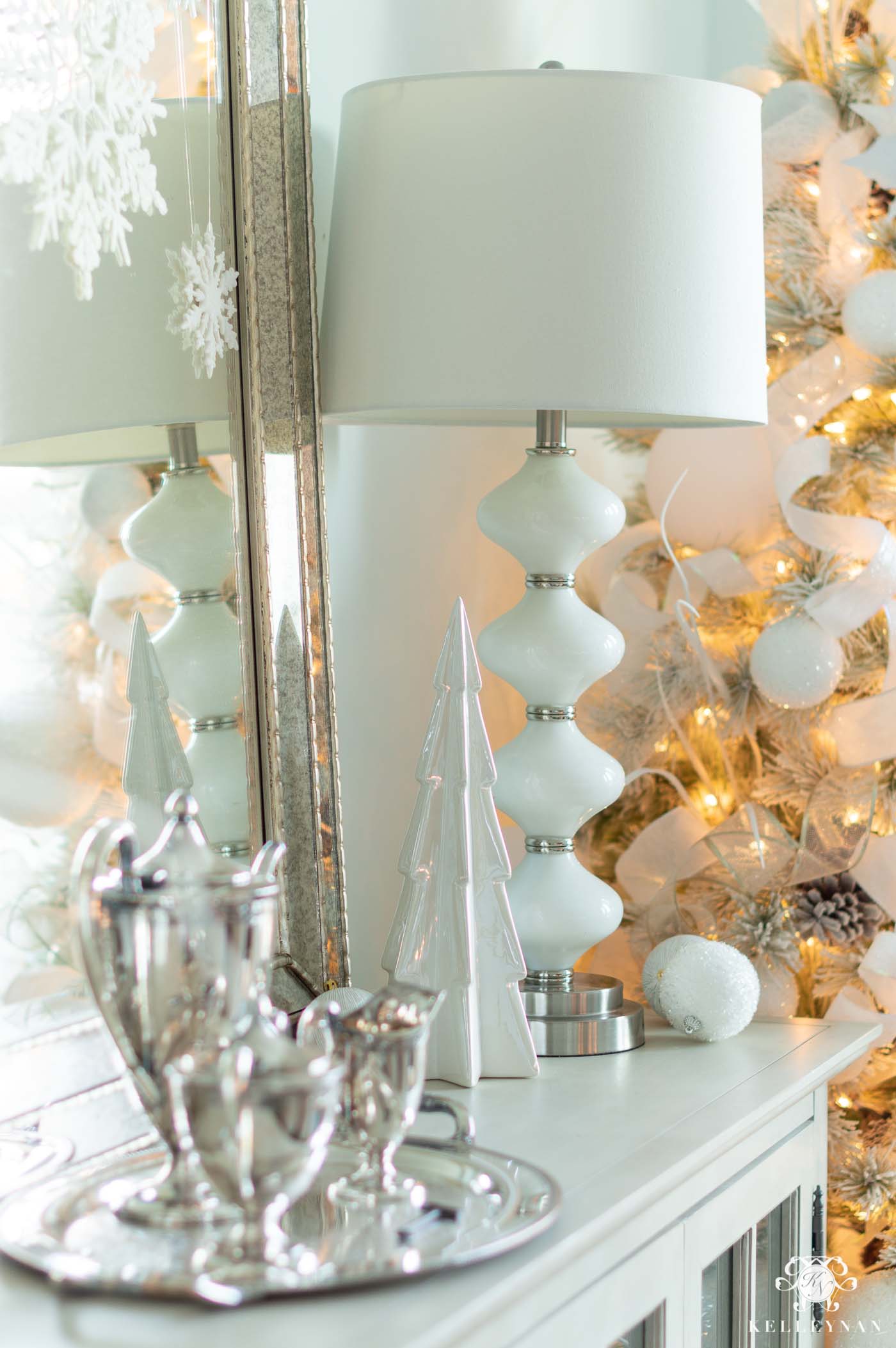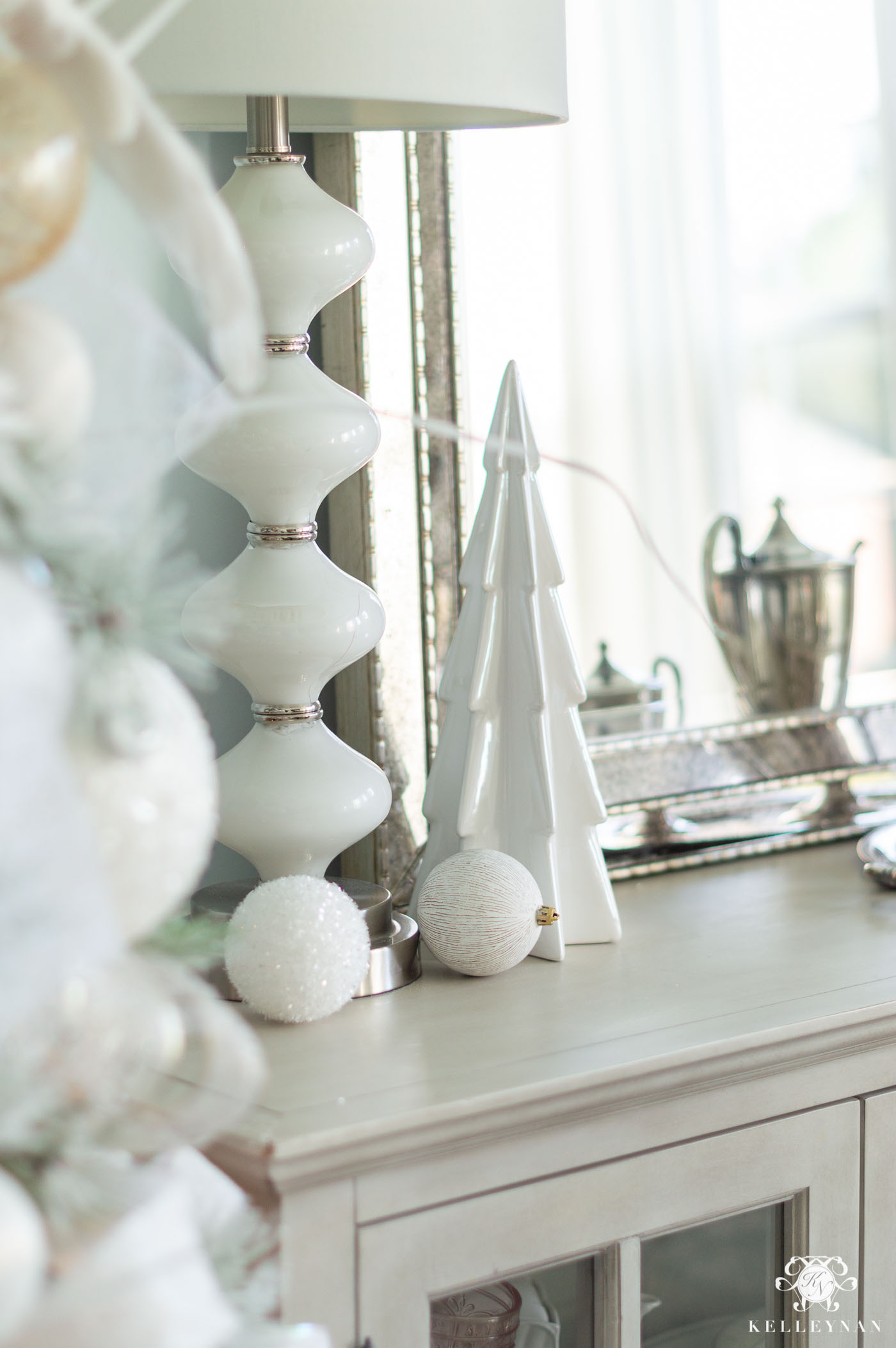 When you set up trees in other rooms, it can be a little tricky when it comes to what to put underneath. In our house, we only place actual gifts beneath the main tree in the living room. To make the trees in secondary rooms more complete, I add boxes, jars, lanterns, bowls, open boxes with extra ornaments, etc.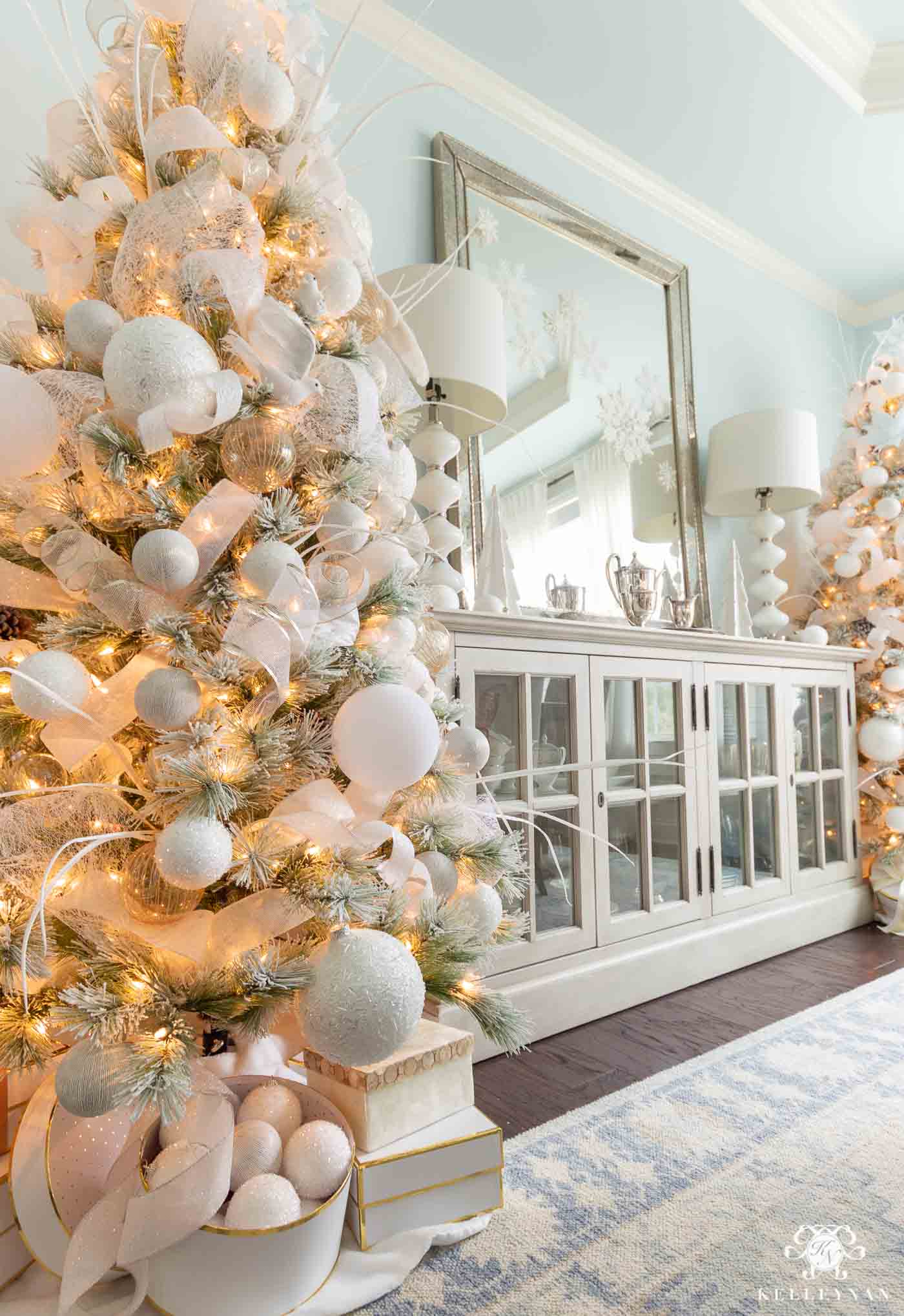 I don't typically "do" big tree toppers. For these trees, I used just a few icy blue poinsettia picks and cascaded them down from the top. I didn't use many and I didn't use them anywhere else on the tree to allow them to stand out.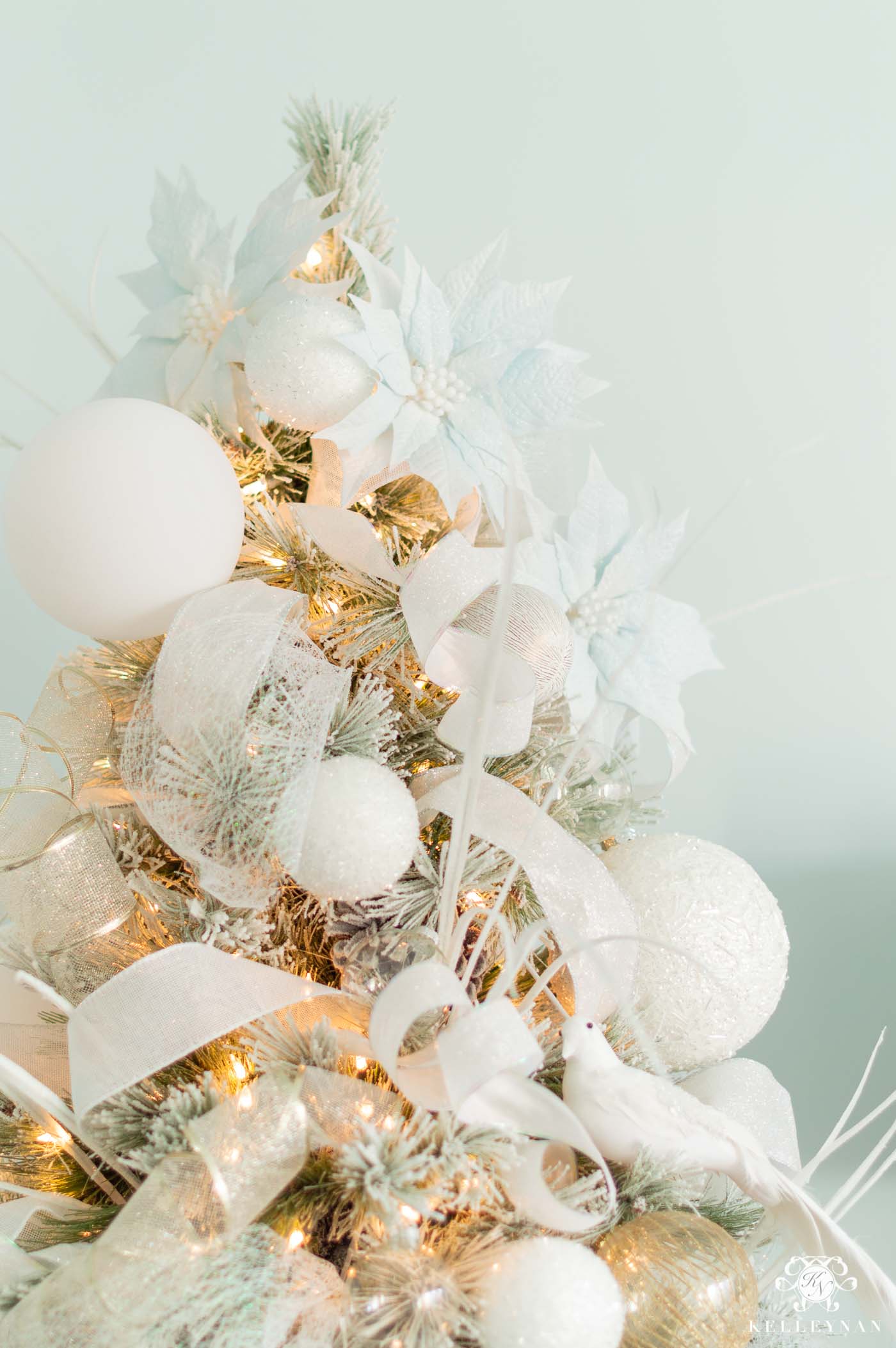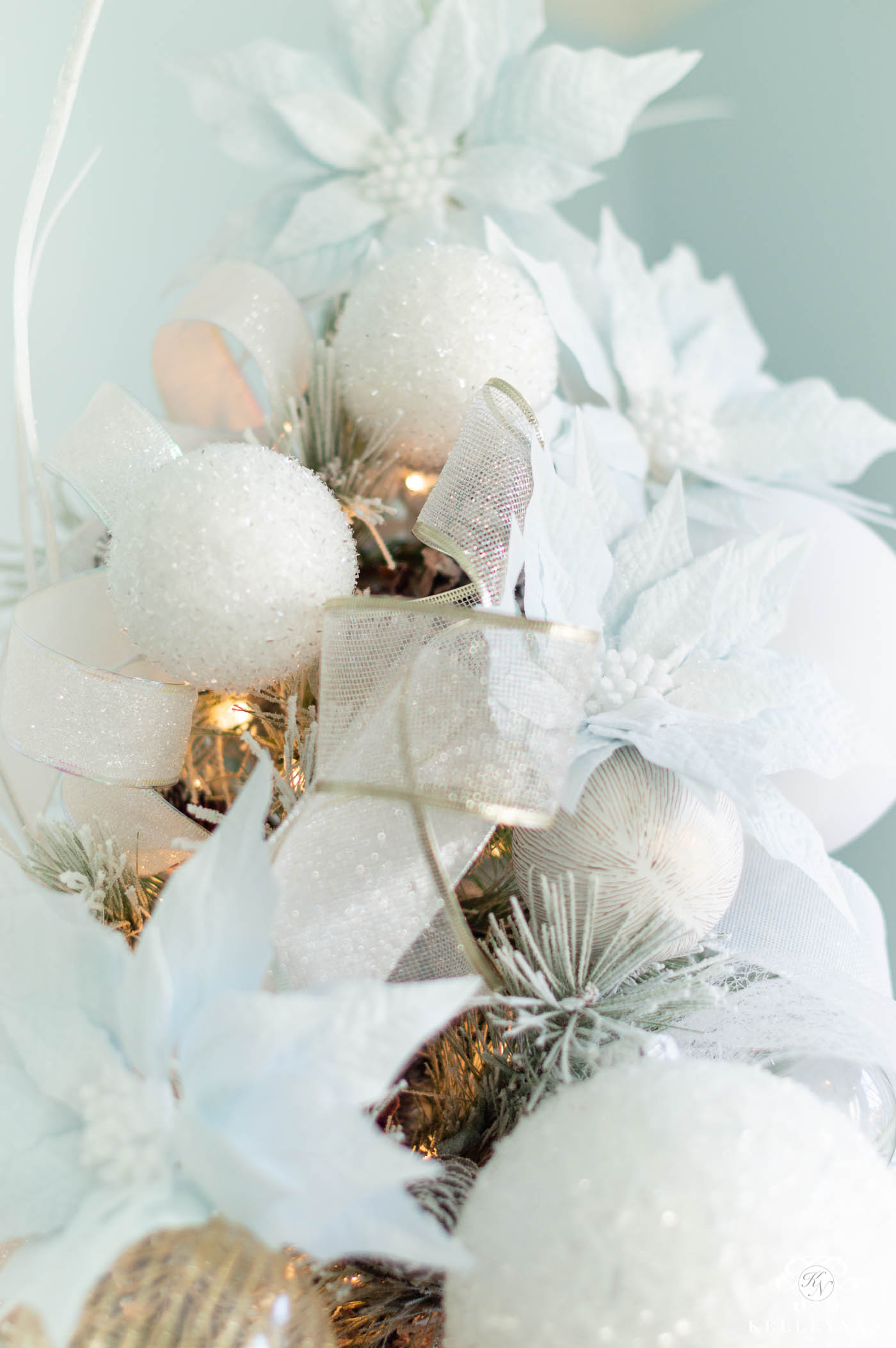 I used a couple white doves on each tree and positioned them in a cluster. Again, I didn't want to put birds all over the tree but wanted each "family" of birds to have their own stand-alone moment.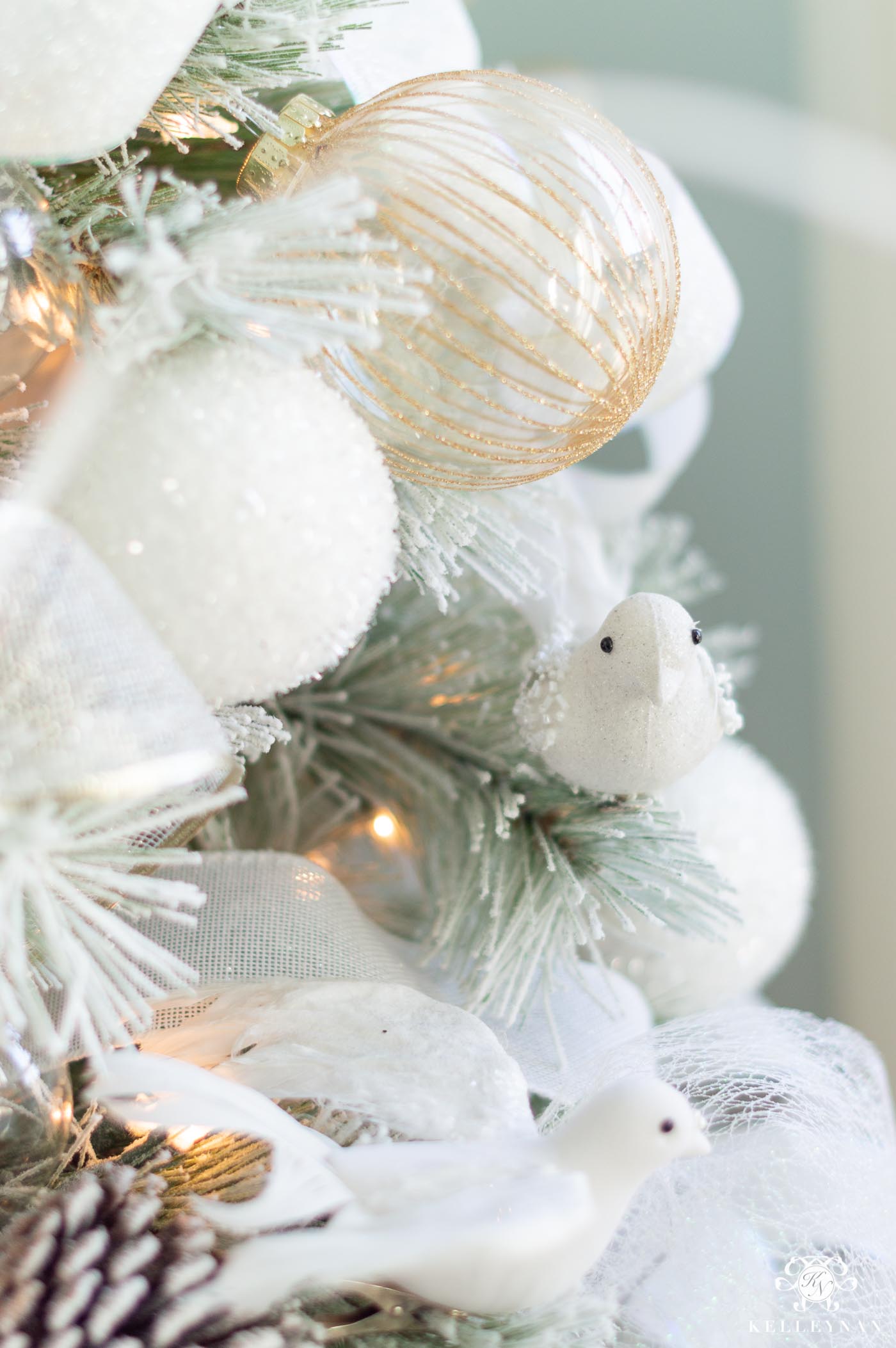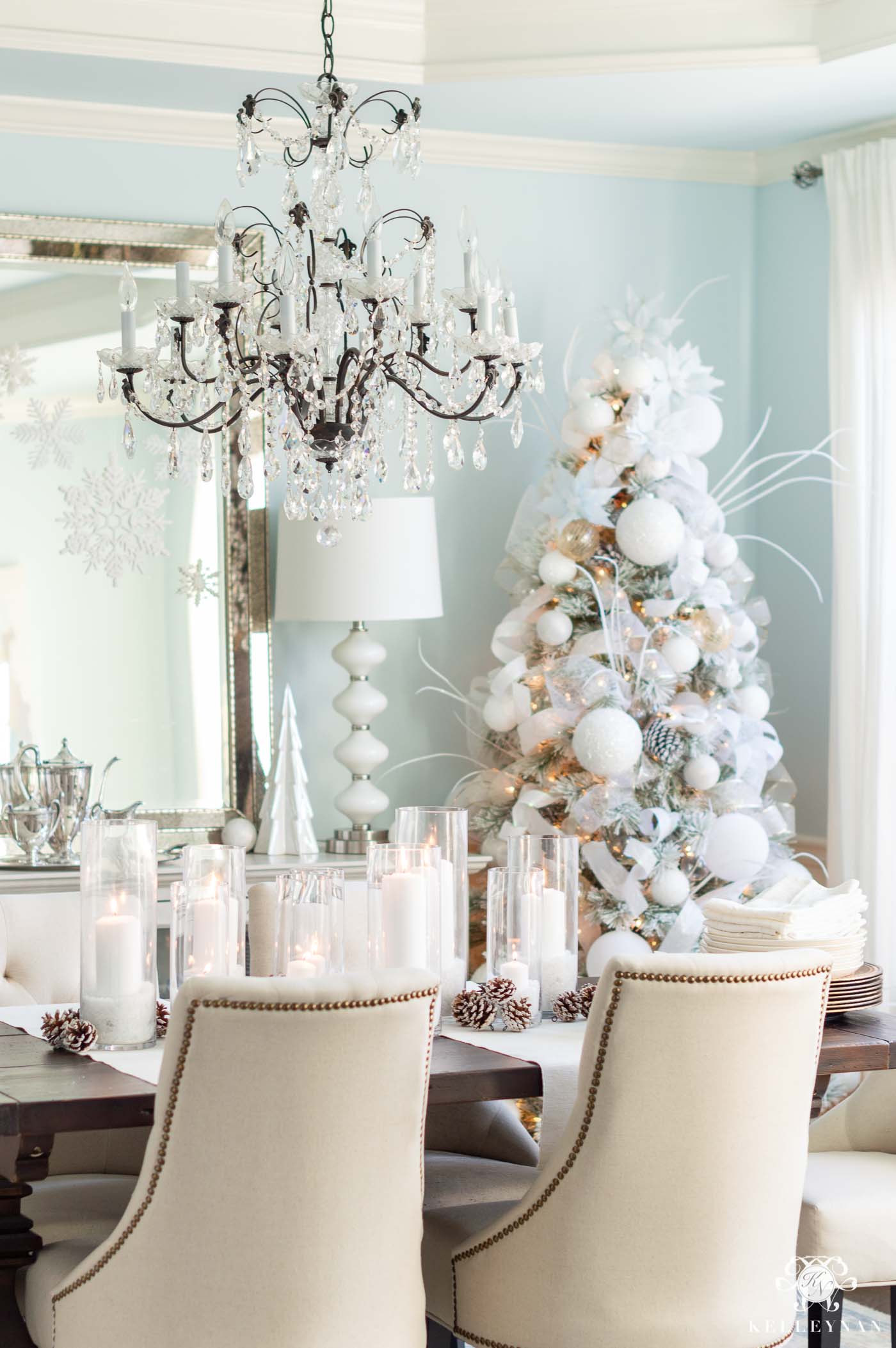 One thing I love about flocked trees is that it's so much easier to 1. make them appear more full and filled with ornaments (while using less), and 2. ribbon sticks to flocked branches so much better than naked pine needles. I used extra long spriggy white, sparkly sticks that looked like tentacles to give the trees a little more "wow" and whimsy — I honestly have no idea what they are. but I dig the way the look, nestled in the trees! Whenever I have long branches/picks/stems like that, I always angle them in the tree, pointed slightly upwards.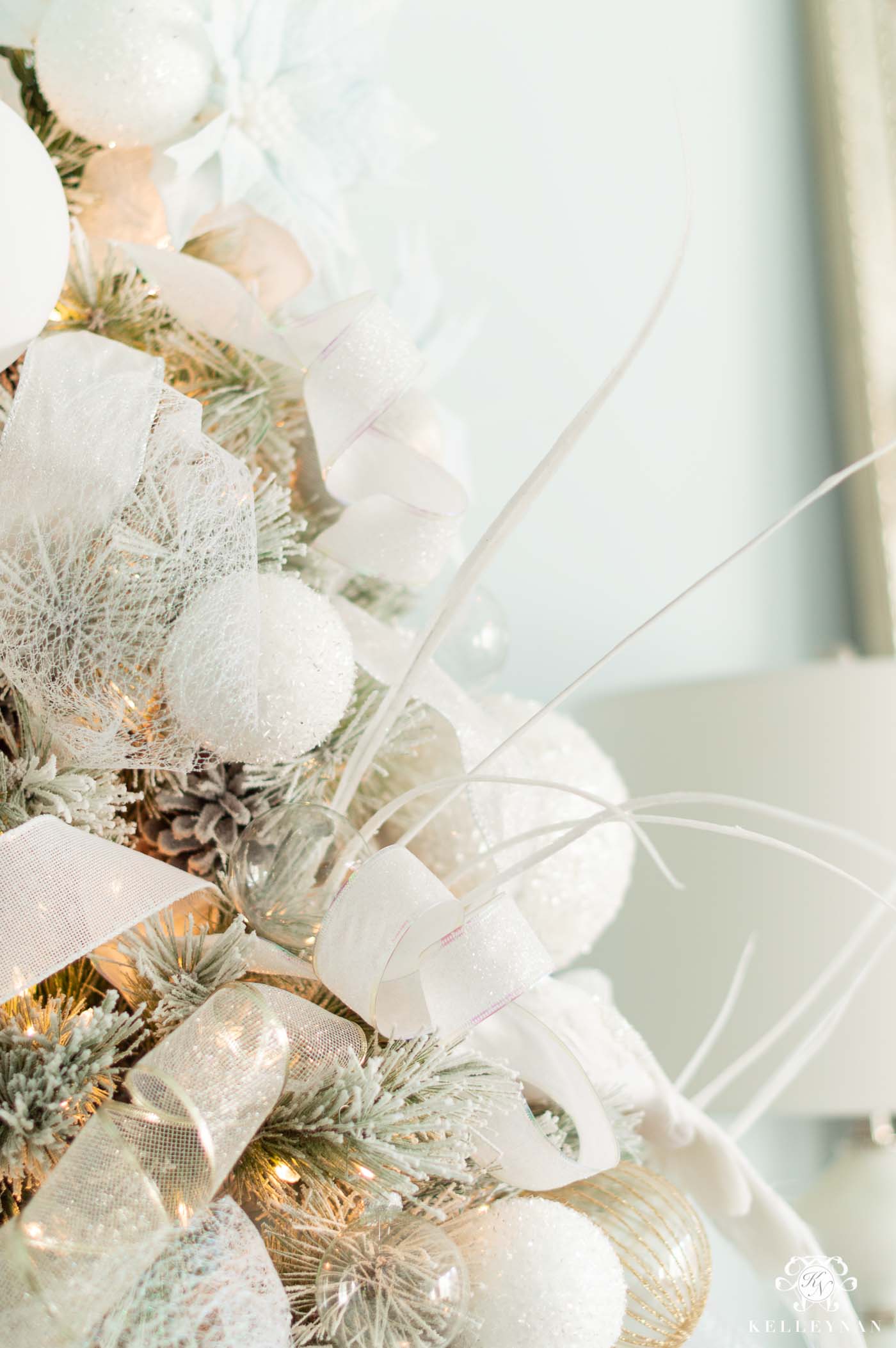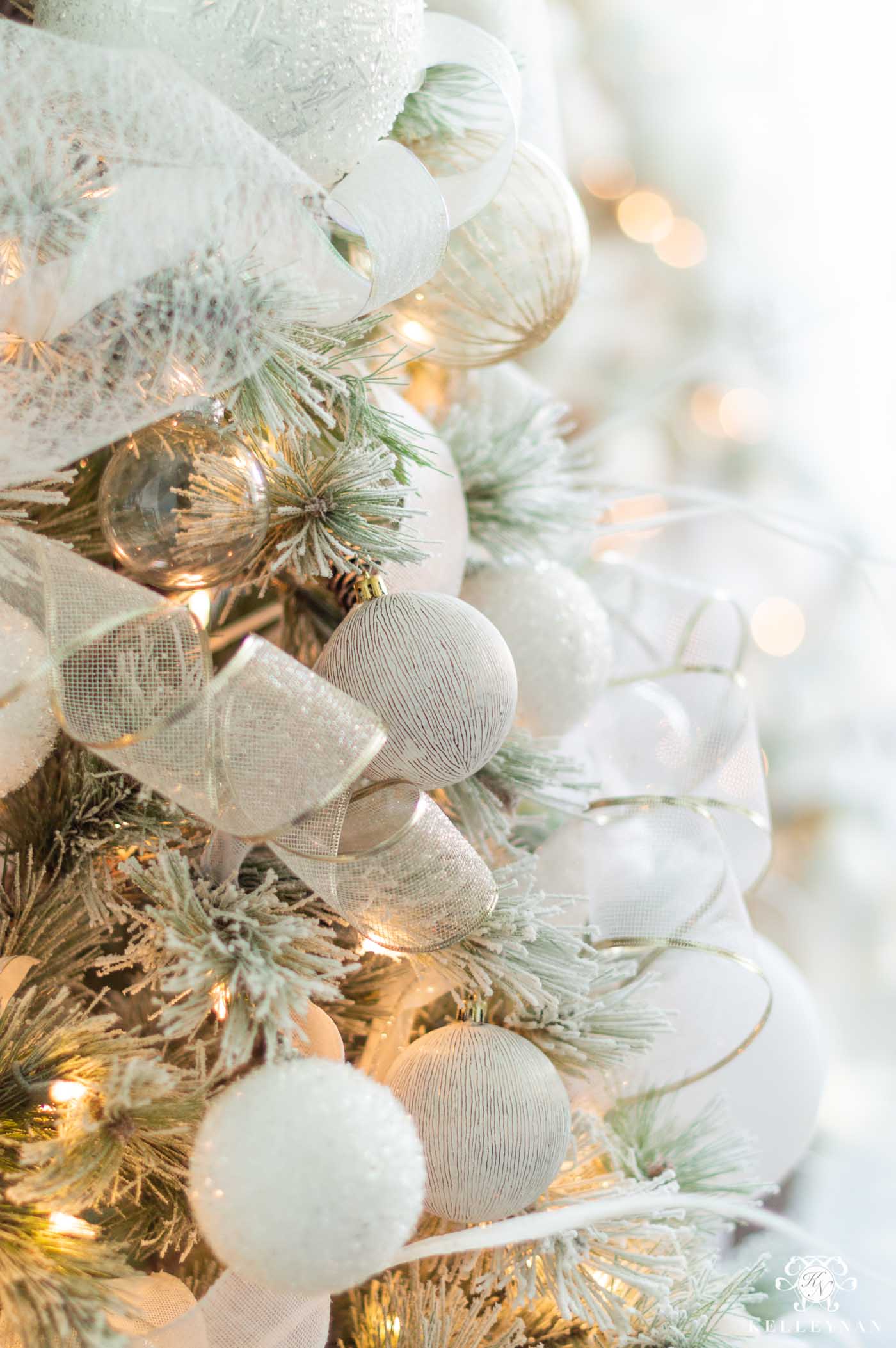 And while it's frosty white during the day, the warm glow at nighttime can't be beat…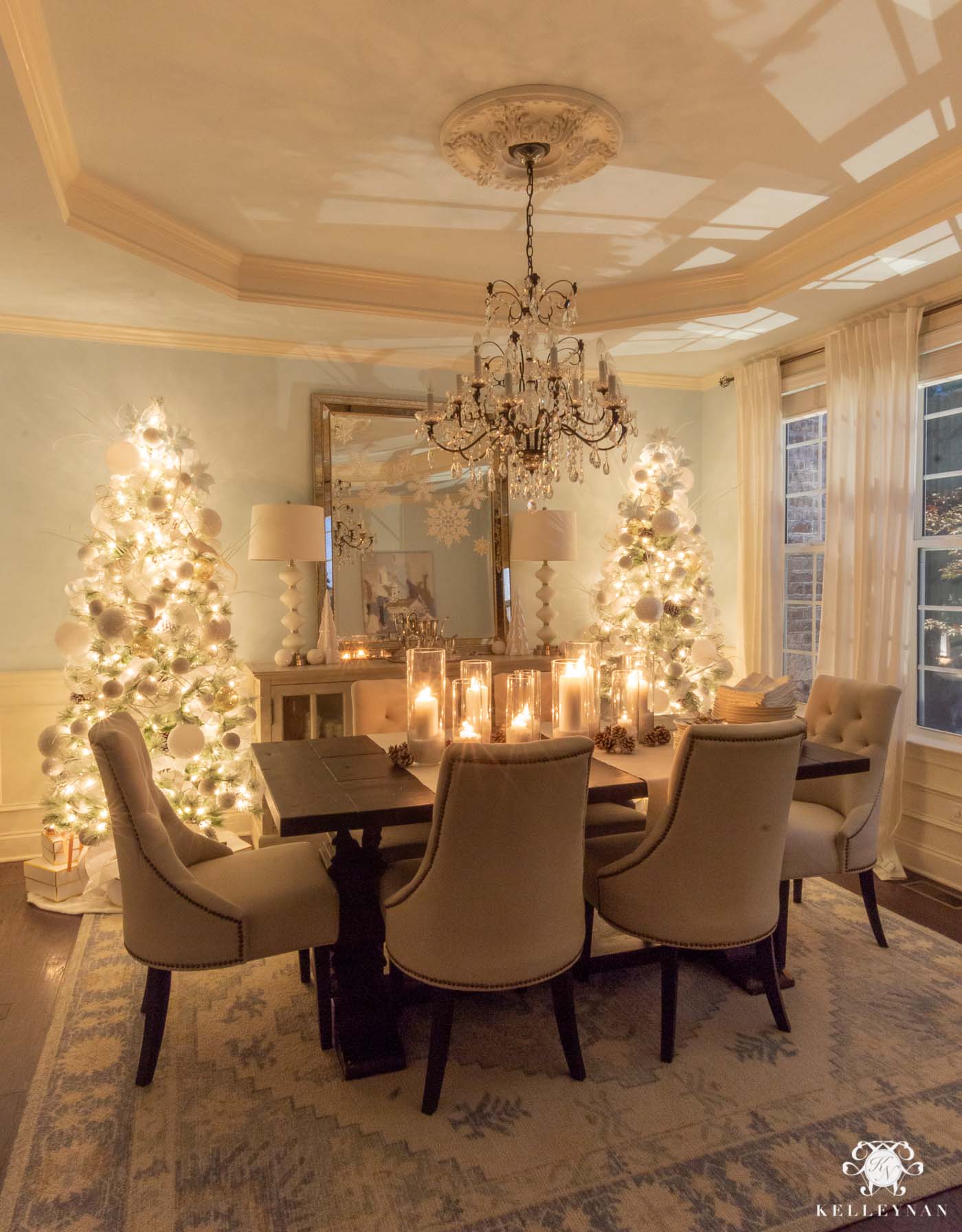 After the 2020 we've had, we need the joy in this Christmas season! There will be a lot of holiday posts launching in the coming weeks, but in the meantime, you can visit my full Christmas project gallery HERE or some of these past favorites: