Gift ideas for toddlers was the most fun to brainstorm this year since I created the entire guide, thinking of Eliza. And, being that she's honestly my favorite to buy for, it was almost too easy to recount things I've purchased for her, plan to purchase, or things she already has that are among her favorites. I have to reign myself in sometimes but since we keep the gifting "light" throughout the year, I get a little carried away during the holidays. In planning for Eliza's Christmas, I searched for gifts that would: 1) hold her interest, 2) advance her learning, and 3) were fun! She is at such a fun age and is thirsty to mimic and learn. While this was created with my 17-month old daughter in mind, most of these gifts are totally gender neutral and will be (hopefully) favorited for years to come.
*Posts on KelleyNan.com may contain affiliate links. Click HERE for full disclosure.
Christmas Gift Ideas for Toddlers
All links are listed at the bottom of the graphic with descriptions following behind. Many items are currently on sale but with crazy shipping times — especially for small shops and personalized items — keep timelines in mind as you make your way through your list! There may also be an item or two that requires assembly — the sooner you've secured those items, the better 😉 As a note, while I have/have ordered several of these things that are listed outside Eliza's age range, be sure to pay attention to recommended ages and safety disclaimers and determine what is best for your family.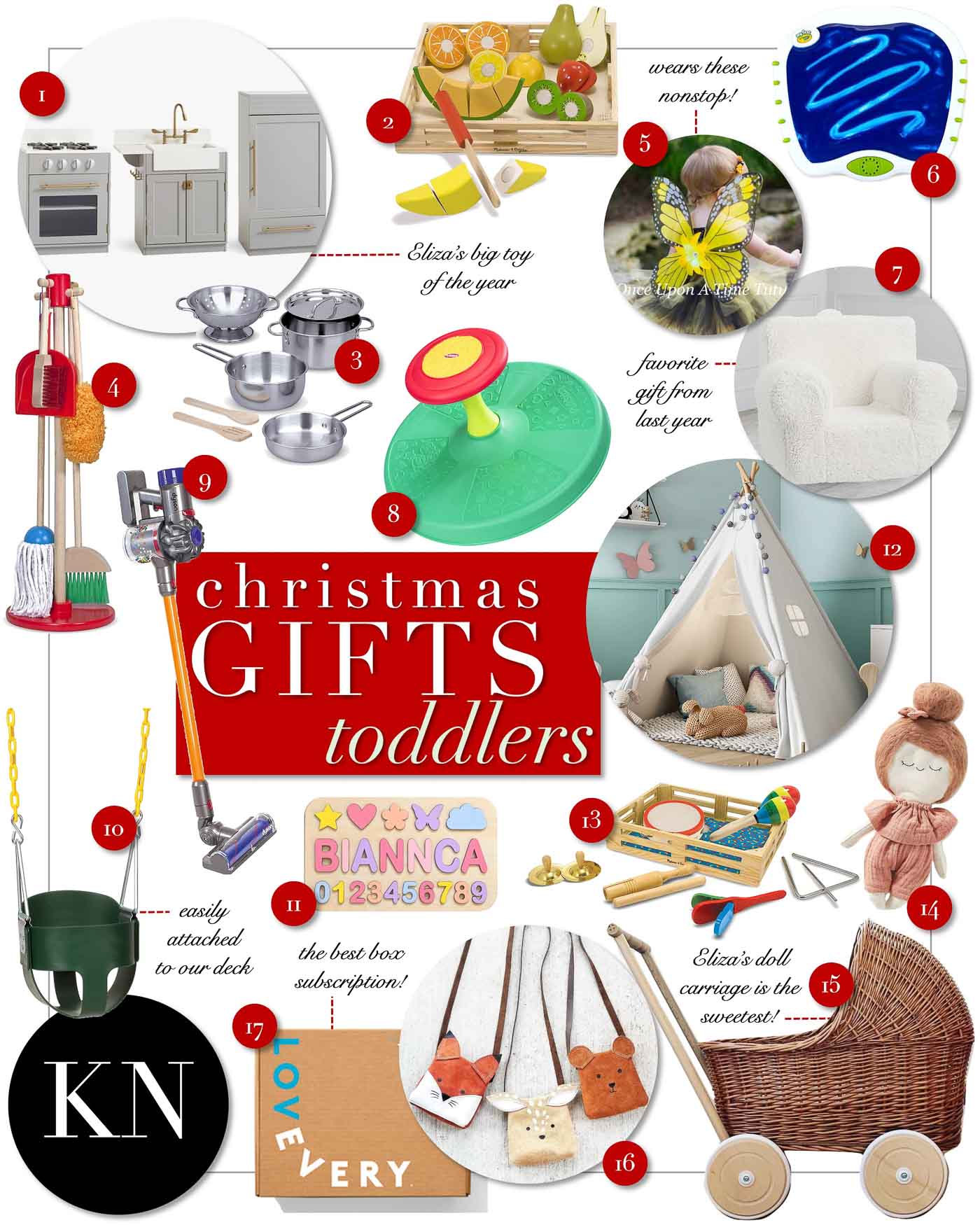 1. Chelsea Play Kitchen | 2. Cut-able Wooden Fruit | 3. Play Pots & Pans | 4. Play Cleaning Set | 5. Dress-up Butterfly Wings | 6. Touch Lights Musical Doodle Board | 7. Anywhere Chair | 8. Sit & Spin | 9 Play Dyson Stick Vacuum | 10. Bucket Swing | 11. Personalized Name Puzzle | 12. Play Teepee | 13. Musical Instrument Set | 14. Doll | 15. Babydoll Carriage | 16. Toddler Animal Purse | 17. Lovevery Subscription Box
1. Chelsea Play Kitchen:  I've been watching this play kitchen for months — I've planned since last year that Eliza's main Christmas gift for this year would be a play kitchen and the fact that her favorite "toys" are now the pots and pans in the kitchen, it made me even more excited for her to have a kitchen she can "cook" in. After a lot of research and reviews across several brands,  the overall consensus was that it seemed far more likely to last for years to come and was a lot easier to assemble than others — not to mention, I love the way it looks. But, it doesn't change the fact that it's pricey. In hopes that the KN IG community may point me to other alternatives, I posted a poll and asked for personal experiences and without sharing which play kitchen I'd been considering, the overwhelming majority said that while it isn't cheap, they 100% recommend the Chelsea kitchen (the same one I had been considering). So, I watched and waited — hoping that it would come down on price, even a little bit, and as of this morning, it did. When it dropped almost $200 below regular price, I pulled the trigger — it comes in both white and gray and I opted for the white. I was so happy to secure it while it's available and if it discounts more during the holiday, I will just have to look away haha. To me, it was important to make sure we could secure it before Santa comes. You can find the separate component version (which I ordered) HERE, or the all-in-one version — which is far less expensive — HERE.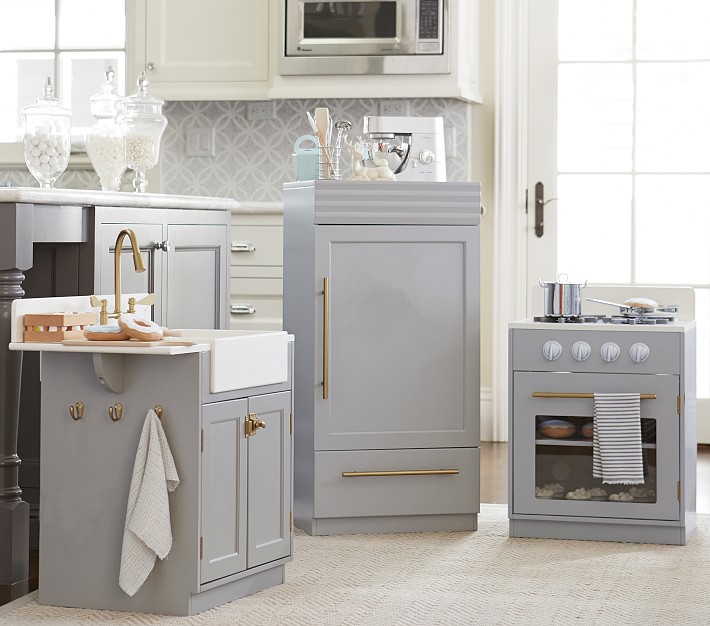 2. Cut-able Wooden Fruit:  I don't want to go crazy with kitchen accessories and food right off the bat, but I do want to get her a few things to get her kitchen started. Back during the summer, before I'd ever ordered the kitchen, I actually grabbed a few crates of wooden Melissa & Doug food. Along with the wooden fruit, you can find another food crate, with bread, HERE.
3. Play Pots & Pans:  I like the simple stainless steel design of these that mimics our own kitchenware! These have also already arrived. 😉
4. Play Cleaning Set:  Sticking to the pretend household items, I also already ordered this play cleaning set so we can "clean" together. Never too young to start those chores! 😉
5. Dress-up Butterfly Wings:  Eliza loves wearing fairy wings and around Halloween, I actually stocked up on multiple pairs from the dollar store to divvy out over time since they wear out fairly quickly. By the way, if you have a toddler but have never gotten them a pair of wings to try, DO IT! But, I did recently order her this pair of monarch butterfly wings — in yellow — and they are beautiful! I'm hoping we can preserve these a bit longer since they are "special" 😉
6. Touch Lights Musical Doodle Board:  A while ago, I tried a sensory activity I saw online where I poured oil in a baggie and taped it to Eliza's highchair tray for her to move the oil around. It was cool for about 30 seconds, until the bag leaked, haha. I think Gran Nan is snagging this doodle board for Eliza so I'm excited to see how she feels about it!
7. Anywhere Chair:  This was a last minute grab last Christmas and oh my goodness, I am so glad we got it. It's become a permanent staple in our living room and I've heard from many of you that your kids use them for years. We went with the regular size (I'm glad we didn't do a "my first" chair) in the sherpa material (HERE) and did get her name embroidered on it, but with the fuzzy material, I would almost rather it not be personalized. The white teddy fur hides everything, doesn't sag, and goes with the rest of the living room so it isn't an eyesore — it's also on sale this weekend! You can see how it looks in our living room here. 😉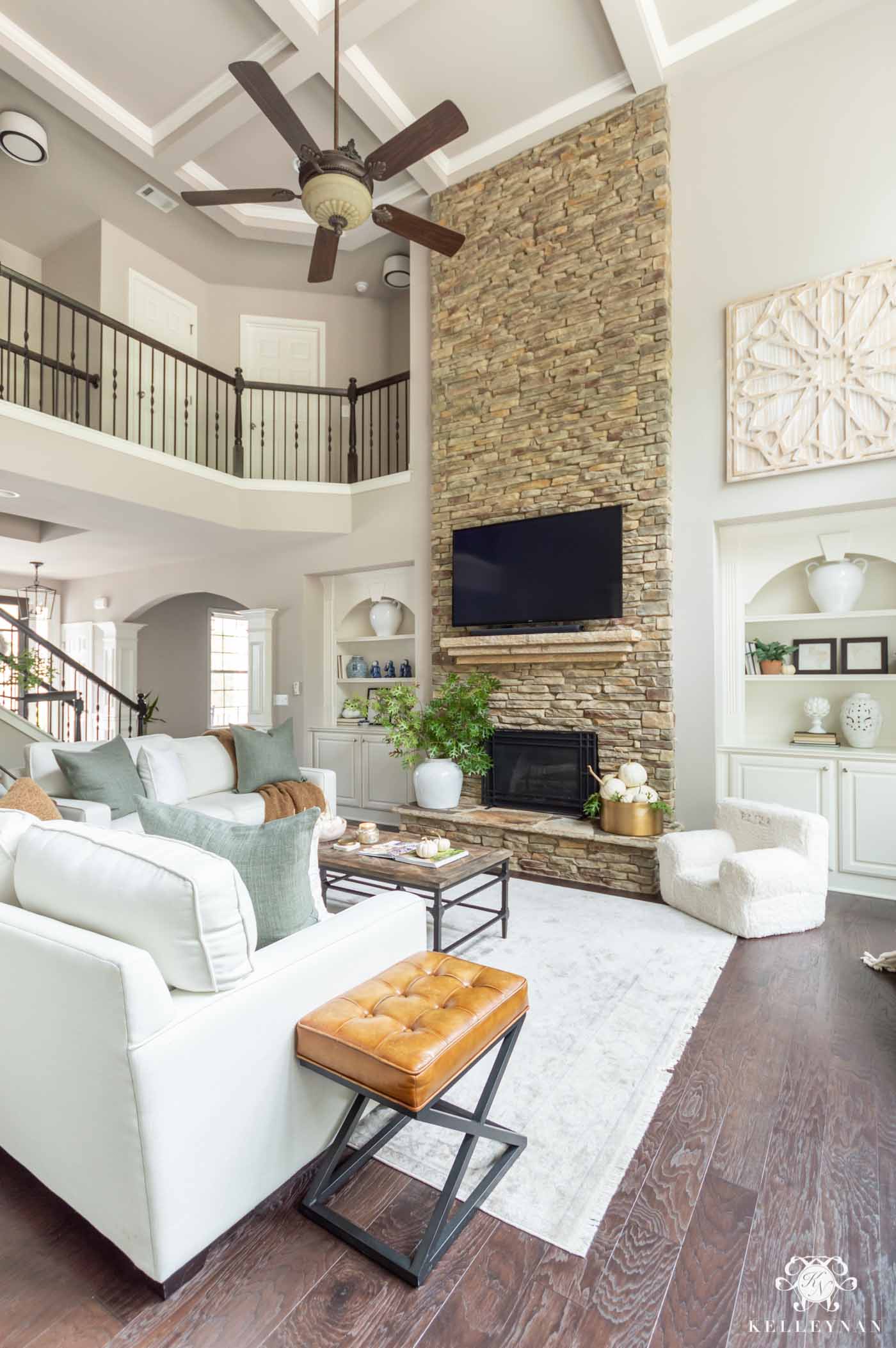 Sources: Sofa & Loveseat (Everyday Performance Linen Fabric in Ivory; square arm; upholstered) | Coffee Table | Rug | Sage Green Linen Pillows (24″) | Teddy Bear Throw Pillows (20″) | Teddy Bear Throw Blanket (largest size) | Leather Ottoman Stool | White Oversized Fireplace Vase | Brass Beverage Tub (holding pumpkins on hearth) | Child Sherpa Anywhere Chair | Fireplace Screen | White Ceramic Urn Vases on Bookshelves | Lidded Blue & White Ginger Jar | Large Wood Art
8. Sit & Spin:  Eliza is getting so active now and loves sitting on the floor and spinning around — this sit & spin throws it back to my childhood memories!
9 Play Dyson Stick Vacuum:  I saw this in store and thought it was the cutest thing I'd ever seen. Again, I'm excited for Eliza to get to "clean" alongside me! Use your coupons on this one or sign up for a 20% off to be sent to you!
10. Bucket Swing:  This swing has been used and loved by us so much over the past several months, it was worth another mention! Even if you don't want to install until the weather warms up in the spring, we hung this from our upper deck and the carabiners easily allow the swing to be removed. You can also add it to an existing set. Here's a flashback to all the smiles in her swing (oh my gosh, she already looks so much older!)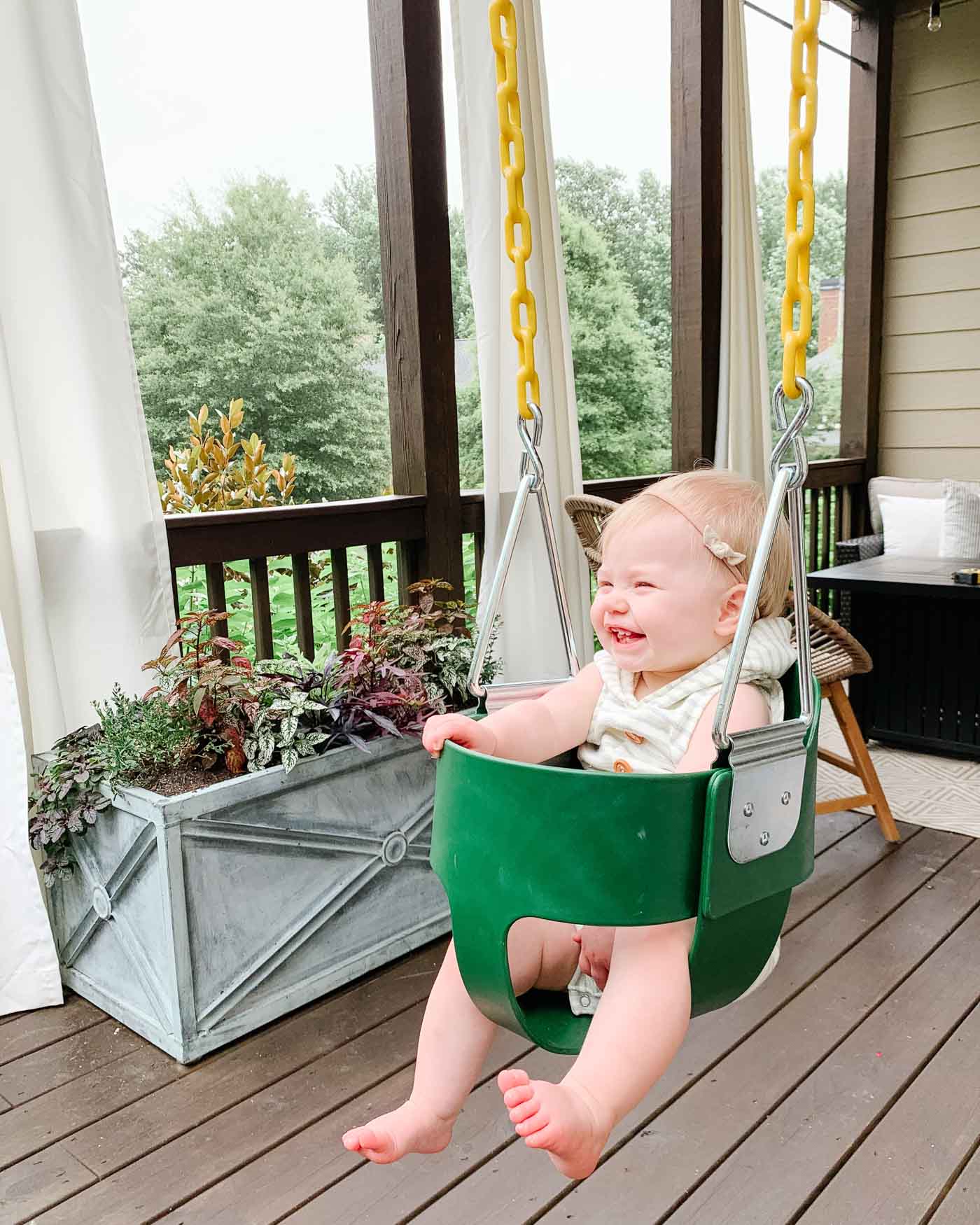 11. Personalized Name Puzzle:  There are simple name puzzles out there but I love this one because it incorporates shapes and numbers too, without adding an additional puzzle to the mix. There are several color schemes available and pricing is based on the number of letters of the name!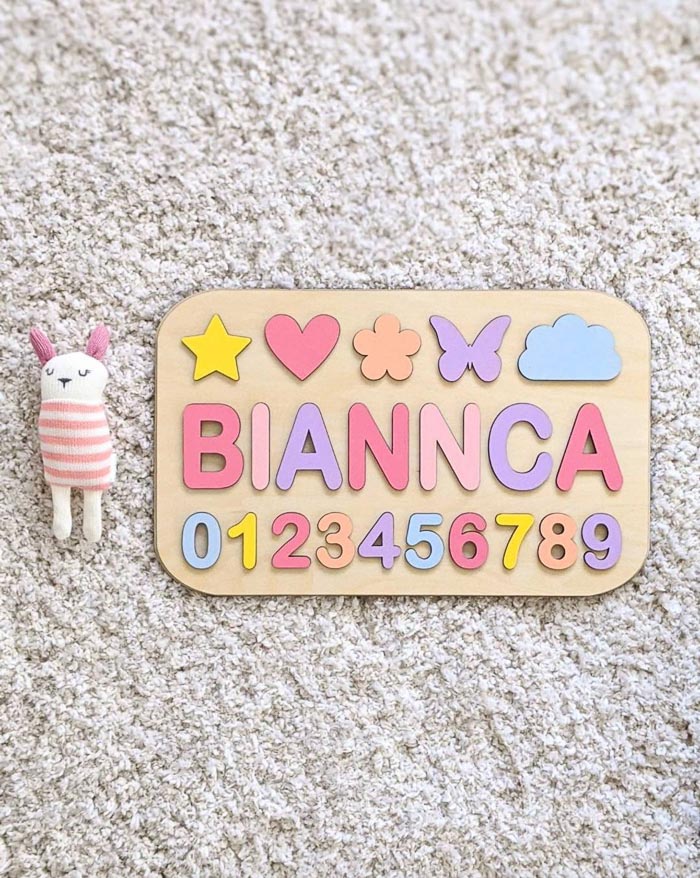 12. Play Teepee: We don't have space for a play teepee or tent just yet but when we do… this one is adorable and is only $52.99 on Amazon! There are so any possibilities to personalize this little fort space…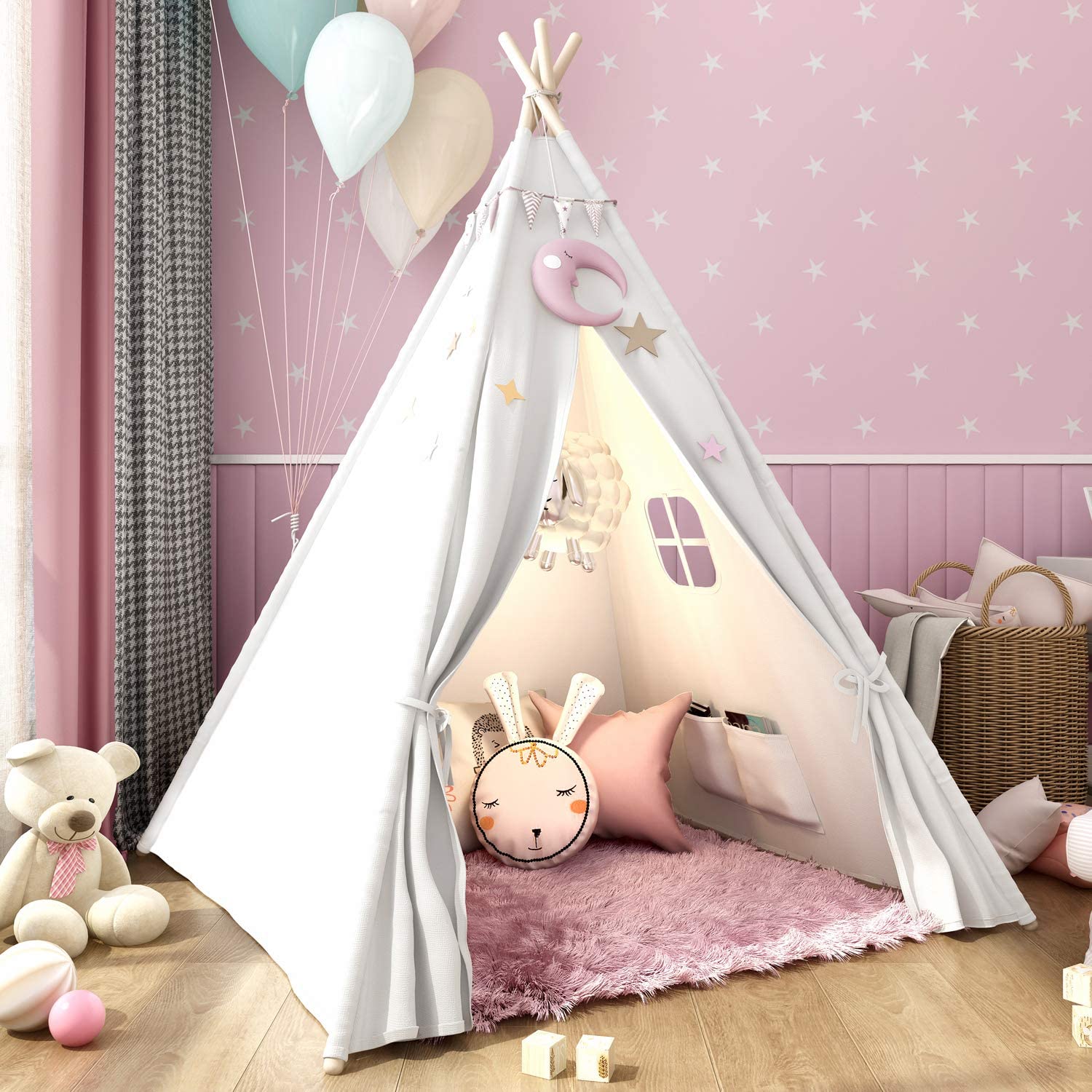 13. Musical Instrument Set:  We've already started introducing Eliza to instruments here and there, but I'm a fan of the simplicity of these classics in making sound. You can get the 10-piece set for $17.75 right now.
14. Doll:  Eliza loves baby dolls and she's so sweet interacting with them like a little mama. I saw these a month or so ago, couldn't resist, and grabbed the one with the little bun.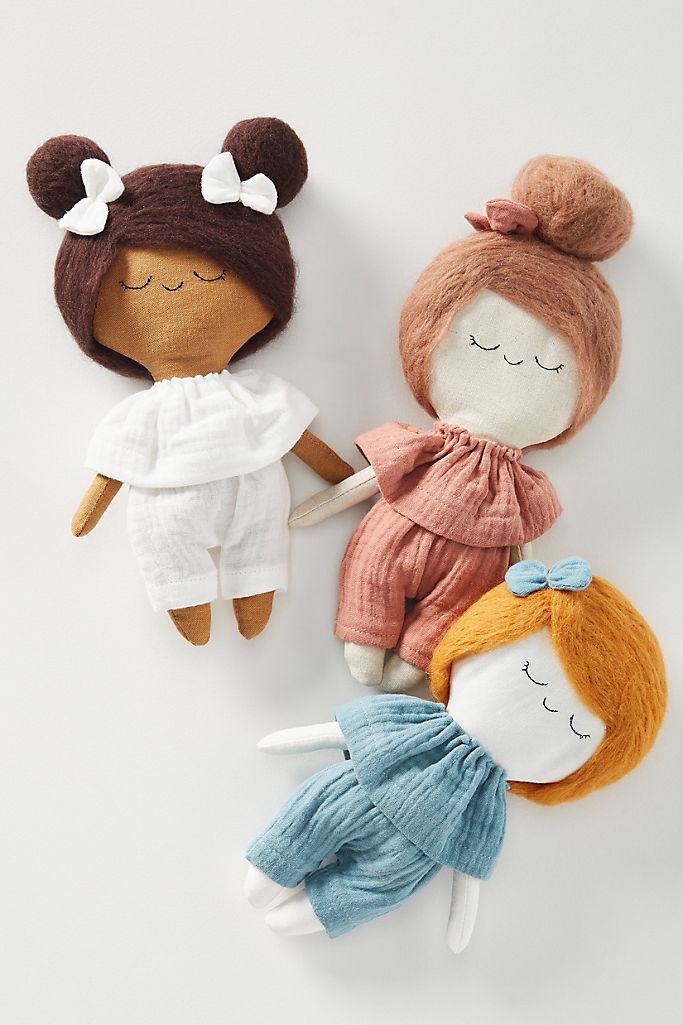 15. Babydoll Carriage:  Gran Nan gifted this sweet carriage to Eliza earlier this year, after we gave her her first babydoll. It comes with little pillows as bedding, too! It does ship from Europe and took a second to get here — if you plan on this carriage, be sure to watch lead times!
16. Toddler Animal Purse:  Eliza has a little purse and stashes her baby clothes, compact — and let's be honest, blocks and a bunch of random miniature things — inside. These little animal purses are the sweetest!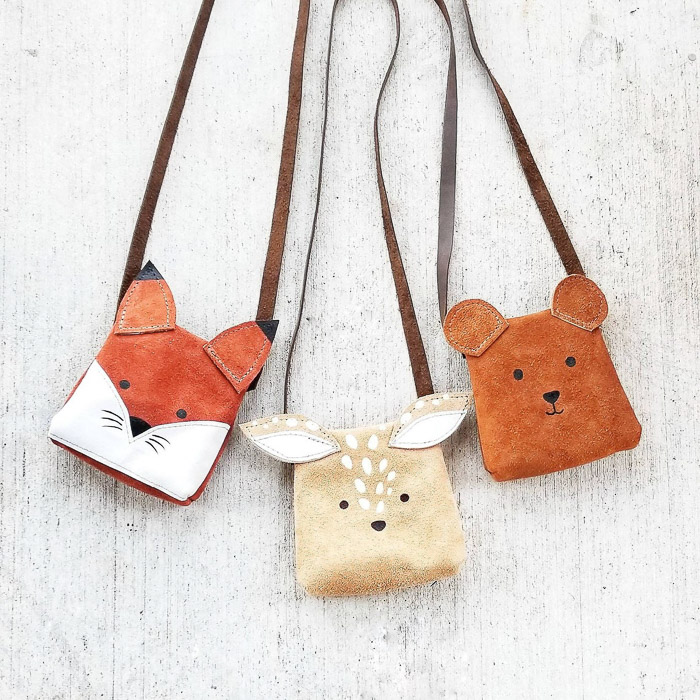 (image via Cage & Lantern shop)
17.Lovevery Subscription Box:  I've mentioned this box before too, but we didn't start these until after Eliza was a year old. She loved the first box so much, we subscribed so she will get future shipments at developmental stages. From blocks and puzzles to books and activities, these montessori inspired toys are her favorites. There are so many different ways to play with the items that come in the boxes too, that it's hard to get bored with them (well, as much as any toy can hold the attention span of a toddler 😉 ). It's a pricier box but it isn't monthly — it's by developmental stage. When you break the cost down that way, it's way more affordable. You can also get one box to test it without commiting, then if you love it, you can subscribe for future boxes. Take a peek inside the different boxes (no surprises here!) HERE.
As I mentioned, we are working to finish our shopping so we don't have to worry about timing of shipments and while Eliza is young and won't really understand what's going on, fully, I'm excited for the opportunity to get her some of those items that will stay with her through the next several years. While it's a big year in our house with that kitchen, I'm considering myself almost done with a few accessories and a few learning/interactive toys. For more gift ideas, you can check out the gift guides listed at the top of the page under "HOLIDAY"!
Tap to Shop Gift Ideas for Toddlers

CURRENT NOTEWORTHY SALES — CYBER MONDAY
Check out my favorite notable promotions below as you start browsing/shopping this weekend!
Anthropologie — 30% off EVERYTHING; extra 50% off sale
American Eagle — 40% off everything!
Serena & Lily: 20% off everything, plus free shipping with code TOGETHER
Pottery Barn — 20% off your order, plus free shipping on orders $79+ with code CYBER — some deals up to 50% off
Mark & Graham — up to 50% off, plus extra 30% off sale styles with code MERRY
Rifle Paper Company — 30% off sitewide
One King's Lane — 25% off site, plus extra 10% off orders $600+ w/ code OKLCYBER10
West Elm — Up to 70% off everything, plus free shipping on orders $79+ with code CYBER
Williams-Sonoma — Up to 50% off, plus free shipping on orders $79+ with code SHIP4FREE; Extra 20% off clearance with code EXTRA
Burke Decor — 25% off sitewide with code BLACKOUT25; 30% off orders of $3,500+ with code BLACKOUT30
Madewell — 40% off with code THXINTERNET
World Market — Extra 20% off curbside pickup orders
Old Navy — 50% off EVERYTHING
PB Kids — Up to 60% off, plus free shipping with code COZY
PB Teen — Up to 60% off, plus free shipping with code COZY
Target — CYBER MONDAY! TONS of item, as noted on site, up to 50% off — save an extra 15% off on several categories
Bloomingdales — Buy more, save more, up to 30% off
Kirkland's — 20% off entire order with code CYBER; free shipping $99+
Macy's — TONS of individual sales, plus free shipping at $25+
Minted — 25% off everything, plus free shipping with code CM2020
Kendra Scott — 30% off! 25% off fine jewelry
Wayfair — Up to 80% off Cyber Monday Deals
CB2 — Buy more, save more Up to 25% off with code SAVEMORE
Nordstrom  — Up to 50% off over a thousand of items, plus free shipping