Friends, happy (official) fall! I was ecstatic to launch my Fall Home Tour this past week and since I coupled in a few clean-up projects in anticipation, I'm happy to report that MOST everything has remained tidy. Huge win in our house 😉 Full admission, I am currently looking at a few brown artichokes that never actually made it into our meal plan. Whoops! This weekend, I'll be working to get those lists of lists of lists made in anticipation of a few trips I have planned next week; doing a little last minute shopping; working to prep some posts for next week; watching football with friends; and maybe even start a little packing.
My brother is getting married next weekend (trip 2) but what I haven't shared is that I will be heading to New York on Wednesday for the annual Better Homes & Gardens Stylemaker event (trip 1). Each year, they select 75 people from the food, fashion, and home sectors and I am so flattered to have been invited this year. This is the part that is stressing me out. Before I was invited, we had already planned to be down on the Alabama shore this coming Thursday. But, the BHG invitation arrived and was also set for Thursday. All. Day. Thursday. Old KN would have politely declined. But, here I am, planning a two-day whirlwind. I fly out on Wednesday afternoon, and will meet up with friends that evening. Thursday, I will have the event all day with a StyleMaker party that night. I will be waking up at 2:30 Friday morning to leave the hotel by 3:30 to make it to the airport by 4:30 for my 6:30 (first flight out of NY) flight. Dave will meet me inside the Atlanta airport just before 9:00 and we'll haul our luggage back to my car, already loaded with the rest of the bags we need for Alabama. Then, we'll make the trek down to the Gulf, hopefully making it in plenty of time before the rehearsal dinner. Ok, so this may sound like typical travel to some of you but for me, the logistics make me want to cry haha. But, I'll be working to get everything set and wrapped up over the next couple of days so I can look forward to and enjoy the trips ahead.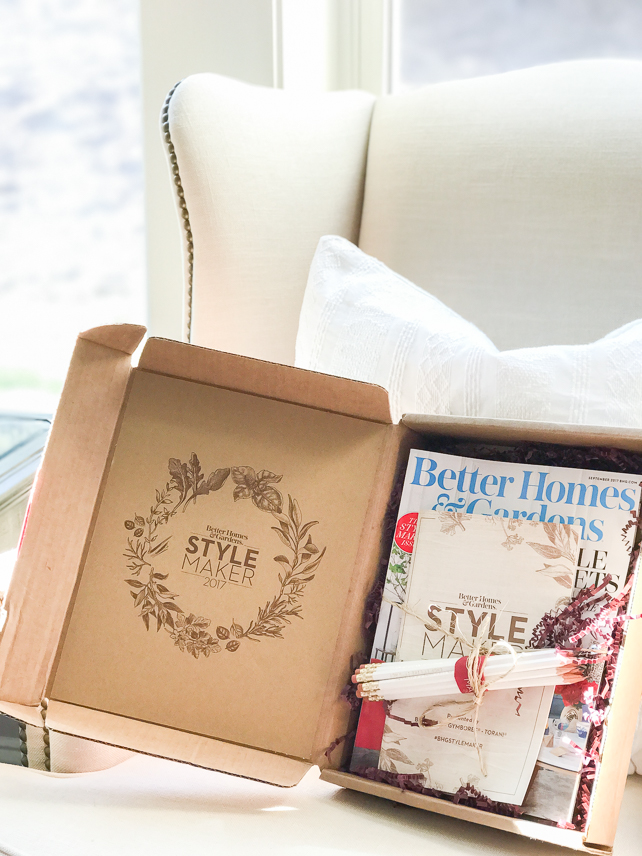 So now that I've had a mini-meltdown running through it again, let's get back to the current. This week's Snack Around the Plate.
*Posts and pages on KelleyNan.com may contain affiliate links | Read the full disclosure HERE.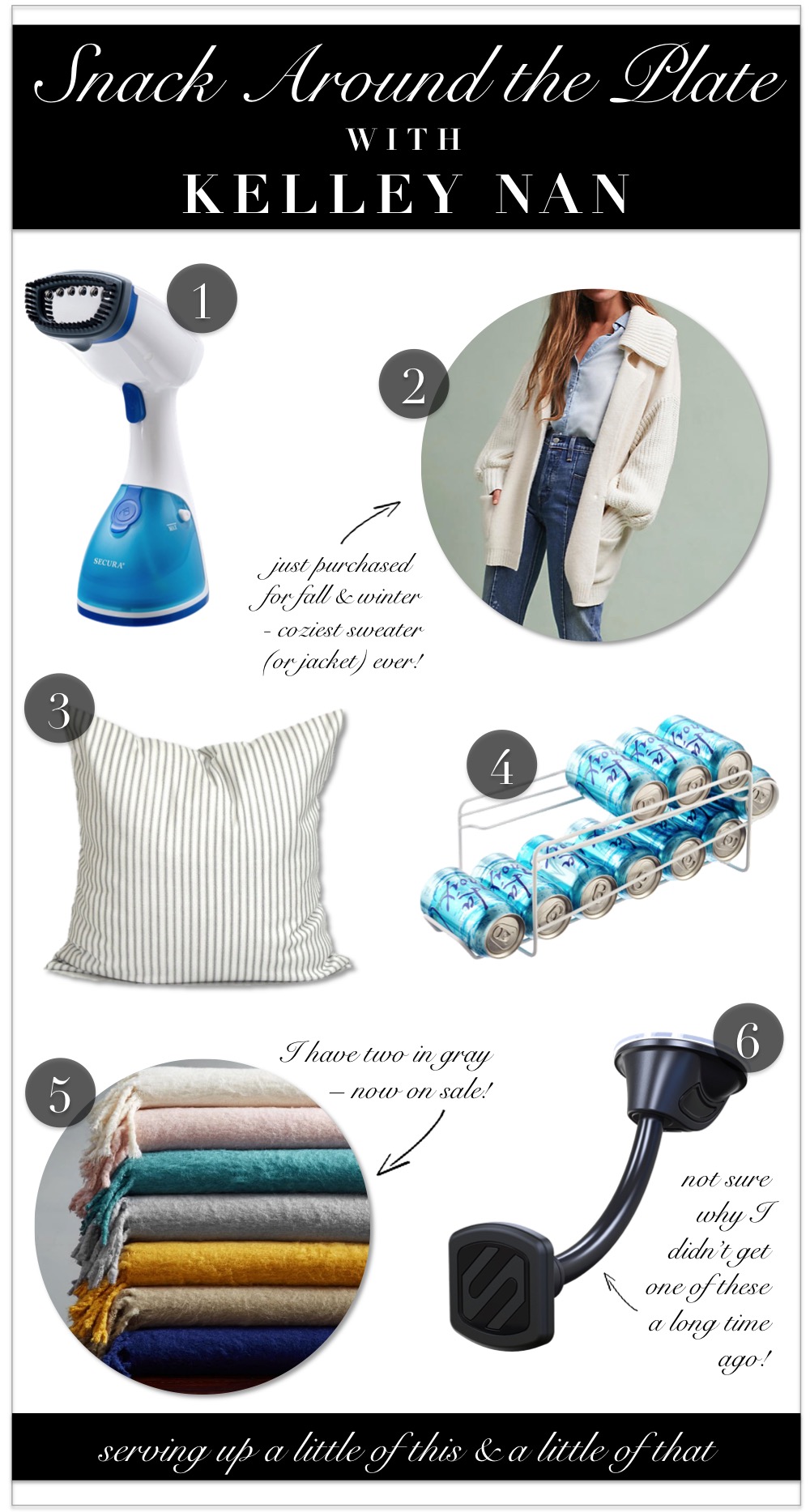 1. Handheld Steamer: Funny back-story. Would you believe that when Dave and I moved in together, he was actually the one to bring the iron and ironing board to the table? I actually remember him having the ironing board set up as a permanent piece of furniture during his bachelor days; y'all, the man would iron every. single. night. He's far better than me – anything that wouldn't come out in the dryer just stayed and deemed as "natural wear". When we moved in this house, I actually had to start ironing more. Lots of new drapes that took hours and hours and then would re-crease. I am not a person who irons sheets but am also not a person who takes things out of the dryer immediately. They were always creased. Plus, I have a ruched duvet cover that gets micro wrinkles… how do you iron a ruched duvet cover? Answer- you don't. I first got this handheld steamer several months ago when I was prepping bedding for a shoot that had to be "on point". Y'all. I don't think I will ever iron again. It works like magic – curtains that are already hanging, bedding that's already on, throw pillows on the sofa, throw blankets… The little garment brush attachment in the photo is optional; I actually haven't used that during my steam sessions. If you have a piece of clothing that wrinkles easily, you won't believe how you lived without one. It heats up within 15 seconds and is UNDER $30 (plus, it's PRIME eligible 😉 ).
2. Anthropologie Oversized Chunky Sweater/Cardigan/Jacket: I went on shopping this week for my trip and instead came home with this new cozy dream (most certainly not suitable for a beach wedding but I was convinced my life would never be complete without it haha). I love that it is roomy enough for several layers (I would still size down), and even though it is a loose fit, it doesn't make you shapeless. Y'all. This is incredible. It is a little more of a splurge than I would typically spend on a sweater but when I first saw it (and put it on), my initial reaction was that it was a sweater-coat. And that is still how I will use it. This is not itchy at all – it feels like butter. Here's a little screen shot peek of a video still from when I shared it in my Insta-stories this past week.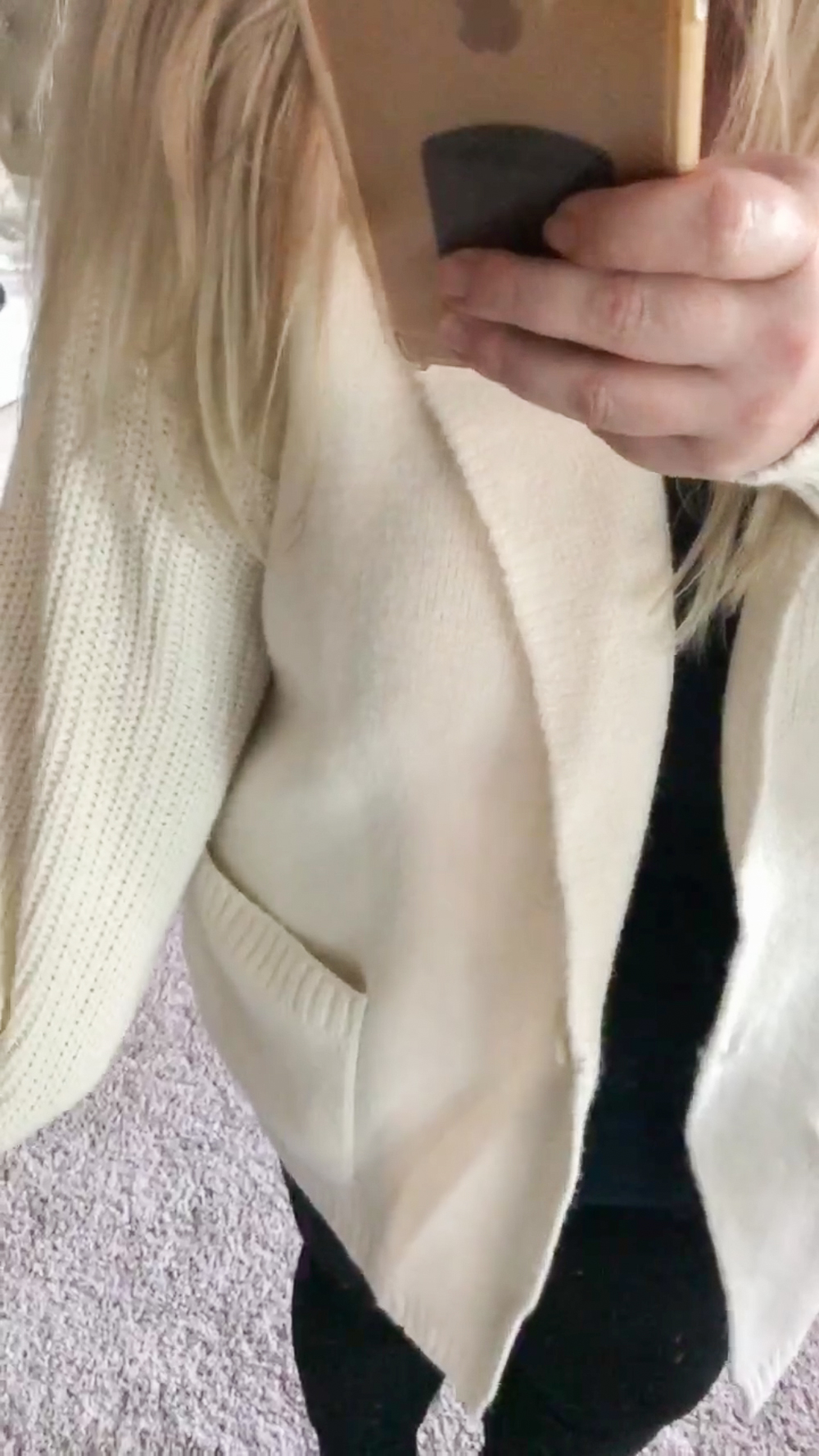 A little side note if you aren't familiar with shopping at Anthropologie – as long as you have a receipt, they don't have a time limit on their return policy 😉
3. Ticking Stripe Pillow Covers:
 These are just the classic look I was going for when I had them made for my
Fall Home Tour
this past week. They come one inch smaller than what you need so no need to go up in pillow insert size. A huge perk (for me) is that my pups have been going after anything and everything with a zipper (I can't tell you how many pillows have become their lunch). These covers are envelope-style and because they don't have any hardware, the dogs haven't touched them (yet 😉 )! They are made to order in several color options, any custom size and y'all- they start at $7/cover. Custom cases for less than HomeGoods? YES, PLEASE!
4. Beverage Can Dispenser: 
I have 
loved
getting messages about your refrigerator organization projects! In addition to the turntable, this soda dispenser has been one of your favs. If you want to see how I used it, you can visit my fridge project
HERE
. Plus, it's under $6 😉
5. Oversized Faux Mohair Throw Blanket:
You. Guys. I loved this huge, cozy throw so much, I had to buy it twice. In the same color. I got my first one last year for
my office
and totally fell in love. When I was putting my
blue and white guest bedroom
together, I searched high and low for an ivory one. They were sold out. Everywhere. THIS is the throw I talked about that I actually considered having overnighted from California (it was the last one left in the system haha). Well, they brought it back (I'm so glad I waited) so of course, I had to scoop up another. You probably saw it in the living room on the
Fall Home Tour
😉 Right now, it is on sale for under $50. It is huge so if you need something oversized for the sofa or bed, this is the one.
6. Magnetic Car Cell Phone Holder: Dave has been working to outfit and accessorize his new truck over the last few months. Y'all, he is the guy who is driving around with groceries in the truck bed, just because he can finally haul things. So sweet but the tub of ice cream he brought home a couple weeks ago didn't think so. Yes, I am serious haha. Anyways, one of the gadgets he bought for himself was a cell phone holder that was suctioned to his window. I have had car cell phone holders before but they have always been flimsy/had an awkward grip mechanism. When he showed me his, I had to have one too. It is magnetic so you hold your phone up and it sticks to the holder. (I am notorious for holding my phone in my hand, GPSing everywhere). It comes with a slim magnet you put between your phone and your phone case – it is truly genius. And, maybe this is old news but to me, it was one of the coolest inventions ever. If you don't have a car mount solution, this is amazing..

Wishing you all a fabulous weekend doing ALL the fall things <3