Friends, the bi-annual World Market Friends and Family event is here and as I did this past spring, I've partnered with World Market to share what I'm loving, some of the crazy awesome deals, and of course, my personal favs throughout my home that can be snatched up at a discount. (Click HERE for full sponsorship and affiliate link disclosure). When the entire site is 30% off (and it is with code FAMFRIENDS, plus, free shipping on orders over $200), it can be overwhelming to browse it all. So, I've done something a little different today; I've curated three style scenarios that will give you a little taste of what you can find across the entire site. Don't browse too long, though; the sale ends tomorrow on October 9 😉 Along with the three spaces curated for the World Market Friends & Family Sale, at the bottom of the post, I'm sharing several World Market moments throughout my fall home tour. Remember my orange leaves in the different glass vessels? My primary vessel was this hurricane glass than is now $2.50. Totally serious. I love to check out vases, tableware, and entertaining pieces during this sale, especially with the holidays just around the corner.
Before we jump into all the items, I wanted to mention one more ridiculous crazy awesome thing. Their bedroom furniture and bedding is already on sale, so, through Monday, with the FAMFRIENDS promo code, it will actually be an additional 30% off the sale price. That means that pieces like this black canopy bed are going for $300.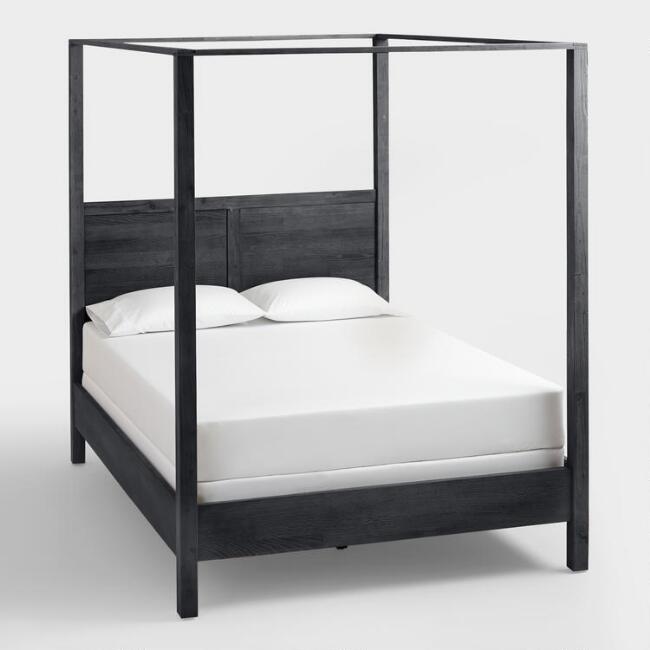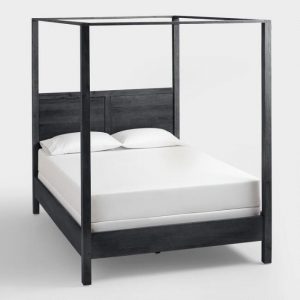 Pretty crazy, right? If you are looking for pieces for your own bedroom or even guest bedroom nightstands, be sure to take a peek for some super affordable deals.You can check out all the bedroom furniture goodies HERE. Ok, so back to those three spaces. I've included links at the bottom of each curated collection; you can tap the number that corresponds with each photo to be taken directly to the shop page. All sources and details will also be listed at the bottom of the post.
Curated Collection #1
The first curated style collection is themed around a cocktail station – I mean, are you surprised? 😉 I still absolutely believe everyone can find a way to use and store a bar cart, but, even if you are opposed, I love hunting for entertaining supplies, kitchen gadgets, and dinnerware. If you don't want to go overboard for the holidays, consider keeping your regular dinnerware, but mixing in some patterned napkins HERE (World Market is my FAV for these).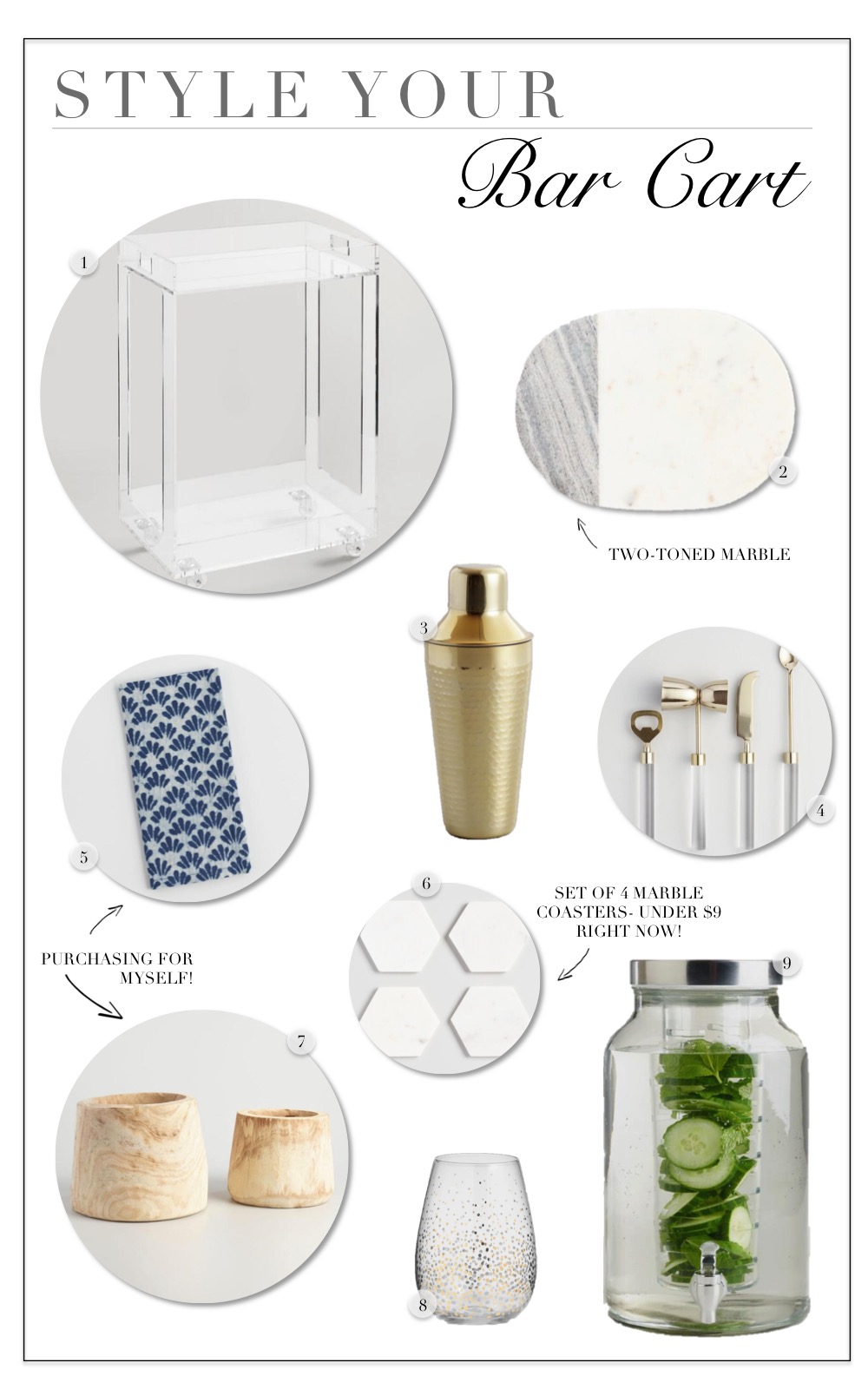 1 | 2  | 3 | 4 | 5 | 6 | 7 | 8 | 9
---


---
Curated Collection #2
I recently refreshed a little corner nook in my office and it made all the difference. Have an empty space in your entry? What about your bedroom? If you have a lonely little corner you've been putting off, it doesn't take much to take it up a few notches. If you're setting up an area in your bedroom, family room, or study, you can go a little crazy with the layers and cuddly stuff. If your looking to amp up your hallway or entry, keep it a little more simple 😉 Right now is a fantastic time to look at accent chairs – either as a pair or individually. At just around $180 this weekend, I wish I had room for 20 of these cuties.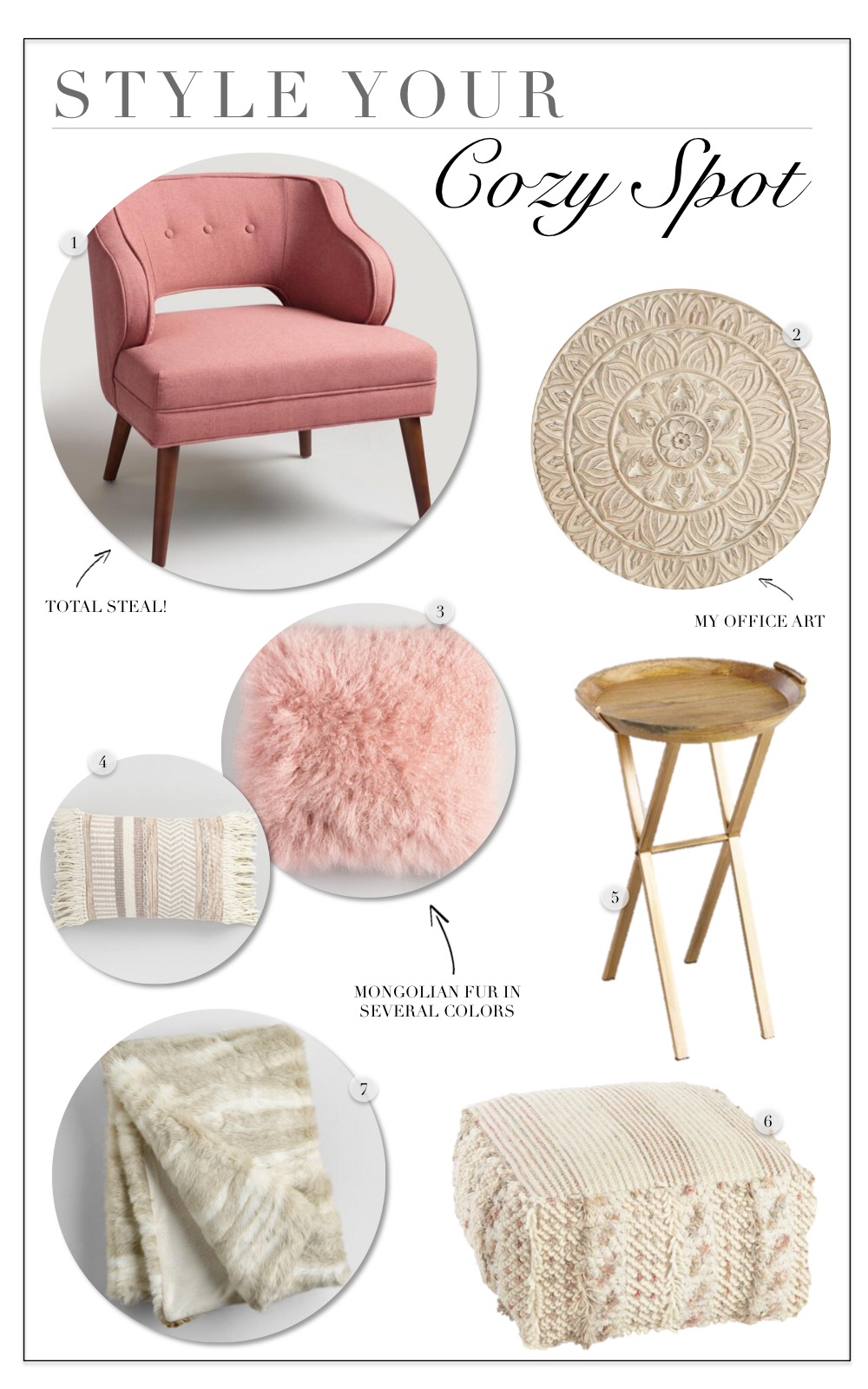 ---


---
Curated Collection #3
As much as I loved pulling my office together, you don't have to have a dedicated room to have established work space. You can get creative within your own home and keep your desk decor simple. A writing desk like the one below can look more like a console table if you keep all the "stuff" tucked away in the drawers. If you decide to set up in your bedroom, you can even let it serve double duty as a vanity area.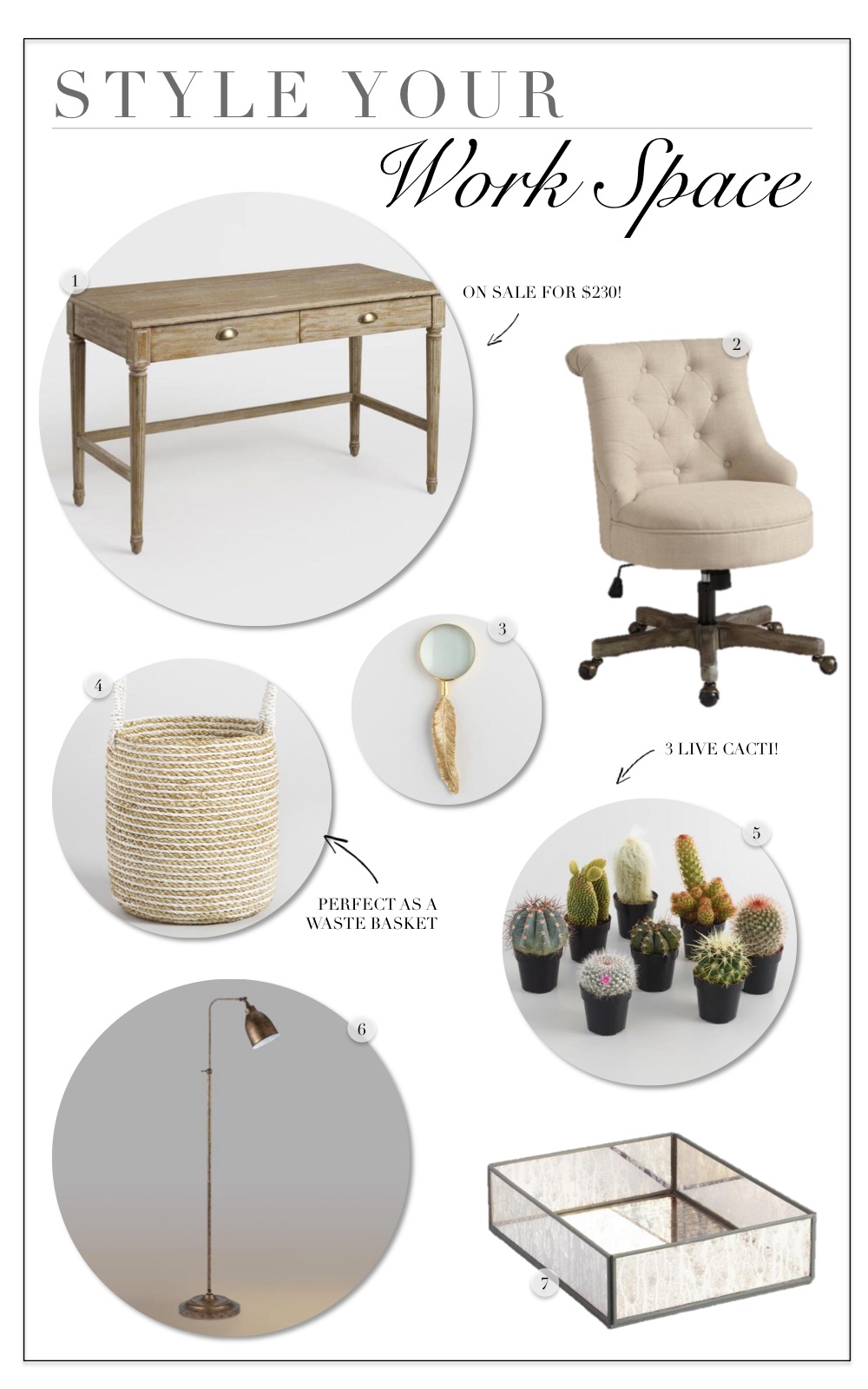 ---


---
My Personal In-Home Favs
Ok, you regular readers have probably seen most of these items 5678 times, but, I still get questions every day regarding the source of the things I feature. Because it's sale time, I thought I would pull a few images from my Fall Home Tour to show how a few of my favs are used in my home on a regular basis.

---
Curated Collection Sources

I hope you've all had a great weekend. We've been laying low, trying to recuperate from a bug we picked up on our travels last week. It never fails – whenever Dave catches something, undoubtedly, I start showing the same symptoms two days later. We've been taking turns being each other's caretaker but Dave definitely got the short end of that marital stick haha. Not because I'm bad – it's just that his MD skills are basically unmatched (except maybe unless you actually are a doctor 😉 ). He never lets you miss a round of meds, he makes the best grilled cheese (remember his recipe HERE?), and I'll go ahead and say it- he more than tolerates me being the pouty one. I'm also the one who won't sit still because "everything still has to get done!" Pouty and bossy… (Bless that man!) So, I did get further behind on some things this past week but, I think I'm gonna have a pretty good progress report for the One Room Challenge this coming Thursday 😉 If you missed the first week of my bedroom makeover launch, you can catch up HERE. And if you did miss it, that probably means you aren't subscribed to my email updates (which can be corrected by subscribing below 😉 ).