Today launches a brand new series on KELLEYNAN.com – inspired by you and brain-childed (I think I just made that word up haha) by that Mama Nan ;). Having featured mostly tables and meals for six+, I've received several requests for different types of table settings and ideas. What about more casual? What if you're hosting your boss? What if there are three of you? What makes the most sense while still maintaining a nicely "hosted" atmosphere? Enter the brand new series,  Dining by the Numbers. Each post in the series will have a number-appropriate (in order 😉 ) theme, covering vastly different dining and entertaining situations. Some will be centered around recipes, others- activities, table tips and hosting ideas. Starting at the beginning, first up in Dining by the Numbers: Flying Solo.
Let's be honest. how many of you eat at a table every night? I know there are those of you who do (I commend you!) but especially on nights where I eat alone, you can most likely find me perched on a bar stool, or eating dinner, lounged on the sofa. Ok, that's actually not uncommon, even when I'm not eating alone ;). On the most simple side of the spectrum, we have real, everyday life. Maybe you eat alone often or maybe only occasionally but I know the struggle of getting yourself fed, maybe even more so when you don't have to worry about feeding an entire family. Not wanting to dirty the dishes or having less motivation to cook can send you straight for the cereal (and that's totally ok in our house, on occasion). But, to really enjoy it, there are two (still simple) ways I like to prepare dinner for one.
In the south, we live, eat, and breathe casseroles. Especially when I lived alone, I loved to prepare a favorite on Sunday and eat on in throughout the week. Delicious and inexpensive. You can even prepare two at once and freeze one for later; as an extra bonus, you can take leftovers for lunch. But, if you aren't in the mood to really cook or eating alone is more rare of an occasion, one of my favs is the classic comfort food- grilled cheese and tomato soup.
*post contains affiliate links*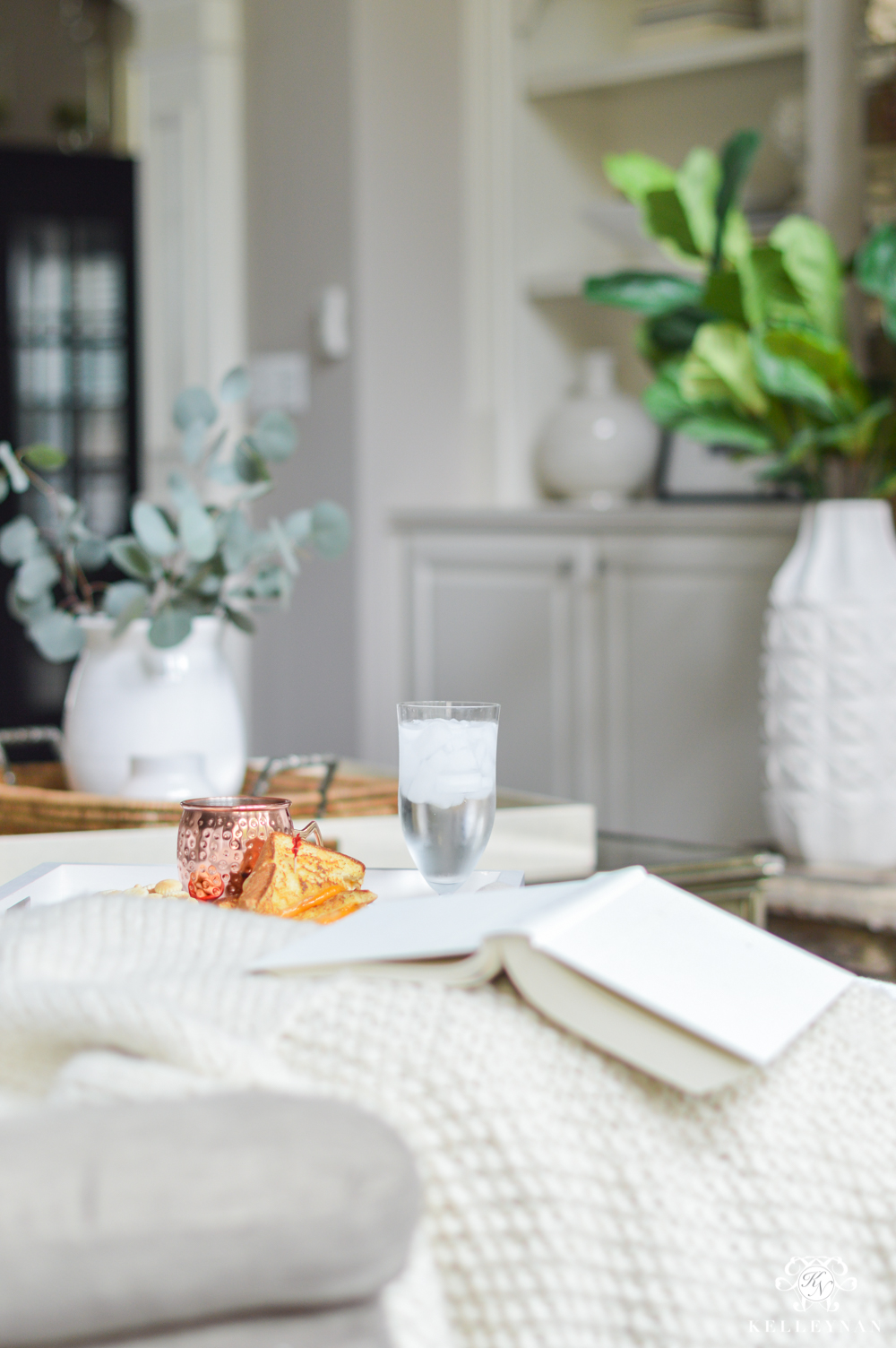 There's nothing revolutionary about that combo, but y'all, there's a reason the pairing has stood the test of time. I do, however, have two tips to elevate that infamous can of Campbell's (which I still believe is the best) and make that grilled cheese just a little more gourmet.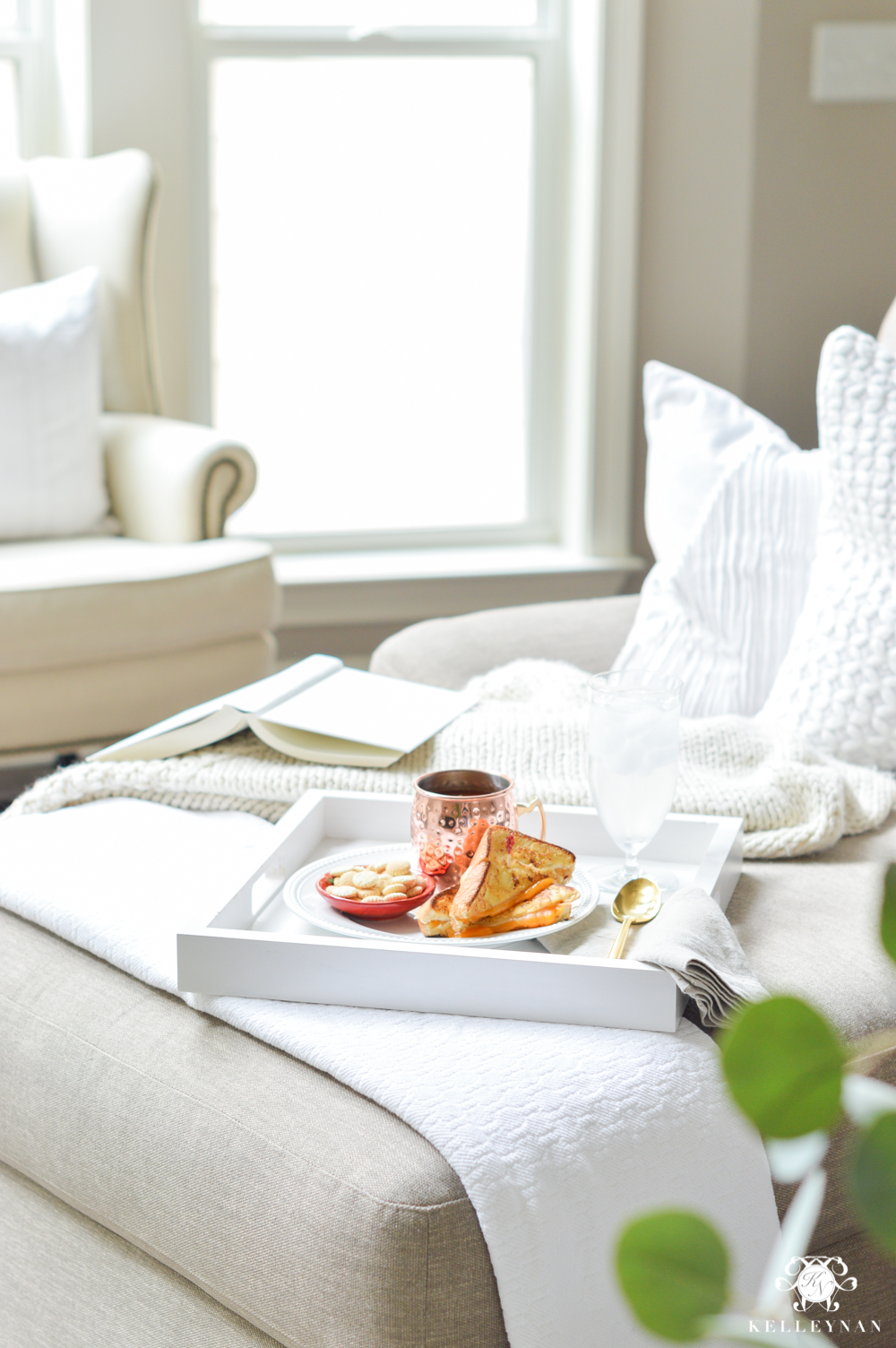 If you don't have a simple tray, I love this one – it comes in several colors and I use it all over the house.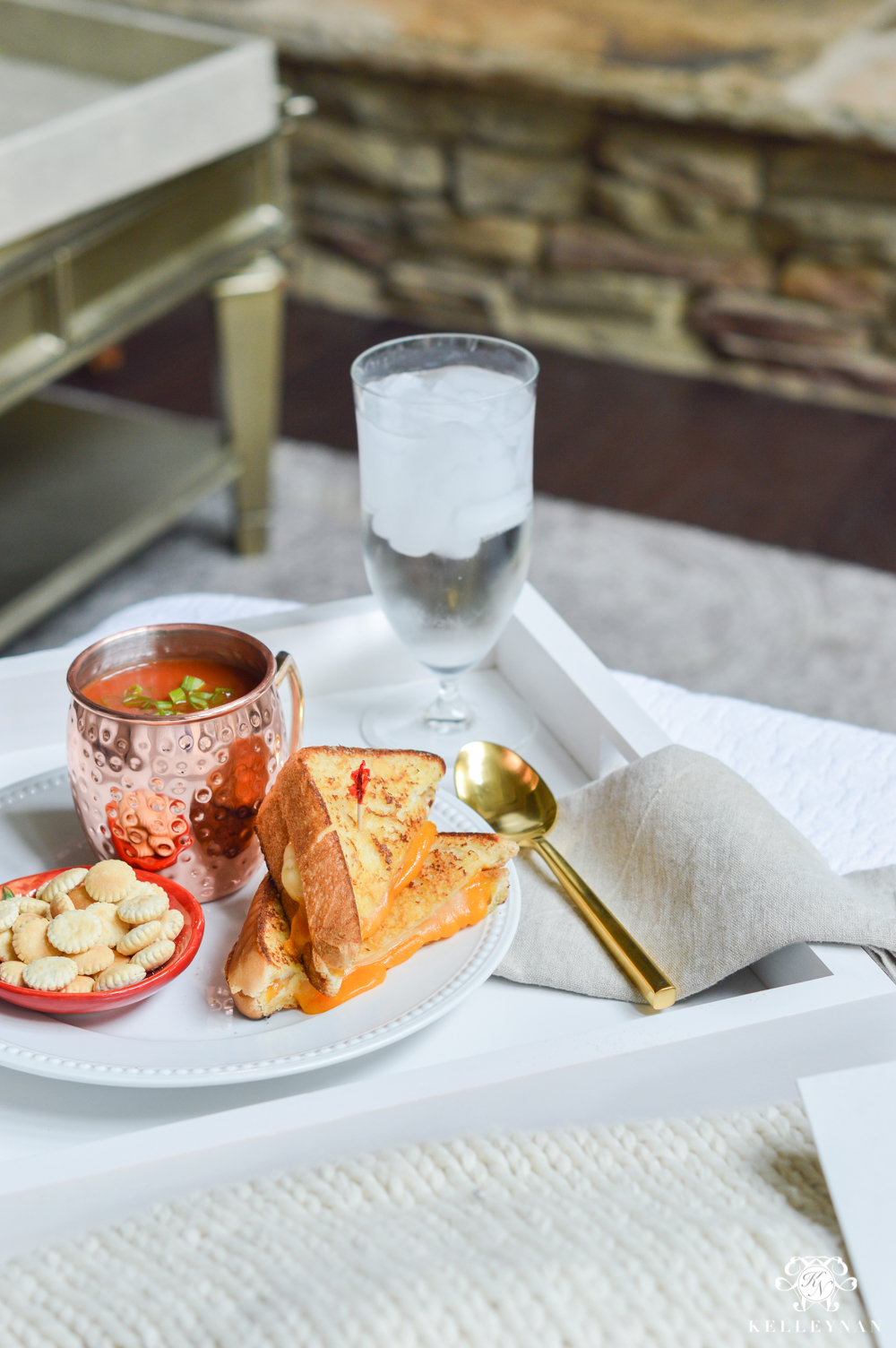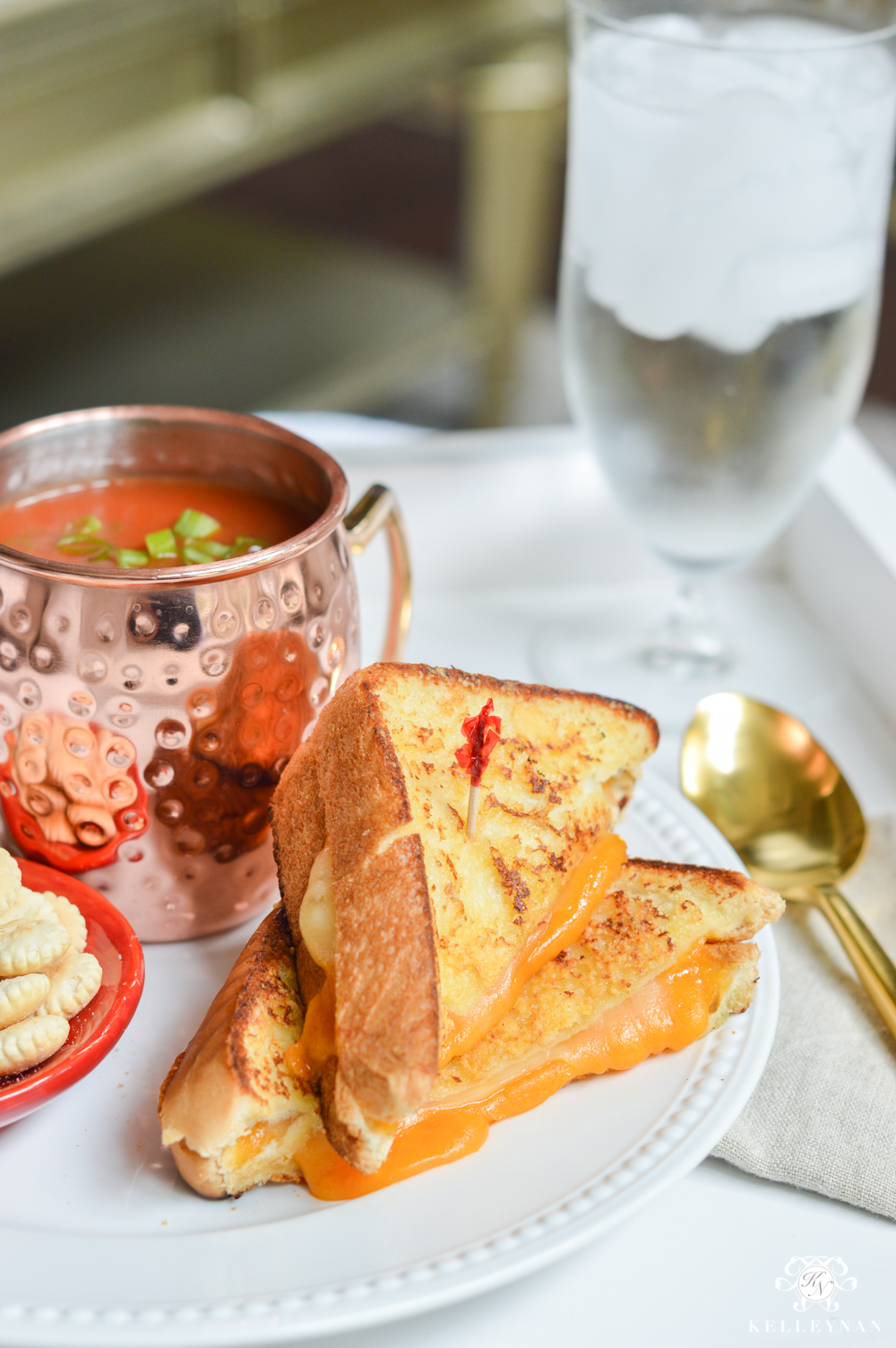 When Dave first made me a grilled cheese, it blew my mind. Beyond using something other than Kraft American singles I couldn't pinpoint what made it so different. Here it is. If you've never tried it before, put it on your list. After you butter the outside of your bread (PS: I always butter the bread instead of the pan), sprinkle it with parmesan cheese. It turns into a buttery, parmesan crusted sammy that is unmatched. Do you have a go-to cheese? One of my favs is a combo of pepper-jack and sharp cheddar. Lastly, if you want a more fluffy, plumped up grilled cheese, find the Texas Toast in the bread aisle ;).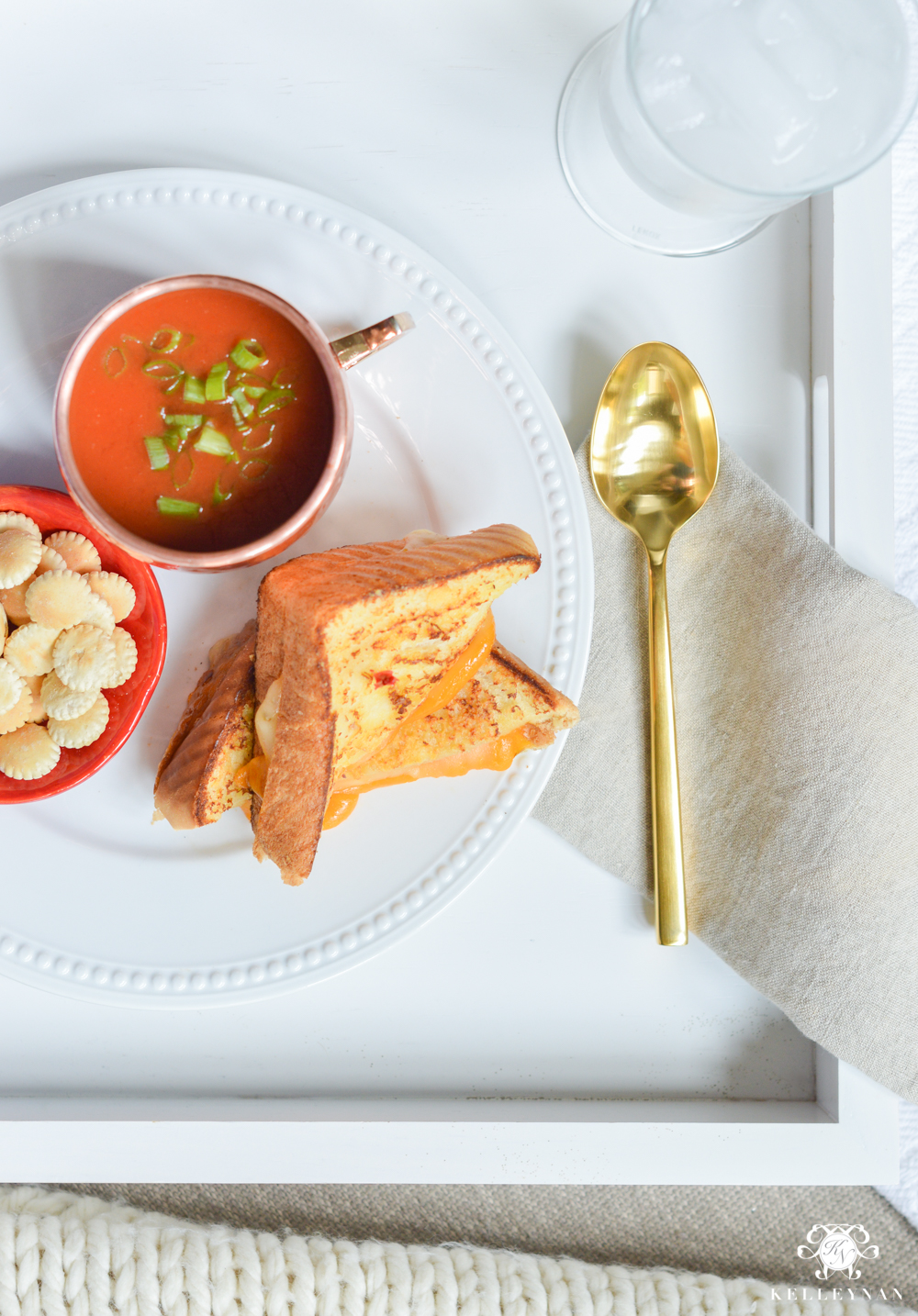 For the soup, I really hope you love Campbell's original. Yes, I know about the variety of tomato soups out there with more sophisticated flavor profiles but this will forever be a fav. I learned this little tip from Mama Nan years ago- after you pour your soup, add a little dash of Worcestershire and top with diced scallions. Just. Do. It. And, especially if you are cozying up sans sammy, pour your soup in a mug- tomato soup is so thin, you can use a spoon or drink straight from the mug.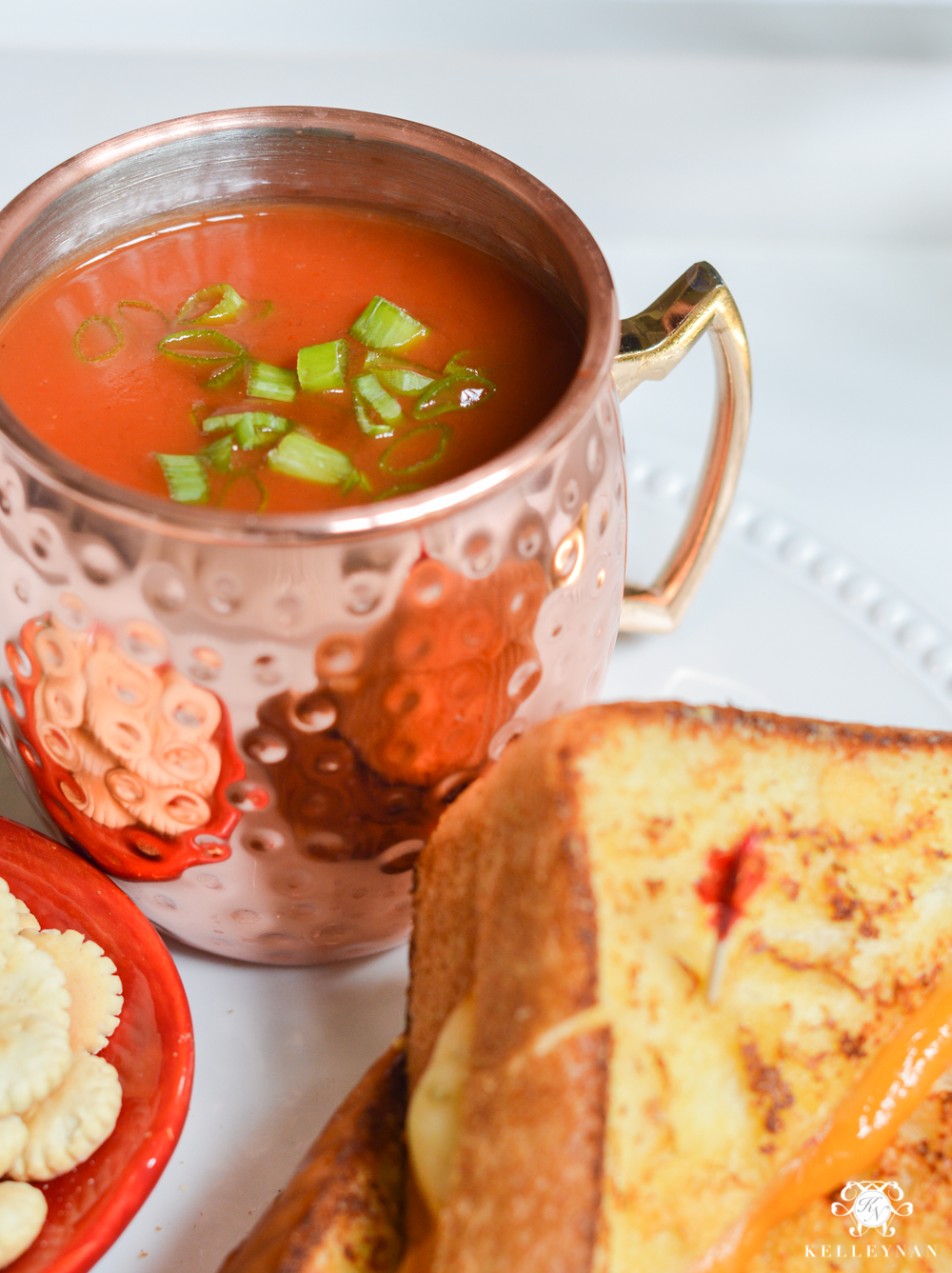 We also tend to gravitate toward those cute little oyster crackers in our house. I sprinkle them in as I go along so they don't get too soggy.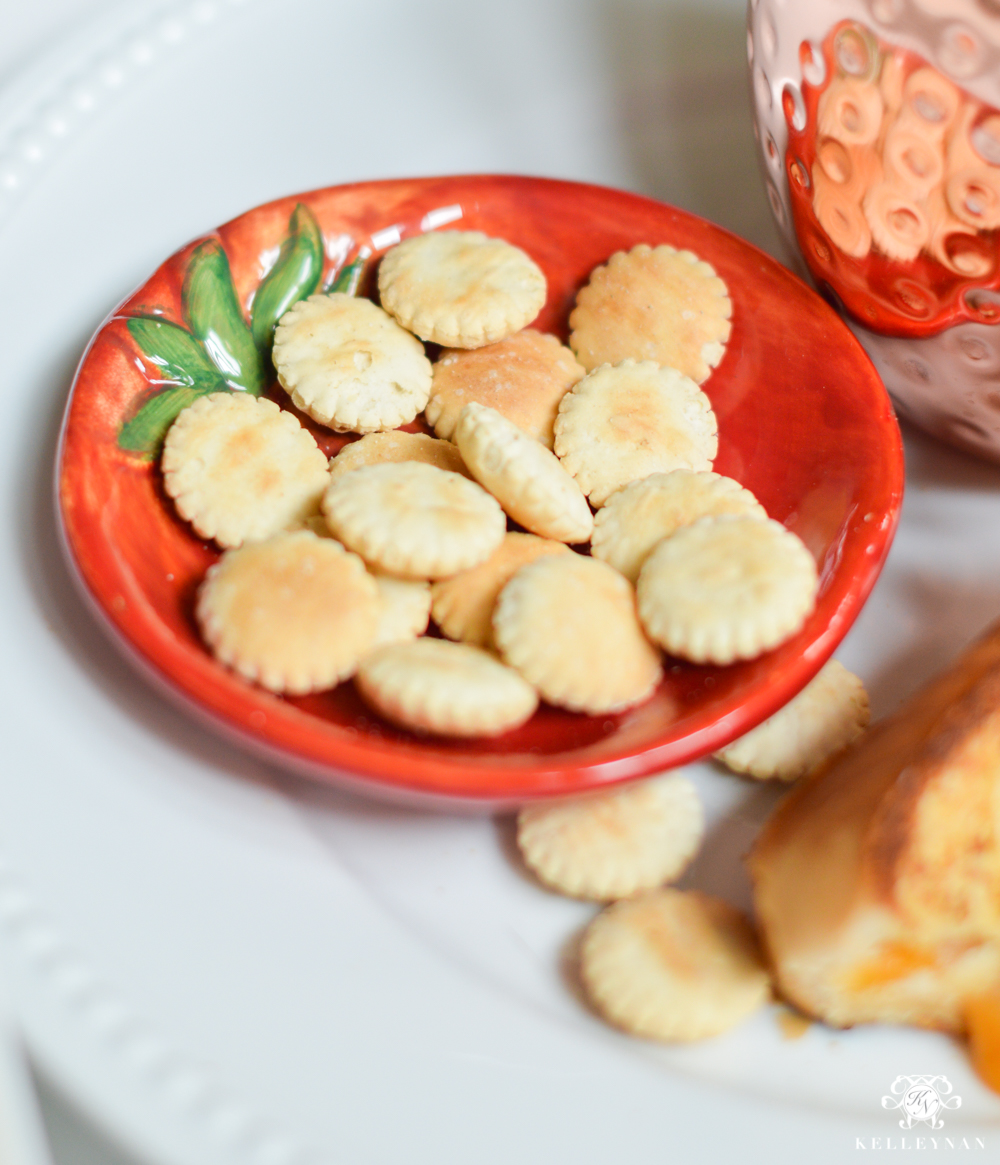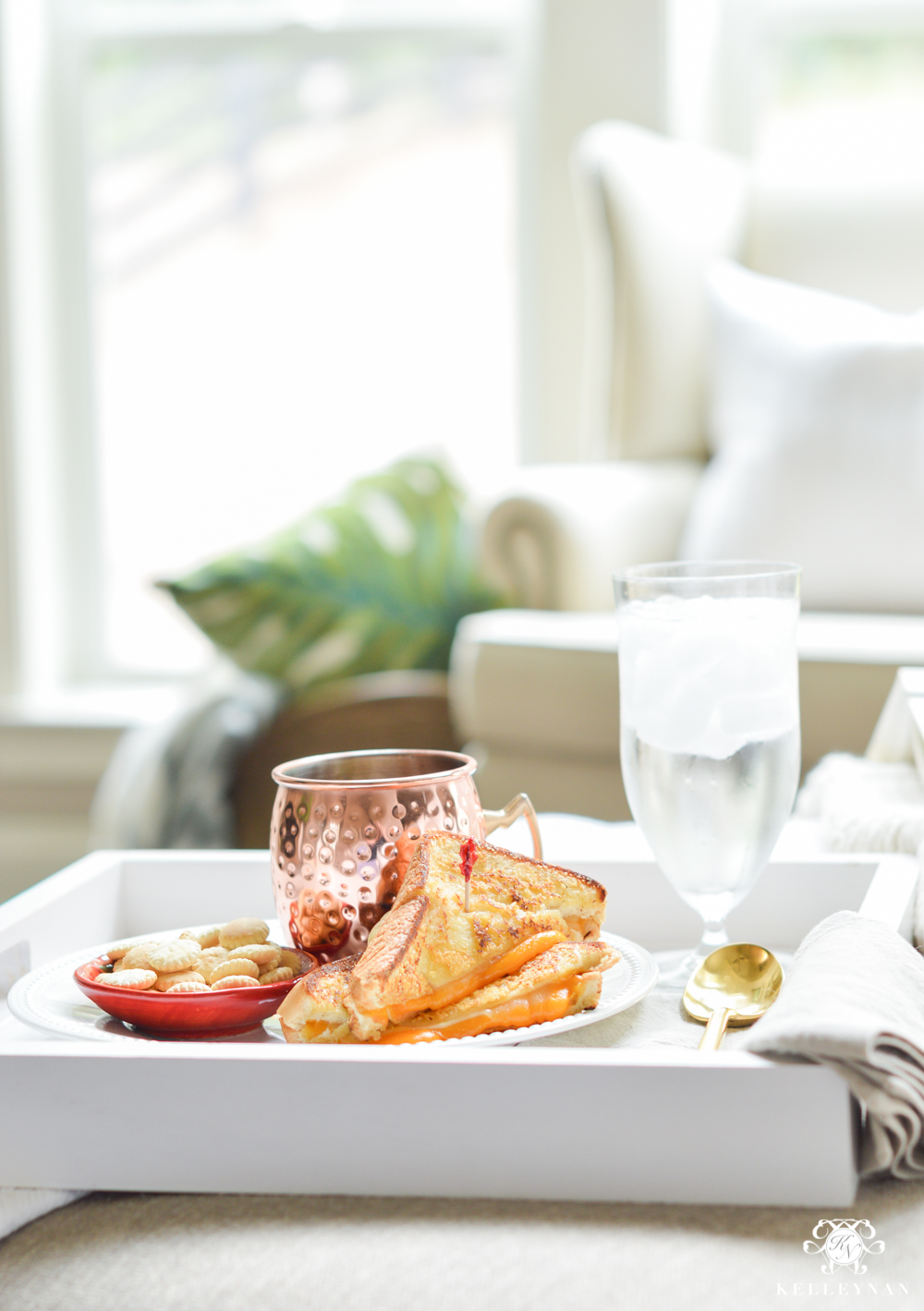 Do you have a killer grilled cheese? Let me know your go-to in the comment section below. How do you dine when you're alone? I love Chinese takeout as much as the next person but save the $20+ dollars and re-visit this classic go-to next time you have a night in with yourself.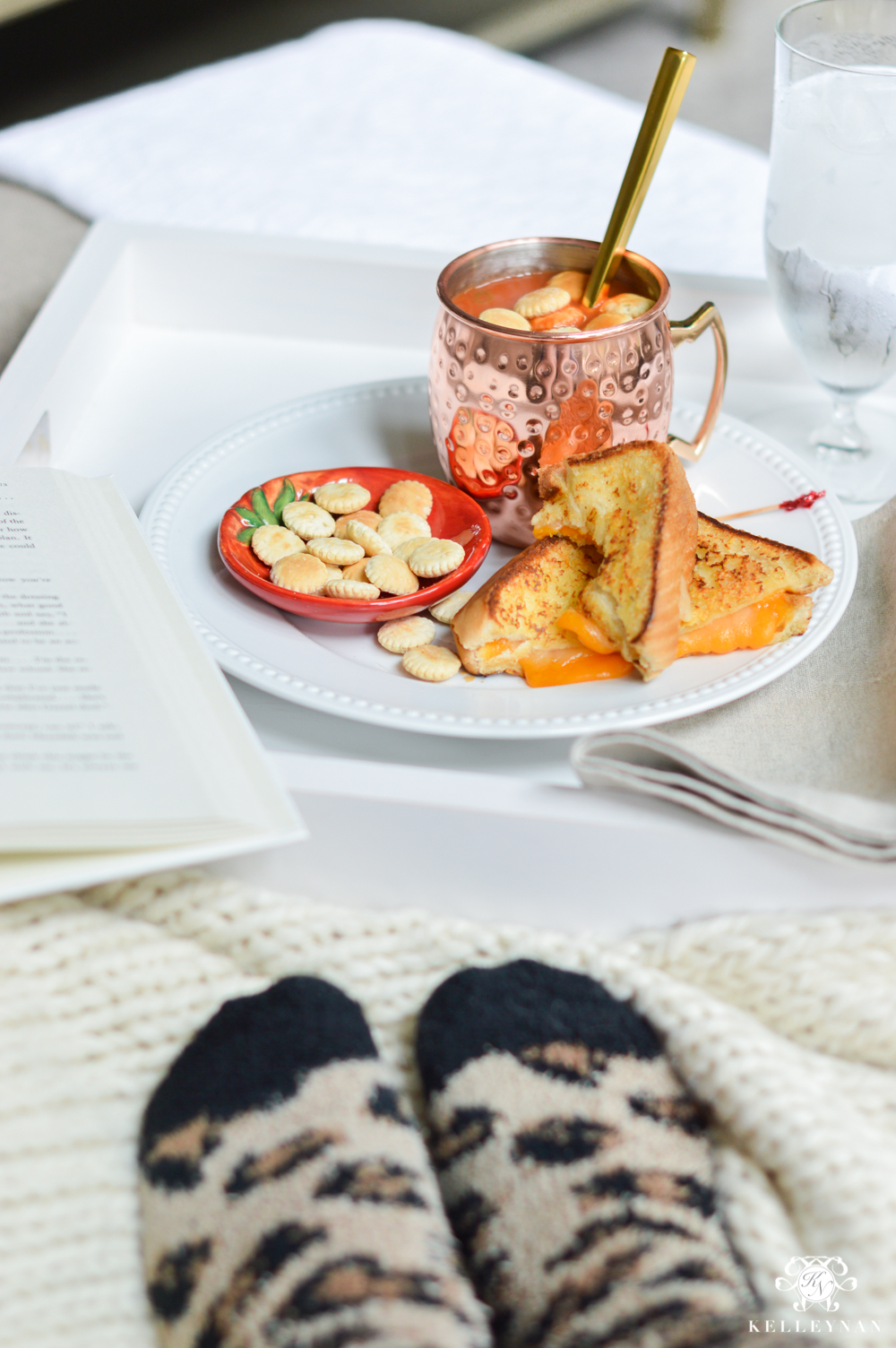 See all living room sources HERE.