If you're (at a minimum) a semi-frequent visitor, you've probably seen me roll my bar carts all around the house. Even though I've talked about how versatile they are, I don't know that I've ever showed how versatile they can be beyond entertaining. A few questions I am asked is "Where do  you store them when you're done?" and "What if I don't entertain a lot? Is a bar cart practical for me?" The answer to both of these questions is connected- especially when faced with small space constraints and lack of storage, you can store these in plain sight! What if you have a small foyer/entry? Or better yet, a small bedroom? You want to maximize storage and simple side tables, while size friendly, a surface top alone negates the opportunity for storage. A solution for all these? A bar cart nightstand.
Remember
this black cane beauty
that's made an appearance while I've entertained this summer? She is perfect outdoors (full post 
HERE
)…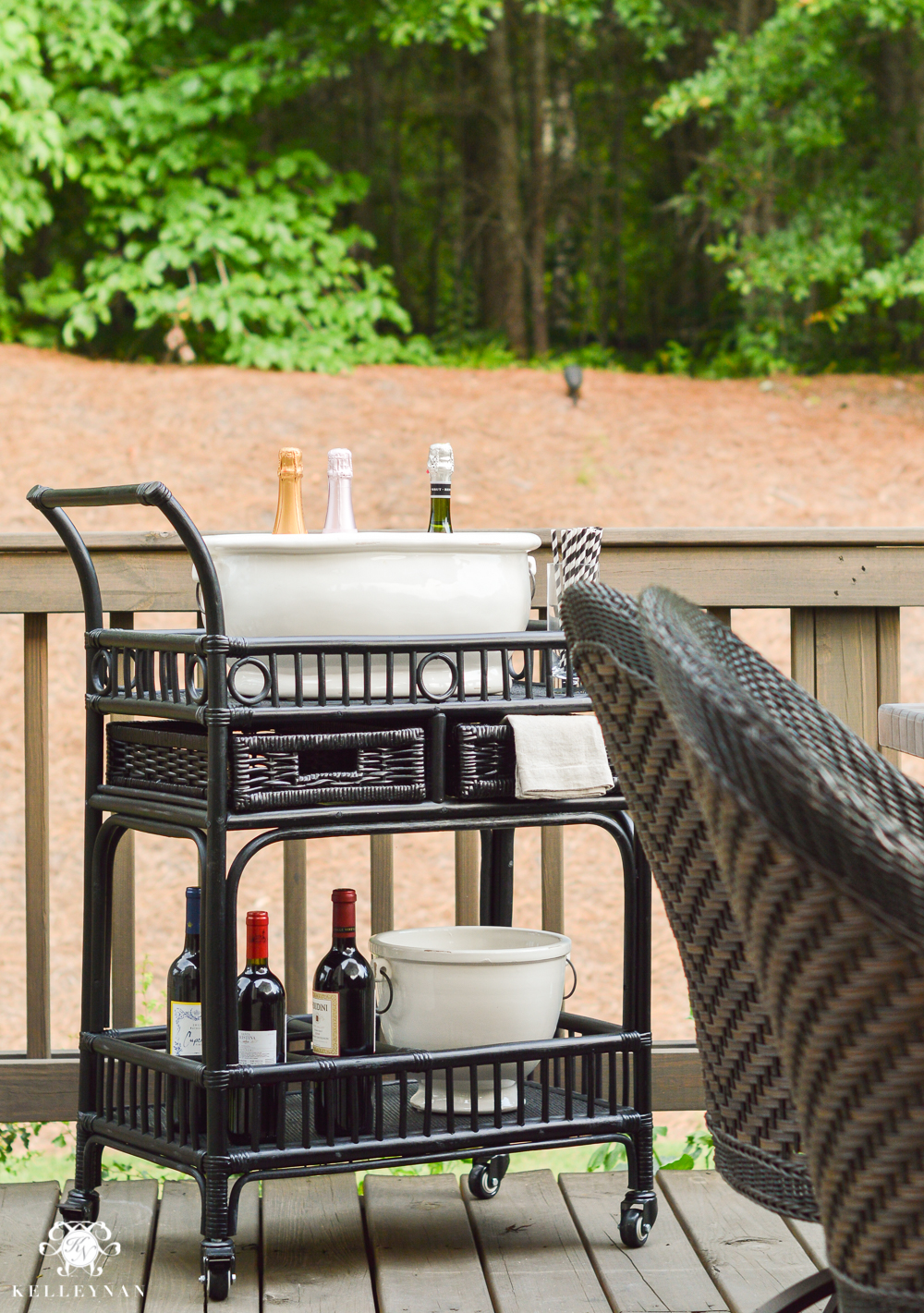 …and also indoors like when we hosted friends for the Fourth of July with a signature frozen cocktail (full post HERE).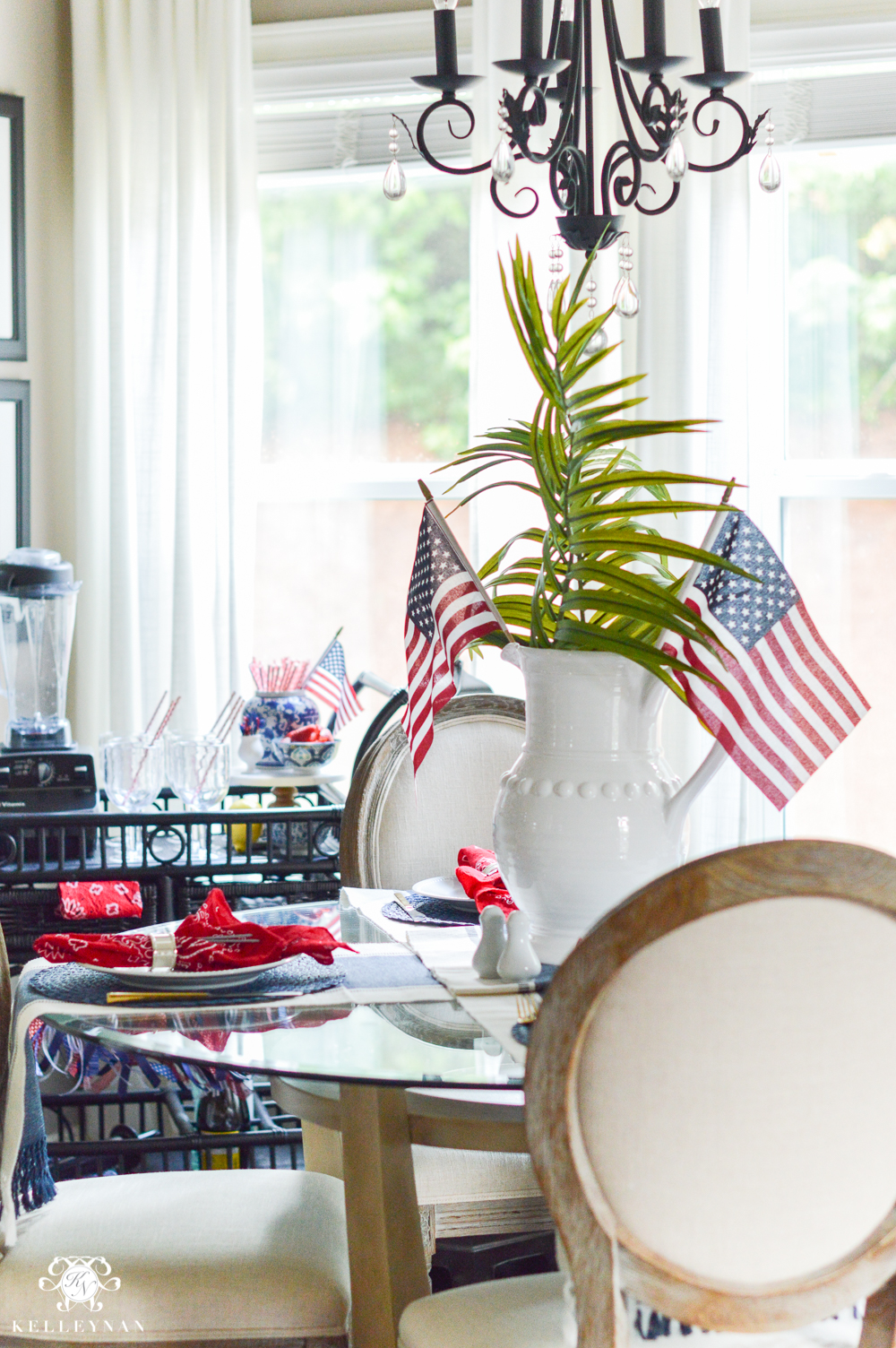 But with
THIS BAR CART
already in the dining room, I knew it would have to find a permanent home somewhere else- somewhere it could be used but "hidden" in plain sight. I quickly determined the perfect spot- our downstairs guest bedroom (aka "Nan's Room"). It is the smallest room of our three guest bedrooms and was home to "leftover" furniture. I had a small table that served no other purpose than to hold a table lamp. See?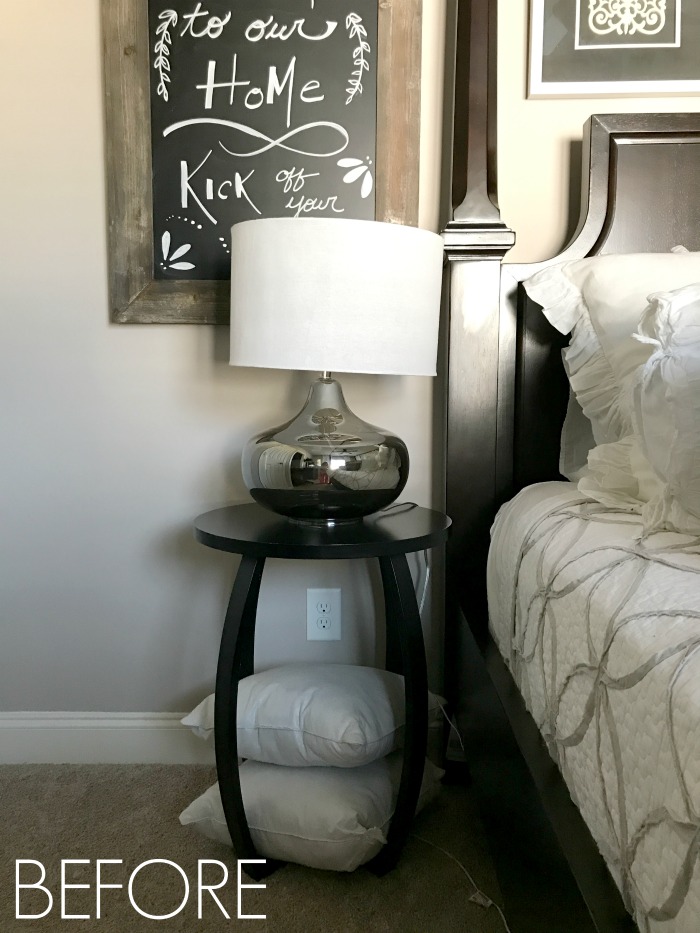 Not efficient and as a result, storing guest amenities was tricky. Fast forward to today. I figured out how to killed two birds with one stone! I officially have a place to store the bar cart when I'm not entertaining, and, I've added more storage to this tiny guest bedroom. Total win-win.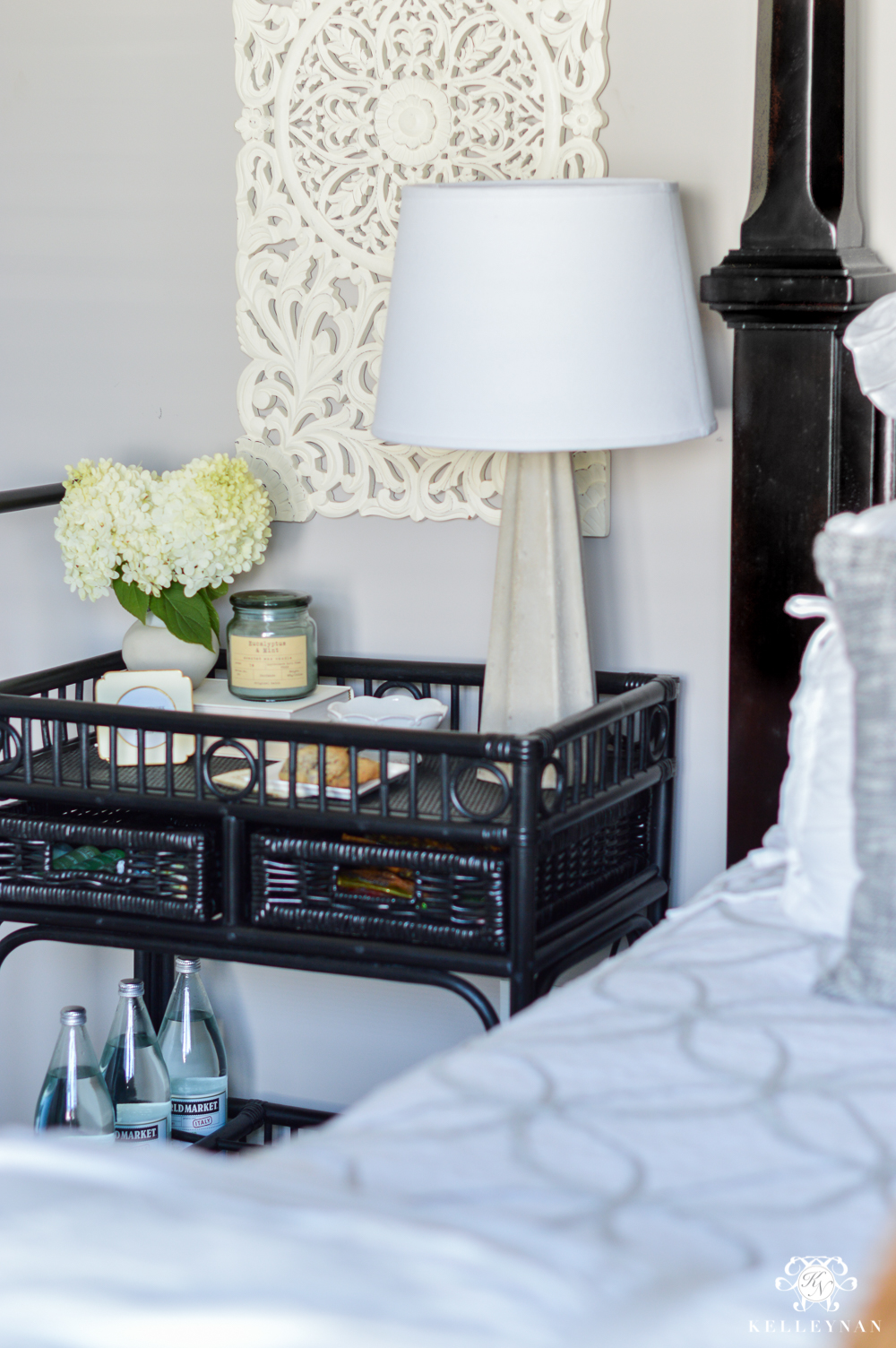 I loved the lamp that was in here before but needed something taller and slimmer to maximize surface space. This concrete base lamp worked perfectly.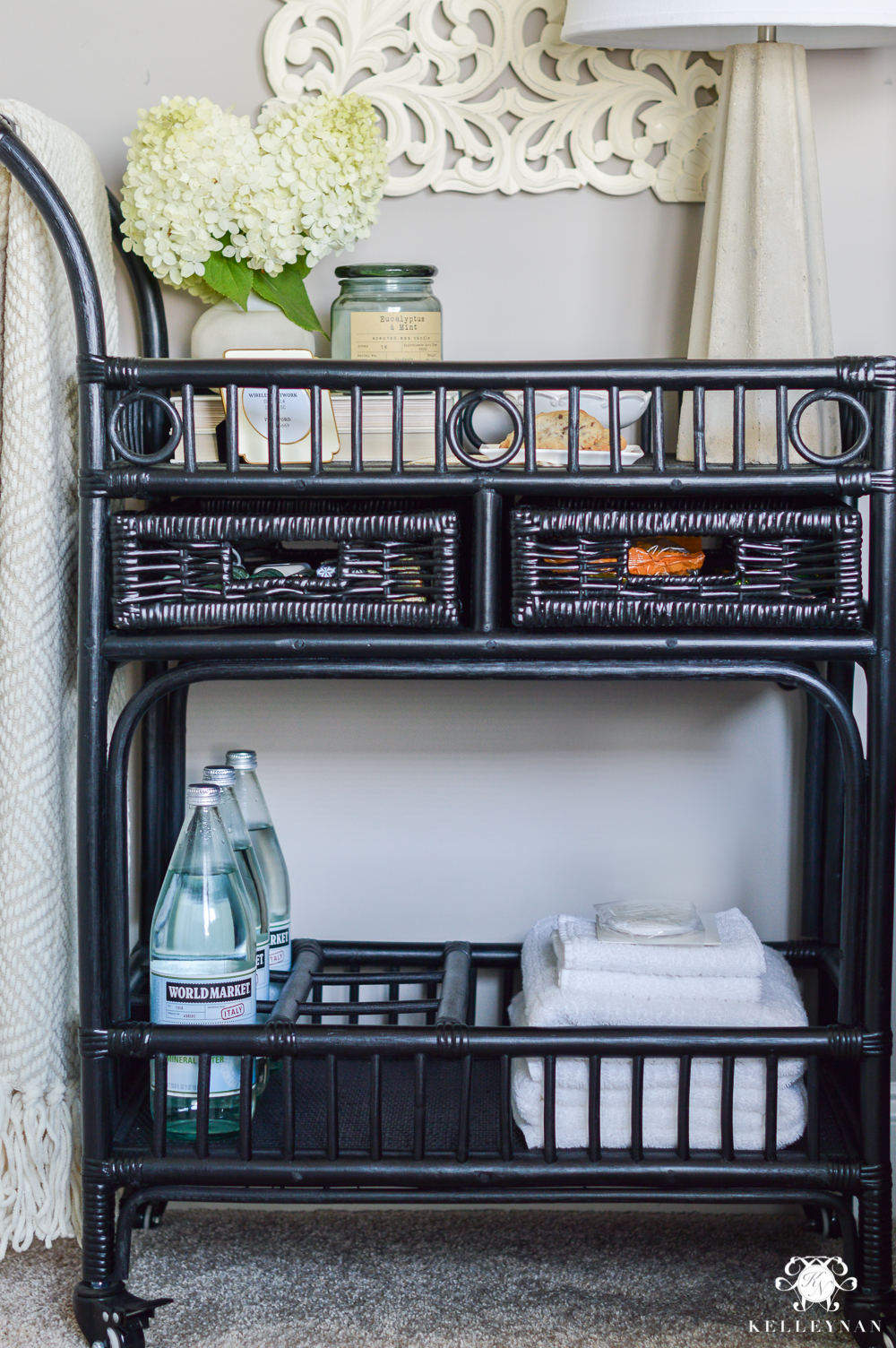 I won't go through all the guest essentials since I recently compiled a list of luxuries and essentials (HERE), but notice a few items I've since incorporated based on your suggestions 😉 This sweet bud vase is available in a few different shapes and is small enough to sit sink-side, but is substantial enough to hold big blooms like these limelights, cut from our bushes. It's also two-toned which makes it easier to use with grays/taupes/whites/colors, regardless of the shade.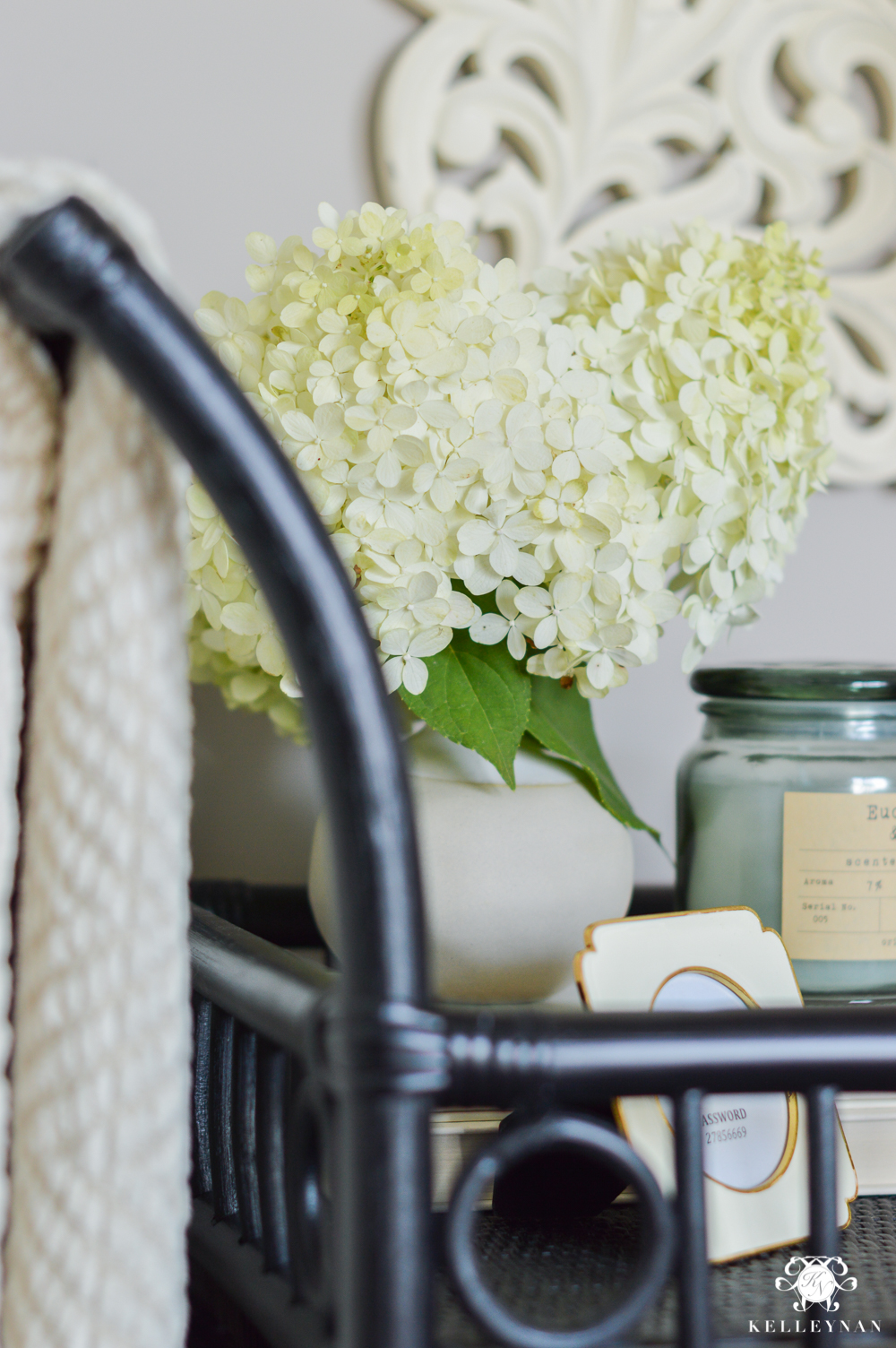 I always like to keep a small trinket dish available for guests to corral their jewelry/pocket items and this footed bowl is perfect for the occasion. I've been a volcano candle snob for a while, only deviating occasionally, but I'm now yearning to put these handmade eucalyptus and mint candles everywhere I need a fresh scent. Y'all, they are so good. They come in various scents but this is a fav if you love "fresh and clean". As a bonus, if you want to try before you commit to the larger size, the minis are only $3.99/each (HERE).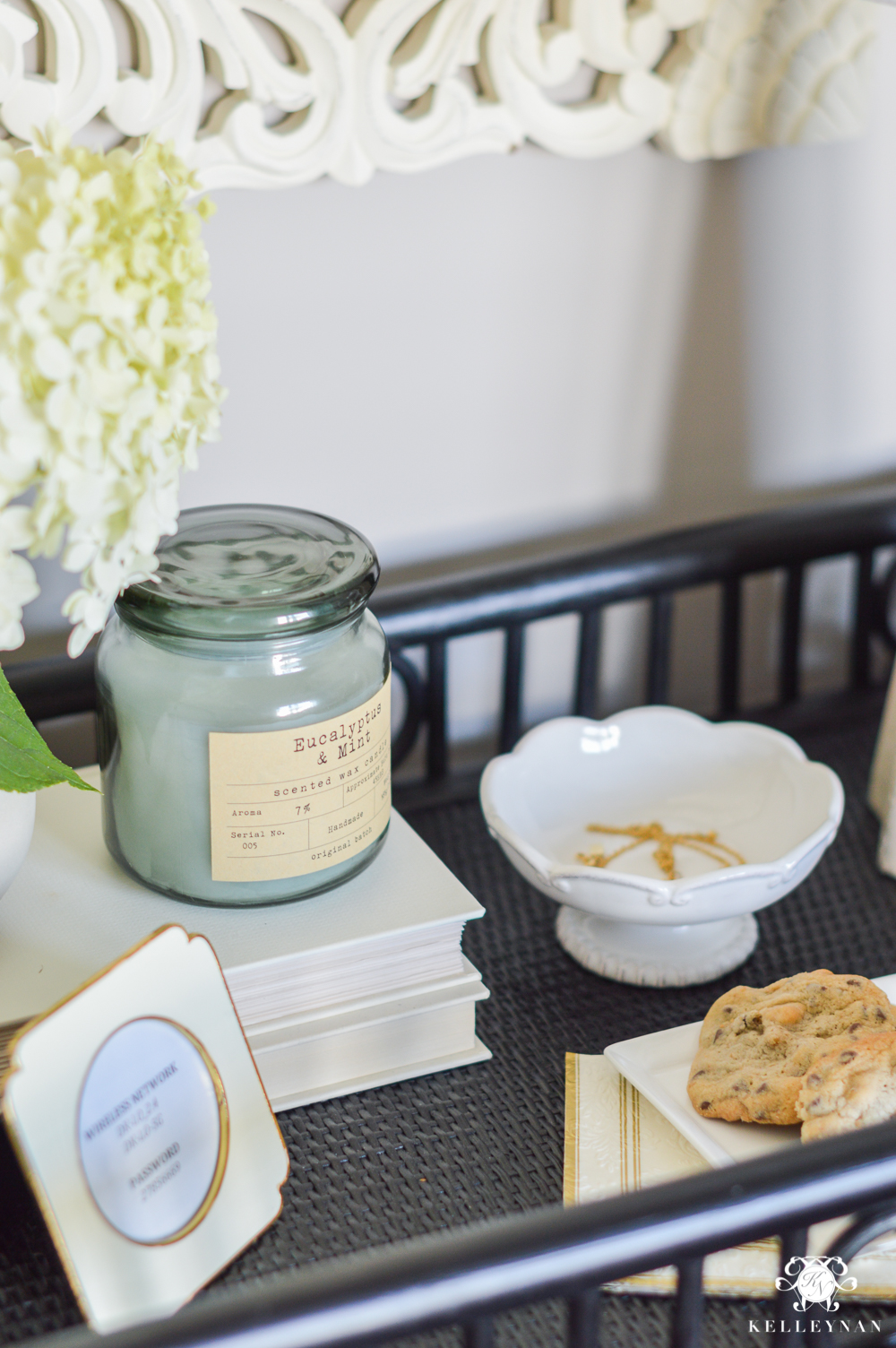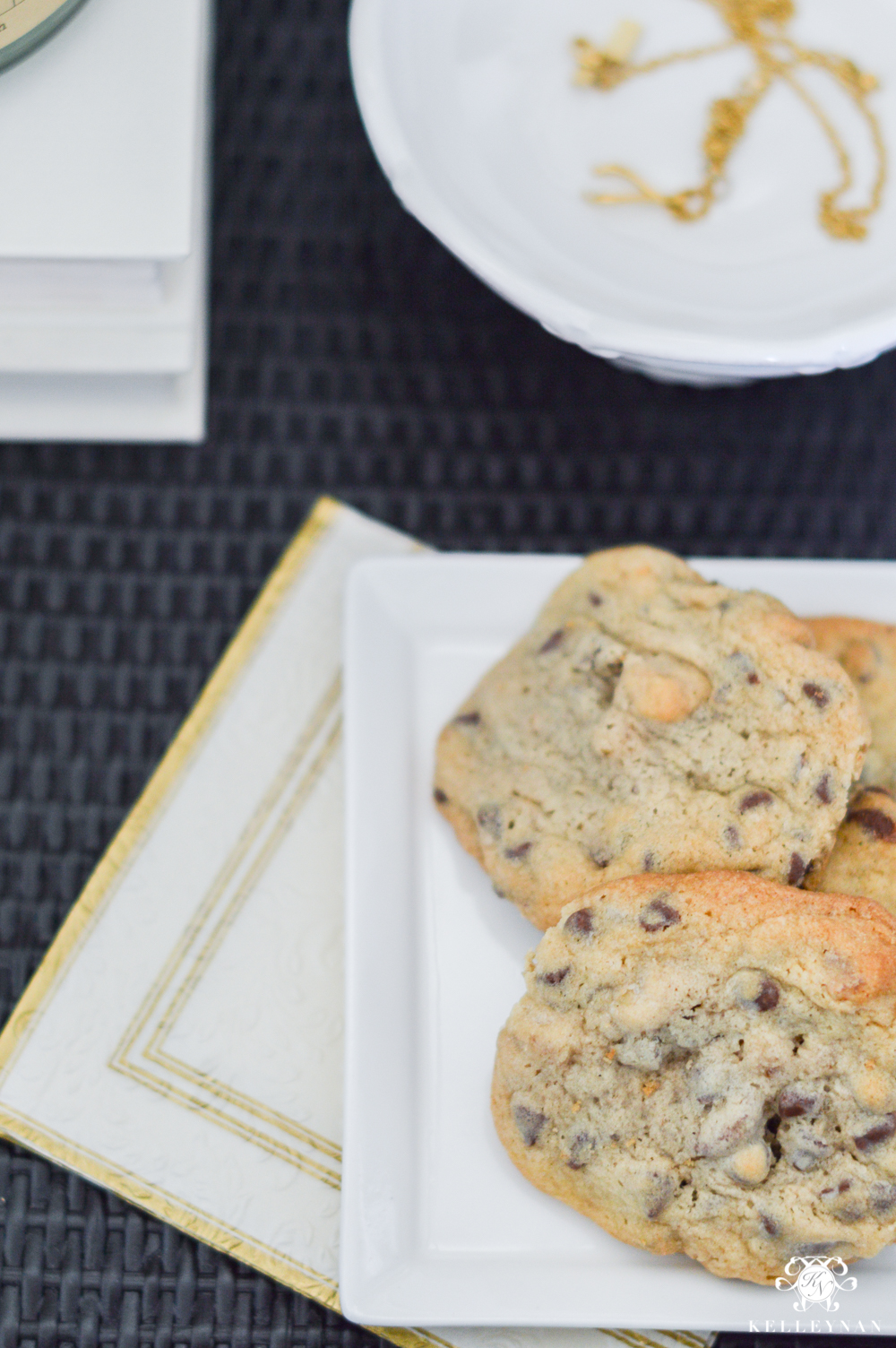 I have had our wifi password available to guests in the past, but not having found a cute (but small enough) frame, I always resorted to folding card stock temporarily. I think this tiny frame was made for brief guest info 😉 These frames are available in a set of three online (HERE), or you can find in-store at World Market individually.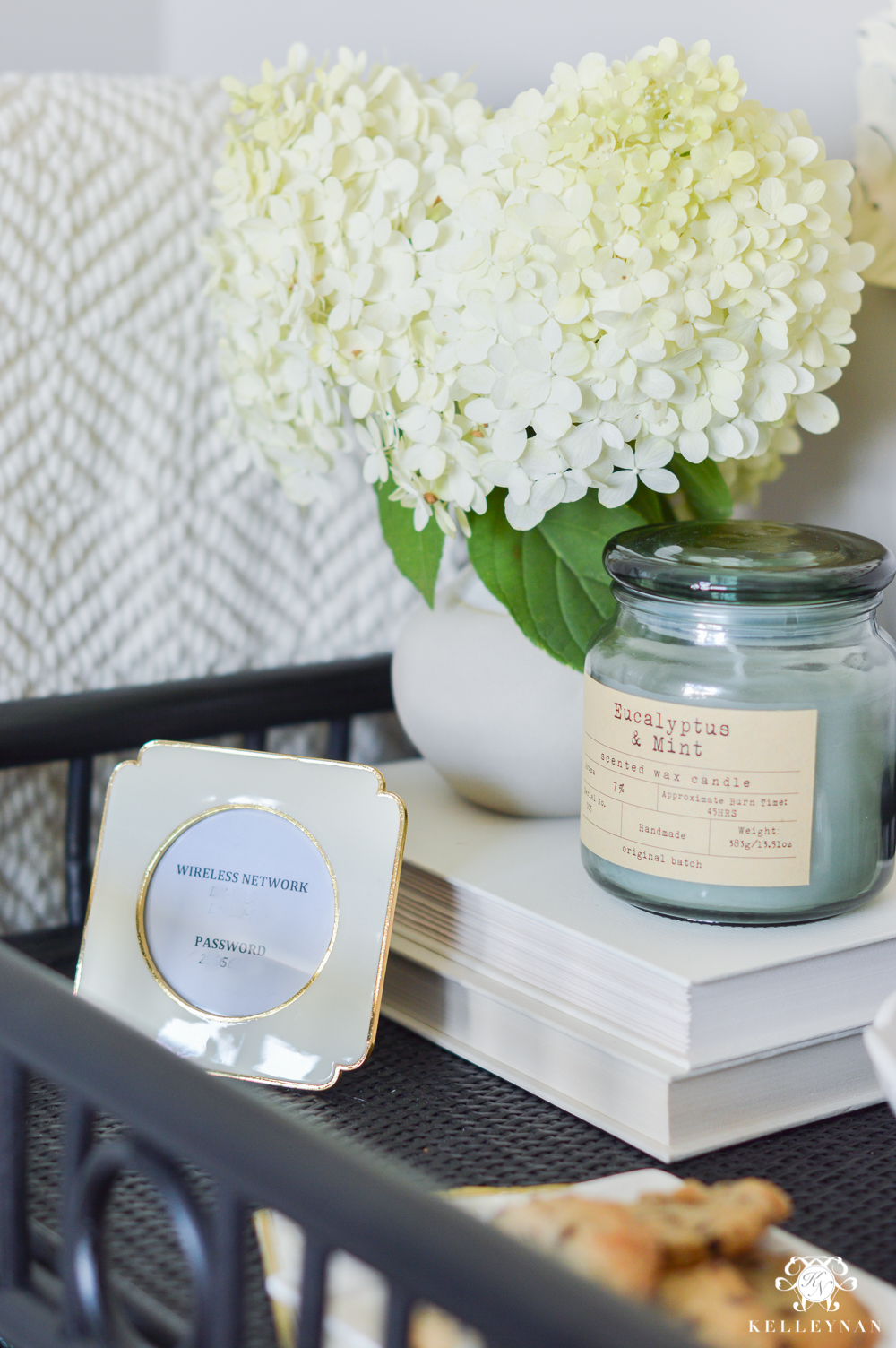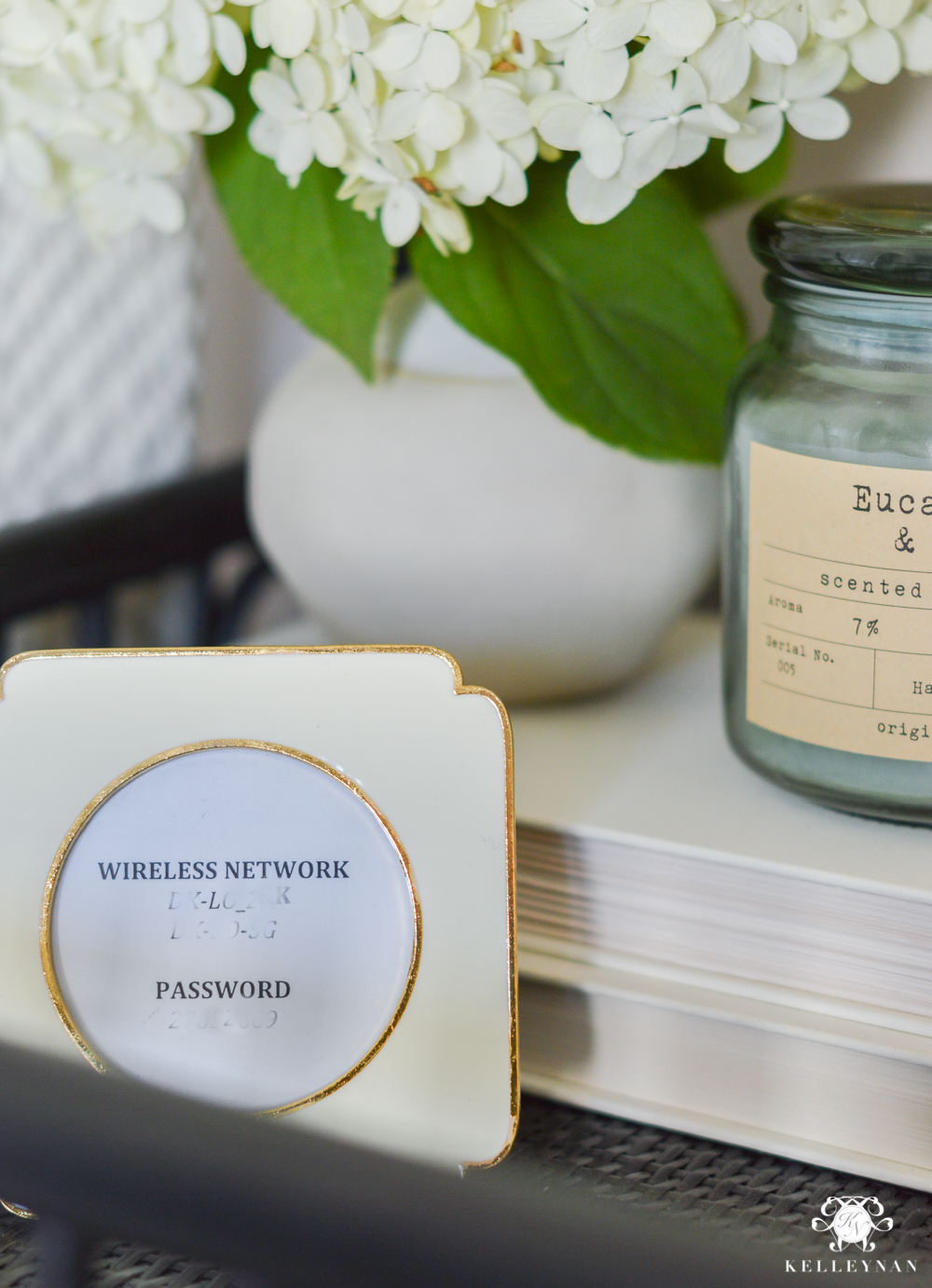 With the cart having two drawers, I dedicated one to snacks/candy (with a tiny notepad)…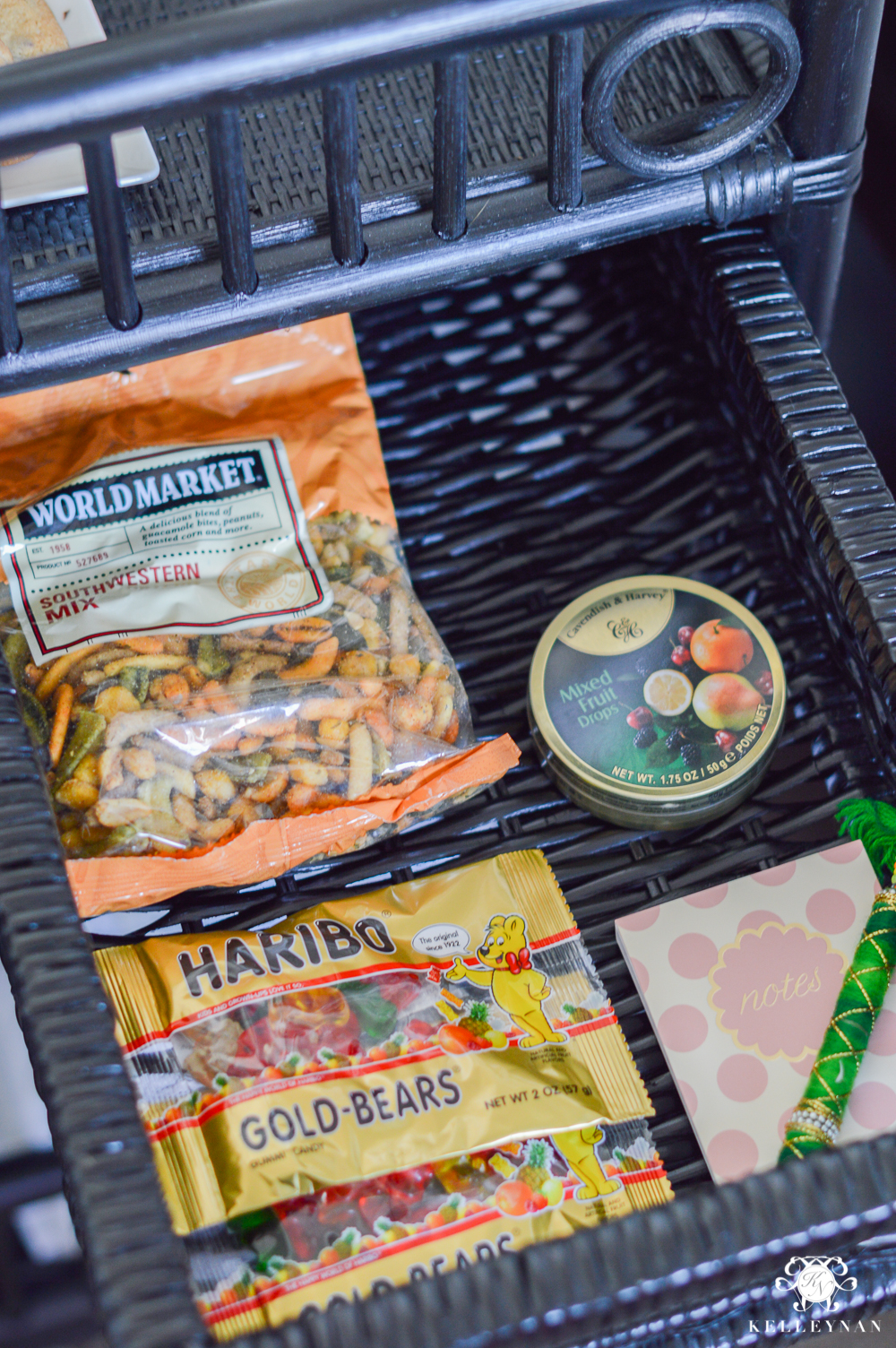 And one to bath essentials. I got this Magnolia hand cream specifically for my mom (the queen of magnolias 😉 ) but it's a nice touch for any guest. I love these mini luxury soaps too – a way to treat your guests without wasting huge bars of soap. If you have never looked for note cards, soaps, and bath luxuries at World Market, you're missing out 😉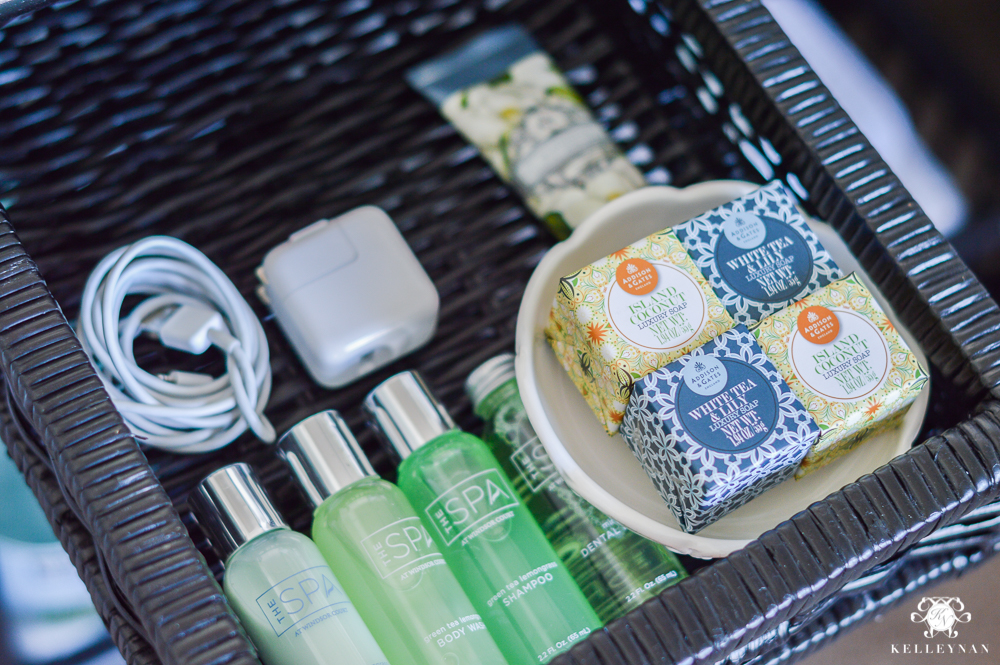 I stored guest towels on the bottom, along with waters.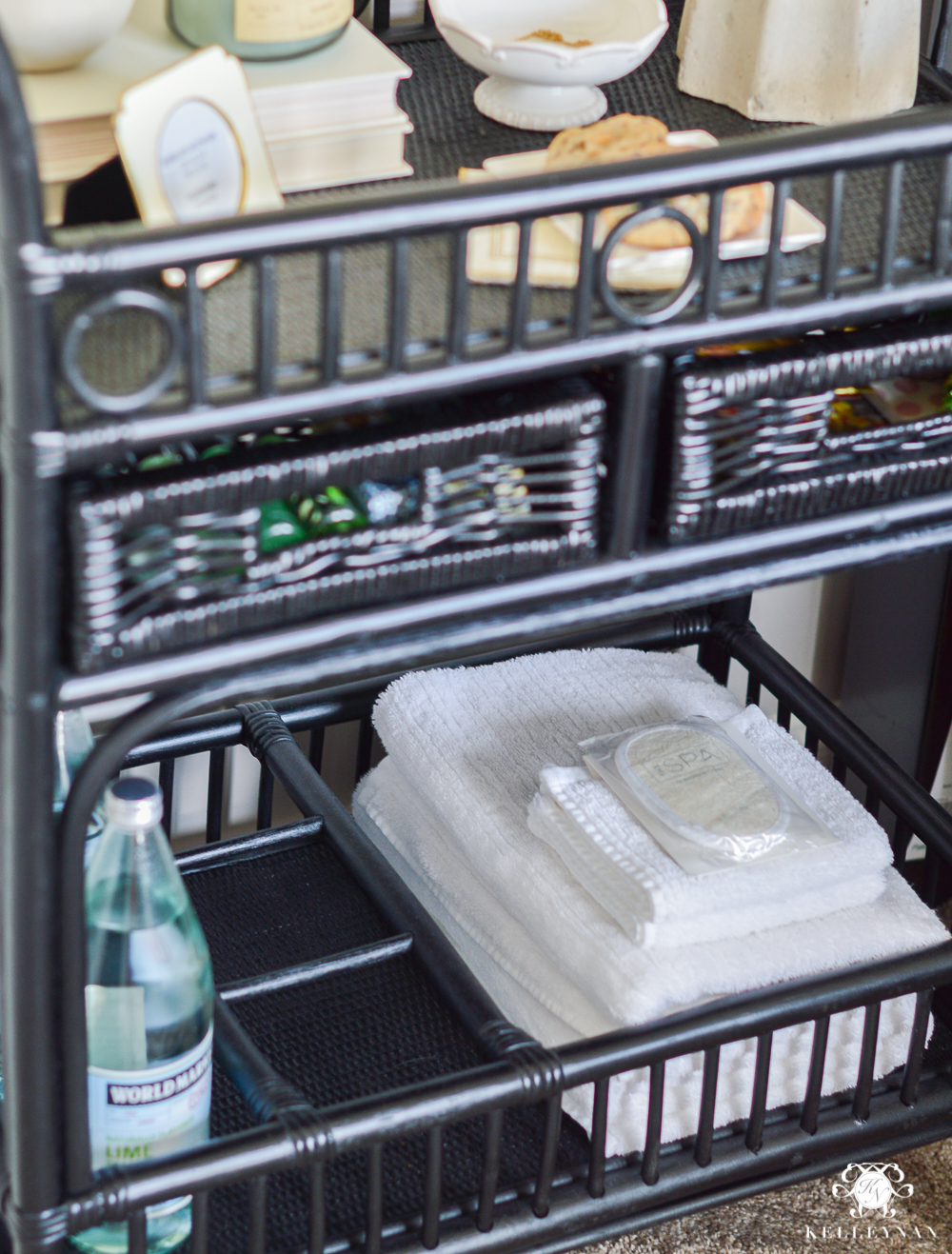 And the handle provides the perfect spot for extra linens/throw blankets.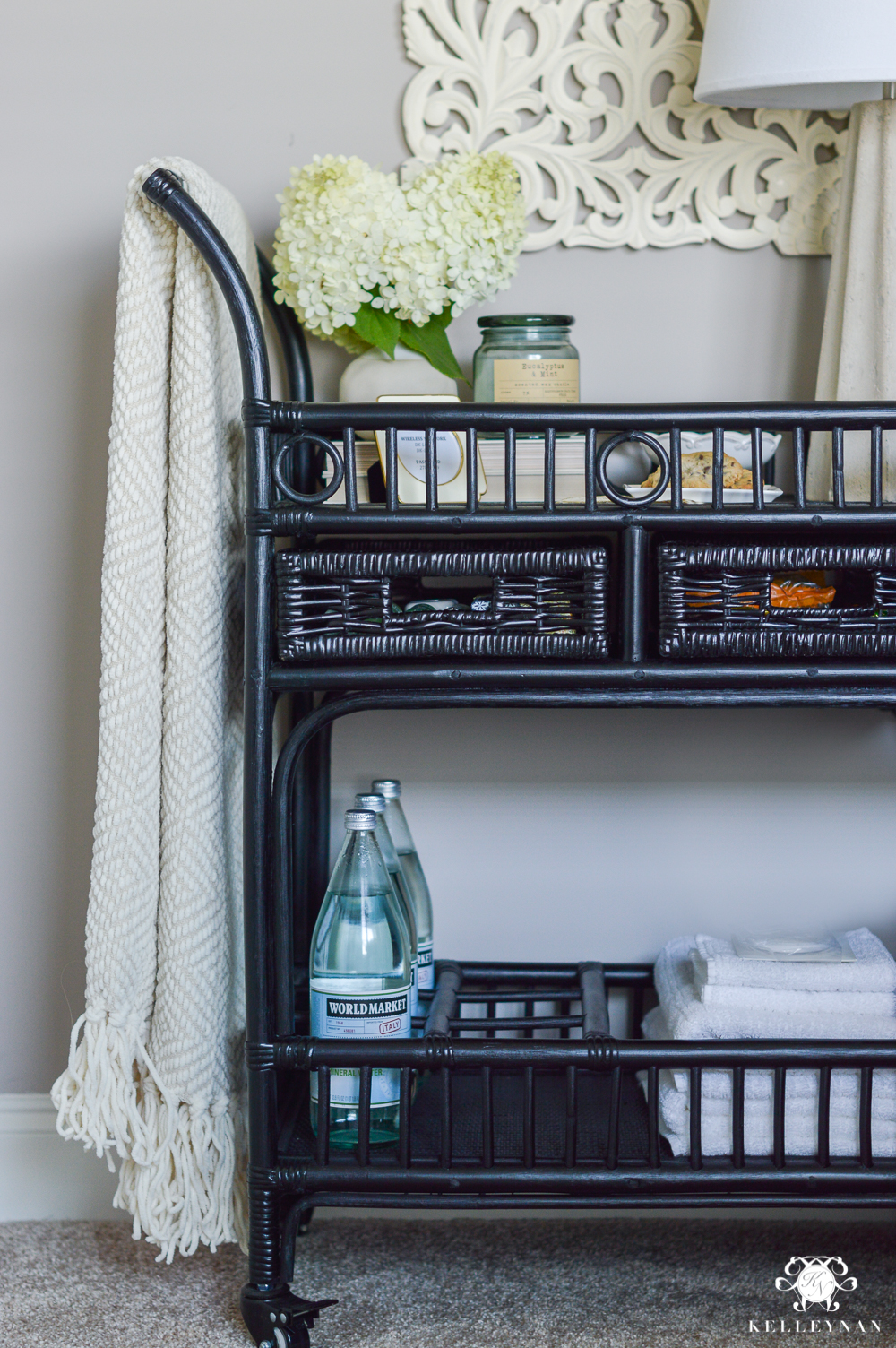 I believe
this bar cart
is currently sold out online, but right now, in store, it's on super sale for under $100. Here are a few other bar cart options that would work beautifully serving double duty.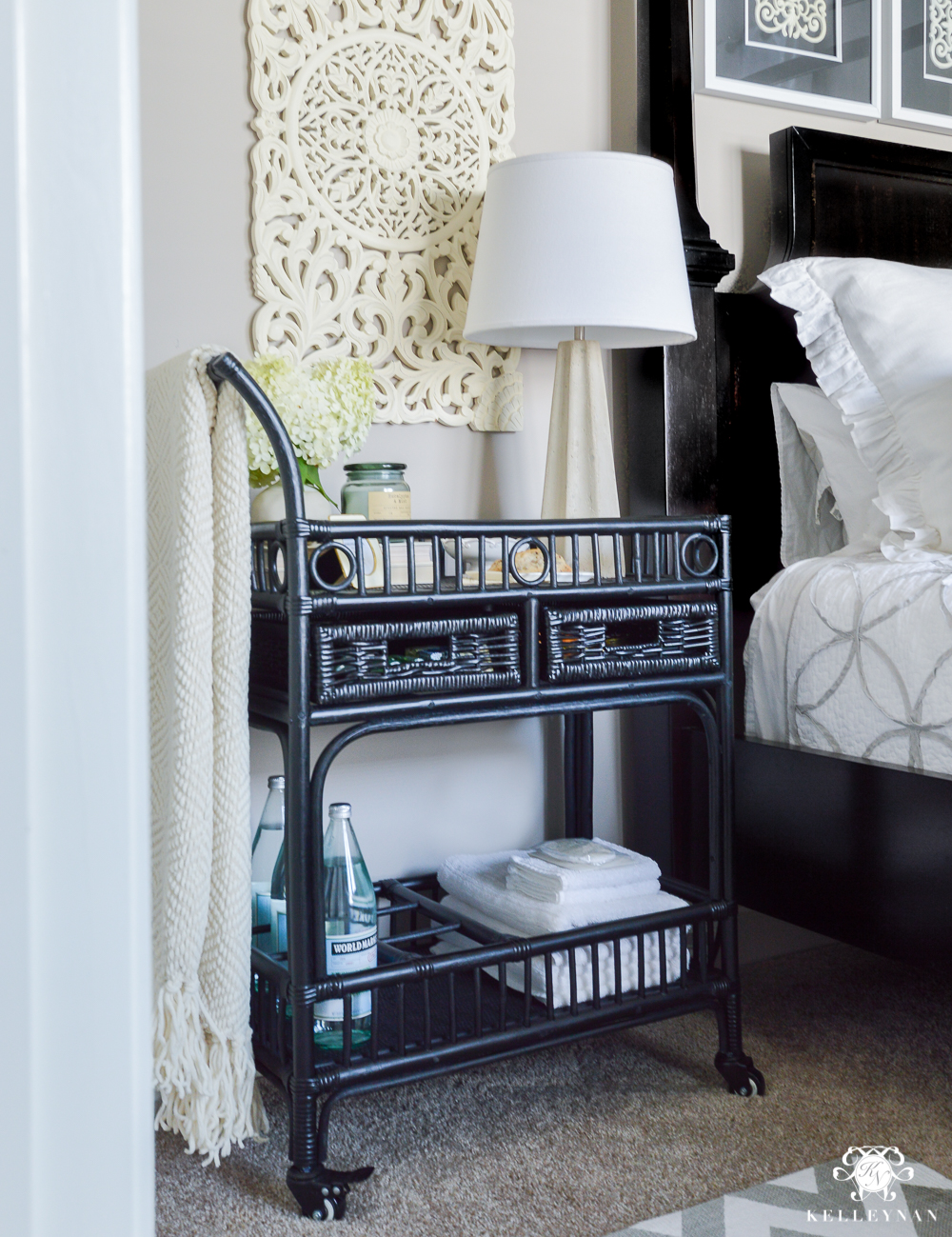 So tell me. Have you ever used a bar cart as a more permanent piece of furniture? Let me know how and where in the comment section below!
You can see some of my other favorite bar cart looks HERE.