Friends, I am writing this Week 5 update from 35,000 feet in the air, on our way to New England! Honesty, I had planned to have my progress report finished before leaving Georgia, but you know- settling all the "leaving things" turned into a much longer process than anticipated. It always does. Once you have packing squared away, all the sudden you have to make sure all dishes are done, bills are paid, there isn't a piece of laundry in the hamper, etc. etc. haha. But, for the first time since in years, we are flying on a half empty flight – I didn't know that still happened! I thought crammed and over-sold was the new norm of the 2010's but here we are, one seat between Dave and I with more arm room than I know what to do with. I may just order myself a mimosa to celebrate 😉
*Post contains affiliate links. For full disclosure, click HERE*
If you missed the first four weeks of progress, you can catch up on the project here:
WEEK 1 | WEEK 2 | WEEK 3| WEEK 4
MASTER BEDROOM MAKEOVER PROGRESS
Originally, I would have had to wrap up the bedroom makeover in one day, following our flight home. Could I do it? Maybe. But pulling off multiple assemblies (I'm looking at you, bed), and still lacking a few items (I'm looking at you too, rugs), it would not have been pretty. I'm thrilled for the extra week – I had also announced I have another mini-room makeover coming the two days before the bedroom reveal; that room will have to be put together in almost its entirety in less than two days haha. Plus, I just realized I'm actually behind at getting ahead for our "Christmas magic". Y'all, there is a lot coming so if you don't already, you can subscribe to receive my email updates at the bottom of the post; it's the best way for us to stay connected 😉
Ok, so let's talk about the things that have come together over the past week.
Here's a peek of the pillows I'll be using throughout. They are so so good. The quality is killer and, they are super affordable. I know that red is almost like "who am I?!" but I think with it being the single bold color statement in the room, plus, kind of driving those fun patterns home, it will be more understated than it may look 😉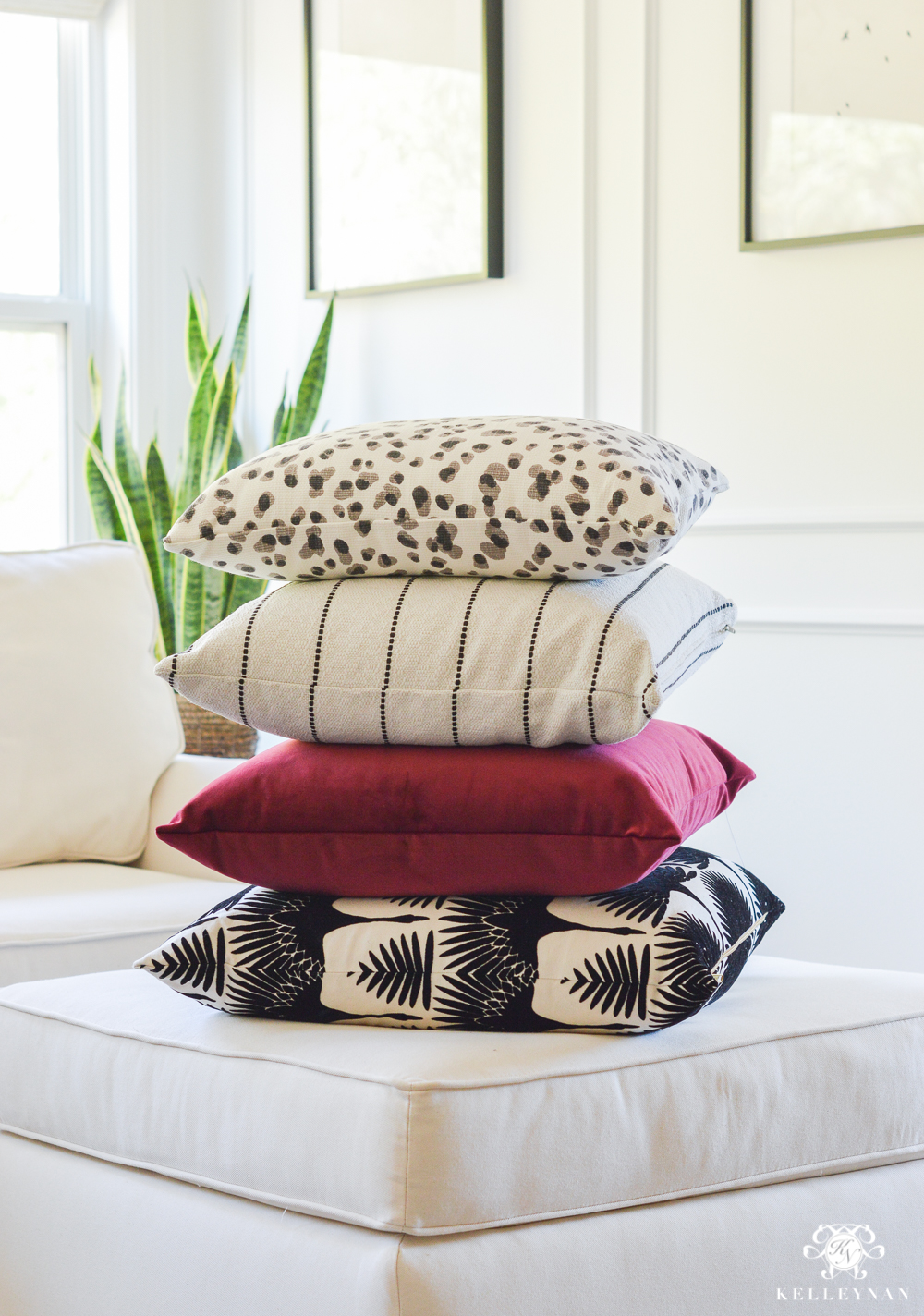 White & Black Stripe Pillow | Wine Velvet Pillow | Leopard Print Pillow | Black and White Flock Pillow
My woven shades from Select Blinds arrived and if you watched my Insta-stories, you've already seen peeks. Dave quickly and easily got all of them mounted in less than an hour. Seriously, he actually said "these are so easy to install". I have already gotten several questions as to the exact model I ordered; as promised, these are from the Designer Series in Bali White. They are cordless (which I absolutely, 100% recommend if you are going for these nice shades).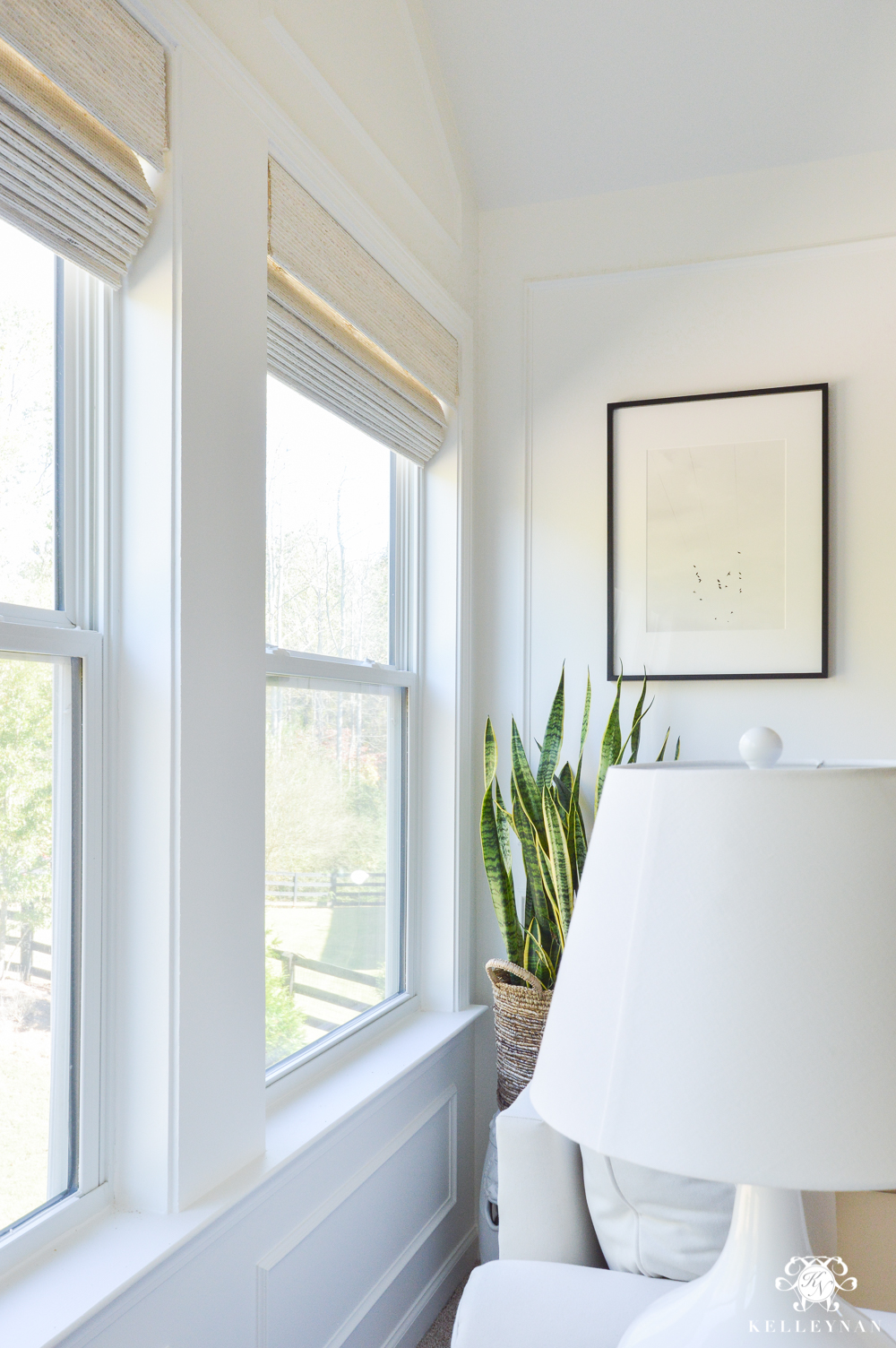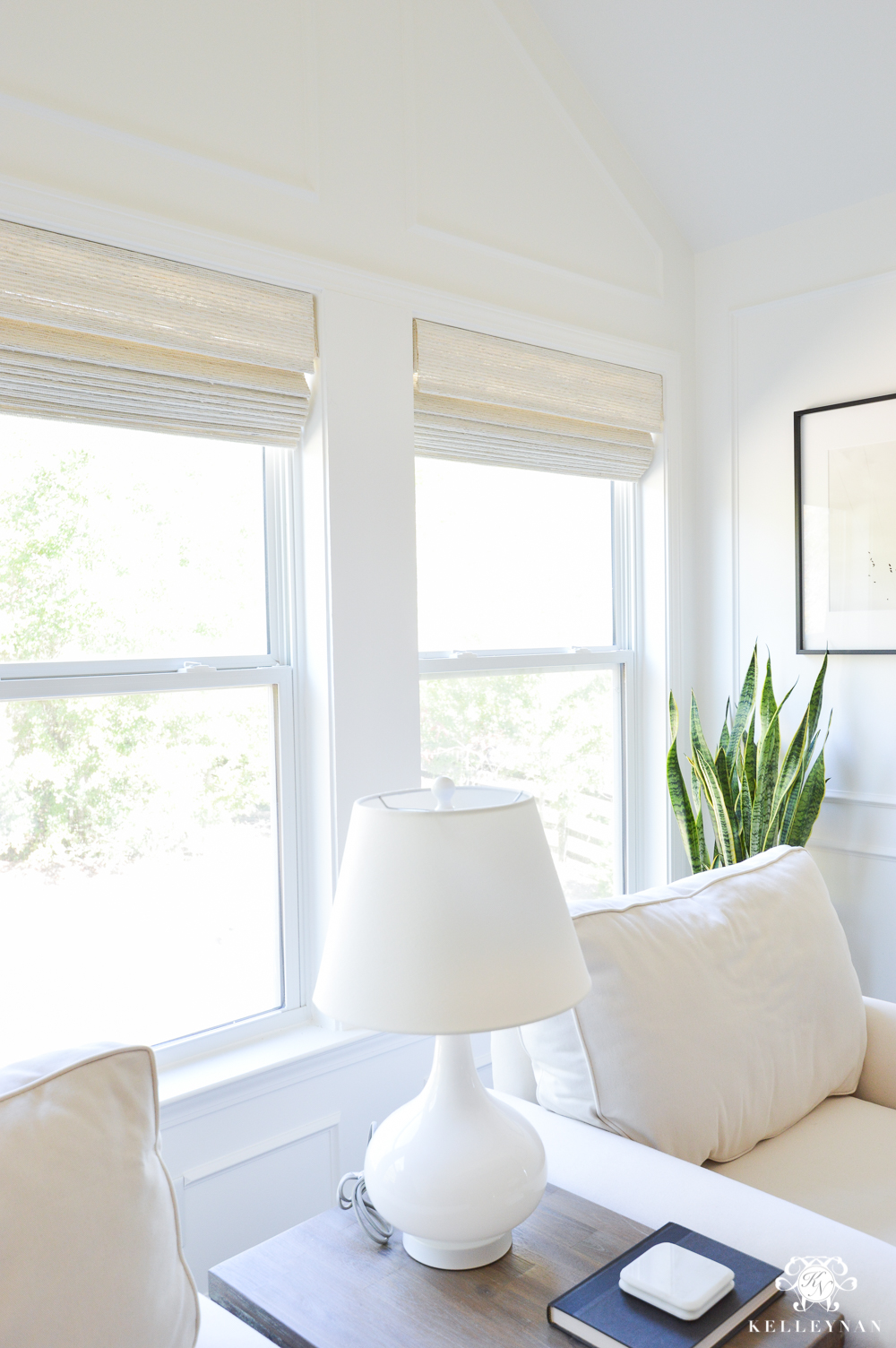 I ordered inside mounted shades for the three windows in the sitting area and an outside mount for the door going out to our screened in porch. We had faux wood blinds on the door prior to the shades which were a corded, oversized mess. Because the lock and the knob are so close to the glass, whoever had installed the blinds before had ordered them too wide. These are so much more sleek, wieldy, and functional, it's crazy. Again, especially on a door like this, the cordless are key. I fought my initial instinct for both shades and drapes and stuck to the more streamlined look and functionality of the shades. Plus, as I said before, it really accentuates the molding on the walls in the sitting room.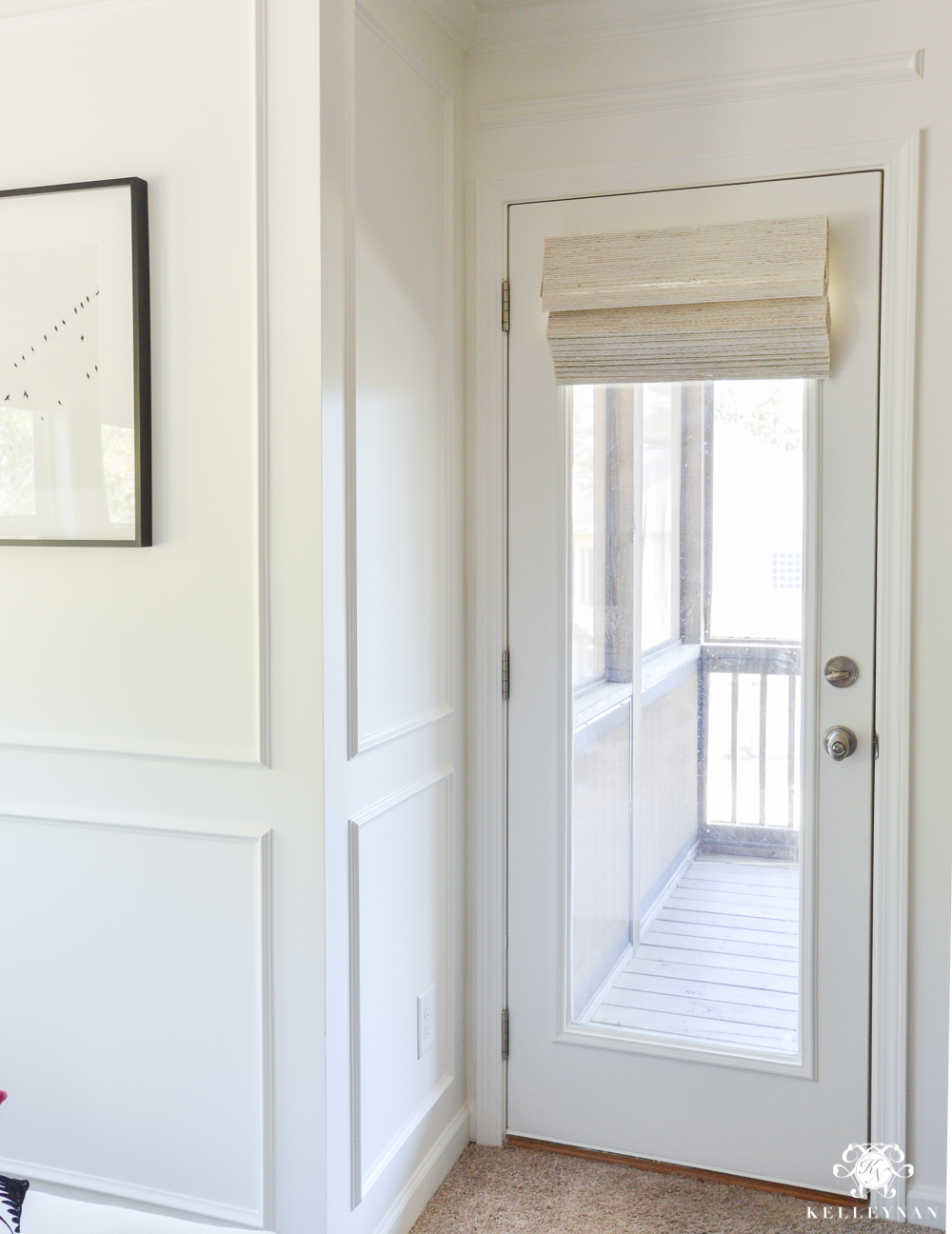 Also, this week was a big deal because the chandelier was installed! I have a feeling we are going to have more conversations about ditching the ceiling fan for the statement light fixture but in my efforts to get Dave on board as much as possible, I really worked to make the transition easy.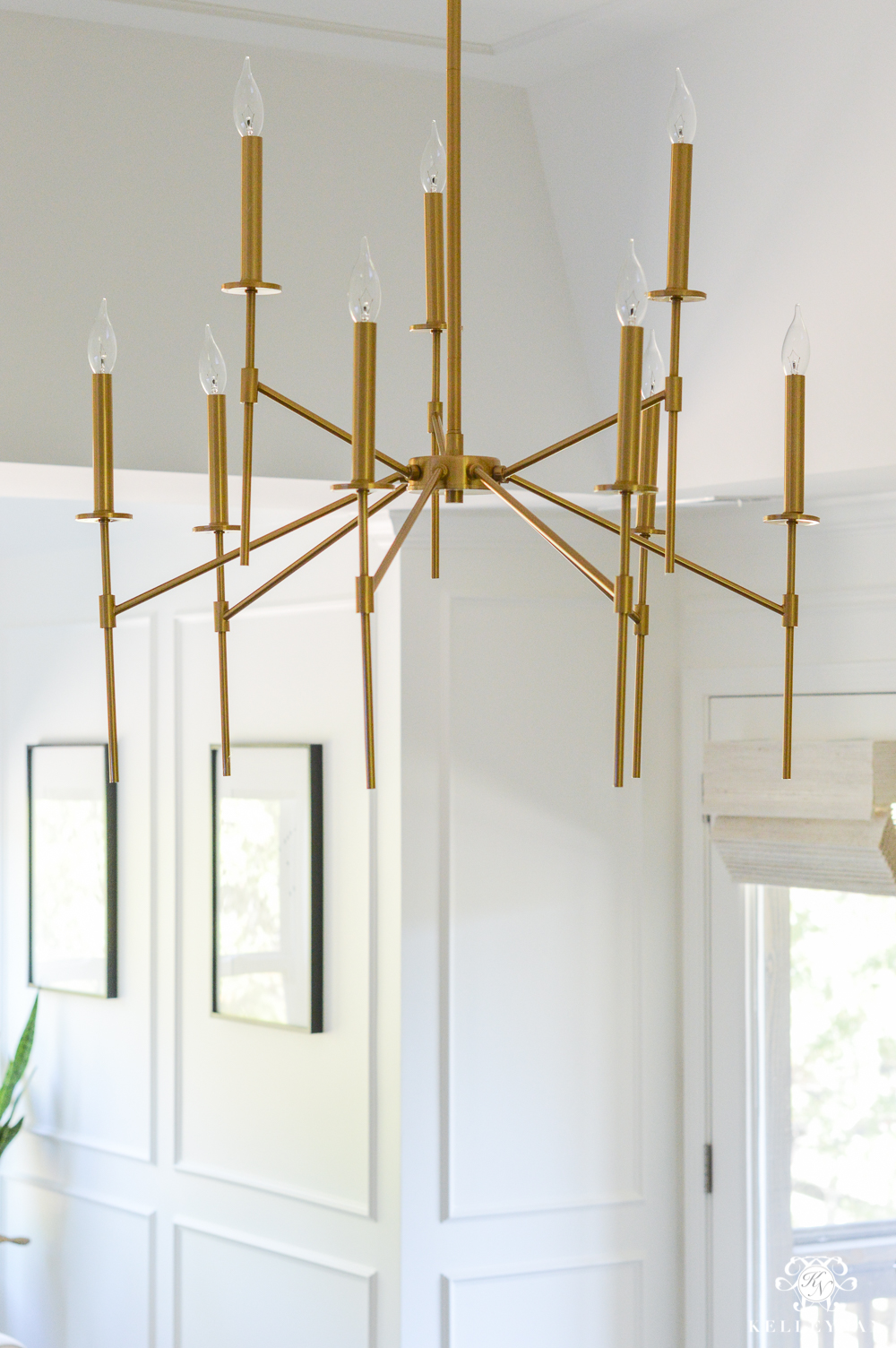 He uses a separate sound machine so sound isn't an issue; it's more about feeling the actual airflow for him. I couldn't mount a fan in the corner of the room because we have doors sandwiched in our corners. Our solution ended up being the Dyson Air Purifying Bladeless Fan. And y'all, it really was a solution. If you already have one, I don't have to convince you. If you don't know about these, let me buffer the sticker shock a little before you click over and gasp a little haha. Do you have a Dyson vacuum? Same thing. You could have gone for a Dirt Devil but chances are, if you went with a Dyson, you chose to spend more to invest in something substantial that would do a good job for a long time. It was a priority and important to you. Because I really wanted Dave to not miss the overhead fan, I wanted to invest in something really good, effective, and streamlined. I didn't want a clunky oscillating fan. I also was able to find it on sale at Costco last month; but they are still available online HERE. We haven't gotten into the bluetooth capabilities, synced it with our Amazon Echo, or any other super fancy highlights just yet, but we have been able to play around with the more basic settings and sleep with it for the past two weeks. It is awesome. It isn't just a fan- it's basically an air conditioned fan. You choose the temperature and speed (from 1-10), the size of the airstream (more finite and direct or ore widespread for the room), and oscillating vs. not oscillating. Plus, when it started getting cold this past week, I hibernated in my bedroom, cranked on the heater (yes, it is a heater, too with the same temp/speed capabilities) and was in Heaven. We still haven't turned on the heat in our house. I'm thrilled with it but most importantly, Dave is thrilled with it and does not, I repeat, does not miss the overhead fan. It is a miracle. If you are in the age old debate with your spouse (or maybe you're the one who says "no way") to ever getting rid of an overhead fan, never say "never" 😉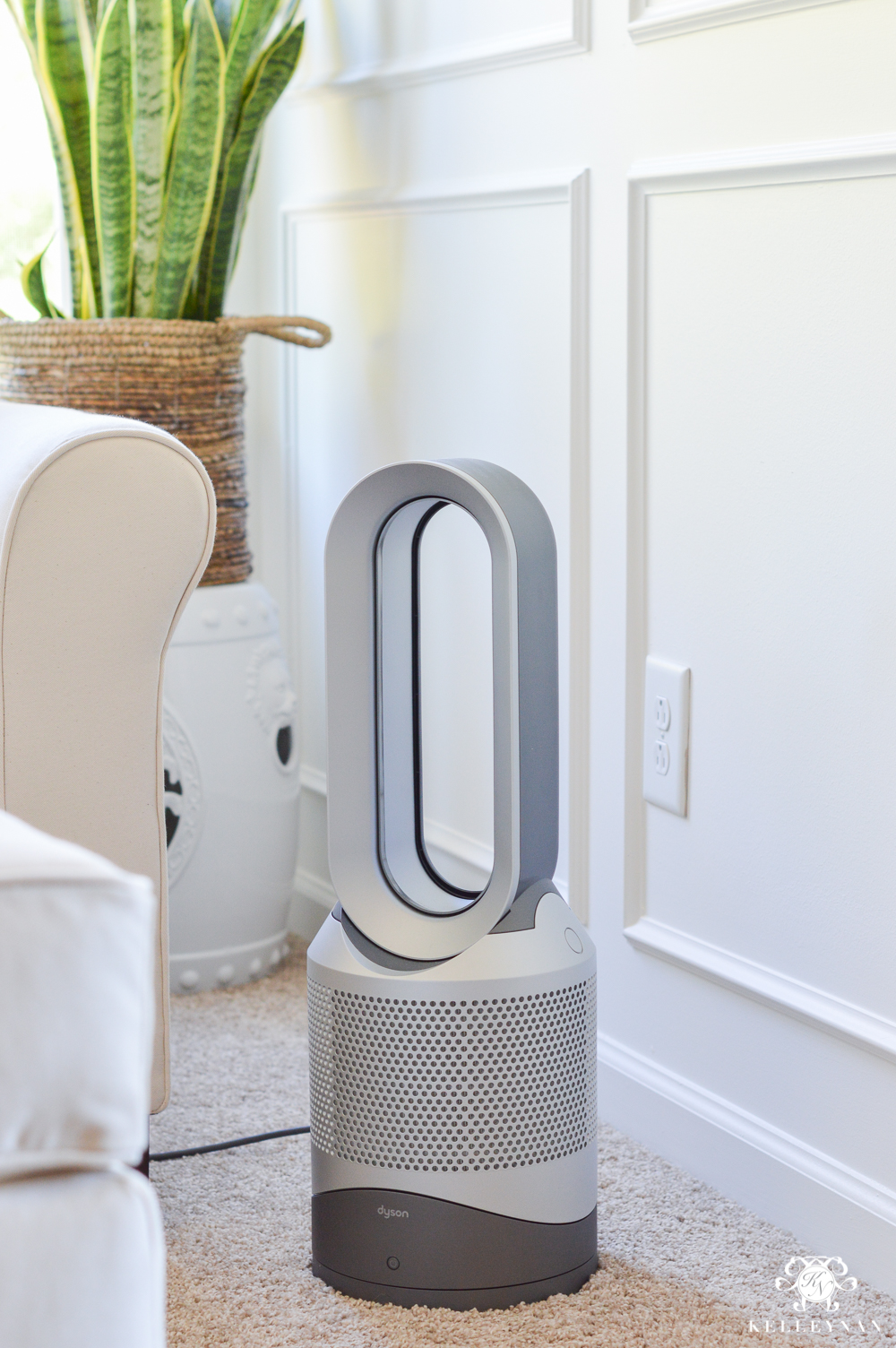 Even though it is sleek and on the smaller side, I don't necessarily want it out all the time. So what about storage? How do I hide it away? I'll save that solution for another week 😉 (Not because I want to leave you in suspense but because I physically can't access the  buried "solution" this week haha.
I'm hoping to have rugs when I get home so I can tie up all the loose ends on this makeover; hang with me for one last week before the final reveal, friends! We are GETTING THERE!
A HUGE thank you to my room sponsors,  all of whom I believe in and none whom without I could pull off this transformation!
The Mine|  Tonic Living | Minted | Pottery Barn | Select Blinds | Metrie | Wayfair 
Be sure to check out the other participating bloggers and their project progress on the link-up page HERE. Here is where I am on the new furnishings I am planning.


NOTE: There are several discounts happening right now! Check the codes with each retailer.