In less than 48 hours, I conquered that small, forgotten space – that room within the bathroom. A toilet room that was once a dungeon and wasted space has been made over not just in appearance, but also functionality. Read on for the full toilet room makeover reveal and clever bathroom storage.
This post is in partnership with Bed Bath & Beyond. As always, concept and all content are my own. Post may contain affiliate links. For full disclosure, click HERE.
---
Toilet Room Makeover Reveal
Friends, there's a reason you don't typically see much of my bathrooms. As much as I don't care for them, a full renovation is totally out of the question, both in priority and funds. But, the space that has bothered me the most out of our bathrooms is the water closet within our master bathroom. Well, I've talked about a surprise makeover reveal coming soon but have been tight lipped as to which space it was… I am so excited to finally share the DRASTIC transformation we were able to achieve in less than two days. You don't hear much about toilet rooms – how they should look or their potential. Before, it was pretty typical- a dungeon-esque, bare room. With no natural light, the paint looks so dark and gloomy. Would you believe this is the same paint in our great room that looks so light and bright?!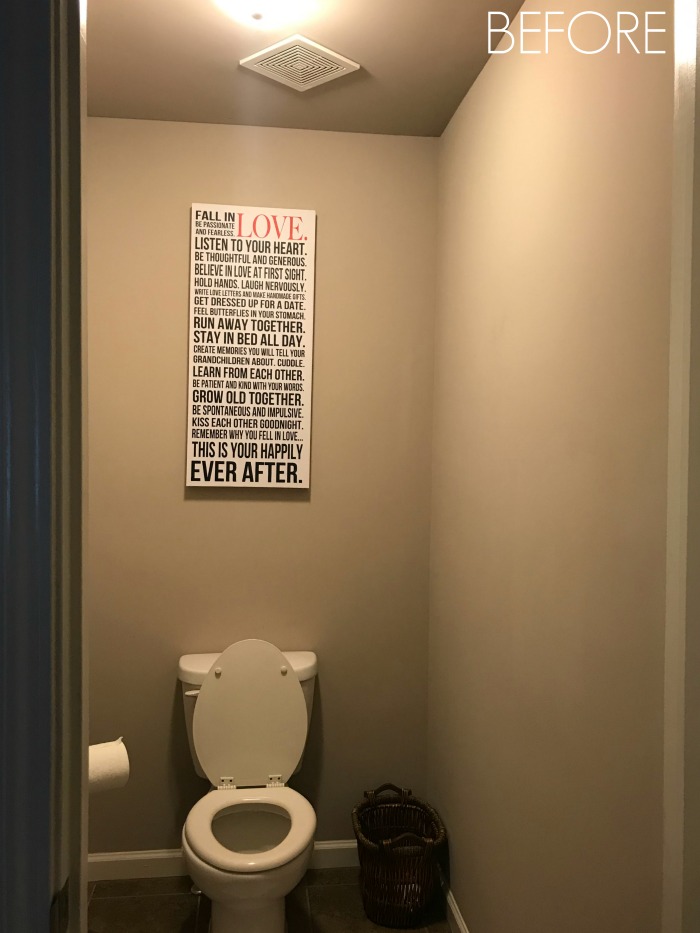 When I decided to take on the project, I considered a few things. 1. It had to be quick and relatively painless. Since I've been in the middle of a BIG master bedroom overhaul (reveal coming this Thursday!), I didn't want to take on something super labor intensive. 2. I wanted to make the most of this space and add some functionality. It is a smaller room (hello, it's purpose is to hold a toilet) but it's large enough to come up with some creative storage solutions and answer some of my other space challenges. 3. I wanted it to be "happier", lighter, and brighter. The result?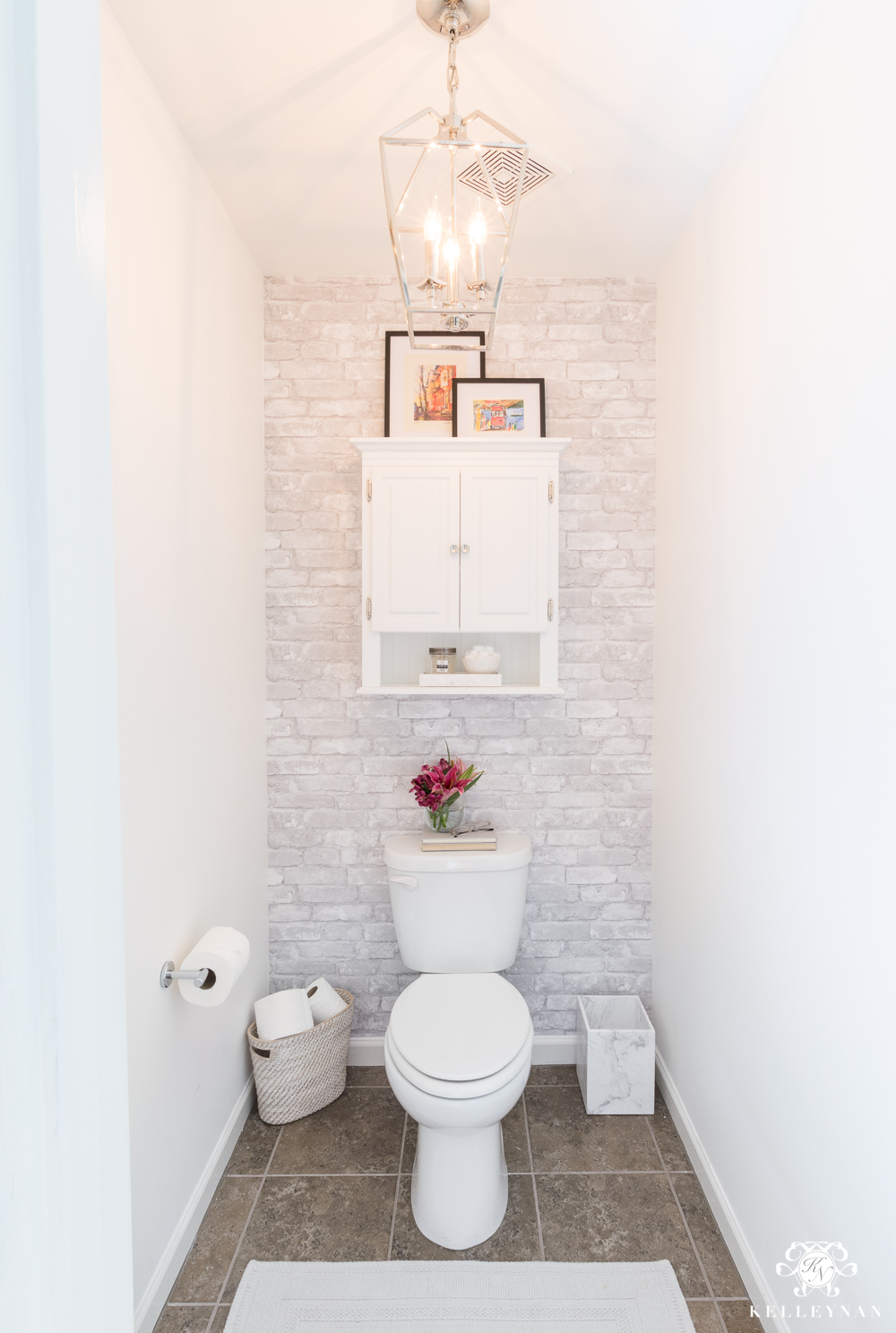 Y'all, I swear this has become Dave's favorite room in the house! haha It looks crazy different but the changes were crazy simple. No ripping out tile, no grouting… just cosmetic enhancements and storage. I didn't even have to order from multiple sources- Bed Bath & Beyond had everything down to the wallpaper and lighting (I had no idea they carried these kinds of things, much less furniture like full vanities). I also signed up for their new Beyond+ program; for $29, you get 20% off your entire purchase plus free shipping on every order. You can see more on signing up HERE. I loved having everything show up at my door but after it all arrived, I took a quick trip out to the store to make sure I hadn't forgotten anything (and to look at the gadget wall- my favorite part of shopping at BB&B haha). They carry my favorite cleaning line (I've talked about this several times), so I picked up a few extra bottle of Hope's.
So, there were a few zones we tackled-  1. walls (new paint and wall paper), 2. lighting (got rid of the "boob light"), 3. storage, and finally 4. accessorizing. The first thing I did was remove everything (there wasn't much! haha), took down the light, and painted the walls with the leftover Benjamin Moore Simply White paint from the bedroom. I am NOT a painter but thought since the room was small, I could knock it out. I didn't anticipate having to bring in an outside work light (what did I think would happen when the fixture was removed, with no natural light?! haha) or prepare for the number of coats (with primer, different ceiling paint, etc.) and just prayed that when the light was installed, it would show a thorough job. (Thank goodness, it did!) Painting was honestly 3/4 of the work of the entire room. Oh, and if you want to paint like I do, make sure to wear your hair in the highest, biggest messy bun so it can add textured strokes to all the walls and you can continue to pick paint out of your tresses two weeks later 😉
Next, Dave hung the lantern. Since I was going for light, bright, kind of loft-y modern, I wanted to stick to chrome fixtures and had an idea for hanging something a little more statement-y over the toilet. This lantern comes in multiple colors and sizes but the three-light guy turned out perfect. Dave even put it on a dimmer, which I especially like – ultra soft lighting in the middle of the night? Yes, please!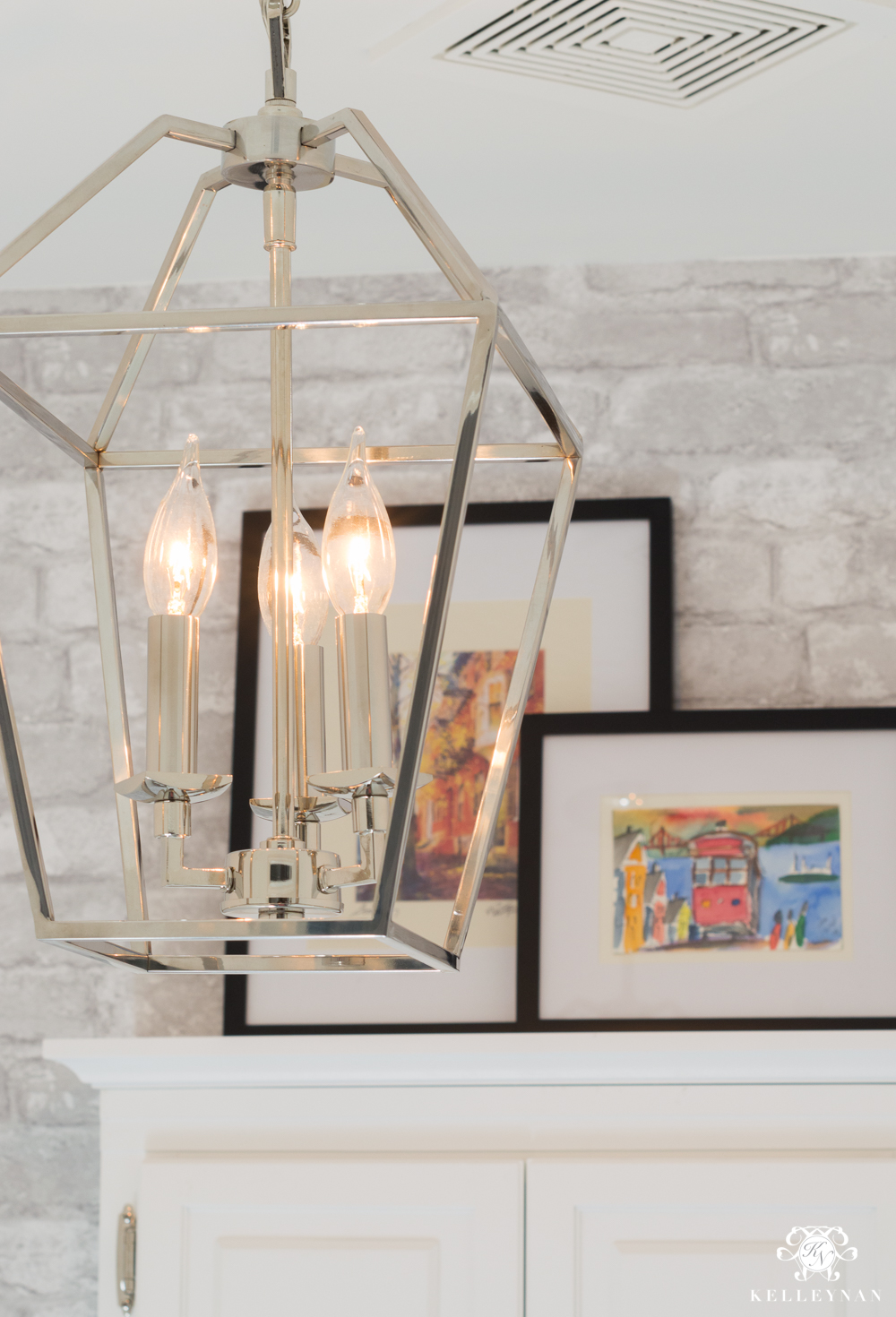 The next part of the project was what I was most skeptical of but ended up being my favorite part. Because the room is so small, I wanted some sort of detail/accent wall. But, like I said, I wanted something quick, fairly painless, and it wasn't in the budget to hire out for something crazy. I am loving this wallpaper revival trend but also don't trust myself not to ruin expensive paper (and my walls). Having never applied wallpaper (I saw what it took for my wallpaper-er to hang the grasscloth just in my built-ins) I just didn't want to do it. But, (again, I was shocked), in my browsing, I saw Bed Bath & Beyond had a selection of temporary, peel and stick wallpaper (see them all HERE). The description said it didn't harm walls and you can remove when you're finished. It's super inexpensive so I thought, worst case scenario, if I get in the middle of it and decide I can't do it, I'll ditch it and pretend like it was never a possibility. I apprehensively decided to just go for it, using only a box cutter and a ruler (as my smoothing tool haha) and while it wasn't the easiest thing I've ever done, it was actually pretty simple with patience. (Definitely pack your patient pants for this project! Lining up seams and hanging everything perfectly straight is not for the faint of heart 😉 ). This part of the project took the second longest; there are three drops on the back wall – I still have plenty left over after having ordered two rolls. As you can imagine, the corner (the last piece) and going around the toilet was the most difficult. With each piece, I had to excitedly take a picture and run downstairs to show Dave my progress. Y'all, I am so glad I decided to challenge myself a little because we love it.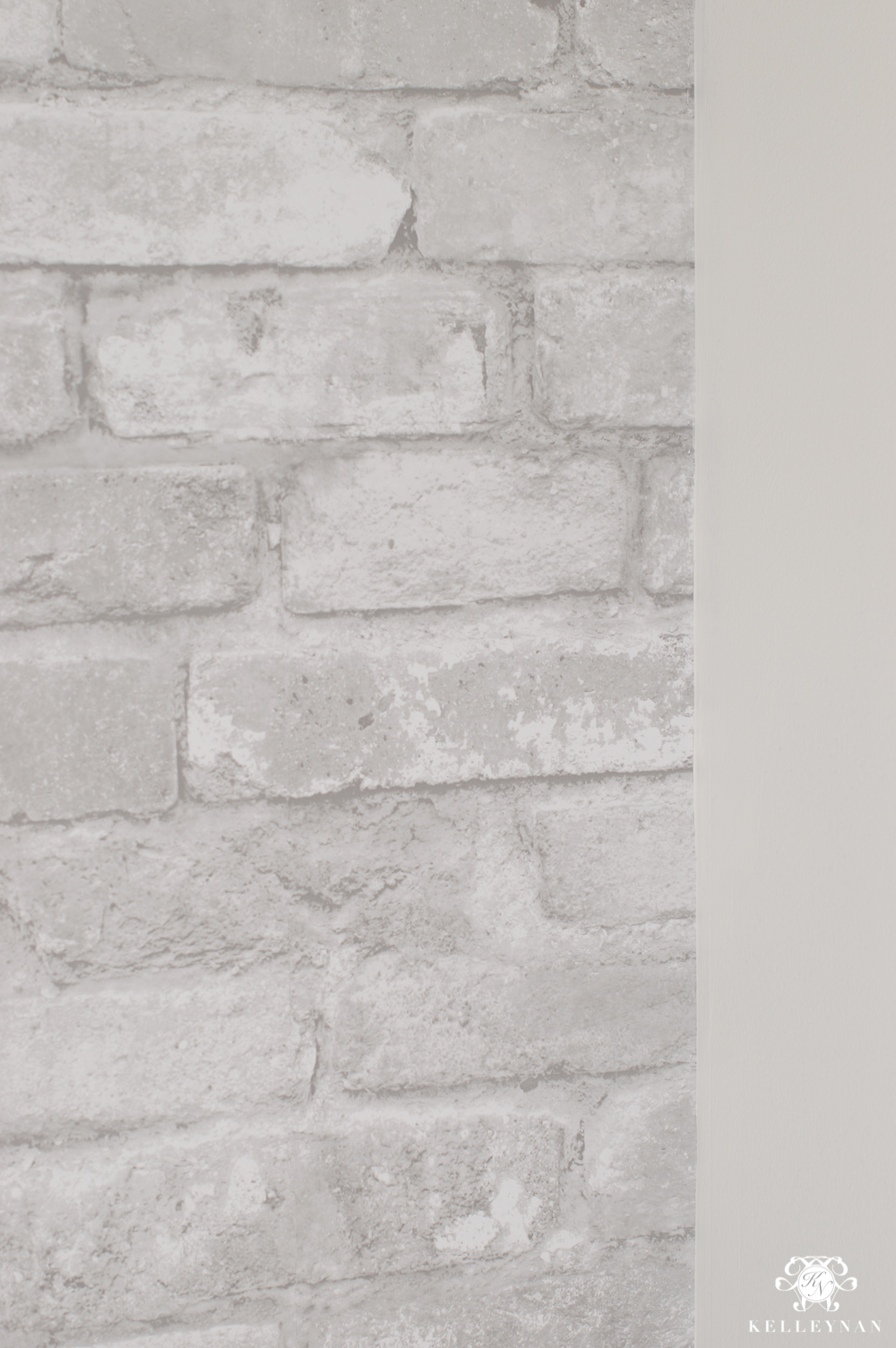 Actually, we love it so much, it was almost hard to hang the storage cabinet (one of the first pieces in the original plan) in fear it would cover too much of it. When I shared my bathroom organization projects (closet HERE), (cabinets and drawers HERE), I had a lot of questions about where I store my cleaning supplies. We are fortunate to have a lot of storage space, but, if you don't or you are looking for other solutions aside from taking up that valuable real estate under the sink, the wall above the toilet in the toilet room offers the perfect place for extra storage.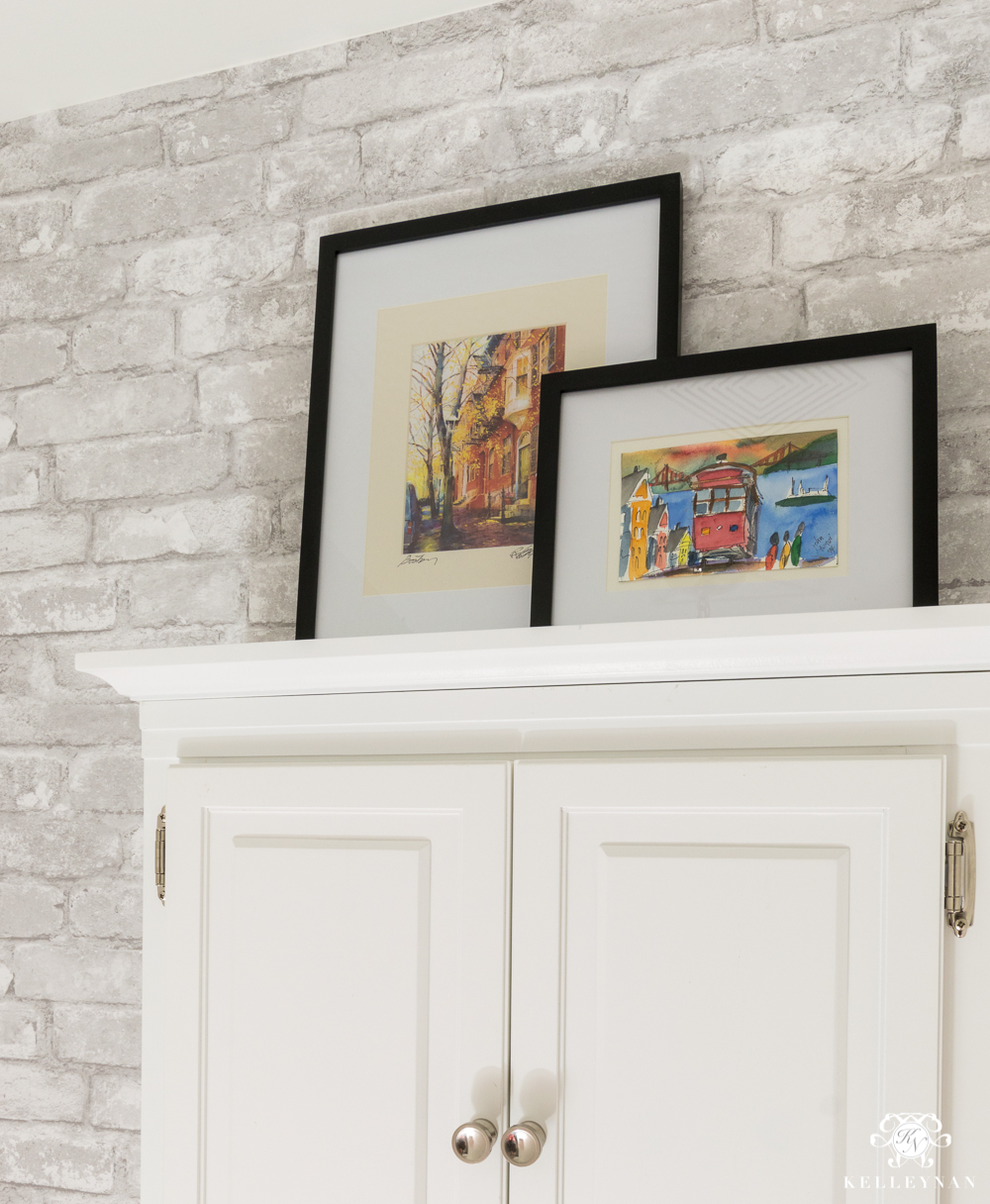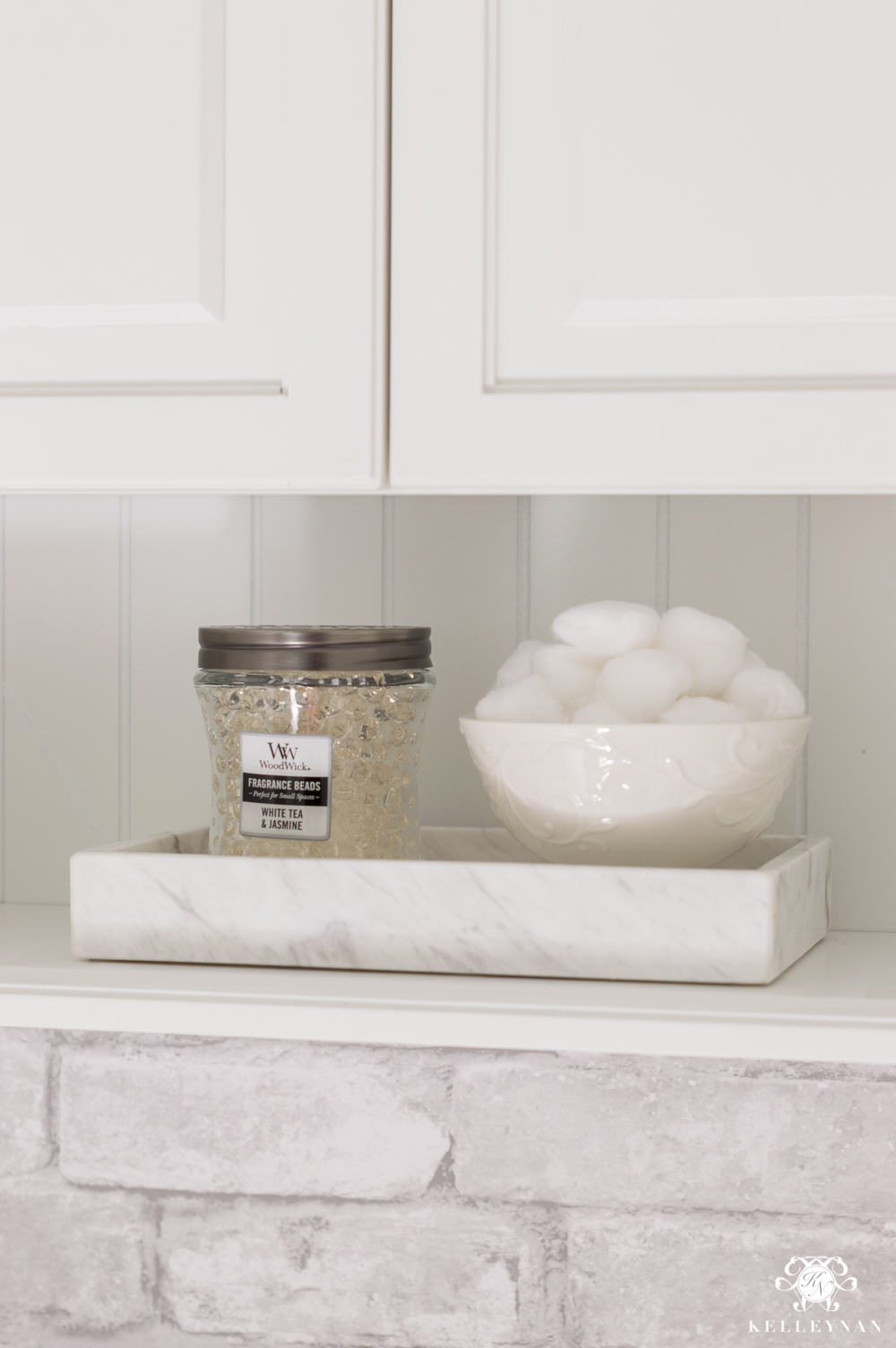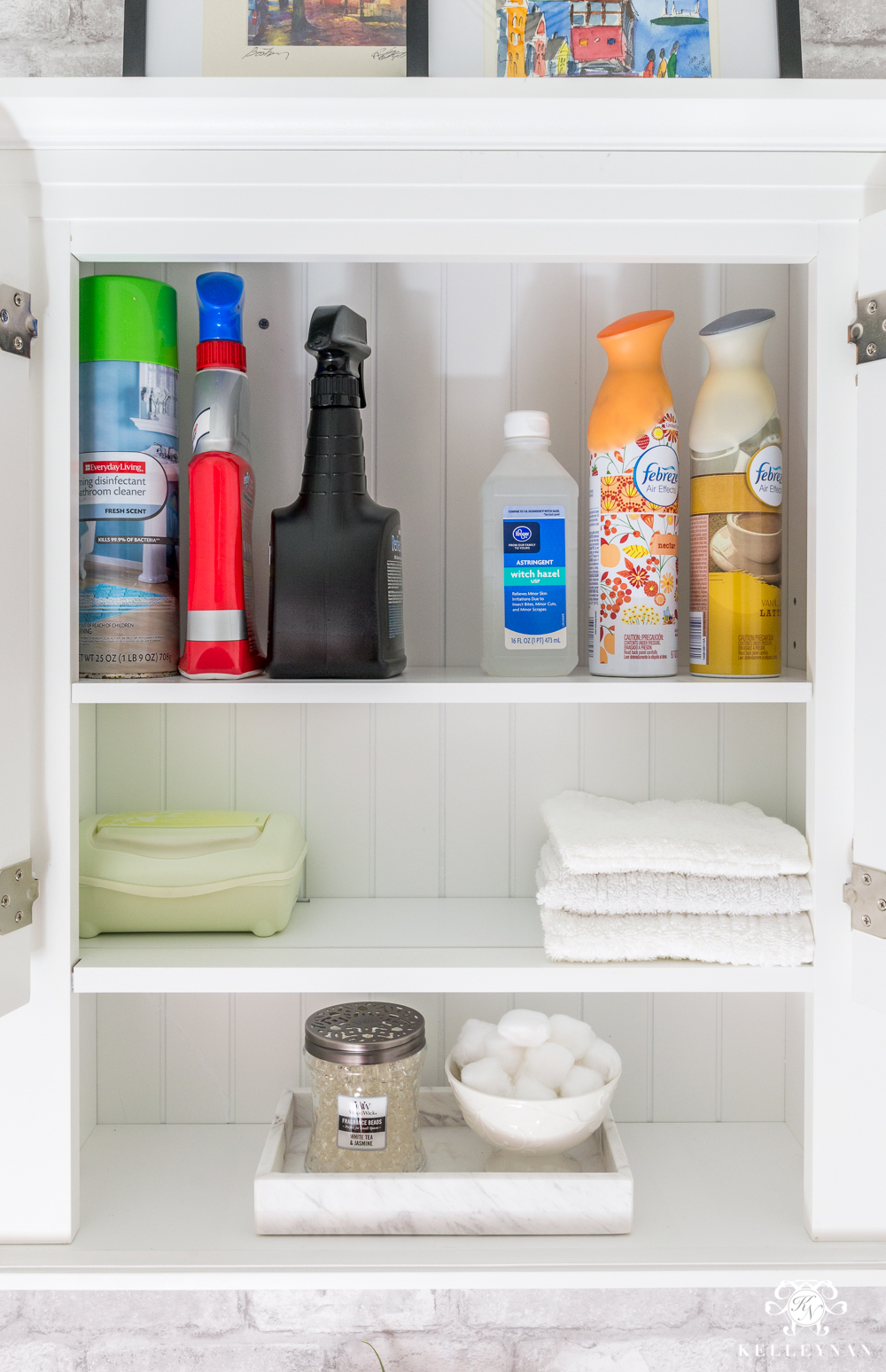 I also loved the opportunity to display some of our new colorful art from our latest trip to New England. I paired it with another print from my San Francisco trip and put them in matching matted frames (all in the same set HERE). I always try to get a small painting/drawing/print (around postcard size is ideal) from the places I visit – I know you won't be surprised, I learned it from Mama Nan 😉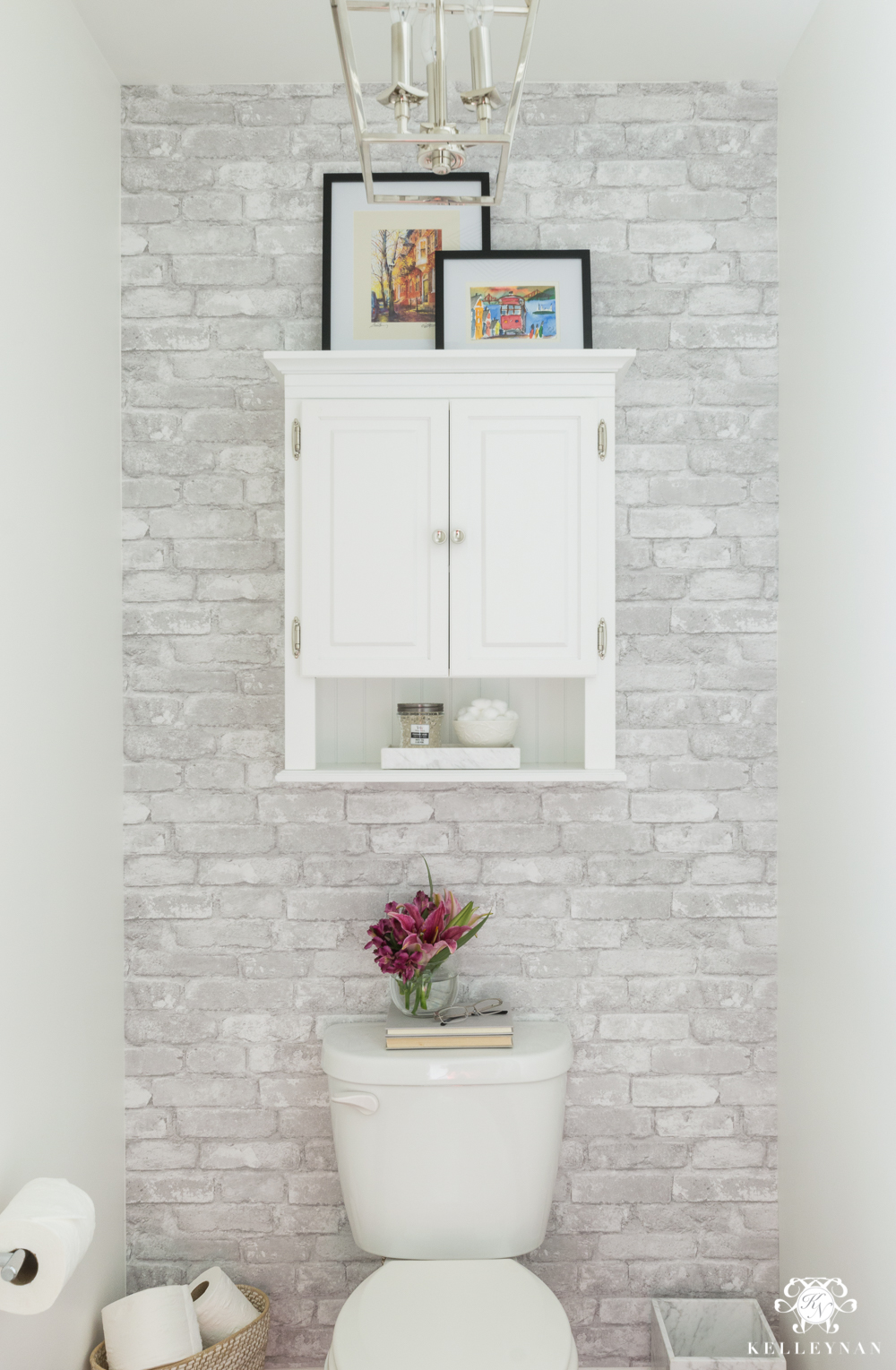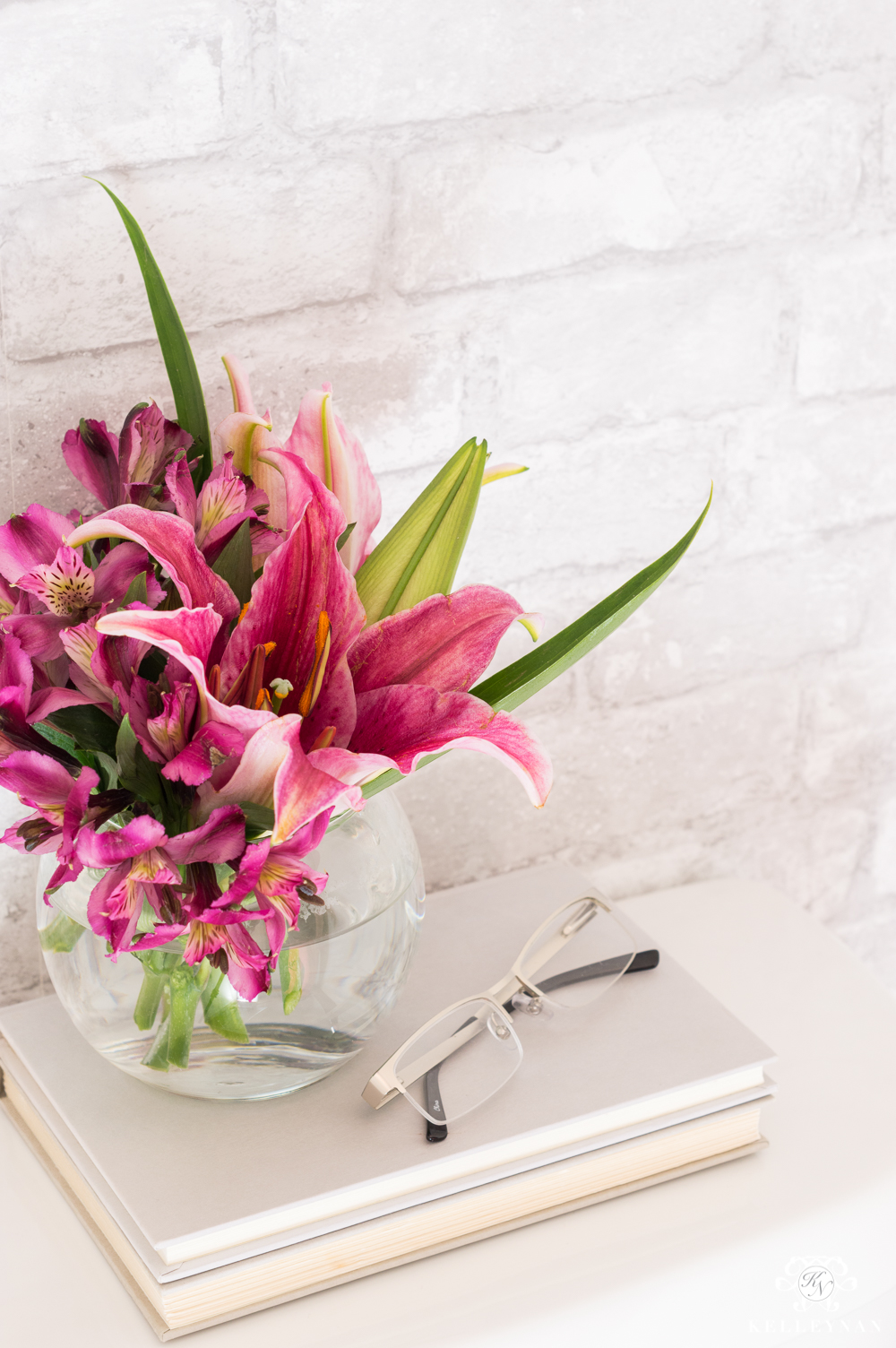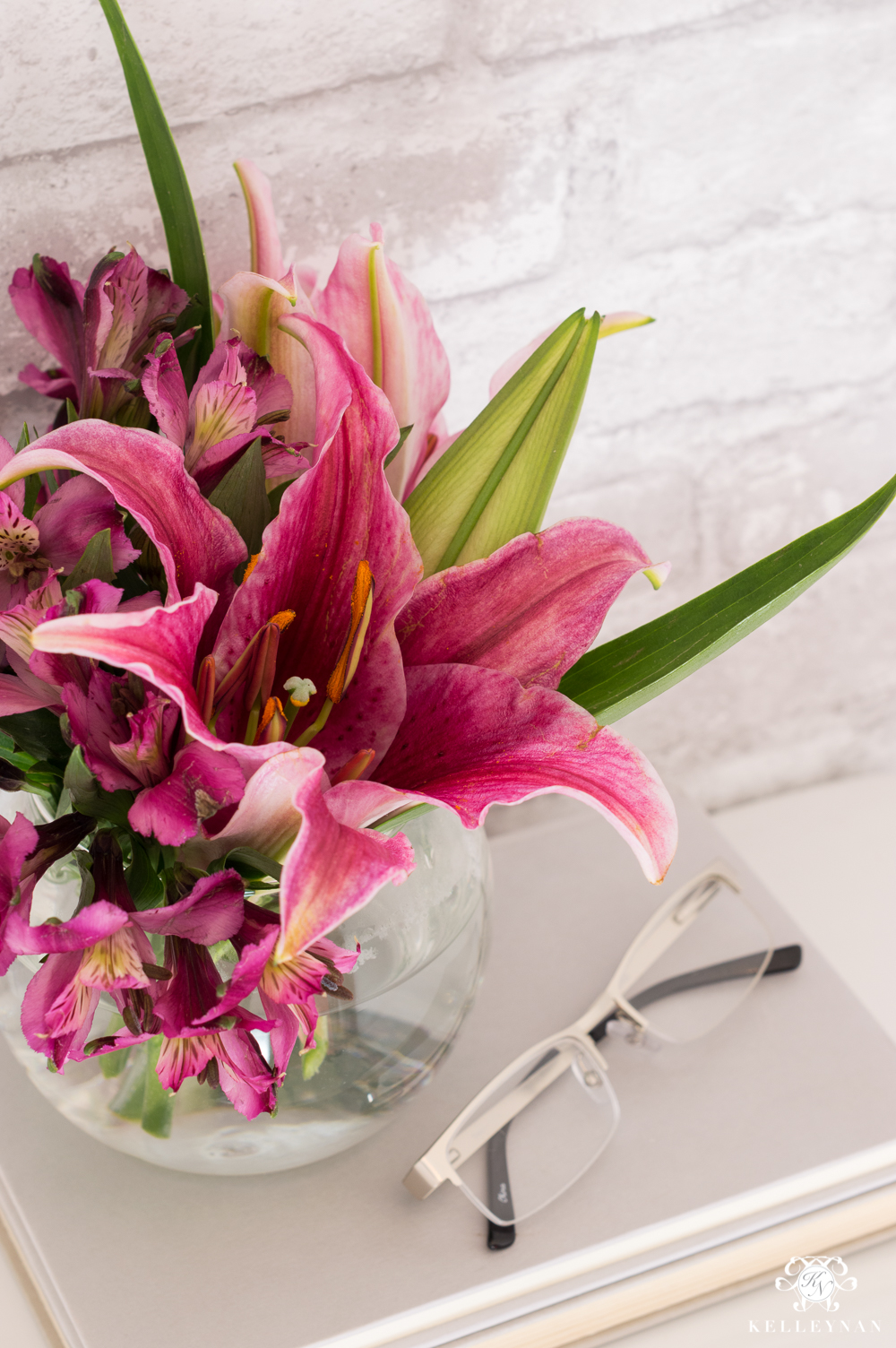 I usually use baskets as waste baskets but with my marble/loft-ish vibe, I thought I needed something a little more sleek- especially since I wanted to use this rattan basket for extra toilet paper. I decided to spring for the marble trash can.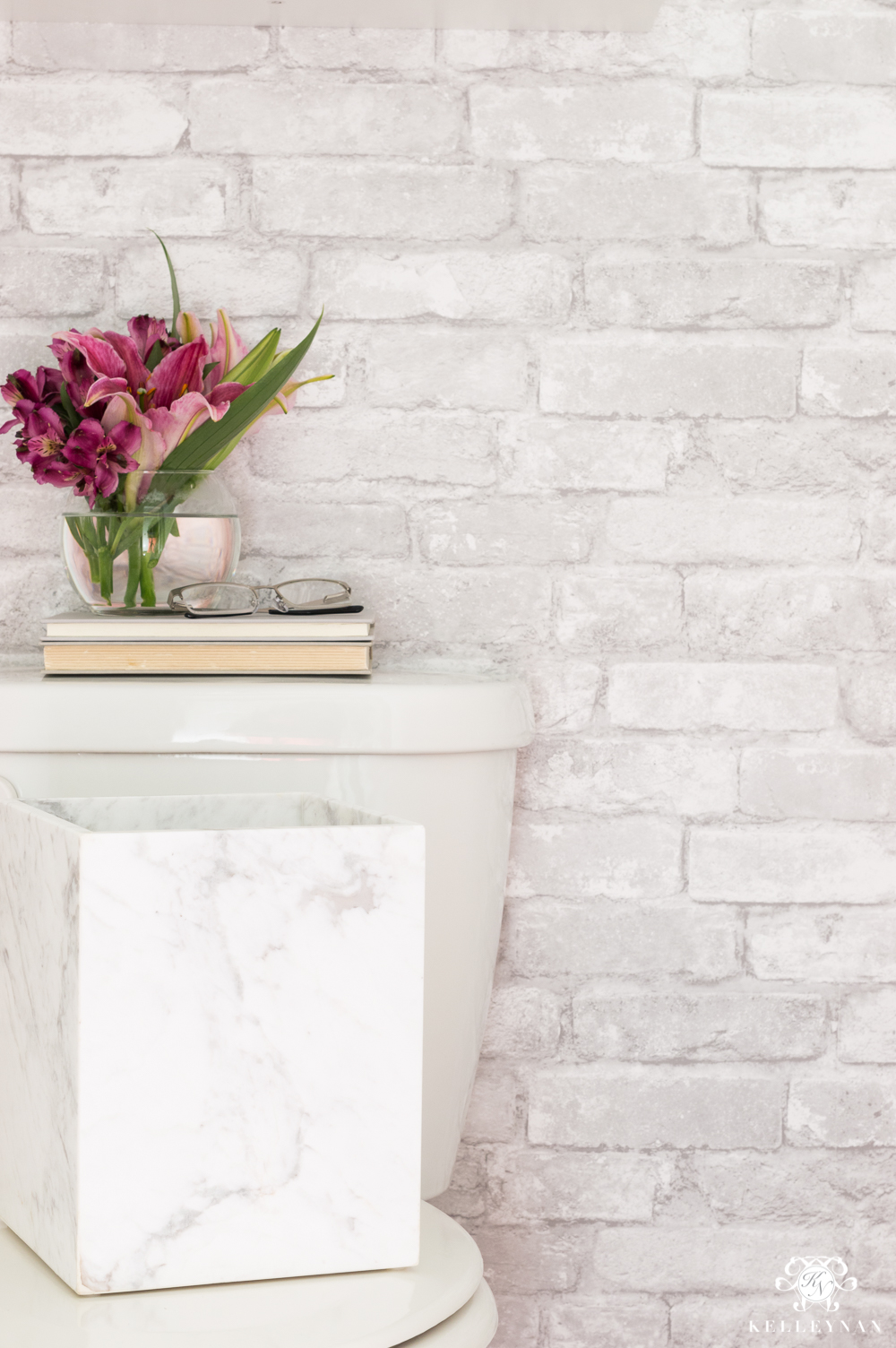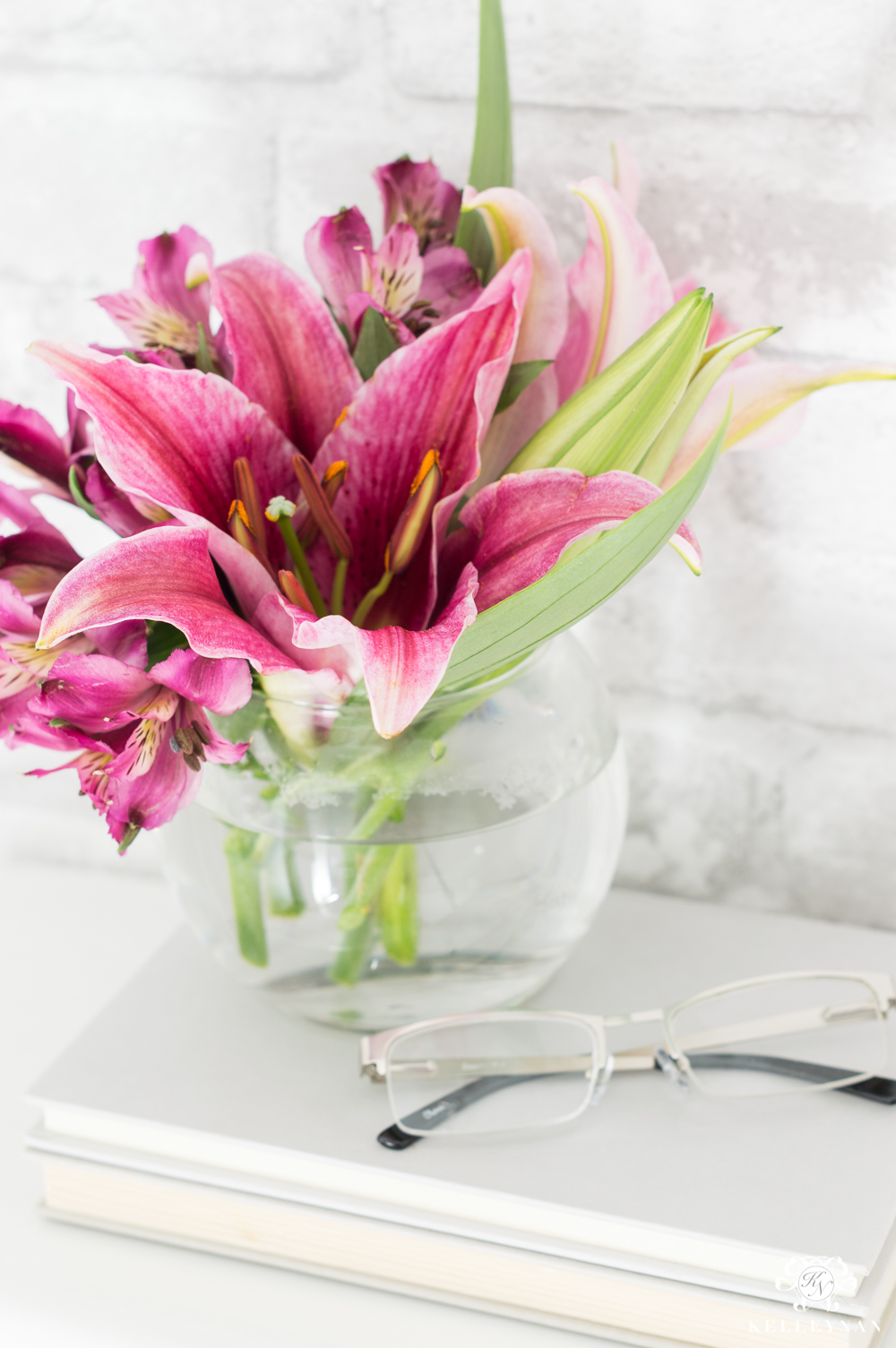 The little nook in the corner next to the door probably took the most planning. With storage above the toilet, I had a new (12″) space to work with. Another issue I have is how to conceal the toilet brush and plunger… after finding a hamper with a hard bottom that was narrow enough, I came up with the perfect storage solution. PS- I kind of can't believe I am showing you these befores! haha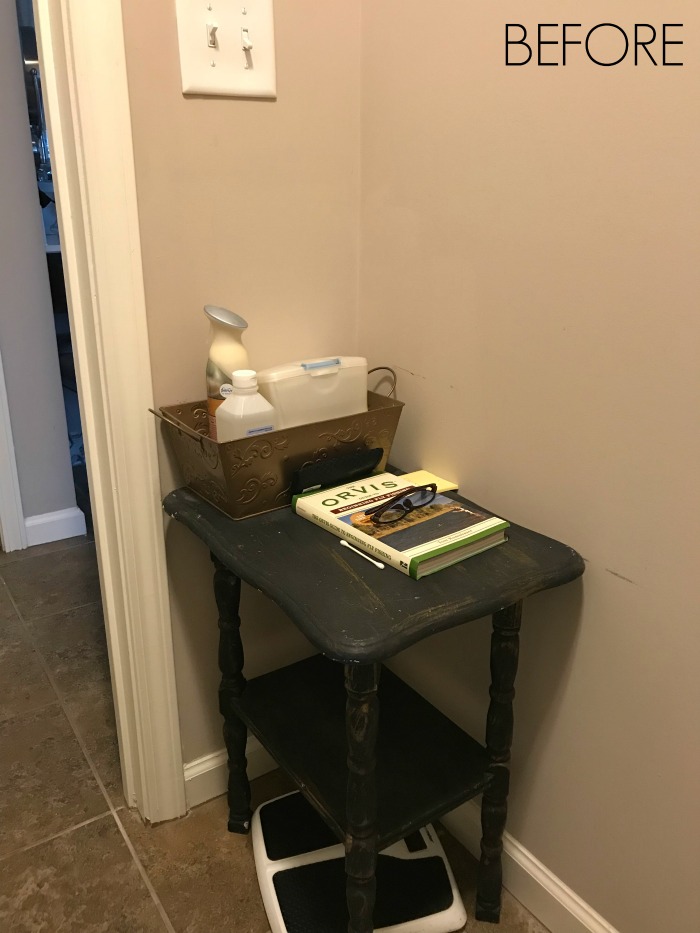 All of that was replaced with a storage hamper with a flat space on top for sitting magazines, books, etc.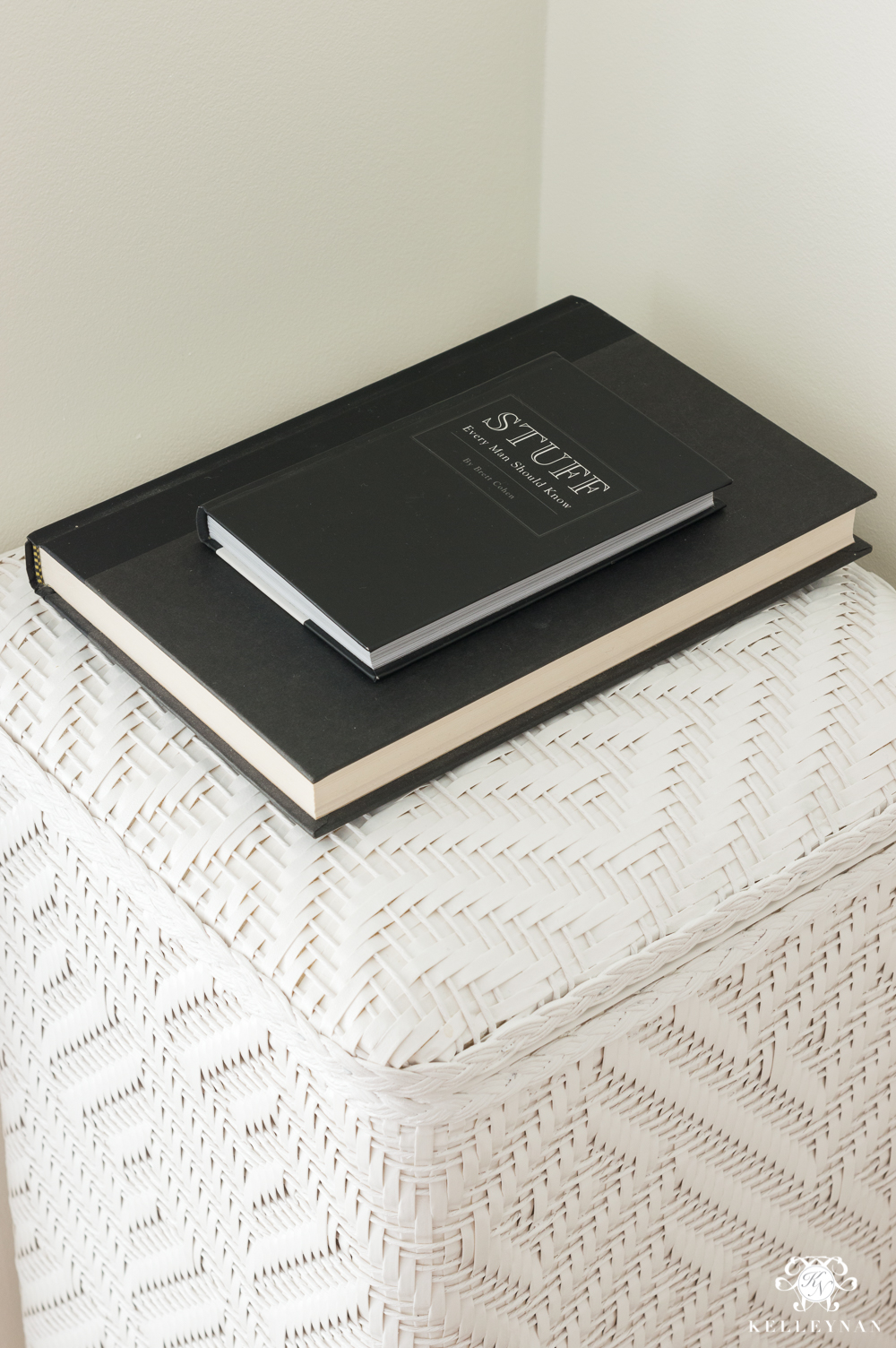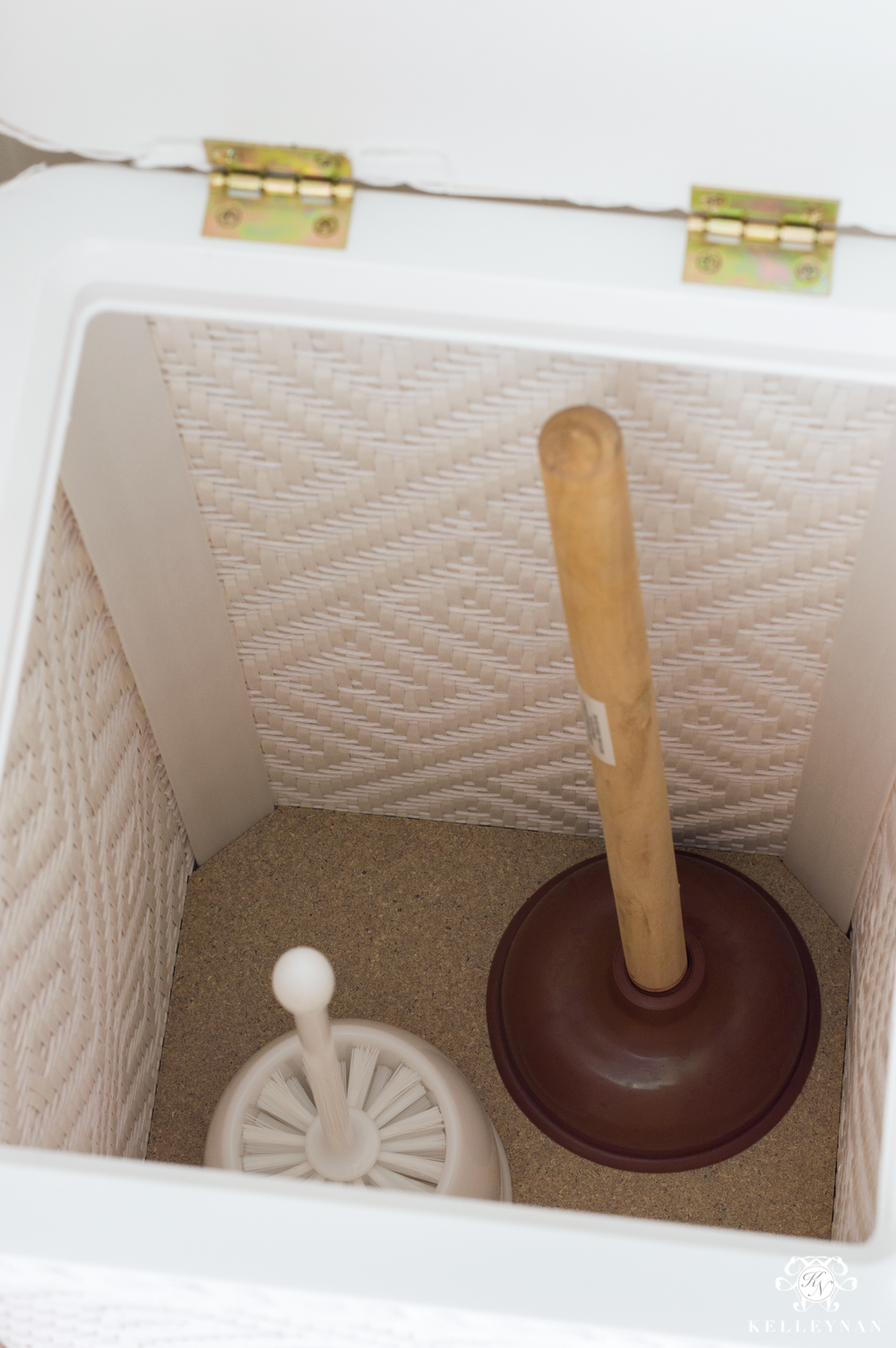 Pretty crazy for less than a weekend makeover, right?! After seeing how much we actually do enjoy this space more (we don't talk about it but we all spend time in here!), I'm so thankful that our small little hole doesn't look like a tiny cave with bad lighting anymore! Do you have a toilet room? What does it look like? Or maybe you have a bathroom that could benefit from a few cosmetic and efficiency improvements. With a weekend and a few simple changes, your future self will thank you 😉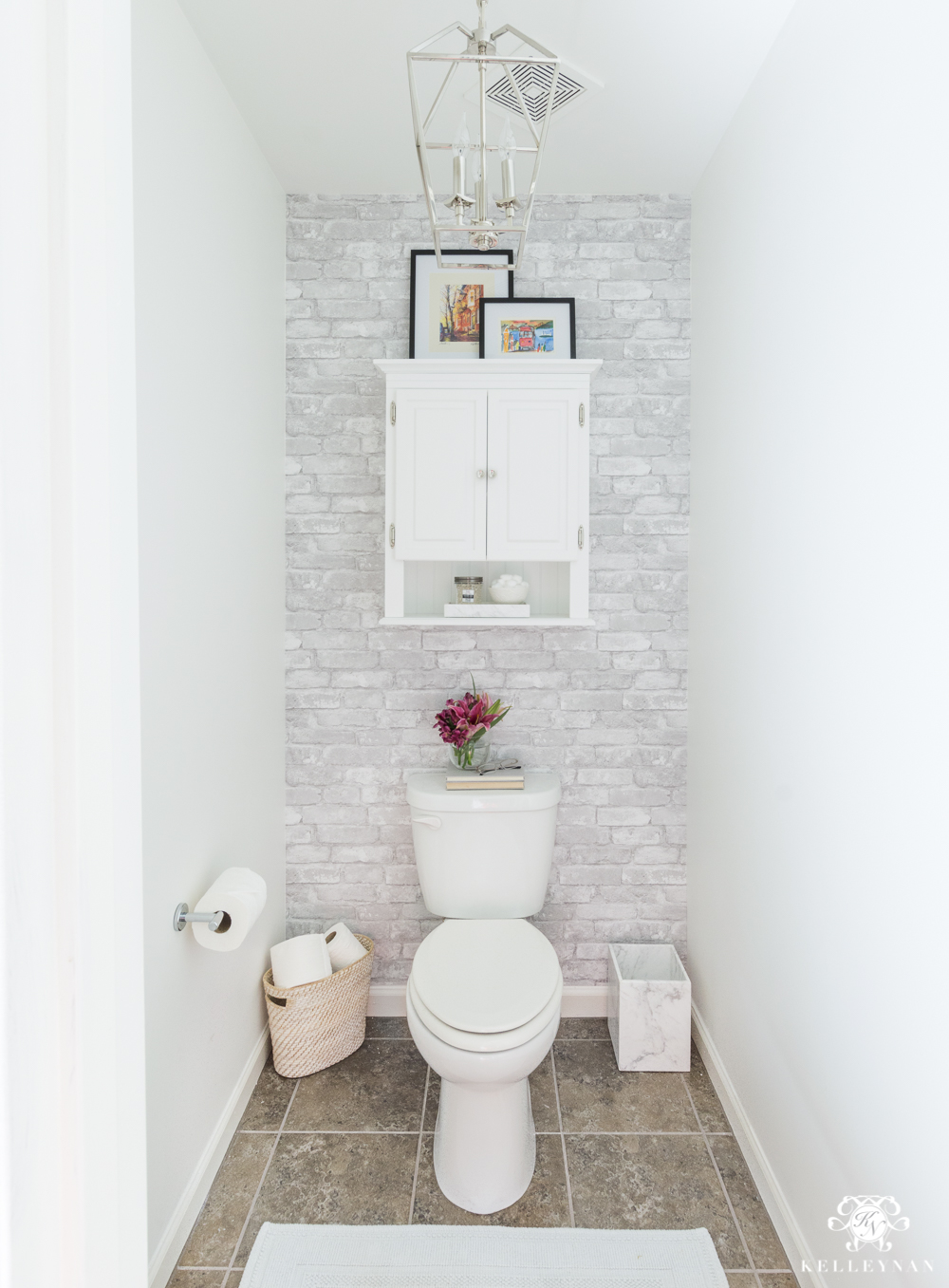 Temporary Wallpaper | Cabinet | Marble Waste Basket | Rattan Toilet Paper Basket | Rug | Lantern | Chrome Toilet Paper Holder | Marble Shelf Tray | Storage Hamper | Matted Frame Set | Scent Beads