I've been married for almost six years and to date, one of the biggest struggles we have faced revolved around a bedroom fan. Ok, I'm totally kidding, you guys! (Kind of 😉 ).  Here's the story- we have always been "fan people". 1. We live in Georgia; 2. We like the sound; 3. Airflow is a must while we sleep. Long before our master bedroom makeover, I had my heart set on ditching our too-traditional, standard, brown fan. What I really wanted was a statement light fixture to take its place – that idea immediately (and continuously – because, let's be honest, I'm nothing if not persistent 😉 ) received a hard "no" from Dave. So, I detoured my research and started looking for fixtures that were overhead fans, but just on the more attractive end of the spectrum (they do exist, y'all!). Even so, I couldn't shake the vision I had for our bedroom – our retreat that I was getting ready to invest so much time and work into (see the full makeover HERE). So, after months and months of talking about it, I finally came up with a logical compromise. It must be noted – I wanted all the benefits of a fan, too! But, we are big believers in A/C (so it isn't like we would be suffering from heat) and we have a sound machine. The obstacle I really needed to focus on was the airflow. I had seen sleek, compact, bladeless Dyson fans and had read tons of reviews about how awesome they were. I even asked many of you on Instagram about your experience and the resounding consensus was "expensive but so worth it". My deal with Dave was that I would get him a nice, effective Dyson fan to replace the overhead and if he still couldn't get on board, we would go back to an overhead fan. I surprised Dave with it one day, we started our experiment, and he hung the chandelier. And, that's where we left off. Since then, I have had several messages and emails wanting to know- did we regret it? Love it? So after now being sans-overhead fan for a little over half a year, I'm going to share an update – something I promised from the very beginning.
*Posts on KelleyNan.com may contain affiliate links. Click HERE for full disclosure*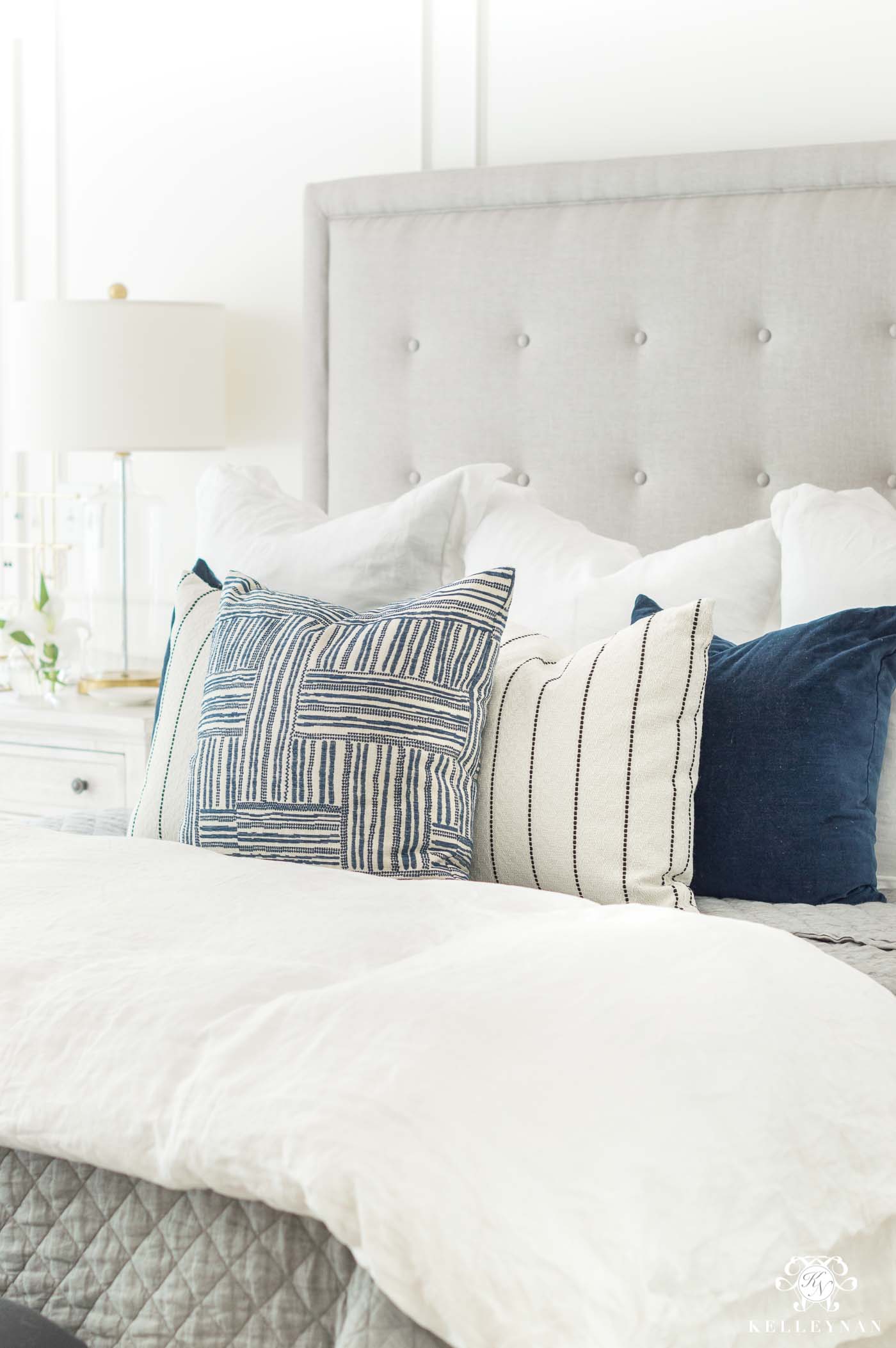 ---
Scroll & Tap to Shop the Sources


1. Striped Pillows | 2. Indigo Print Pillow | 3. Indigo Velvet Pillow (similar)
---
Just to give you a reminder (or in case you are new here), this is the "before" 😉 A sloppy "before" but still a "before" haha-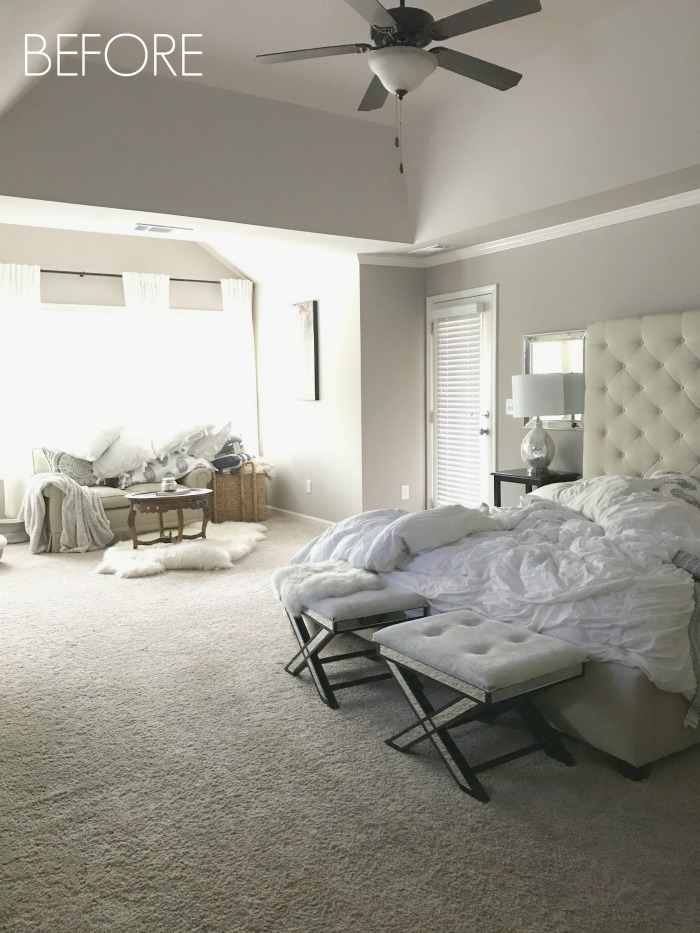 And here's how our master bedroom looks today…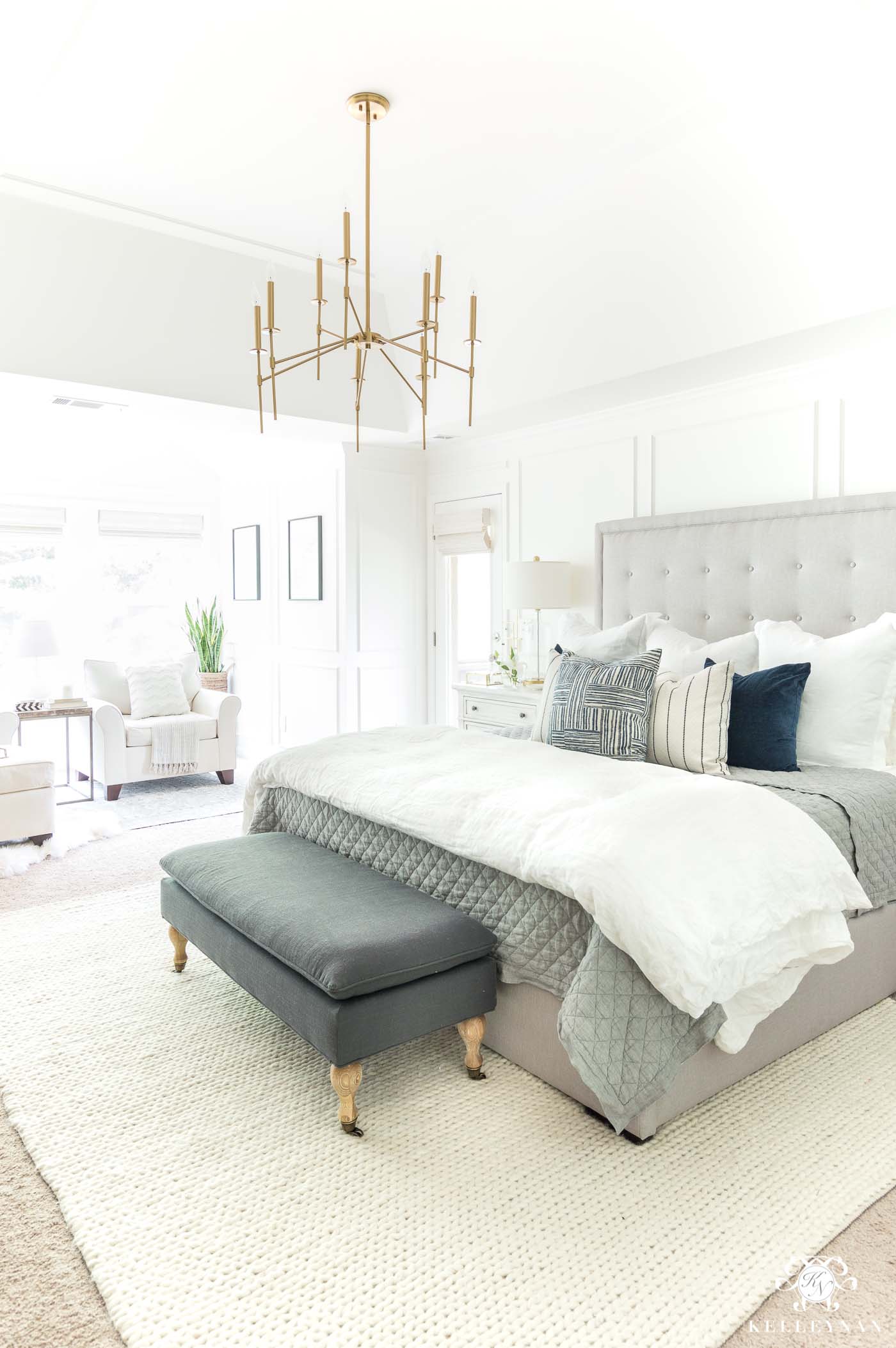 I love it. And I know you already know that haha. But, one thing I pride myself on is preaching and practicing that you can have form and function. And, you should never sacrifice functionality for looks alone. My "battle" with Dave was never about making us suffer. It was about trying to make him see that we could have both if we found an alternative solution and the right compromise (and hoping I was correct). Thank goodness my negotiation skills weren't wasted; the verdict- we are 100% fine without an overhead fan.
After hearing from so many of you, I'm now convinced that next to money, overhead fans may be one of the most common disagreements between couples haha. No light fixture is worth a marriage but if this has been a point of contention, we are proof that an effective standalone fan can totally work. I love it because I get to have my effective little fan alongside my pretty, statement light fixture. Dave is more indifferent because a "statement light fixture" doesn't mean that much to him. But, "indifferent" is a huge win in my book – the point is, he doesn't miss the overhead fan.
I went right for the "big guns" because I wanted to get it "as right as possible" the first time to prove my point haha. I have the Dyson Pure Hot Cool Air Purifier – it's a three in one with air purifier, heater, and fan. It tilts, oscillates, has 10 fan settings, and even has an option for a narrow or wide air stream. At lower settings, it's quiet; at higher settings, it's  louder – much louder than a ceiling fan. No, you don't feel the exact same overhead airflow but we haven't missed it; we set ours on the dresser directly across from the bed. I didn't know how much I would love or notice having an air purifier but I can actually tell a difference when I wake up in the morning. This winter, I used the heater function almost every day; I may like it even more than the fan. You can adjust the temperature up to 99 degrees, with the same options as the fan. The newer models are wi-fi enabled; while it does come with a remote control, ours doesn't have that capability. We don't use it often but it also has a sleep timer if you want to set the fan to turn off automatically.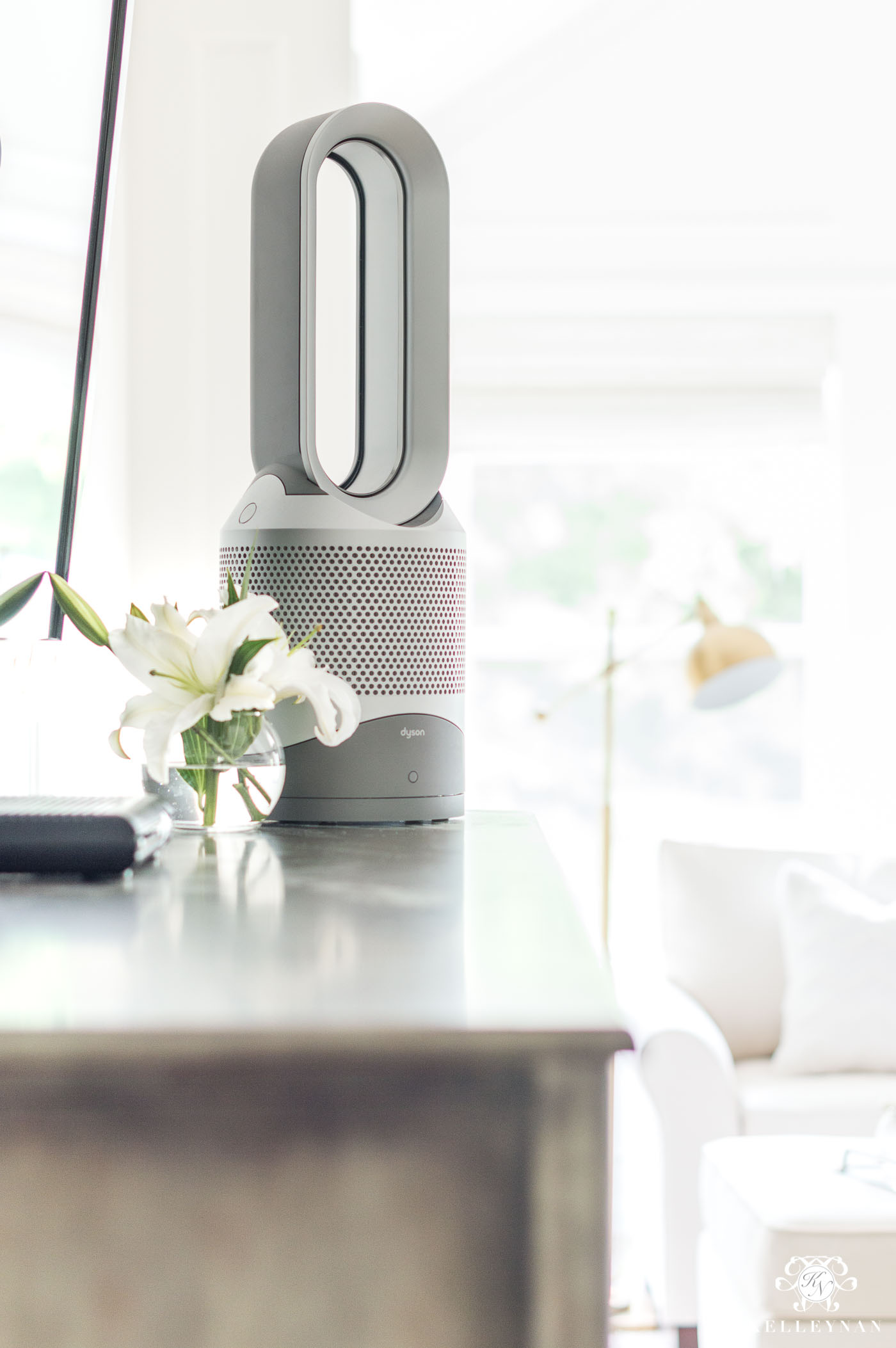 I also knew ahead of time that if we were to replace our overhead fan, I didn't want to switch it for another clunky, unattractive oscillator that would be an eye sore. This small tower can be moved and tucked away easily.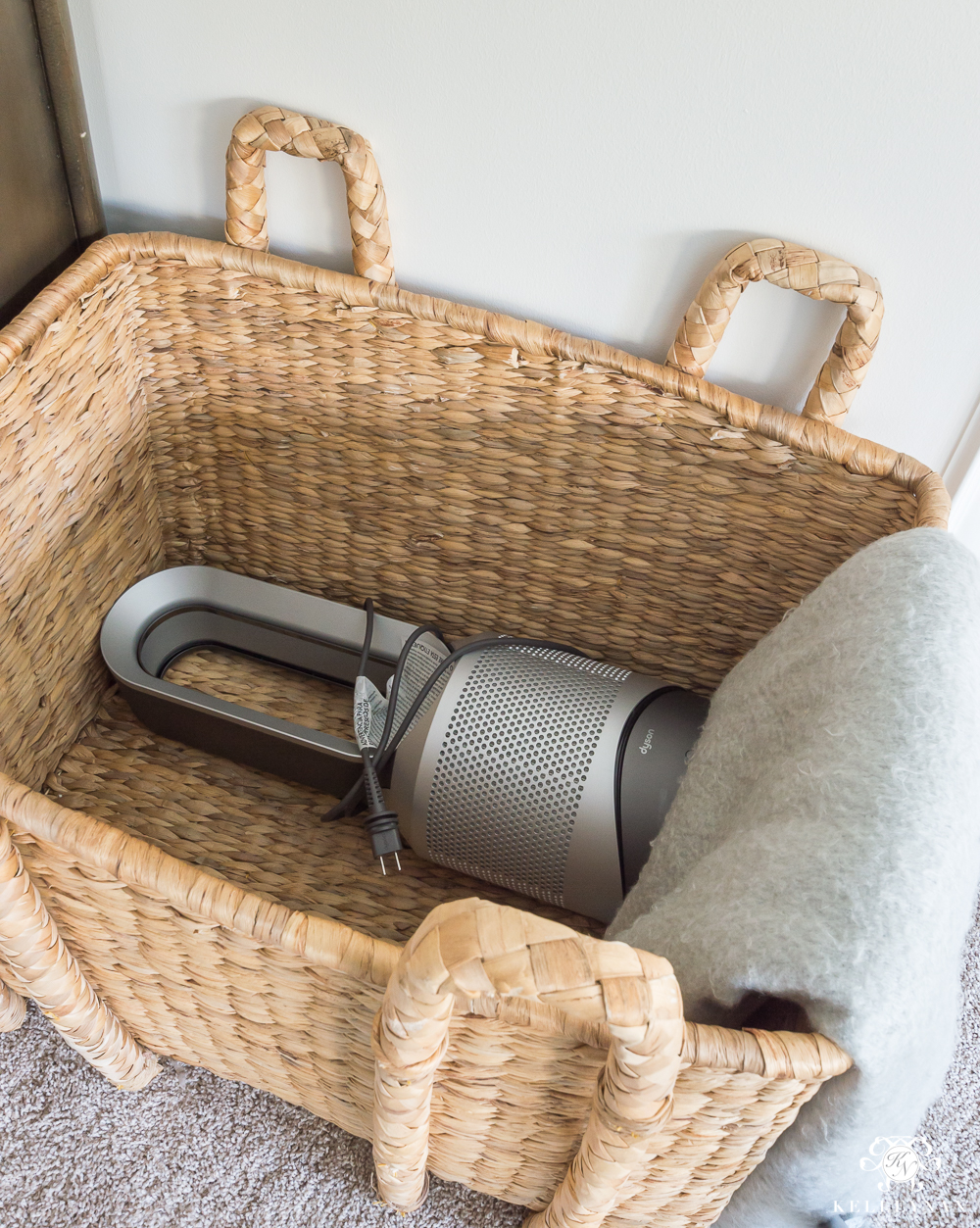 One caveat is that you can't have this short tower across the room to feel maximum airflow. There are larger Dyson towers that are less expensive and without the heat/air purifying features; those may provide further longevity. For our space, it works well. And, that heater can heat our entire room really nicely. If you are a Costco member, they occasionally run specials on the older versions of the Cool/Hot Air Purifier but you can see all the Dyson options HERE.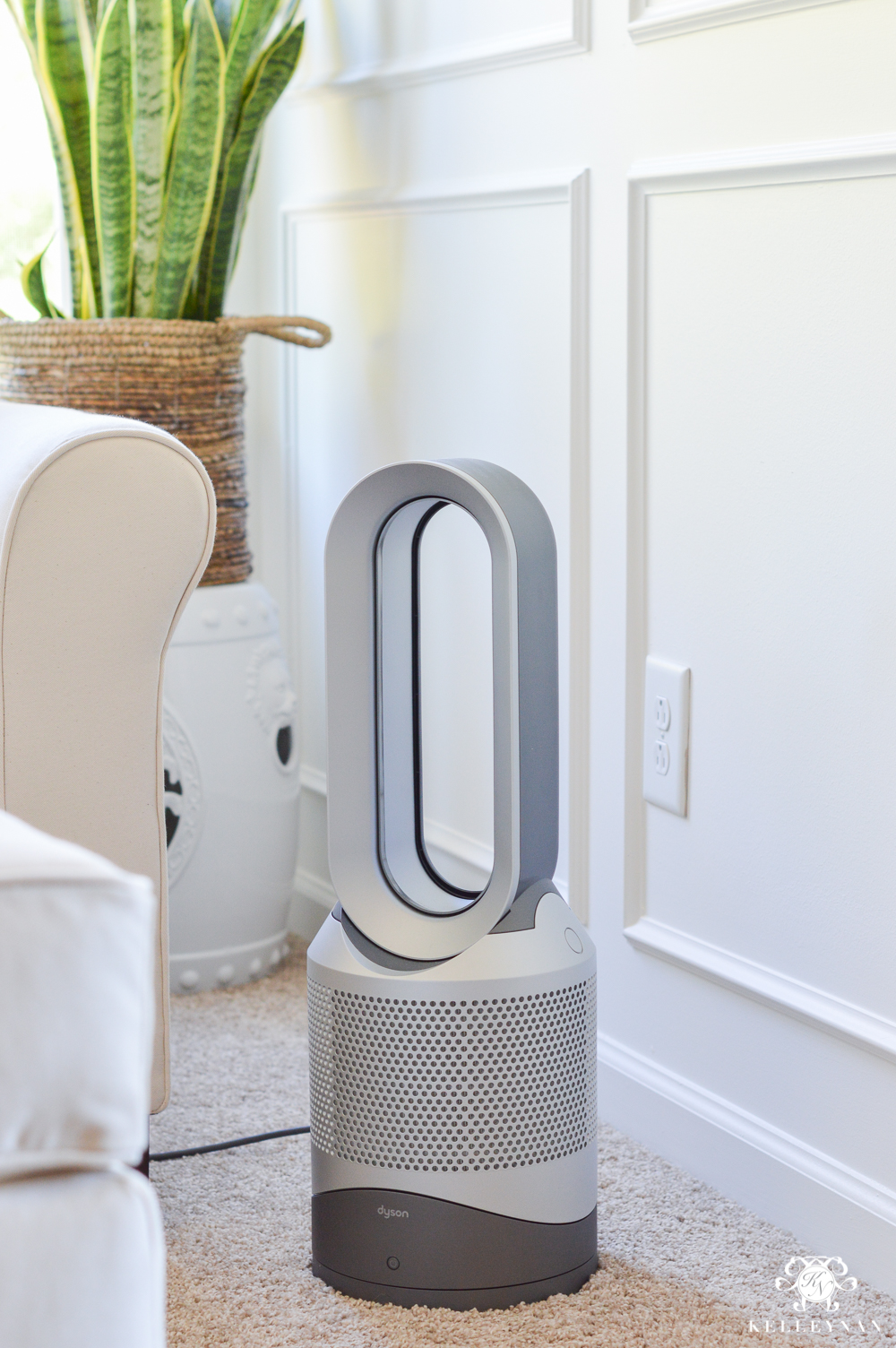 If you are thinking of making a move; it's the perfect time to test it out now that summer is basically here. Try a fan and leave your overhead off before bringing out the tools. My guess, you won't even miss it 😉 The Lopez household has officially been converted- bring on the overhead light fixtures (I'm looking at you, living room fan!)
ROOM SOURCES & DETAILS

Bed | Nightstands | Dresser- Restoration Hardware (no longer available) | Bench | White Linen Duvet Cover & Euro Shams| Belgian Flax Linen Linen Quilt (in Flagstone) | King Linen Shams (in Flagstone) | Black & Cream Striped Pillows | Indigo Pattern Pillows | Indigo Velvet Pillows (similar) | 700 Thread Count Sheets | Leaning Floor Mirror- HomeGoods | Chandelier | Bedside Lamps | Chunky Cream Wool Rug (8×10) | Catch-all China Dish | Oversized Double Handle Basket- HomeGoods (Similar) | Hamper- HomeGoods (Similar) | Oversized Chair (no longer available- SIMILAR) | Ottoman (no longer available- SIMILAR) | Side Table in Sitting Nook | White Table Lamp (set of 2) | Garden Stool | Bird Art Print 1 | Bird Art Print 2 | Moulding | Woven Shades (Bali White; Cordless) | Brass & Mirror Tray on Ottoman | White Pillows in Chairs: HomeGoods | Linen Throw | Black Volcano Candle | Gray Rug in Sitting Nook (5×7) | Sheepskin- Costco | Floor Lamp | Moulding | Paint: Simply White by Benjamin Moore