Happy weekend, friends! Full admission- no shame… I've had this post 90% ready since yesterday and haven't actually wrapped it up to post because #VeronicaMars. I'm totally sucked in and I'm not even a little sorry about it- dang good thing I accomplished a good bit this past week because this weekend is for escaping to the drama in Neptune from the comfort of my bed haha. Snack Around the Plate is always random but I think this week is extra random; I even included one of Dave's old faithfuls and one of his new favs. And, good news for those of you who were emailing me about live magnolia stems after this past week (see #3).
*Posts on KelleyNan.com may contain affiliate links. Read the full disclosure HERE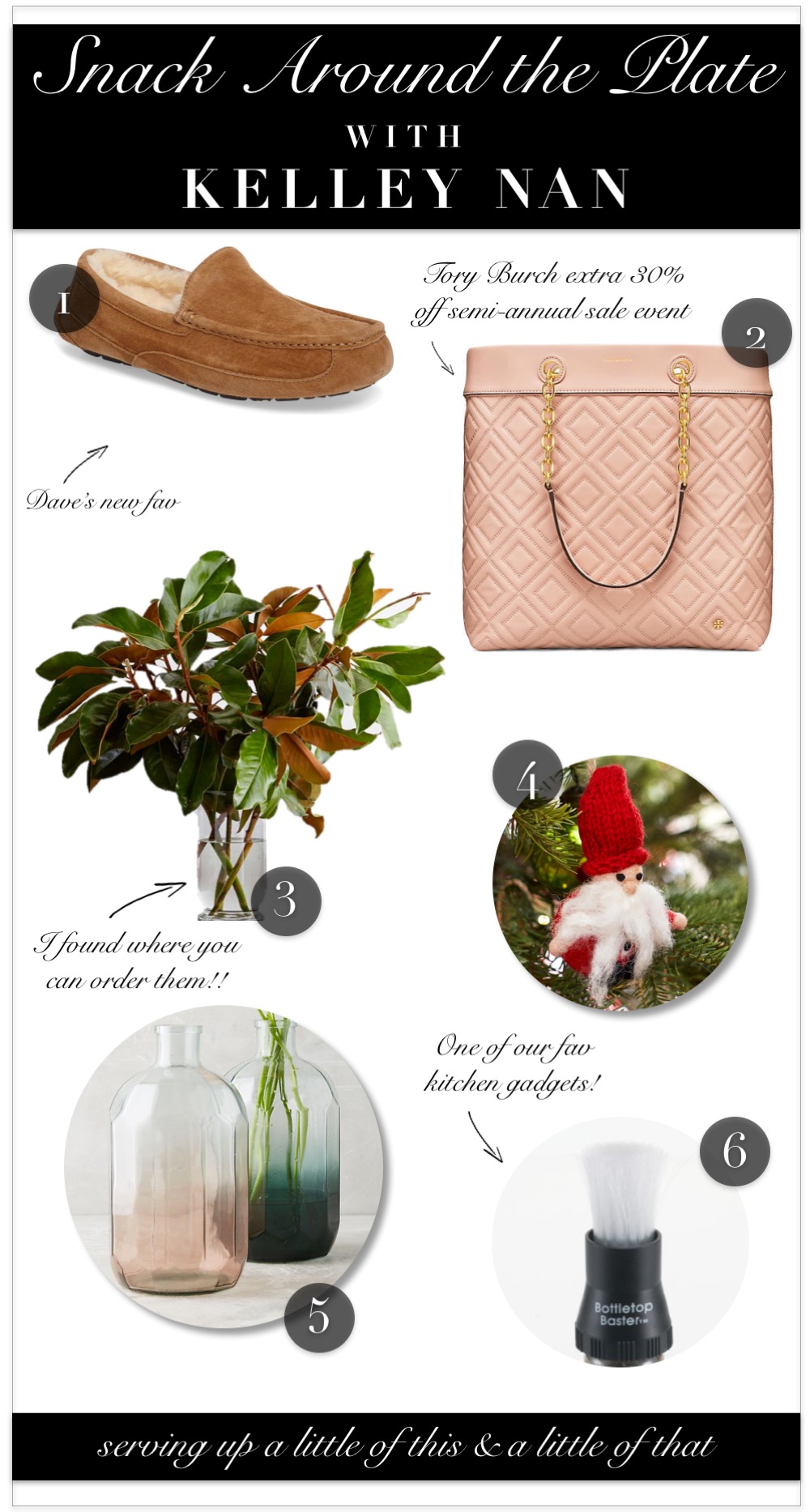 1. Dave's Latest Love: I only recently purchased quality slippers for myself and I couldn't believe what I had been missing out on for so many years. When we were at Ugg recently, I encouraged Dave to try these. He had zero interest until I all but put them on his feet myself. He was hooked. There was no putting them back on the shelves; it was love at first try-on. He wears them non-stop; if you/your hubby have never been introduced to what a difference a supportive, cozy, cushy slipper can make while you're at home, you must. They have five stars and over 2K reviews for a reason, trust me. Plus, several claim they are only now buying their second pair after 7-10 years. They come in several colors; if between sizes, size up. Shop them here: Men's Suede Ascot Ugg Slippers
2. Tory Burch Semi-Annual Sale: Right now, Tory Burch is offering an additional 30% off all sale items, including this pretty tote. Use code EXTRA30 for the discount (free shipping and free returns!) Check out the sale here: Tory Burch Semi-Annual Sale
3. Live Magnolia Leaves Available for Order: After my post on transitioning holiday decor to winter (HERE), I had a ton of questions about the possibility or ordering live magnolia stems for those who aren't around trees to snip their own branches. I got curious and y'all, I found some! They ship out a pound of them for less than $15, they dry naturally, and are said to last up to a year. Shop them here: Live Magnolia Stems
4. Classic PB Clearance Ornaments for Next Year: Pottery Barn has their holiday decor (like this cutie felt Santa ornament) listed on clearance, plus an additional 20% off with code NEWYEAR. Right now, you can pick up most ornaments for a dollar and some change. Extra discount ends tomorrow! Shop them here: PB Holiday Clearance (plus felt ornaments)
5. Ombre Vases for Spring: I am crushing so hard on these Anthro ombre jars for spring. So pretty and a perfect pop of color. While I don't think these are applicable, they currently have an extra 20% off their home items, too 😉 See them here: Gradient Vase
6. A Favorite Kitchen Gadget: This basting brush screws directly onto most any bottle; Dave has used his for years when he's grilling for marinating and spreading sauces. No guessing game, no wasting, and no mess. Seriously, genius. And, it comes in a 3-pack 😉 Shop it here: Bottletop Basting Brush
Make it a good one, y'all, and come back and visit with me this coming week. I finished my first organization project of the year earlier this week and I'll be sharing all the details. In the meantime, you can subscribe for my email updates at the bottom of the post to be alerted when it goes live, and check out my previous organization projects HERE.