After sharing the big news over the weekend (if you missed it, you can refer back HERE), I was blown away by the generosity of so many of you. The kind words, encouragement, and feedback were amazing. I am continuing to love your suggestions (it's not too late to take the brief survey HERE) and am quickly filling up my content calendar for the months ahead. (Please know that even after the survey closes, I am always open to suggestions and requests. And, if you really like something, that's always helpful to know, too ;).) Most of you like the diversity in topics (from Costco alerts and recipes, to my favorite travel shoes and home makeovers) which was honestly a relief – because I love sharing it all. Several of you have suggested topics I hadn't considered and others suggested going deeper on things I already do share. A few even asked if I thought I would run out of subjects since I use my home as my primary canvas. And the easy answer is… nope! Even though my home is an open book (for the most part), I consider very few spaces "done". Just because we aren't living in constant renovation and for the most part, have our rooms set up to be used and enjoyed, doesn't mean that they are finished. There are some things we didn't opt for initially during the build because it was out of budget and others were an interim "fix" with a plan to update later as we were able. And others- well, there are areas that I didn't thoughtfully plan and rushed into that I never really loved. I've had a long running list in my mind for a while so I thought I would post a review to 1. help me remember and prioritize, and 2. give you an idea of some things to come (slowly but surely 😉 ). Before I share our upcoming projects and wishlist dreams, I wanted to go ahead and address something that inevitably, will cross at least someone's mind.
*post may contain affiliate links*
Of course, we are thankful for all we have and switching things that some may find "perfectly fine" does not diminish that fact. I see our house as one big, ongoing project without a "finish" date and I don't think there will ever be a time where I think everything is just as I want it simultaneously. Even if I did, I would likely change things because while we live here, it is also my studio to play and create- one of the most fun parts of doing what I do. Second, I will be working to evaluate what is realistic as I navigate this new chapter. A double edged sword, while I will now be able to dedicate my time to the blog and projects, I will also have to be more conscious about budget. I've always considered myself somewhat frugal, but now, I really am entering unchartered territory and have started paying more attention to even the smallest expenses.
So, with all the caveats out of the way, here is a comprehensive list of projects I want to tackle. These do not include organization projects, styling, seasonal, and minor decor updates. These are more permanent house-fixture type projects 😉
NEAR(ISH) TERM
1. Re-evaluate and re-organize office to suit current needs; add organizational solutions to office closet
My previous job called for lots of storage with lots of equipment. After shipping things out, it is a WRECK. And, my needs have also changed. I'll be determining the best use for my office closet and reconfiguring a lot of systems in here.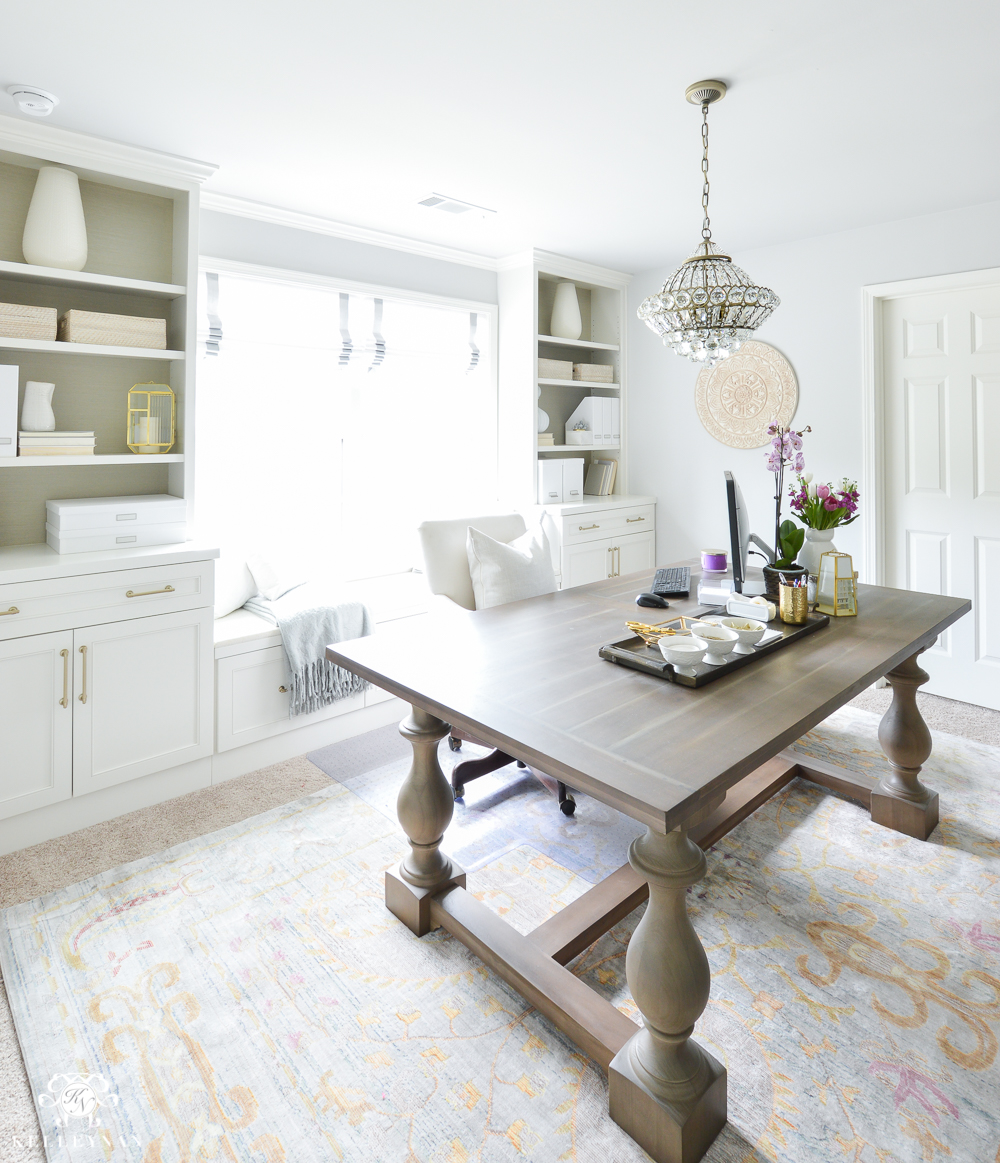 [See the full office reveal HERE]
[See some office organization HERE]
2. Update lighting in the breakfast room and kitchen bar area
As this space has evolved, the style of lighting just doesn't "go" as well. I'll be changing the fixture over the table, along with the lanterns over the kitchen bar area.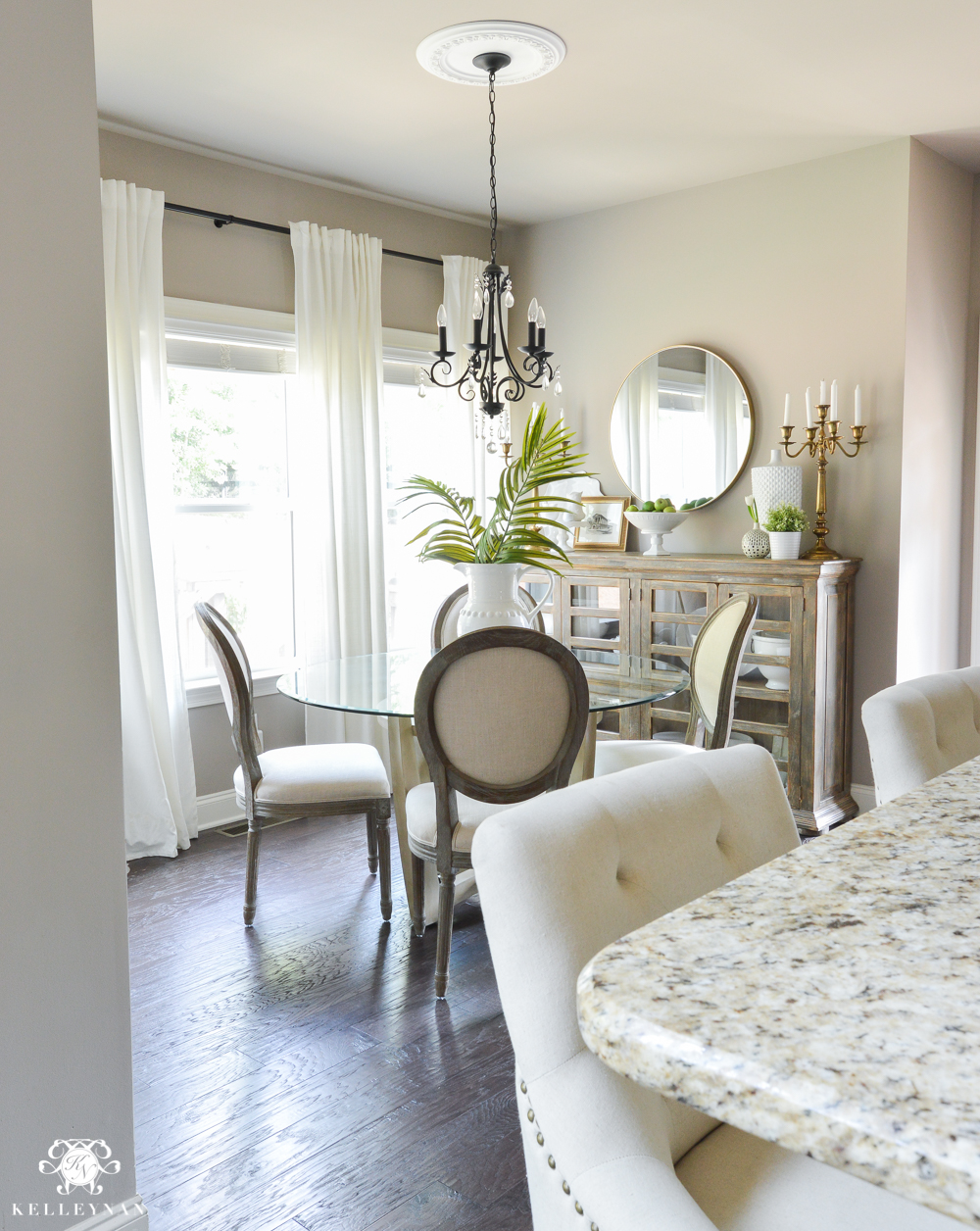 [See the latest on our breakfast nook HERE]
3. Add more durable (and pretty) detail under the bar
My friend (and neighbor) Jennifer of Jenron Designs recently updated her island which was the major inspiration in adding this to my list. She has a GORGEOUS kitchen; the below shot of her island is a BEFORE, similar in style to the area under my bar. You HAVE to check out her AFTER HERE.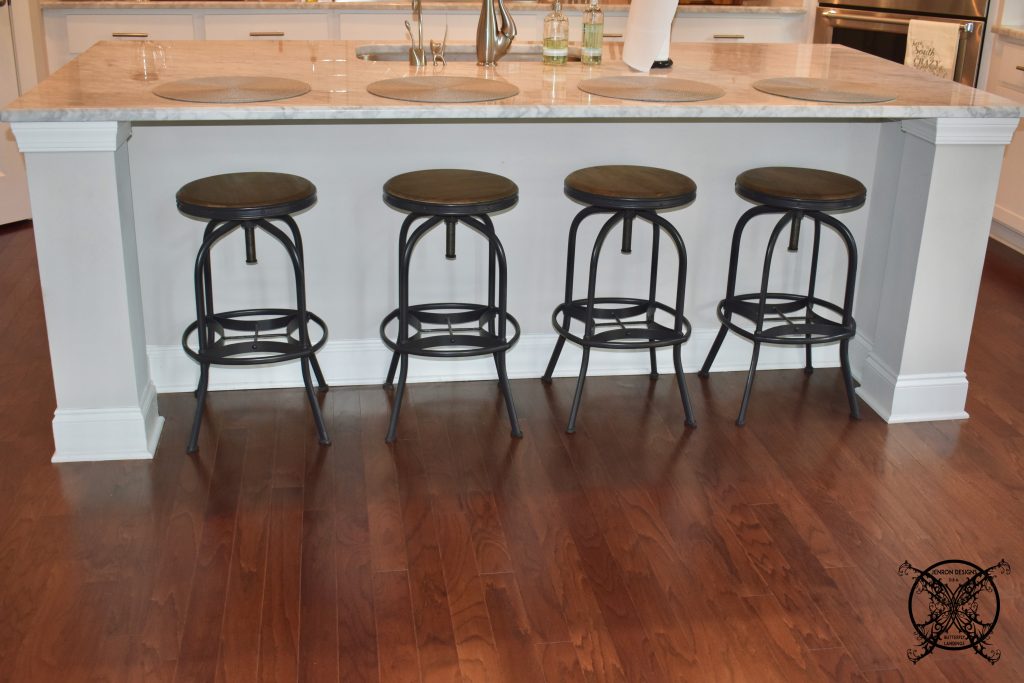 Such an incredible upgrade and can you believe she and her husband, Ron, completed this project in a day?! They have always been super generous with their time and helping us; Jen and Ron, if you see this, consider this a "soft plea" for help haha 😉
4. Update lighting on upstairs catwalk
We have three flush mount lights over our catwalk and after spending (literally) the past two years trying to determine which flush/semi flush mount I wanted to change them to, I think I have finally decided to go with recessed can lights. Don't quote me on that just yet 😉

5. Update stairway sconce
It's a simple, builder-grade number and isn't cute :/ I am hoping to make this update SOON, after first determining the catwalk lighting solution.
6. Master bedroom- makeover (and add sliding door)
The master bedroom will likely be coming this fall. I have a lot that I love (like most furniture that will be staying), and a lot that I don't. We never fully designed this room and after "living in it" for two and a half years, I now have a few ideas on which direction I want to go. We will be replacing the door going into the bathroom because of the way the laundry room is positioned. Between the laundry room and bathroom, all in a small area, we have about 8 doors (several which open INTO each other).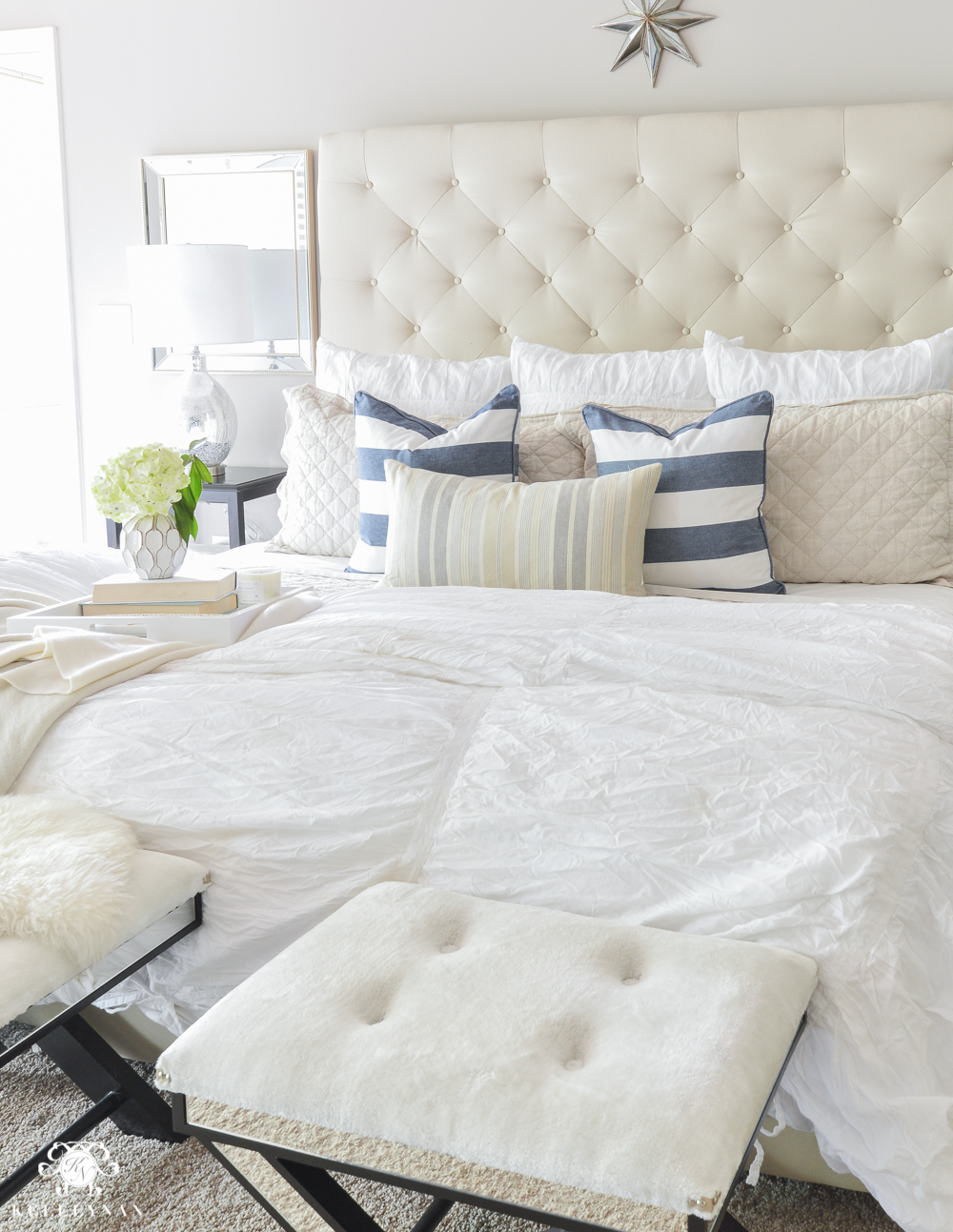 [See master bedroom details HERE]
7. Mama Nan's room- makeover
Mama Nan's room is one of those examples where her room is "fine",  but it basically got the decor leftovers from our old  house. It is a small room and won't take too much to update, but I want to actually take the time to plan this room, with her in mind.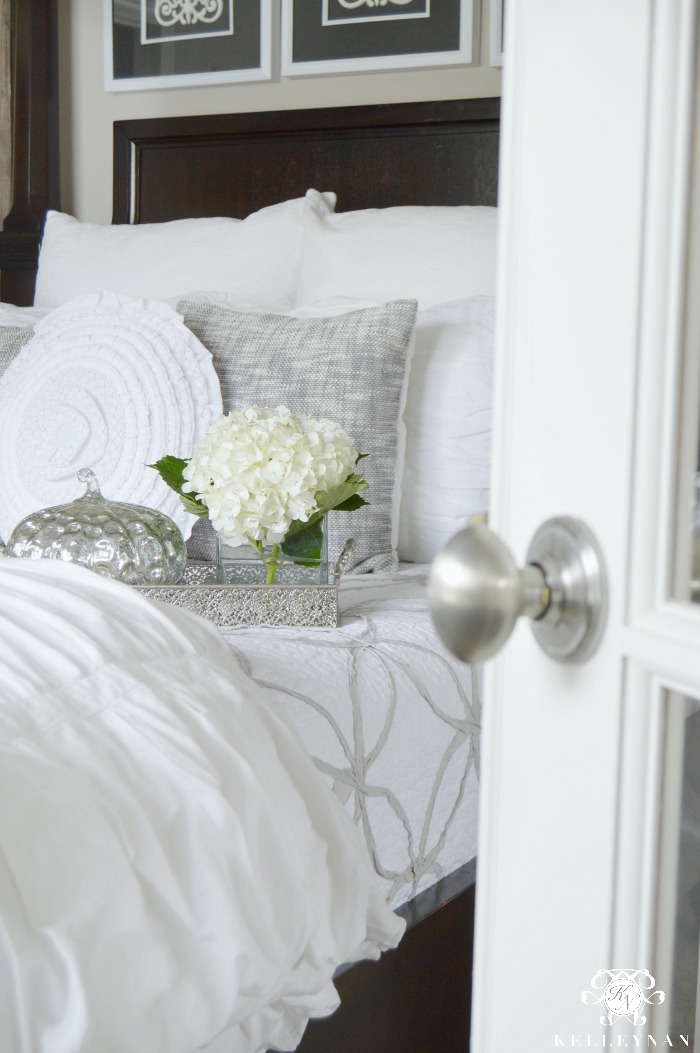 [See Mama Nan's room, currently HERE]
8. Powder room- makeover
This room, as it is, is a boring tiny box with no trim, detail, or excitement. It has a small pedestal sink, curtains that don't belong, and a mirror my mom best described (after a wine night on the porch) as "gaudy". 'Nuff said haha
9. Take down blinds in unneeded areas
When we were building, I had faux wood blinds added to almost every window in the house. After living here, and keeping almost all of them drawn all of the time, I realized there are private areas that don't see much sun, where they aren't really needed. I will be taking down a good many and eventually, replacing some with shades or shutters where they are still needed.
10. Add two story curtains to great room
Curtains can be expensive. Especially curtains with as much fabric as I would need to cover two stories of windows. I have had a vision since we were building that involved a long, somewhat casual, simple panel on either side of the bow of windows. They won't be too structured as I don't want our family room too stuffy and buttoned up, but I am dying for those treatments!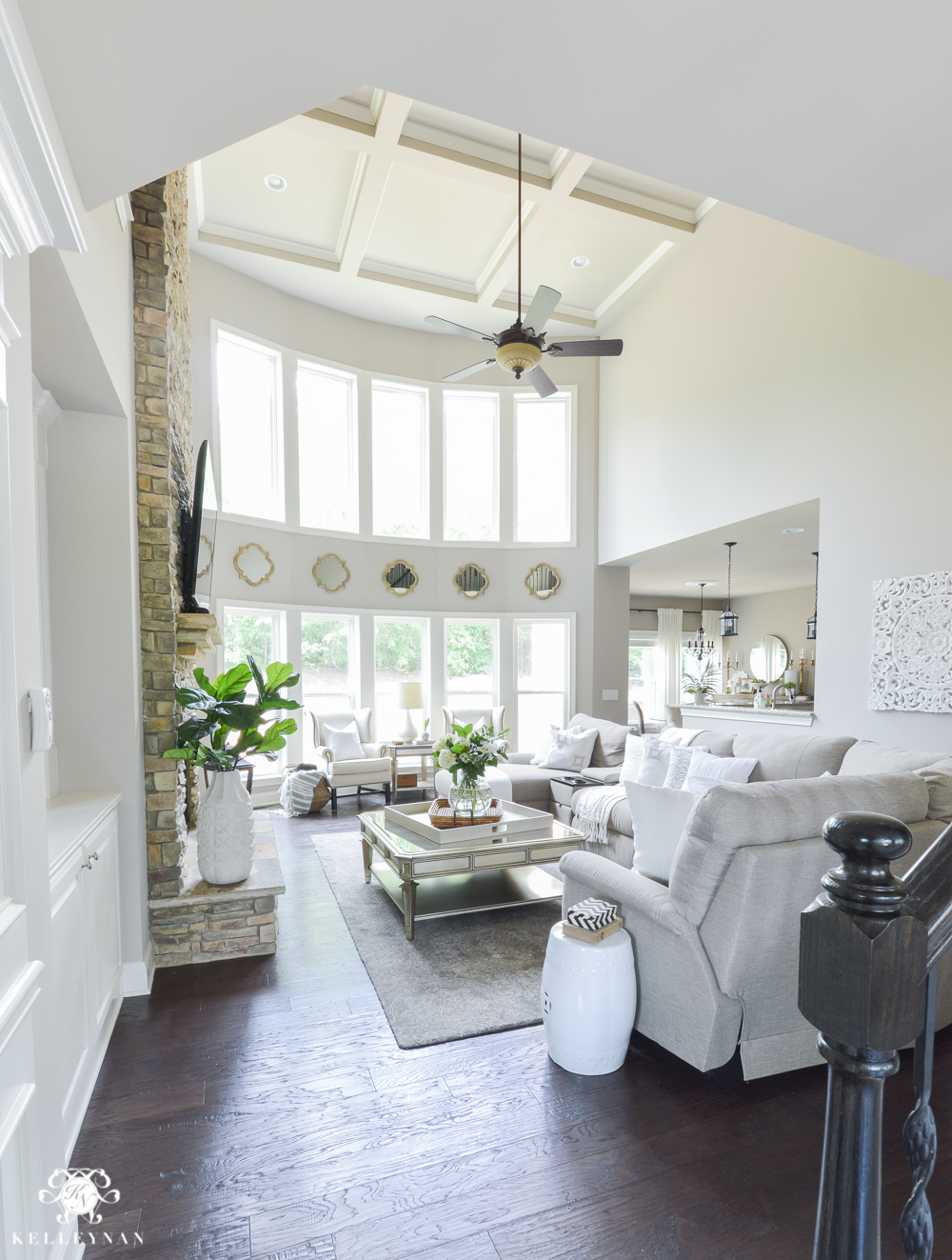 [See more great room details HERE]
11. Butler's pantry- add backsplash, recessed lighting, switch knobs, update lighting
This is a tiny little area between the kitchen and dining room and honestly, it's just kind of boring. A fast update (which I quickly determined was a terrible choice) was switching the knobs for two mis-matched sets I snagged on a trip to HomeGoods. They are terrible and I have been too lazy to change them haha This space is small enough and square enough where I MAY try my hand at a few DIY projects I've never attempted.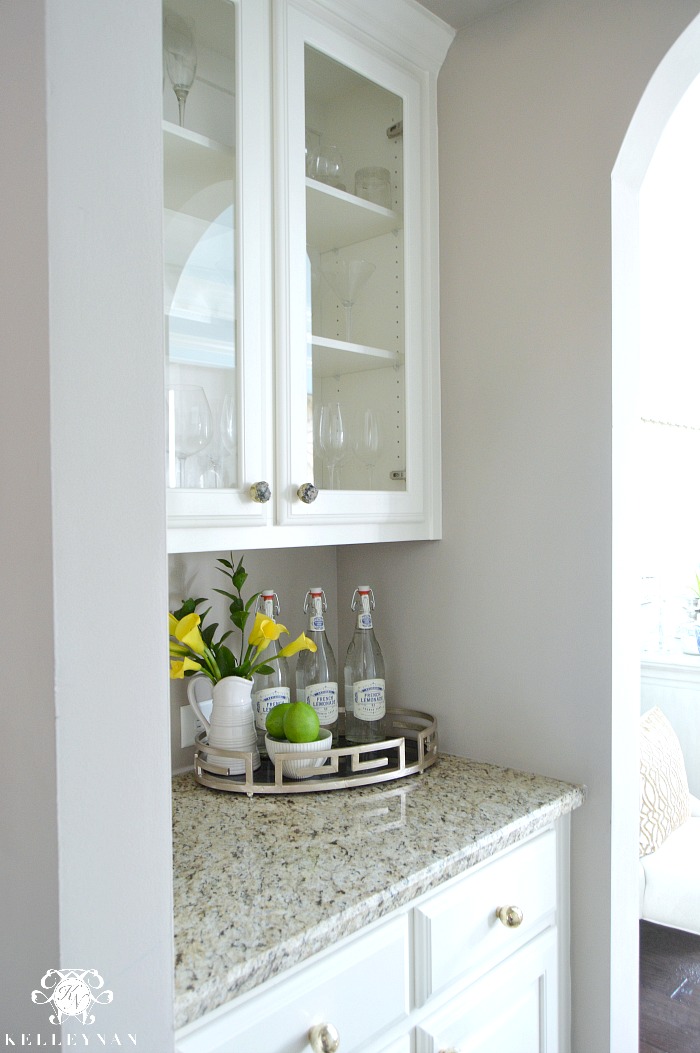 12. Dining room- update rug, paint new wall color
If you have seen my Instastories, you know why I need a new rug. If you haven't, imagine that the below rug is a dog. And this dog had the worst trip EVER at the groomer. And it's now half fuzzy and half bald. The rug became one of Maggie's "special projects" and there is no reviving this poor thing. As for the wall color, I LOVE the light blue. When the sun is streaming through and it's washed in light, it is so serene. But, when I initially picked a light blue, it was much paler than this. The designer logging my requests questioned my choice, claiming it would be difficult to even see the blue hue I initially picked, and I sheepishly agreed to go a shade darker. Friends, lesson learned- always trust your gut! The blue is very pretty but the fact remained, I had envisioned something paler.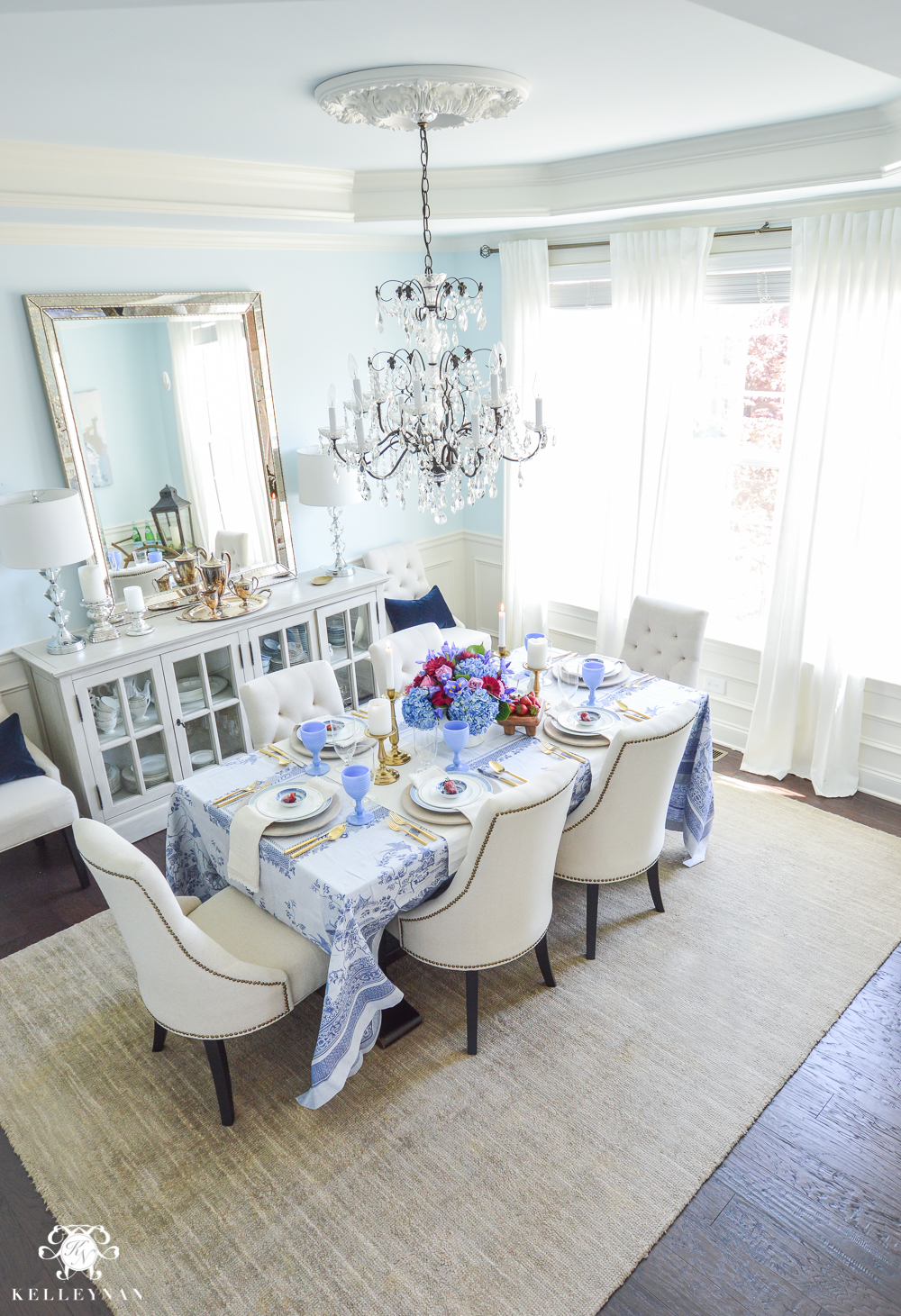 [See dining room details HERE]
13. Add recessed lighting, grasscloth, and updated knobs to built-in book cases in great room
I love our the feature of our built-ins, I just want to personalize them a bit more. And, the recessed lighting should give a nice ambiance, without lamp assistance, during movie night.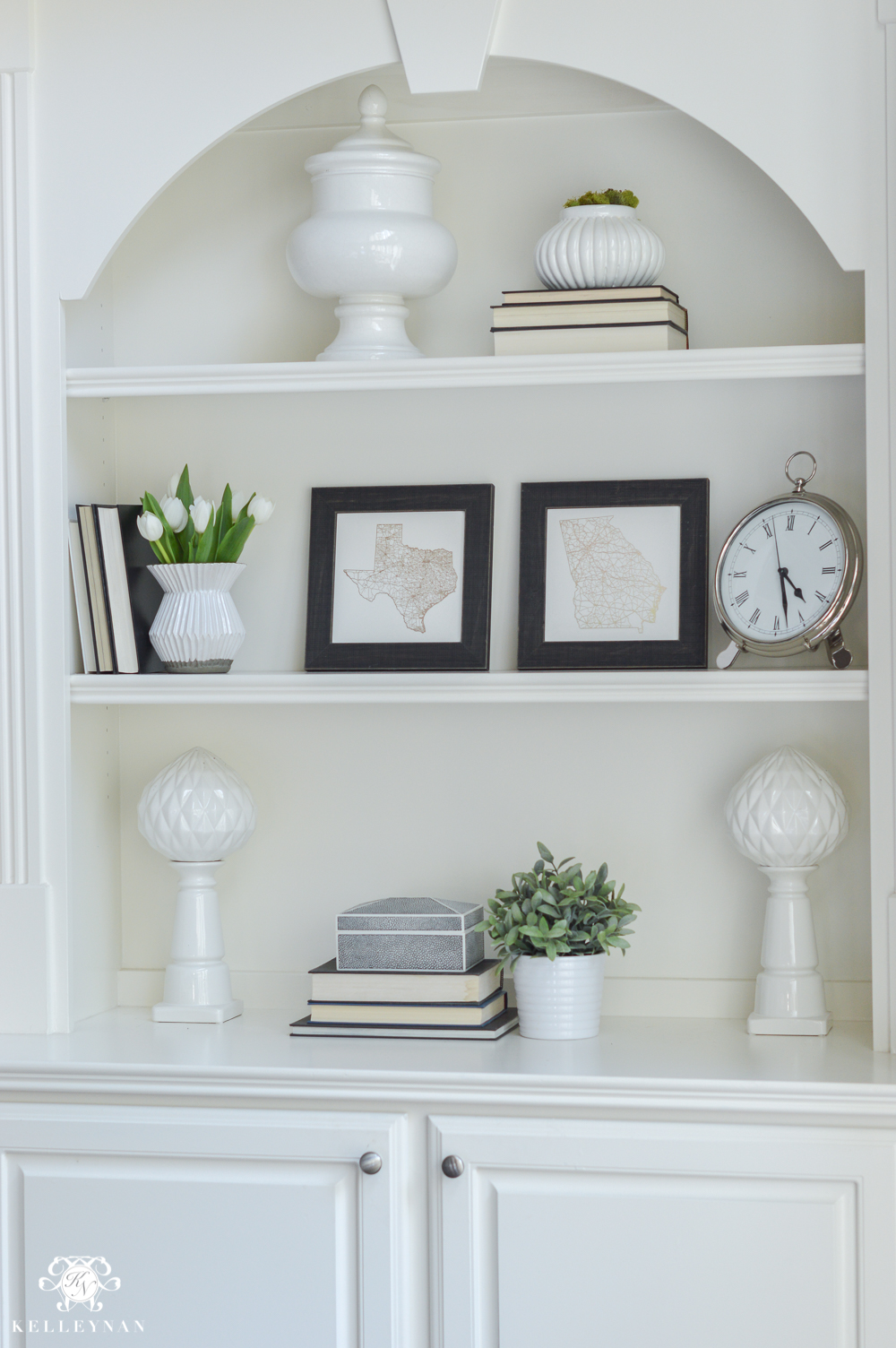 14. Update lighting in downstairs hallway
It's another "boob" light, just like the catwalk. She's gotta go 😉
15. Update ceiling fan in white guest bedroom
During this quick makeover project, I never got around to switching the lighting fixture (which is why you won't see it in most photos). I haven't decided exactly what it will be just yet but figure when I see it, I'll know.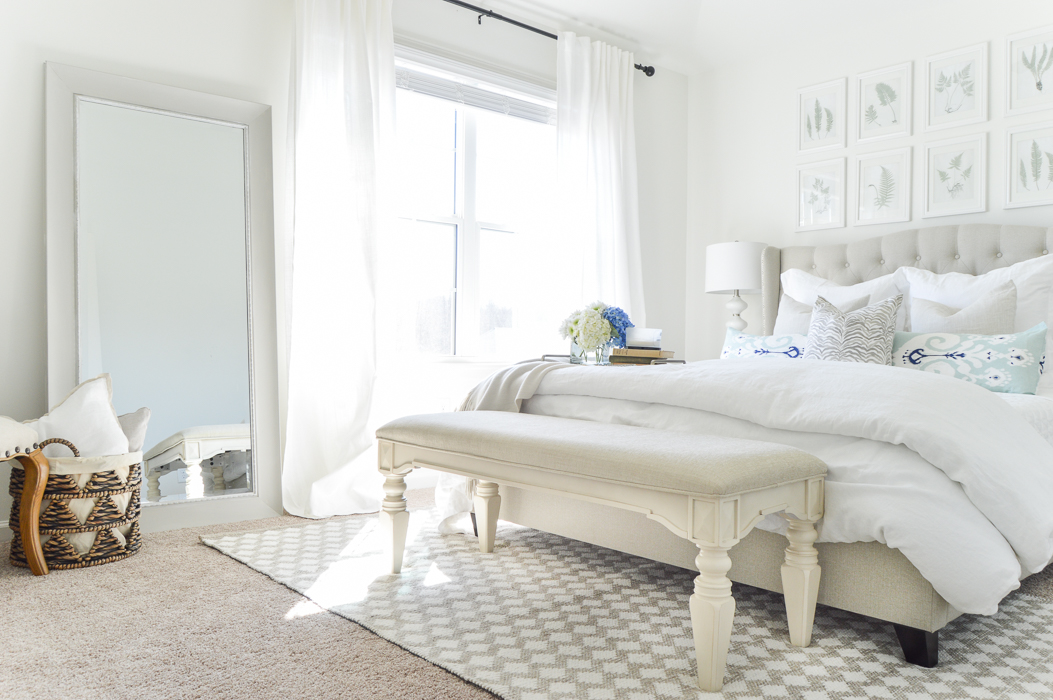 [For the full white guest bedroom reveal, click HERE]
16. Foyer- update entry table
I love mixing styles and finishes but this one just feels awkward to me. I've been on the lookout for a while but like the update above, I feel like when I see the "right" thing, I'll know.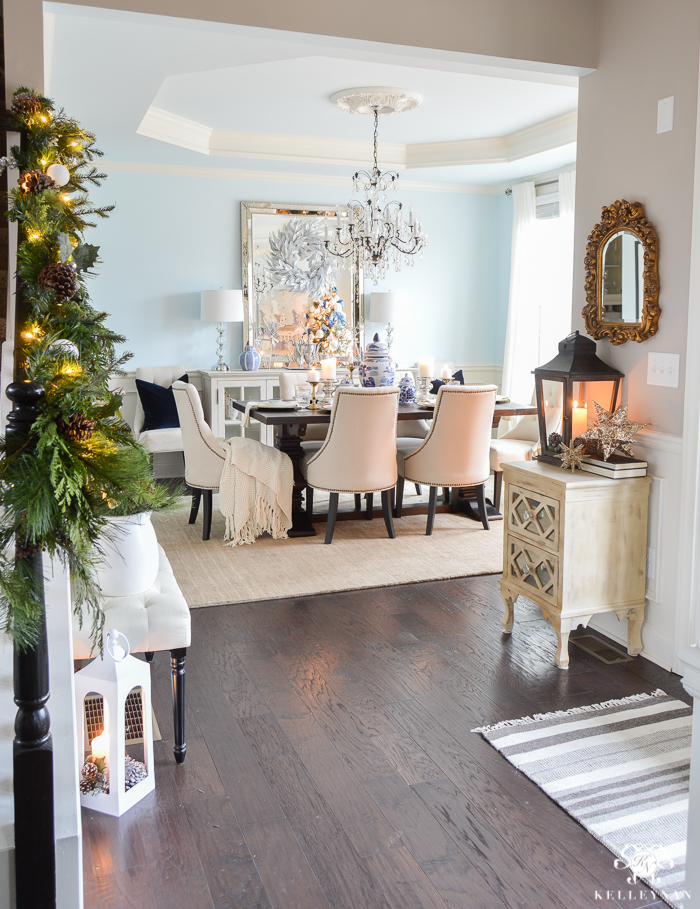 [See latest foyer lighting update HERE]
17. Update floor registers
This is more of a fun project that can make a big impact. I'm glad our current registers blend somewhat with our flooring but switching those vents is a small change that can make your home feel custom and well thought out.
18. Add more molding and trim throughout
We were lucky that the "standard" from our builder involved a more custom look than what is typical. But, there are several areas on my list where I want to add more crown molding, chair railing, and wainscoting.
19. Change blinds on doors to more streamlined, clean shades
Back to the deal on the faux wood blinds. Our doors (two going outside) were outfitted with the same style blinds as the rest of the house but they have always been a big, awkward mess. I plan to switch these to a woven/fabric shade sometime soon.
20. Add more landscaping
This is a slow, ongoing effort. We went through our first "round" last fall and it made a huge difference. We are still deciding exactly what we want and plan to incorporate a little more for the next few falls and springs. My next wish list item are blue hydrangeas, framing the back of our house, similar in style to the limelights on the side of our deck.
FUTURE
1. Laundry room- makeover
Our laundry room is basically a tiny pass-through, going from the upstairs hallway into the master bathroom. It is awkward with a wire shelf and zero room to transfer the laundry basket without performing a few acrobatic moves. Also, per the advice of others, we went with a top loading washing machine in lieu of a front loader. What I didn't realize is that with the awkward configuration and really needing a storage solution above, a top loader prohibits the possibility of adding such space. Not sure when these updates will be in the budget but I am DESPERATE for an improvement in this area.
2. Great room- console table area, consider a smaller sofa,  new rug, add/switch hanging artwork
I love our great room. But again, as we have had more time to live in the space I am considering two smaller sofas in lieu of the large sectional to give a little more space. Also, there are some big, empty, untouched walls that need some love. I like the big piece over the built-ins but may go for something a little more neutral that "plays better" with seasons decor switch-ups.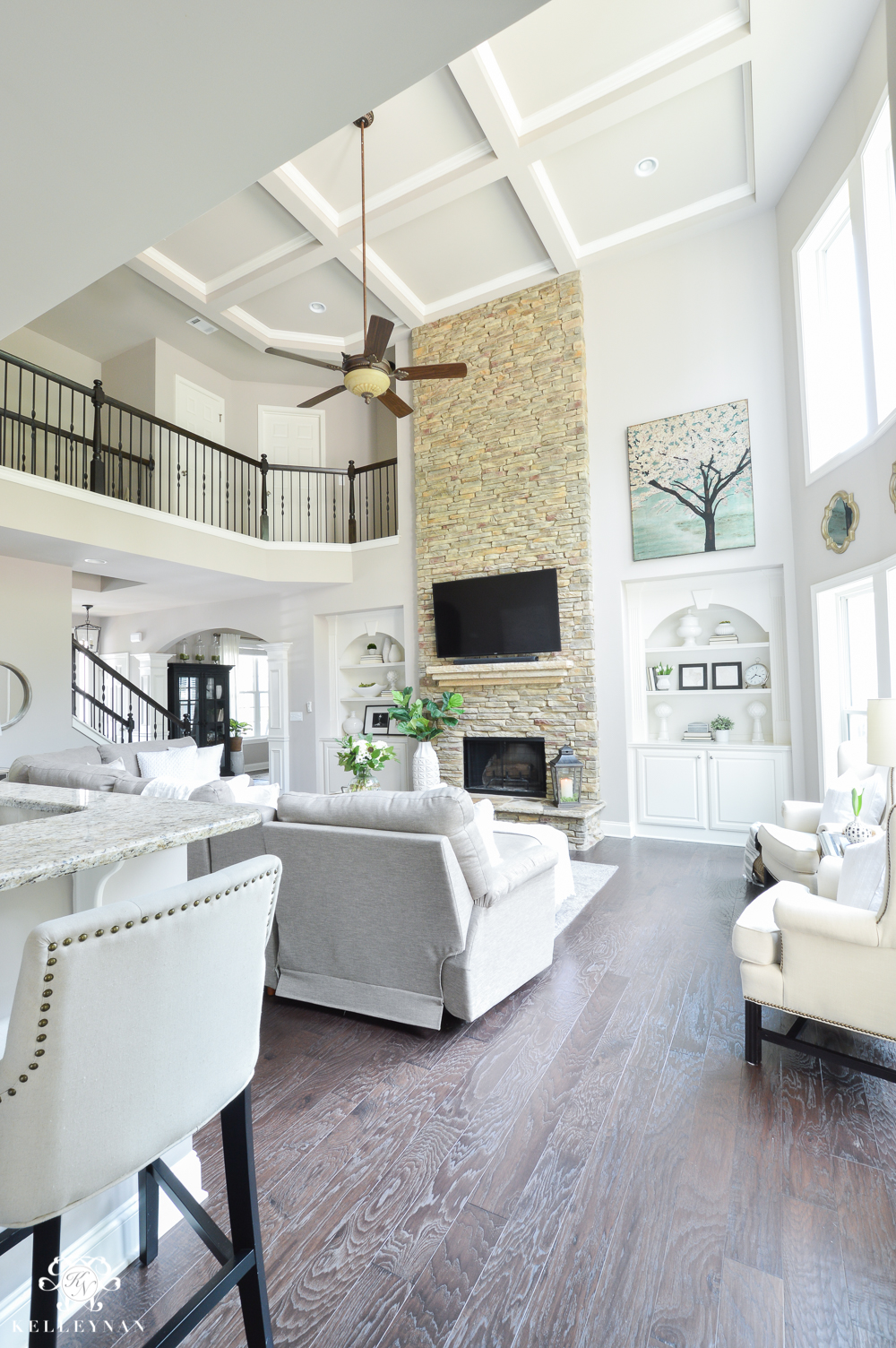 [See more great room details HERE]
3. Formal living room- updates throughout (mini-makeover)
This room is by far my "trendiest" room and just as the name "trend" describes, there are some things in here I have grown tired of. I'm not sure what the future of this room will be but it is on my radar 😉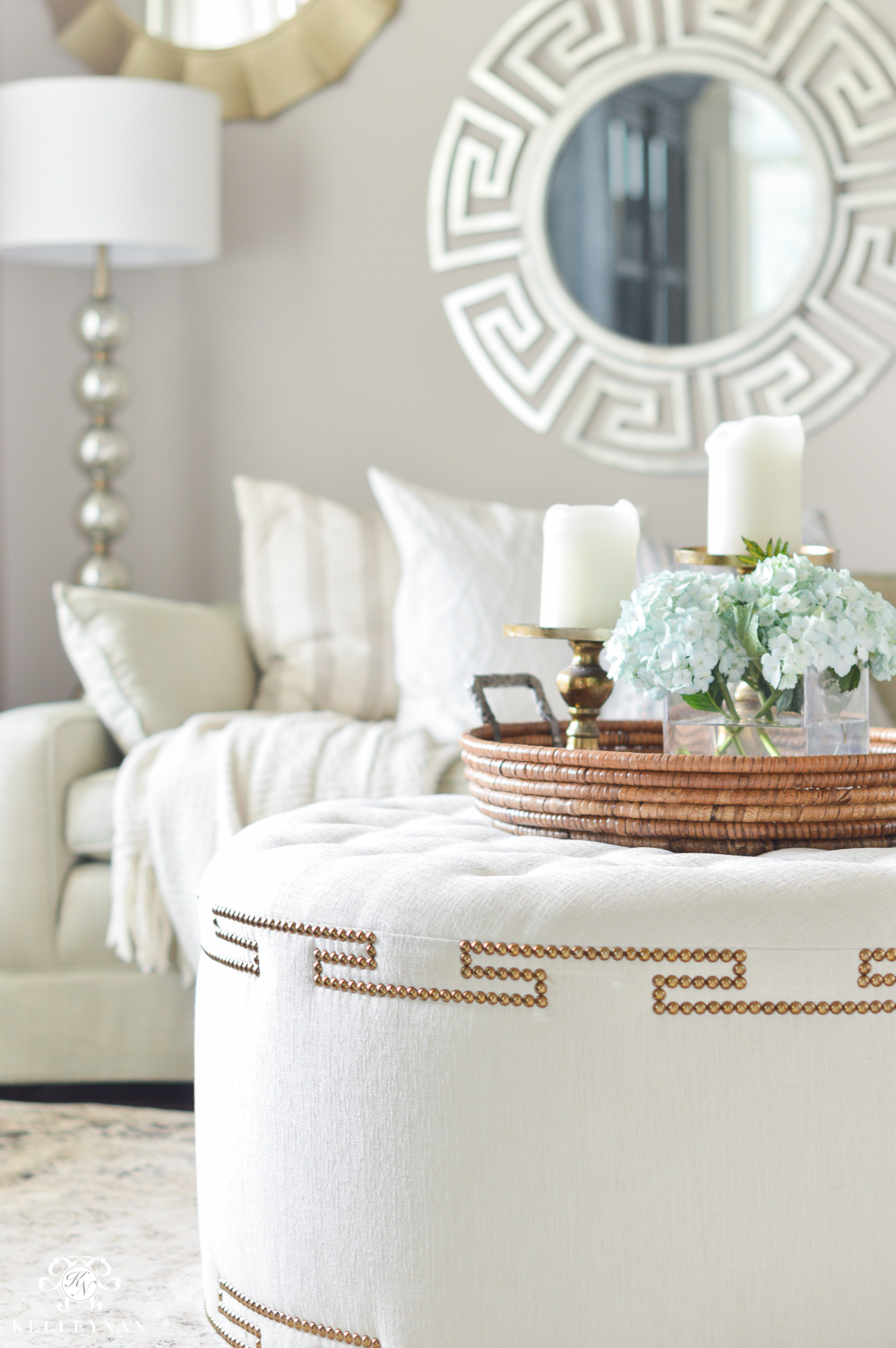 [See more formal living room details HERE]
4. Clear more trees in back yard to back fence
Over half of our back yard is covered by underbrush and trees. Dave will be marking the "good" trees to keep when they are in bloom, and cleaning up/clearing out a bit of the rest to extend our back yard. It's already all fenced in 😉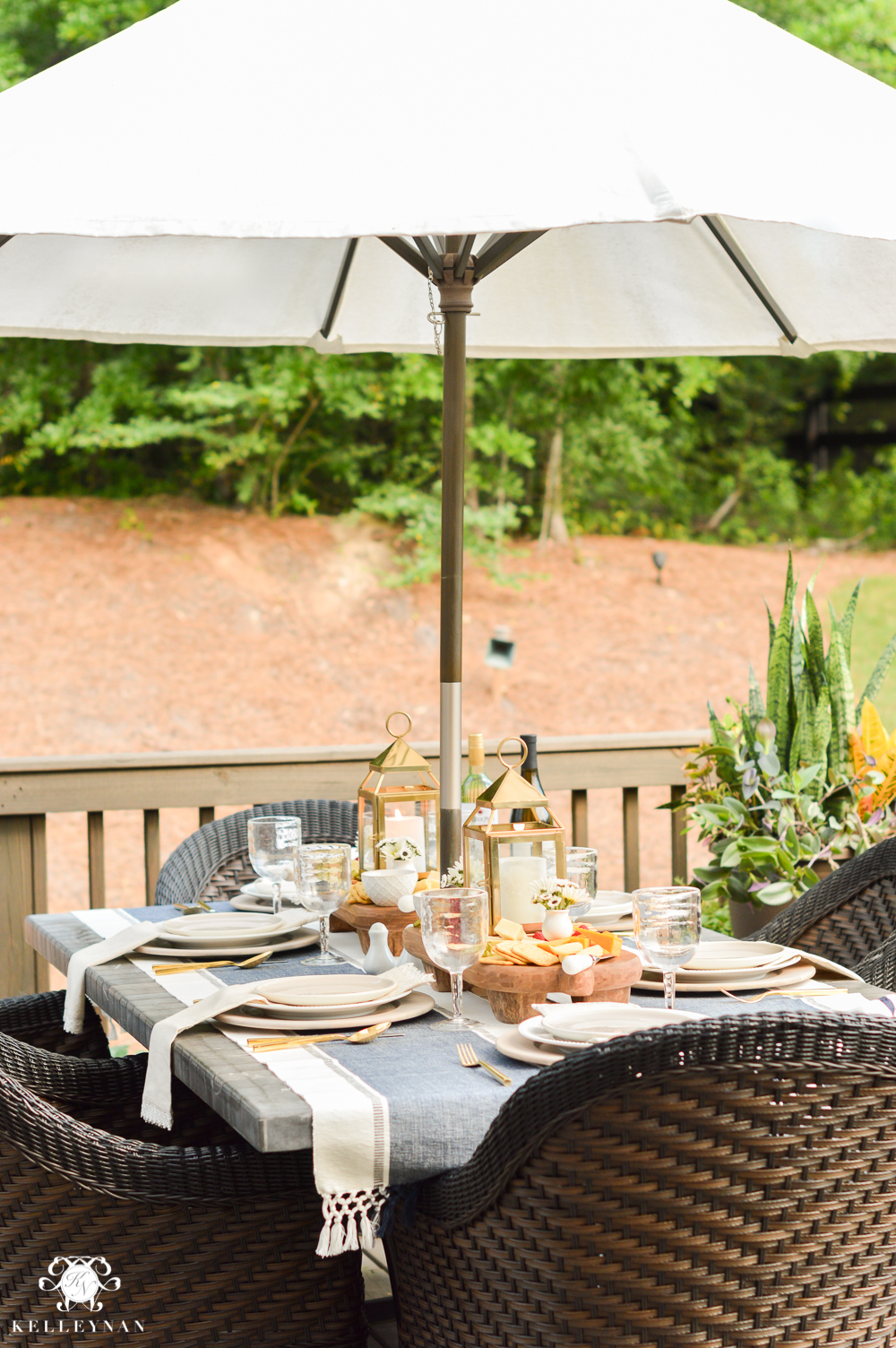 [See more details of this outdoor space HERE]
WISH LIST
1. Switch carpet to hardwood floors on stairs and upstairs
I have this as a "wish list" dream item but honestly, it is one of the improvements I want to make more than anything. We intentionally opted for carpet upstairs (I have had bad luck when it comes to stairs and thought we wanted it in the bedrooms) but quickly learned, with a growing pup family, we most certainly do not. With its expense, this will be a "save-up-for-a-while" type project.
2. Bathrooms (basically a full renovation on all of them. May or may not happen in this lifetime haha)
We skimped in the bathrooms more than any other place in the house and while I would love a bathroom I love, these are some of the lowest priority spaces.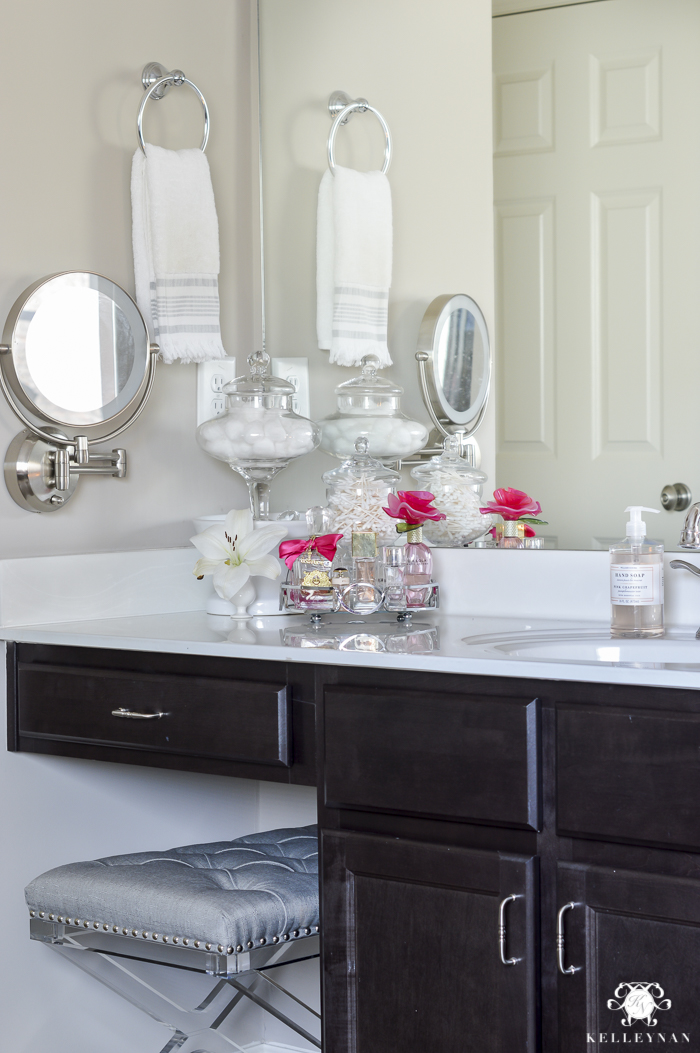 [See vanity organization makeover HERE]
[See organized bathroom linen closet makeover HERE]
3. Kitchen updates
Our kitchen is pretty dark with little natural light which makes our countertops appear darker. While those are the only thing I would set out to change, it's kind of like "if you give a mouse a cookie". If we change the countertops, we would likely want to change the backsplash tile, cabinet color, hardware, etc.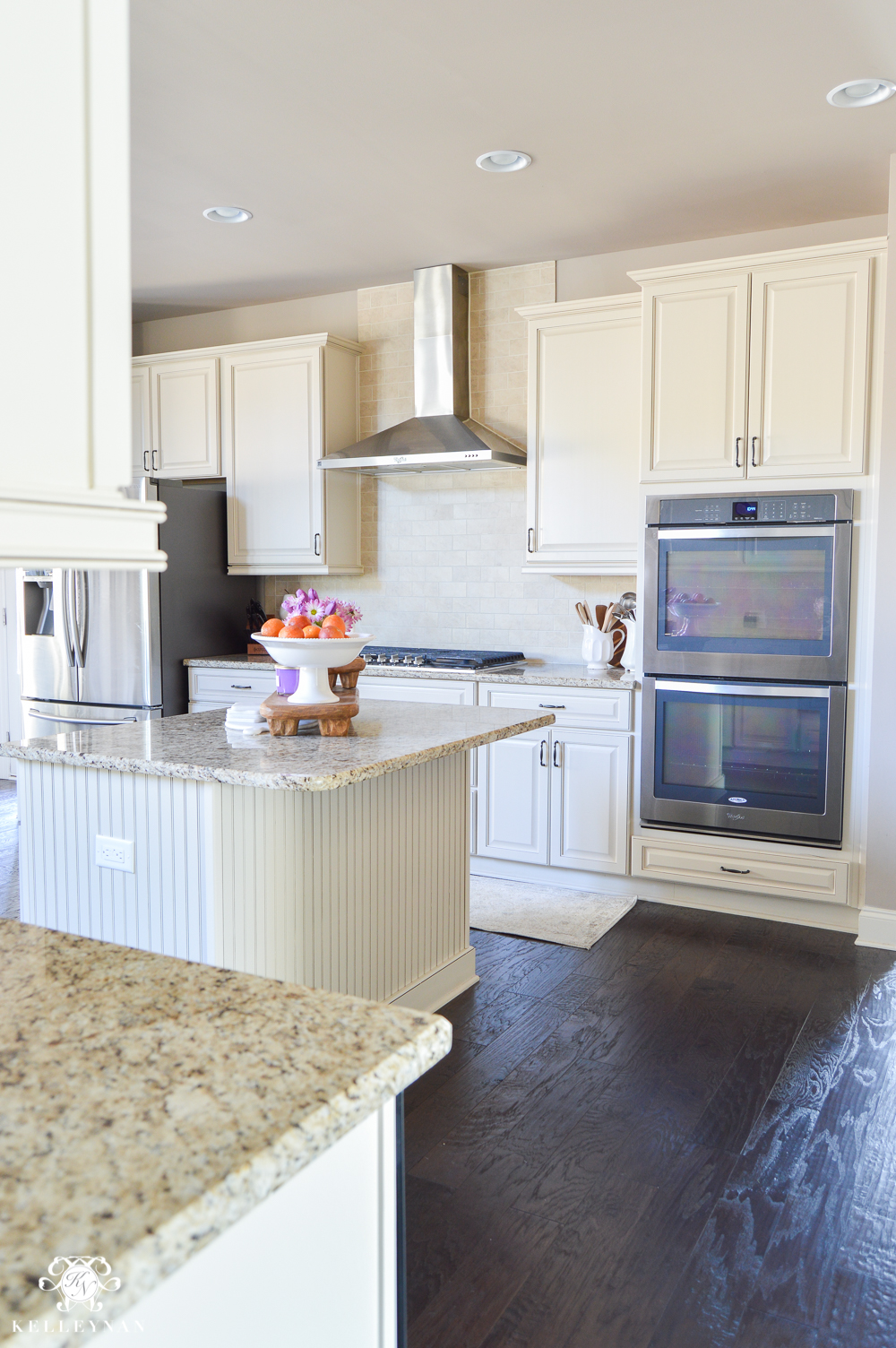 [See the full kitchen tour and essentials HERE]
[See easy spring kitchen updates HERE]
4. Add outdoor fireplace and paver patio, and double level retaining wall, built into back yard bank
We have a sloping bank halfway through the back yard – a necessary evil when we were building. Over time, we have gotten some ideas for what we would ultimately like to do to this space. This would likely be more of a five-year plan 😉
5. Finish basement
We are fortunate to have a huge (unfinished) basement. I store a lot of table linens and small things on the main levels but to answer the common question of "where do you store everything when you switch up your decor?" Well, this is the place. Dave actually has a functional center room set up with all his man-cavey things. Even a mounted man cave boar's head hanging above his man cave tv. While this is on the top of Dave's list to tackle, it is the last priority on mine haha
Of course, there will be LOTS of projects in between – actually, MAINLY projects in between. I have some major paint maintenance/touch-ups that need to happen, another organization overhaul, etc. I would love to hear about some of your current/upcoming projects – big or small – in the comment section below!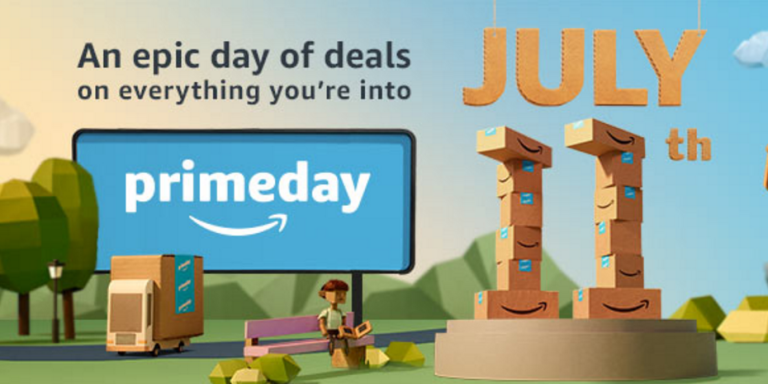 Speaking of wish lists, projects, and budgets, if you are an Amazon Prime member, you probably are already "on it" but in case it slipped your mind or you missed the memo, today is PRIME day, a sale day exclusive to Amazon Prime members. Amazon will be releasing new deals all day long, claimed to be better than Black Friday, which you can check out HERE. You can even set alerts for items you want. If you aren't yet a member (we are and the perks, free two-day shipping, videos, etc. are so worth it, you can sign up for a 30-day trial HERE. And, you can still take advantage of the member-only Prime sale. 😉 But, there is only a certain amount of stock for each item and once they are out, they're out.This sale will be especially helpful if you are hunting for men's gifts this Christmas- LOTS of tools and yard equipment at huge discounts. (Dave stocked up during the sale last year 😉 ) They have huge deals on everything from dog treats to electronics but here are a few of my favs and hot items this year.