Ok, y'all. First thing- I'm going to have to think about some of my other "hacks" because I had no idea just how many of you were frustrated with disguising your own computer cords (see full post HERE). It was a question I've received a lot as a result of the office makeover (HERE), but was mentioned several more times during the recent reader survey. (That thing really was so helpful; thank you again!) One of the biggest surprises from the survey though was that a lot of you want more entertaining and table posts. I mean, it was a good surprise because I love creating, hosting and sharing but deep down, I've always hoped that you all enjoy them, too. So, in preparation of a new series (optimistically launching next week), I wanted to first share a rundown of my top 10 tablescapes- favorite entertaining ideas throughout the year.
I always talk about Mama Nan but I'm not sure if I've ever shared just how brilliant and creative she is. If you need a brainstorming partner, she's your girl. Her mind never shuts off (the apple doesn't fall far there 😉 ) so it isn't uncommon for us to wrap up a conversation, and then find her calling me two hours later with "I just had a thought". And, they are usually awesome. This latest series is totally her brainchild. See, while there were a lot of requests for tablescapes and entertaining ideas, there were also specific requests for more casual dinners or dinners for different circumstances. So, starting next week, Dining by the Numbers will launch. Each installment will have a theme based on the number of people dining – some will be super casual and some will be more event based. "Flying Solo" is set to be the first in the series. If you aren't already, you can subscribe to my newsletter HERE, and you won't miss a thing 😉 Over the last (almost) two years, I have shared a lot of entertaining posts so before we jump into the new series, I thought it would be fun to round up my top 10 tablescapes and take a walk down memory lane. And, for a lot of you, some (or most) of these may be brand spankin' new. You can click on each photo and/or title to be taken to each of the full table posts.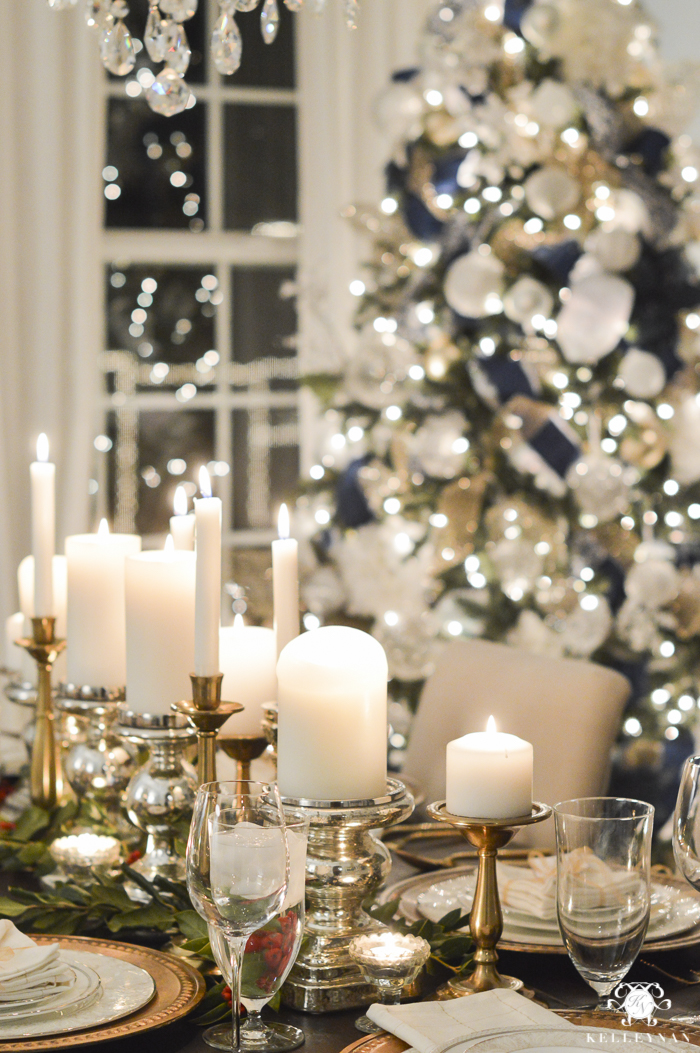 The table itself was pretty simple to construct – there was no elaborate centerpiece, just a slew of candles scattered down the table. But, the ambiance for this dinner was my favorite. You'll find napkins folded and tied as "gifts" and a recipe for Pecan Crusted Stuffed Chicken Breast, Cheddar Ranch Grits, and Spicy Roasted Broccoli.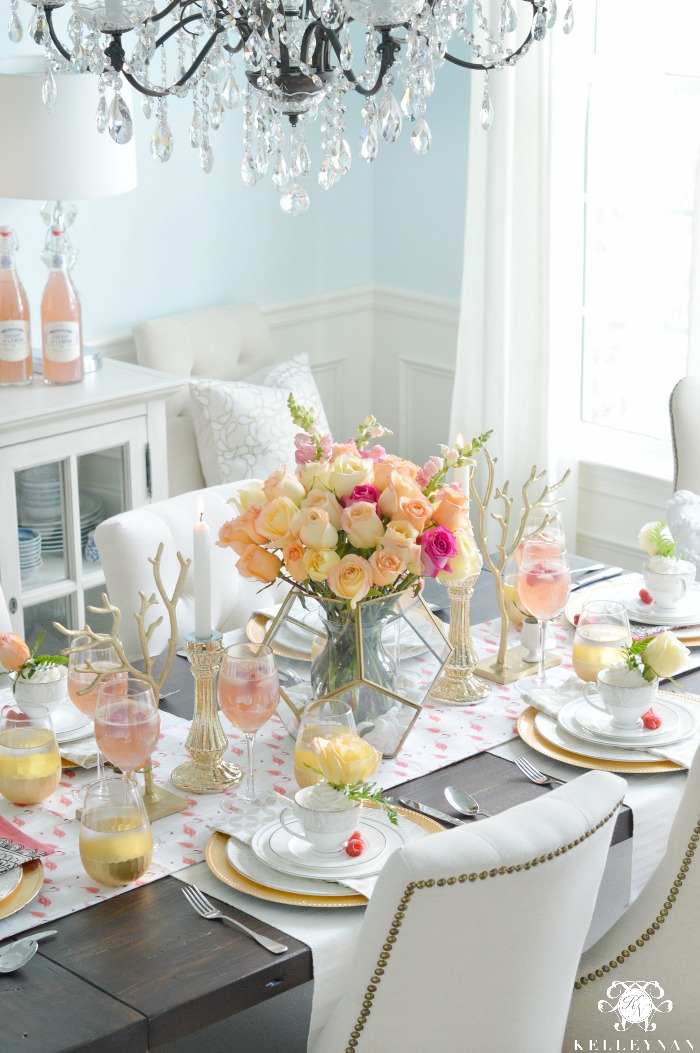 Cute little cupcakes in teacups along with one of my favorite floral arrangements displayed in a terrarium, this feminine table from last summer still makes me smile. PS- I may or may not have used jewelry organizers as part of the centerpiece 😉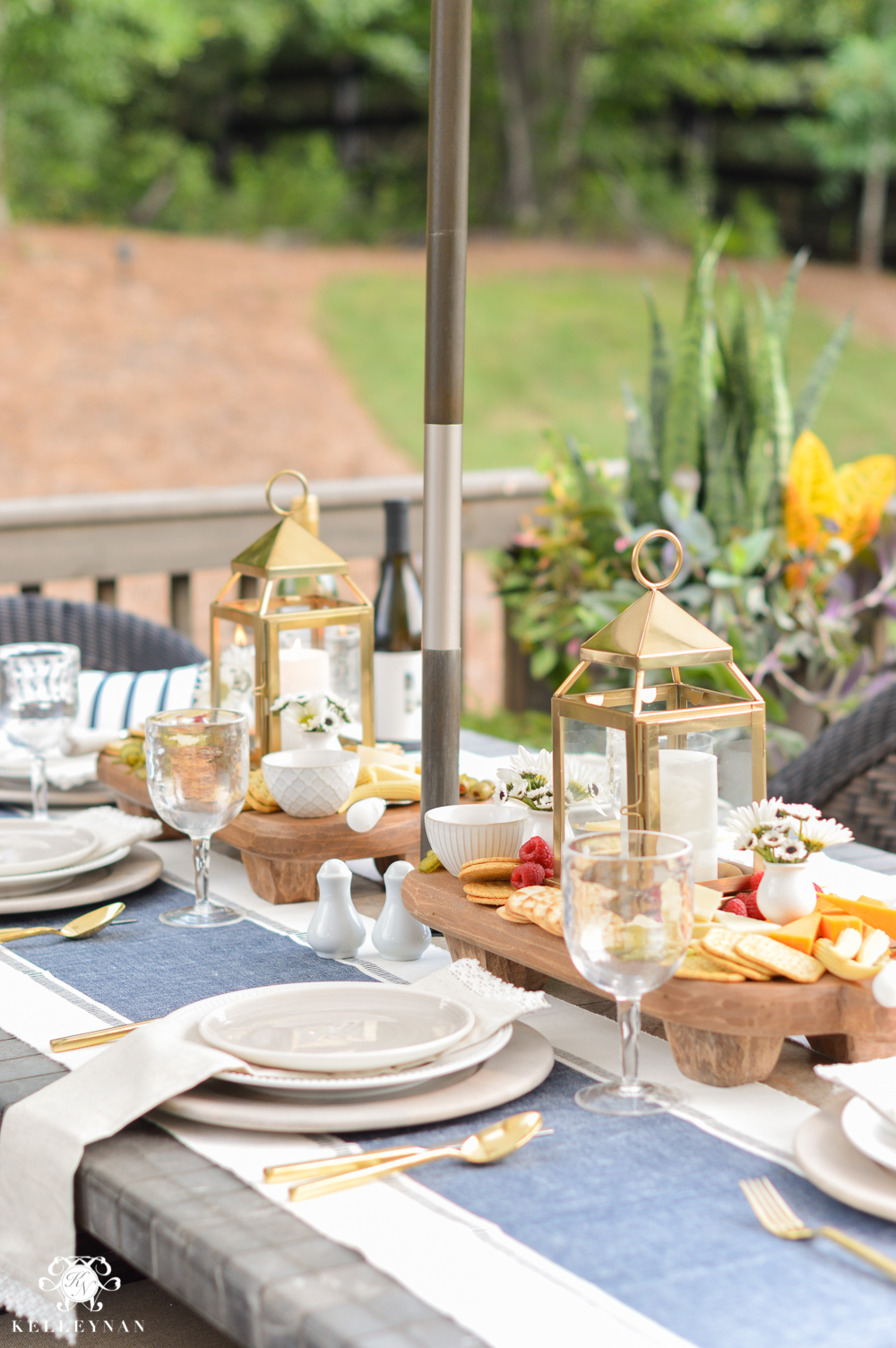 One of my most recent tables, guests will love how functional the centerpiece is. You can be as elaborate or off-the-cuff as you want by using appetizer boards as the focal point.
I don't "do" Halloween all that much but I was so excited to put together a gothic dinner party this past  year! I wanted to set a romantic/slightly spooky vibe and I think between the red roses, crystal, and candelabras, the mission was accomplished! GIve your guests spooky names and have fun layering what you already have to create this look.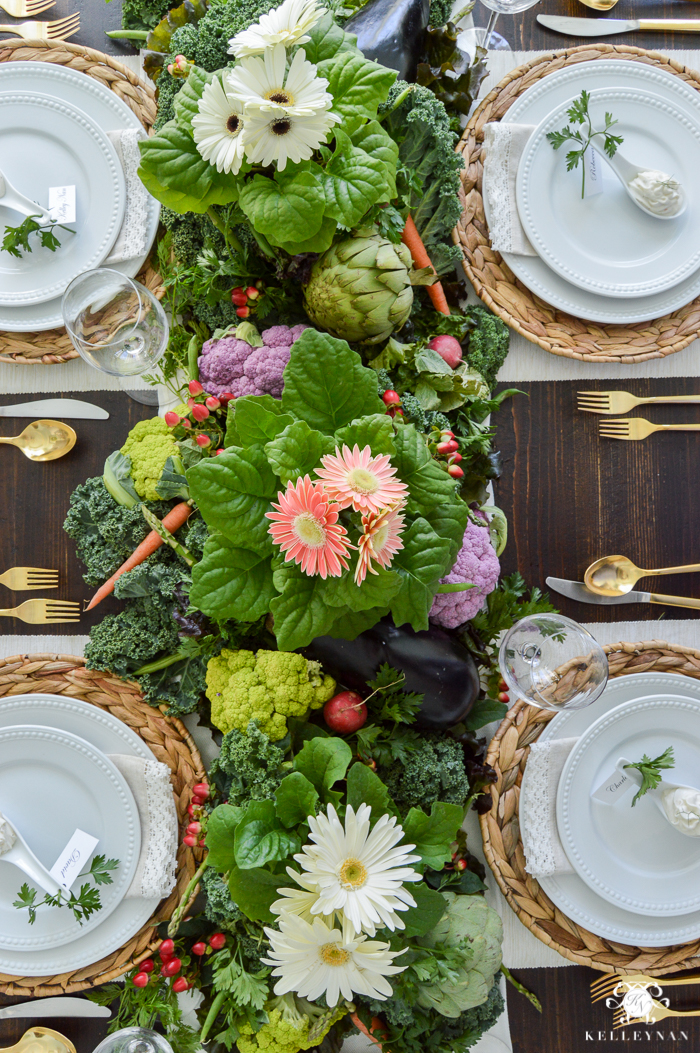 This table required me to channel my inner Peter Cottontail and spend the bulk of my time shopping the produce aisle at my local grocery store. I had more fun mixing lettuces, and colorful cabbages than maybe any other table I've created. My favorite part though are the dip-filled tasting spoon place cards ;).  As a bonus, when the table was cleared, we ate clean for the entire week!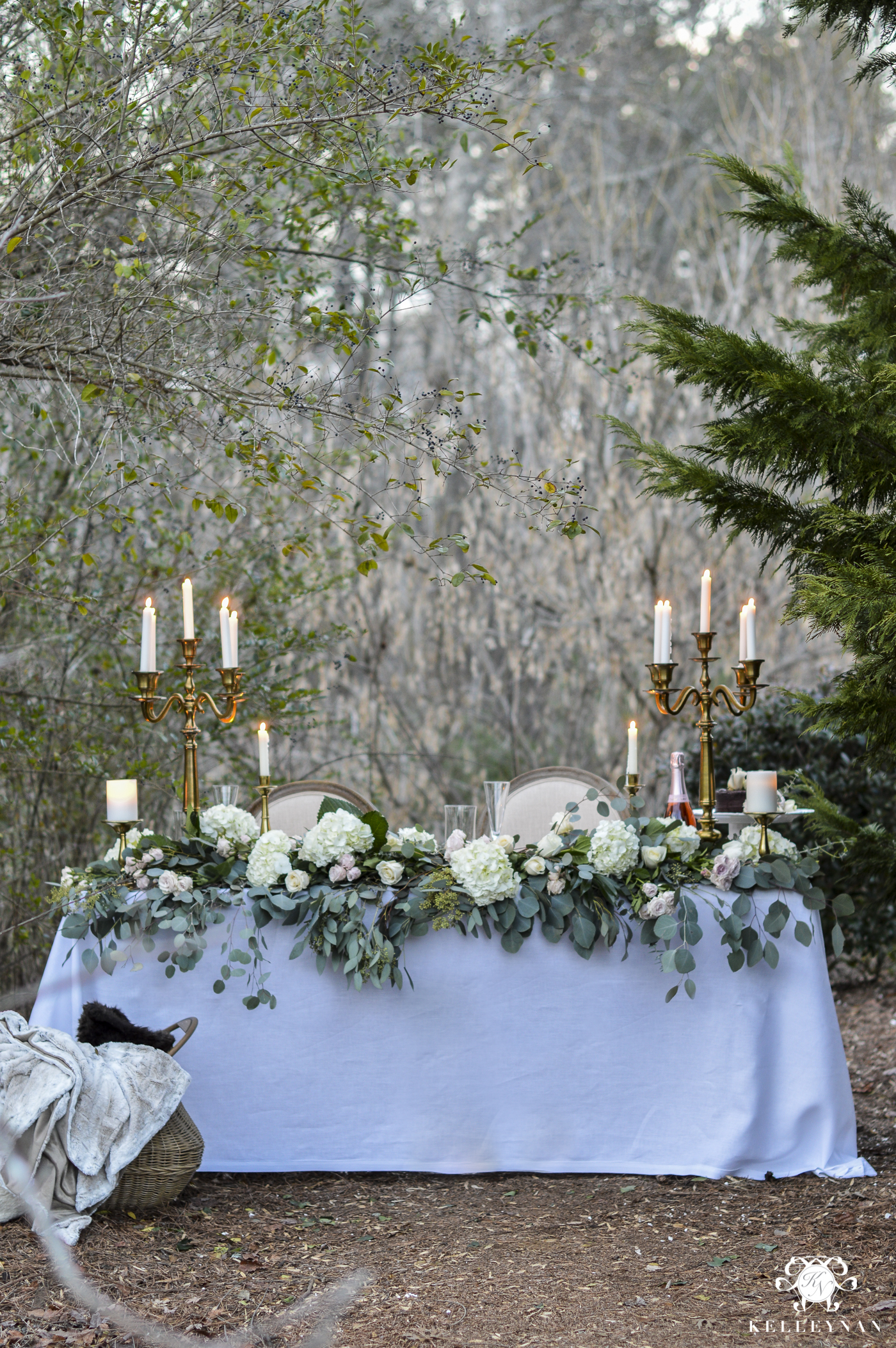 I live for formal tables outdoors; because, can you think of anything more romantic? This banquet style table was launched around Valentine's day but can be used as a head table idea, also. Bonus, if you have a tight flower budget, all that drapey eucalyptus can be displayed for a steal!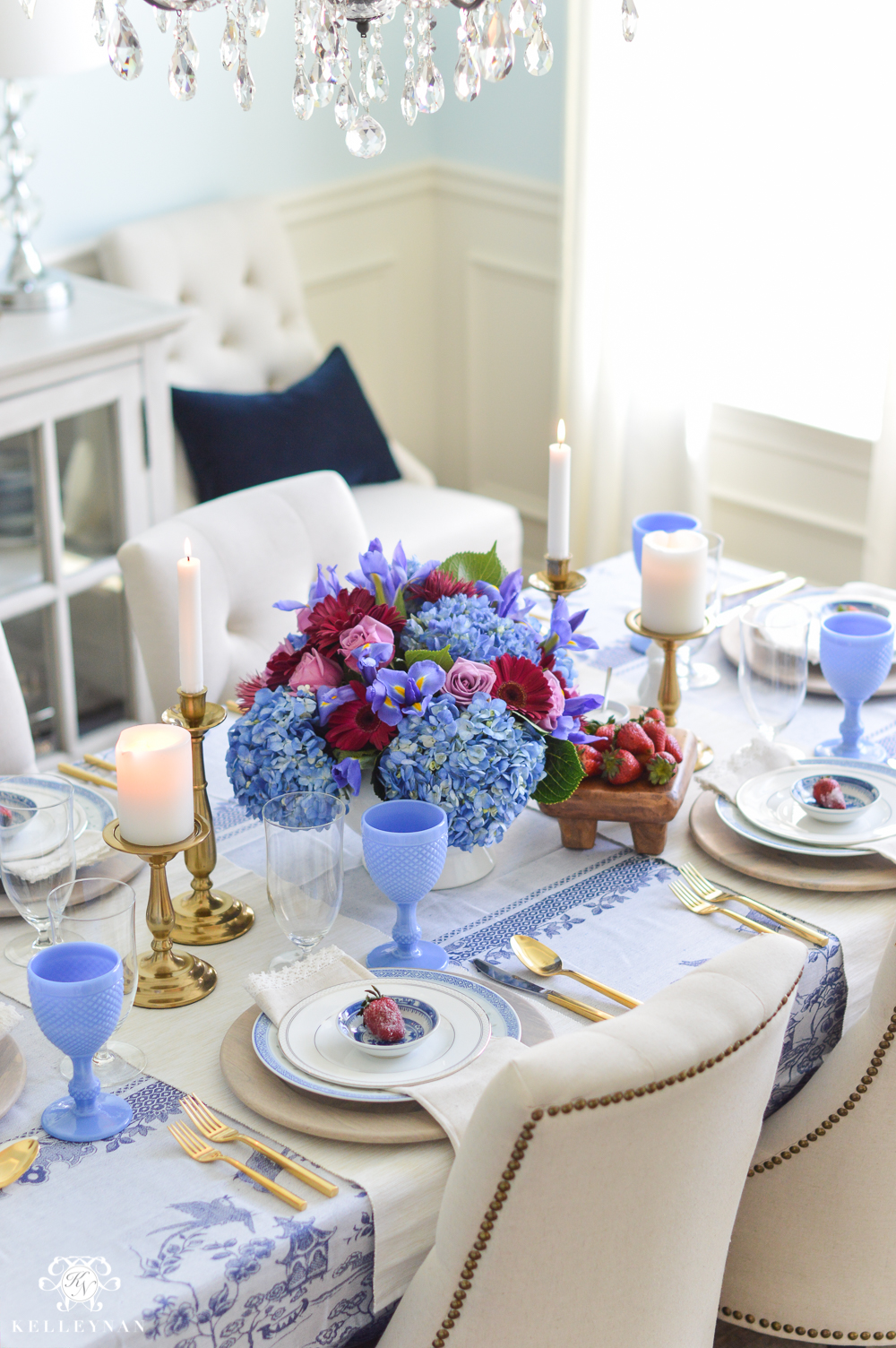 Another more recent table, I showed how mixing florals you may not consider together can make a statement. Arranged in a soup tureen, the centerpiece is vibrant but simple to construct. Sugared strawberries serve as a simple treat at each place setting and those periwinkle milk glass goblet- well, those are my favorite. Plus, here you can find an easy quadruple strawberry cake recipe 😉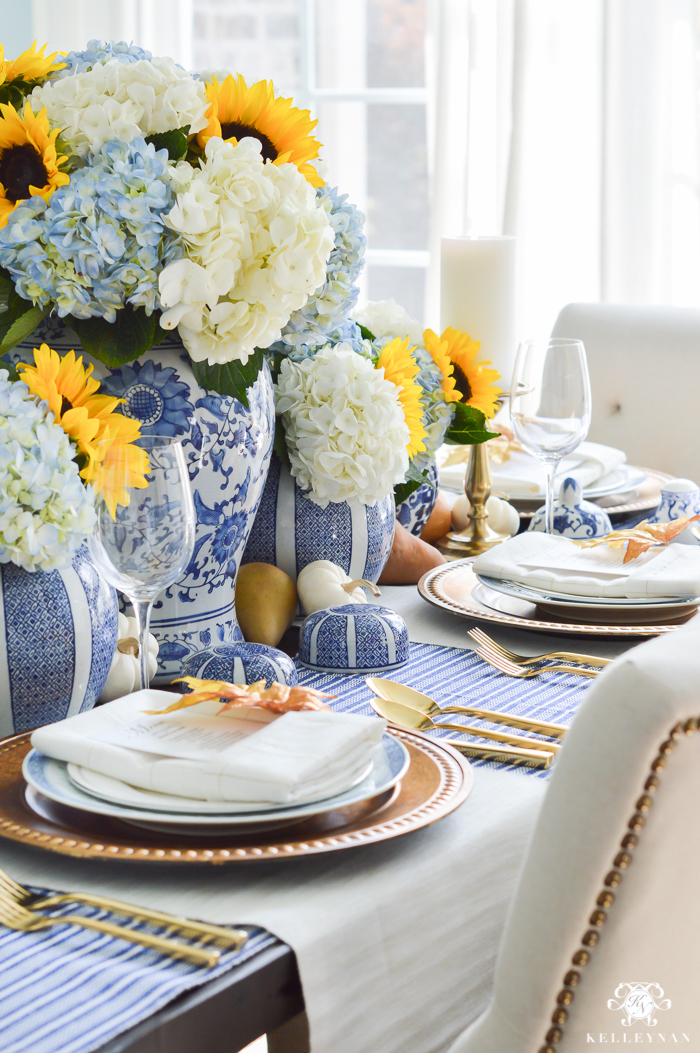 Though not intentional, I realized after ranking that all top three tables are from last fall. I guess I better start planning to "deliver" over the next few months! Without a doubt, this was my favorite color scheme; I used jars I already had and nestled a few pumpkins and pears in at the bottom of each. There's even a simple little menu at each place setting- such a special touch for a special occasion. Instead of a tablecloth, I layered four runners. Nothing new was purchased and the entire scene was created by shopping my kitchen and home.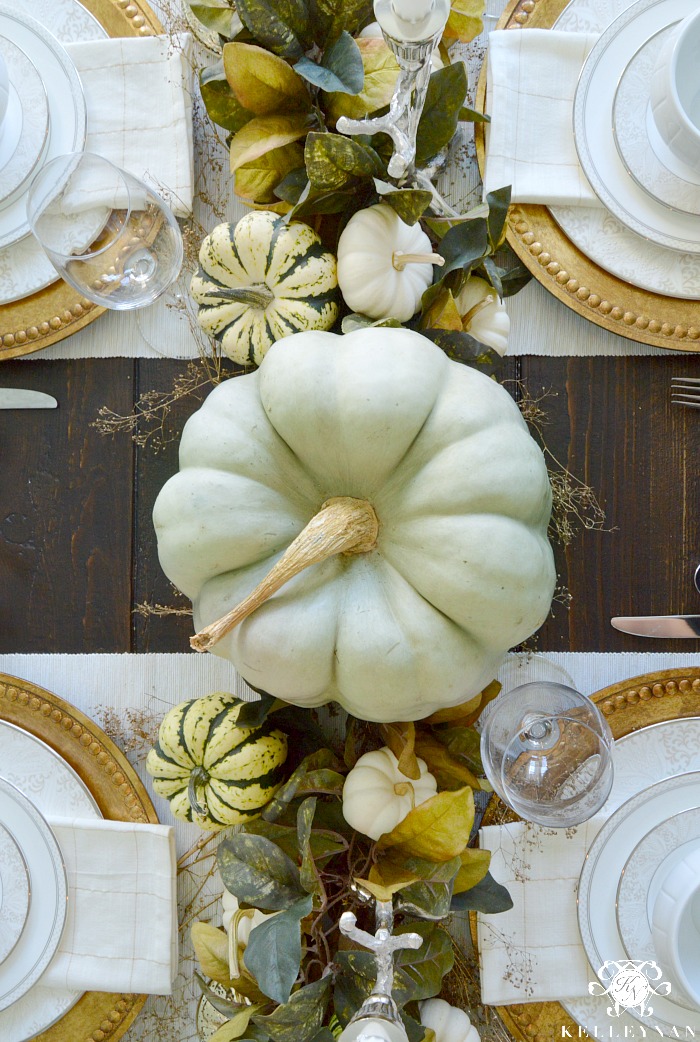 Fresh from the pumpkin farm, with a garland of faux leaves in hand, this table was my official "hello" to fall in 2016. Using one larger cinderella pumpkin in the center with smaller green and white cuties running down the length of the table, this simple and practical setup will forever be a favorite. Plus, I share a comforting, hearty chicken tortilla soup recipe you don't want to miss!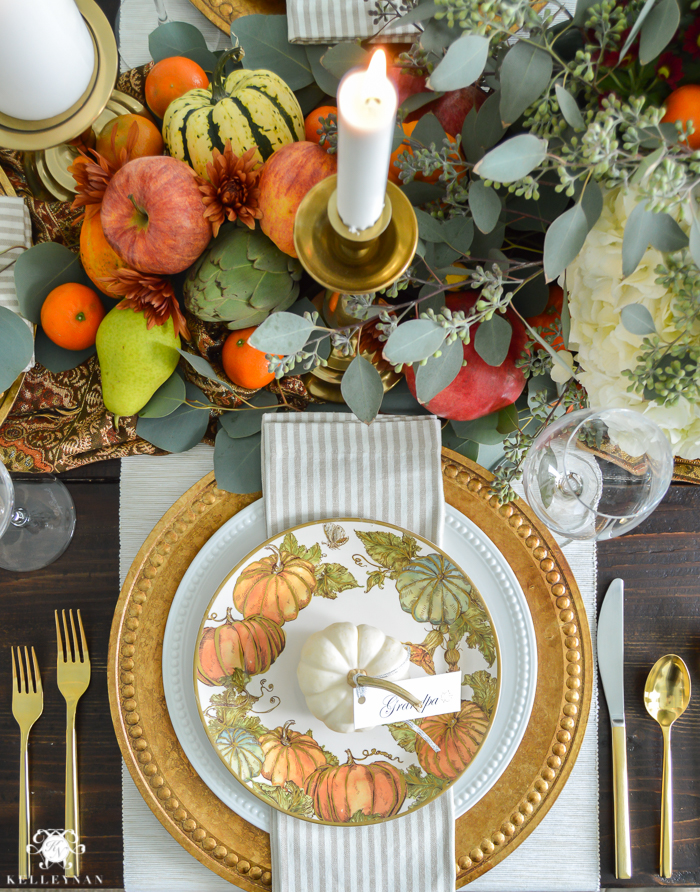 Last Thanksgiving, I had the pleasure of creating the Thanksgiving table over on the Pottery Barn blog. I wanted "classic", true to the holiday and Pottery Barn, but had ideas of a plentiful harvest. Using grocery store finds and inexpensive eucalyptus, this crazy centerpiece is probably more affordable than you would think! This was my favorite concept ever and earns it the top spot in my favorite tables.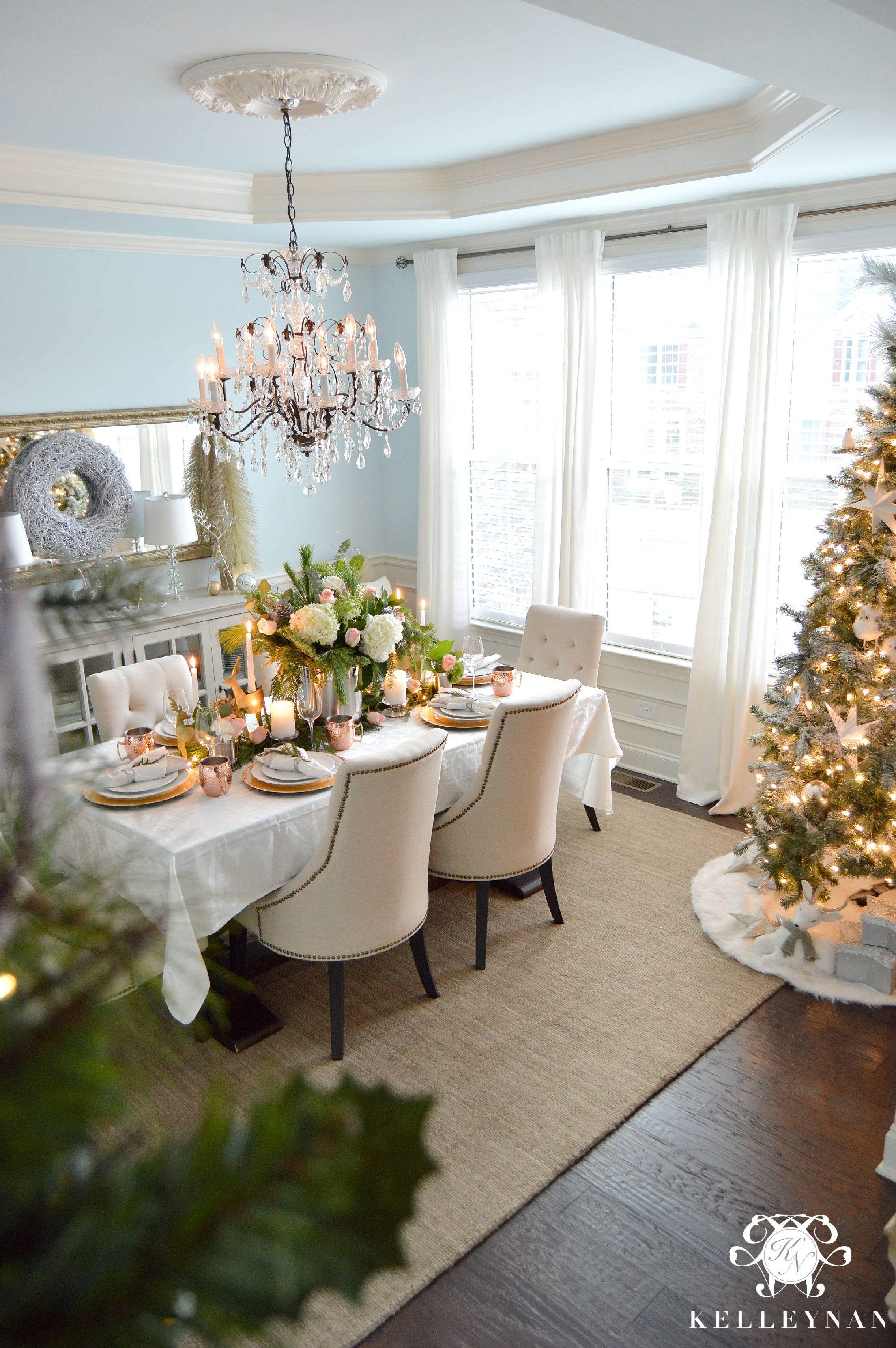 If for no other reason than I used a waste basket as the floral vessel. Will you ever look at bathroom trash cans the same? 😉 I also loved taking non-traditional Christmas colors and making them work in a unique was for the holiday.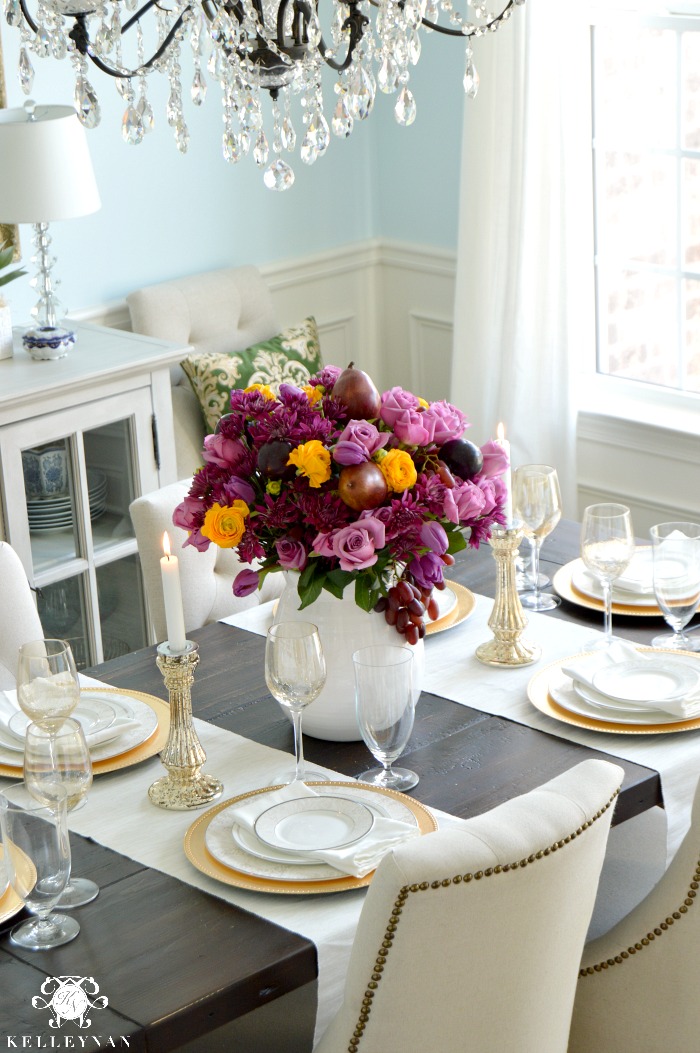 This table is about as basic as they come but gets an honorable mention simply because this centerpiece still stands out in my mind, even today. Sometimes, a striking centerpiece is all it takes.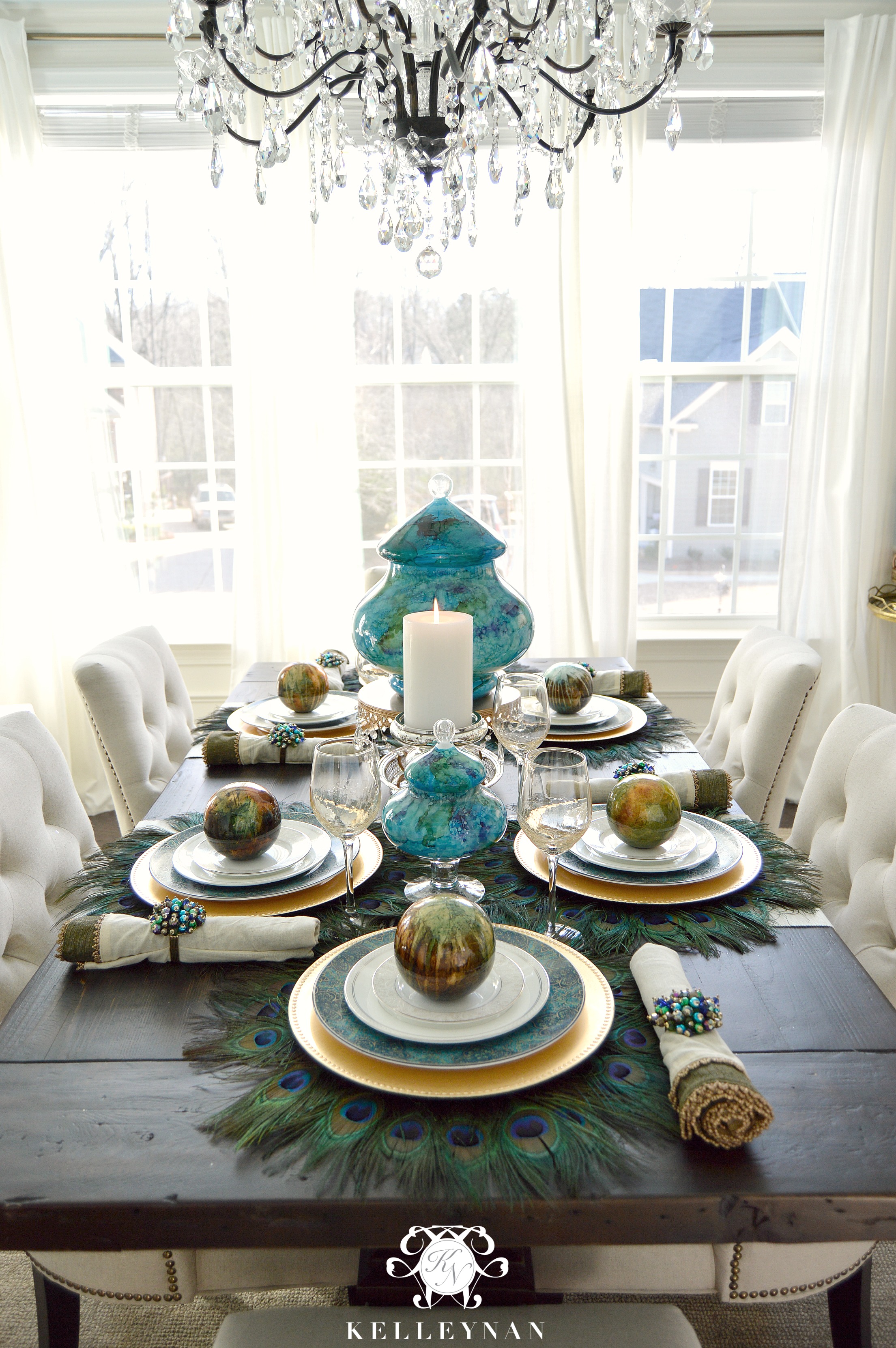 Would you believe that when I envisioned my dining room, THIS was what I had in mind? I even planned the art to match a peacock outfitted table I had invented in my mind. While this look doesn't serve as a permanent setting in my dining room, I think I need to resurrect some of these pieces for a peacock table part II.
You can visit THIS PAGE to catch the details on all my tablescapes; which is your favorite? Stay tuned for new, fresh ideas for all occasions, coming soon.

*Individual table sources can be found within each tablescape post*
Chairs – Linen | Bar Cart | 12-Light Chandelier
 | Candle Holders | Mirror: Homegoods – (SIMILAR) | Dining Table:  (84″ in Salvaged Brown) | Buffet: (72″ in Distressed White) | Curtain Panels
: (98″ in White) | Rug: HomeGoods- Calvin Klein wool (SIMILAR) | Lamps: HomeGoods – (SIMILAR) | Silver Tea Service: Family Heirloom – (SIMILAR) | Table Runners |  Waterford Padova China | Waterford Bassano China | Church Painting | Water Lillies Art | Paint: Lauren's Surprise by Sherwin Williams | Flooring: Nottaway Hickory in Weathered Saddle