Do you remember this past summer summer when I joined four other home bloggers for a virtual progressive dinner? Well, ever since our warm weather rendezvous (HERE), we have been planning to "bring the band back together" for a holiday edition of the Blogger Progressive Dinner. The five of us will each be hosting one course each, throughout different holiday-decked rooms in our homes.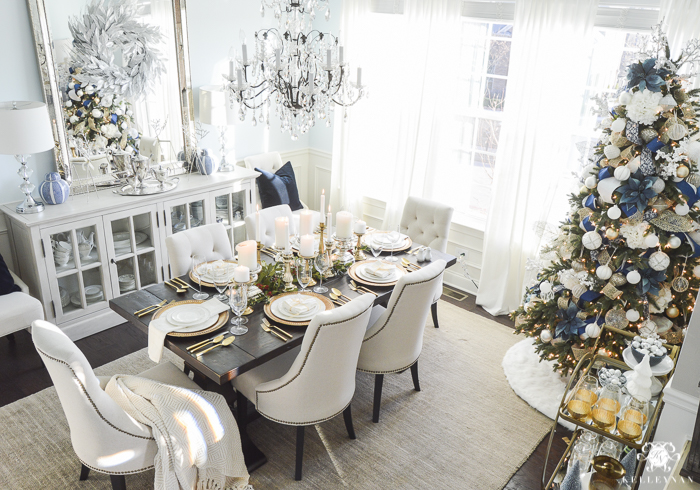 If you have arrived via the soup course Jenni at Dear Lillie hosted, welcome! For those of you just now jumping in, no worries; I will provide a link to the other courses at the bottom of the post so you won't miss a single, delicious second. Here's what's on tap for the progressive party.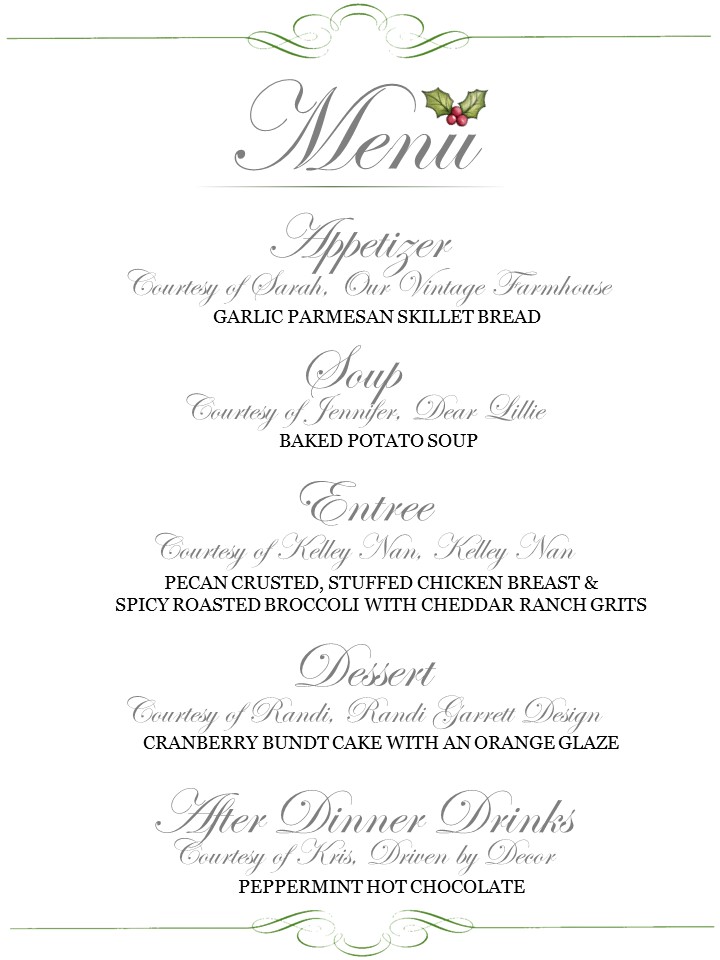 Our dining room sees more action during the holidays than any other time of year. You can see all the details of this room and my full home decked out for Christmas in my recent home tour HERE.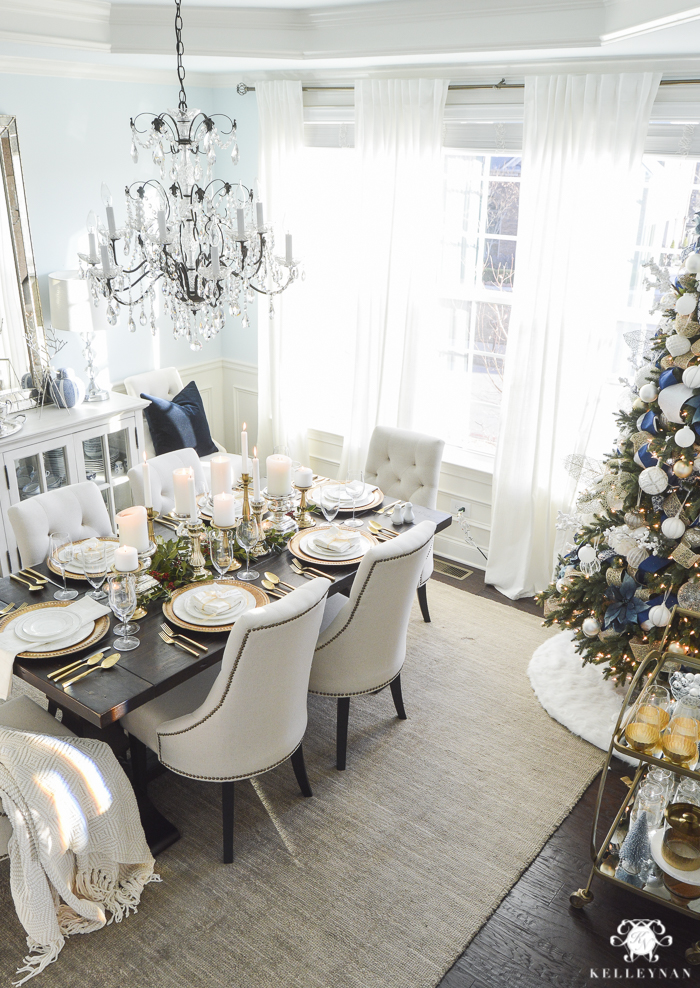 I modified the dinner table just a bit from my blue and white ginger jars. Since I knew I would be hosting at night, I brought in more candles for ambiance – I am asked all the time about mixing metals. My thoughts? Go for it.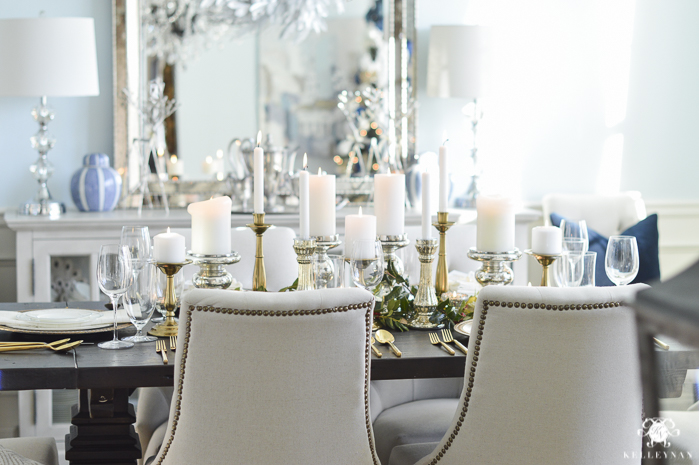 Just as I mix silver and gold in my Christmas tree…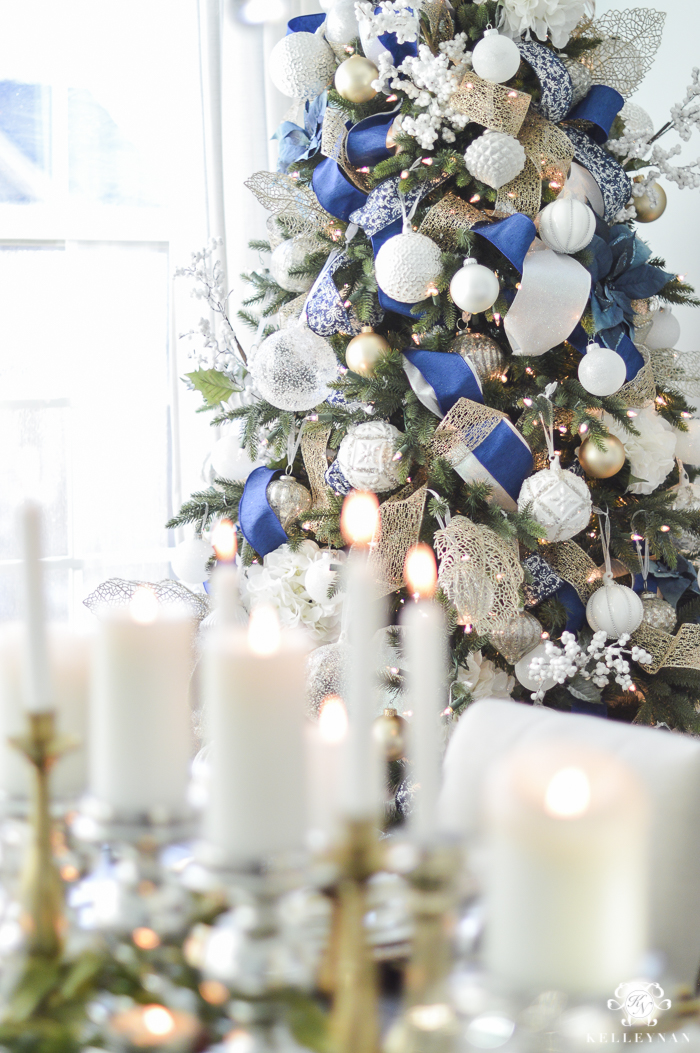 I don't think twice about mixing the finishes of my candle holders.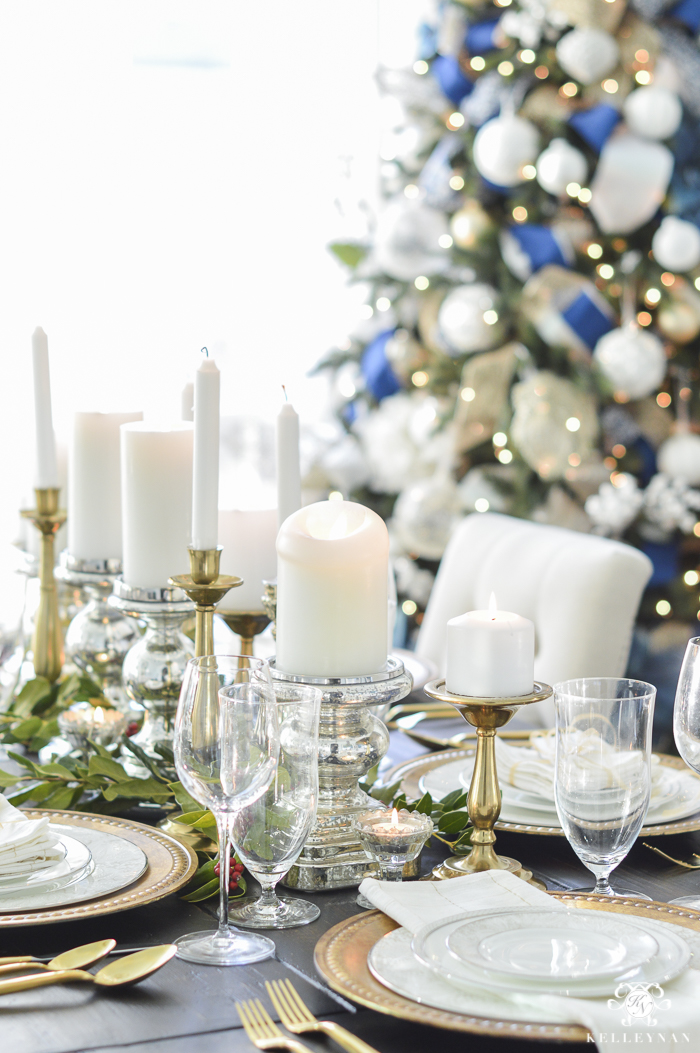 I clipped fresh holly from the yard to complete the simple centerpiece.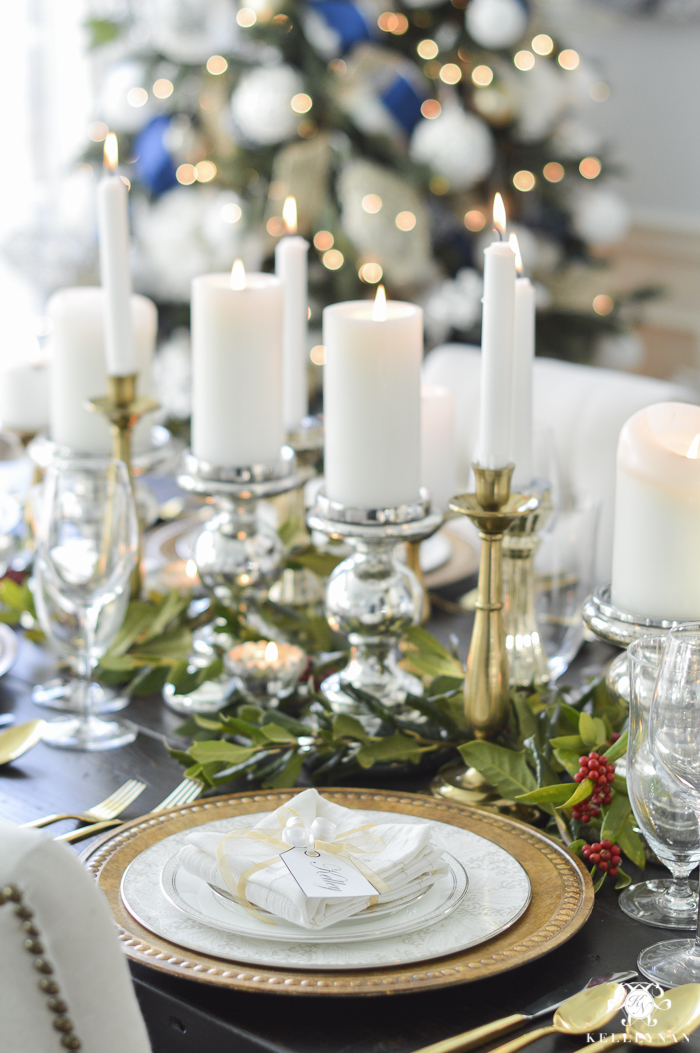 I folded the napkins and wrapped them in ribbons like little gifts for each guest, and printed custom gift tags as place cards.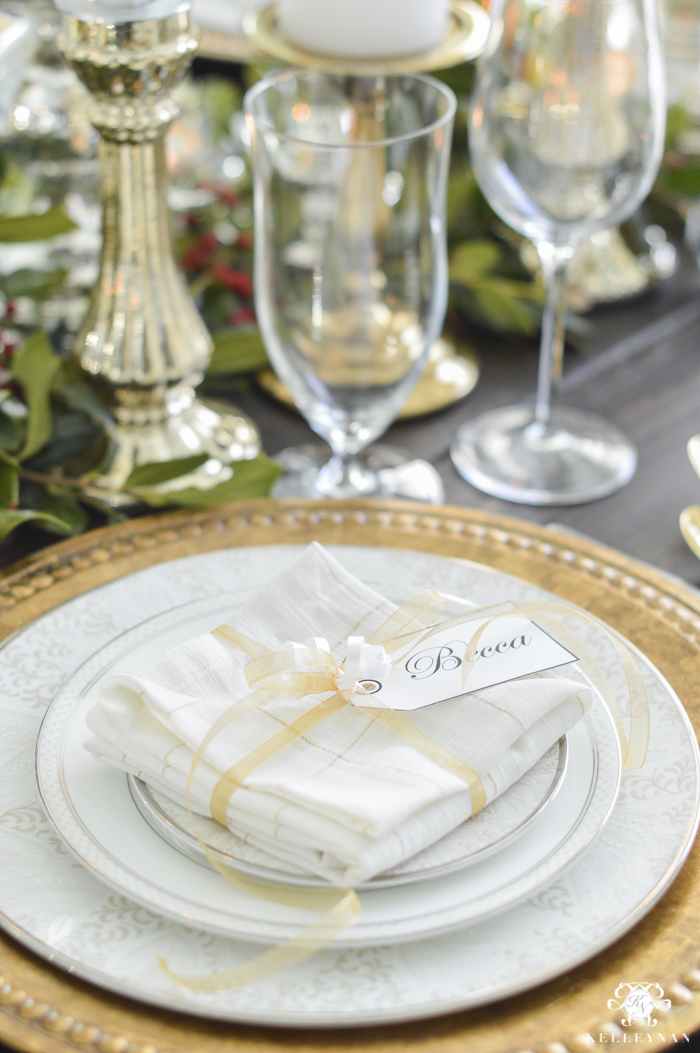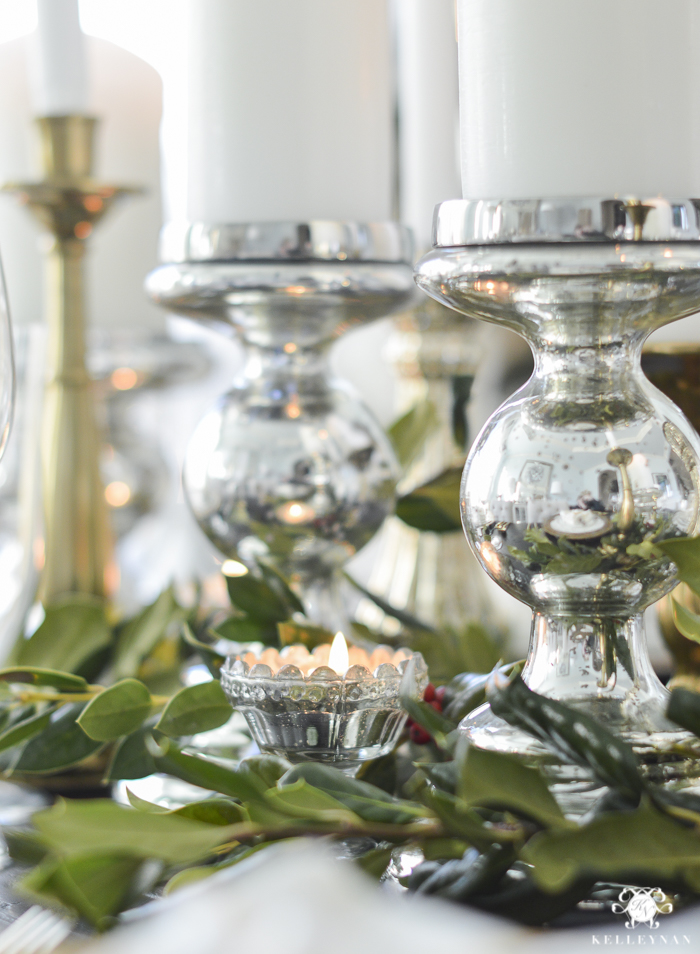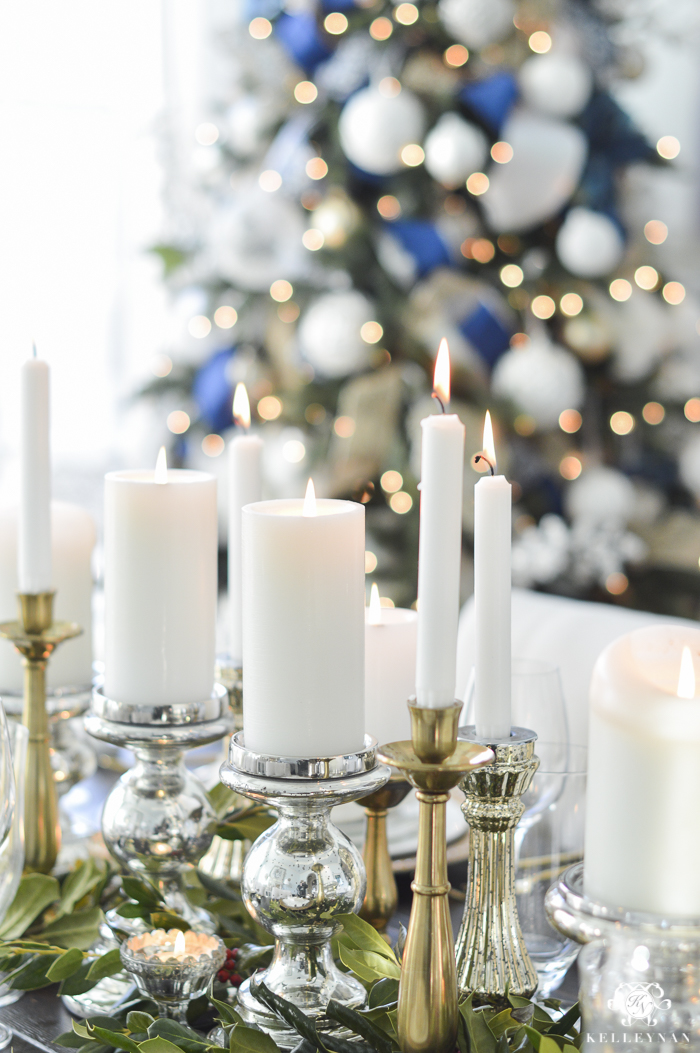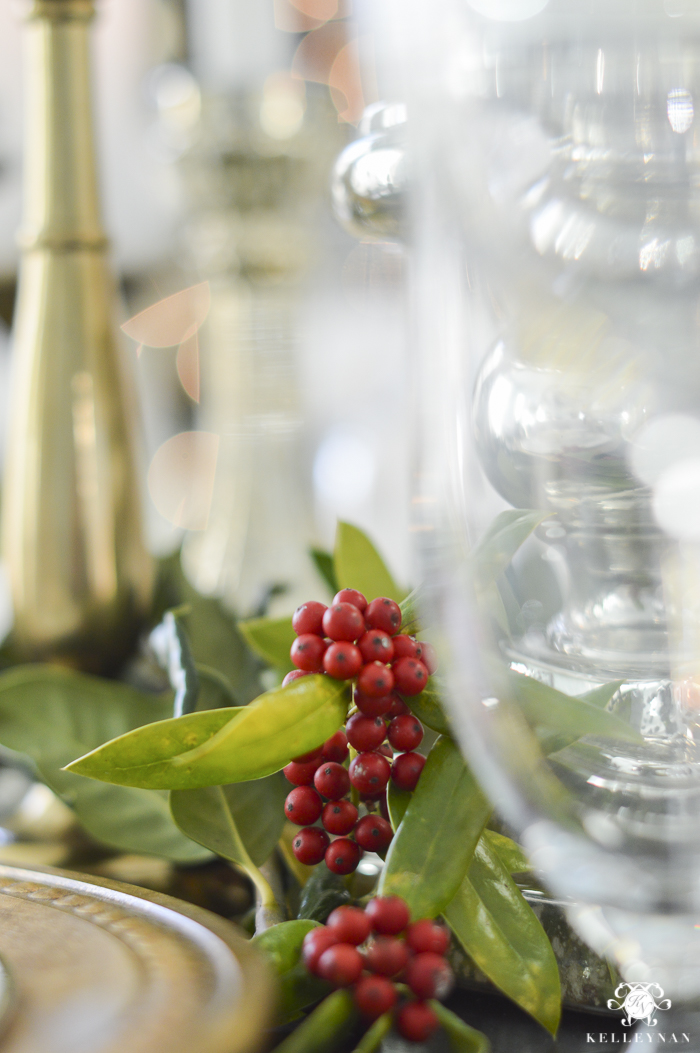 I prep the table in the early morning so by evening…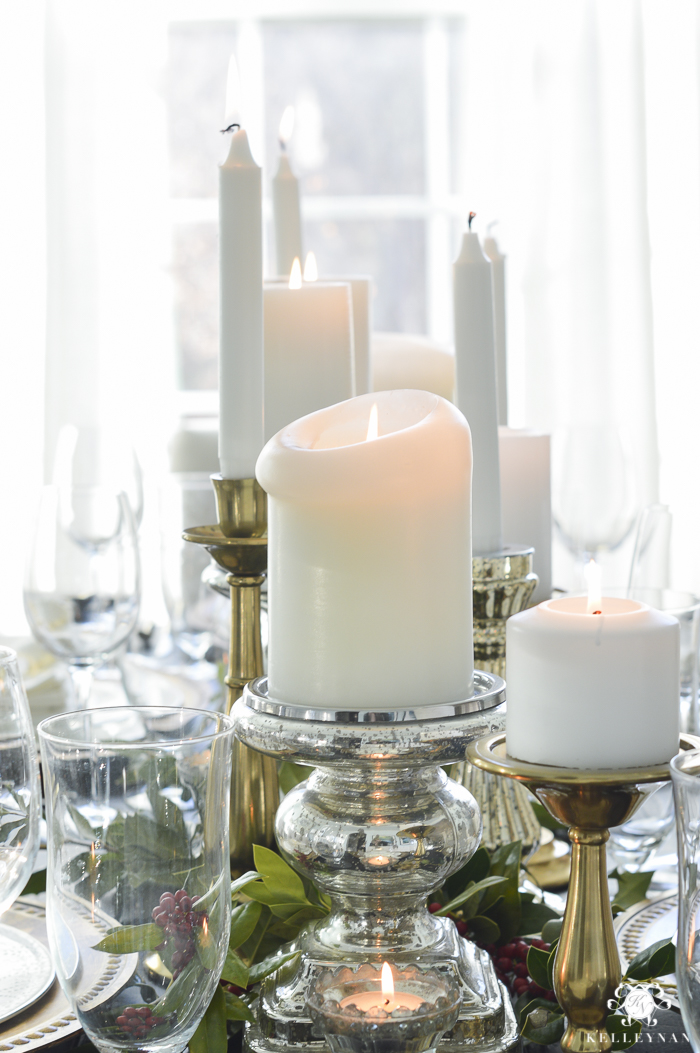 we are all set.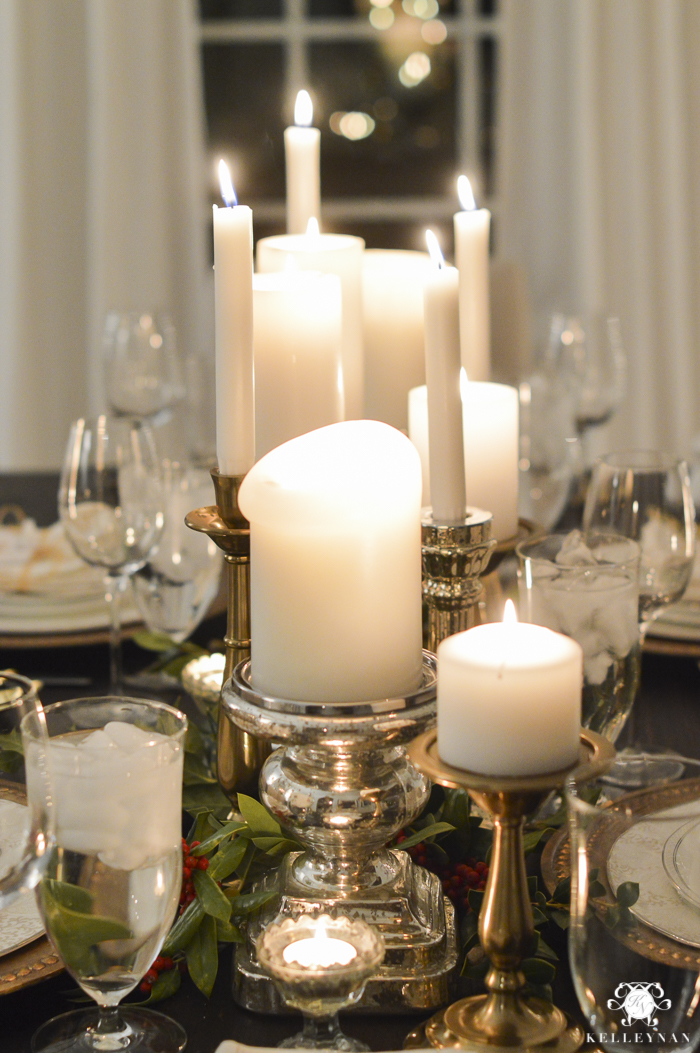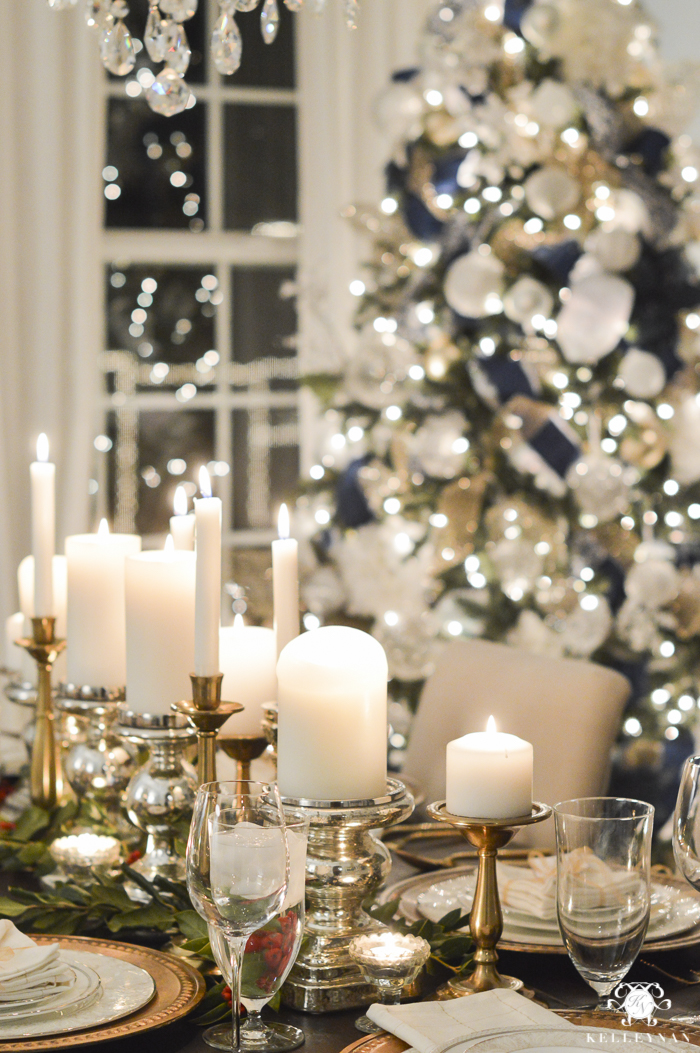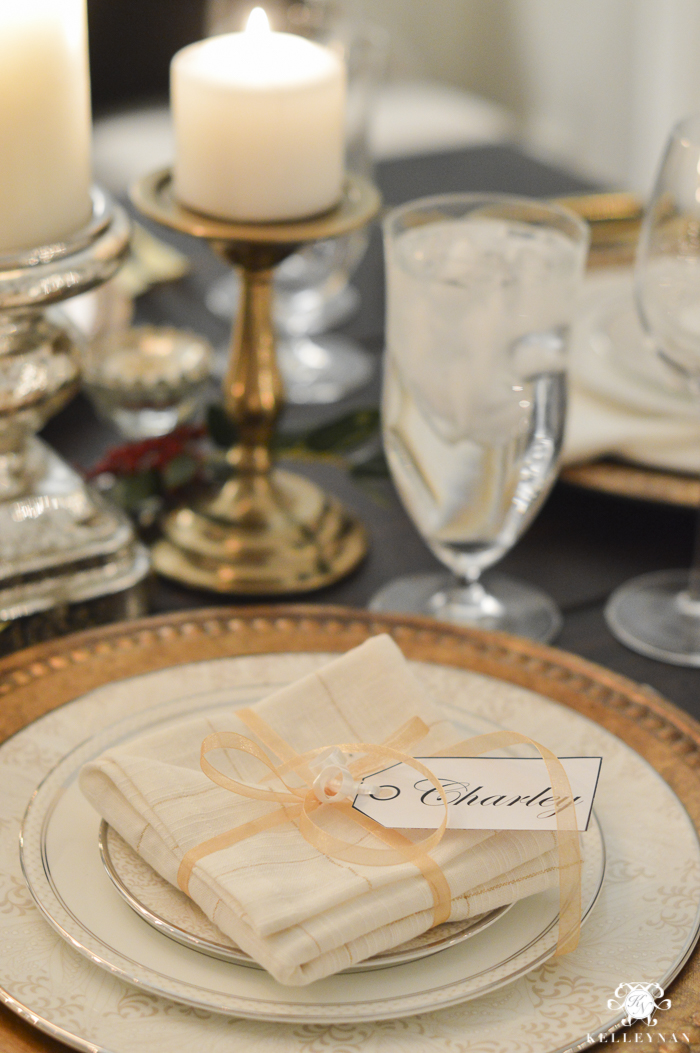 I actually broke my number one dinner party rule and attempted a new recipe before trying it on my own. Last weekend, we shelled pecans so I decided to try a pecan crusted, stuffed chicken breast, improvising as I went along. Thank goodness, it was a hit 😉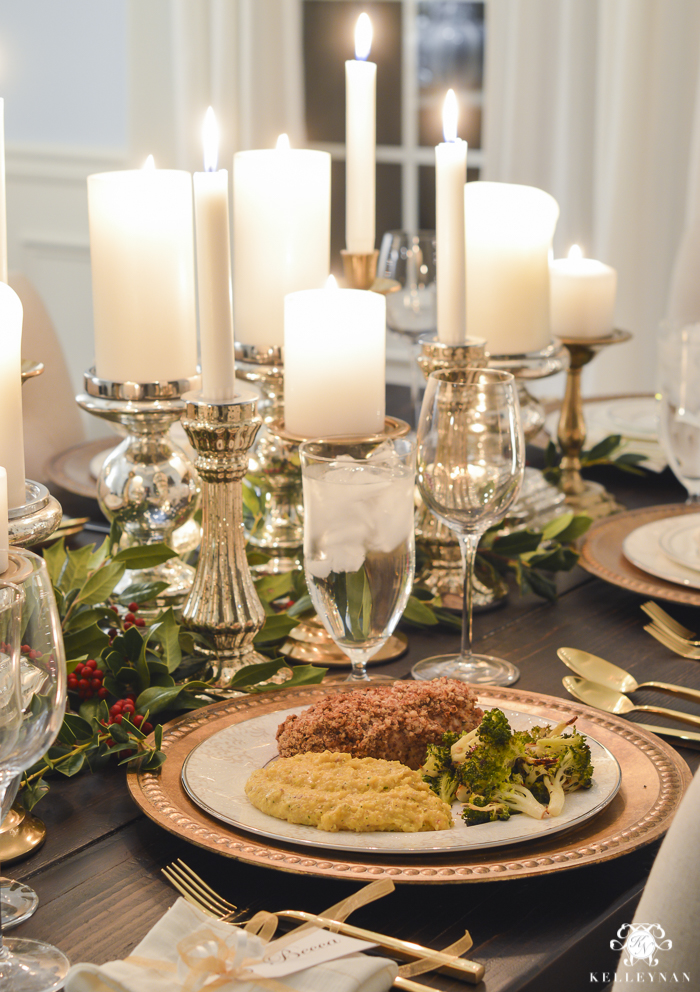 My friend, Casey, whipped up a roast with dinner grits a few years ago. Since then, I adapted the grit portion as my own; it has become a dinner side staple in our home. If you have never had grits, don't like grits, or even if you love grits, you need to try THESE grits. Game changer. If you don't like spicy food, omit the red pepper flakes in the broccoli – still super delish!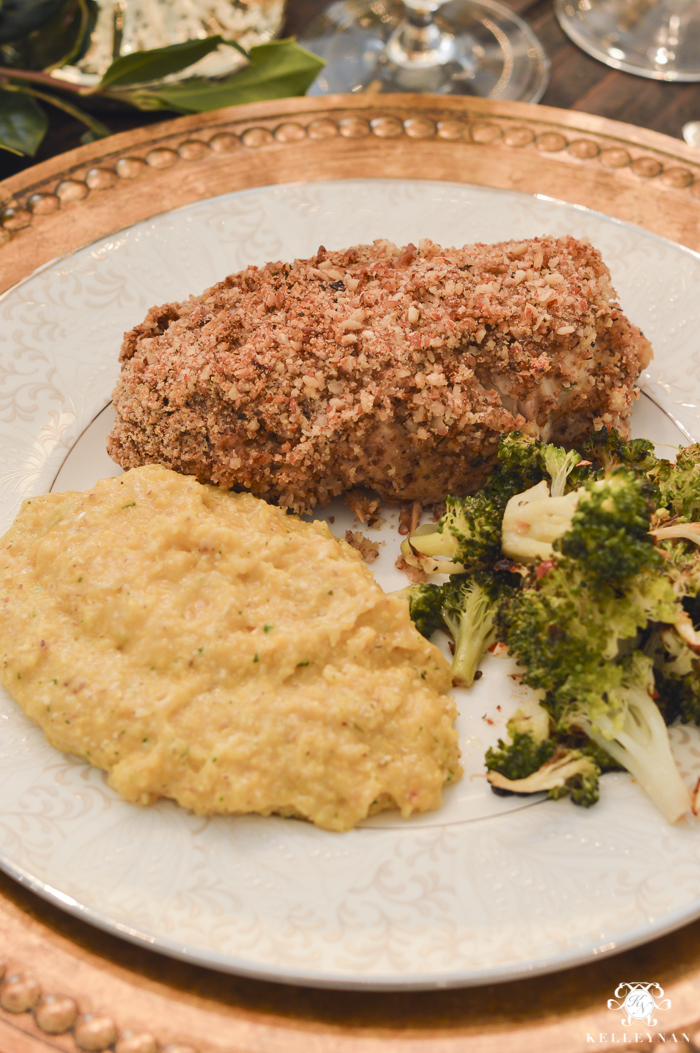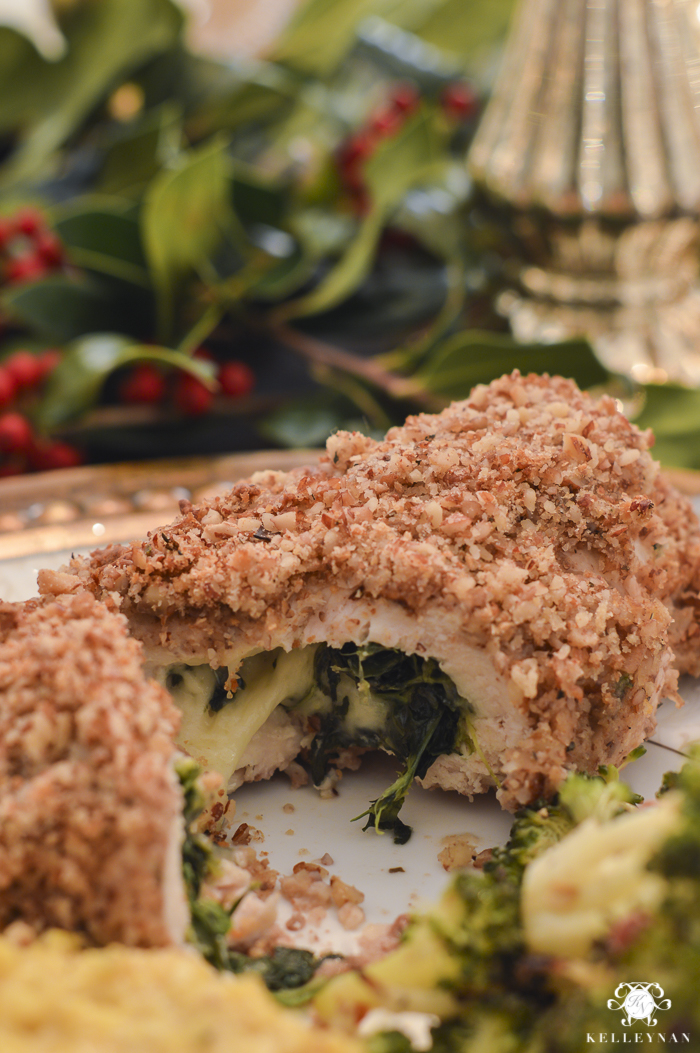 Below are approximate recipes I used for each dish. I mainly eyeball ingredients and as I indicated, improvised the chicken so feel free to take liberties when preparing your own. You can never go too heavy on the cheese 😉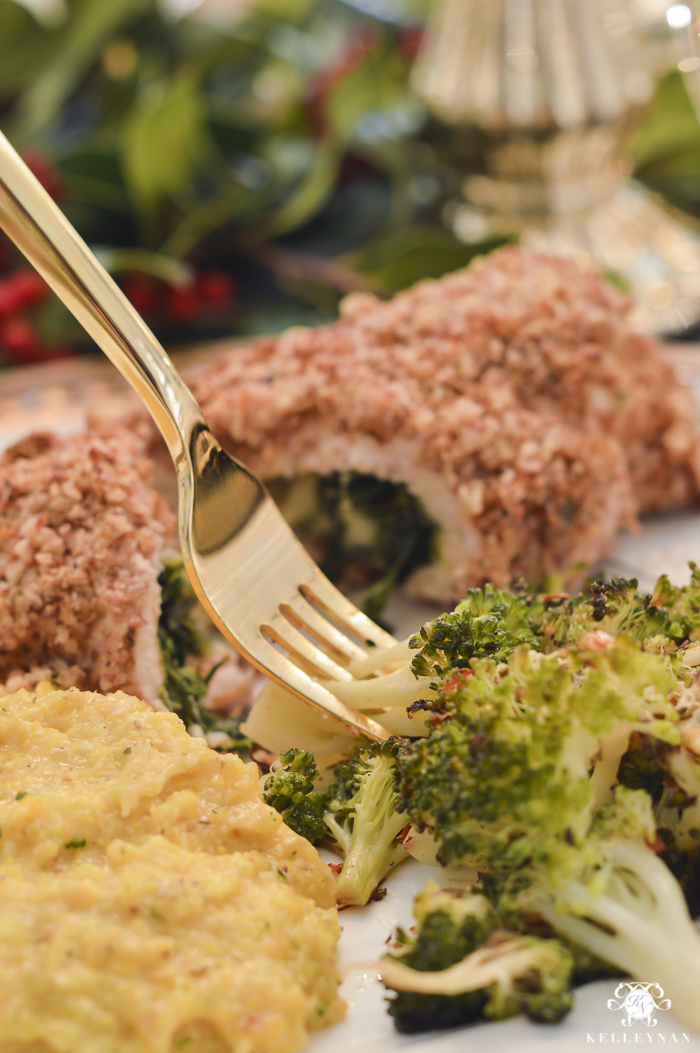 PECAN CRUSTED STUFFED CHICKEN BREAST
4 boneless skinless chicken breasts
2 ½ cups toasted pecans
½ cup bread crumbs
2 cups honey mustard (I like Ken's Steakhouse)
½ pkg. thawed and drained, frozen chopped spinach
1 ½ cups shredded Monterrey Jack cheese
1 tsp. dried basil
½ tsp. salt
½ tsp. pepper
Set oven to 375°
Pour honey mustard in a shallow, wide bowl and set to the side.
Finely chop toasted almonds in food processor. Combine with bread crumbs, basil, salt, and pepper in a shallow, wide bowl and mix well. Set bowl to the side.
Mix spinach and cheese in a bowl and set to the side.
Pound and flatten chicken breasts to approx. 1/4″ thickness.
Put approx. 4 Tbsp. cheese and spinach mixture in center of the flattened chicken breast, pinch sides up and secure with toothpicks.
Take stuffed chicken and roll in honey mustard to coat well, evenly.
Roll honey mustard-coated chicken breast in nut mixture until thoroughly coated; set in greased glass baking dish.
Repeat with all breasts; bake for 40 minutes (check temperature to confirm readiness)
CHEDDAR RANCH GRITS
2 cans chicken broth
1 ½ cups grits
1 pkg. ranch dressing mix
1 ½ cups cheddar cheese
Bring chicken broth to a boil. Stir in grits. Bring heat to a med-low temperature. If quick-cook, cook approx. 5 minutes. If regular, cook 20-25 mins (according to package instructions).
Stir in Ranch dressing mix.
Stir in cheese.
Serve immediately.
SPICY ROASTED BROCCOLI
1 broccoli crown
¼ cup extra virgin olive oil
1 Tbsp. red pepper flakes
1 clove pressed/chopped garlic
Salt to taste
Pepper to taste
Set oven to 425°
Rinse, drain, and chop broccoli; place in glass baking dish.
Pour olive oil on top and mix well, coating broccoli.
Add red pepper, garlic, salt, and pepper and stir to distribute evenly.
Bake 20 minutes until broccoli is crispy, tender, and has browned a bit.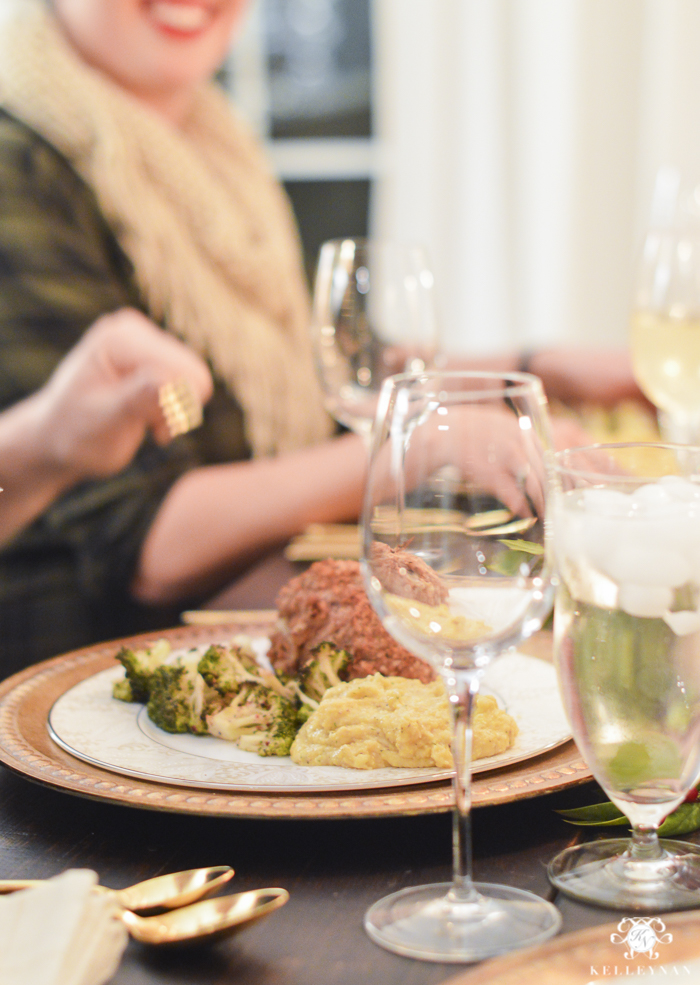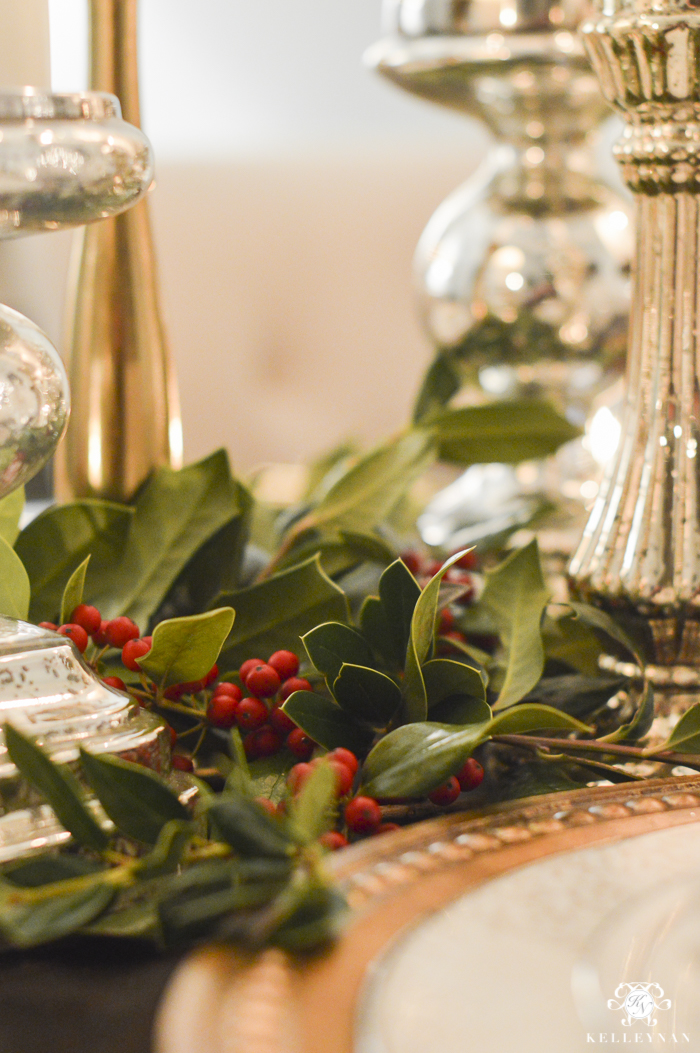 Once you've made it through the rib-stickin' entree, head over to Randi at Randi Garrett Design for the next course- dessert. I have been DYING to try her cranberry bundt cake since we first set the menu! And, that little fireplace peek she's giving below? Her stockings and mantel may be my favorite ever. You won't want to miss this course or her gorgeous family room.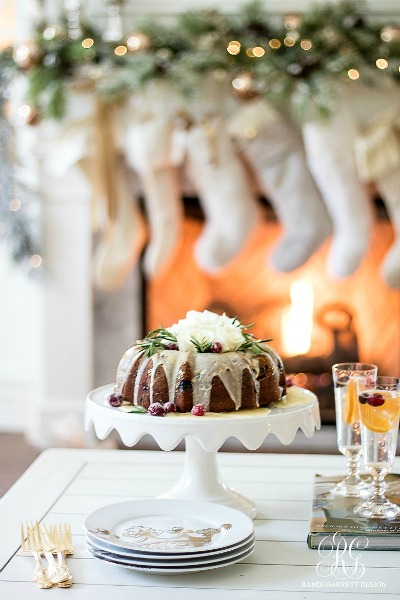 And, be sure you've hit each stop of the dinner- each dish looks ridiculously amazing and each hosted room is fabulously decked out for the holidays. In case you were late to the party, here's what you can expect for the rest of the meal.

Chairs – Linen | Bar Cart | 12-Light Chandelier
 | Candle Holders | Mirror: Homegoods – (SIMILAR) | Dining Table:  (84″ in Salvaged Brown) | Buffet: (72″ in Distressed White) | Curtain Panels
: (98″ in White) | Rug: HomeGoods- Calvin Klein wool (SIMILAR) | Lamps: HomeGoods – (SIMILAR) | Napkins | Silver Tea Service: Family Heirloom – (SIMILAR) | Table Runners |  Waterford Padova China | Waterford Bassano China | Chargers (SIMILAR) | Pillows: HomeGoods | Church Painting | Water Lillies Art | Paint: Lauren's Surprise by Sherwin Williams | Trim: Creamy by Sherwin Williams | Flooring: Nottaway Hickory in Weathered Saddle
*Thank you to our dear friends Charley & Becca for joining us for this special Christmas occasion*
*post contains affiliate links*