Whether you are a lover of calming neutral tones or vibrant, colorful hues, sometimes, white just makes sense. My house may evolve and change over time and I may get bored with colors and styles. But, there are certain areas where I have committed to white that have saved me time in planning, money, and have proved to be investments which transcend the lives of the latest trends. Some say it's "safe", I say it's smart. Admittedly, I am drawn to a clean palette so I use this color more prevalently, but today, I am sharing five times to go white which can be adapted by even the most colorful home.

PITCHERS
Pitchers are one of my top decorating staples and below, I am sharing just a few ways in which you can find them used all throughout my home. I collect them in all different sizes, from the large statement vessels to their smaller creamer kin, but one thing 95 percent of them have in common? The majority are white. Even more than clear vases, I love the contrast of the white next to any of the (constantly changing) floral arrangements they are holding. If your flowers are on rotation like mine, you can invest in one good pitcher/vase and be set. Here is a limelight/coral rose combo…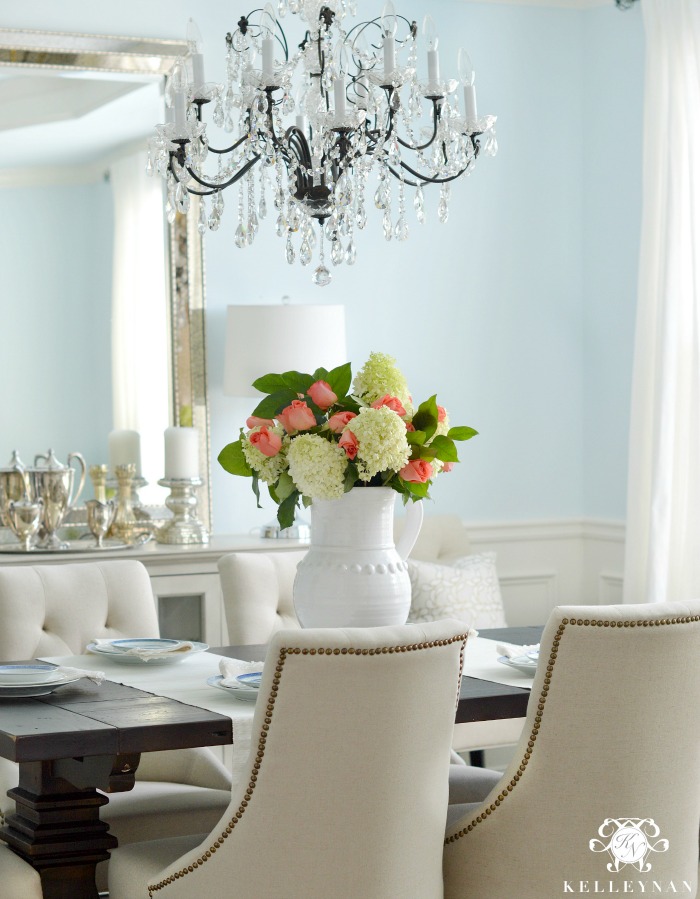 …and then a week later, the same white pitcher holds a brighter variety. This big boy has seen his share of blooms; nothing is off limits. The flowers make the statement, the pitcher is the faithful blank canvas.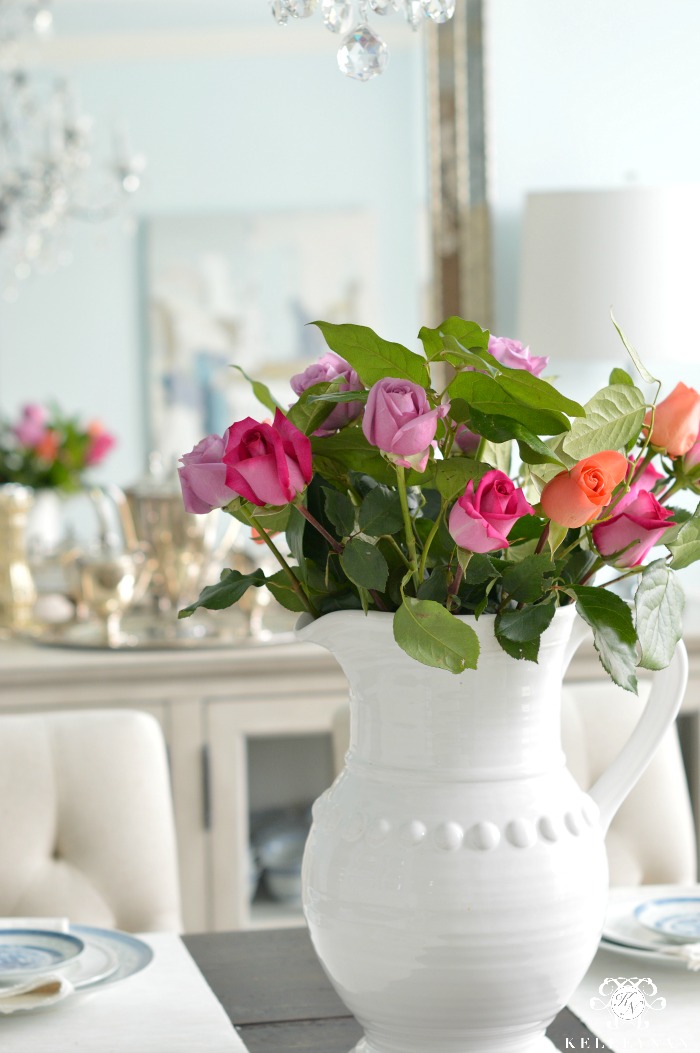 Another idea for those who never met a pitcher they didn't love? In lieu of utensil holders, I use two pitchers on my counter to hold some of my kitchen staples.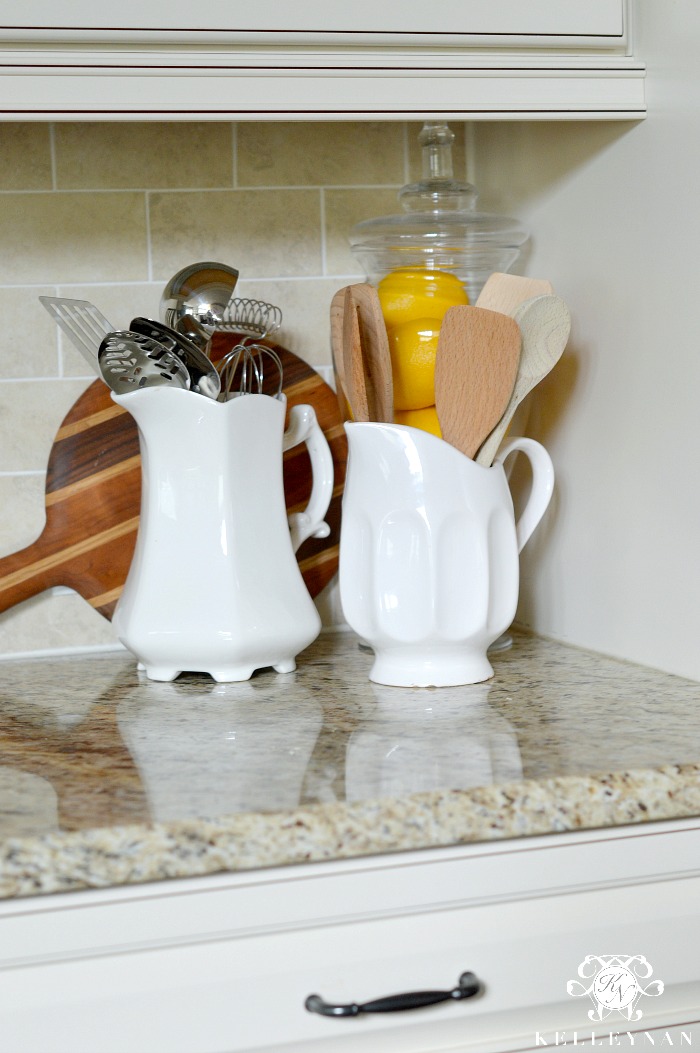 I rotate most of them throughout the house; you can find this smaller guy in about four different rooms each week.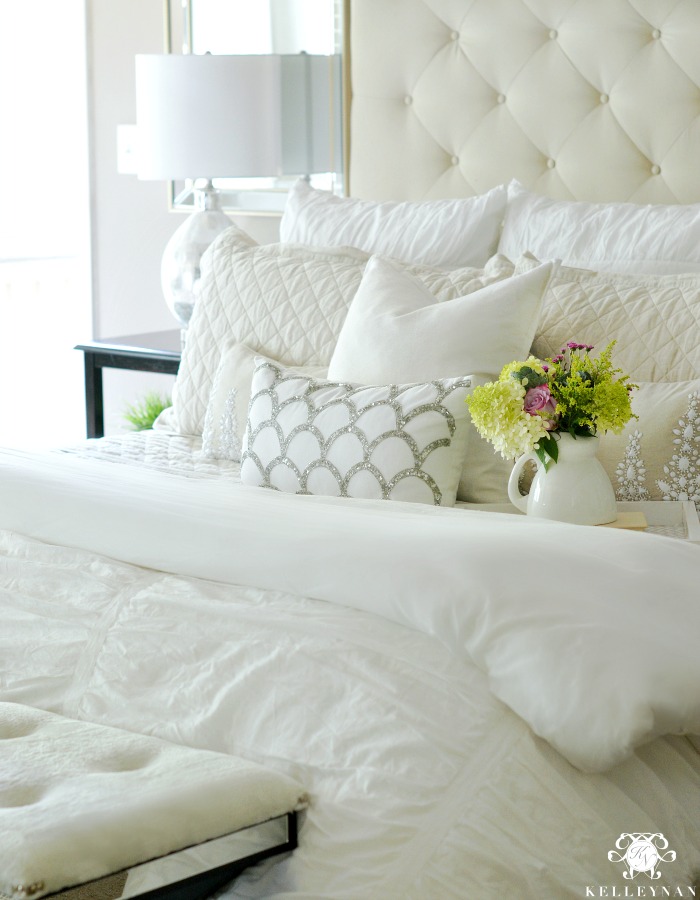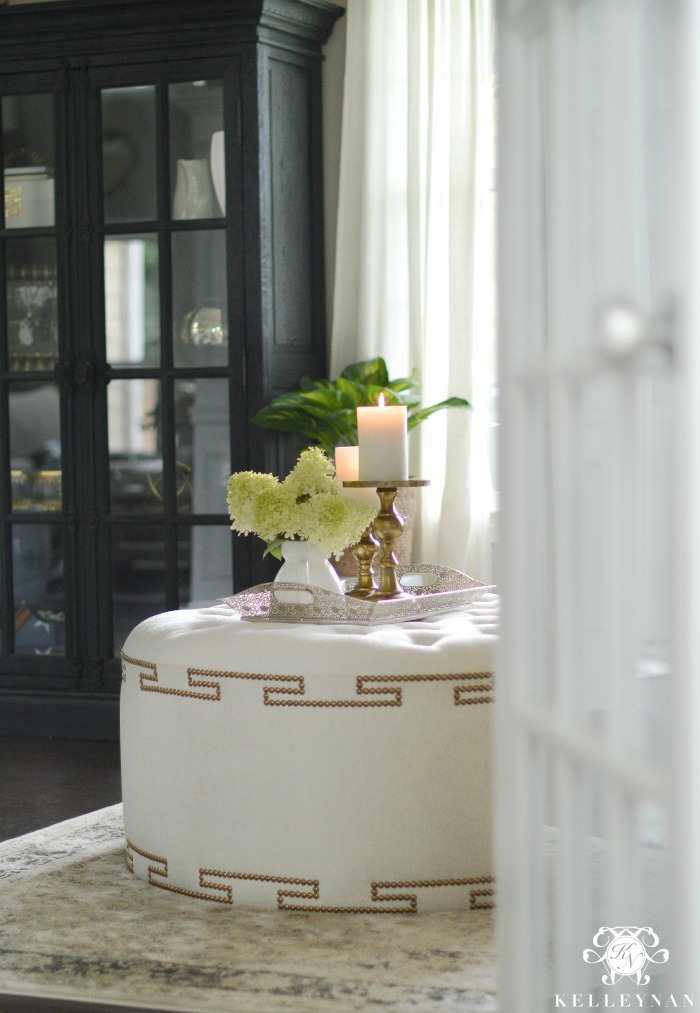 GET THE LOOK


DINNERWARE
Resist the urge to go for the cute floral pattern and instead, stick with basic white dinnerware. It's totally timeless and will last you through every season. If you have unlimited storage and unlimited funds, by all means, go for both! Stock up on every pattern you can find! (I totally would!) But, for those of us for whom that just isn't practical, stick to a basic, clean set. My everyday plates are these with a simple beaded edge, only slightly embellished. It is much easier to switch out (and store) napkins, bread plates, and table runners to achieve a varied look; with a basic white set of dishes, you are set for any table setting. This girl's napkin game has recently grown out of control!  Shopping them from World Market is my favorite because they always have so many fun patterns and designs.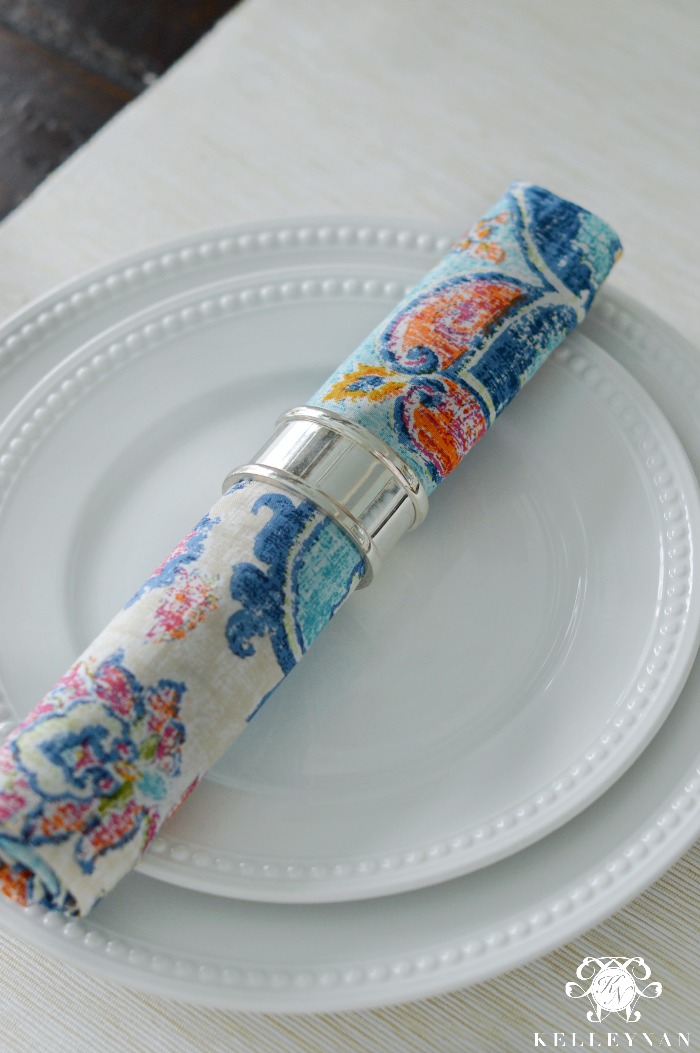 Oh- and the napkins I used on my Fourth of July table? They sold out pretty quickly, but have restocked. At $9.99/set of four, now is definitely time to grab them in anticipation of next year 😉 You can find those HERE.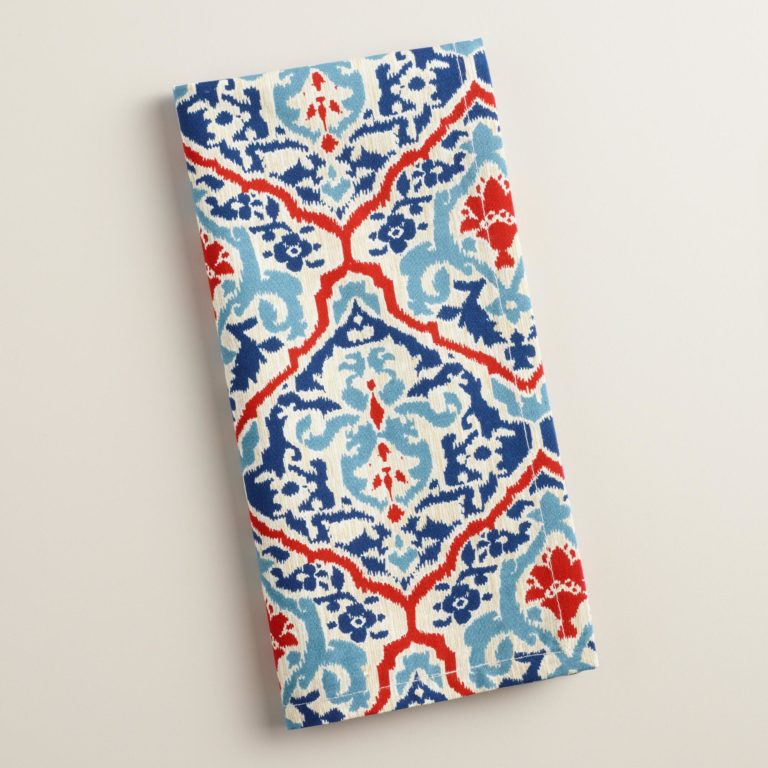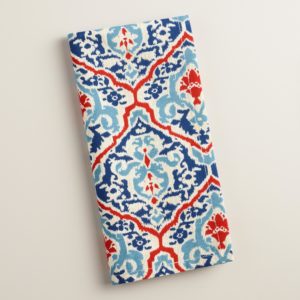 SERVING PIECES
An advantage of white serving pieces is that when you aren't using them for their intended purpose, they can double as decor throughout your home. My breakfast buffet is filled with some of my favorites, but my collection spans across other book cases, shelves, and rooms. 😉 This obsession hobby collection was inspired by my mom and when she comes for visits, she usually has a new piece or two to add to my arsenal. In addition to the advantage of having the same tone serving pieces for display purposes, I recently talked about why I love them for styling food tables (HERE). Sticking to a uniform aesthetic lends itself well to a cohesive, seamless, and well thought-out display for your guests. This adorable porcelain soup tureen from Pottery Barn is the latest addition to my collection.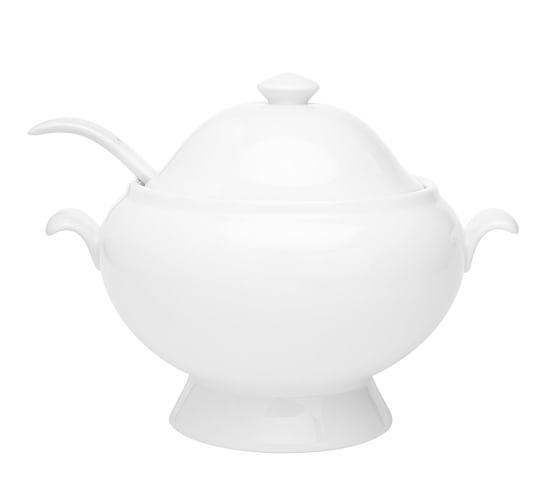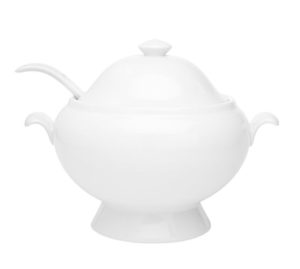 Can you spot him below?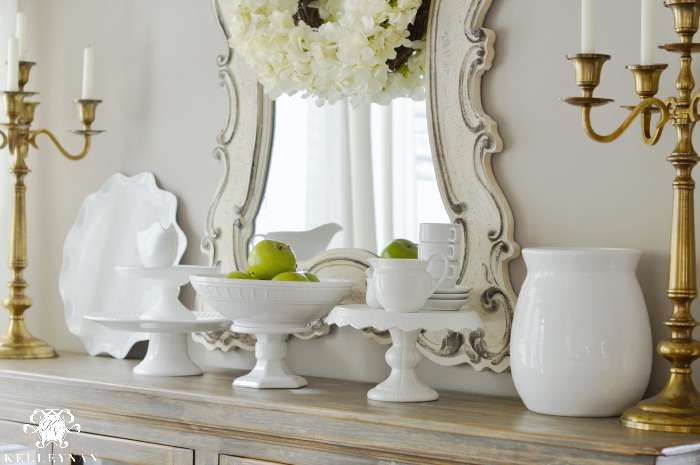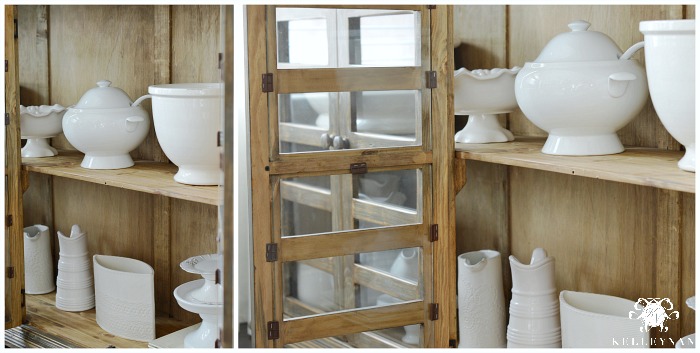 GET THE LOOK


CURTAINS
Do you have a lot of windows to outfit in your home? Do you want the same treatments throughout your house? Or, maybe you struggle with the right color/pattern for your curtains? And, if you want to use the same curtains everywhere, how do you decide on a color that will flow from room to room? Answer to all of the above: go with white. I go into depth on why I chose these budget-friendly curtains (that look way nicer than their price) HERE. They look like linen, come in multiple sizes, and have loops on the back which give them this lovely pleated appearance. *The look fab with clips, too* Instead of fighting the crowds in person, I have saved myself the trip and ordered my last few online HERE. Amazon Prime members, you can score them for free two-day shipping.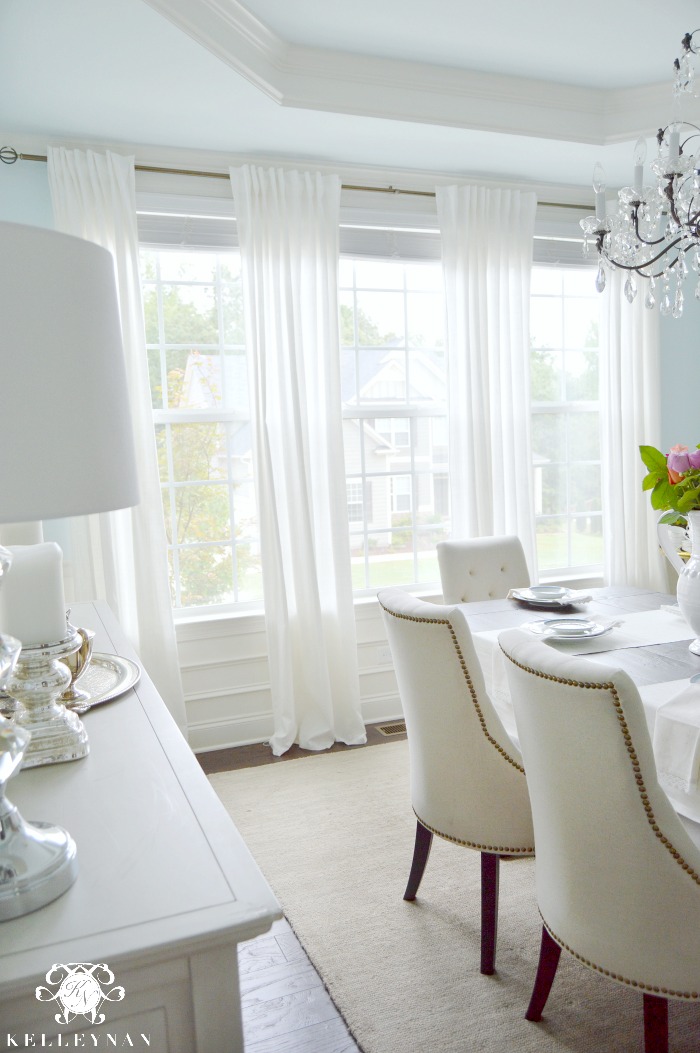 SHEETS/BEDDING
I firmly believe that part of the reason hotel beds are so comfy is the white, crisp bed linens. Stocking up on bleach and Oxyclean to keep them from getting dingy is my go-to method, but I get it- some have a hard time biting the bullet on expensive, white linen duvets that may get stained. If you don't spring for the entirely white bed 😉 at a minimum, I love the crispness of clean, white sheets. No coordinating here, just a clean, relaxing hotel vibe. I don't think I have ever shared my favorite sheets (and I don't know why because they really are some of my most favorite things we own).
The quality of these 100% Egyptian Cotton, 800 thread count sheets has been incredible. No signs of the first hole, they aren't too heavy or too light, and they keep getting softer and more dreamy. The regular price on these is $200 for a king set, but you can get them on sale right now for $119. Best investment ever. They also come in extra deep pockets HERE.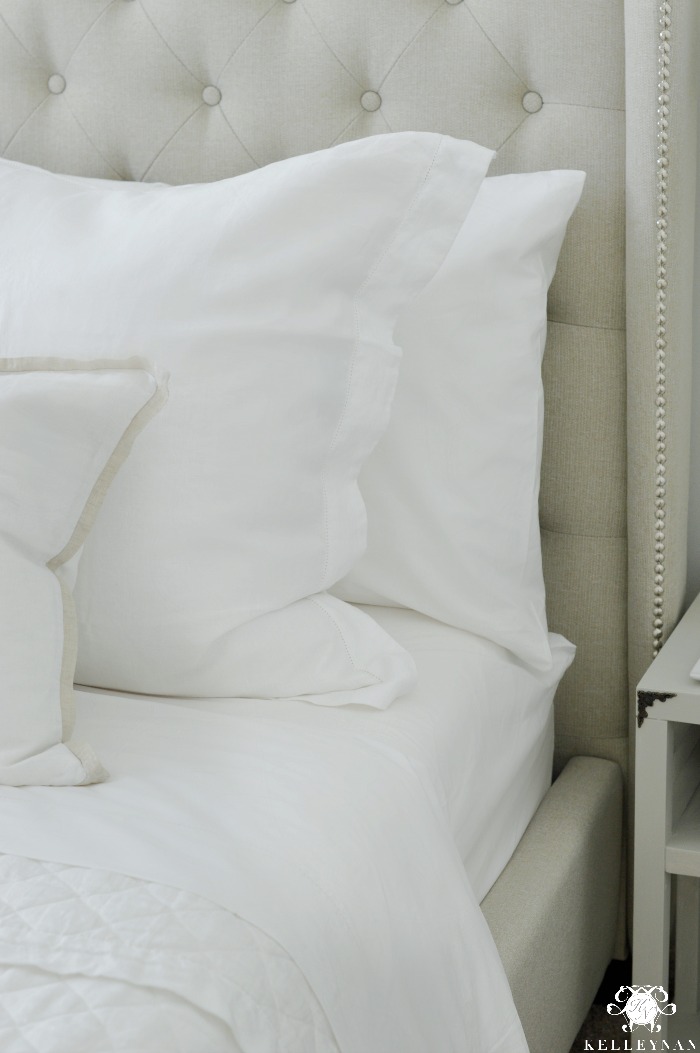 While the five areas I listed all have their reasons on why white can be preferable, a good rule of thumb is if you are just starting your collection, can only have one of something, need a clean backdrop/canvas, or are looking for the most versatility, stick to this classic choice. Are there other times you insist on using white? I would love to hear about it!
You can get more information on the rooms and sources featured in this post by choosing one of the following:
Dining Room | Breakfast Nook | Kitchen | Master Bedroom | White Guest Bedroom | Formal Living Room
*post contains affiliate links*