When my mom comes in town to visit, one of our her favorite places to visit is Costco. She doesn't have a store local to where she lives, so whenever we go together, we cruise the aisles, two carts deep, overflowing our buggies with all the random, fun things the warehouse is carrying for the month. This past weekend during her visit, to my delight and of all the random goodness to find, they had a big bin filled with sheepskins. There were literal happy dances taking place in the middle of the store.
My love affair with sheepskins started last year when I found one for the heart to cozy up the living room for fall (you can check out my fall home tour HERE). And then, it of course transitioned into winter (you can check out my Christmas home tour HERE).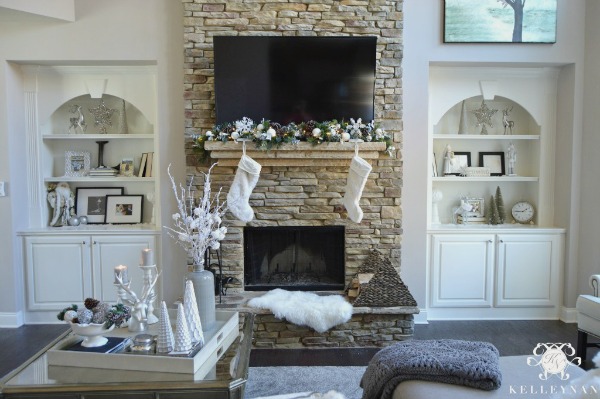 Then, when all the Christmas decor was packed up and put away, I couldn't part with the fur. In fact, I moved it into the sitting room and went out and purchased another small skin for my bedroom.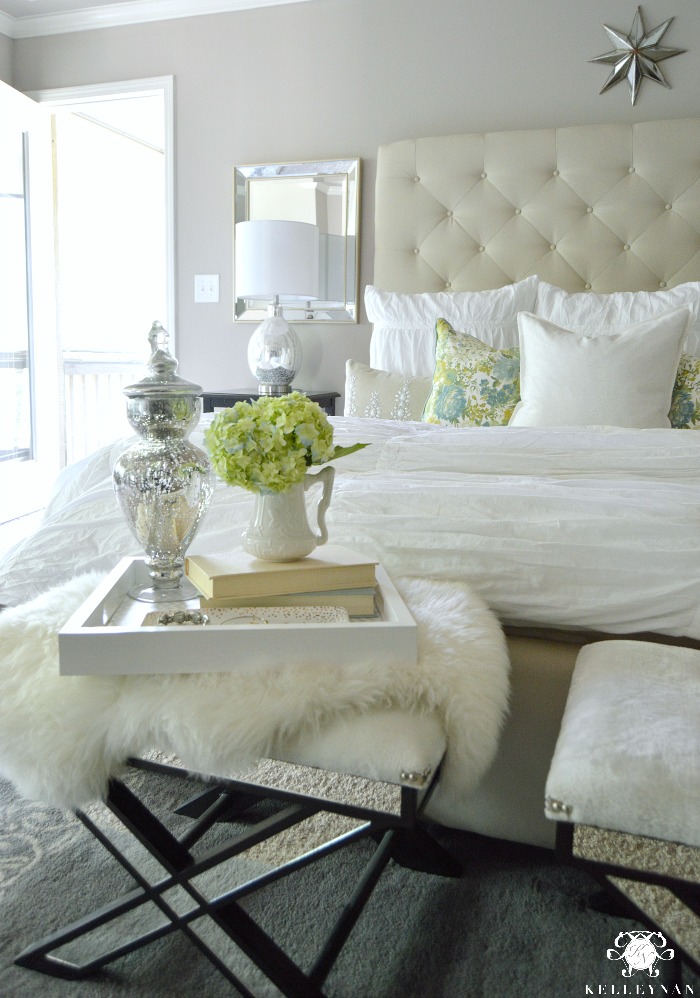 Its perfect to layer on top of stools, chairs, or ottomans, but I have been wanting to add a larger one as a rug in the little sitting area of our master retreat. It is far from finished but Costco must have known that it was time for me to add a little more to this space because I didn't have to think twice about bringing this baby home.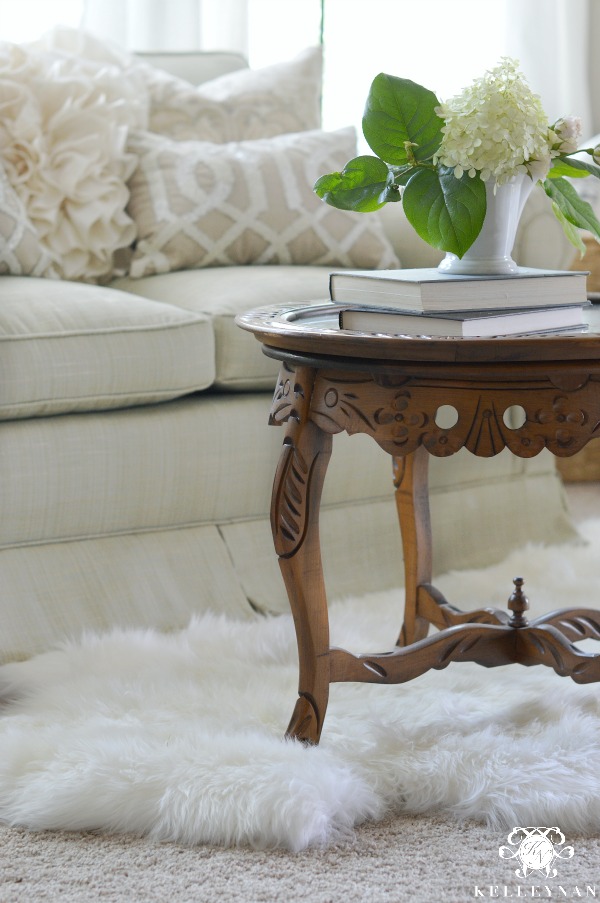 This precious carved, wooden table is a few generations old and this love seat (kin to the curved antique sofa in my formal living room) has been reupholstered, re-sprung, re-cushioned (basically re-everything) over its lifespan. Stay tuned for changes coming to this space soon 😉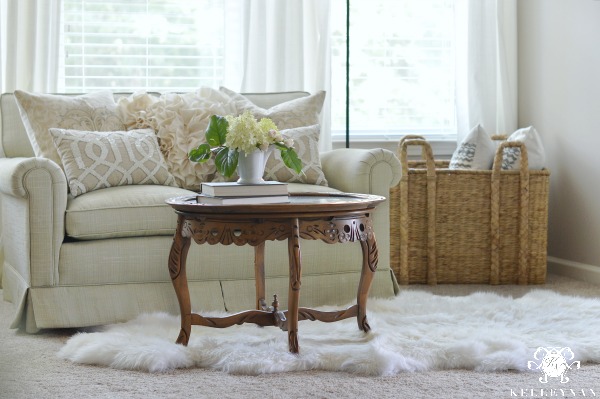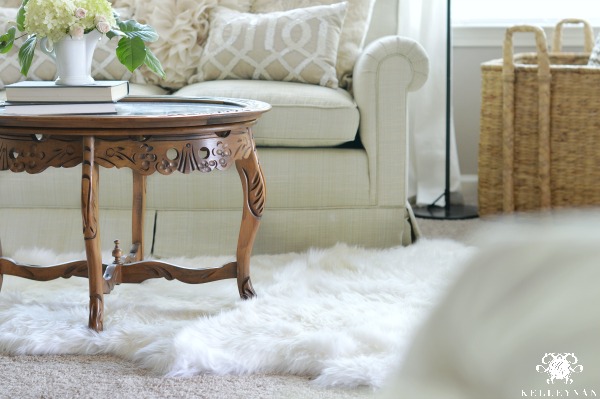 So now that I have three sheepskins, I have my eyes set on adopting a cowhide to add to one of our rooms. I haven't decided where just yet, but today, I have rounded up some of my favorite inspiration for hides and skins and ways to incorporate them into a variety of rooms.
Note: if you are in the market, Nordstrom has these beautiful cowhides (HERE) and sheepskins (HERE) on MAJOR sale! The Anniversary Sale ends on August 7 so be sure to get 'em quickly 😉

Are you a little color/pattern shy? Jennifer at Dimples and Tangles is an expert in creating a bold look with traditional elements. And, being brave enough to let the leopards and cows play together totally pays off here! And, in addition to the cowhide she uses in her living area, be sure to check out some of the others she uses throughout her home.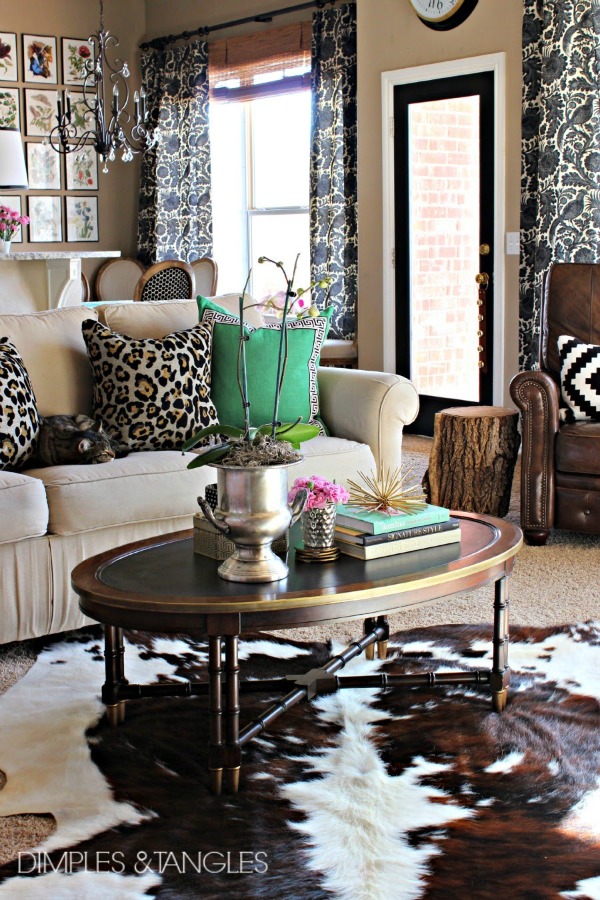 Something I love about sheepskin is that it is a way to use a neutral, solid color without being "boring". All that texture can translate to elegance or even a little funk depending on where you use it. Randi of Randi Garrett Design has a sheepskin in her romantic master retreat that has basically become famous on Instagram. Between the plush bedding and the sumptuous rug, these layers couldn't be more cozy.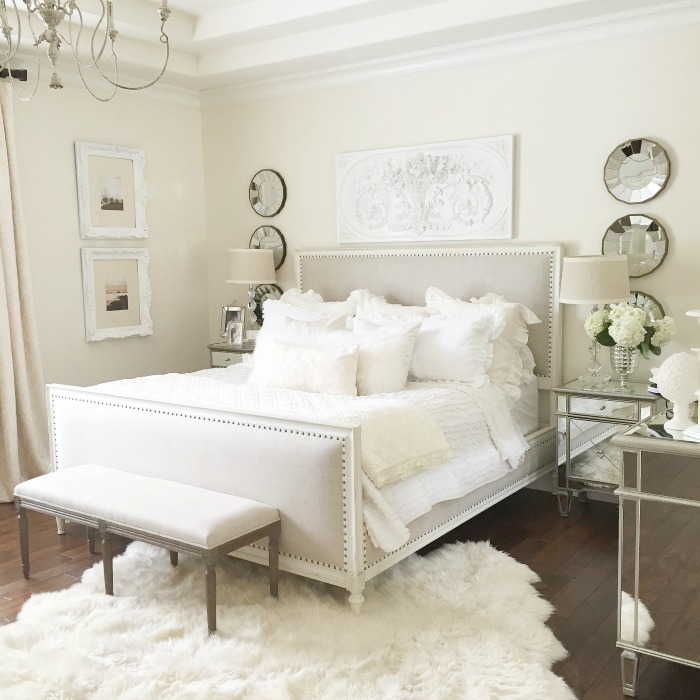 I can't get enough of this look in Kris of Driven by Decor's office. She layers her hide on top of a textured rug which is a great way to keep a bit of traditionalism to this cool choice. Also, if you are worried about the scale of the animal hide you are considering, layering it on top of a large rug is a good way to make it appear larger. Inspired by this room, I am most leaning toward using a cowhide in my upcoming office makeover, but Kris, I promise if I do to give you credit! 😉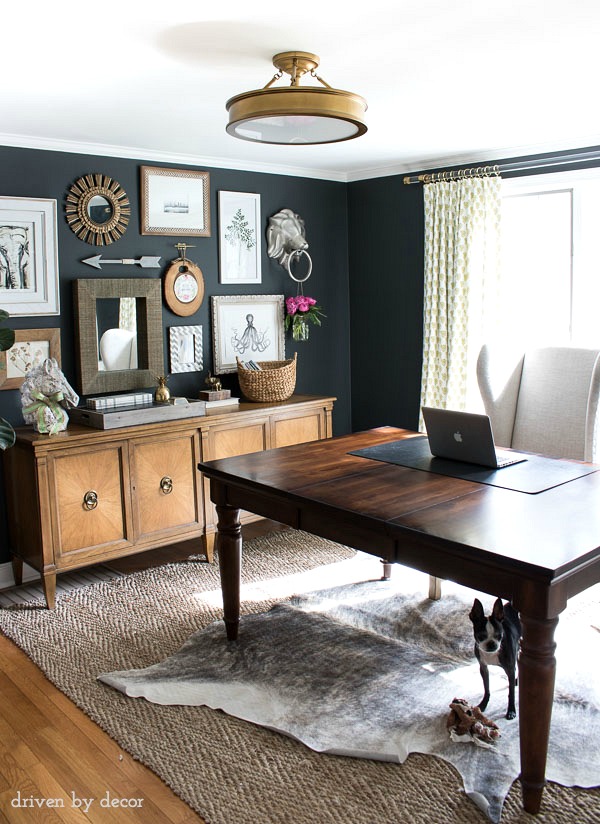 via Driven by Decor
I admire the incredible transitional style of Bree at Z Design at Home and the hide she chose for her kitchen perfectly marries those traditional and modern elements. Also, I kind of just want to crawl underneath her cutie tulip table and lay there. If you have a space with the question of "do I use a circular rug or a rectangular rug?", an interesting shaped animal hide can take out the guess work.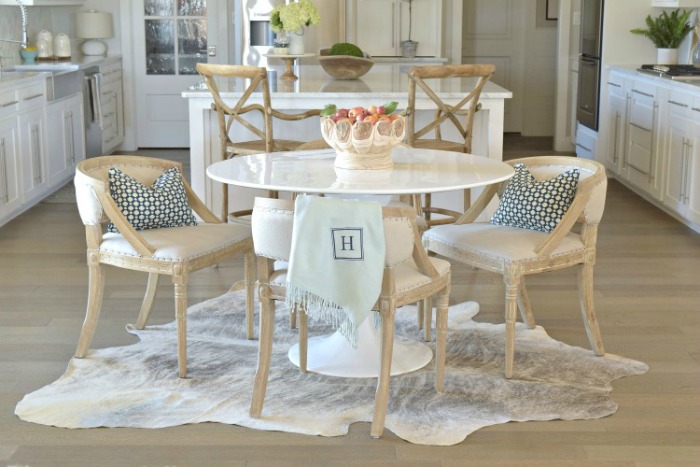 via Z Design at Home
I was recently asked if you can mix gray and brown. I immediately replied "yes!" as I have done so throughout my own home and am drawn to rooms with those tones used together. This unexpected bit of fun in Jenni of Dear Lillie's den makes for the most awesome incorporation of pattern to ground out this gorgeous room design.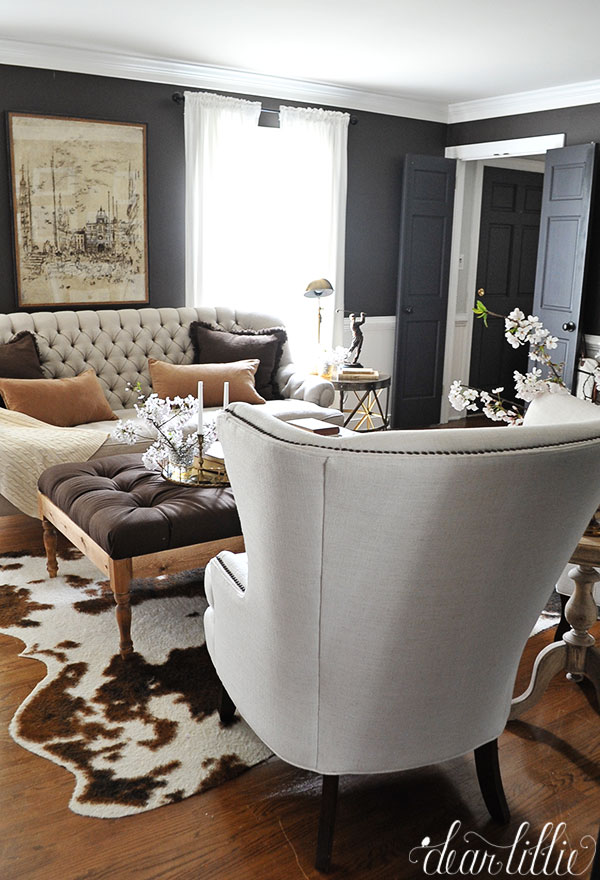 via Dear Lillie
Are you convinced yet? You don't have to have a western/lodge style home to bring some animal to your space. If you are looking for that special something to cozy up or bring a little "fun" to  your room, try one of these easy options for a big statement.
You can shop some of these favorites in all different sizes by clicking on the image.

*Post contains affiliate links*