One of our family dinner favorites we have on repeat — especially when I'm planning an simple but hearty and savory weeknight dinner — is meatloaf with a yummy glazed topping. And when I say "family dinner favorites," I'm really talking about one of Dave's favorites. We cook a lot of chicken dishes, so this is a good recipe to add to the rotation when we need a little beef. This meatloaf is easy to make and in the time it takes to bake in the oven, you can round out the rest of the dinner and even set the table!
*Posts on KelleyNan.com may contain affiliate links. Click HERE for full disclosure.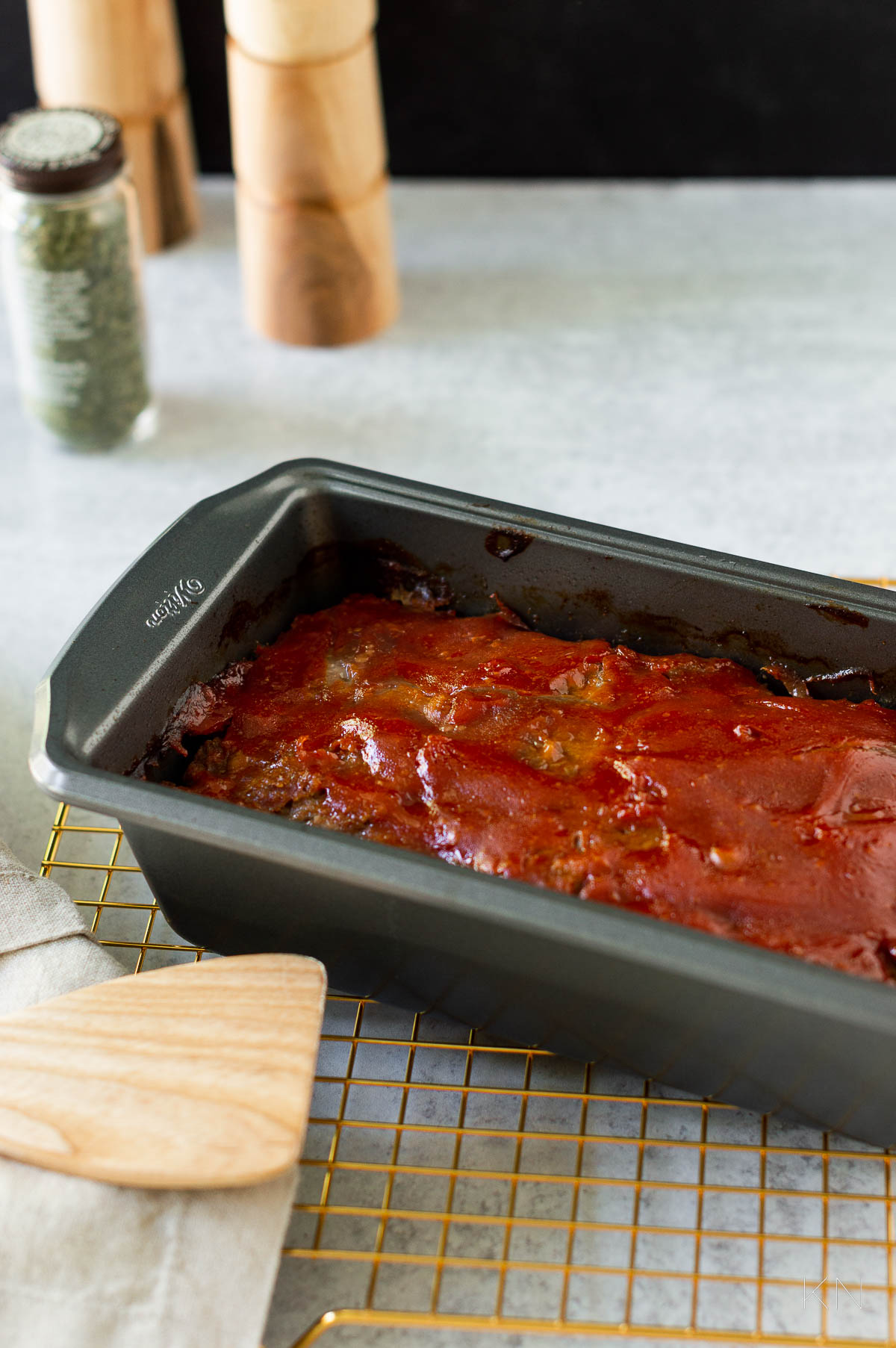 As a caveat, there's no real *pretty* way to photography the meatloaf, but trust — it's DELISH!
What Are the Meatloaf Ingredients?
This recipe only requires basic ingredients and we typically have most already on hand. I prefer to use the leanest ground been possible, but less lean mixtures can also be used, down to ground chuck. Because I use a loaf pan, the leaner the beef, the less grease that will drain into the bottom of the pan. Here are the general meatloaf ingredients I use.
Lean Ground Beef (Our preference is 93/7 lean/fat ratio.)
Chopped Onion
Chopped Bell Pepper
Seasoned Croutons (or Pepperidge Farm Dressing Mix)
Petite Diced Tomatoes
What Ingredients Do You Need to Make the Glazed Meatloaf Topping?
Ketchup
Brown Sugar
Mustard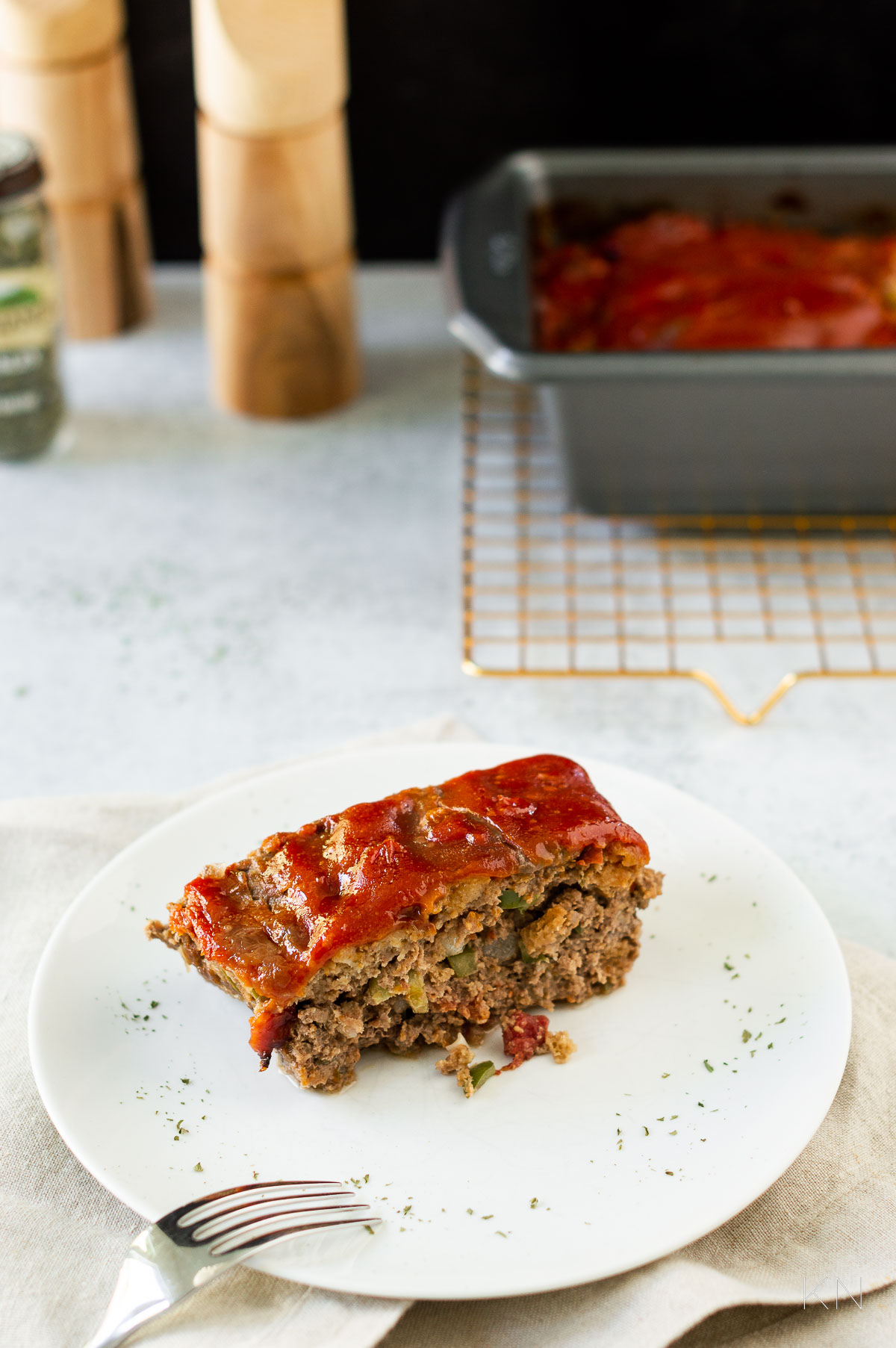 What Kitchen Tools Do You Need to make Meatloaf?
Again, only basic kitchen tools are needed to make Meatloaf with Glazed Topping. Depending on my weekly meal plan, I will either make one meatloaf in a large loaf pan or divide the mixture between three small loaf pans. If I'm making the smaller versions, I bake one loaf and freeze the other two to serve for later meals.
*Don't miss THIS trio of can strainers that fit right on top of your cans (I LOVE!) and THIS handheld electric can opener that I now use exclusively.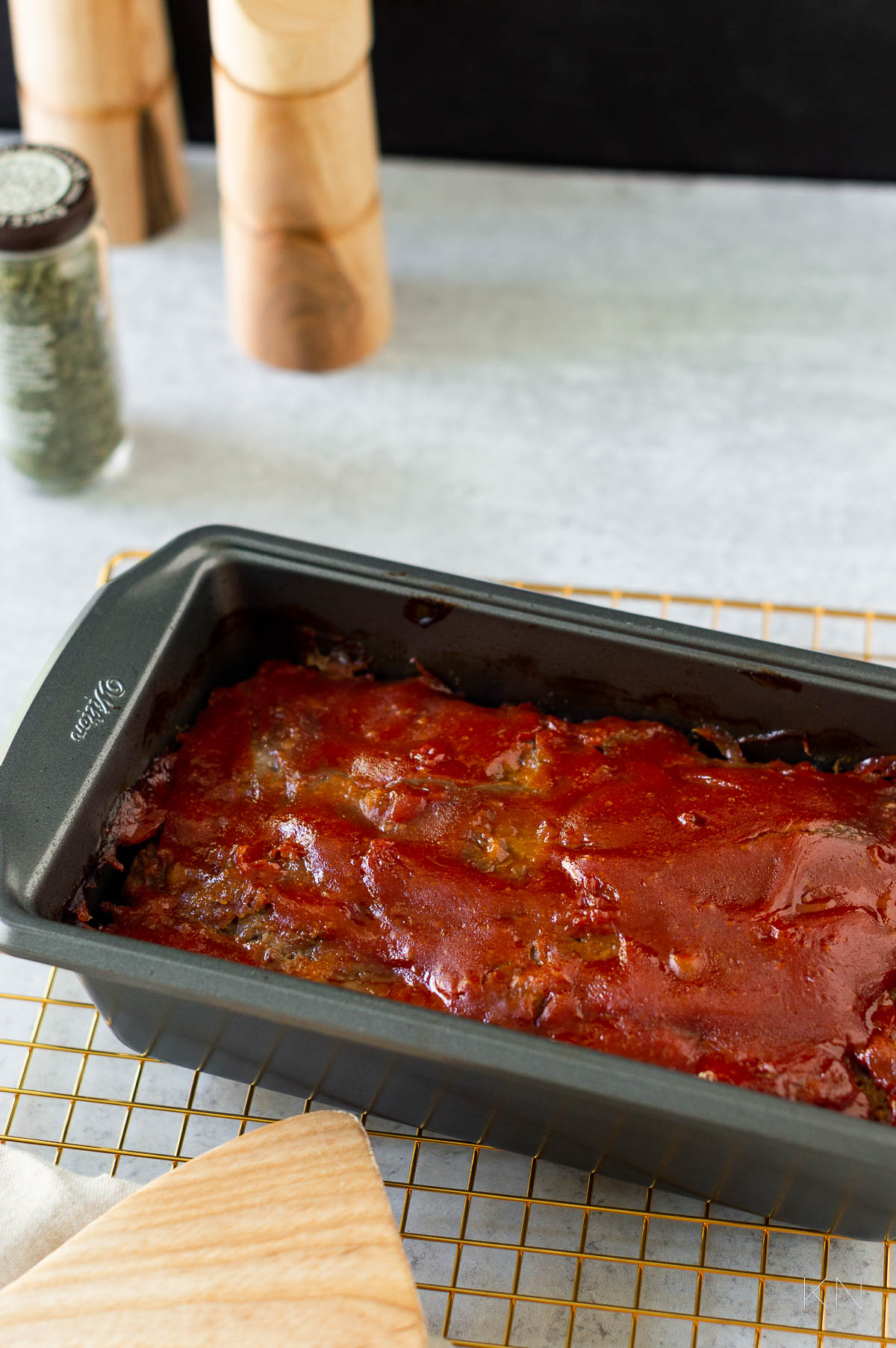 What Are Some Ideas for Meatloaf Side Dishes?
When I make meatloaf I always go for a starchy side and a veggie. My "go to" side dishes to serve with this meal are green beans and mashed potatoes, but these can easily be substituted, depending on what you have on hand and your family's tastes. Dave doesn't like most potatoes, least of all mashed potatoes (I know, right?!), so I can usually get away with a scalloped potato. Below are sides that are perfect for this savory main dish…
Hash Brown Casserole (See my recipe HERE.)
Sweet Potato Fries
Onion Rings
Scalloped Potatoes
Baked Potatoes
Rice Pilaf
Tater Tots
Steamed or Smashed New Potatoes
Green Salad
Spinach Casserole (See my recipe HERE.)
Steamed Yellow Squash
Zucchini and Tomatoes
Steamed Broccoli
Roasted Broccoli and Cauliflower
Roasted Brussel Sprouts
Roasted Asparagus (See my recipe HERE.)
Can you Substitute another Binder/Filler for Meatloaf Instead of the Croutons?
Yes! I actually grew up on meatloaf with Pepperidge Farm dressing mix (plain) because it includes other seasonings and the consistency is just right! I've also used Stovetop stuffing and that's just fine, too. But, I accidentally stumbled upon using seasoned croutons in a pinch and loved the result, so that's my go-to, now.
My grandmother, BeBe, used crushed saltine crackers in her meatloaf recipe and also baked it in a cast iron skillet. It made for a drier meatloaf with a crispier outside that was my grandfather's preference.
Is the Meatloaf Good for Leftovers?
YES! If there ARE leftovers, that is. Dave definitely packs a plate for the next day's lunch at work and Gran Nan prefers her leftover meatloaf in sandwich form — sliced onto bread and topped with sweet relish and a bit of ketchup.
A Tip…
This Meatloaf with Glazed Topping recipe also works beautifully for making homemade meatballs. Of course, it's more time consuming to roll out individual meatballs, but they are delicious browned and served over rice or over spaghetti in your favorite marinara sauce.
How Do You Remove the Grease?
When you use a loaf pan, you're going to collect some grease on the bottom as the meatloaf bakes. When it's finished cooking, you can either slide a knife around the sides and transfer the loaf to a plate/serving dish, or, you can cut the end as a first piece, remove it from the loaf pan, and let the grease and juice collect in its place. Then, carefully tip the pan (while holding the loaf in place) to drain and discard the grease into a disposable container. You have to move quickly if you use this method as the glaze topping will shift.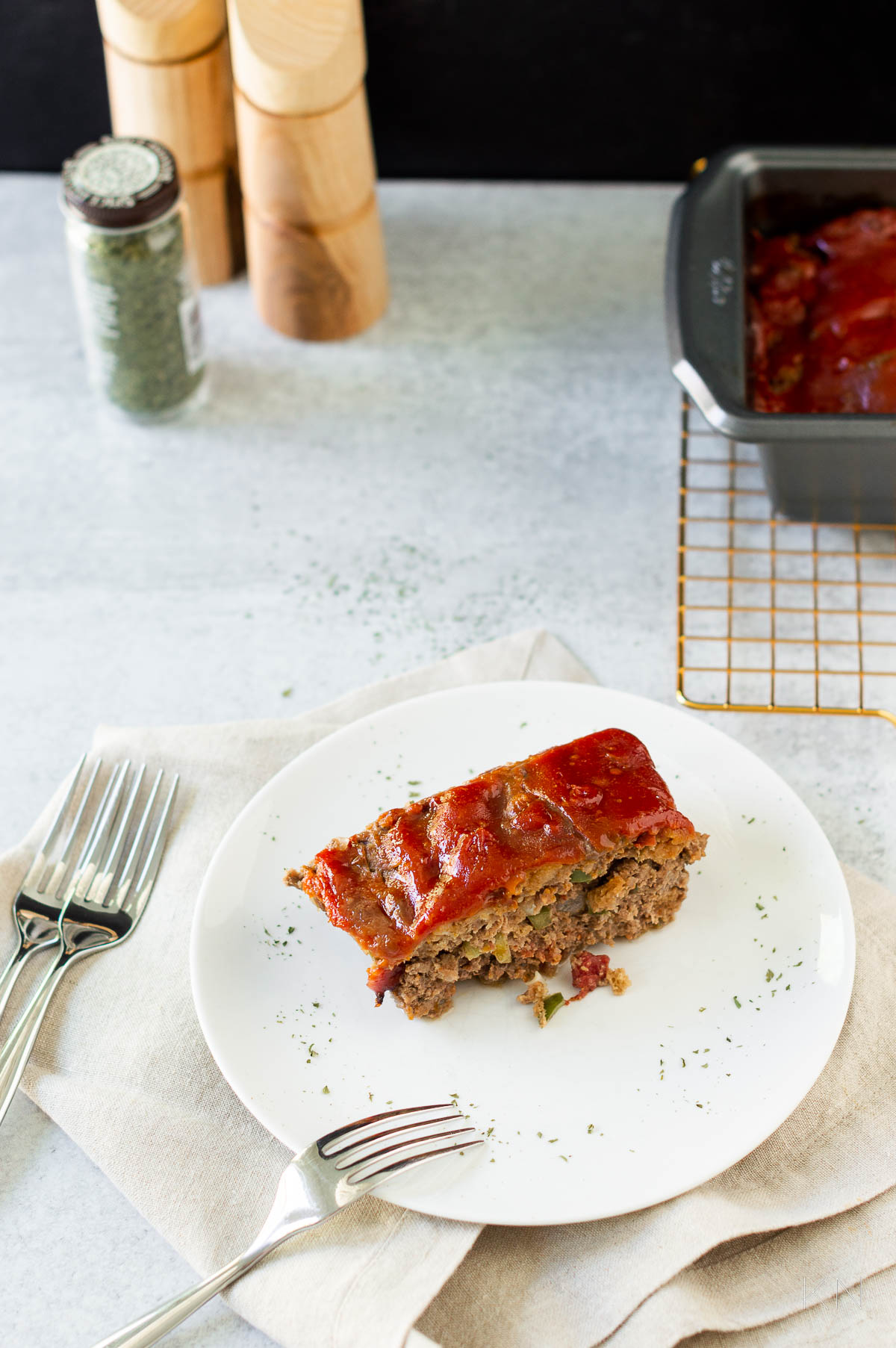 How to Make Meatloaf
Print/save the recipe and add to your menu stat!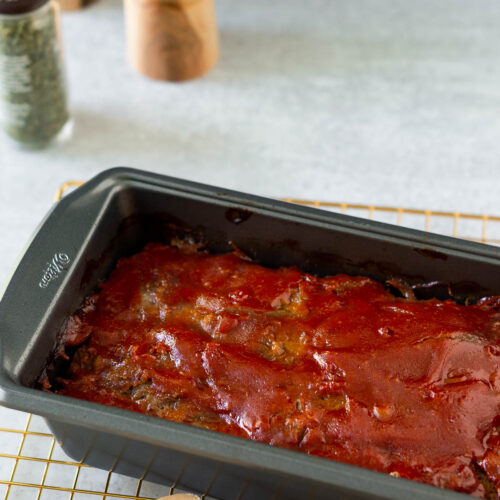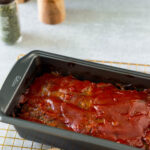 Meatloaf With Glazed Topping
This easy to make Meatloaf With Glazed Topping recipe is a family favorite, made with ingredients you will typically have on hand. It even includes several veggies to up your daily vegetable intake!
Ingredients
Meatloaf Recipe Ingredients
1

lb.

Ground Beef

Our preference is 93/7 lean/fat content

1

Small Onion

1/2 Large Onion may also be used.

1/2

Green Bell Pepper

I have also used other bell peppers or even poblanos.

2/3

Can

Petite Diced Tomatoes

1

Cup

Seasoned Croutons

Pepperidge Farm Dressing is another great binder to use!

1

Egg

1 1/2

tsp..

Salt

I like to use Onion Salt.

1

tsp.

Pepper

Cooking Oil Spray
Glaze Recipe Ingredients
1/2

Cup

Ketchup

2

Tbsp.

Yellow Mustard

1/4

Cup

Brown Sugar
Instructions
Meatloaf Recipe Instructions
Preheat oven to 375 degrees.

Lightly spray loaf pan with cooking spray. (Grease will be produced but I like to use cooking spray to ensure nothing sticks)

Break and beat egg in a large mixing bowl.

Place ground beef on top.

Peel and finely dice onion and bell pepper and add to the mixing bowl.

Drain the can of tomatoes and add 2/3 of the tomatoes to the mixing bowl.

Add croutons to a Ziplock bag, seal, and crush with hands. Add crushed croutons to the mixing bowl.

Add salt (I use onion salt) and pepper to the mixing bowl.

Mix all ingredients together — I prefer to use my hands and really massage it all together but if that grosses you out, you can use a potato masher.

Dump the meatloaf mixture into a large greased loaf pan and press down so it fills the pan evenly.

Spoon on glazed topping and spread evenly. (Glazed topping instructions below)

Cook glazed meatloaf in oven at 375 degrees for approximately 45 minutes, or until internal temperature reaches at least 160 degrees. (As a note, our oven runs hot.)

Remove meatloaf from oven, let the loaf rest for a few minutes, remove from loaf pan/slice a piece and drain the excess juice, and enjoy!
Glaze Recipe Instructions
Mix the ketchup, yellow mustard and brown sugar together in a small bowl.

Spread glaze mixture evenly on top of uncooked meatloaf.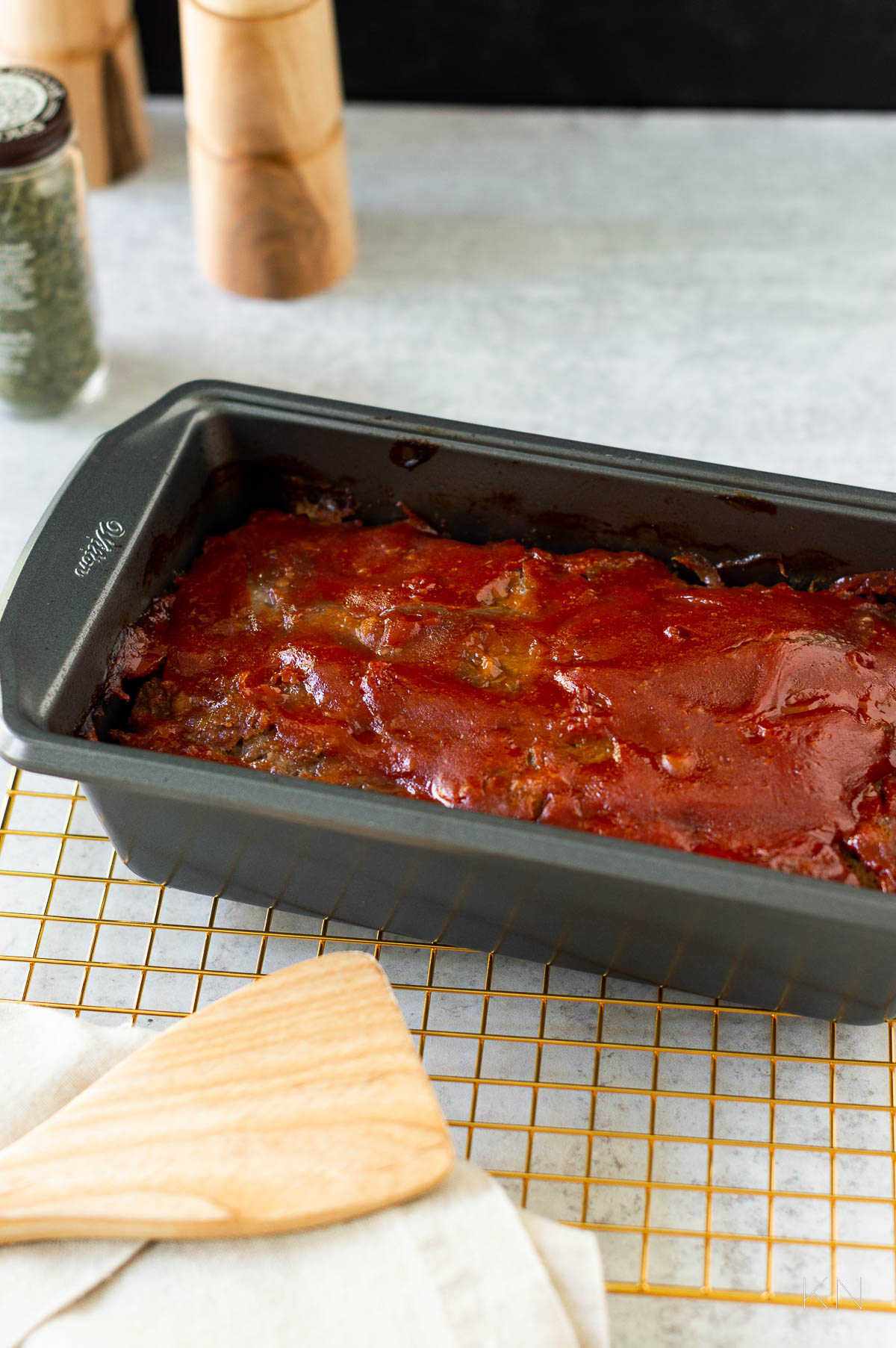 Kitchen and Cooking Necessities & Faves

Other Recipes to Check Out
Pin for Later