It's been a bit since I last shared a space over at Gran Nan's house and it didn't hit me until a few weeks ago when I was admiring her office that as much as I love that eclectic spot, I've never shared it! Her home office decor is a true representation of mixing old and new, high and low, and classic with trend. And, I love how she pulled it all together. With one piece that served as the inspiration and anchor for all other decisions, the space is colorful, but in a non-taste specific, still-leaning-neutral way. There's still a few final touches I'd love to help her add eventually, but her pretty home office is so her.
*Posts on KelleyNan.com may contain affiliate links. Click HERE for full disclosure.
Home Office Before & After
In all fairness, the only "before" of the office was during the construction state, but I love a good visual so I was happy I was able to find a shot in the drywall phase in the depths of my phone's photo archives. For the sake of dramatics and satisfaction, here's the before…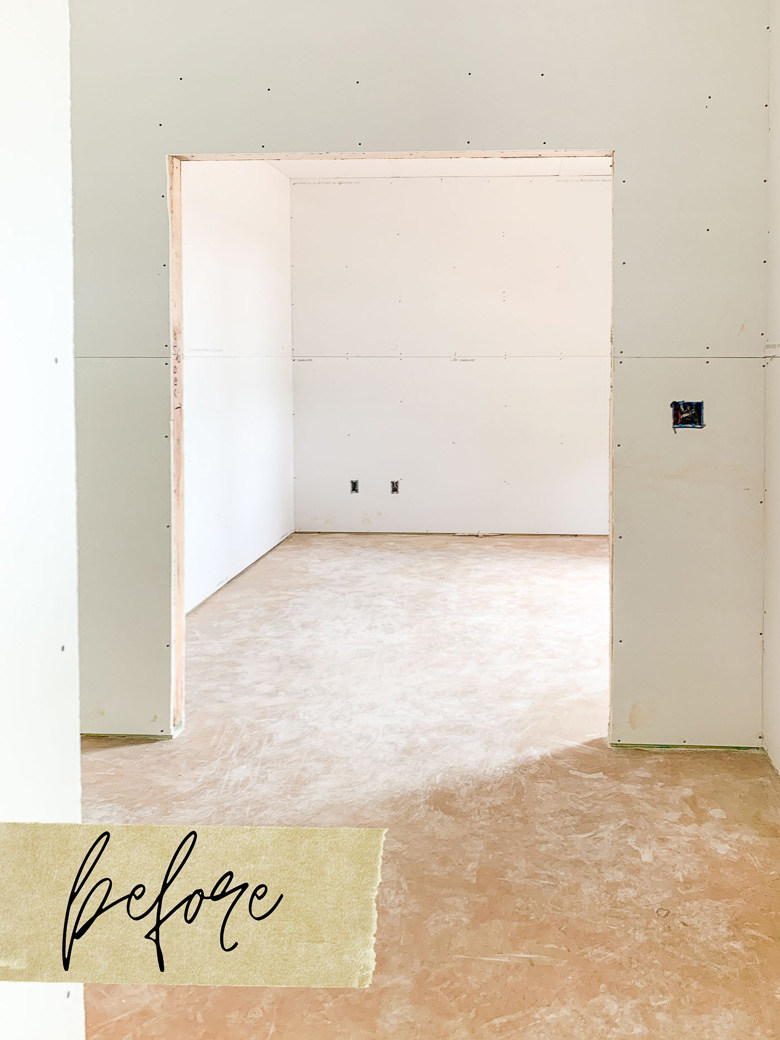 and here's how Gran Nan's home office looks today!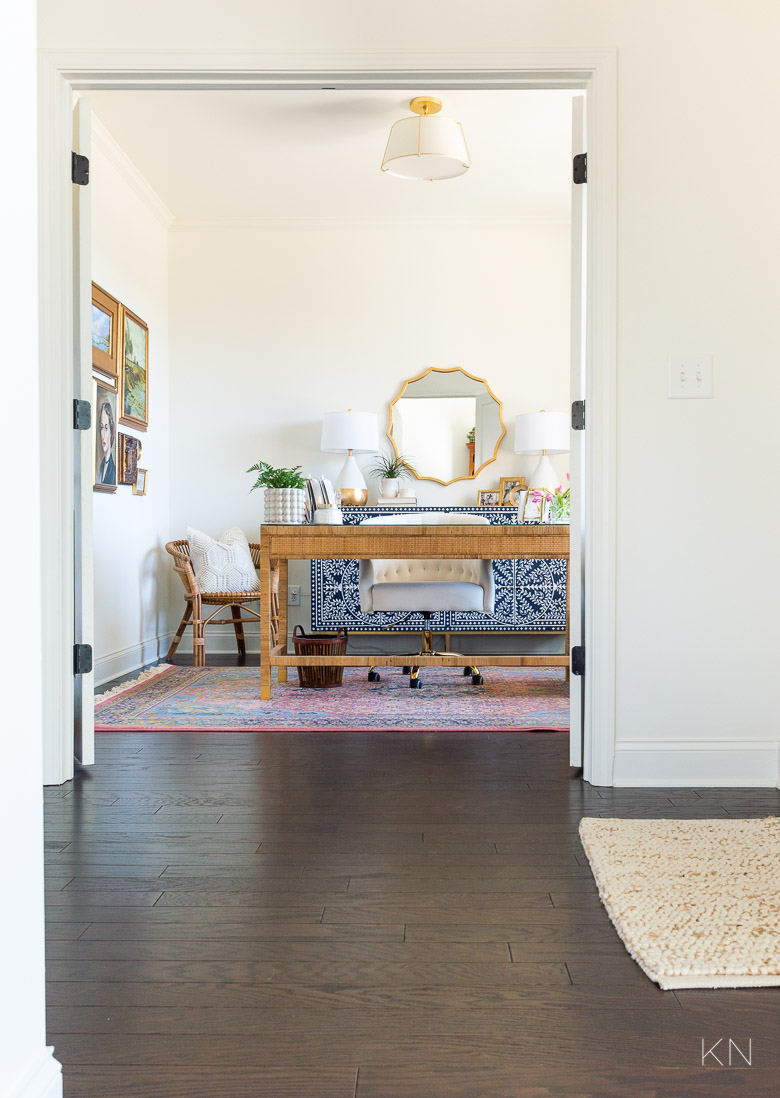 I'd love to maybe add an unobtrusive wall molding one day, along with window treatments, but I love her office in its crisp, clean state.
Eclectic Home Office Decor
The element that served as the anchor in the design plan that I mentioned at the start of the post? A family-inherited, pink and blue, vintage Oriental rug. And, I love that instead of seeing that bold color and deciding to go more neutral, she doubled down and went bold with her sideboard, too, opting for THIS navy and white inlay storage piece. She waited a while for it to arrive but it is stunning in person. You can also find other inlay furniture pieces in the collection HERE.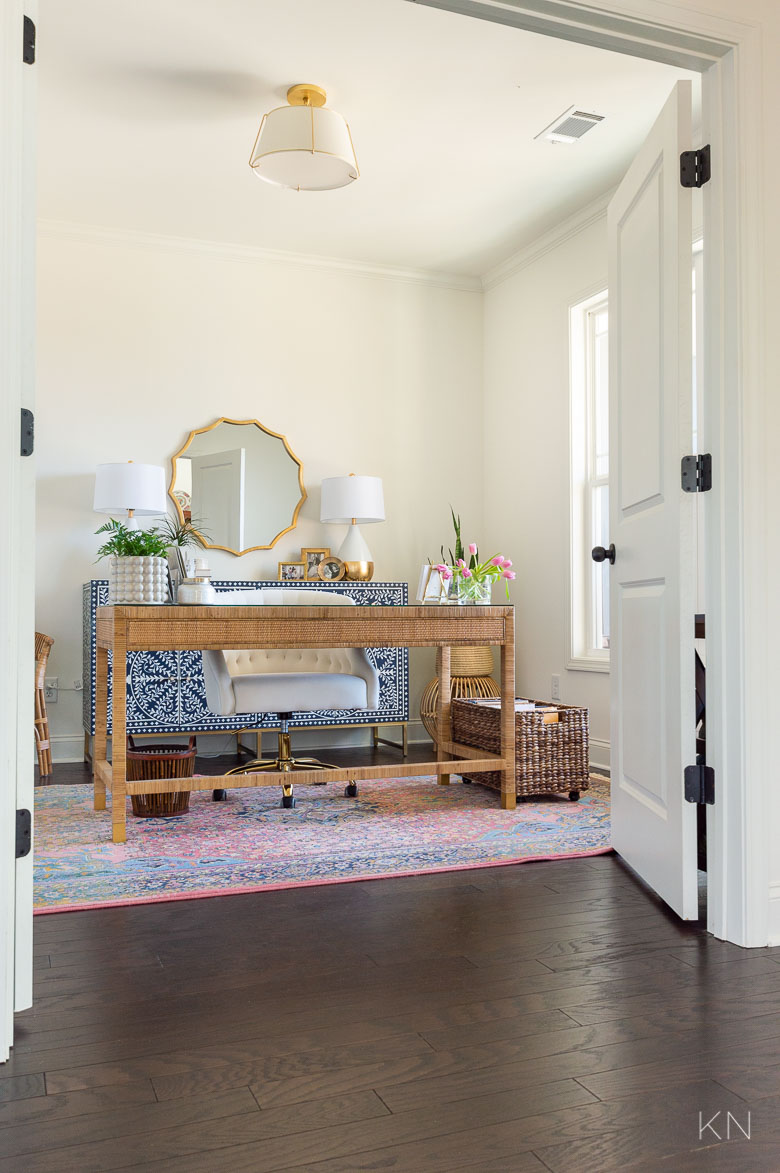 Sources: Light Fixture | Desk | Credenza | Task Chair | Mirror | Lamps (set of two) | Rattan File Bin | Bubble Pot | Candle | Rug — vintage
Because this room is a true "office" with no closet or storage space, my mom wanted a furniture piece that could conceal some items and be used for storage/filing/back stock. The multi-use credenza with shelves inside the cabinets is versatile and works perfectly in her home office.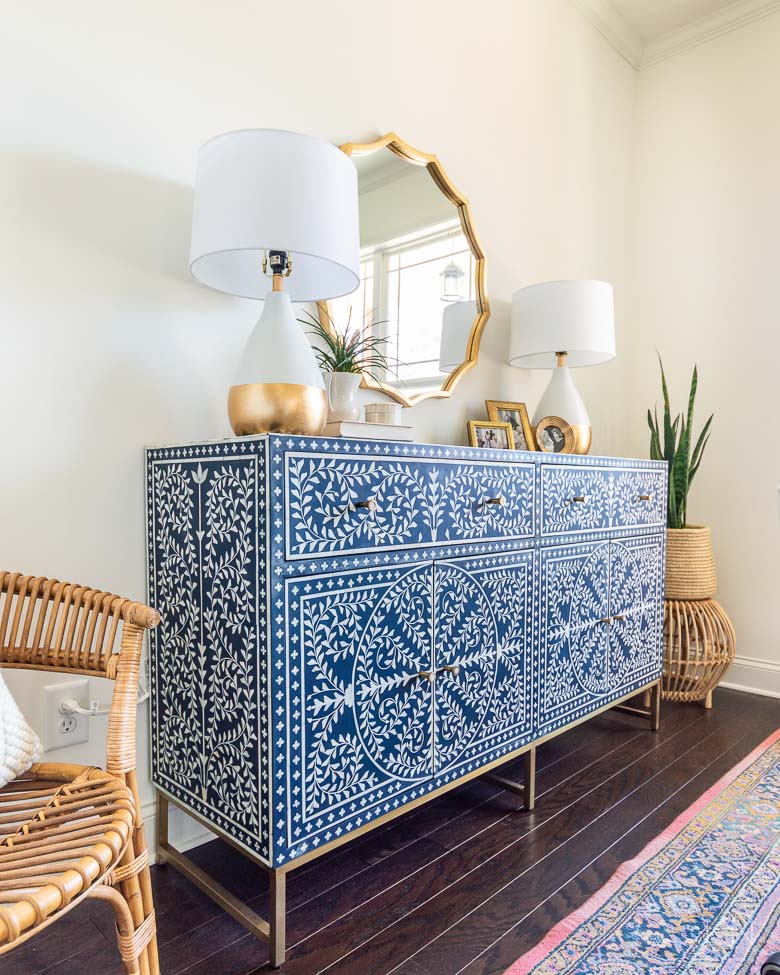 Sources: Credenza | Mirror | Lamps (set of two) | Two-Handled Vase
The gourd-shaped, gold-dipped lamps that flank either side of the credenza come as a set and can be found on Amazon (free shipping!) HERE for under $72/lamp.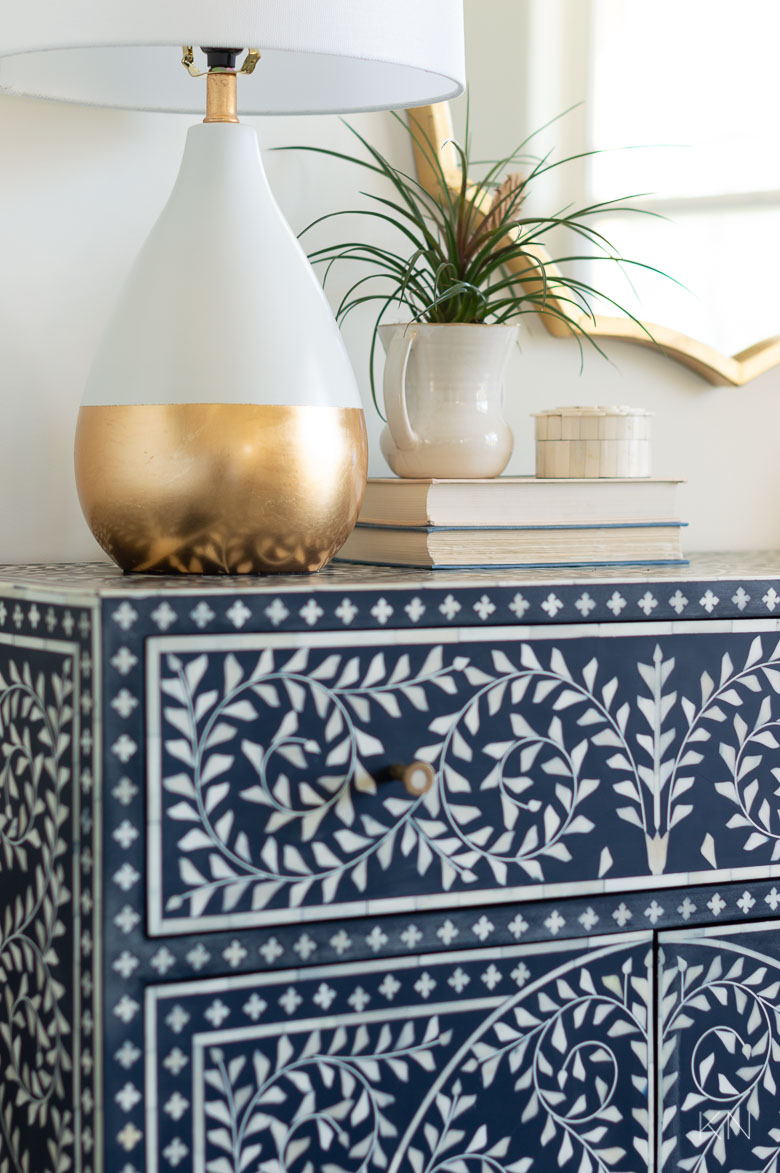 Even though she has lots of natural wood and organic touches, I love how she incorporated some glitz of warm gold/brass tones, too.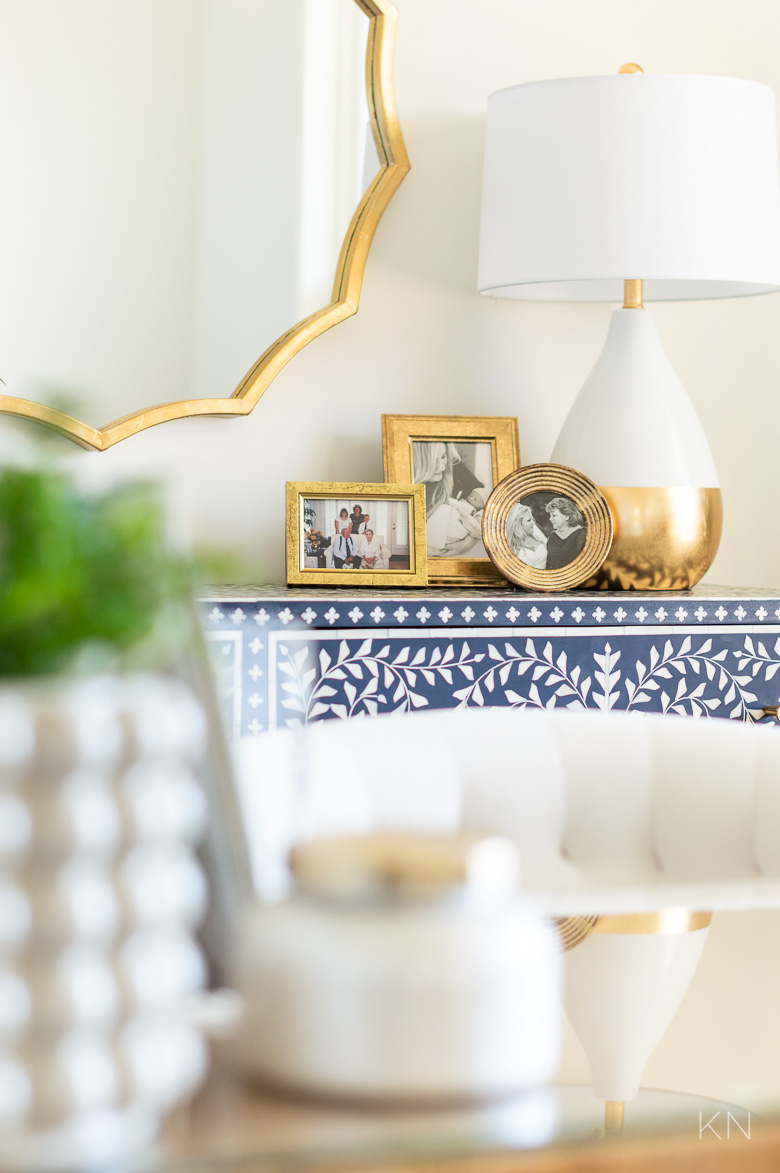 That cute little double-handled ceramic vase is an affordable Anthro find but it reminds me of one of my mom's inevitable fall festival finds. And, while THIS small version is just over $20, there's a taller vase available HERE, too.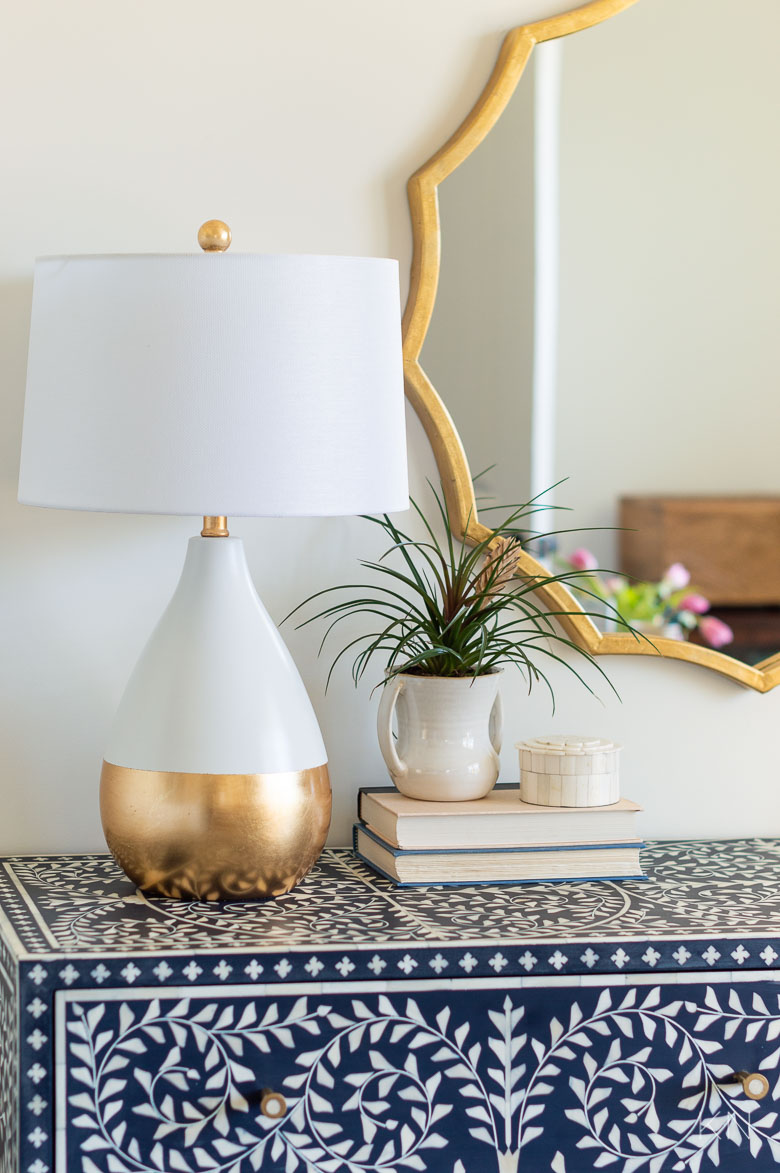 Sources: Lamps (set of two) | Two Handled Vase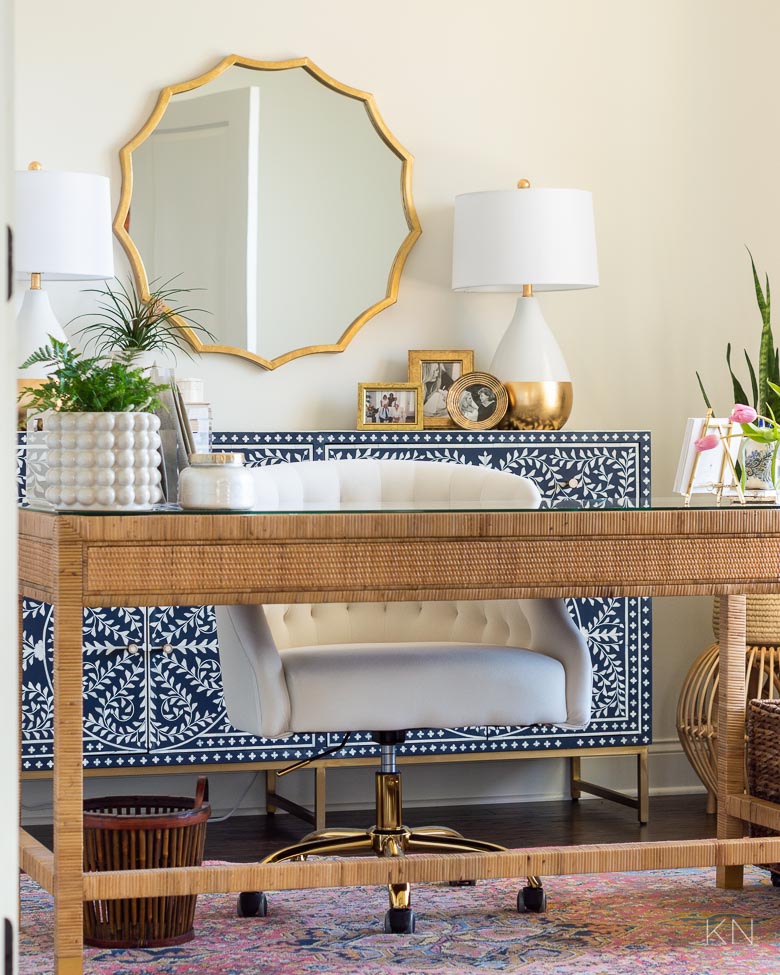 The other major piece in the office — and the first piece that was established after the rug — was her rattan desk (HERE). It was a splurge piece, but after considering others, THIS ONE remained the favorite. While it is pricier, it's currently 20% off with code HOME HERE.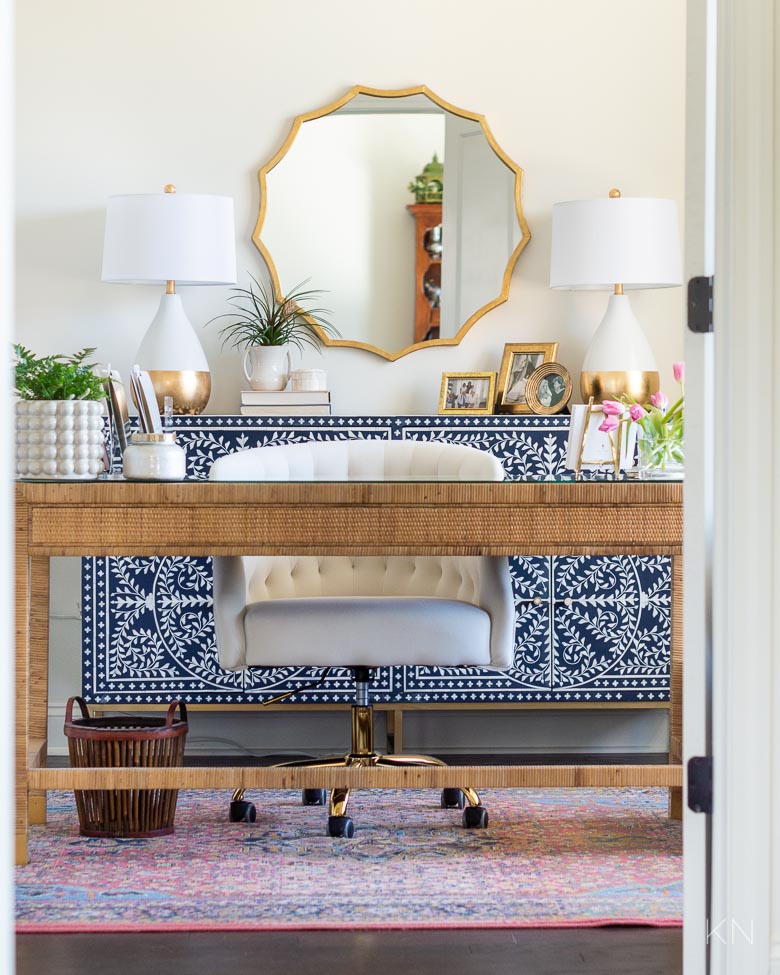 Sources:  Desk | Credenza | Task Chair | Mirror | Lamps (set of two)  | Two Handled Vase | Bubble Pot | Candle | Rug — vintage
I realized I didn't get a full 360 degree shot of her desk but it's even better in person 😉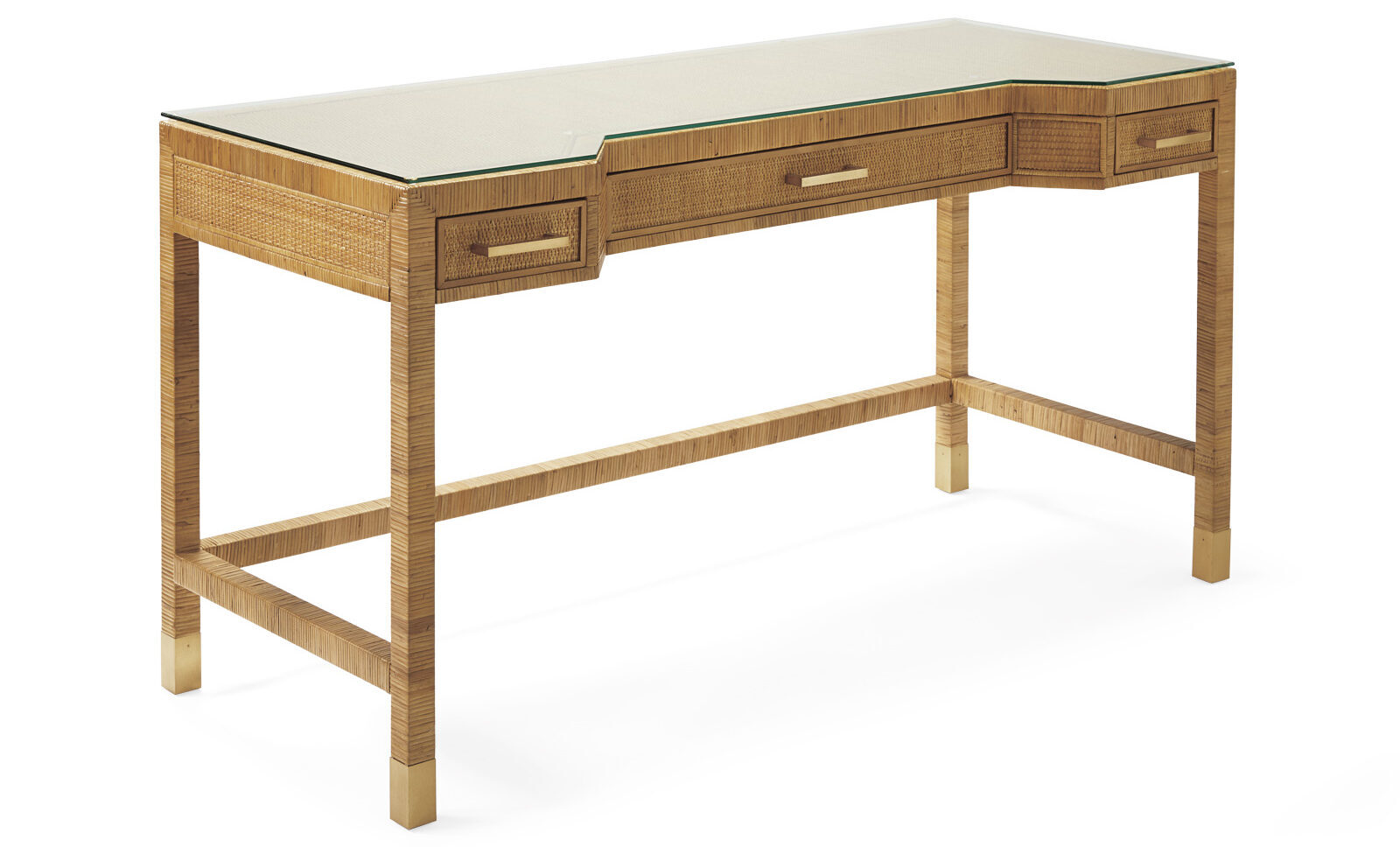 Source:  Desk (currently 20% off with code HOME)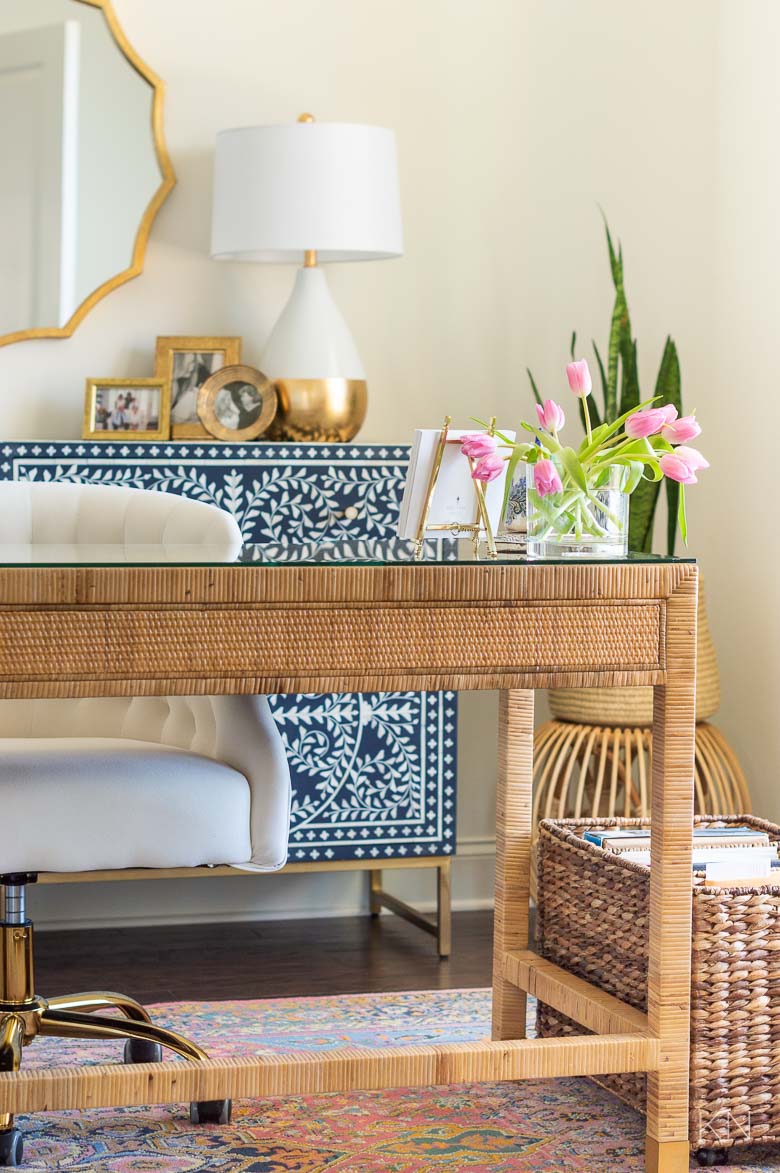 My mom was incredibly specific with what she was looking for in a desk chair. She didn't want anything too big or too tall or too cushy or too expensive. She landed on THIS one that turned out being worthy of all the positive reviews. Along with the ivory color she went with, it comes in an additional 15 colors HERE.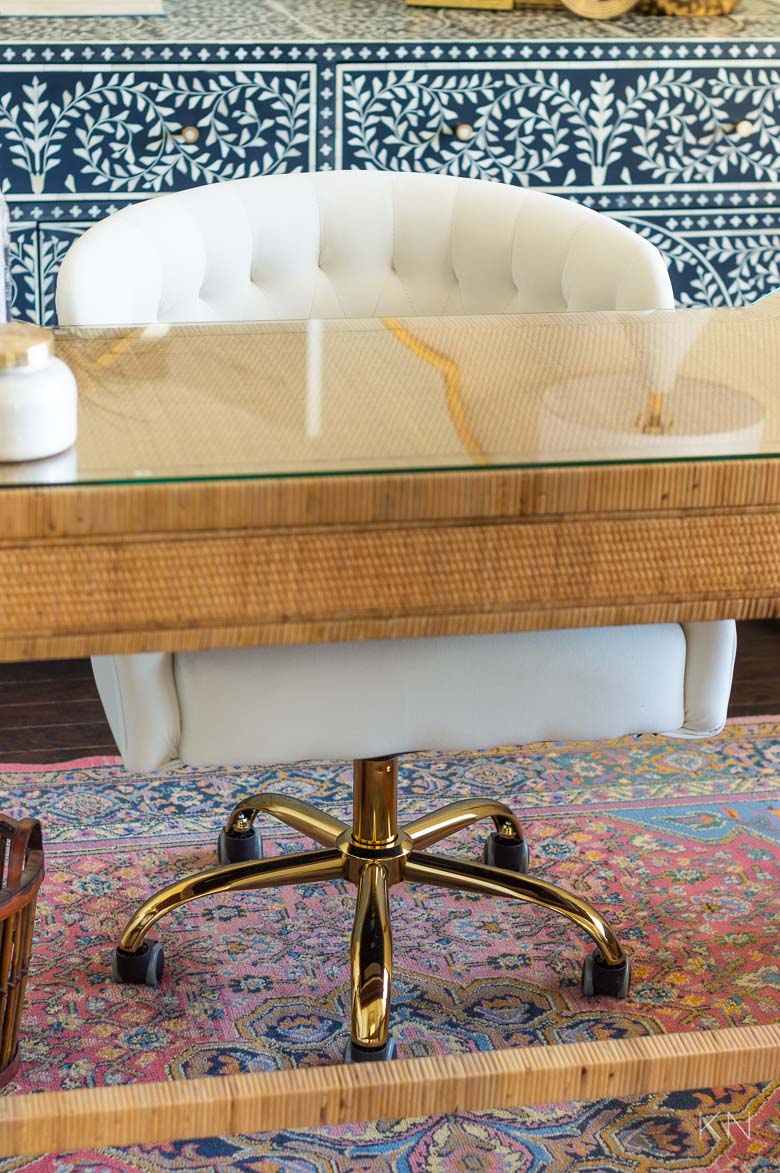 As a side note, THIS bubble planter is one of my favorite accessories of all time — in addition to using it as a planter or vase, it would make a killer crock for utensils in the kitchen! It has such interesting lines in contrast to anything you set beside it. It also comes in a vase version now, HERE.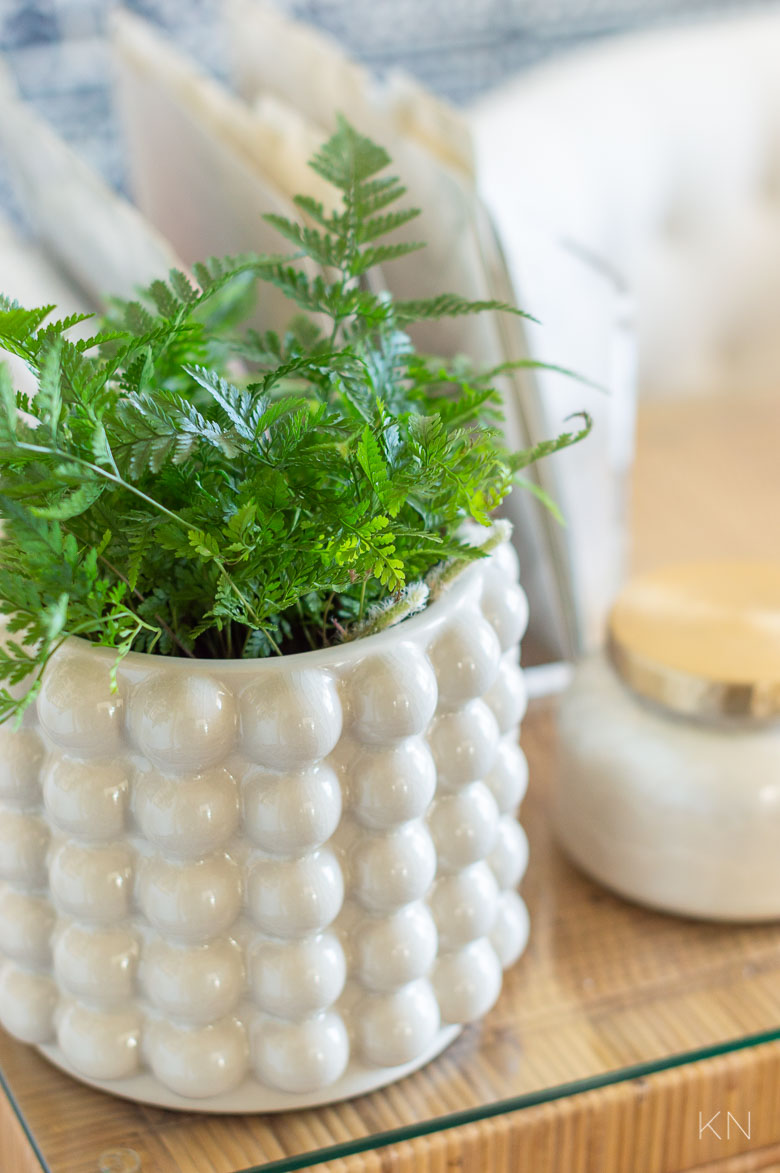 Sources: Bubble Pot
One of my mom's favorite past times is finding makers at festivals and incorporating small pieces of their work into her home — she has accents like this pottery piece sprinkled all throughout her house.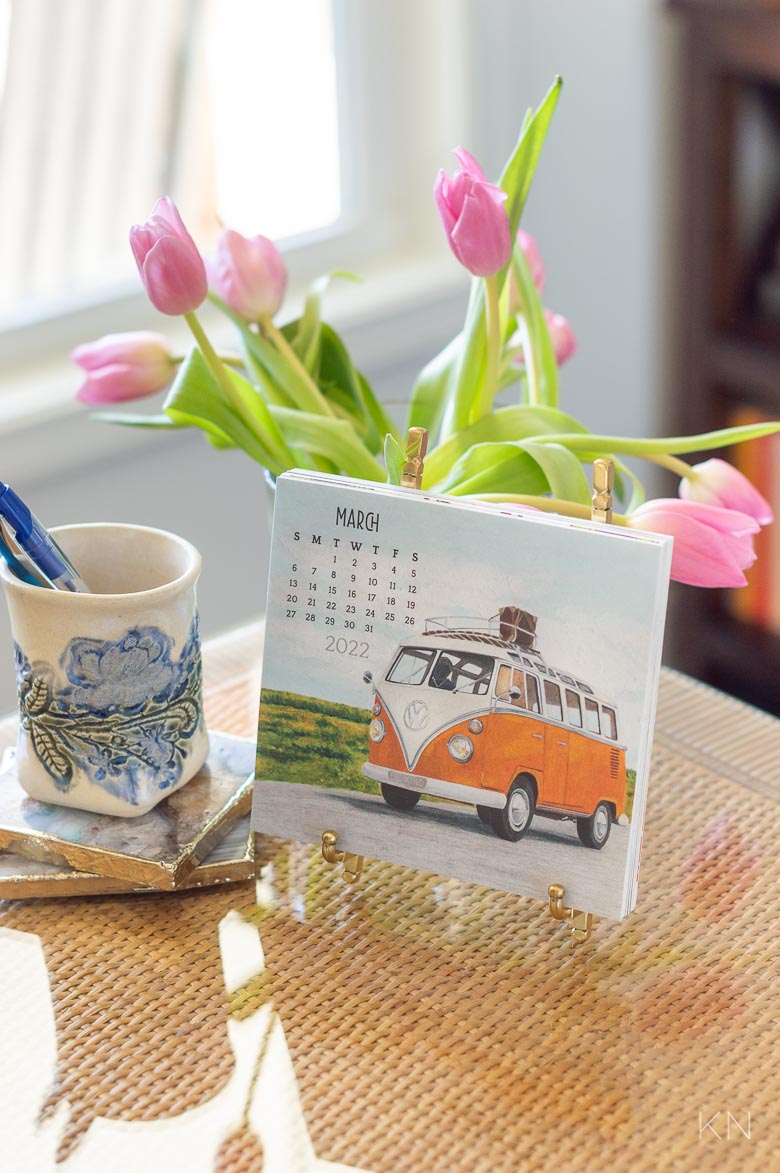 Sources: Agate Coasters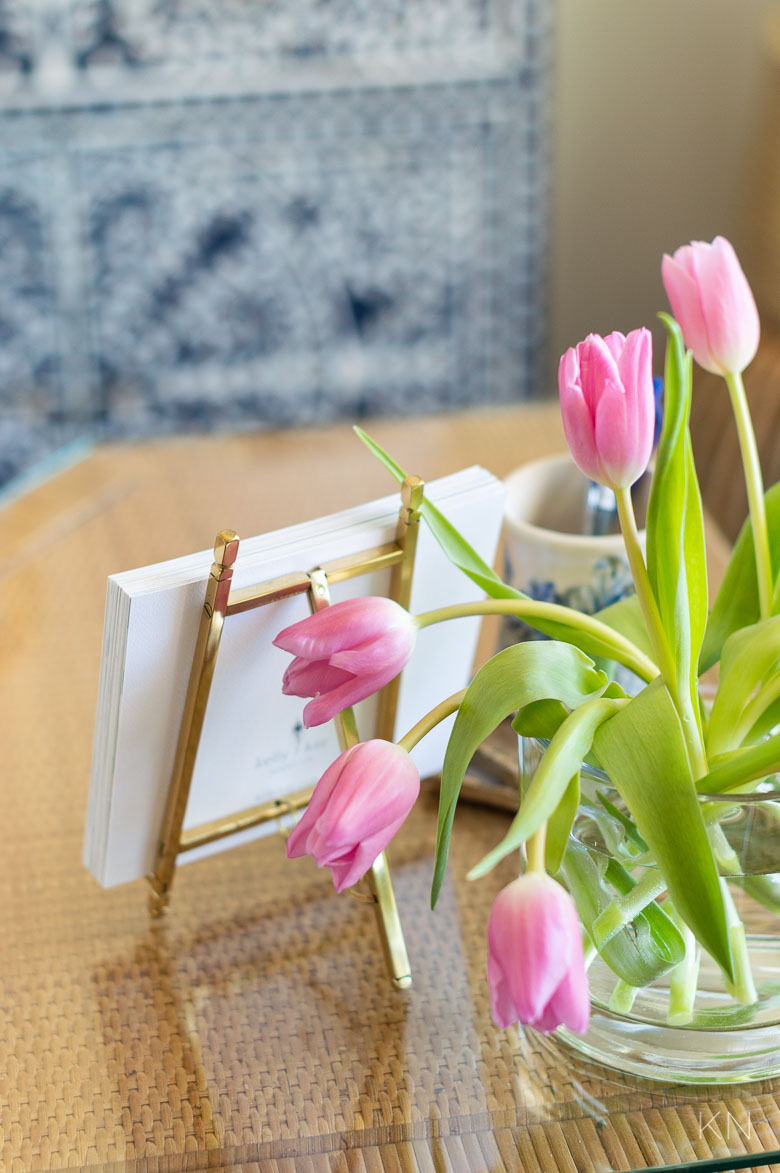 Acrylic collators are desk essentials for both me and my mom — while her collator is nice with perfect 5* reviews on Amazon HERE, I do still prefer mine HERE — it's almost identical but since I use mine to house my laptop, I prefer that mine also has rubber feet. Prices are currently identical.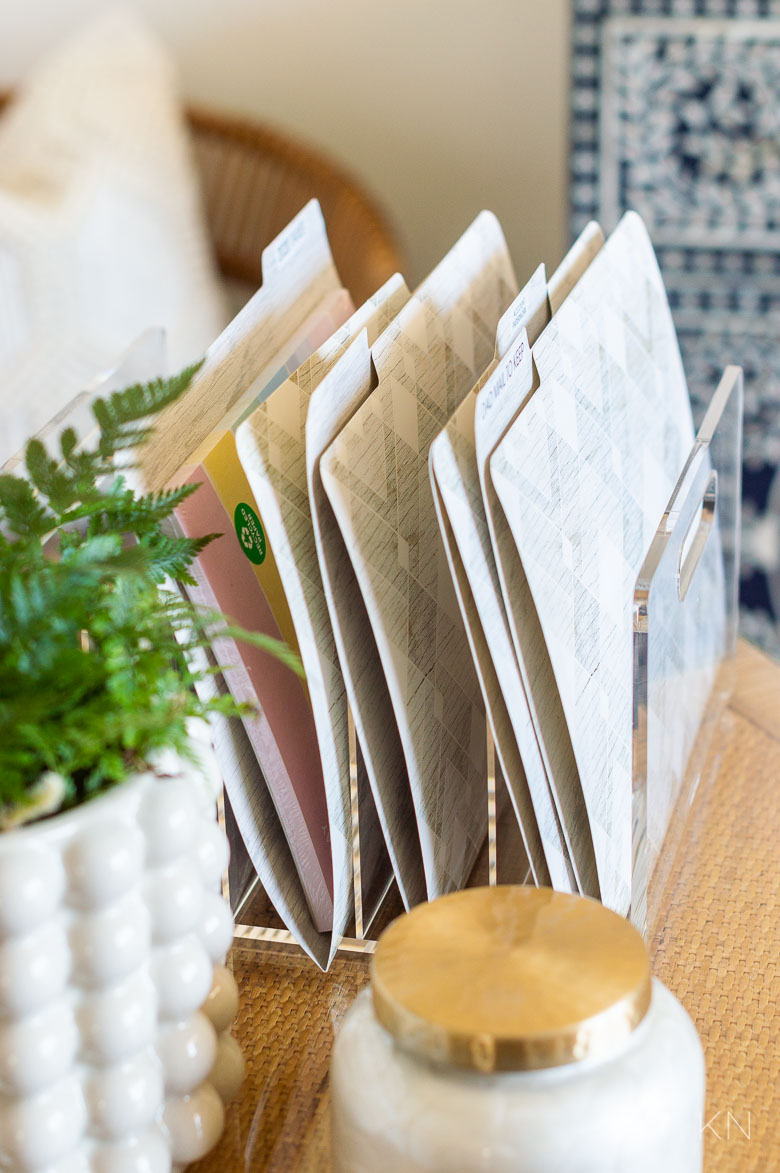 Sources: Acrylic File Holder | Candle
We both make use of our versatile rolling sorter baskets and I love how my mom uses hers for files and notebooks beside her desk. If you're light on space for a filing cabinet, it's a great way to add some storage space that doesn't involve unsightly plastic drawers.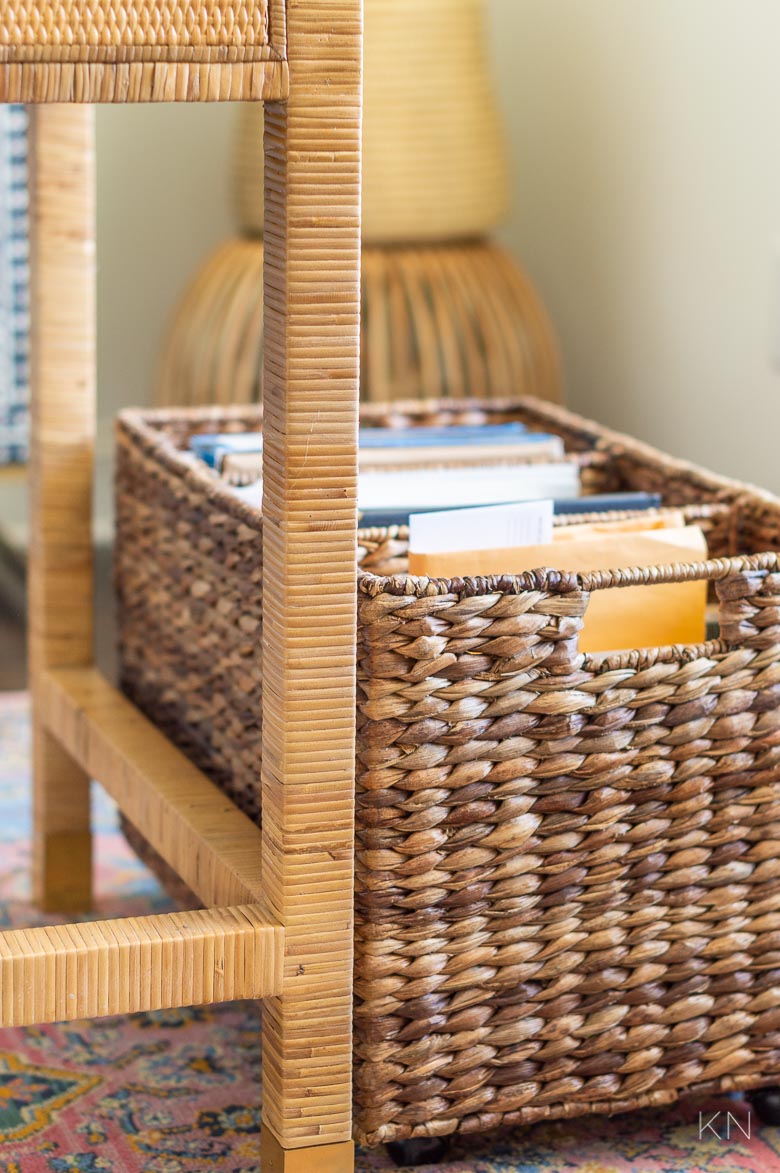 Sources: Rattan File Bin
My mom had lots of art in her last home and when she moved, she still had so many pieces that were special and prints that she loved. We spent time sizing up walls and gauging vibes within each room and determined that gallery walls would kind of be a big "thing" in her new home. We grouped artwork together in different ways — some by frame, some by subject — and her eclectic wall of old and new (all framed in gold) is probably my favorite art moment in her house.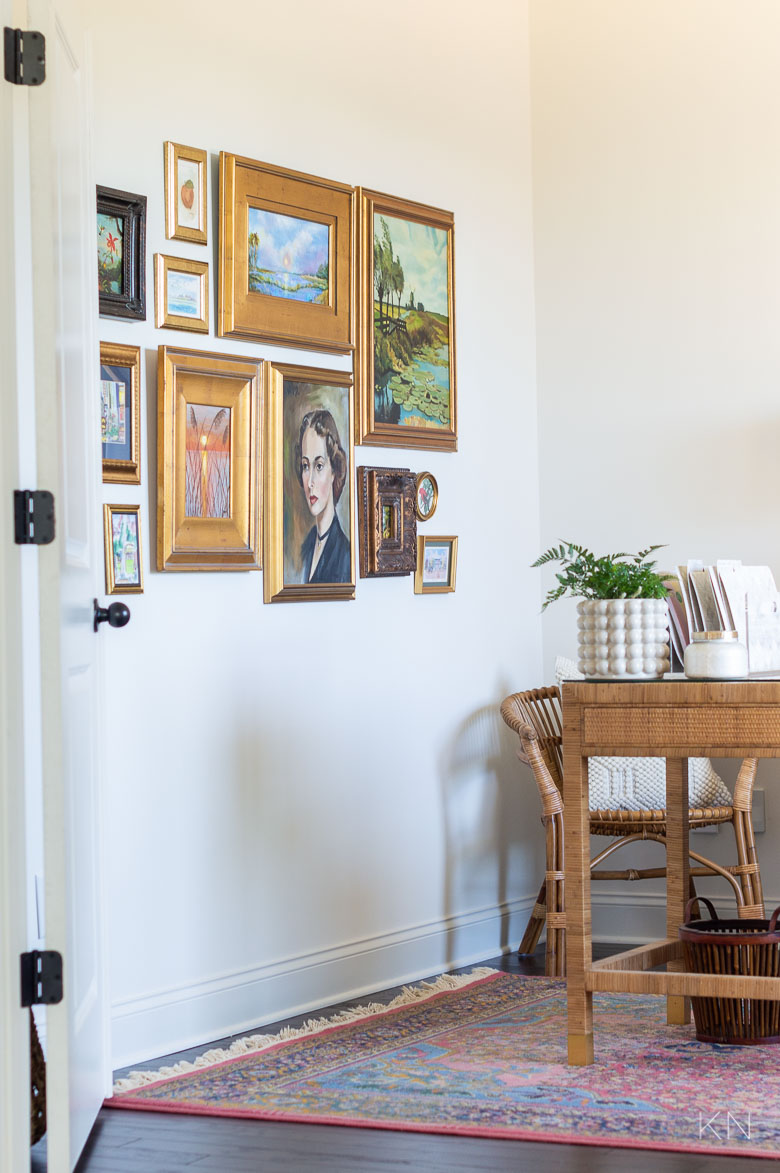 Sources: Rattan Side Chair (similar) | Bubble Pot | Candle
Some are original paintings, some are post cards from travel, some are from festivals. Some frames are more streamlined and some are more ornate; some are thin and some are wide. They're all warm in tone. To achieve this eclectic but scaled mix, we started in the center and worked our way outward, trying to keep the same approximate distance between frames, and lining up at least one side of each frame with a frame beside/above/below it. Because it's not in a straight grid, there's still room to expand should she collect more pieces.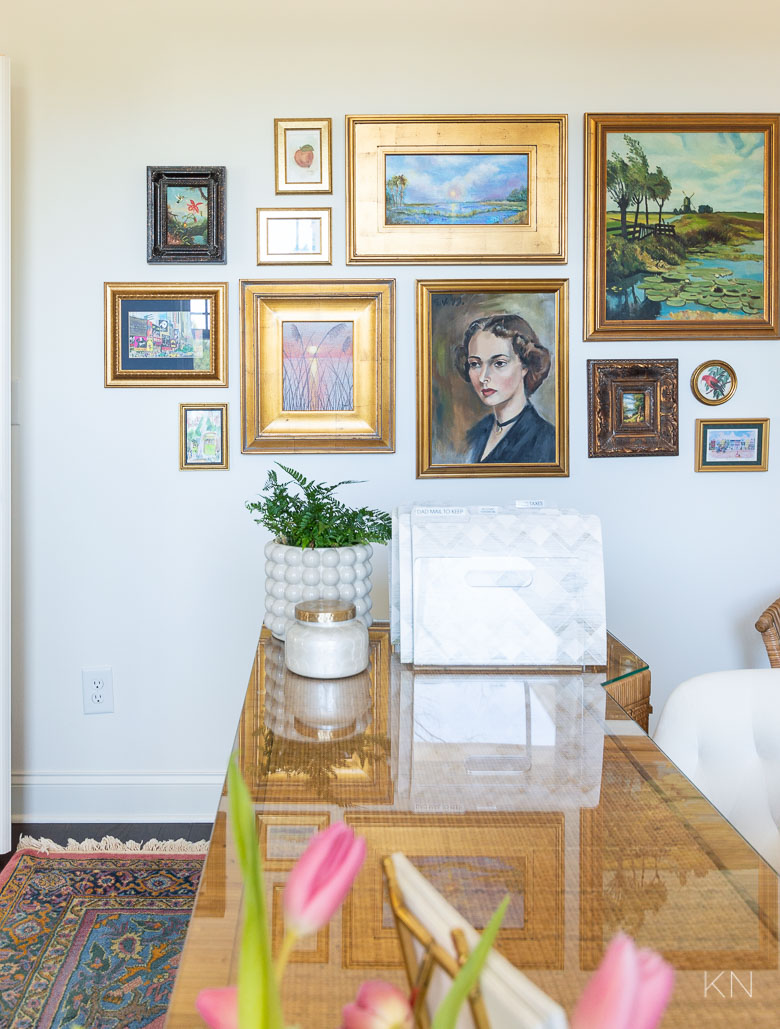 Sources: Desk | Bubble Pot | Candle | Acrylic File Holder
A few favorites…
My grandmother, BeBe's, portrait at the center
An original painting of a  windmill in Amsterdam, painted by my great, great aunt, Marguerite
An original Charleston sunrise
An original Mobile sundown
A water color of Broadway
My mom has been a longtime fan of rattan, cane, and anything woven — long before the re-emergence of popularity in recent years. She's had this versatile accent chair for years — previously in a guest bedroom — and while this one is no longer available, there's an affordable Anthro fraternal twin option that comes in NINE colors HERE.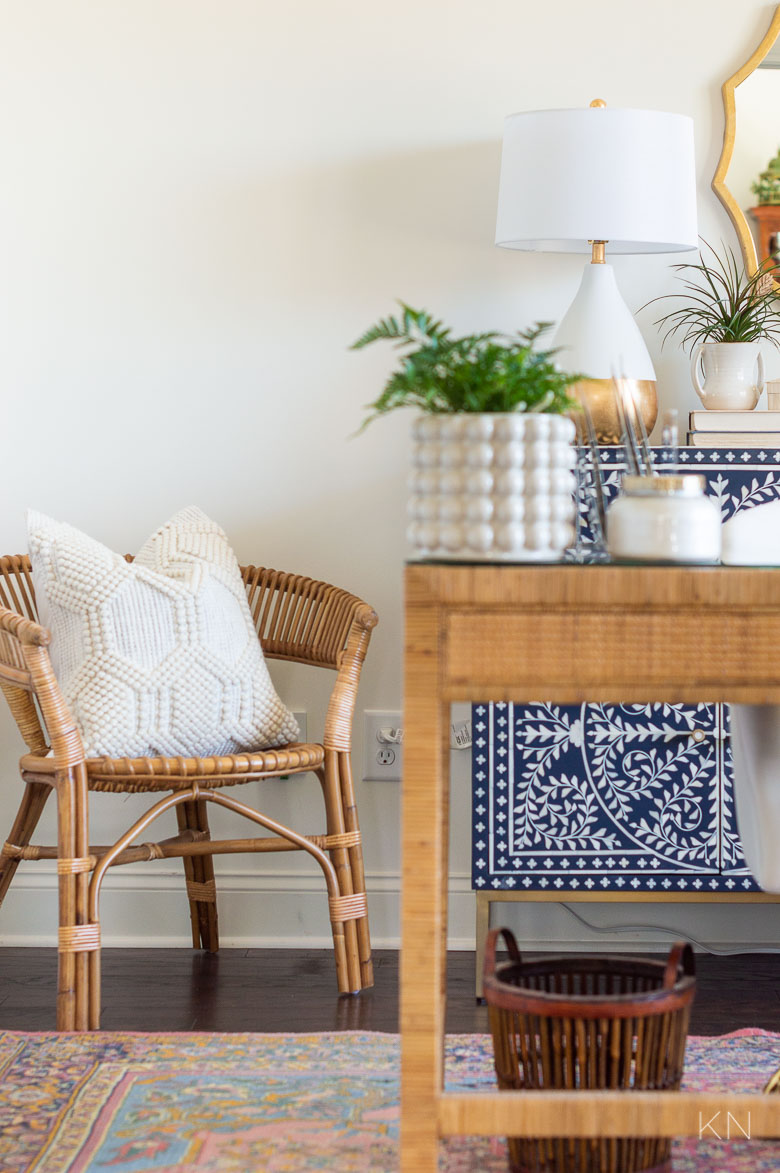 I especially love the pale green color (HERE)!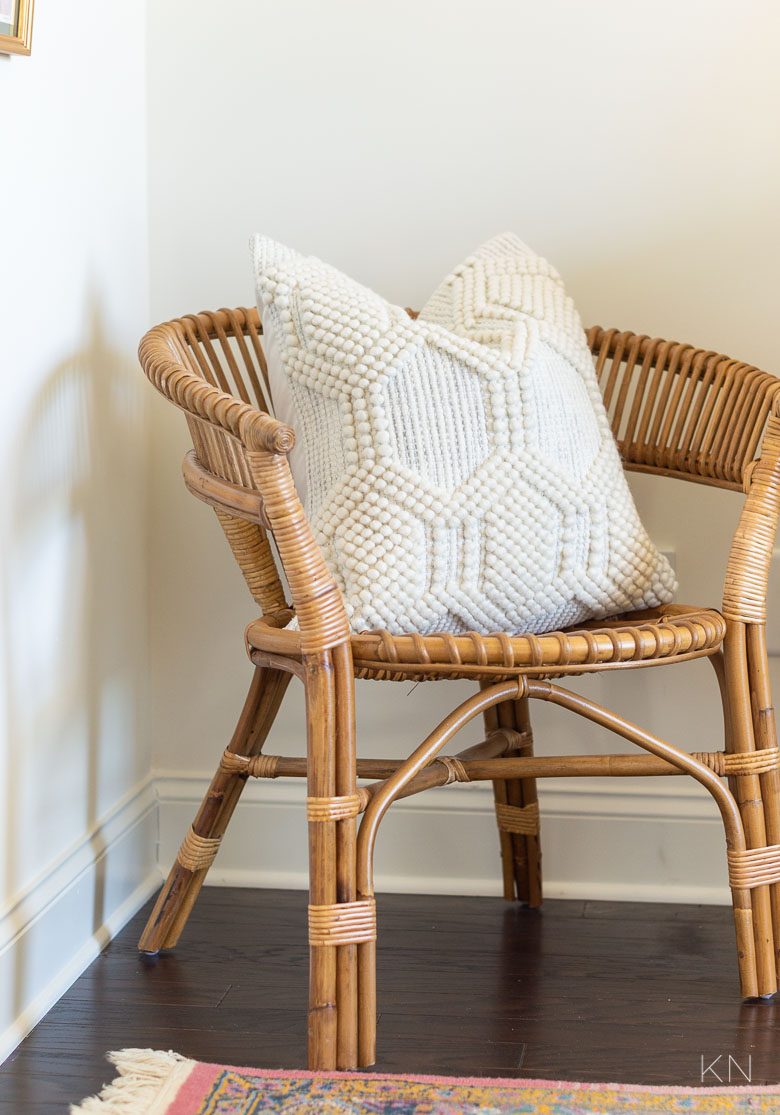 Sources: Rattan Accent Chair (similar)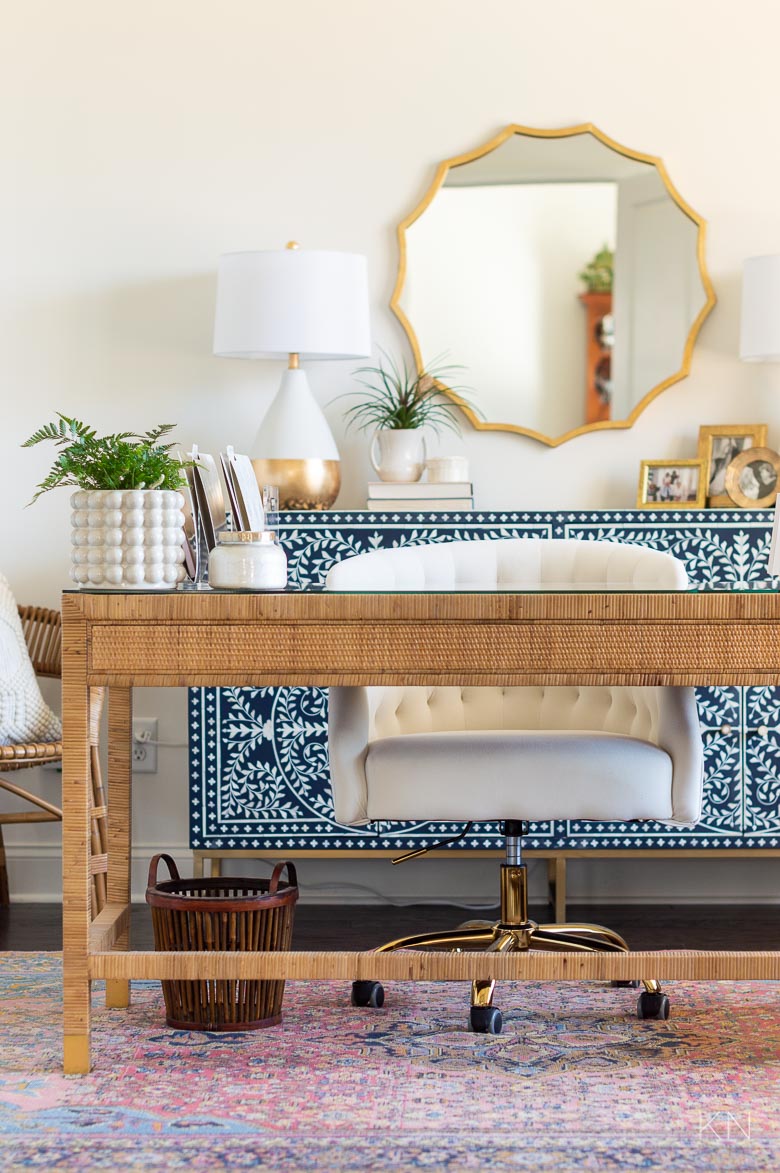 Her conical flush mount light fixture is one of several lights she's slowly upgraded since she moved in — while THIS one is 16″ in the brass with white shade option (HERE), it comes in several more finishes HERE and a 24″ version HERE. Other notable lighting upgrades she's made include…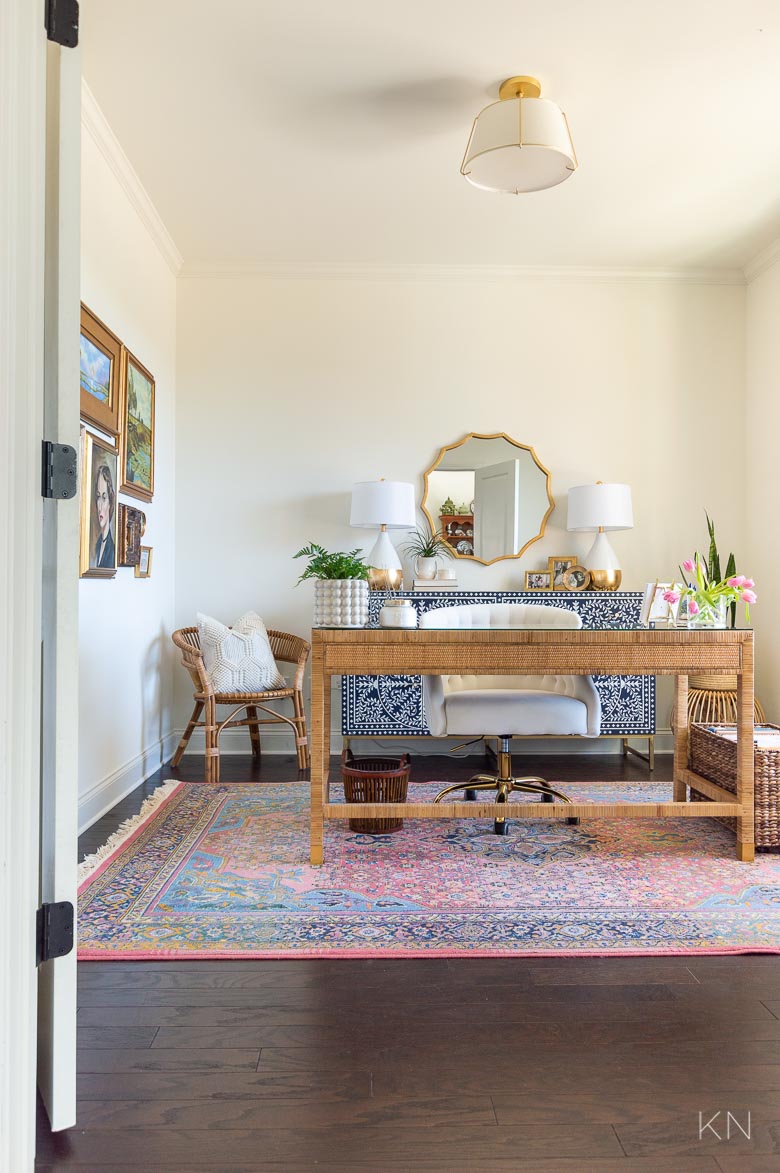 Sources: Light Fixture | Desk | Credenza | Task Chair | Mirror | Lamps (set of two) | Rattan File Bin |  Bubble Pot | Candle | Rattan Accent Chair (similar) | Two Handled Vase | Rug — vintage
While I have room projects still coming in my house this year, I loved being able to share what I've been working on alongside my mom, just down the road from me. And, I hope to share more as her home evolves and progresses! For more updates, room reveals, and befores and afters — at both my house and hers — be sure to subscribe to emails at the bottom of the post.
Room Sources
Furniture: Desk | Inlay Credenza | Desk Chair | Rattan Accent Chair (similar) 
Accessories: Mirror | Rattan File Bin | Bubble Pot | Candle | Two Handled Vase | Rug — vintage
Lighting: Flush Mount Overhead Light | Gold Dipped Table Lamps
For More Of Gran Nan's House…
Other Posts You May Be Interested In