I'm working to catch up and I have a few organization projects to start sharing this week, but first, I thought I'd start the week with a random SAP. It was actually sparked by some of my latest outfits for Eliza for the coming seasons and wanting to share them all while the pieces are still in stock; my list quickly grew from there. Because there's a bit of photo overload in this post, let's go ahead and get to it!
*Posts on KelleyNan.com may contain affiliate links. Click HERE for full disclosure.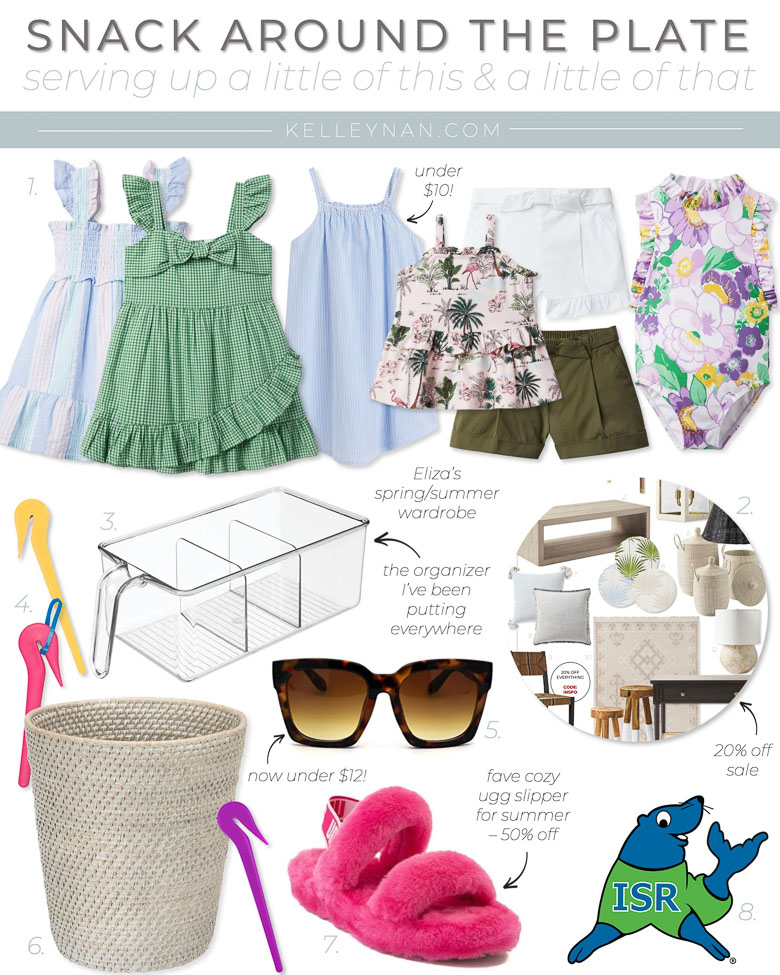 1. Eliza's Summer Wardrobe Additions: Eliza is a slow grower and technically still fits in her wardrobe from last year, for the most part. Each season though, I underestimate and inevitably buy pieces that end up being used in subsequent seasons/years. If I get carried away but still have a few *musts* I come across as the season goes on, I'll intentionally purchase it for the following year. I think it's easier to do this with summer dresses and shorts because they're more forgiving in terms of size ranges. While I'm not sharing their separates here, I will also say that with Eliza being a slow grower and needing more slim fit items in longer length, Jamie Kay is our FAVORITE place to shop — especially their essential leggings. It's always my first stop and they have adorable pieces all through the year. I also love that since they're based in NZ with an international customer base, you can get pretty much any kind of clothing at any time of year. You can use THIS link to get 10% off your first purchase.
Now, for some of the wardrobe pieces I've added for 2022.
THIS denim jacket and BOTH pairs of sandals are an additional 40% off at checkout…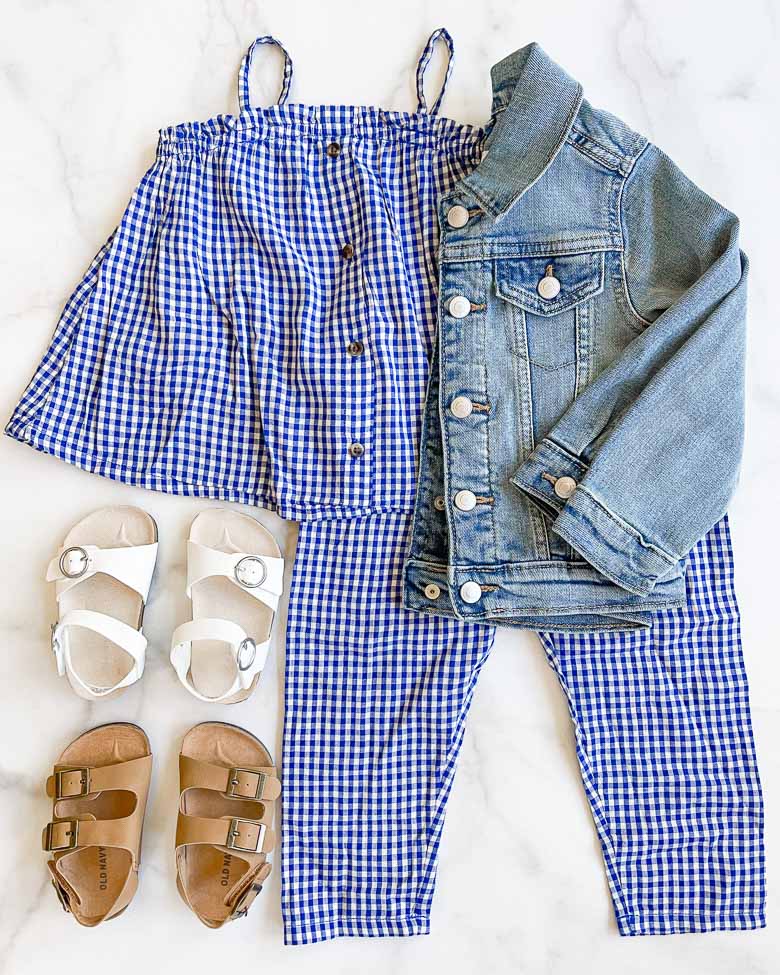 Two-Piece Gingham Top & Bottom Set | Denim Jacket | White Sandals | Brown Sandals
THESE cute sunnies are under $7 and ship free via Amazon and THIS blue eyelet swing top is on sale.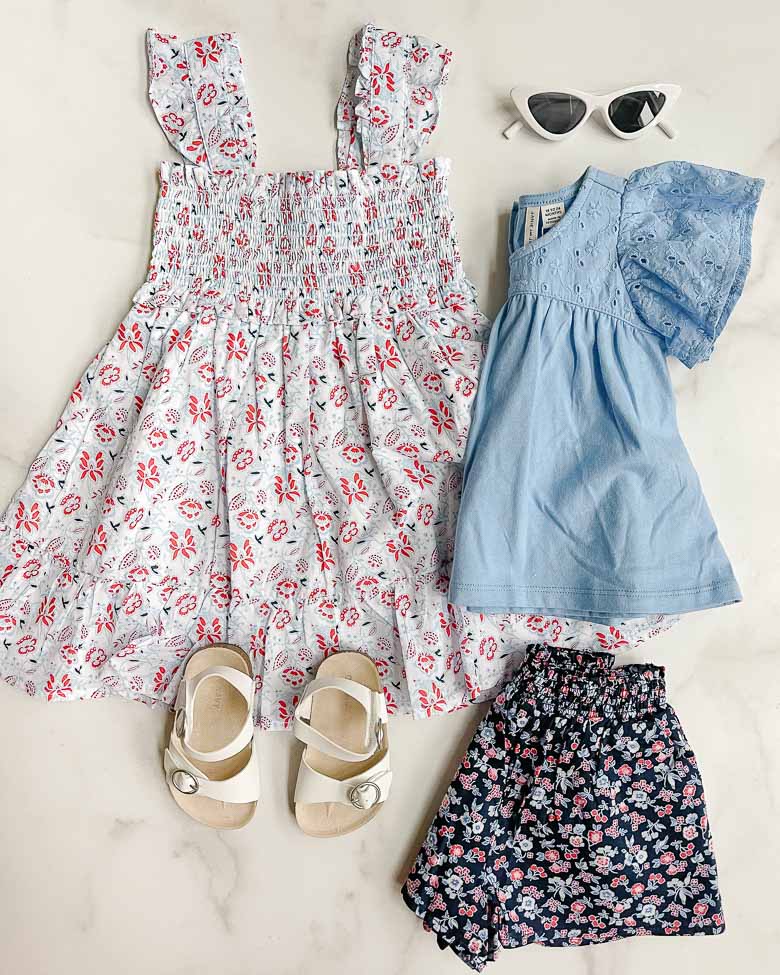 Dress | Top | Shorts | Sandals | Sunglasses
THESE boucle shorts are ADORABLE in person and are on sale…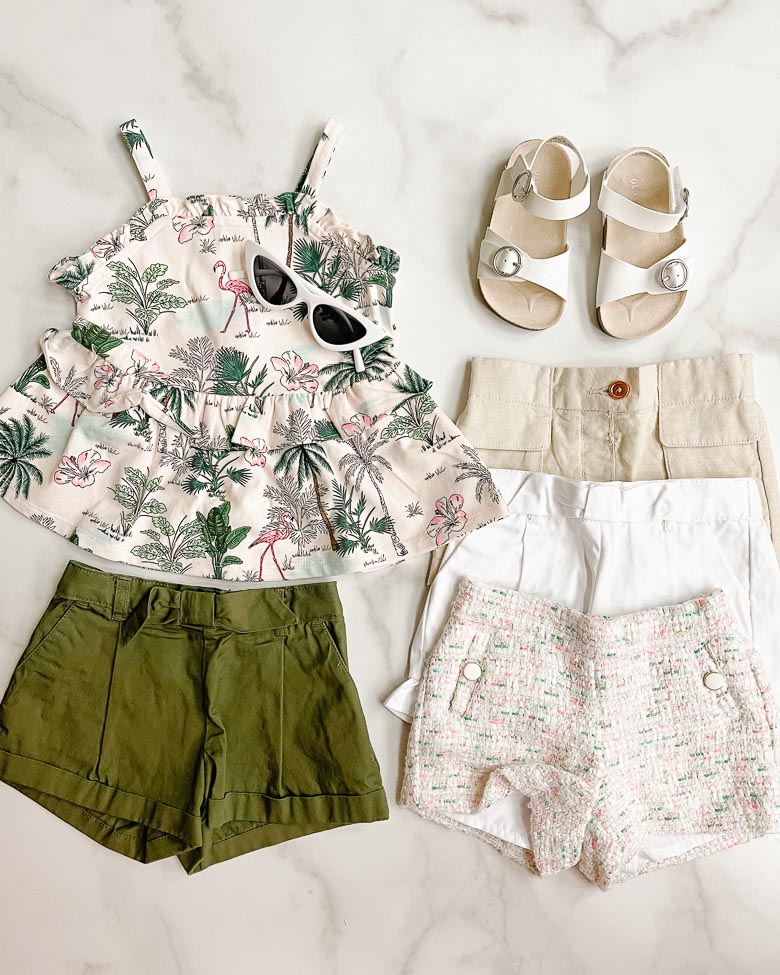 Top | Cuffed Green Shorts | Khaki Cargo Pocket Shorts | White Ruffle Shorts | Boucle Shorts | Sandals | Sunglasses
I purchased THIS pink and white seersucker smocked dress as an Easter dress candidate (on sale right now), and grabbed THESE pink ombre sandals on mega sale clearance.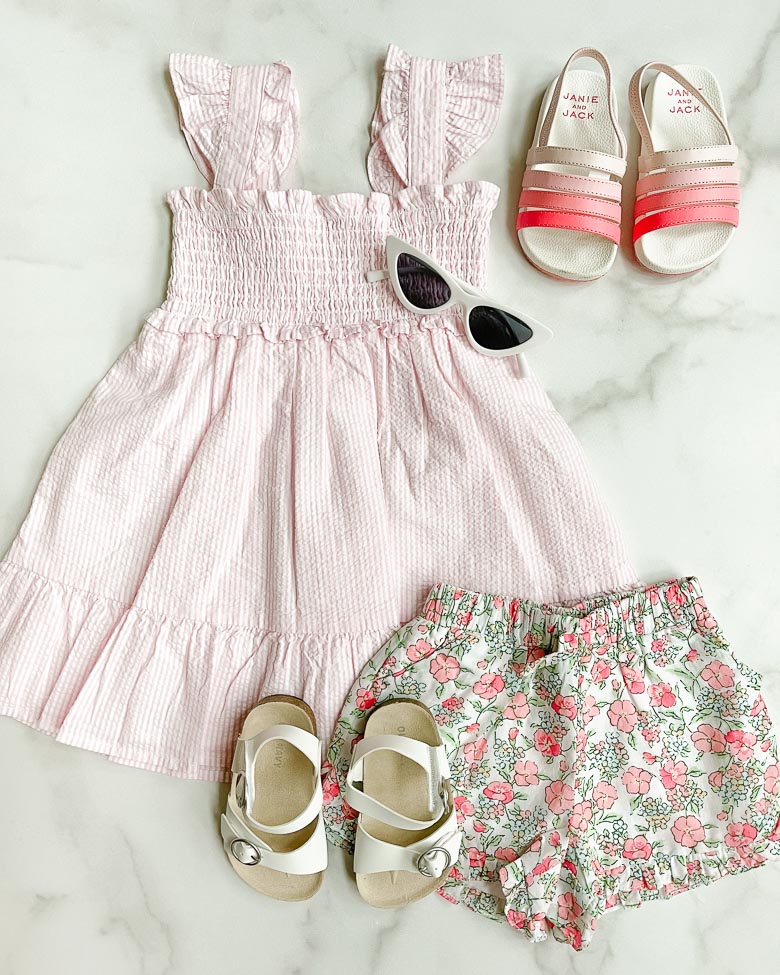 Dress | Shorts | Pink Strappy Sandals | White Sandals | Sunglasses
THIS smocked palm dress is only left in limited sizes but is on sale and THIS green gingham dress is another adorable Easter dress possibility.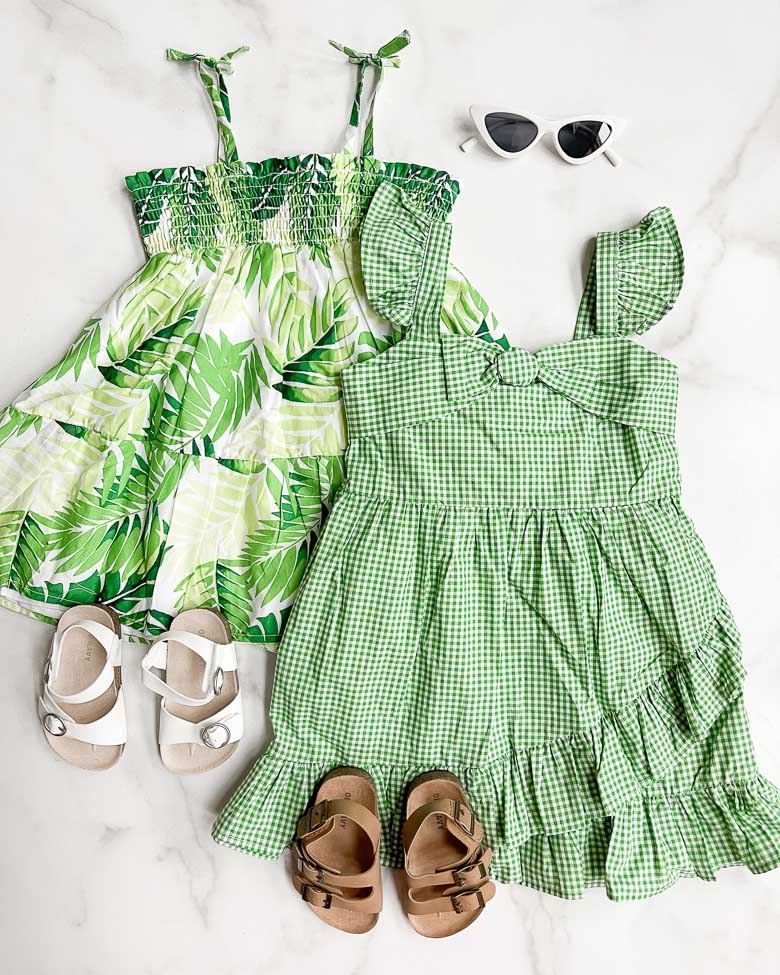 Smocked Palm Leaf Dress | Gingham Ruffle Dress | Brown Sandals | White Sandals | Sunglasses
THIS cute cotton seersucker dress is under $10 and is also up to 20% off right now HERE.
Eyelet Lace Dress | Seersucker Dress | Blue Ombre Sunglasses (different shape) | Sandals | White Sunglasses
THIS smocked dress is like the pink and also on sale (I couldn't resist both!)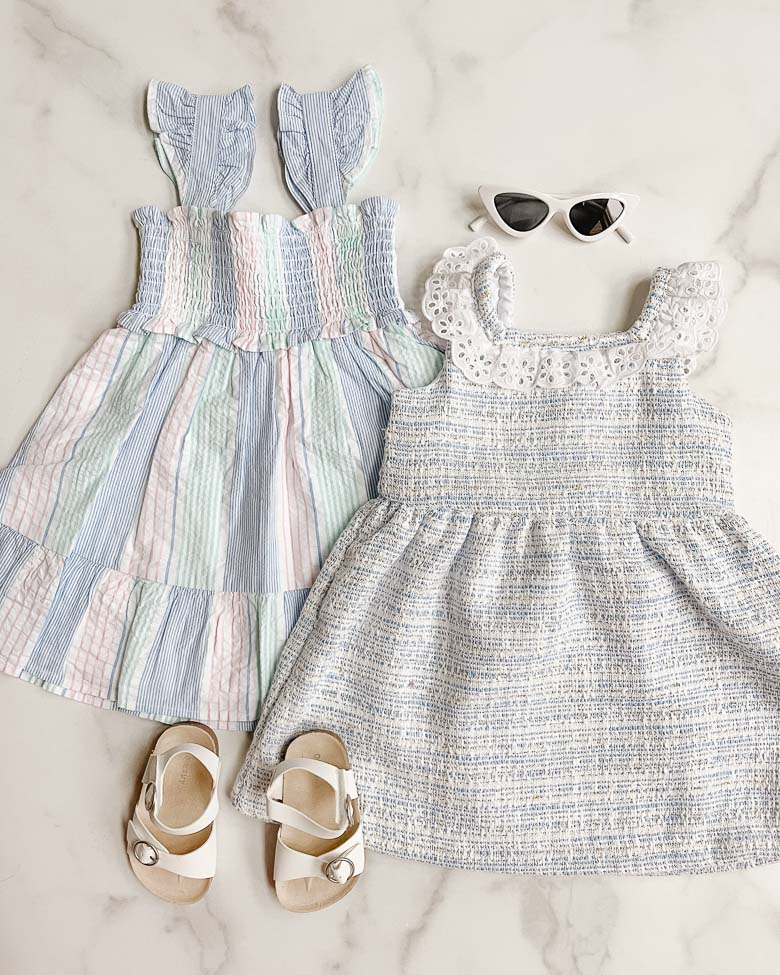 Striped Smocked Dress | Boucle Eyelet Dress | Sandals | Sunglasses
I purchased THIS yellow floral dress in a larger size for a future year — it looks like they are getting ready to re-stock it!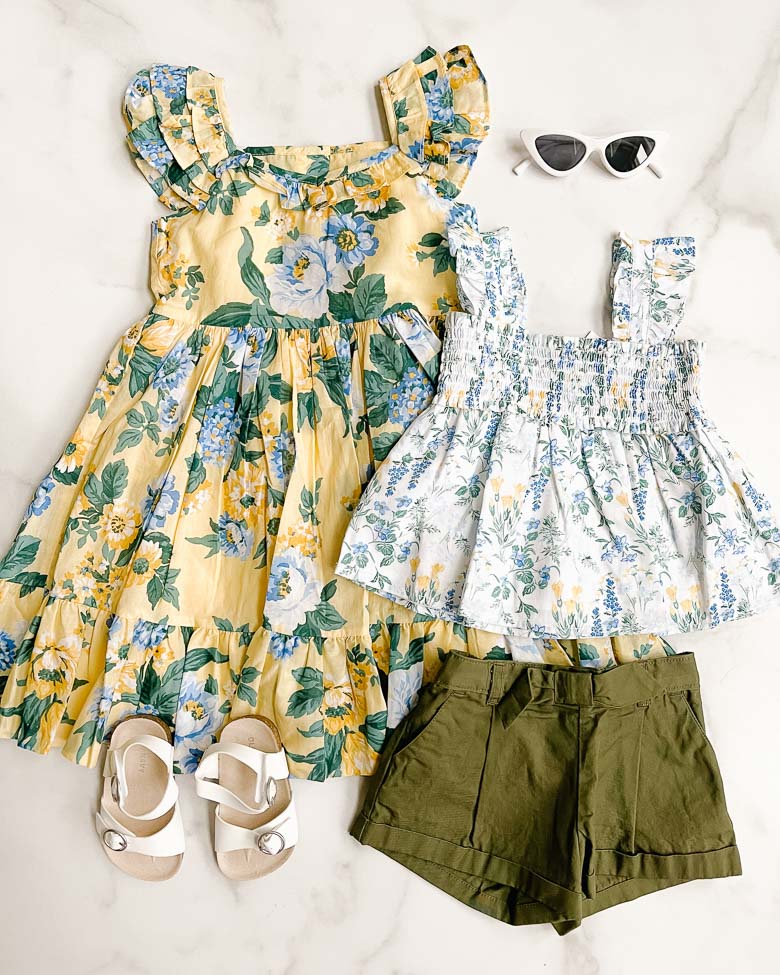 Floral Dress | Smocked Top | Cuffed Green Shorts | Sandals | Sunglasses
BOTH terry cover-ups and the gingham peplum swimsuit (along with both pairs of sandals) are 40% off! You could get everything in this photo for under $60, plus free shipping!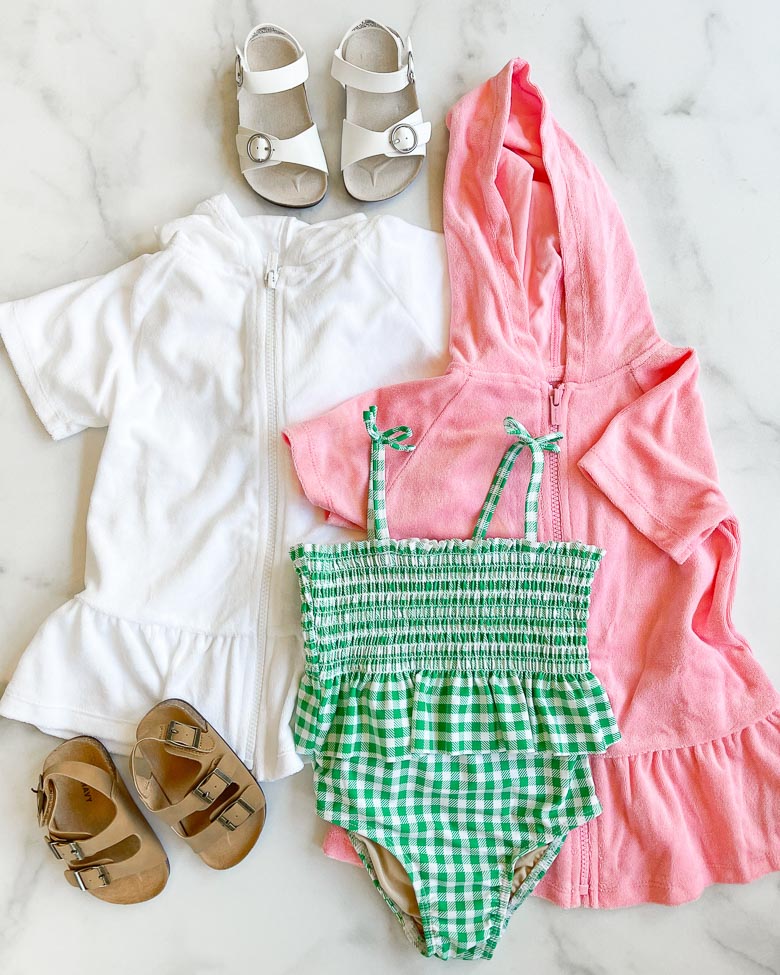 White Cover-up | Pink Cover-up | Green Smocked Peplum Gingham Swimsuit | White Sandals | Brown Sandals
I liked THIS inexpensive, sunny swimsuit so much, I also just ordered it in pink, too. At 40% off, it's only $10 right now HERE.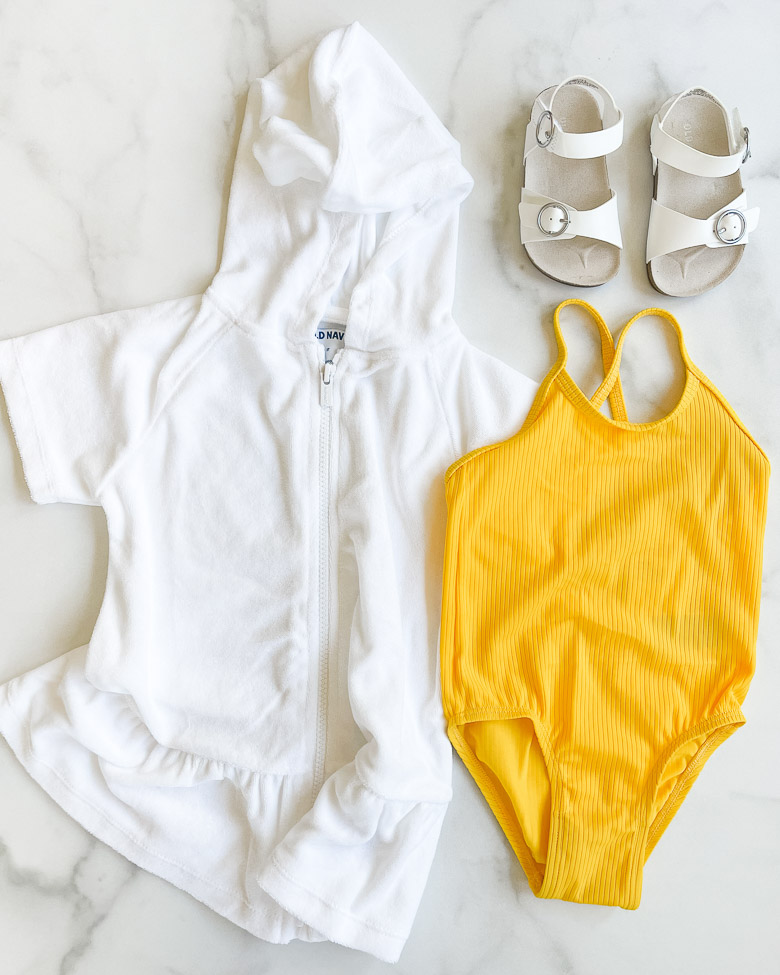 THIS is the same two-piece set as the blue gingham above, just in a pretty pink solid — it was just re-stocked!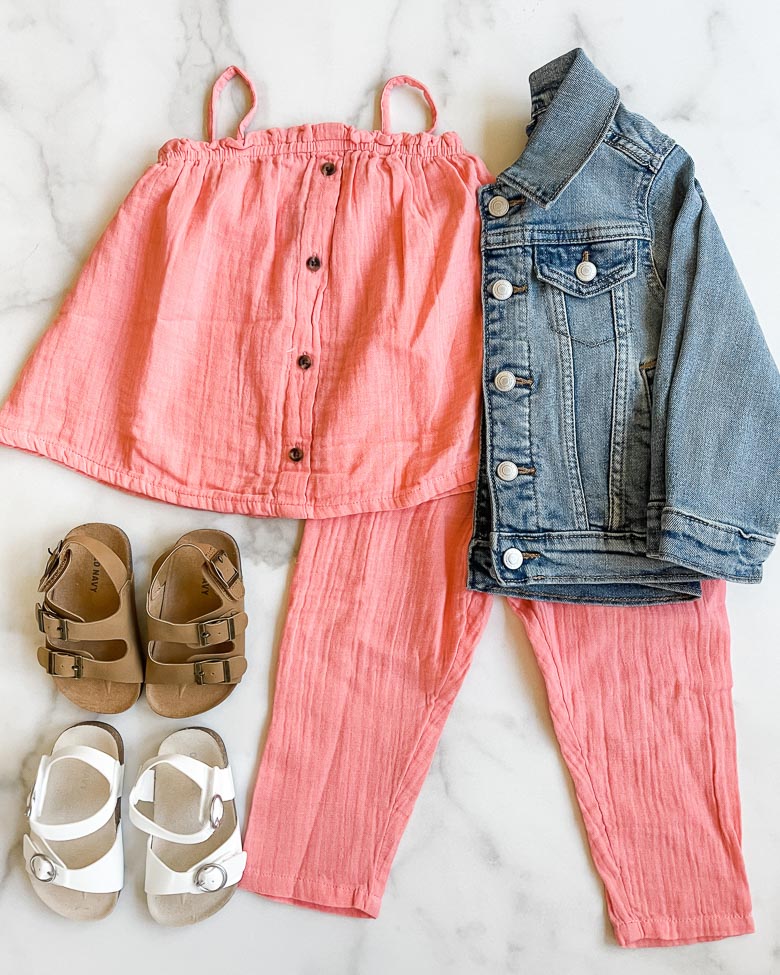 Top & Bottom Set | Denim Jacket | White Sandals | Brown Sandals
I have THIS swimsuit set aside for the Easter Bunny, but it's even sweeter in person.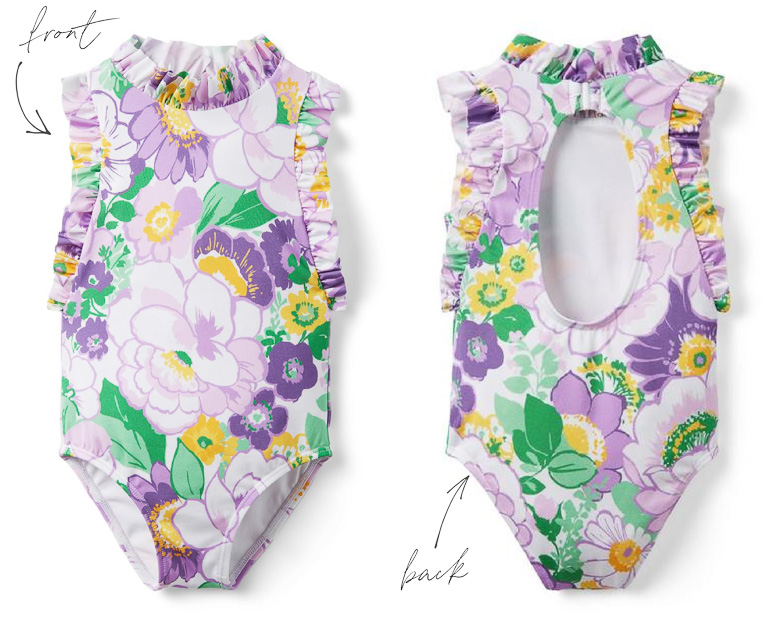 Eliza is still wearing her J&J swimsuits from last year — they are great quality — but my favorite swim additions were one-piece suits from Jamie Kay.
2. SL 20% Off Sale (code: HOME): Still going on, the S&L 20% off sale is ending in the next 48 hours. I only purchase their pieces during sales but have never regretted one of my purchases. Here are a few favorite SL pieces I've purchased over the years…
And here are some long time favorites, mixed in with some new additions — like THIS killer rattan pendant that comes in black and natural and THIS table lamp! I also and crushing hard on THIS coffee table and THIS oversized nightstand in black.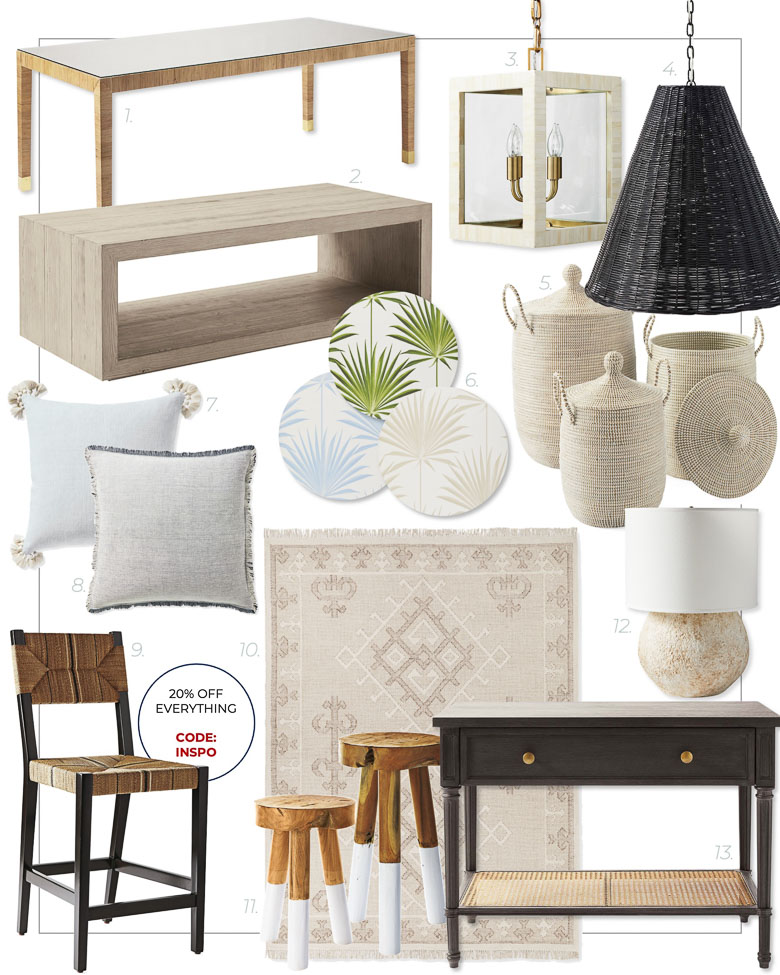 1. Rattan Dining Table | 2. Wooden Coffee Table | 3. Bone Tile Pendant Light | 4. Tapered Rattan Pendant | 5. Baskets | 6. Palm Wallpaper | 7. Tassel Pillow | 8. Fringe Pillow | 9. Counter Stool (Bar Stool Version HERE) | 10. Rug | 11. Dip-Dyed Stools | 12. Table Lamp | 13. Wide Cane Nightstand
3. Hair Tie Cutters: Eliza wears a minimum of two hair ties daily, but depending on the 'do, upwards of 12+. Seriously. THESE inexpensive hair tie cutters quickly became our saving grace at the end of each day — you can easily slip the point under the rubber band and use it as a hook to slice the elastic. Quick, easy. You can find them on Amazon HERE.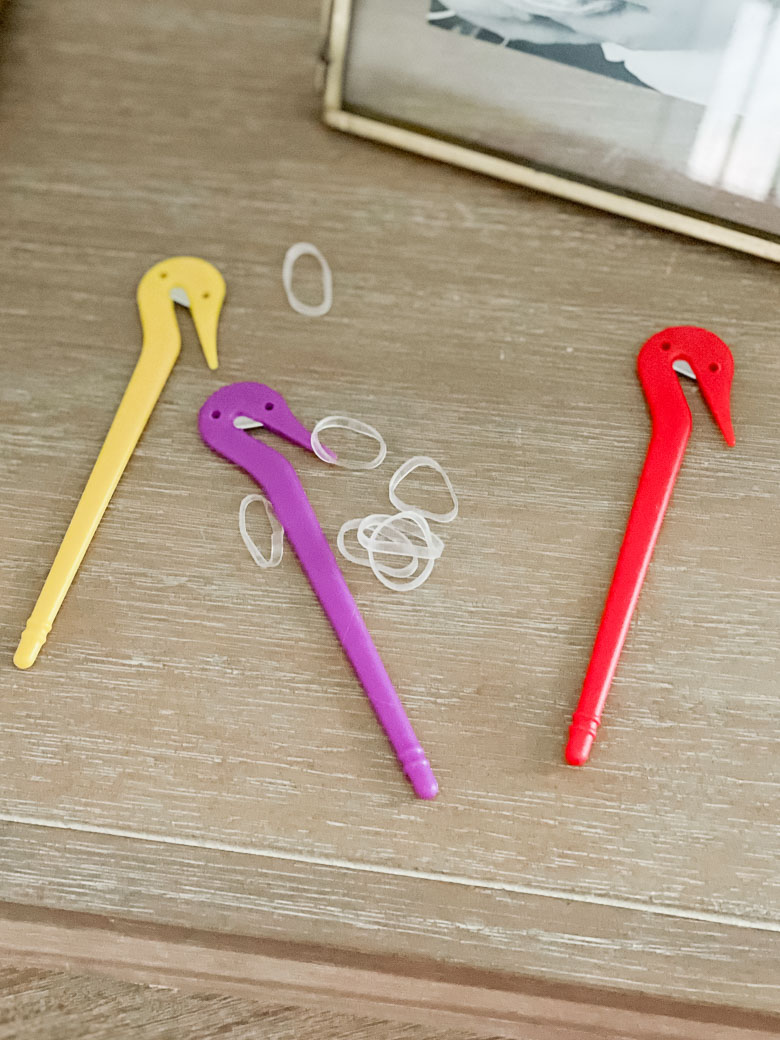 Hair Tie Cutters (pack of 3) | Clear Hair Ties
4. Divided Handle Organizer: I've been organizing/tidying up lots of cabinets and shelves and realized after ordering pack after pack that THIS divided handle bin is by far the 2022 MVP. I've been using them everywhere. I keep purchasing more for when I revisit my pantry — where they would really shine — but end up using them for other purposes as soon as I order a new pack. I have a new space coming soon where I used them in a bathroom — here's a preview…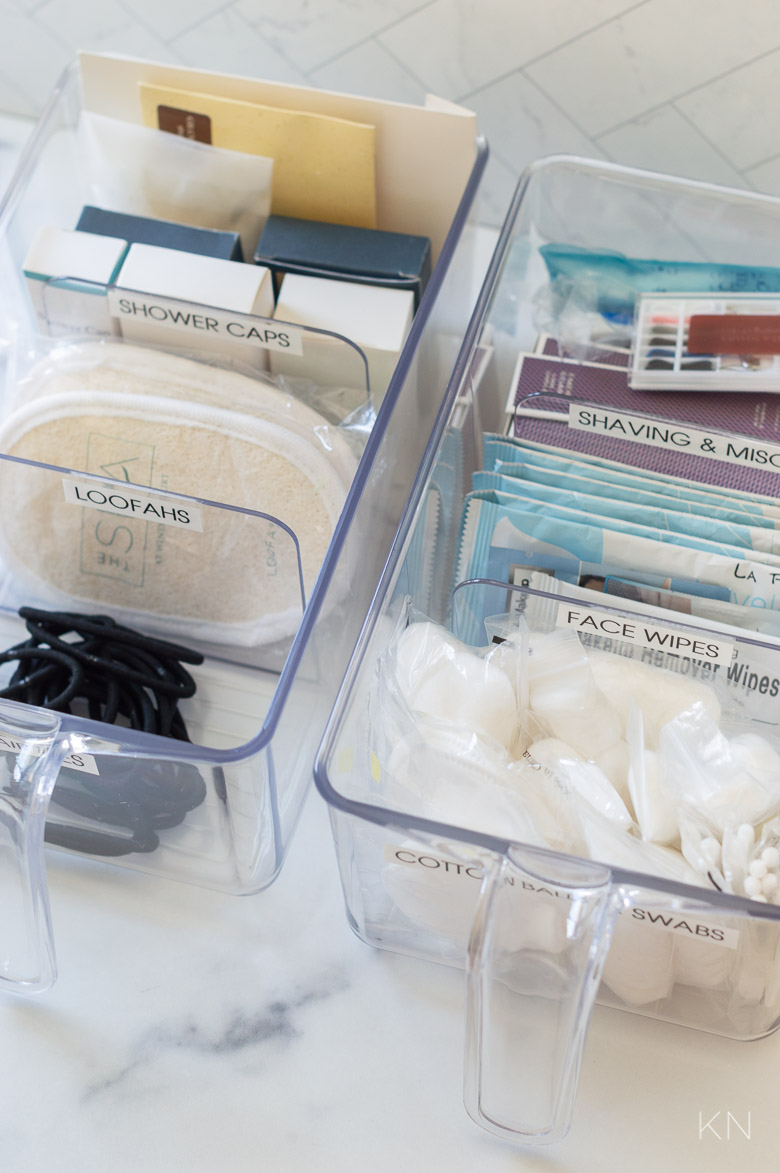 Handle Organizer | Label Maker
And you may remember them from an office shelf here…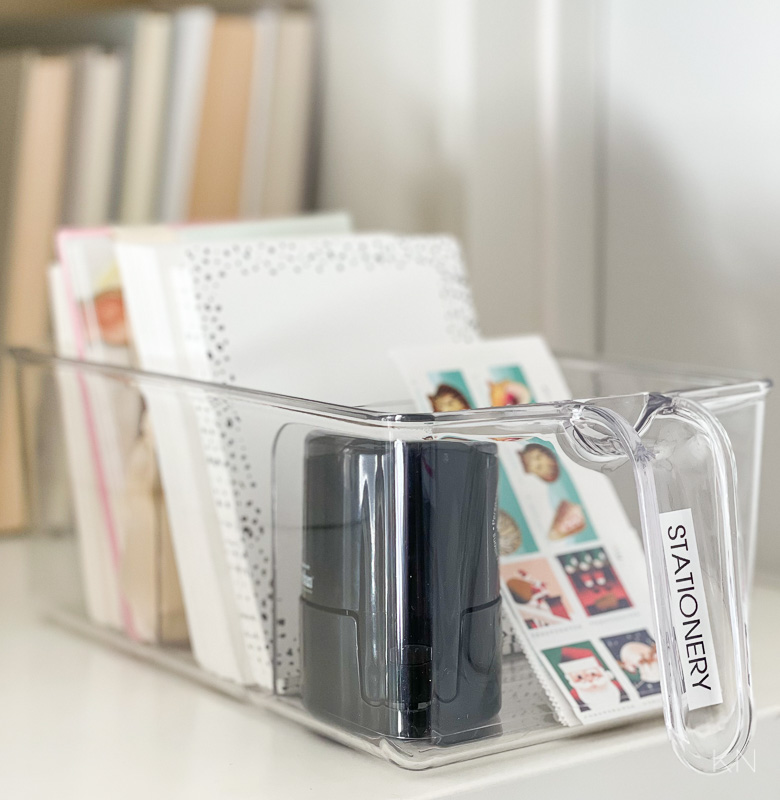 5. Oversized Sunglasses: I don't know how many times I've praised THESE oversized sunglasses I found on Amazon but they are still my Number 1 accessory. I have all the colors/patterns they are offered in and have worn them for a few years now. When I went to purchase a few fresh pairs for 2022, I noticed they are down to just over $12/pair on Amazon HERE.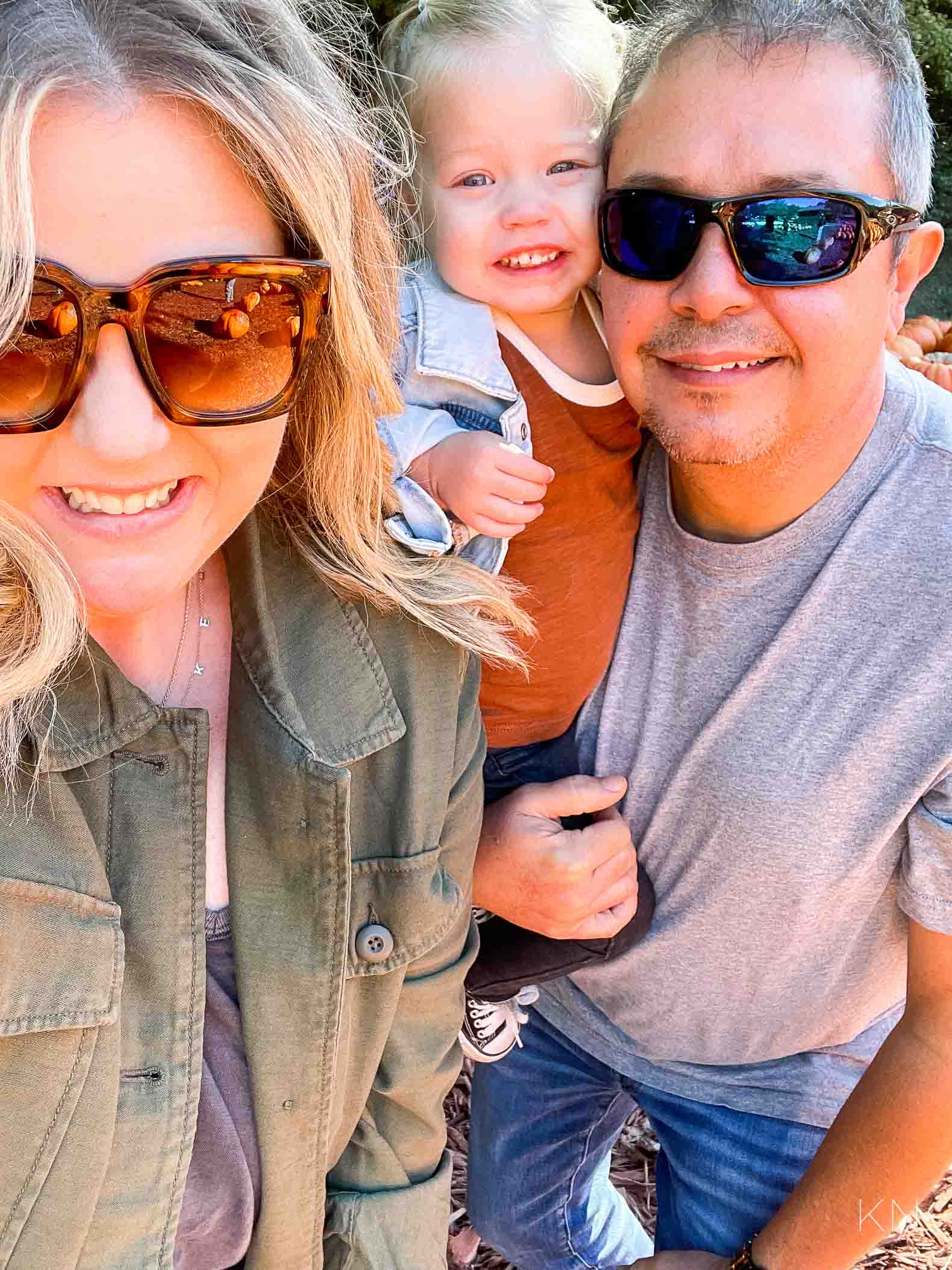 6. Woven Whitewashed Waste Baskets as Planters: I actually already had and use THIS rattan waste basket as the trash can in our powder room but it's great and substantial and at an affordable price point so this year, I ordered a pair to ultimately use as planters! If you're looking for budget friendly "planters" this spring for house plants, you can find these HERE.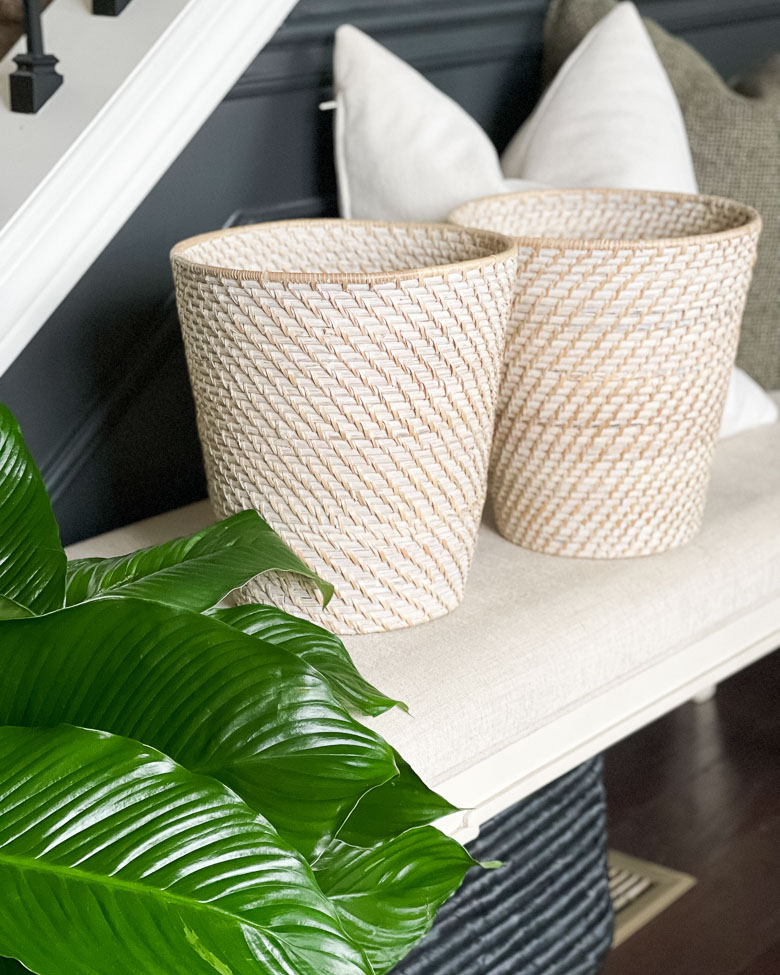 Waste Baskets (Planters)
7. Ugg Cozy Strappy Slippers: A long time fan of the "Fluff Yeah" Ugg single strap slipper, my curiosity steered me to trying THIS double strap Oh Yeah, more breathable cozy slipper for spring and summer when I saw it at almost 50% off on Amazon HERE. They come in a bunch of colors and between sizes and shades, are always running out, restocking, and rotating what's on sale. They are SO. DANG. COMFORTABLE. Here's why I choose to spend more on my slippers. Since I work from home, I want something comfortable but my feet also require support. I can't just run around barefoot all day or in thin soled little slides. I stay pain free if I'm wearing my favorite tennis shoes (HERE) or (certain) Ugg slippers. Not all are created equal. THESE, like the Fluff Yeah, are cushy and foamy but supportive. Even though they're fuzzy, they have plenty of ventilation for a house with AC.  If you're curious. but hesitant, grab an on-sale color (they ship free via Amazon and have free returns, too). I've even ordered the kids version since they're less $$$ (I wear a 7 in women's but the 5 in kids fits the same). With some comparison, they're very similar and still comfortable, but the women's is thicker and still preferred. I have THESE pink marbled ones — in the kid size — for $49(ish) off Amazon, and you can find other kid colors HERE.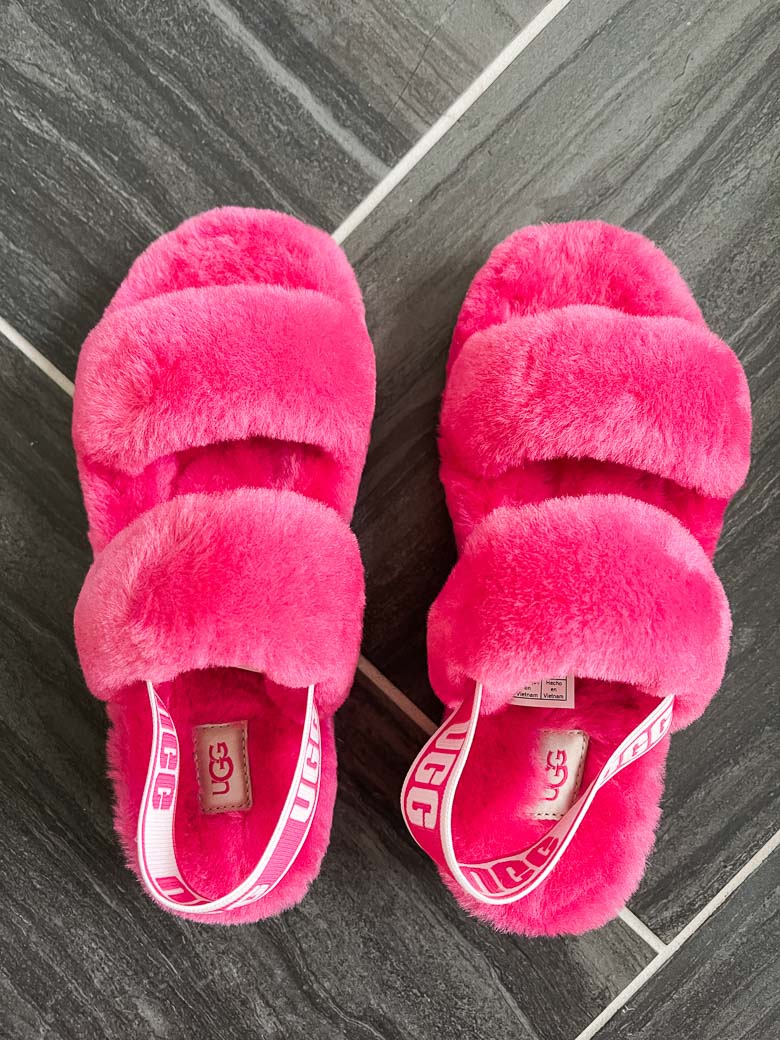 8. ISR Swim Lessons: Along with other *life* things like taking care of business following my dad's passing, we've been re-inserting commitments and normalcy into our routine. One of the most worthwhile activities we prioritized was Eliza's ISR swim refresher course. If you aren't familiar, "ISR" stands for "Infant Swimming Resource" (you can Google the national program) with the goal of empowering young children with the knowledge and skill to self-rescue in water. Last year, Eliza completed the daily 6-week class and we were blown away with how capable these tiny kids can be and how incredible the instructors are. Eliza loves the water and we were so proud of how she retained all she learned last year, and even built upon her skills. They can start with kids as early as 6 months (crazy, right?!) but I'm so happy to have a little more peace of mind should an accident happen. I loved hearing stories from several people on Instagram who enrolled their children after seeing Eliza 🙂 You can type your address in on their website (again, just google ISR) to see where the nearest certified instructor is.
One more random side note before signing off for the weekend — I was excited to order THESE faux lavender stems at 20% off (with code LILAC) this morning, to create a sumptuous arrangement in our entry or breakfast nook. It's also a great time to grab THESE cherry blossom stems while they're on sale. THESE blueberry stems are a fave of mine, mixed with eucalyptus, and THESE orange stems are also worth a look!
After a leak and instances of disruption, I was past due on re-situating our cabinet below the kitchen sink so later this week, I'll be back to share how I've refined the system and what our solution is looking like today. Until then, you can go back and visit our initial project from several years ago HERE. I hope you all have a beautiful rest of your weekend and a great week.