It's been over two months since I last shared progress but Gran Nan is set to close on her new home this week! The journey has certainly not been without frustrations — more on that later — but before she gets settled in, I wanted to catch you all up with what things are looking like and some of the projects ahead. I've meant to share an update several times over the past month so most photos actually are a little behind her house's current standing, but it's enough where you can finally start to see semi-finished rooms. Since she came to stay with us, we've fallen into a pretty comfortable rhythm, and even though she'll be just down the road, I've joked that I'm not sure I remember (or want) to go back to her not living with us, haha. I'm excited for her and her next chapter but having not had more than a week at a time with her since 2018, I selfishly am not done having her all to myself 😉 Let's go ahead and get into the latest with her sweet ranch home — just a few miles down the road from our house!
*Posts on KelleyNan.com may contain affiliate links. Click HERE for full disclosure.
Gran Nan's House Update — Almost There!
To catch up, you can visit the first post (HERE) with plans, the "why", and more details — long story short, she's moving into a neighborhood where she fell in love with the lots, vibe, location, and this specific ranch home plan (the layout is perfect for her!) The neighborhood is owned by a single builder (exclusive to metro-Atlanta) who seems to be prioritizing more spec homes over homes/lots chosen by buyers. While it became clear in the beginning that the builder wasn't as flexible as she would have hoped, throughout the process, their stringent and uncompromising practices became glaringly more obvious. Still, more on this another day when I'll contrast some of the decisions with how our building process worked 😉
The result — her home will be beautiful. And, she's excited to make it her own — but, she will have projects ahead to get it where she wants it.
This snap of the outside of her home was before the railing on the left had been painted white and the cedar beams had been stained. The setting and large lot — especially for a neighborhood — is so incredibly serene. Getting her new black rocking chairs set up (the same polywood rockers I have HERE) will be priority; she ultimately wants to switch to larger scale lanterns as she had no say in lighting design. Side note — the scale of our small front porch lanterns bother her, also haha.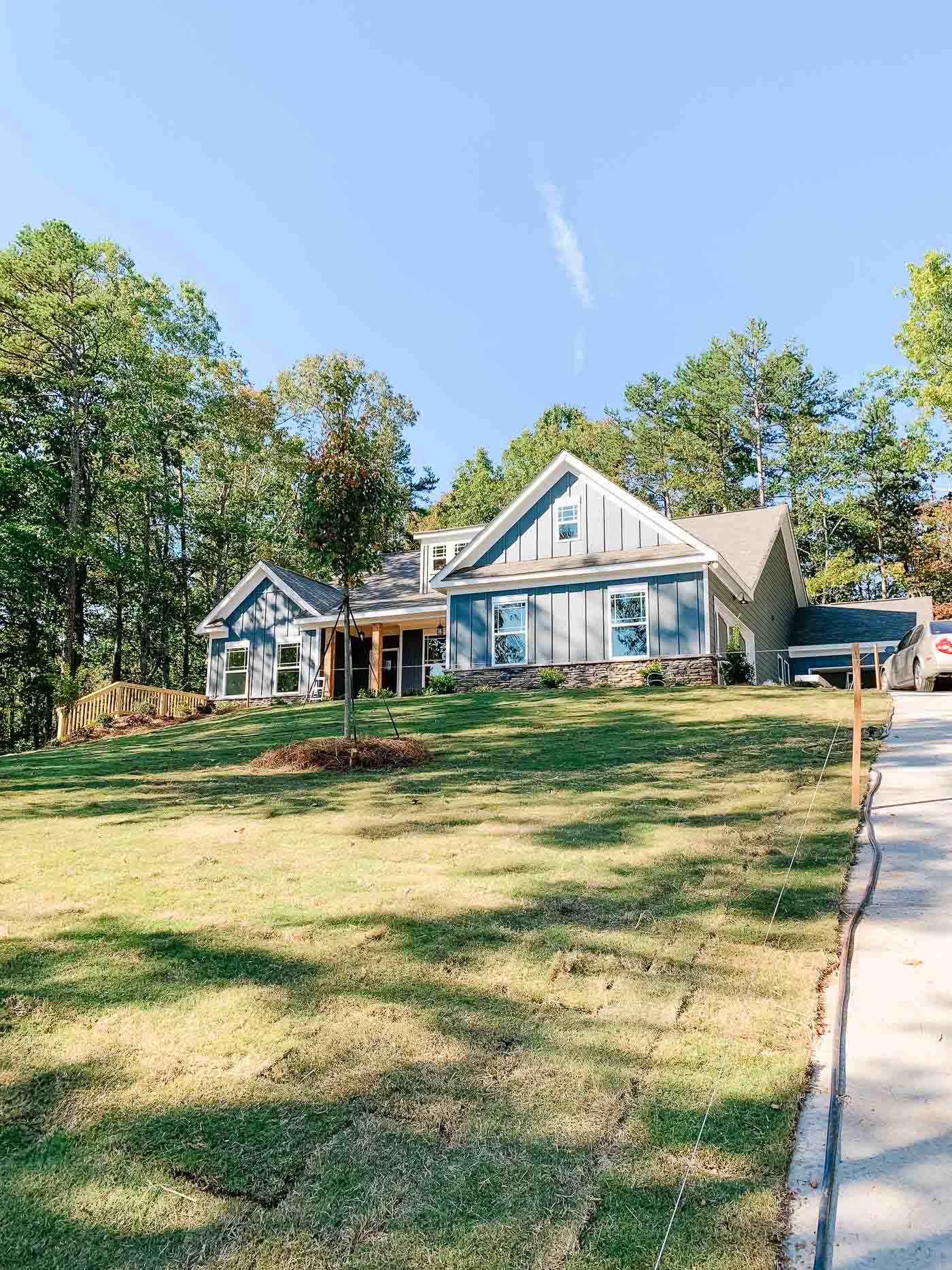 Speaking of "lighting design", this was one area the builder wouldn't compromise. Before purchasing, she was told she would be able to make selections. What they really meant, is that there was a single fixture that had been pre-selected but she had a choice between two finishes. No substitutions, no upgrades. She essentially was given the option of nickel or bronze finishes in the house — whatever she chose would be what every light, pull, faucet, hinge, knob, etc. would be. She opted for bronze but regrets that a little now — especialy since most of those items listed will be switched out in the aforementioned list. You'll see a few examples in these photos that she hates — she saw these photos before I posted and asked that I put red "x's" over the light, haha! I didn't but she really wanted to make sure I was clear that these lights weren't her choice and aren't permanent 😉
The little formal living/sitting area has really high vaulted ceilings. It also has a tiny little flush mount that disappears in the ceiling.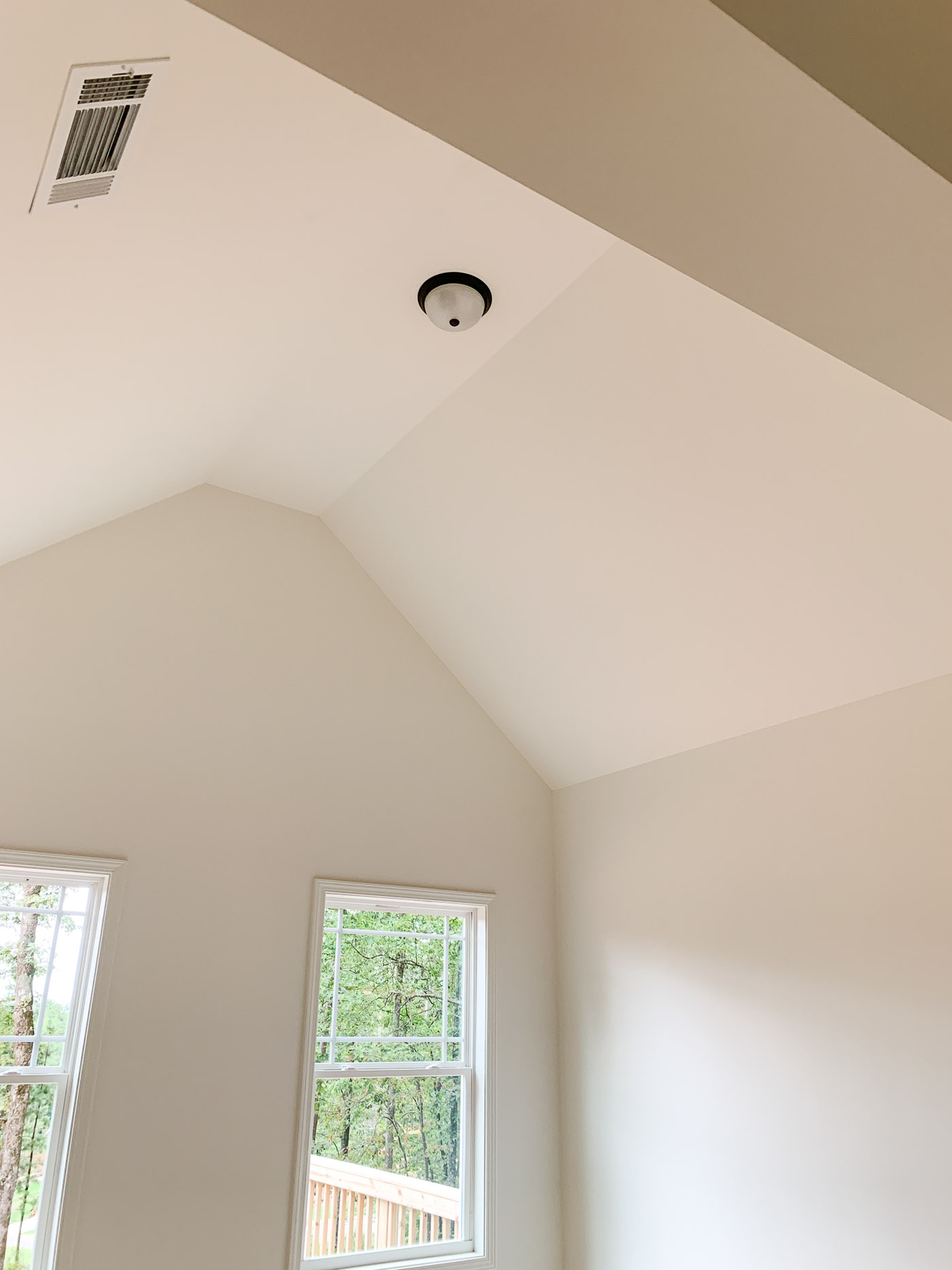 I love her dining room, board and batten walls, and flat coffered ceiling — this lighting exchange was a priority and she already ordered THIS fixture to replace the light you see below.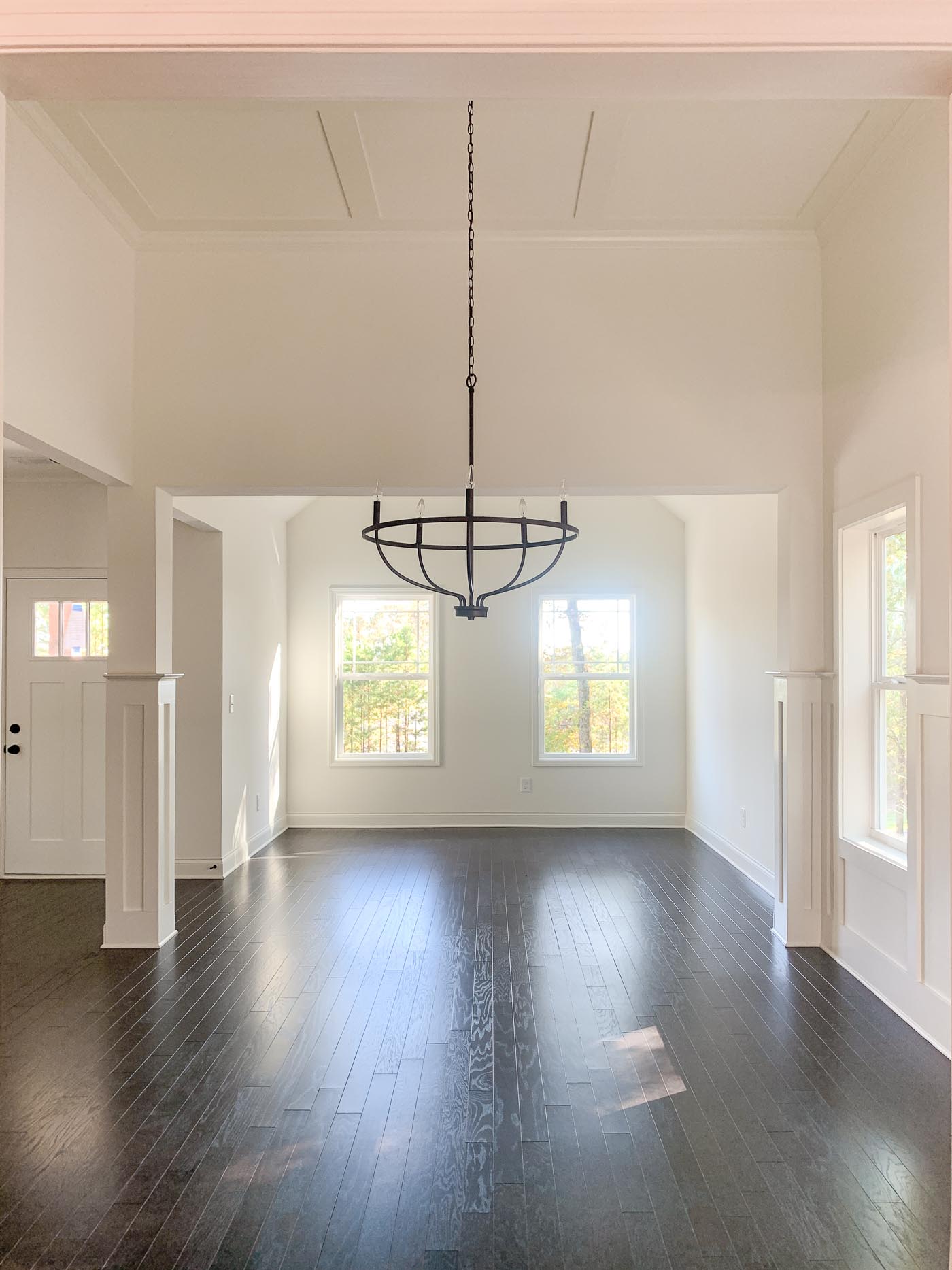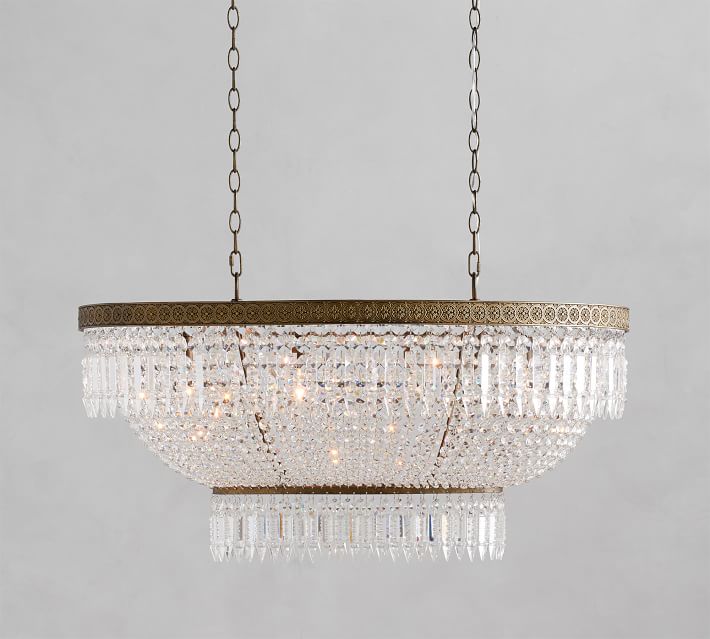 The entry was another priority lighting upgrade — she ordered THIS unique pendant in the "Weathered Verdigris" finish.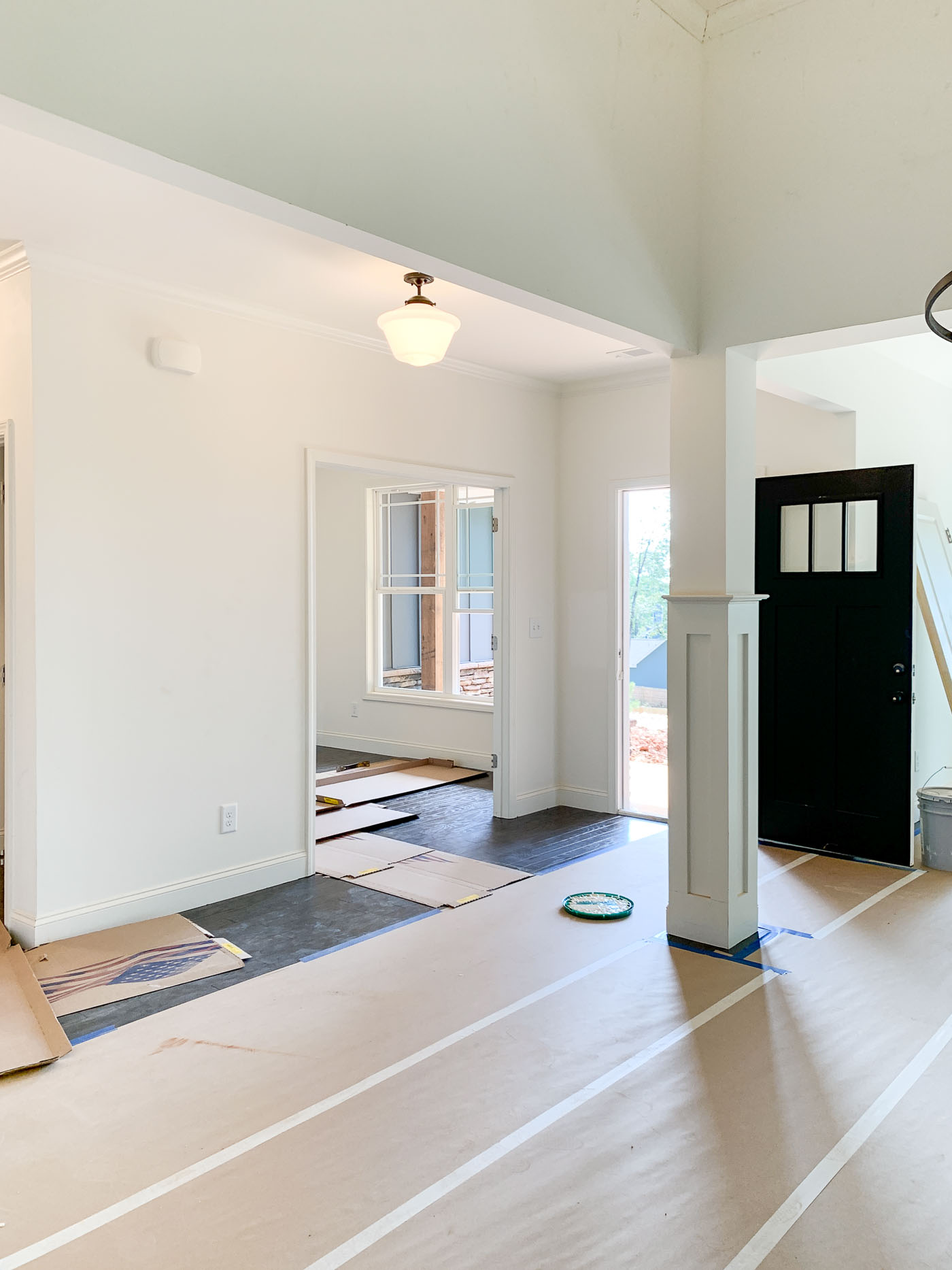 While this site does not have the Weathered Verdigris finish available, they do have both the brass and polished nickel for about 50% less! You can check those out HERE.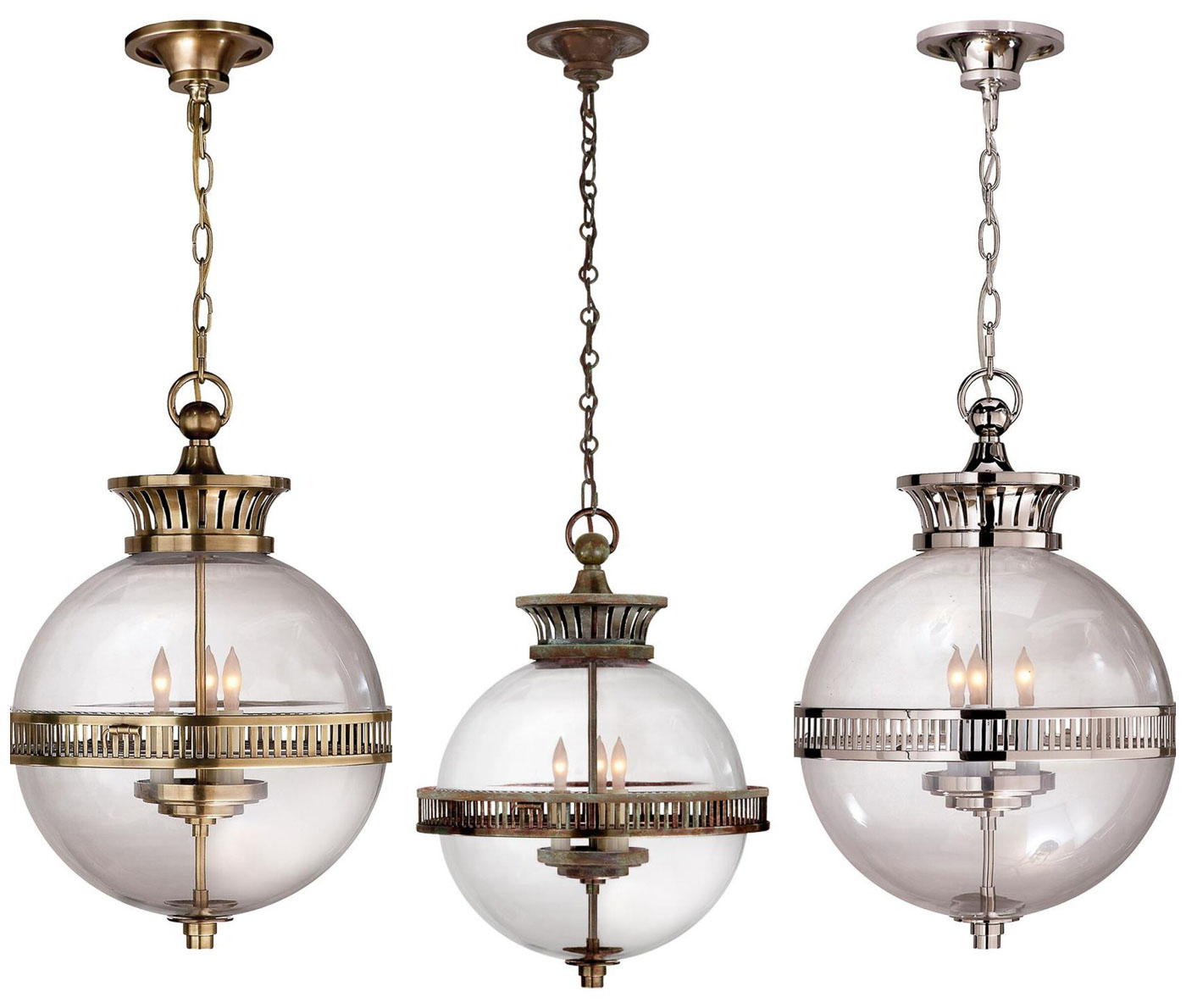 Lighting Pendants (in Weathered Verdigris) | Brass & Polished Nickel for Less $
On the other side of the entry, she did also get her rattan desk ordered this week! We waited for a sale and once the not-so-often 20% off opportunity hit yesterday, we got it ordered. You can get 20% off today (10/20) with code VIPSONLY HERE. And as a side note, I ordered THESE backless rattan counter stools for our kitchen island at the same time, on sale!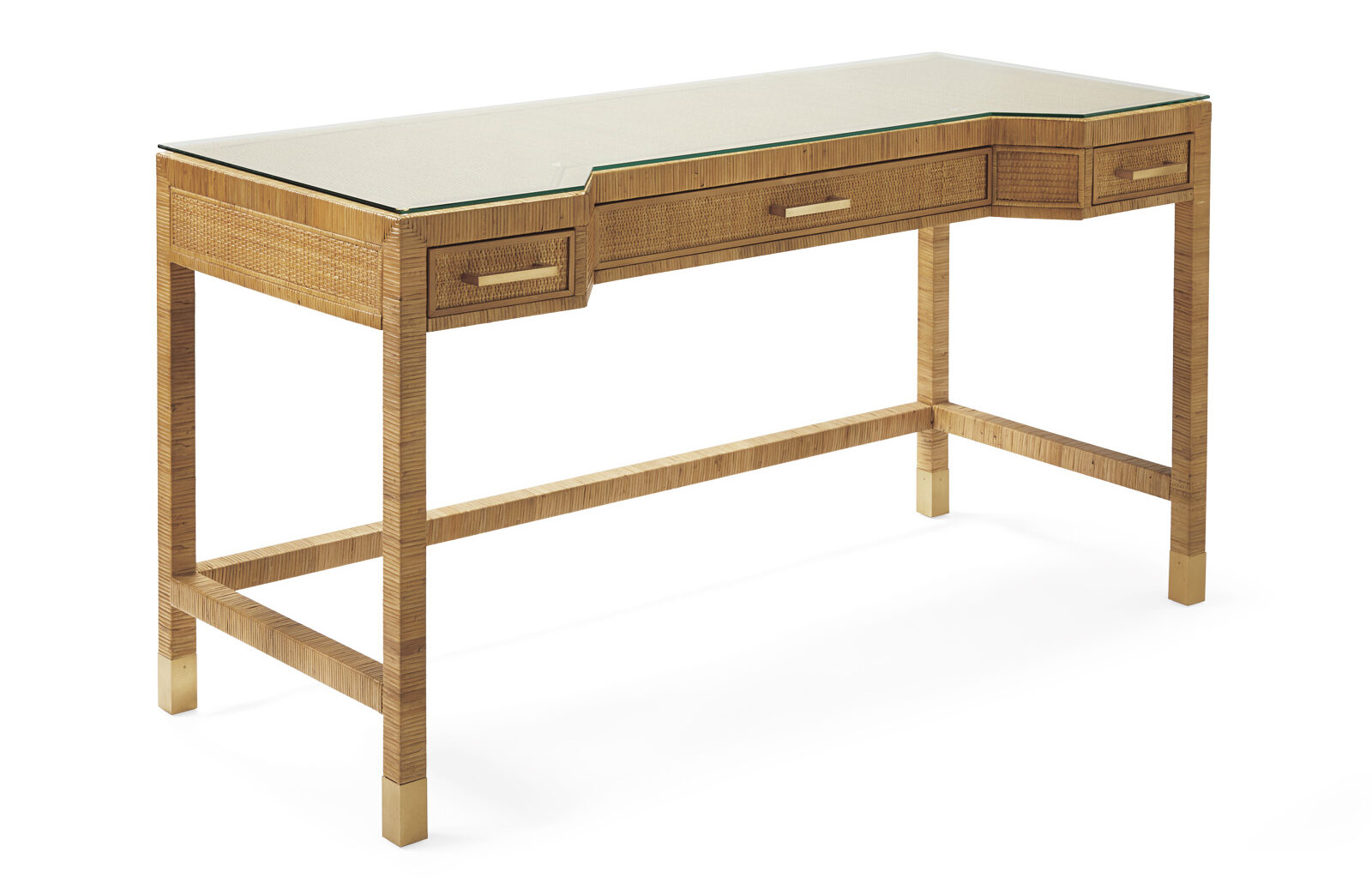 In the kitchen, the inflexibility continues. There were a few countertop options — all granite — and the layout, configuration, and appliances were already determined. Some of these aren't uncommon but some, well… Gran Nan is fine with most of that and was able to add some under cabinet lighting and pull out drawer slides within some of the bottom cabinets. The aspect she disliked most was the pendant placement. In (what I think) is somewhat of an odd choice, the builder uses three pendants — none of which are centered over the counter height bar…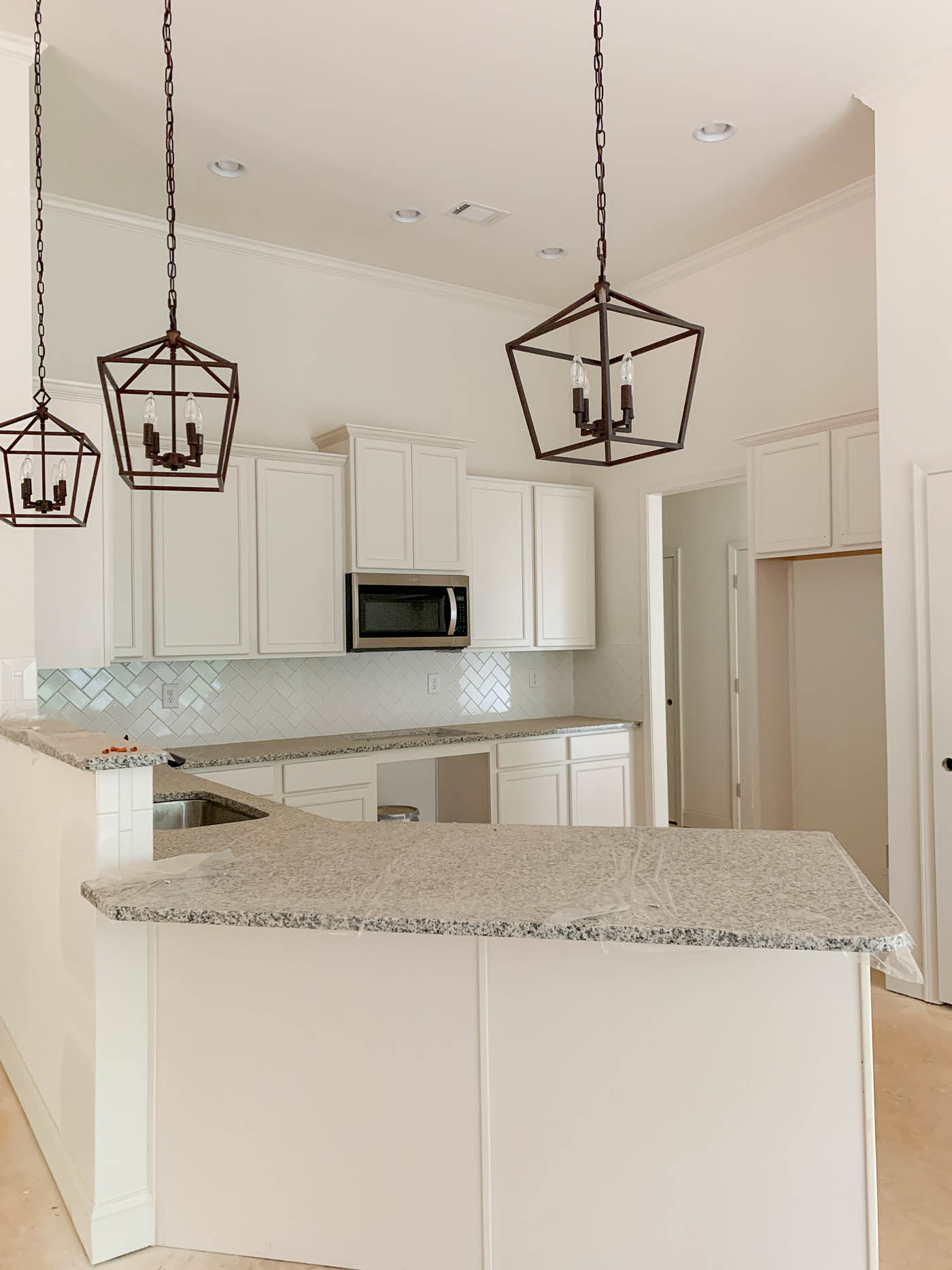 While it isn't ideal to move into a brand new house, only to start making changes, at least alterations are doable. Her ultimate plan will be to eliminate the far pendant, and center the other two over the bar.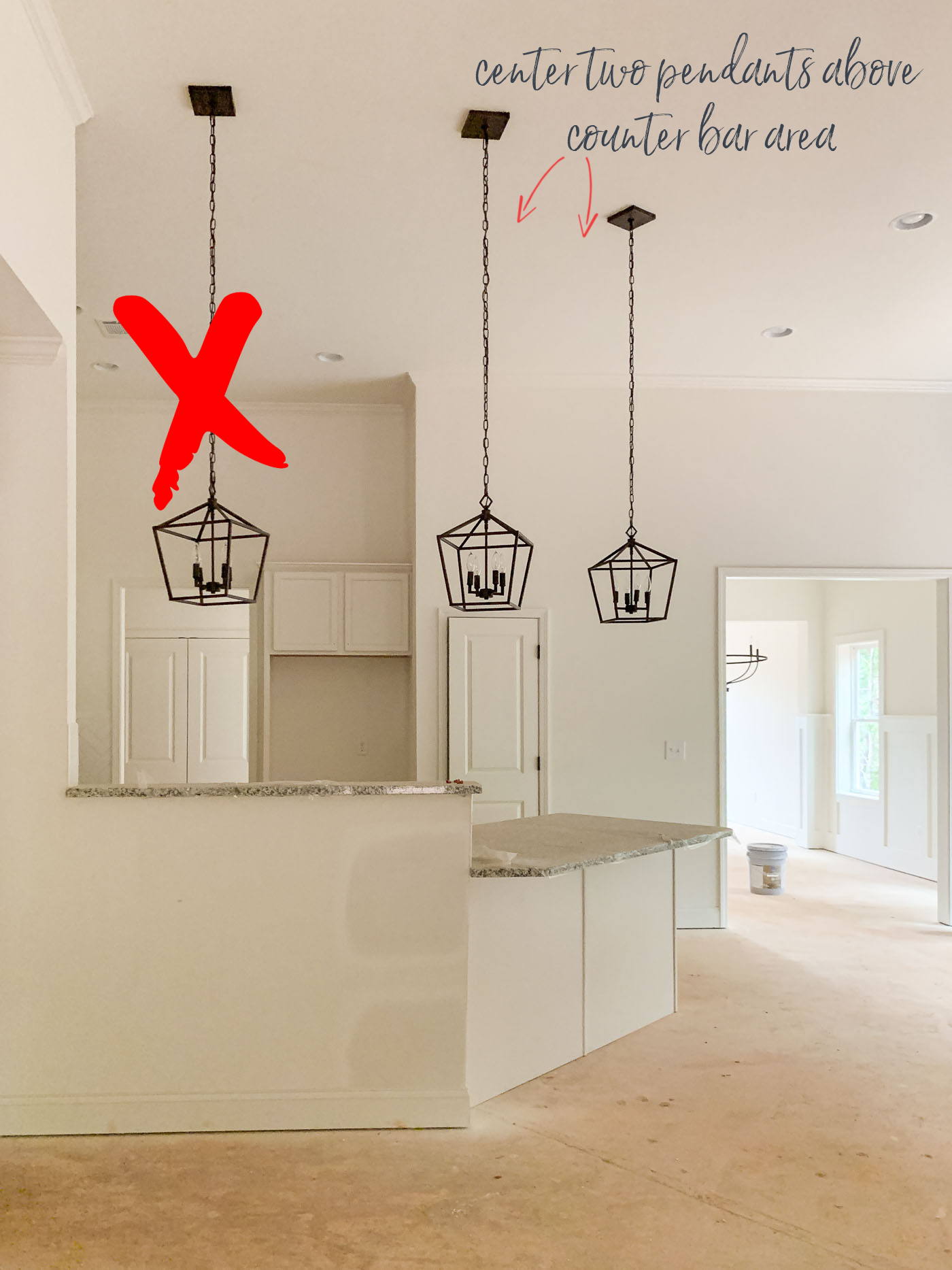 And, while backsplash tile options were limited, it was surprising (in a good way) that they agreed to installing the classic white subway tile in a herringbone pattern. I love this!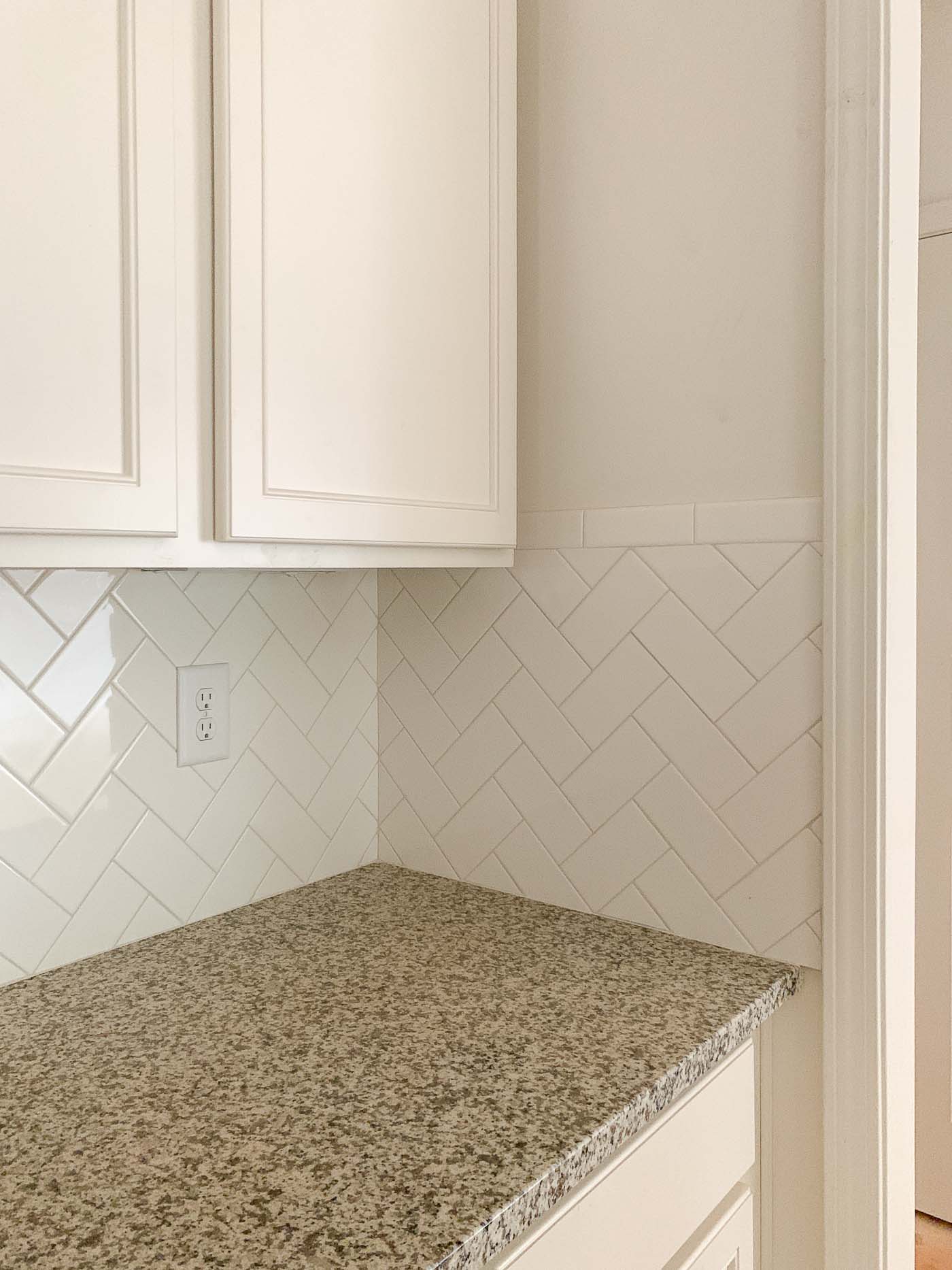 Because of the limited knob/pull options, she requested that they simply not be installed so she could select and install her own at a later date. Unfortunately, we coincidentally showed up for a check-in, while they were mistakenly just starting to install knobs on cabinets that weren't selected. They removed them but also refused to replace any cabinet doors they had drilled into. Hopefully, their initial placement was good so it won't be an issue once she determines the route she wants to go and selects knobs/pulls for her kitchen and bathrooms.
Another upgrade she will make in time is the kitchen faucet.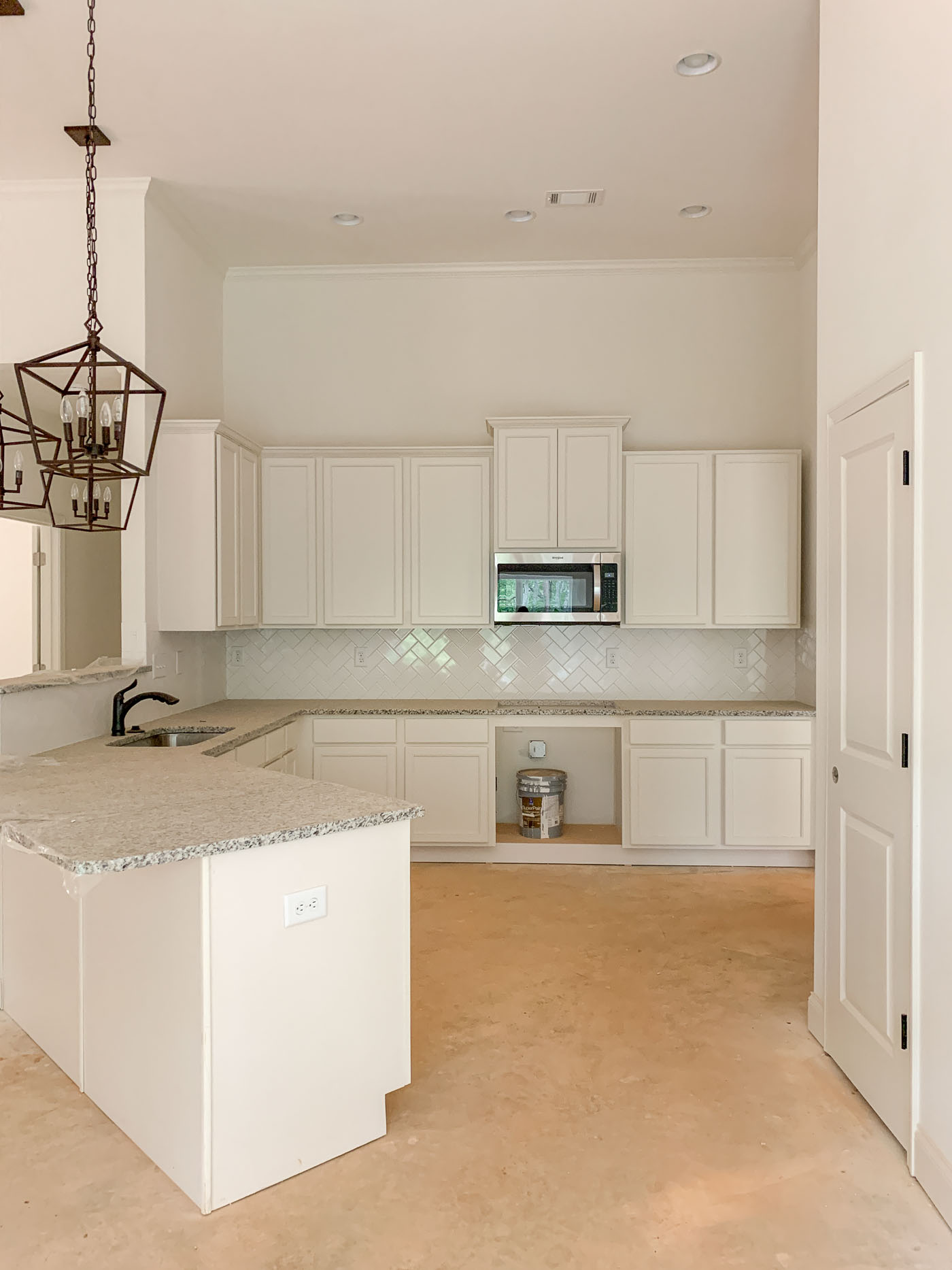 While the majority of pieces she has already ordered won't arrive until later in the year, her new counter stools did come in! And, they are sturdy and beautiful. Here's a photo I snapped that I shared in my recent Windsor Style Furniture post (they come in both bar and counter height HERE).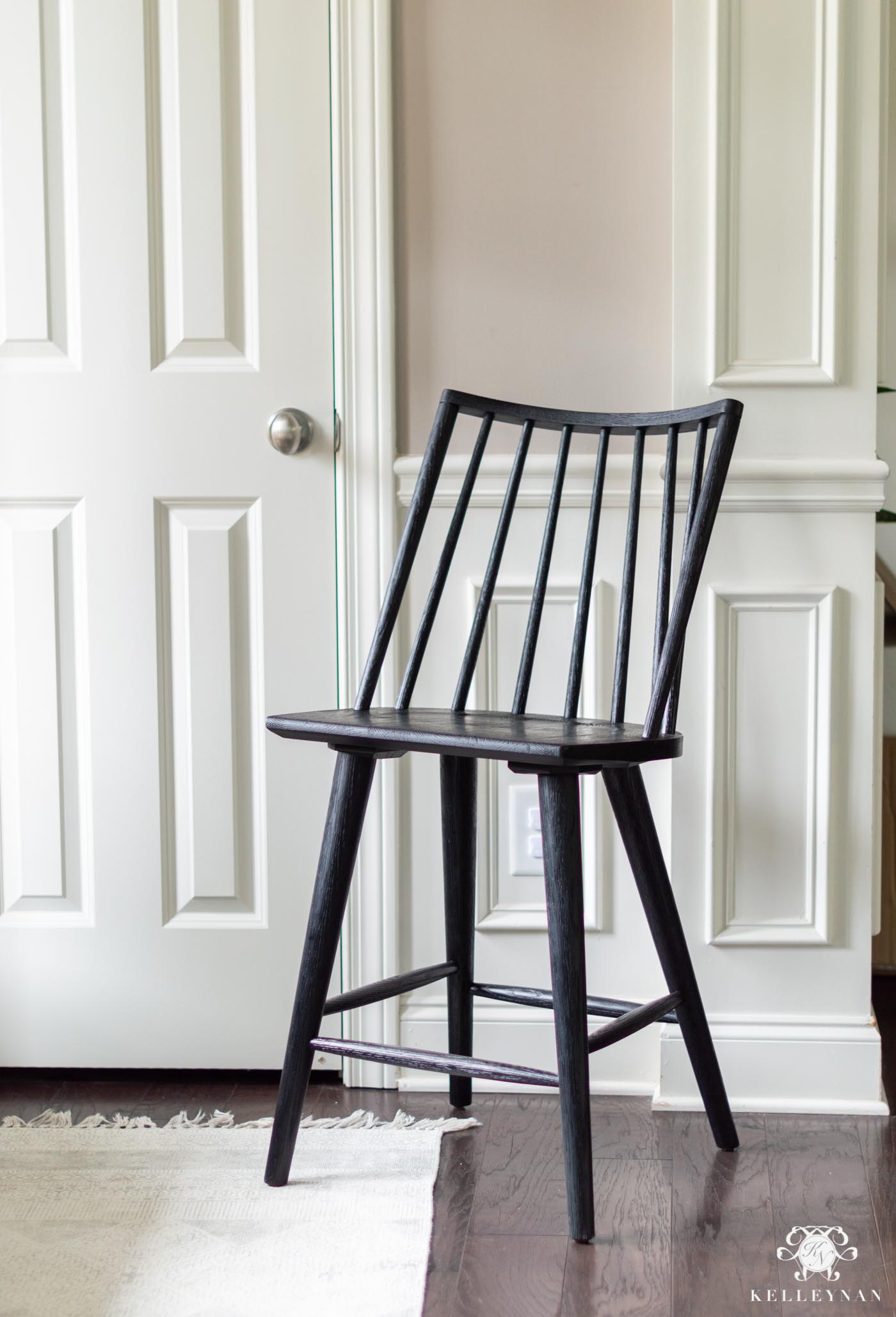 Luckily, they hadn't drilled into the bathroom drawers just yet.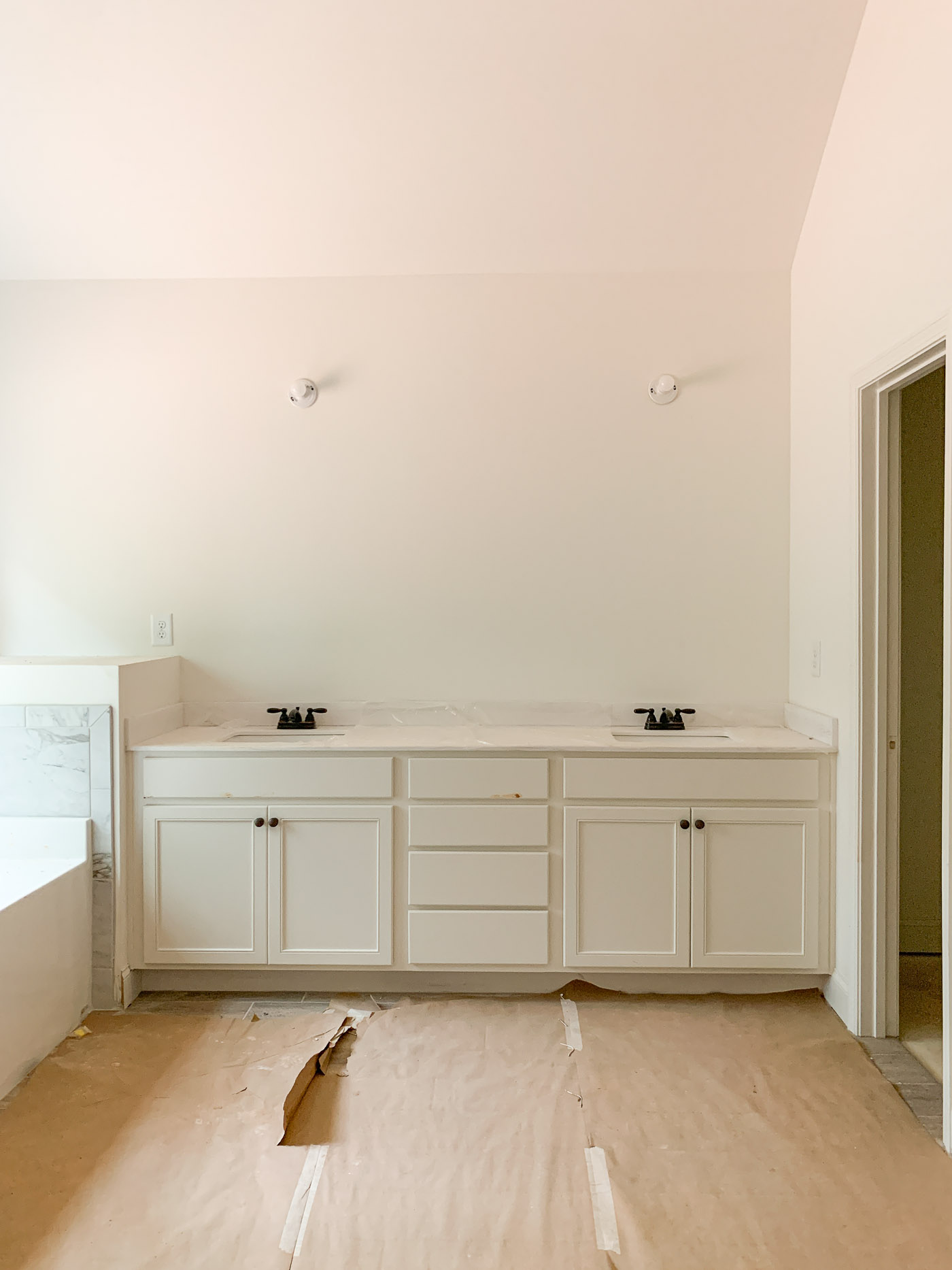 She had to select her finishes back at the beginning of January. About a month ago, she was told that her initial bathroom tile was no longer available — despite having to choose finishes so early, they waited six months to order. This was also the reason they gave for her delayed closing. Fortunately, she loves the similar tile she picked for the master bathroom flooring — resembling light wood planks. And I really love it.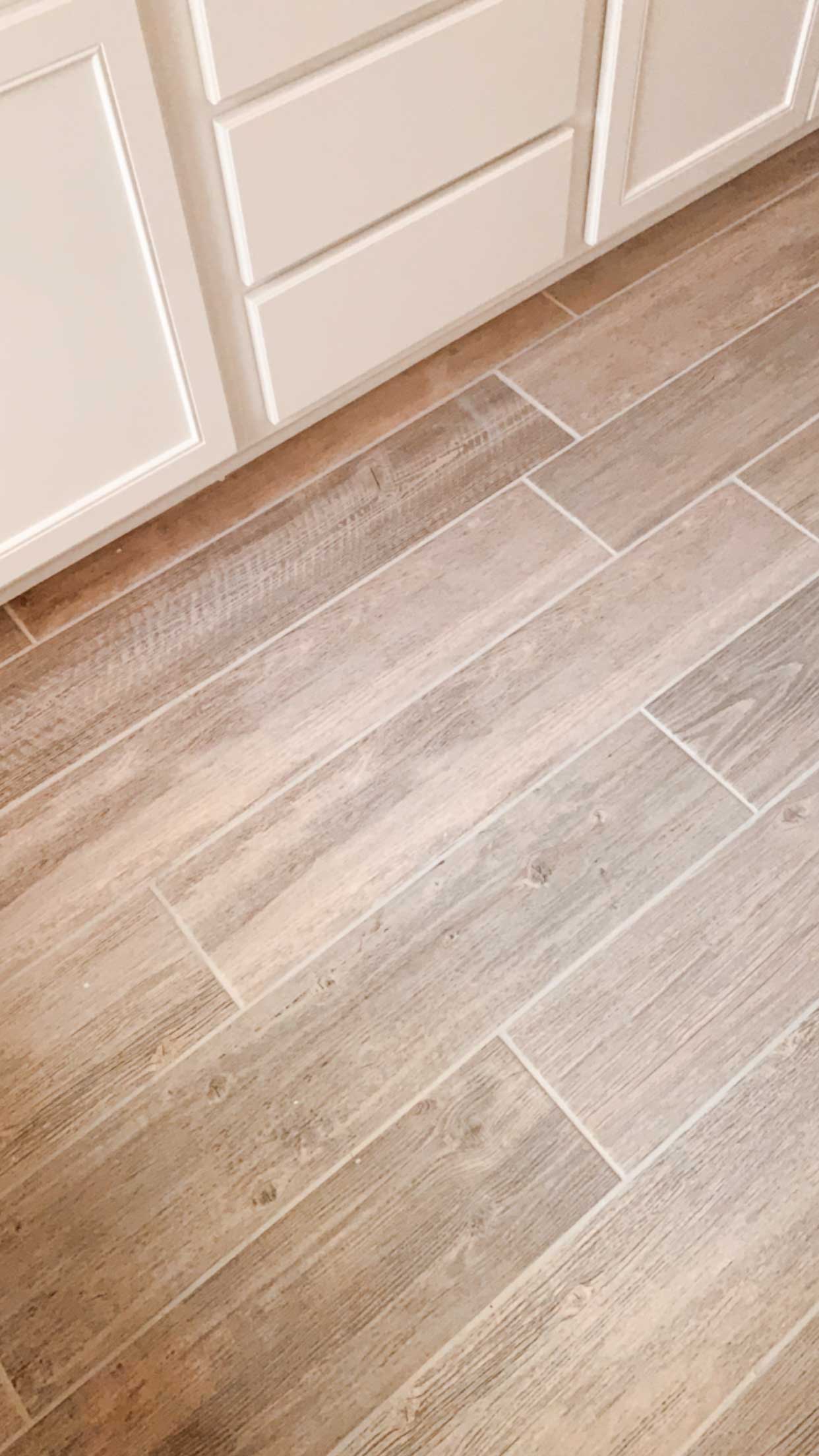 Some of her more immediate work after move-in will be focused on landscaping. In addition to an extended paver patio and more sod, she wants some underbrush cleared around the property. I cannot wait to sit back here later this year — this back patio gets no direct sunlight and is always so pleasant. We've seen several deer tracks but even bear tracks during one visit.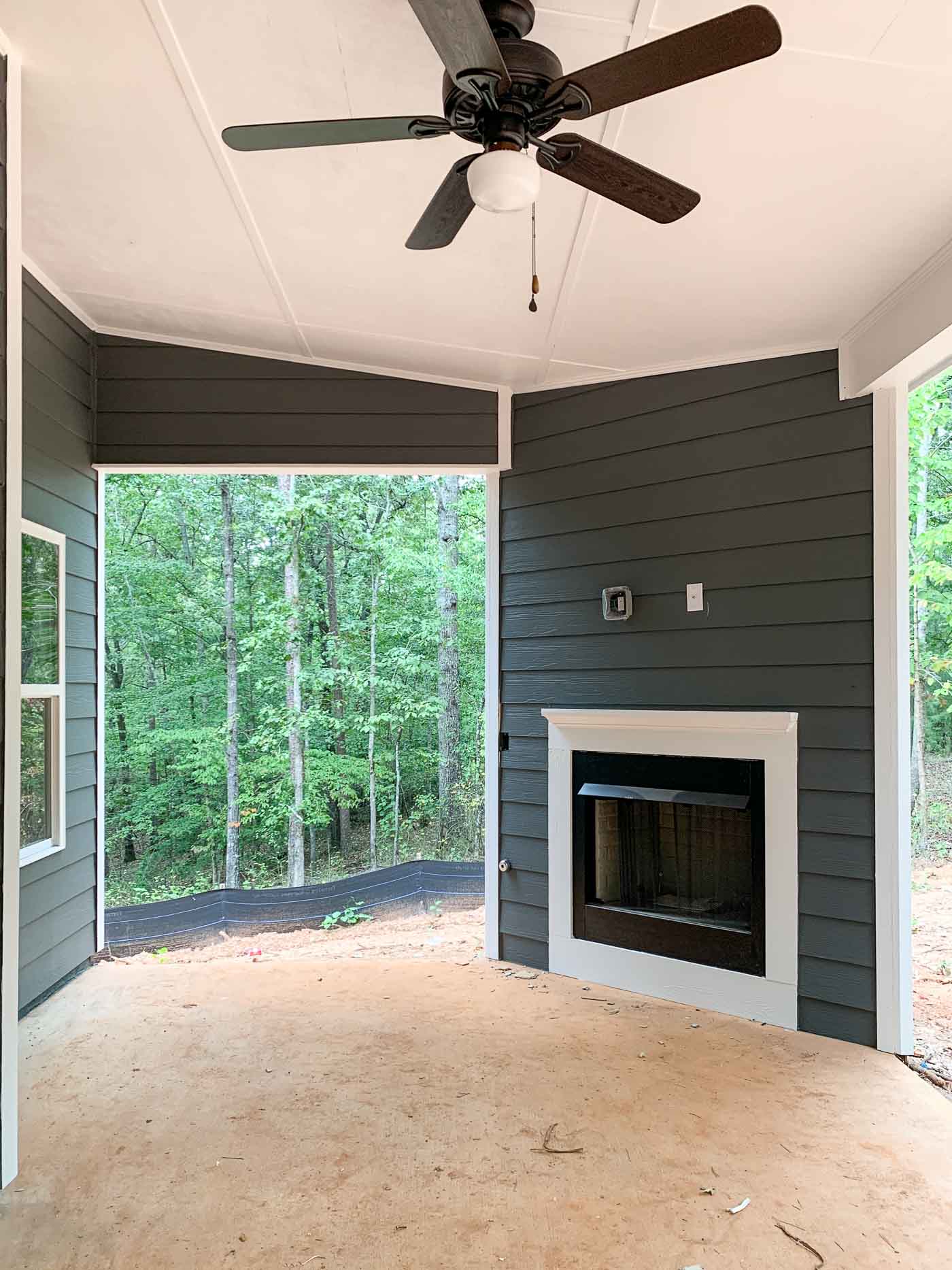 She's getting there! Of course, she's been busy securing dates and vendors and following up with unreceptive involved parties but finally — she's getting there. She still can't establish internet and is going around in circles with a couple providers who can't say if service is available where she lives but… SHE'S GETTING THERE! Her PODS and movers are scheduled and we'll be making trips with some of the things she's acquired while living here but the finish line is in sight.
I've loved walking this journey with her and can't wait for her to finally enjoy her new home — and make it hers. Her style is a little different than mine but we also have similar taste on some things, too. I'll be sharing more of it as projects commence so don't worry — you  haven't seen the last of Gran Nan's house; this is just the beginning 😉 And, like I said, I'll have to share more of the process to contrast with our building process and experience, too. It was eye opening to contrast such similar builder situations with how differently they operate. To catch all the upcoming projects to see how her house evolves, be sure to subscribe to emails at the bottom of the post.
Gran Nan's Home Sources
While she hasn't gone overboard with furnishings just yet, I have started a folder with her recent purchases to outfit her new home. You can check those out below!