I know I'm not the only one whose plans for a spring outdoor update were delayed a bit. While we usually start cleaning, planting, and revamping as soon as the first major yellow pollen wave settles, this year, we kept our essential outing runs dedicated to essentials. Fast forward a couple months and we decided to go ahead and schedule the overdue re-staining of our decks — which means the bulk of our outdoor readiness will be put off a bit longer until that project is completed. Well, that is — thankfully — except for our upstairs screened in porch. With the sheltered wood still in good condition, it isn't necessary to re-stain and luckily, I had secured everything I needed to zhuzh up the space by late winter. I partnered with At Home Stores to amp up the relaxation factor in our outdoor living and make over the porch just off the master bedroom so while the downstairs areas are still brown (dead plants) and yellow (leftover dusting of pine pollen), we've been enjoying our new area that much more!
*This post is written in partnership with At Home Stores; as always, all opinions, concept, and creative are my own. Posts on KelleyNan.com may contain affiliate links. Click HERE for full disclosure.*
**All available sources are linked at the bottom of the post.**
Screened In Porch Makeover: The "Before"
Our upstairs screened in porch started out as a few mismatched pieces from the tiny deck at our former house. A few years ago, we spruced it up a little but still held off on doing the space in its entirety. Some of you long-time readers may remember this original photo of where we started…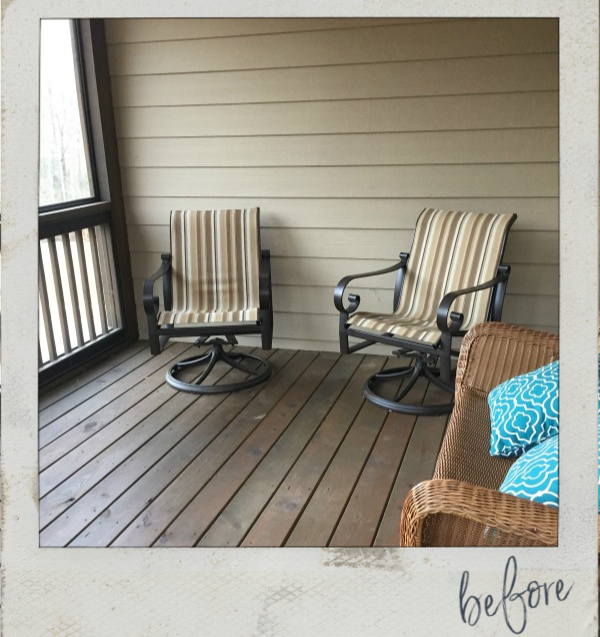 After a few simple updates, this is where we landed about four years ago.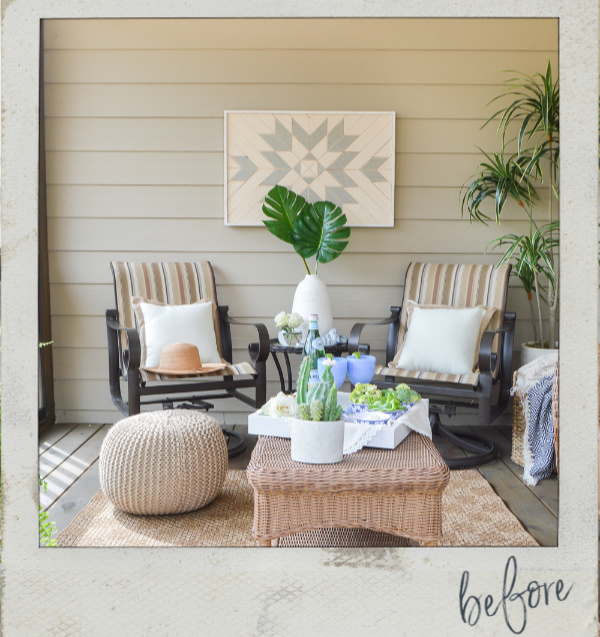 And since then, we never changed anything. It was always on our to-do list but then there was the kitchen… and the living room… and then the powder room. Funny story — that woven plastic loveseat and table was actually written into my first home contract from the previous owners back in 2009. I knew once I purchased the house, I wouldn't have much of a budget to work with for a while, and I thought their front porch setup was cute, so I requested my agent formally request to keep it as part of the contract. Well, as minor of a detail as that was, I can't say it didn't serve me well 😉 And after 11 years, it was officially donated a few months ago.
Screened In Porch Makeover: The Plan
So, what did I want for the small screened in porch off the master bedroom? A comfortable sitting space that felt more like an outdoor living room. Some green to bring in some life, but faux because in my prior experience, I realized that every time I actually watered the porch plants, water would run right through the pot and straight down into the living space below. Not a space that we would entertain in but a space that we could enjoy — just for our family.
I've said it before and I'll say it again — when it comes to holiday
and outdoor
, At Home is unmatched in their diverse and abundant supply. Their warehouse-style stores are huge and I would venture to say that at least 1/3 is currently dedicated to outdoor living. While they don't offer a traditional e-commerce site with shipping to your home, since everything started a few months ago, they did set up online purchasing with curbside pick-up! Since restrictions are being lifted in many areas, they've expanded their offerings even more. In addition to curbside pick-up and local delivery (in select areas), they are now offering in-store pick-up, too, even in stores that have already re-opened. You can find the closest store near you
HERE
and their safety message with the latest updates
HERE
. When you visit the
store locator
and type in your zip code, the current shopping options will be listed (see below for an example).

Even before closures, I jumped online to spend some time scoping out all the outdoor living furniture, decor, accessories, etc. to come up with a vision and help my in-store game plan. You can check out the full outdoor selection HERE and then shop/browse within each category (furniture collections, rugs, etc.). Within 15 minutes, I had too many "vibes" I thought I might go for (from blue and white to totally neutral) before ultimately deciding on more contrast with lots of natural textures. Within the hour, this is the vision I had landed on.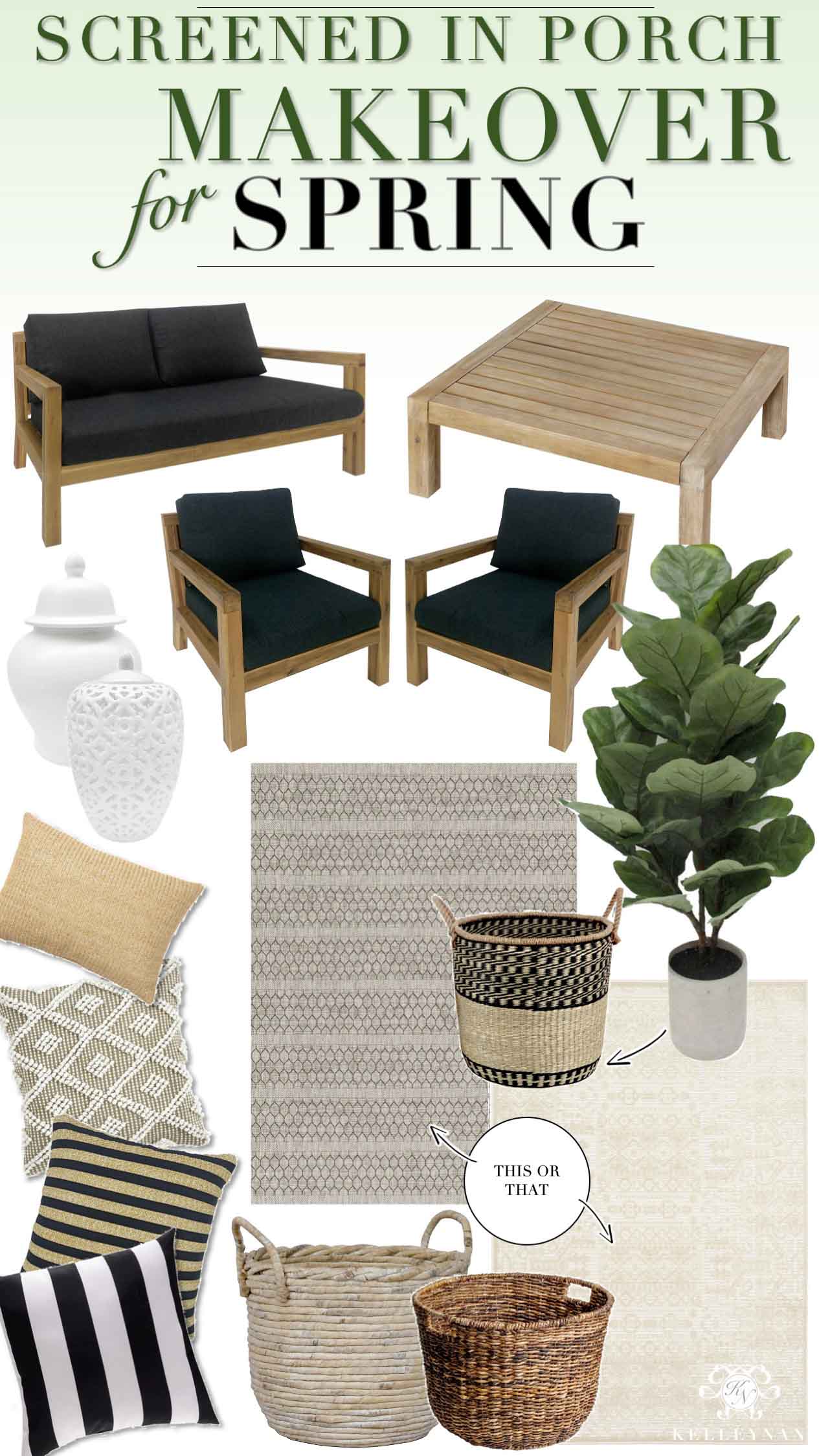 Screened In Porch Makeover: The Reveal
The mood board after it came to life? Well, check out the "after" of our porch makeover…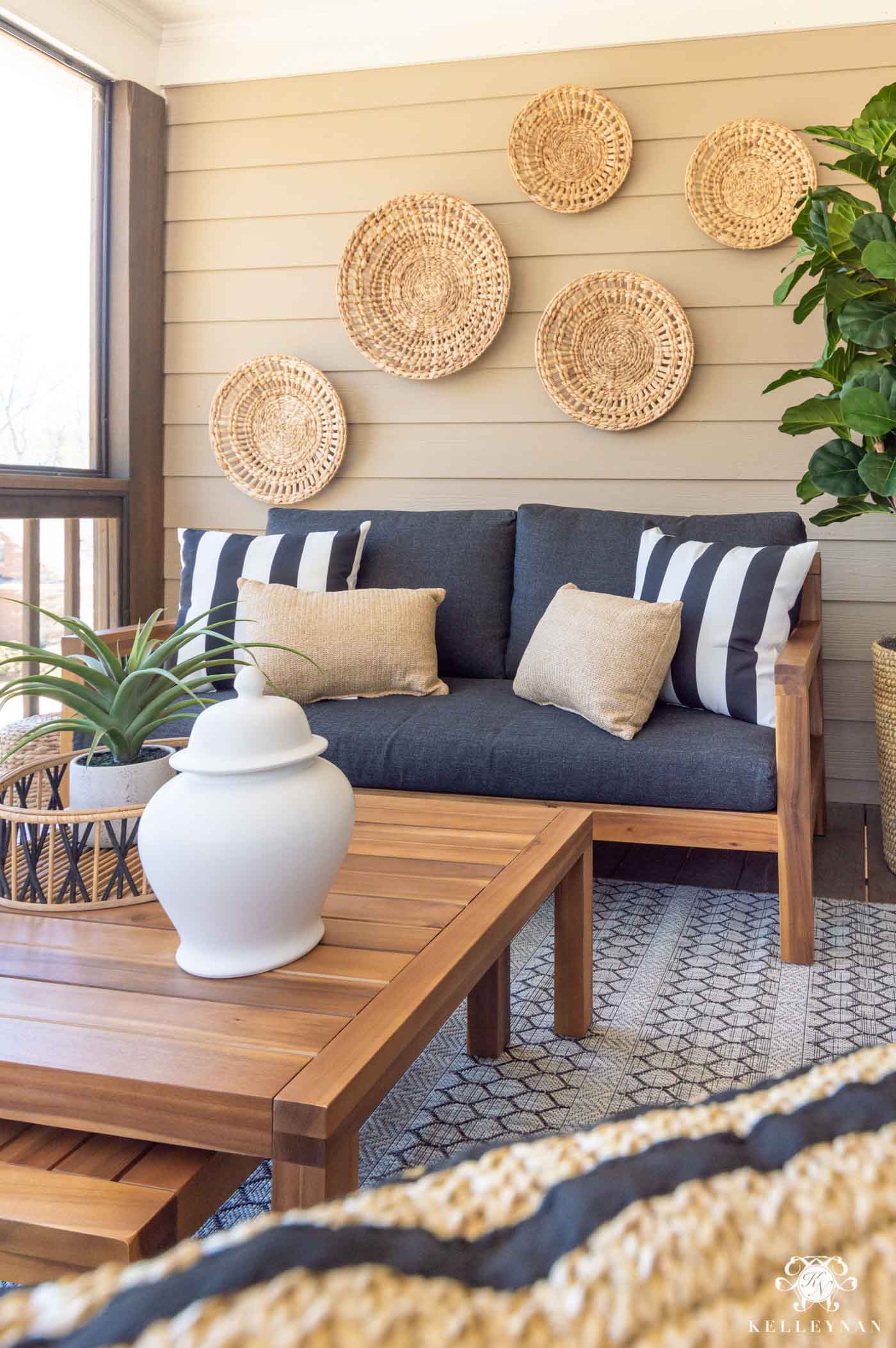 After six springs of being in our home, this space is finally getting all the use we envisioned it would before our house was built.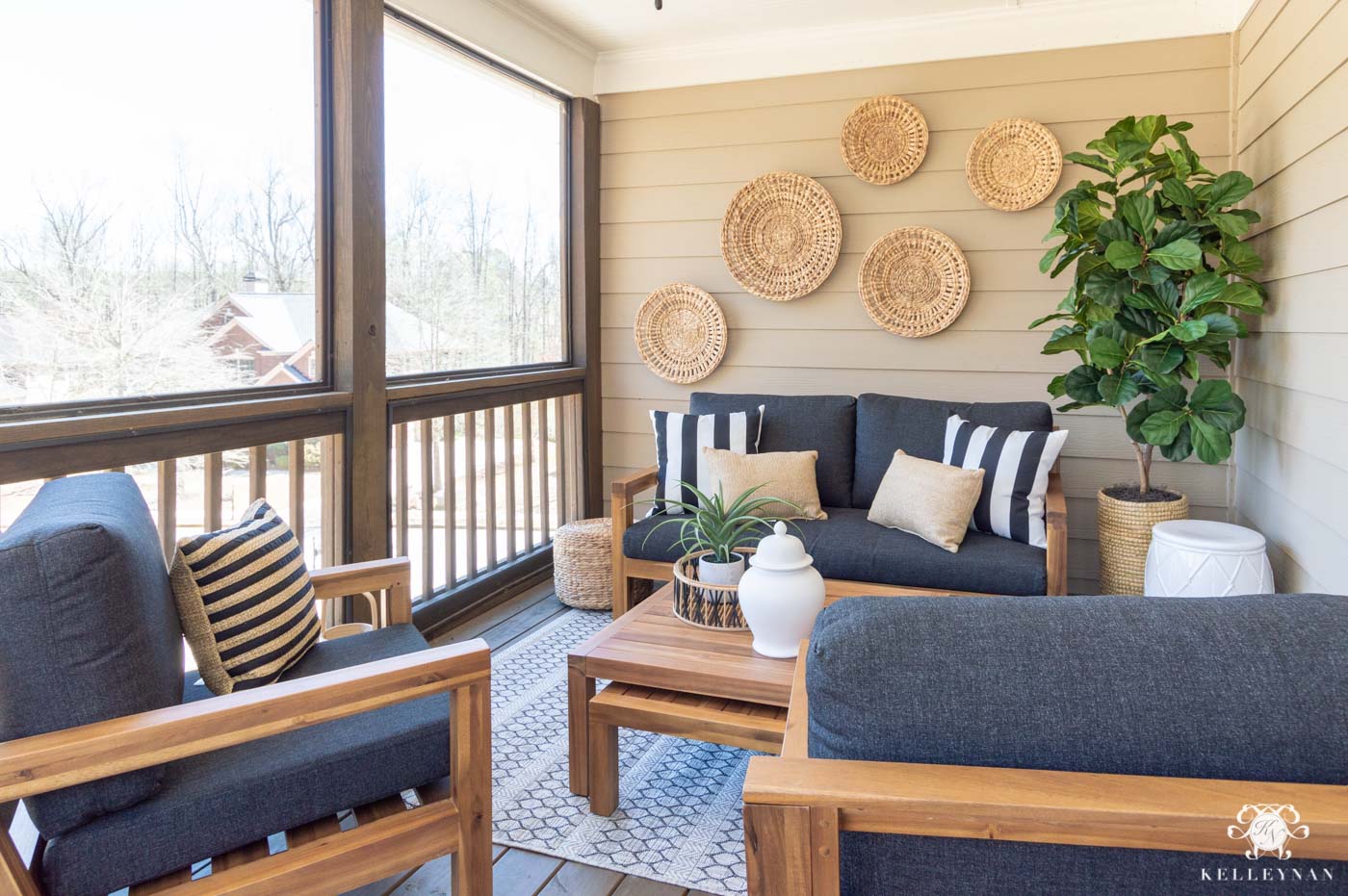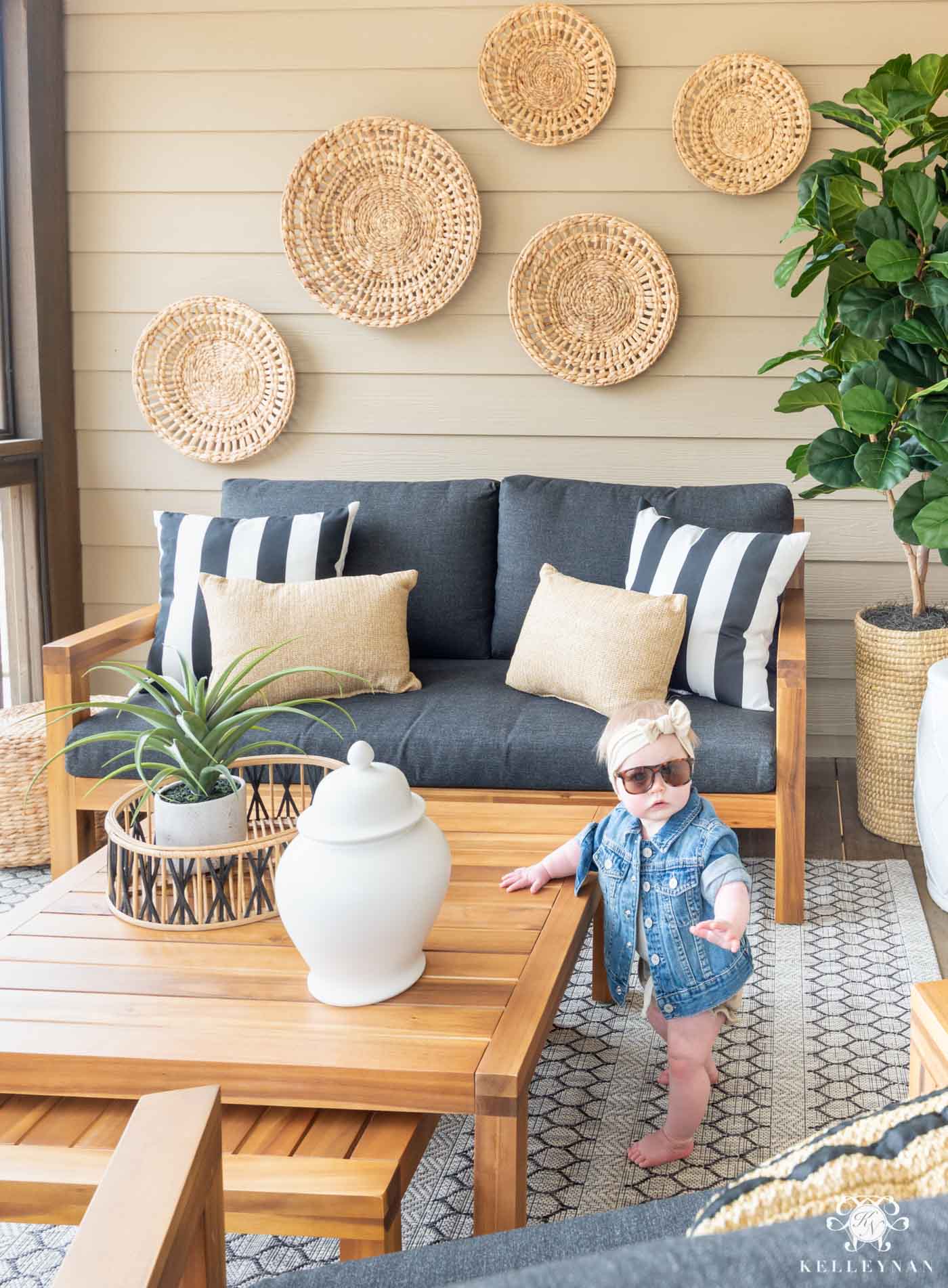 One tip I have, even in decorating the simplest of outdoor spaces, is to not overlook the blank walls. You can use tall plants/trees to take up visual space and make your eyes look upward, and hang weather-resistant art. I went for a cohesive gallery of wall baskets; these already have the hanging hardware on the back. I drilled a tiny pilot hole for each in the hardy board, tapped a small nail in each, and then hung them in this organic shape.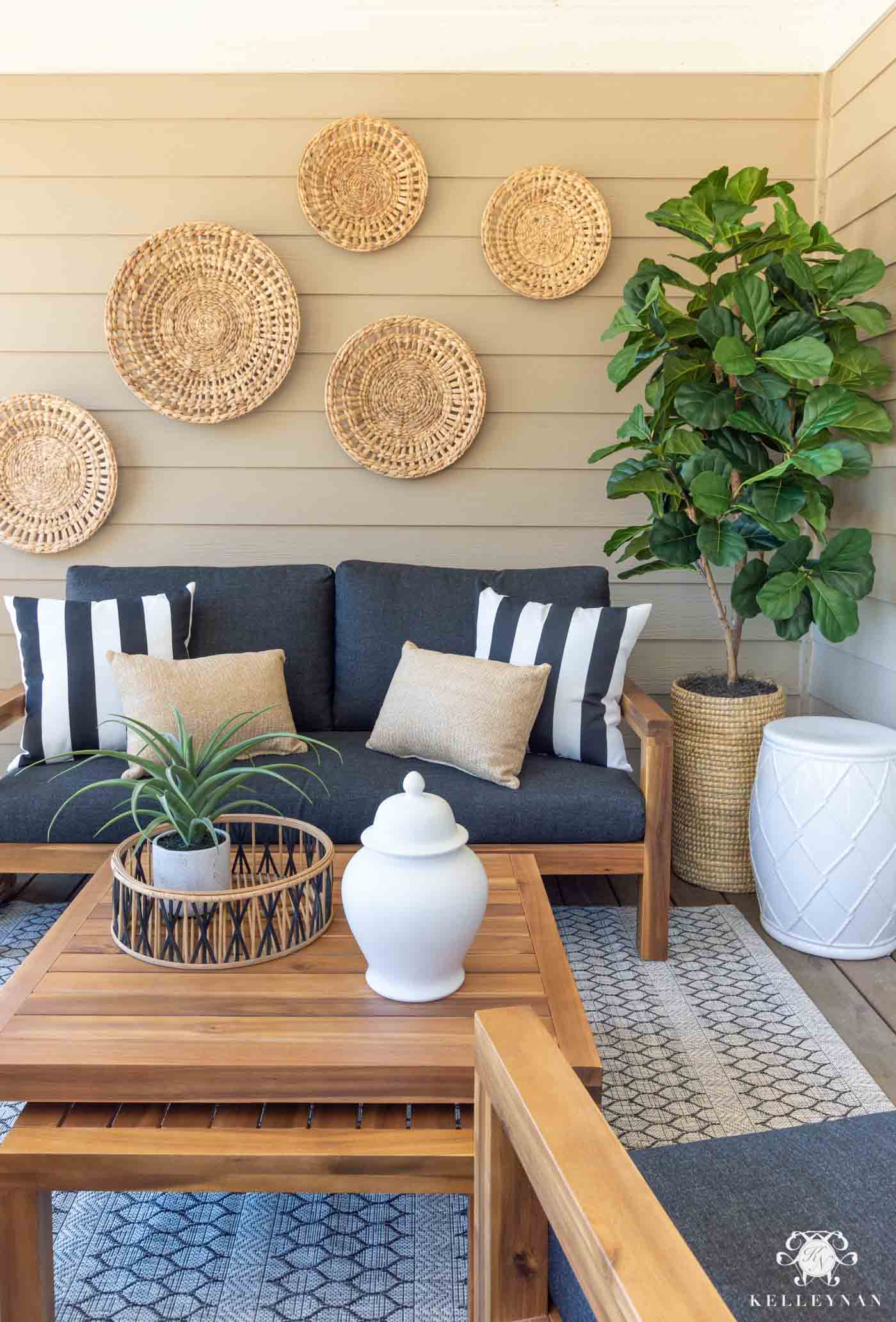 All three sizes are linked at the bottom of the post, along with all the available sources pictured in the outdoor space.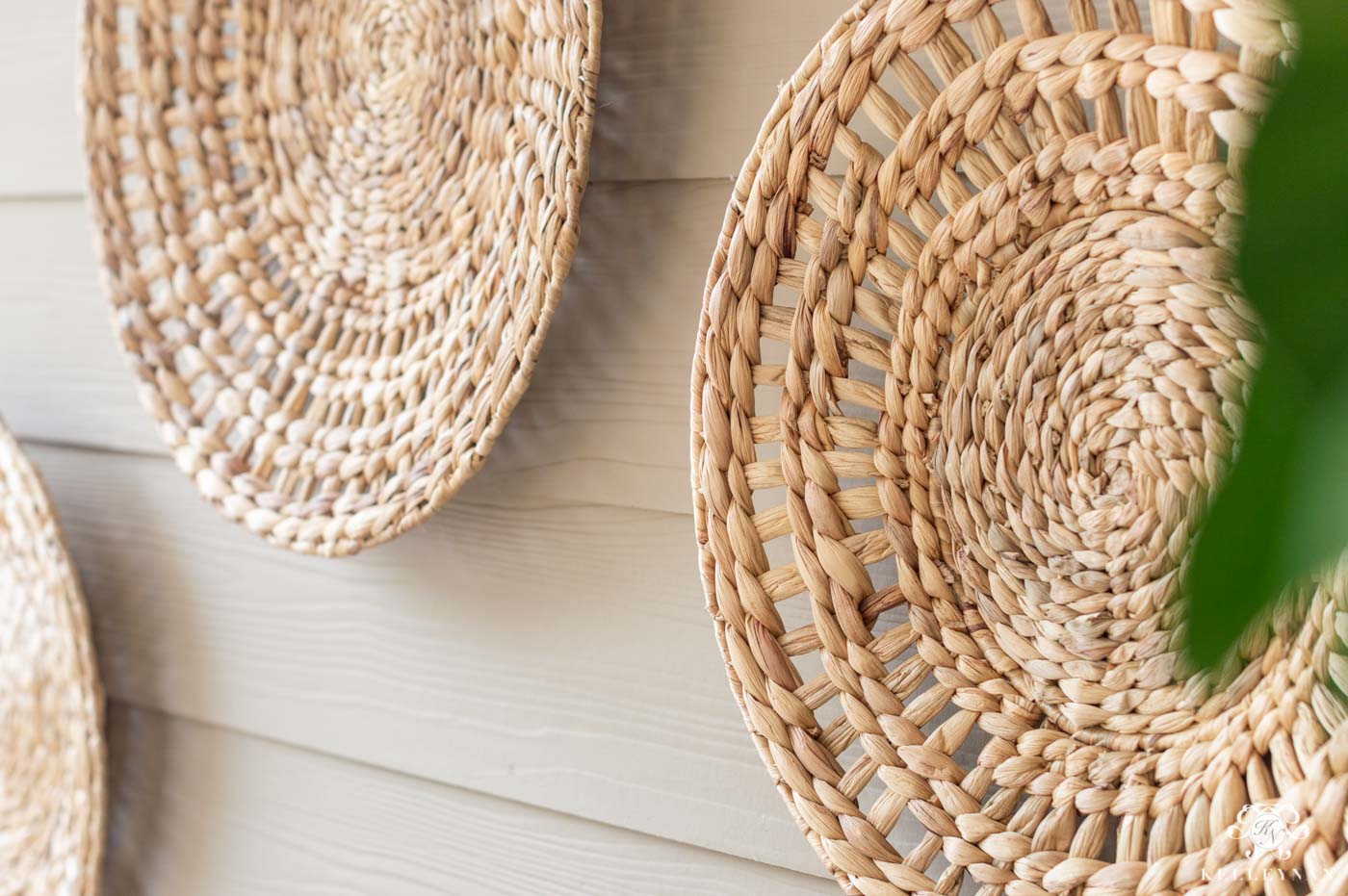 I didn't want to clutter up the coffee table with lots of tchotchkes because #upkeep and #dusting, but I did want to make sure some smart decor and details were incorporated to give that outdoor living room vibe I was looking for. As a side note, that cute bamboo tray is on clearance and under $15!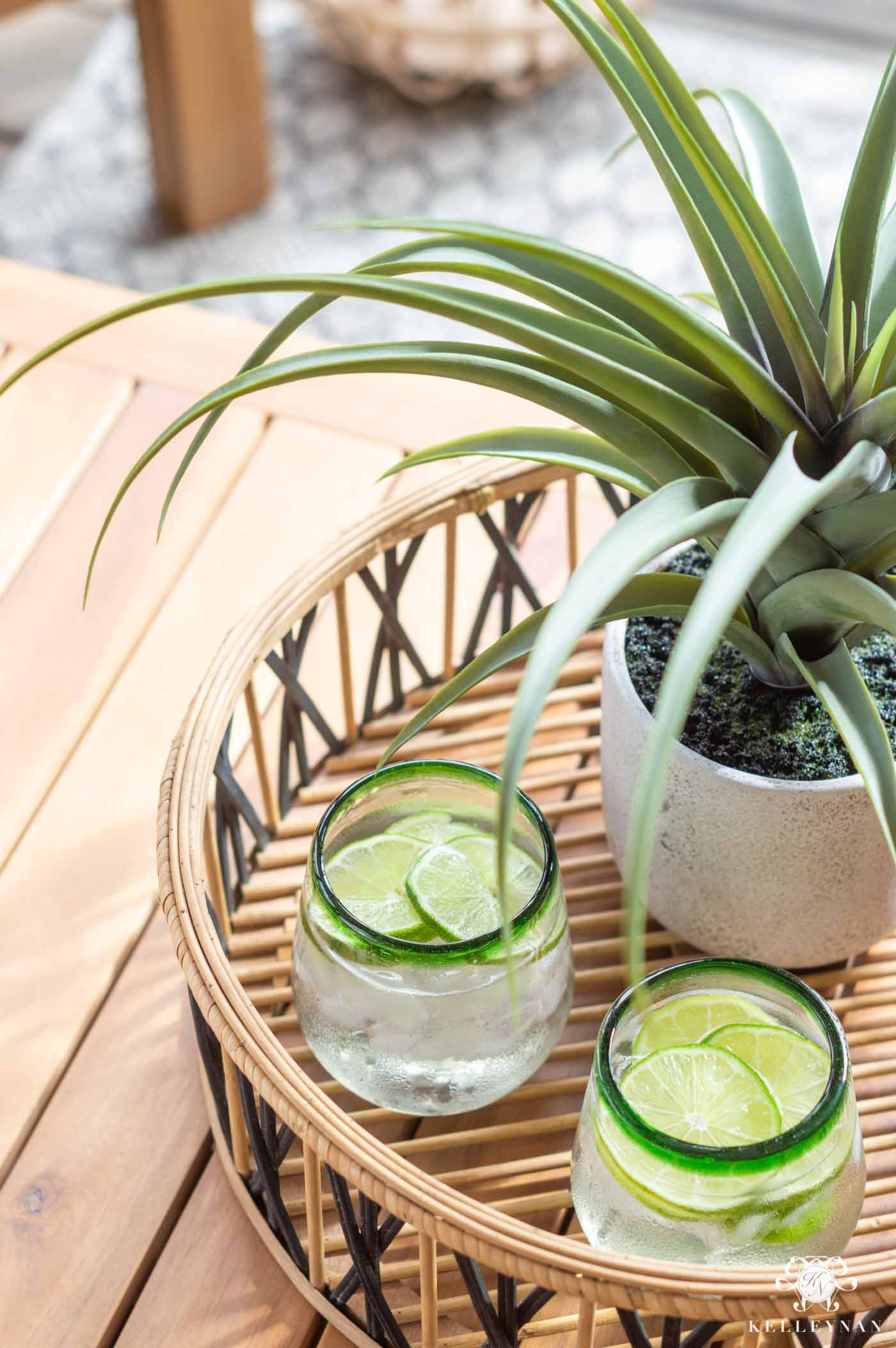 And along with the under-$30 matte white ceramic ginger jar, both are perfect for indoor use, too.
The coffee table is a nesting table with a smaller table to be used as an extension and while our screened in porch is private, it's a great option for those areas you entertain in regularly, providing more surface space for guests.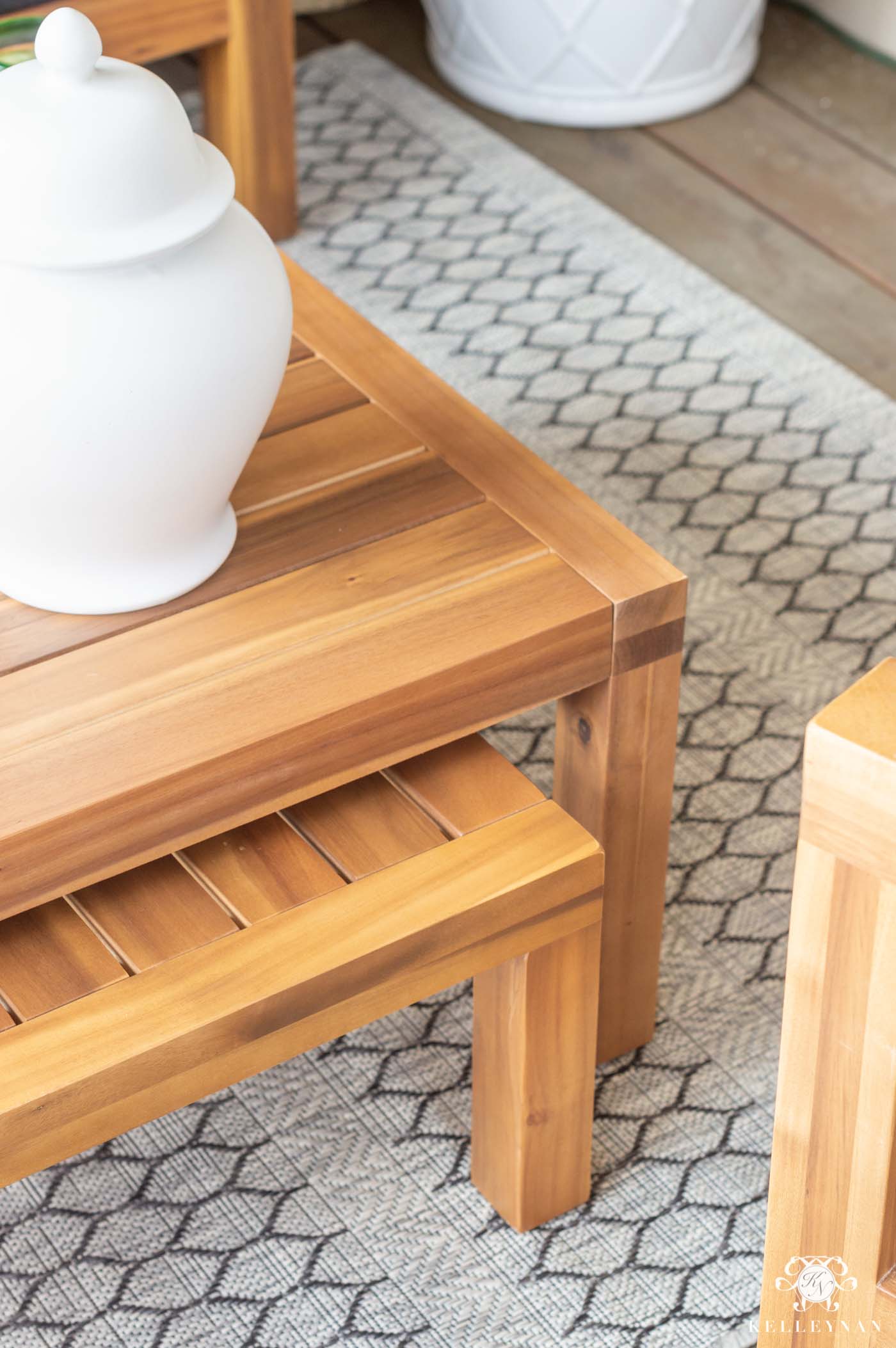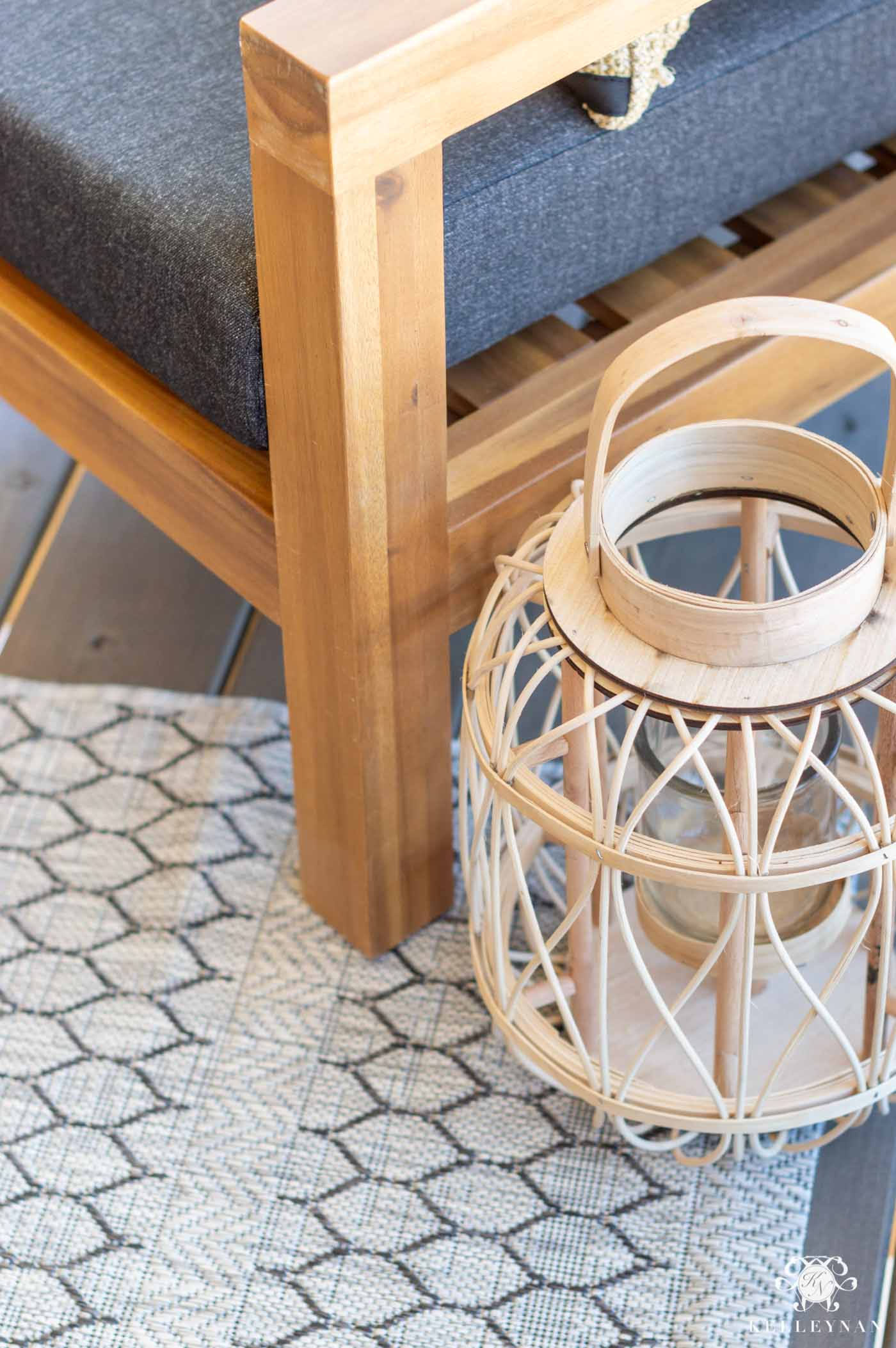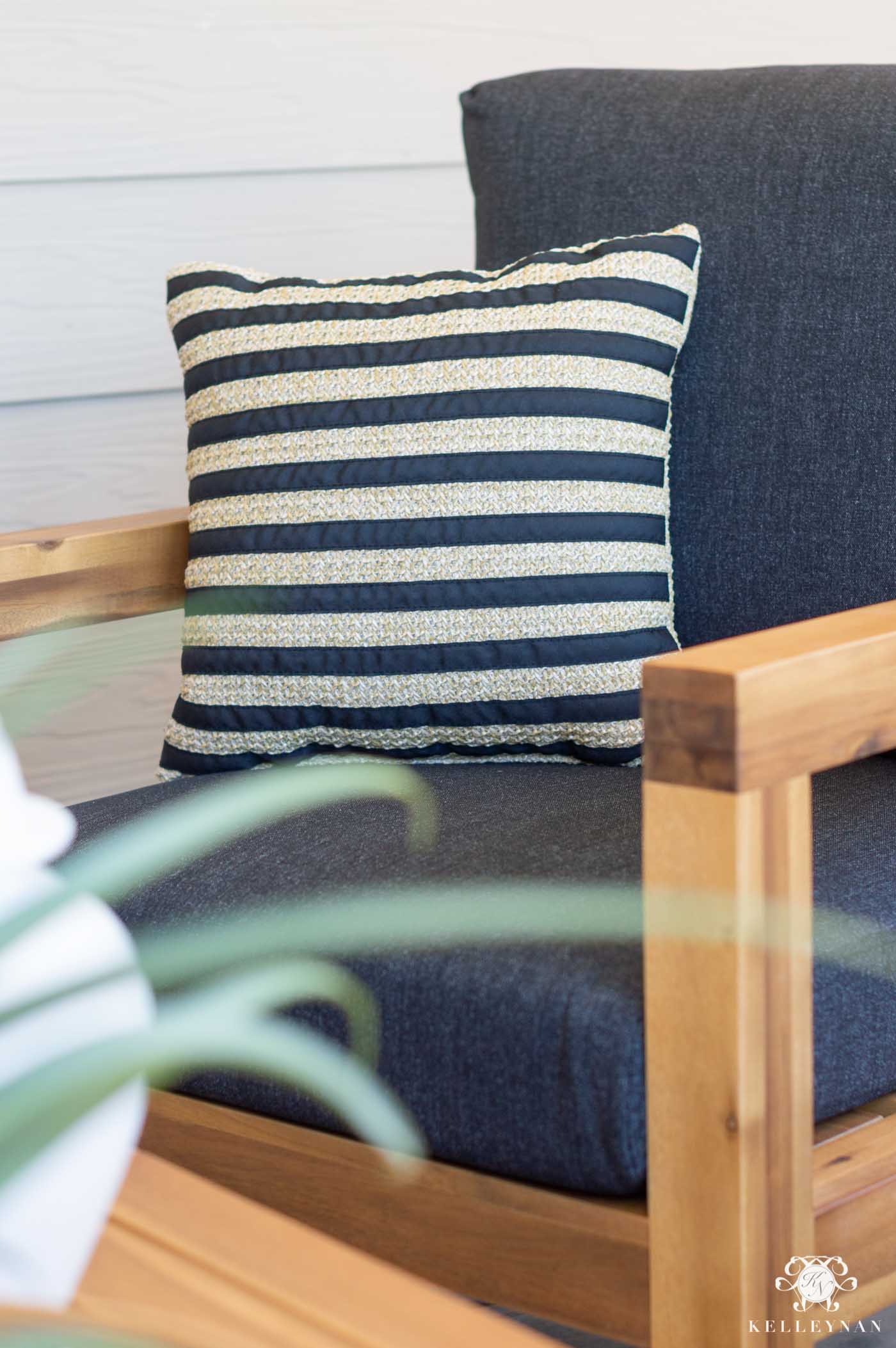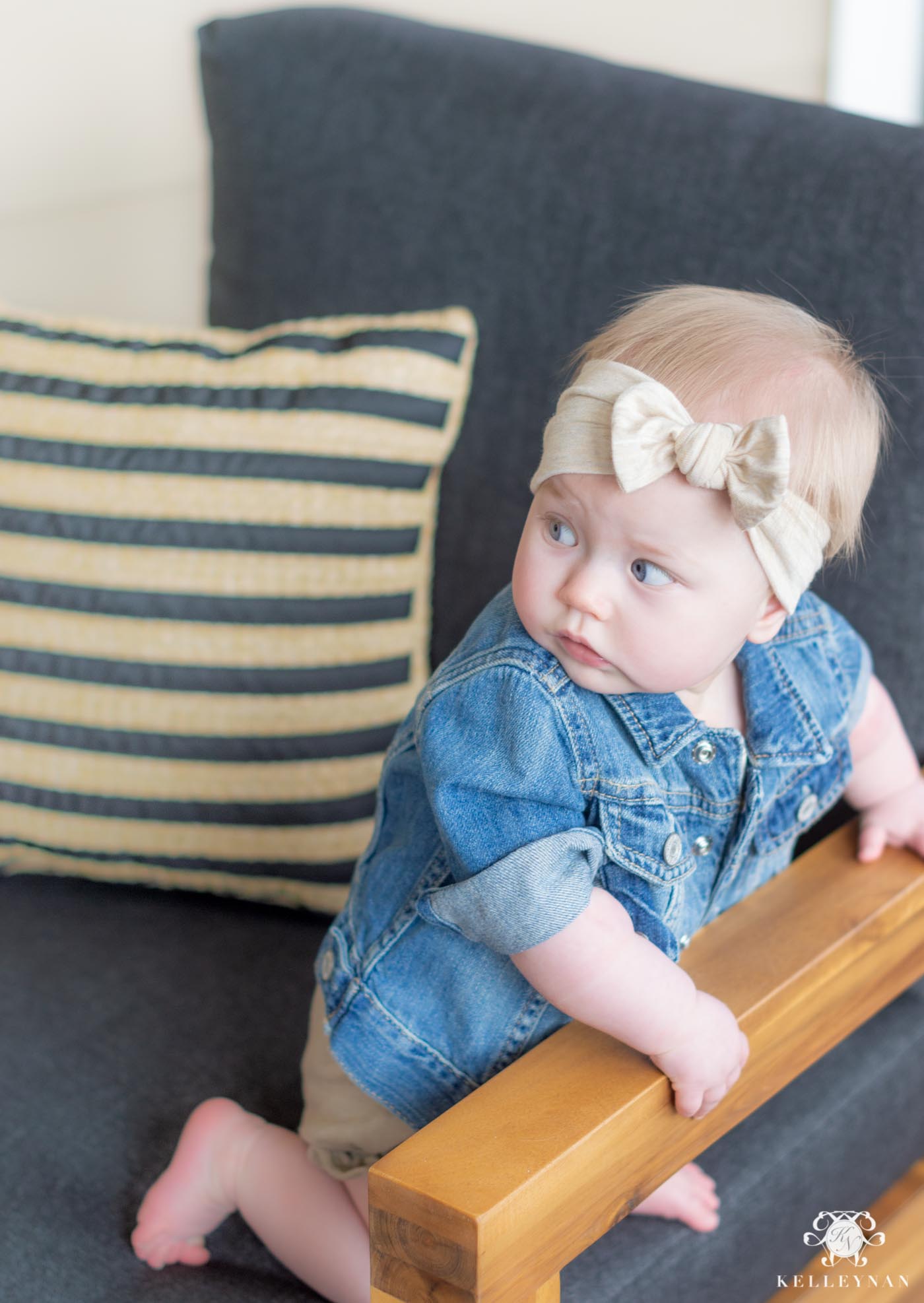 You can see the full collection of outdoor pillows and cushions HERE; if you're unsure if you might want different colors from year to year, go neutral on the furniture and mix and match the pillows and cushions to your heart's content for years to come.