I don't have a green thumb. I break the rules and honestly, I'm kind of lazy when it comes to nurturing freshly potted flowers and plants. When I bring home a new variety, I don't even really expect to keep it alive- if it doesn't die, it's a huge victory and reason to celebrate in our house. But, with some trial and error (by default from forgetting to water), I've found a few low maintenance green plants that will thrive in the hot Georgia sun. As a matter of fact, after years of planting seasons, I've gone from spending a ton on plants and flowers in all varieties, to just bringing in a few green safe bets that I now have confidence in, having had them endure abuse, drought, and a touch of laziness in previous years 😉
*Posts on KelleyNan.com may contain affiliate links. Click HERE for full disclosure.*
A FEW THINGS TO KEEP IN MIND
This is not a post on care/how to arrange your heat resistent, sun loving plants.
I live in Georgia where the summers are hot. And way sweatier than I'd like 🙂
Our back deck sees a lot of sun.
When we first pot our new plants, I usually leave in some soil from the previous season and mix it with new; I don't pay much attention to how far apart they should be spread in one container. Like I said, my luck has been based on pure luck and I break all the rules.
I'm sure there are a ton of other plants that would thrive in the same conditions but these four are my tried and true "go-to's".
We water some evenings when we think about it, but inconsistently.
This isn't free reign to totally neglect your plants but if you "struggle" like me, I've got some good options that have seen me through several summers.
EASY PLANTS THAT WILL THRIVE IN THE HOT SUN
I prefer a mix of plants that grow tall and full, droop and climb, and cover; I hate dead-heading so over the past few summers, I've started leaving the color to the flowering bushes and trees planted in the ground. You can still get some of these plants in more colorful varieties too, but for the most part, I've kept my deck to shades of green.
1. SWEET POTATO VINES
Sweet potato vines may be my favorite (thanks, Mama Nan, for introducing me ;)). They're super resilient and explode in growth quickly… they bush up, out, down… everywhere. If I could only have one plant, this would probably be it.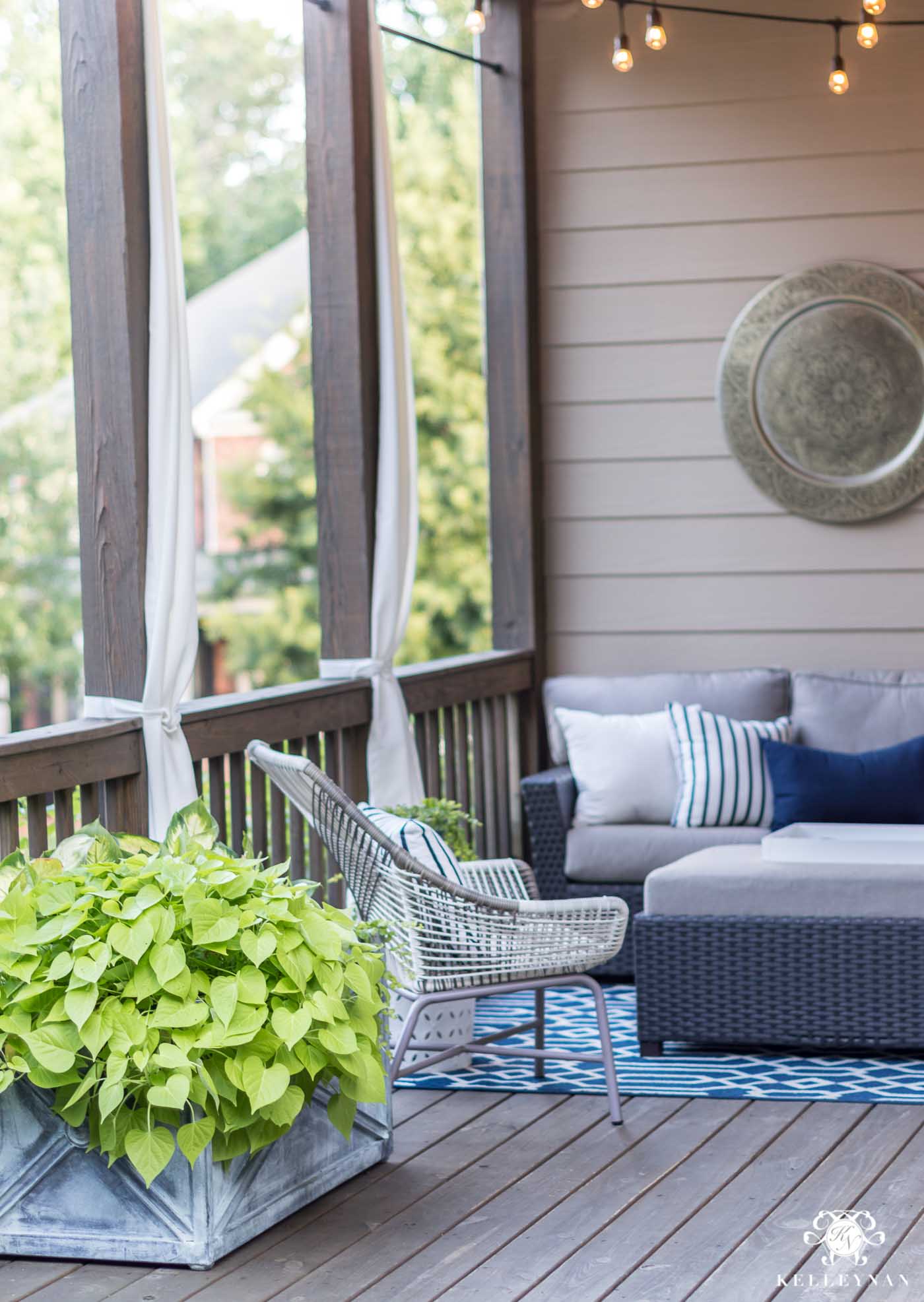 ---
Scroll & Tap to Get the Look

---
I planted two to three small vines that had a few leaves each, on the side of the trough; after a month and a half, here's where we are. To be honest, had I known they were going to do this well, I would have saved myself the effort and planted these in the planter, exclusively. In the trough on the porch, they see morning sun and afternoon shade, but in the planters on the uncovered part of the deck, they get full sun 24/7.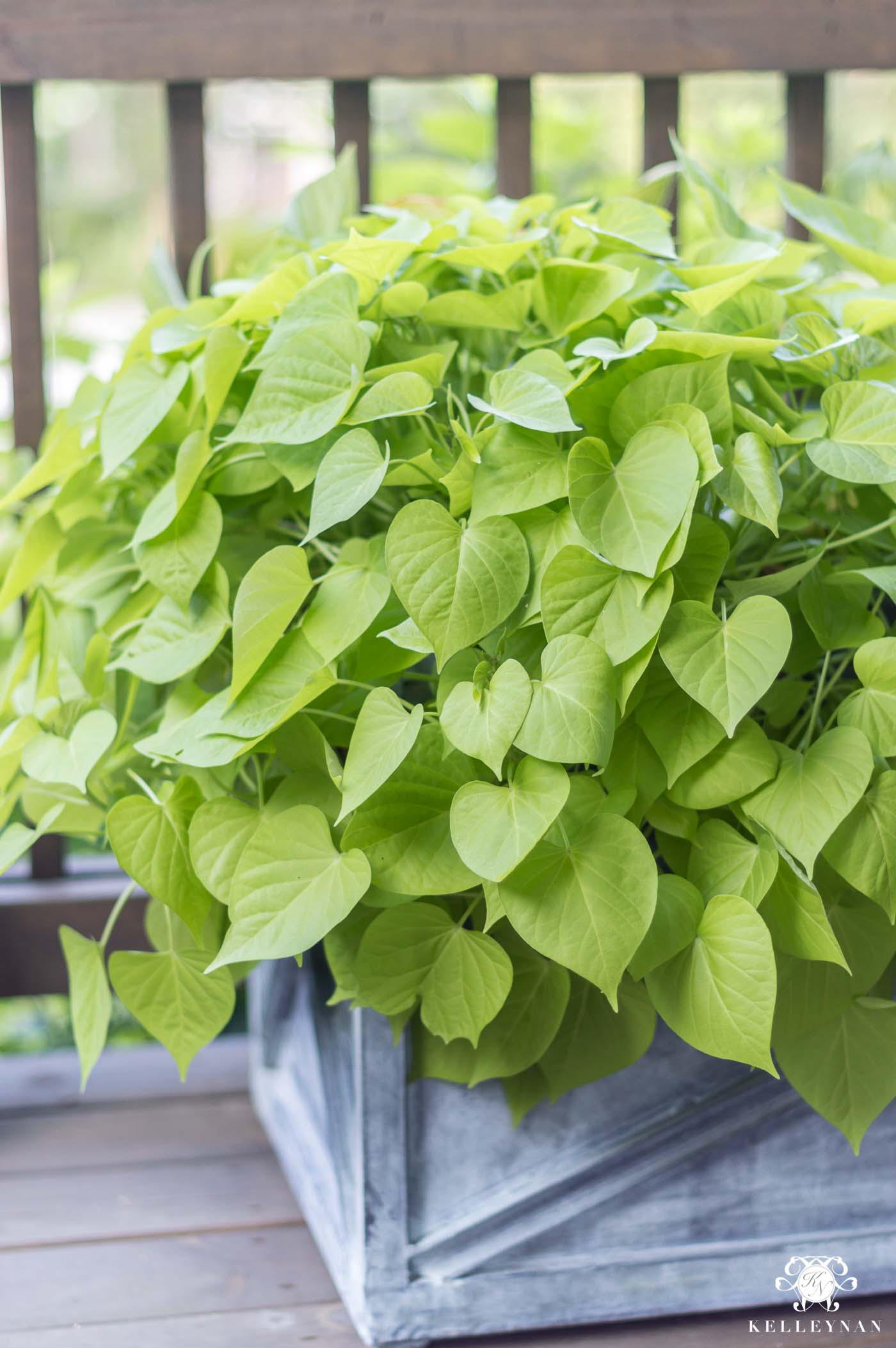 As a caveat, they will take over and cover anything in their way so if you have some slow growers, prepare to watch them disappear under the rapid growth of the sweet potato vines.
2. CREEPING JENNY
Creeping Jenny acts as a fast-growing, vine-y ground cover. It looks pretty, draping out of pots but will also establish itself at different points, growing along the soil within your container. Like the sweet potato vines, I have the Creeping Jenny under the covered deck that sees morning sun and afternoon shade, as well as out in the open in full, 24 hour sun.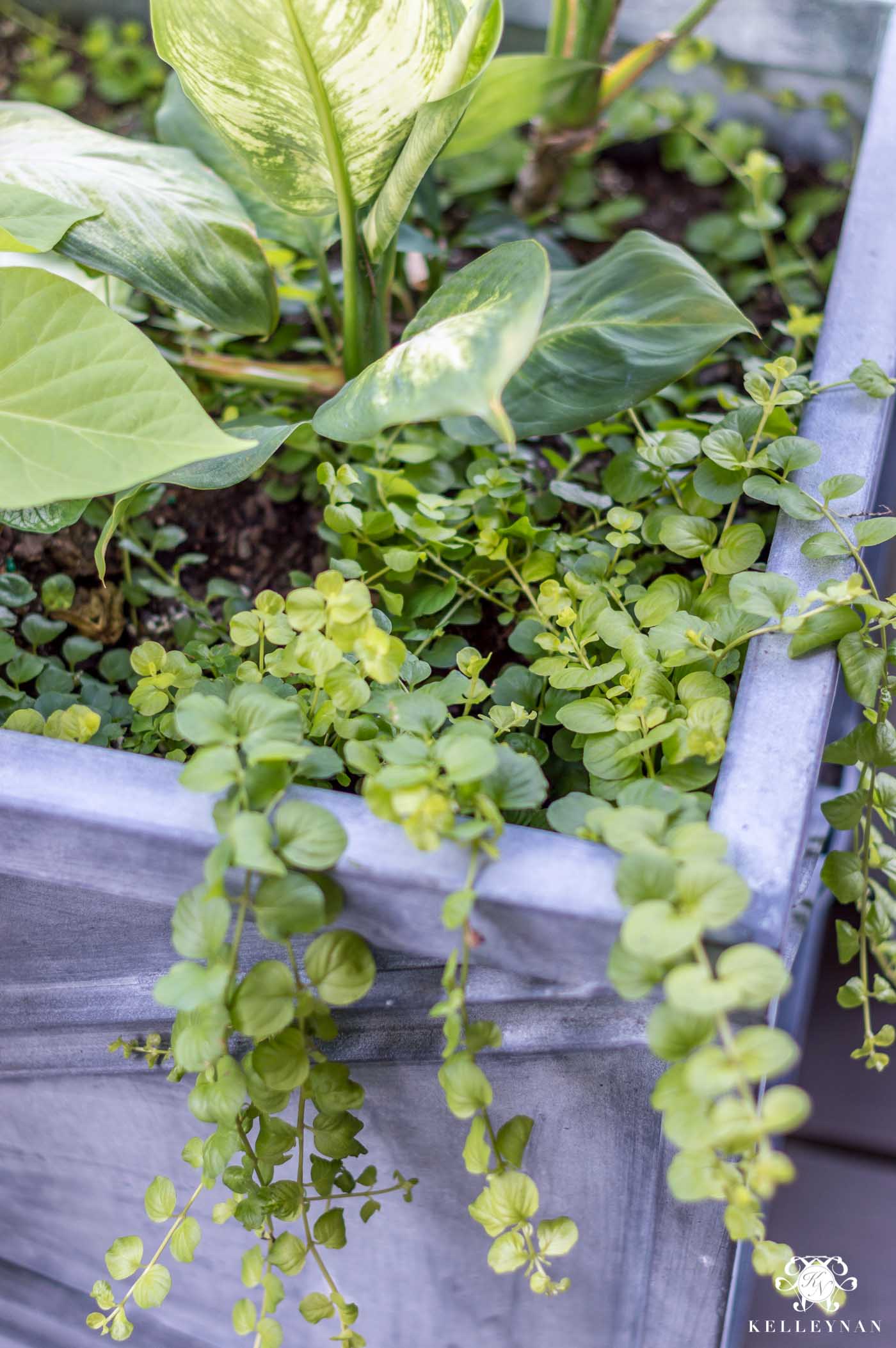 I had a couple left over when I finished my spring planting and because they're so easy and tough, I assigned each to a small pot and positioned them on tables and stands around the deck. Before summer is over, this one will vine down to the ground.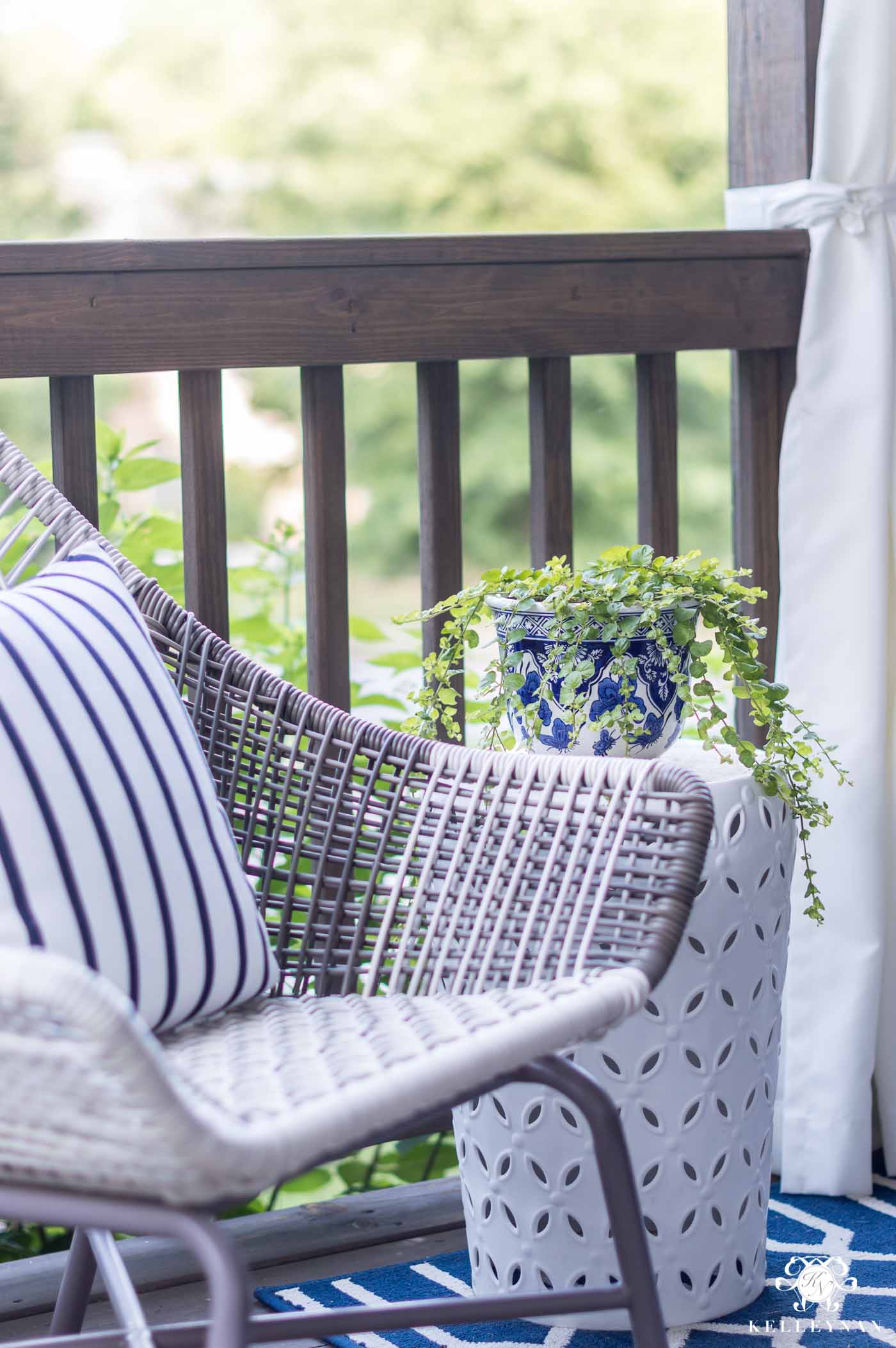 3. SUN COLEUS
There are tons of varieties of coleus and if you are looking to add some color, you can get coleus in shades of green, red, orange… they're gorgeous! Just make sure to opt for the "sun coleus" if you plan to keep them out of the shade. Like they sweet potato vines, they grow up and out and can fill an entire pot; they're hearty and pretty difficult to mess up 😉 I added ONE to this planter and it's multiplied in size over the past month or so. The Creeping Jenny was actually left over from last year; when we cut the dead away this winter, nothing was visible. In the spring, I saw that it was breaking back through the soil, new and fresh, and you can see how much it's grown and spread since.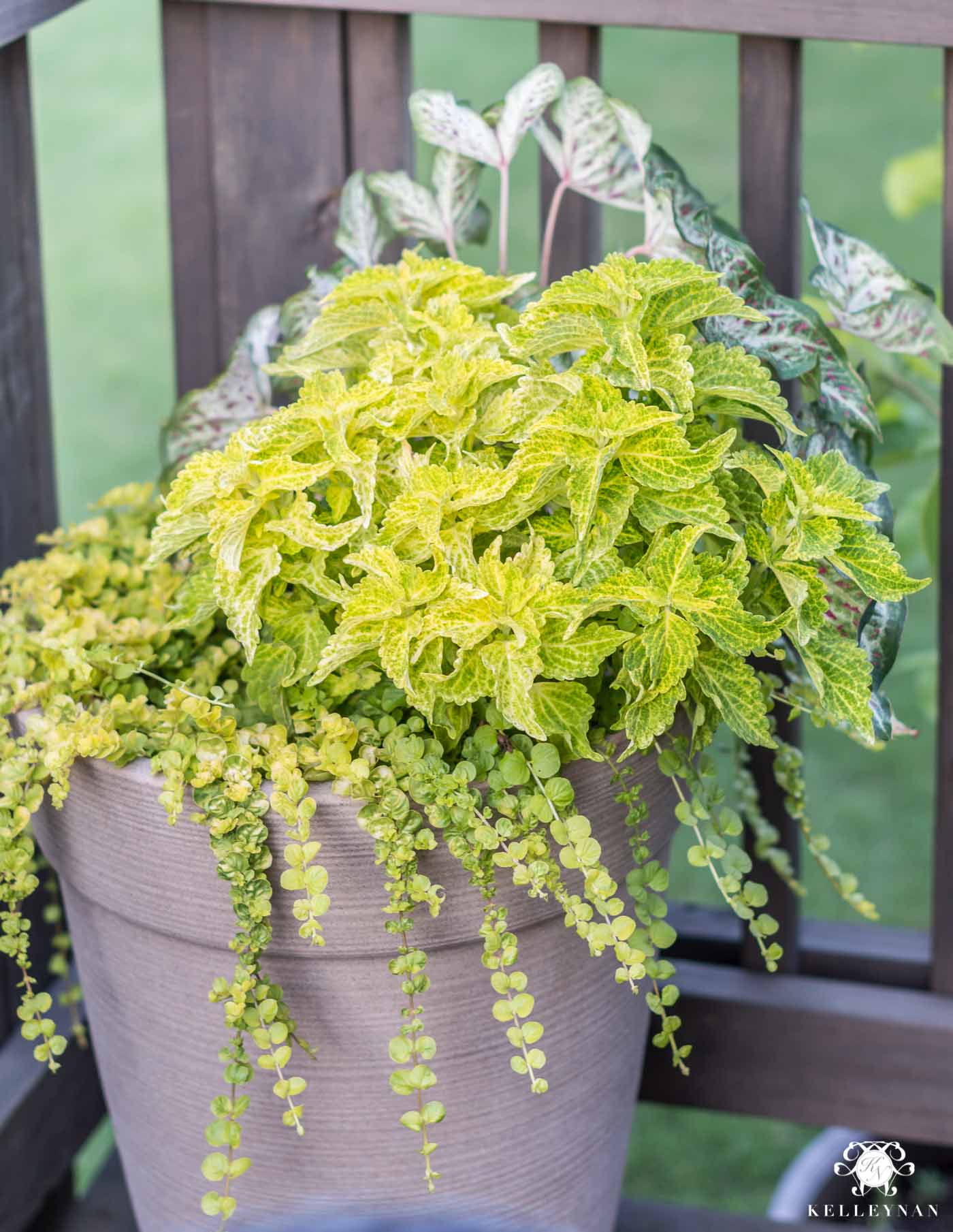 Like the sweet potato vine, coleus can "bully" and cover up other plants that don't grow as quickly. This smaller variety caladium hasn't been choked out, but it's certainly covered.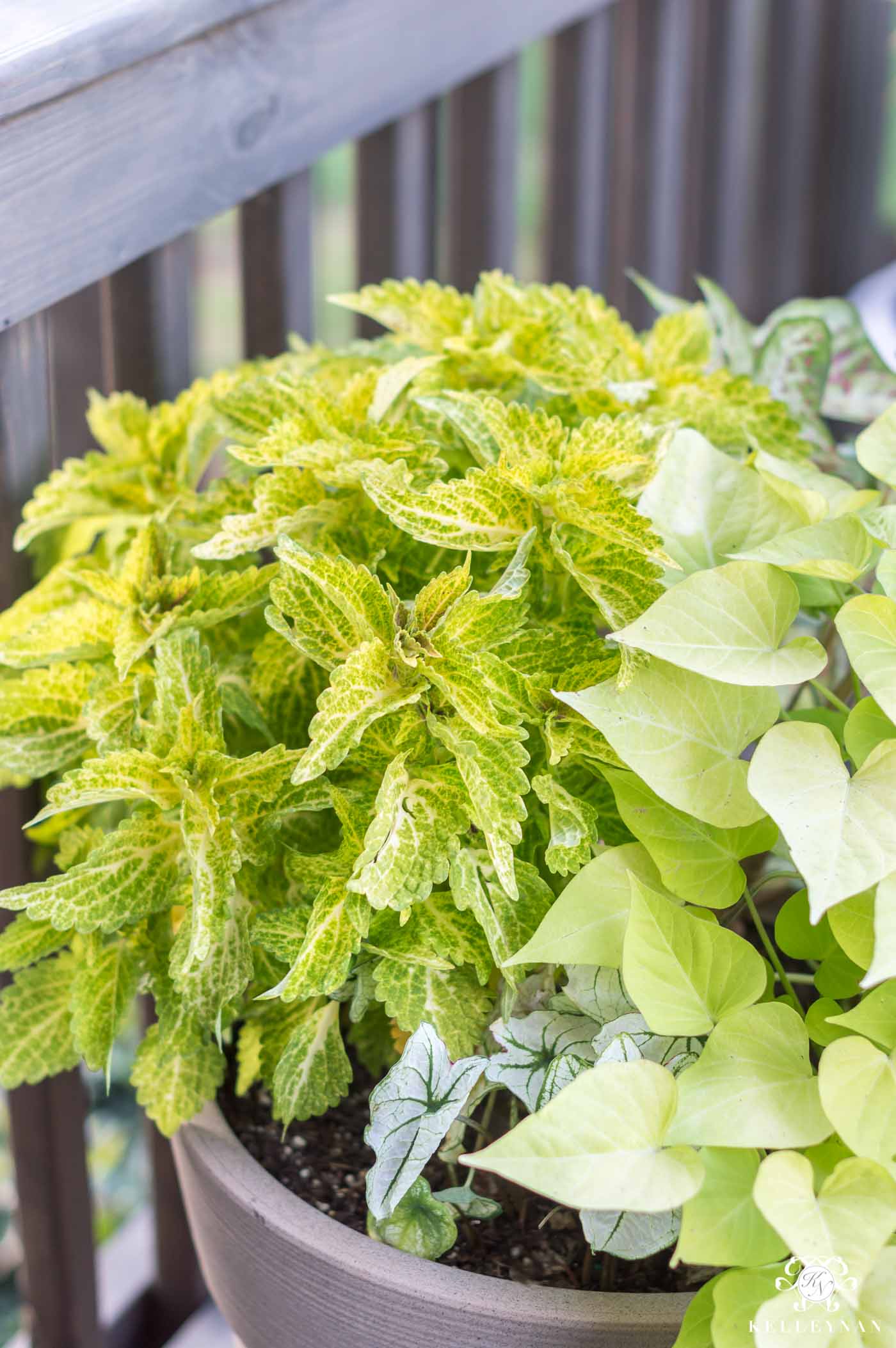 4. CALADIUMS
Caladiums also come in a variety of colors, from green and white, to red and green – but, you also have to make sure you select the varieties with tags indicating "full sun". These will multiply quickly and grow tall but you have to be careful – I have had them choked out by coleus in past containers. Nonetheless, they are strong, despite their dainty looking stems, and have been a staple on our deck for years.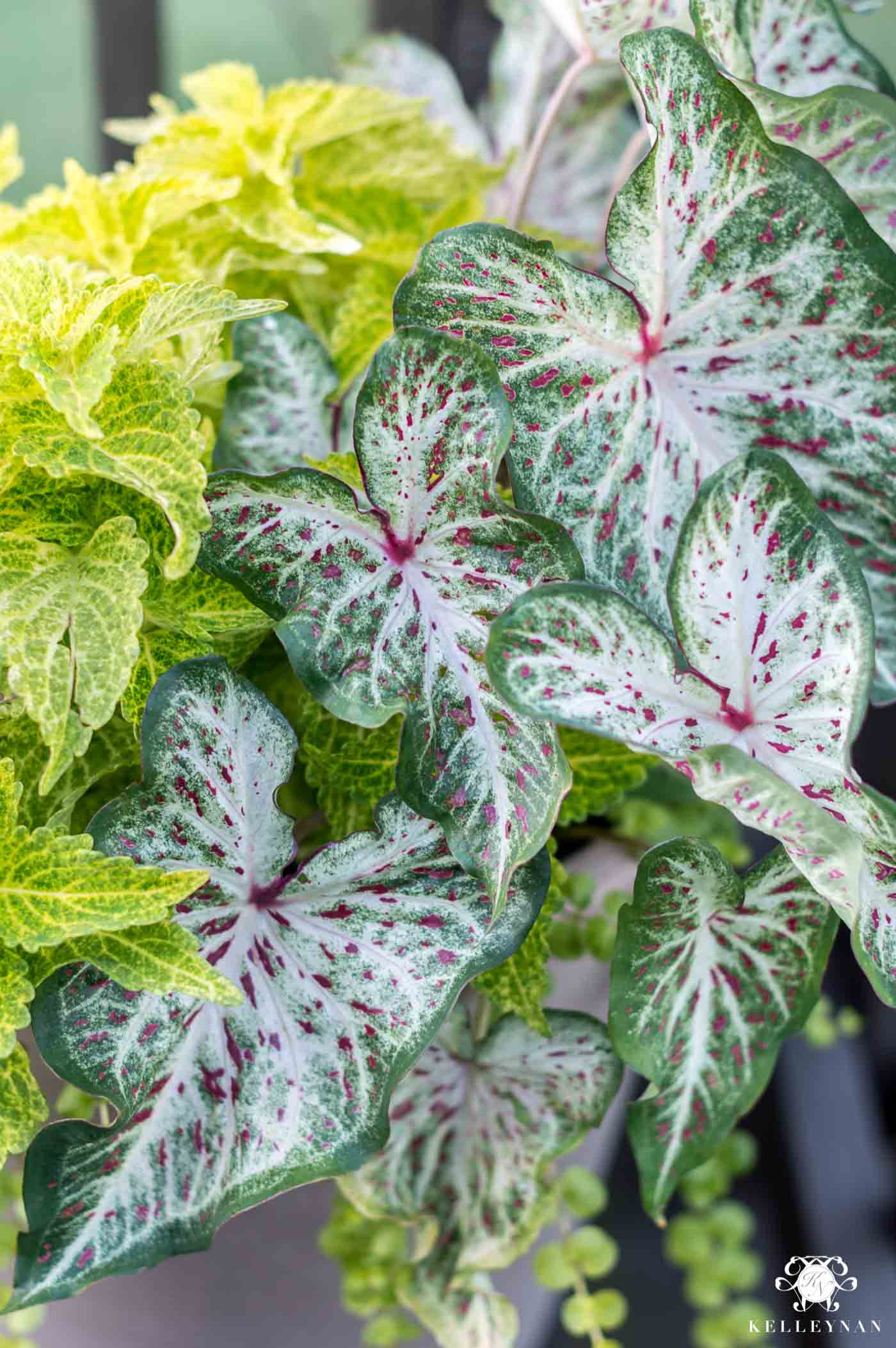 I got lucky with all four of these but having had all of them for multiple years, I can confirm that their vitality wasn't a fluke. If you struggle with keeping green alive and vibrant, give these a try.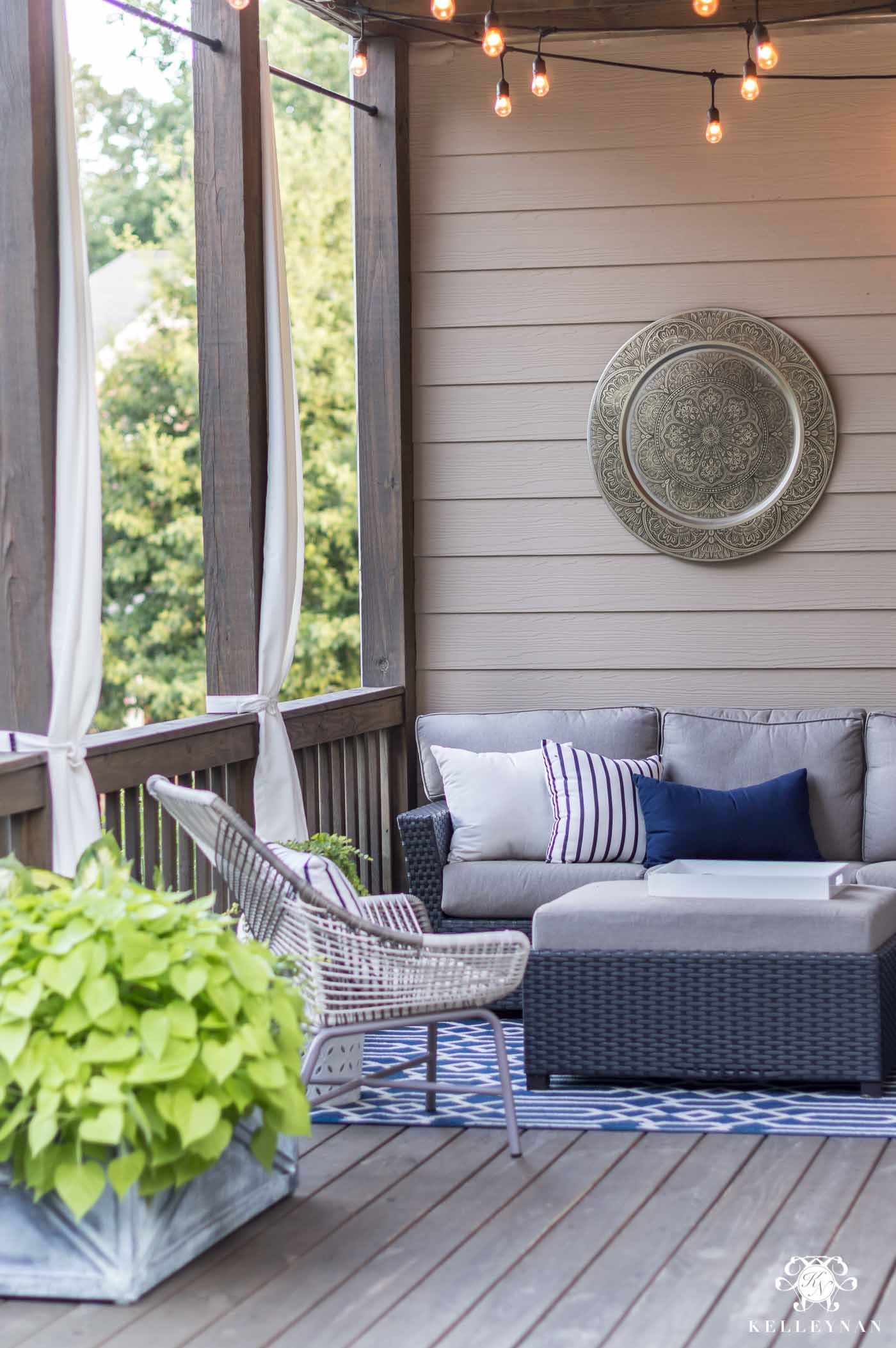 A FEW OTHER EASY "WINNERS"
In addition to the four sun loving, green container plants, we have a few other favorites that have done well for us, year after year. Dave plants Serrano peppers each year, directly in planters on the full-sun deck, and each year, they yield enough to supply a Kroger produce department for three months, minimum. He picks and eats one to two at each meal and still can't keep up with all the plants produce- we give a ton away and I think he even freezes them at the end of the year (don't quote me on that, though 😉 ). I snapped this just before he picked his first peppers of the year. If you don't have space/want to plant in the ground, like herbs, these are great container vegetables.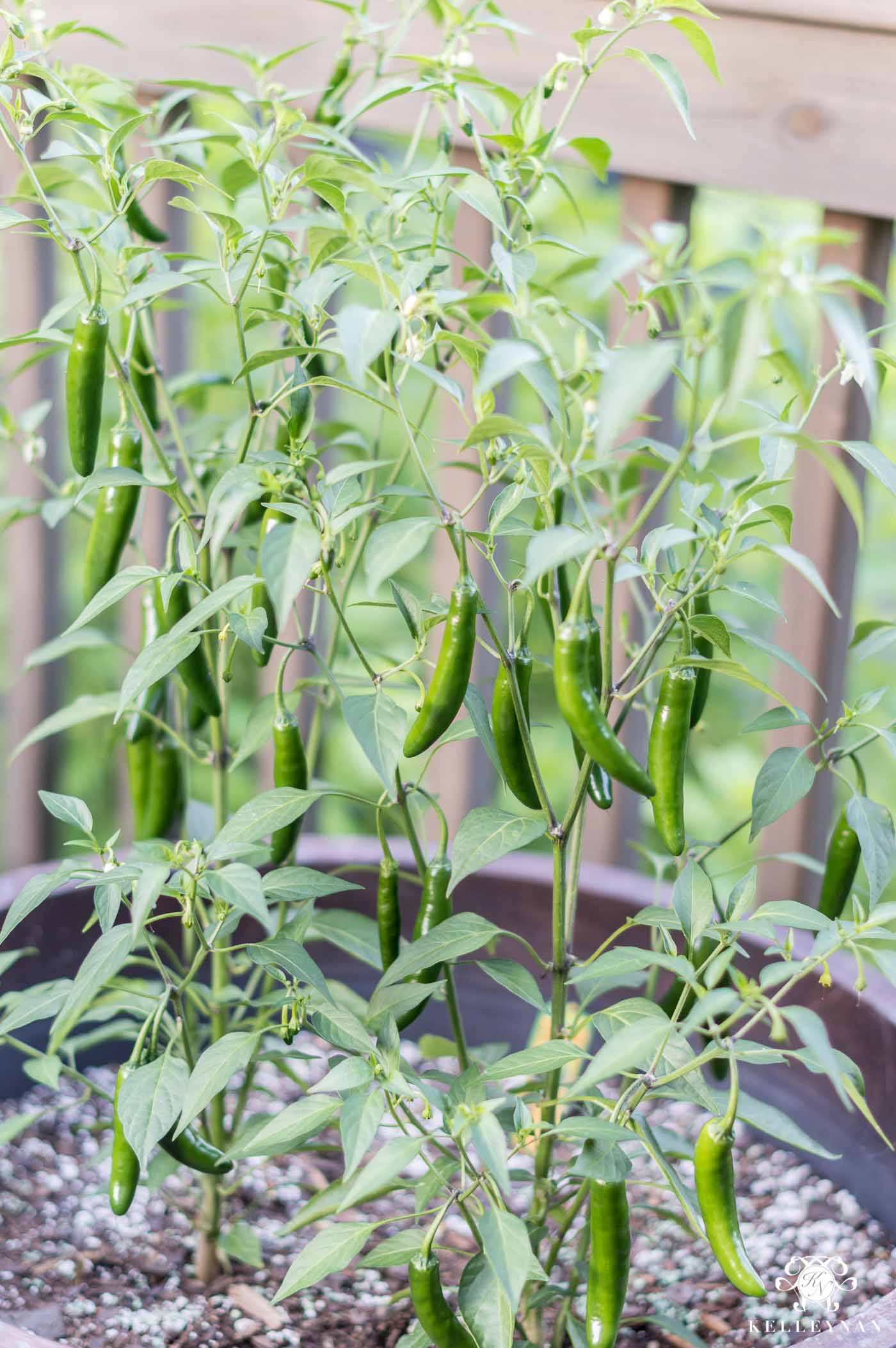 I've talked about my limelight hydrangeas many times but I wanted to show what they're looking like today. Dave cut them all down to the ground in February – three months later and they are over five feet tall, and, we're just starting to see the first signs of blooms on the way. Even though these are on the side of our house and get morning sun and afternoon shade, limelights are "panicle" hydrangeas which mean they can tolerate full sun. We actually added a bunch of firelight hydrangeas to the back of the house a month ago – it's still too early to give any feedback on those 😉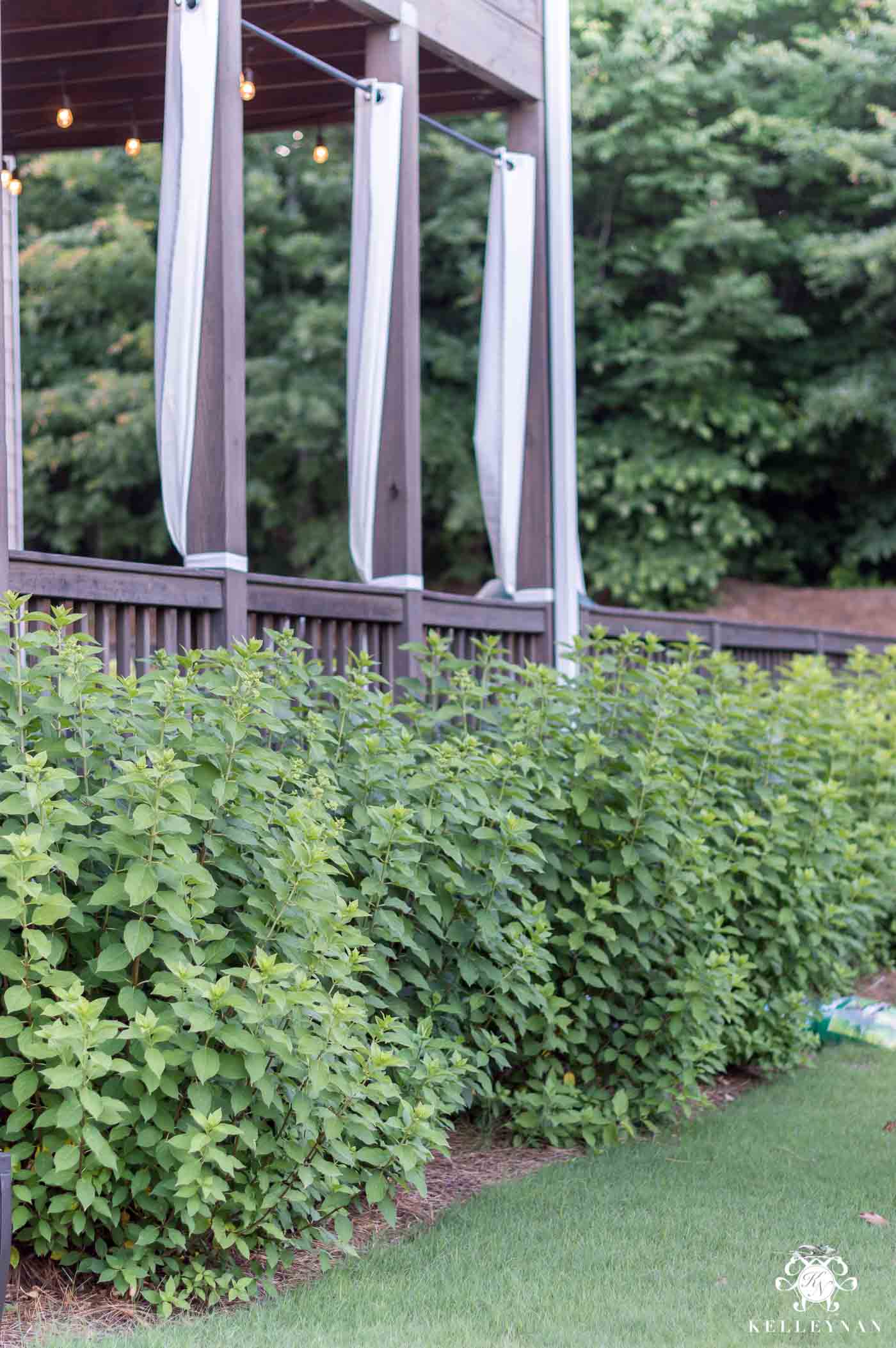 You probably already know my trusty go-to's on the front porch too – Boston ferns. They get sun and shade but the one in the shade is significantly larger than the one that soaks in more sun 😉 They're simple- I plop them in their original containers, in the urns filled with stacked bricks and give them each half a pitcher of water a day (in the morning). I get them in March and they will last until I take them away to make room for pumpkins in the fall.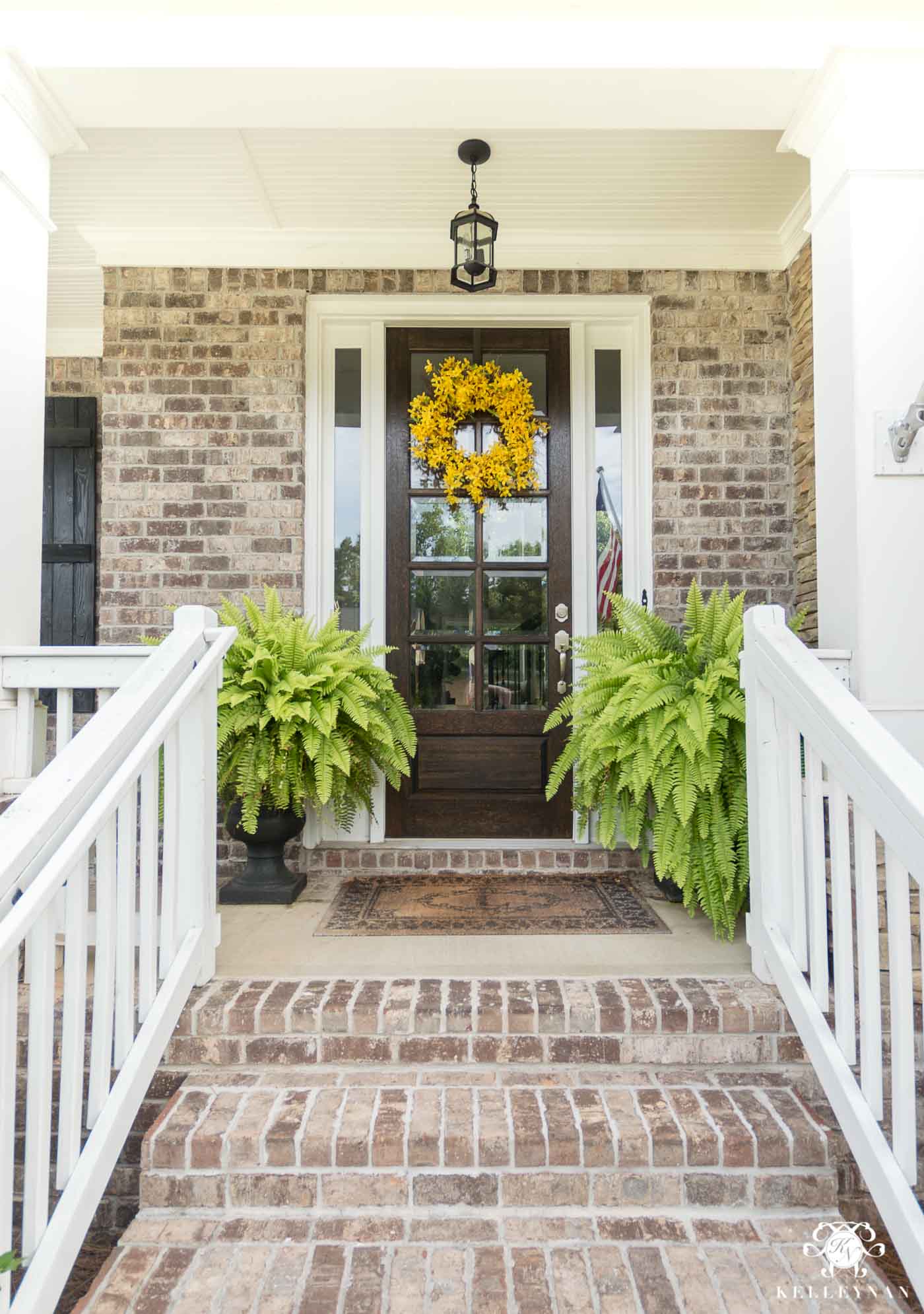 ---
Scroll & Tap to Get the Look

---
And just an update – all my snake plants are still killin' it inside. I have four of them and they continue to be as happy as ever with their 1/4 cup (literally) of water every few weeks. If you haven't seen my other posts where I brag about encourage because of their ease and longevity, these are the plants for all of you who have black thumbs.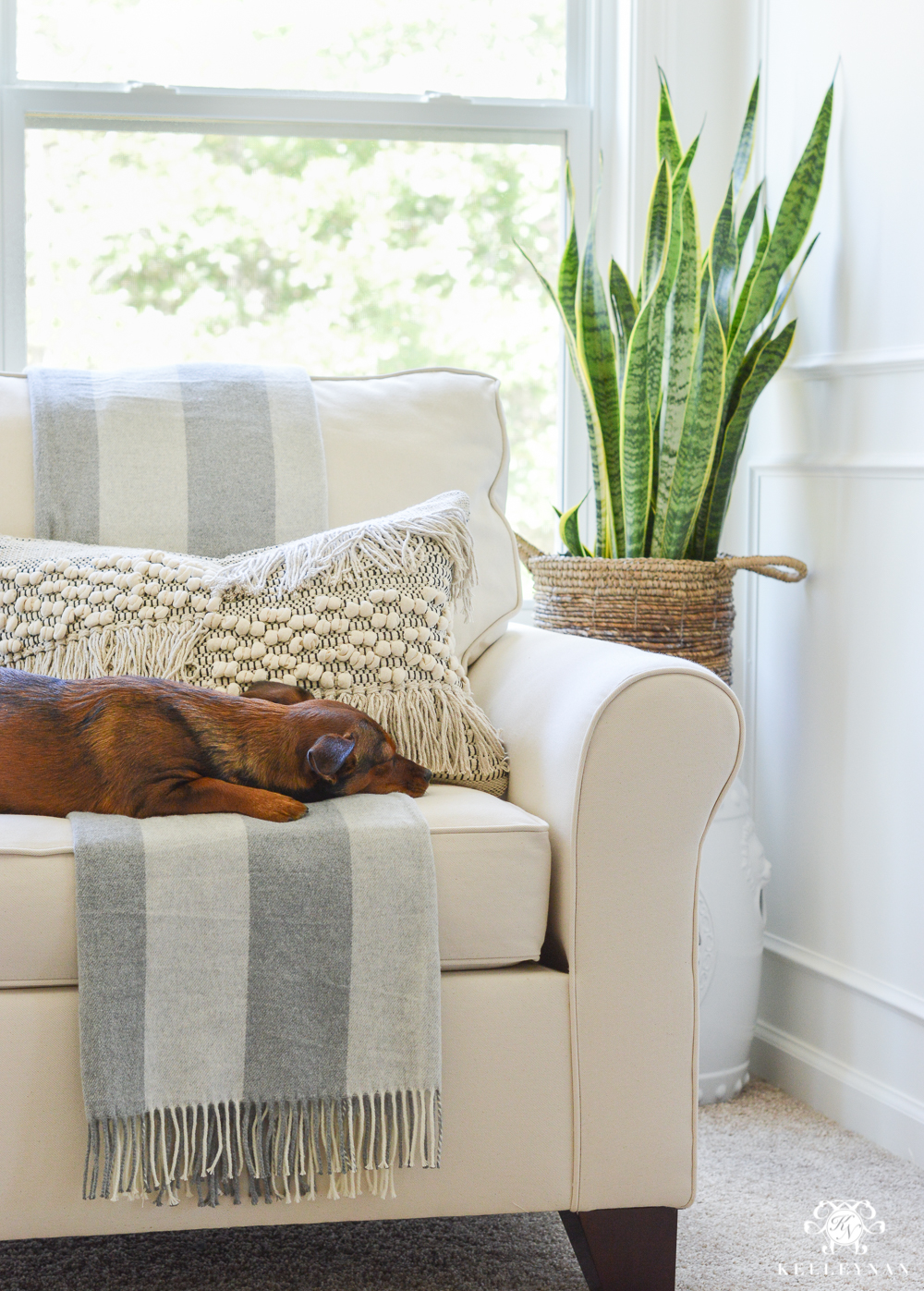 ---
Scroll & Tap to Get the Look

---
Have any tough resilient container plants you swear by? Feel free to drop them in the comment section. I have a lot of projects planned and on the horizon so if you don't already, be sure to subscribe to my emails at the bottom of this post!