If you've ever wondered what really goes on in our house that isn't reflected in the photos you see here, friends, today is your day. In honor of Father's Day, I'm joining my core group of ladies to share an unedited Q&A from the men in our lives; today, we are getting real. Like, really real. And after seeing Dave's answers, I'm thinking maybe a little too real haha. I'm including links to the other husbands' interviews at the bottom of the post so be sure to visit them all- I have been dying to read these! The truth is, I felt like I'd been training my whole life for this. I ask Dave random questions, pretty frequently, to gauge his answers and make sure we'd win, just in case we were to ever end up on the Newlywed Game (my competitive fantasies are twisted, I get it haha). That being said, this isn't about matching answers, but about Dave giving you all some insight you wouldn't normally get. Some responses, I was totally unfazed by and others, I was a little surprised. Maybe not surprised about the truth, but surprised that he decided to share.
If you're new here, I hope I don't scare you away before we get to know each other ;). Feel free to give me a little background check by exploring some of my projects in the menu bar at the top of the screen.
Dave and I have been married for almost six years; he's laid back and I'm way more… umm… well… not. haha He has a kind heart, generous soul, and can make friends with anyone. We were best friends for years, and we still are. He keeps me laughing and the simple fact is- I 100% adore him. Before Dave takes over, here's a quick rundown (my version of virtual speed dating).
Parental status… this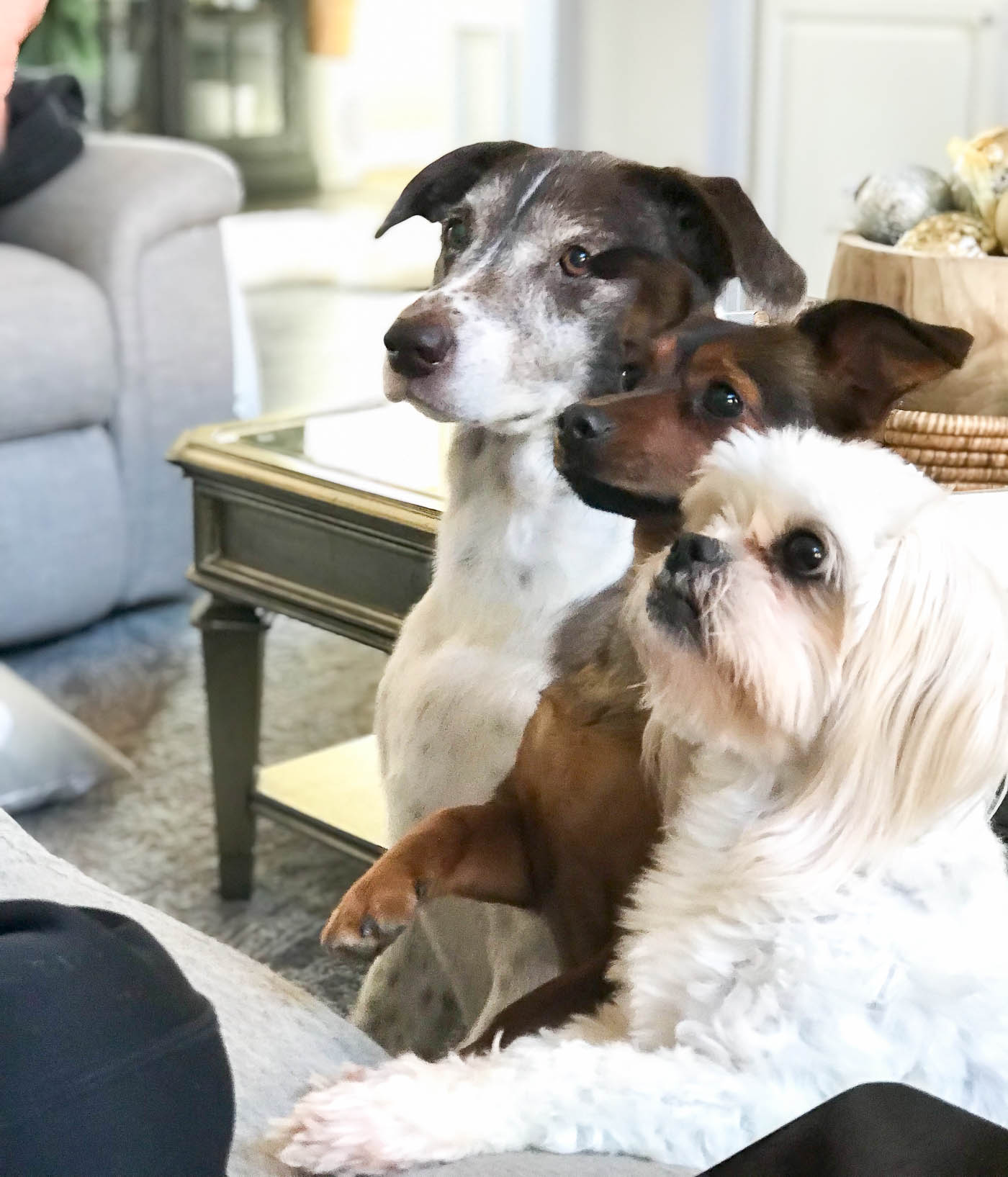 In the early days, we were like this…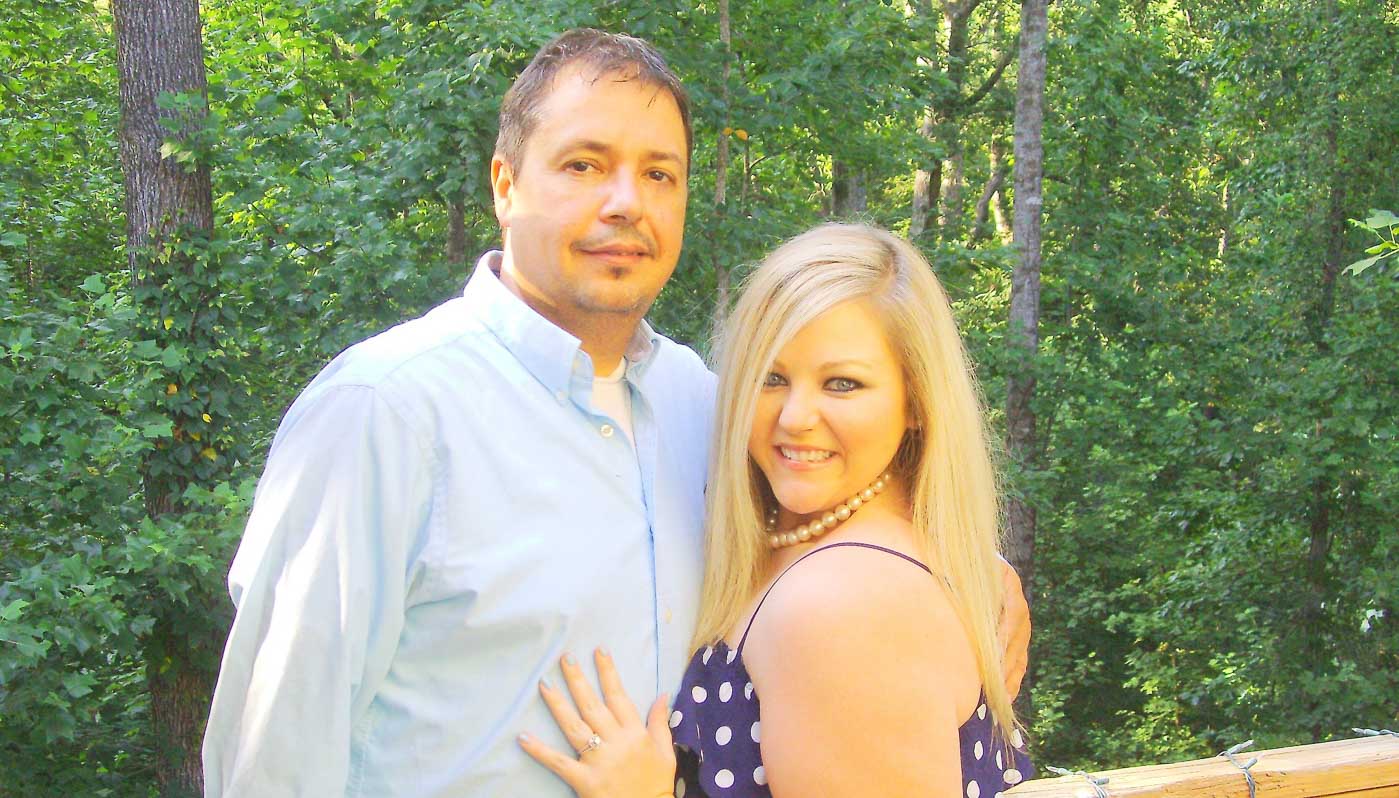 and on our best day, we were like this.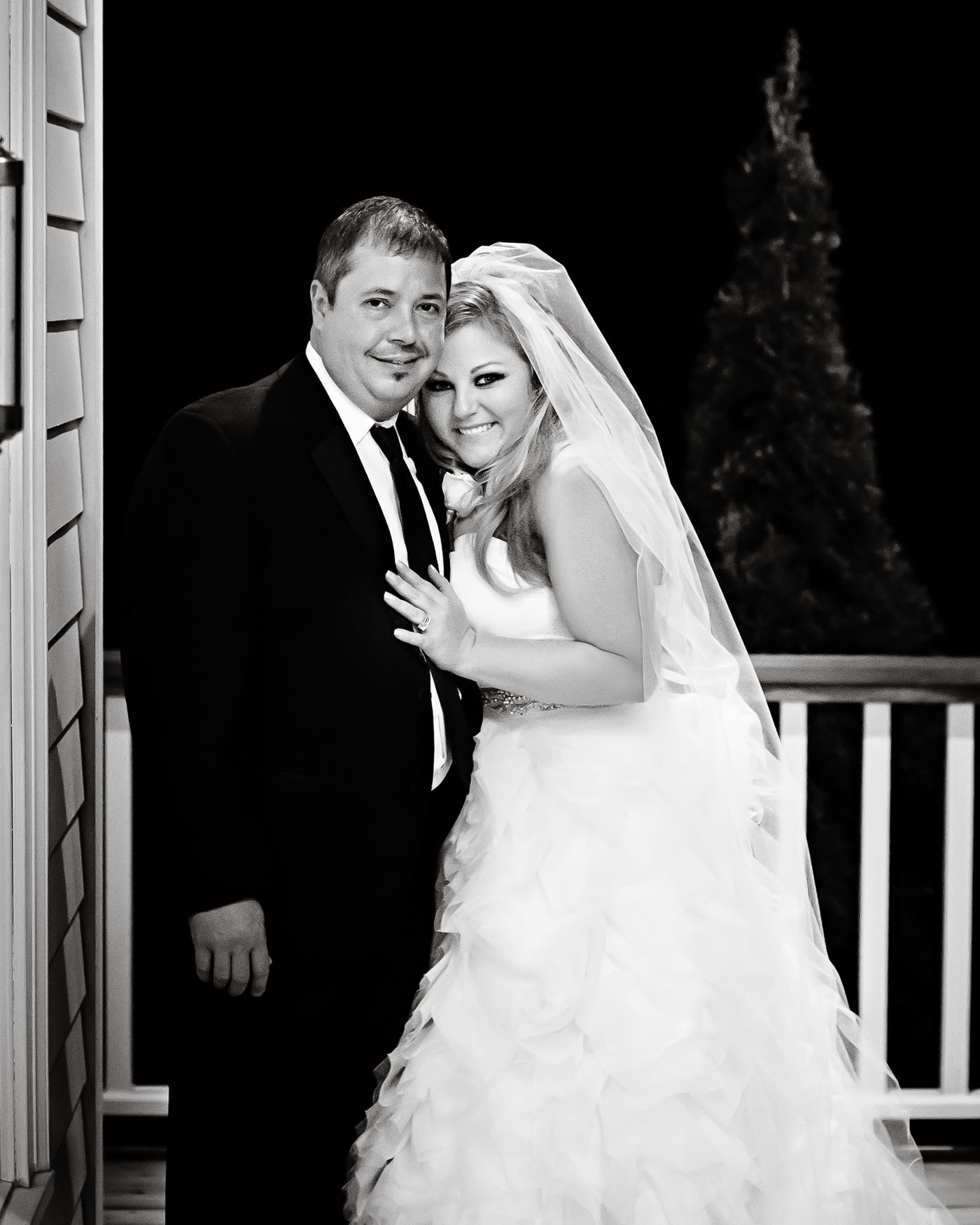 Sometimes we're like this…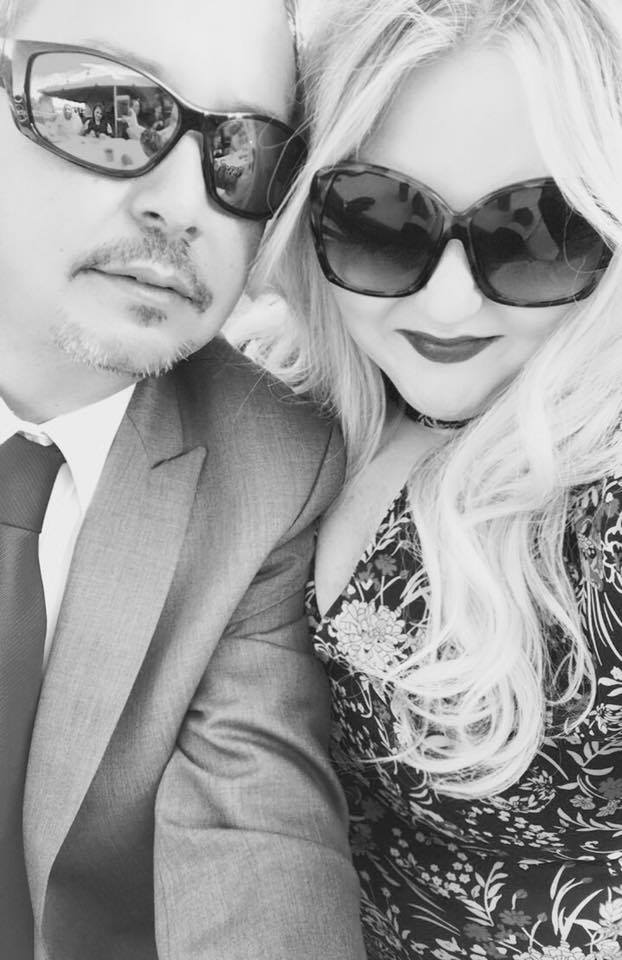 and sometimes like this…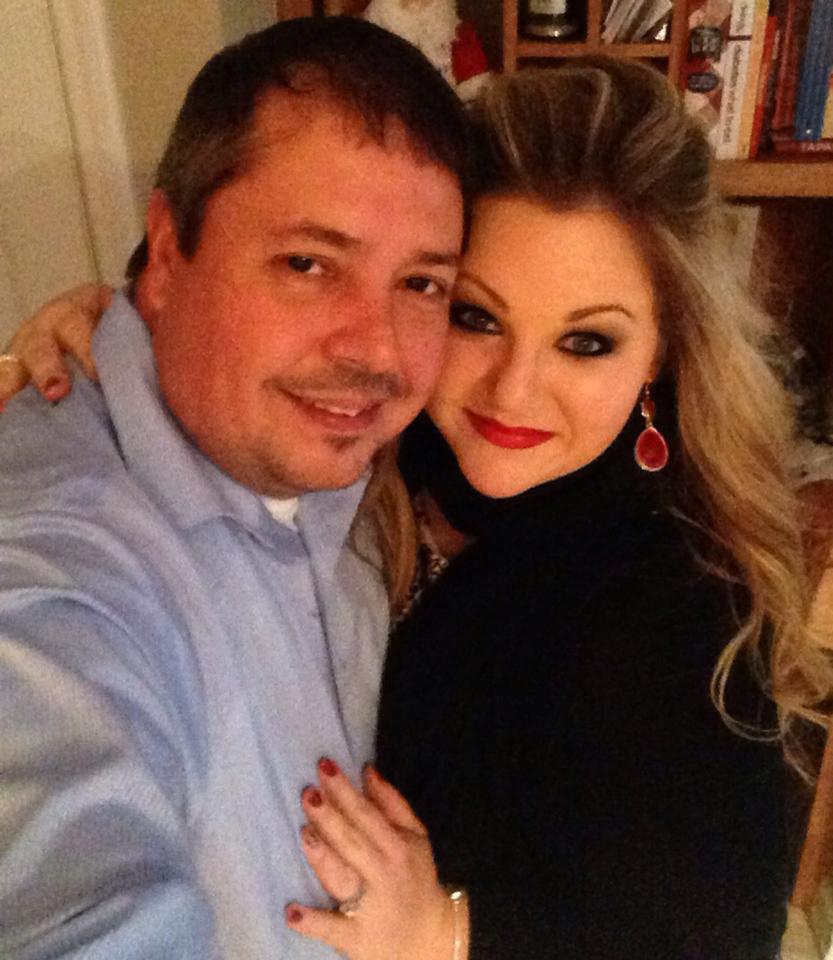 but chances are, if we're together, more often than not, we're probably like this.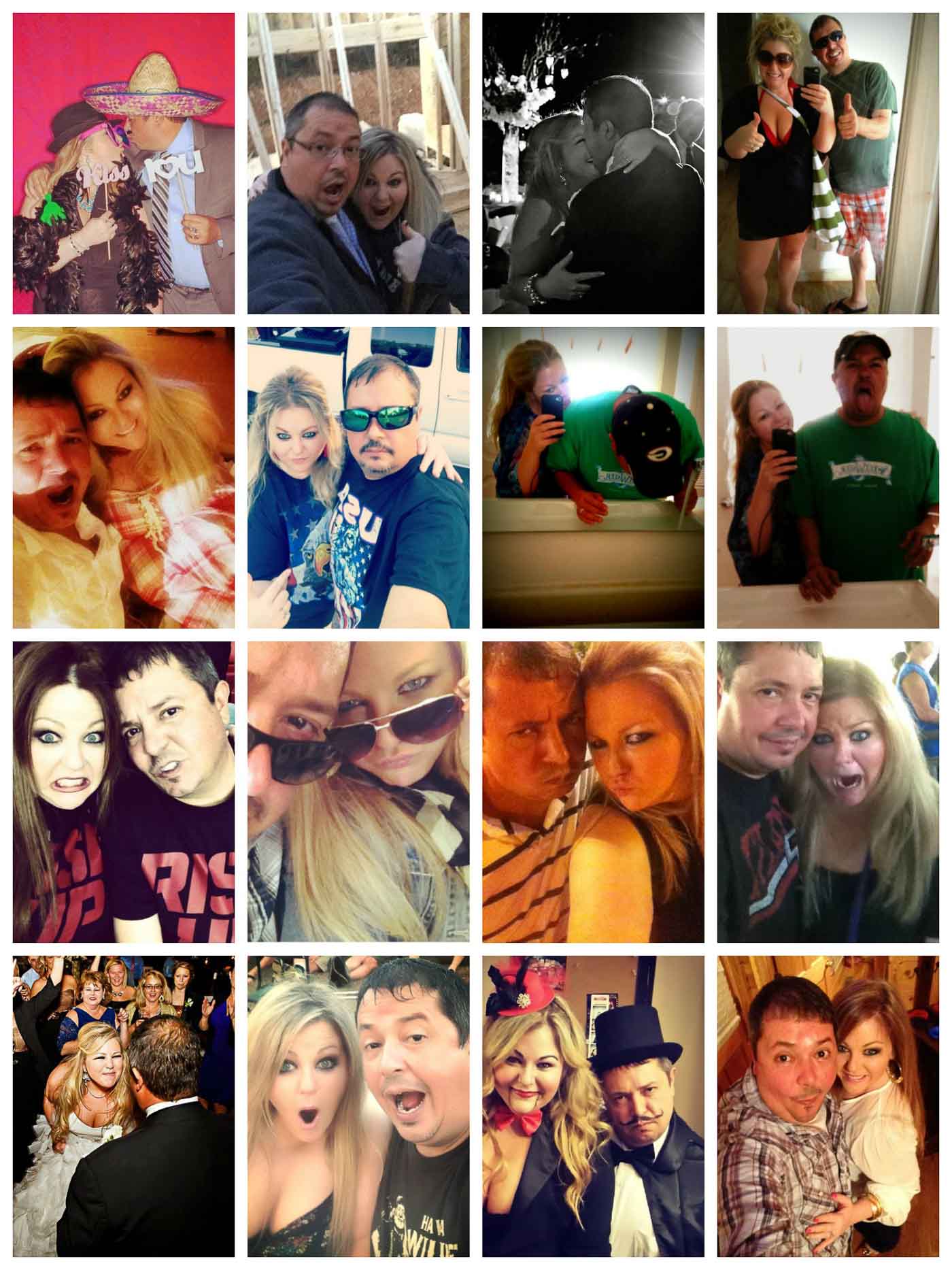 So now, I'm handing it over to Dave (I'm sorry- "D-Lo" 😉 ) And you guys, remember, this a judgement free zone! haha
1. WHEN DID YOU FIRST MEET  YOUR WIFE AND WHAT WAS YOUR FIRST IMPRESSION?
D-Lo: I first met her at a get-together at a friend's house.  She was dating one of my friends. She seemed really outgoing and fun, and very cute!
KN: Umm… I know how that sounds haha. Trust me- there was a long gap!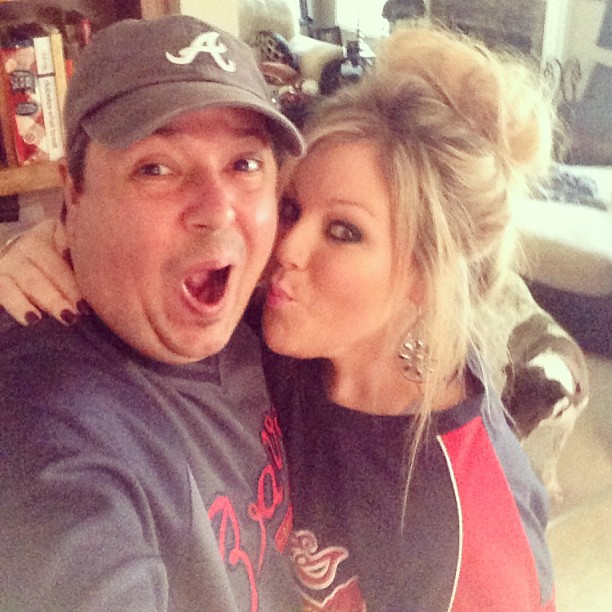 2. WHICH ONE OF YOU MORE AGGRESSIVELY PURSUED THE OTHER?
D-Lo: At first, Kelley (although she will vehemently deny it), but years later, definitely me!  We were friends for years before anything romantic happened between us. I grew tired of watching her date other guys, so I decided I was gonna have to "Put a ring on it"!
KN: He's right- I TOTALLY didn't! But, he sure does know how to "pick 'em!" 😉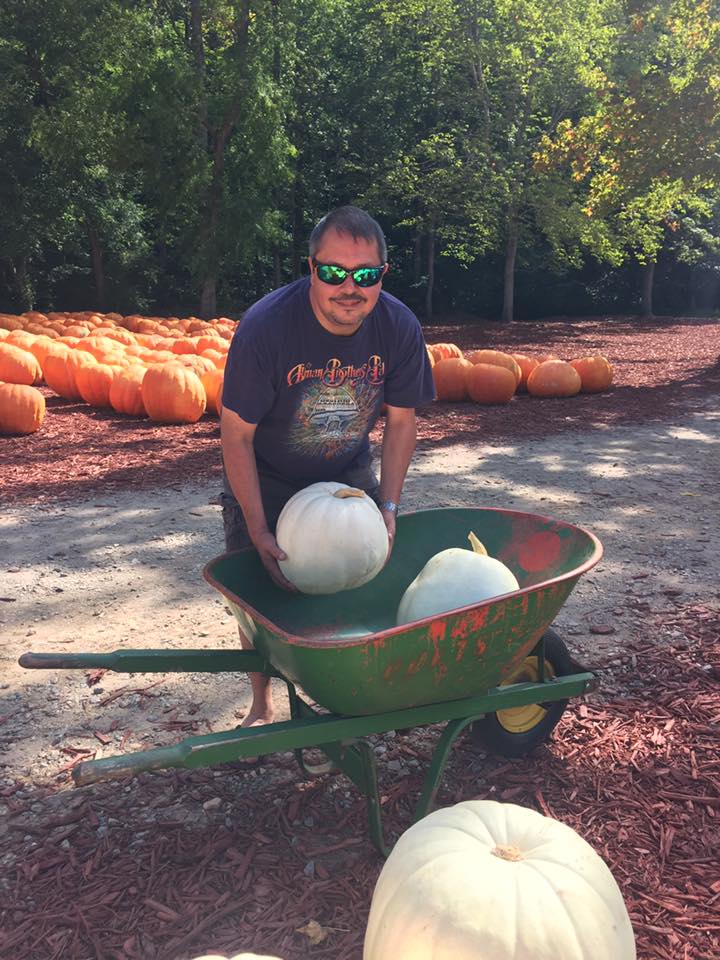 3. WHAT ARE THE BEST AND WORST PARTS OF YOUR WIFE'S JOB AS A BLOGGER?
D-Lo: The best part is that she gets to work from home doing a job that she absolutely loves.  The worst is that she is ALWAYS working (24/7)
KN: If there was a "Supportive Husband" award, Dave would win it, hands down, any day of the week. I will never deny how lucky I am to have such a patient guy, who has always been willing to pick up my slack so I can chase my dream and do what I love <3 Truly. Especially when I was working two jobs (before I was able to run KN full time). See when I announced I was transitioning to blogging full time HERE.
4. HOW DO YOU EXPLAIN WHAT YOUR WIFE DOES FOR A LIVING TO YOUR FRIENDS AND COWORKERS?
D-Lo: I'm not very good at explaining it.  Kelley has overheard me trying and has since been working on giving me an "elevator pitch" to use.  I usually just say that she is a professional blogger and social media influencer.
KN: HAHA!! This is so true. The micromanager part of me wanted to jump in and interrupt his conversation to make it a "teaching moment". We're still working on it 😉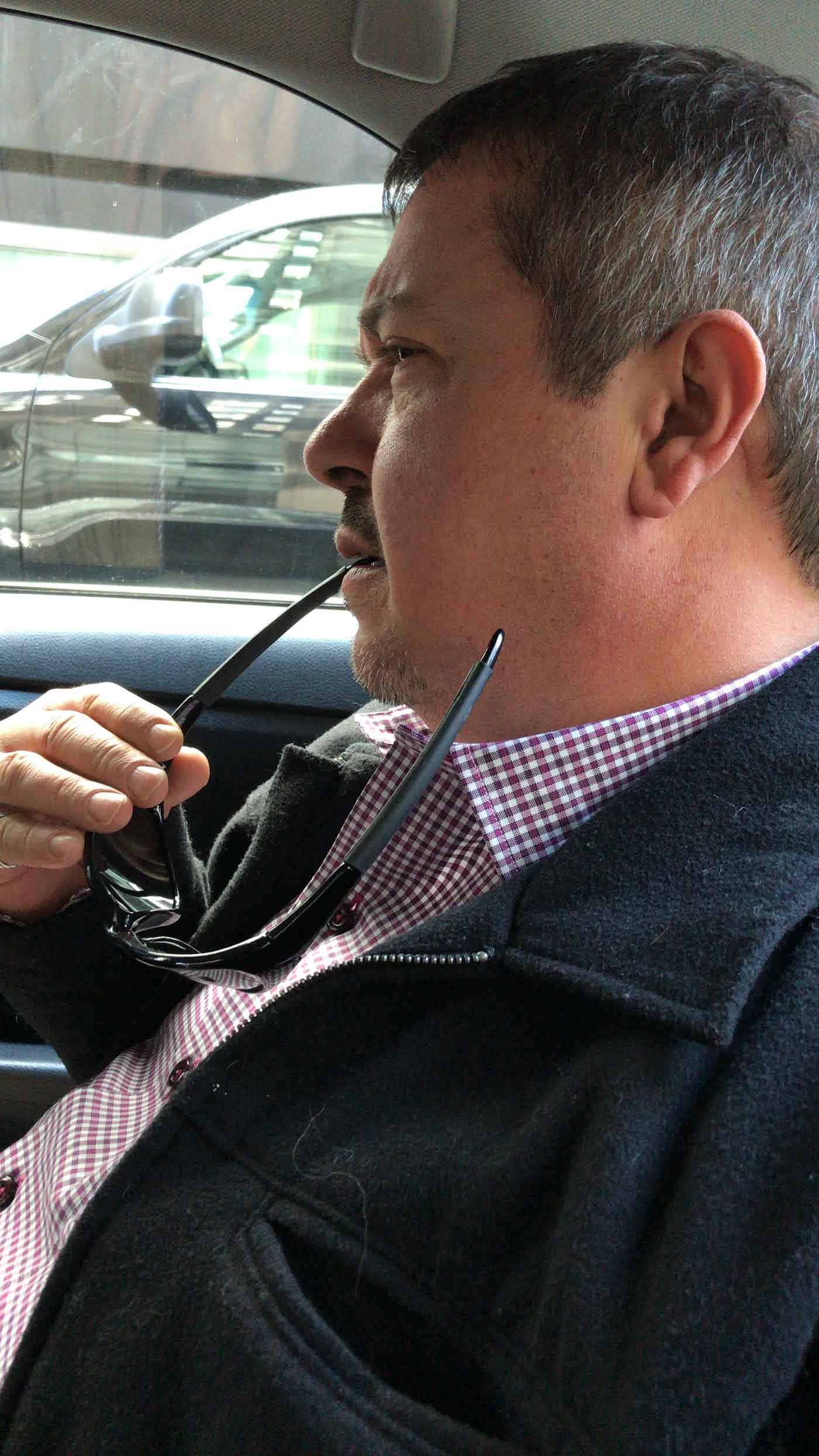 5. WHAT IS SOMETHING WE MIGHT NOT KNOW ABOUT YOUR WIFE?
D-Lo: She can kick incredibly high, like Chuck Norris high!  She also makes up her own dances and then tries to teach them to me.   Also, her signature karaoke song is "Nothing Compares 2 U."
KN: Ok, there goes that competitiveness, again 😉 I know- the kicking thing is weird. And Dave thinks I'm trying to teach him dance moves? I'll take it. I had a homecoming date in high school who wouldn't dance with me because someone told him I wasn't a good dancer. If that's how far I've come, I'll take it! haha
6. WHAT DOES YOUR WIFE DO THAT DRIVES YOU CRAZY? WHAT WOULD SHE SAY YOU DO THAT DRIVES HER CRAZY?
D-Lo: She puts the toilet paper roll on upside down. She also loads the dishwasher funny, not optimizing the space properly. Finally, she is OBSESSED with picking, scratching and squeezing any blemish that she finds on my body, usually without asking first.  She would probably say that I get stuck singing or humming the same song over and over for too long.  I don't consciously realize that I'm doing it. She also hates how late I sleep in on the weekends, instead of getting up to "join the day!" Lastly, I am a huge impulse buyer at the grocery store, especially if I go shopping hungry. Drives her nuts!
KN: Yes. Just yes. Gross and yes. PS: my TP method allows for an easy "spin and rip" – the world will catch on one day – and I like how he used "finally" like he's had this little list in his back pocket for a while 😉
7. IF YOU HAD AN EXTRA $10,000 THAT YOU COULD DO ANYTHING YOU WANTED WITH (NO SAVING, INVESTING OR DONATING ALLOWED!), WHAT WOULD YOU SPEND IT ON? WOULD YOUR WIFE BE ON BOARD?
D-Lo: Get Lasik and Pre-lex surgery. I'm blind as a bat, and over my contacts and glasses.  She would probably not be on board.
KN: I'm just gonna leave this right here…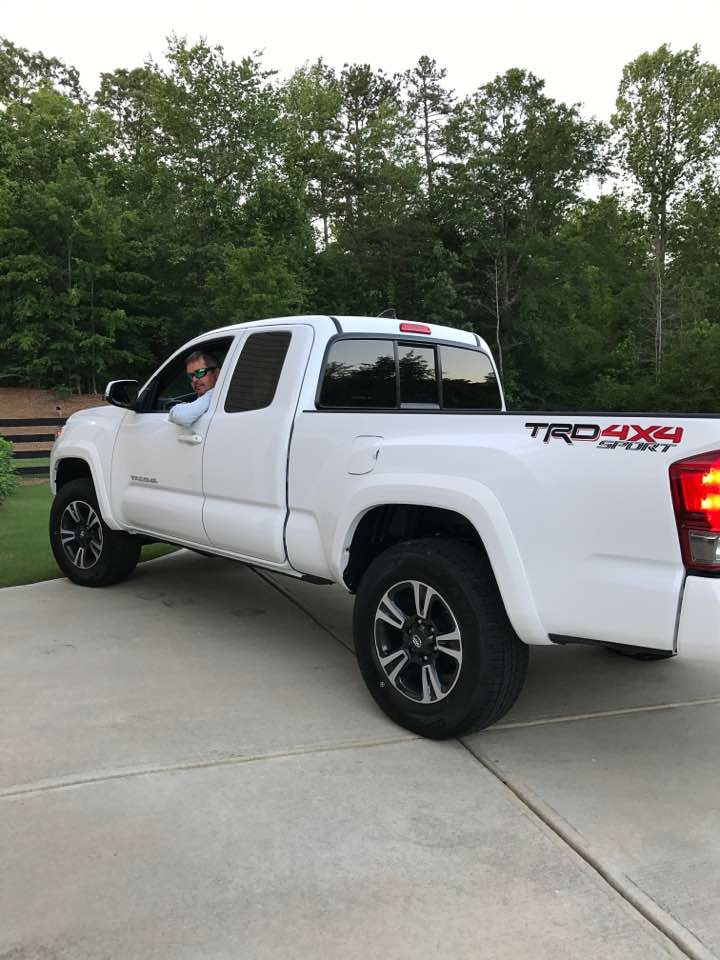 8. YOU GET HOME FROM WORK AND YOUR WIFE IS GIVING YOU "THE LOOK". WHAT HAVE YOU MOST LIKELY DONE TO GET YOURSELF INTO TROUBLE?
D-Lo: Thrown away leftovers she was planning to have for lunch, or put something in the dishwasher that is not supposed to go in there.
KN: Every. Time.
9. WHAT'S YOUR FAVORITE TRIP YOU HAVE TAKEN WITH YOUR WIFE/FAMILY?
D-Lo: Definitely New York City a few months ago.  I'm ready to go back. My kinda town!
[You can see our highlights (from a total tourist's perspective) HERE]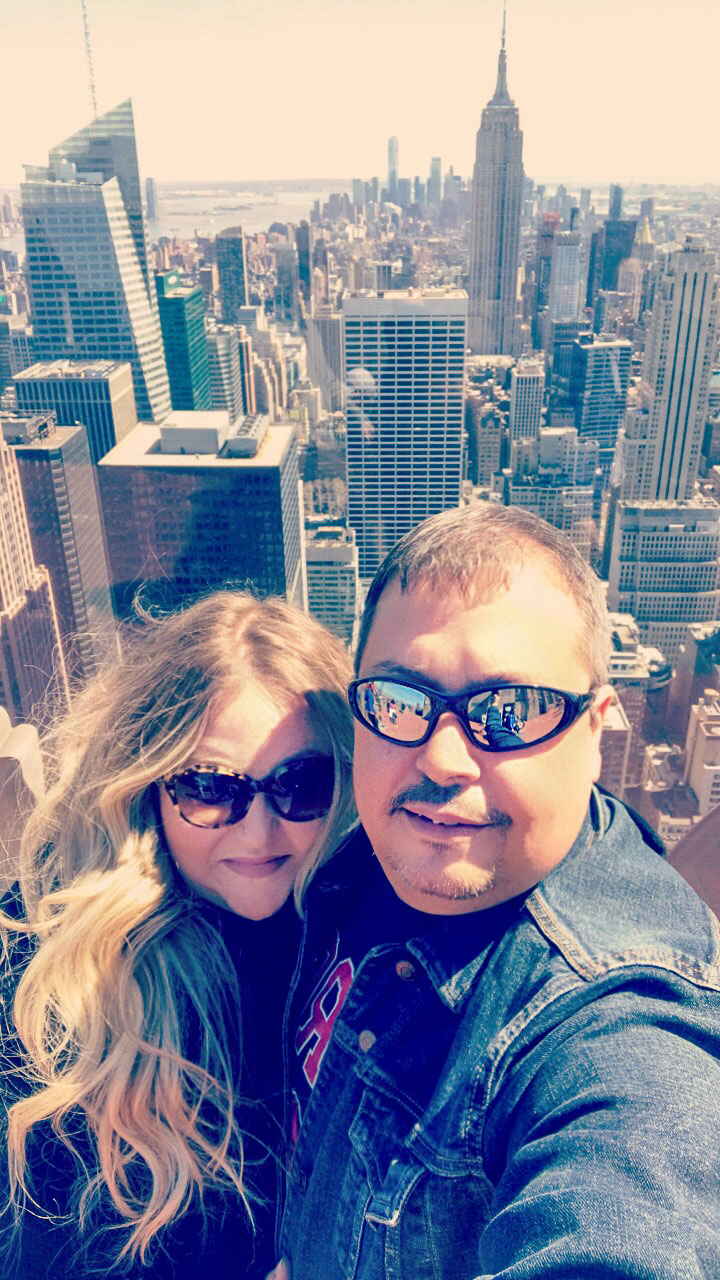 10. DO YOU HAVE A "MAN CAVE"? IF SO, WHERE?
D-Lo: I do, and it's in the unfinished basement. It is intermixed with acres of Kelley's past and future décor pieces, but I still manage to squeeze in all of my guitars, amps and other essentials.
11. WHAT'S ONE THING YOUR WIFE IS SUPER "PICKY"/PARTICULAR ABOUT?
D-Lo: What does/does not belong in the dishwasher.  
KN: It's really very simple. Calphalon, plastic cups with screw tops, Yeti tumblers, the Vitamix, marble, the potato peeler, certain knives, wood, gold (and gold rimmed), and most entertaining pieces don't go in the dishwasher. See? 
12. WHAT'S YOUR FAVORITE DINNER THAT YOUR WIFE MAKES? WHAT IS YOUR SPECIALTY? 
D-Lo: Chicken and stuffing casserole with a side of green beans.  Mine is my Mexican chicken mixture. We use it for a variety of different dishes.
13. ARE YOU A DIY-ER OR MORE OF A "HIRE THE PROFESSIONAL" TYPE OF GUY?
D-Lo: A little of both.  I know my limitations.  If I can do it myself, I definitely will. I stop at the possibility of burning down or flooding the house!
KN: I think he just loves any opportunity to wear the headlamp…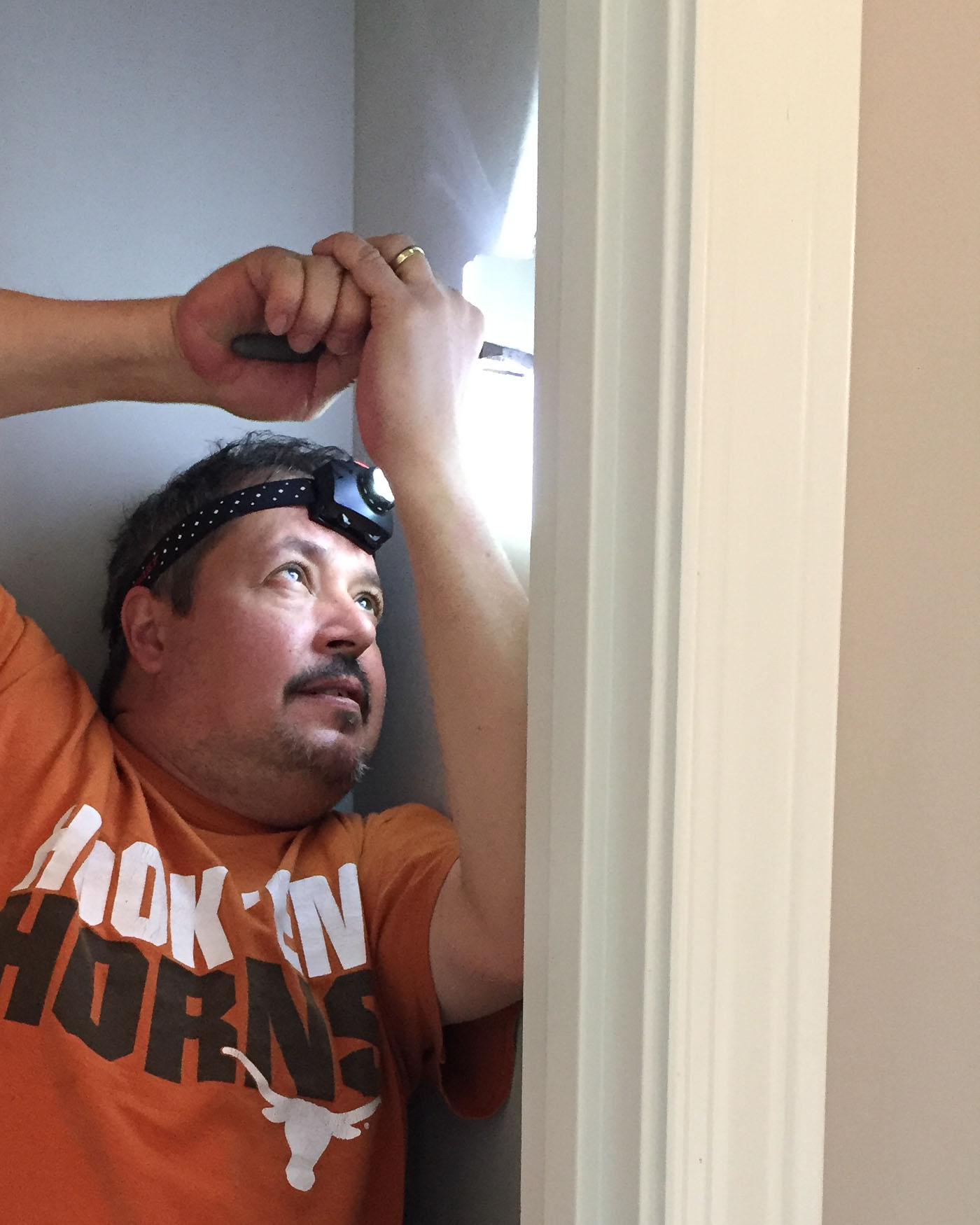 14. WHAT DO YOU THINK ABOUT YOUR WIFE'S BLOGGER FRIENDS? WHO DO YOU HEAR ABOUT THE MOST? HAVE YOU MET ANY OF THEM?
D-Lo: I love her blogger friends, and I'm very appreciative that she has them in her life. I hear about Kris [Driven by Decor] the most.  I almost consider her Kelley's business partner. I have met several briefly dropping things off to her at a conference in Atlanta.  Others I have not, but feel like I know them nonetheless.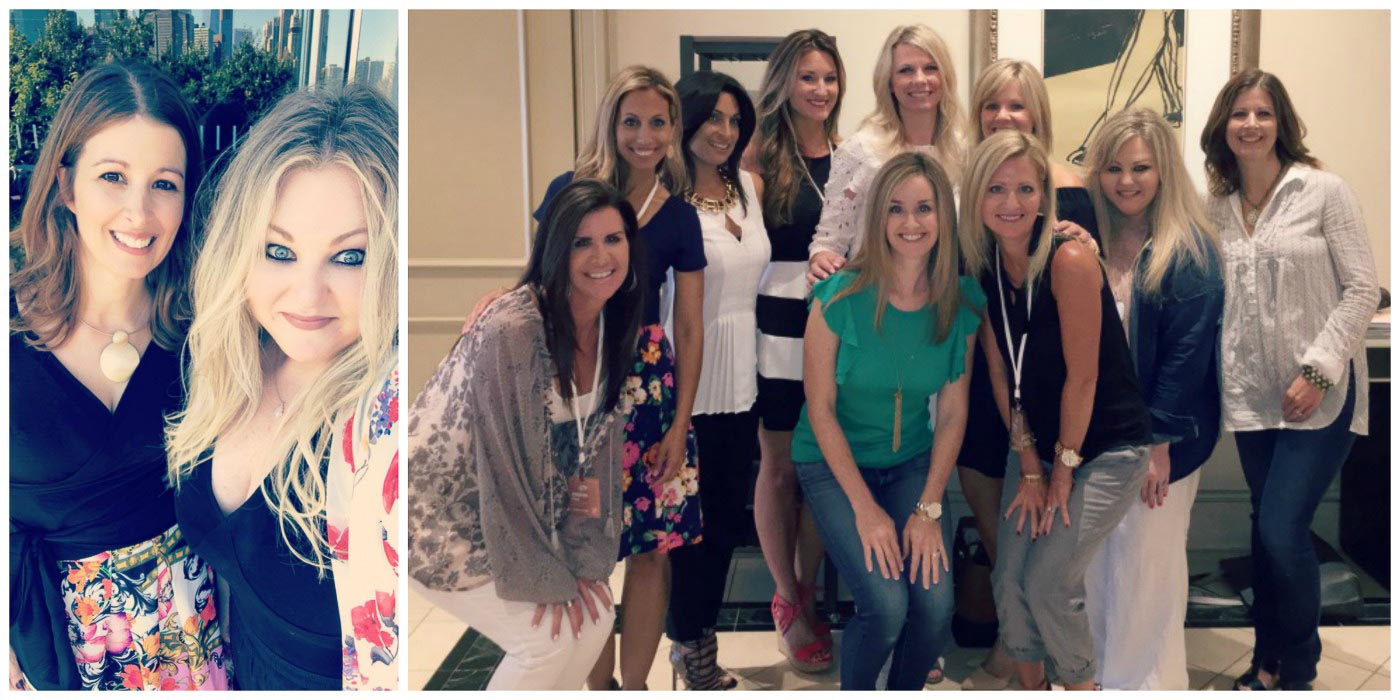 LEFT PHOTO: Driven by Decor | Me
RIGHT PHOTO (L-R): Decor Gold Designs | Haneen's Haven | CitrineLiving | Addison's Wonderland | Randi Garrett Design | Z Design at Home | Me | Driven by Decor | (front) Sunny Side Up | The House of Silver Lining
15. HAS YOUR WIFE EVER DONE A PROJECT THAT YOU SECRETLY DIDN'T LOVE BUT YOU NEVER TOLD HER?
D-Lo: No, I will definitely tell her if I don't like it.  Example- replacing all of our ceiling fans with light fixtures. I'm desperately trying to hold on to the one in our great room.
KN: These are the rooms he's talking about haha (BTW, he really doesn't miss the bedroom fan since I got him that Dyson ((I even wrote a post about life after fans HERE)) )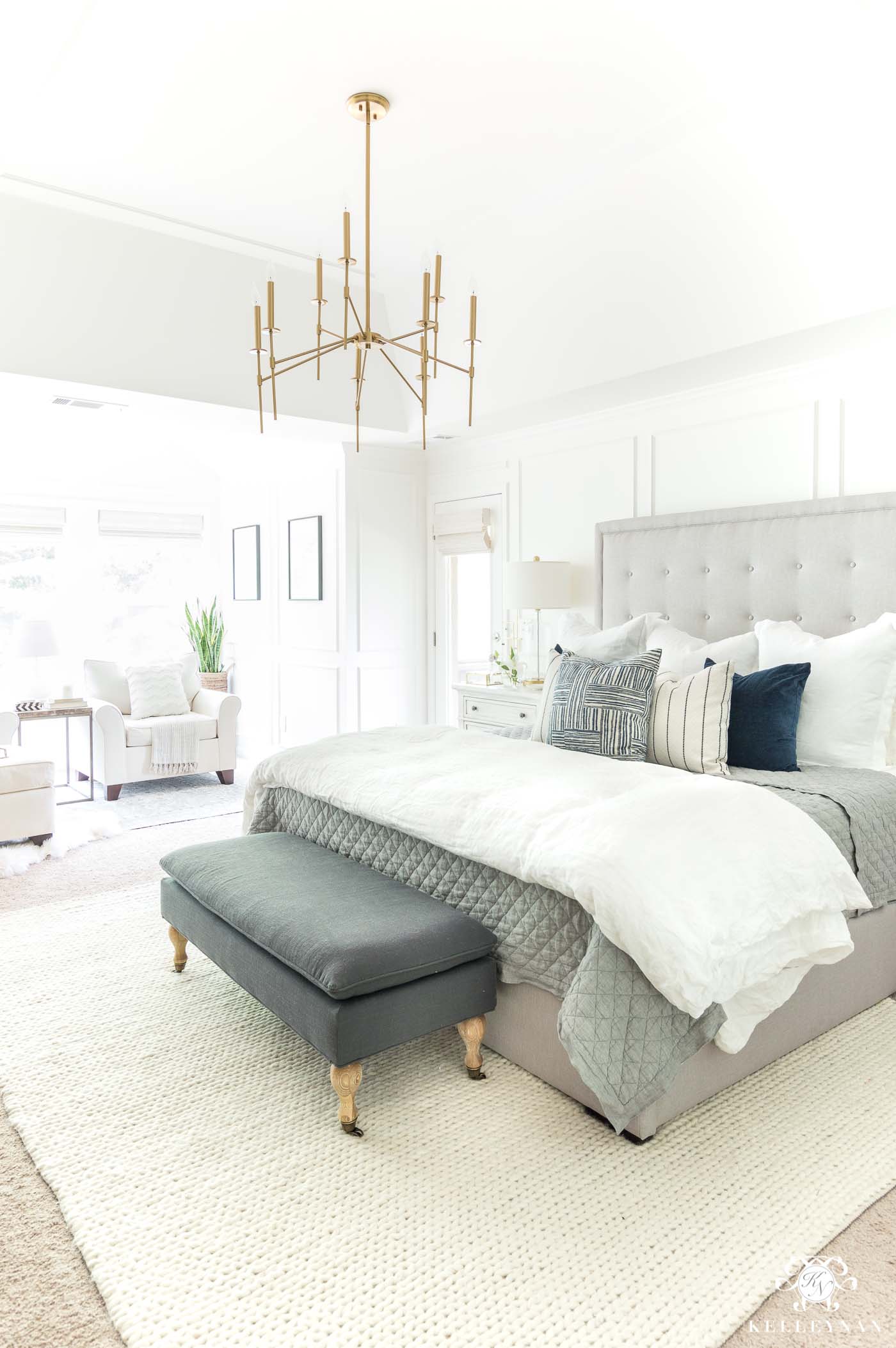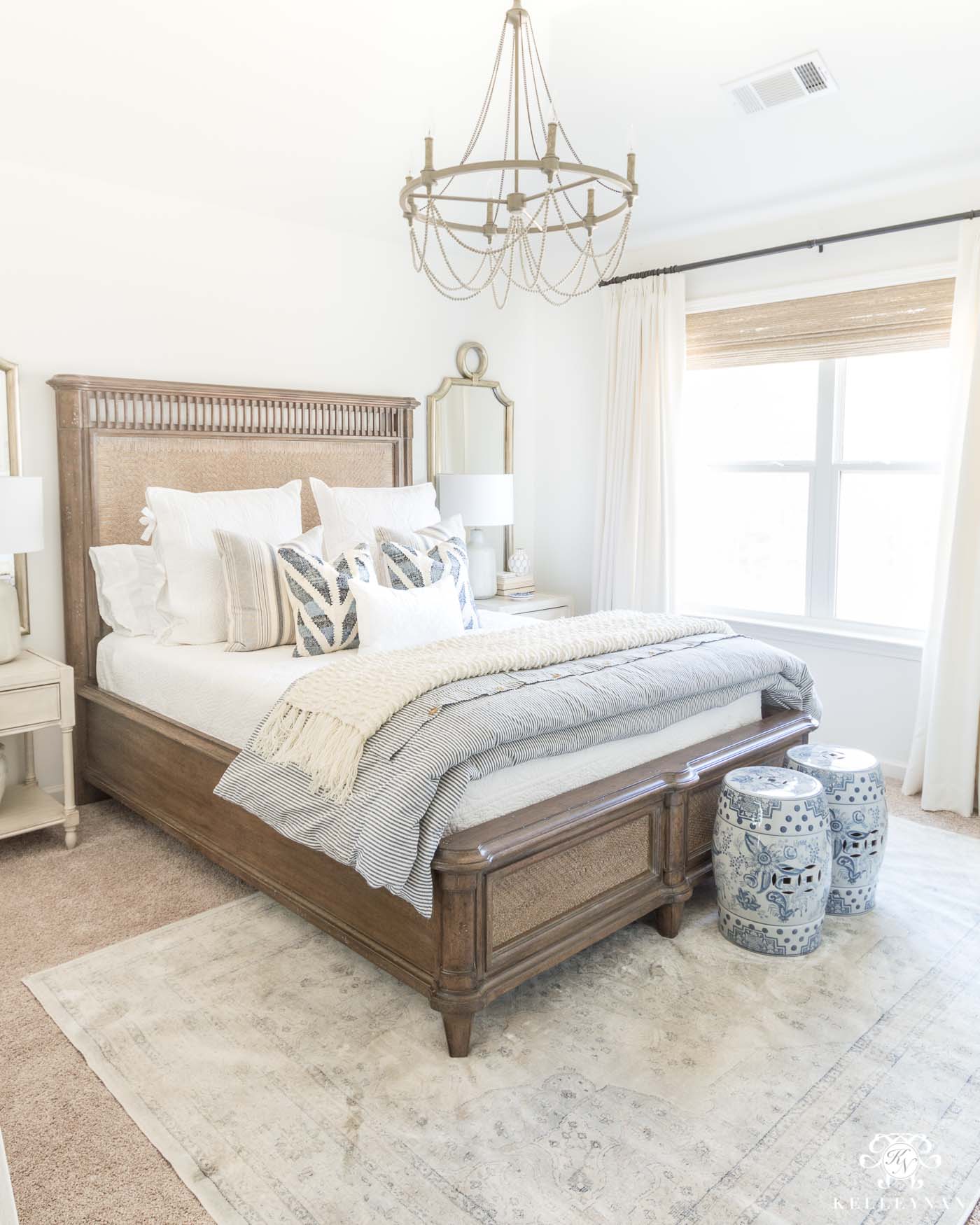 | Blue & White Guest Bedroom Sources |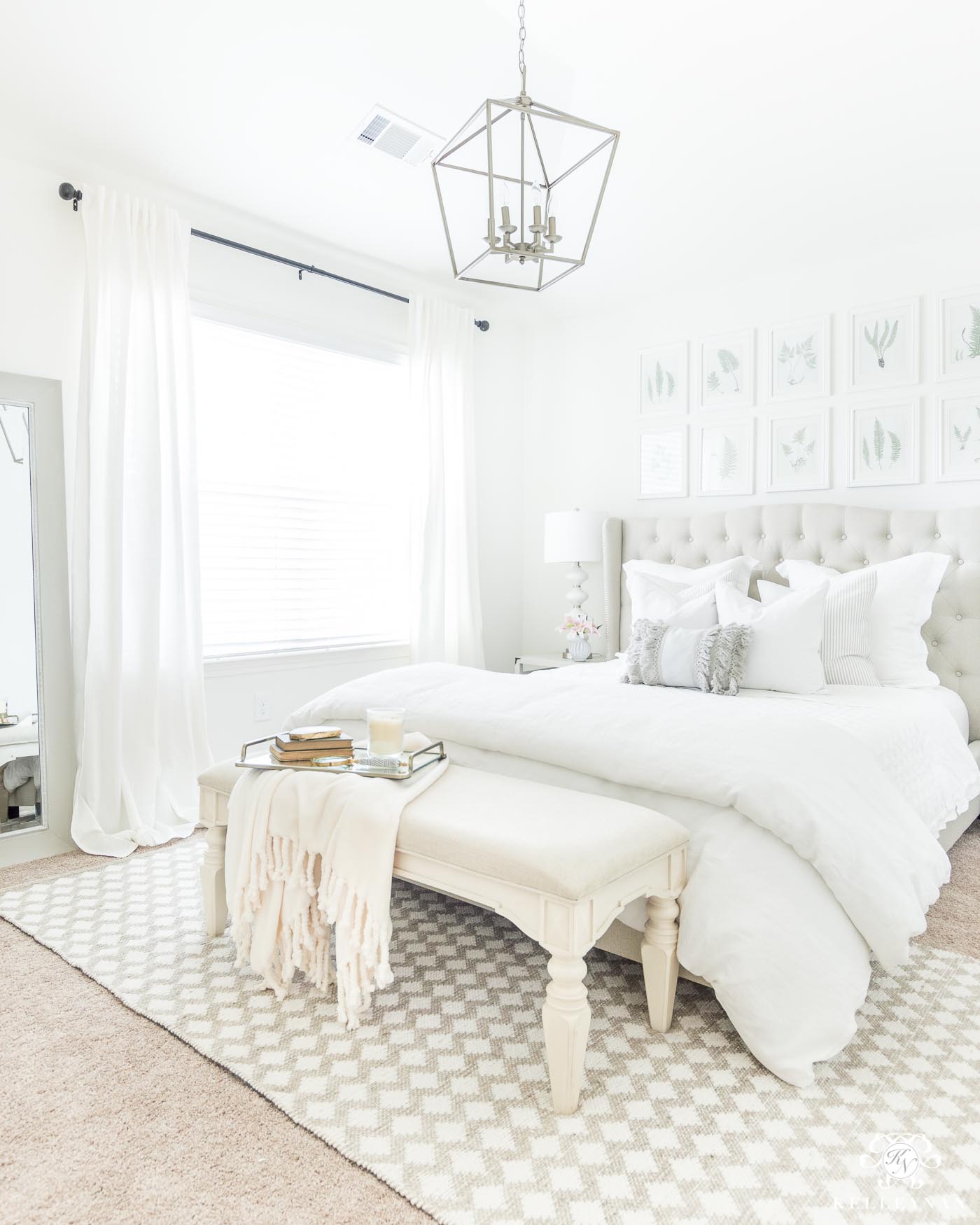 | White Guest Bedroom Sources |
And here's what he's clinging to… In all honesty, our next may or may not be a light fixture but it will not be this fan.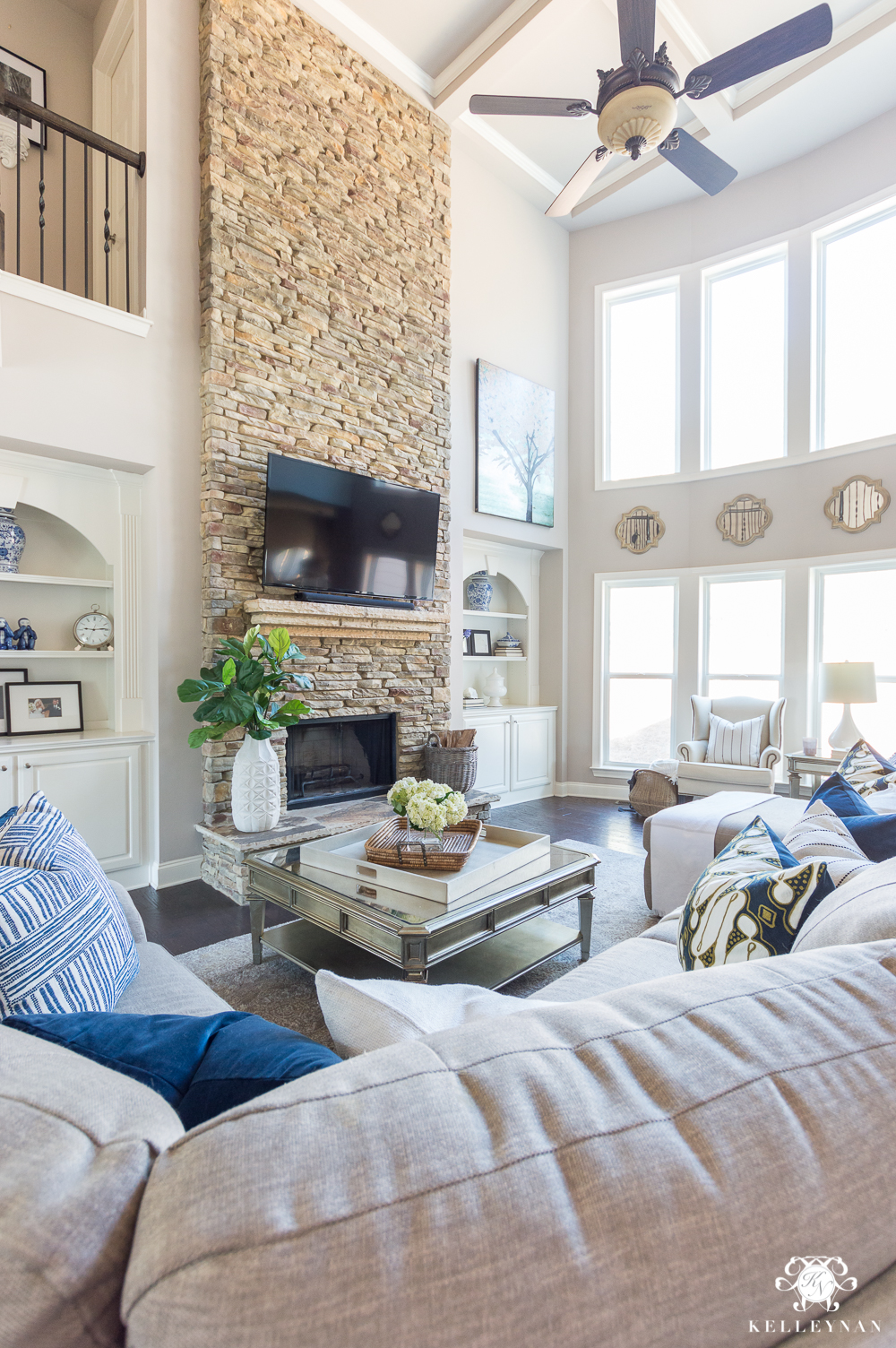 16. IF YOU COULD LIVE ANYWHERE, WHERE WOULD IT BE? WOULD YOUR WIFE AGREE?
D-Lo: Probably back in Central Texas on a large piece of land that I could hunt and fish on.  Kelley would definitely NOT agree!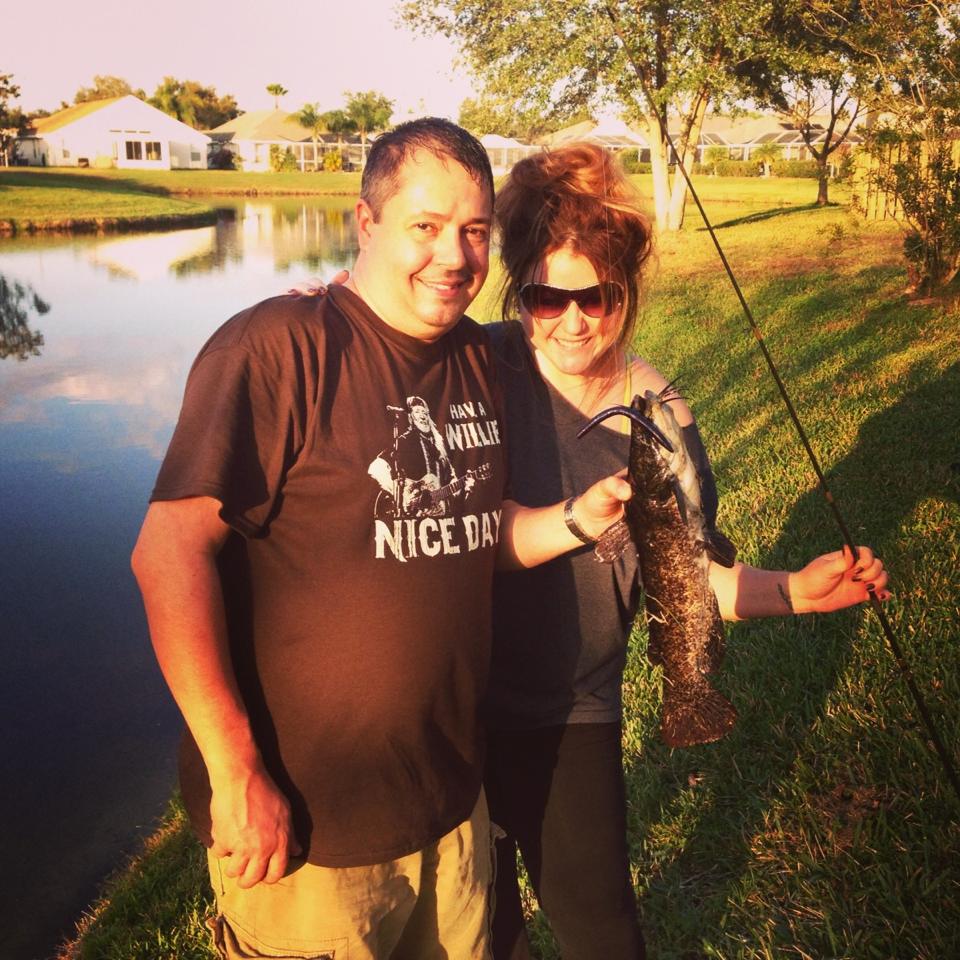 17. WHAT'S YOUR IDEA OF THE PERFECT FATHER'S DAY?
D-Lo: Nothing too fancy.  Spending the day with my family, a cold beverage and meat cooking on my Big Green Egg.  Maybe some sports or music playing in the background.
KN: We may even restrain ourselves from waking him up and asking him to "join the day" 😉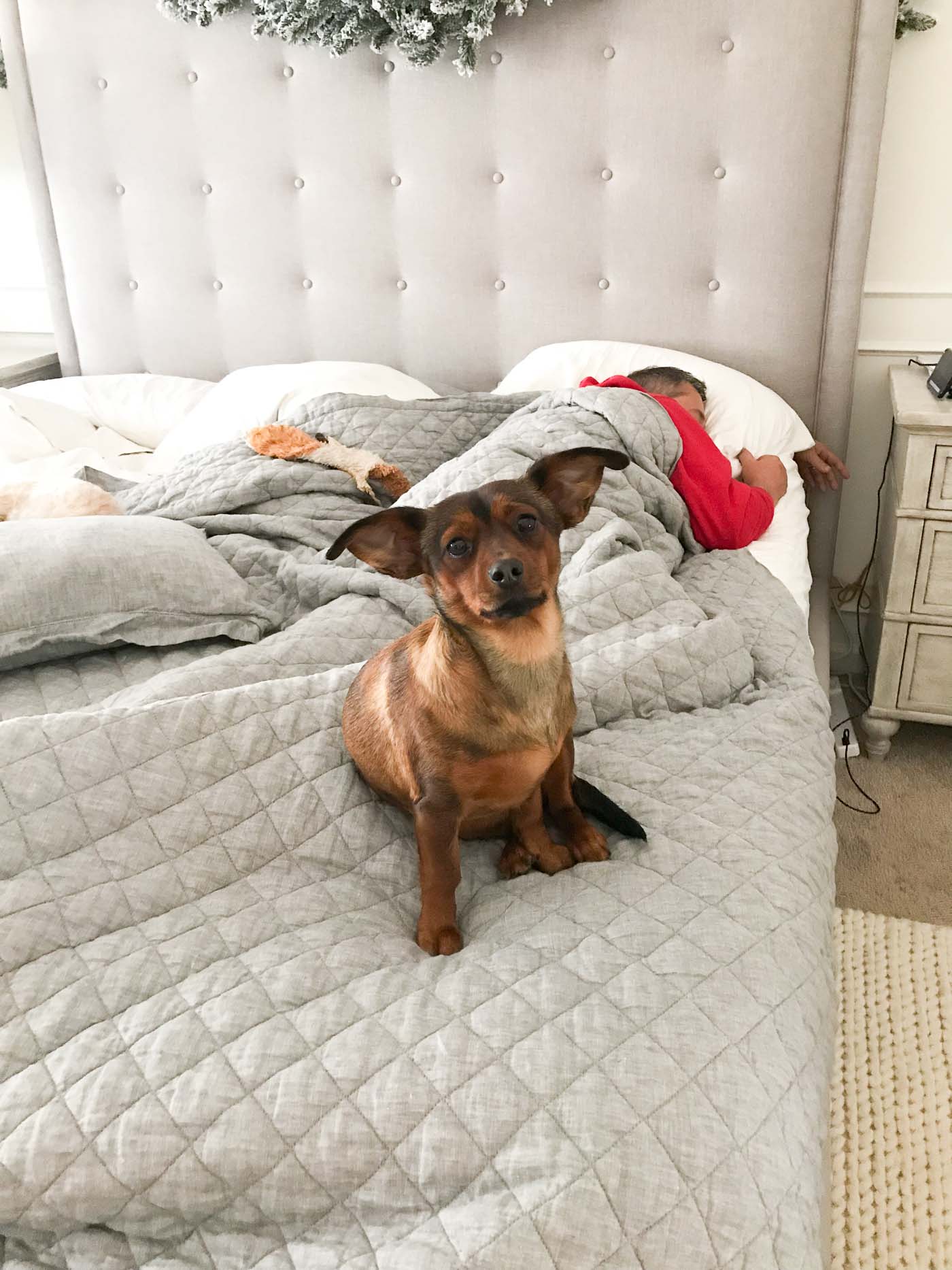 Thank you for hangin' with us today, honey, and thank you for hangin' with me every day. "You make loving fun" 😉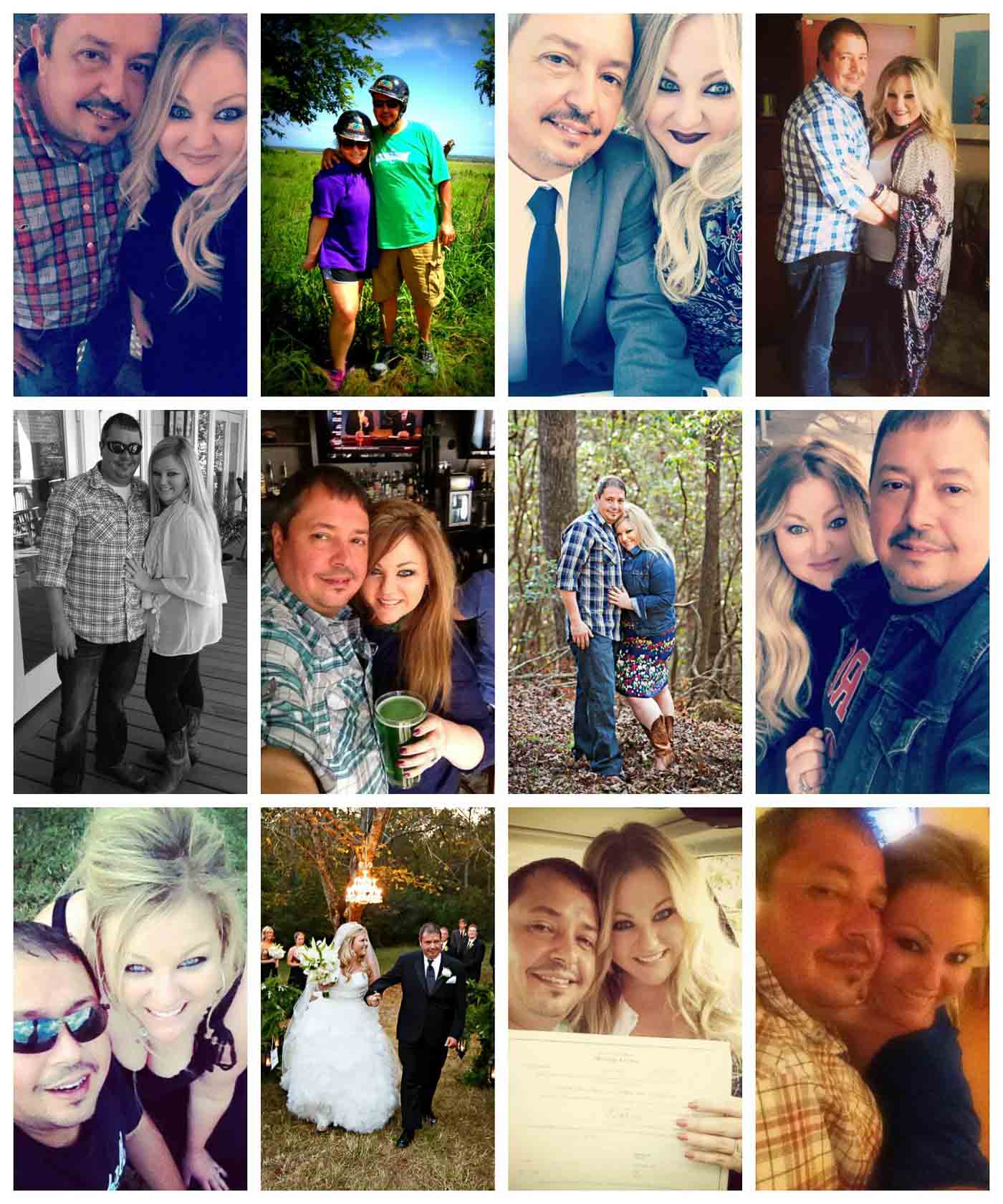 And thank YOU for hangin' with us; I kind of feel like my secret dream of being on a tv game show has been somewhat satisfied 😉 Ok, guys. Next, we have to go check out the spouse interviews from a few of my favorites – no surprise here, I share them all with you pretty often and I've been waiting for this for weeks…
Shauna – The House of Silver Lining
Brittany – Addison's Wonderland
If you want to stick around after today and you aren't already subscribed, you can sign up for my emails at the bottom of this post!