Friends, I've been keeping a secret. I've hinted around a little bit on Instagram and to answer some of the messages from those of you who have guessed- no, I am not pregnant and we aren't selling our house. It is life changing though… so here it is. The first time I have actually written it out… I quit my job. No, not this one, the other one haha. I hope the news isn't anticlimactic but here's what it means for me, for you, and for KelleyNan.com.
(Currently, my office is a disaster with lots of boxes being shipped out. Here was official business part 1- sending my computer and printer off to my replacement)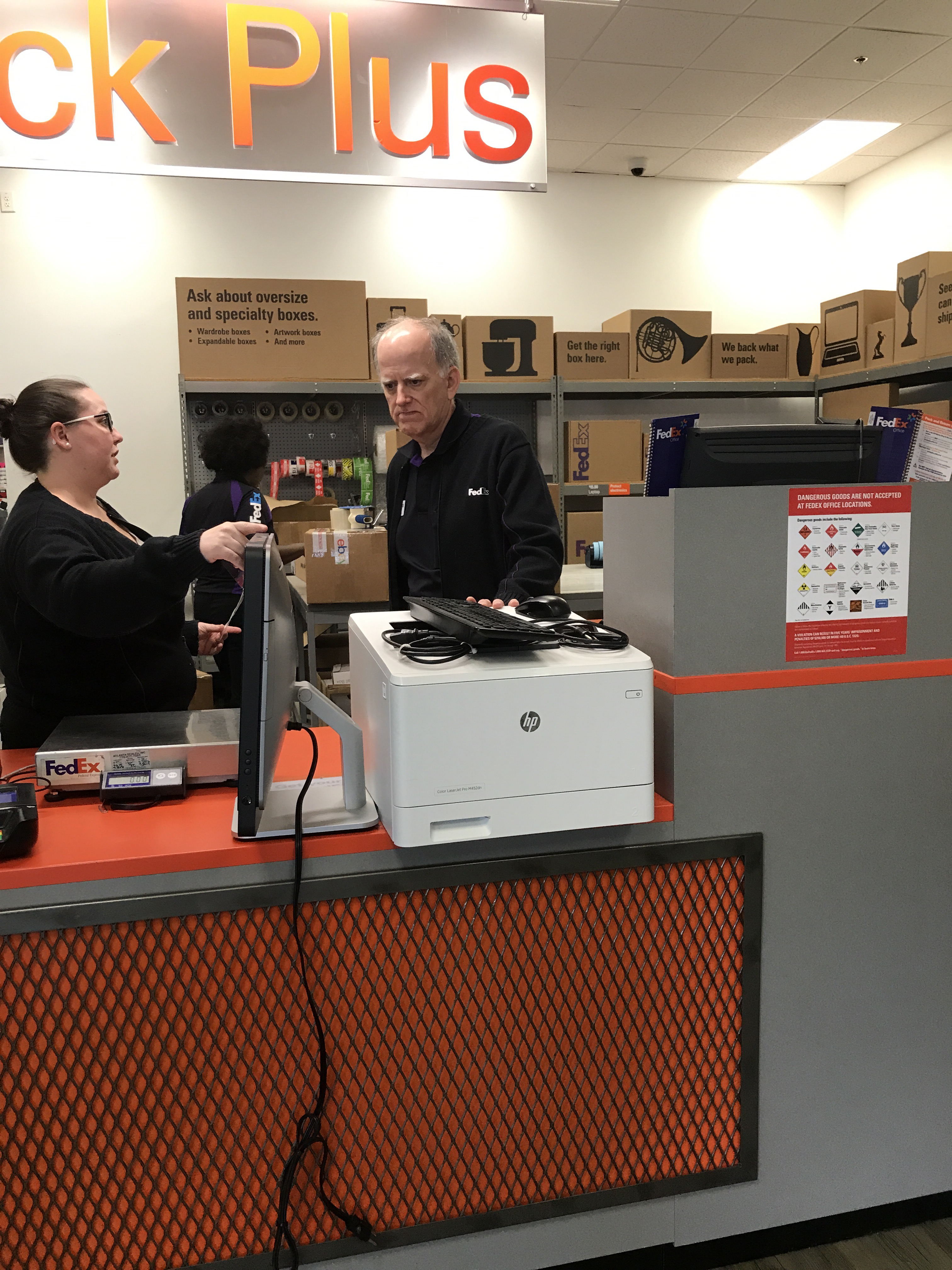 A LITTLE BACKGROUND
First, I'll back up. If you've been with me for a while, you may know that in tandem with all that happens on KelleyNan.com (and social media like Instagram where I first connected with many of you), I have basically been living a double life. I've been with the same company (totally unrelated to anything we talk about over here) for the last seven years. And, it has been amazing. Until recently, I thought it was something I would likely do for the rest of my life.
HERE'S WHAT CHANGED
A little over two years ago, in the process of occasionally sharing our new build on Instagram, strangers started following my account and engaging- at the time, it was almost weird. Flattering but I didn't totally understand. As more people joined, it fueled me to do more – I realized I loved having a growing audience to share with, talk with, and connect with. I was taking photos on my phone, using my favorite filters, and never imagined the shift my life was getting ready to take. I had friends who thought it was narcissistic and others who didn't understand but were supportive. I had met others who had blogs and thought "what a nice extension of Instagram… it is kind of hard to share all I want in a little square". In an effort to expand my creativity, I decided to blow the proverbial dust off my own little online space (basically an online journal for immediate family (i.e. my husband and mom)) – in which I had written and deleted posts a handful of times – and start posting broader topics.
It was a wordpress.com site, I had no idea how/if people would find me except through Instagram announcements, and the name? "Snack Around the Plate with Kelley Nan". Ok, I'm guessing you may be scratching your head on that one. When I was growing up, on the weekends for lunch, my mom would prepare a plate with a little bit of everything – whatever we had on hand in the fridge and pantry.  Think of an appetizer board – pretzels, string cheese, pickles. But, she called it a "snack around the plate". And, I loved them. So, when I started the site, that's exactly what I thought it would be- a little of this and a little of that. That part, I did get right 😉
Ok, back on track. So at this point, I had increasing visibility on social media, an unknown, tiny "blog" and zero clue that it could one day become a full time career. Today, things are a bit different. It is more than humbling that I have been given this opportunity to have a voice and platform to create and to share. To have a passion that somewhere along the way, became a dream. To have amazing readers and friends because truly, without each of you, this would never have been a possibility.
I have always been practical. Maybe even to a fault. I always thought dreams were irresponsible or for the super lucky – whichever it was, they weren't for me. I remember being 18 years old, declaring my college major- business. I honestly had no idea what I wanted to do but I reasoned that business was practical. Safe. That's what I would do. I stayed the course and graduated in four years exactly as I had set out to do on day one. I'm not super adventurous but I've never been bored or unhappy. Security means a lot and I've always opted for dependable over exciting. That is exactly why my heart is bursting. For maybe the first time in my life, I am choosing risk. I am choosing to likely be uncomfortable at times. I am choosing to depend on myself. YOU have allowed me to reach the point of a crossroad. For almost a year, I have been working what had become two full time jobs, managing the site and all that went into it on nights and weekends. I was pulling all-nighters at least one time per week. I said "no" a lot- to trips, dinners, visits… my sweet, supportive husband took over most of the household chores, dinner prep, etc. I knew I couldn't keep it up forever but there was and is so much more I want from this place WE have built. It was a near impossible task and without a husband like mine, it wouldn't have been possible. A few months ago, I realized I was either going to have to give KelleyNan.com everything I had or stop it all together. I could see the potential but trying to grow to an unknown level with an outside full-time job until I "got it there" wasn't going to happen. I was spread too thin… I was maxed out. So, Dave and I set some lofty goals and decided that I would resign from my regular day job. As of today, I am officially done… retired from my former professional life.
There is no guarantee and ever since we made the decision, most of the time I still think we are nuts. Despite walking away from security, I have never been more excited. A huge weight has been lifted from my shoulders and I can't believe how incredibly lucky I am to take a chance on my passion. Seriously, I cannot thank you all enough for allowing me to be a part of  your life – you have changed mine and completely turned it upside down in the very best way.
SO, WHAT'S NEXT?
I am working to get my act together and establish some sort of semblance of a schedule. Starting "soon", you can expect more frequent sharing and more varied posts throughout the week. While I can't always respond to every message, email, and comment, I am hoping that I will be able to connect with you all more – that is my absolute favorite part! Like I said, it is those comments, emails, messages and encouragement that led me to where I am now. <3 Since I started the blog, I have always felt the need to be more "buttoned up". With a professional life and a blog life, everything had to be compartmentalized. Without a simultaneous professional persona, I'm so excited to be more casual and to share more real life.
So, I need your help. As I'm navigating through this transition, I would love to have your input on what you want more of. I would SO appreciate you taking the time to answer a few questions and provide feedback HERE. All answers and comments are anonymous and I am grateful to all of you who participate!

A SPECIAL NOTE OF THANKS
(YOU MADE MY DREAMS COME TRUE)
To my husband who never batted an eye about stepping up and letting me play hooky from my real life responsibilities, didn't complain about wearing Christmas boxers in the middle of summer, has whipped up more blts than I can count and has been the best blog assistant. His patience and support goes far beyond sandwiches and kitchen duty and I don't know anyone else who would have extended as much grace as he has. To Mama Nan for being my co-planner, brainstormer, and calm during my moments of hysteria. When I told her my hopes for taking KelleyNan.com full time and she didn't say I was crazy, well, that was when I decided I had to go for it. Everything she taught me is the foundation for all I do and all you see here on the blog. To my supportive friends who encouraged me, even if they didn't understand. To my "tribe" for taking this journey with me, being my sounding board and believing in me. In this big world, we found each other and connected in such an incredibly special way. To my mentor, Kris of DrivenByDecor for inspiring and guiding me, and for unselfishly sharing all she knows. To Tana of YourMarketingBFF – not just for designing KelleyNan.com but for opening my eyes to a business. To Tamara of CitrineLiving for creating the KELLEYNAN brand icon (and not laughing when I shared my first pass at a logo I had described as "whimsical"). To my former bosses who encouraged me to go after what I love. And most importantly, thank you to my readers- without your encouragement and interest, I could not have made the leap; without your support, KelleyNan.com wouldn't even exist.
Obviously, my "thank-yous" are verging on Academy Award acceptance status; I just don't know how/if there is a proper way to let you all know just how grateful I am. I have a long way to go, and it's gonna be terrifying. But I'm ready- let's do this.
XOXO