Our highlights this year have revolved around the outdoors — from our piece of land (managing it, exploring it, preparing to hunt on it, etc.), to still being on a high from our recent trip out west (see my trip post HERE), to even my therapeutic daily walks. Eliza loves being outside, we're planning to invest in our outdoors soon (info on that coming soon!), and with all the indoor projects we have going on… well… always, we've enjoyed connecting beyond the confines of our four walls. I don't know that we'll ever be the extreme sport/professional adventurer types, but we're (I'm) definitely becoming more outdoorsy. And along with that, the majority of my gifts this year will be centered around the outdoors, so I thought it would be the perfect first for the annual holiday gift ideas you'll see here on KN over the next month! Below, you'll find gifts across multiple budgets and I tried not to get too specific (like hunting), but keep them more outdoor-universal.
*Posts on KelleyNan.com may contain affiliate links. Click HERE for full disclosure.
Outdoor Gift Ideas
From stocking stuffer to "main/only gift" status, find full descriptions and details of each of the outdoor gift ideas, following the below graphic!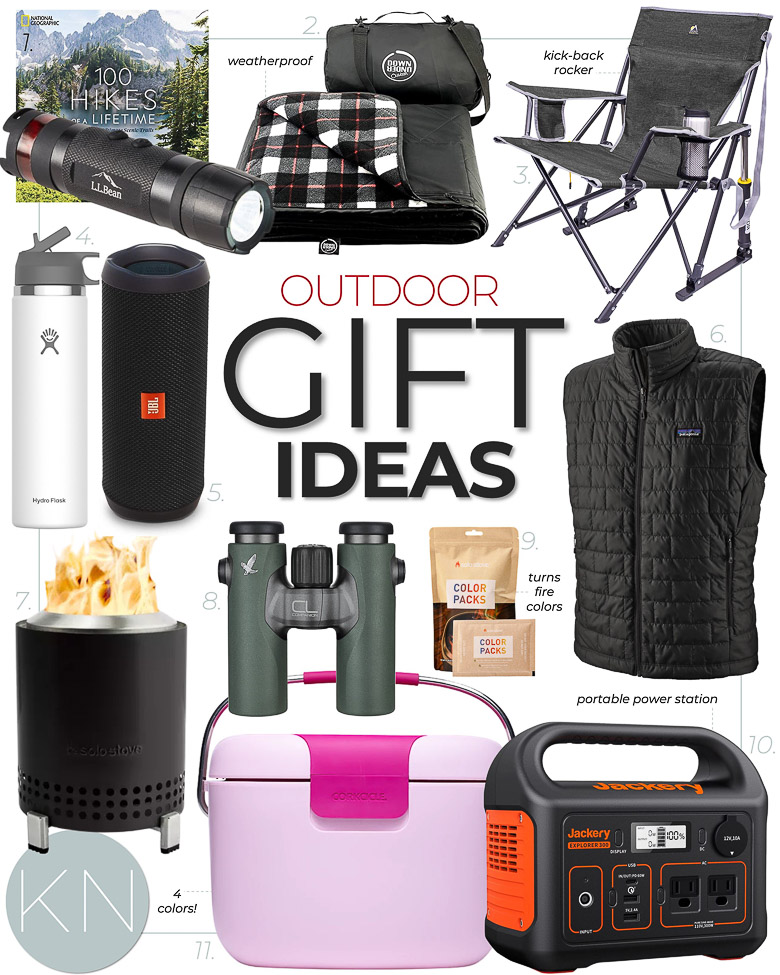 Sources: 1. 100 Hikes of a Lifetime Book | 2. Waterproof Stadium Blanket | 3. Kickback Outdoor Rocking Chair | 4. Hydro Flask Water Bottle | 5. Portable Blue Tooth Speaker | 6. Patagonia Puff Vest | 7. Mesa Table Top Fire Pit | 8. Swarovski Binoculars | 9. Color Packs | 10. Portable Power Station | 11. 55-Quart Cooler
1. 100 Hikes of a Lifetime Book — We are determined to work, as a family, to plan more nature-centric trips and I love the idea of this book — not just as a pretty conversation starter, but an easy way to browse possible adventures and bucket list experiences. It features 100 hikes for all levels, all continents, and all climates; it also includes  gorgeous photography with tips from hiking experts and ships for free via Prime HERE. It's a great deal right now! I also love the idea of America's Best Day Hikes (5 star rating), which is only $21 on Amazon right now HERE.
2. Weatherproof Blanket — This water and wind proof quilted fleece blanket comes in five different colors, is machine washable and includes its own carrying case, and ships free via Prime. It's incredibly versatile and perfect for just about any outdoor occasion — like… — events and concerts, cuddling up in the football stands, picnics (even in the back yard), camping, lounging… even keeping in the car for emergencies or "just in case".
3. Kickback Outdoor Rocking Chair — This kickback rocker is way cooler than any portable folding chair I have. In addition to some of the standard features cup holder, phone pocket. etc., it actually has "spring action rocking" technology. As someone who can't just sit, but has to tip a chair on it's feet to sway or do something, I LOVE this! It's available in five different colors and ships free via Prime HERE.
4. Hydro Flask Water Bottle — Leading up to our trip to the Jackson Hole area, I ordered this water bottle for both Dave and me. It ended up being key. We could fill our bottles in the morning with water and ice, refill throughout the day, and by the next morning, it would still have ice in it. It claims to keep drinks cold for up to 24 hours and beverages hot up to 12 hours. It's leak-proof, comes in a bunch of colors (I prefer the straw version), and I love the rubber handle. It's also narrow enough to easily fit in a water bottle backpack pocket, is dishwasher safe, and really durable. Dave has the black and I have the white and right now, they're on sale and the lowest price in 30 days — they ship for free via Prime.
5. JBL Portable Bluetooth Speaker — I first purchased this bluetooth speaker for our beach trip and was beyond impressed with it — it's waterproof and after a single charge, we never had to charge it again (it claims to last for 12 hours of streaming). We actually have the version 4 (HERE) that got a price reduction after the version 5 came out and while the version 5 got a few tweaks and upgrades (like not being interrupted by phone calls), the version 4 is a great speaker, especially for the price. Dave. used to use a huge "block rocker" for outside if the Echo wasn't cutting it, but now, we just use this small speaker — so much easier, it sounds great, and is so much more portable. We toss it in the pool bag, too. It has over 100k 5 star reviews (almost 200k between the two versions) with all raves. It comes in several color options and ships for free via Prime.
6. Patagonia Puff Vest — I already ordered THIS vest for Dave in green for Christmas. He loves the jacket version so much, I know he will probably get even more use from the vest. It comes in nine different colors and while it's designed to keep you warm, it's lightweight enough to stuff into its own storage pocket. It's perfect for travel because it can fold up so small and packs easily — especially when you're tight on space. If between sizes, size up!
7. Mesa Table Top Fire Pit — The Mesa Table Top Fire Pit is a new arrival to the Solo Stove family (and our family, haha) and comes with a stand, pellet adapter and cover. One of Dave's favorite Christmas gifts last year was the Solo Stove Bonfire bundle, so when the Mesa came out this year, I really wanted to get him a smaller one for other occasions where the larger one (while still lightweight) wasn't as practical to use. The Mesa is available in stainless steel and five other colors. (I ordered the black!) If you haven't gotten on the SoloStove bandwagon just yet, this is the perfect introductory fire pit — it's small so don't be shocked when the lightweight box shows up on your doorstep 😉 They're smokeless, easy, lightweight, and can be set on just about any outdoor surface!
8. Swarovski Binoculars — This was a 10 year anniversary gift that I'd never considered until we were in the Tetons, searching for wildlife, and Dave was using his old, inexpensive binoculars he'd packed while the rest of our group was enjoying unbelievably crystal clear visions of elk with THESE binoculars our guide had brought for the tour. If his need ended there, we wouldn't have gone and purchased such nice binoculars. But, as someone who needs and binoculars regularly, the difference in investing in a quality set was staggering. Truly, if you need a nice gift for someone who spends a lot of time outdoors, this is a splurge they may not purchase for themselves, but will love and get lots of use. They come with a carrying case and strap, they're the "companion" version so they're compact and lightweight, and they're ideal for animal/birdwatching or hunting.
9. Color Packs — Ok, these are really cool. The box comes with 10 color packs and if you toss one on your fire, it makes your flames multi-colored! Blue, green purple, and yellow for up to an hour. You don't empty the pack — you just toss it on top. I ordered these for Dave's stocking and then found them on Amazon where they ship free HERE.
10. Portable Power Station — I was so excited to come across this and ordered it for Dave for Christmas. I found it on sale for $80 less HERE than where I almost ordered it, too! It only takes two hours to charge this Portable Power Station up to 80% through a wall outlet, is small and portable at only 7 lbs, and includes two AC outlets, one PD 60W USB-C port (input/output supported) , one fast charge 3.0 port, one USB-A port and one DC car port and can charge up to six devices at once. My primary reason for gifting it is for Dave to have out on our property where we don't have electricity, but it will also be great to keep on hand for power outages! I think I am most excited to give him this gift this year — it also ships free!
11. 55-Quart Chillpod Cooler — The pretty aesthetic of this new Corkcicle cooler got me earlier this year, but once I started investigating, the smart features won me over. It comes in four colors, holds up to 32 cans, can hold wine bottle standing up, and has a divider to compartment off the cooler (you can keep iced items separated from other cooler items) that can be removed and doubles as a cutting board. The divider/cutting board also has a built in bottle opener. The video on the website (in the image section) is definitely worth a quick watch as they run through the features HERE! It also keeps ice frozen for multiple days. Corkcicle also came out with a Beverage Bucket Bag, which is cool — it's a soft-sided cooler that includes pockets on the outside and doubles as an ice bucket once you reach your destination. The Beverage Bucket Bag comes in periwinkle, navy camo, black and orchid.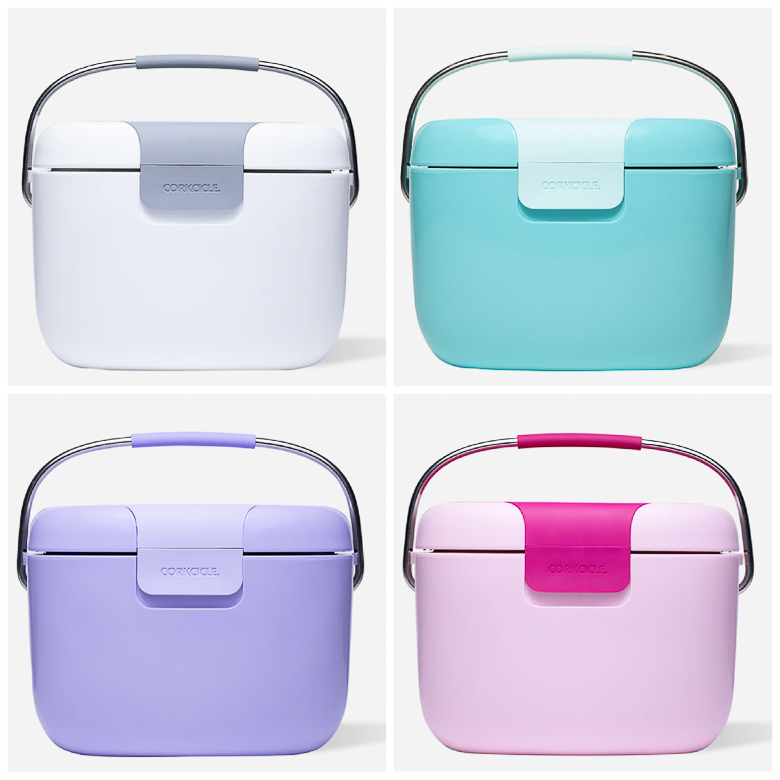 I'm also grabbing Dave one of THESE fleece lined flannel shirts, and THIS lined untucked-fit shackets to keep him warm when working outside this winter. He has an older version and loves how it fits, feels, and keeps him comfortable outdoors.
As we walk through the season, I'll be sharing more gift ideas over the course of the next month. All are currently in production and as they are added, you can find them or go back to access them easily via the "GIFTS" tab at the top of the screen as the last item in the menu bar! You can also sign up for emails at the bottom of the post to be the first to be alerted as new themed gift ideas are added.
Other Holiday Gift Ideas for 2022