After moving in our home, after the initial settling in stage,  my office was the first room I designed "with intention". I evaluated my needs, determined how I would use the space, and developed a design plan based on functionality, what my budget would allow, and a design aesthetic that felt good. I committed to the office being the office long term after building built-in bookshelves across the wall, customized with printer pull-outs, filing cabinets, etc. I needed a fully functioning office because while I had an outside employer, I worked from home. When I started the blog, I started using my office almost around the clock. And then, I left my job to focus on my business full time — while some of my needs have shifted slightly with differing occupation descriptions, I'm still in my office almost all day, every day. But, it's been almost six to seven years since designing the space (how and how many of you were here for that?!), what inspires me has shifted a little, my storage needs have shifted, there are now two of us who work for the space, and I'm ready for a few changes. You can see the office from its original reveal in 2016 HERE.
*Posts on KelleyNan.com may contain affiliate links. Click HERE for full disclosure.
But, while I am ready to circle back and take on a few updates, I'm leaving a lot in tact, as is. Since the primary bathroom is finished (reveal coming within the next week!), Eliza's bedroom is on hold with her bed being on backorder, and the kitchen hasn't yet begun since the cabinet company slammed, I thought we'd go ahead and get to work on some office updates — find all the details of what I'm thinking and what's to come below!
Current Office Design
Since my own office design, I helped my mom with hers this past year. She uses hers currently as more of a filing and stationery capacity since she works with me most days at my house, but should our days shift, her desk is set and ready to accommodate an external monitor or daily setup. She mixed lots of old with new and most of the room concept was born from her vintage rug she inherited from her mom.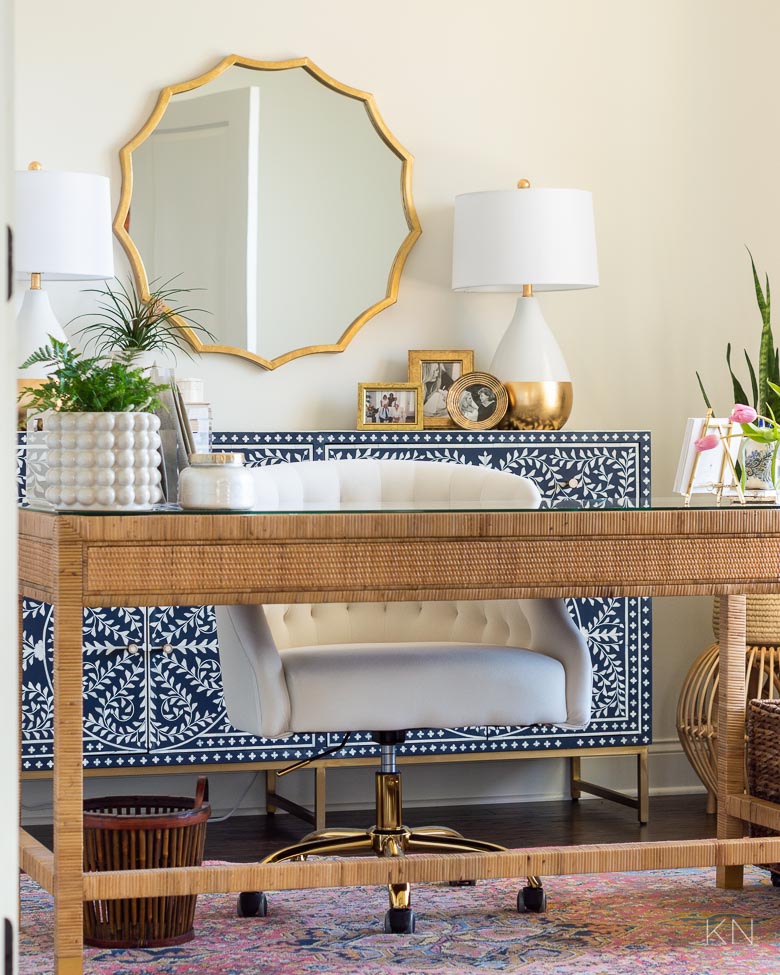 Sources: Light Fixture | Desk | Credenza | Task Chair | Mirror | Lamps (set of two) | Rattan File Bin | Bubble Pot | Candle | Rug — vintage
Her gallery wall is my favorite and if you haven't seen it, definitely check it out! You can find her full office reveal with all the details HERE.
In contrast, here is my office from "Reveal Day" back in 2016 — I loved it then and I still love the design.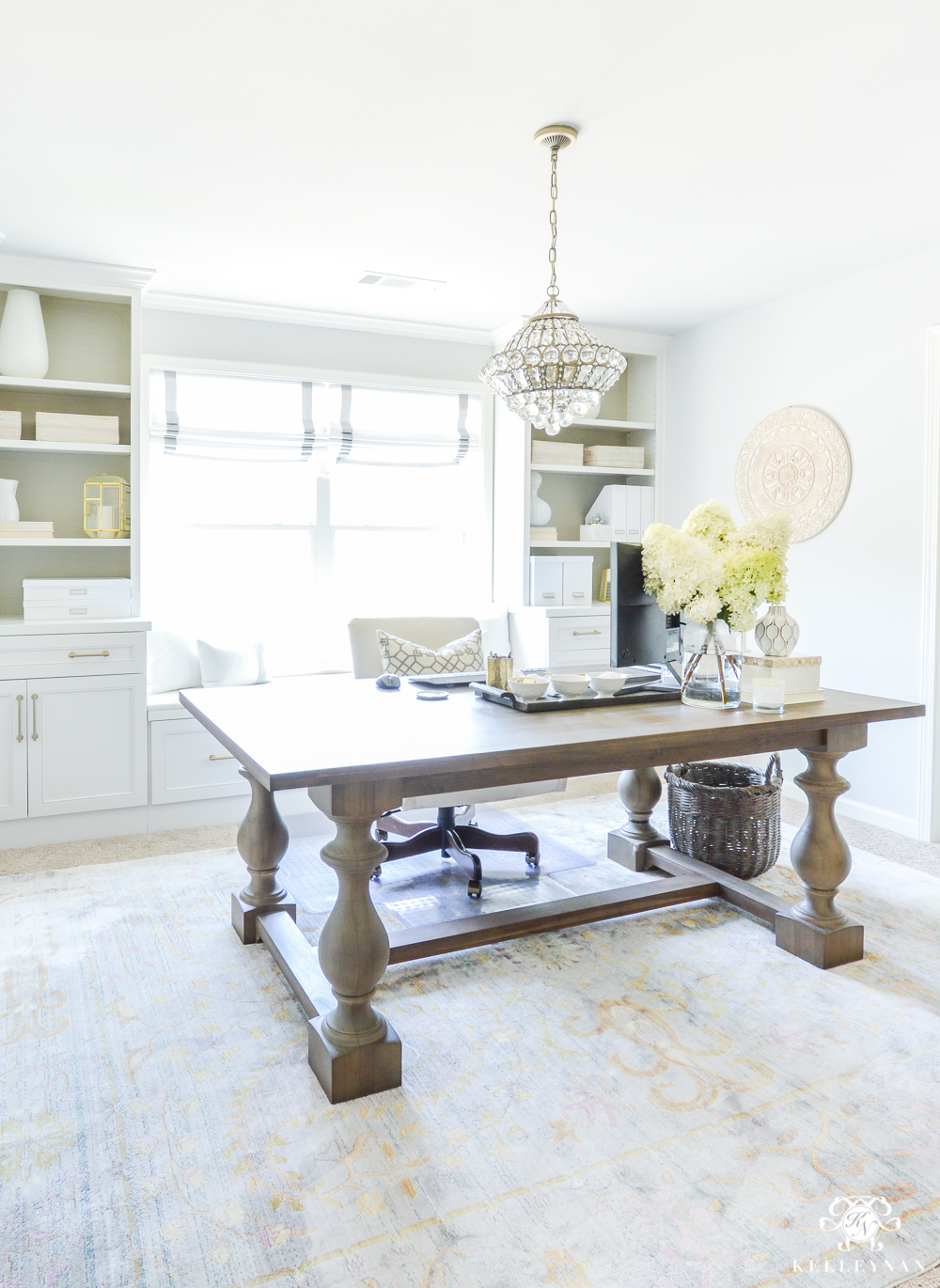 Sources: Chandelier | Rug | Large Art | Small Art | Roman Shade | Pillow on Chair | Desk Tray (large) | Footed Bowls on Tray | Rattan Bin | Magazine Storage Box | File Storage Box | Document Storage Box | Teardrop Vase | Cabinet Pulls
But, needing a little alteration in functionality combined with wanting a little bit of a fresh view in the place I spend most of my time, I'm ready to make a few updates.
Office Updates
My first updates have actually already been made, with a transition to my gallery wall beside my desk. After coming back from the beach this past May, I decided I wanted to keep some of my "happy place" where I work — it's personal, gives me something to look forward to, and reminds me (partially) why I work. Here's the new gallery I came up with…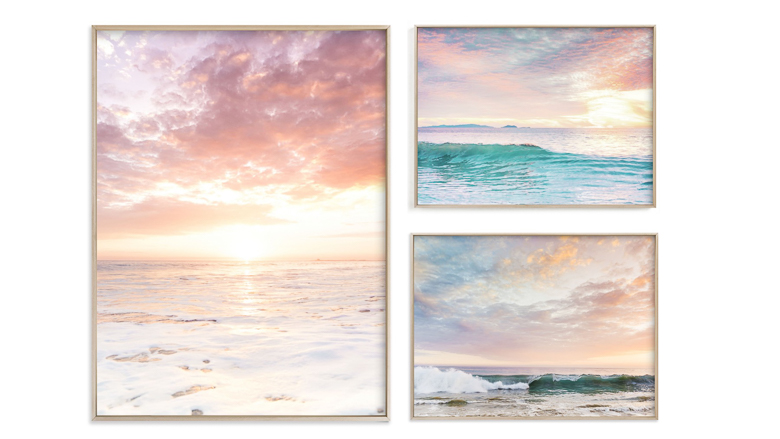 Sources: Left | Top Right | Bottom Right
And here's a glimpse of it in real life. If you're curious about the sizes I ordered for the gallery to fit together as it does, the large art is 30″x40″; the two smaller pieces are 24″x18″. It covers most of the wall, with about 18″ from the bathroom door to the art on one side, and 18(ish)" from the art to the built-in bookshelves on the other side.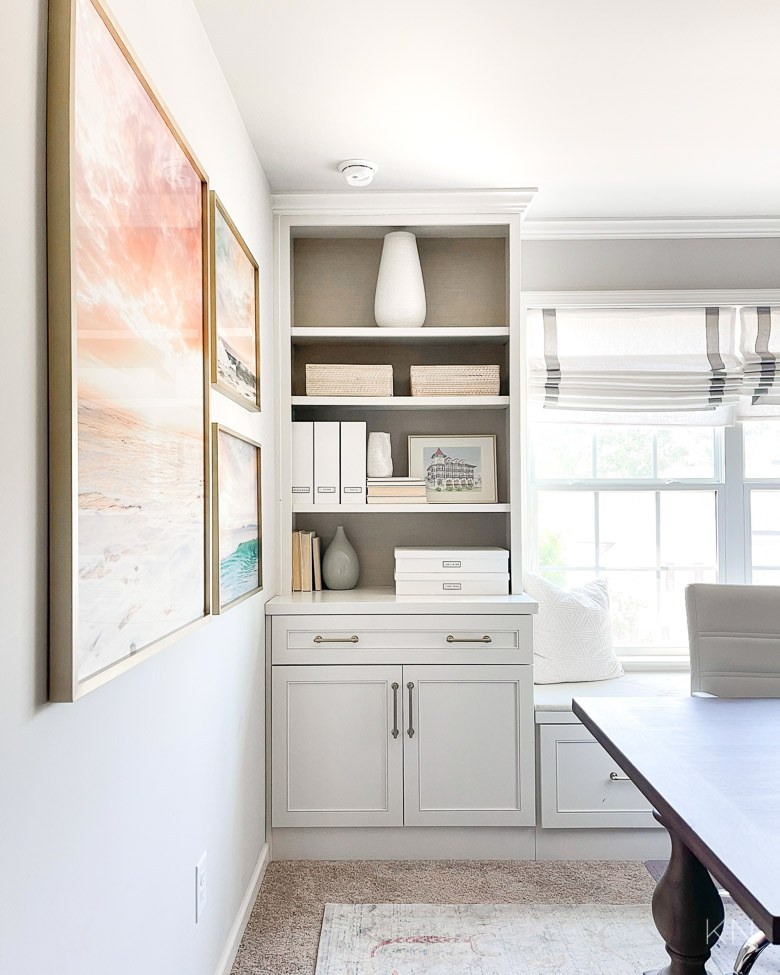 Sources:  Rug |  Art Left | Art Top Right | Art Bottom Right| Roman Shade | Office Chair | Desk Tray (large) | Rattan Bin | Magazine Storage Box | File Storage Box | Document Storage Box | Teardrop Vase | Cabinet Pulls
The beachy art created a perfect opportunity to bring in more natural, woven pieces so I traded in the single, carved, more ornate wooden medallion on the opposite wall for two of THESE wall baskets, stacked vertically.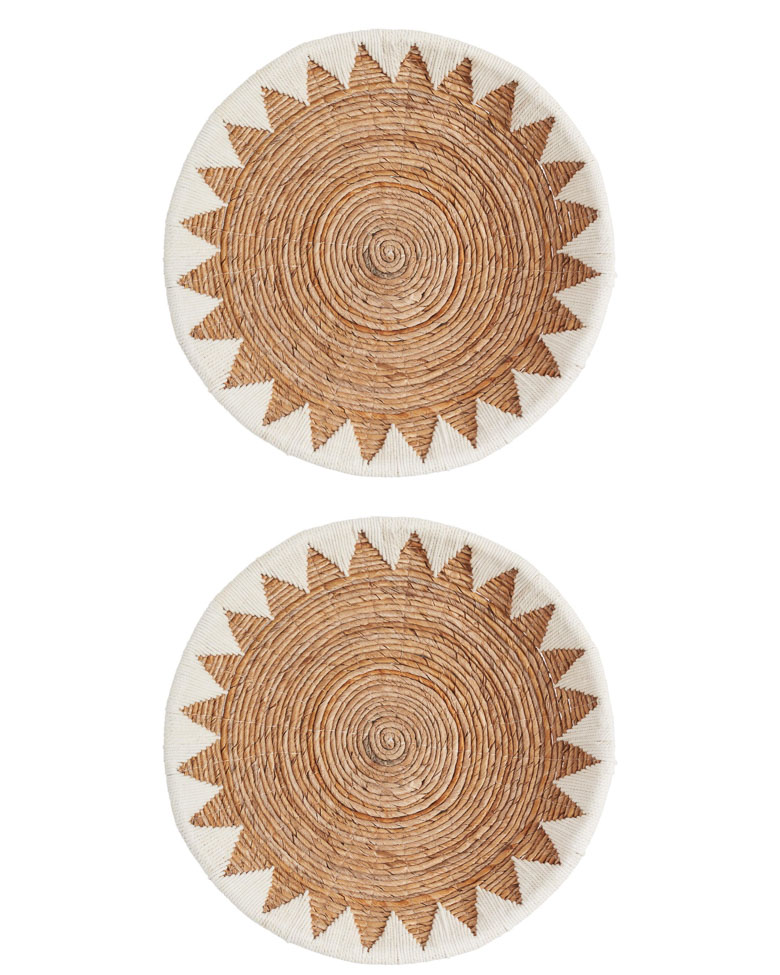 Sources: Woven Disc Wall Decor
And wanting to trade some of the more traditional femininity of the current crystal pendant-style chandelier, I ordered THIS rattan basket pendant in the "small" version. I have an entire post on basket pendants with a lot of great options across a variety of budgets HERE.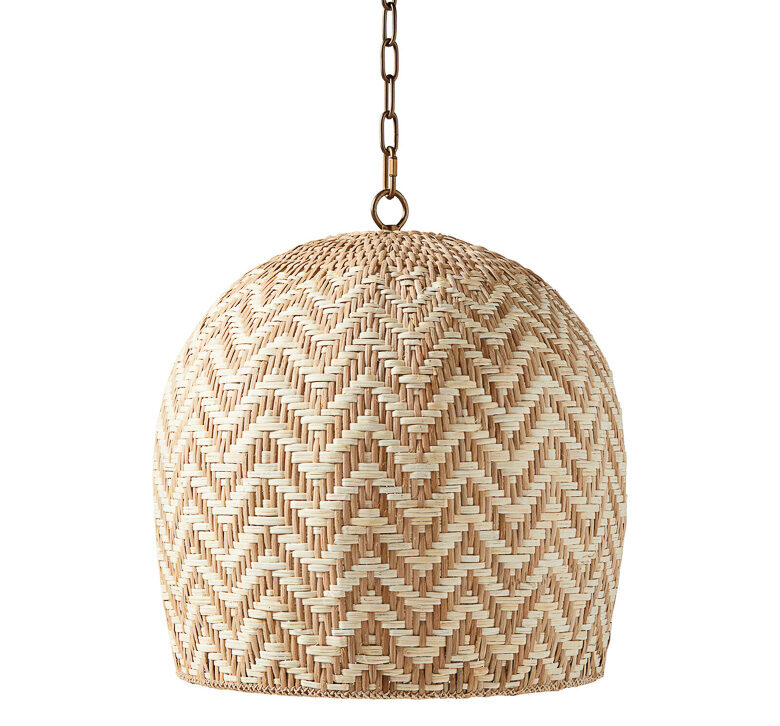 Source: Woven Pendant Light
Another more recent change was ordering new desk chairs. I loved my last upholstered office chair from Ballard Designs. I had found it with some stains at the outlet, but it was such a great deal and was so comfortable, I didn't care. But, my mom had been using a dining chair behind the desk for a long time. I wanted us to have matching chairs. And, the Ballard chair I had was discontinued and not available and the stains on my chair had grown to a pretty sad and worn state. So, I took a chance on THESE more modern, executive-style chairs for the two of us. I've been using mine for many months and have been really pleased. They are comfortable, I can sit for hours and hours, and the upholstery has had zero problems. I found it on Amazon for less than what I paid, plus it has free shipping with next day delivery HERE.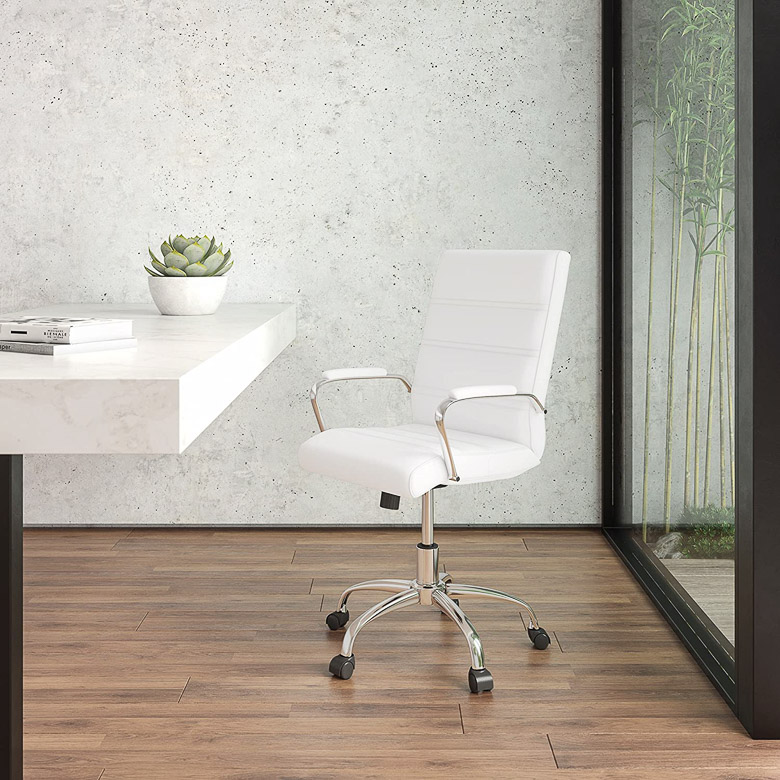 Sources: Desk Chair (photo via product listing)
I plan to keep my desk — the large rectangle dining table — the same.
A big adjustment to the room will be clearing out my slipper chair and sitting area in the corner and trading it in for a storage solution on the TV wall. Especially since becoming a mom, I just need every chance of storage I can grab. I ordered THIS 60″ buffet cabinet to go below the TV (on sale right now for $400 off!), and I'll line four of THESE lidded fabric boxes on top for extra storage (like Eliza's art projects).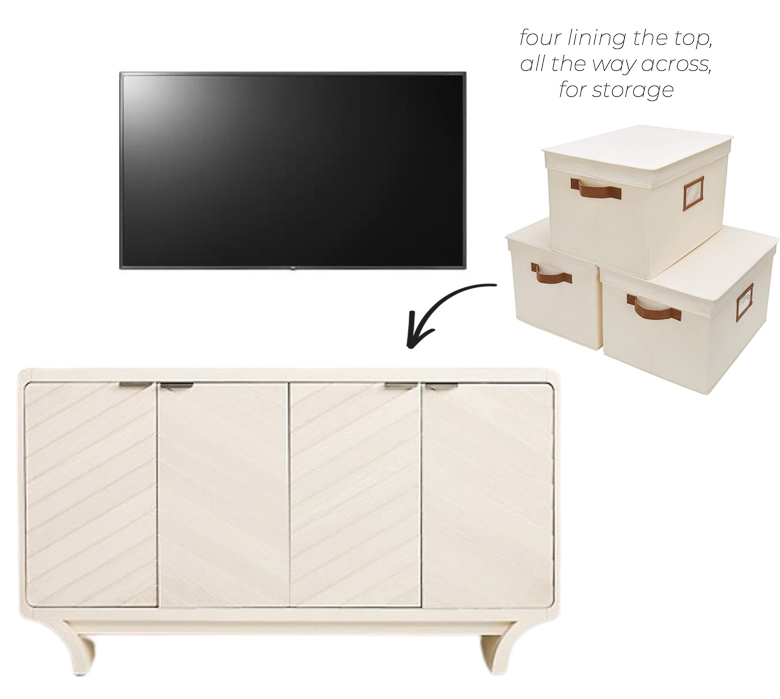 Sources: Lidded Storage Boxes |  Cabinet
**As a tip, in addition to the $400 off, I signed up for Anthro's annual membership (Up) which gives you 15% off (even sale prices), plus free shipping on every order (it doesn't apply to white glove delivery shipping like the cabinet, though.) Plus, they send you a $40 gift card within moments of signing up that you can use immediately. The fee for the annual membership was $98 but it more than paid for itself in that single order. PLUS, the perks apply to its other brands — Free People & Urban Outfitters. Find it on the banner at the top of the screen HERE.
I'm also ready to go a different route with my rug. Since adding more color to my walls, I think I want to go a more neutral route on the floor. THIS sisal rug (currently on sale!) is my current front runner…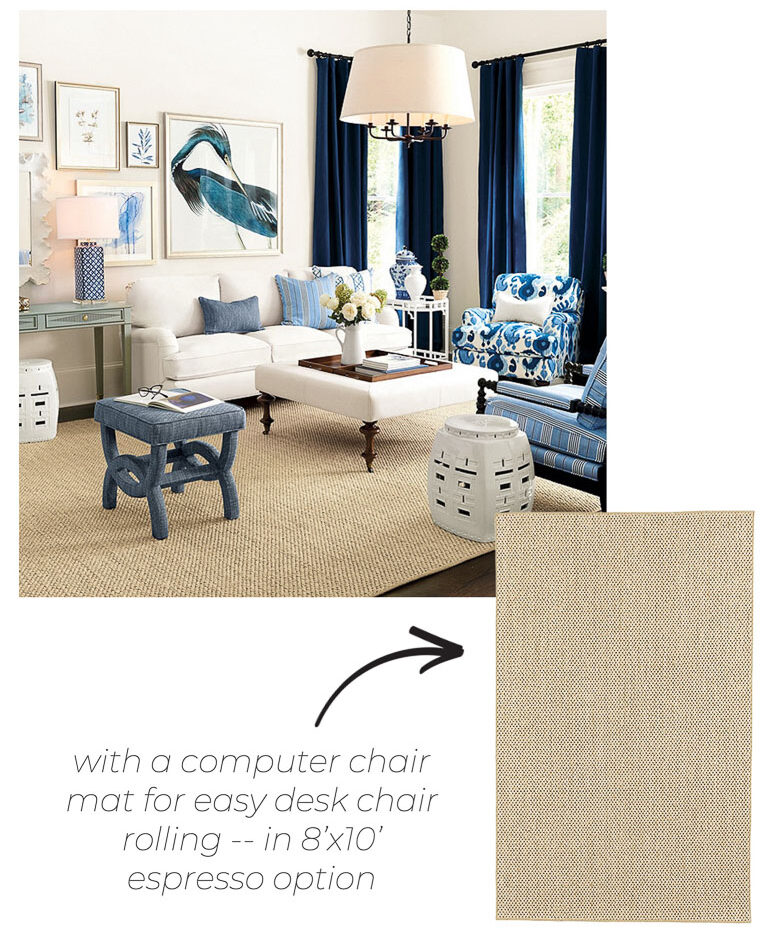 Sources: Sisal Rug
I recently revamped my office organization solutions which was a huge improvement and has kept me productive — you can see the insides of my drawers, cabinets, and more HERE. I still love love my built in shelving unit!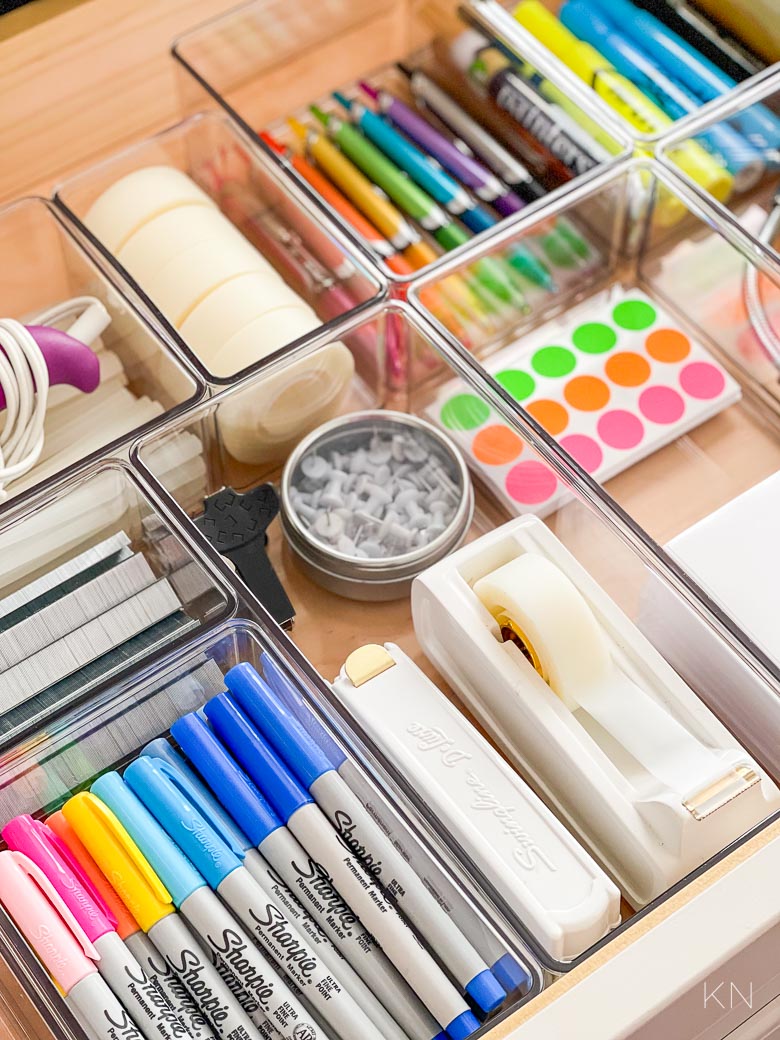 I'm making use of the entire unit pretty well but I think I am going to order a custom window seat bench cushion soon. I improvised and made my own (see the tutorial HERE) and it turned out really well! It's still serving me well. But, I want something a little thicker, heavier fabric, and with piping around the edges.
I also installed automated shades in our bathroom and since then, have determined that I want them in my office. I want black-out shades that will easily block light behind me since I do get glare while working, which is especially annoying when editing photos.
The verdict is still out on whether or not I'll change the paint color. Of course, that is something that would bring immediate an immediate, easy change to the space, but I don't know what else I would want long term. We'll see…
And then, because I'm having fun making my spaces a little more personal (and there's some things I want to display but they seem to stack up on my desk), I will be adding a large pinboard in the office. I haven't decided which one just yet — I love Eliza's pinboard in her playroom (the rectangle one HERE), and while it's considered large and perfect for her space, I don't know if it's quite big enough for what I'm thinking.
Depending on whether or not I keep the room's current paint color or change it up a bit will determine how quickly the space will come together. Some changes have already happened and the little evolution is already underway. To catch this project and other room projects coming up, be sure to subscribe to emails at the bottom of the post!