Gift guides are launching a little earlier than usual this year because 1. I have my own earlier finish-date goals for my personal shopping; 2. stats are showing the majority is shopping earlier than usual; and 3. I'd rather not worry about the buzz about lagging logistics and steer clear of the crunch-time, will-it-or-won't it arrive stress. I've spent the past few weeks assembling 2021 gift ideas and many featured are favorite gifts we've given/received or items we have and love. At any point during the season, you can find my collection of gift ideas in the "GIFT IDEAS" tab at the top of the page. Here's to not stressing, loving on our people, and getting it done!
*Posts on KelleyNan.com may contain affiliate links. Click HERE for full disclosure.
Christmas Gift Ideas: Kids
No surprise, the holiday gifting I get the most excited for is Eliza and sharing her favorites, my favorites, and some things she may be getting this year is a blast for me to outline. But, while I kept most of the other gift idea collections more concise, this gift guide is actually split into four categories — general gifts, culinary/play kitchen gifts, playroom gifts, and stocking stuffer ideas. Some things are geared toward toddler girls, but lots of items are universal.
I have an addiction to shopping for clothes throughout the year but in terms of toys, Eliza doesn't get a lot of new toys often. We work to keep them not overwhelming and try to rotate them out so things seem fresh. So, for Christmas, I really get to have some fun 😉 And, I'm proud to share, that aside for a few more stocking stuffers, I've completed my Christmas shopping for Eliza for the year, aside from a couple more stocking stuffers. Find all four gifting categories with the links and details to everything below!
Tried & True General Christmas Gift Ideas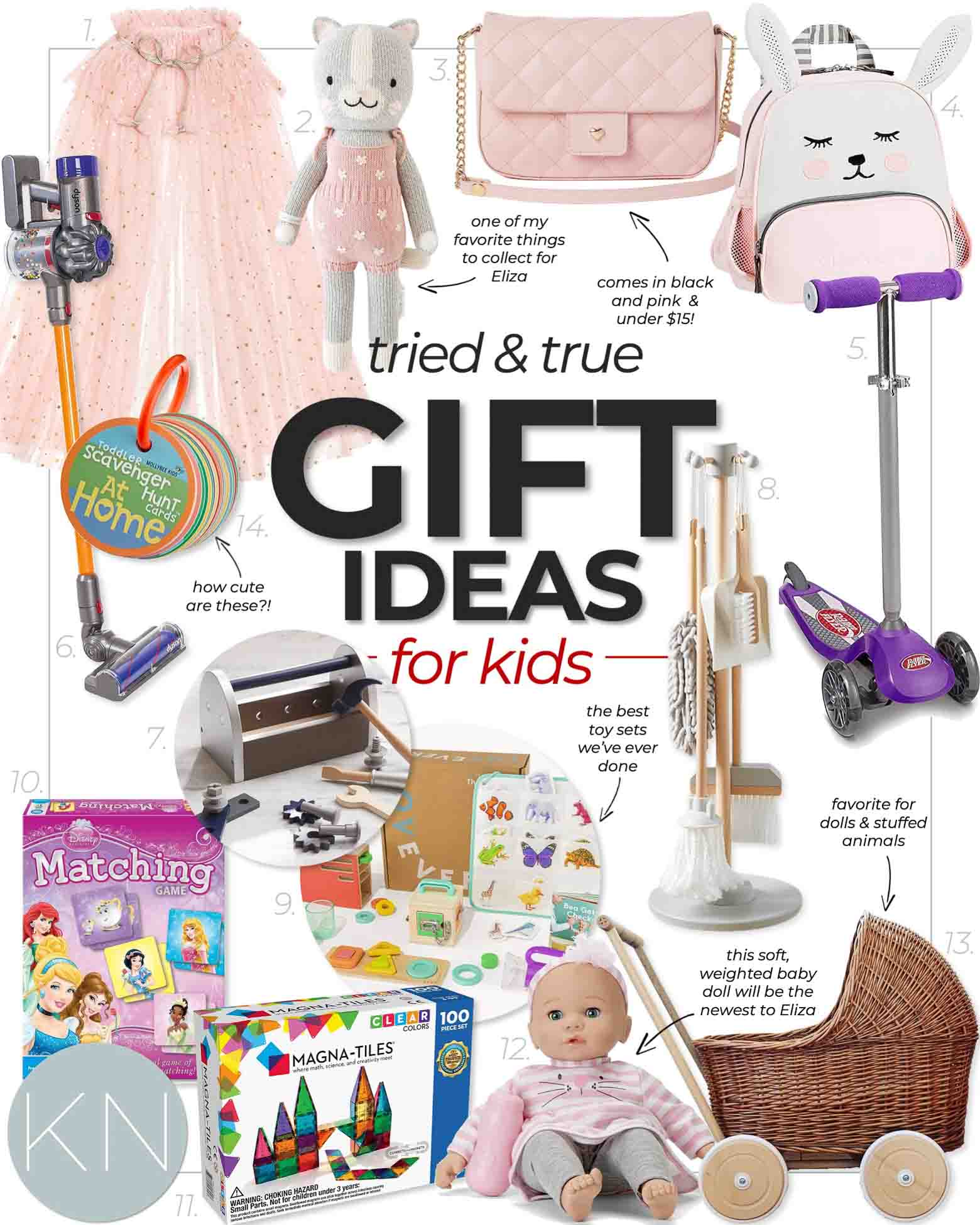 Sources: 1. Pink Cape | 2. Hand Knit Kitten Doll | 3. Quilted Purse | 4. Bunny Backpack | 5. Scooter w/Light Up Wheels | 6. Dyson Cord-free Vacuum | 7. Tool Box | 8. Wooden Cleaning Kit | 9. Lovevery Subscription Play Kit | 10. Disney Princess Matching Game | 11. Magnetic Building Tiles | 12. Madame Alexander Soft-bodied Baby Doll | 13. Wicker Doll Pram | 14. Scavenger Hunt Cards
THIS adorable quilted purse (3) reminds me of a quilted lambskin Chanel with gold hardware. But, this one is made for kids and comes in under $15 HERE. It comes in both pink and black but I ordered the pink for Eliza.
Eliza has the black kitty version of THIS backpack (4) in the mini size and it's one of her favorite things! The kitty is no longer available but the bunny version is available HERE in multiple sizes and is 42% off in one size and almost 35% off in the other size. You can also find a unicorn version — also on sale — HERE.
Whenever I share Eliza's baby carriage (13) , I always get source requests. It is shipped from a shop overseas but it's absolutely precious in person — it was a Gran Nan gift last year. Along with her other dolls and stuffed animals, Gran Nan wanted to get her a "soft" baby doll and ordered THIS Madame Alexander one (12).
As I mentioned, we don't gift Eliza toys a ton throughout the year. BUT, THESE Lovevery subscription boxes (9) are incredible. If you subscribe, they arrive once every few months to correspond with your child's development stage. They are all montessori-based toys and come with ideas on how to engage with your kids. The best part — Eliza still uses and plays with everything she's gotten in her boxes. Ever. You can cancel or re-subscribe at any time and you'll just pick back up on whatever stage your child is in. Seriously, the contents of each box is so clever and is probably the biggest reason we've steered clear of purchasing many other toys throughout the year. From puzzles and books to toys for hand-eye coordination and other milestone developments, they think of everything! You can explore all the playkits HERE and check out what's in each box. They now have boxes for stages all between 0-4 years old.
Eliza plays with her Magnatiles (11) almost daily but has a small set. We're expanding that this Christmas so she can continue to build "bigger". 😉 She uses these magnetized tiles to build more than any of her other block sets!
In addition to kitchen items, we're going to start introducing Eliza to more games this year. I ordered THIS Disney princess matching game (10) (other character options available), Hi Ho Cherry-O, Candy Land, and THIS fishing game.
Play Kitchen Christmas Gift Ideas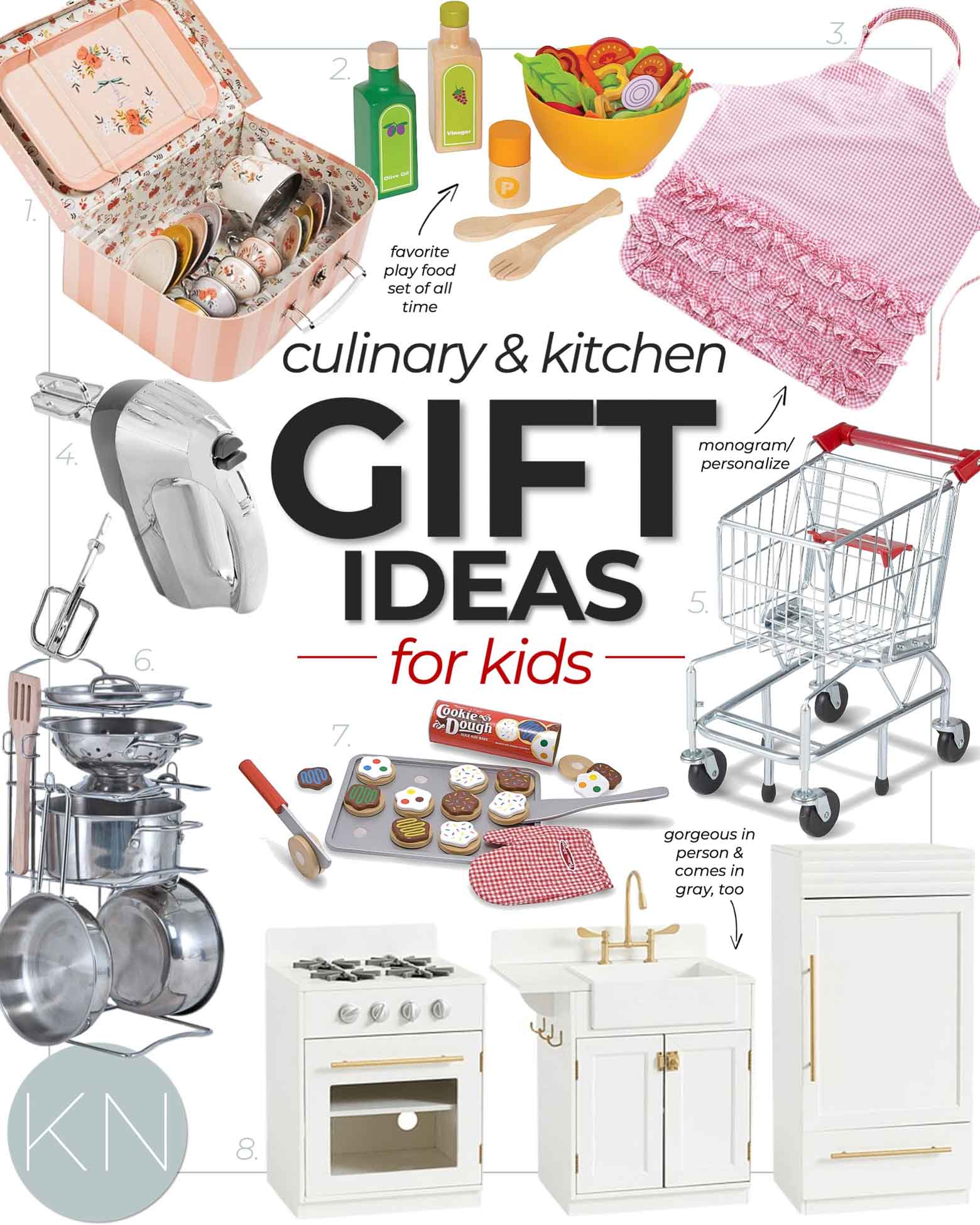 Sources: 1. Tin Tea Set | 2. Garden Salad Wood Play Set | 3. Gingham Apron | 4. Chrome Hand Mixer | 5. Toy Shopping Cart | 6. Stainless Steel Pots & Pans Set | 7. Slice & Bake Wooden Cookie Play Set| 8. Play Kitchen 
Eliza got her play kitchen this past Christmas as her main gift — we went with THIS one (8) in white and it is so well constructed and gorgeous, we are so glad we spent the money for her to grow with it over the coming years. Dave joked that her kitchen was nicer than ours… honestly, it is, haha. Up until this past month, it has remained in our main living area but since we are getting ready to start on her playroom, we finally relocated it to its new home upstairs. It comes in both white and gray HERE. And, since then, we haven't really added much to her kitchen beyond a few basics. Because it was in the main area, I didn't want to overwhelm with tons of food and utensils. So, this year, we are focusing on kitchen additions for play and pretend.
Here's Eliza last year on Christmas morning — I took a screenshot of a video 😉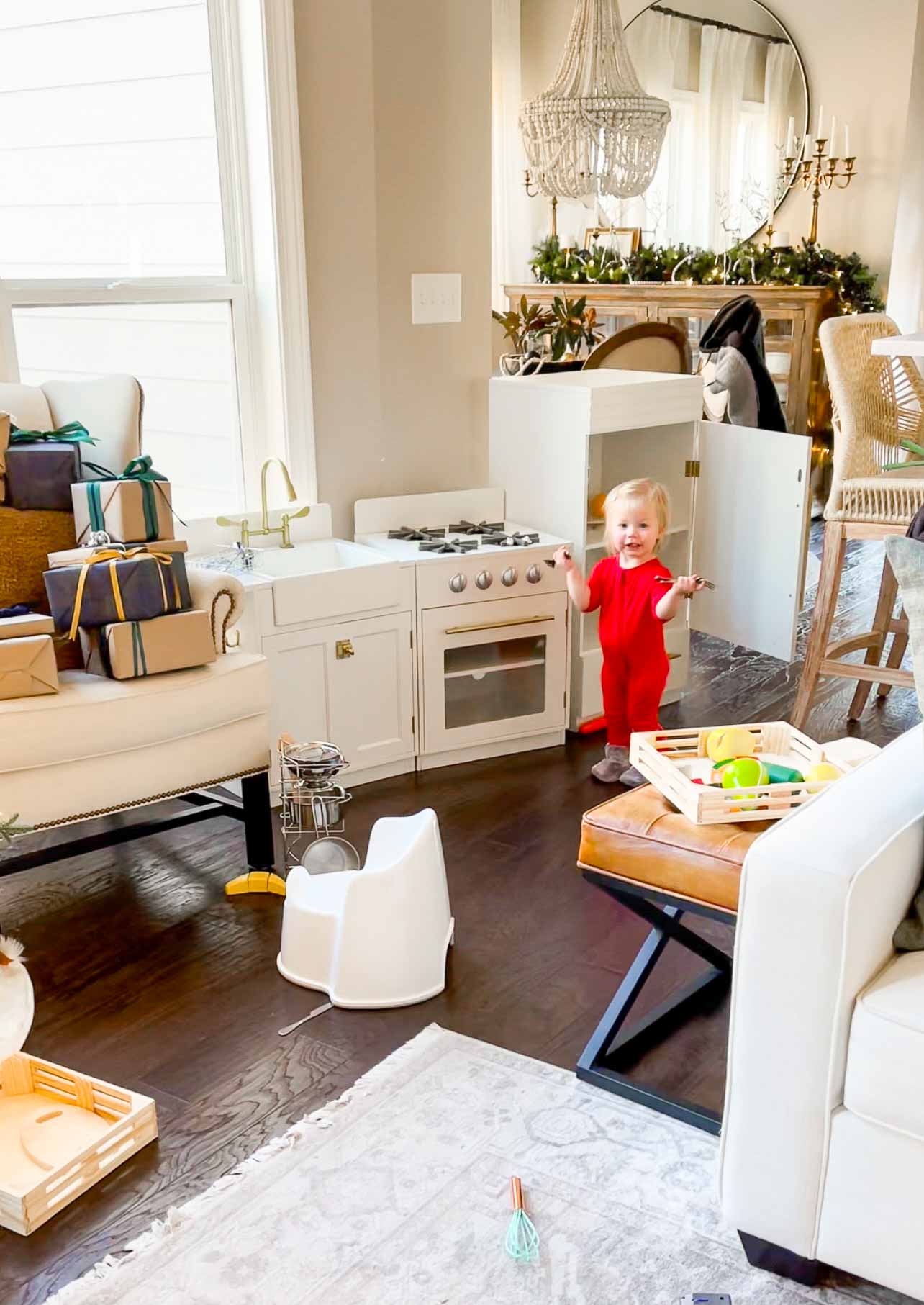 Play Kitchen | Red Bamboo Pajamas
For the kitchen basics, these are the primary pieces we started with (most of the below are on sale right now!):
A few months later, we added my favorite food set of all time — THIS salad kit (2). Between the salad fixings and all the dressing details, it is the most adorable thing ever. It's also Eliza's favorite food to play with. After loving the quality so much, we sought out other play food by the same maker and just ordered THIS little pizza set for this year. THIS pita pocket set is also adorable!
This year, we're expanding and are stocking her fridge and pantry a little more. I ordered these to add… (note: most of these are on sale!)
And I also ordered THIS sliceable cookie (7). And, while it was on sale, I also ordered THIS classic grocery cart (5).
THIS adorable apron (3) was a gift from last year — it's still pretty large on her but it's easy to fold over to better fit her. It's also customizable and if this is your first year gifting a play kitchen, a custom apron is the perfect accessory. You can find it HERE.
Playroom Christmas Gift Ideas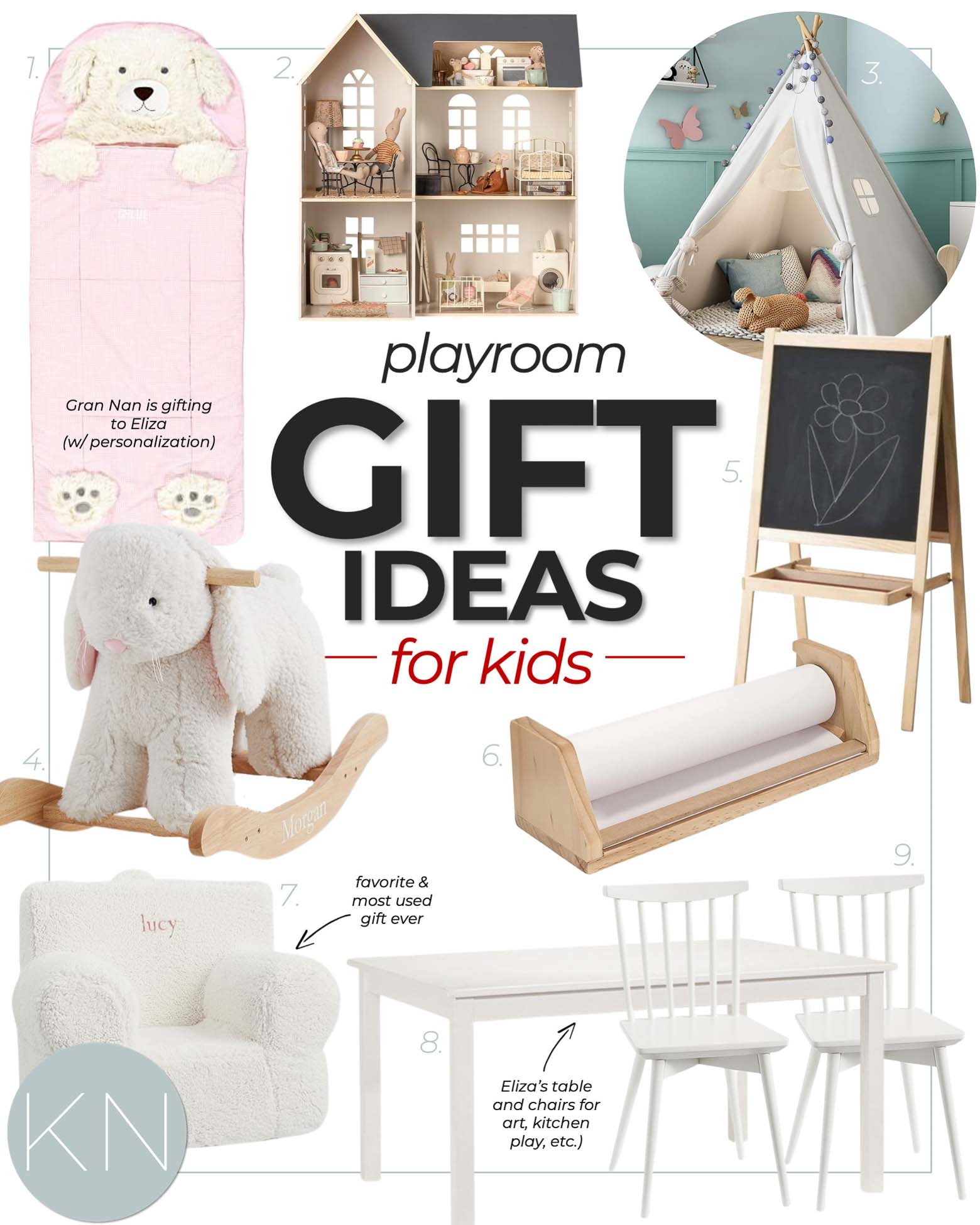 Sources: 1. Puppy Sleeping Bag | 2. Dollhouse | 3. Canvas Teepee Tent | 4. Plush Bunny Rocker | 5. Art Easel | 6. Paper Roll Dispenser w/Paper | 7. Sherpa Anywhere Chair | 8. Large Play Table | 9. Play Chair
As many of you know, we got a bit derailed this year with some unexpected house projects and Eliza's playroom execution had to be put on the back burner (see the playroom plan HERE.) I am so excited that we now have the room cleared out (it held the contents of our master closet for months!) and we have a clean slate to fill with all of the playroom things!
This gift list includes some of the larger items that we have already put in place for the playroom, along with some new items that will be added. As many of these items are long-lasting and more pricey in nature, they are perfect for that "key" gift from parents, grandparents or Santa.
One of my favorite gifts for children is a cool sleeping bag that they can call their own. THIS Sherpa Puppy Sleeping Bag (1.) has already been ordered and personalized for Eliza by Gran Nan for Christmas. I know she will be thrilled and use it for special tv time, nap time and spend the night parties.
We absolutely LOVE Maileg mice and Eliza has several — you can see those HERE. How fun is THIS Maileg Mouse House (2.)? I love the idea of starting with the house and then adding furniture, accessories and habitants as special gifts throughout the year.
THIS Teepee Tent (3.) was purchased for the playroom last year and I can't wait to assemble it and put it in its place.  If you have been on a teepee tent hunt, this one is especially affordable and is priced even better than it was when I bought it last year.  I know Eliza will love her own special space for her and her stuffed animals. I imagine she will also be adding her sleeping bag to the space.
When we created Eliza's neutral nursery (HERE) the sherpa rocking bear was one of the first additions to the space. While the bear is no longer available, THIS Sherpa Bunny Rocker (4.) is and is absolutely adorable. Eliza loves her rocker and still loves to ride and rock!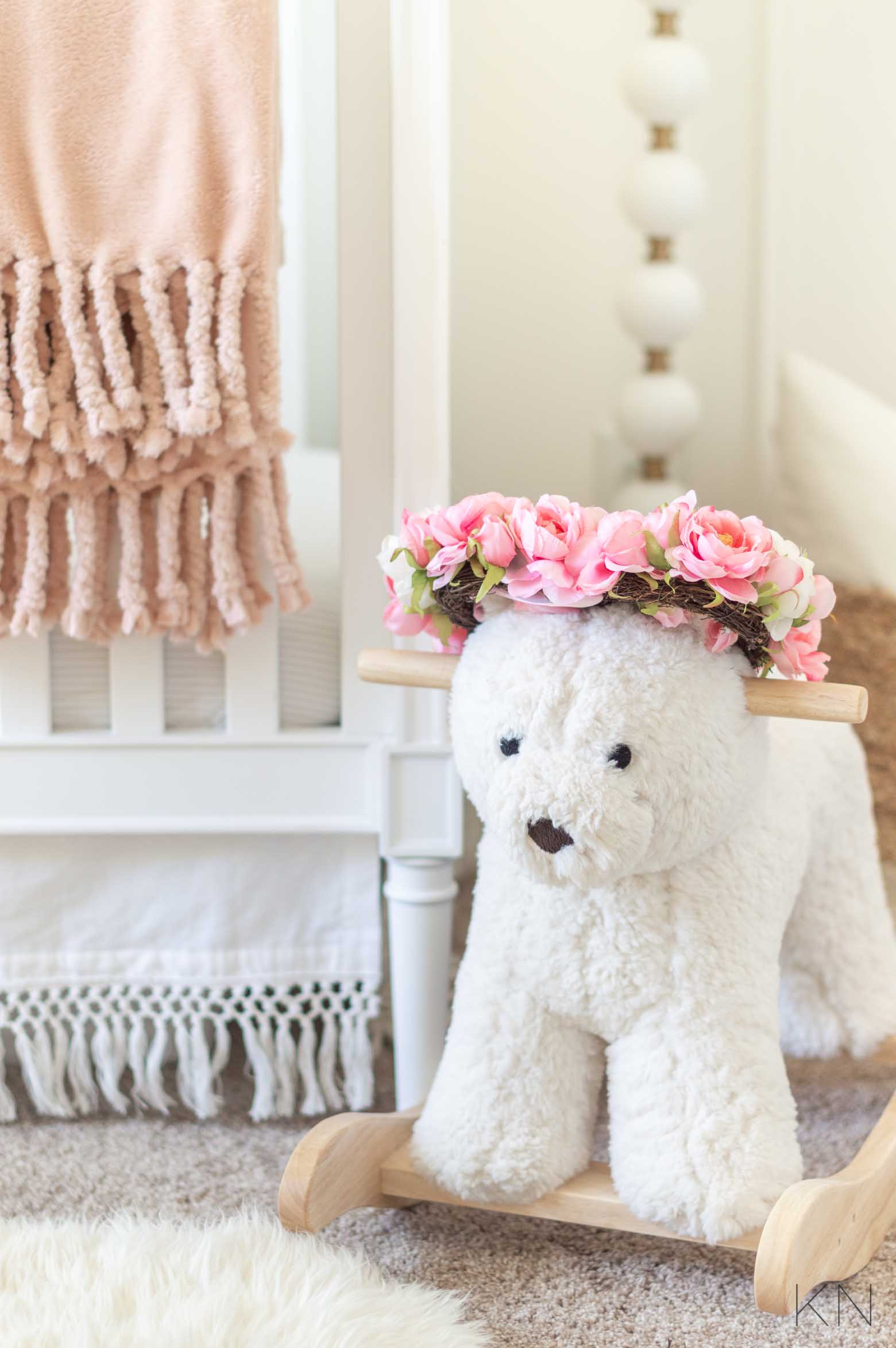 Sherpa Bunny Rocker | Tassel Throw | Macrame Crib Skirt
It has been a joy watching Eliza's interest in art grow! Again, THIS Art Easel (5.) is an item that we had previously purchased and have not yet put into use. There is a black board on one side and a white board on the other. Best of all, the easel may be folded and put away when not in use.
THIS Tabletop Paper Dispenser (6.) comes with a 75 foot roll of paper and is a fantastic deal at $13.98. It ships fee via Prime. I think it's the perfect companion to the art easel, especially if you have a budding artist!
Probably one of our favorite things ever is THIS Sherpa Anywhere Chair (7.) and is personalizable. Eliza's chair is at home in our living room and she loves that this is HER special chair — it was a gift to her on her first Christmas. It's lightweight and can easily be moved to the playroom when that time comes. Here's baby Eliza at eight months on Valentine's Day! While the chair comes in three size options, the standard, regular size is the one to go for (not the "my first" chair).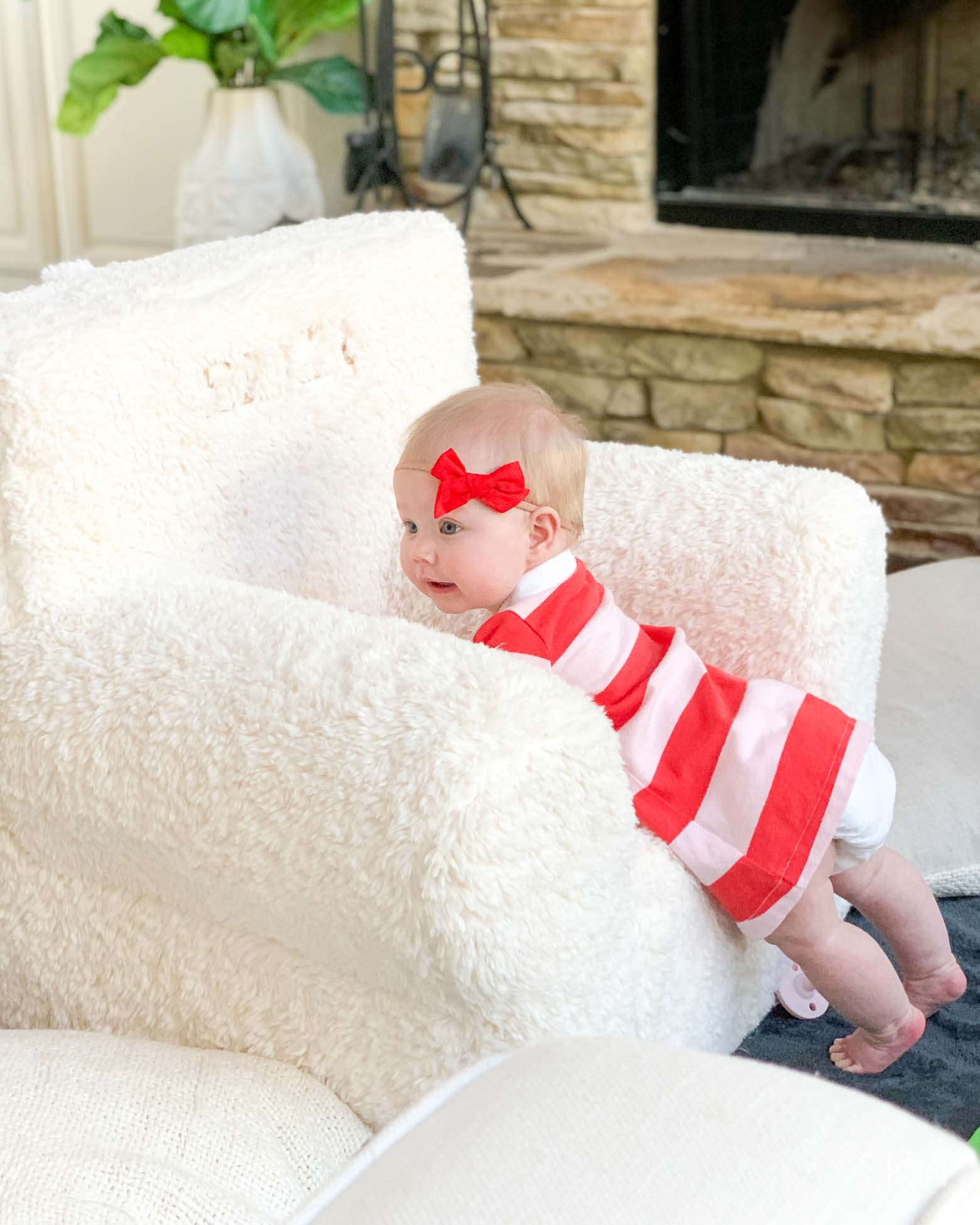 I am especially excited about THIS Play Table (8.) and THESE Play Chairs (9.) Eliza will be able to host tea parties and have her own spot to draw and color. There are several different furniture styles available, but we liked the clean and traditional lines of these.
Stocking Stuffer Christmas Gift Ideas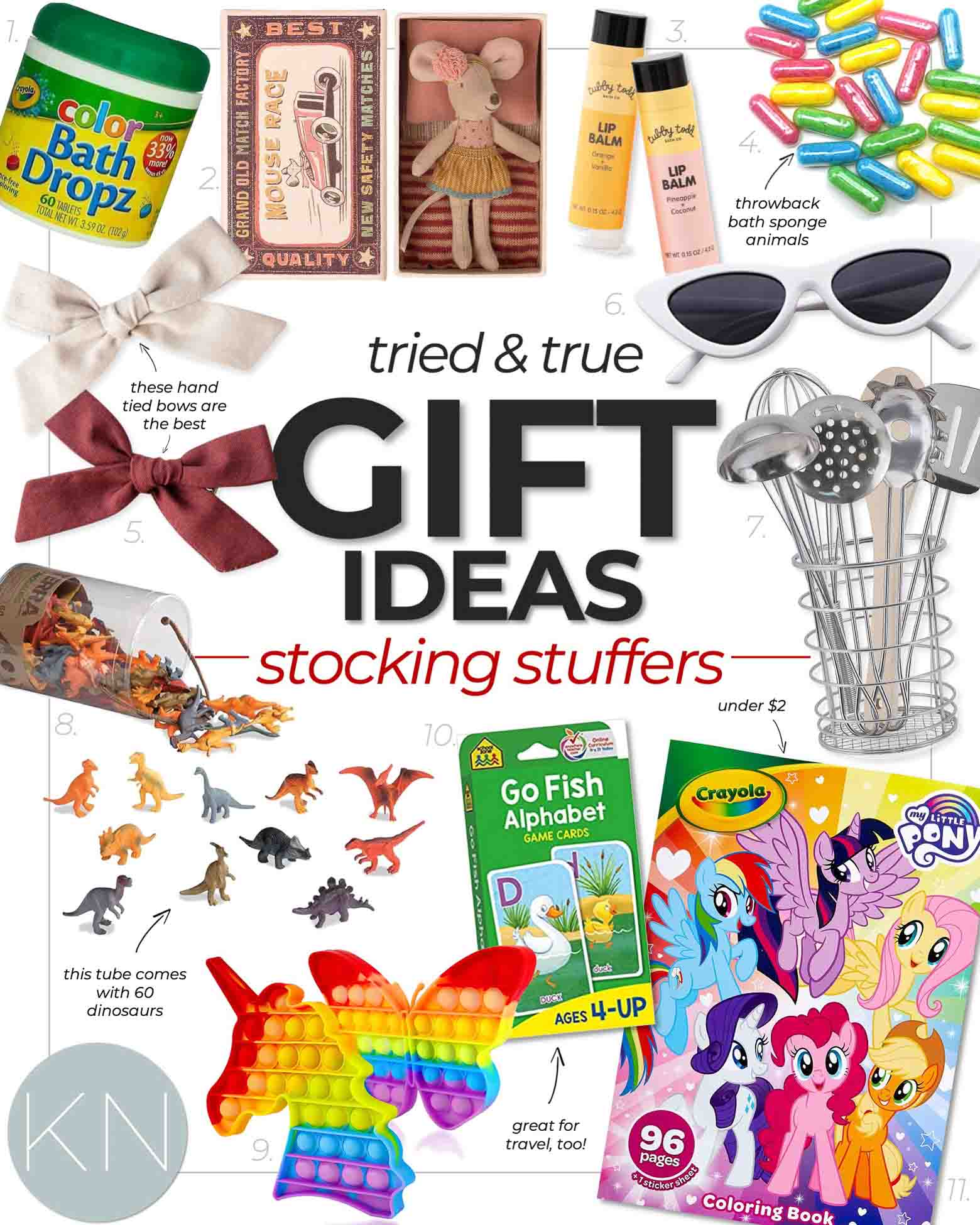 Sources: 1. Water Coloring Bath Dropz | 2. Little Sister Mouse | 3. Lip Balm, 2-pk | 4. Magic Grow Sponge Animal Capsules | 5. Hand Tied Bows | 6. Cat Eye Sunglasses | 7. Stainless Steel Cooking Utensil Set | 8. Miniature Dinosaur Set | 9. Popper Sensory Toy | 10. Go Fish Game Cards | 11. My Little Pony Coloring Book w/Stickers
One of the most fun things about Christmas gifting is filling those stockings! It's especially fun now that Eliza is growing older and some of the smaller, stocking-sized items are more age-appropriate for her. I trend toward the traditional and when I was growing up, the most special item was tucked in the toe of my stocking to be pulled out last. We love stocking filling so much that, yes, the contents typically are spilling out of the stocking and there may (or may not be) several items placed alongside ;).
Nightly bath time is one of Eliza's favorite rituals. THESE Color Bath Dropz (1.) and THESE Sponge Animal Capsules (4.) are perfect for the stocking and for bath time.  The Color Bath Dropz have been an ongoing favorite — each night, we ask Eliza what color bath water she wants — and I must admit, I was so excited to find the Sponge Animal Capsules since I loved them as a kid.
THIS Maileg Little Sister Mouse (2.) will most likely have the honor of going in the stocking first, so that Eliza pulls it out last. She has several of the Maileg mice and absolutely loves them (more may be found HERE.)
At this age, Eliza is a great mimic-er and loves all of the "mommy things." THIS Lip Balm Set (3.) is from one of my favorite brands and THESE Cat-Eye Sunglasses (6.) are so chic! We got those sunnies for her this past summer and they are among our favorites.
If you have been following along with us for awhile, you know how much we love our bows! THESE (5) are our absolute favorites and are available for 10% off with code KELLEYNAN. The quality is amazing and I'm addicted to the hand-tied fabric. These days, I typically buy them in pairs or opt for the pigtail sets so that we will have a matching set for twin piggies or ponies.
I have been a bit surprised, but Eliza LOVES dinosaurs. She loves to roar and I thought THIS set of Mini Dinosaurs (8.) would make the perfect stocking stuffer and fun for play. Best of all, this set includes 60, yes 60, dinosaurs!
Eliza does really well on car trips, but we typically do go armed with a couple of things to help keep her occupied on longer rides. THIS Sensory Pop Toy (9.) and THESE Go Fish Alphabet Cards (10.) are perfect for travel.
If you are as excited about the release of the new My Little Pony movie like I was, you can't go wrong with THIS My Little Pony Coloring Book (11.). You also can't go wrong with the under $2 price!
Shop These & More Christmas Gift Ideas for Kids