Gift guides are launching a little earlier than usual this year because 1. I have my own earlier finish-date goals for my personal shopping; 2. stats are showing the majority is shopping earlier than usual; and 3. I'd rather not worry about the buzz about lagging logistics and steer clear of the crunch-time, will-it-or-won't it arrive stress. I've spent the past few weeks assembling 2021 gift ideas and many featured are favorite gifts we've given/received or items we have and love. At any point during the season, you can find my collection of gift ideas in the "GIFT IDEAS" tab at the top of the page. Here's to not stressing, loving on our people, and getting it done!
*Posts on KelleyNan.com may contain affiliate links. Click HERE for full disclosure.
Christmas Gift Ideas: Families / Everyone
These gifts are labeled as Christmas gifts for "families", but most of these are suitable for anyone special in your life. Find the links and details to everything below!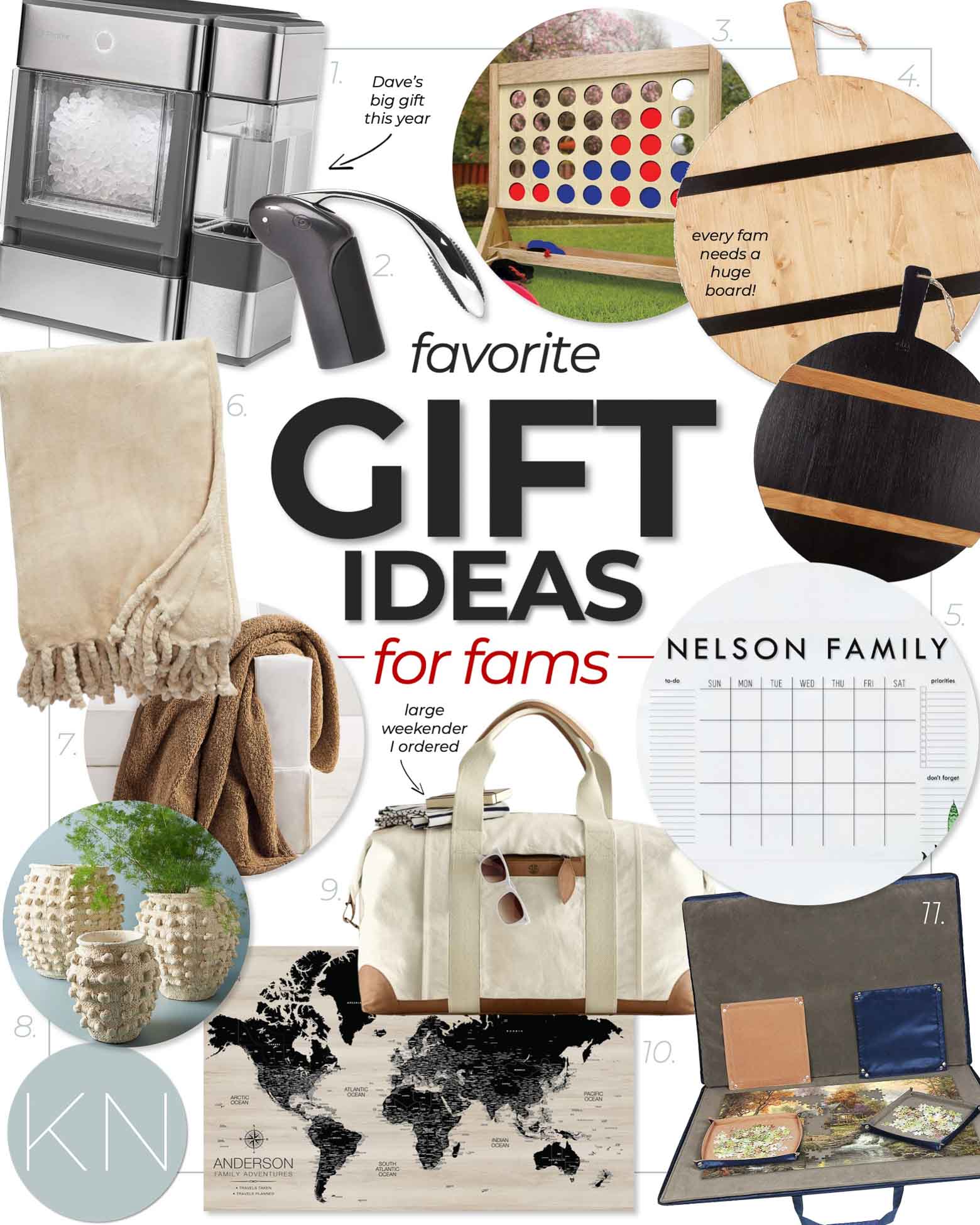 Sources: 1. Nugget Ice Maker | 2. Rabbit Wine Opener | 3. Jumbo Connect Four Game | 4. Wooden Boards (3 sizes available) | 5. Acrylic Family Wall Calendar | 6. Tassel Throw Blanket (comes in tons of colors)| 7. Teddy Bear Throw Blanket | 8. Textured Pots | 9. Canvas & Leather Weekender Bag | 10. Wooden Map w/ Push Pins Trip Documenter | 11. Puzzle Board & Case 
THIS Nugget Ice Maker is Dave's main gift this year — I've had it for a few months and am so excited for him to open it. It will likely live in our basement, on the periphery of his man cave. I'm especially excited since our main ice-maker in our kitchen fridge has been out of order for at least the past two years — this thing is sizable but if you have the space, I'm stoked because from what I've heard, those who have it rave about it and it's crunchy nugget ice!
I have raved and raved about my puzzle board with felt board, case, and sorting trays. You can even store it vertically or flat under the bed. After a few months of owning mine, my mom recently purchased one, too 😉 The product listing currently has a 20% off coupon on the listing HERE.
My mom introduced me to THIS manual wine opener at least over a decade ago and every time I have friends come over, they still can't believe how swift and easy this thing uncorks the bottles! I prefer non-electric wine openers that don't require counter space or charging and this one is awesome! Pair it with a bottle of wine, charms (THESE are a favorite!), or another wine accessory to make the gift look extras intentional.
I actually ordered THIS leather and canvas oversized weekender tote for myself (for my anniversary, from Dave, haha) and it just arrived! Gender neutral and bigger than most others I could find, it comes in multiple colors and has the option to monogram. I have other bags that are good for overnight trips but none of my other "weekender" totes are actually big enough for a weekend… so I find myself carrying full-sized suitcases. I can't wait to take this bag out for it's first getaway — it has tons of space! You can see the small monogram on the center leather…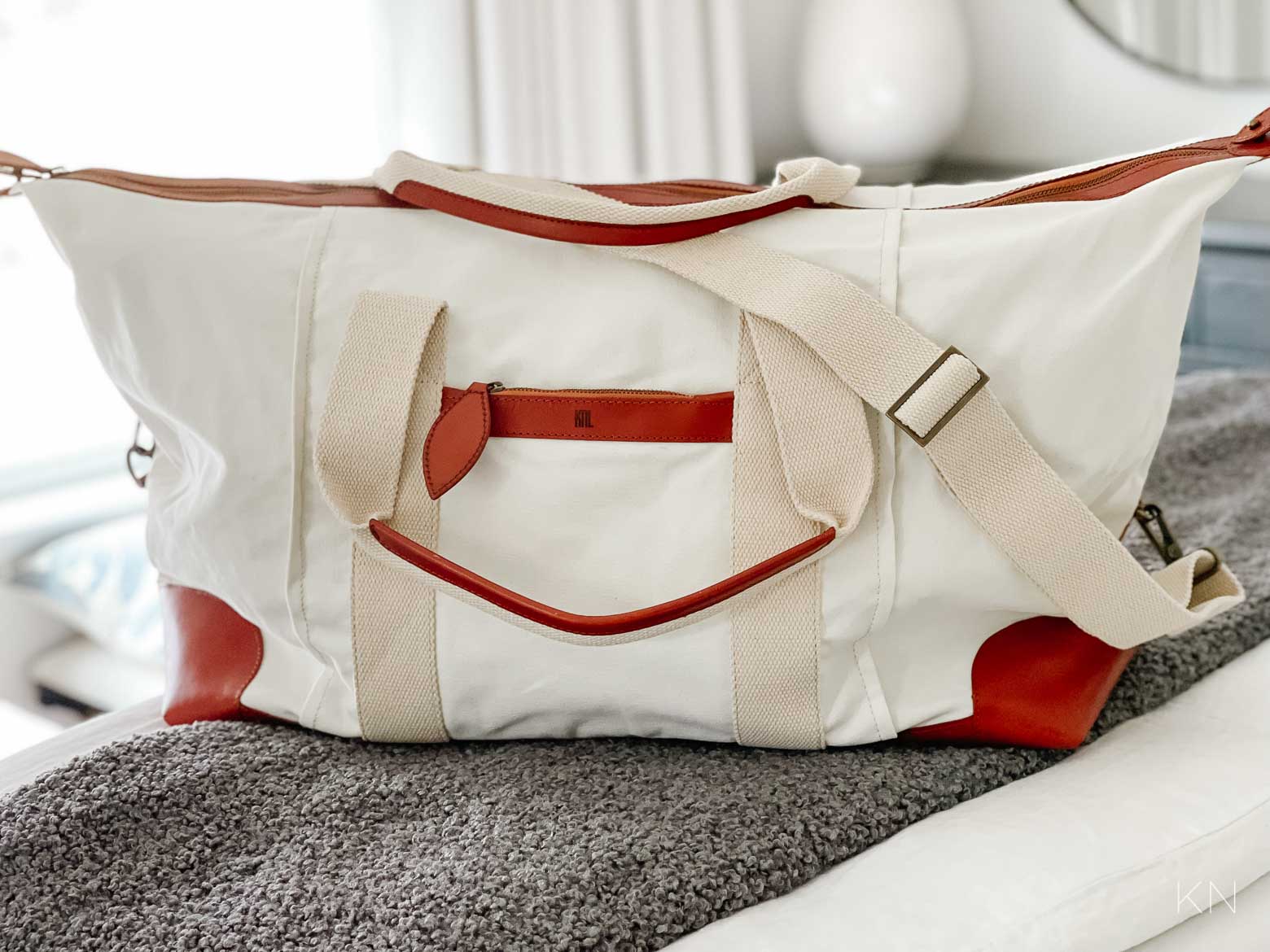 Every year, I talk about THIS inexpensive, uber-soft tassel throw. And, every year, I purchase more for gifts… and for myself. It continues to be a reader favorite and gift go-to year after year, too! It's available in tons of colors (I think I have at least 10 by now) and ships free HERE. We keep multiples in just about every room — from the living room and bedroom to Eliza's nursery and my office.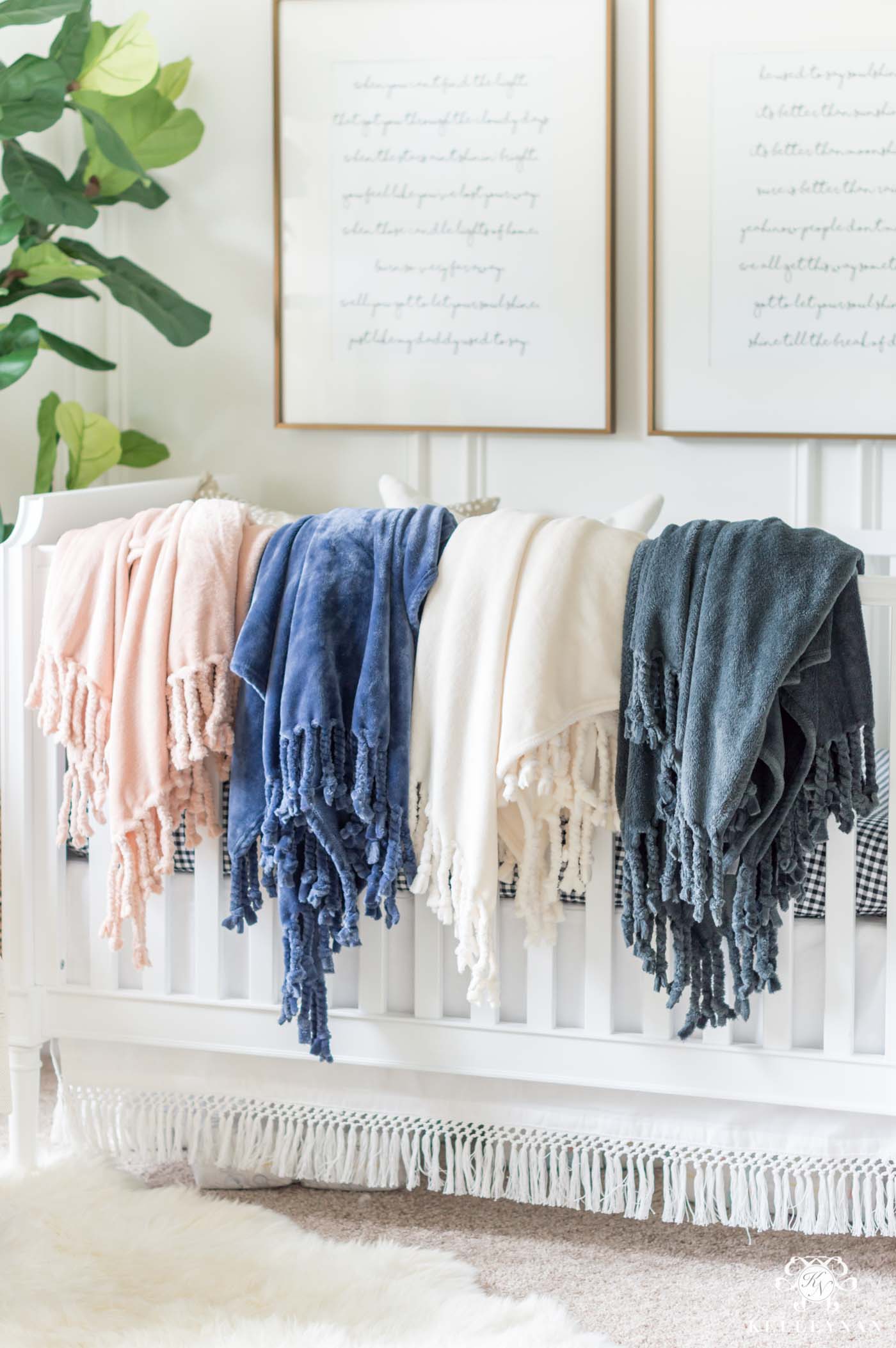 On the other end of the spectrum, THIS teddy bear throw blanket is a bit pricier but it's heavy, soft, and velvety and makes the perfect end-of-the-bed throw. And the perfect whole-family-snuggle-underneath-on-the-sofa throw. It comes in two sizes (I would definitely spring for the larger if you're debating) and both my mom and I have two in four different colors. The tobacco is gorgeous and earthy in person!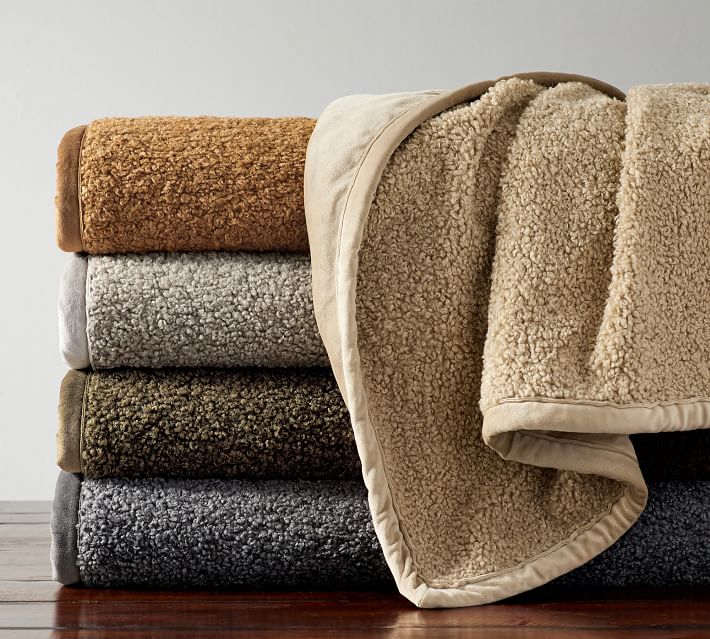 Here is the tobacco color at the foot of the downstairs guest bed…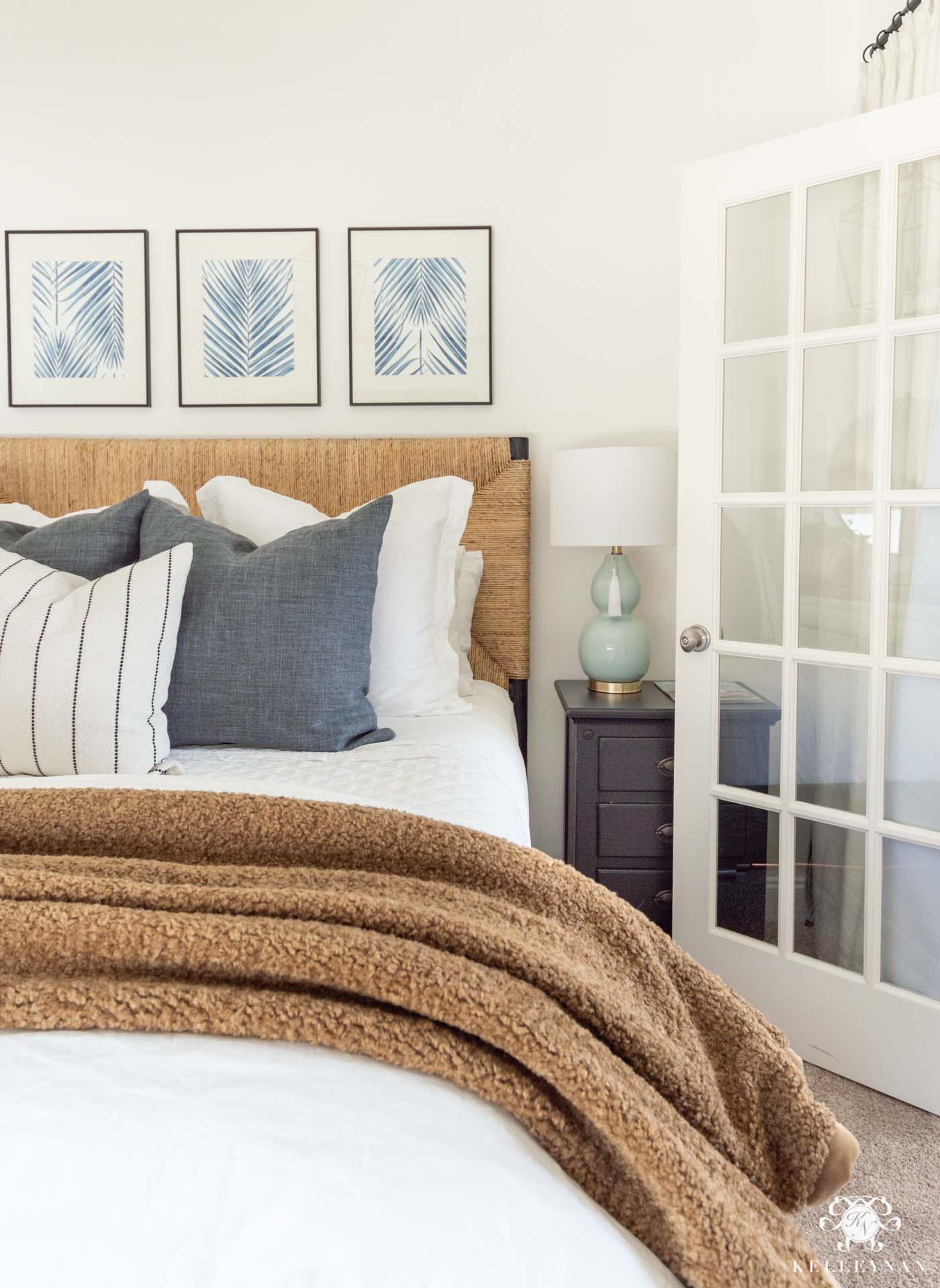 Belgian Flax Linen Quilt (white) | Belgian Flax Linen Duvet Cover & Euro Shams (white) | 700 TC Sateen Sheet Set (white) | Tobacco Teddy Bear Throw Blanket | 24" Blue Belgian Linen Throw Pillows (Gunmetal) | 20″ Black & Cream Stripe Pillow | Thin Black Photo Frames (16″x20″) 
THIS oversized board isn't a typical charcuterie board — it's made of reclaimed wood, comes in multiple sizes, and is beautiful to leave leaned against kitchen backsplash as decor. This special piece is an awesome option for people you feel are the most difficult to buy for. Pair it with cheese knives (I love THESE marble & gold knives and they're on sale!), cheese markers (THESE markers are custom & adorable! *on my wish list), small dip bowls, etc. It comes in multiple sizes and different black/natural color configurations and you can find it HERE.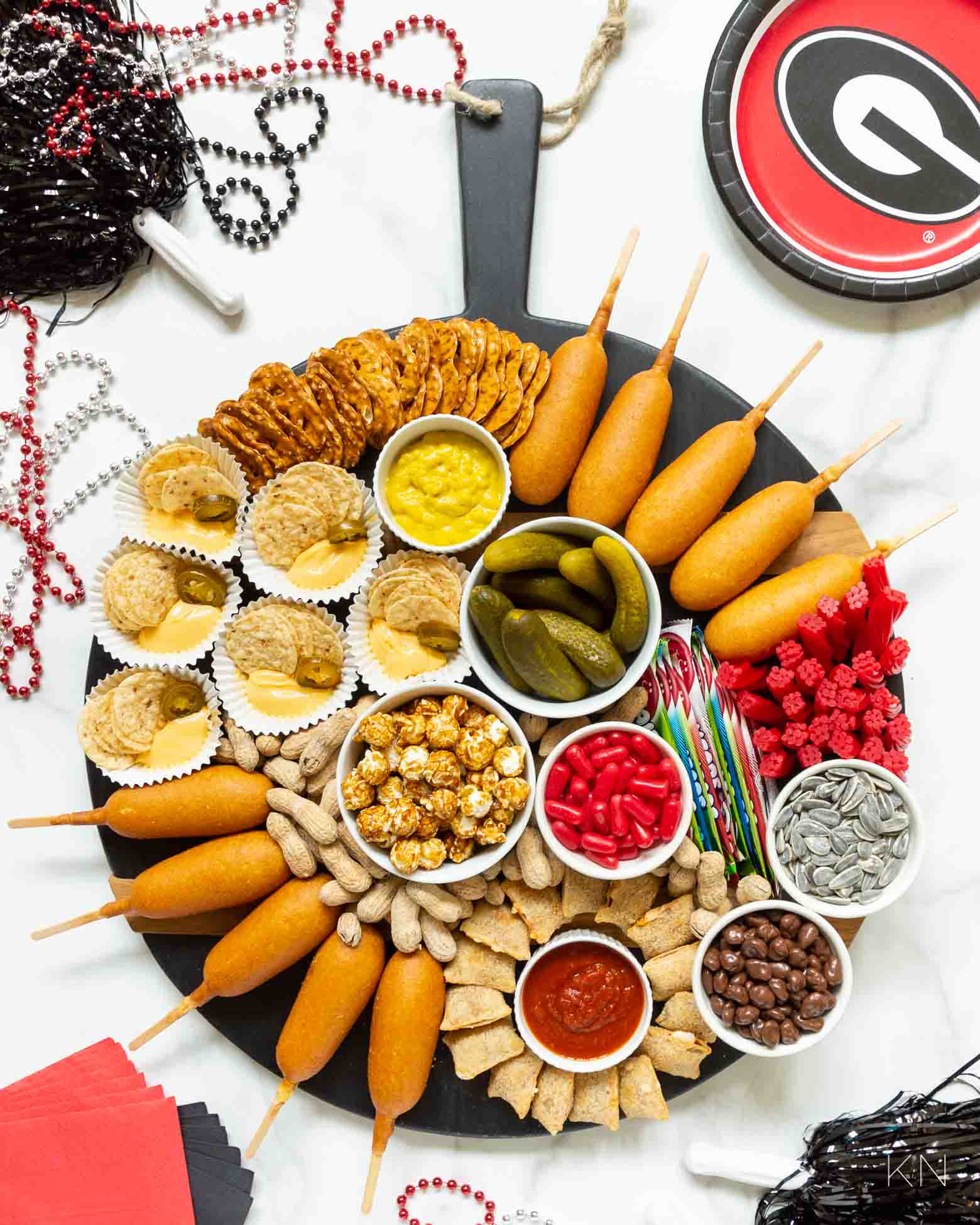 Black & Wooden Charcuterie Board (medium)
And here are those adorable, custom cheese markers I referenced…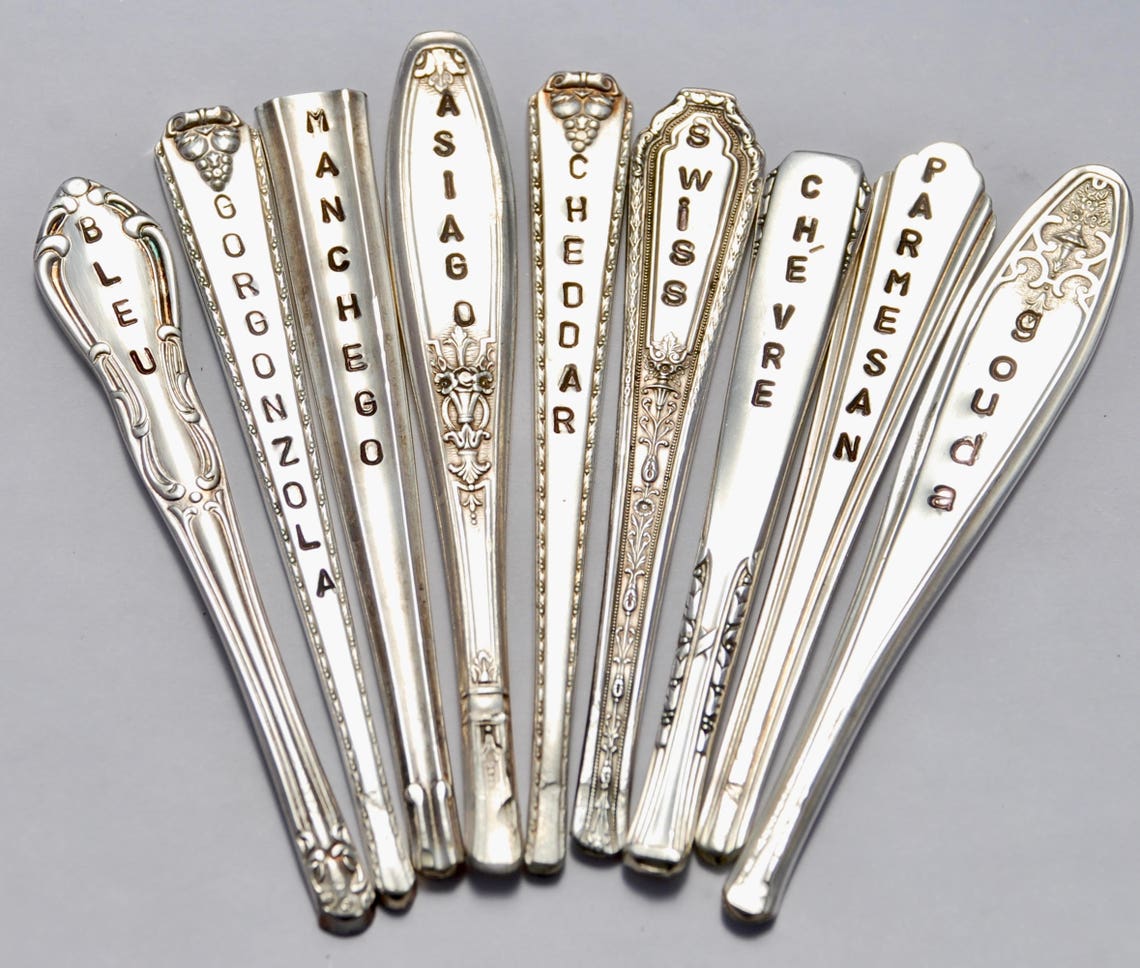 Custom Cheese Markers (image via Vintage Garden Art shop listing)
THIS wooden map comes in lots of sizes, lots of colors, and custom personalization options for family names and more. It also comes with the push pins you can use to document and mark your travels and trips! Love the idea of putting this in a mudroom, office, kids room, hallway, etc.
Who is toughest for you to shop for? You can find all the brand new, freshest gift ideas for the 2021 holidays here: