Gift guides are launching a little earlier than usual this year because 1. I have my own earlier finish-date goals for my personal shopping; 2. stats are showing the majority is shopping earlier than usual; and 3. I'd rather not worry about the buzz about lagging logistics and steer clear of the crunch-time, will-it-or-won't it arrive stress. I've spent the past few weeks assembling 2021 gift ideas and many featured are favorite gifts we've given/received or items we have and love. At any point during the season, you can find my collection of gift ideas in the "GIFT IDEAS" tab at the top of the page. Here's to not stressing, loving on our people, and getting it done!
*Posts on KelleyNan.com may contain affiliate links. Click HERE for full disclosure.
Christmas Gift Ideas: For Him
When it comes to Christmas gifting, one of the most challenging items for me to find are the gifts for "him," whether it's for Dave or my Dad… Guys seem to like power tools, car accessories, and "boy toys." Let's face it, I'm not likely to pour through the aisles of the big box stores, looking for the perfect guy gift, because, 1. this is not my area of expertise ,and 2. I know that my guys are most likely to buy what they want when they see it!
Raise your hand, if like me, you've requested a "wish list" and you always have to provide a warning early in the season to your guy to NOT make any impromptu purchases. At the same time, I want to be creative in my gifting so that my guys will be surprised with something unexpected that they never have seen or considered.
This year's gift guide includes some items I have gifted to my guys in the past and also some of the gifts they will be getting this year. Quality is key, since my guys may not have considered buying some of these items for themselves. At the same time, this selection includes gifts at all different price points, whether you're shopping for your dad, husband, boyfriend, son or special friend. Find the links and details to everything below!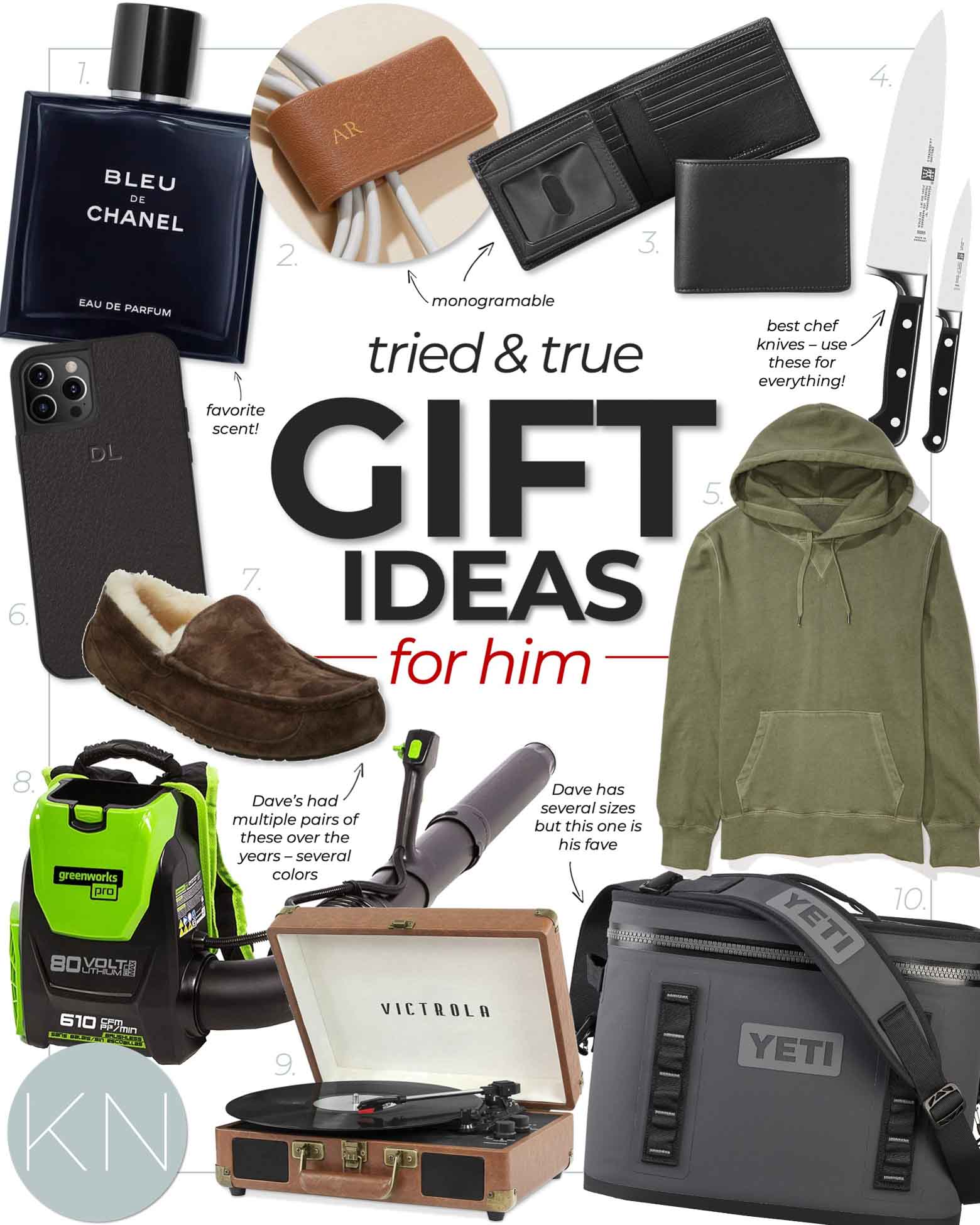 Sources: 1. Bleu de Chanel Cologne | 2. Leather Cord Wrap | 3. Bi-fold Wallet w/Flap | 4. Professional 2-pc Knife Set | 5. Soft Fleece Hoodie | 6. Leather iPhone Case | 7. Ugg Ascot Slipper | 8. Cordless Backpack Leaf Blower | 9. Portable Suitcase Record Player w/Built In Speakers | 10. Soft-Sided Yeti Hopper Cooler
We found THIS cologne (1) for Dave several years ago and he and I absolutely love it! I always have a new bottle in his stocking every Christmas.
I've shared some cord wraps in the past, but I love the luxe factor and ability to customize THIS one (2). It's another great stocking stuffer idea or is a wonderful gift on its own. It's easy to put in use and gifting this in multiples is a good idea, especially if your guy travels a lot. Different sizes, colors and set options are available HERE.
I know that many men prefer a slim wallet they can stick in their back pocket. THIS slim leather wallet (3) fits that bill perfectly and still has an inside flap for extra storage! It's already on its way here for Christmas — I opted for a blind embossed monogram but you can get it without customization, or, with foil monograms, too, HERE.
Similarly, THIS leather iPhone case (6) comes in several leather color options, several iPhone model options, and has a free monogram/customization feature. I'm getting this for Dave again, in a small blind embossed font. Discreet but personalized.
We received one of THESE Pro Chef's knives (4) this year and they are absolutely the best! My grandfather always spoke of the importance of a sharp quality knife and I finally get it! After loving the single knife so much (we use it for EVERYTHING!), my mom has actually purchased this set for Dave for Christmas. I'm so excited they will be added to our kitchen arsenal and I know that Dave will love them too. According to superstition, you need to include a penny with a knife if you give it as a gift so the recipient can give the penny back to you to "pay" for the knife. That way your friendship won't be "severed" (according to Gran Nan.)
You probably know we're all about the comfies! As Dave dresses in business casual for work every day, one of the first things he does when he arrives home is to change into comfort wear. THIS soft fleece hoodie (5) is one of his favorites and is also a weekend staple. Dave has this hoodie in several colors and loves its fit and fabric. As a bonus, it's on sale right now!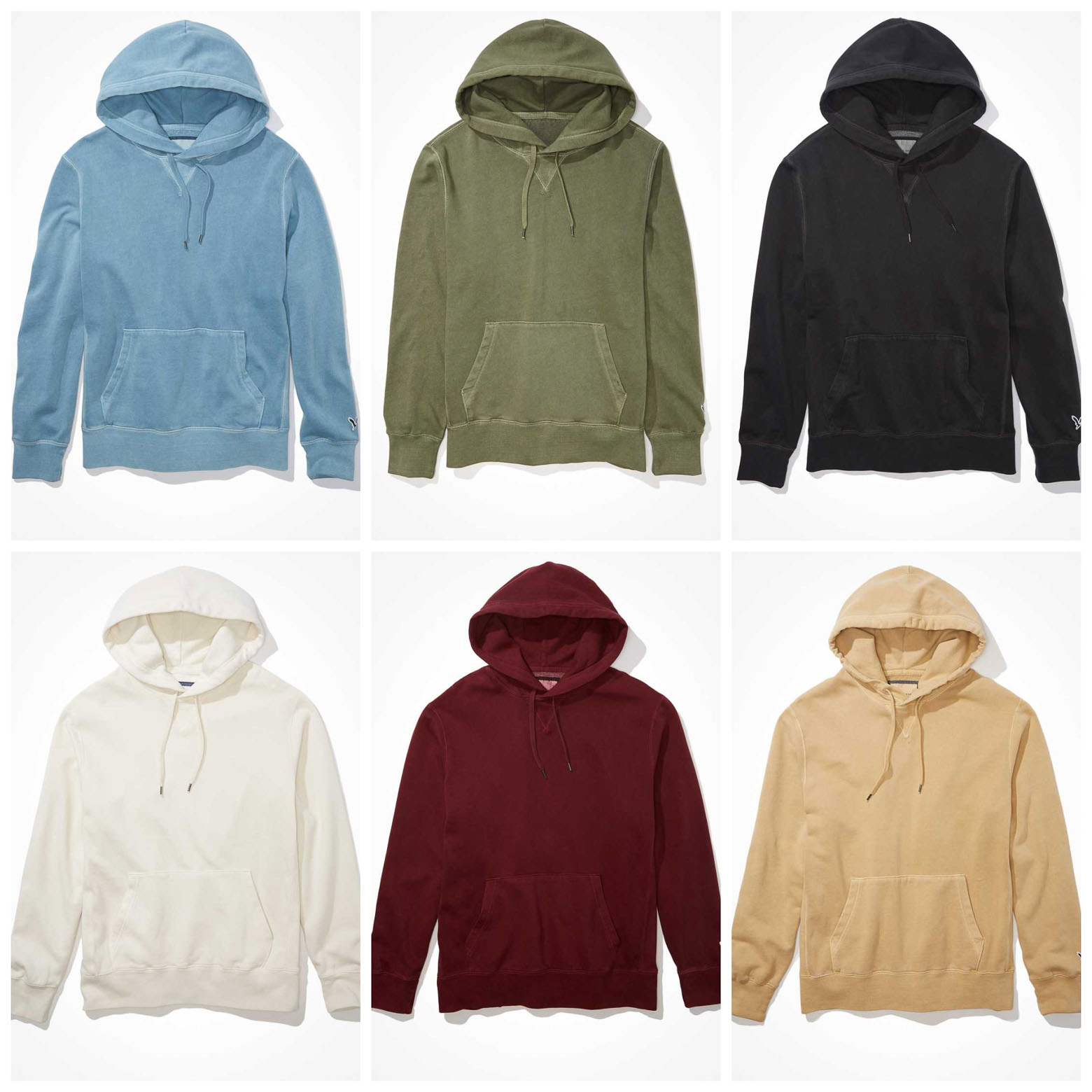 To go with the comfort wear, we are a big fan of slippers in this house and have learned over time, that slippers are worth an investment to us since we wear them all. the. time. THESE (7) are Dave's fave (he's gone through multiple pairs over the years) and I will also be gifting them to my dad this year. They're also available in several colors HERE.
Dave recently bought THIS backpack blower (8) for himself, when his old gas-powered model bit the dust. It's so lightweight and I actually had fun trying it out myself! Dave loves that it's battery operated and he keeps the charger going in the garage so that the blower is ready to operate at any time. There's currently a $30 off coupon on the product listing and it ships free with free returns via Prime HERE.
Does the guy in your life still enjoy their vinyl record collection? It's definitely a thing in our family, so I was thrilled to find THIS record player (9) to complement our massive record collection. It doesn't take up much space and it's great to put it away when it's not in use. Plus, it has over 30K positive ratings and ships free via Prime with free returns HERE.
Once you've had a Yeti, you'll never go back. One or two is never enough to have on hand and we've added to our collection with different sizes over the years, fit for all occasions. THIS soft-sided cooler (10) was Dave's latest Yeti gift and is probably the most versatile of all. It's the perfect size for a picnic, tailgating or transporting cold items when you don't want to use that larger cooler that I'm sure your guy already has. Dave loves his and uses it often! It comes in multiple colors and you can find it HERE. Note: Yeti coolers tend to be hot items the closer we get to the holidays so if one of these is on your list, definitely act now 😉

Who is toughest for you to shop for? You can find all the brand new, freshest gift ideas for the 2021 holidays here: