After looking around and realizing there was so much I was seeing/doing/ordering/thinking and wanting to share in general that I just haven't, I decided it was time for a new installment of "Snack Around the Plate!" This one even has a video tutorial but the post is on the longer side for an SAP — get comfy making your way through 😉
What is a "Snack Around the Plate"? Growing up, this was the phrase my mom called meals she would assemble with random favorites when scouring the pantry and fridge. And, while each item didn't totally go together, assembled as one collective, I loved them! Basically, "Snack Around the Plate" posts are just a smorgasbord of randomness — "a little of this and a little of that" from all things lifestyle. It's a mish-mosh highlight reel from a favorite recipes to favorite finds.
*Posts on KelleyNan.com may contain affiliate links. Click HERE for full disclosure.
A Brand New Snack Around the Plate
1. Fall Entertaining Ideas
This past week, I took the charcuterie board concept and went a bit further. Instead of the typical "board", I wanted to create a tiered, vertical charcuterie tower — just for something a little different 😉 And then. I wanted to take those same ingredients, and display the exact same components in a more traditional board style across two fall leaf platters.
You can watch the brief video compilation I pulled together, assembling it all! Here's how it all turned out…
The charcuterie tower holds a ton of apps and goodies, but it also takes up less space and has a smaller footprint than traditional boards. THIS jadeite platter (serving as the base), combined with THIS scalloped jadeite cake stand (as the middle tier), and THIS smaller jadeite cake stand (as the top tier) is where my entire idea was inspired.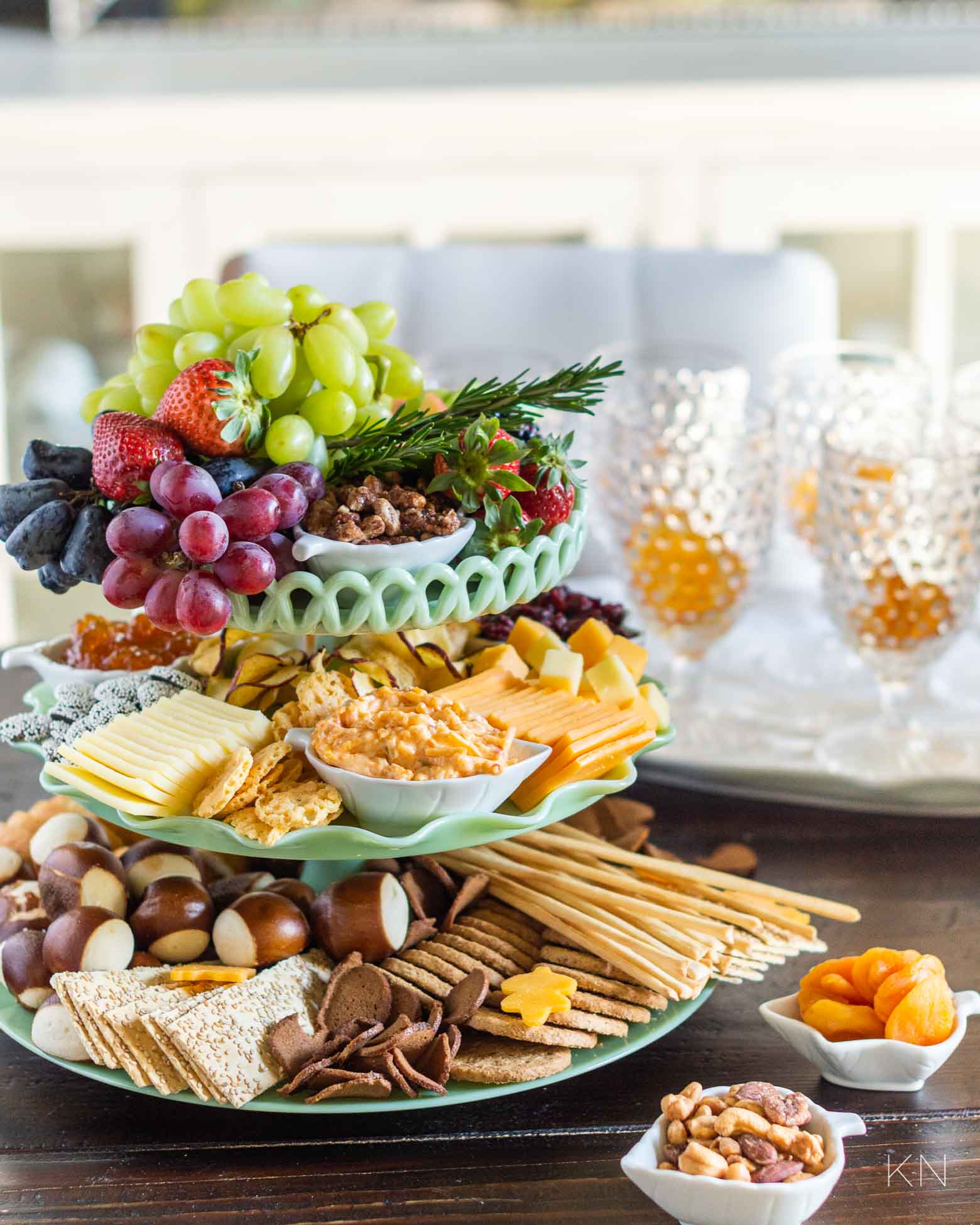 Chauncey 14.2-Ounce Hobnail Goblet | Leaf Tidbit Bowl Set — 4 | 13″ Jadite Glass Milk Platter | Jadeite Glass Milk Cake Stand w/Scallop Edge | Jadeite Glass Milk Cake Stand w/Open Scallop Edge
When I saw these pretty pieces all on their own, I was stoked to stack them and set my vision into motion.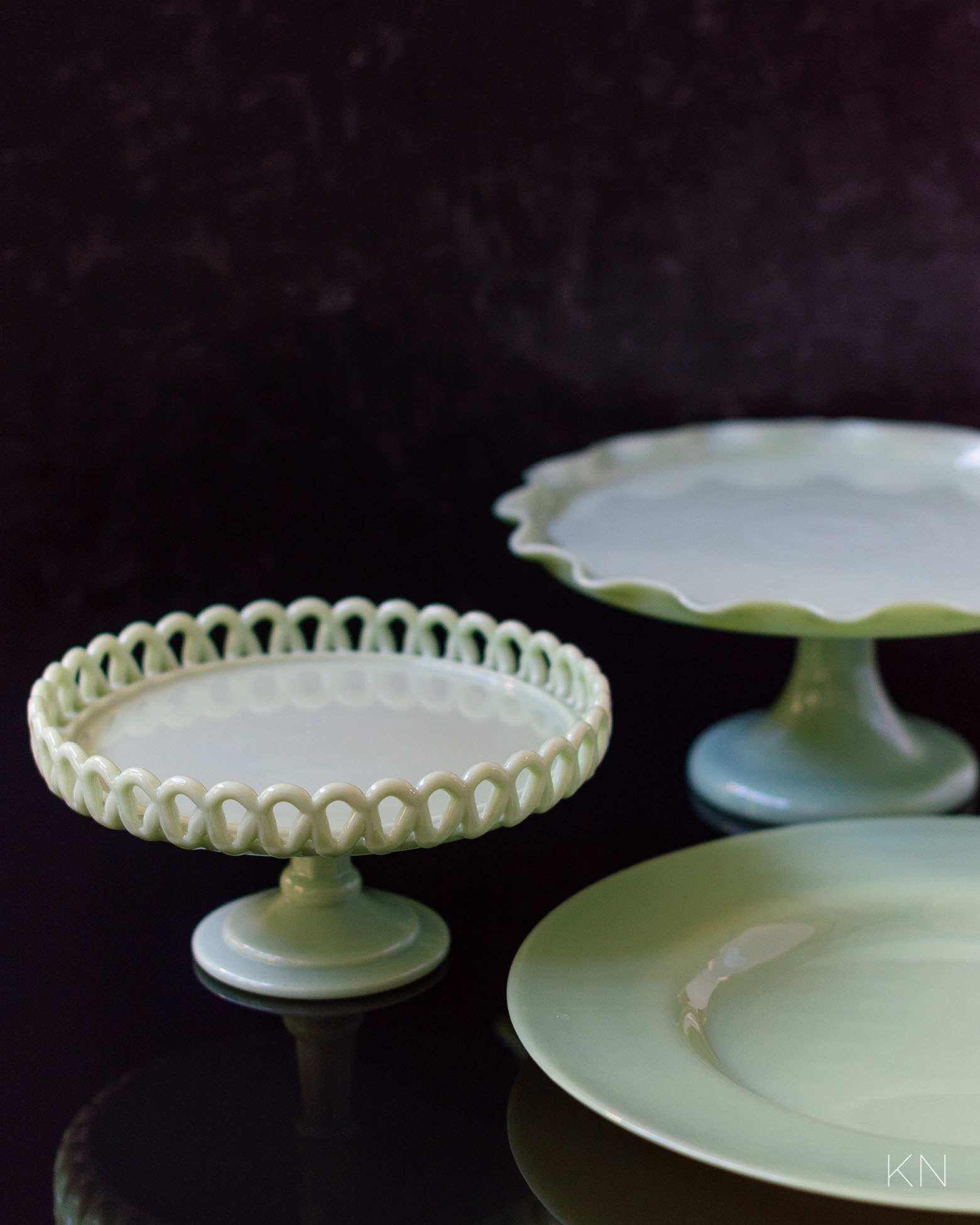 13″ Jadite Glass Milk Platter | Jadeite Glass Milk Cake Stand w/Scallop Edge | Jadeite Glass Milk Cake Stand w/Open Scallop Edge
Unlike most boards I assemble, I went with easy, pre-sliced cracker cheese to keep this a non-cut, true grazing "board". You definitely don't want people trying to slice on these 😉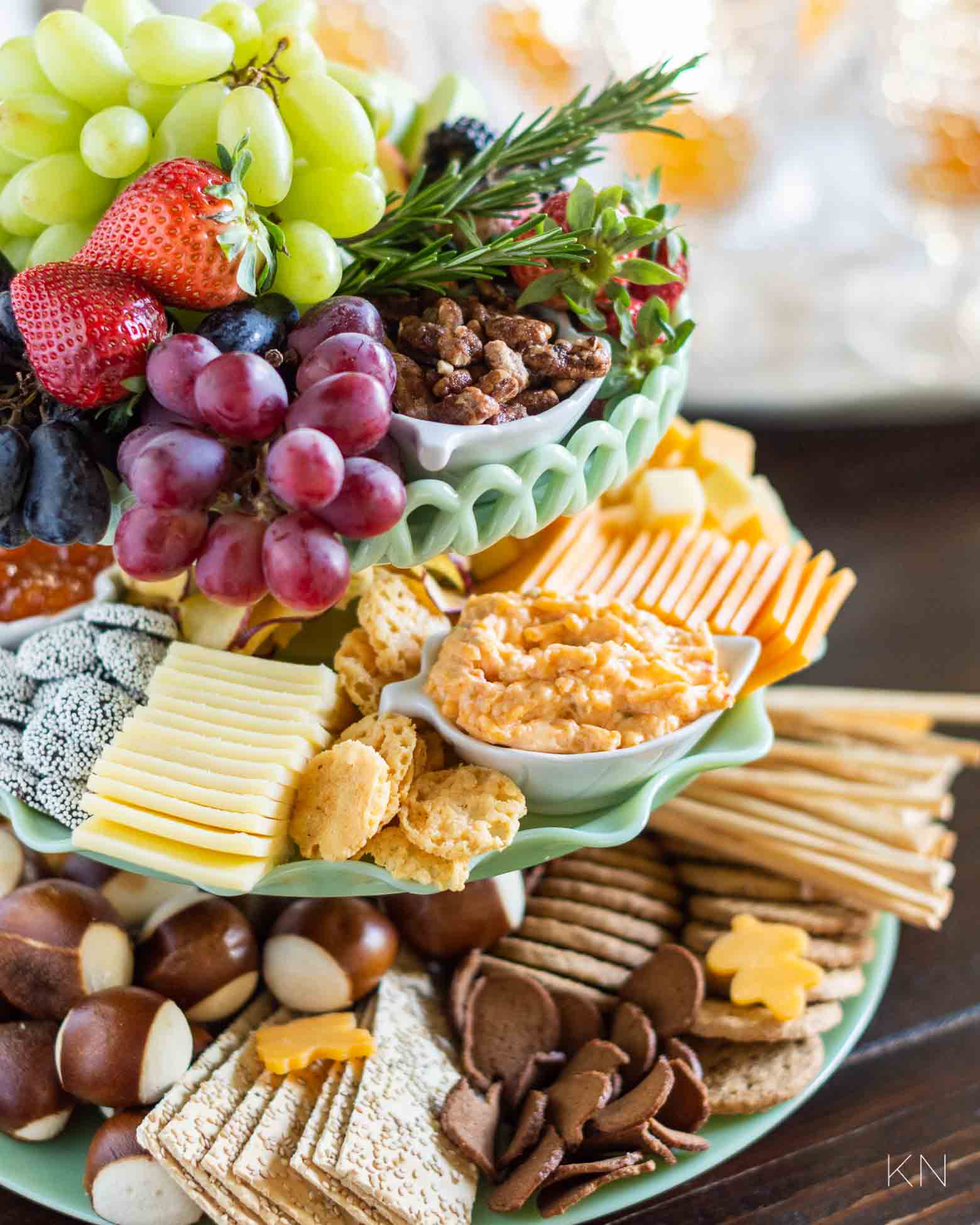 And then I took the exact ingredients I used in the charcuterie tower, and spread them across two pretty leaf platters. One on its own would be plentiful and sumptuous, but I couldn't decide between the two and it takes just about the same amount of time to arrange two at once as it does to arrange a single display.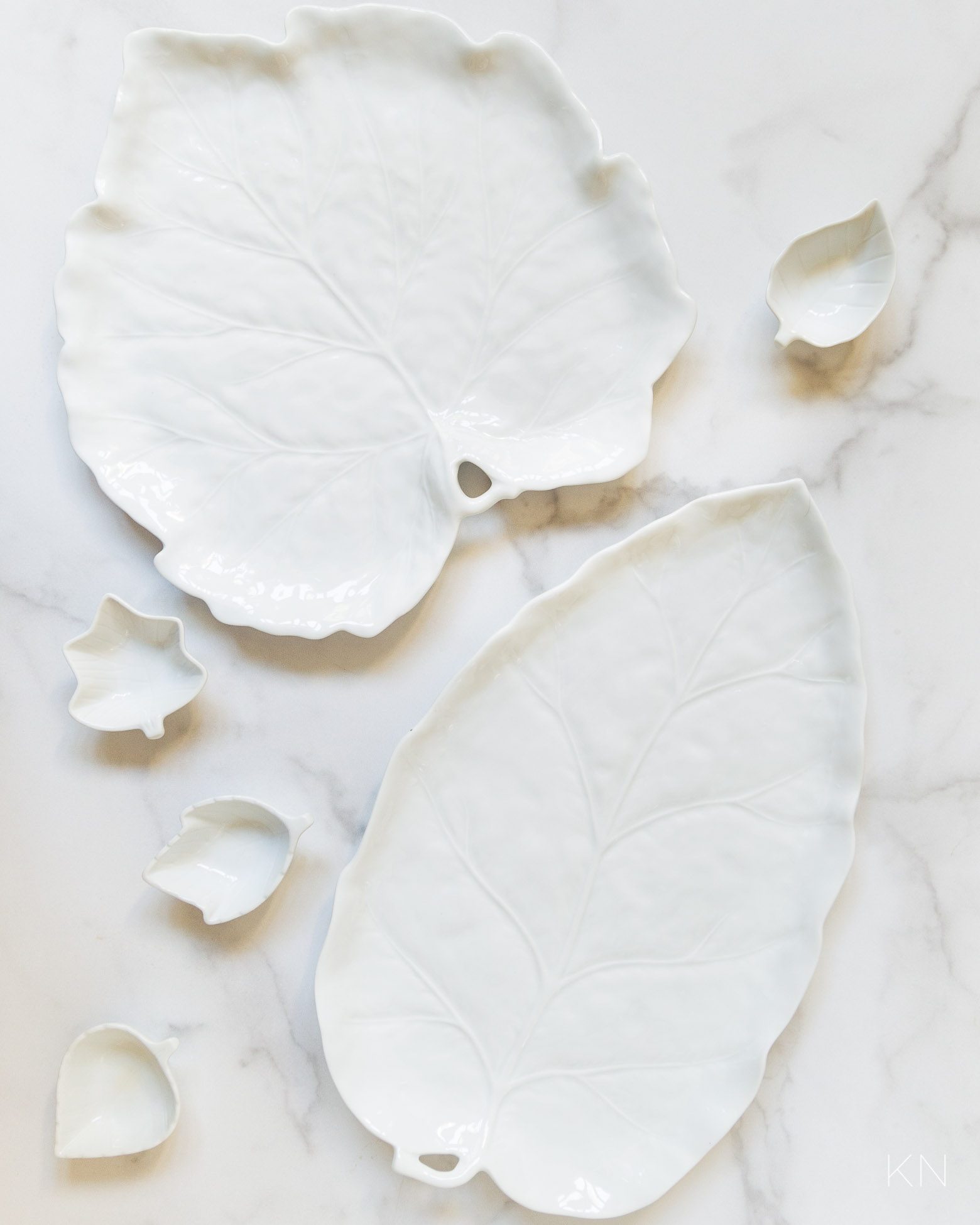 Large Narrow Leaf Serving Platter | Large Wide Leaf Serving Platter | Leaf Tidbit Bowl Set of 4
These were quickly thrown together and here's the result! The little leaf tidbit dishes are darling and come as a set of four HERE.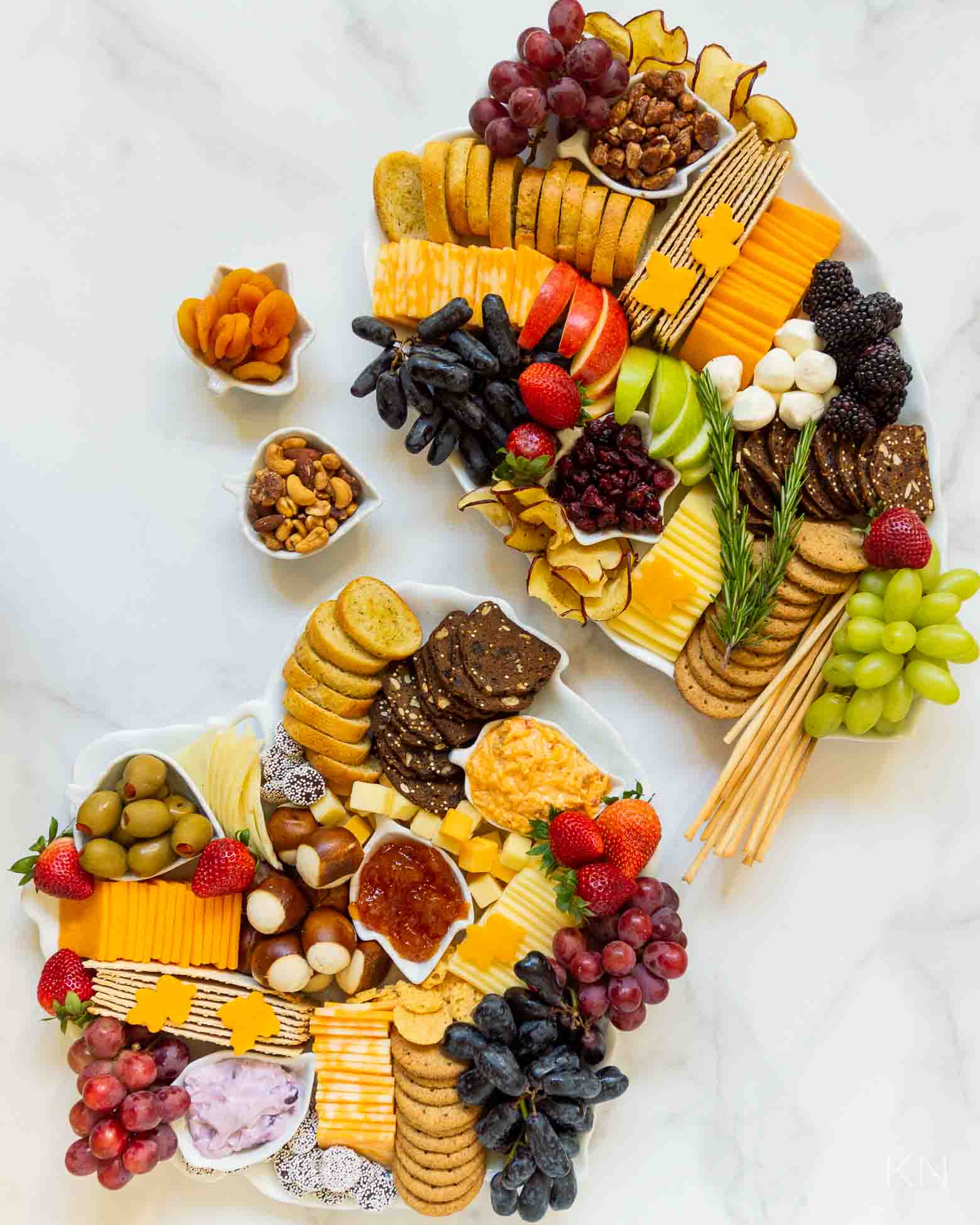 Large Narrow Leaf Serving Platter | Large Wide Leaf Serving Platter | Leaf Tidbit Bowl Set of 4
I also turned THIS white pumpkin tureen into a simple but statement hydrangea centerpiece. Tureens are so versatile when it comes to serving and THIS ONE is pretty enough to keep on display throughout the season. But, one of my favorite ways to use these multi-functional pieces isn't for food at all… they make great unique centerpiece vessels. By the way, the coordinating lidded pumpkin soup bowls (HERE) are darling!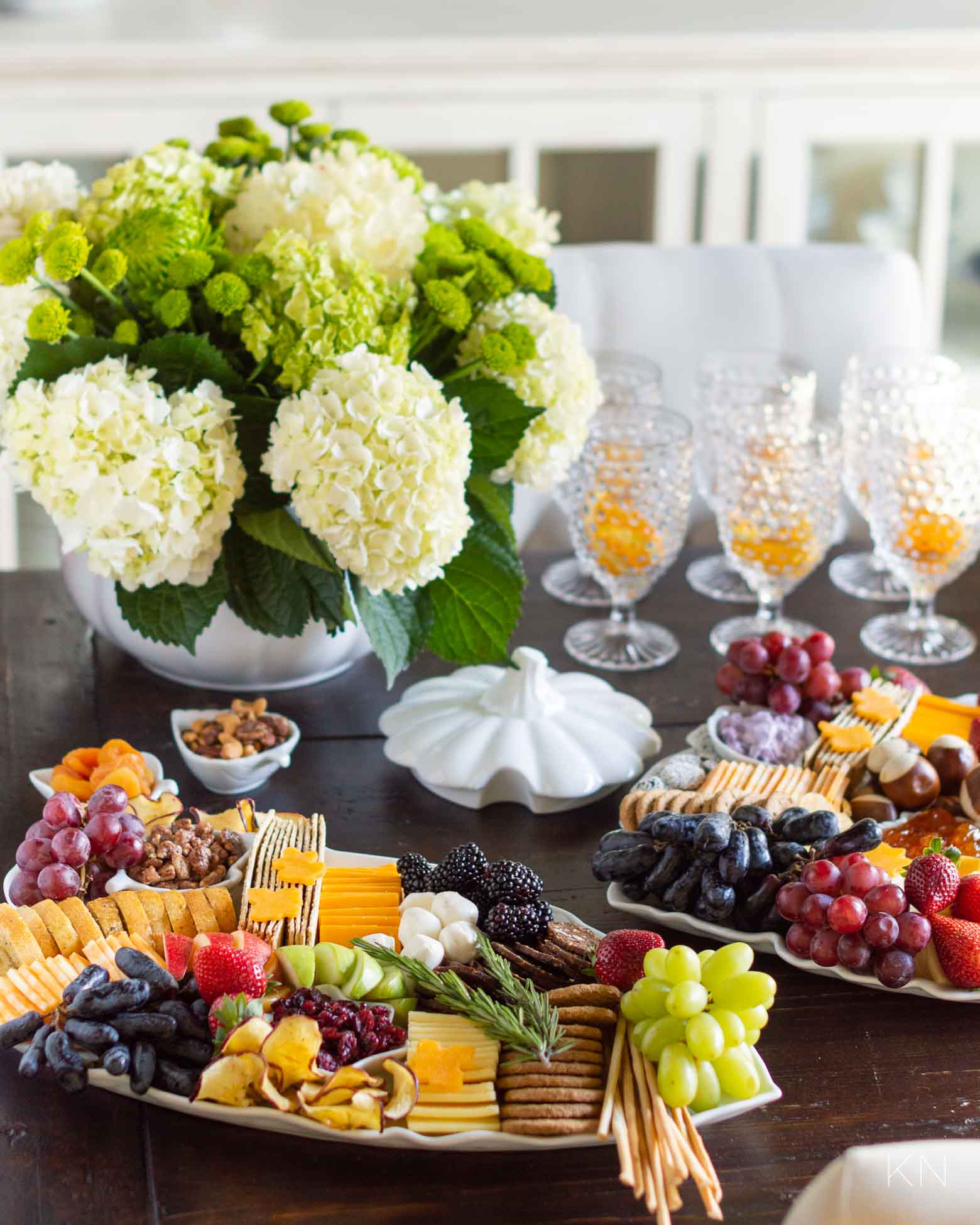 Chauncey 14.2-Ounce Hobnail Goblet | Pumpkin Soup Tureen w/Spoon | Large Narrow Leaf Serving Platter | Large Wide Leaf Serving Platter | Leaf Tidbit Bowl Set of 4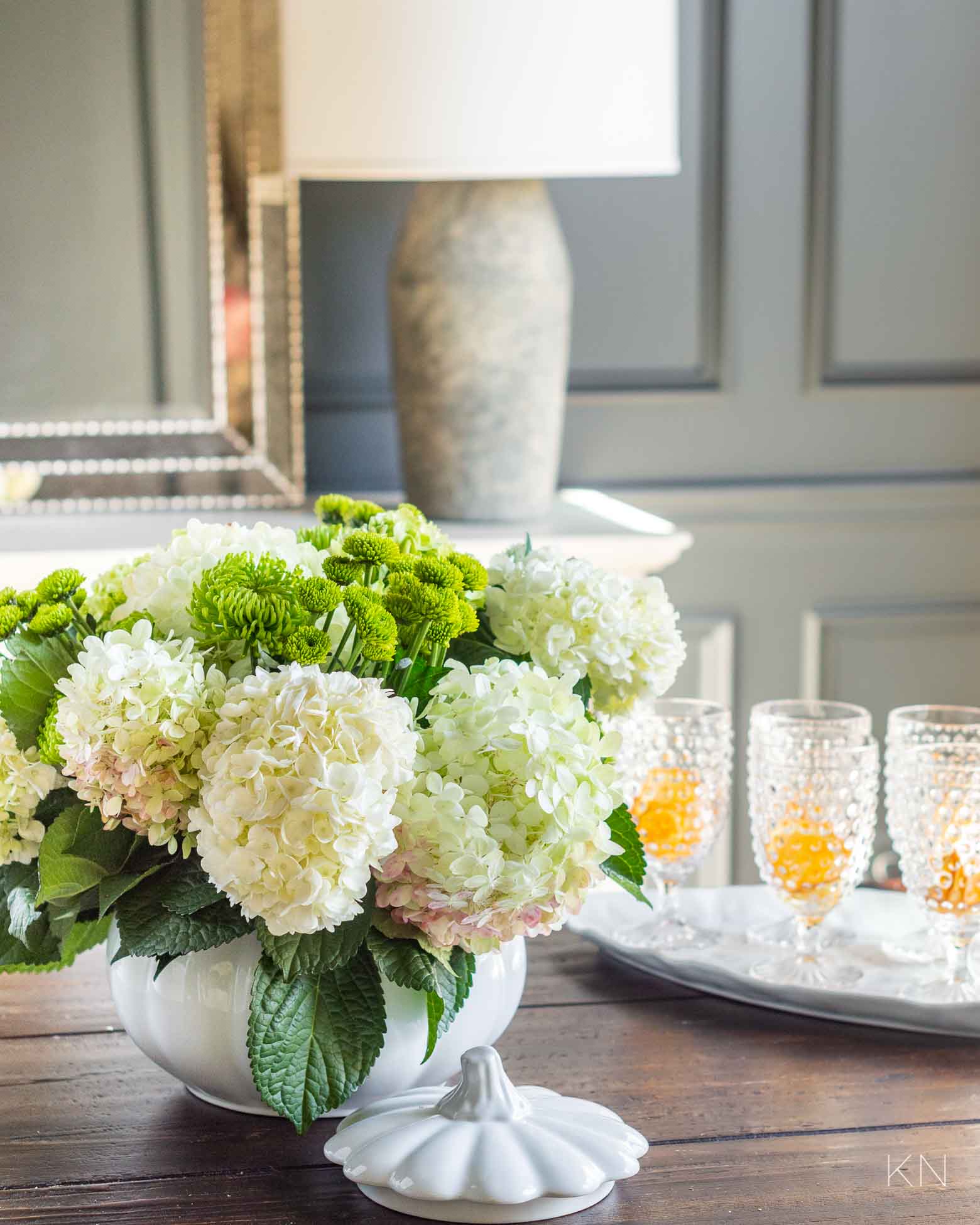 Chauncey 14.2-Ounce Hobnail Goblet | Pumpkin Soup Tureen w/Spoon | Pumpkin Soup Bowl | Large Narrow Leaf Serving Platter
Lastly, THIS pretty mixed-metallic-acorn-and-oak-leaf wreath is lit with twinkle lights with a set timer — I absolutely love it for a mirror-in-the-dining room statement!
LED Pre-Lit Oak & Acorn 26″ Wreath | Chauncey 14.3-Ounce Hobnail Tumbler | Chauncey 14.2-Ounce Hobnail Goblet | Large Narrow Leaf Serving Platter Leaf Tidbit Bowl Set — 4
I hope these can give some different ideas for this time of the year — whether you've got a small get-together in mind or are amping up for hosting Thanksgiving dinner!
2. My Gift Wrap Ribbon
This year, my gifts will be finished off — almost exclusively — with THIS thin velvet ribbon. It comes in several colors and widths but the thin size is the 3/8″ option. I'm mixing two colors for my packages and with two smaller on-theme-colored gift wrap rolls, I'll be wrapping the majority of my gifts in my go-to brown kraft paper (HERE). It has 150′ of paper on the roll and I hope it lasts forever!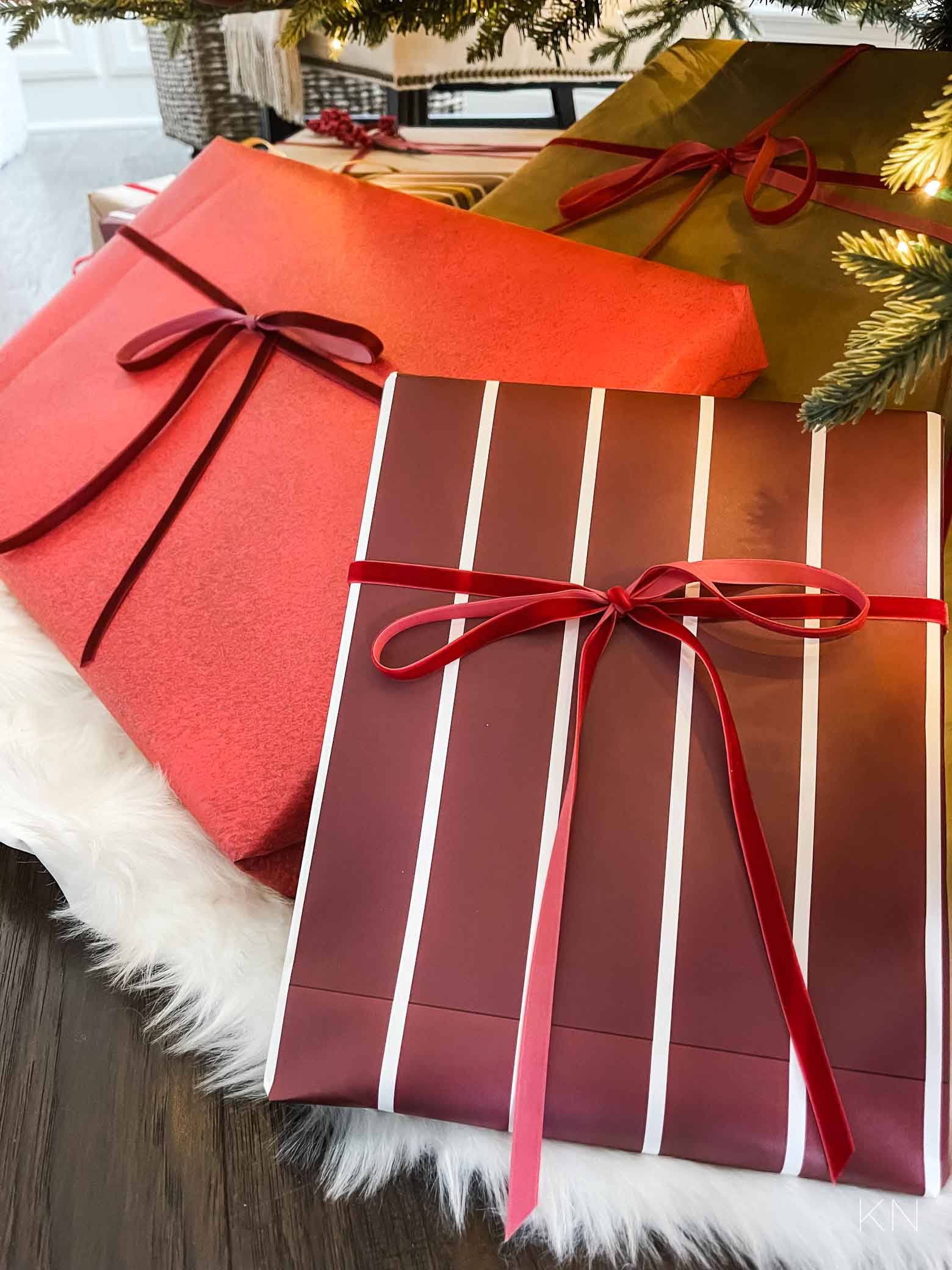 Thin Velvet Ribbon (Burgundy & Red) — 3/8″ | Deep Red & White Stripe Gift Wrap | Bright Red "Smudge" Gift Wrap
3. My Recent Madewell Orders
I scored some of my favorite pieces this fall — for those few occasions in which I leave the house 😉 — from Madewell. I've worn THIS puff-sleeve peplum top the last two times I've gone out (I ordered my regular size) and I think it's quickly become my top go-to in my entire closet. THIS flowy midi dress is adorable. You can also wear it off-the-shoulder but I prefer the puff sleeve with full shoulder coverage. I also sized my regular size in this. THIS corduroy shacket comes in multiple colors but sells out quickly in every size and every color each time it comes back. I sized down one in this for a still relaxed fit, but if you want more oversized, I'd go with your regular size. Lastly, a bit of a departure for me, THESE casual hiking-style boots come in both the cognac color that I ordered, and in black HERE. I sized up 1/2 a size since they only come in whole sizes and while I haven't broken them in just yet, I'm fairly certain that was the right call.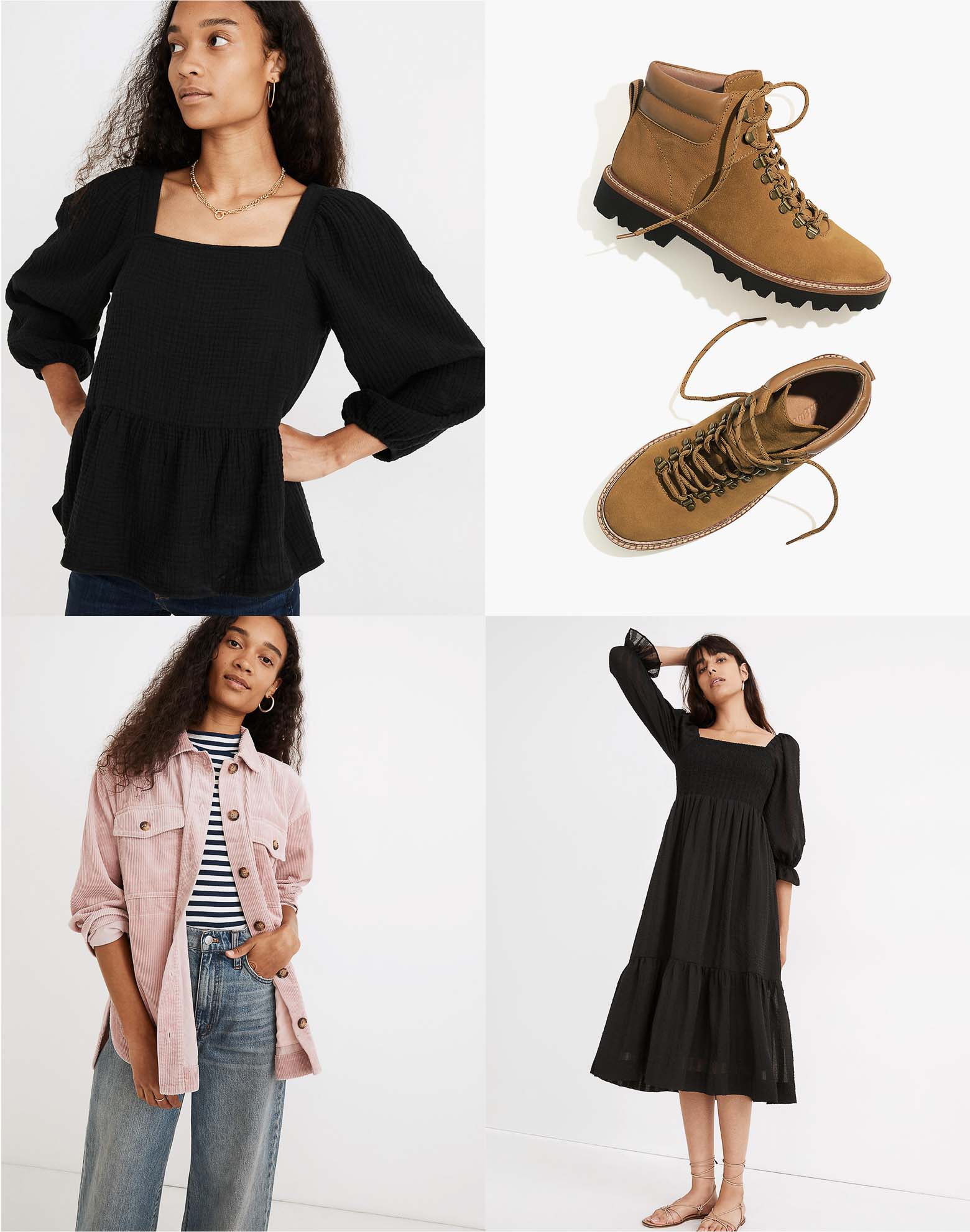 Peplum Puff-Sleeve Top | Corduroy Shirt-Jacket | Leather Lugsole Hiker Boots | Elbow-Sleeve Smocked Midi Dress
4. Favorite Recent Amazon Sweaters for Eliza
And while I order for myself more rarely, it seems I'm always ordering for Eliza. It's my total weakness but I make no apologies 😉 Recently, I decided to try a few sweaters I'd come across on Amazon to see if they were as "good" in person as they seemed online. I was so pleased with the majority of them, I had to share my faves! All of these come in multiple colors and range from infant to kid sizing. THIS cable knit sweater is actually sherpa lined and perfect for winter! Not all the colors are so you'll just have to take a peek at the listing for each color HERE.
I actually got THIS slouchy mint green sweater in two colors — it's so cute in person, starts at only $9.99, and comes in TWENTY colors!
THIS sweet pink sweater looks so much like one of our more pricey Jamie Kay sweaters, it's uncanny. Such a great find!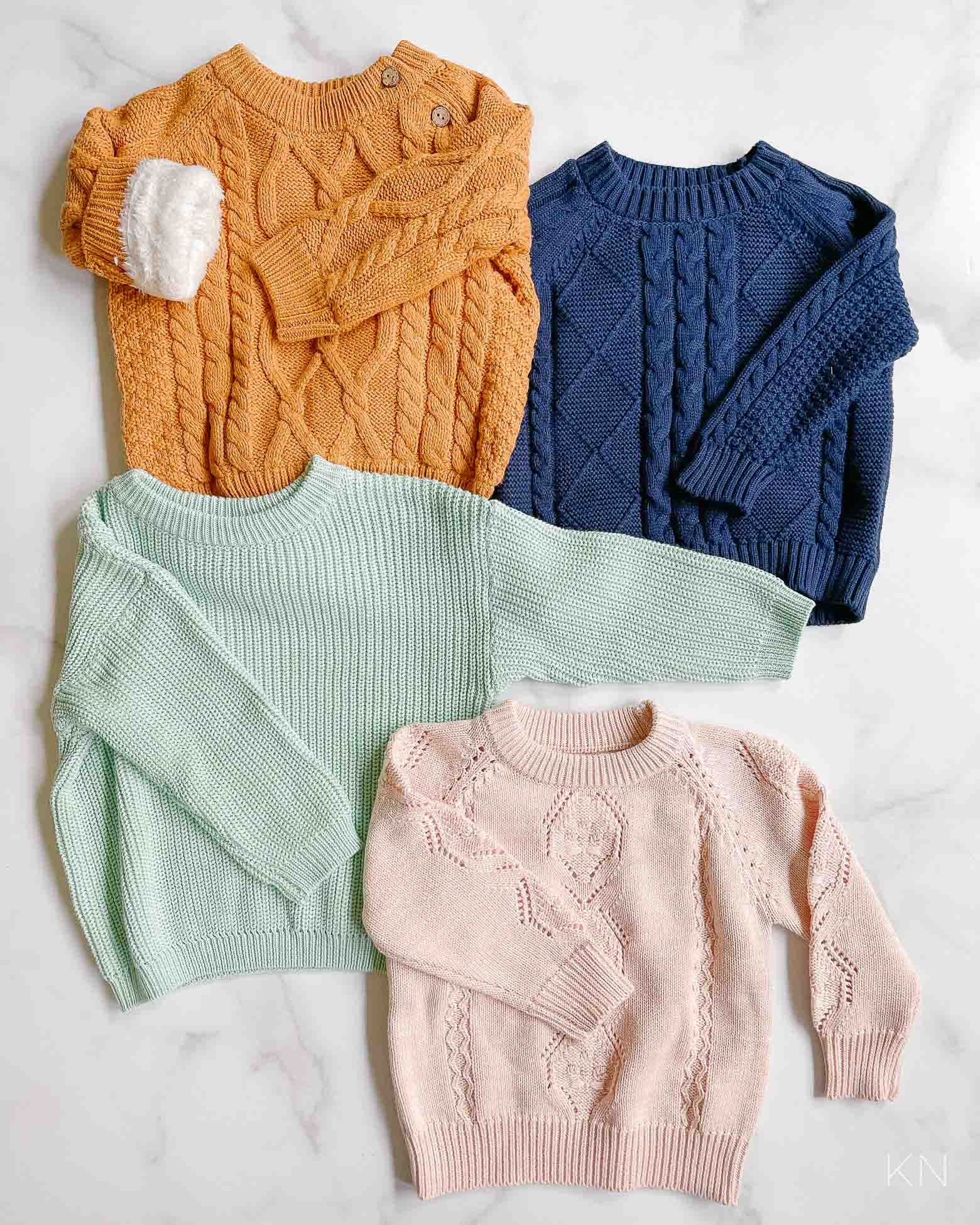 Pink Cable Knit Sweater | Mint Green Loose Weave Pullover Sweater | Pumpkin Cable Knit Sweater | Navy Cable Knit Sweater
THESE Hanna Andersson cardigans from Amazon are so thick and such good quality — I totally understand why they have a perfect 5* rating. While I ordered two colors, six colors are available, ranging in sizes from infant to 4T.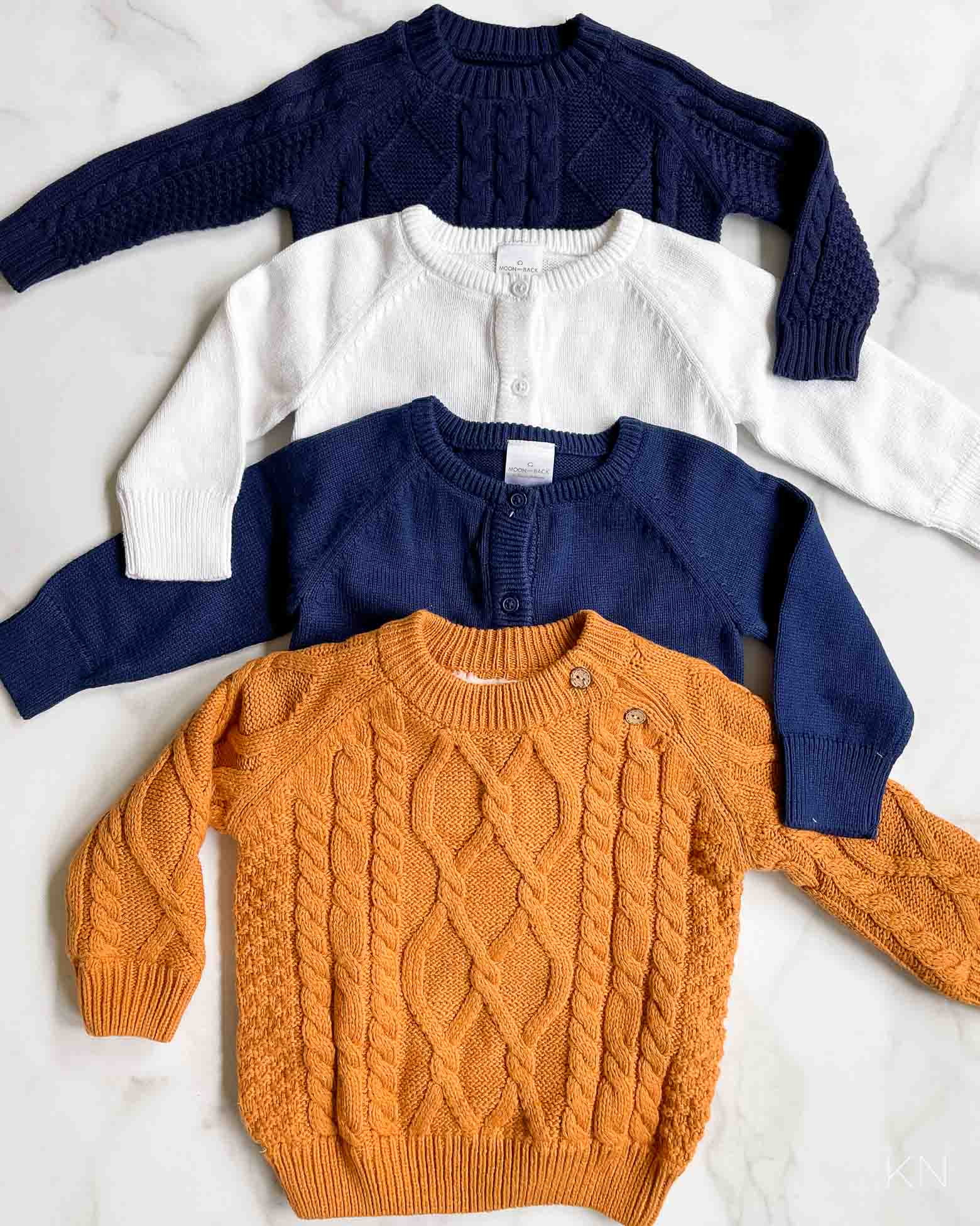 Pumpkin Cable Knit Sweater | Navy Cable Knit Sweater | White Cardigan Sweater | Navy Cardigan Sweater
And while not from Amazon, here are a few more budget friendly recent pieces I ordered! With extra promotions at the bottom of the retailer site you can tap to apply, these Gap Factory pieces are currently on super sale.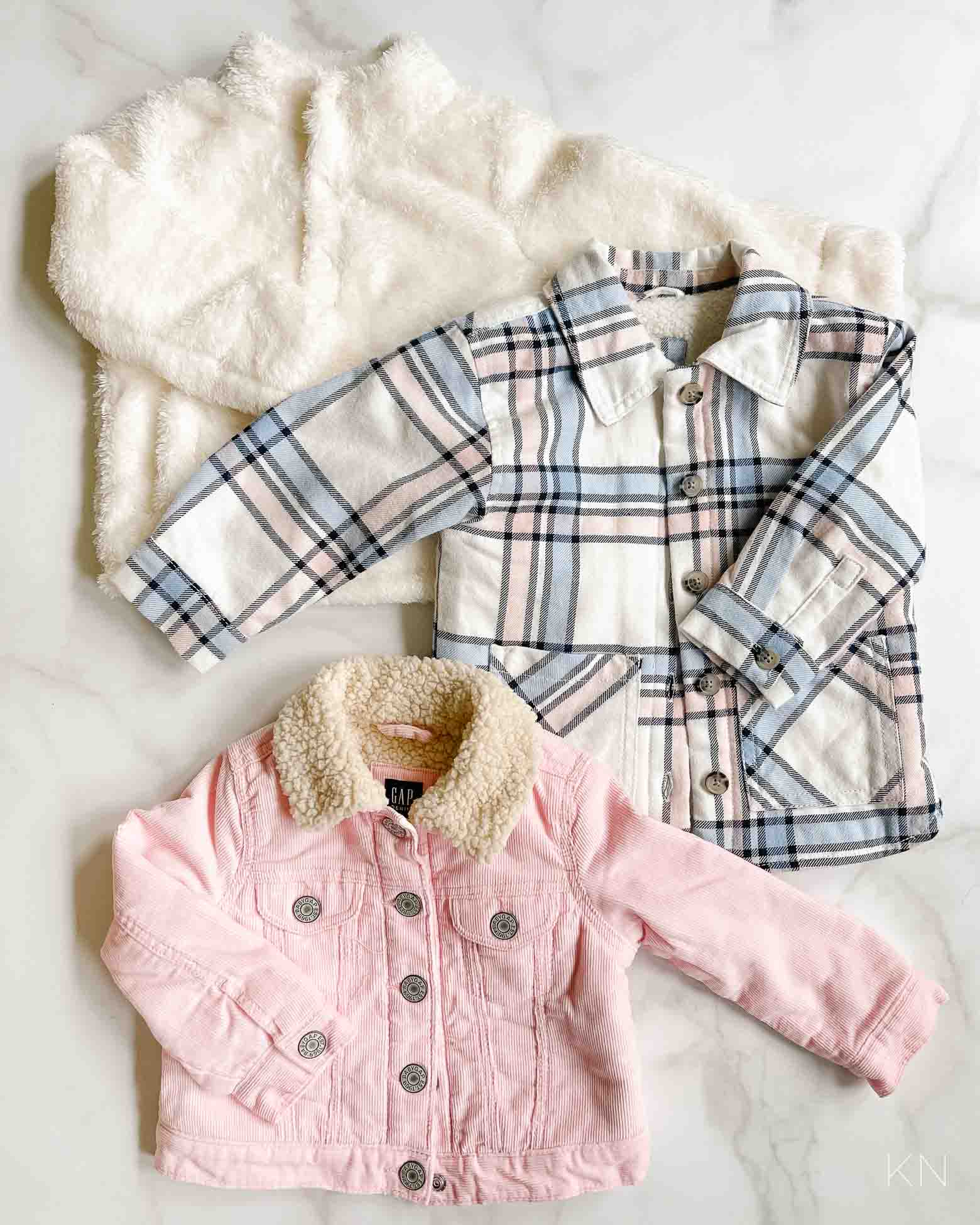 Ivory Sherpa Pullover | Plaid Shacket | Pink Cord/Sherpa Jacket
And THIS cute dot sweater is only $17.99 and comes in two colors!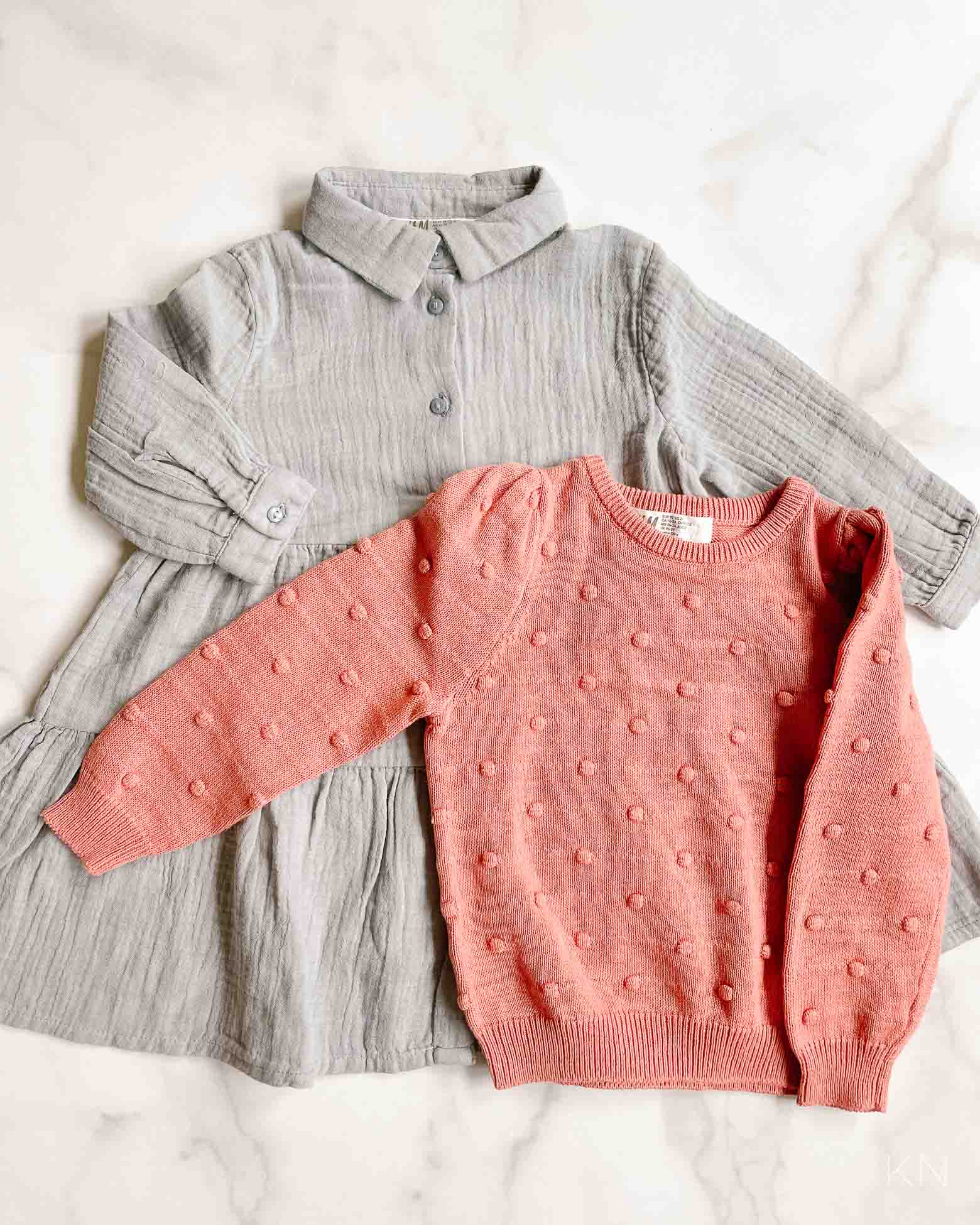 5. Bamboo Baggie Drawer Organizers
After frustrations with a particular kitchen drawer, with flimsy cardboard boxes taking over, I found THIS wooden baggie organizer to store our baggies and to try to lessen the clutter factor. This quick drawer upgrade took less than two minutes but has made a huge difference! I love that they are all separate from each other so you can eliminate a size you may not need or fashion them into different configurations. They're also compatible with so many brands — they're all listed within an image on the product listing HERE. Currently, the organizers are "in stock soon" so they are currently able to be ordered! They also ship free via Prime. I haven't ordered just yet, but I'm considering THIS foil dispenser next!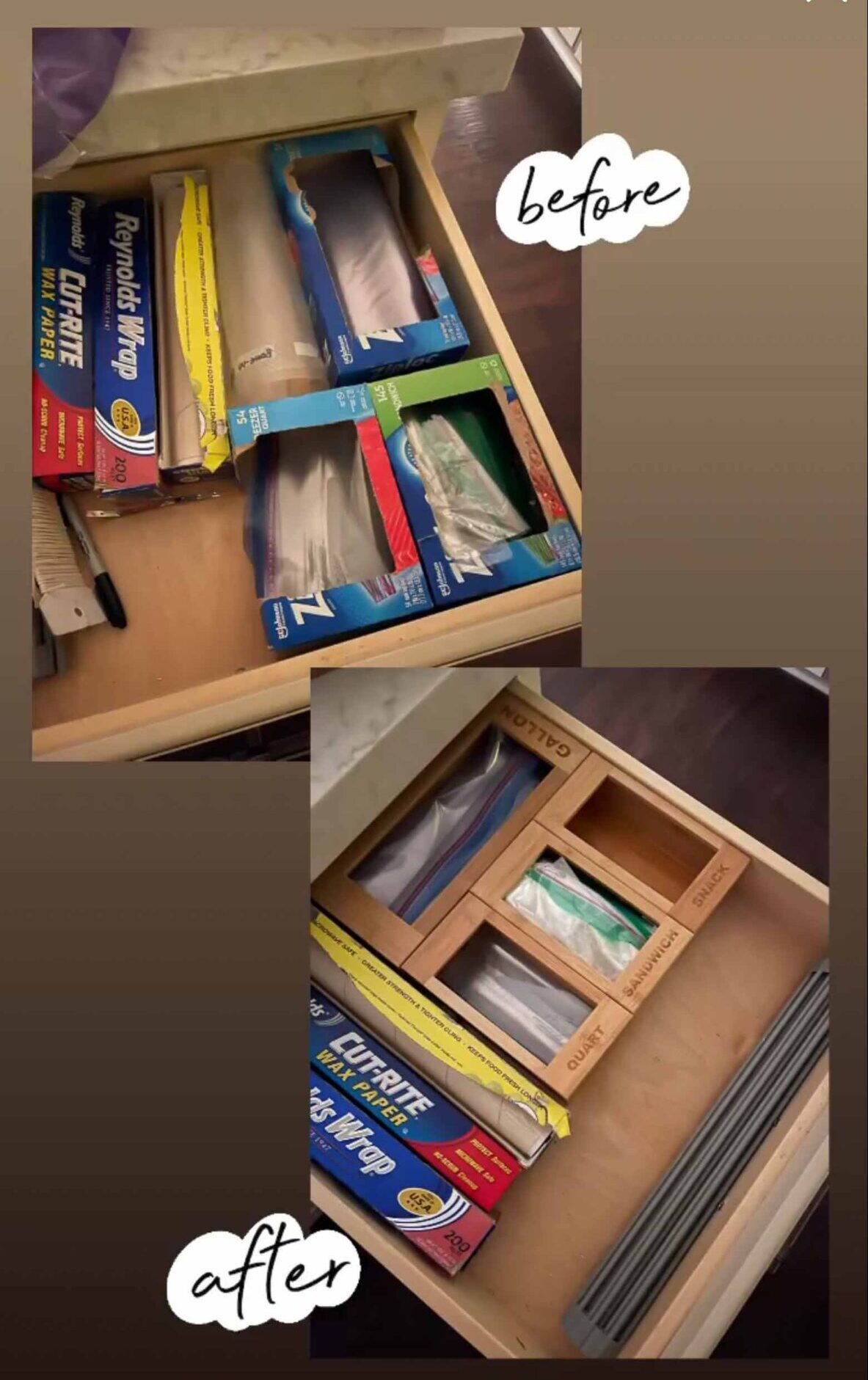 6. Recent Overnight & Weekender Bags
I've been on a recent bag kick after discovering and deciding I didn't have the "right sized" bags for an overnight/weekend. Everything I had ranged from too small to oversized suitcase. I recently ordered two bags for two different purposes and I adore them both so much, they both made appearances in my recent Christmas gift guides. THIS bag appeared in the collection of ideas for HER (you can find that gift guide HERE)…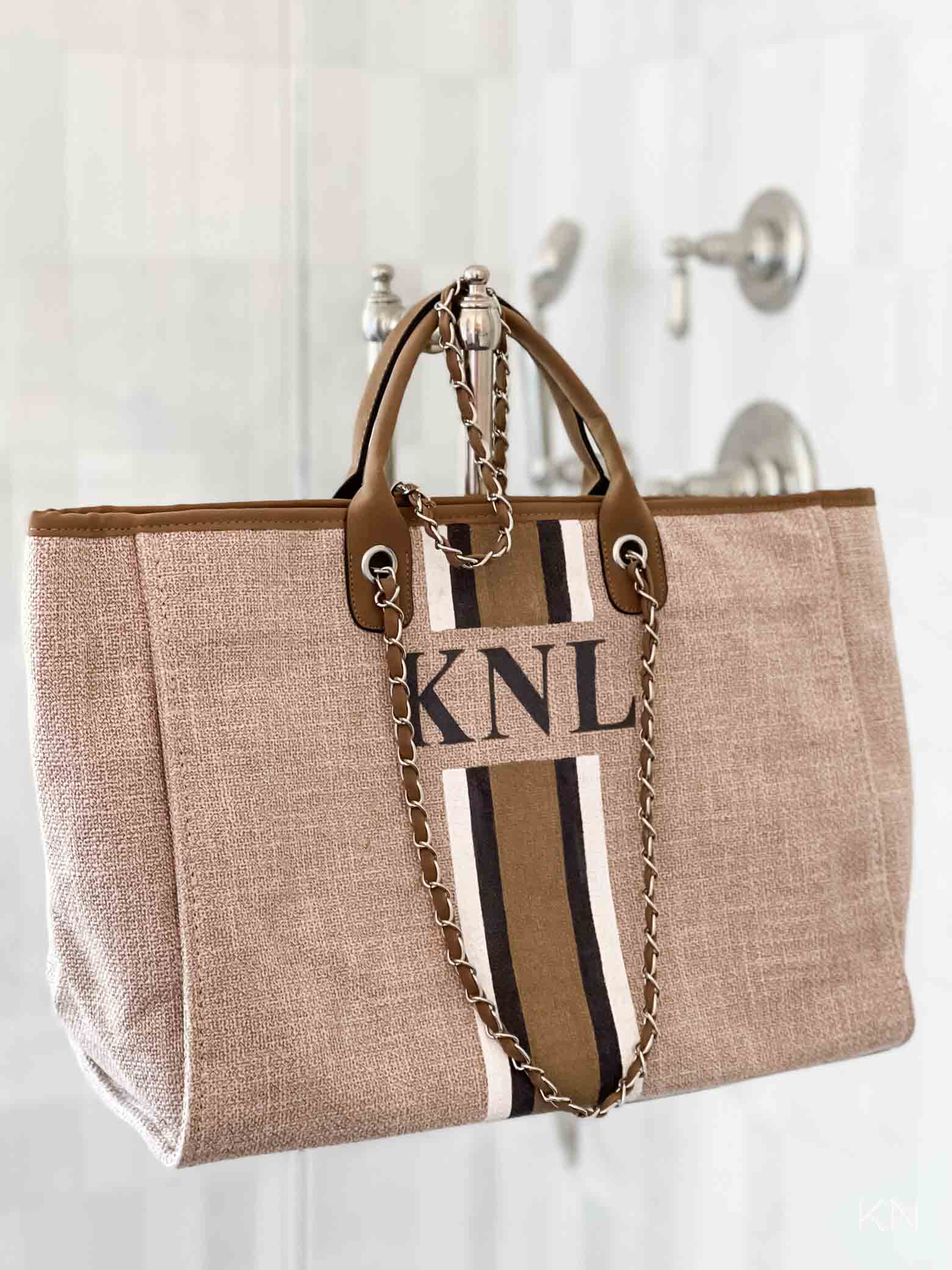 And THIS weekender bag made an appearance in the family collection of ideas HERE. The above bag for me is perfect for a day trip or personal item carry-on, white the below bag is perfect for a road trip/overnight/weekend. It is one of the largest weekender bags I found and does NOT disappoint! I love the woven shoulder strap and how lightweight it is! Plus, they can both be personalized (which I totally did 😉 ).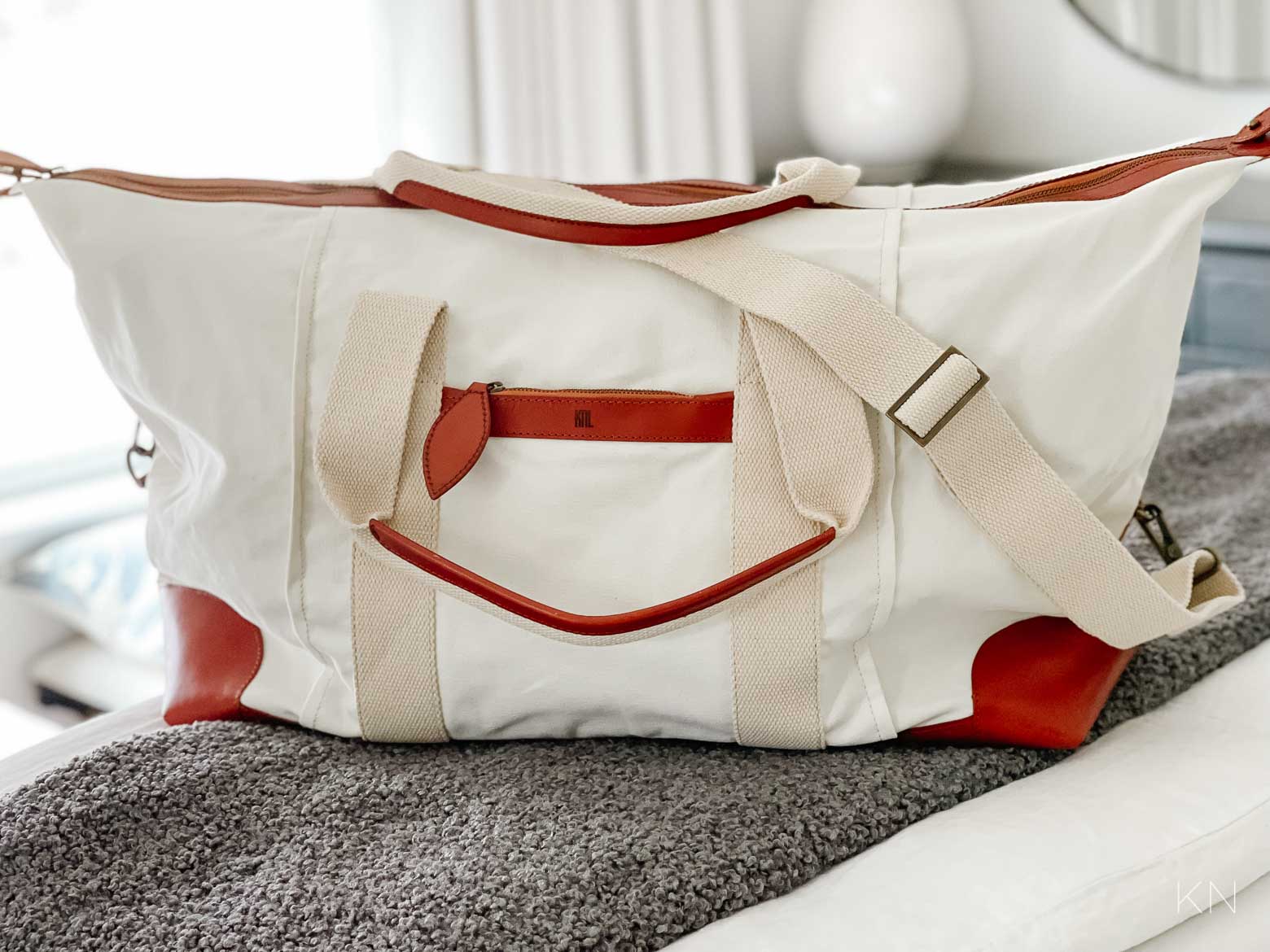 7. Mark Your Calendar — These Shows are Returning SOON
There's a few shows from this past year I'm eagerly awaiting that haven't announced second season release dates (Ginny & Georgia, Sweet Magnolias, etc.), but I am stoked for the following that are coming soon! If you missed the earlier seasons, get to binging 😉
Dexter — Season 9 (new revival after many years!): November 7
Yellowstone — Season 4: November 7
Emily in Paris — Season 2: December 22 (if you crave light, happy binges, this one has only had one season so far, but it was really enjoyable!)
I hope you all are having a wonderful fall and are starting to feel some of the magic 😉