How's your Christmas shopping list going? Do you have a lot crossed off? Or, maybe you're procrastinating on getting started? I've put a pretty decent dent in mine but as I shared before, the deadline I set for myself is coming up and I need to make a bit more headway before calling it "done!" Today, I'm sharing gadget gift ideas — both home gadgets and personal gadgets — fit for lots of people who may be on your list. Note: a few of these are on special for Walmart's Black Friday deals so make note of when prices are set to change (several of them start today!)
*Posts on KelleyNan.com may contain affiliate links. While this post is created in partnership Walmart, all opinions, concept, and creative are my own. Click HERE for full disclosure.*
Gadget Gift Ideas
One great thing about shopping gifts at Walmart (check out their gift finder HERE) — not only do they have lots of inventory and suppliers and variety, but their return policy is great so there's no need to be anxious over returns or exchanges. Also, if you have a Walmart+ membership (which I've talked about multiple times this year as we so enjoy ours), there's free shipping on most items across the site with no shipping fees, no matter how much or how little you order. So, if you can keep coming back for more, checking out with something here, something there, without feeling like you have to build your entire cart up for one single checkout. 
From electronics to little manual "helpers", personal gadgets don't have to be expensive. They come in all forms, from high to low, and in the below graphic, I'm talking about everything from the more pricey gifts for those closest to you, to stocking stuffers, to gifts you can grab a ton of to keep on hand. All items are linked at the bottom of the graphic below.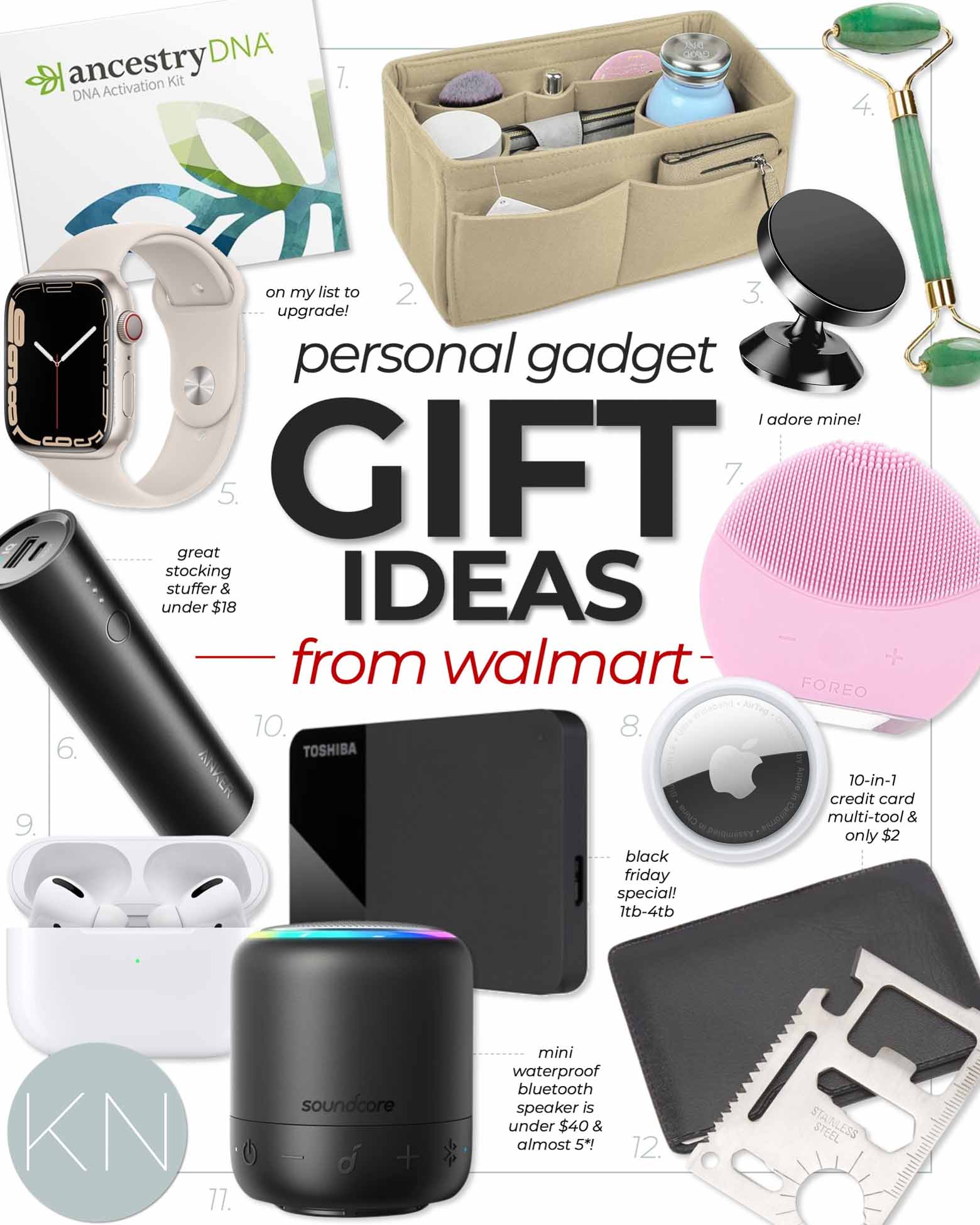 Sources: 1. Ancestry DNA Test Kit | 2. Purse Organizer Insert | 3. Magnetic Dashboard Cell Phone Holder | 4.  Jade Facial Roller Tool Kit | 5. Apple Watch | 6. Portable Charger | 7. Foreo Luna Sonic Facial Cleaner | 8. Apple AirTag | 9. Apple Pro Earbuds w/Charging Case | 10.  Portable External Hard Drive | 11. Mini Pro Portable Speaker | 12. 10 in 1 Credit Card Pocket Survival Tool
One Black Friday special deal I'm excited about that I'll be personally purchasing for myself is THIS external hard drive. (The Black Friday deal is slated for November 3-7!) It comes in 1TB (which will be on special for $38.88 for the Black Friday deal), 2TB, and 4TB. My current external hard drive is loaded with a culmination of computer back-ups and work, so I want a separate dedicated external drive for photos and personal things (let's face it… I mean videos of Eliza, haha). If you don't have an alternate storage method other than your maxed out phone, you need one of these, too! You can find it HERE.
For stocking stuffer ideas, I love…
And speaking of "Apple products", I've had my Apple Watch for several years, and this year, an upgrade to THIS latest version is on my wishlist. It's also what Gran Nan will be getting as her gift as her FitBit is on its last leg 😉 Also, I skeptically started with the regular Apple AirPods a couple years ago and loved them so much, I upgraded to the noise-cancelling pro version. If you are a fan of your regular AirPods, the "pro" is worth the upgrade. And if you've been wondering which ones to get, go ahead and spring for the Pro option (HERE).
*While I prefer the pro version of the AirPods, the regular version is going to be on Black Friday special, marked down from $119 to $89 on 11/10-14. You can find those HERE.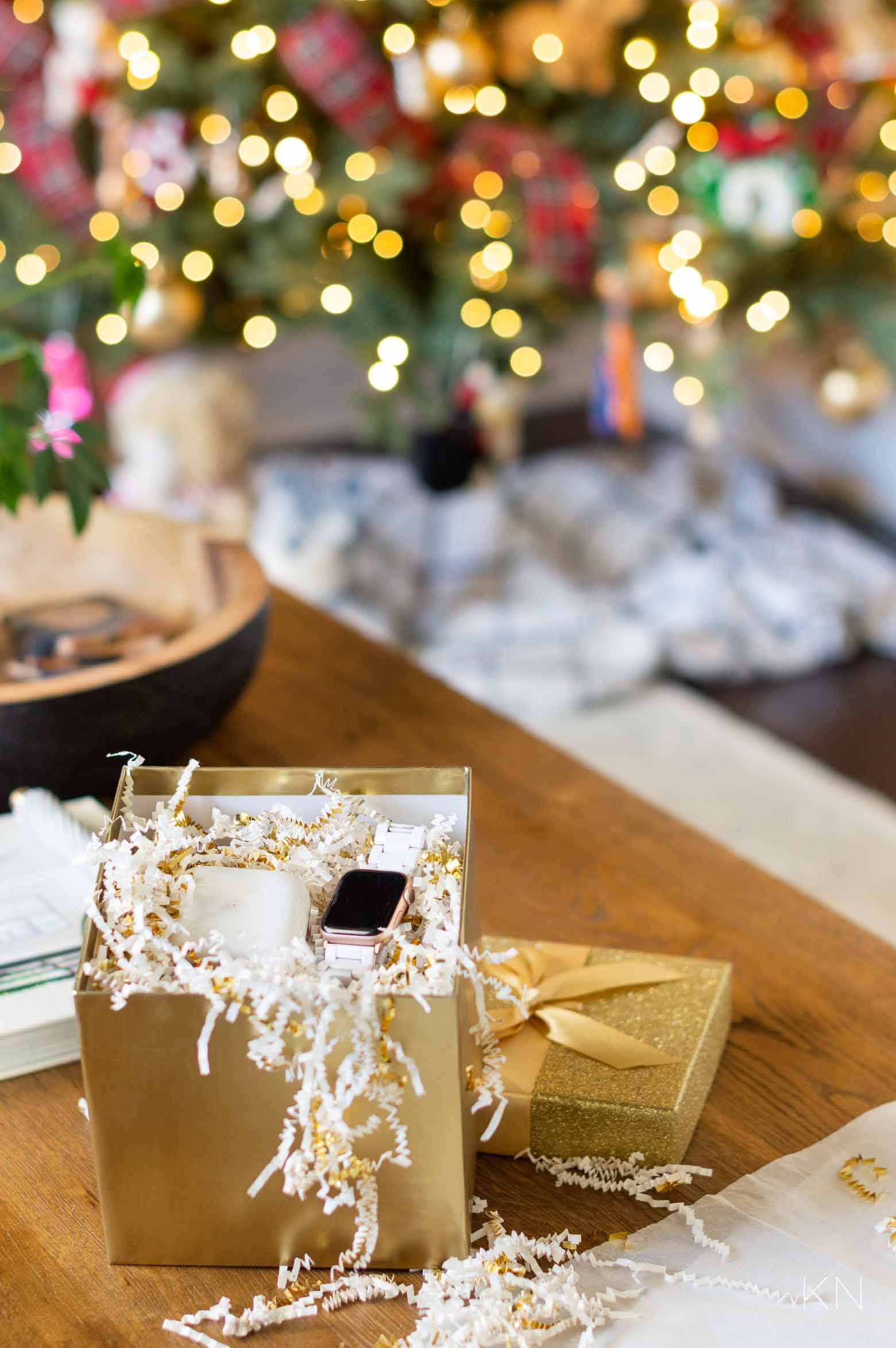 Sources:  Apple Pro Earbuds w/Charging Case | Apple Watch
I bragged on my Foreo silicone facial cleansing scrubber a few months ago (I went from a discontinued nylon bristle brush to the Foreo) — not only is it practical, but it's a personal little luxury. While I have the full sized version (HERE), the mini version is on sale under $100 (HERE).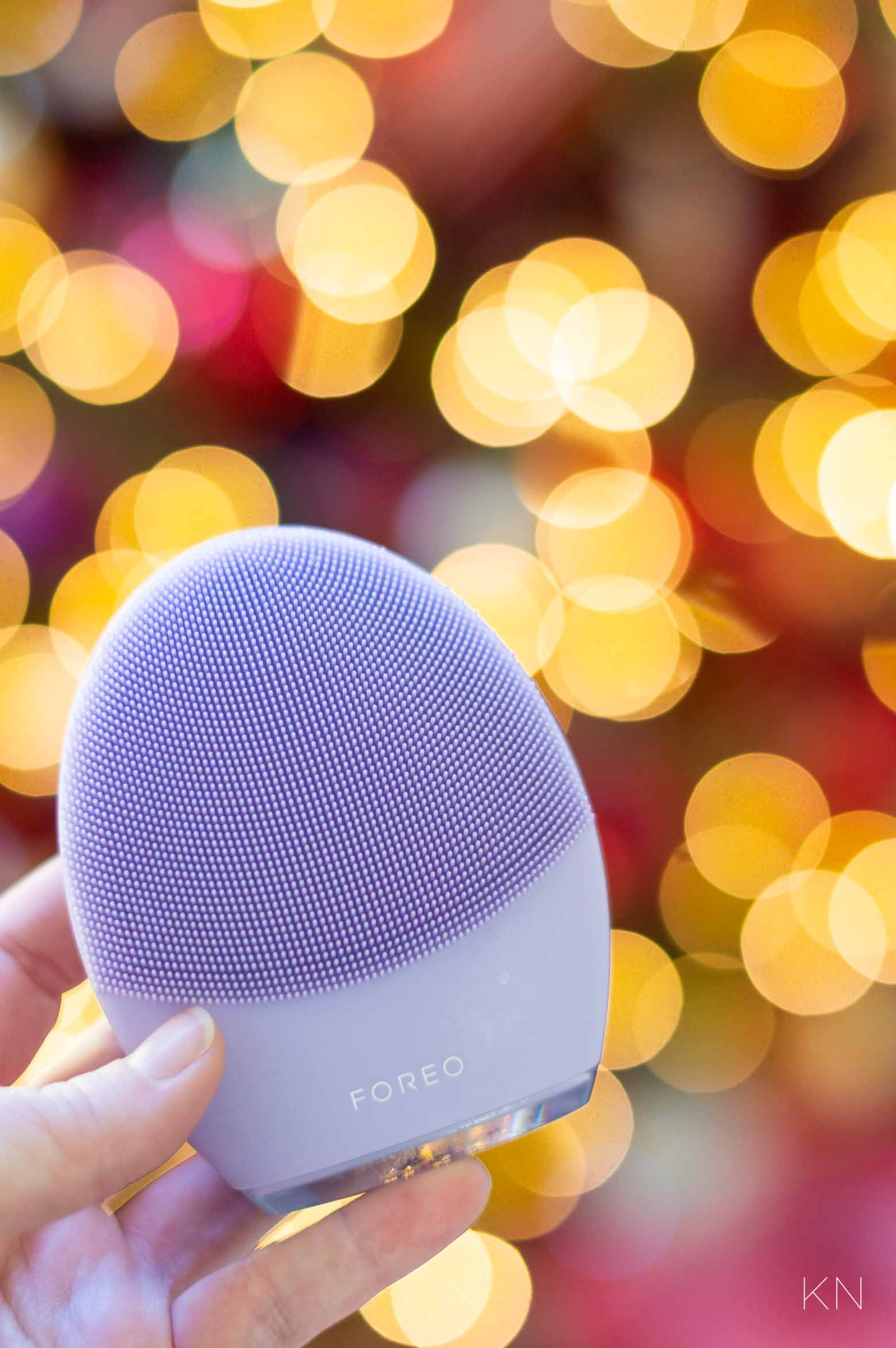 Source: Foreo Luna Sonic Facial Cleaner (mini version) (full sized version)
THIS mini waterproof bluetooth speaker is currently $39.88 and has an almost 5* cumulative rating. We rely on our plug-in bluetooth speakers at home but I think I'll be snagging this one for when we venture out! It's smaller than a coffee cup and will work for 15 hours off of one charge!
THIS usb candle lighter makes a great stocking stuffer but also is a great pairing if you plan to gift a candle. I keep one in my office drawer and one in the kitchen drawer!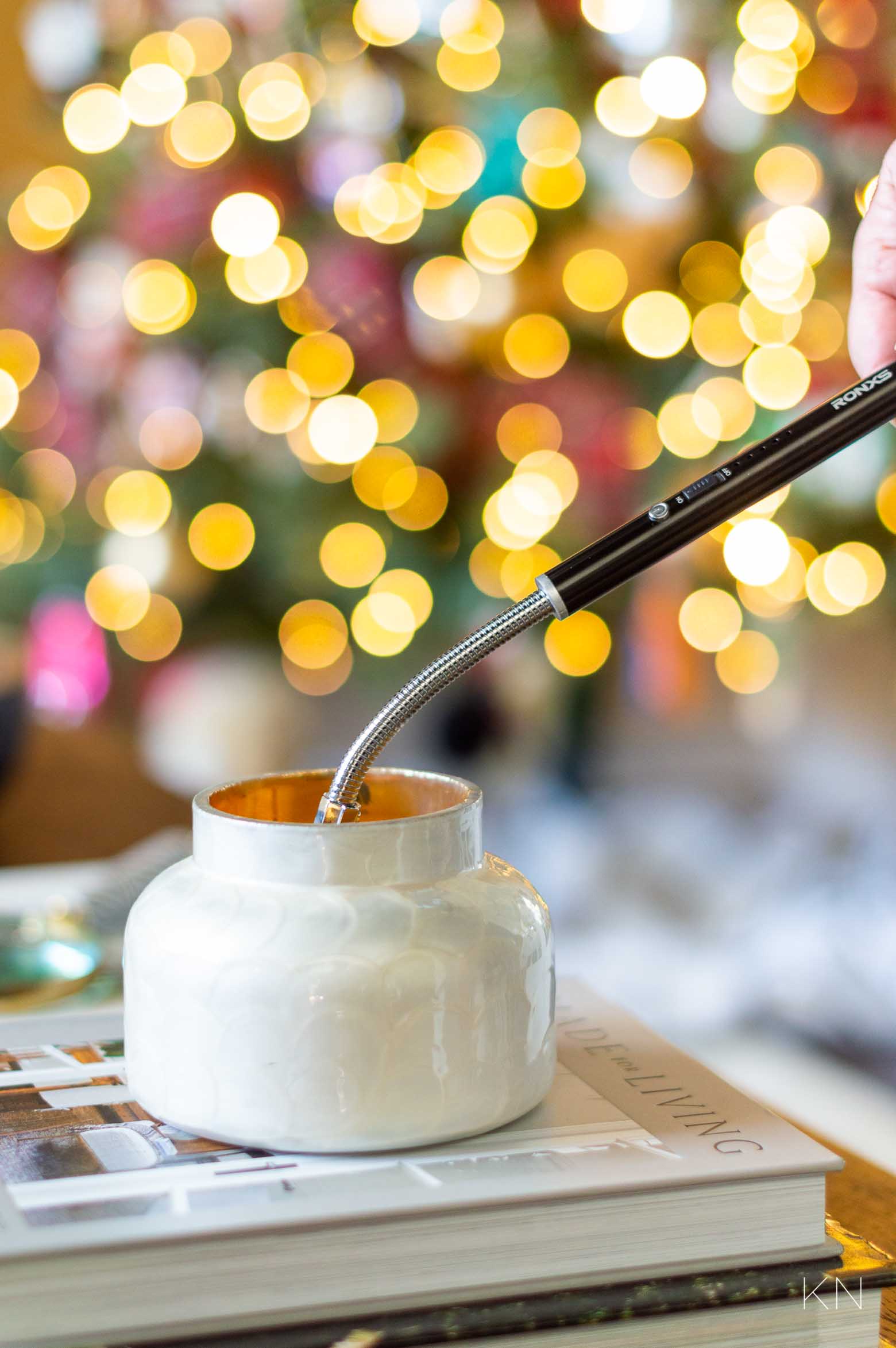 Source: USB Candle Lighter
Scroll & Tap to Shop Personal Gadgets

In terms of home gadgets, the holidays are a great time to gift (and receive) wishlist items that make life just a little easier. A few items I'm sharing below are also included in Walmart's Black Friday sale so make note of the specific dates in the description. You can find links to each item at the bottom of the graphic below.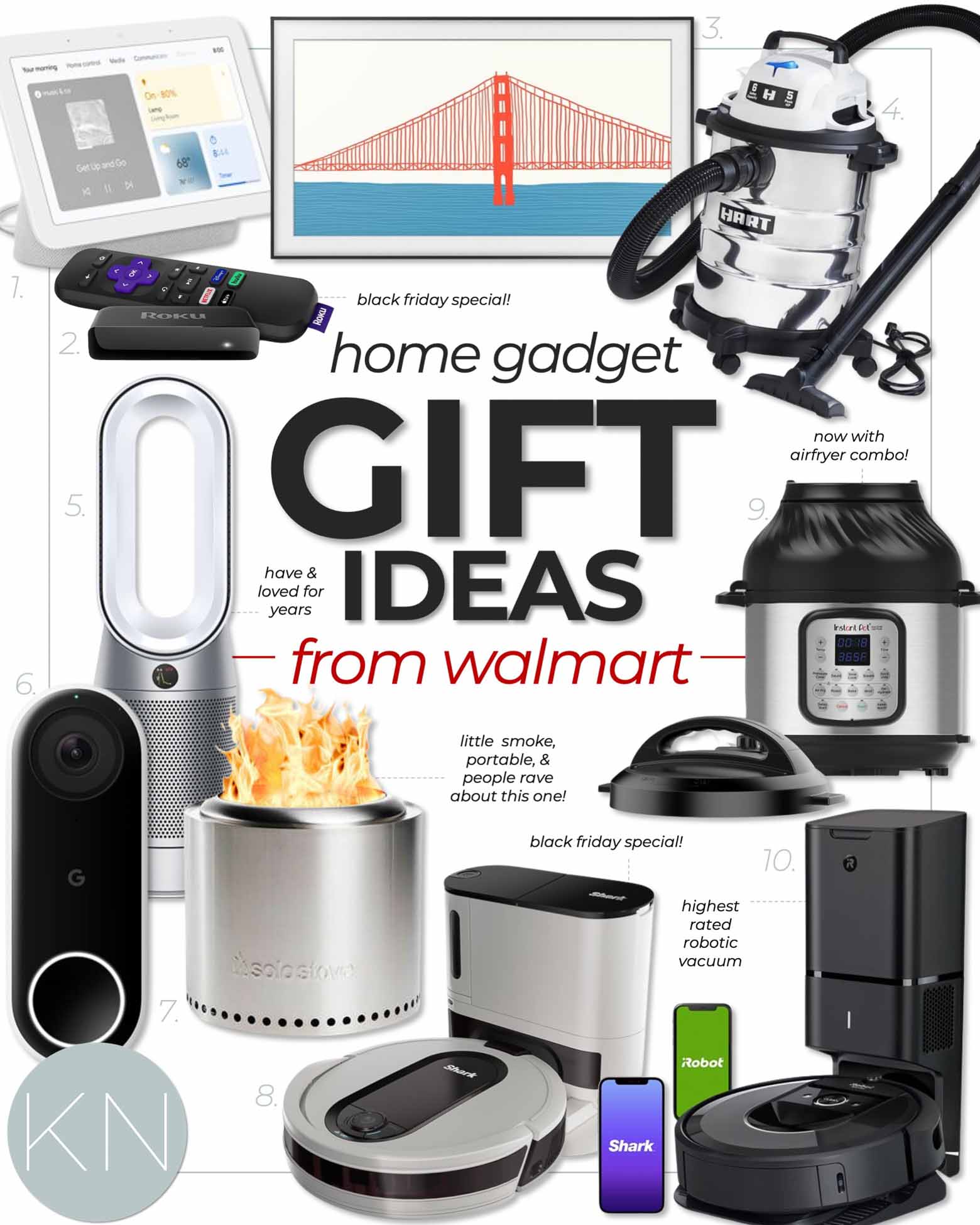 Sources: 1. Google Nest Home Station | 2. Roku Streaming Media Player | 3. Samsung Frame TV | 4. Stainless Steel Wet Dry Vacuum | 5. Dyson Purifier Hot Cool Fan | 6. Google Nest Doorbell | 7. Solo Stove Wood Fire Pit | 8. Shark Robot Vacuum | 9. 6-Quart Instant Pot Air Fryer Combo | 10. Roomba Robot Vacuum 
The Solo Stove ended up being one of my favorite gifts for this year — I got one for both Dave and my Dad. When we went trick-or-treating the other night, there were neighbors who had full set-ups in their front yards and seeing their Solo Stoves in action is what sealed the deal for me. They're (almost) smokeless fire pits that requires no tending except adding more logs to the fire. It's portable, made of stainless steel, and the stand makes it safe to set most places. You can find the size I bought Dave HERE, and the stand HERE.
While I have, use, and love the 9-in-1 Instant Pot 6 qt. Duo version of the Instant Pot (HERE and currently on sale), there's now an Instant Pot that has an air fryer component (HERE)! I love combo appliances that save storage room in the cabinet so I'm all about this idea — it's especially great if you've wondered about the world of air fryers and pressure cookers in general, and can now test out both with one single appliance!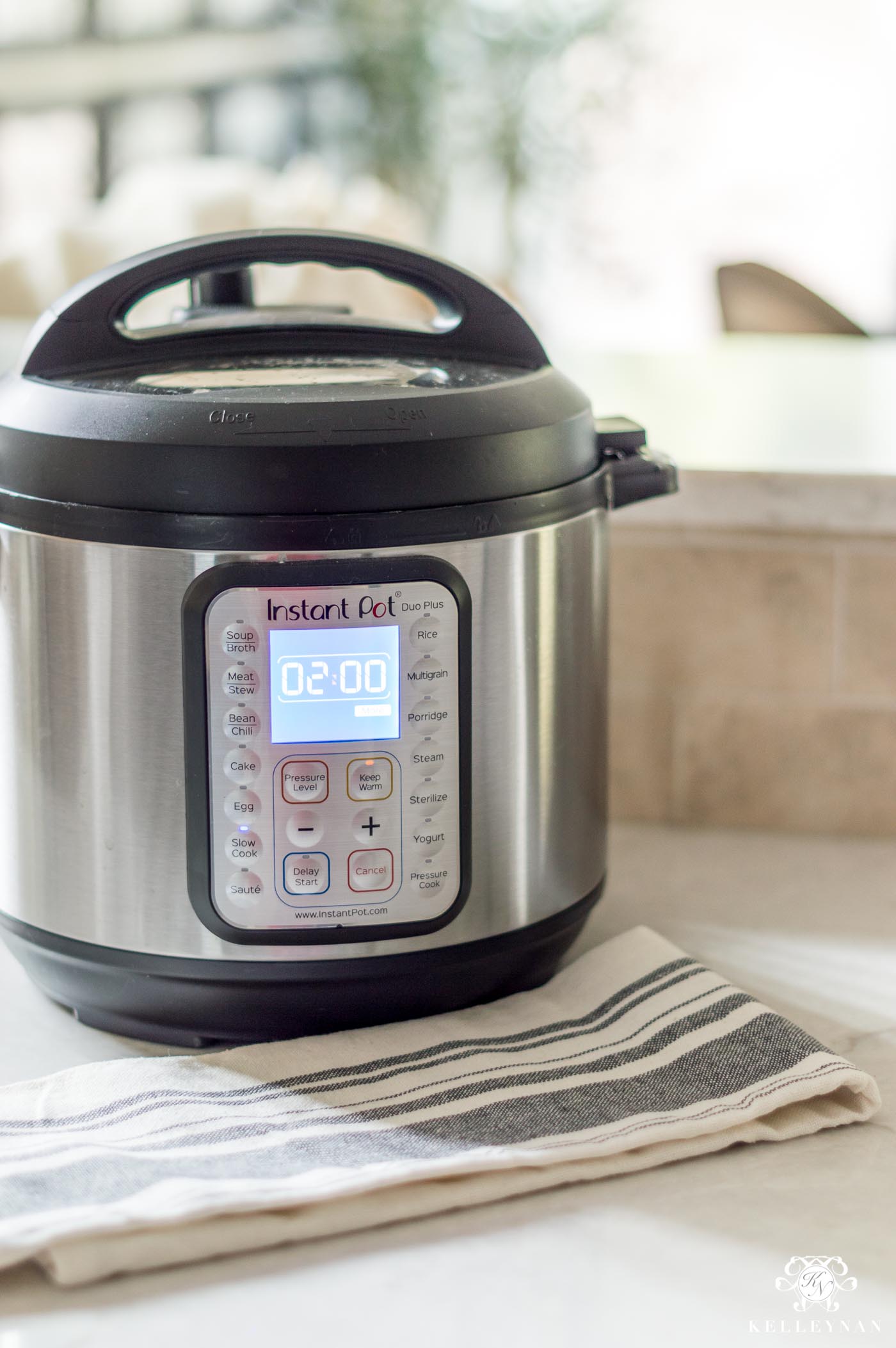 Source: My Instant Pot Version | New 6-Quart Instant Pot Air Fryer Combo
We have yet to spring for a robot vacuum because opinions on those things seem to fly all over the place. But, the one that is consistently at the top of the review lists as "overall winner" is the iRobot Roomba i7 with the self-emptying feature, smart room mapping, that's supposed to be good for hardwoods, carpets, and pet hair. It's one of the pricier ones but has consistently positive reviews in "face-offs" against other models and competitors — you can find it HERE.
But, the Shark EZ Robot also ranks high with positive reviews, has a self-emptying base, and is going to be on sale for Black Friday, marked from $499 to $288 from 11/10-14, HERE. As a caveat, quantities are limited for the Black Friday deals, too.
A Dyson air hot/cold combo+ purifier fan is the reason I felt ok about letting go of our bedroom ceiling fan several years ago. And ever since, we've had our trustee friend that we use nightly, perched on our dresser. This is definitely a luxury item but one I have no regrets about. We have one of the older versions since we've had it for several years, but they now come with new features HERE. And, you can find other options HERE.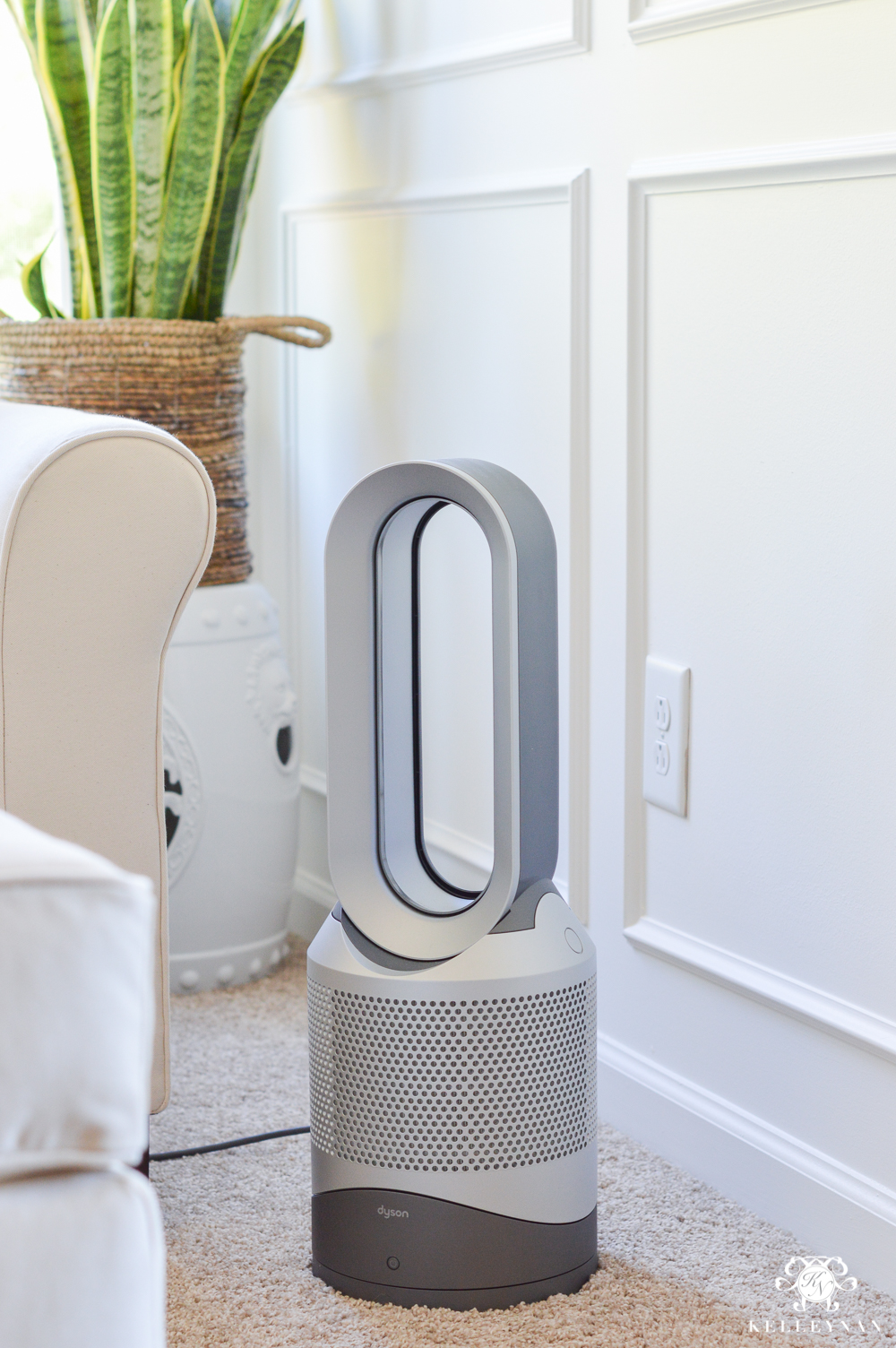 Source: Dyson Purifier Hot Cool Fan
The Nest Doorbell was the first Nest product we purchased but we have since added other items (like cameras) to our home system. I love how easily integrated they all are. As silly as it is, the main point for us getting the Nest doorbell was because the body was more narrow than its competitors and would more easily fit on the wooden trim outside our door — after having it for a few years now, I'm glad it's the one we went with. This is a great gift for your family if you don't yet have one, but it's also great for kids living on their own now, or parents who may not implement the smart technology on their own. We actually just picked up the battery indoor/outdoor Nest cam for Eliza's room since her monitor bit the dust, and a second for her playroom. You can find them individually HERE but there's currently a great discounted deal on a two-pack HERE.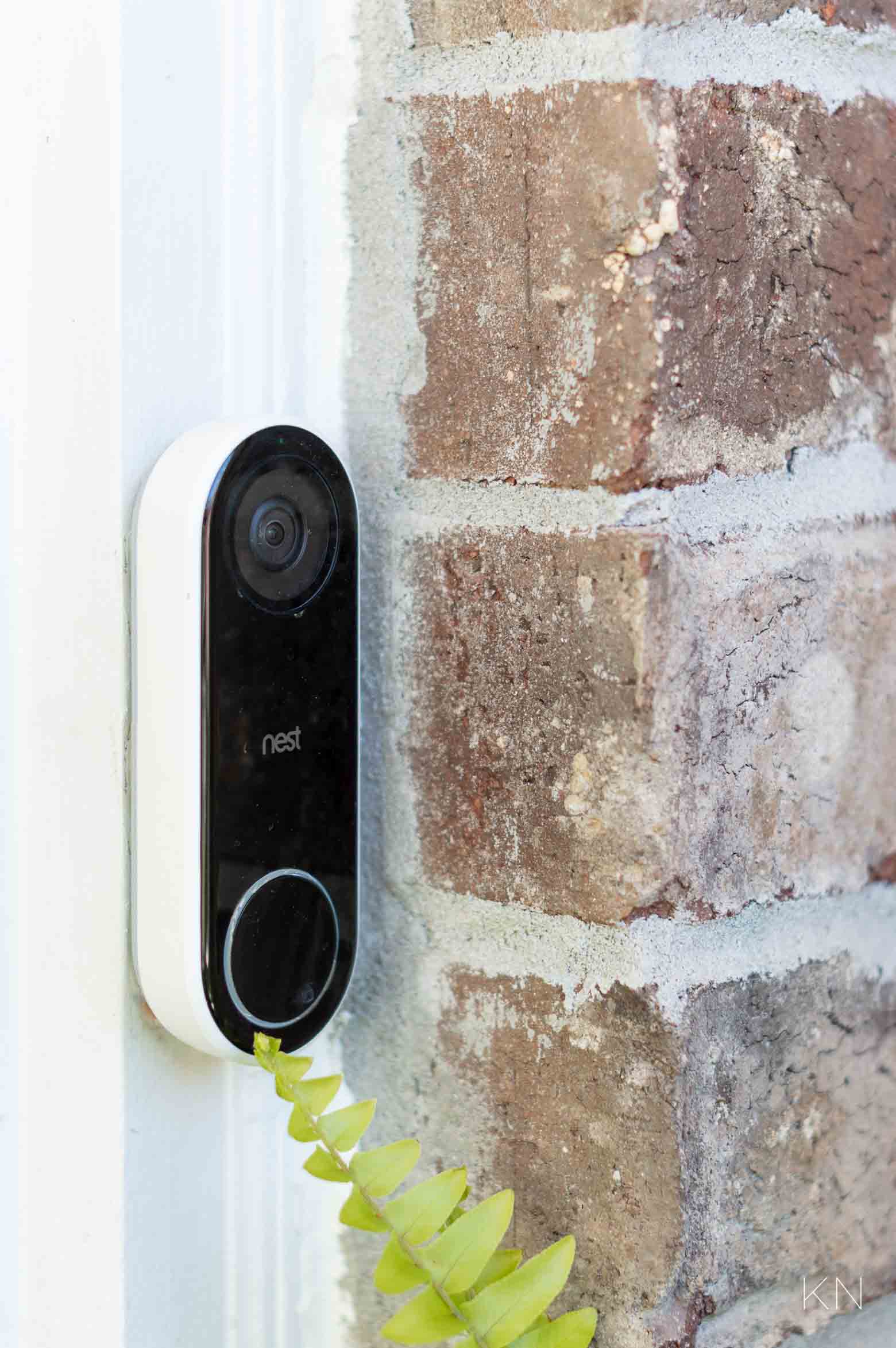 The Roku 4K Premiere is a Black Friday "Special Buy" on November 3-7 and will be discounted to $19.88. Roku is Dave's favorite streaming method for our house — and even if all your TVs are taken care of, we like to take ours when we travel to pop into our hotel room TV! We keep one tucked in our travel bag of chargers so we don't forget it during trips.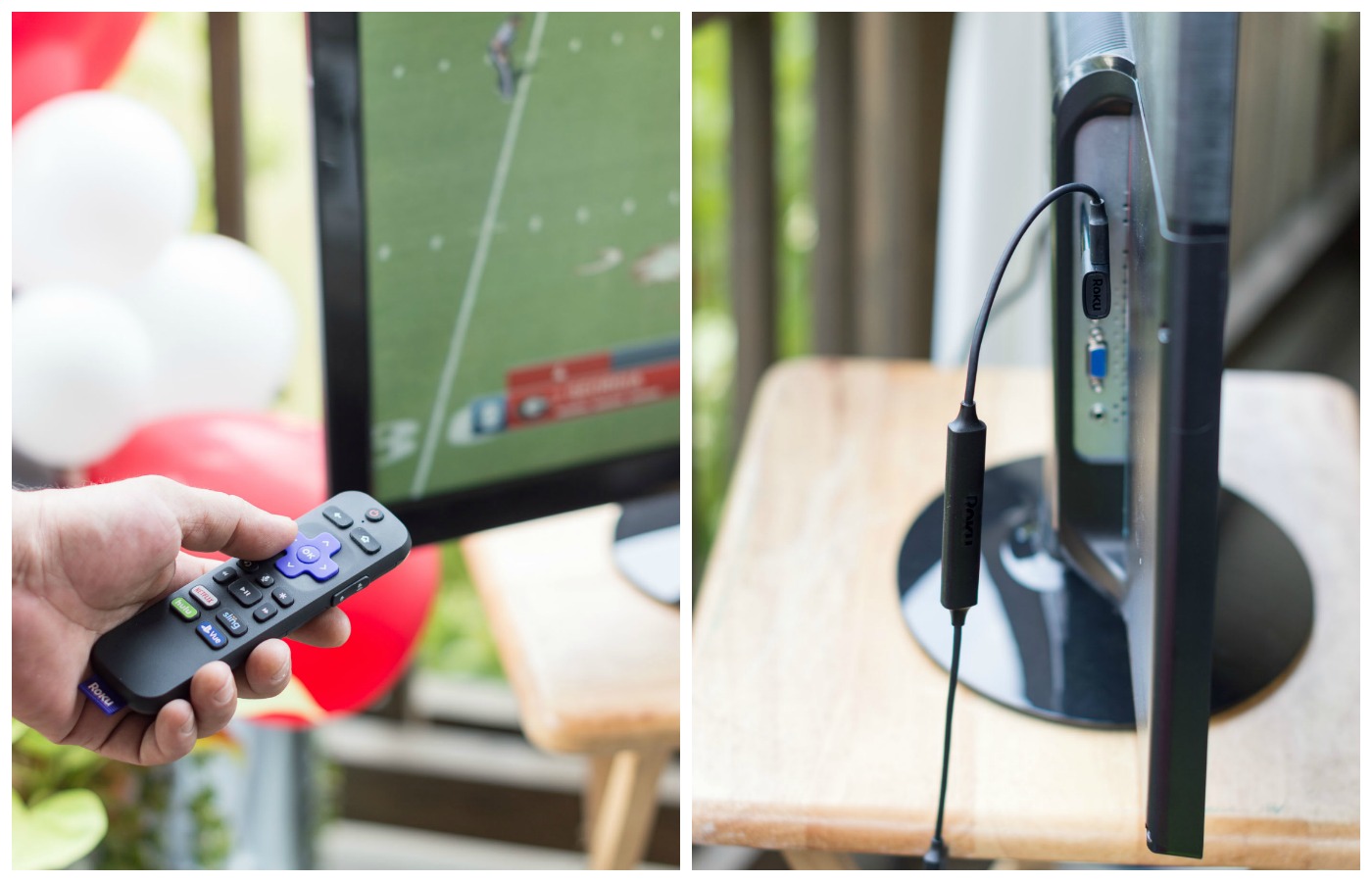 Source: Roku Streaming Media Player
One of the best gifts I ever got for Dave was a wet/dry vacuum. THIS ONE is on Black Friday special for $29, marked down from $58, from 11/3-7 HERE. It's stainless steel and has a six gallon capacity, has several attachments, and is a perfect gift for a husband/partner, dad, brother, or inlaw.
Along with the gadgets shared in this post, you can find lots of additional ideas in Walmart's "gift finder" HERE.
Scroll & Tap to Shop Home Gadgets

I'll be sharing lots of holiday traditions in a few days, there's a recipe coming this weekend, I have some kitchen island centerpiece ideas brewing, and my annual Christmas home tour will be hitting the blog mid-month! If you aren't already, you can sign up to get on the email list to catch all the posts and updates to come!
More 2021 Holiday Gift Ideas